A few years ago we were invited to Morocco and Egypt with Travel Talk Tours. In Egypt we took their Jewels of the Nile tour, and in Morocco we did their Exotic Morocco Tour.
We really enjoyed our experience on both these tours, so when Travel Talk Tours reached out to invite us on one of their most popular tours, Best of Turkey by Gulet, we were happy to accept.
The Best of Turkey by Gulet tour is a 12 day tour of Turkey that aims to visit the majority of Turkey's highlights. It also includes three nights on a traditional wooden masted ship.
In this post I'm going to share our experiences of this tour of Turkey. I'll go through each day in detail, share our thoughts on the experience, and hopefully help you decide if this tour is for you!
First though I'm going to go into some practical details about our tour and hopefully answer any questions you might have about taking a Travel Talk Tours trip.
Who are Travel Talk Tours?
If you're not from Australia or New Zealand, you might not have heard of Travel Talk Tours. This isn't because the company is Antipodean, but rather because its marketing efforts are largely aimed at this audience.
More specifically, Travel Talk Tours is very popular amongst Aussies and Kiwis who are living in the UK on work visas, and who use the UK as a base for adventures. Of course, lots of other people of varying nationalities take the tours, which are all led in English.
The good news is that if you've come here wondering if Travel Talk Tours is a real, legitimate company, the answer is a resounding yes! Based out of the UK, Travel Talk Tours have been successfully running tours for years.
Travel Talk Tours operate tours in an ever expanding number of countries around the world, using their own expert local guides and their own custom made tour itineraries.
They are ABTA members, which means they are held to a high standard of service, and mechanisms are in place to protect you as a traveller should any issues arise with your trip.
They focus on providing amazing value tours with high quality accommodation. For me though, the real test of quality is traveller feedback. And I would say that pretty much everyone I spoke to on all the trips I've been on has been very happy with the experience they had with Travel Talk tours.
In fact, a great many of my fellow travellers had been on a number of Travel Talk Tours before, and were planning more in the future. So if that isn't a good indicator of quality, I'm not sure what is.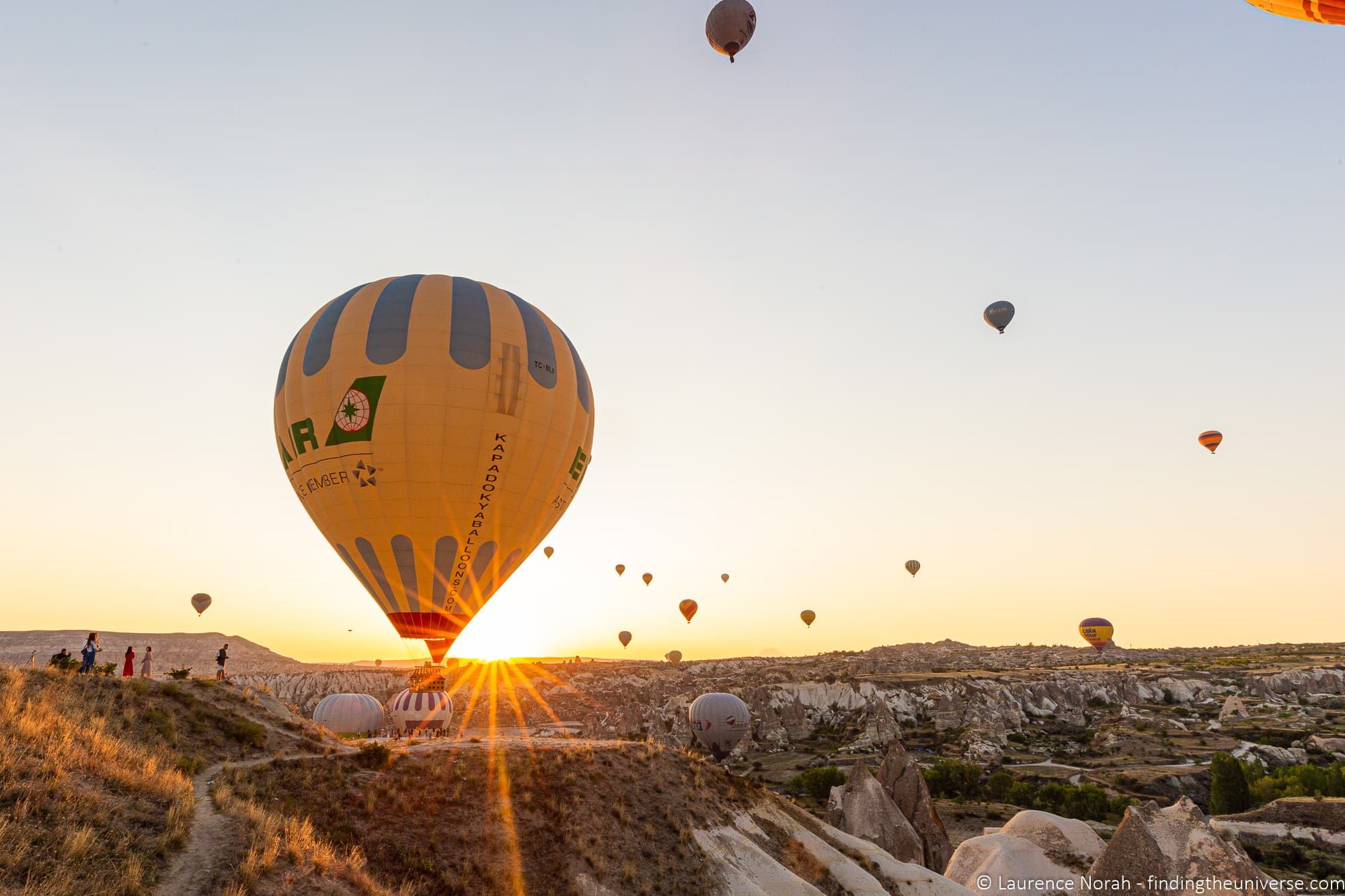 What's the Bus like on a Travel Talk Tour?
The tour we took in Turkey had 44 people on, which is pretty much the maximum size for a group. This meant that we had a large bus, which I have to say, was the most comfortable bus of any Travel Talk tour I've taken.
The bus was a big modern Mercedes coach. It had very comfortable reclining seats with air conditioning, an on-board fridge for keeping our drinks cold, tray tables, in-seat USB and AC power sockets, and even seat back televisions.
Ok, so the seat back televisions had the choice of Turkish movies or Turkish TV, but still. It's the thought that counts.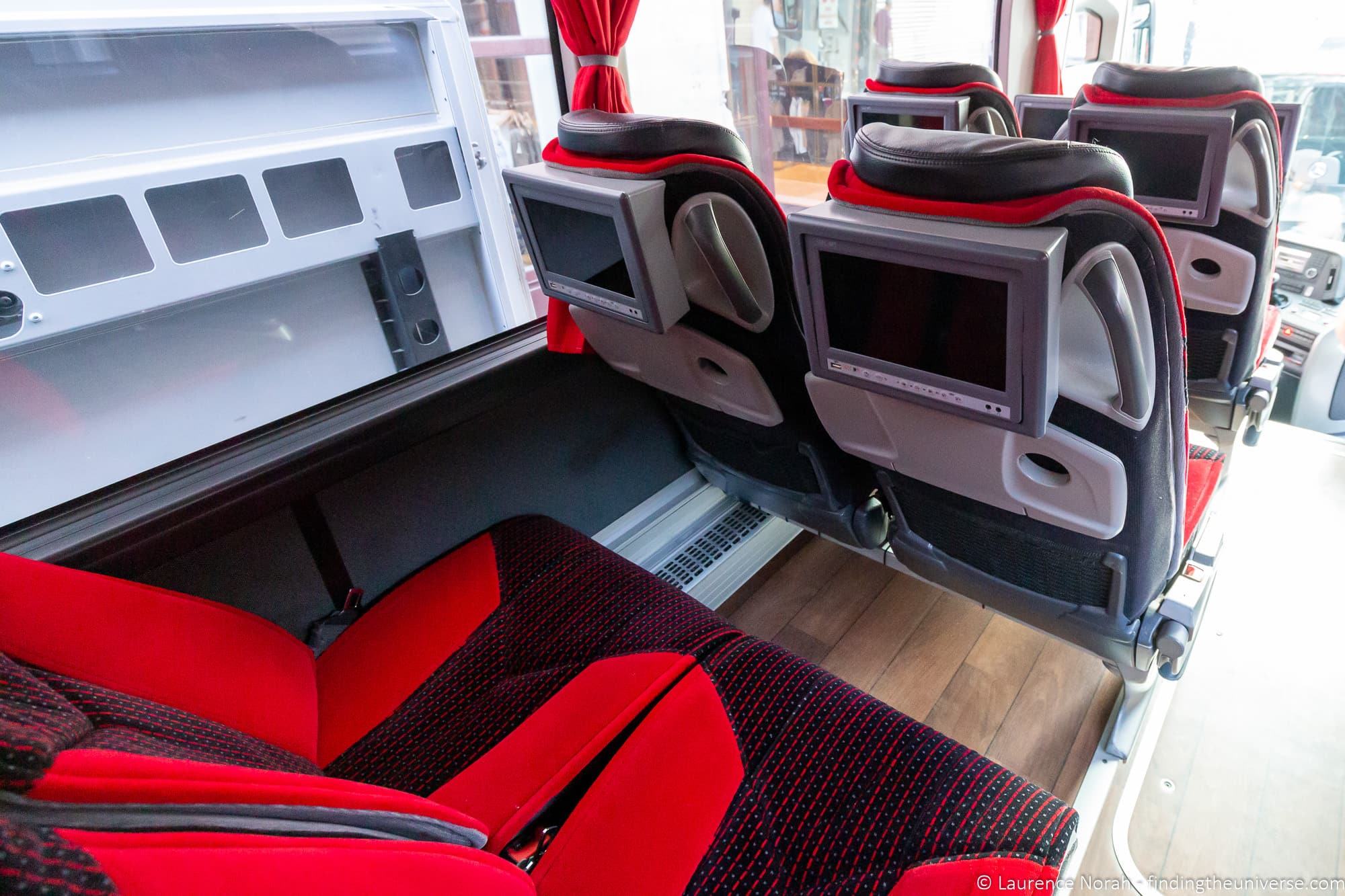 It was also kept amazingly clean. I'm sure the whole coach was washed at least twice a day to ensure we had a good view out of the windows. Top marks to our drivers for looking after us and the coach so well.
Overall, the bus was definitely comfortable, and plenty of people took advantage of the long drives to get some good naps in.
There were only two niggles with the bus. First, Turkey was very hot whilst we were there, with temperatures close to 40C / 104F on many of the days of our trip.
On these days, with 44 hot and sweaty people on board, the bus air conditioning did sometimes struggle to keep the bus very cool, especially with the large glass windows and the sun beaming in. So whilst it never got uncomfortably hot, it did feel a bit warmer than we might have hoped for.
Second, there was no on-board toilet on the bus. To be fair, this could also be seen as a blessing, as the odor from a bus toilet isn't really something you need on a long distance trip. In addition, we stopped very regularly for the toilet, usually every 2 – 2.5 hours. And if anyone really needed to go, all it needed was a word to the tour guide, and a stop would be made. So I think the toilet situation was fine.
What's the Accommodation Like on a Travel Talk Tour?
Travel Talk Tours pride themselves on the level of accommodation they offer. On the tour in Turkey for example, hotels are listed as being 4* and 5* quality.
Of course, this isn't 5* as you might expect at the Savoy or the Ritz, with suited attendants pressing buttons for you in the lift. Although I always find those experiences to be super weird anyway. I can press my own buttons!
In our experience, the accommodation provided by Travel Talk Tours is very comfortable. The hotels are clean, most have pools, and for the price of the tours they are amazing value. If you are used to travelling on a budget in hostels and backpacker properties, this is going to be a welcome step up.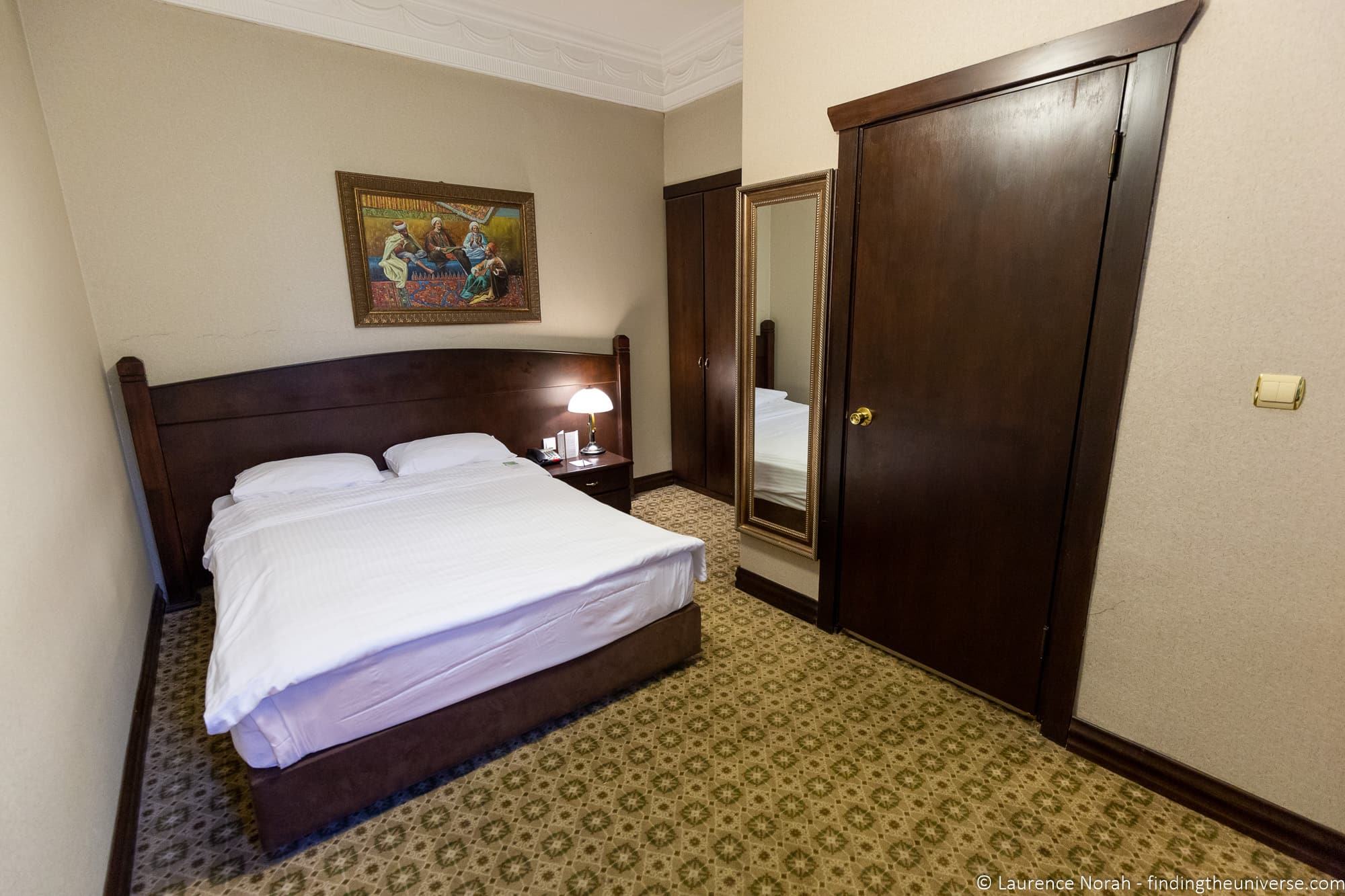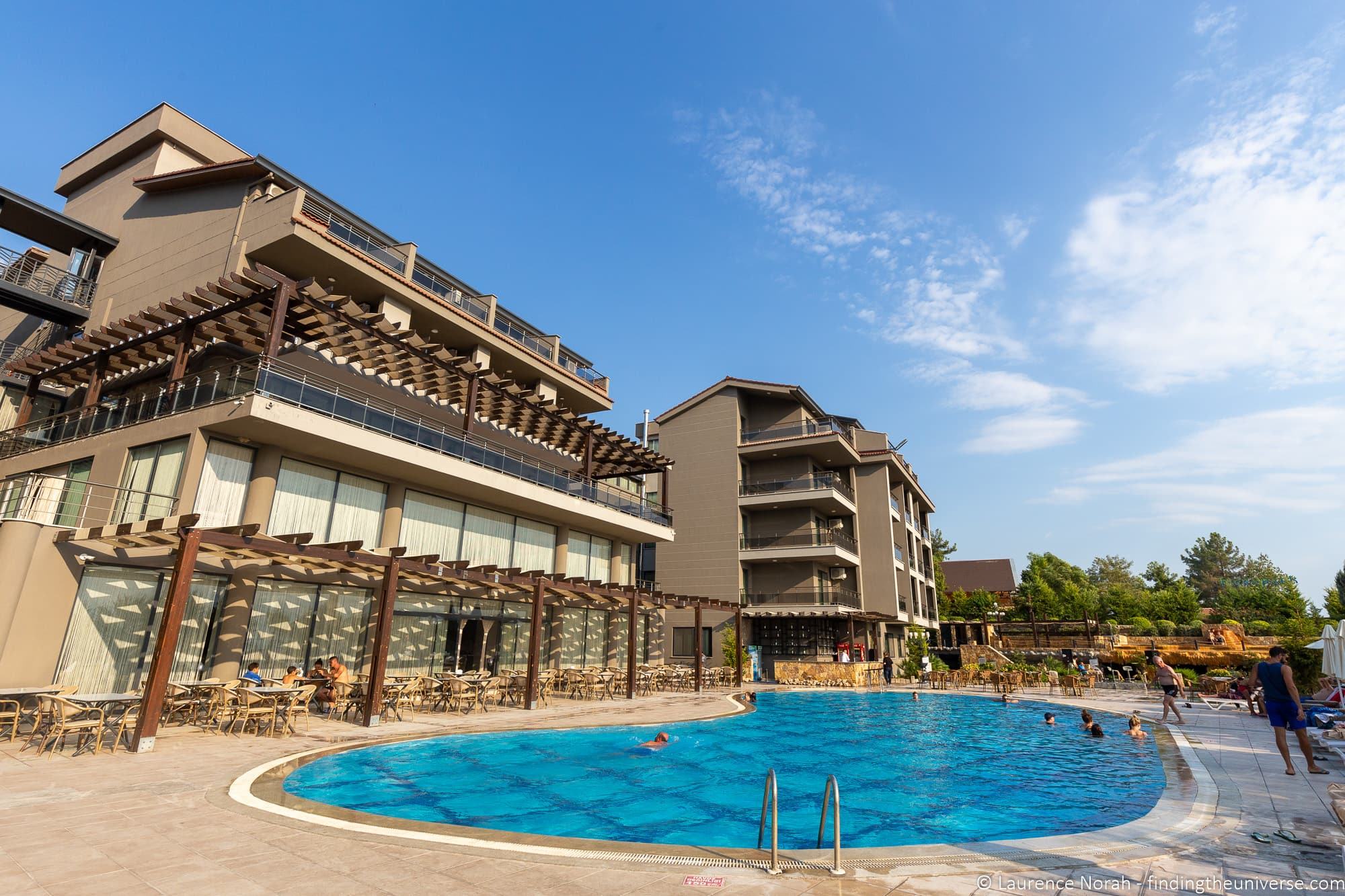 The only exception to the hotels was the period of time on the Gulet. Obviously, this is a wooden sailing ship, so accommodation is a lot more simple.
Note that you can do skip this section of the tour and stay on land by booking either the Best of Turkey by Land or Amazing Turkey by Land tours, which are essentially the same tour, but with time spent on land instead of on the Gulet. See more on these later on in the post.
Rooms on the Gulet feature fairly small double beds with a simple ensuite shower and toilet.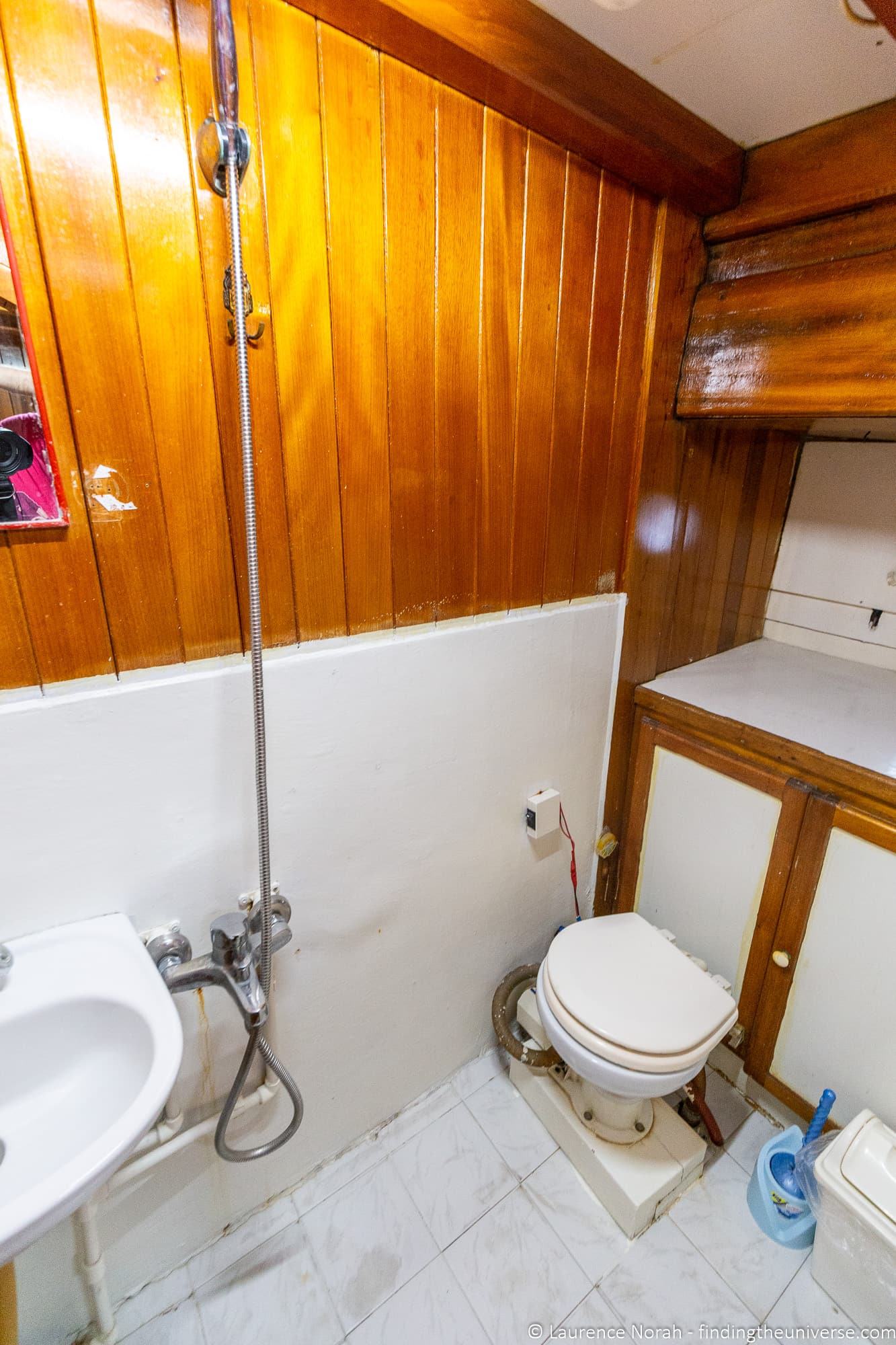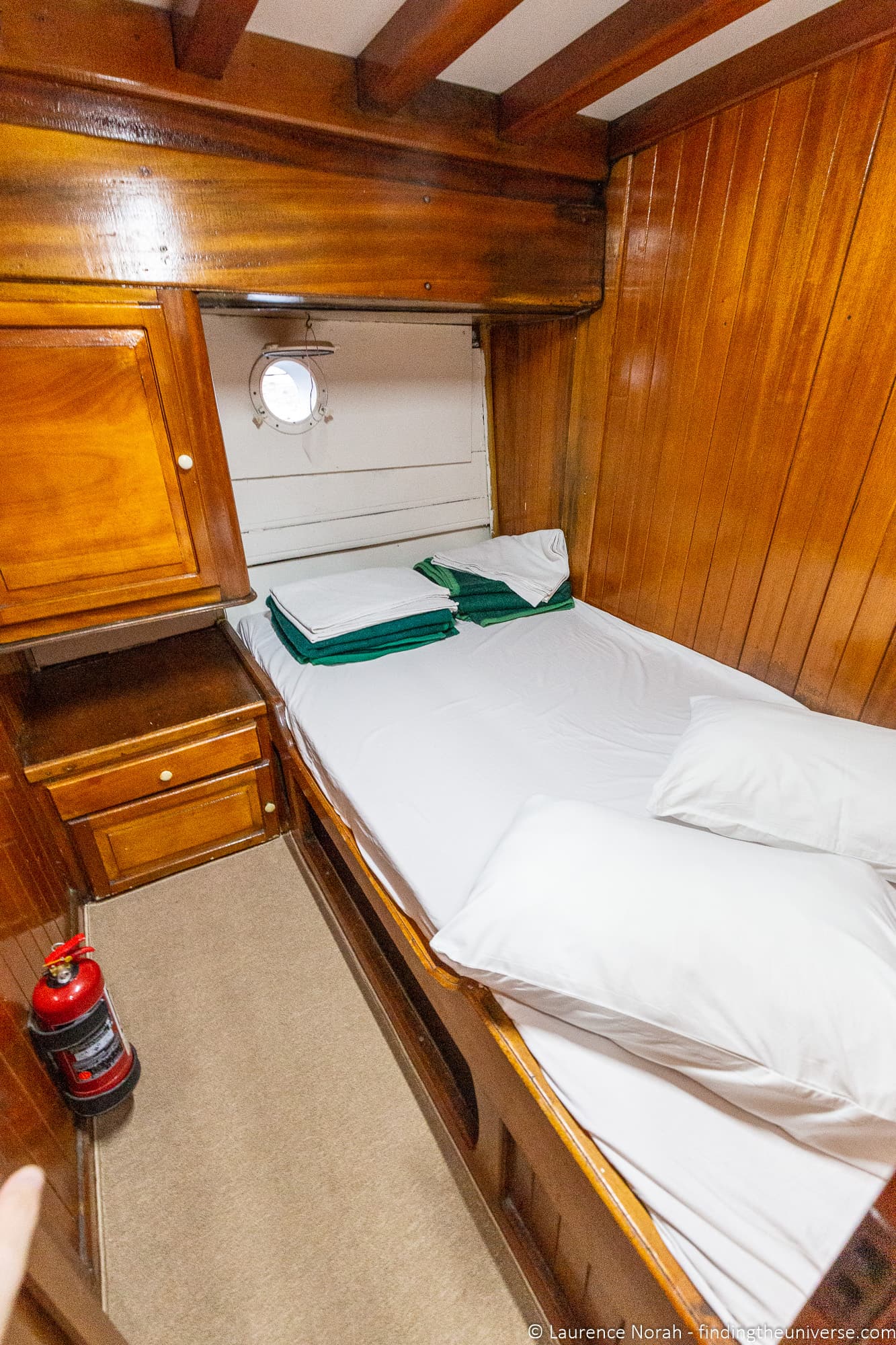 When we took the tour, it was actually too hot to sleep in the cabins (which didn't have A/C), so everyone slept on deck, using the cabins as a sort of glorified walk in wardrobe and toilet.
Personally I loved sleeping on deck under the stars and waking to magnificent sunrises, but this of course is not going to be for everyone, and the quality of sleep will vary depending on how well you sleep surrounded by other people and the noises of a boat at sea.
You can see more on our Gulet part of the tour in the day by day breakdown of the trip below.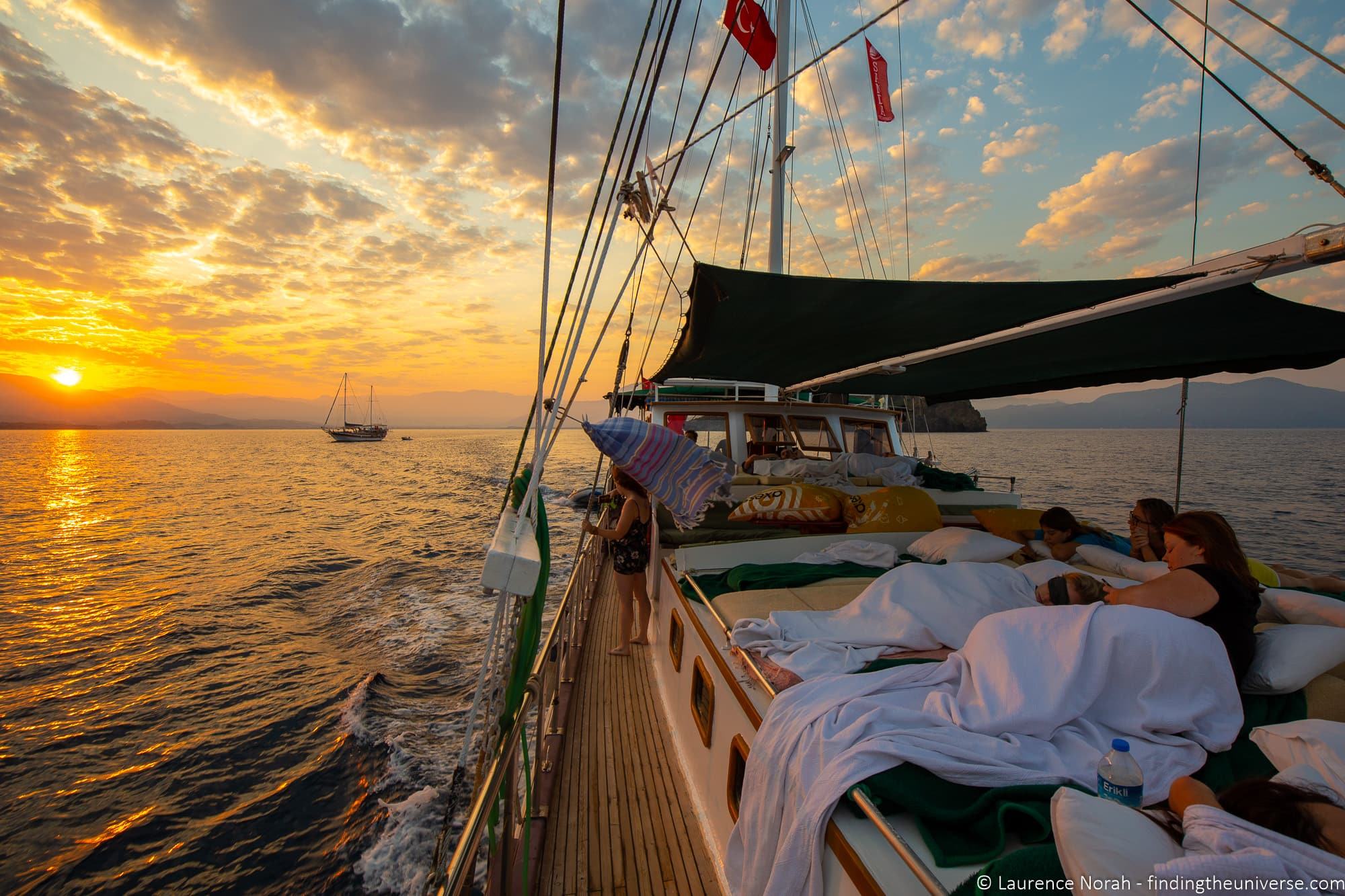 Be aware that if you are travelling as a solo traveller, you will generally be paired with another traveller of the same sex. If you want to have a room to yourself this is possible, but a supplement will be charged. Everyone on our tour was sharing, either with a friend, a partner, or someone that was assigned to them, and I didn't hear any negative feedback about the arrangement.
The only slight issue was that many of the hotels had a policy of issuing only one room key to each room, so solo travellers had to coordinate a little bit around room access.
What's the Food Like on a Travel Talk Tour?
Of course, the food will vary depending on the country you visit. However, Travel Talk does try to ensure that you get good, high quality food that includes many local specialities in the country you visit, and this has been our experience in Morocco, Egypt and Turkey.
On the trip we took in Turkey, most of our breakfasts and dinners were included. These were predominantly served at our accommodation, and were buffet style with a wide choice. With the exception of the hotel in Cappadocia, all the food was excellent, with a wide choice, even for the vegetarians in the group.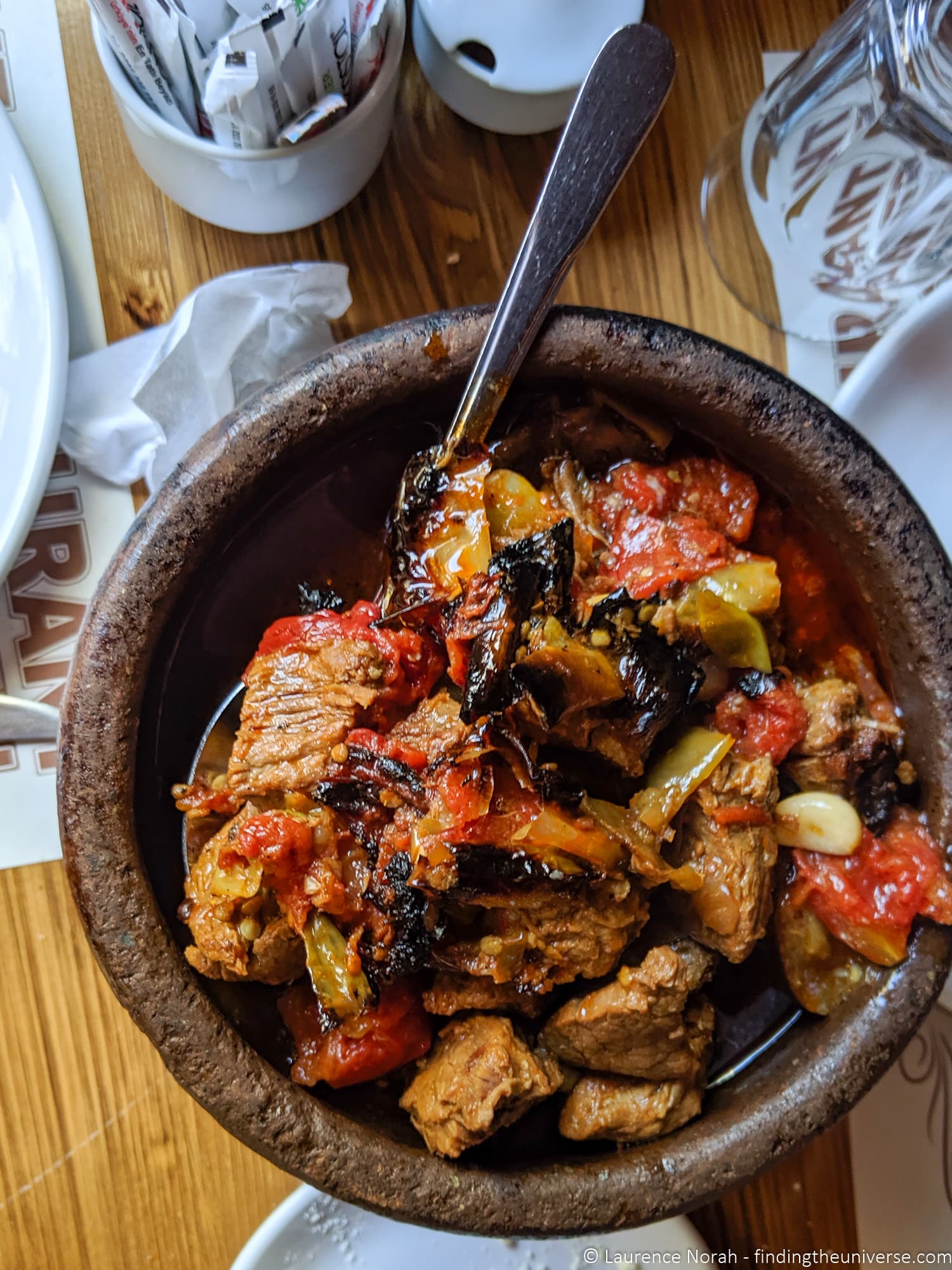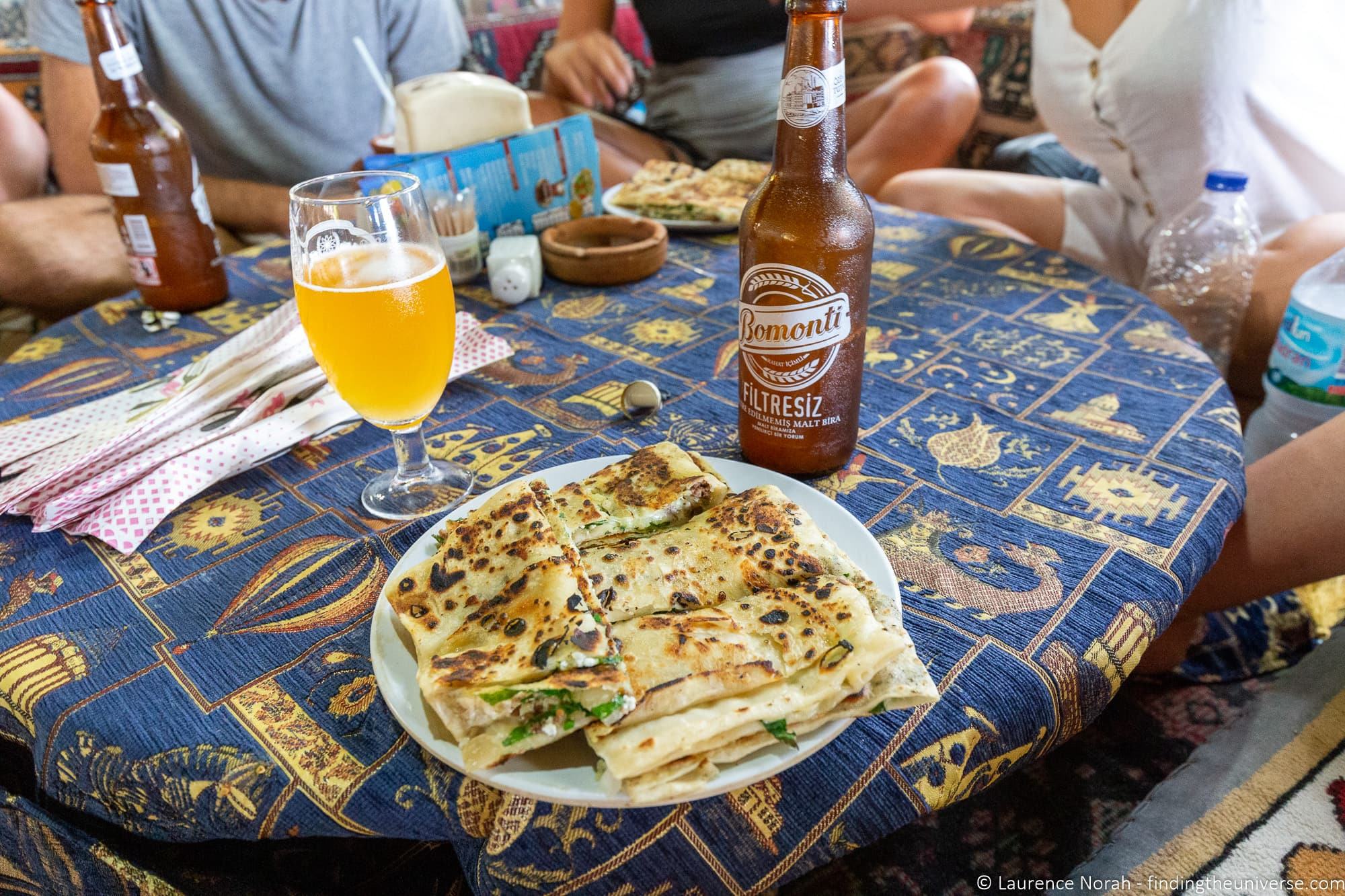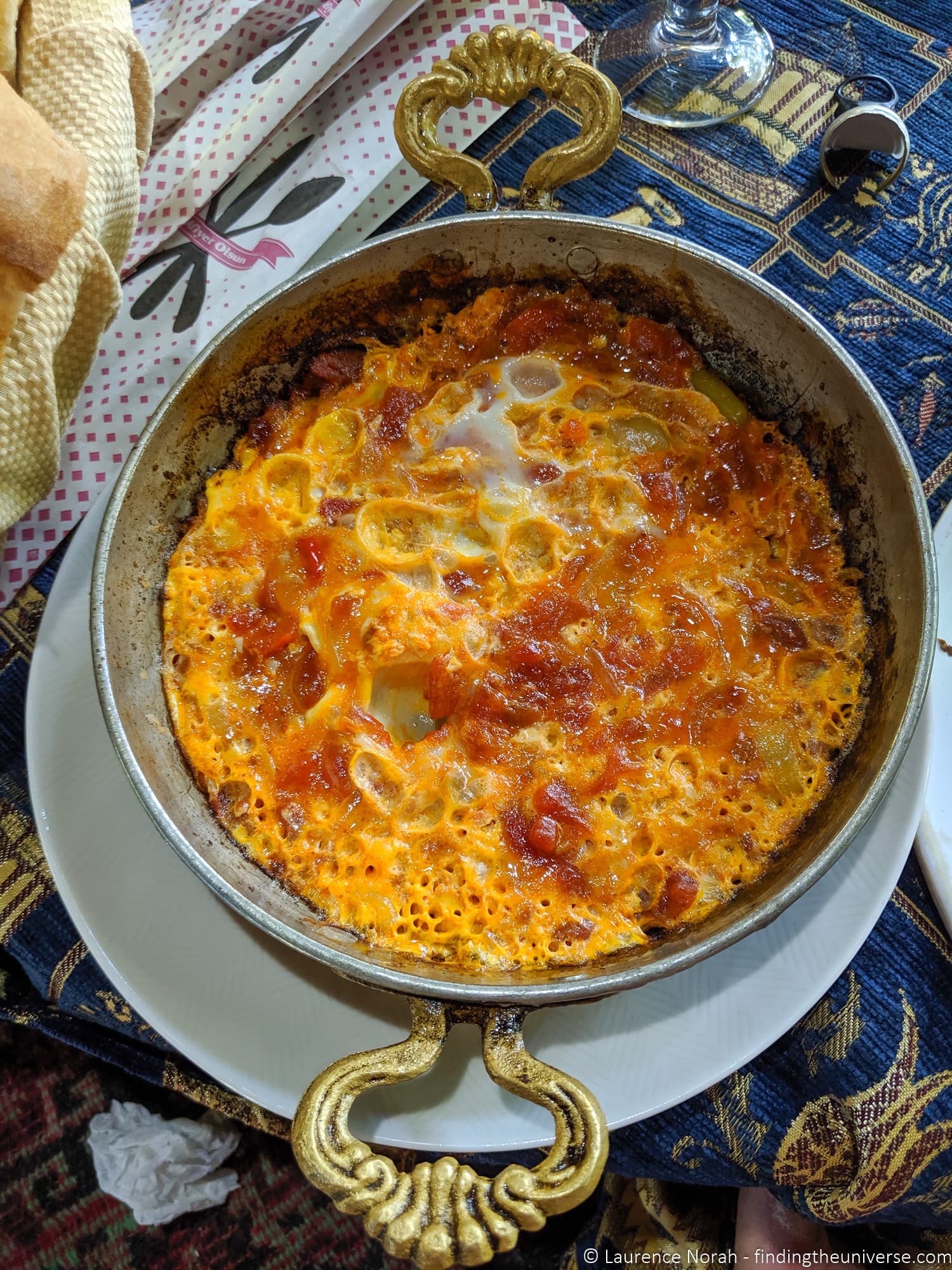 The hotel in Cappadocia wasn't bad per se, but the choice and quality wasn't as good as the other hotels we stayed at, so it sort of stuck out. Still, one less good set of meals out of all the places we had inclusive meals at certainly isn't bad!
On the gulet, all our meals were included. We had freshly caught grilled fish on the first night, and many other traditional dishes including kofte over the rest of the adventure. The meals on the boat were really excellent.
For the other meals that were not included, our guide generally recommended local restaurants that served Turkish specialities. This was when we were able to really sample some local dishes, including Köfte, Menemen, Mantı, Testi Kebap, Şiş Kebap, İskender Kebab, Pide and Baklava.
On the days that featured longer bus rides, lunch was generally at the break points, where there would be one or more dining options, often a choice between traditional Turkish food or western fast food options that you will be familiar with like McDonalds.
Overall, I would say that the food options on the tour were very good and pretty much everyone was happy with the choices. If you have dietary requirements though, or follow a strict vegan, gluten-free, or vegetarian diet, you should definitely get in touch with Travel Talk in advance of your trip, to be sure your needs can be accommodated.
Who Will be on a Travel Talk Tour?
As noted earlier, Travel Talk predominantly attracts folks from Australia and New Zealand onto their tours due to the focus of their main marketing efforts. This was the case on the tours we took in Morocco and Egypt, and was a theme that continued in Turkey.
On the trip in Turkey for example, there were 44 people in the group. Of those 44, there were two Canadians, two Chileans, one Brit (me!), and everyone else was either from Australia or New Zealand.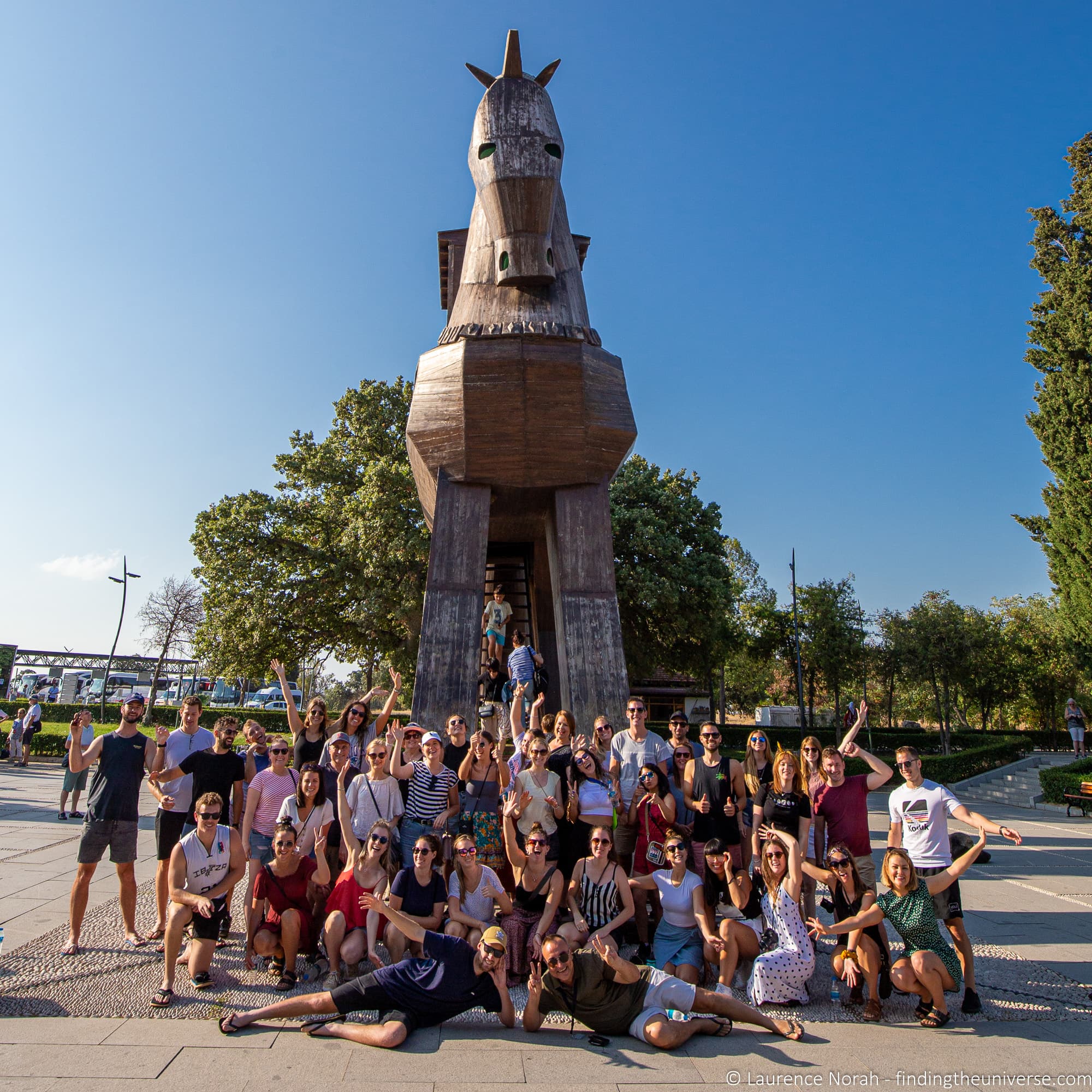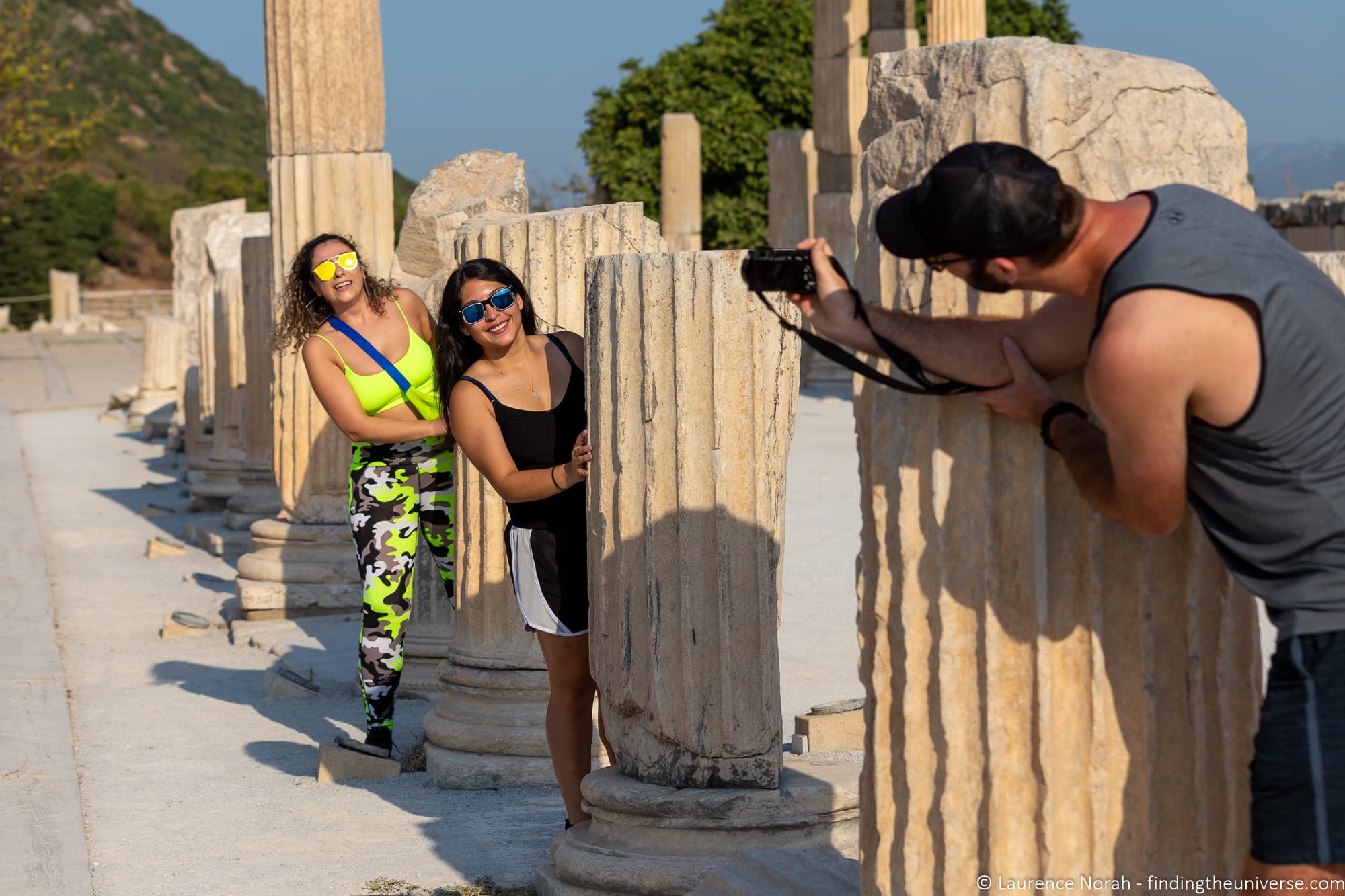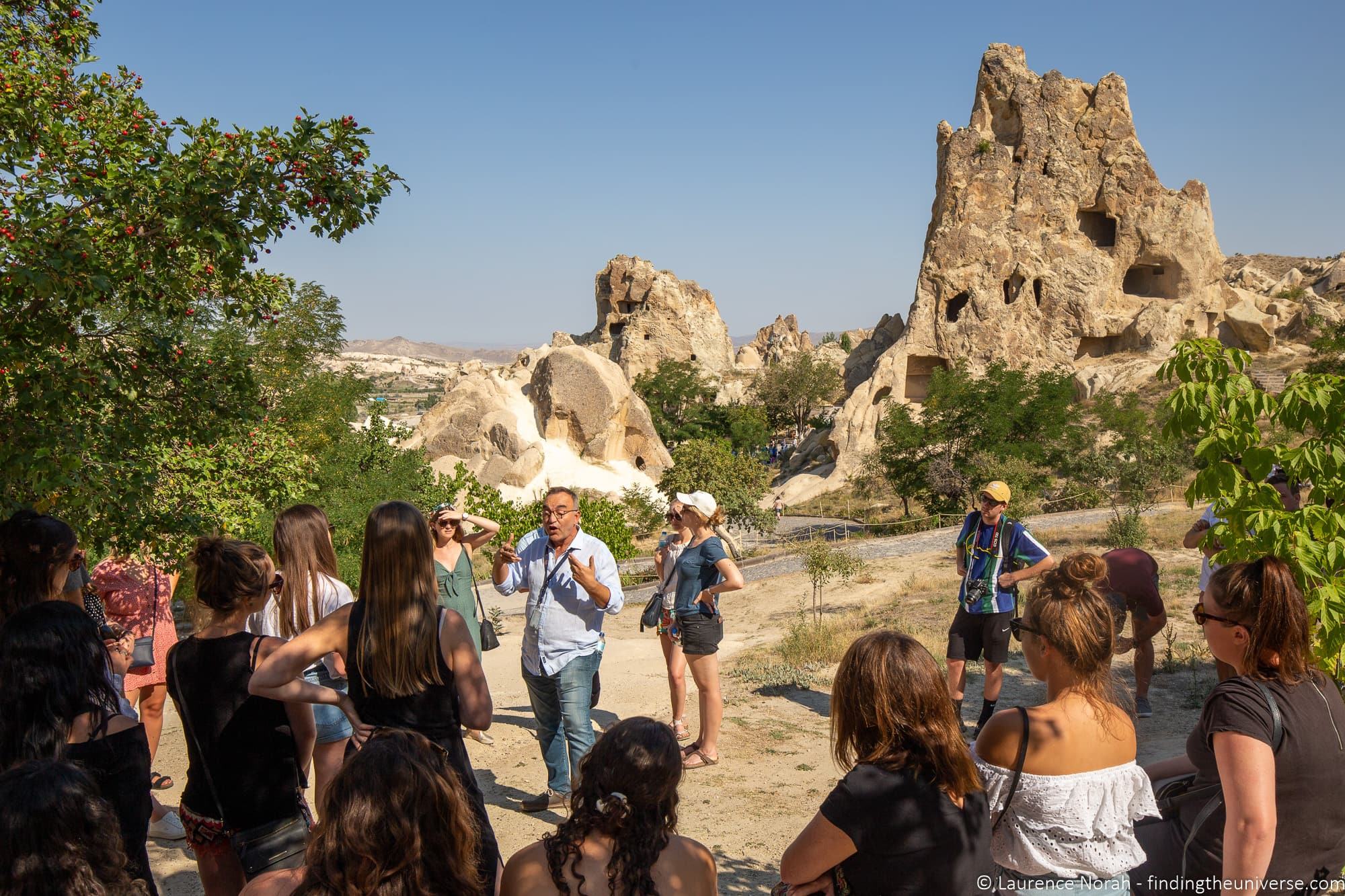 Of course, the trip is open to everyone, and all nationalities are welcomed. Just don't be entirely surprised if your tour is mostly made up of Aussies and Kiwis.
In terms of age, Travel Talk Tours are primarily aimed at ages 18 – 39. In my experience on the tours we've taken, as well as from chatting to the guides, most travellers fall into a mid-twenties to early thirties age bracket, with a few outliers at either end.
Again, this isn't a mandatory policy, and any ages are welcome. On our tour in Turkey for example, there was a young at heart couple in their 70s, and they were certainly welcomed into the group by everyone. The youngest person on our tour was 21.
Finally, our tour was roughly 70% women and 30% men. There were a mix of singles and couples, as well as solo travellers and friends travelling together. In my experience, everyone on all the Travel Talk tours we've been on has been really friendly and open to meeting new people. So you can definitely take one of these tours as a solo traveller and not be worried about being on your own.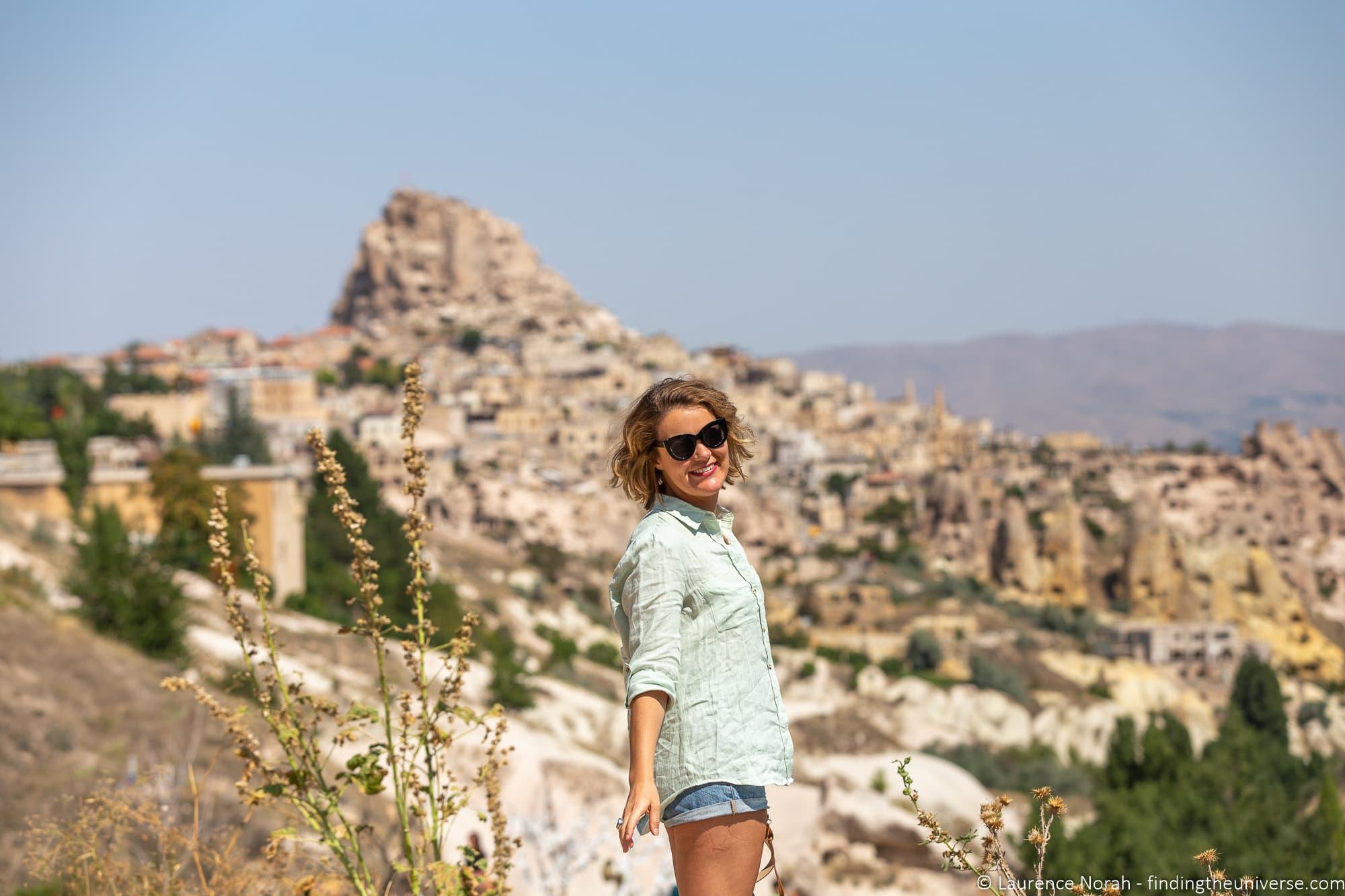 Is this a Party Tour?
You might be thinking that if you take a large group of relatively young people from Australia and New Zealand, put them all together, and send them on a holiday together, that what you have is a recipe for late night parties and hungover days.
This is not an unreasonable assumption.
However, in our experience with Travel Talk Tours, whilst most people certainly enjoy a beverage or three in the evenings, and there will always be someone up for late nights, the overall vibe is pretty relaxed. There's no pressure to party, and many people will have an early night. After all, there are a lot of early starts on the tours!
So you can go either way, and you're bound to find some like minded people to either party with, or bade goodnight to at an earlier juncture.
If you want a more hardcore party every night and sleep all day sort of tour, then I would say that Travel Talk Tours might not be the perfect fit for you. Although no-one will stop you of course! It's also worth noting that most of the tours we've been on have been in predominantly Muslin countries, where alcohol isn't always easily available. That said, it was easy to find and buy across Turkey.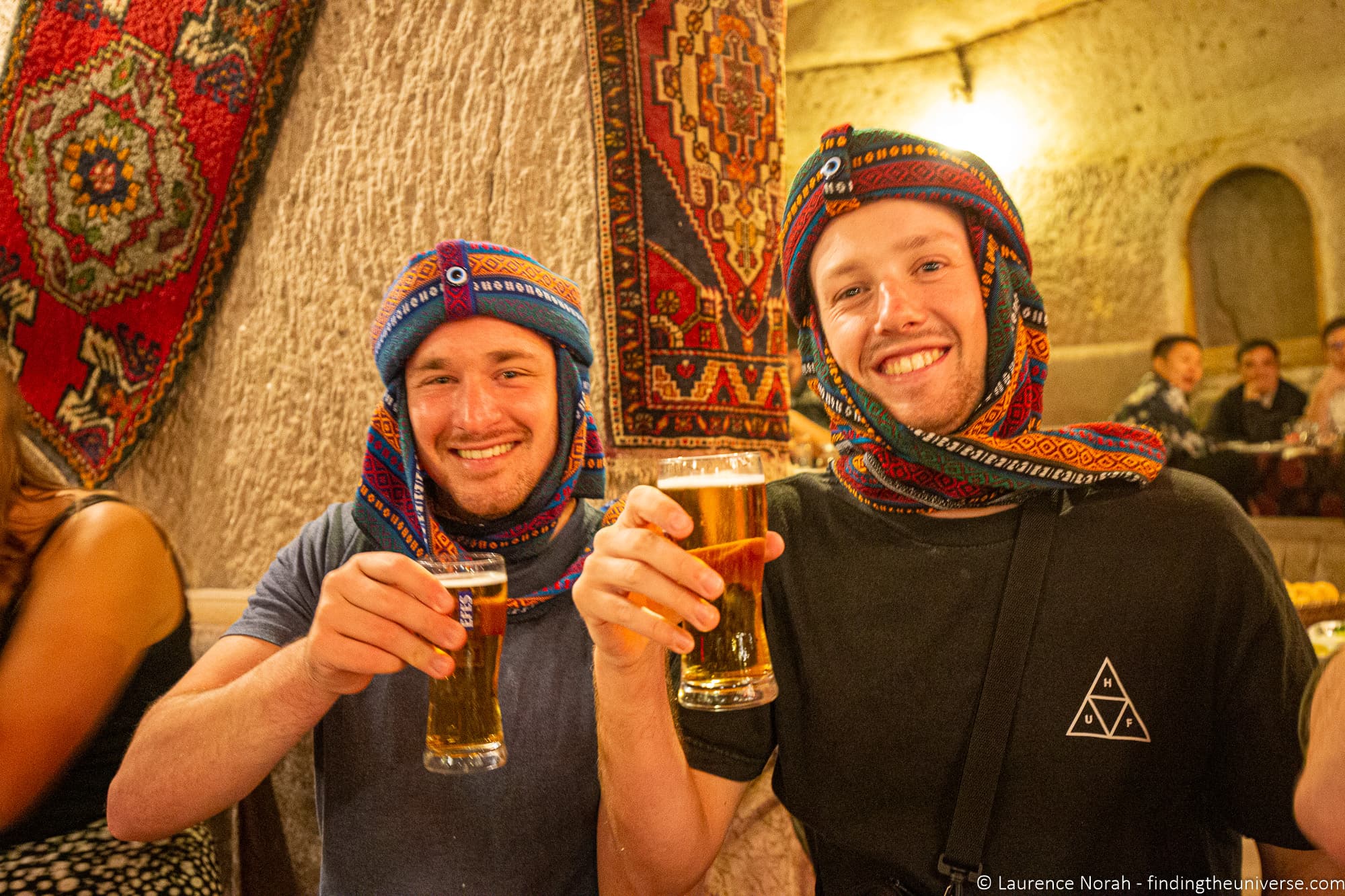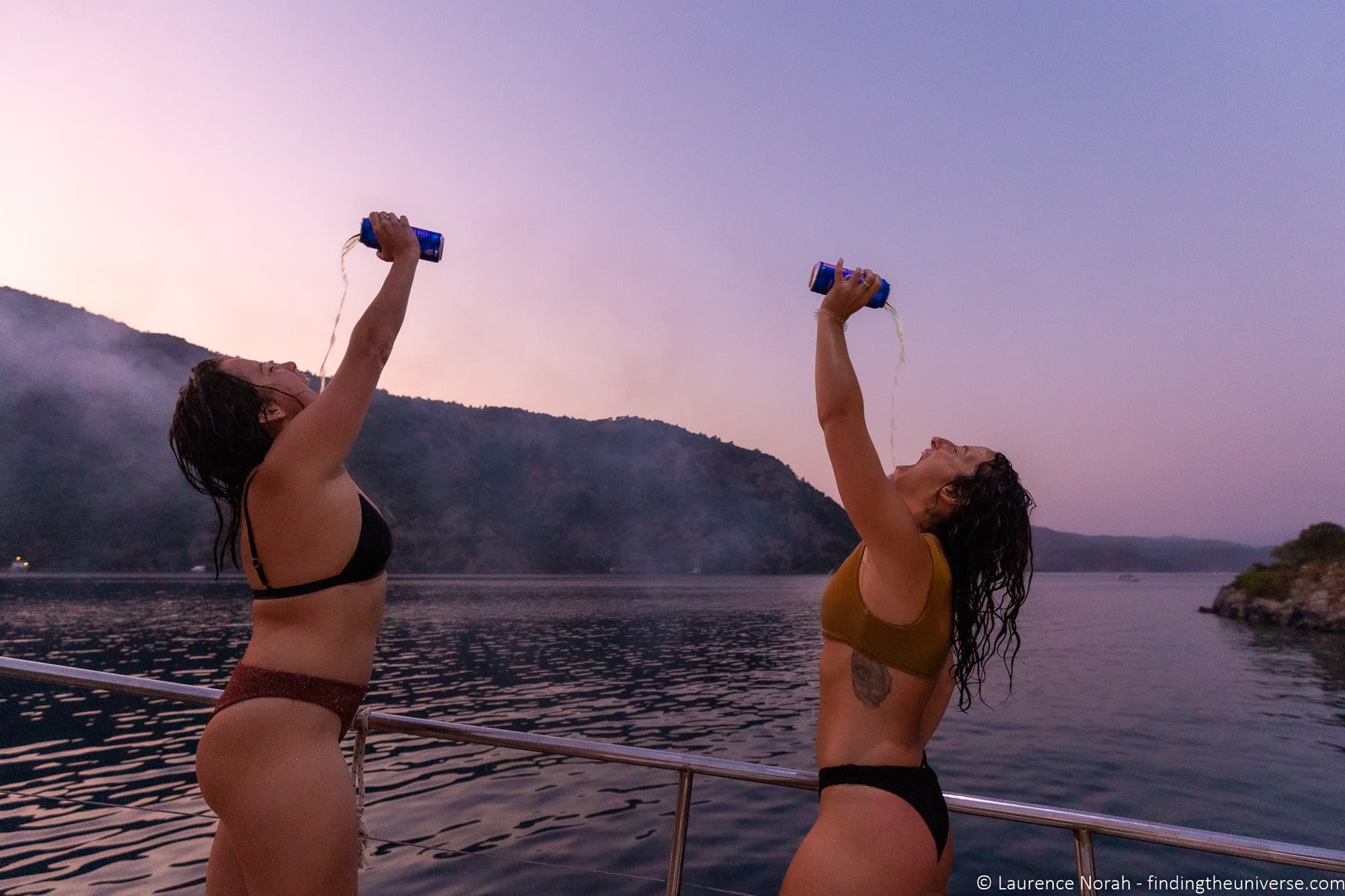 What's Included on a Travel Talk Tour?
Travel Talk are really up front about what is included and what isn't as part of the tour rate. They also provide a really detailed pre-departure guide for every tour, which includes an overview of any extra costs, as well as lots of practical information for your tour.
This pre-departure file can be downloaded from the tour overview page for each tour on the Travel Talk website, and we highly recommend you look at this to help you plan your budget and for practical information on your trip.
For our 12 day Travel Talk tour, the following was included:
Airport transfer on arrival
Tour guide for the duration of the trip (with the exception of the Gulet cruise)
12 nights accommodation
11 breakfasts, 2 lunches, 8 dinners
Transport
The following was not included:
Return airport transfer (although advice was offered on how to get back to the airport, and a shuttle could be arranged)
Travel insurance (this is required, and we would always advise having this anyway!)
Other meals
Gifts
Water / soft drinks / alcoholic drinks (most hotels included two small bottles of water per day)
Entrance fees to sights and museums
Optional activities
Gratuities
Flights (although Travel Talk are able to book flights for you if you wish, for extra)
Visas (most nationalities need a visa to enter Turkey which can be bought online here).
If you are wondering what the costs of meals and additional activities are, Travel Talk includes all this information in their pre-departure file so you can budget in advance.
As a guide, entrance fees for the year we visited, 2019, totalled 410 Turkish lira (approx £60). Meals ranged from 30 lira to 70 lira (£4 – £10), depending on choice.
The major optional activities on our trip were hot air ballooning in Cappadocia (€190), the Turkish Bath (130 TL) and the Turkish Night (160 TL). Of those, I would say that the hot air ballooning is definitely one to budget for, as it's an incredible experience.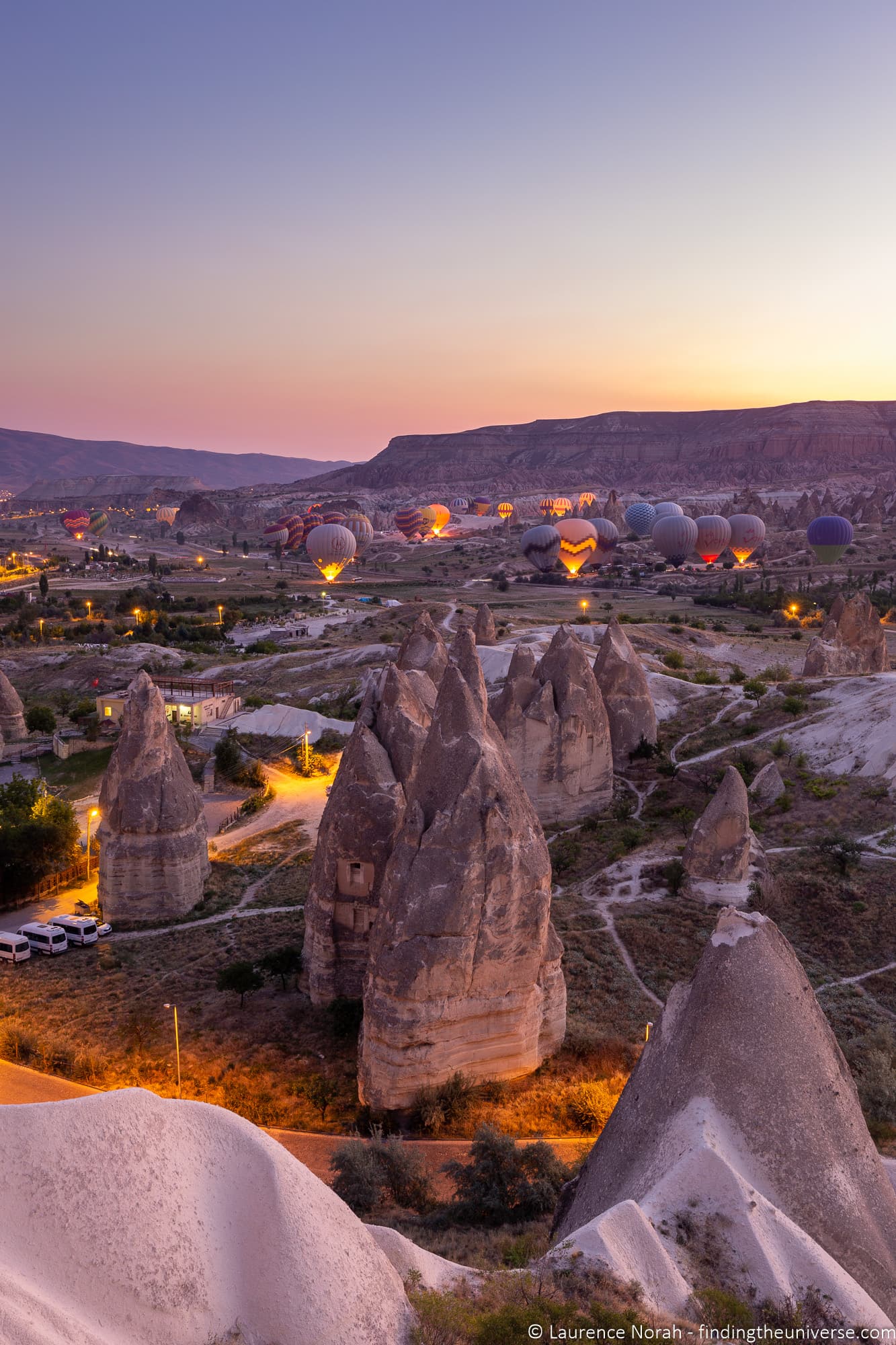 Day by Day Overview of the Best of Turkey by Gulet Tour
The tour we took was the 12 day Amazing Turkey by Gulet tour, which you can see and book on the Travel Talk website here.
Here's what we did on each day to give you an idea of what to expect if you take this tour, or one of the similar tours like Best of Turkey by Land, Amazing Turkey by Gulet, or Amazing Turkey by Land.
Day 1 – Arrival into Istanbul
The first day was the arrival day. Arriving into the new Istanbul airport (IST) was a welcome change from the hectic experience of the old Ataturk airport, which seemed busy at whatever time of day we were here.
After collecting my bags, we were met by a man holding a Travel Talk sign. The airport transfers are arranged for efficiency, so a group of people can be transported together, but no one has to wait too long. The couple who had already arrived had waited a short while, and another couple arrived shortly after I did, after which we were escorted to a shuttle bus for the 40 minute ride to the hotel.
The hotel on the first night was the Legacy Ottoman, rated as a 5* hotel. The entry lobby was very pretty, and the location was fantastic, right next door to the old spice market. My room was on the small side, but it was clean and had everything I needed.
There were two main events on the first day, a welcome presentation by our Travel Talk guide, and an optional evening meal. Depending on the time your flight arrives into Istanbul, you'll be able to make one or more of these events.
At this event we met our guide who would be leading the tour, Yavuz. Yavuz has been leading tours in Turkey for 25 years, and was a Turkish national with huge amounts of experience and knowledge about the country, its sights and its history.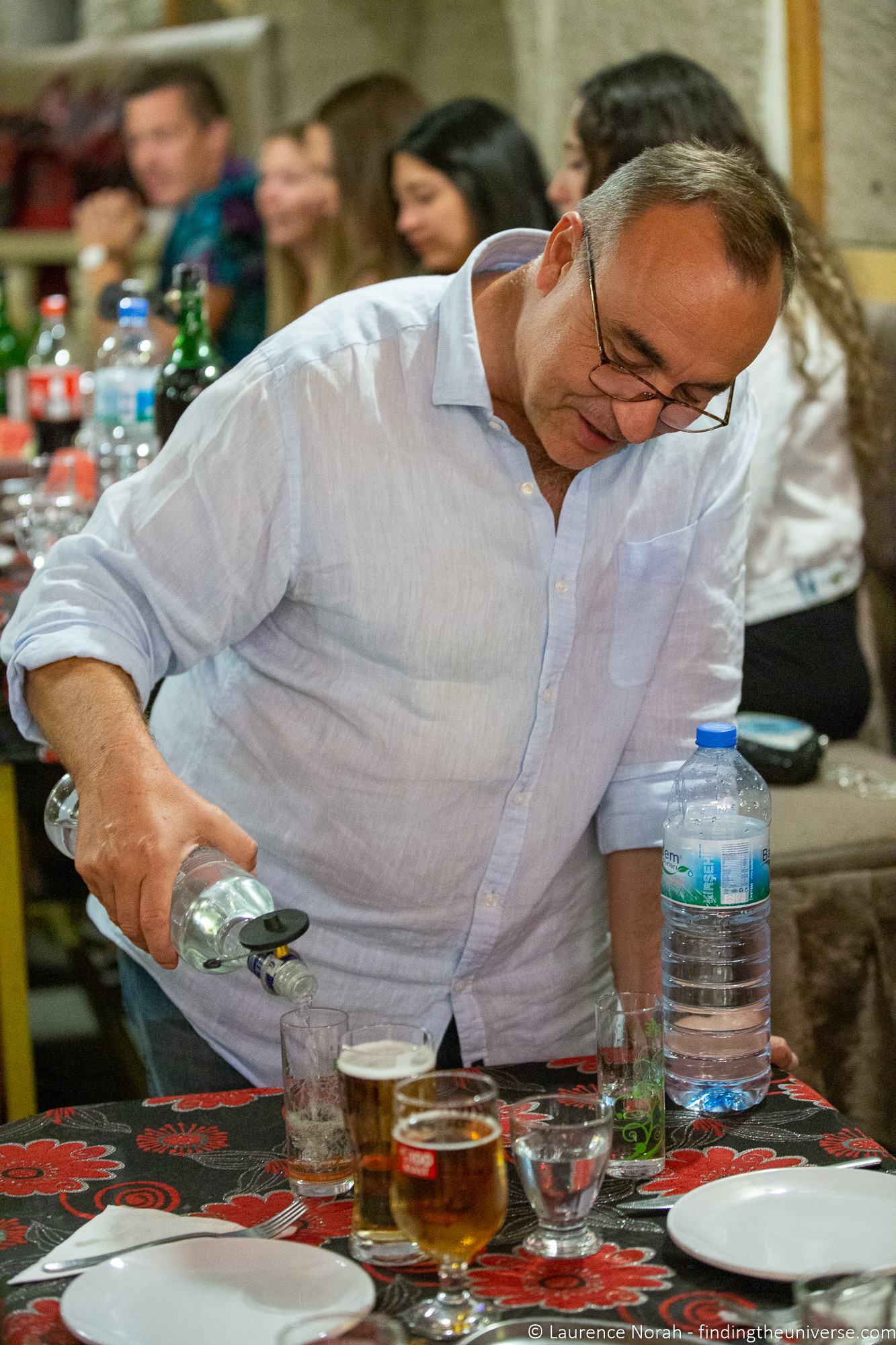 The welcome presentation was around an hour long, and covered a wide variety of topics, from what we'd be doing and seeing, through to useful information on things like tipping, drinking water, food, and optional activities.
Most of the folks who had come in opted for the evening dinner as it was a good opportunity to start to meet our fellow travellers. This was held in a roof top restaurant a five minute walk from the hotel. This offered lovely views across the Bosphorus. Our guide Yavuz explained that the speciality of this restaurant was grilled kebabs, although there were plenty of choices. The meat and starter selection of bread and dips were excellent.
After dinner, some folks headed on to partake in shisha or a couple of more drinks, most, like myself, headed home for bed after a long day of travel.
Day 2 – Exploring Istanbul
The second day on the tour was the first actual full day of sightseeing. The nice thing about this day was that we were staying in the same hotel, so there was no need to pack up!
After an expansive buffet breakfast, we met Yavuz at 8.30am in the hotel reception. The plan for the day was to explore some of the sights of the old town of Istanbul, including the Hagia Sophia, the Blue Mosque, and Topkapi Palace Museum.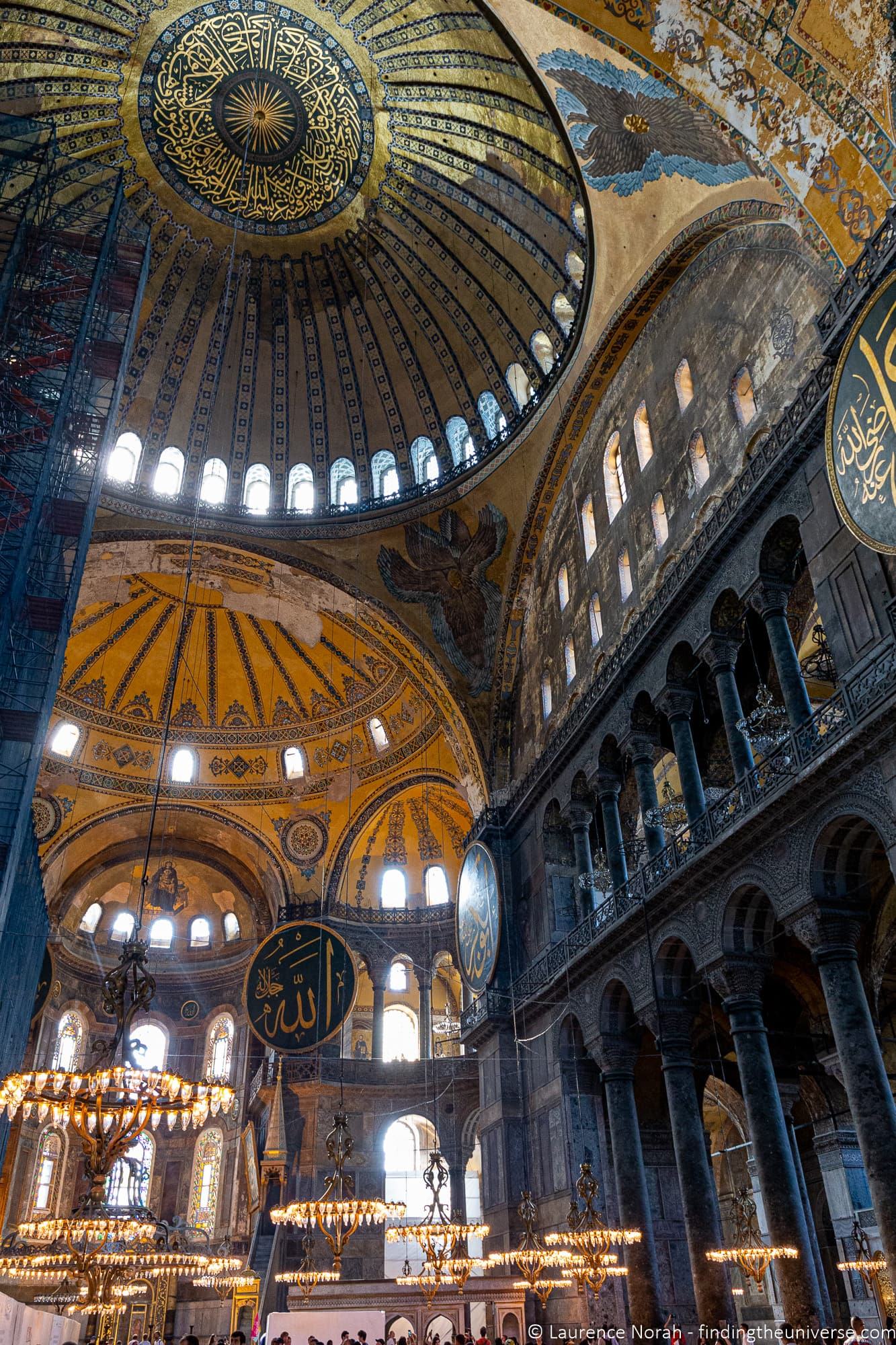 Obviously there is a great deal more to see in the city, but these are certainly the sights that most first time visitors will want to come to.
Of course, some people on our tour, myself included, had visited Istanbul before. The nice thing about our time in Istanbul was that Yavuz was very flexible, so folks were welcome to come on the walking tour, or to explore themselves. They could also join the tour for a part of it, and then wander off (after letting Yavuz know of course).
I took the whole tour, which lasted from around 8.30am through to 2.30pm. In that time we visited three major sites. At the start of the tour Yavuz issued us with headsets so we could hear him – with around 35 people on the walking tour, this made hearing him a lot easier.
Our first stop was the beautiful Hagia Sophia. A church has stood on this location since 360AD, with the present structure dating from 532. Originally a Christian church, the Hagia Sophia was converted into a Mosque from 1453 onwards. However, as of 1935 it became a museum, and so it is no longer an active place of worship.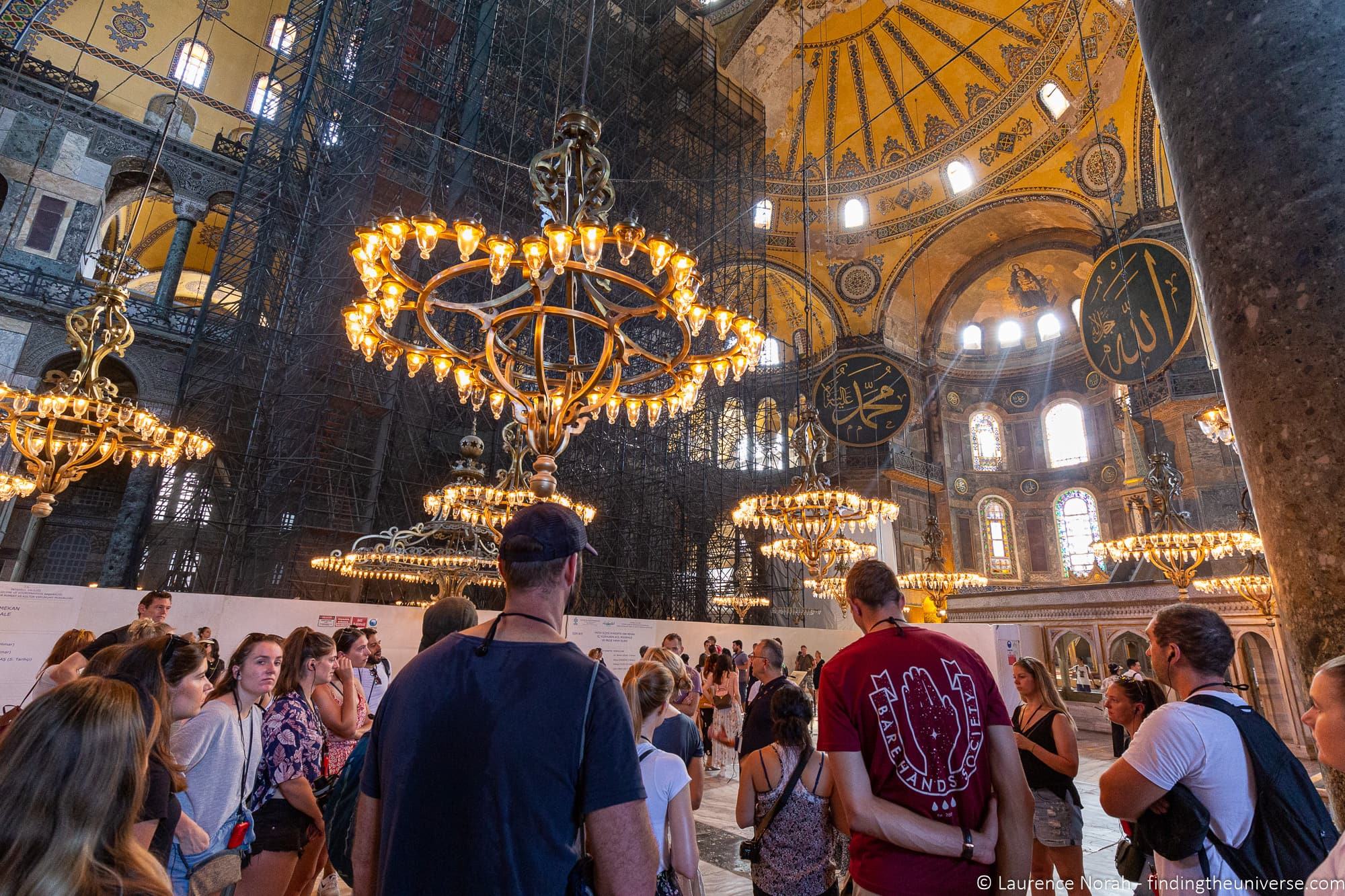 Every time I've visited the Hagia Sophia over the past several years, there has been some some of reconstruction work happening, which is probably to be expected with a building of this venerable age. It's a pretty magnificent place though, and we spent around 45 minutes inside, with some time spent with Yavuz explaining some of the more interesting features, and the rest of our time given over to free time.
This was a fairly common theme throughout the tour – we would always be given information and history about what we were seeing and experiencing, followed by some free time to explore on our own and take photos. This worked well for everyone as far as I could tell, and we never felt rushed, herded, or like we didn't have enough time to explore.
After the Hagia Sophia we visited the Blue Mosque. This was a little disappointing during our tour as it was undergoing major renovations so most of it wasn't really visible. Of course, this wasn't the fault of Travel Talk, or anyone really, but it was definitely not as impressive as it could have been. Luckily I'd visited before, and so was able to remember if from that time.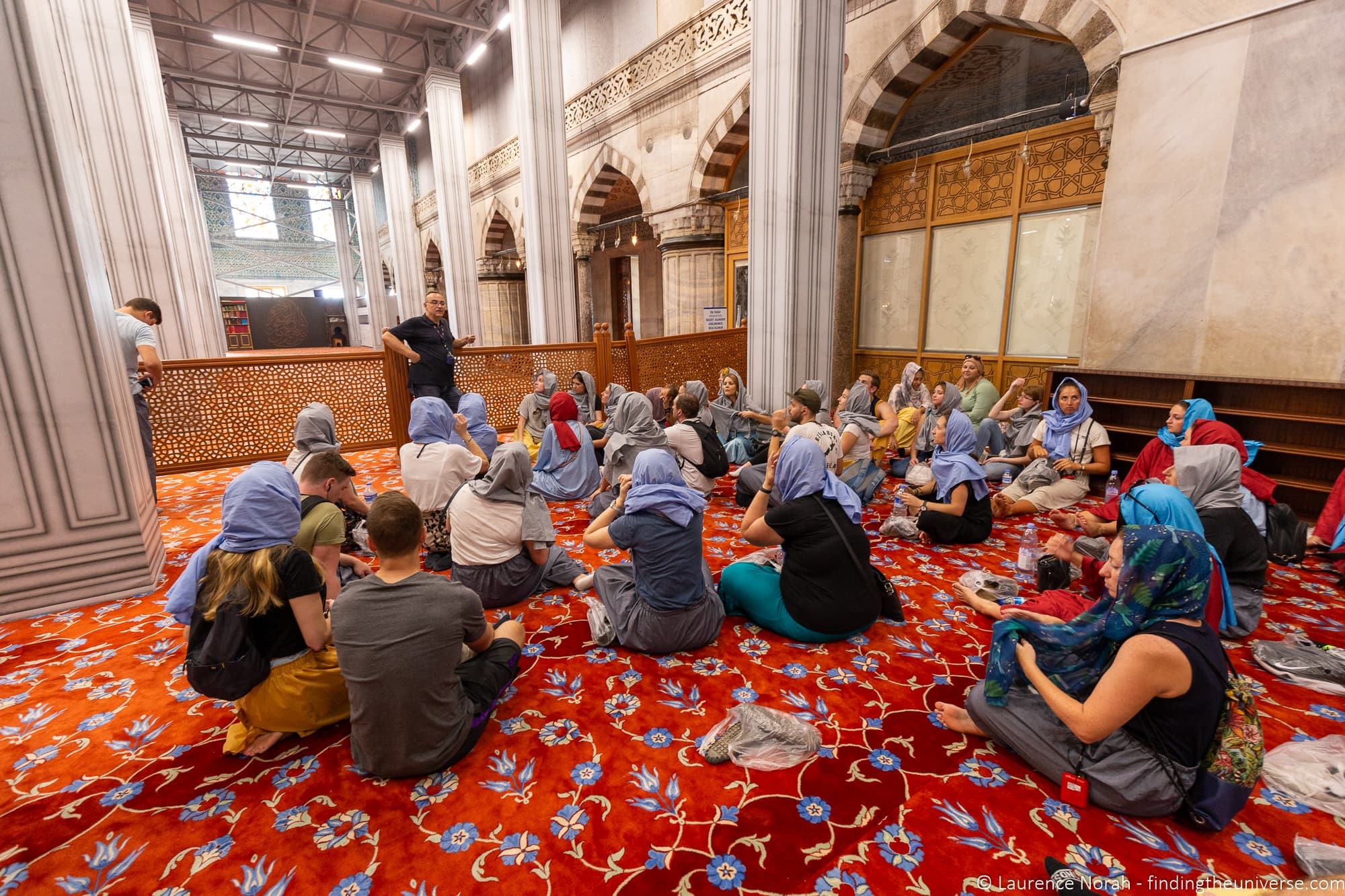 From the Blue Mosque we went for lunch. Lunch, like most days on the tour, was at each individuals expense. We had around an hour allocated for lunch, and we were free to eat where we liked, although most chose to eat where Yavuz recommended, at the famous Pudding Shop. Here we had a variety of options, although the specialty of Izkender Kebab was recommended, so that's what I went for.
After lunch we visited the Topkapi Palace Museum. This was the home of the sultans of the Ottoman empire, and is a vast sprawling palace complex set across a hill with commanding views across the Bosphorus Sea. Here our tour ended, and we were left to explore on our own, and make our own way back to the hotel.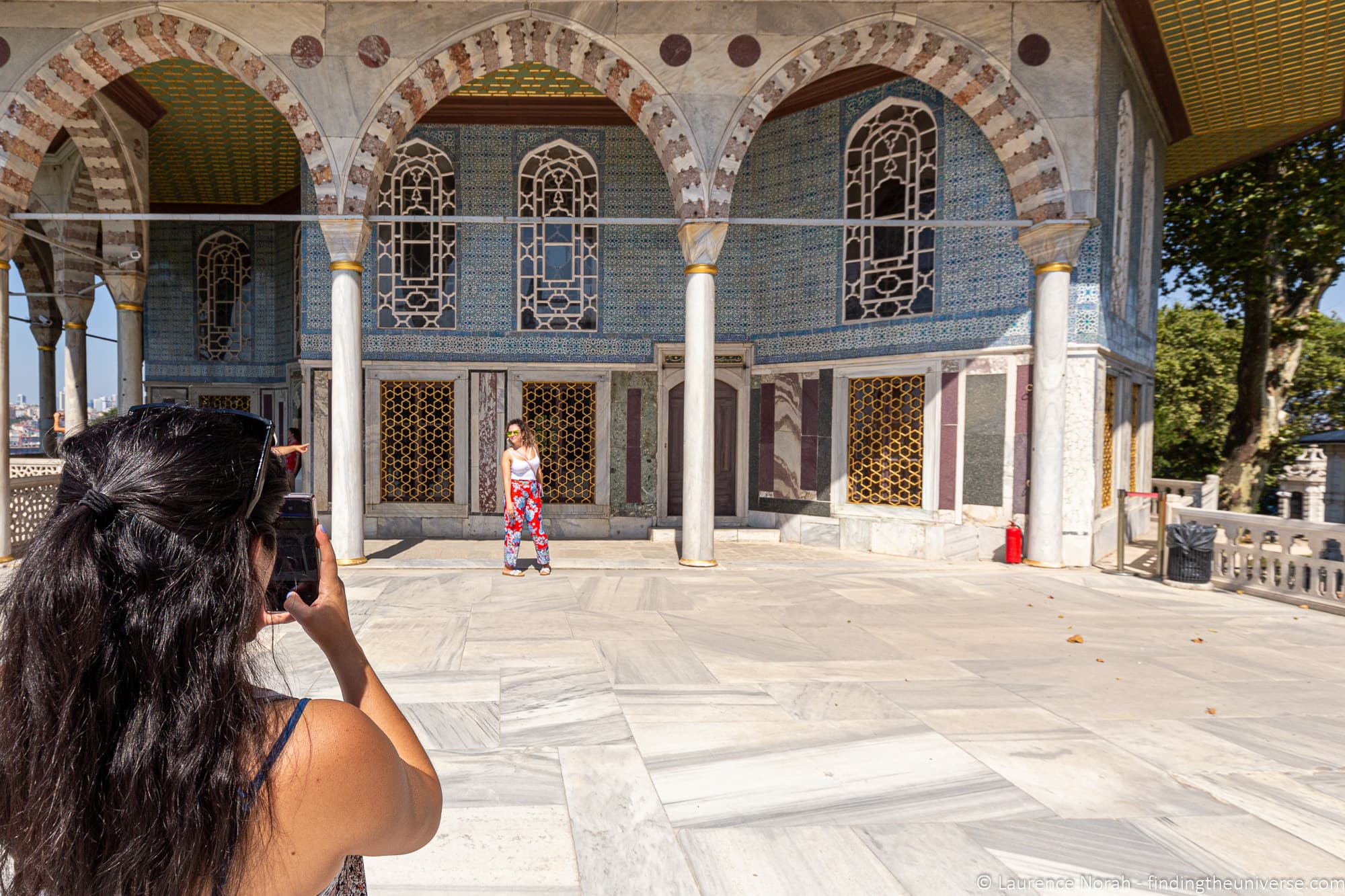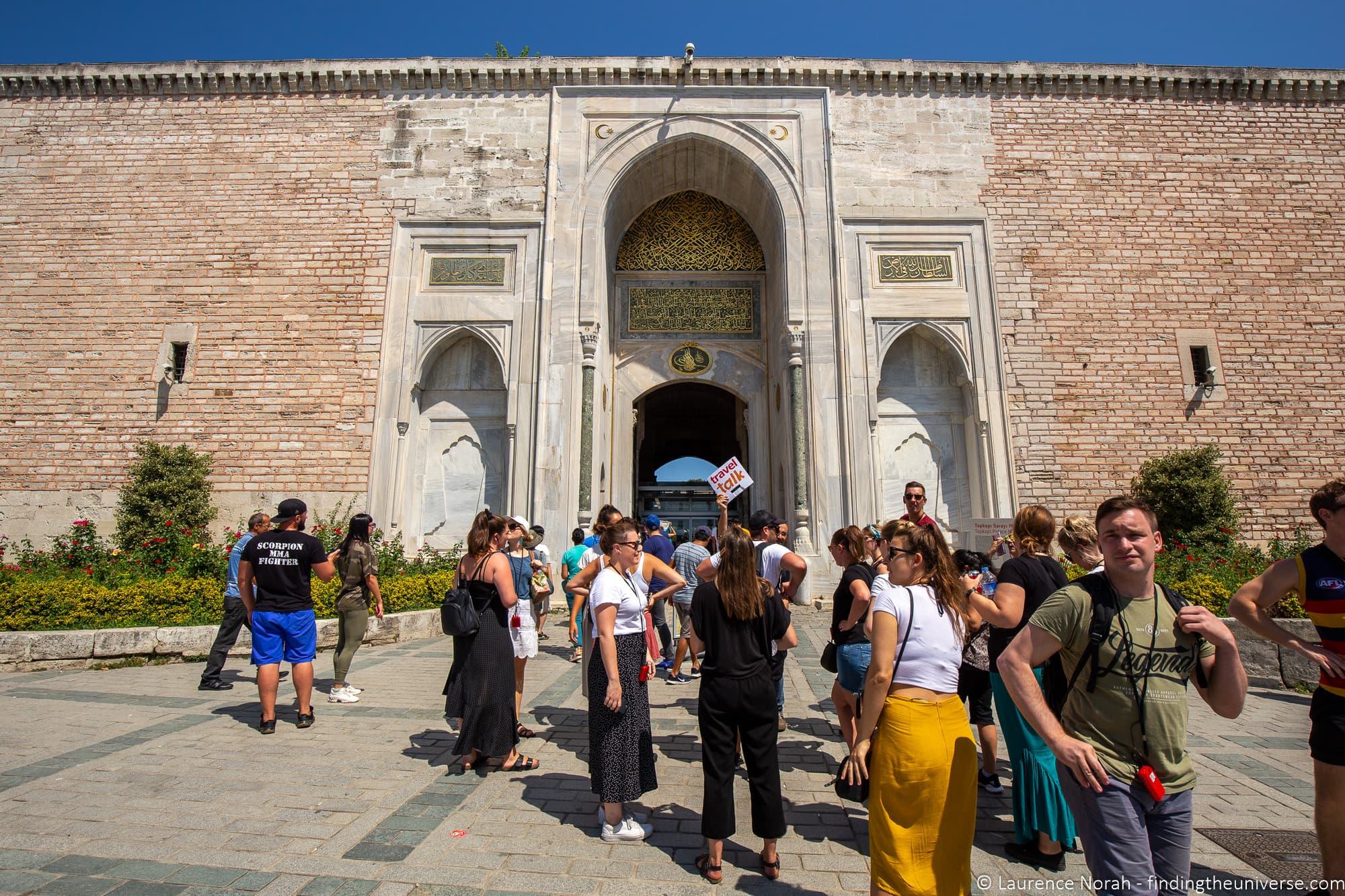 The last activity on our second day was another optional extra, and it was a sunset cruise on the Bosphorus. Given we could take our own drinks on board, everyone was pretty excited about this, and pretty much everyone came along.
It was a pretty wonderful cruise, lasting around 90 minutes and giving us panoramic views of both the Asian and European sides of Istanbul. The evening was lovely and warm, and with a few beers to accompany the sunset, it was a lovely way to end the day.
Ok, so we really ended the day with dinner in Istanbul. Nothing formal was arranged, but we pretty much all wandered out as a group and found a nice restaurant to eat at together. I then headed for bed, as the third day was the beginning of the early morning starts!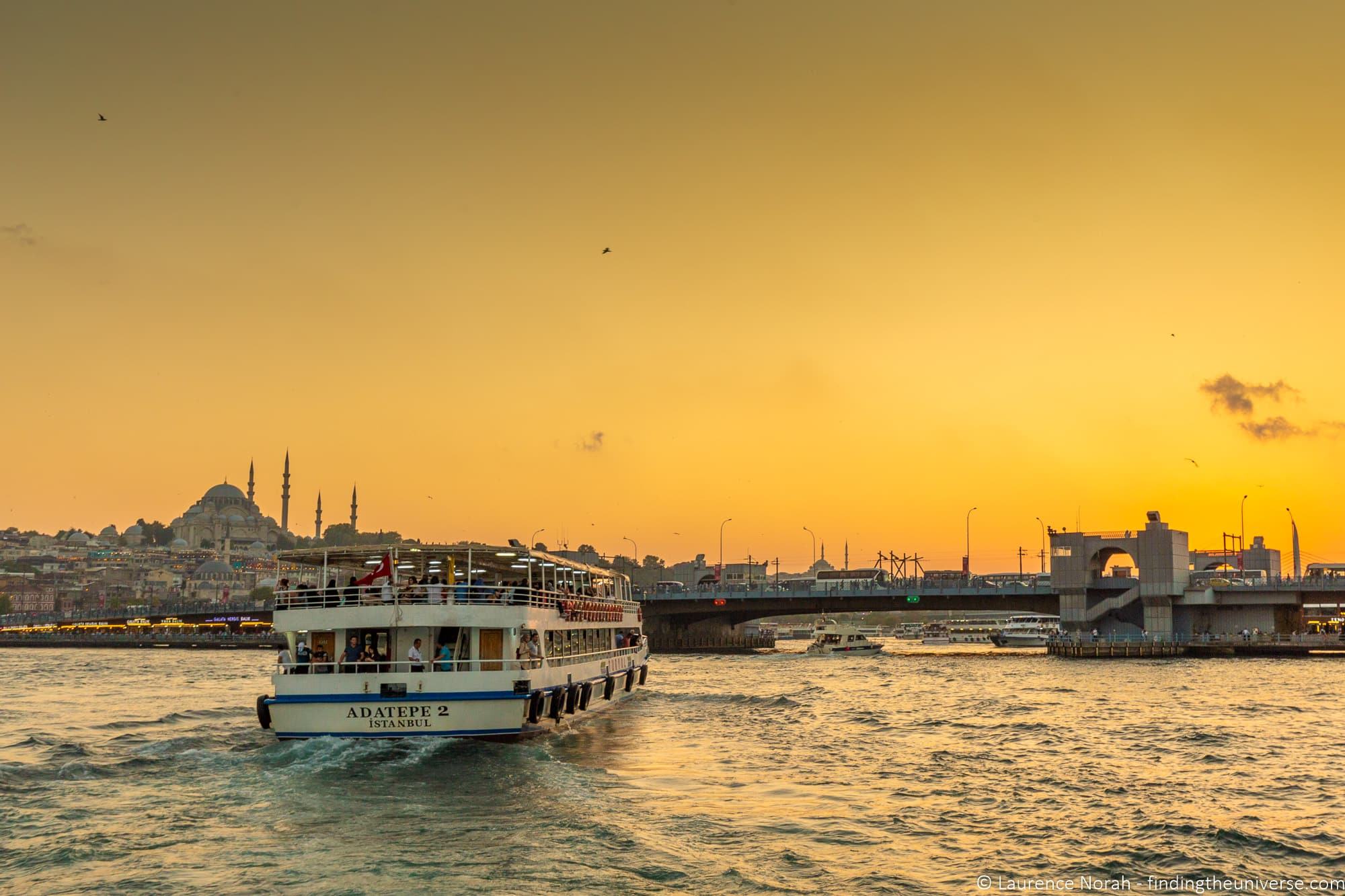 Day 3 – Gallipoli / ANZAC sights
The third day of our Travel Talk Turkey tour was the first day on the bus. We've taken two Travel Talk tours before, and so I was familiar with the necessity for spending a fair amount of time on a bus.
Given the vast size of Turkey and places covered on this trip, I knew a lot of bus time would be required. So the comfort of the bus was certainly an important factor as to the quality of the tour.
Thankfully, I am pleased to report that on our tour the bus was excellent. With 44 people in our group, we obviously needed a large bus, and we had a pretty huge Mercedes. Also, with 44 people, every seat was full. Still, the bus didn't feel cramped at all, with plenty of recline space, foot space, and overhead luggage storage.
Our departure on the third day was at 7.30am from the hotel, which meant an early breakfast. Our group was timely, and we pulled away from the hotel by 7.40am. Being on time on a group tour is key to a successful day!
The third day of the tour had us heading out of Istanbul and to Gallipoli, particularly well known to Australians and New Zealanders as the site of the Gallipoli campaign in World War 1.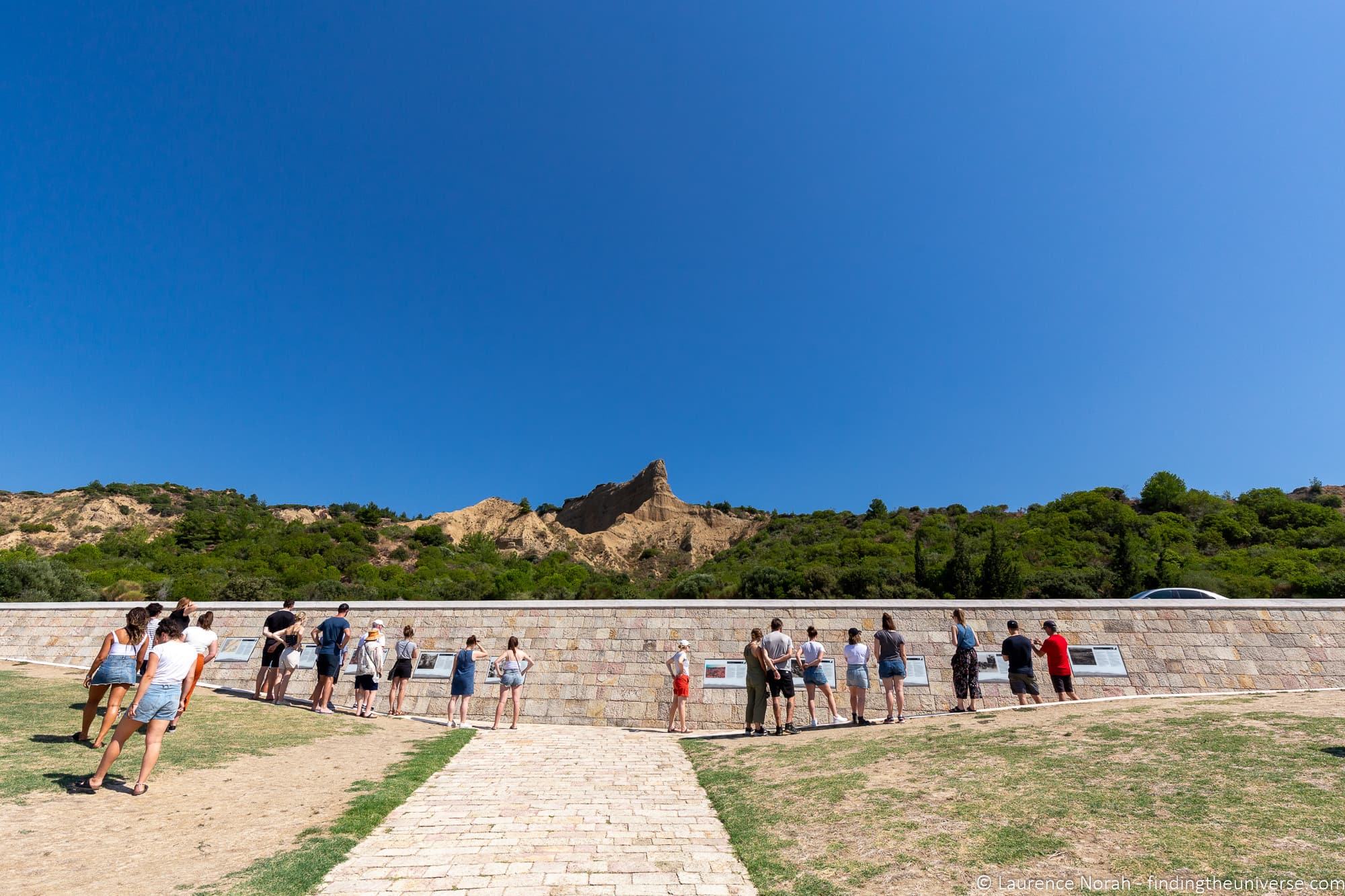 This was a bit of a drive. We travelled for a couple of hours, then had a 20 minute coffee break. Then there was another two hour drive, during which everyone on the bus got to have time to introduce themselves using the microphone, which was a good way to quickly get a feel for who was on the tour.
At midday we stopped for lunch at a road side lunch location, where a traditional and great value Turkish buffet style lunch was on offer.
We got to Gallipoli at just before 2:00pm, and we spent just over three hours exploring many of the locations here, including Anzac cove, North Beach, Lone Pine cemetery and Ari Burnu cemetery.
If you're not familiar with the Gallipoli campaign, this was a campaign in the First World War which took place for almost a year, from the 17th February 1915 until 9th January 1916. The goal was to take control of an important shipping lane, weaken the Ottoman Empire, and create a supply route to Russia.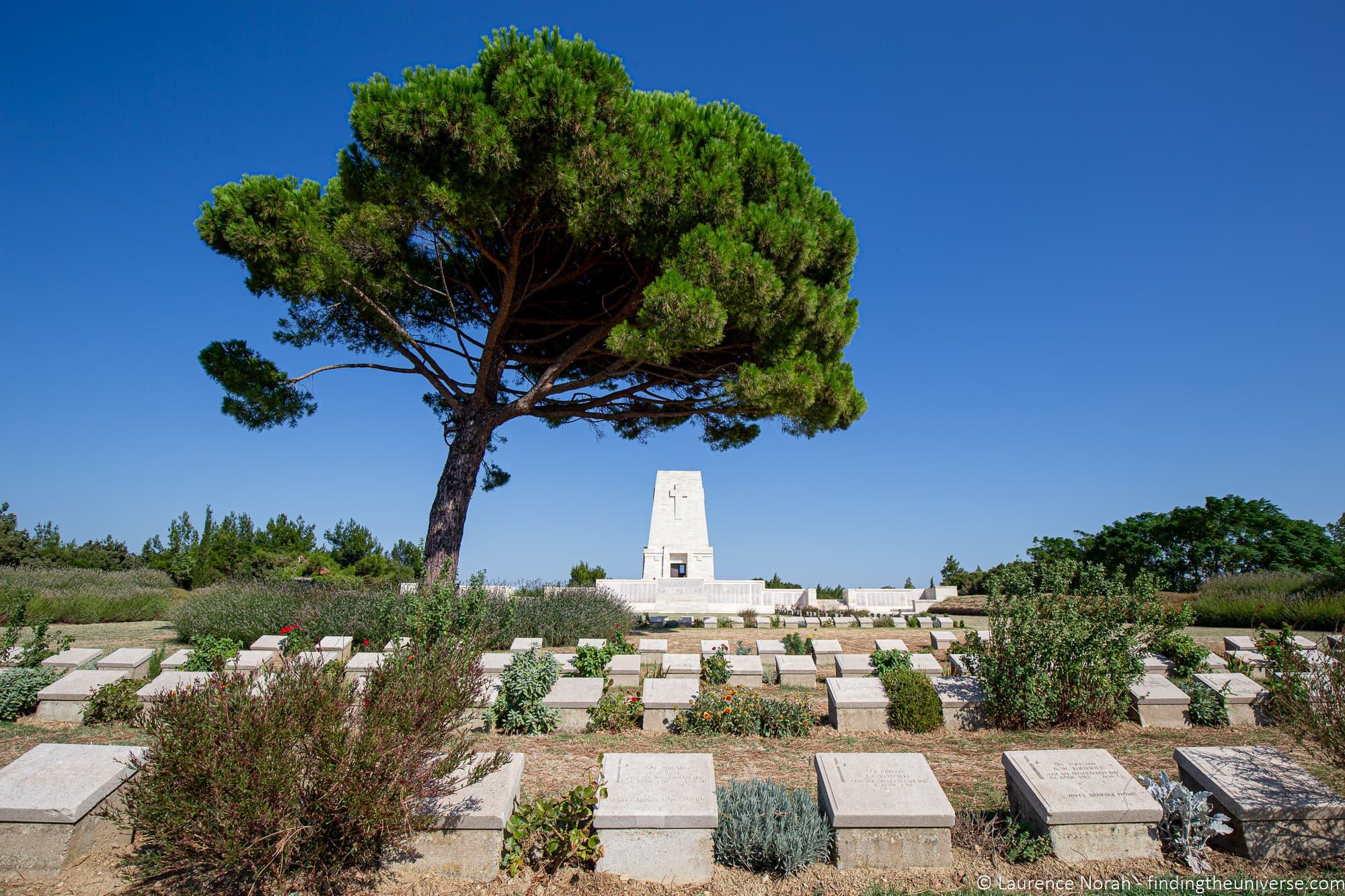 The campaign involved a great many troops from Australia and New Zealand, and is credited as being the place where Australia and New Zealand developed a sense of national identity. This is likely why a visit to the Anzac sites is so popular with citizens of these countries.
In terms of the campaign, it is fair to say it started badly, and only got worse.
Gallipoli started with a failed naval campaign to conquer the straits. Following this, it was decided that a land based invasion would be the best option, with troops from Australia and New Zealand (the Australian and New Zealand Army Corps, or ANZAC) as well as Britain and France making up the almost half a million strong landing force.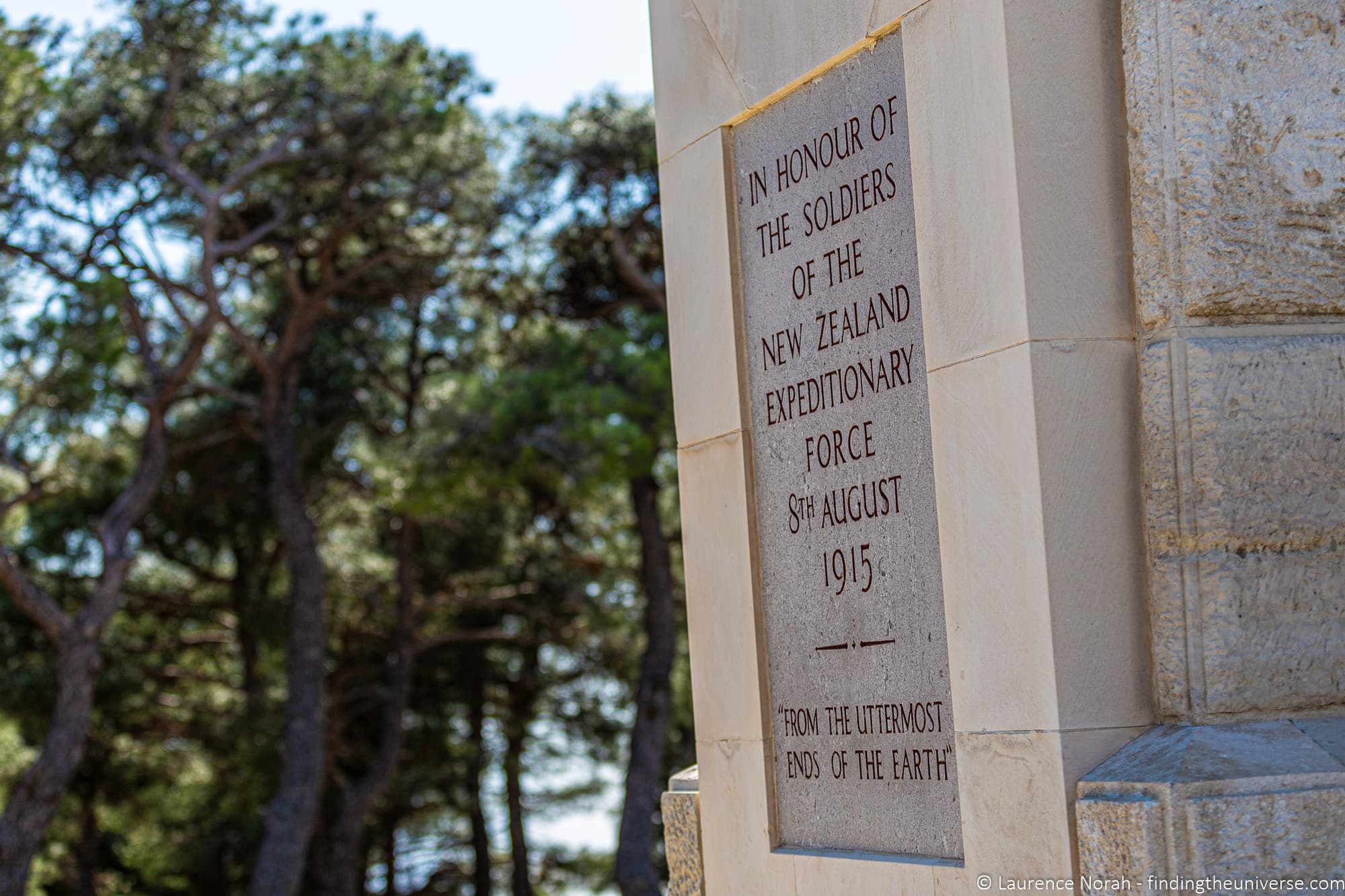 They faced around a third of a million embedded troops, nearly all of whom were Turkish.
The landings started on the 25th April 1916. This day is now a public holiday in Australia and New Zealand, and commemorations are held every year in memory of the events.
Suffice to say, the landings did not achieve their objectives. Difficult terrain, the challenge of maintaining supply lines, and extreme weather conditions conspired against both side. In total, there were over half a million casualties.
Following a series of failed attempts to advance much beyond the beaches and surrounding hills, the decision to evacuate the remaining troops was taken in late 1915, with the bulk of the evacuations taking place in December 1915.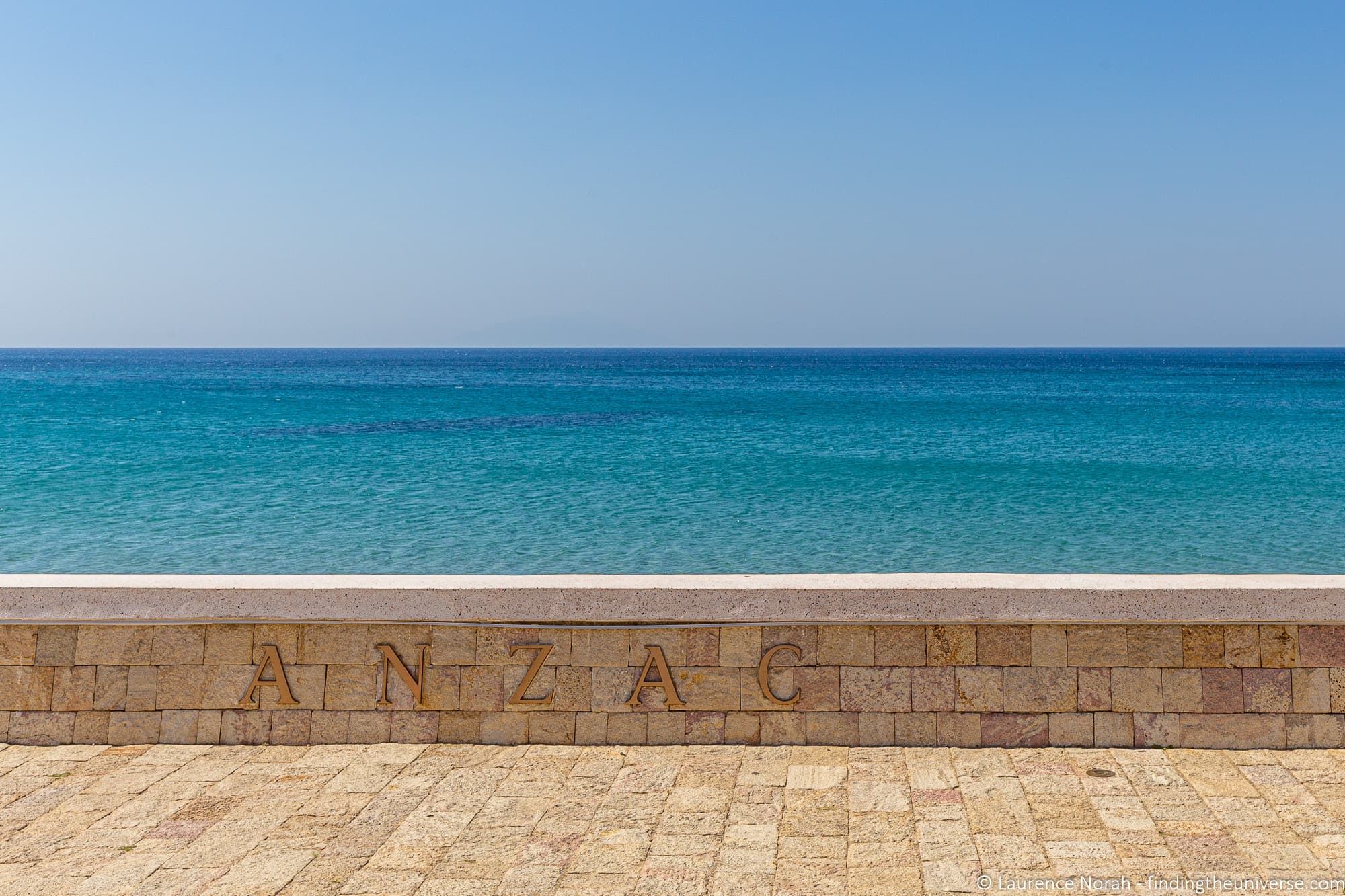 History is unclear as to whether anyone actually won, as both sides suffered heavy losses. Generally it is regarded as either a stalemate or a defeat for the Allied forces.
Today, the region of the battles is a huge area of memorial for those who lost their lives on both sides of the battle. There are over 30 cemeteries spread across the region, as well as various monuments and information panels. It is a sobering place to visit, and I'm glad I was able to learn a bit about this piece of history on our tour.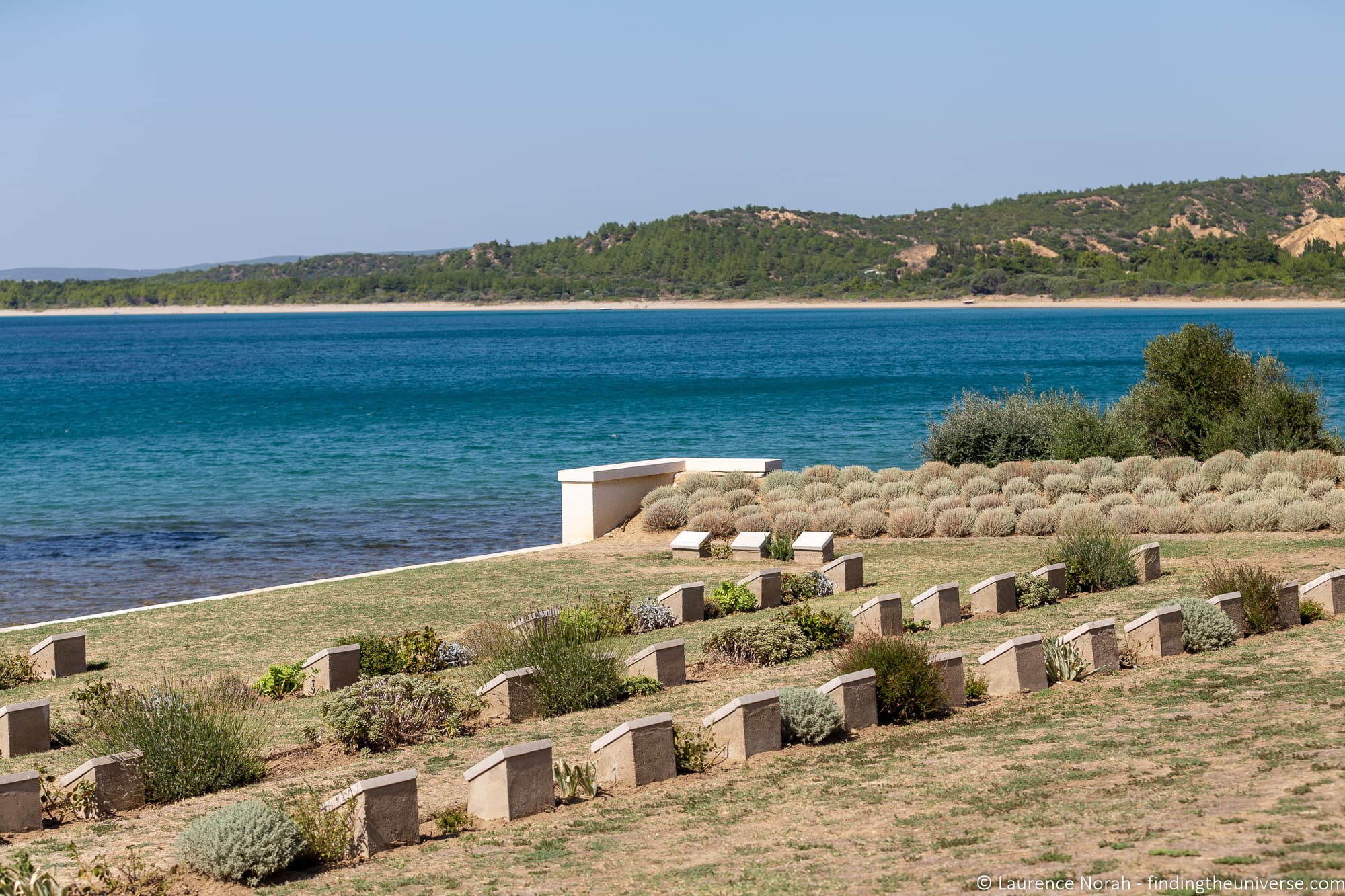 After visiting the Anzac locations, it was back in the bus for a half hour ride to the ferry terminal, where we crossed the Dardanelles and found ourselves on the continent of Asia. The ferry ride took around 30 minutes, after which it was another 30 minute drive to our hotel for the night, which we arrived at just after 7pm.
Here, there was a lovely view of the sunset, which I took a number of photos of whilst enjoying a beer. The majority of the group jumped into the hotel pool, before we had a good buffet dinner and ended the day.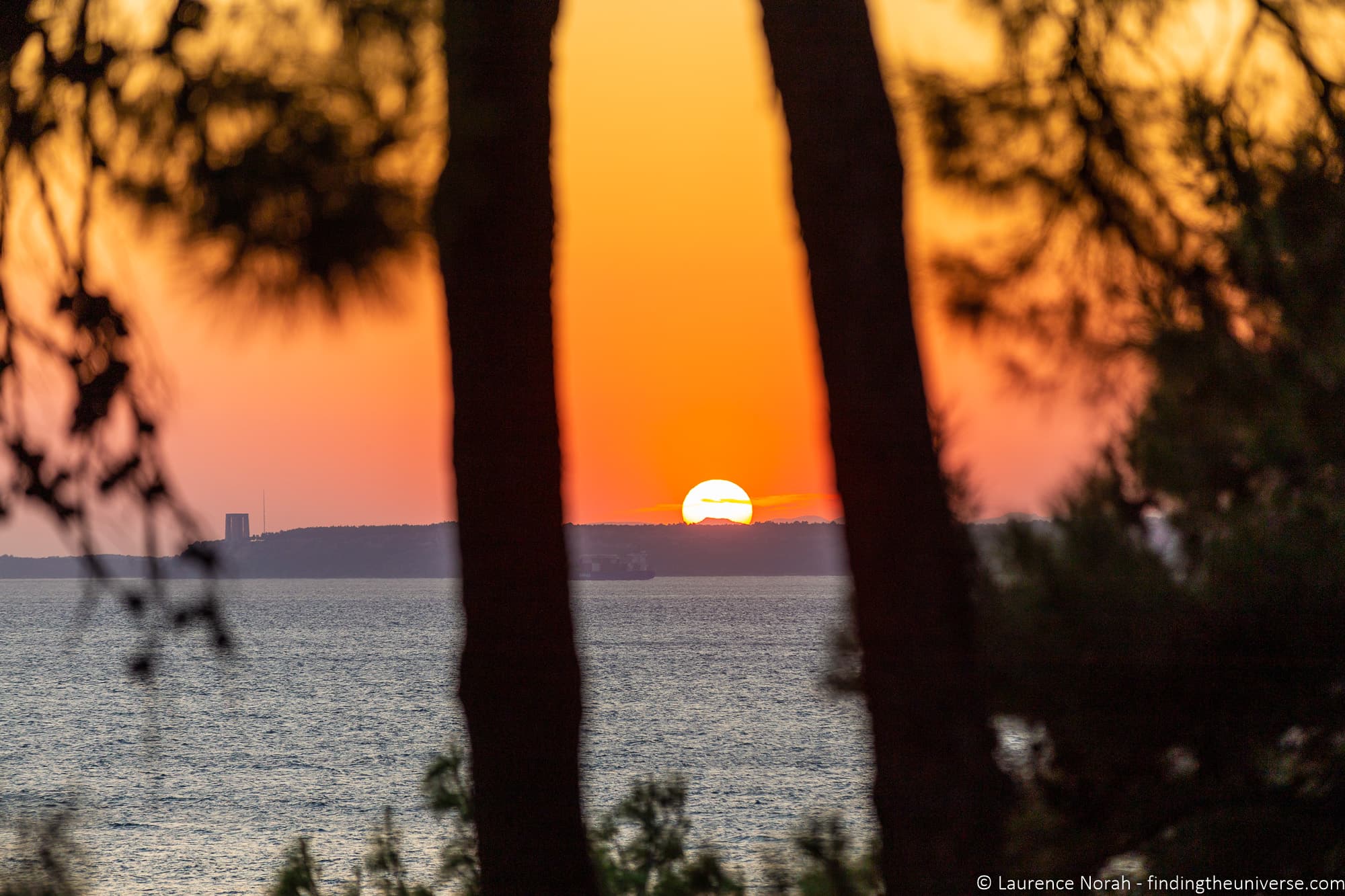 Day 4 – Troy
Our fourth day started with an 8am departure. Almost a lie-in! This was due to be a long day on the bus, with the main highlight being the city of Troy.
From our hotel, it was only a half hour ride to Troy. This meant we got to explore the ruined city and pose in front of the famous Trojan Horse before it got too hot. This was definitely welcome, as temperatures during the day when we visited Turkey were hitting 41C / 106F!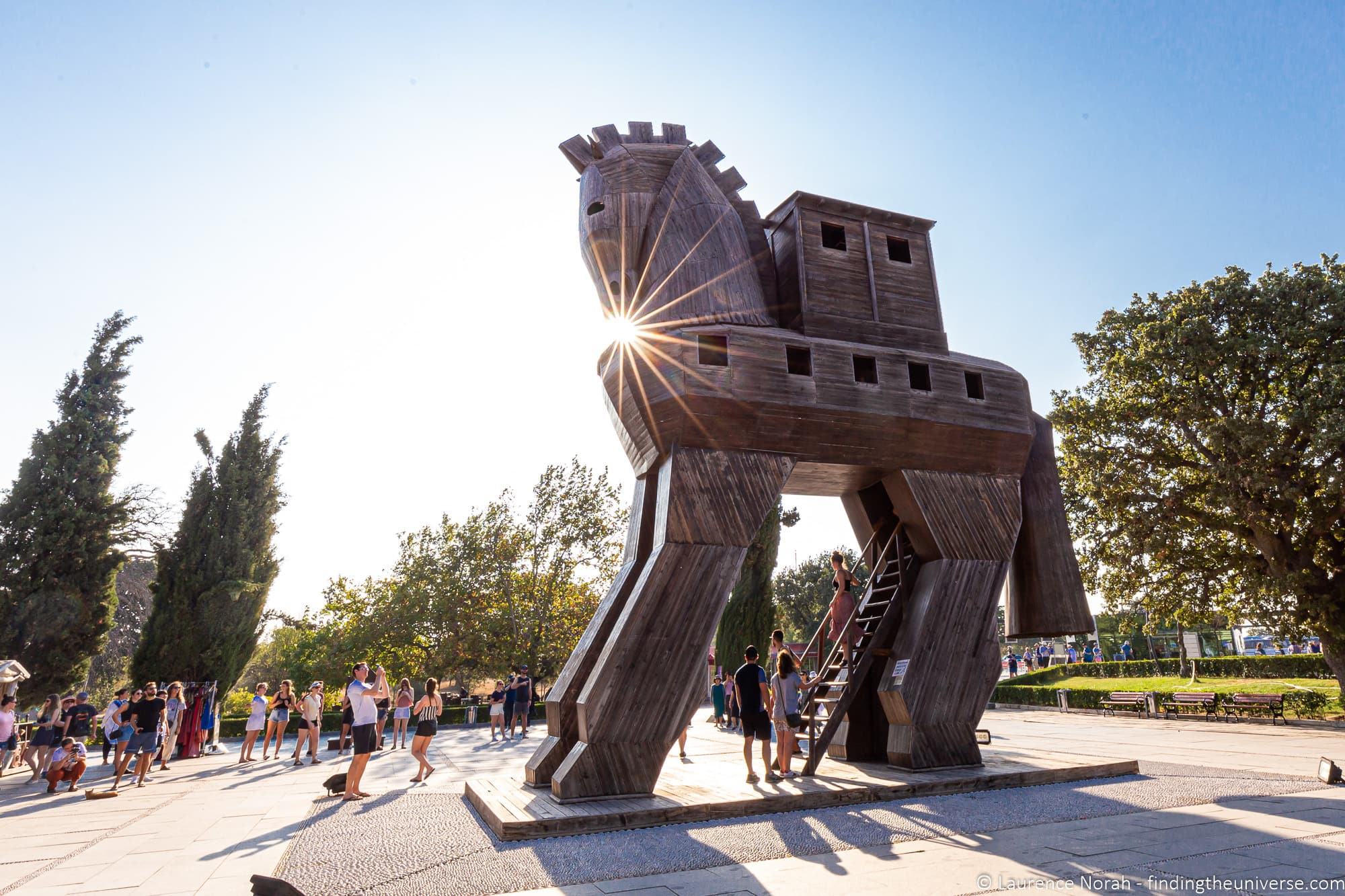 We spent a couple of hours exploring the ruined city of Troy under the guidance of Yavuz, who shared with us the history of this famous location. I learnt for example that there have been at least 9 cities built on this location, dating as far back as 3000 BC, with the last city abandoned in 500 AD.
That is a lot of history for one place, and as you would imagine, Troy is a UNESCO World Heritage Site.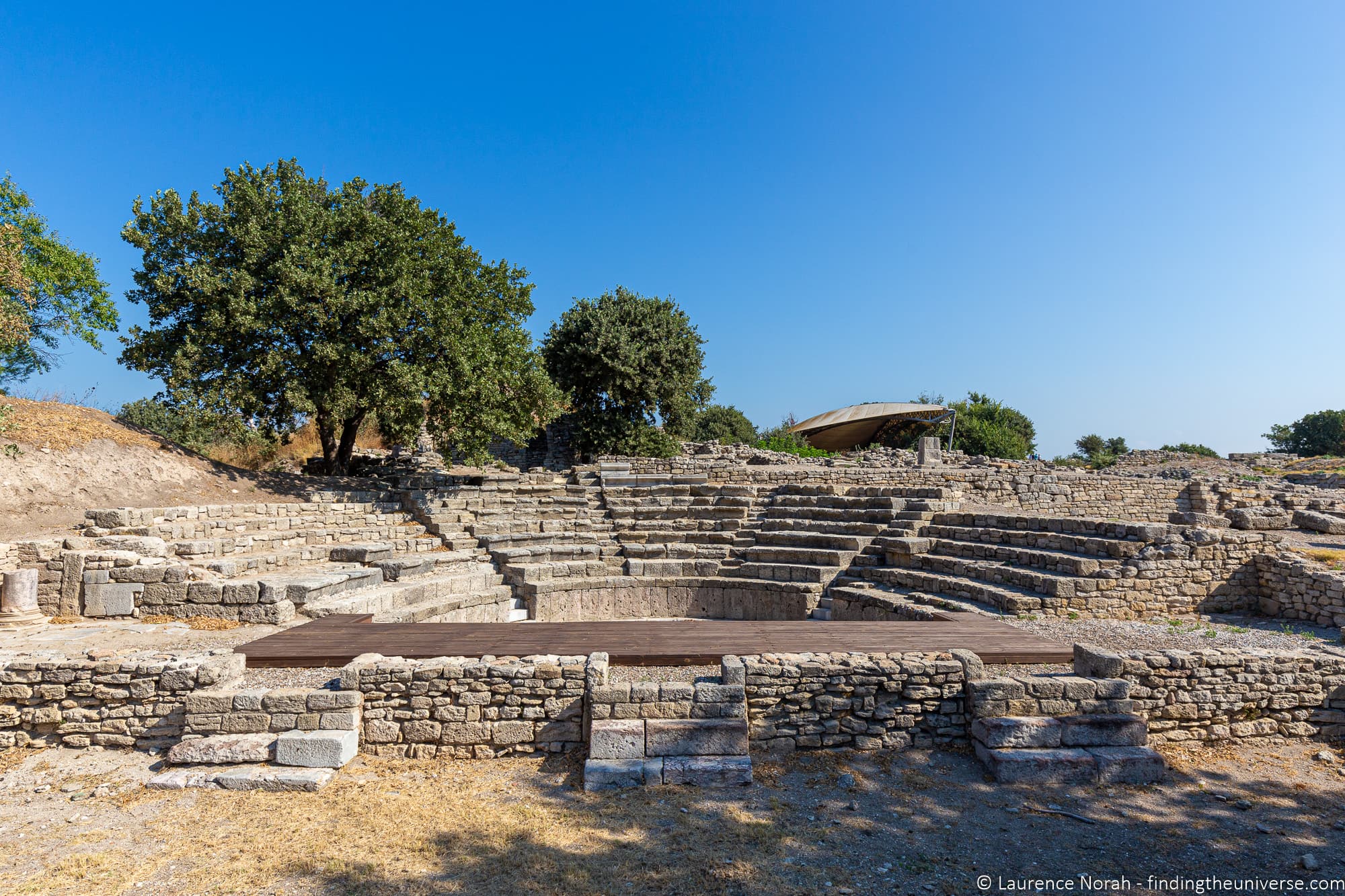 After Troy, it was time for a long bus journey. We left Troy at 10.30 and stopped once for a restroom break, before stopping for lunch at 2.30.
This lunch stop was a definite highlight. We went to a remote restaurant in the mountains where our group were the only people. Traditional Turkish Pide (flatbread with different toppings) was the speciality here, as well as kebabs and baked cheese. I will admit I may have slightly overeaten at this lunch stop!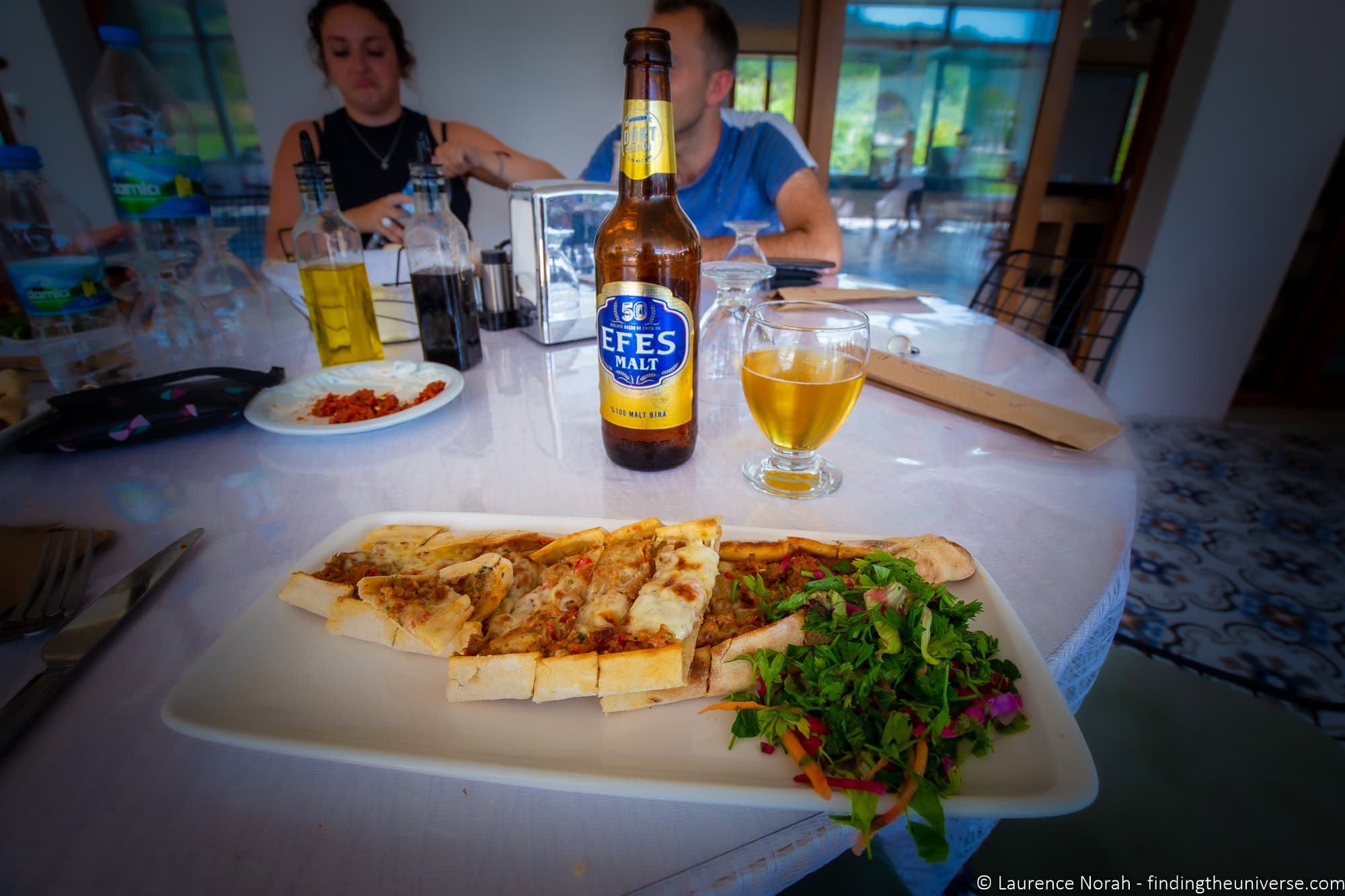 We were then treated to some traditional Turkish singing by the restaurant owner, before resuming our bus journey. One rest stop later, and we pulled into our hotel in Kusadasi at 7pm, just in time for the sunset.
According to our Travel Talk itinerary, we were due to have the afternoon free to explore Kusadasi, but in reality we only had around half an hour of light, which was a bit of a disappointment after a long day on the bus. The hotel pool had also closed by the time we arrived.
Still, there was live music at the hotel and we all sat and enjoyed dinner around the pool nonetheless!
Day 5 – Ephesus & Gulet
The fifth day of our Travel Talk tour in Turkey started with a 7.30am departure. Yes, these are getting earlier. And yes, they are going to keep getting earlier!
Highlights of the fifth day were a visit to the ruined city of Ephesus, a stop at a pottery workshop, and embarking on our boat adventure!
The first stop of the day was at Ephesus, which we got to at just after 8am. Again, this early morning arrival meant we missed the heat of the day, and there was lovely soft warm light casting a glow over everything, which was rather pleasant.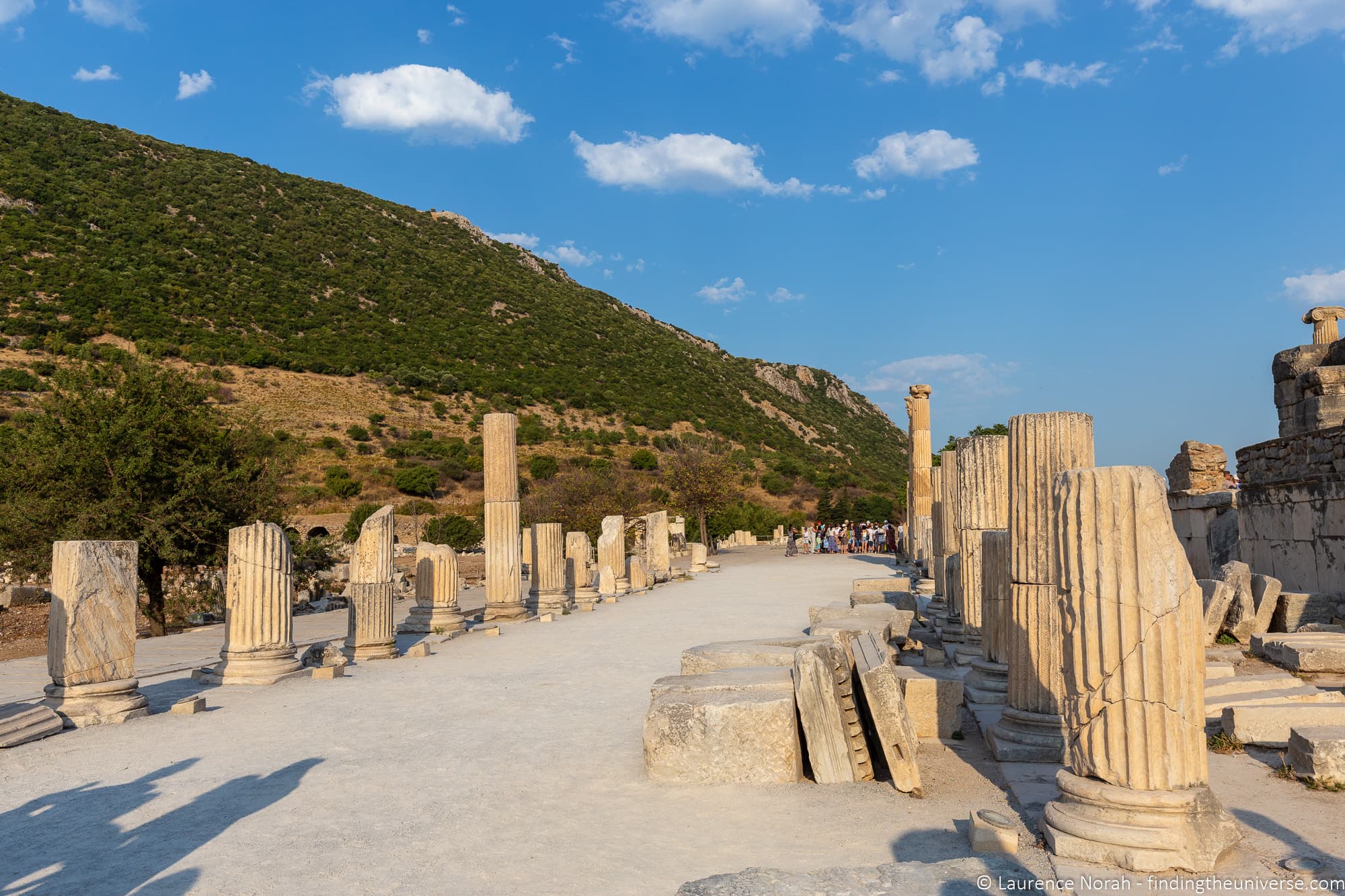 Ephesus, for those of you not familiar with Ancient Greek settlements, was an Ancient Greek settlement on the Ionian coast. It was built in around 1,000 BC, and lasted until the 15th century AD.
A lot happened in those 2,500 years.
Ephesus was home to the Temple of Artemis, one of the Seven Wonders of the Ancient World. It was also home to the library of Celsus and a theatre with room for 25,000 spectators – the largest in the world at the time.
It is also believed that one of the gospels of the bible was written in Ephesus, and that the Virgin Mary spent the last few years of her life in this region. John the Apostle is said to be buried nearby as well.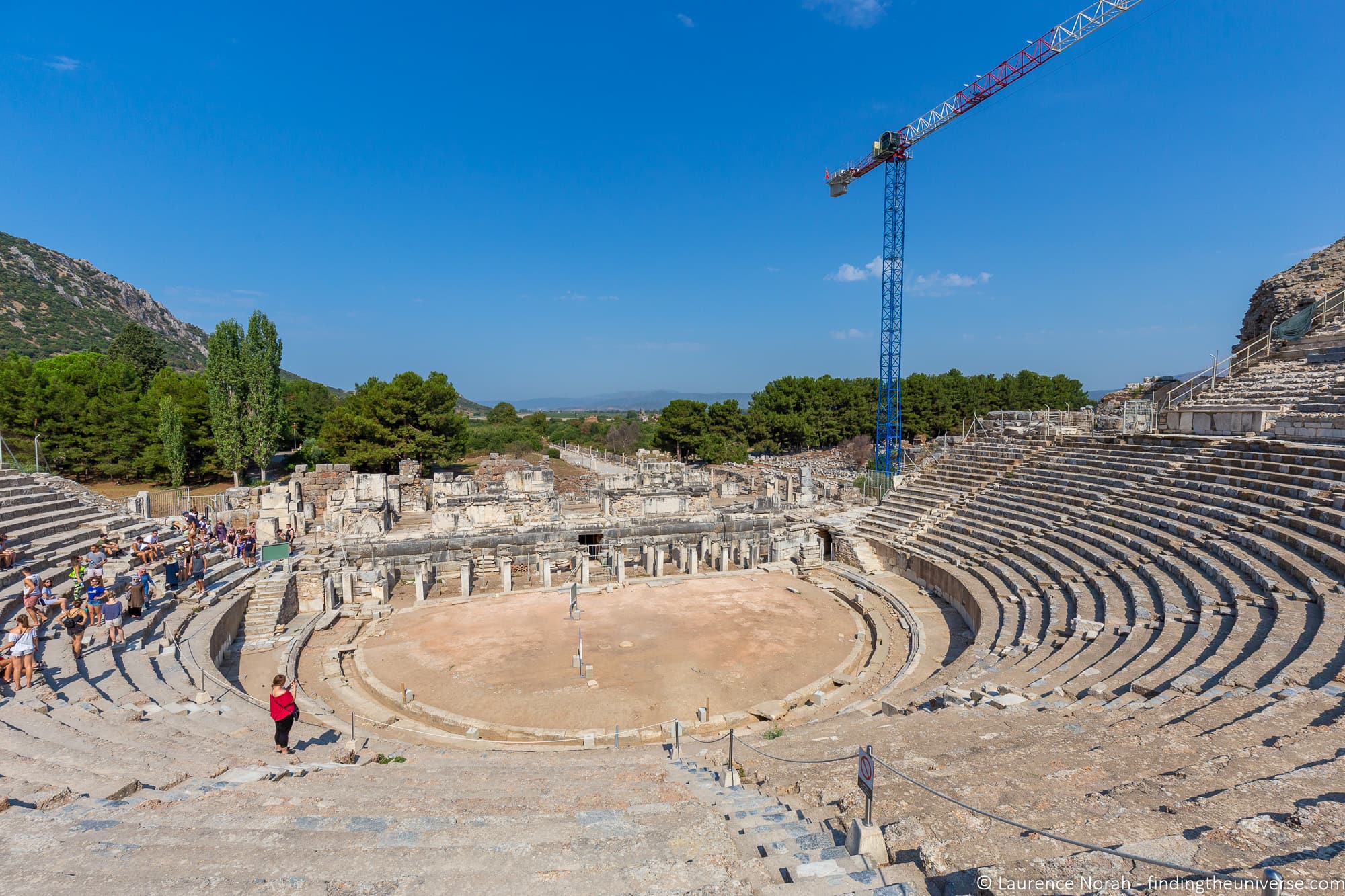 As you can imagine, there's plenty to see and do at Ephesus, and we spent around 2.5 hours here with Yavuz showing us around. Our tour was interrupted for a short while as one of our participants was stung by a huge hornet, necessitating a trip to a clinic for intravenous antihistamine.
Travel Talk insists on travellers having travel insurance, and for good reason!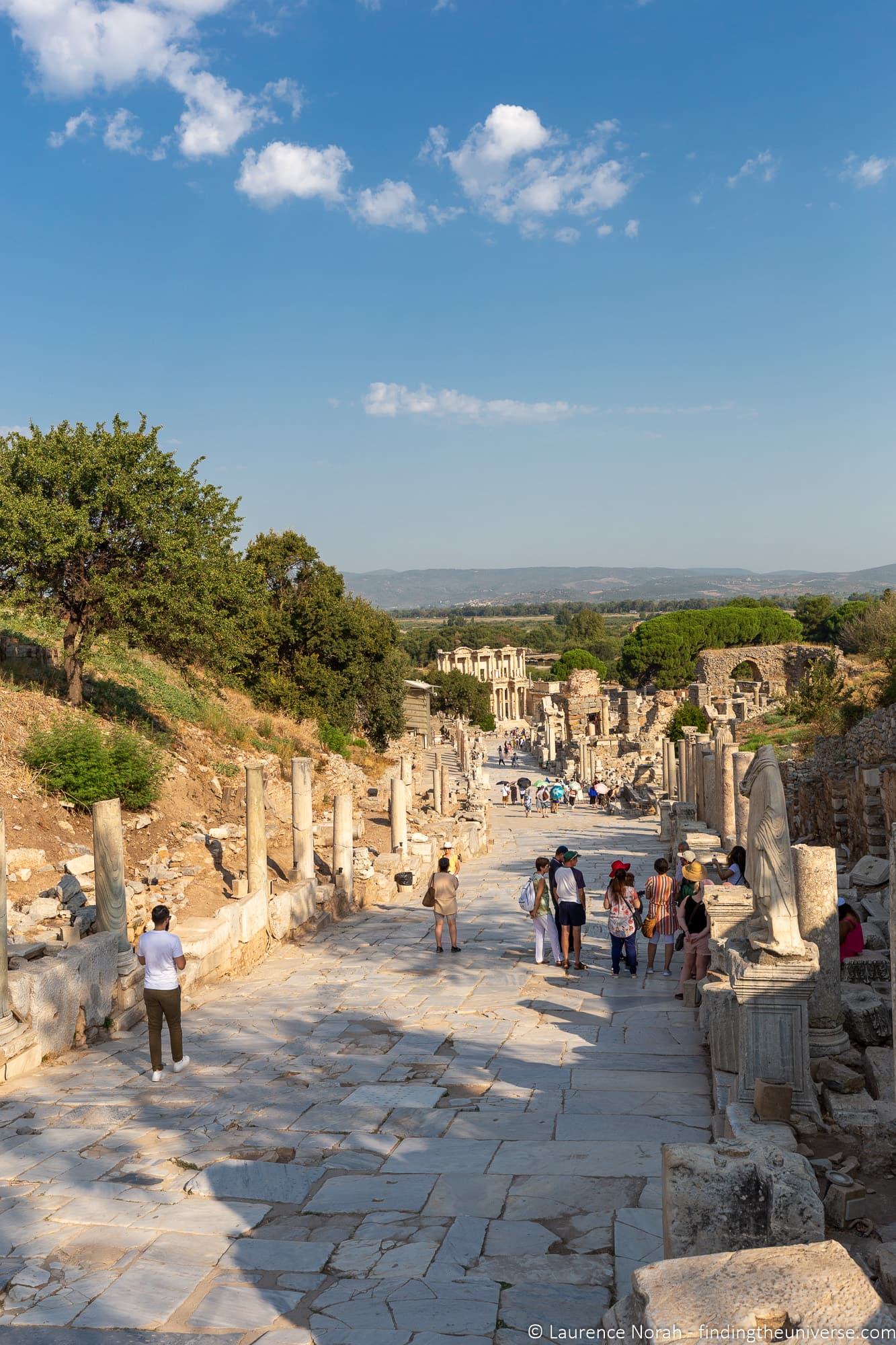 After Ephesus, we went to a nearby pottery workshop, where we watched local artisans create pottery. We were then given the opportunity to purchase pottery if we wanted, and many members of the group picked something up.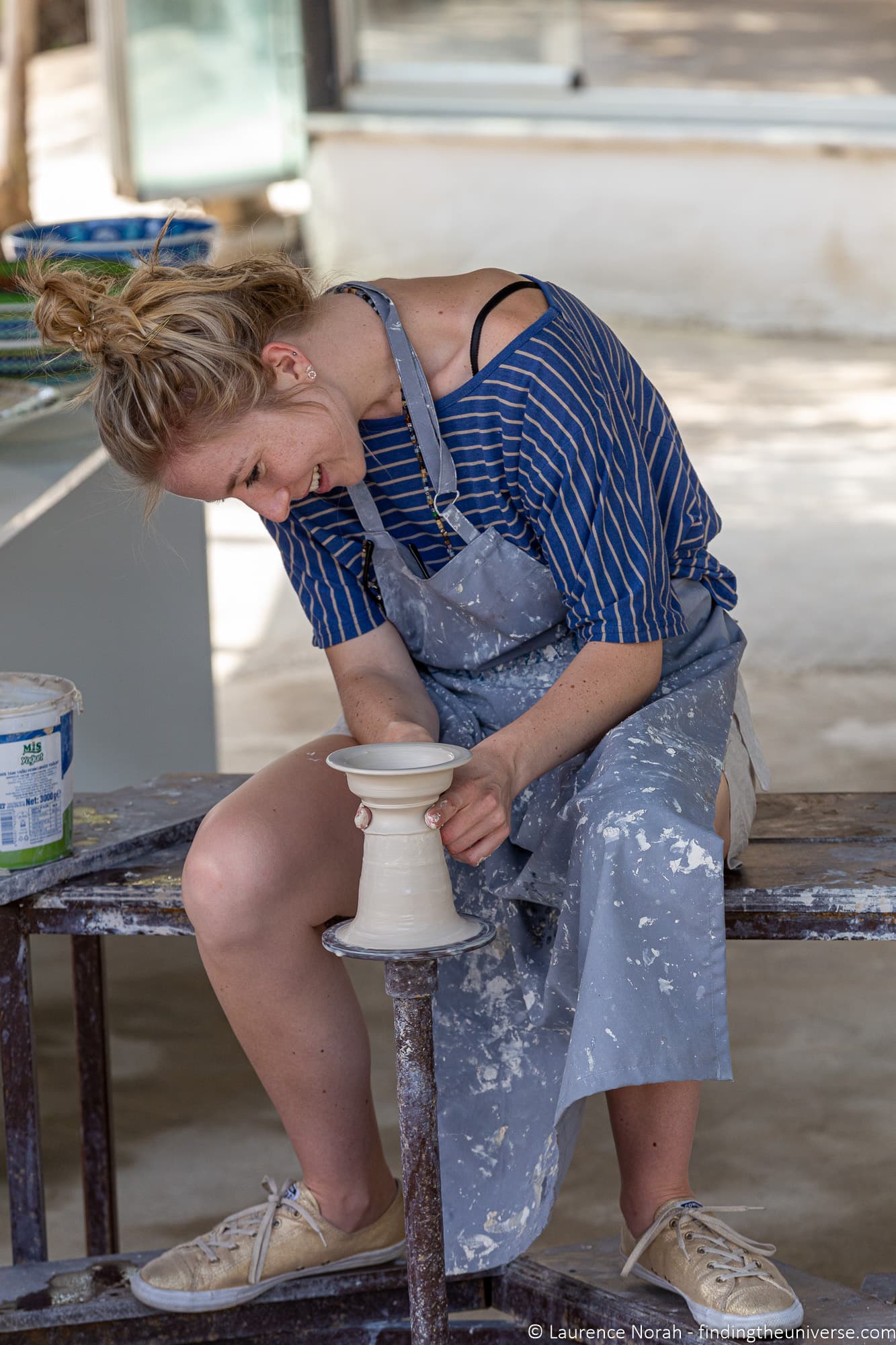 Following the pottery workshop it was time for lunch, which we had in a traditional local eatery famous for its Gözleme. This is a flatbread which is rolled very thinly, and then filled with various toppings, including minced meats, potato and spinach.
Lunch was eaten on low tables which we sat around in groups on carpeted floors and cushions, which certainly felt very traditional. Lots of local people also seemed to be eating here, which was a good sign.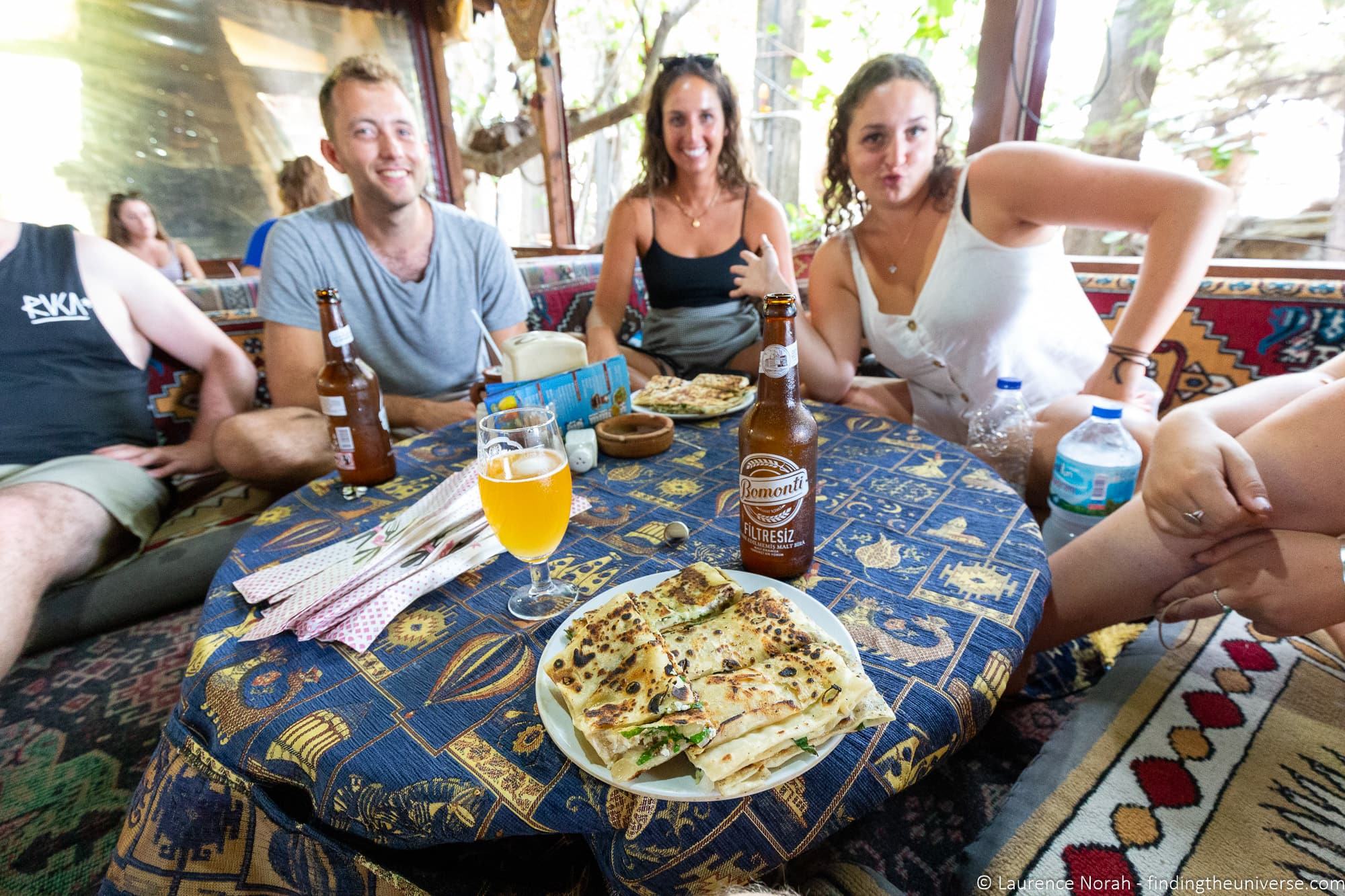 After lunch, it was back on the bus. We left lunch at around 1.30pm and arrived into Fethiye at around 7.30pm. We stopped every couple of hours for restrooms and snack / water purchasing, but this was definitely a long bus ride!
It was all worth it though, as when we arrived into Fethiye we were assigned our Gulet!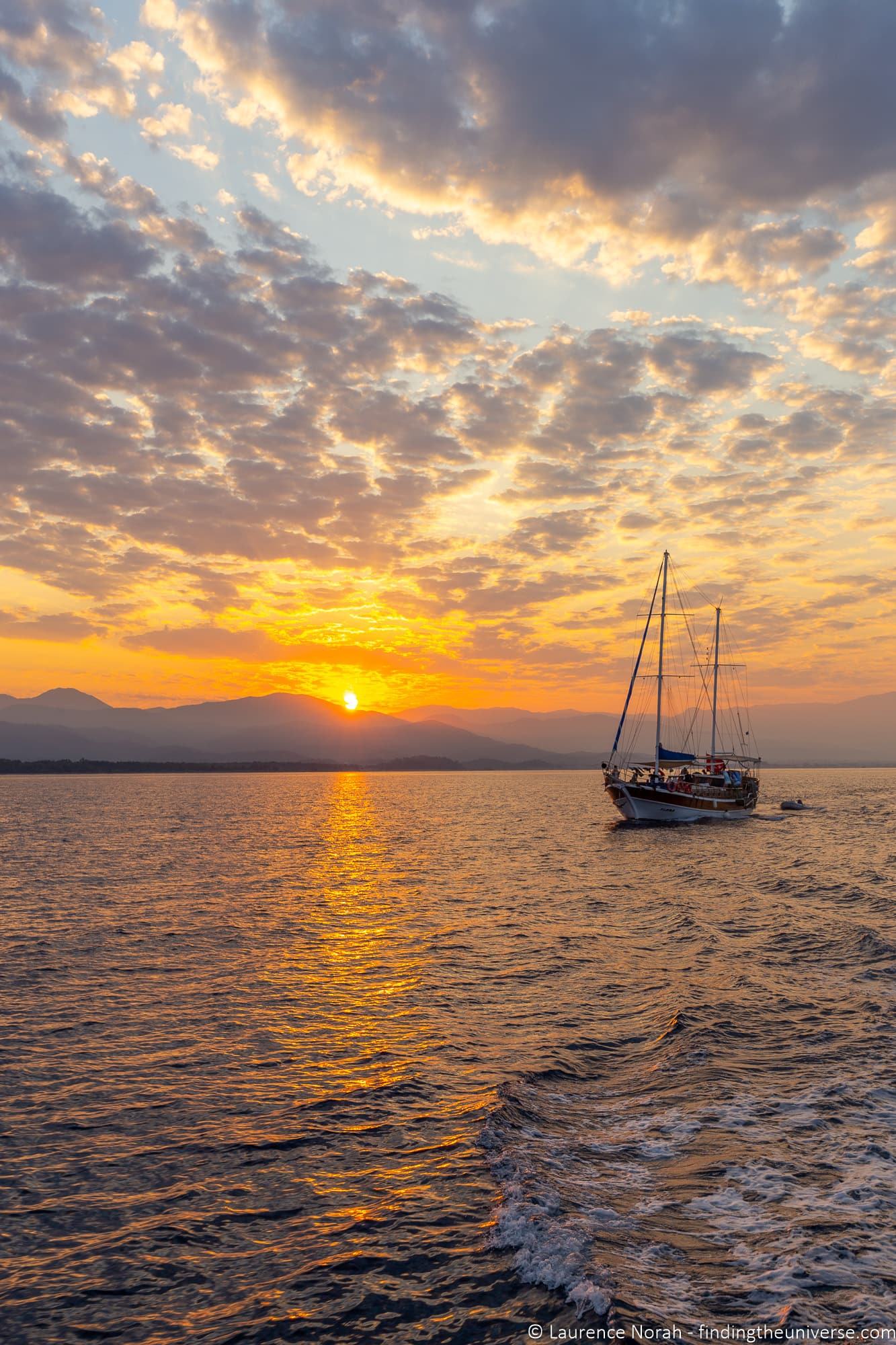 A Gulet is a traditional wooden Turkish sailing ship, and for those of us on The Best of Turkey by Gulet or Amazing Turkey by Gulet tours, this was the part where we embarked on a three night sailing adventure.
A brief note on how Travel Talk structures its tours, which was something we also observed in Egypt. Often, there will be multiple tours offered in a country, which offer similar itineraries with some tweaks.
For example, the tour I was on was called the Best of Turkey by Gulet. However, also on our tour were people on the following tours:
These four tours are similar, but with some key differences. The "Best of" tours are 12 days long, with the last day consisting of a long bus ride from Cappadocia to Turkey, followed by a night in Istanbul. The "Amazing" tours are only 10 days, but you get to fly back to Istanbul from Cappadocia.
The other difference is the Gulet, as the name suggests. Those in the group on the "by Gulet" tours spend three nights on a Gulet, whilst those on the "by Land" tours spend those three nights at a resort near Fethiye. During this time there are a number of other sights and activities, including a visit to Saklikent canyon, a mud bath, and the so-called turtle beach.
Obviously, which tour you choose will depend on your interests. It's also worth bearing in mind that the Gulet accommodation is quite basic, consisting of pretty small cabins with no air conditioning. No-one on our trip had any issues with this, but if that's not for you, the land version might be preferable!
Anyway, back to the tour. We arrived in Fethiye and boarded our Gulet. We were split into two groups, with 14 people on one Gulet and 16 on ours. This was pretty much the maximum that each boat could take.
Each room on-board the Gulet had a fairly small double bed as well as a wet shower / toilet room. There was also some storage. It rapidly became apparent to everyone though that sleeping below decks was going to be a real challenge. In August Turkey is hot, and the Gulet has no air conditioning – just a small window for air.
The rooms when we sailed were definitely too warm for sleeping in. The good news is that there was a huge deck area covered in mattresses, and we were able to take out sleeping gear from our rooms up to the deck when it was time to sleep. I love sleeping under the stars on a warm night, and this was a real treat.
In terms of meals, all three meals on the Gulet were included, breakfast, lunch and dinner. There were three crew on board – the Captain, who spoke good English, and then two assistants, one of whom was responsible for all the delicious meals we ate.
These included traditional kofte, freshly caught fish, and a variety of other Turkish dishes. We definitely didn't go hungry.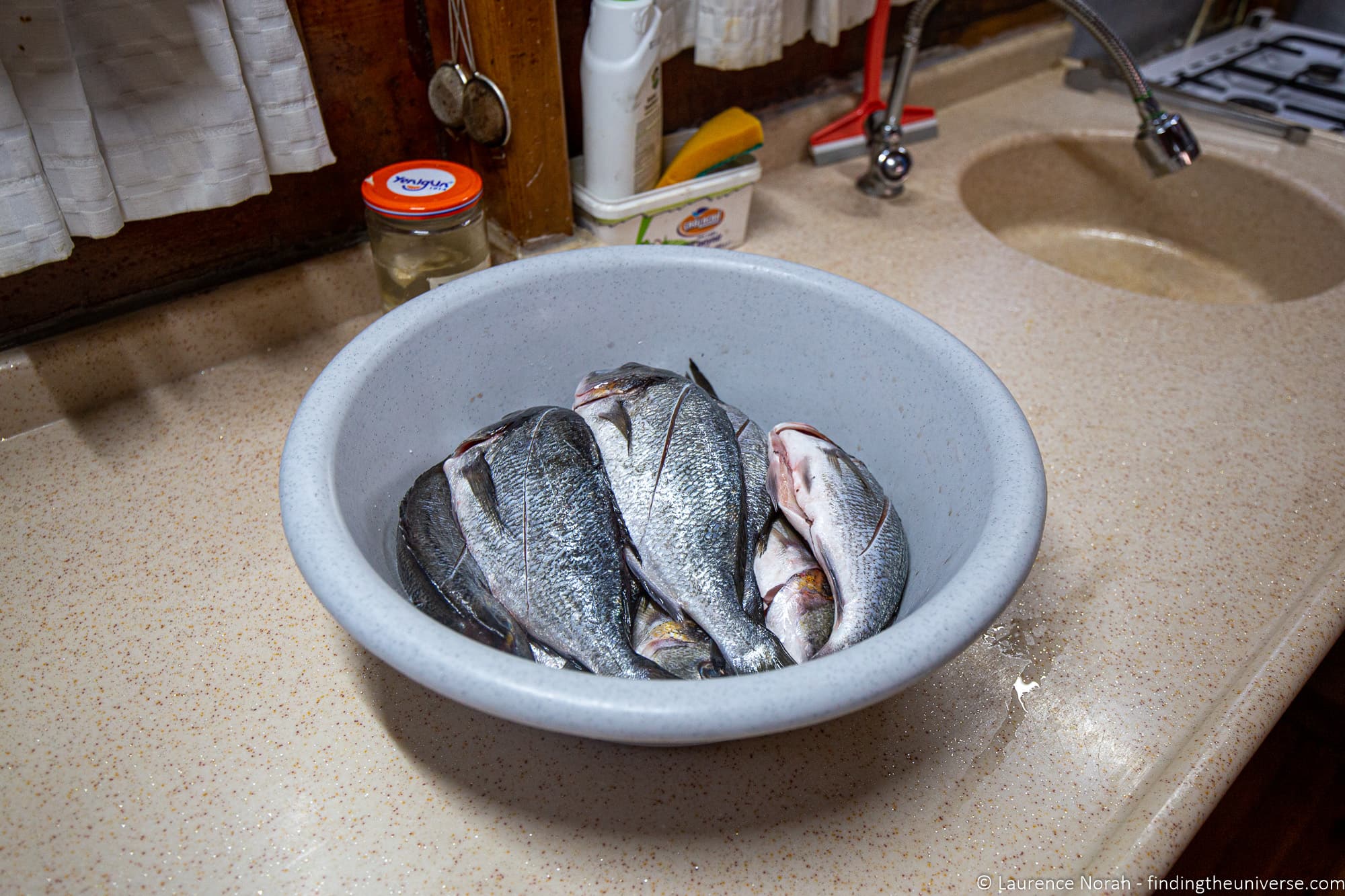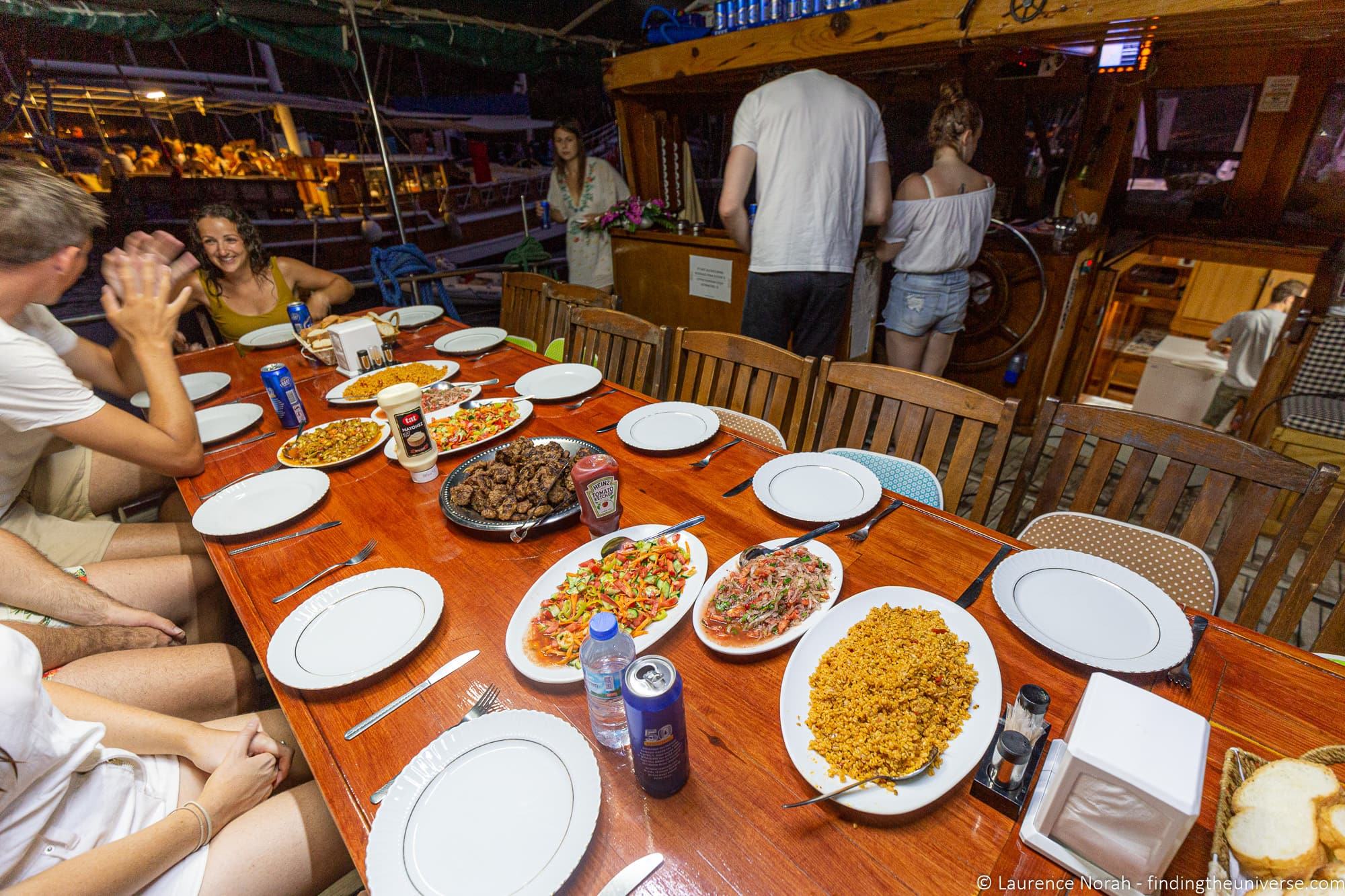 For power, there was a large power strip available with power available during the day when the boat was under power, and in the evenings when a generator was running. So charging devices like phones and cameras was possible, but there were no power strips in the rooms themselves.
One major downside to the Gulet was that we weren't allowed to bring any drinks of our own on board. This included water. Whilst bringing a water bottle or two on board in a backpack was ok, we couldn't exactly stock up.
Three days in the heat on a boat in Turkey where you have no choice but to buy water at inflated prices is not cool in my opinion. I appreciate a need to make a profit, and didn't mind paying a little over the odds for beer (around €4.50 for a beer), but I definitely felt that overpriced water was unfair.
Ok, so that's it with complaints about the Gulet!
Our first evening on the Gulet had us sailing for around half an hour from Fethiye to a sheltered cove in the Fethiye Gulf, where as soon as possible, everyone jumped into the water. The water was magnificently warm and clear, and swimming in it became a primary theme of the following days. While we swam, the crew made us dinner, after which folks chatted, played cards, and then drifted off to bed in clumps.
I'd definitely recommend bringing ear plugs and an eye mask for this part of the trip if you are a light sleeper and plan on getting either an early night or a lie in, as a boat isn't the quietest of places, and the sun comes up early!
Day 6 – Gulet
We woke to a spectacular sunrise on our first day, and motored for a while to a lovely spot for breakfast in the Yassica islands. Again, as soon as the boat stop and the captain deemed it safe, everyone jumped in the water. It was becoming apparent by this point that most people in the group were part dolphin.
The rest of the day was probably the most relaxed of all the days on the whole trip. Time was spent either relaxing on deck, swimming in the sea, or motoring to a new location, from where we would repeat the cycle.
We got three meals a day, as well as afternoon tea and biscuits. For snacks, we were visited from time to time by a boat selling ice creams. This was definitely a highlight of each day.
Our second day on the boat also saw us have the opportunity to ride inflatables, including a banana boat, towed behind a high speed boat. This was a great value experience and everyone who took part seemed to enjoy it. I definitely enjoyed watching!
Finally, the day ended with dinner, plenty of card games, a few drinks, and bed under the stars. I think the photos probably share the experience better than my words.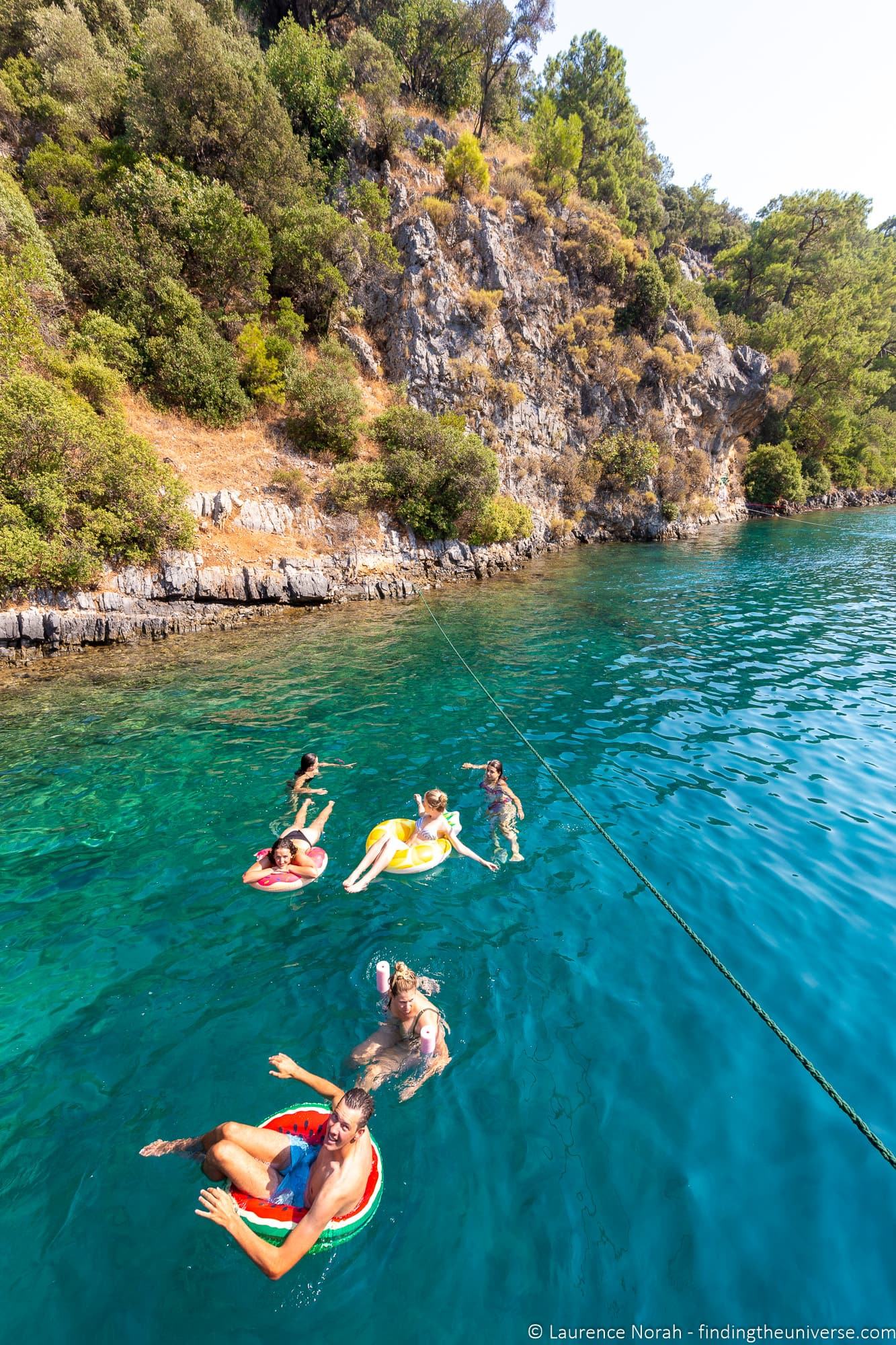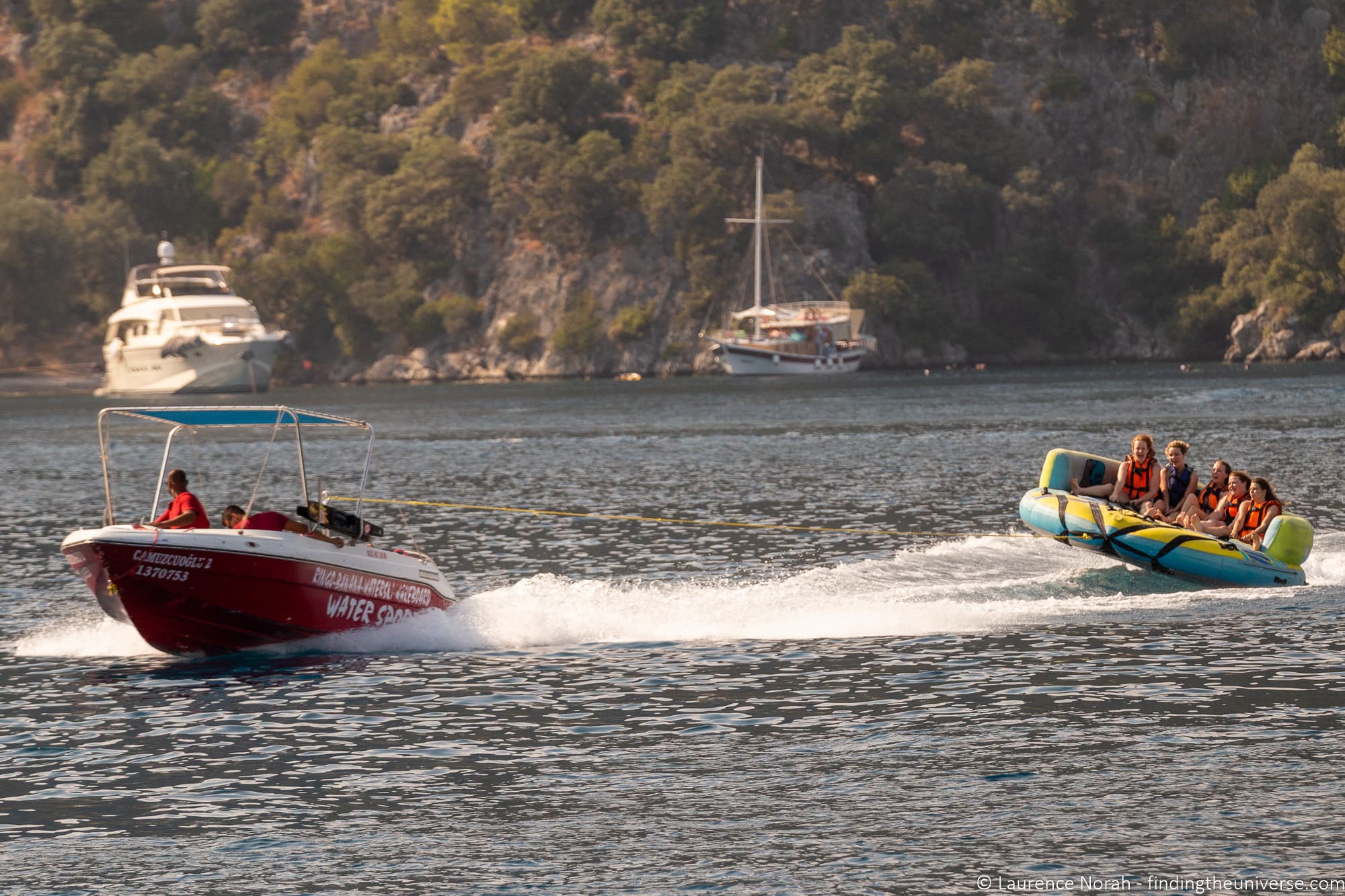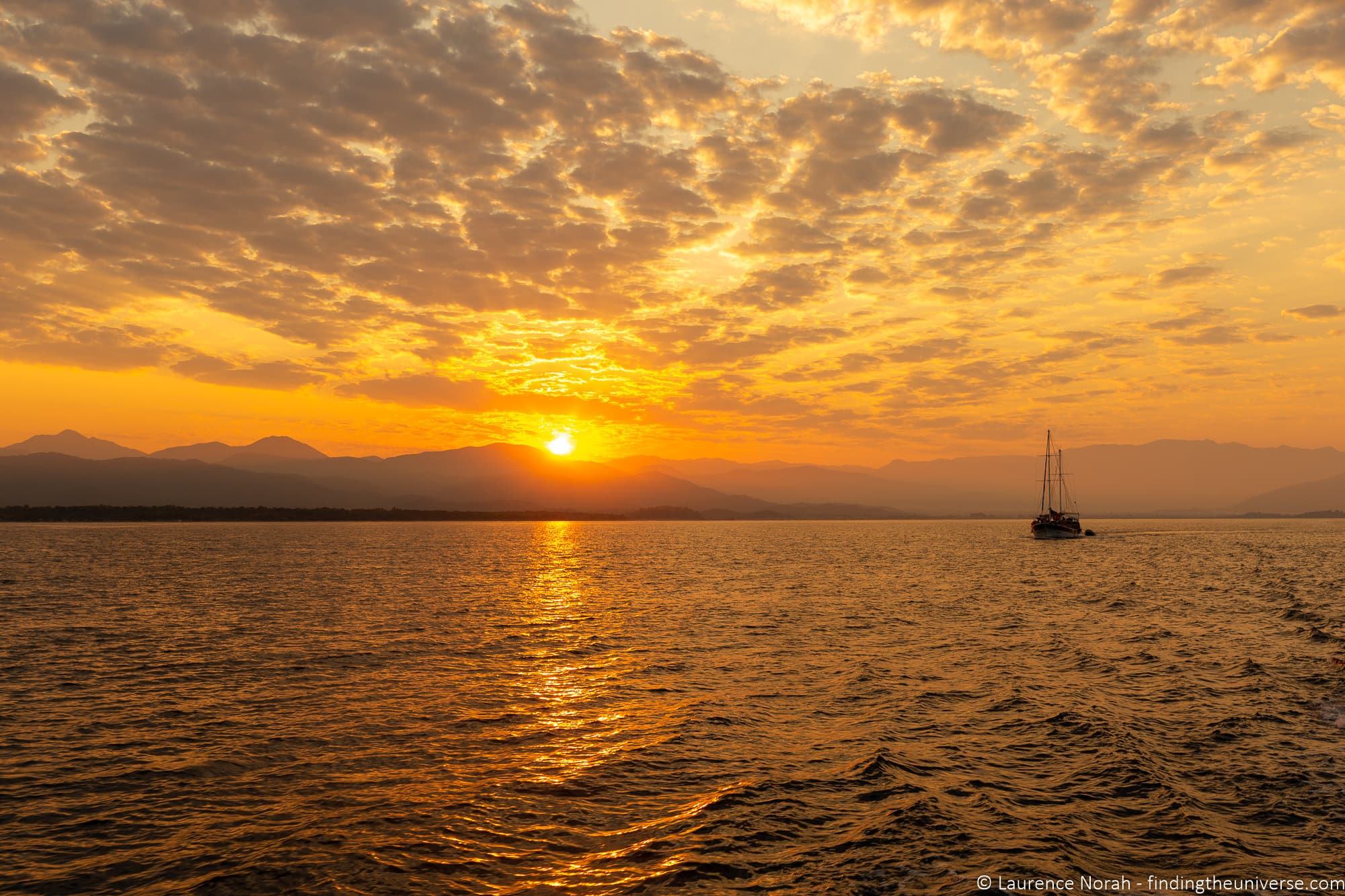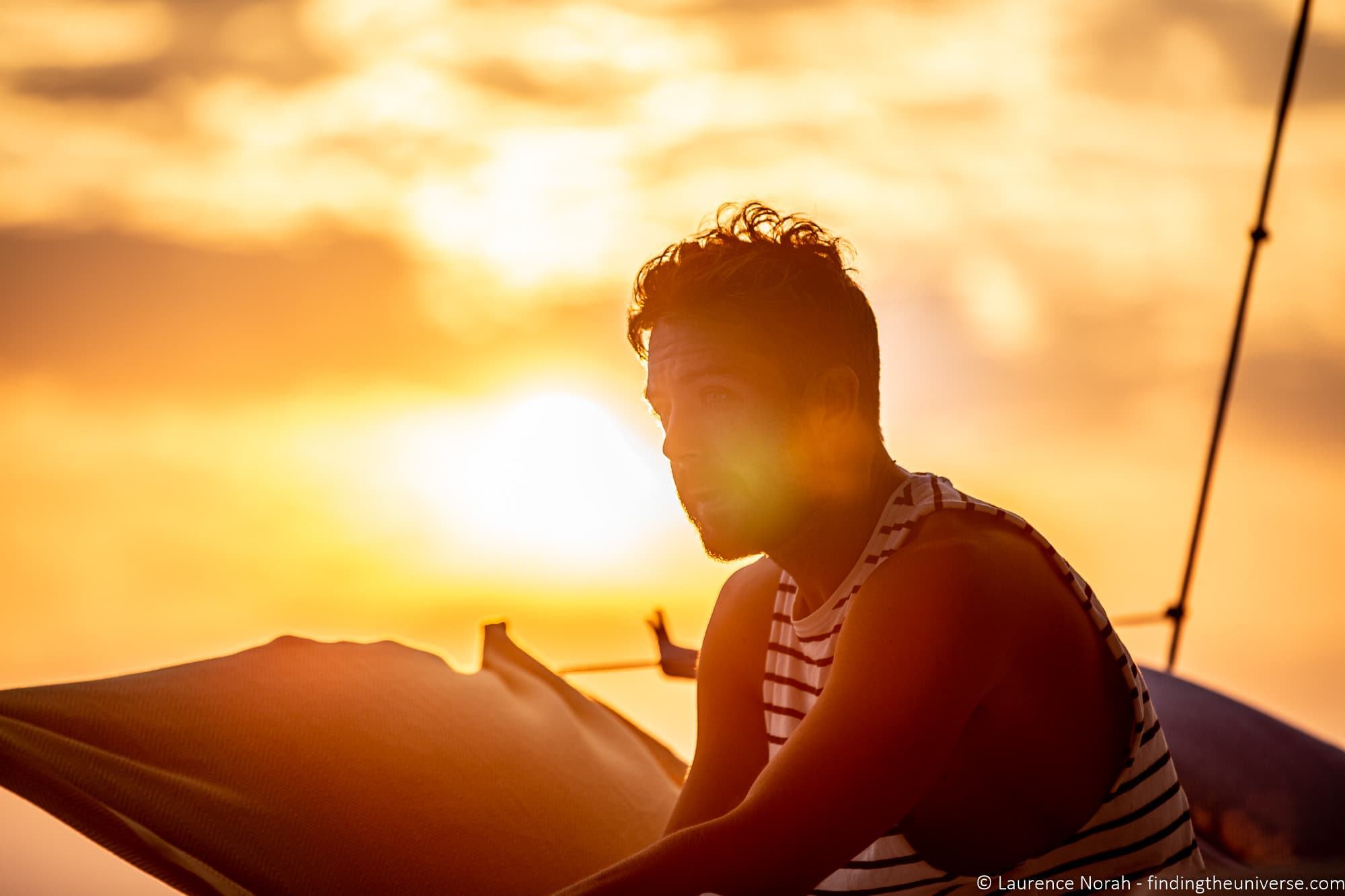 Day 7 – Gulet
Our last day on the Gulet largely replicated the second day, with lots of swimming and relaxing. The highlight of the boat time was when we motored to a sunken bath house, which we were able to explore.
On board the boat I should mention there was plenty of leisure space, life jackets, as well as floatation devices like rings and noodles. There was also snorkelling equipment, including goggles, snorkels, and flippers.
In the evening of the third day we actually motored back to Fethiye. We arrived at around 5pm, which was a little bit sad for most of us on board as it meant no more swimming in the warm sea.
Still, all was not lost! Everyone took advantage of being moored near the town centre to do some exploring and shopping, and many people went out in the evening for a few drinks as well. Again, we slept on the boat for the third and final time.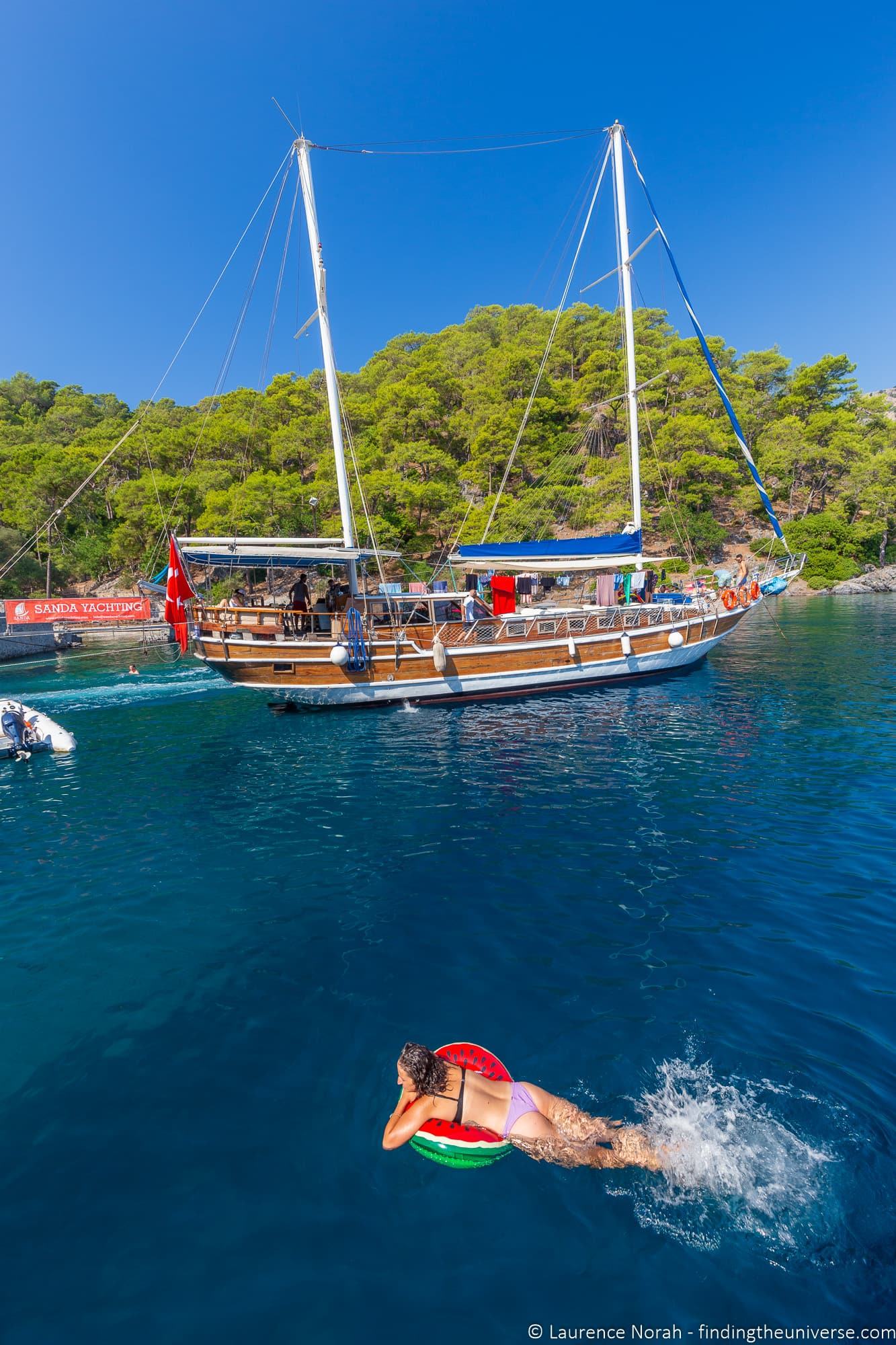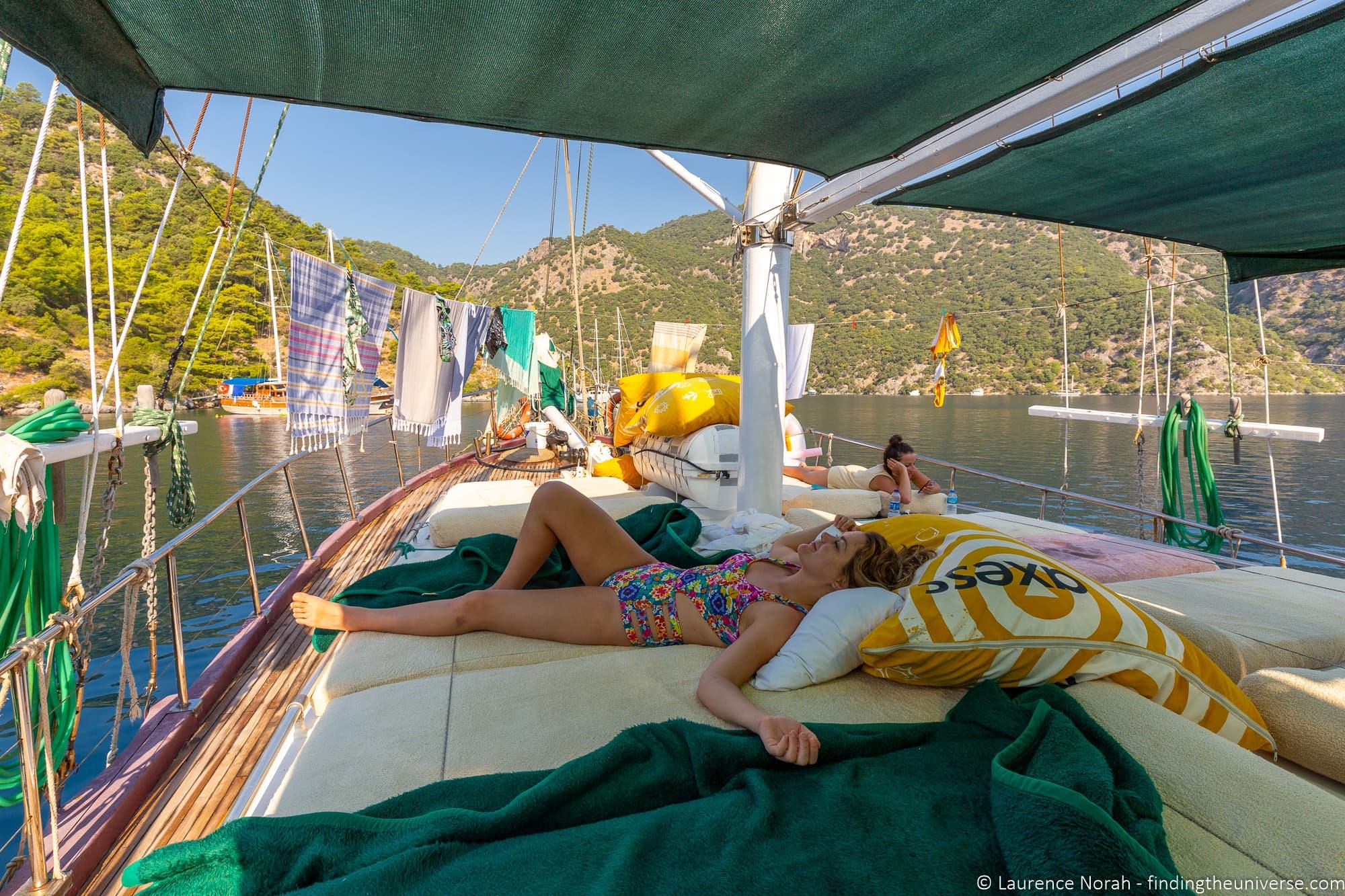 Day 8 – Pamukkale
On the 8th day we left the boat at 9.15am. You might think this would mean a nice long lie-in, but sleeping on the deck means you generally get up not long after sunrise.
We had breakfast on the boat, and then left for the bus, where we were reunited with our land based travellers. They seemed to have had a very relaxing time, mostly lounging by the pool interspersed with a bit of sight-seeing. Some of them had also gone paragliding, one of the optional activities for the land based travellers.
Day 8 was another long day of bus riding as we headed to Cappadocia. The main sight on the way were the legendary white terraces at Pamukkale, which we arrived at at 2.30. There was no formal lunch stop on day 8, instead we visited a supermarket where we bought supplies to eat on the bus, so as to save time.
Pamukkale are travertine terraces, formed by calcium deposits over thousands of years, and are a stunning sight known in Turkish as the Cotton Castle. They're a UNESCO World Heritage Site, and are also known as the White Castle.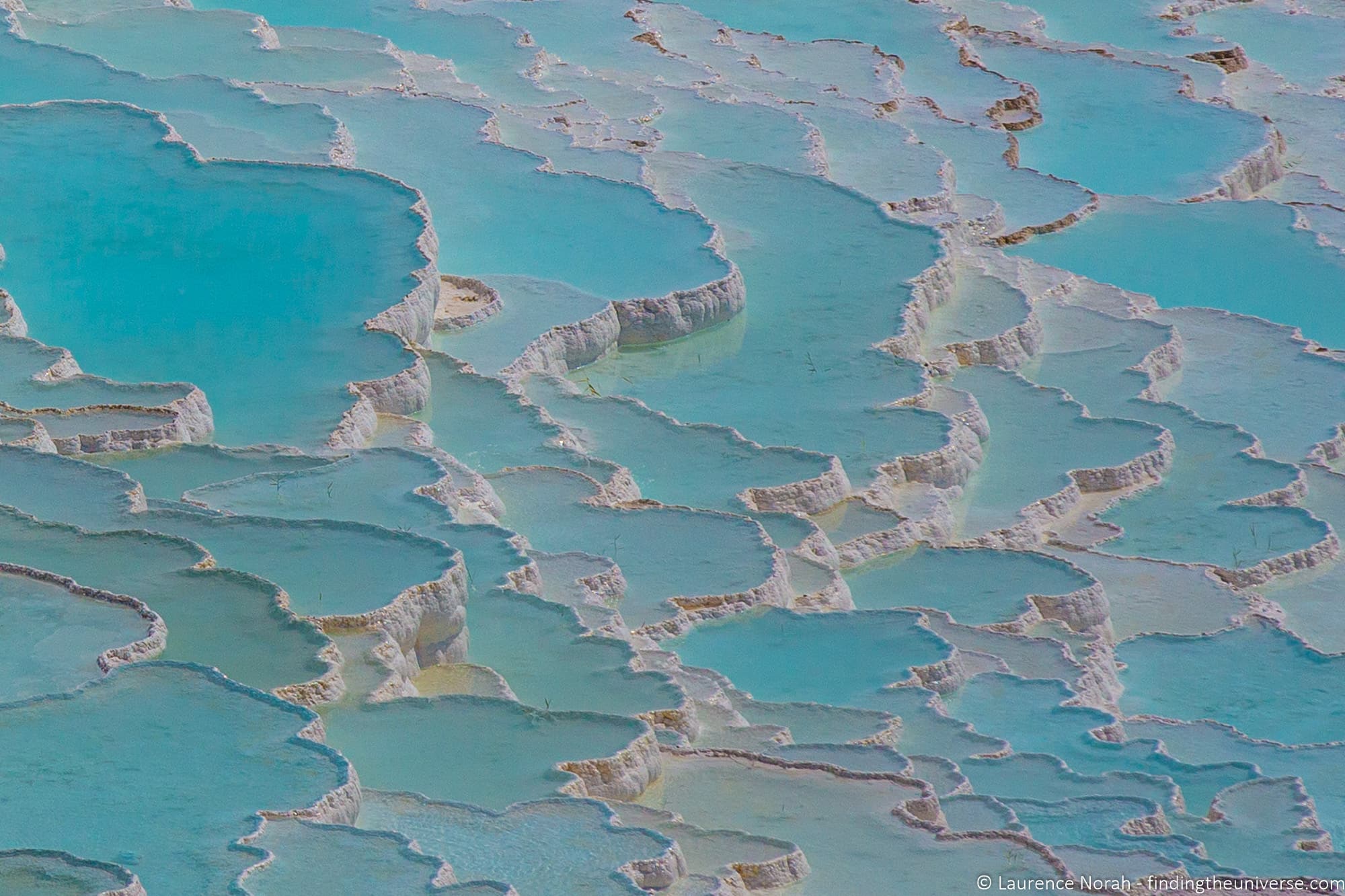 I'm not going to lie, these were a bit of a disappointment. If you look at photos of the white terraces, they are beautiful white stepped terraces filled with incredible turquoise waters.
Unfortunately, for most of the year, the terraces are largely dry. Water is artificially channeled around them, and whilst it is sometimes channeled into the terraces, this does not happen very often. When we visited, only a tiny part of the terraces had any water in.
There is a path running through the terraces with a number small pools that you can bathe in, but on the day we visited (a weekend in August), it was mind blowingly busy. This didn't deter many of our group members from having a swim in the pretty waters, but they did report that the cleanliness of the water left very much to be desired, with a lot of detritus including band-aids clogging the base.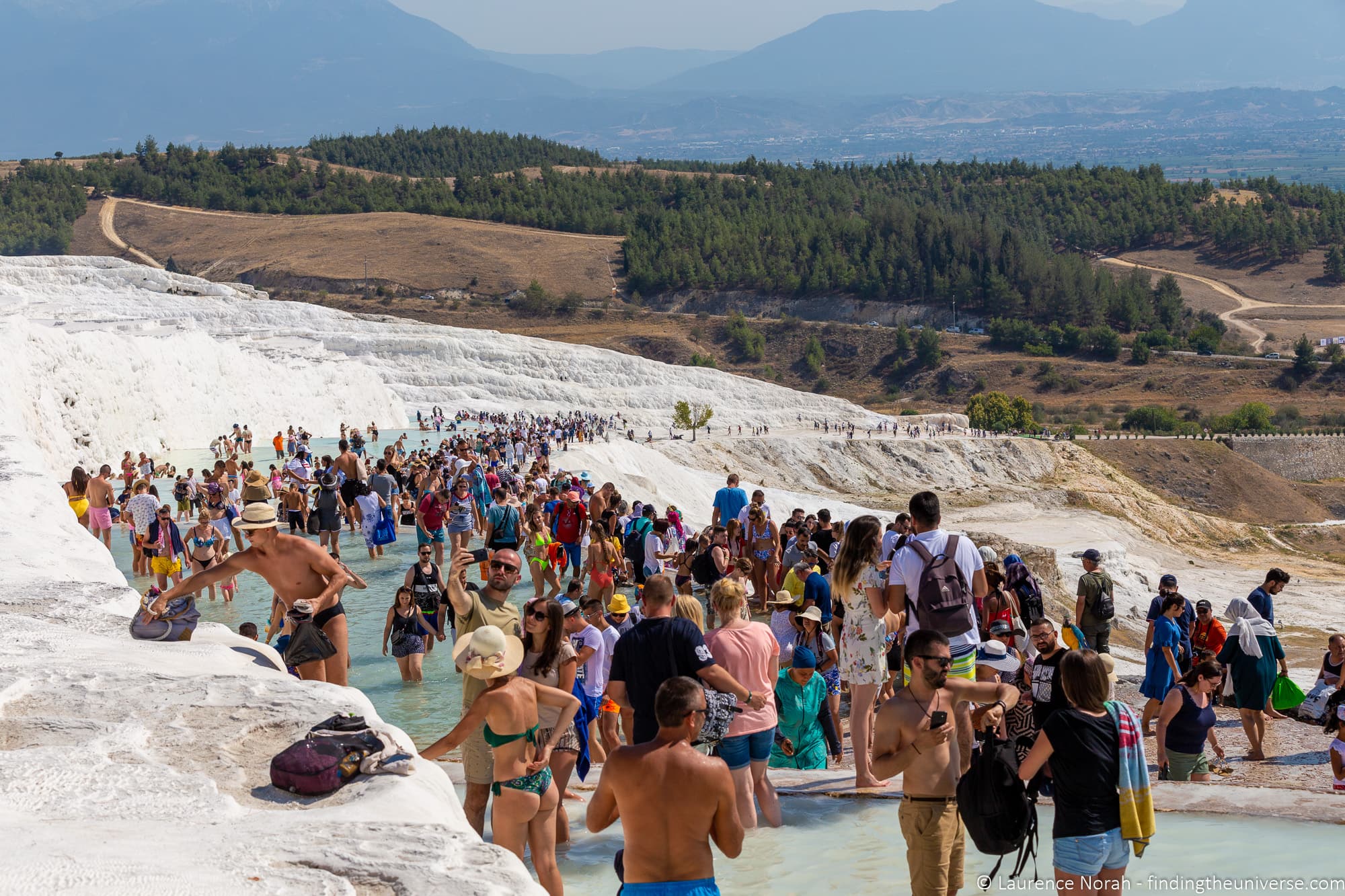 Still, once I got over the disappointment of the lack of water and the amazing crowds, I was definitely impressed by the formations.
I walked around a fair bit, and found some quieter locations to take some photos, and enjoy the views which are expansive and impressive. I'd definitely never seen anything quite like it.
Pamukkale is also home to the Greco-Roman city of Hierapolis, which was built on top of the "White Castle" in the 2nd century BC.
This is often overlooked by visitors, but if you have the energy, there are plenty of sights to see here including a museum, ancient baths, a theatre, a Necropolis, and more.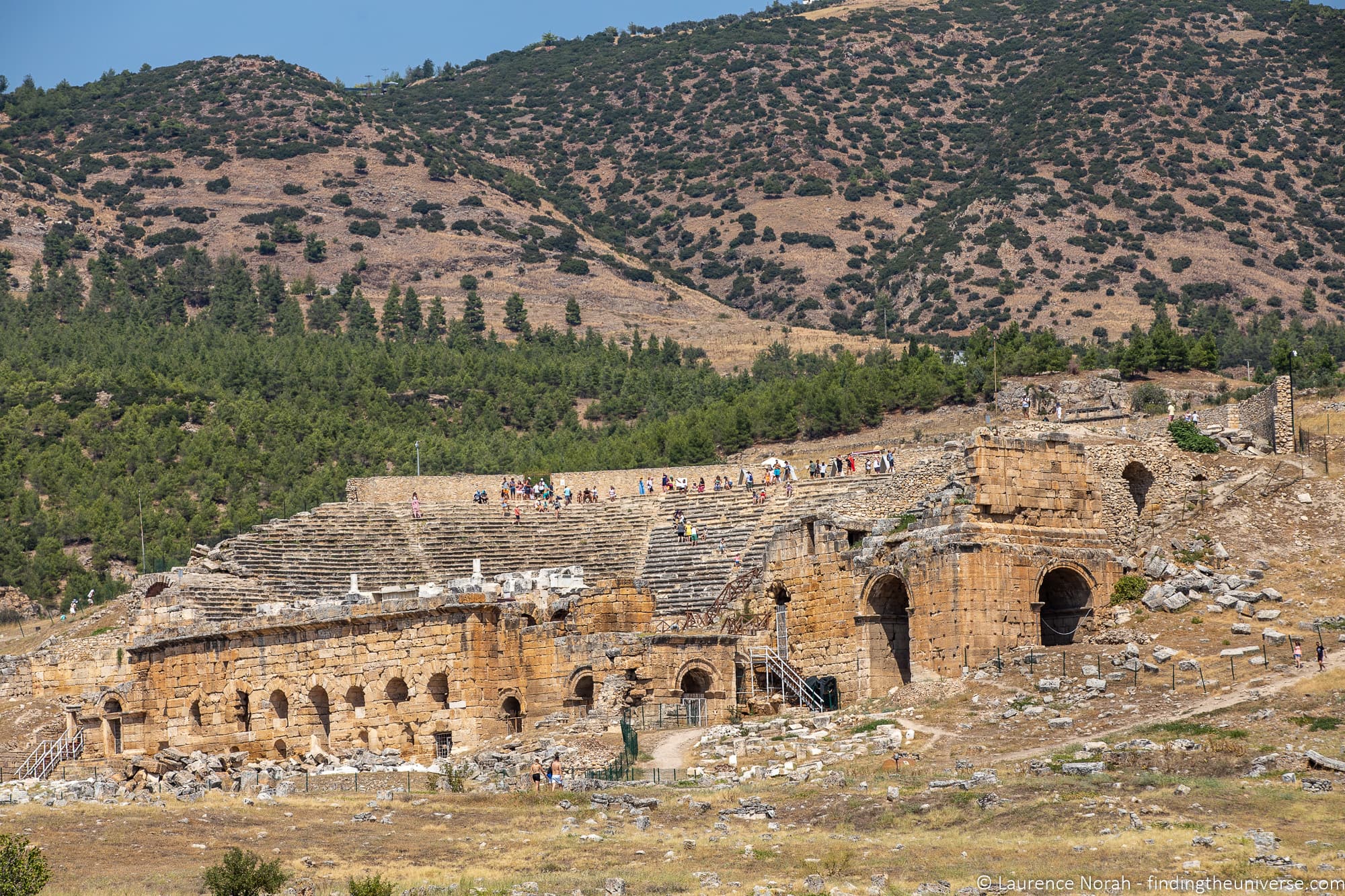 We had around two hours to explore Pamukkale, which was definitely plenty of time.
From Pamukkale it was back in the bus at 4.30pm, from where it was only a half hour drive to the hotel. This was one of the nicest hotels we stayed at in my opinion, with thermal pools for bathing, large swimming pools, and a gorgeous view of the sunset.
There was also a free evening belly dancing show!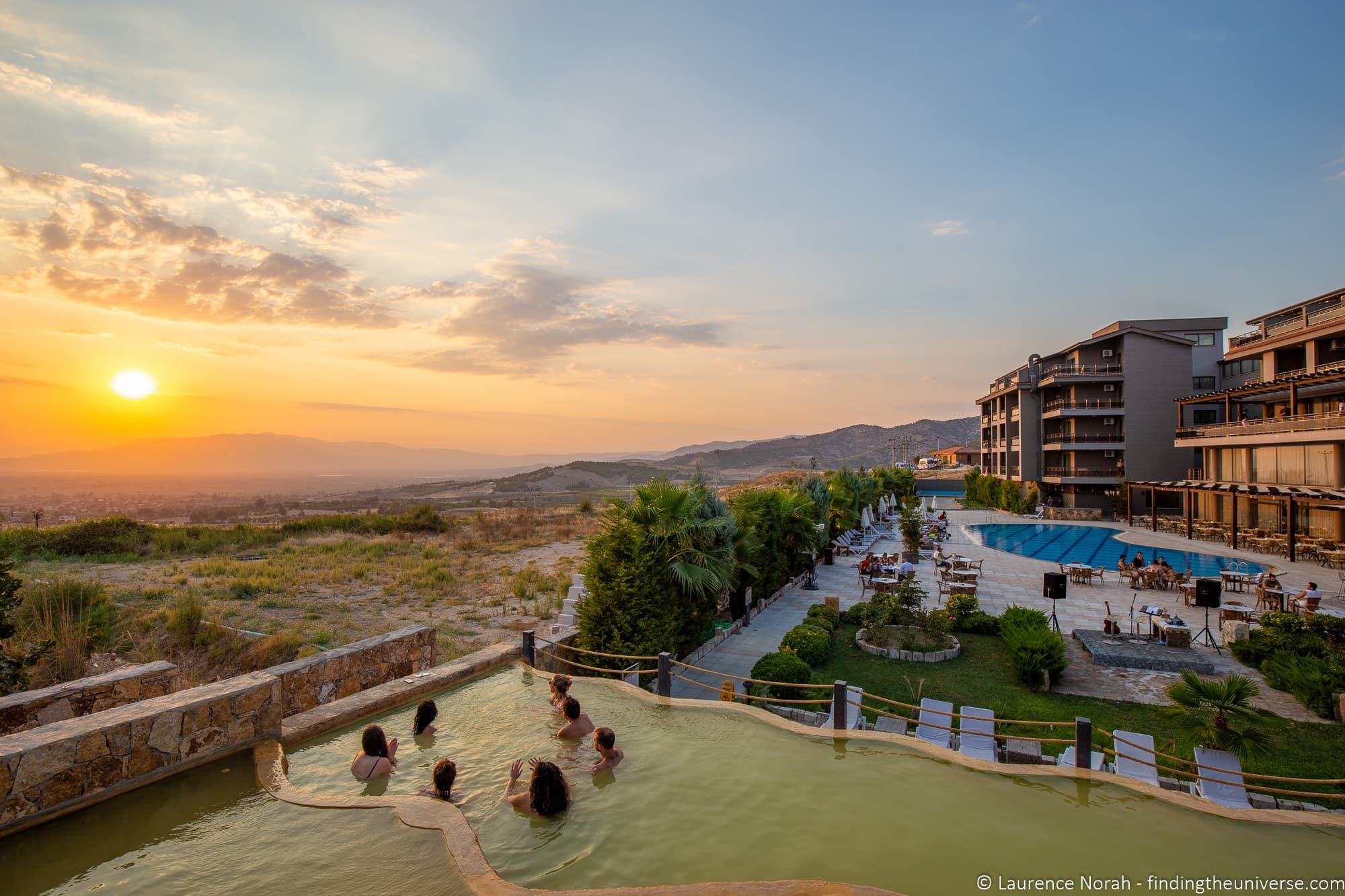 Day 9 – Cappadocia
Remember how I said that departure times got earlier every day? Well, our 9th day had us leaving the hotel at 6am. Breakfast started at 5.30am, so we were able to eat, but it was definitely an early start – before sunrise in fact.
Still, most people were pretty good at napping on the bus, and our guide left us in silence for a couple of hours with the interior lights off, so we could nap if we wanted.
From the Pamukkale area to the Cappadocia region is a long way, so we spent a long time on the bus on day 9. This was interspersed with regular restroom stops as well as a lunch time stop at around 2pm.
We arrived into the Cappadocia region at around 2.30pm, and we stopped a couple of times for some photo opportunities and to stretch our legs.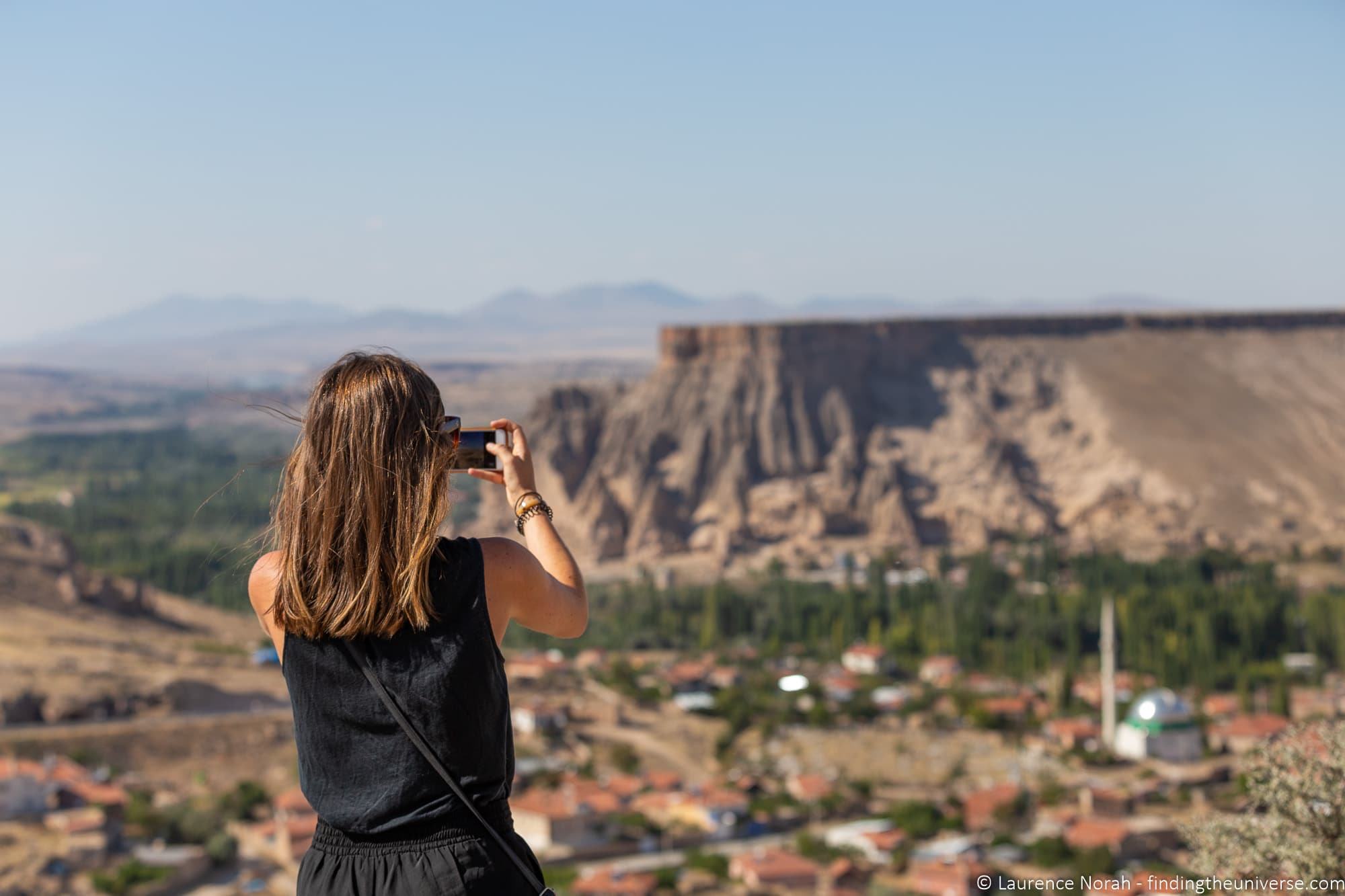 The main highlight of this day, other than watching the changing scenery through the bus windows, was our visit to the Derinkuyu underground city.
This is the largest underground city in Turkey, once home to 20,000 people who lived up to 60 metres underground during its heyday from 780 to 1180.
In these times, the region was often invaded. The underground cities were a vital place of refuge and safety for the areas inhabitants.
Derinkuyu, the underground city we visited was the largest of these underground cities in the region. It was connected to many other by kilometres long underground tunnels, creating a huge underground network.
Today, the underground city of Derinkuyu is open to visit down to around the 8th storey underground, which is approximately half of it. This was definitely an interesting place to visit, although not one if you are claustrophobic! We had around an hour on site, which included time with our guide explaining the layout and history.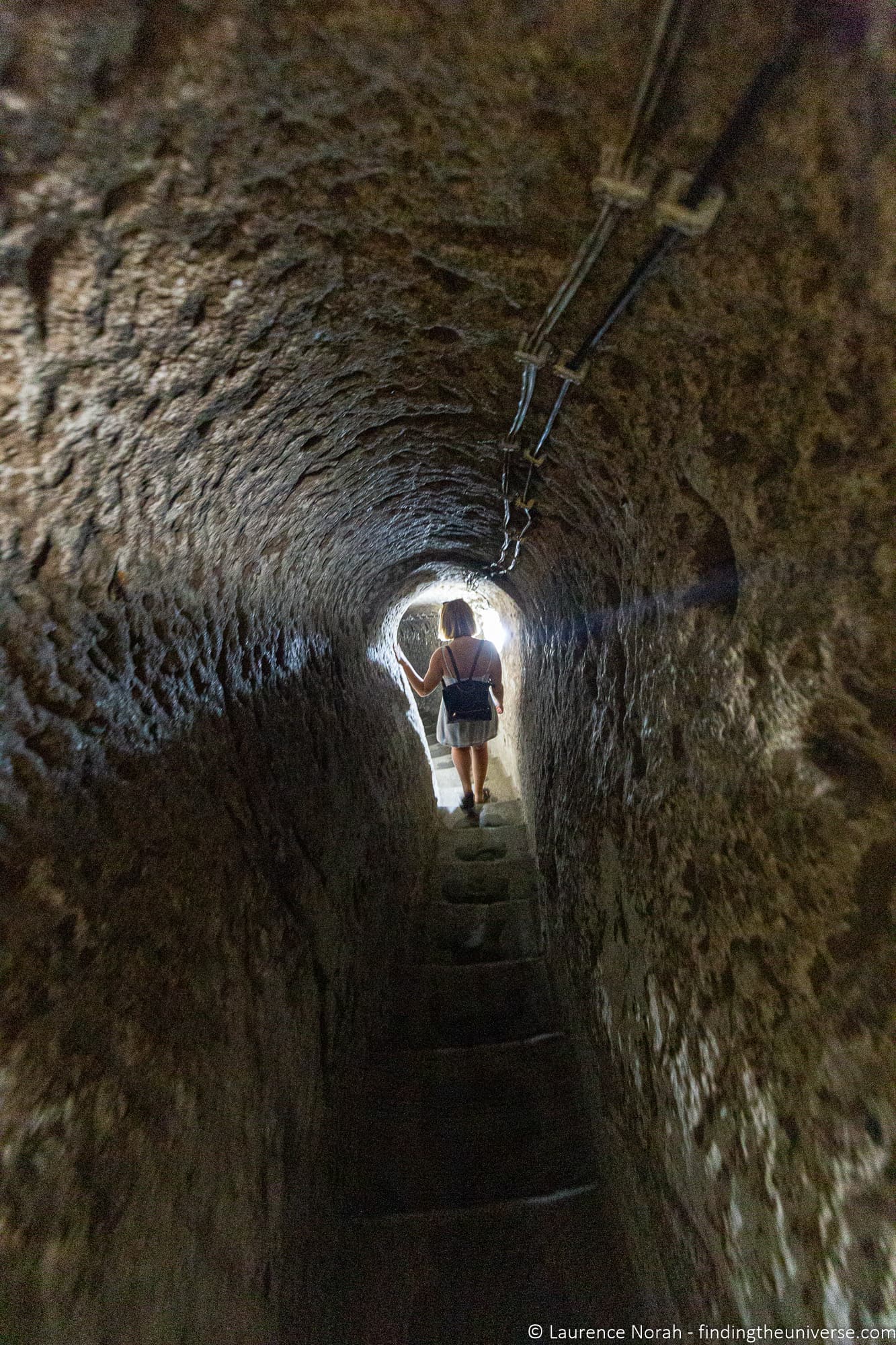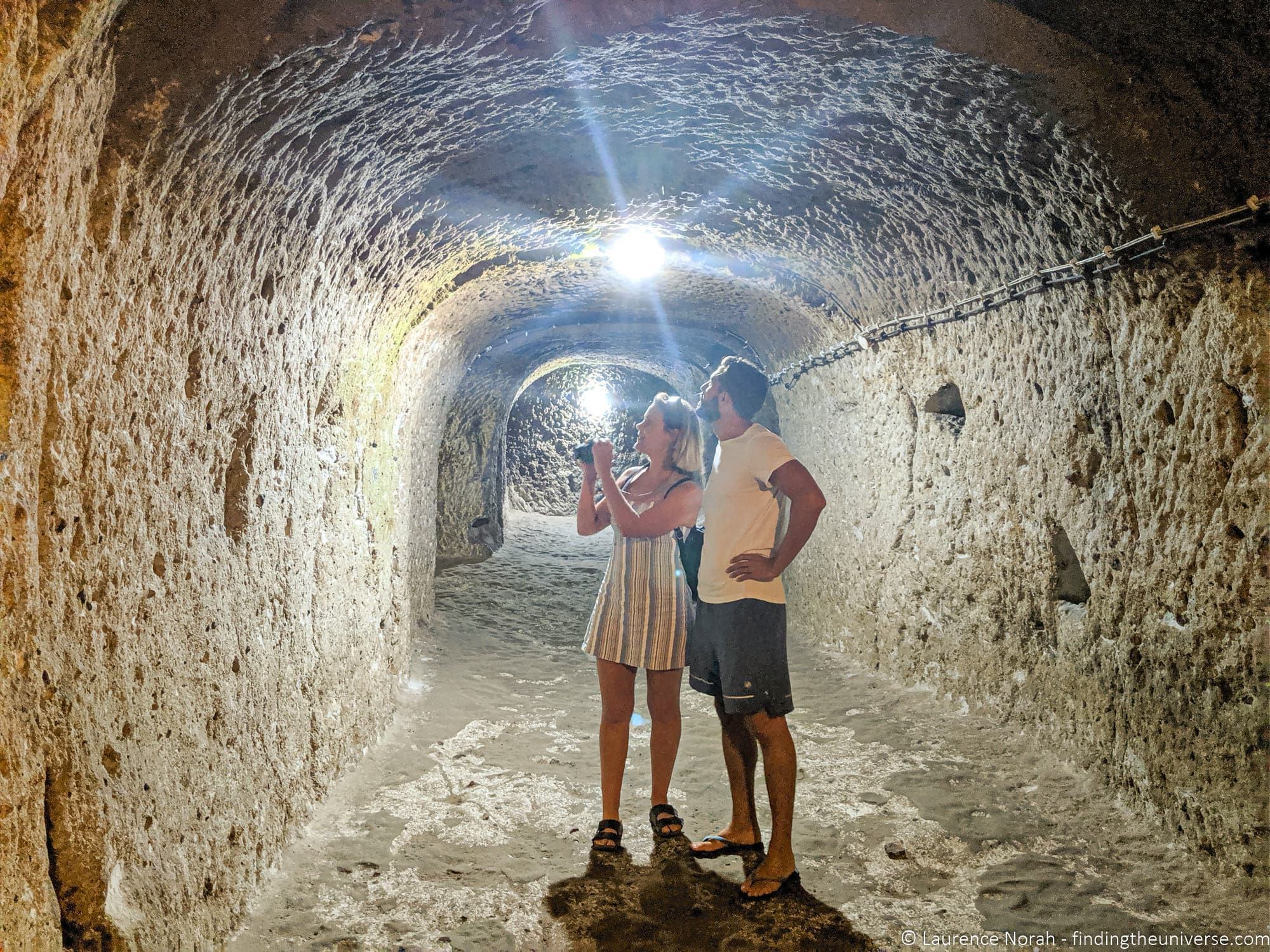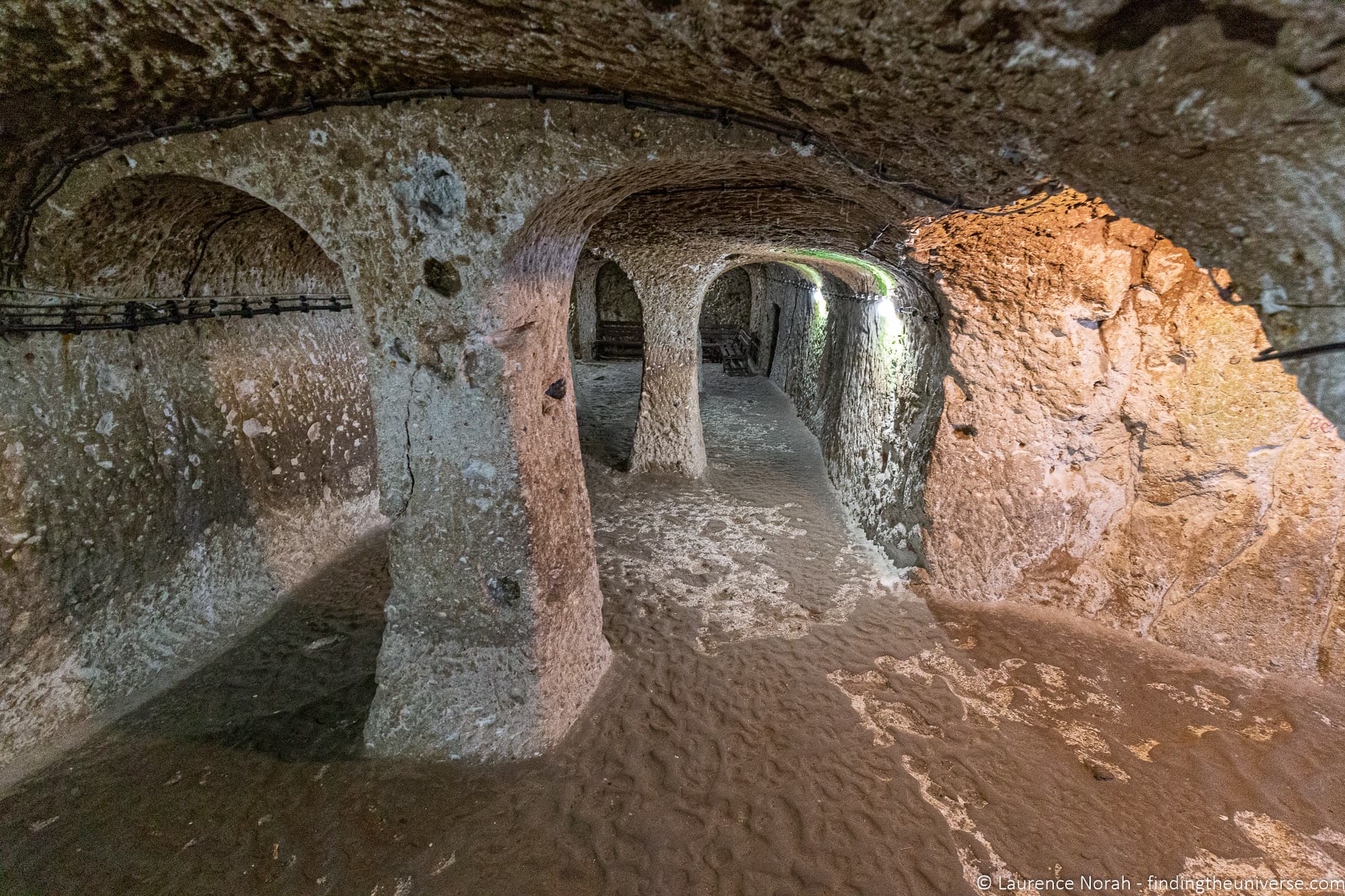 From Derinkuyu, we headed on to our hotel, which was to be home for our two nights in Cappadocia.
There was an optional evening activity of a traditional Turkish bath. This was a fairly popular option, with around half the group opting for the experience. This was sex segregated, and everyone wore bathing suits so there was no nudity.
The Turkish Bath experience lasted around an hour in total, and included time in a sauna, a massage, and some time relaxing with apple tea. Finally, it was time for bed because, you guessed it, our tenth day had an early start!
Day 10 – Cappadocia
Our tenth day in Cappadocia was the day of the most popular optional activity on the tour – hot air ballooning! Of the 44 people in our group, 33 chose to go ballooning. This is one of the most iconic activities in Cappadocia, and one of the main reasons many people choose to visit the city. Between 100 and 150 balloons fly here every morning, weather permitting, and it's an incredible sight.
The good news is that even those not opting to take a hot air balloon flight still had a good option. 11 of us had a shuttle bus arranged to a viewing point, where we could watch the balloons setting off. So even if you don't fly in a balloon, you can still get a sense of the experience if you want. Or you can take advantage of the time to sleep in, if you prefer.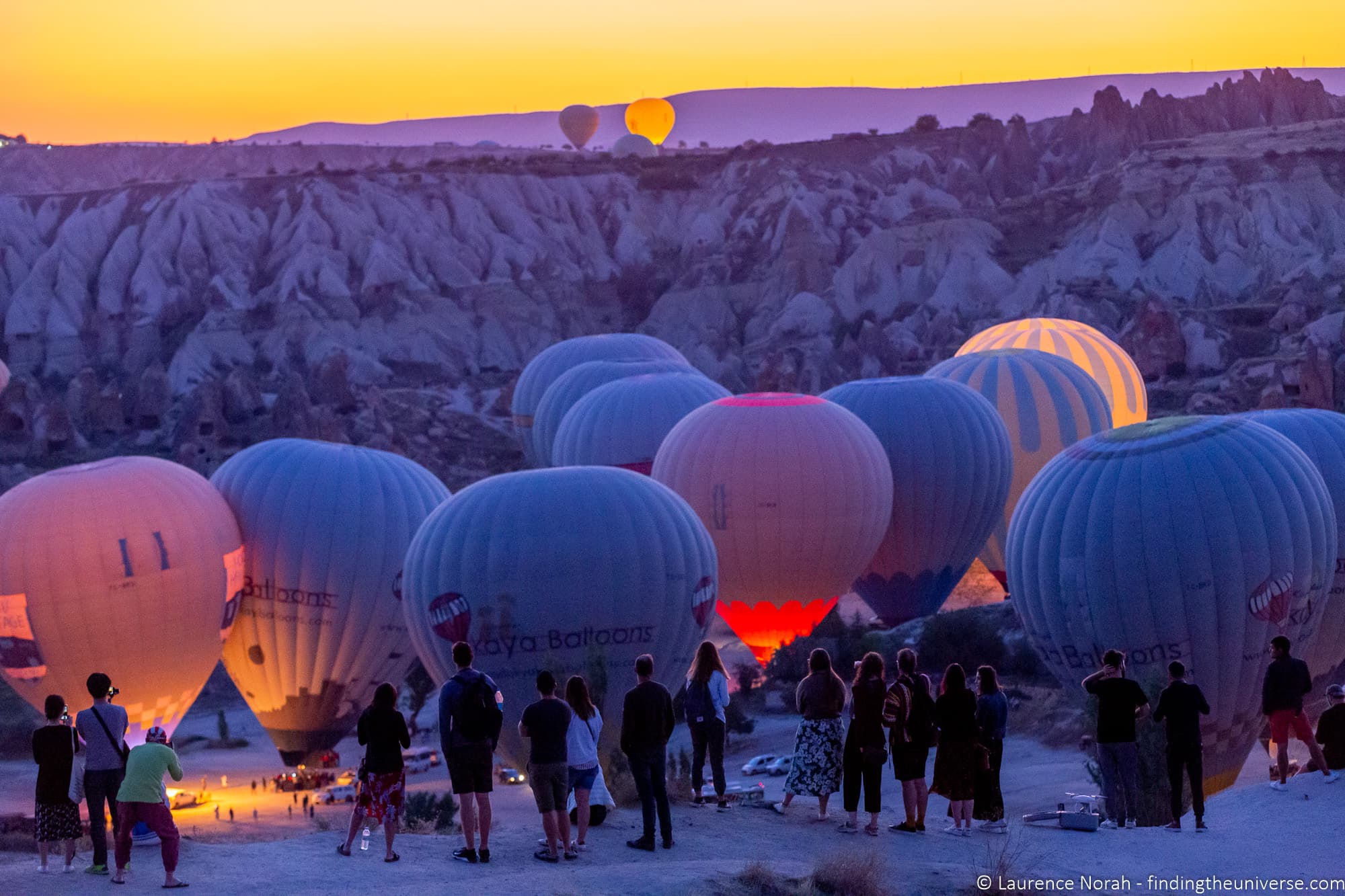 Unless you choose to sleep in, it's going to be an early start. In our case that meant leaving the hotel by 5am, either to be ballooning by sunrise, or to watch the balloons take off into the sunrise.
I've been lucky enough to fly in a hot air balloon in Cappadocia twice already, so on this trip I opted to stay on the ground and see what that experience was like.
I am pleased to report that it was truly wonderful. We were particularly lucky on the day we went as the wind was gently blowing towards us, meaning most of the 150 or so balloons which launched floated right over our heads.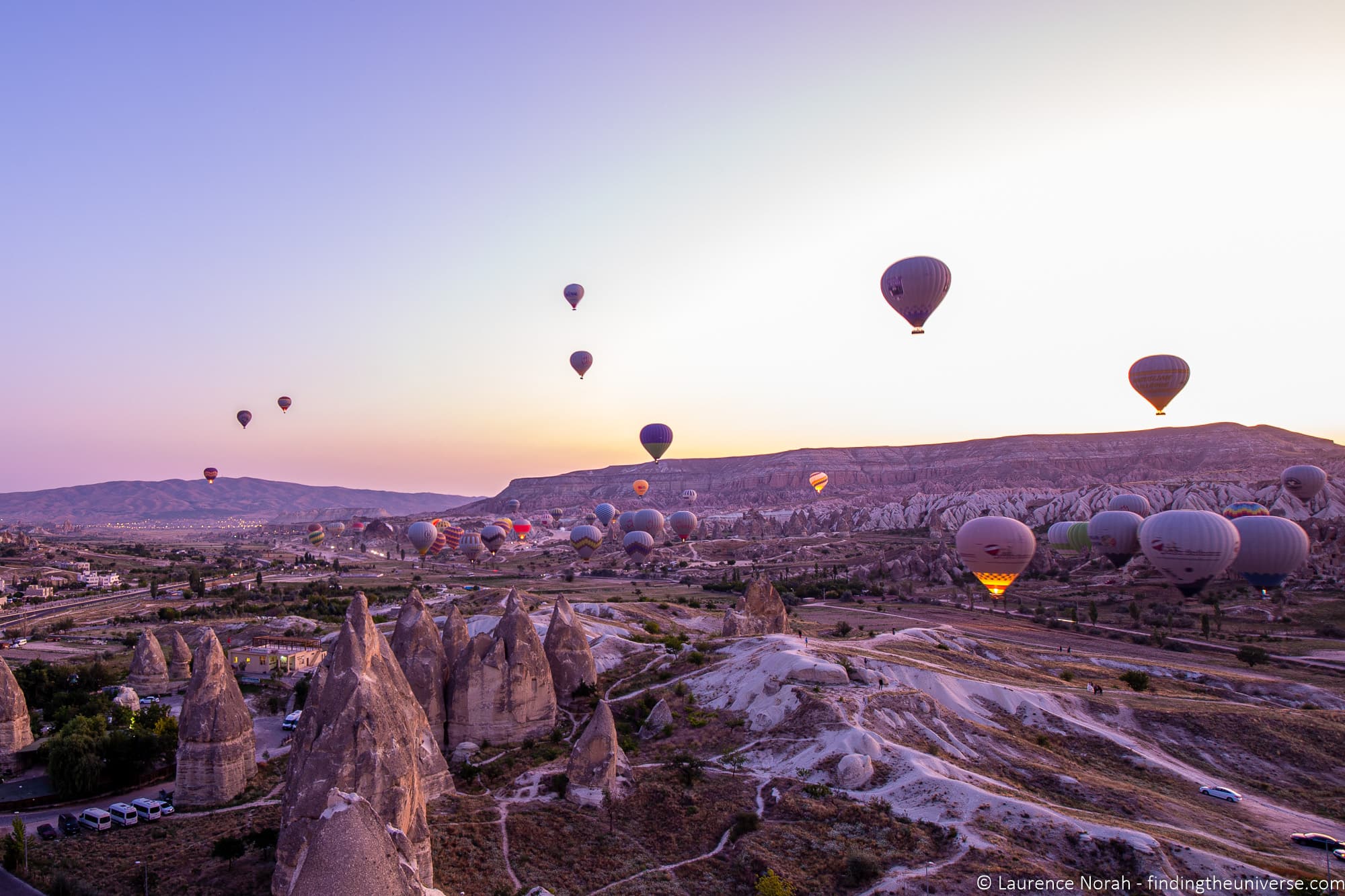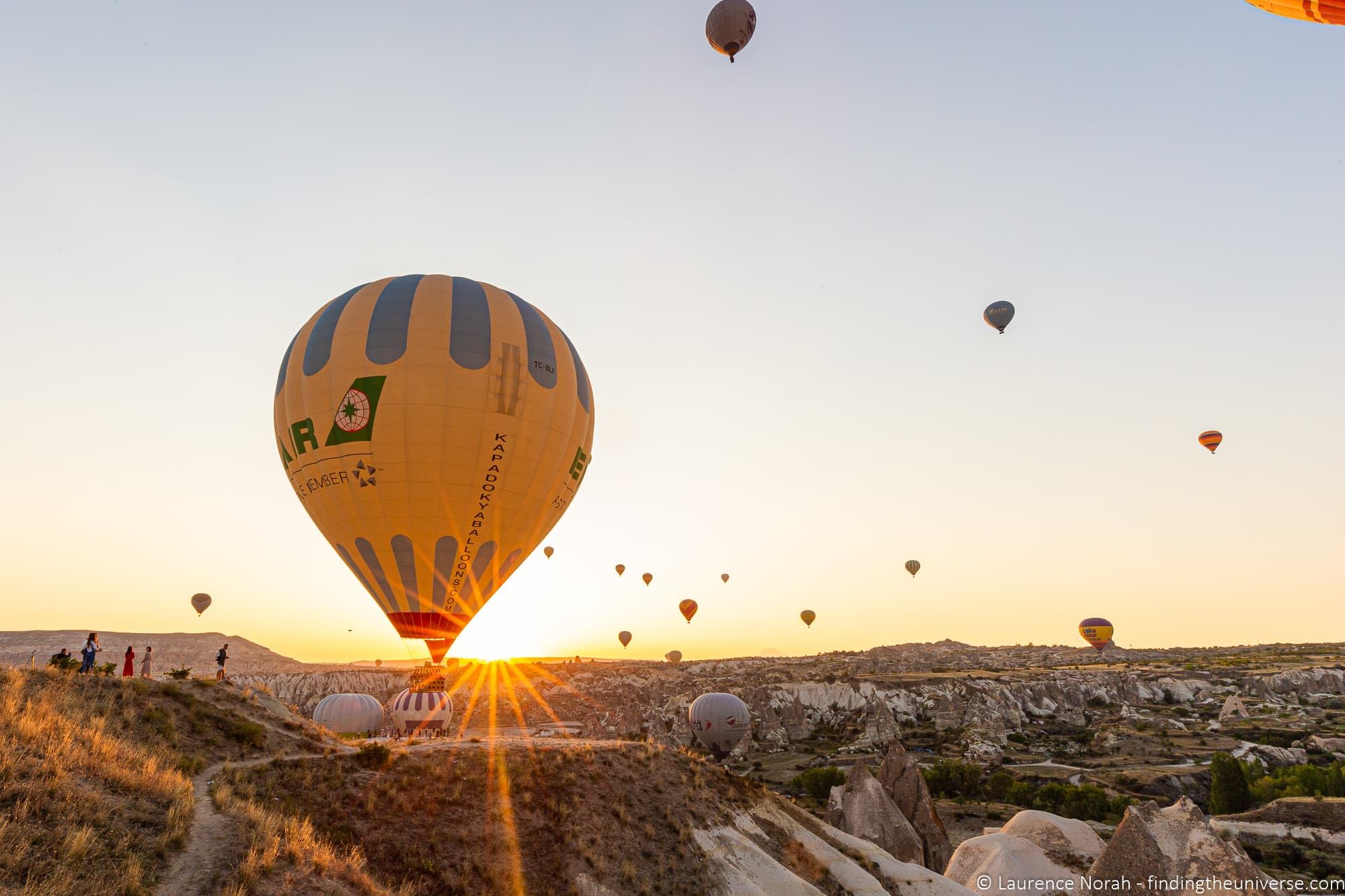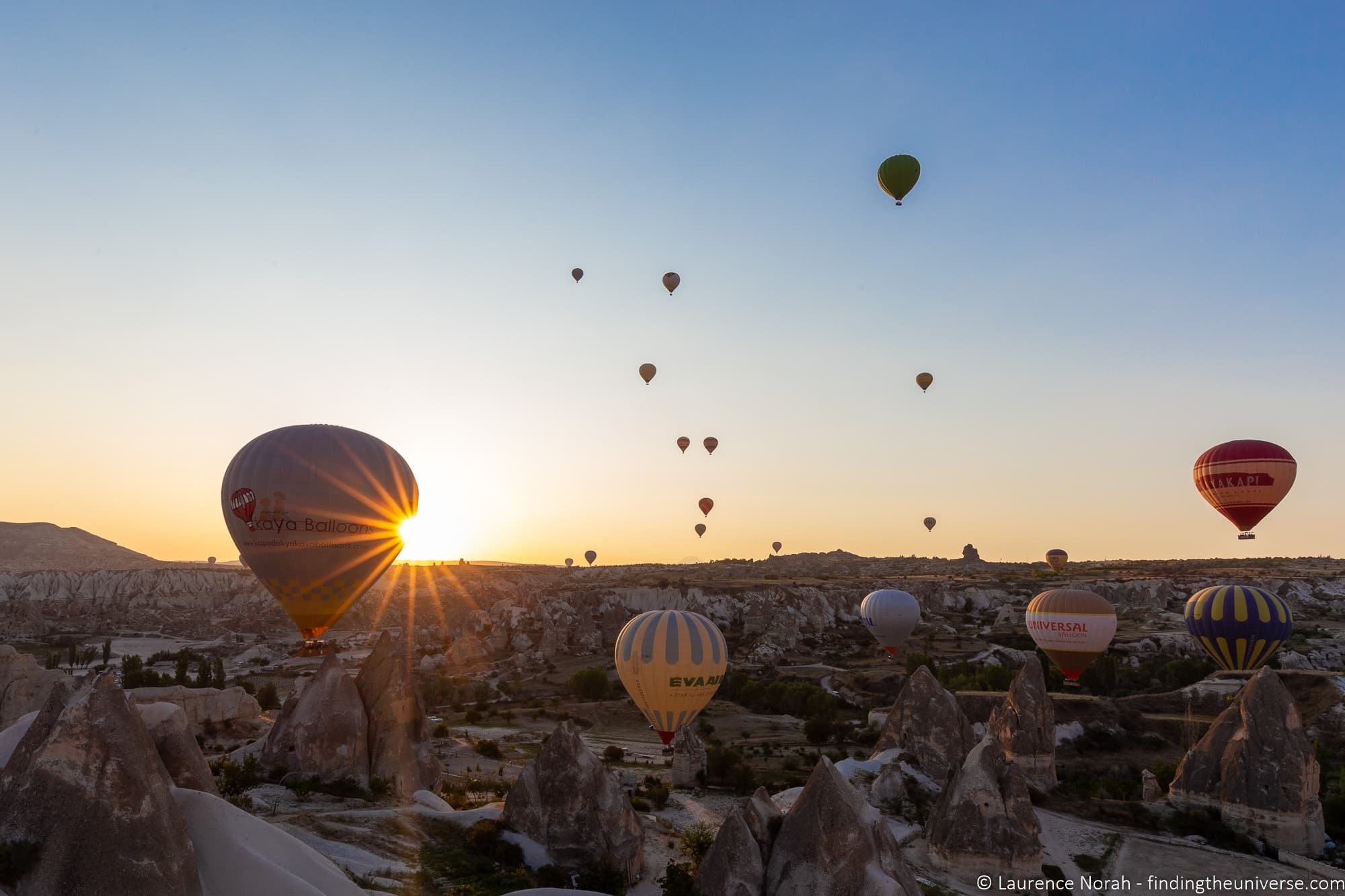 Speaking to those who went ballooning, they also had a fantastic experience, which lasted around 75 minutes from take off to landing. Note that basket sizes vary, but the company that Travel Talk used when we visited have around 24 people per basket.
After such an early start, everyone headed back to the hotel for a spot of breakfast before a day of sightseeing. Cappadocia is famous for its rock formations, and we visited the Goreme Open Air Museum, as well as a number of pretty viewpoints, including Pigeon Valley and Love Valley.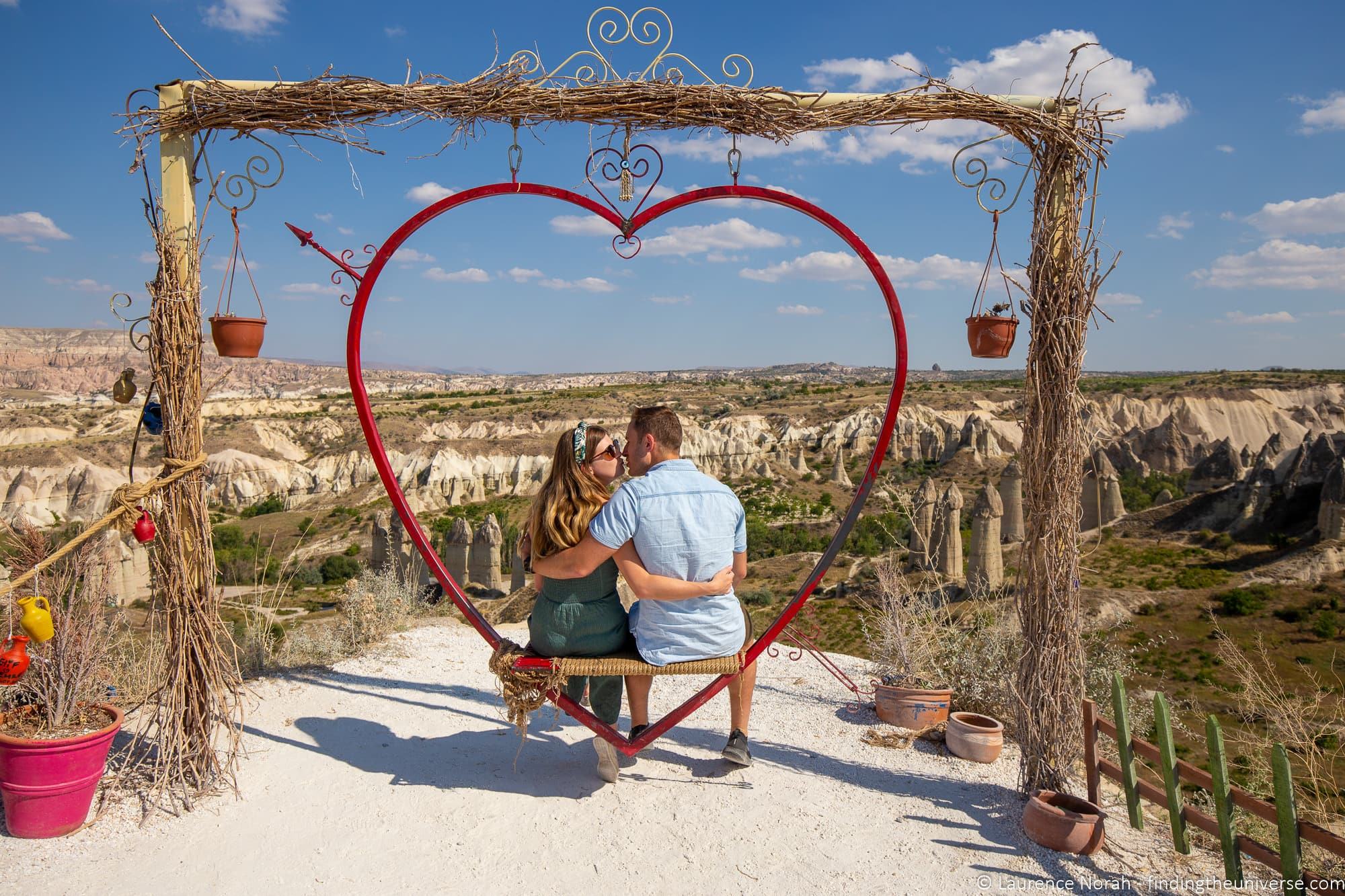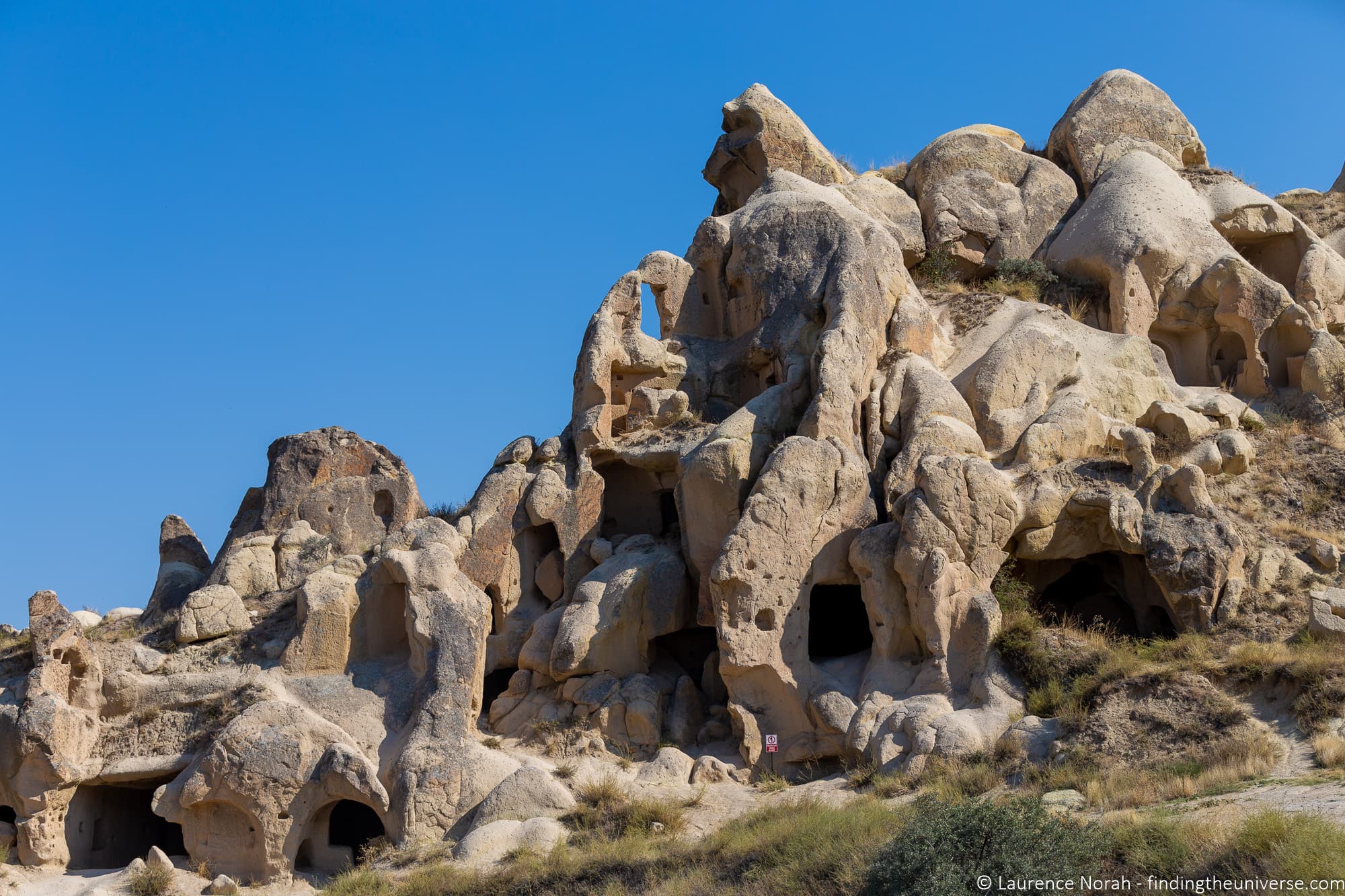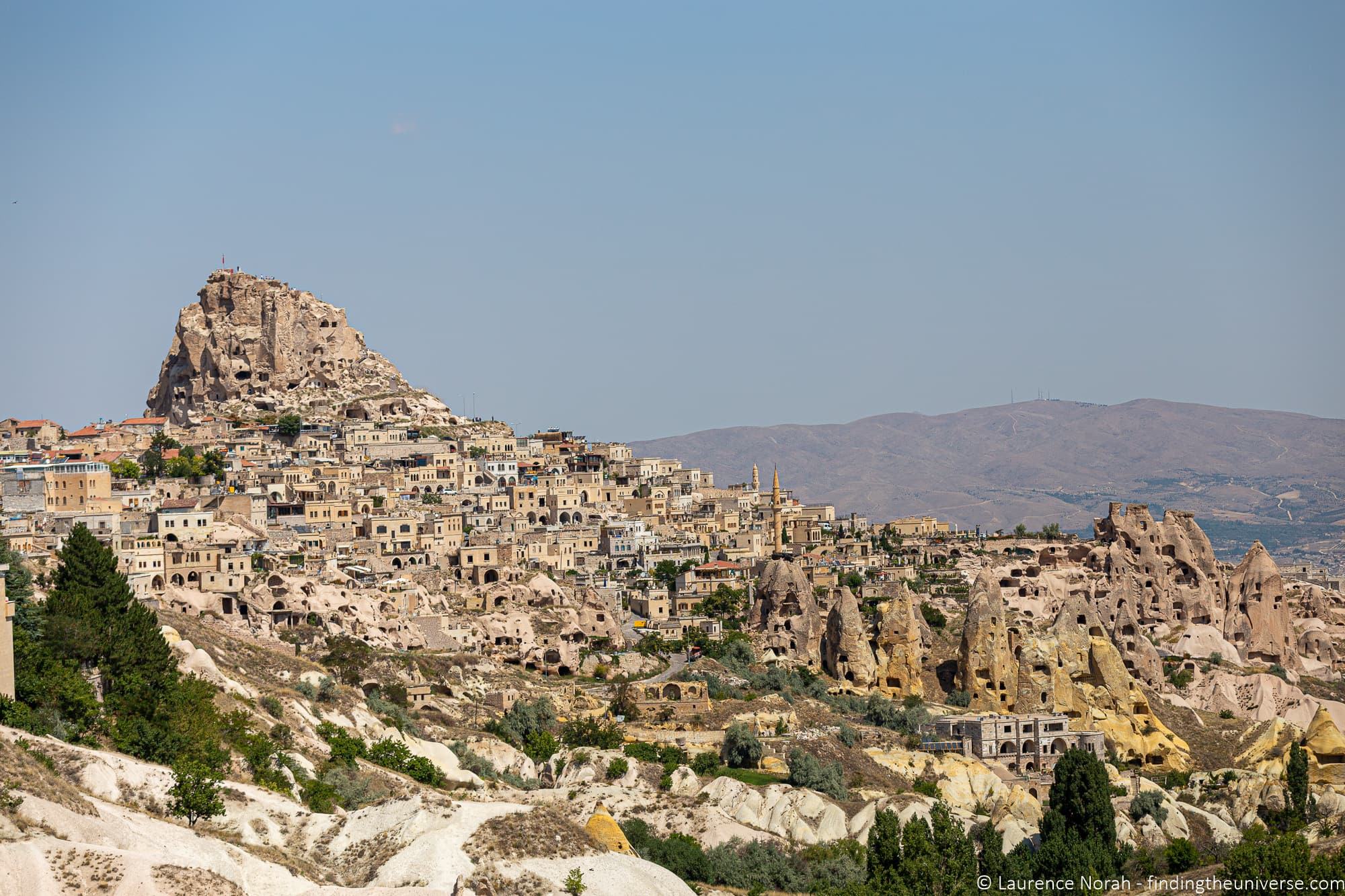 We also spent an hour or so at a jewellery shop. I will say that this tour in general did not feature a great many shopping specific stops, but the two we did stop at seemed to feature high quality products and most folks on the tour picked a few things up.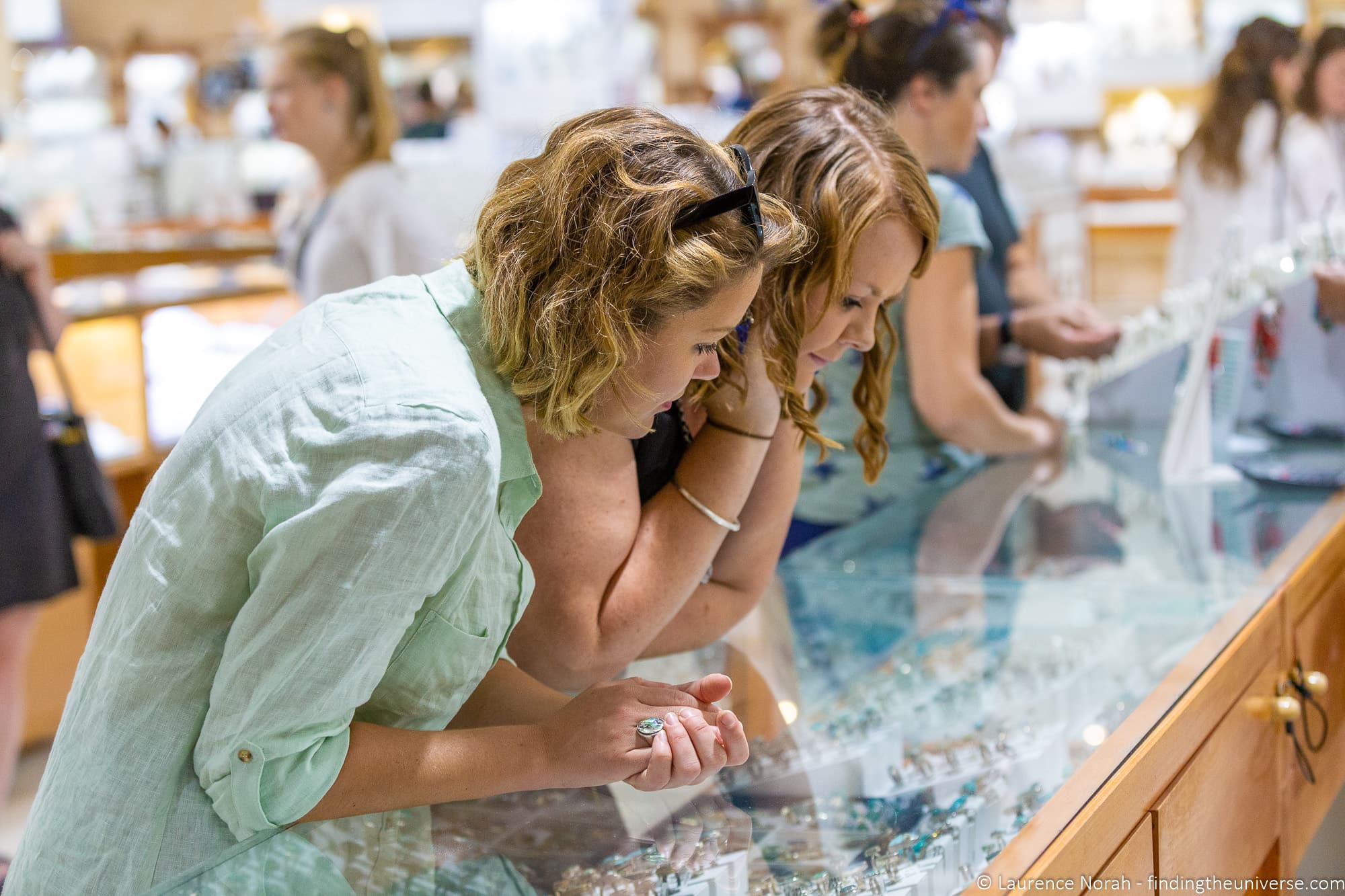 Lunch on the tenth day was at a restaurant famous for testi kebabs. These feature lamb cooked in a traditional clay pot over charcoal, which is then broken open with large knife. This was a really tasty meal, and lots of our group had fun wielding the pot opening knives!
Finally, after a few more sight seeing stops, our group headed back to the hotel at around 3.30pm. This was when those folks on the 10 day tours caught their flights back to Istanbul, so there was a large round of goodbyes in the hotel lobby before they were transported off.
Those of us staying had one final treat in store – the optional Turkish night, which pretty much everyone had signed up. Something about the promise of unlimited alcohol seemed to waken even the most tired of souls.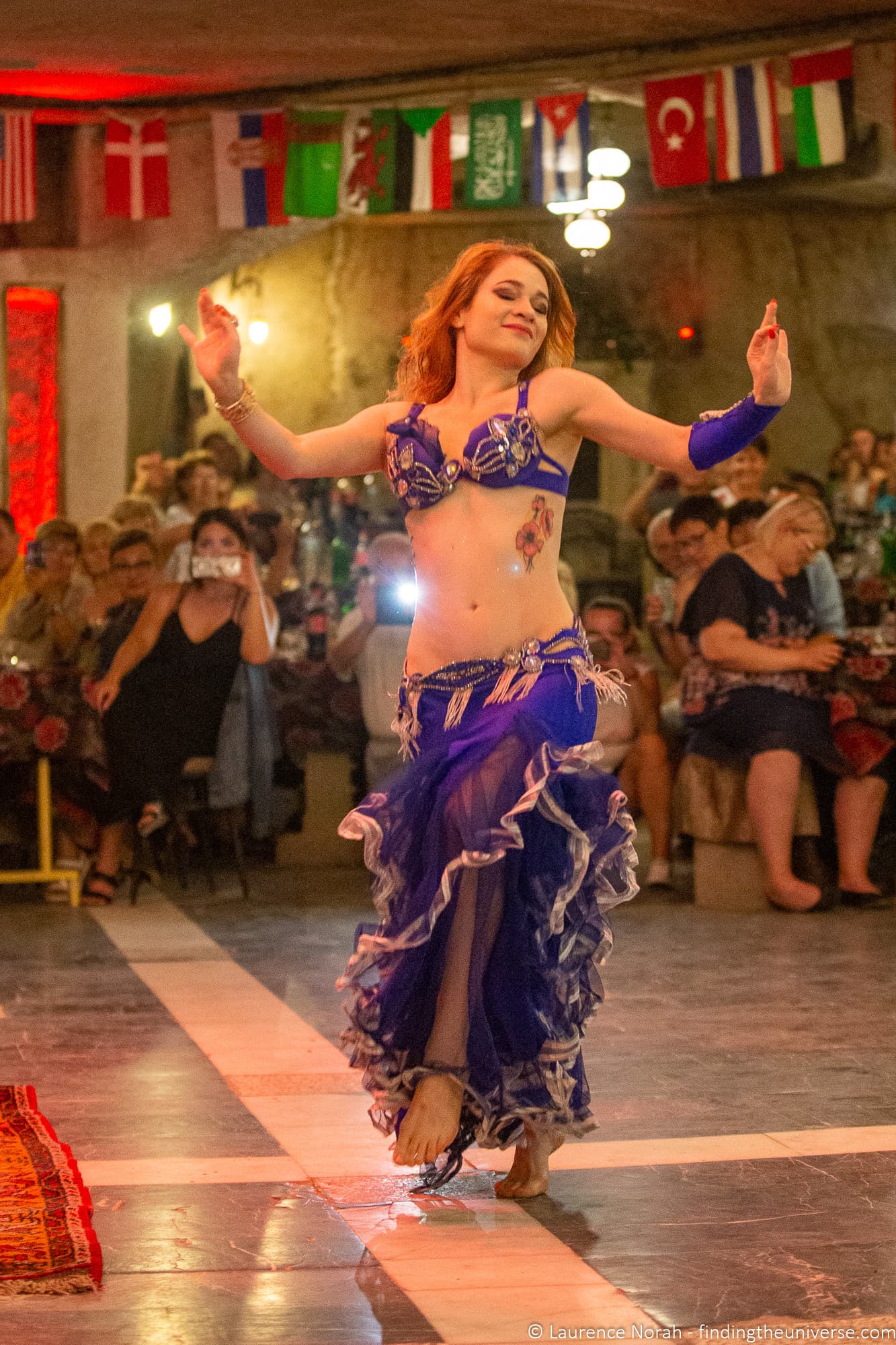 So, after a relaxing afternoon snooze, it was back on the bus for a short transfer to an evening of dance and drink. This was, despite obviously being a purely tourist event, a huge amount of fun. There truly was unlimited alcohol, including traditional Raki, and our group danced and drank fiercely until the show was over.
The belly dancer in particular was excellent. Even if she did pull me up and make me dance in front of a room of hundreds of people.
Day 11 – Drive to Istanbul
The 11th day of the tour was, to be honest, not much to write about. It's a very long way from Cappadocia to Istanbul, and we spent basically the whole day on the bus. We departed the hotel at 7.30am and arrived into the hotel at 7.40pm.
The good news was that around half the group had left already, so everyone had two seats to themselves. We also stopped at least every couple of hours for use of the toilets and to buy any snacks, and we had a longer stop at a huge outlet mall for lunch.
In Istanbul, we all went out for dinner as a group, visiting the restaurant we'd been to on our first night.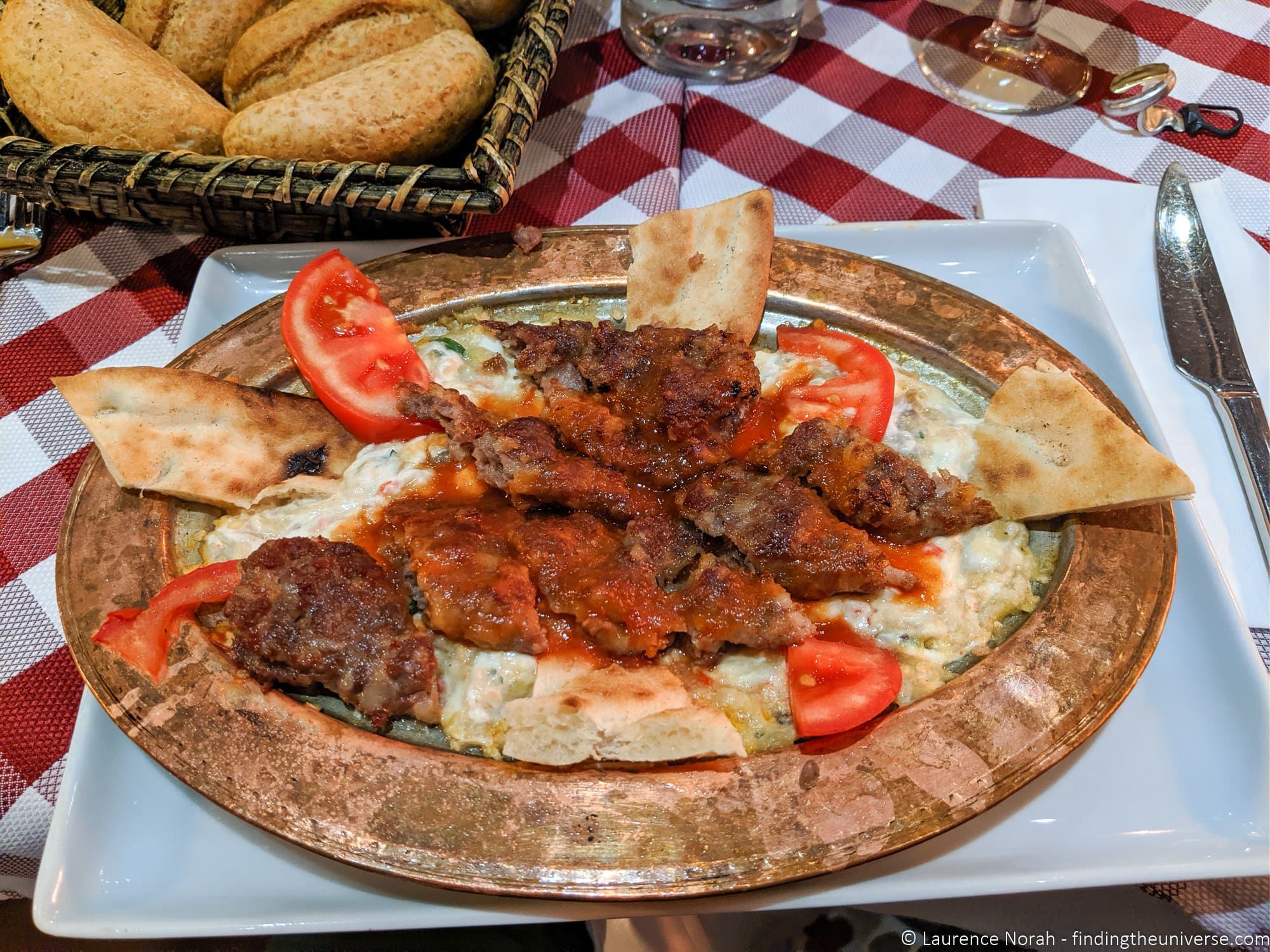 Day 12 – Flight home
The last day on the trip was really just the day that everyone left. We said our farewells over breakfast, and then folks departed at various times through the day.
Some people were staying in Istanbul for more sightseeing, others were flying home, others were on longer trips and so left for new destinations.
But yes, all good things come to an end, and that was the end of our time in Turkey with Travel Talk Tours! Now I'll write a few words in summary, and share some helpful information so you can plan your own trip.
What we Liked About the Best of Turkey by Gulet Tour
This tour was an excellent way to see a lot of Turkey in a relatively short time. Our guide, Yavuz, had been running tours in Turkey for 25 years, and really knew his stuff. He also had a good sense of humour, which made the tour more fun.
The group of people on the tour were a lot of fun to hang out with, and the large group meant there were lots of people to meet and chat with. Normally I'd think that I wouldn't like a large group tour, but this trip proved me wrong on that front! Everyone was really friendly and a joy to spend time with. I left with a lot of new friends.
In terms of sightseeing and activities, some of the real highlights for me were the three day Gulet trip, the morning watching the hot air balloons in Cappadocia, and our time visiting Troy and Ephesus.
To be honest though, I really enjoyed the whole experience, and can definitely recommend it if you are planning a trip to Turkey.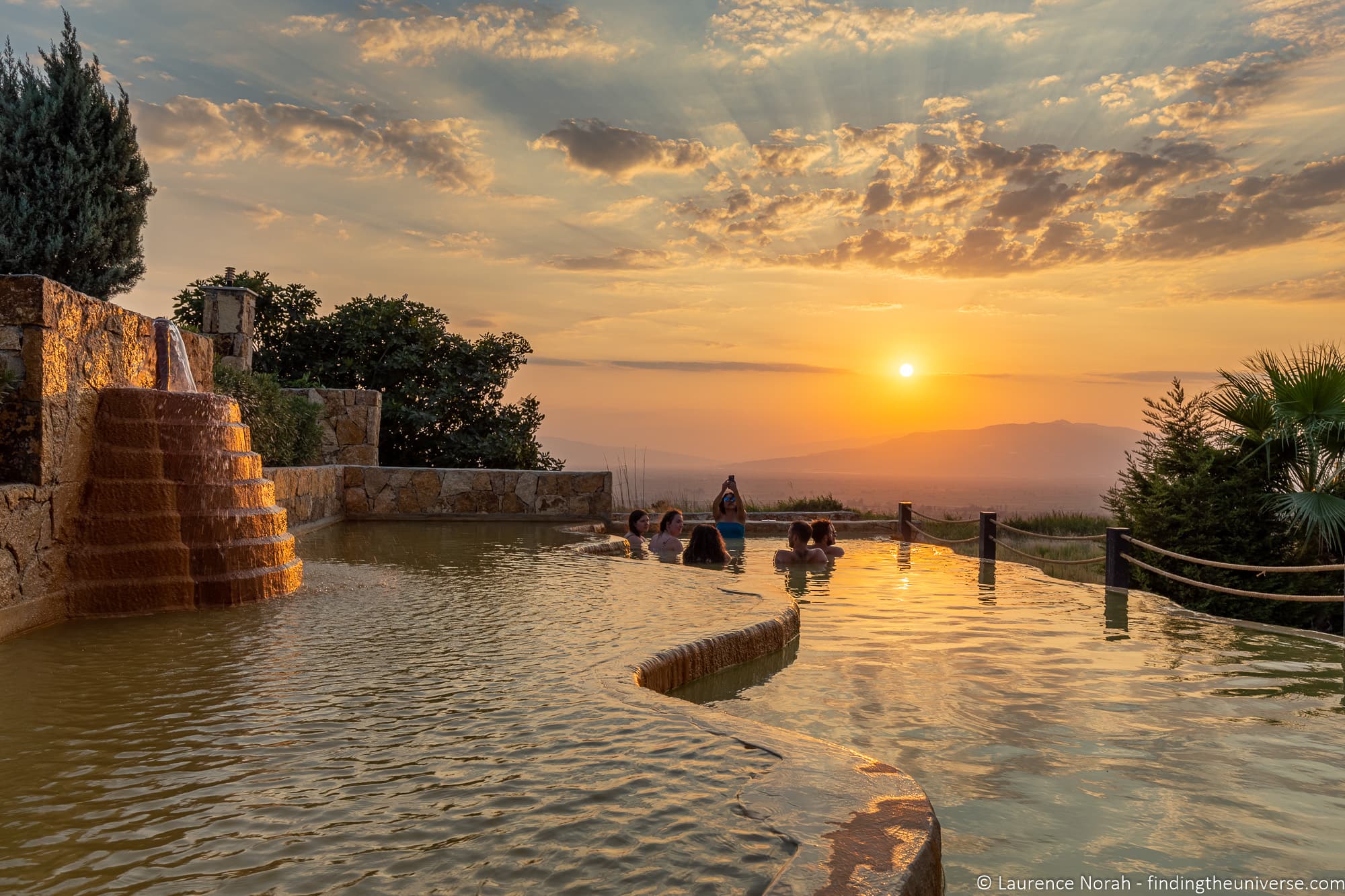 Anything We Didn't Like About the Best of Turkey by Gulet Tour?
Not everything in life is perfect and it would be unfair to only list the positives on a tour. So here are a few things that weren't ideal on the trip.
First, the real downside of a trip like this are the long bus rides and the early morning starts that went with those! Whilst the bus was certainly comfortable, and there were plenty of rest stops along the way, a long bus ride is still a long bus ride.
I, and many others on the trip, helped the time pass by reading, watching downloaded movies or TV shows, playing cards, or listening to music.
Of course, our guide Yavuz did share information as we went on what we were seeing, but on a 10-12 hour ride we couldn't expect him to entertain us the whole time!
Still, visiting the various highlights of Turkey will inevitably require these long bus rides, so I don't see much opportunity to improve this. Just be prepared in advance, and if you want to skip the long bus ride back to Istanbul from Cappadocia, consider the 10 day version of the tour which has you flying back instead of taking the coach.
Alternatively, some of our group just paid for the flights themselves separately, and met us back in Istanbul. This is something you'd want to arrange yourself of course, and you'd also need to figure out the airport transit.
The other disappointment I guess was Pamukkale, as there was no water in most of it, and it was both insanely busy and very hot. Visiting at a peak time of year on a weekend was definitely not ideal.
Finally, taking soft drinks onto the Gulet, at least water, should definitely be allowed. It's a minor thing, but one that would improve that part of the trip.
That is pretty much it for things not to like. If you don't like long bus rides, this tour is probably not for you. Otherwise, we think you'll have a great time.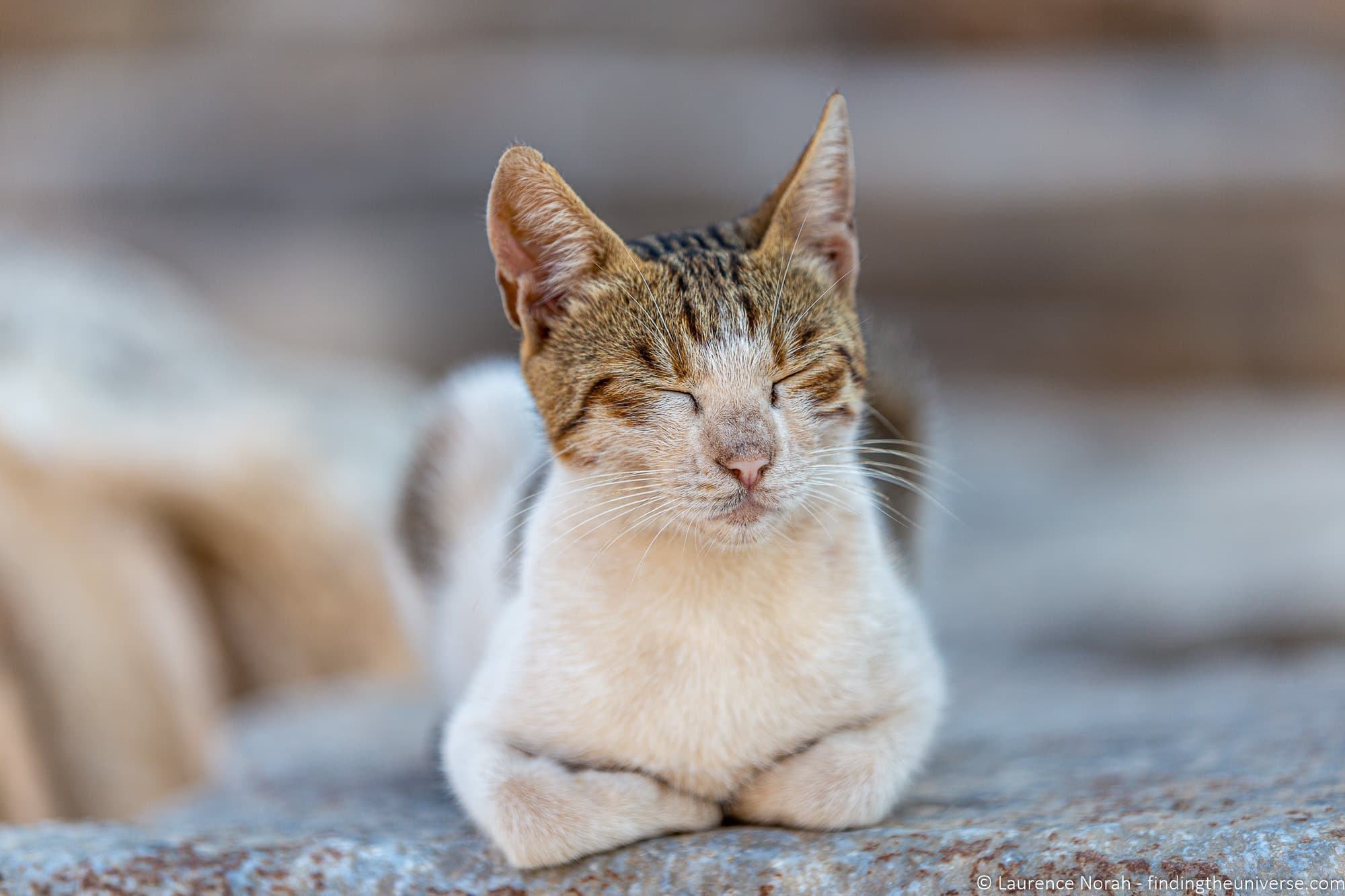 Should you take the Best of Turkey by Gulet Tour?
To be honest, we can't answer this question for you. I did my best to talk to absolutely everyone on the trip to get their thoughts on the trip, and overall everyone had positive things to say. Some were on their first Travel Talk Tours adventure, others had taken multiple tours with the company already. Some people had never taken a group trip like this before at all, and were definitely enjoying themselves.
I think this is a great tour if you want to see a lot of the country, learn some history, make new friends, and have a relaxing break in the middle. If you're not into swimming or boats, then you might prefer the land based version of the tour instead.
Otherwise, I'd encourage you to just read through this post and make up your own mind as to whether this sounds like the right tour for you!
If you don't like the sound of a tour, see our guide to spending 2 weeks in Turkey, which has loads of information on all the other options you have for getting around the country independently.
If you have any specific questions about the tour, or about Travel Talk Tour in general (we've taken 3 of their tours), just ask us in the Comments section at the end of this article.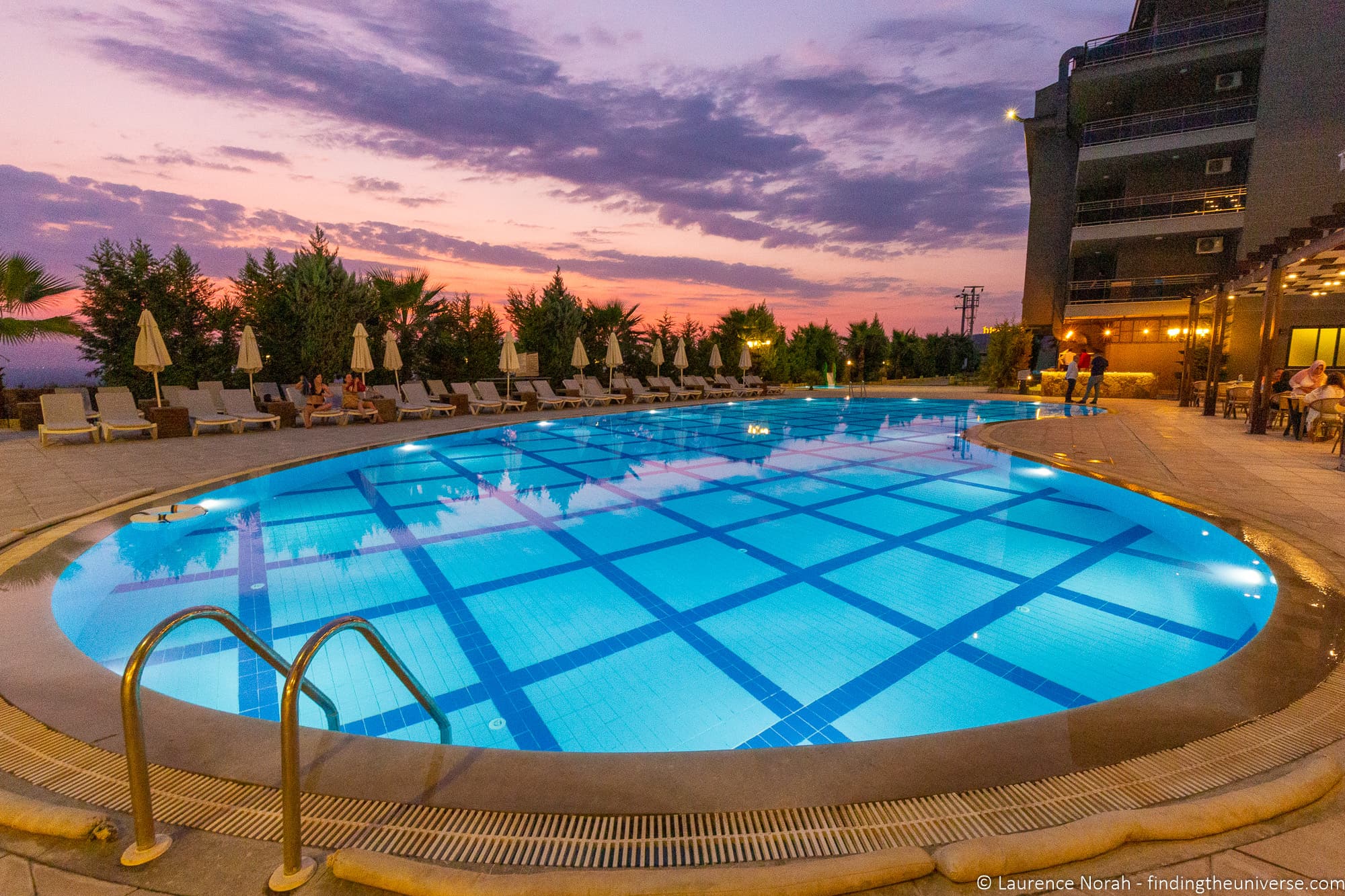 Practicalities for Travel in Turkey
To help you plan your time in Turkey, here's some useful information around things like internet access, drinking water, and electricity. Note that lots of practical information of this nature is also helpfully provided in the pre-departure file by Travel Talk tours.
Money in Turkey
Turkey uses the Turkish Lira as currency, which is available in both coin and note form. ATM's are widely available across the country, and credit cards are also accepted in most locations.
You will definitely want to have a few coins handy, as sometimes there's a small fee to use the toilet (between 1 and 2 lira when we visited). It's also common to tip for service, usually up to 10%.
Electricity in Turkey
Turkey uses a 2 pin Type C / Type F plug. This is the same as you would find across the rest of Europe, and the voltage is 220V to 240V.
If you are travelling from a country which uses a different plug style, like the UK, USA, Australia, Canada, or New Zealand, you will need a travel adapter like this. If you are coming from the Americas, you will also need to consider the change in voltage. We'd suggest reading our guide to travel adapters to find the best solution for you.
Safety in Turkey
Turkey is a generally safe country to visit, and we've never had any problems here. In our experience, the only thing to really watch out for are the rogue taxi drivers with rigged meters. You can avoid these by only getting taxis from official taxi stands, or getting your accommodation to call a taxi for you.
Otherwise, just practice the same safety precautions you would when at home, and you should be fine. On a tour with a reputable operator like Travel Talk, you shouldn't have any problems, and your tour guide will be there to assist you should any issues arise.
Internet Access in Turkey
WiFi was available at all the hotels we visited in Turkey, but other than at the hotels and some of the restaurants we stopped at, free wifi was fairly rare. There was no WiFi on the Gulet for example.
However, it is possible to buy SIM cards with data in Turkey, and our guide gave us tips on where to do that in Istanbul. These even worked while we were on the Gulet.
On our tour, quite a few people opted for the local SIM as prices for data were very reasonable. However, if you can cope without data for a day (three days on the Gulet!), then you will be able to get online at the hotels. Alternatively, you could look to the roaming options your operator has for Turkey.
In my case, I have a personal hotspot device which I used during my time in Turkey when I wanted to get online.
You can read more about that in my detailed guide to getting online when travelling, which has lots of options to help you pick the right option for you.
Drinking Water in Turkey
Our guide advised us against drinking the tap water on our trip, and sticking to bottled water. Whilst in theory the water is treated and drinkable across most of the country, I can see why Travel Talk would prefer you not to take the risk – an upset stomach combined with long bus rides isn't going to be fun for anyone!
So you have two options. You can buy bottled water as you go, or you can invest in a water filtration system.
Bottled water is available everywhere and is cheap, especially if you buy it at a convenience store rather than a tourist location or in the hotel. Bigger bottles are more cost effective.
We also have and use a reusable water bottle with a filter, so that is another option to consider. Currently we use and love our Lifestraw, which you can buy online here. You can read more about safe drinking water in our guide to safe drinking water when traveling.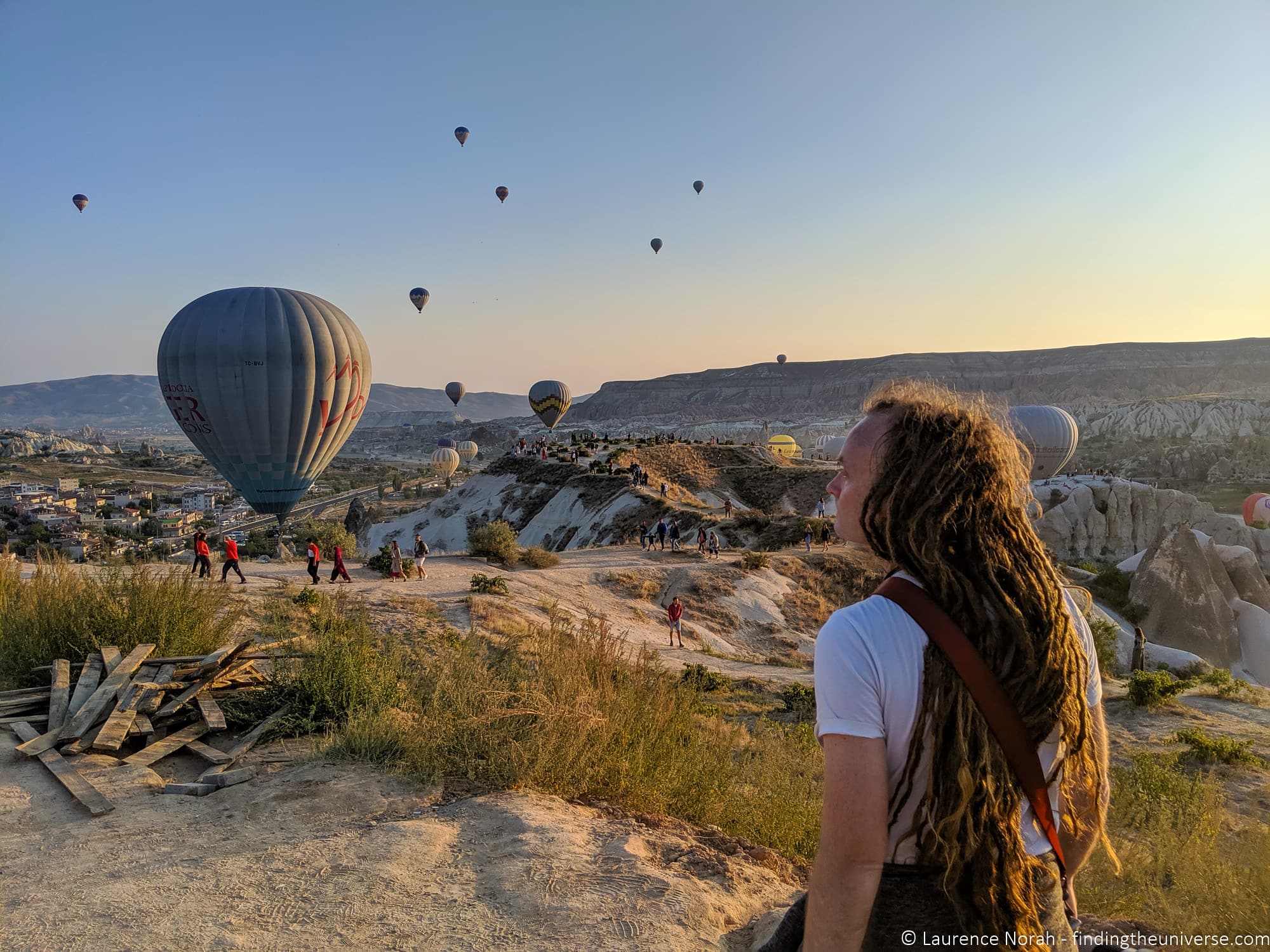 What Other Tours do Travel Talk offer in Turkey?
Travel Talk Tours offer a wide range of tours in Turkey, from 6 days to 19 days. You can see and book the full range of Turkey tours here.
Further Reading
Well, that finished off our review of the Best of Turkey by Gulet tour! If you're interested in reading more about the tour and booking it, you can do that on the Travel Talk website here.
We also wanted to share some other posts that we thought you might find useful, both on our experiences with Travel Talk on other tours, and on planning a trip in general. In no particular order:
And that's it! Have you ever taken a tour with Travel Talk Tours, or do you have any questions about our experiences? As always, we're happy to answer your questions and listen to your feedback about this post in the comments below!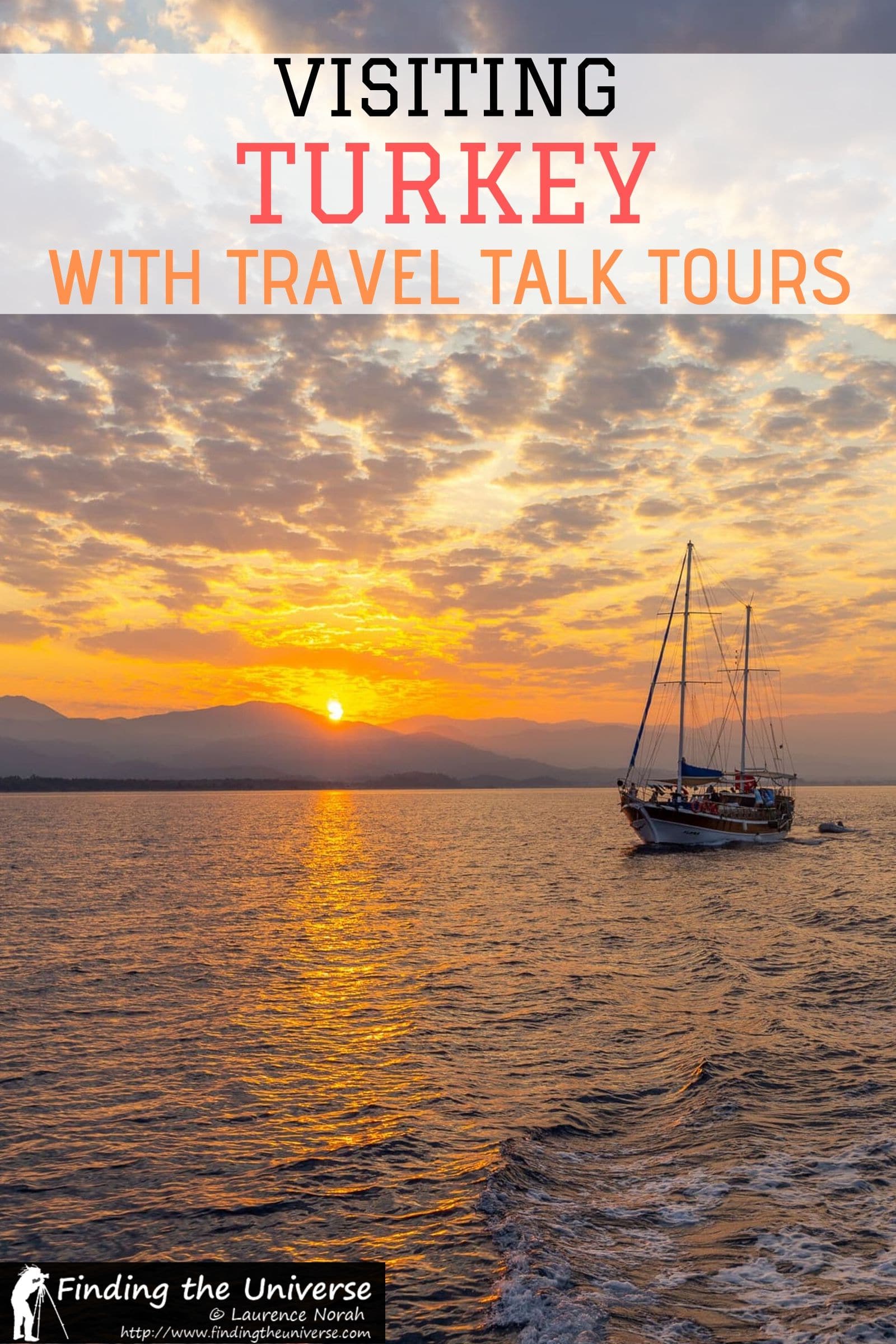 So you know: Our trip to Turkey was covered by Travel Talk Tours who covered the total price of our tour, all our meals, optional activities, flights to and from Turkey, and additional expenses. As always, what we write is our own personal opinion. You can always read about how we work with partners on our code of ethics here.