Found off Scotland's west coast, around a two hour ferry ride from the mainland, is the beautiful Isle of Islay (pronounced eye-la by English speakers, or eel-ul by Gaelic speakers).
The island is well known for its smoky, peat heavy whiskys, and no visit to Islay would be complete without visiting at least one of the nine distilleries on the island.
However, there is lots more to do on Islay beyond whisky tasting. You can visit far flung beaches, take scenic hikes, go wildlife watching, see ancient standing stones, tour crumbling churches and buy hand made crafts.
There's something on Islay for everyone, and if you're looking to explore a Scottish island with a warm welcome and less of the crowds, then Islay might just be the place for you.
In this post, we're going to share all our favourite things to do on Islay, as well as lots of practical advice and tips for your visit.
Things to do on Islay
We'll start this post with our guide to some of our favourite things to do on Islay. These include many of our favourite sights and activities on the island, and should hopefully give you plenty of inspiration for your trip.
Take a Whisky Distillery Tour
Visiting a whisky distillery tour is one of the main reasons that many people choose to visit Islay, and we were no exception to this (well me, not Jess).
Personally, Laphroaig is my favourite of all the Scotch whiskys. I just love the strong peat smoke flavour.
As you would imagine, the opportunity to visit the distillery where my favourite whisky is made was a major priority for our visit to Islay!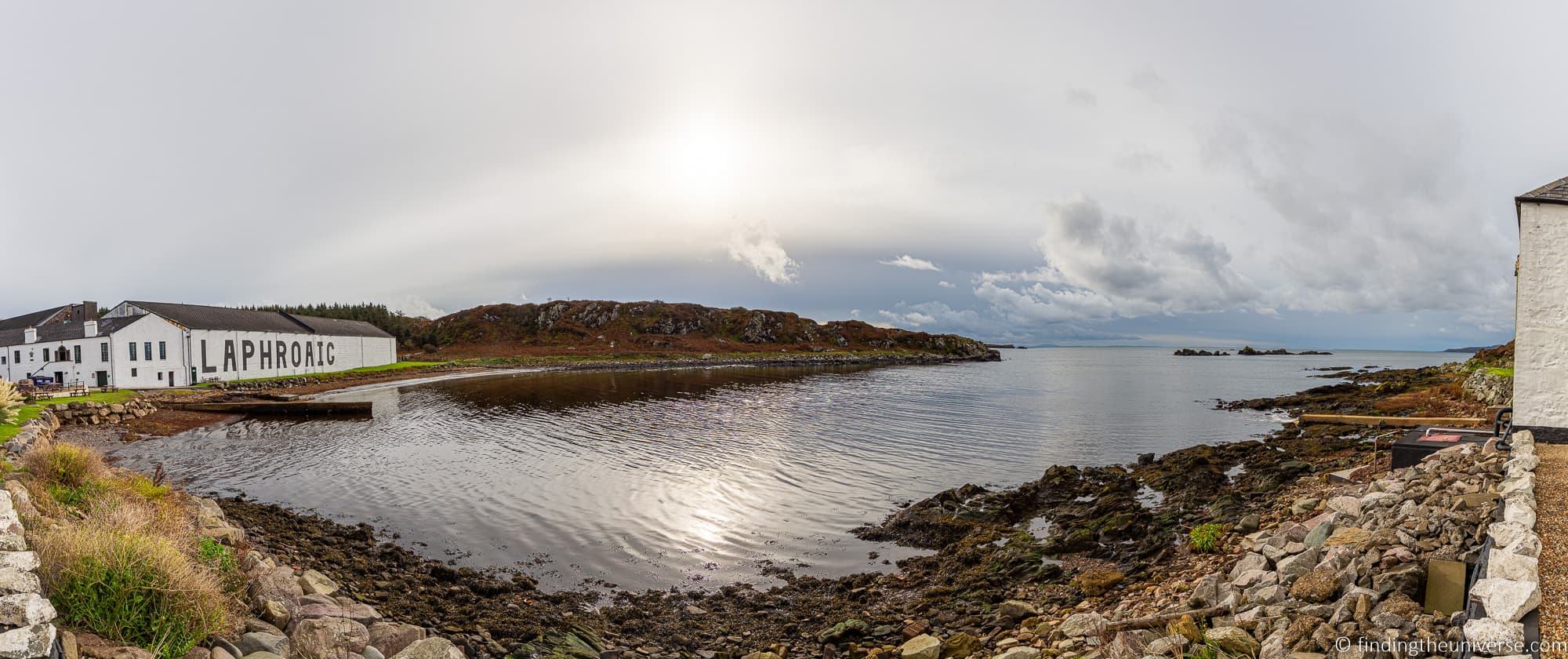 Of course, I appreciate that the flavour profile of Laphroaig, and many of the Islay whiskies in fact, aren't going to be for everyone. There's an emphasis on a strong peat smoked flavour with the majority of the whisky made on Islay, which can be a bit much for some palates.
Regardless, the history of whisky on the island, and the passion of the locals for the creation of their product, are an experience to enjoy. And the best way to do this is at a whisky distillery.
There are a lot of whisky distilleries on the island, so unless you are really an whisky nut, you will likely want to pick one or two to visit and experience. We've taken a lot of whisky tours, and other than the final product, the overall tour experiences are usually quite similar.
You'll get a tour of the factory, and a detailed overview of the process of whisky making, followed by the opportunity to sample one or more of the whiskys that each distillery produces.
We've taken a lot of whisky tours in Scotland during our time travelling and living here, but despite this, always enjoy learning the process and hearing the stories behind each product.
As a massive fan of Laphroaig, it was obvious to me which distillery tour we were going to go on. The Laphroaig distillery is located on the south side of the island, about a five minute drive from the town of Port Ellen.
It's also within a couple of miles of two other world renowned whisky distilleries, Ardbeg and Lagavulin. So if you wanted to make a day of it, you could easily visit all three. There's a lovely walking path which runs from the village of Port Ellen out to Ardbeg, with the round trip walk around 6 miles in total.
Even though I've visited a lot of whisky distilleries, I really enjoyed the Laphroaig tour. This was because they do so much of the process on site.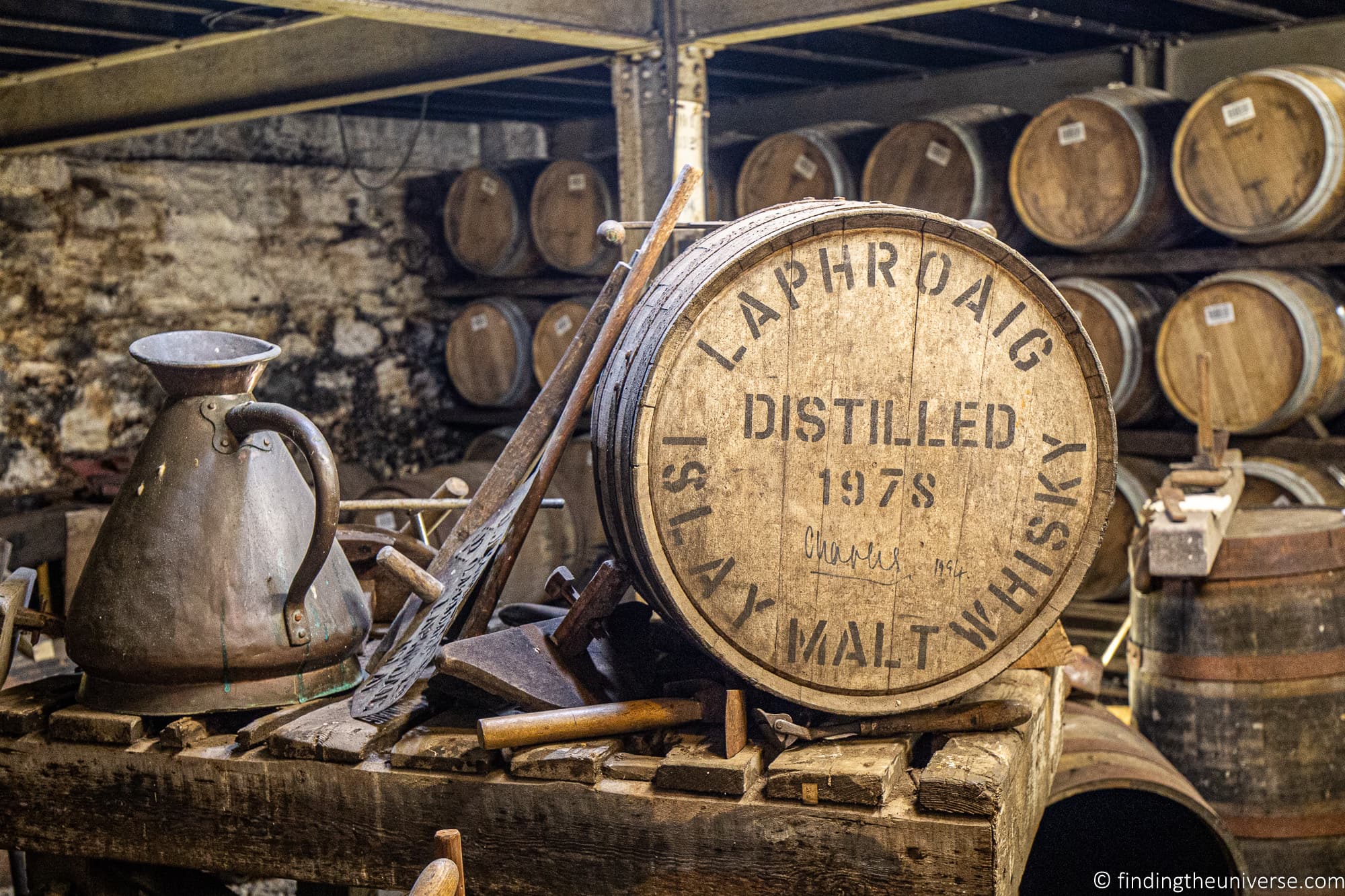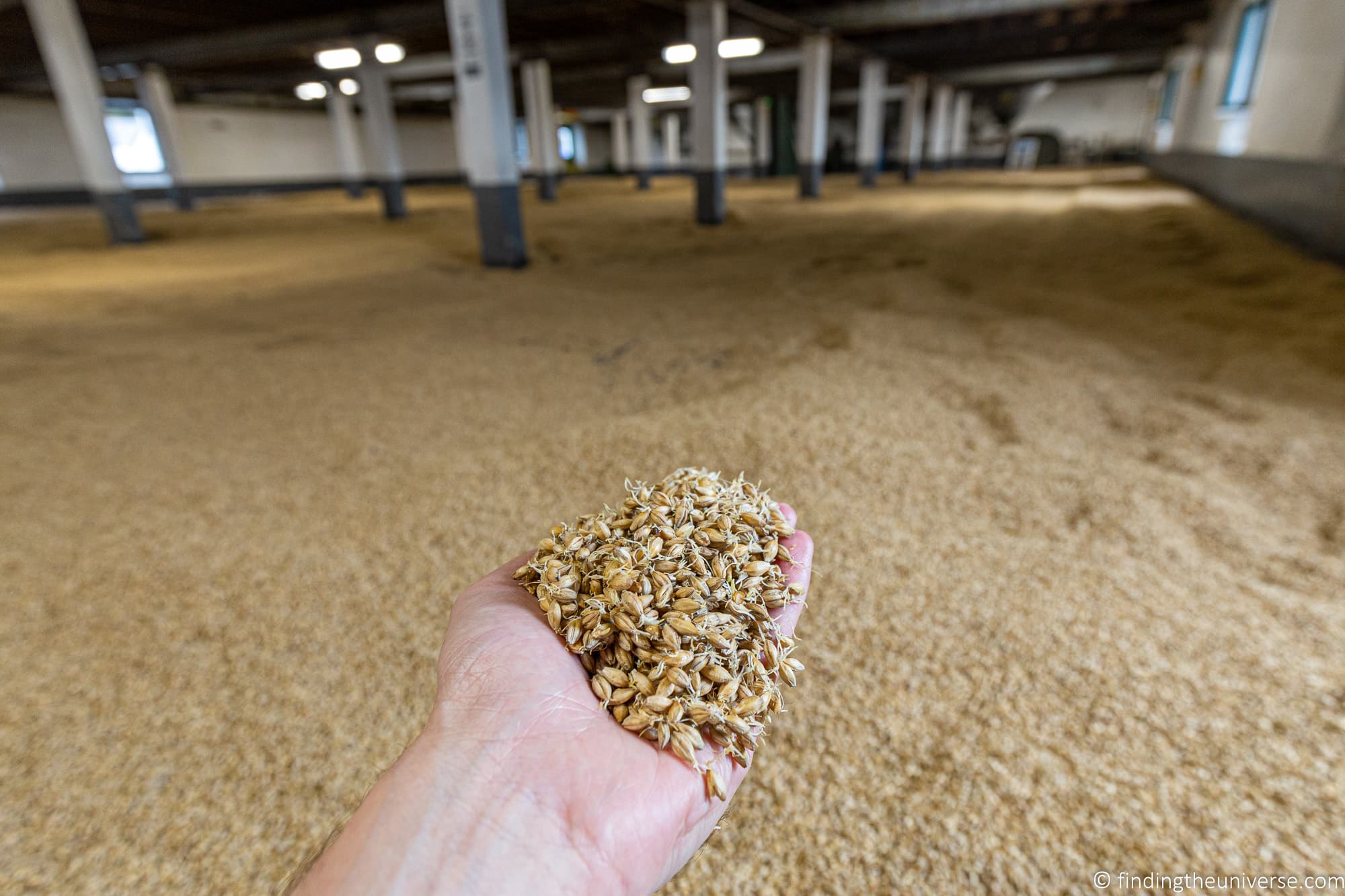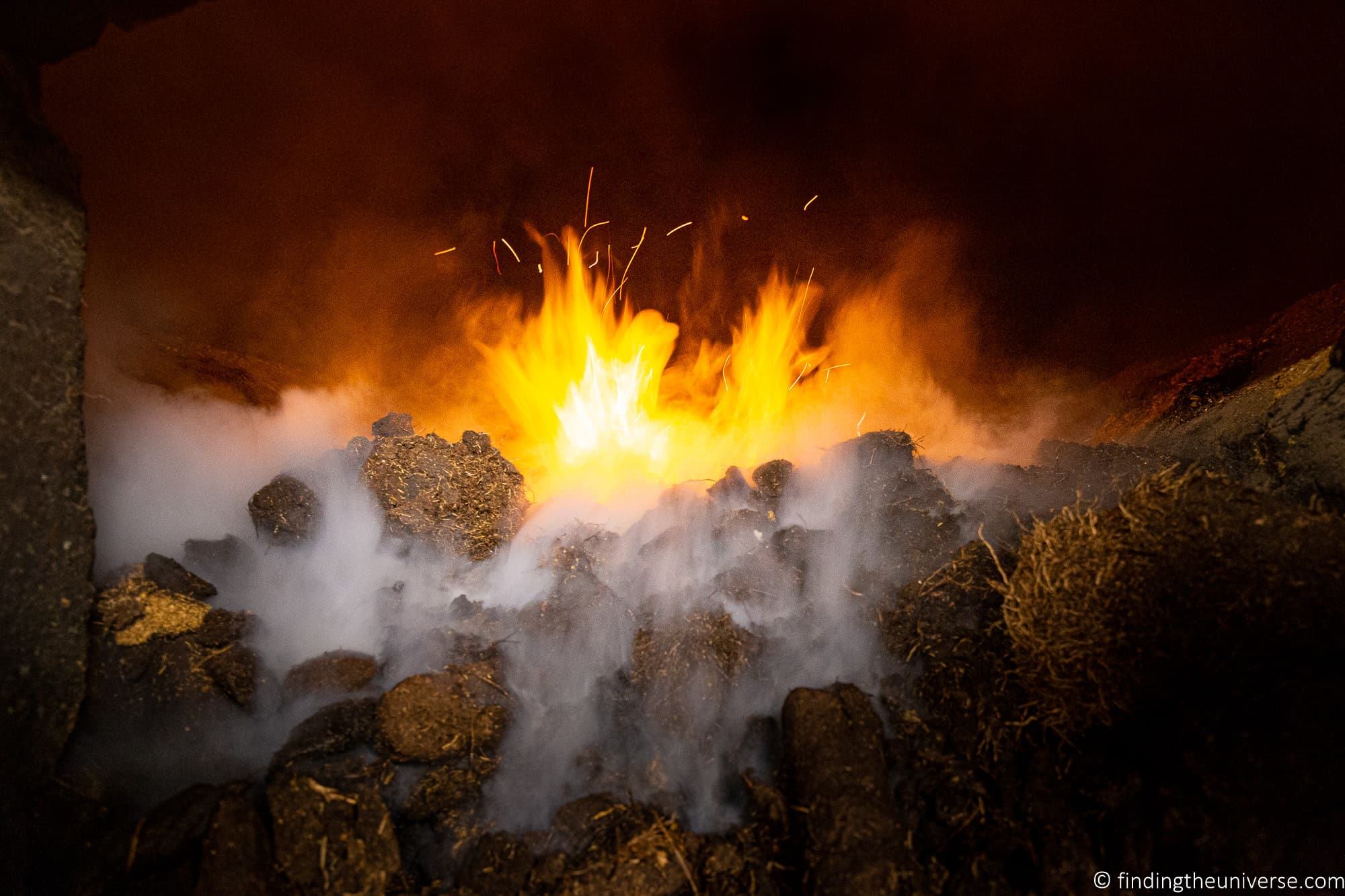 For example, most Scottish whisky distilleries no longer malt their own barley. Malting is the process of germinating the barley, to develop the sugars prior to milling and then mashing. It requires a fairly large amount of space, but is essential to the process.
Laphroaig have their own malting floor, so you can see the barley in the process of malting.
They also cut their own peat, by hand, to fire the kilns which dry the barley. This is the process which gives the barley that intense peat smoke flavour. Again, this is all done on site, and you can see the peat fires burning as part of the tour.
Overall, I really enjoyed the Laphroaig tour. There was a welcome dram on arrival, and then up to three drams of whisky at the end of the tour (depending on which whisky you choose). There's also complimentary tea and coffee, a museum, and of course, a fully stocked shop!
My positive experiences at the Laphroaig tour aside, I don't think you'll be disappointed with any distillery you tour. The distilleries on the island are all excellent, and I have heard positive reviews from friends who have toured the other distilleries as well.
In case you were wondering, here are all currently active whisky distilleries on Islay, in order of when they were founded.
All nine of the above distilleries are open for tours. Some also have dining options on site.
My main piece of advice, especially if you are visiting one of the more popular distilleries, is to book your tour in advance. We visited in the off season, and on the day I visited many of the tours had already sold out in advance, with people turning up and being unable to get on a tour.
Most of the distilleries will let you book online in advance on their website and/or by phone, so definitely do this when you know which distillery you want to visit and when.
It's also worth remembering if you are driving that Scotland has strict drinking and driving laws, and we'd advise against drinking if you are planning on driving. The good news is that all the distilleries will provide you with take home containers for your whisky samples so you can enjoy them when the day is done.
If you'd rather not drive, you might prefer to take a tour of Islay that includes whisky tasting. There are a number of these available, including this 4 day tour from Edinburgh, and this local tour run from the island.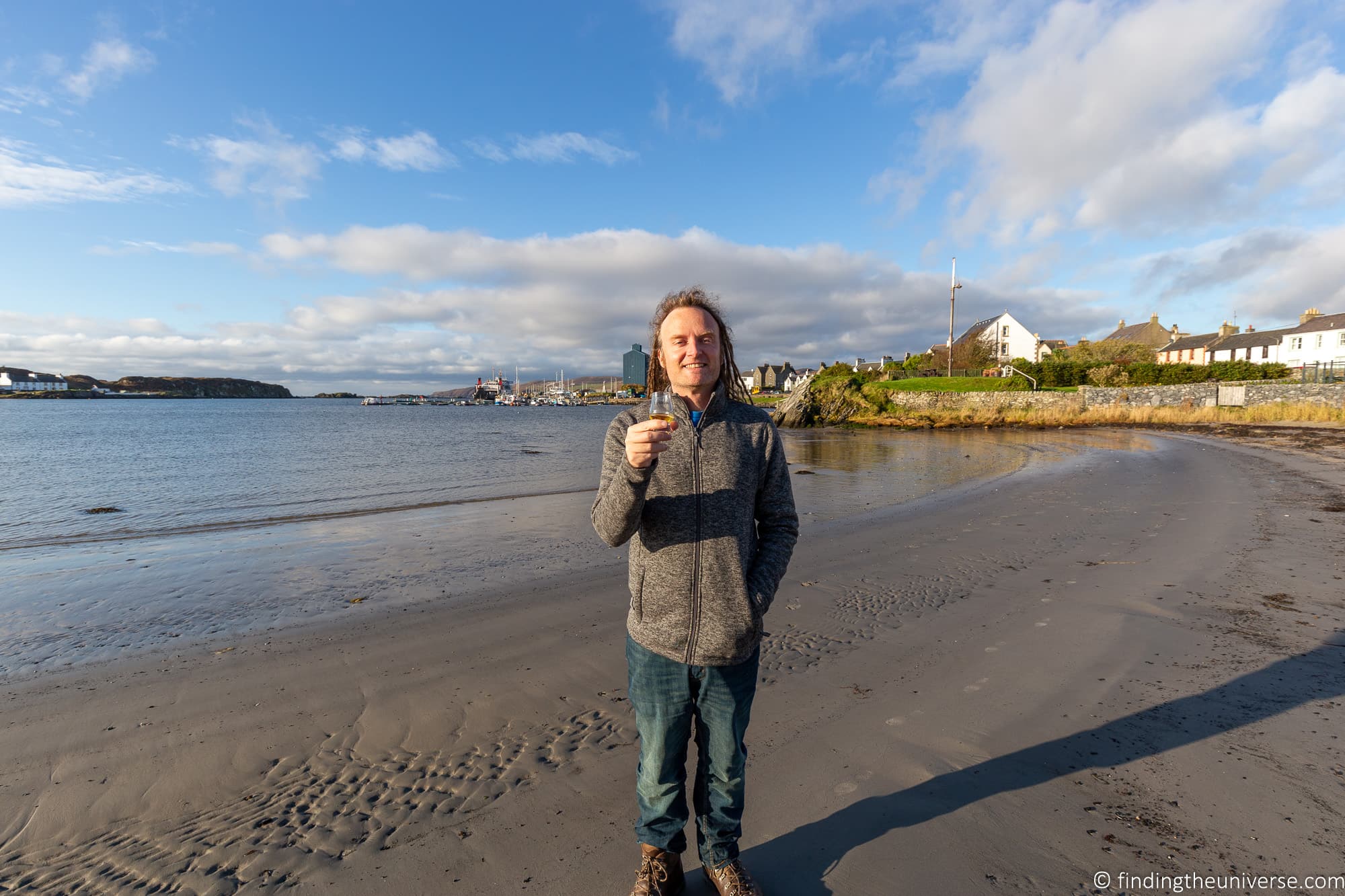 Visit the Islay Museum of Island Life
If you want to learn about the history of the people and the island of Islay, a great place to start is the Islay Museum of Island Life.
Whilst this isn't a huge building, it is jam packed with all kinds of things relating to life on Islay, and there are volunteers on site to answer any questions you might have.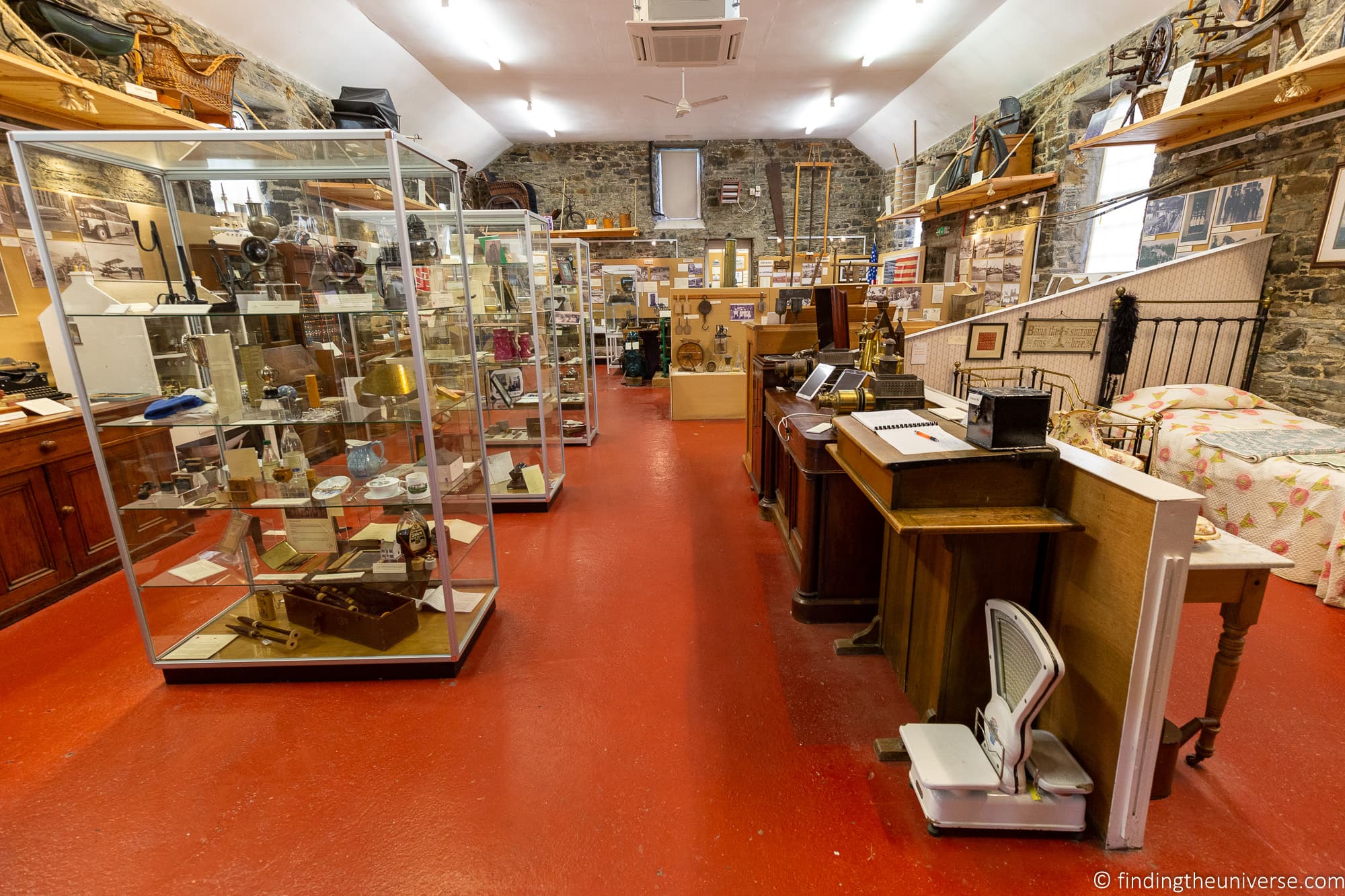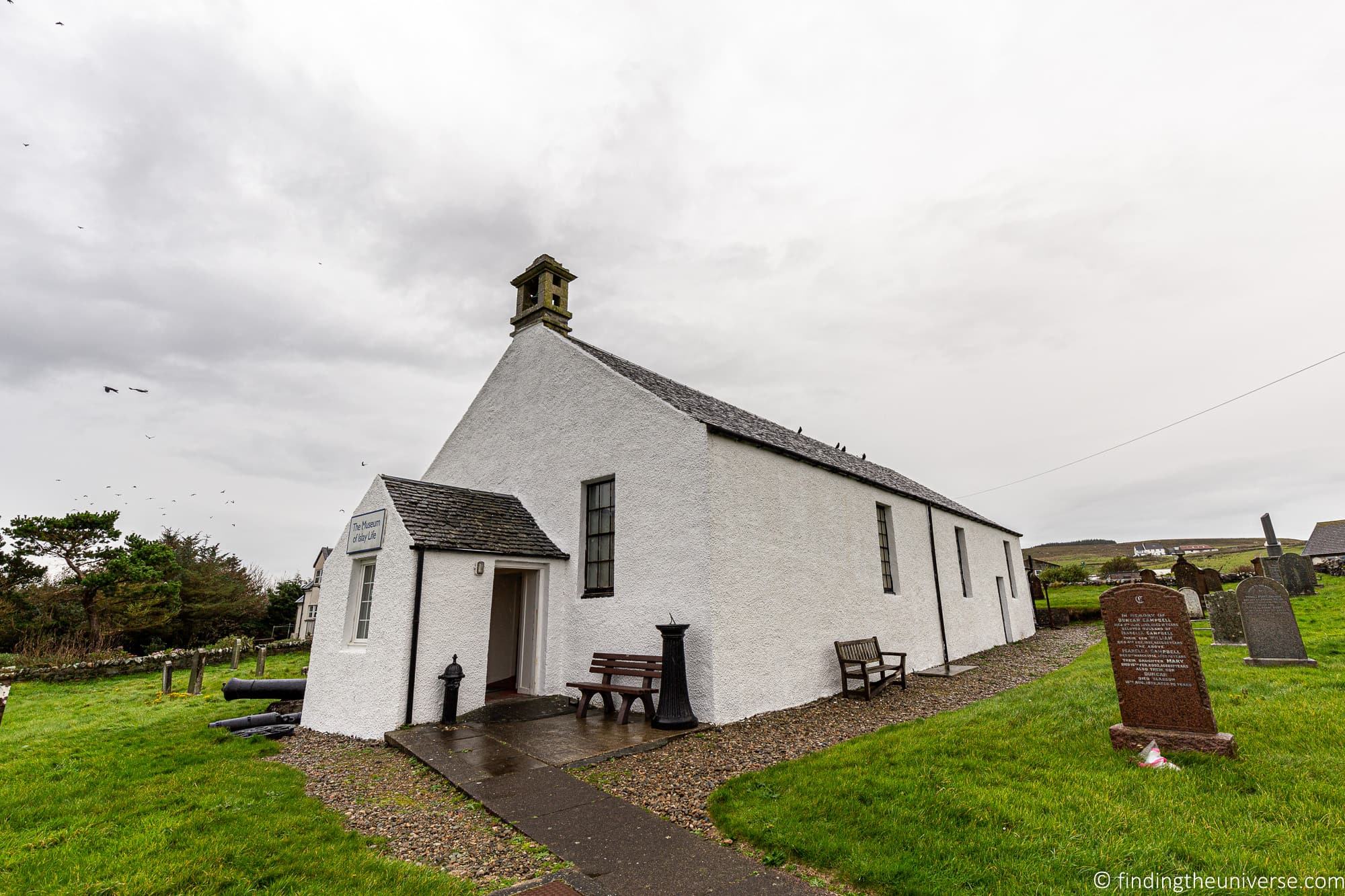 There are exhibits on a whole range of things, from the various traditional crafts and jobs on the island, through to tales from the islands experiences during the war. The collection spans a huge time period, from prehistoric times up to the present day.
We really enjoyed our visit here, chatting with the volunteer about the history of the island and reading all the various displays.
The museum is open from April – October, with opening hours varying depending on the month. You can see more on the official website here. There's a small admission fee, which we feel is well worth it.
Go Bird and Wildlife Watching
If you enjoy wildlife, and particularly birdlife, then you are going to love Islay.
To start with, between September and April, Islay is home to 60% of the world's barnacle goose population. Literally tens of thousands of these birds descend on the island at this time of year, and the sight of the skies darkening with flocks of them is quite awe inspiring.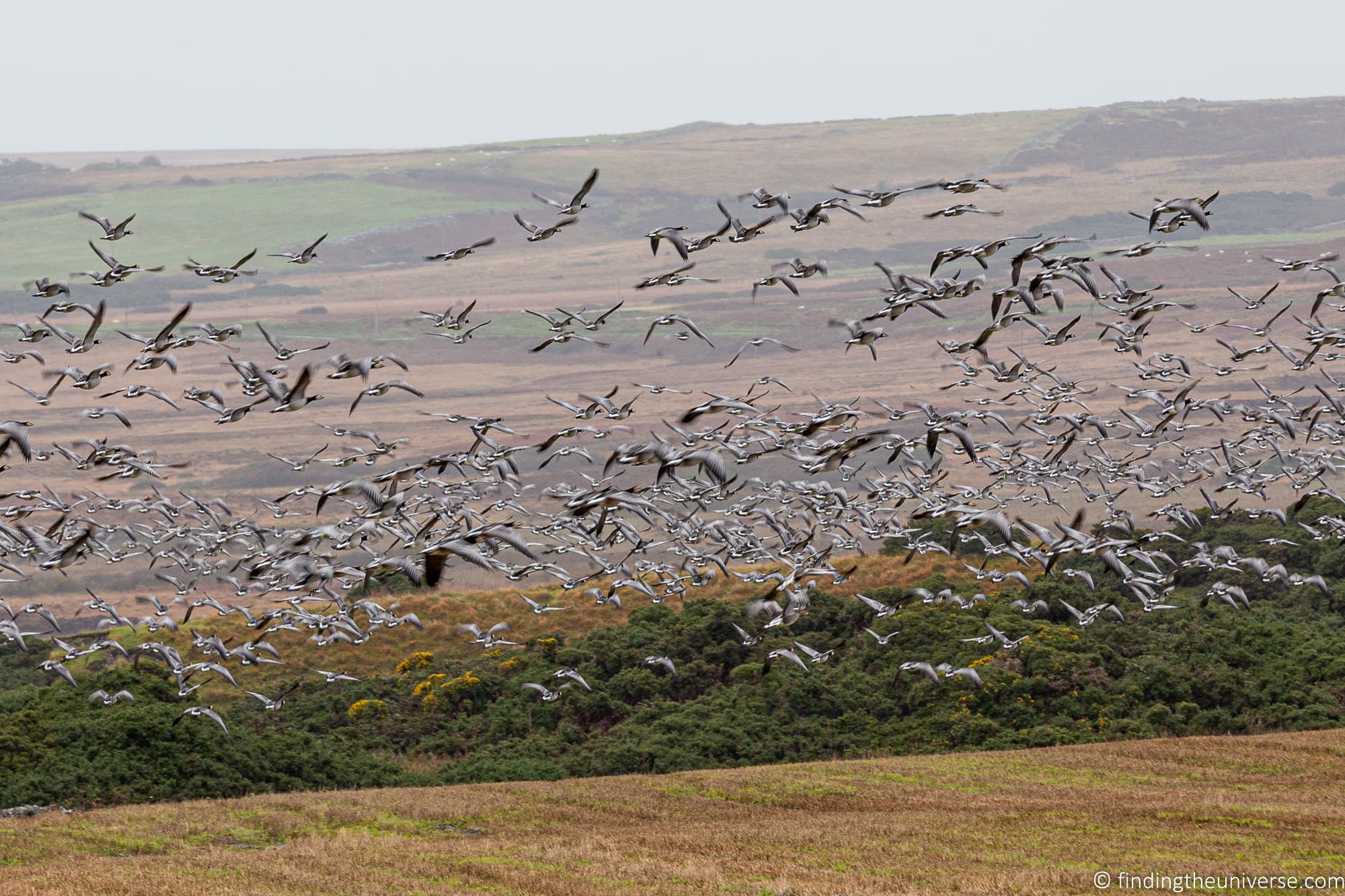 Of course, there's more to see than the barnacle geese. The island is home to otters, seals, and deer, as well as many other bird species including corncrakes, golden eagles, chough, hen harriers, ducks, white-tailed eagle, lapwings, and more.
A good place to start your wildlife experience is at the RSPB Loch Gruinart nature reserve. There's a visitor centre here where you can chat with the RSPB staff about what you can see and where. There are also two hides accessible via boardwalks which will give you excellent bird watching opportunities across the loch.
The visitor centre is free to visit, with donations accepted. You can see opening hours on the official website here.
If you visit Islay from April to September, you can also visit the Islay Natural History trust. This is found next door to the Youth Hostel in Port Charlotte, a couple of minutes' walk from the Islay Museum of Island Life.
This charitable organisation is dedicated to the wildlife and geology of the island, and they have a number of exhibits where you can learn about many aspects of the island's nature. You can also chat with staff about where to see wildlife on the island. There's a small admission fee, which gives you access to the centre for a whole week.
Another option if you want to spot wildlife is to hire a local guide. A guide will know the best spots on the island to spot different types of wildlife. We didn't take a guide, but you can take a look at Islay Outdoors as an idea of what is available. Local guides can also be booked through Viator here.
Visit the Standing Stones
Like many parts of Scotland and the British Isles in general, the Isle of Islay has a long history of habitation dating back to prehistoric times.
Whilst not much survives from these times, many parts of Scotland are home to prehistoric monuments, including standing stones and stone circles.
Islay is home to a number of standing stones, which are believed to be in the region of 5,000 years old. Stones you can visit include a standing stone near Port Ellen, one near Finlaggan, one at Claggain Bay and one at Scarrabus. You can see details of locations and how to find these here.
Another popular sight is the Cultoon Stone Circle, near the town of Bowmore. You can see information on that here.
We visited a few of the standing stones during our visit, including the one at Finlaggan and the Ballinaby standing stones. Some are easy to locate, while others can be a bit more tricky.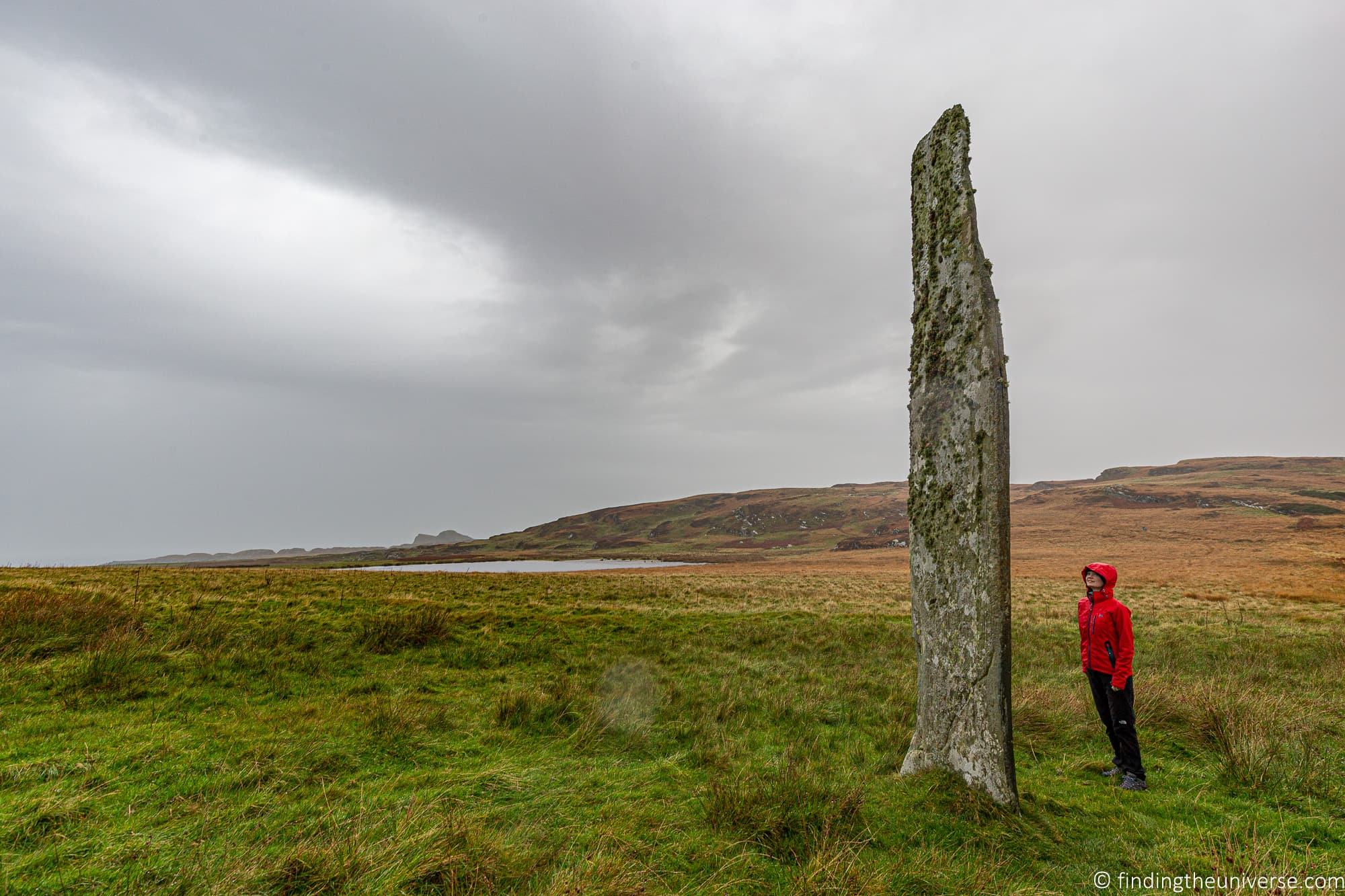 Note that many of these standing stones aren't exactly well marked for visitors. The Ballinaby standing stone is here on Google Maps.
To reach these stones, we drove up the small track that leads up to the farm, parking in a turnout before the road turned down to the farm itself. There's a gate leading up into the field here, and if you follow the track up the hill for about 5 minutes it loops around to the stone, which will become visible to your right as you ascend.
We chatted with the folks who live in the farm here, and they said they are thinking about adding signage to make the experience a bit easier for visitors.
If you have difficulty finding the stones, don't be afraid to ask a local for directions! But also remember, that you may be wondering around on people's private land and businesses so please be respectful.
Explore the Ruined Castles
If you want your ruined history to be a bit more up to date, you might consider hunting down some of the ruined castles on Islay. There are a few of these to be discovered, although you should be aware that most of them are in quite advanced states of decay and hardly recognisable as castles at all.
The one we visited, which we can recommend popping by, is Dunyvaig castle. This offers lovely views along the coast and also of the Lagavulin distillery (it's where I shot the opening image in this post from).
The castle is on the coast, and was built and lived in by the MacDonald clan. It occupies a well place strategic location that enables it to defend the sheltered bay. To be fair, there's not a huge amount of actual castle to see, but as it's just a five minute walk from the parking area, we think it's worth the stop in between your distillery tours!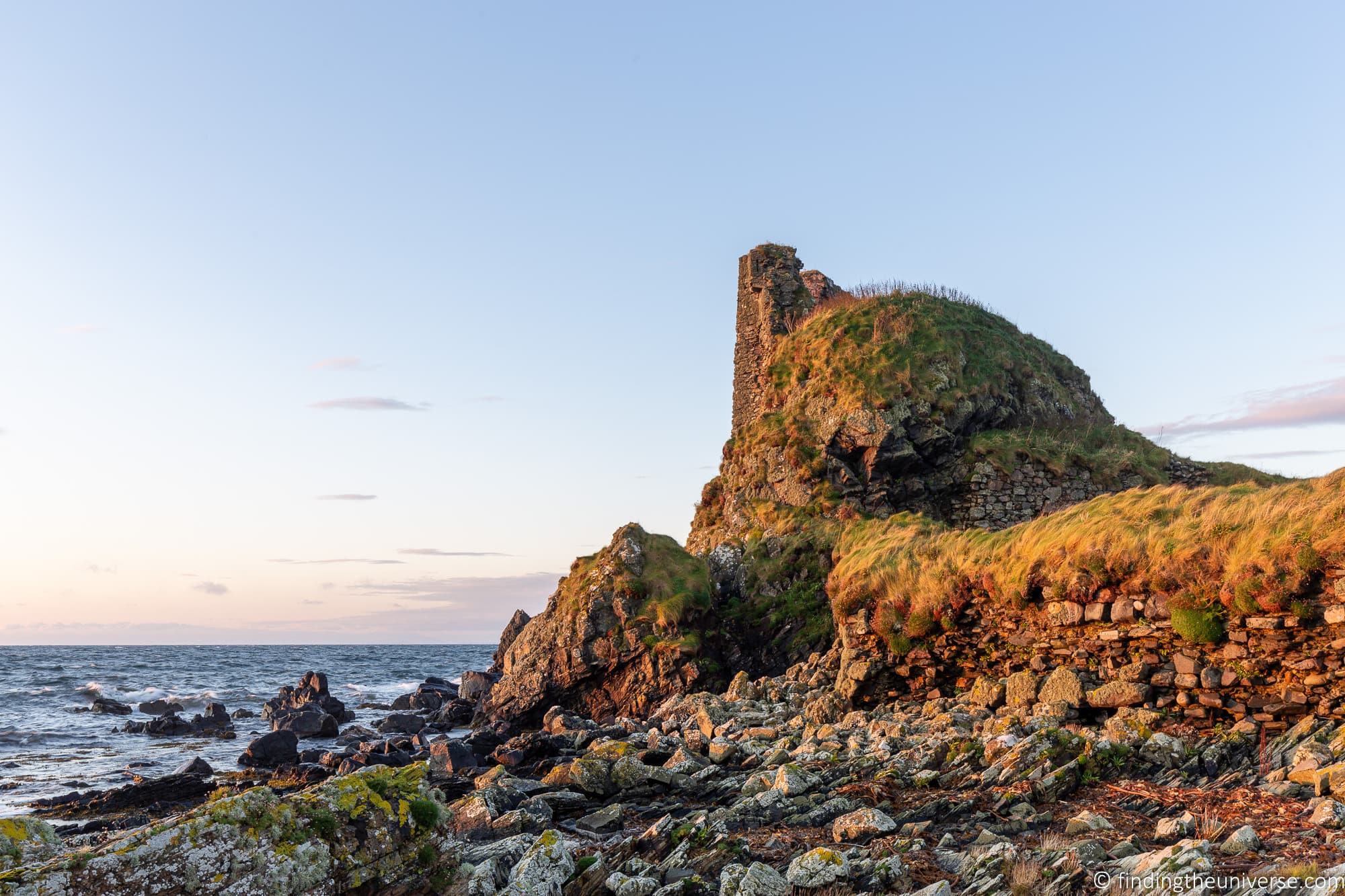 Visit the Old Churches
The islands off western Scotland were an important place for early Celtic Christianity in Scotland, and Islay is no exception. There are a number of important religious sites that can be visited on the island, including some very old Christian crosses and ruined churches.
There were two particular locations that stood out for me during our visit to Islay. The first was Kildalton High Cross and church. This cross is quite spectacular, standing at over 2 metres in height, and widely described as the finest example of an early Celtic Christian cross in Scotland, if not Europe.
The cross stands in the grounds of the former Kildalton church, a small ruined church which dates from the 12th century. The cross and church are a scheduled ancient monument, and are in peaceful beautiful surroundings around a 15 minute drive from Port Ellen. If you continue on the road past Ardbeg, you reach the cross via a signposted turning. The church is free to visit and there is parking on site.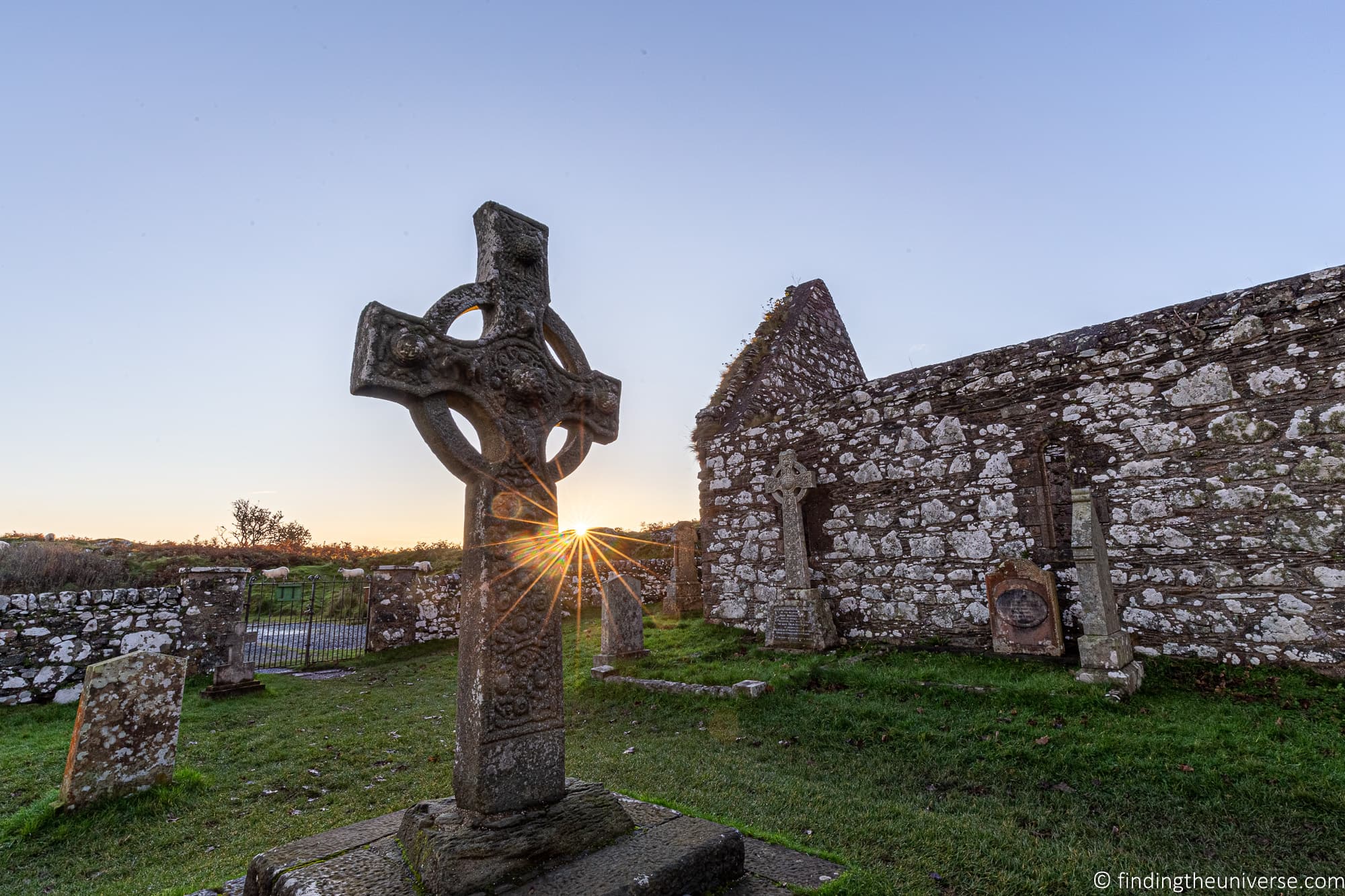 The other church I enjoyed visiting was Kilarrow Church, usually referred to as the Round Church. This is found in Bowmore. Where, yes, there's also a whisky distillery.
The Round Church is an active parish church which dates from 1768. It has an unusual design, which you probably guessed from the name. Yep, the Round Church is round! The design was originally created by John Adam, a Scottish architect who was involved in the creation of many of Scotland's fine properties.
The Round Church was supposed to be built in Inveraray, but the design was deemed unsuitable. However, the Laird of Islay, Daniel Campbell, decided it would be perfect for the then new town of Bowmore.
Daniel had recently returned from his educational Grand Tour of Europe, and the Round Church design seemed to him to be the perfect centre point of the village. This echoed what he had seen in Italy, where hilltop villages had churches as their focal point. And so the Round Church was built, and survives to this day.
The Church is free to visit and there are regular services. See the official website for more information and history.
Other churches you may wish to visit include Kilnave Chapel and Cross, and Old Kilchoman Parish Church. We visited the latter, but unfortunately the building had been declared unsafe so it was only possible to see it from a distance.
Go Shopping for Local Crafts and Delicacies
I've obviously already mentioned the whisky, but Islay is home to more products than just whisky, many of which make for lovely souvenirs to bring home.
A good place to start your hunt is at the Islay Craft Village. This is just outside the village of Bridgend, on the road to Port Askaig. You'll find the craft village on the grounds of Islay House, and here you'll find a range of craft shops selling a variety of items.
We think this is a wonderful place to pick up some souvenirs of your time in Islay as well as gifts for friends and family. There are a number of local craft stores here, including Islay Quilters, Mackinnon's Marmalade and Islay Studios.
We're pretty sure you'll find something you love in this range of shops. We picked up some strongly peated whisky flavoured marmalade, some Islay Gin marmalade, a couple of bottles of Islay beer, and some cards to send to family.
Of course, the craft village isn't the only place on Islay to find great products. First, we can recommend heading out to Tormisdale Croft Crafts.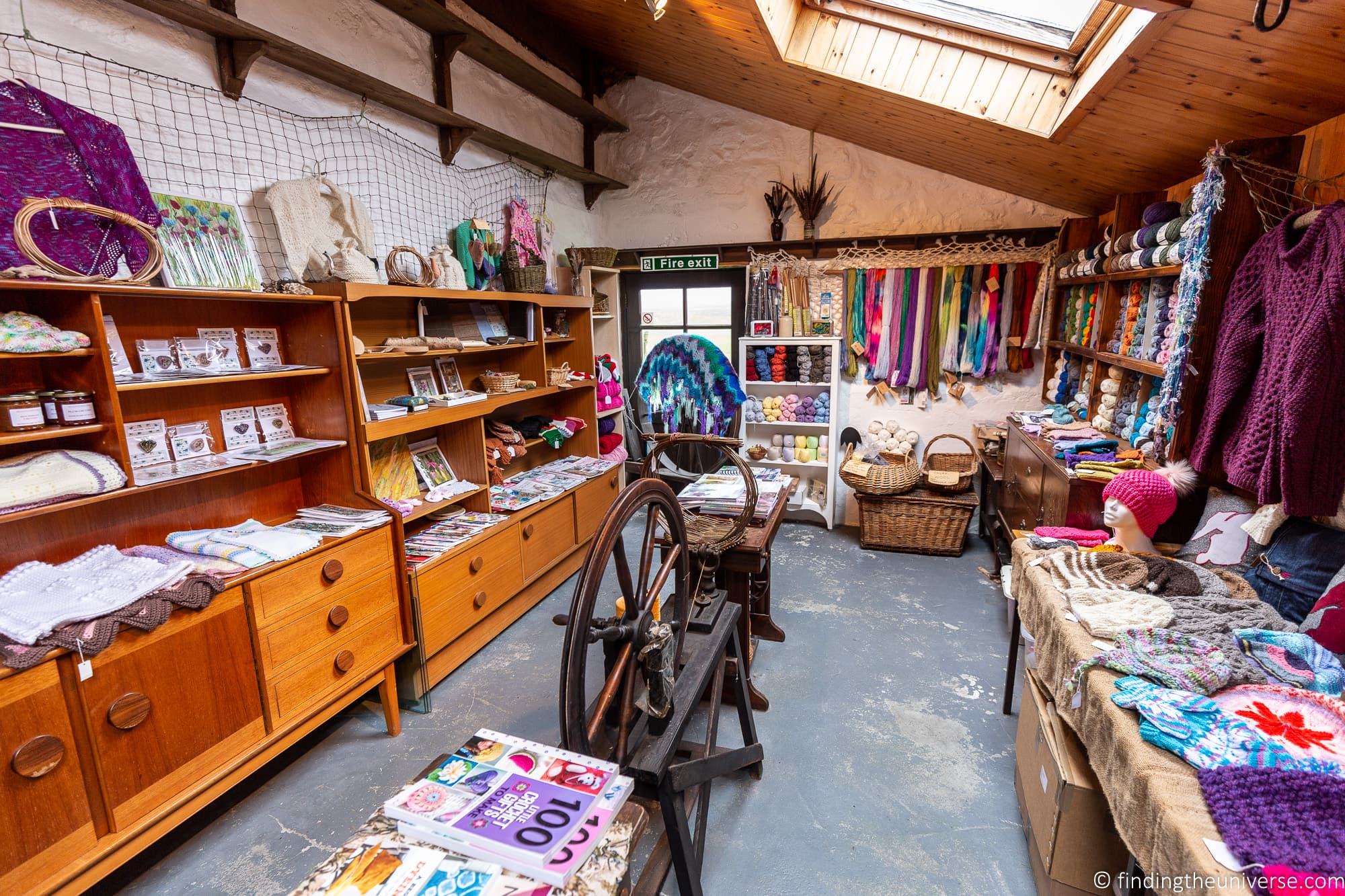 Owned and run by Anne, this is home to a range of knitted woollen products, which you can watch Anne knit as you chat with her.
We can also recommend you take the time to visit Persabus Pottery and Charlotte Hannett Jewellery, located next door to each other a five minute drive from the Port Askaig ferry terminal on the road to Bunnahabhain.
We visited Charlotte first. Charlotte hand makes all her jewellery in her studio and shop, and you can pick up some truly unique and wonderful designs here, which are inspired by Islay.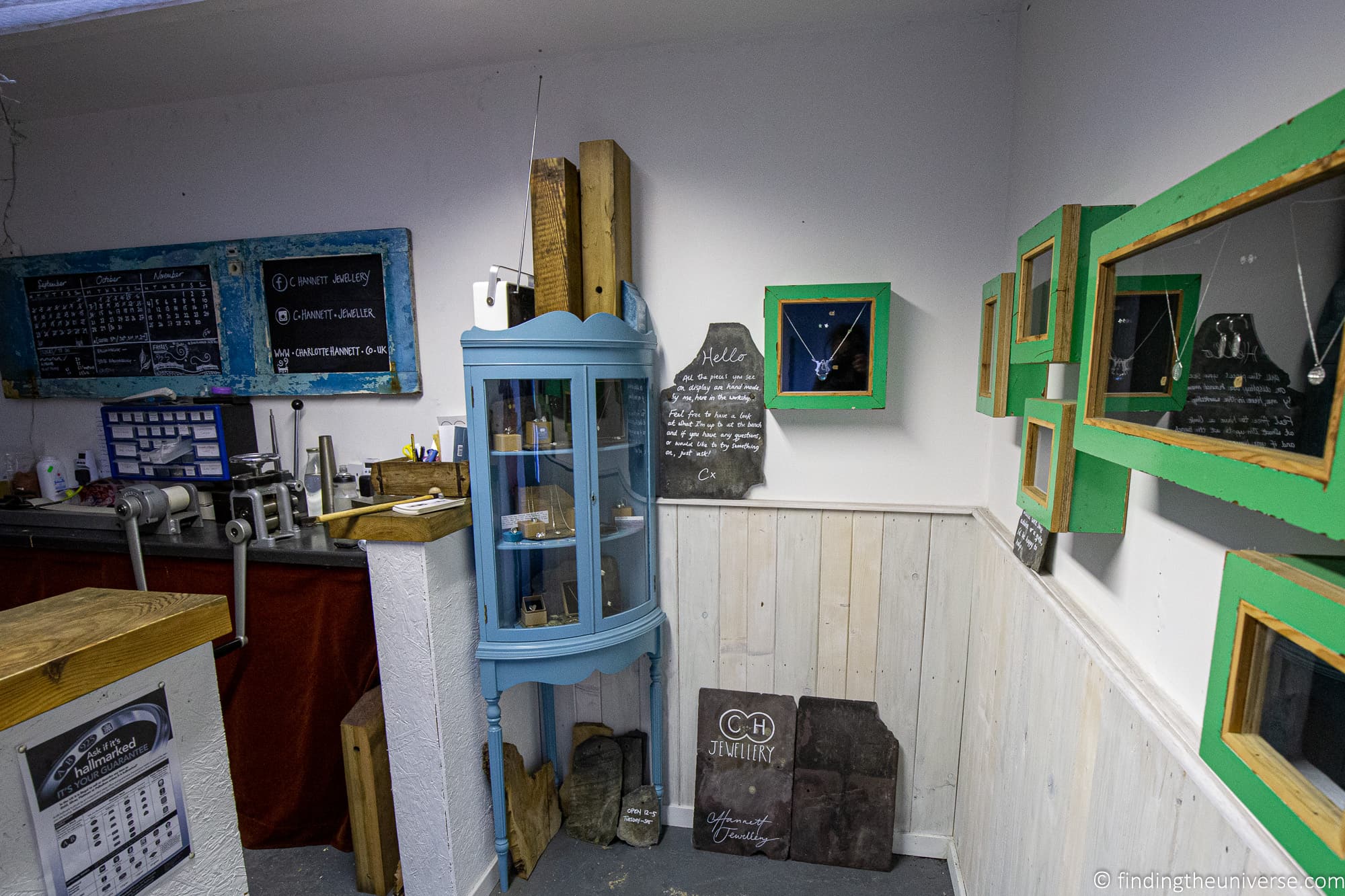 You can see many of her beautiful designs on her Instagram page, and when you visit her store you can see her actually creating jewellery right before your eyes. We had a great chat with Charlotte, although we didn't pick up any jewellery on this visit.
Next door to Charlotte you'll find Persabus Pottery and Cafe. Run by Rosemary, you'll find a wide range of island inspired pottery designs. Rosemary also offers painting workshops, where you can create your own hand painted pottery masterpiece.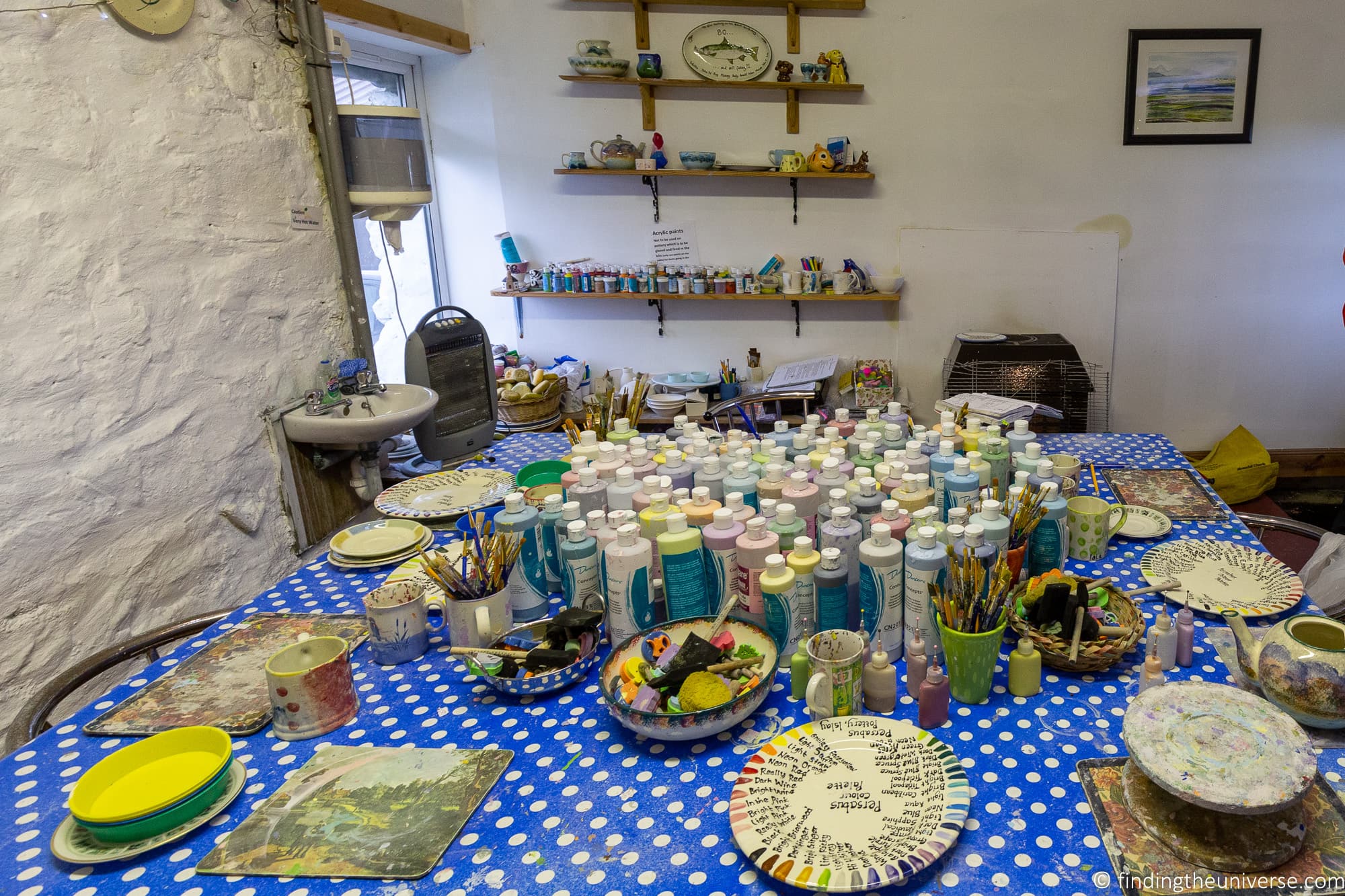 We actually bought a lovely handmade teapot from Rosemary, and had a long chat all about life on the island. The workshop is open Monday – Saturday, and you can see opening hours on the website here, as well as information on workshops.
Finally, and as pointed out by a kind reader in the comments on the post, there's also the Islay Woolen Mill. We just missed visiting here due to having to catch our ferry, although it was on our list.
Here you can learn all about the art of wool making on the island, see the old looms that are still in use today, and buy tweed products that are made on the island. The mill is open every day except Sunday, and you can see opening hours on the official website here.
Go Hiking
Islay has large expanses of wilderness. This obviously makes it the perfect location for a number of wonderful hiking opportunities.
The nice thing is that there's an excellent variety of hiking available. You can take a short relatively flat hike, or you can tackle some of the steeper and longer hikes on the island. It is easy to spend a half day or a full day out hiking if you wish!
If you're short on time and just want to do a quick hike, we can recommend the walk out to the American monument. The parking area for this hike is found on the Oa Peninsula about 20 minutes drive from Port Ellen.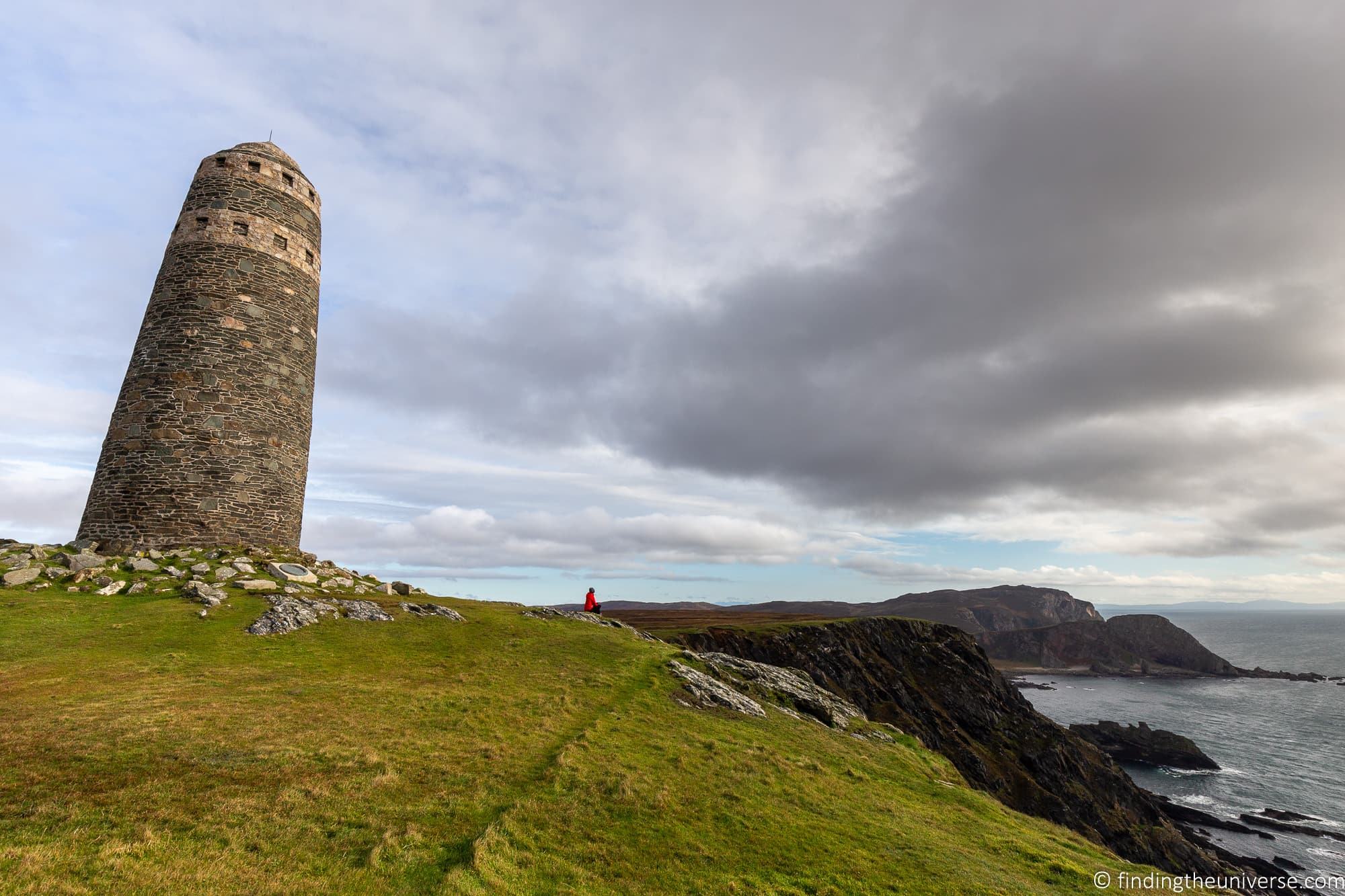 The hike itself can be done either a there and back route which takes around 20 minutes each way, or as part of a longer loop which will take around an hour. Either way, you'll get lovely expansive views across the peninsula, and also of the cliff area where the monument is found.
The American Monument was built in 1920 to commemorate the victims of two troop ships carrying primarily American soldiers, which were sunk off the coast here in 1918. The first, the Tuscania, was sunk by a German U-boat with a loss of over 200 lives, whilst the second, the HMS Otranto, collided with another vessel with a loss of over 400 lives.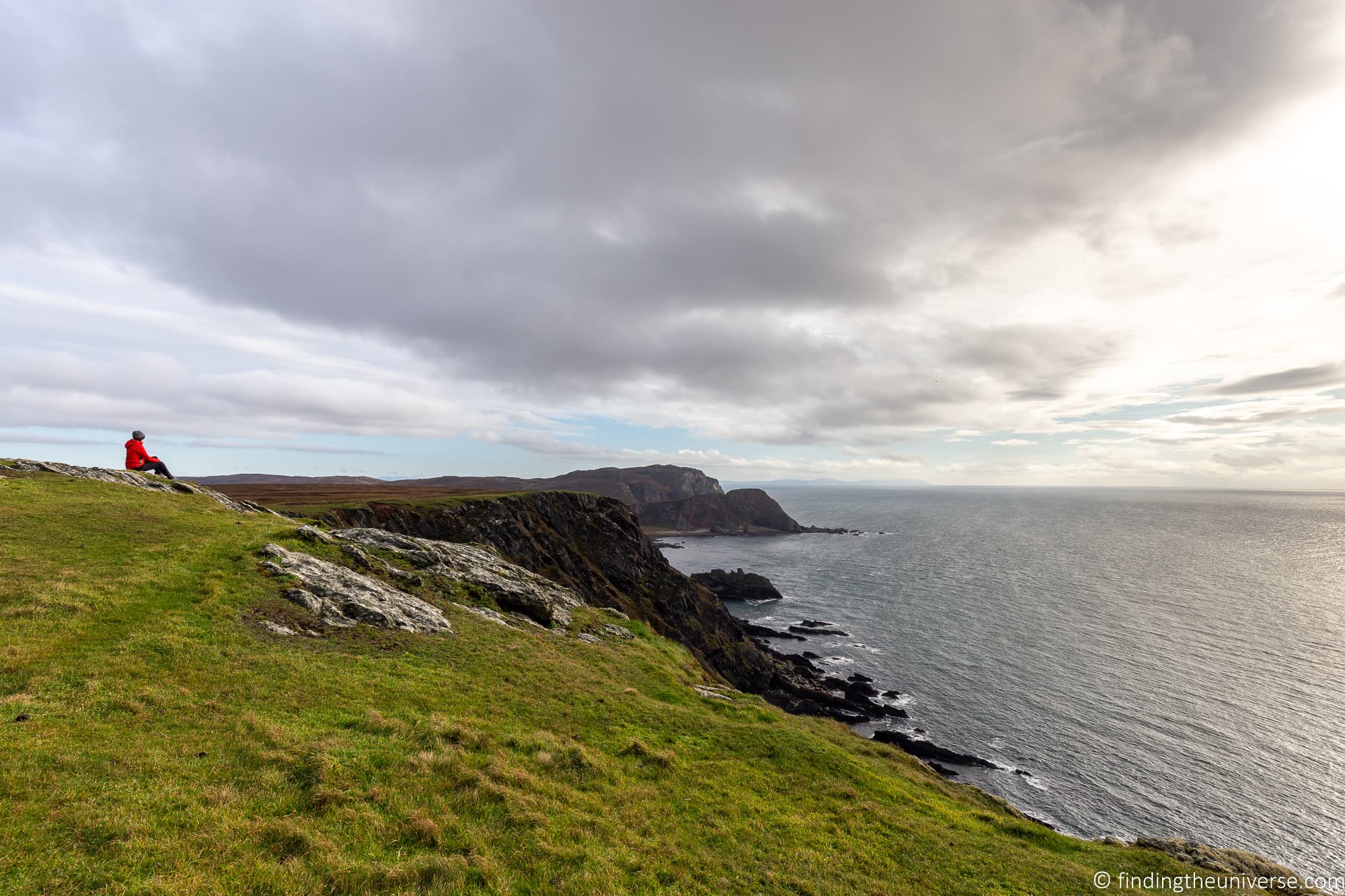 Islay was hugely affected by both these tragedies, with the island people rallying together to help the survivors and honor the dead. Many of those who died were buried on the island. You can learn a lot more about these tragedies in the Islay Museum of Island Life.
For more information on hikes on Islay, take a look at this website, which lists hikes that range from 45 minutes up to 8 hours in length, across a range of difficulty levels.
Visit the Beaches
Islay has a lot of coastline, which naturally means it has plenty of beaches. These range from wild and rugged Atlantic facing beaches, through to beaches which are more peaceful and suitable for swimming.
Ok, so the water around Islay is never going to be tropical, but if you are feeling brave then swimming is certainly an option but you'll probably want to bring your wetsuit or drysuit!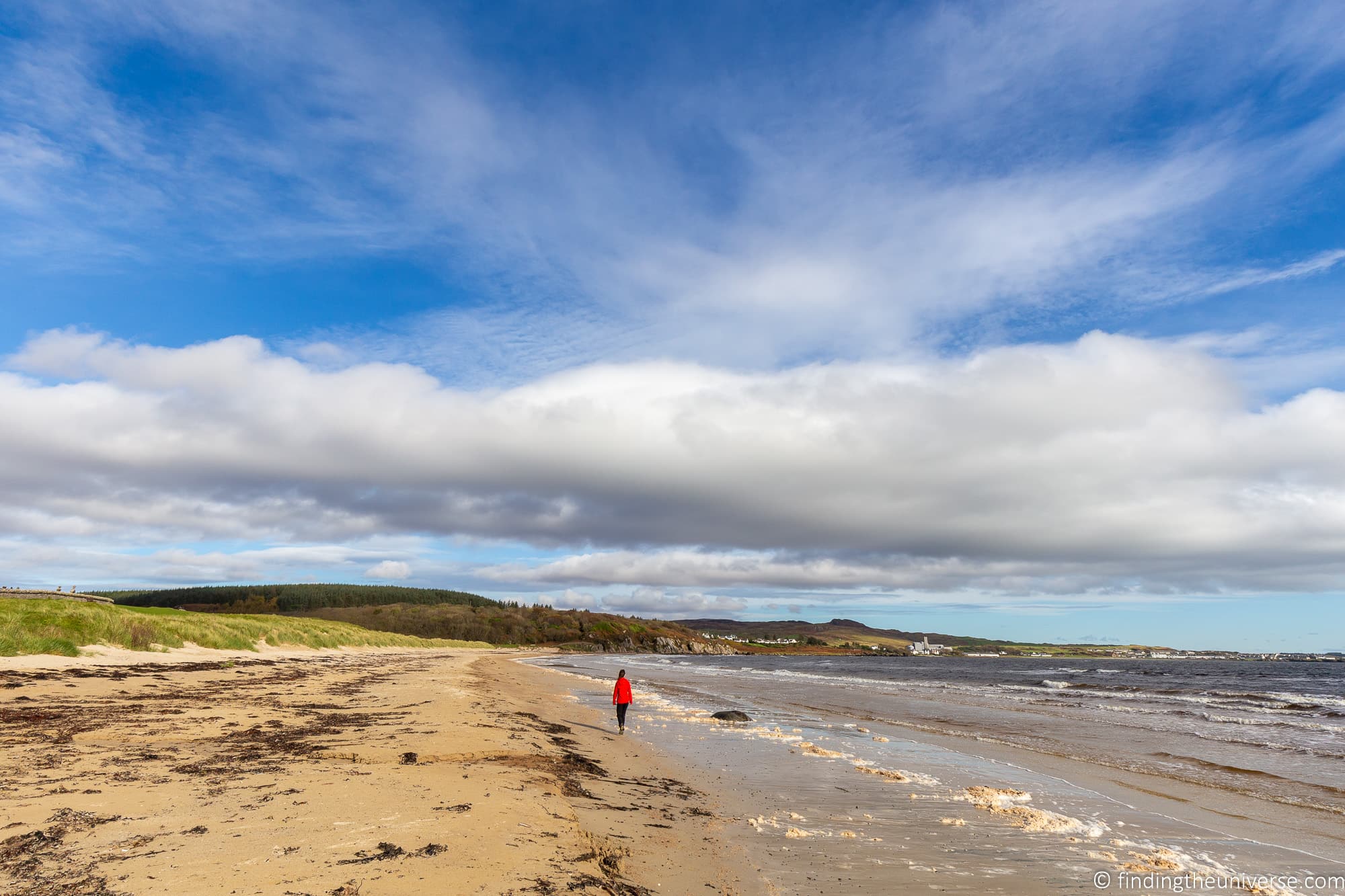 Many of the beaches are also good places to spot wildlife including seals and birds, or just to take a nice stroll.
The longest beach on Islay is the "Big Strand", which runs from Laggan Point to Kintra. This is around 8 miles long, meaning you can walk for a long time if you so wish!
Other popular beaches for walking include Lossit Bay, Machir Bay (also known as Kilchoman), and Saligo. There are lots more to choose from, most of which have easy car access.
For a slightly unusual experience, head to the Singing Sands beach. Here, if the conditions are right and you have the right sort of footwear, you can rub your feet on the beach to create a "singing" sound! We didn't try this, but we've heard it works.
Boat Trip around the Island
If the ferry wasn't enough of a boat ride, for you, you might also want to take a boat ride from Islay for a unique perspective.
One of the famous sights you can see from a boat is the whirlpool at Corryvrechan. The fast moving tides that pass through the straits between the islands of Jura and Scarba, near Islay, create a range of interesting water features, including the world's third largest whirlpool.
This is definitely not a stretch of water to navigate without expert local knowledge. Thankfully there are a number of companies offering this as an experience.
You can also go wildlife spotting, see other islands, and some of the tour companies also offer sea fishing as an option. We'd suggest checking out Islay Sea Adventures as a starting point to see what's available.
Taste Wines at Islay Wines
We were somewhat surprised to learn when we visited Islay that the island is home to a winery. We didn't really think that the northerly latitude of a Scottish island was exactly ideal for grape growing!
Well, it turns out we were right. Islay winery makes a range of wines, but none of them are made from grapes. Instead, owners Helen and Kenneth use some of the best available ingredients on Islay to create some unique – and delicious! – fruit and grain wines.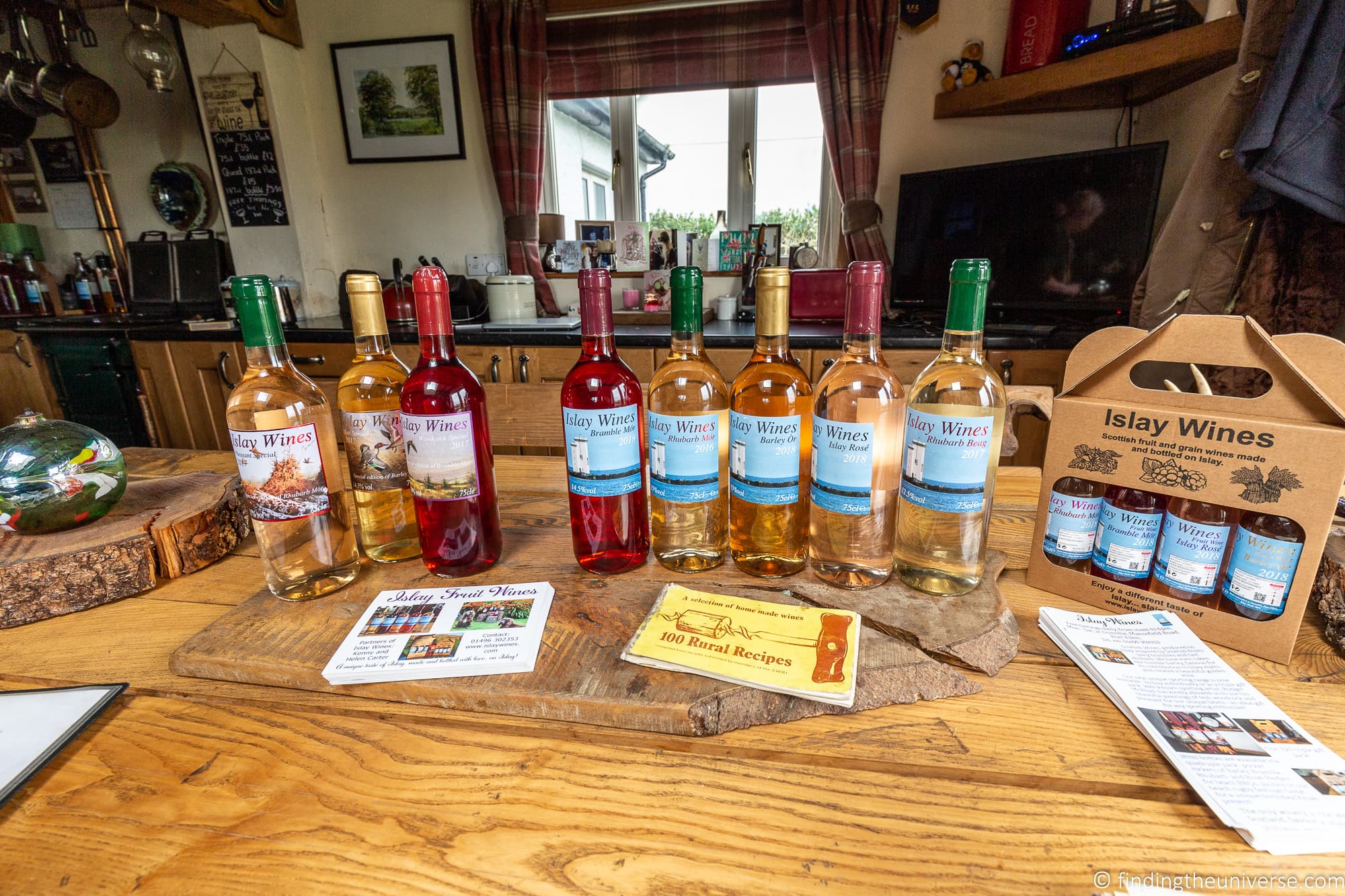 These wines are made from ingredients like rhubarb, bramble and barley to create some really great flavours. We visited and chatted with Helen at length about her passion for wine making, whilst sampling the five various flavours on offer. Jess's favourite was the Bramble Mor, whilst I loved the Barley Or.
We decided to purchase a bottle of each. What with the Islay wine, the Laphroaig whisky, and the Islay Ale, our car was definitely developing a bit of a clinking sound by this point. I'd like to say that this was the end of our collection, but we ended up picking up a bottle of gin on Jura as well! More on that shortly.
Islay Wines offer free tastings of their wines, and the wine is also available for sale on site, or in a number of shops on the island. We certainly encourage you to drop in, meet Helen, and chat about wine and the island. They're found in the town of Port Ellen, and are open every day from Monday to Sunday, 10am to 6pm. See more on their website here.
Learn about the Lords of the Isles at Finlaggan
For a period of around 300 years in the middle ages, dating from around the 12th century up until the late 15th century, Islay was the home of the Lords of the Isles.
The Lords of the Isles ruled over a huge amount of land and sea around the west coast of Scotland, including Islay and the other Hebrides. They were largely independent, and were some of the most powerful rulers in Britain after the English and Scottish kings and queens.
These lords ran their island empire from Islay, and specifically from Finlaggan Castle. This was found on the small island of Eilean Mor on Loch Finlaggan.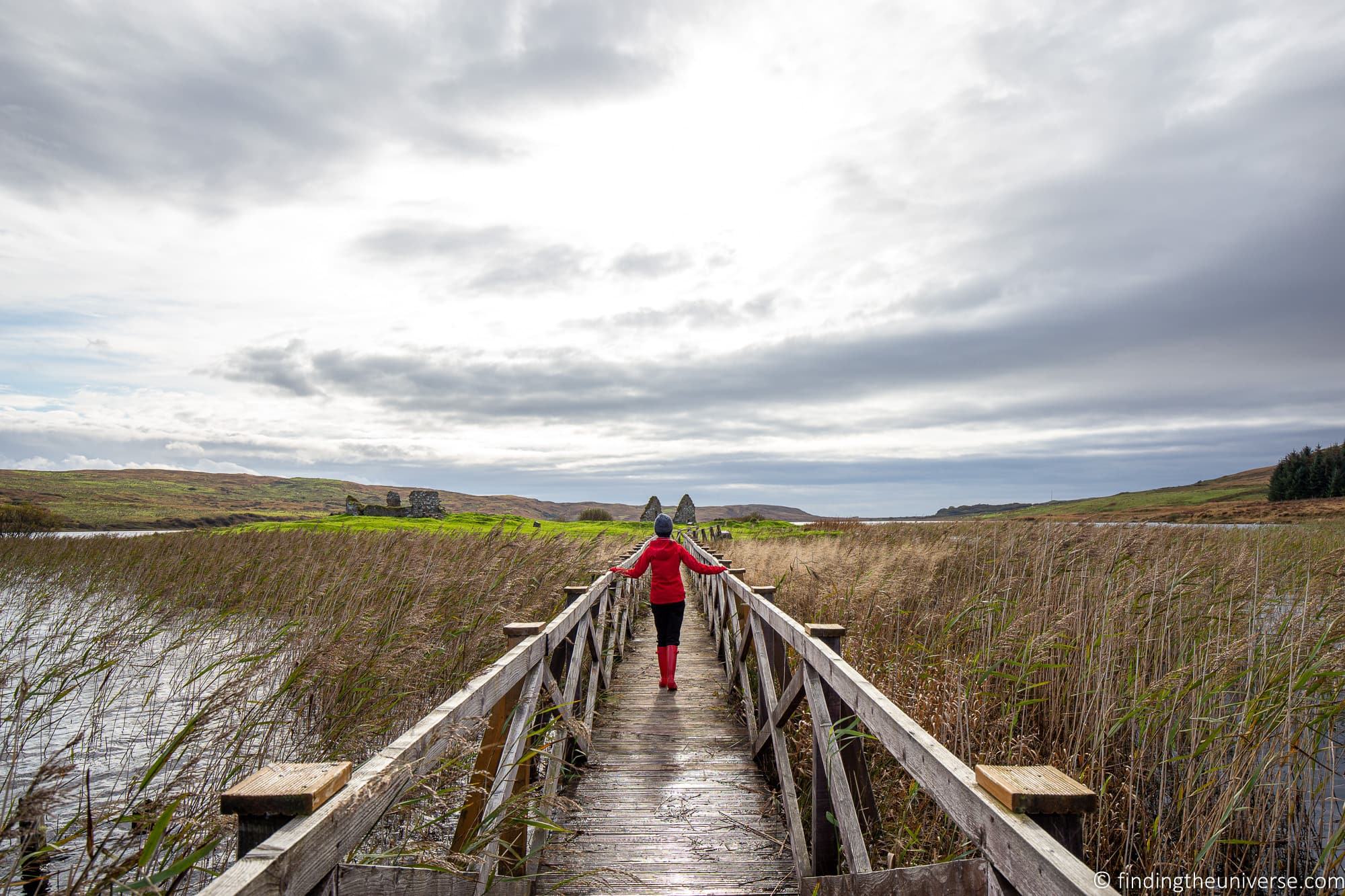 Sadly for the Lords, their dynasty came to an end when James IV of Scotland took it away from the then Lord, MacDonald II, in 1493. Today, the title "Lord of the Isles" is bestowed upon the eldest male child of the reigning monarch, currently Prince Charles.
Finlaggan itself fell into ruin long ago, but the good news is that you can now visit the site and learn all about it. There's a seasonal visitor centre (Open March – mid-October), with lots of informative panels and very helpful staff to help you understand what you are seeing. There's also a fun VR recreation of the original site which is a good way to get acquainted with what was once here.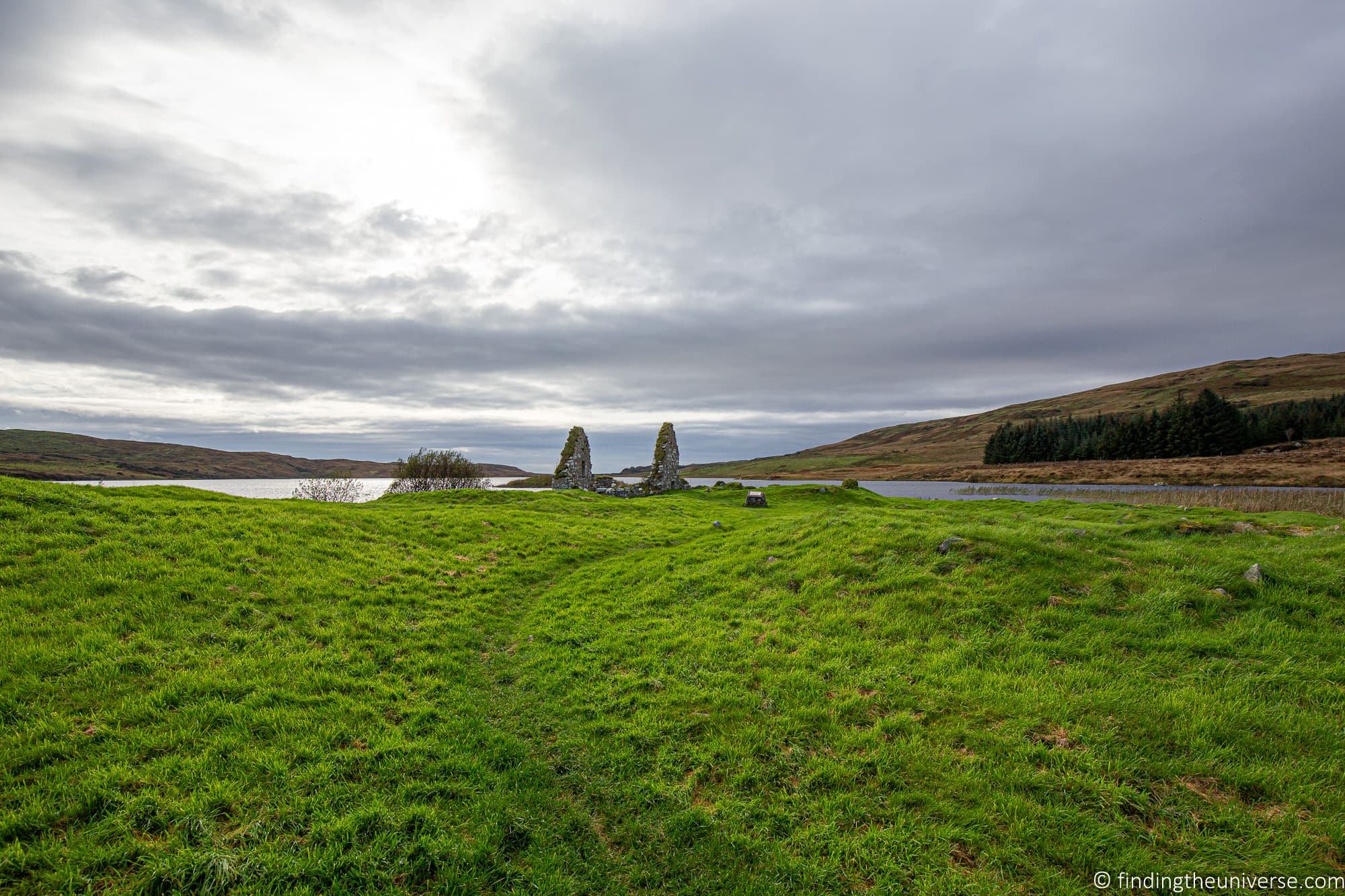 You can also visit the island itself, accessible via a boardwalk and a short walk from the visitor centre. Note that this is susceptible to flooding, and you will need a good pair of wellington boots if this is the case as the water can be relatively deep (2 feet in places!). If the visitor centre is open, they have boots you can borrow, and the staff can advise you as to the water depth.
Finlaggan has a small entry fee when the visitor centre is open. You can visit the island itself year round – when the visitor centre is closed, there's a donation box. You can learn more about visiting Finlaggan at the official website here.
Go Golfing
Scotland is world famous as the home of golf, with course available all across the country. If you want to get a round of golf in at Islay, you can visit the Machrie Hotel and Golf Links.
This Championship golf course dates back to 1891. As well as the 18 hole golf course there's also a "Wee" course, offering six par three holes, a driving range, a short game area and a putting course. The course is open year round and is open to visitors.
If you are interested in golfing, you might consider staying at the hotel, as the green fees for hotel residents are much lower than for visitors.
Head over to Jura or Colonsay
Whilst there's no shortage of things to do on Islay, it would be a shame to come all the way to the island and not pop over to at least one of it's neighbouring islands, Jura or Colonsay.
Jura is just a ten minute ferry ride from Port Askaig, and the island is well worth a visit. It's home to a whisky distillery, a gin distillery, and a huge amount of true wilderness.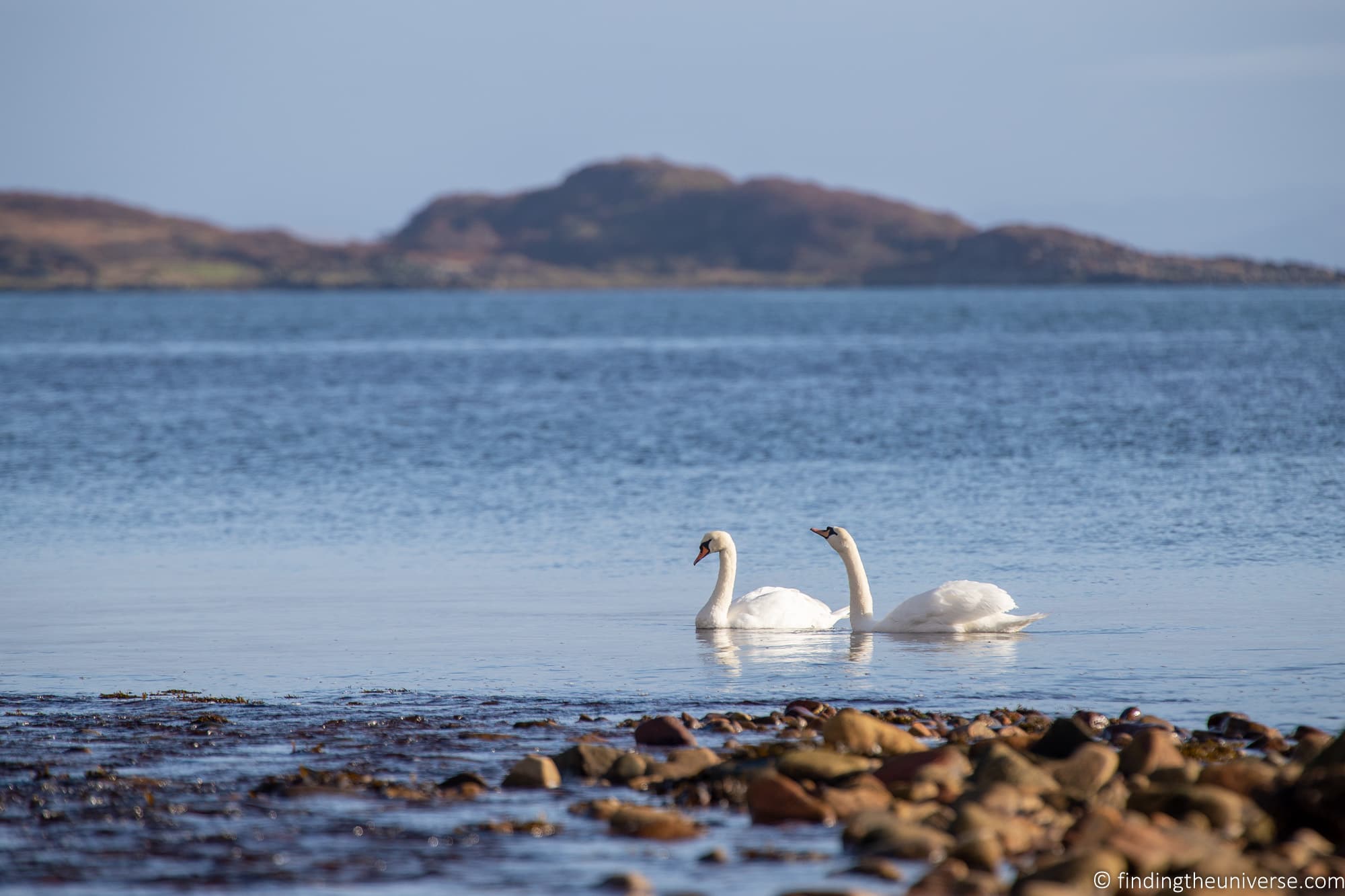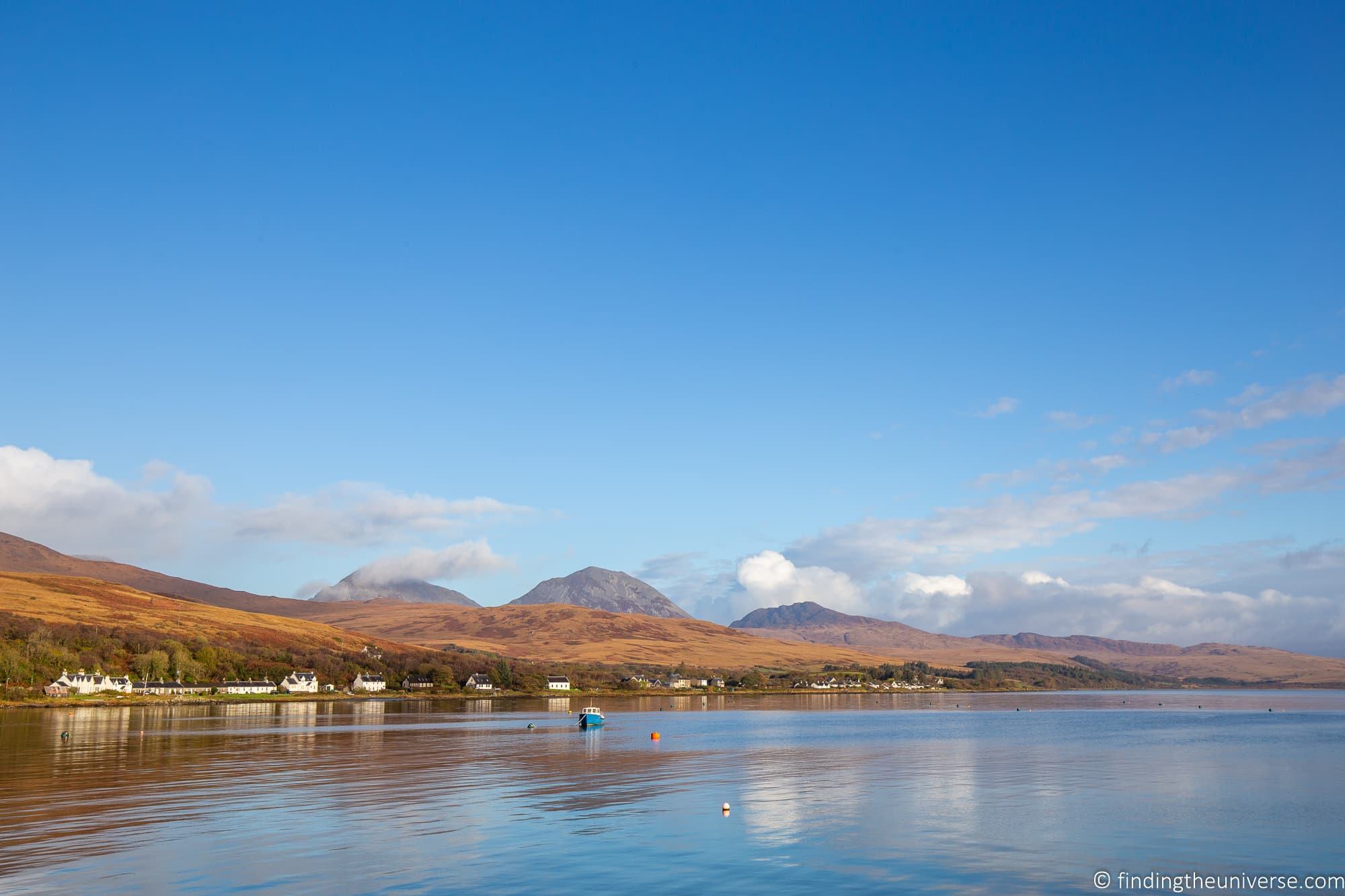 Despite being fairly large, Jura is only home to a couple of hundred people, meaning there's great scope for really getting away from it all.
Jura is a great place for hiking and wilderness camping as well as wildlife sightseeing.
We actually spent a couple of nights on Jura, staying at the Jura Hotel. We sampled gin and whisky, saw otters, golden eagles and seals, and love the feeling of calm on the island.
Colonsay is a 70 minute ferry ride from Islay, and you can go on from Colonsay back to Oban to complete a circuit of the islands. We haven't visited Colonsay yet, but it's certainly one to consider if you are visiting Islay.
How to Get to Islay
The most popular way to visit Islay is to take a ferry. Operated by CalMac, ferries run multiple times a day directly from Kennacraig on Kintyre, to either Port Askaig or Port Ellen on Islay.
The ferry ride takes around 2 hours each way, and the ferries are comfortable and spacious, with on-board dining options. Ferries take foot passengers, cyclists and vehicles. If you are driving, you will definitely want to book your ferry in advance as vehicle spaces can sell out.
It's also possible to fly to Islay, with direct services available from Glasgow Airport. You can also fly to Islay from Oban, and the nearby island of Colonsay. You can check flight schedules and prices here.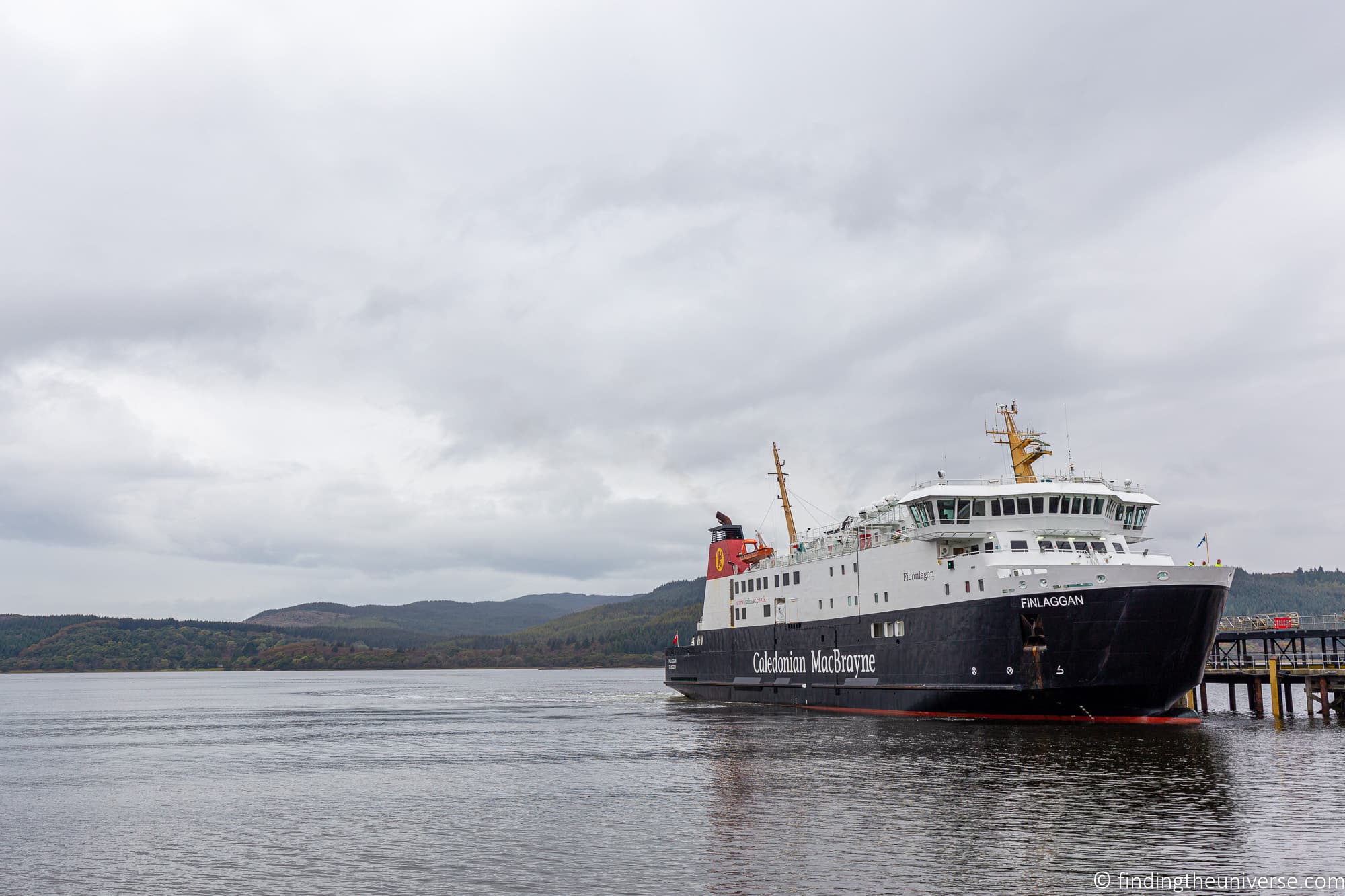 Tours Of Islay
We visited Islay with our own vehicle, booking and planning our own accommodation and activities. However, we've also visited a number of the Scottish islands using a tour company. This can be a lot easier, as they handle all the logistics, take you to all the major sights, and let you relax and justenjoy yourself.
For an island like Islay, where the whisky distilleries are a major attraction, a tour can save you arguing over who is going to be the designated driver as well. The drink driving laws in Scotland are very strict, with a low tolerance limit. Whilst the distilleries do let you take your samples home to try later, it's not quite the same as trying it in the moment on location.
With this in mind, we've put together some recommended tours that include Islay.
Hopefully these tours should give you some ideas for planning your own tour to Islay.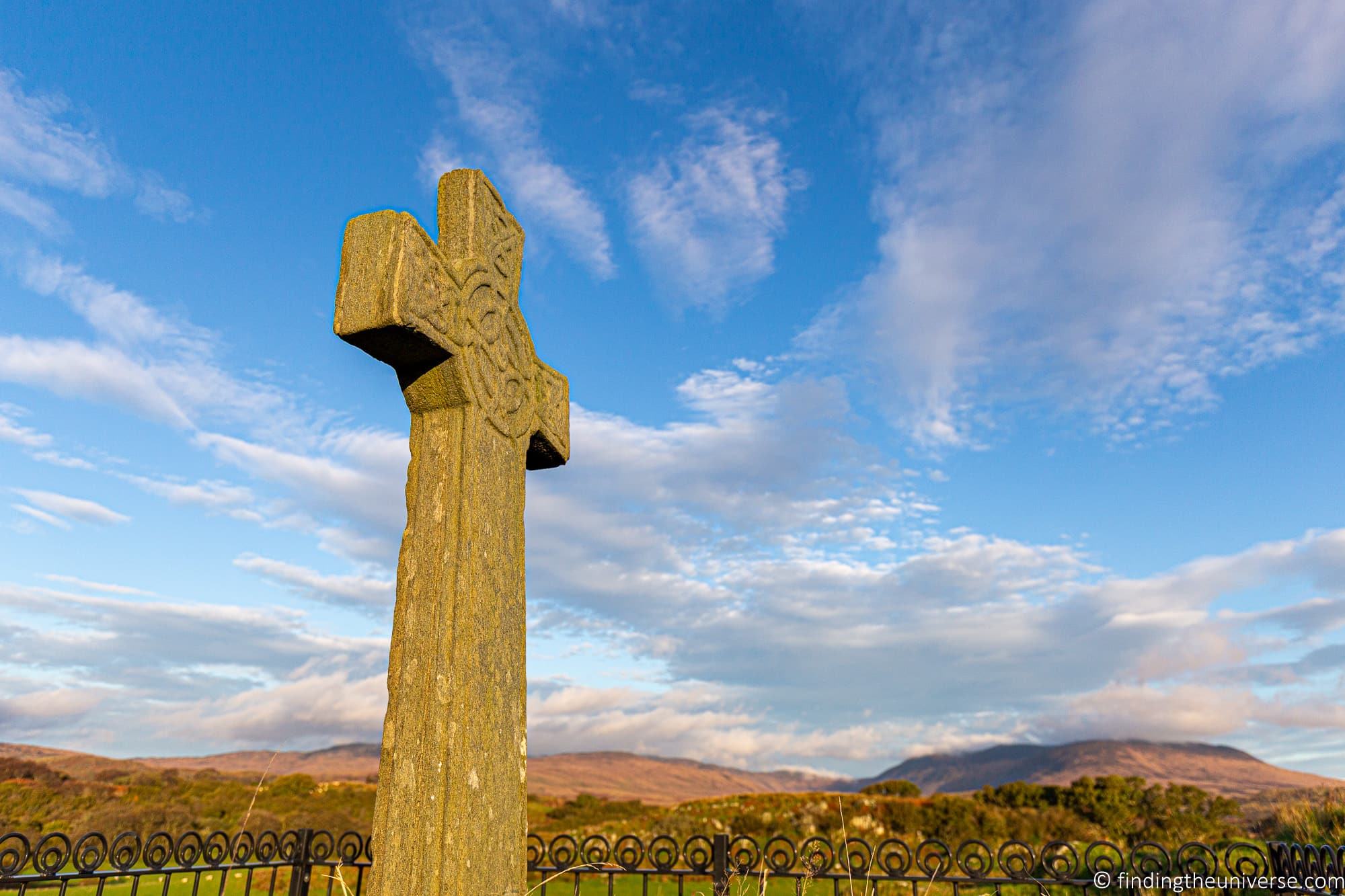 Where to Stay on Islay
If you are travelling independently, you will have a range of options for your accommodation on the island, ranging from guesthouses and bed and breakfasts through to 3* and 4* hotels.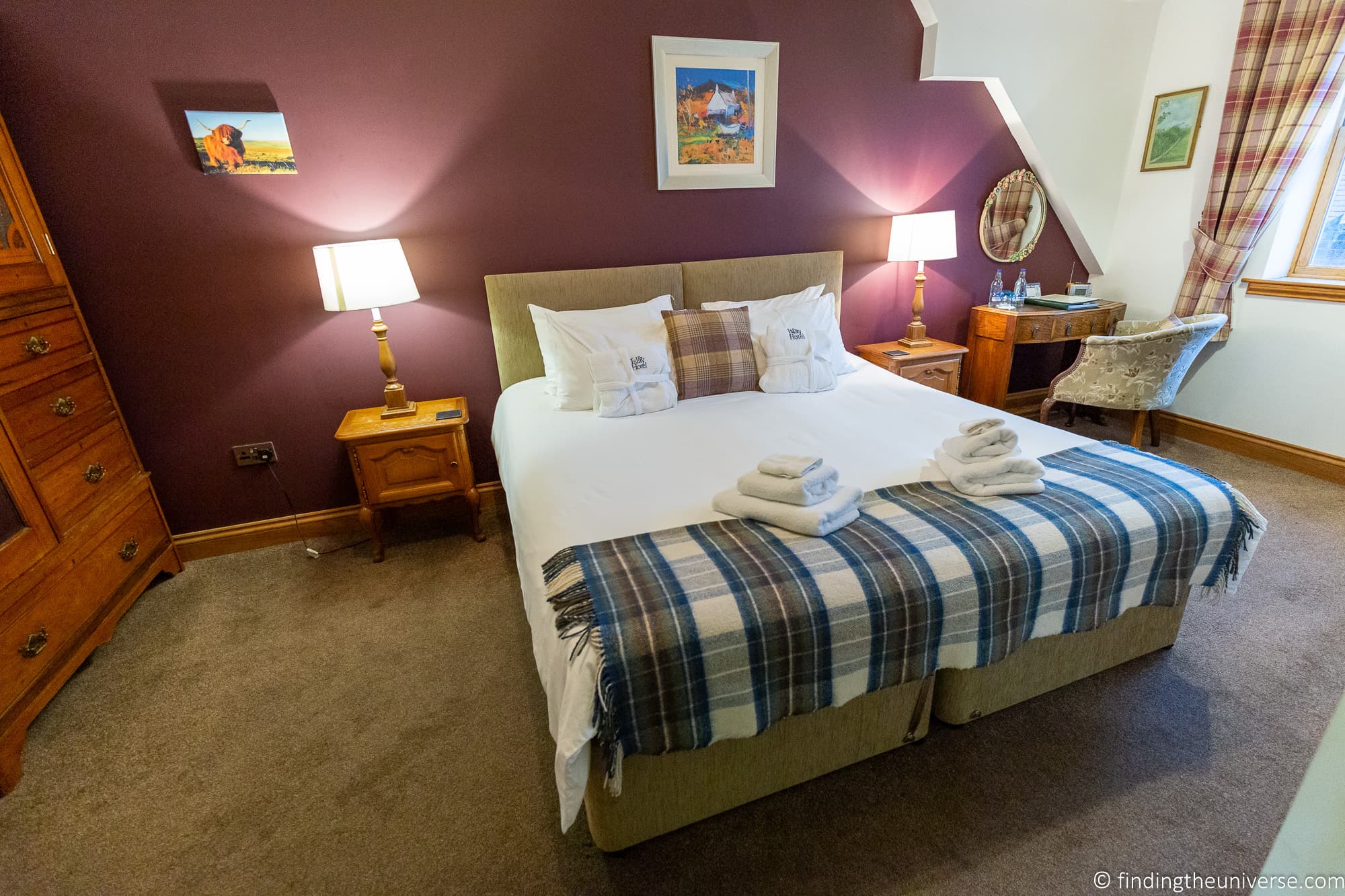 Here are some options to consider across a range of price points.
Hopefully this list gives you some options for where to stay when visiting Islay.
When to Visit Islay?
You can visit Islay at any time of year, but there are a few things to be aware of when planning your trip.
First, the main tourist season for Islay is generally from April to early October. So that would be our recommended time to visit, especially if it is your first visit to Islay.
You can of course visit outside of these times, but be aware that not all the attractions on the island will be open. You're also more likely to get wintery wet weather, and there's a higher chance of ferries being delayed or cancelled due to the weather (although this can happen at any time of year).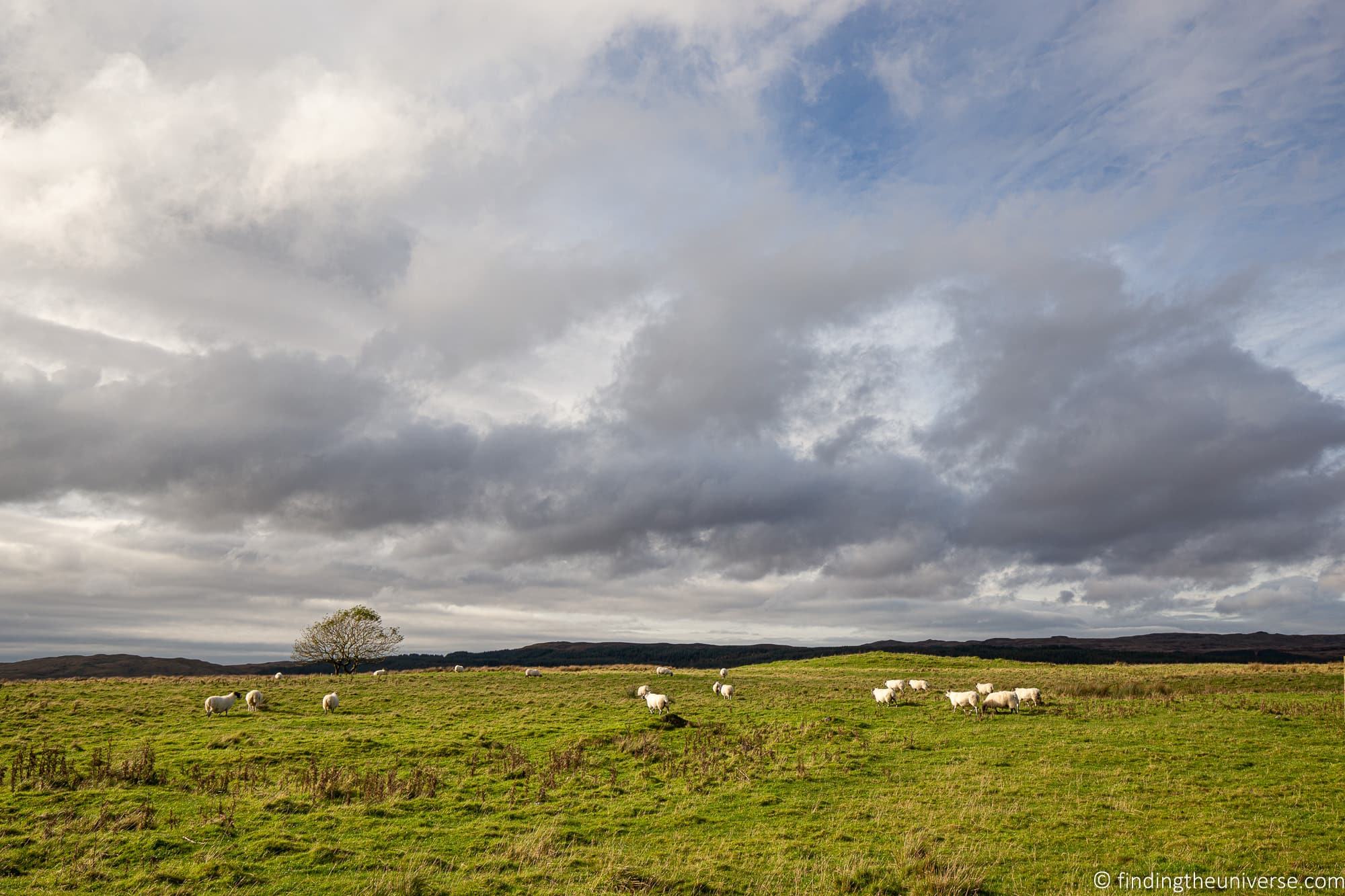 If you want better weather for your visit, the months of May and June are generally the most reliably dry. July and August are usually the warmest months.
You will also want to consider things like school holidays which can affect how busy the island is, the price of accommodation, and ferry availability.
Of course, depending on what you want to do and see on Islay, you might have to visit at a specific time of year. For example, if you want to see the barnacle geese, the best time is likely to be in October.
If you want to attend the annual Islay Festival of Music and Malt, you'll have to visit in May. This festival takes place in the last week of May and runs for a week.
Note that the dates of the festival are often the busiest time of year to visit the island, and accommodation will book up well in advance. If you aren't interested in the festival, this would be a good time to avoid.
How Long to Visit Islay For?
As you can see from our list, there is plenty to do on Islay. Given that the ferry ride to the island takes 2 hours each way, we'd highly recommend you plan to visit for at least one night and two full days.
If you only stay the one night, plan to arrive on an early morning ferry and leave on an evening ferry.
Of course, there is plenty to do on the island to fill many more days, and ideally we'd recommend staying at least 2 full days and nights. But it really depends on what you want to do and you could easily spend a week here.
How to Get Around Islay
The best way to get around Islay is definitely to drive or take a tour. Many of the attractions are down small country lanes that aren't well served by public transport (if they are served at all).
If you don't have your own vehicle, you can either hire a car on the island, or hire one on the mainland and then take the ferry across. If you are doing the latter, just check the car hire company is ok with you taking the vehicle on the ferry as some car hire companies don't permit this.
Of course, there is public transport available on the islands. There are two bus routes on the island, which run Monday through Saturday. These are routes 450 and 451, and you can see timetables and destinations here.
One good option if you want to visit some of the distilleries on the island is to stay in Port Ellen. From here you can take the bus out to the Ardbeg distillery, and then walk back to Port Ellen via Ardbeg, Laphroaig and Lagavulin distilleries via the well paved pedestrian footpath.
Those staying in Bowmore can walk to Bowmore Distillery, which is right in the heart of the village.
There are also taxi services and private shuttles available on the island. The best way to find out about these is to enquire with your accommodation provider, who should have some good insights.
Finally, another option is to take a tour from mainland Scotland which include Islay, like this. See our section of the post about tours of Islay above for more ideas.
Further Reading
That sums up most of our guide to things to do on Islay! Hopefully this post has given you lots of ideas for what to do on this stunning Scottish island.
Before you head off and book your trip though, we wanted to share some more resources we've put together from our extensive travels in Scotland and the UK, to help you plan your trip. These includes tips for your visit, as well as some more suggested places to visit.
And that's it for our guide to things to do on Islay! As always, we're open to your feedback, suggestions, questions and thoughts! Just pop them in the comments below and we'll do our best to get back to you as soon as we can.