If you're driving the North Coast 500 or visiting Inverness (known as the capital of the Scottish highlands), one thing you should add to your list is a trip to the Black Isle. Found about a ten minute drive from Inverness, this large peninsula has plenty to entertain you, and we're going to highlight our favourite things to do on the Black Isle in today's post.
Despite the name, the Black Isle is neither an island or black. The colour in the name originates from the fact that it was once covered in dark, dense woodland, whilst the "isle" is because it is sandwiched between two large bodies of water, so access in times gone past would have been almost like visiting and island.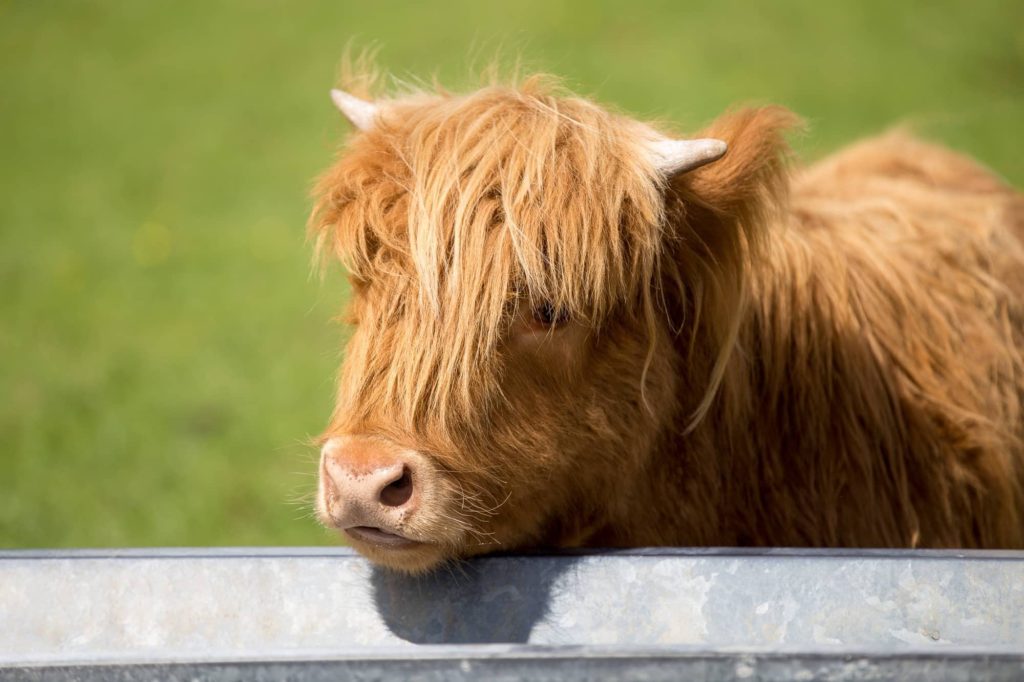 Today there is a lot to do on the Black Isle, including visiting an organic brewery, taking wildlife viewing tours and more. Let's take a look at some ideas for what to do on the Black Isle.
What to Do on the Black Isle
We've arranged some of our favourite sights and activities on the Black Isle into a logical order to help you plan your day around visiting them. But since everything is fairly close together, you can rearrange them as makes the most sense for you. As you'll see, there's a lot to do on the Black Isle!
1. Robertsons the Larder
If you think you might have a picnic on the Black Isle, or are just looking for some tasty locally sourced food products, then you should pop by Robertsons the Larder on your way from Inverness.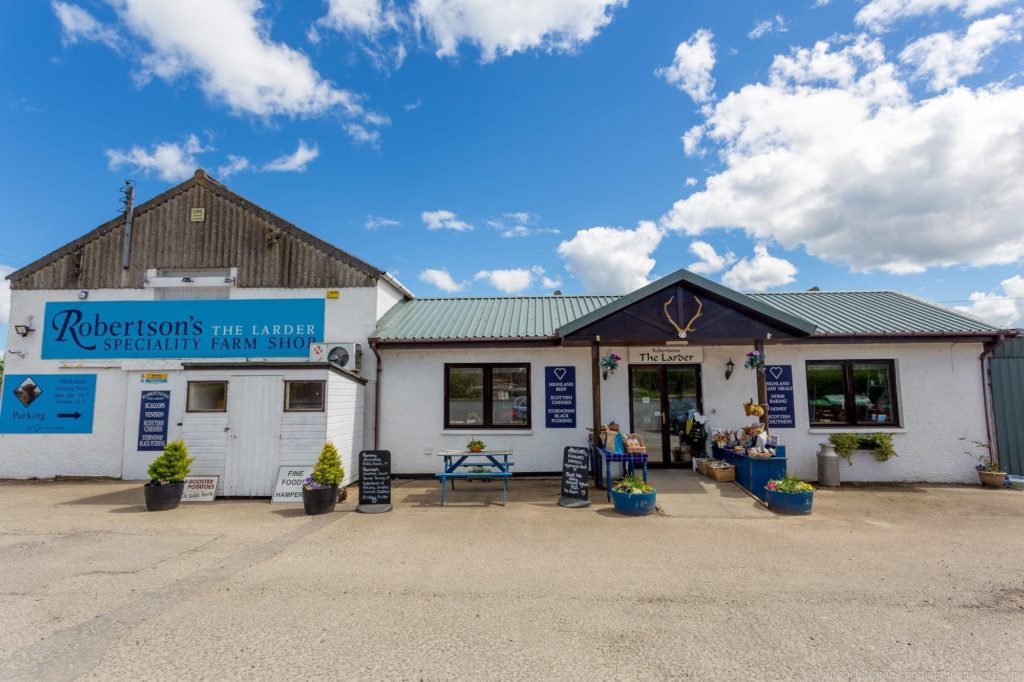 This family run farm shop and children's farm carries a wide range of delicious Scottish products, which are guaranteed to tempt you. They have everything from black pudding to smoked salmon to ice cream, and are the perfect stop to pack a picnic for the rest of the your day.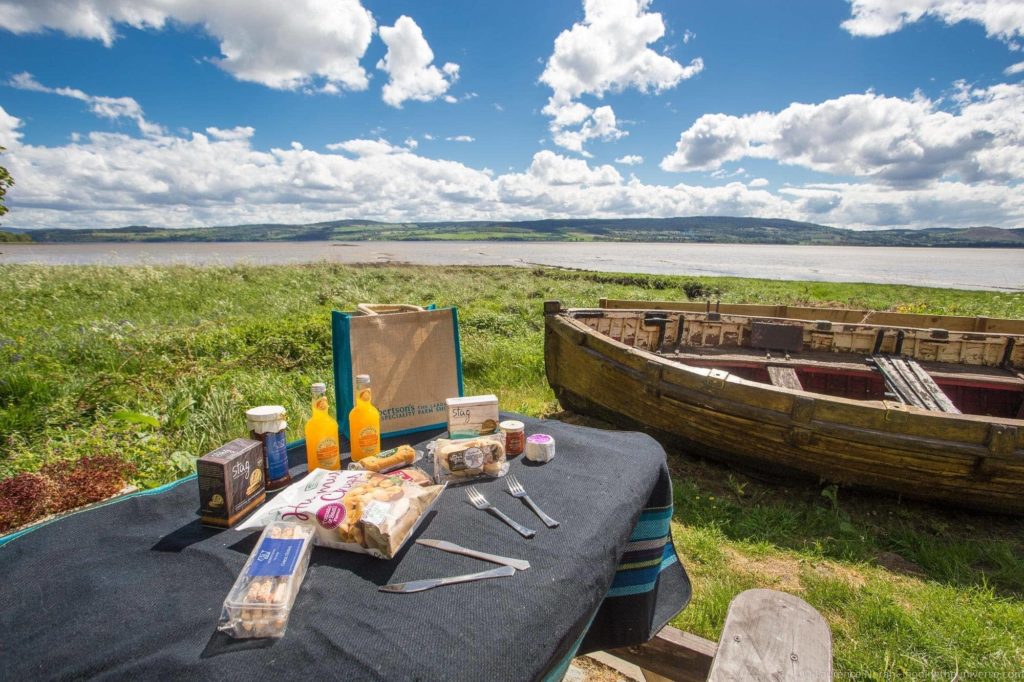 They also have a pair of gorgeous Highland Coos on site, which make for an excellent photo opportunity.
2. Black Isle Brewery
Started in 1998, the Black Isle Brewery has become one of Britain's more well known organic breweries. They have the capacity to brew up to 10,000 litres of beer a day, and they ship their beer all over the world.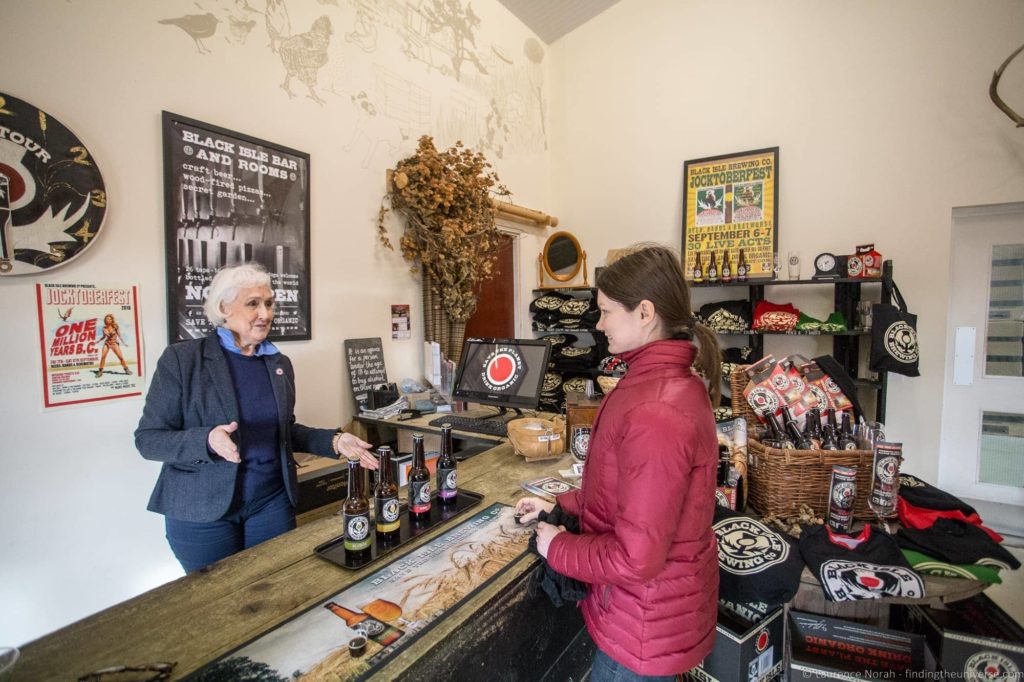 Today you can visit the brewery and take a free tour to learn all about the beer making process. You can also sample some of their beers, and of course, purchase some to take home with you.
We can definitely recommend doing so, it's a fantastic beer and they have flavour options to suit pretty much all palates. We particularly enjoyed the Oatmeal Stout, which has a lovely dark colour and an almost chocolatey flavour.
3. The Clootie Well
Not too far from the Black Isle Brewery is the Clootie Well, which I have to admit, looks a bit like a scene from a movie like the Blair Witch Project.
In Celtic history, a Clootie Well was a place of pilgrimage for those seeking healing. They would normally be found at a water source like a spring, which would have a tree growing nearby. Pilgrims would come to the well, dip a rag into it, rub the rag onto the affected part of their body, and then tie the rag onto the tree whilst offering some sort of prayer.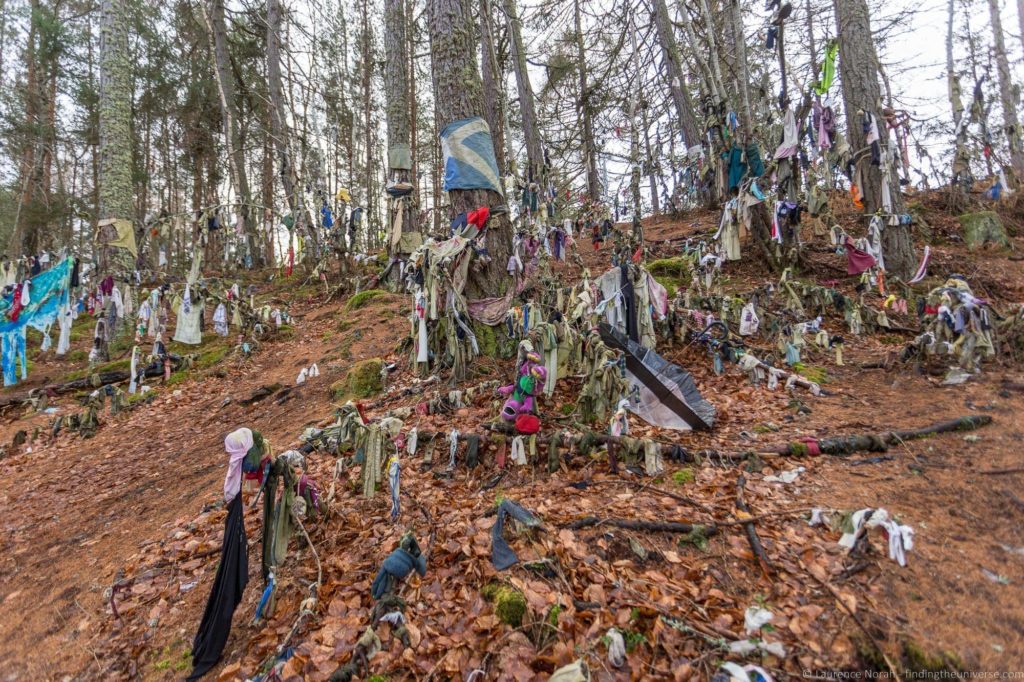 The theory would be that as the rag disintegrated over time, so too would the ailment. This particular Clootie Well, which is found near Munlochy, was said to be particularly good for healing children, who would often be left here overnight to heal.
Today the Clootie Well on the Black Isle is still a popular place to visit, and the trees surrounding the well are covered in rags and other items, including teddy bears and other offerings, some of which have writings on. It's a short (five-minute) walk from the car park here through the rag tied trees to the well itself, and is certainly an interesting spot for a visit.
4. Fortrose Cathedral
Moving along the south coast of the Black Isle and we now come to Fortrose Cathedral in the town of Fortrose. This was once the seat of the bishops of this area, although the 13th century building is now just a magnificent red sandstone ruin.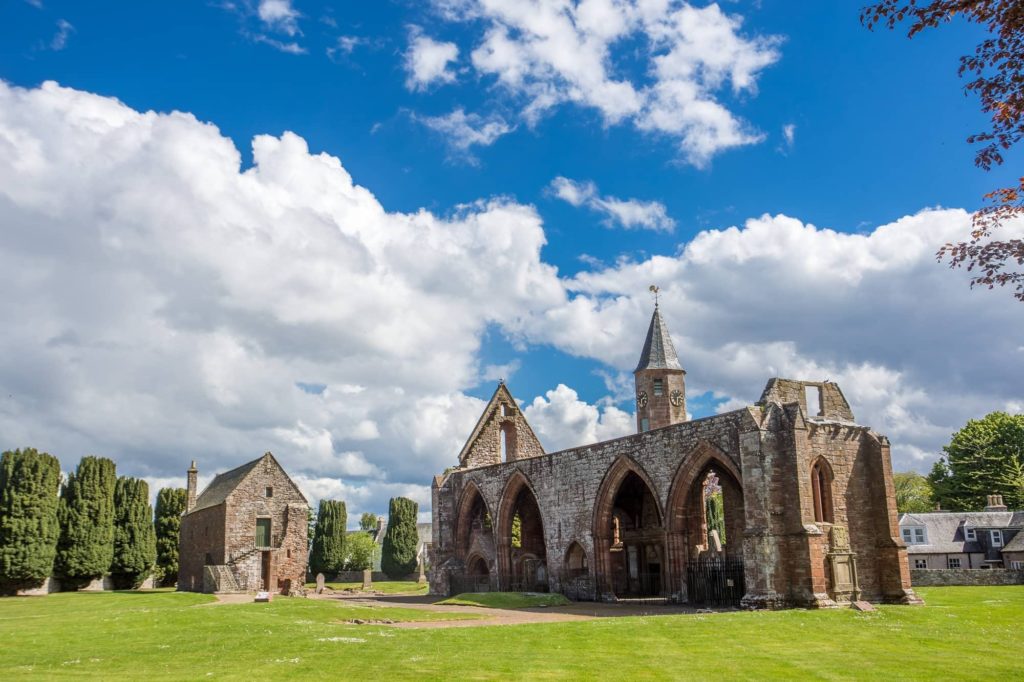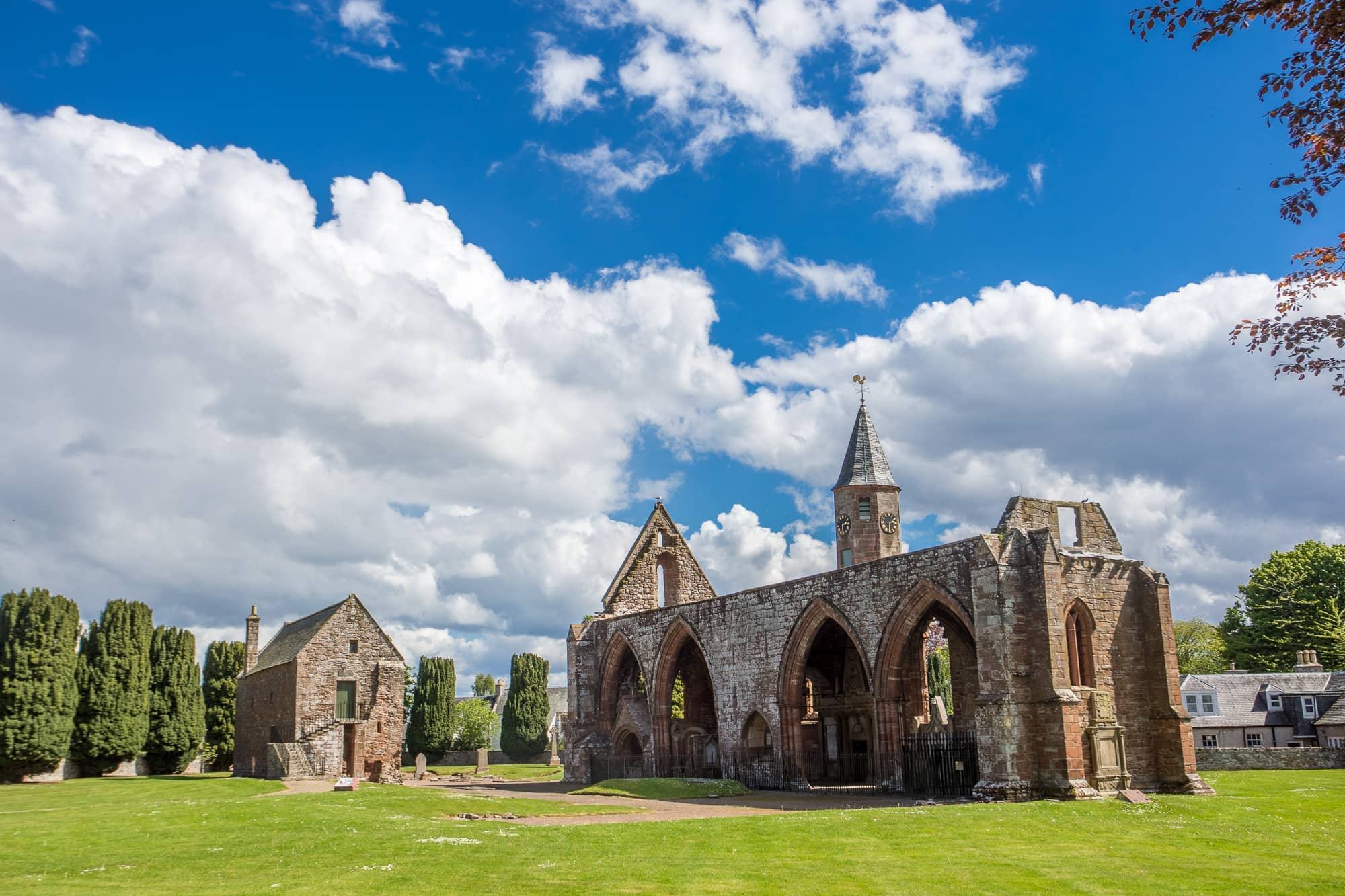 Despite being a ruin, the cathedral is still an impressive place to visit. It's right in the centre of Fortrose, surrounded by greenery, and a number of details survive including some of the stone vaulting. It's also free to visit.
5. Dolphin Watching at Chanonry Point
A short drive or a twenty minute walk from Fortrose Cathedral will bring you to Chanonry Point. This promontory is home to a pretty lighthouse and offers spectacular views up and down the Moray Firth, including across to Fort George, one of the UK's most impressive military fortresses.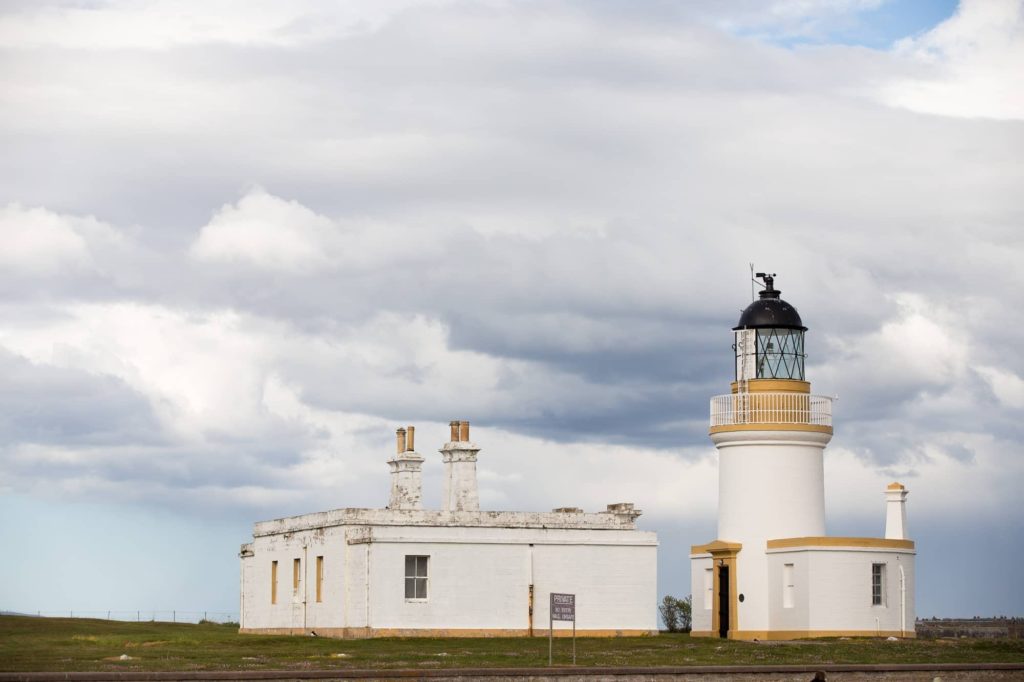 However, the real treat at Chanonry Point is the opportunity it offers for dolphin watching. As the tide starts to rise (check tide times here), a pod of bottlenose dolphins can often be seen unaided from the beach. They're here to take advantage of the optimal feeding conditions that the rising tide creates, and they often come very close to the shingle beach.
There is parking at the end of the point by the lighthouse, and at the right time of day it's not hard to find the optimal point to watch the dolphins as there will usually be a fair number of people gathered. Just follow the path from the car park to the shingle beach, or at lower tide you can walk along the beach.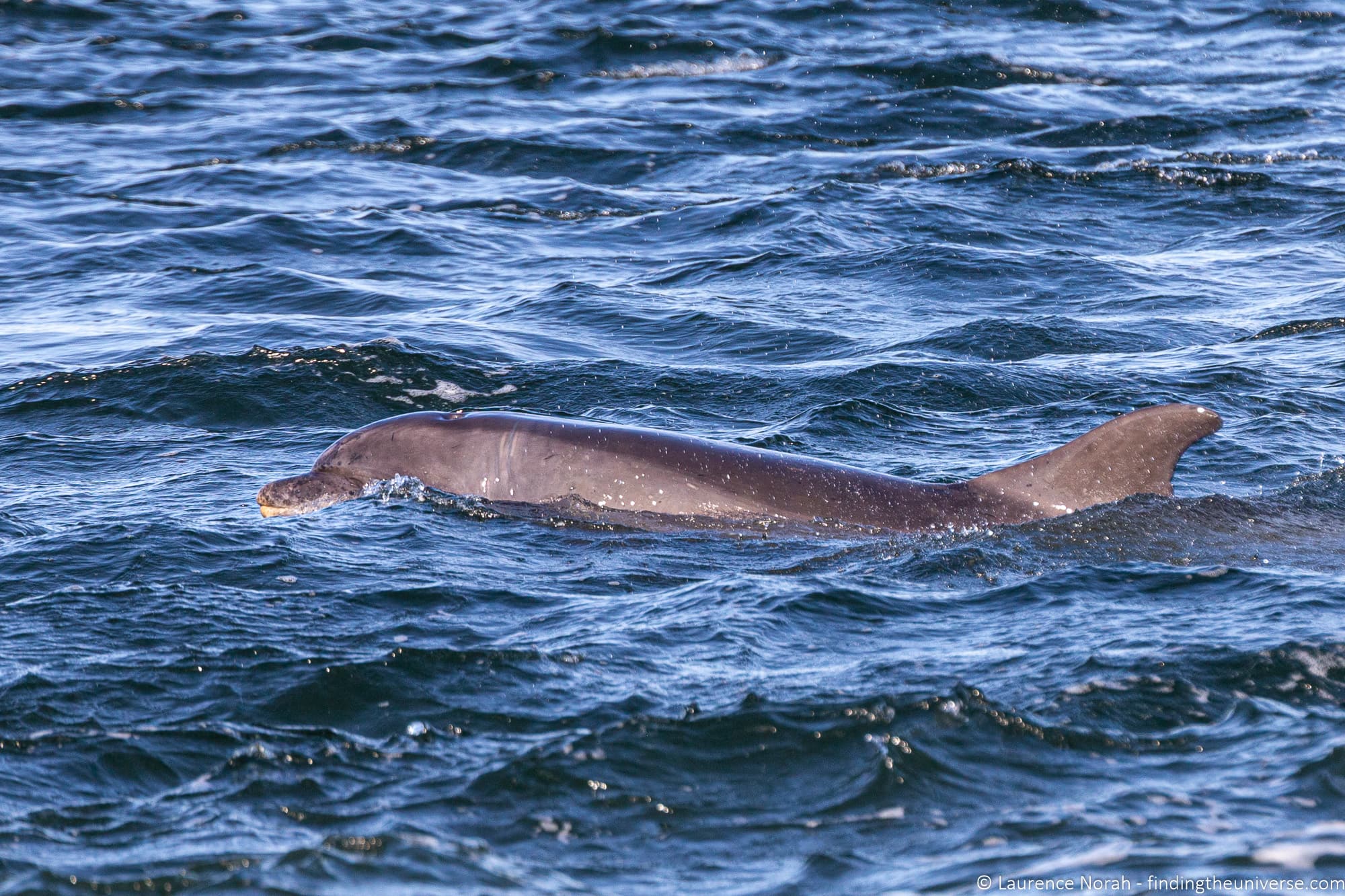 Note that this car park is pay and display during the day, with both coins and cards accepted. It's also only suitable for cars, there's no parking or turning for campervans or caravans. If you are in a longer vehicle you'll have to park in Fortrose and then walk out to the point.
The best time of year to see the dolphins is in spring or summer, when they are hunting migrating salmon, although there is the chance to see them year round. In the warmer months there's also often an ice cream van here, so even if you don't see dolphins, you can at least get an ice cream!
6. Golf at Rosemarkie
If you love golf, then you will definitely want to make a stop at the Fortrose and Rosemarkie Golf Club. In operation since 1793, this is the 15th oldest recorded golf course in the world, and its location on this stunning peninsula makes for a very memorable round of golf.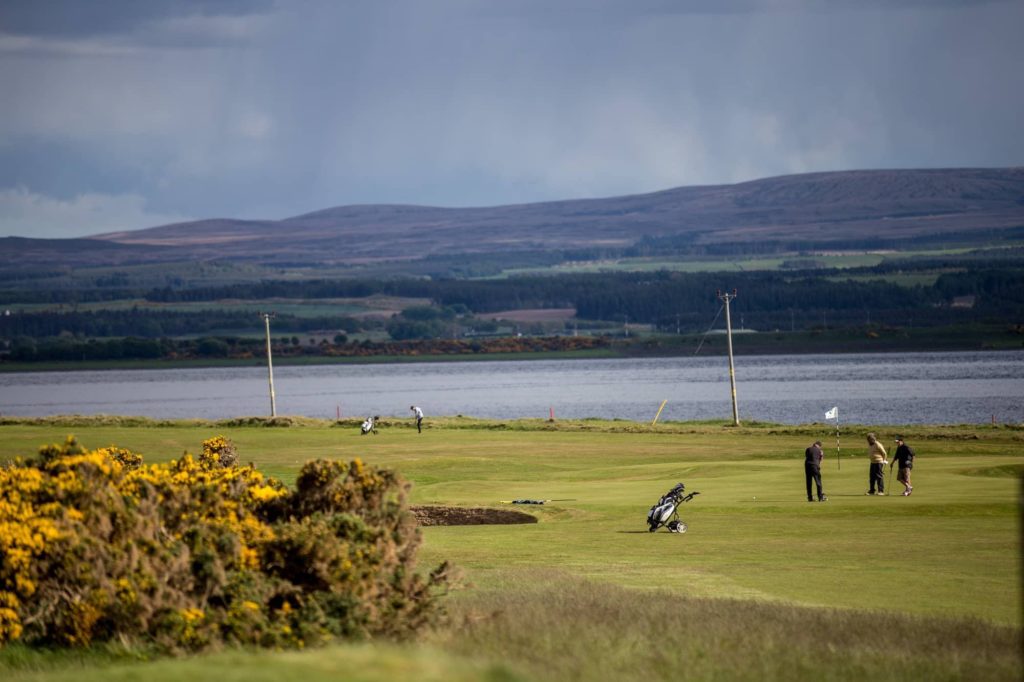 It's definitely one of the more popular courses in Scotland, and is open to visitors to play. You just need to book in advance via their website, and of course, to have golfing experience. The course is described as fast, and has tight fairways and bunkers galore.
7. Groam House Museum
In the town of Rosemarkie is the Groam House Museum, home to an outstanding collection of Pictish carved stones.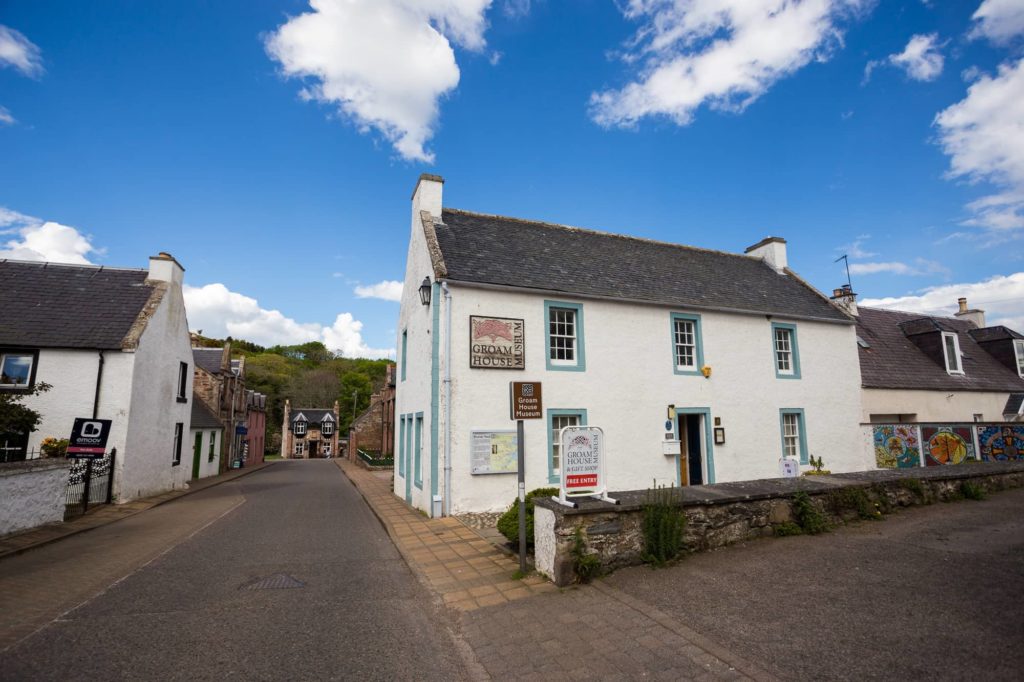 Spread over two floors, and with free entry, here you can learn all about the history of these stones, which are over a thousand years old. The museum is also home to an exhibit from local artist George Bain, as well as a history of the people of this part of the Black Isle. Well worth a visit.
8. Fairy Glen Waterfalls
At the north end of the town of Rosemarkie is the parking area for the Fairy Glen trail. This is around a thirty minute round trip walk along a pretty stream, which brings you to the beautiful Fairy Glen itself.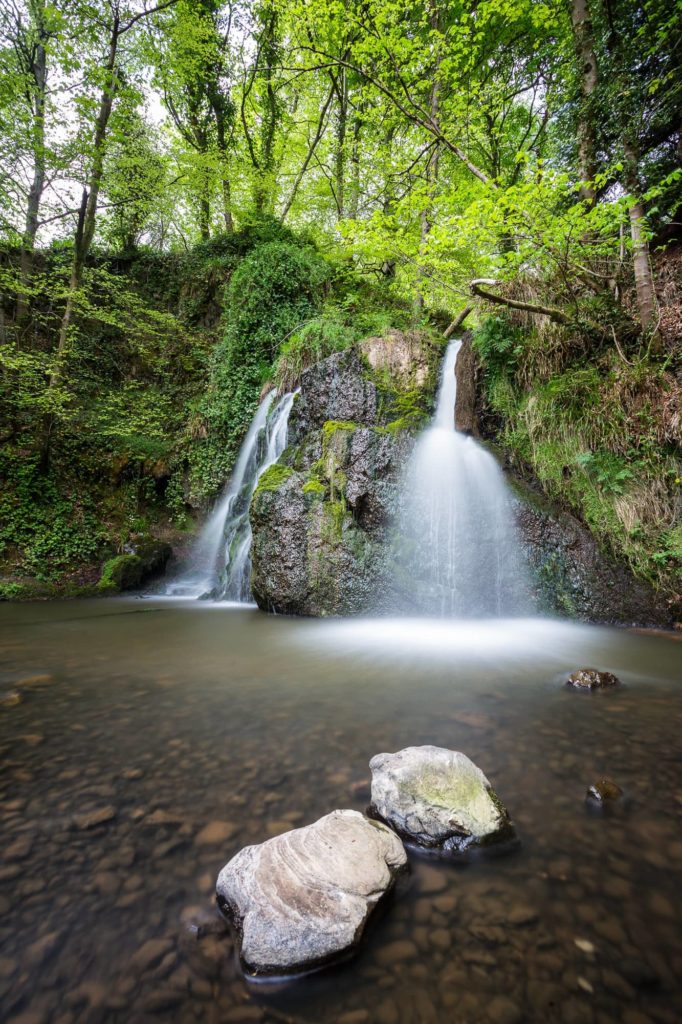 Here there are two gorgeous waterfalls which are wonderfully photogenic, and definitely worth the small effort it takes to reach them. Definitely one for a tripod and set of neutral density filters if you're into photography!
9. Cromarty Brewing Company
Whilst the Black Isle Brewery is the most well known brewery in this part of the world, it's not the only game in town. Not far from the town of Cromarty is the Cromarty Brewing Company, which has been making beer on the Black Isle since 2011.
Its also possible to take a tour here, however, currently tours only run once a week and they cost £5 per person. The website does however say that you are able to schedule tours in advance for other times if you wish, you just need to get in touch to arrange them.
There is also a shop on site which is open year round, so even if you don't take a tour, you can pop in and see what's on offer.
10. Cromarty Lighthouse
On to the town of Cromarty now, which sits at the tip of the Black Isle. In the summer you can actually take a ferry from here to Nigg, to save yourself the drive back to the main road.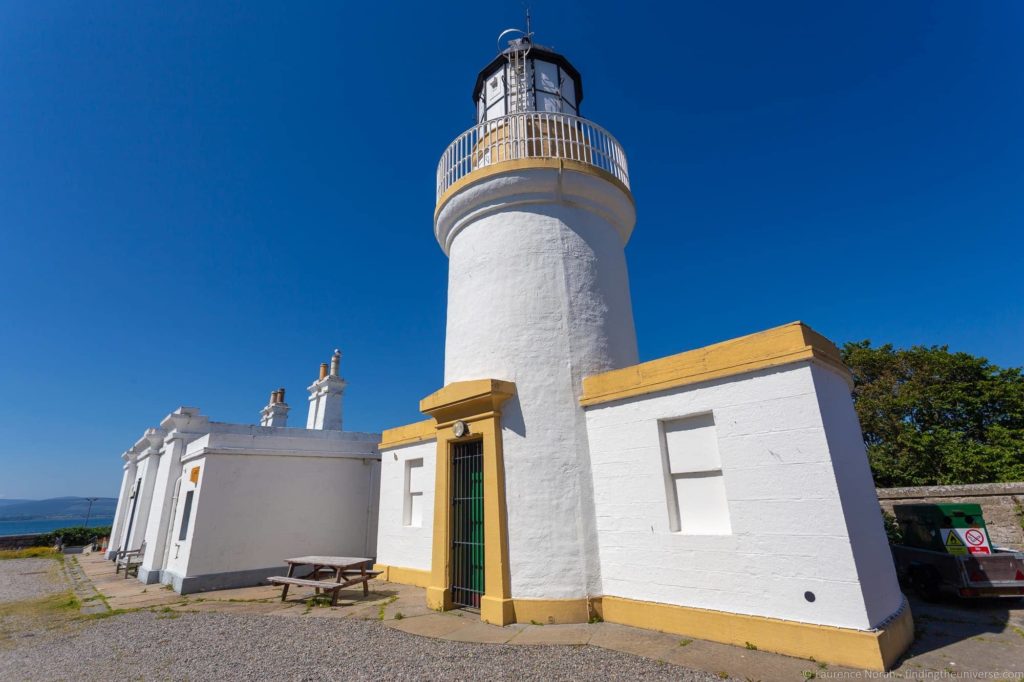 We're not done with exploring the Black Isle though. The town of Cromarty has a number of attractions, first of which is the Cromarty Lighthouse. This was built in 1842, and operated as a lighthouse until 2006. Today is a part of the University of Aberdeen, and operates as a field station, supporting research within their Institute of Biological and Environmental Sciences.
You can't get into the Lighthouse, but it is still worth taking a look at the building and the nearby harbour area, which is pretty.
11. Hugh Miller's Birthplace Cottage and Museum
One of Cromarty's most famous inhabitants was Hugh Miller. Born in Cromarty in 1802, he became known as a geologist, writer and paleontologist, as well as for his religious beliefs, which conflicted strongly with his scientific discoveries.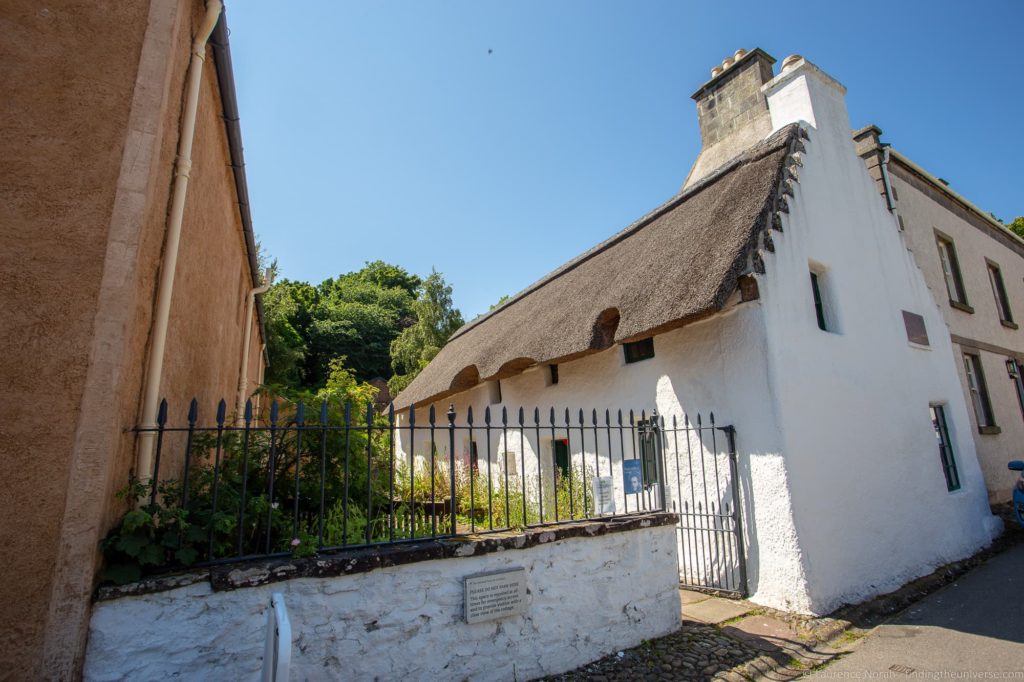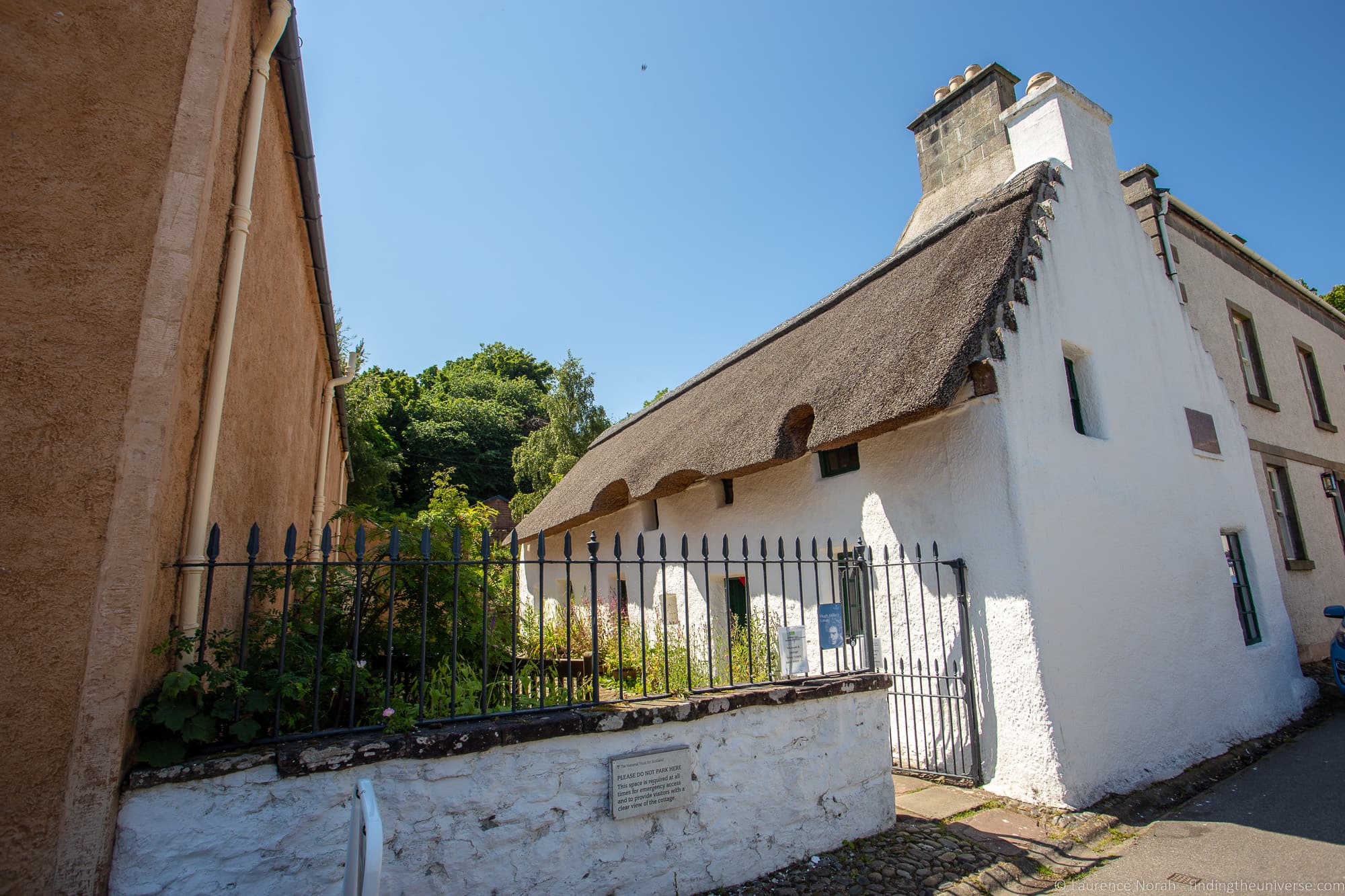 Today, his collection of over 6,000 fossils is a big part of the National Museum of Scotland's collection in Edinburgh, and he is considered to be one of the finest Scottish palaeontologists. The thatched cottage where he was born in Cromarty can today be visited, as can the property next door where he also lived.
Here you can learn about his life and work, as well as see the cottage, which has been restored to how it would have looked when he was there. The Hugh Miller Birthplace Cottage and Museum is operated by the National Trust for Scotland, and there is a small admission fee for non-members.
Fans of Hugh Miller will also want to take a short walk up behind the museum to the old Cromarty graveyard, where as well as a lovely ruined old church there is a large statue to Hugh Miller.
12. Cromarty Courthouse Museum
Right next door to the Hugh Miller Birthplace Cottage and Museum is the Cromarty Courthouse Museum. This volunteer run community museum is set in the old courthouse museum, which dates from 1773.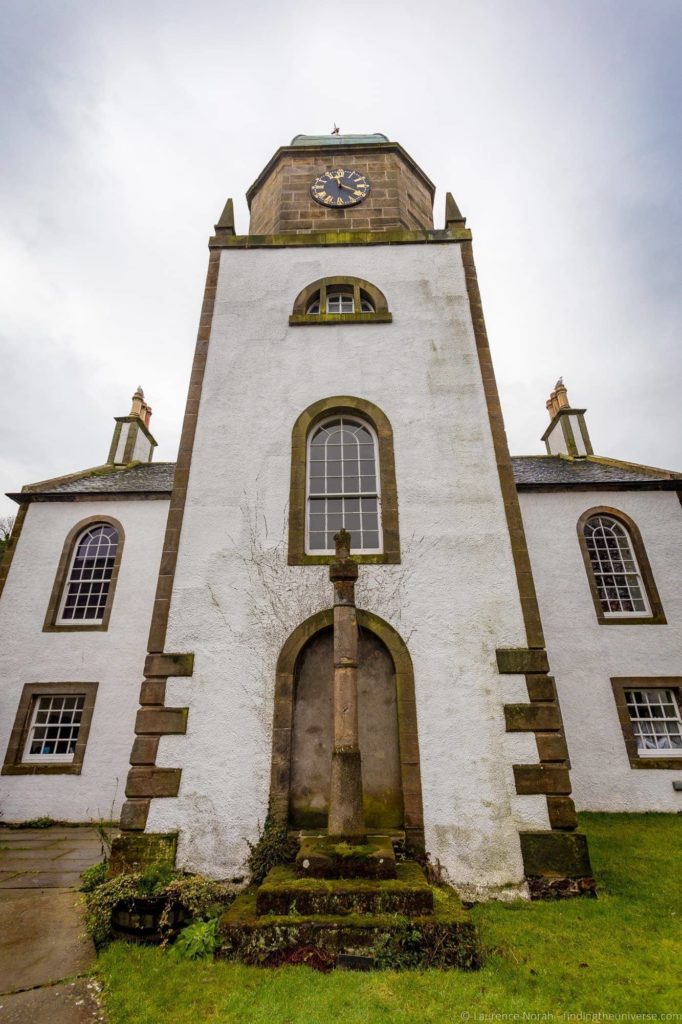 Inside, you'll find permanent exhibitions about the town and surrounding areas. The museum also hosts special exhibitions and displays through the year, which feature interesting stories from history as well as local artists. You'll also find that the courtroom has been set up to re-enact a courtroom scene, and features life-like figures and accompanying audio to tell the story.
The museum is free to visit, although donations are appreciated. It's not open year round, so check the official website for opening details.
13. Wildlife Boat Tours
From Cromarty you can take a wildlife watching adventure out into the Moray Firth, where you can see all sorts of wildlife, including the resident colony of Bottlenose Dolphins.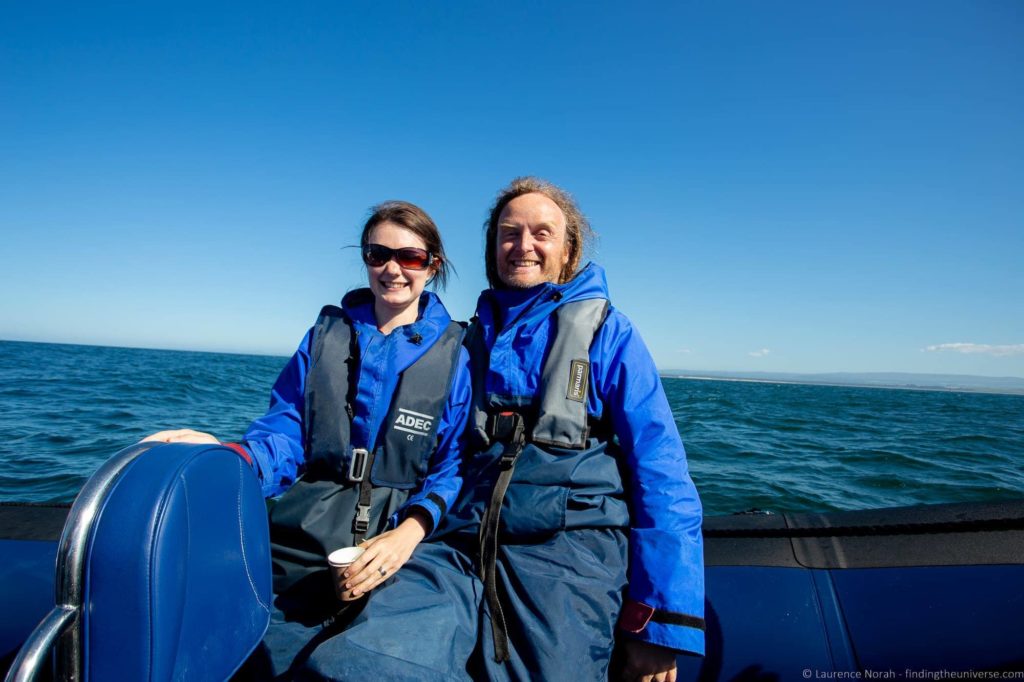 EcoVentures is the small, family run tour operator that operates out of Cromarty, and they run a two hour wildlife watching tour. Booking in advance is highly recommended as the boat only takes up to 12 people.
14. Kirkmichael
About a ten minute drive west of Cromarty along the north coast of the Black Isle is Kirkmichael. This medieval church had fallen into serious disrepair, but thanks to the efforts of the Kirkmichael Trust, it has been full restored and made safe for visitors.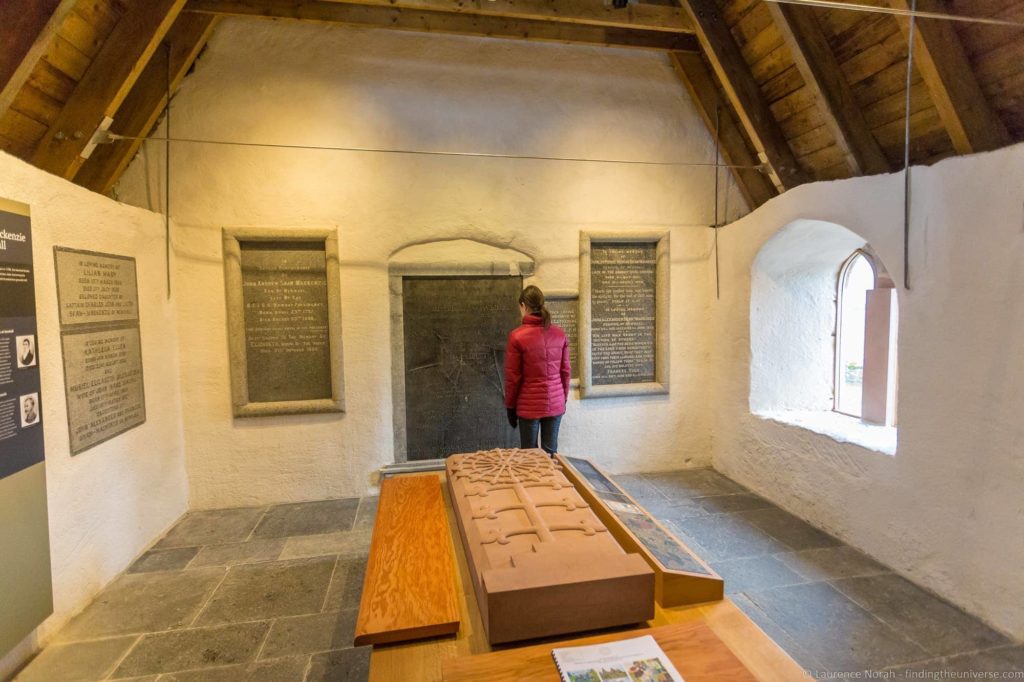 Today the old church is fully open and has been turned into a very small museum showcasing some of the most interesting old medieval gravestones found in the Kirkyard. It's a peaceful and interesting place to visit.
15. Glen Ord Distillery
We're going to finish off our tour of the Black Isle with a visit to the Glen Ord distillery. This is the last surviving single malt scotch whisky distillery on the Black Isle, and dates from 1838. It's quite an operation, with the capacity to produce over three million litres of whisky a year.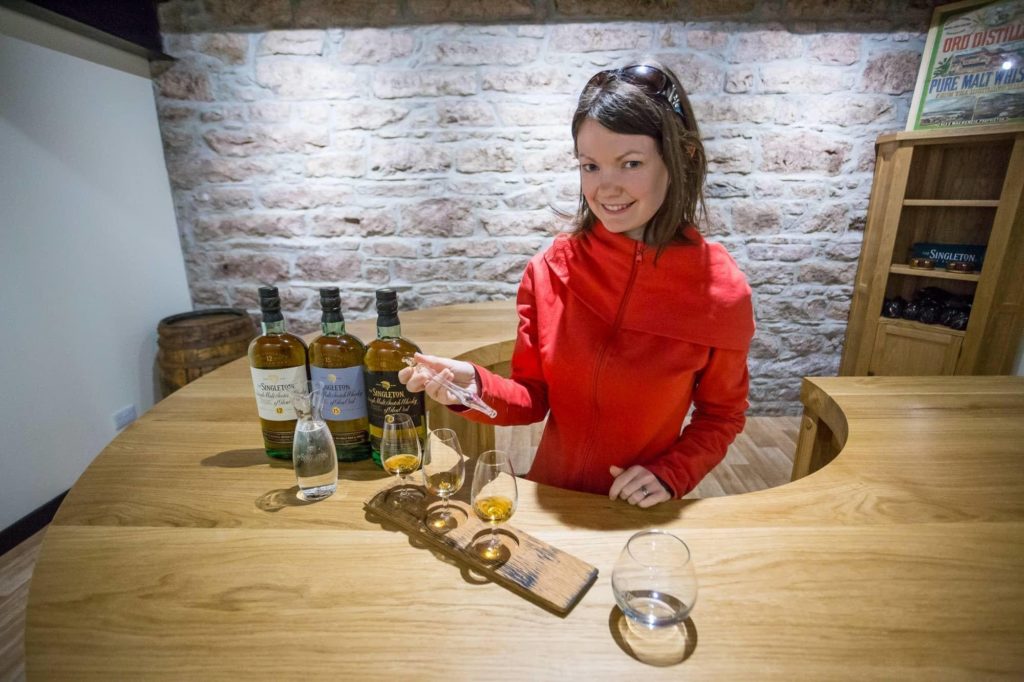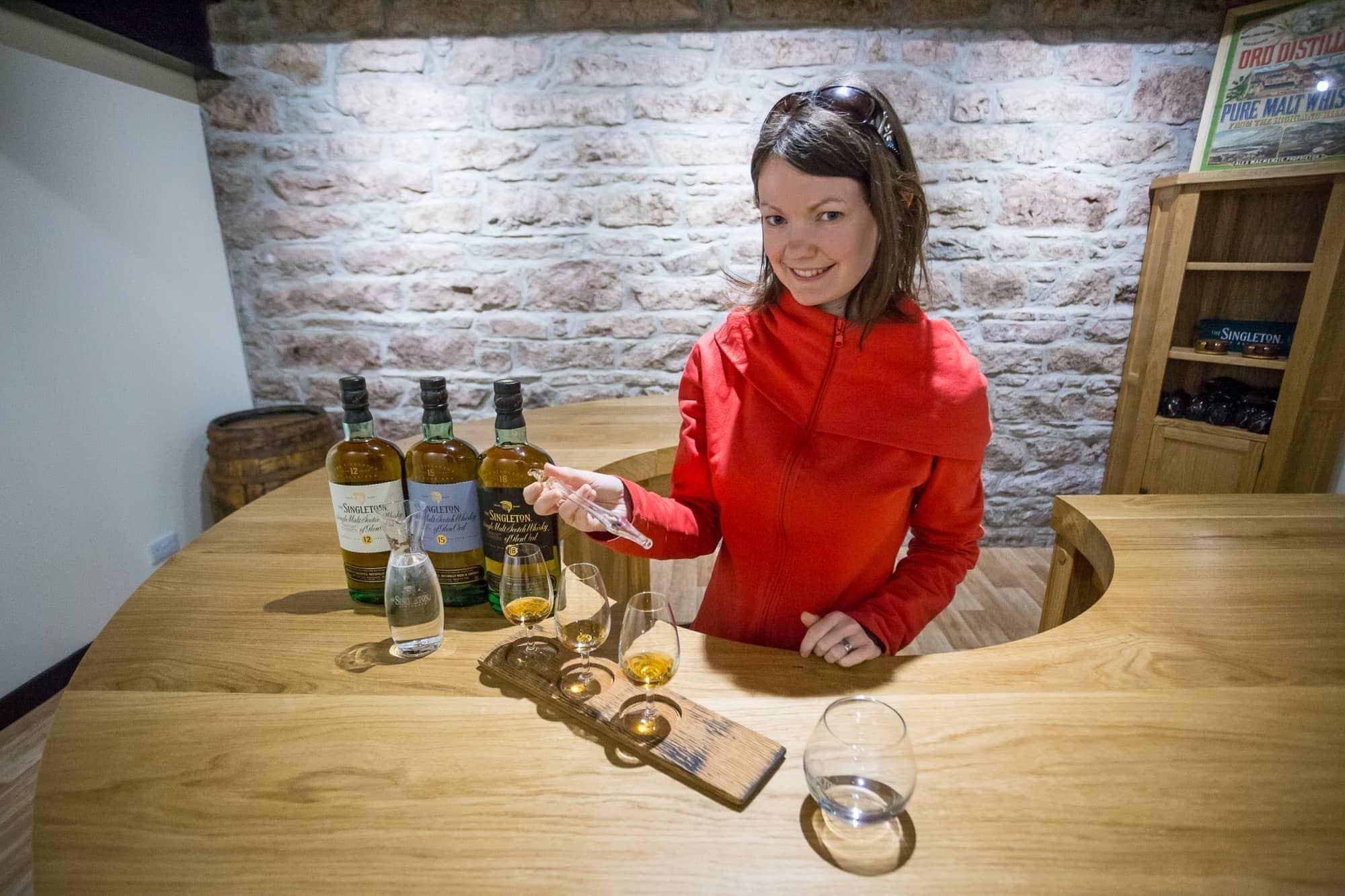 As well as producing a Glen Ord whisky, the distillery produces whisky for the Diageo brands, which includes the Johnny Walker whiskys. Naturally you can take a tour of the facility, which includes a taste of the Glen Ord 12 year old.
Tours run year-round and whilst you don't need to book in advance, it's always a good idea to avoid disappointment.
Map of Black Isle Attractions
Here's a handy map of the Black Isle attractions to help you plan your day. You can see this map on Google here.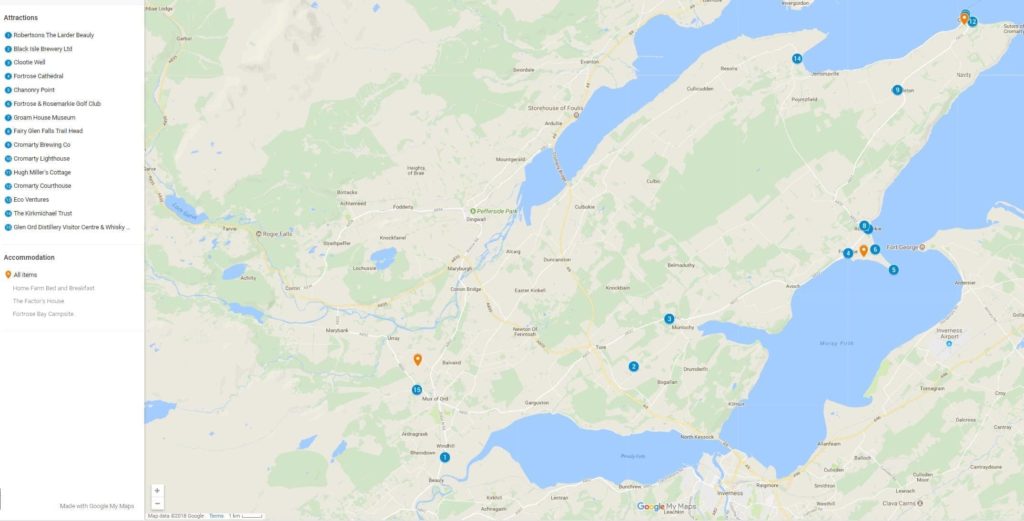 How to Get to the Black Isle
The Black Isle is just north of Inverness, so is very easy to get to if you have a car, being less than a twenty minute drive from the city centre to the first attractions.
If you don't have a car, there are also bus services, which are primarily operated by Stagecoach. These will let you access many of the major attractions on the Black Isle. See timetables here.
We are not currently aware of any tour companies operating tours of the Black Isle. One of our favourite tour companies in the UK, Rabbie's, used to offer a tour here but this has been discontinued as of 2022.
Where to Stay on the Black Isle
With the Black Isle being so close to Inverness, it's certainly possible to stay in Inverness and visit the Black Isle as a day trip from Inverness. If you wish to do that, check out Inverness hotel listings on booking.com here.
If you would like to stay on the Black Isle, we can recommend either Home Farm Bed and Breakfast or The Factor's House, both of which are well rated by visitors. The latter in particular is a favourite of ours, we loved the warm welcome, comfortable rooms and delicious breakfast (the hardest part is choosing what to have!).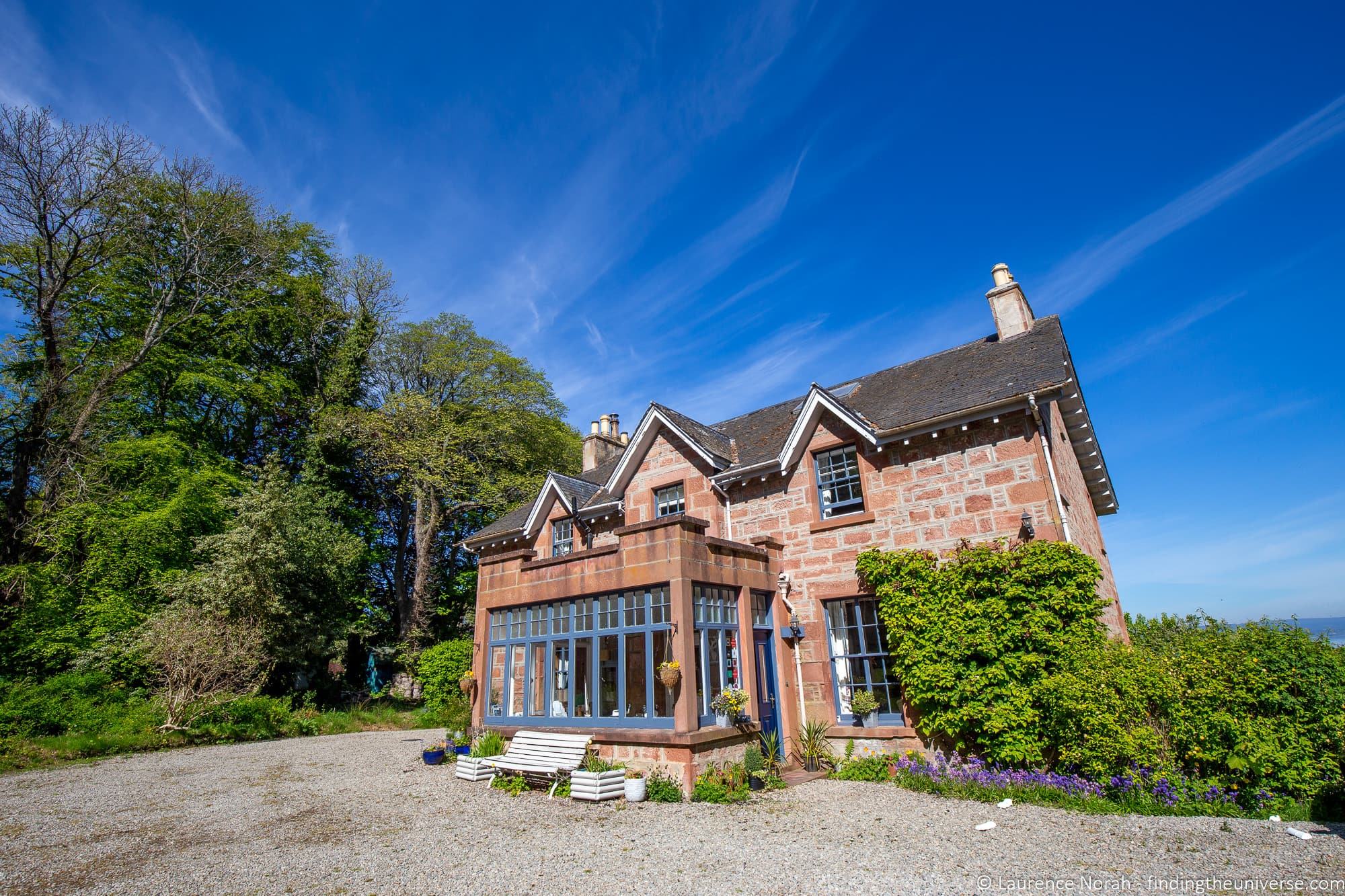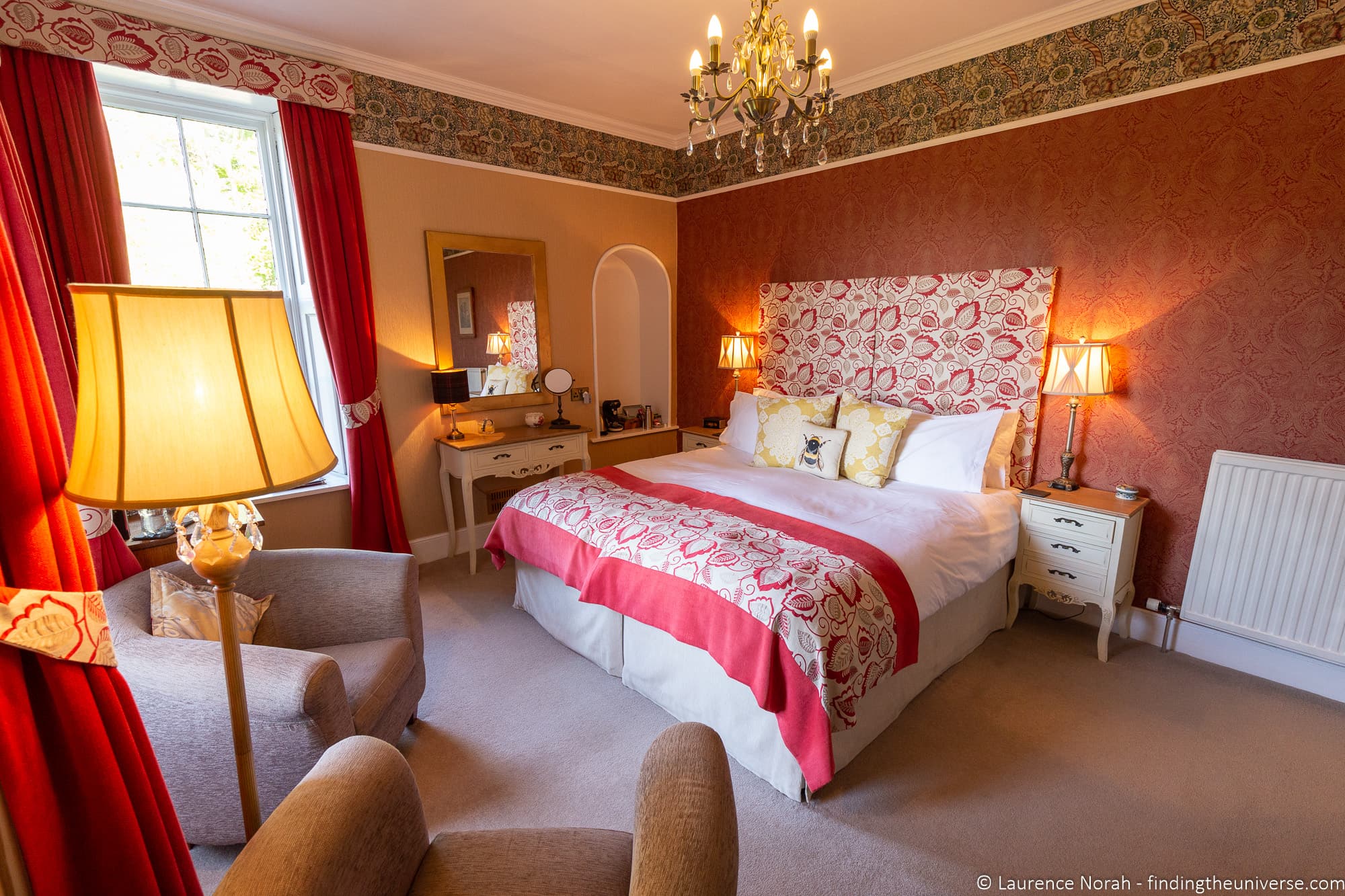 Alternatively, if you would like to camp, there's a large campsite near Chanonry Point, the Fortrose Bay Campsite, which has lots of pitches.
We also written a detailed guide to the best accommodation options on the North Coast 500, several of which are within a short drive of the Black Isle, so do check that out as well.
Further Reading
Hopefully this post contains everything you need to know to help you plan out what to do on the Black Isle. We've also written a lot of other content about travelling in Scotland and the UK, plus we have some other resources we would like to recommend to help you even more. These are:
And that's it for our guide to what to do on the Black Isle! If you've got any feedback or questions, just let us know in the comments below.