In today's post I'm going to share with you a 10 day itinerary for a UK trip, specifically covering England and Scotland, which will let you visit and travel around the UK entirely by public transport, and in particular by bus or train.
I have written a couple of posts giving detailed itineraries for the UK, but those are focused on self-drive trips. I'm often asked if they can be done by public transport, and whilst the answer is usually yes, it does come with caveats as the itineraries aren't really designed around the public transport system in the UK.
With that in mind, I've put together the below itinerary for ten days in the UK that is designed to be done by public transport. The UK has an excellent public transport system, especially between the major cities, making it relatively easy to see quite a lot in a short space of time. So if you are interested in travelling the UK by train or bus, this itinerary is for you!
Let's get started with my guide to taking a trip around the UK forb ten days by public transport.
A 10 Day UK Trip Itinerary
Here's the detailed day by day itinerary for your 10 days in the UK
Days 1 & 2: London
I firmly believe that no trip to the UK is complete without spending some time in London, and that's why this itinerary is kicking off with two days in the capital.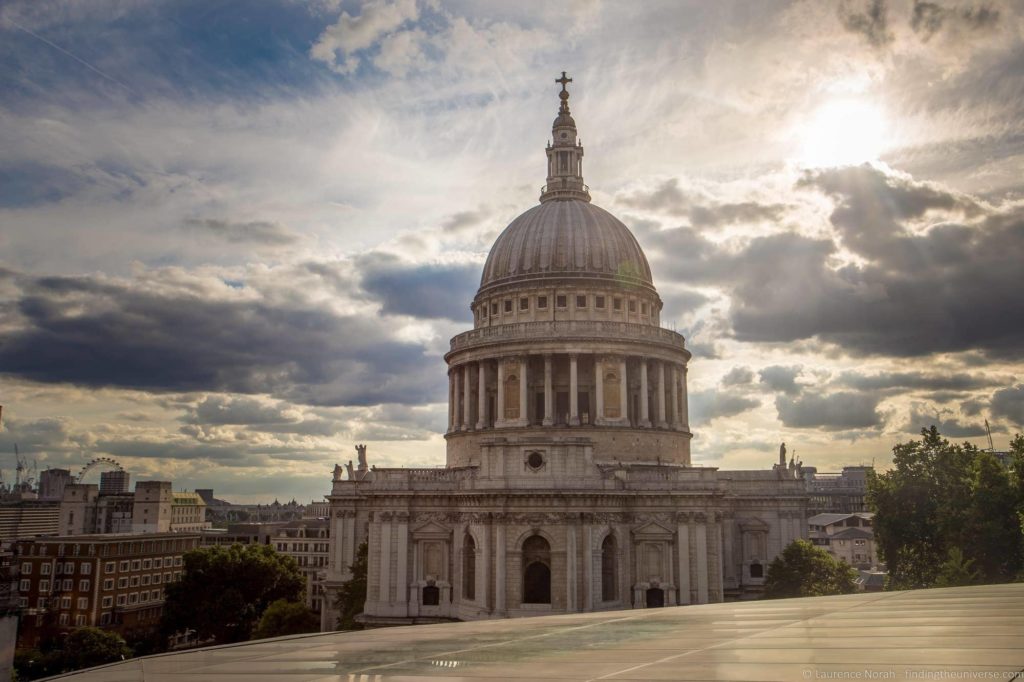 There is so much to do in London, and even if you have visited before, I guarantee you will find plenty to do. From classic sights like the changing of the guard at Buckingham Palace to visiting the Tower of London, through to afternoon teas and shopping at iconic stores like Harrods – truly, everyone will find something they love to do in London.
We have visited London a number of times, and have put together a number of guides to the city to help you out. Our first tip for inspiration would be to check out our guide to spending two days in London, which should give you some ideas, and if you have more time to spend in London check out our detailed six day London itinerary.
We've also written a guide to getting into the city centre by public transport from all the major London airports, which you should find helpful for planning your arrival and departure if you are flying into the city.
Finally, if you're planning on doing some sight-seeing, we definitely suggest checking out the London Pass, which will likely save you money. You can see our full review of the London Pass here.
For accommodation, London has options to suit every budget. Start your search by taking a look at the London listings on booking.com, which is our preferred way of booking accommodation when we travel. For apartments, we love the curated selection on Plum Guide.
Day 3: Oxford
From London, it's about an hours train ride to Oxford, or around an hour and a half by bus. Oxford is a stunning small university city that has served as the inspiration for numerous novels and films, and was one of the locations that the Harry Potter films were shot at. It's a definite must for any visit to the UK.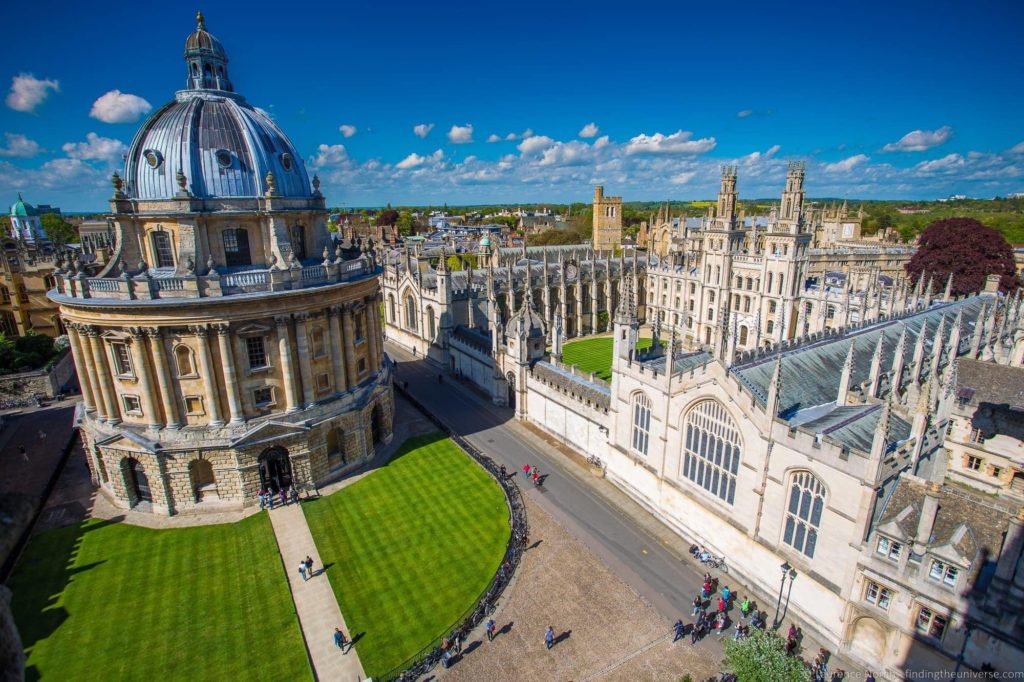 A day is enough to see the city as it's quite small. We'd recommend taking a walking tour of the city and universities, dropping into one of the beautiful old pubs like the Turf Tavern, and perhaps trying your hand at a spot of punting. There are also several great museums to explore in Oxford.
Otherwise, we're sure you'll just enjoy wandering the gorgeous streets of this city. For a lovely view across said streets, take a walk up to the top of the University Church of St. Mary the Virgin, which is right next to the Radcliffe Camera.
For more inspiration, take a look at our guide to spending a day in Oxford, a city we love visiting so much that Jess also wrote her thoughts on visiting Oxford for a day!
For accommodation, see the options for Oxford on booking.com here.
Days 4 & 5: Bristol
From Oxford, it's an hours train ride to the next city on our 10 day UK itinerary – the lovely port city of Bristol. Buses are also available from Oxford to Bristol, and the journey is around three hours by bus.
In Bristol you'll find a rich history of ship-building and trade, as well as Victorian engineering marvels like the Clifton Suspension Bridge. There's an old city center to explore, one of the most vibrant street art scenes in the UK, beautifully coloured houses to photograph and of course, a number of excellent museums.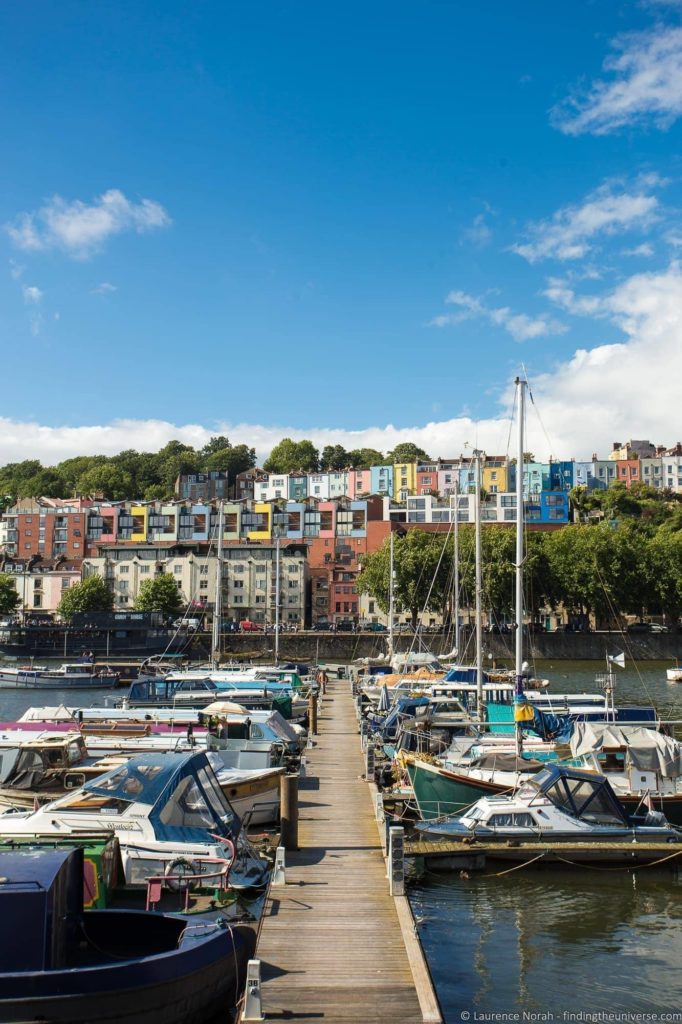 One highlight not to miss is the SS Great Britain. Originally built in Bristol in 1845, this was the world's first ship to boast both an iron hull and a screw propeller.
She's been beautifully restored and is now Bristol's top visitor attraction. Note that tickets are slightly cheaper if you book them online, which you can do online here.
If you visit in August, you'll also be able to attend Europe's largest annual Balloon Fiesta – the Bristol International Balloon Fiesta. This takes place over four days in early August every year, and is free to attend.
For more ideas for your visit to Bristol, take a look at our guide to things to do in Bristol, as well as our guide to visiting the Bristol Balloon Fiesta, should you be lucky enough to be in town during this epic event.
For accommodation in Bristol, take a look at the Bristol accommodation page of booking.com.
Days 6 & 7: Liverpool
From Bristol, it's time to turn north and head up to the home of the Beatles – Liverpool! You're looking at around a three hour ten minute train ride from Bristol, which includes a change of trains (usually at Birmingham or Stafford). There are also buses available, which take in the region of 5 to 7 hours.
There's plenty to do in Liverpool to fill two days of your time. Fans of the Beatles will want to head to Liverpool's most popular museum – the Beatles Story. This is the world's largest permanent exhibition devoted to one of the UK's most successful rock bands.
Liverpool has more than the Beatles though. Liverpool's historic Albert Dock waterfront area has been revived, and turned from a 19th century dock complex to a modern thriving attraction with shops, accommodations, museums and attractions. As well as the Beatles Story, you'll also find the Merseyside Maritime Museum, the Tate Liverpool, and the International Slavery Museum.
Finally, football fans might want to take a stadium tour of Anfield – the home of Liverpool FC.
For accommodation in Liverpool, see all the listings for Liverpool on booking.com here.
Day 8: York
Now we're going to head north east across England, past Manchester and Leeds, to the beautiful historic city of York – just under three hours train ride away. Buses are also available, and these generally take between four and six hours.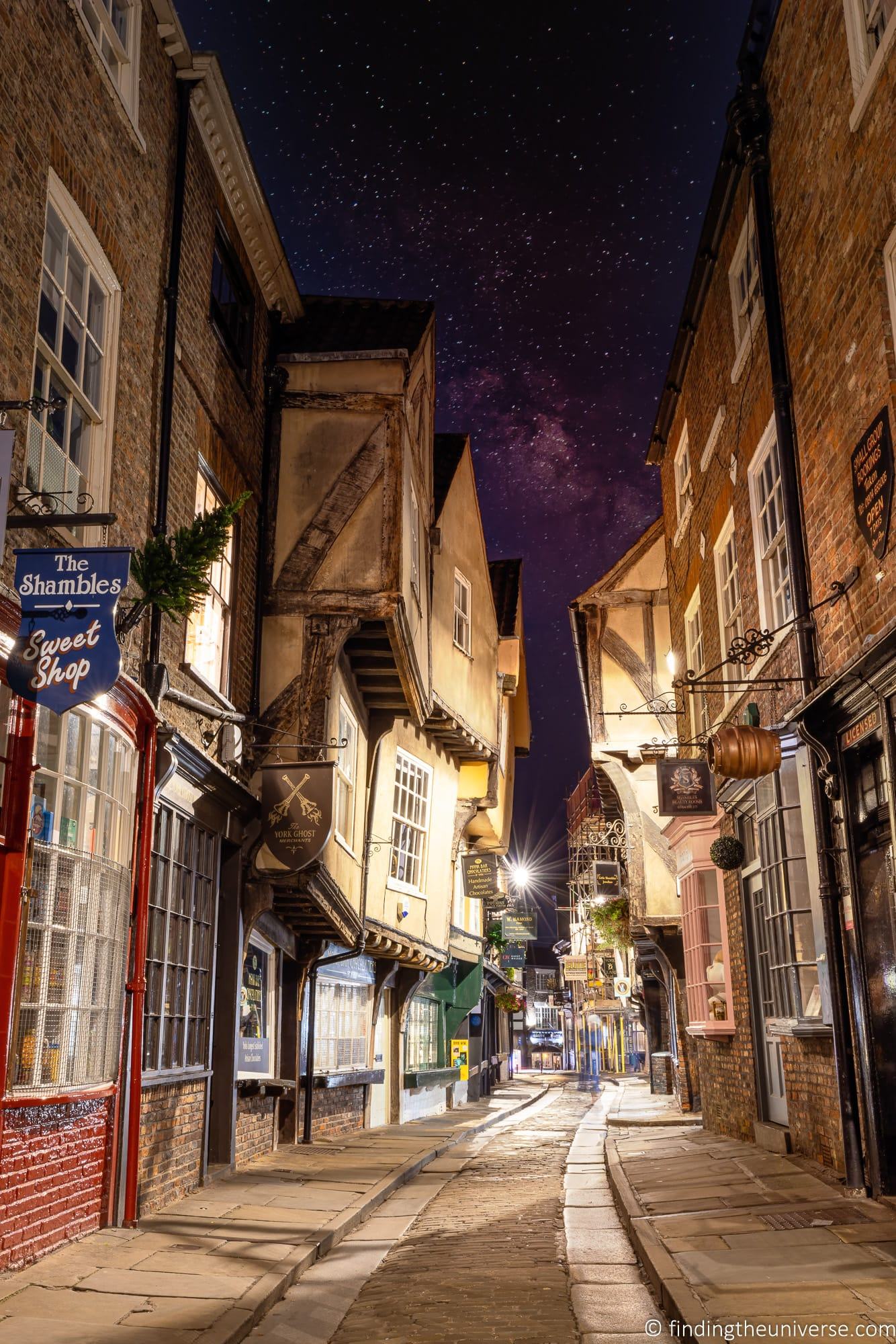 The walled city of York was founded by the Romans nearly two thousand years ago, and has seen it's fair share of history – for a time it was even ruled by the Vikings, and was known as Jórvík.
Today, there are still many reminders of the cities medieval past. A walk through "the Shambles" is a must – a winding medieval street overhung by old, timber framed houses and lined with pretty shops.
You'll also want to check out the city walls – York has more miles of intact city wall than any other city in the UK. Originally built in Roman times, the surviving walls largely date from the 12th – 14th centuries, and you can see both the walls and their gatehouses, also known as "bars".
Finally, no visit to York is complete without a visit to York Minster, York's Cathedral. This is one of the most impressive religious buildings in the UK, built in the Gothic style, and with the present building dating from the 13th century. A highlight of any visit has to be a walk up to the top of the towers, from where you'll get a gorgeous view.
For more information on your trip to York, see our guide to spending two days in York, which should give you lots of inspiration.
For your accommodation in York, check out the listings on booking.com here.
Days 9 & 10: Edinburgh
Our last stop on our ten day UK itinerary has you crossing the Scottish border and visiting the Scottish capital – Edinburgh.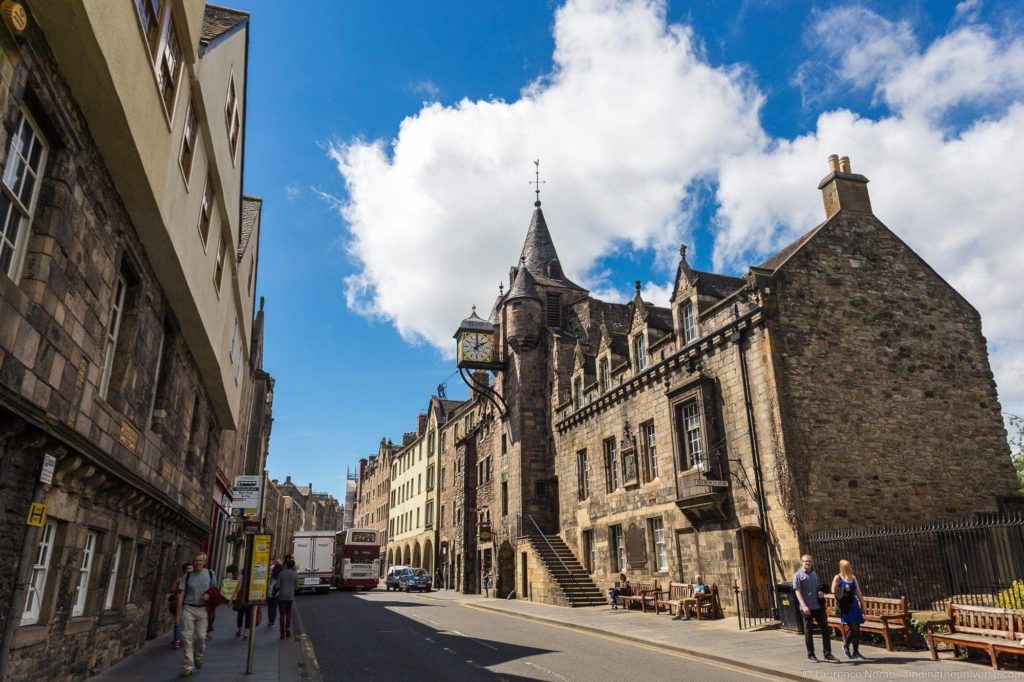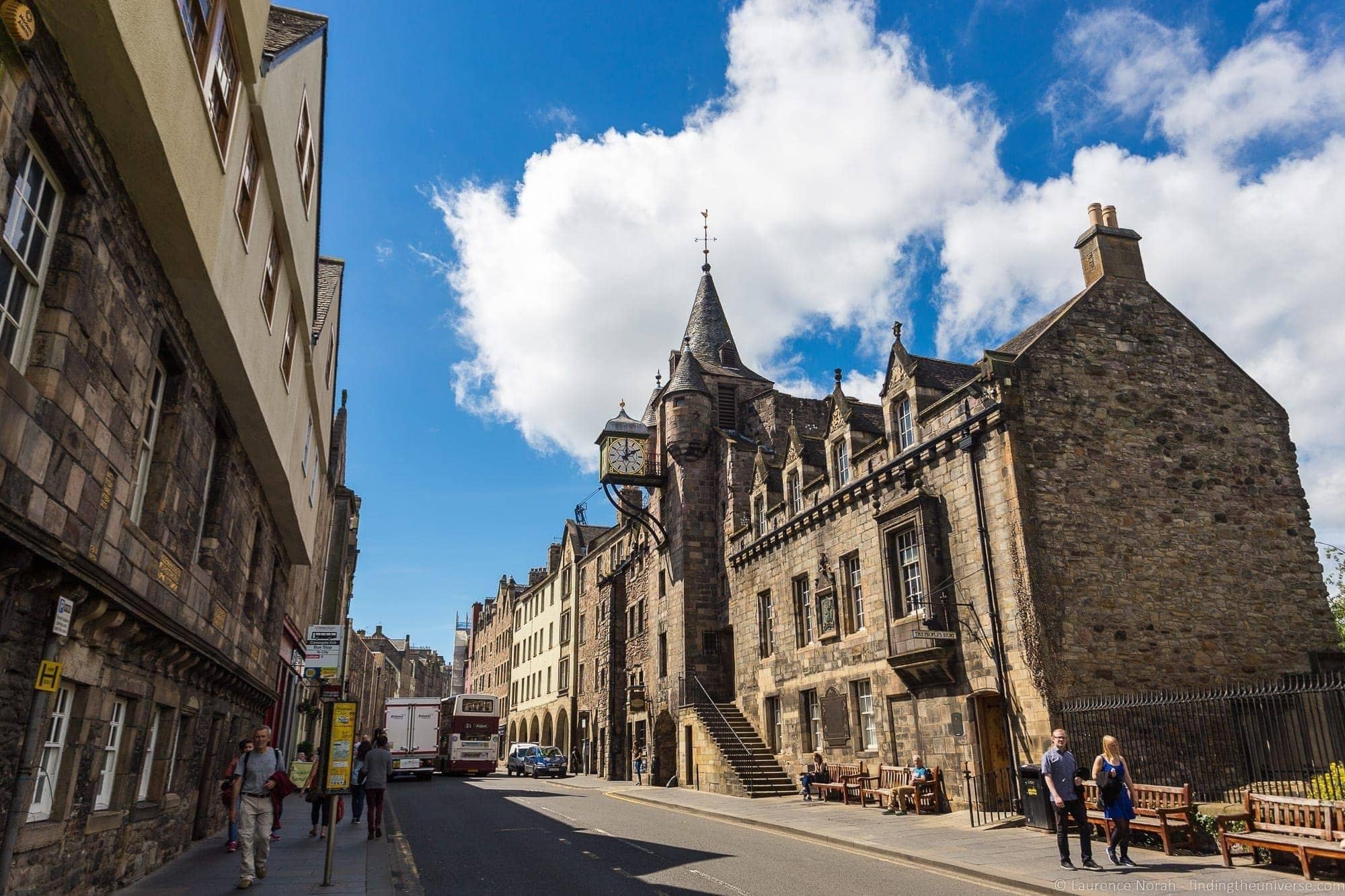 From York, it's around a 2.5 hour train ride to Edinburgh, or 5 – 8 hours by bus.
This is a fantastically beautiful medieval city which features a castle built atop a volcano, lovely old cobbled streets, a whole Georgian era town, quaint villages to explore and of course, all the things you would expect from Scotland – haggis, tartan, bagpipers, and whisky!
There is a lot to do in Edinburgh. We very much recommend a visit to Edinburgh Castle, a stroll down the Royal Mile and some whisky sampling at the Edinburgh Whisky Experience.
If you're planning on visiting a number of the Royal sights in Edinburgh, including Edinburgh Castle, Holyrood Palace and the Royal Yacht Britannia, then you should consider a Royal Edinburgh Ticket. As well as giving you access to those three attractions, it also gives you a two day hop on hop off bus ticket for Edinburgh. See our full review of the Royal Edinburgh ticket to see if it might save you money.
For more ideas in Edinburgh, check out our suggestions for two days in Edinburgh, as well as our guide to some of Edinburgh's hidden gems. For accommodation, see Edinburgh's listings on booking.com.
For returning home after your UK tour is done, you have a number of options depending on where you are returning to. Edinburgh airport is just eight miles outside the city center, and offers a wide range of flights to both domestic and international destinations. To get to Edinburgh airport you can take the tram or AirLink Bus directly to and from the city centre.
If your return flight is from London, you have a number of options for returning to the capital city (including flying of course).
The main train station in Edinburgh (Edinburgh Waverley) is centrally located, and there are a number of train services that run directly to London, taking around 4 – 5.5 hours. There is also the option to take an overnight sleeper train from Edinburgh to London – read our experience doing that here. You can also take a bus from Edinburgh to London, which takes between 9 and 11 hours.
For more options, check out our detailed guide to getting between Edinburgh and London.
And that sums up our route for a ten day UK trip across England and Scotland! Now for some helpful hints and tips to help you plan your perfect adventure.
Map of Route for 10 Day UK itinerary
Here's a map of the route to help you out with visualizing our 10 day UK trip itinerary, which you can see on Google Maps here.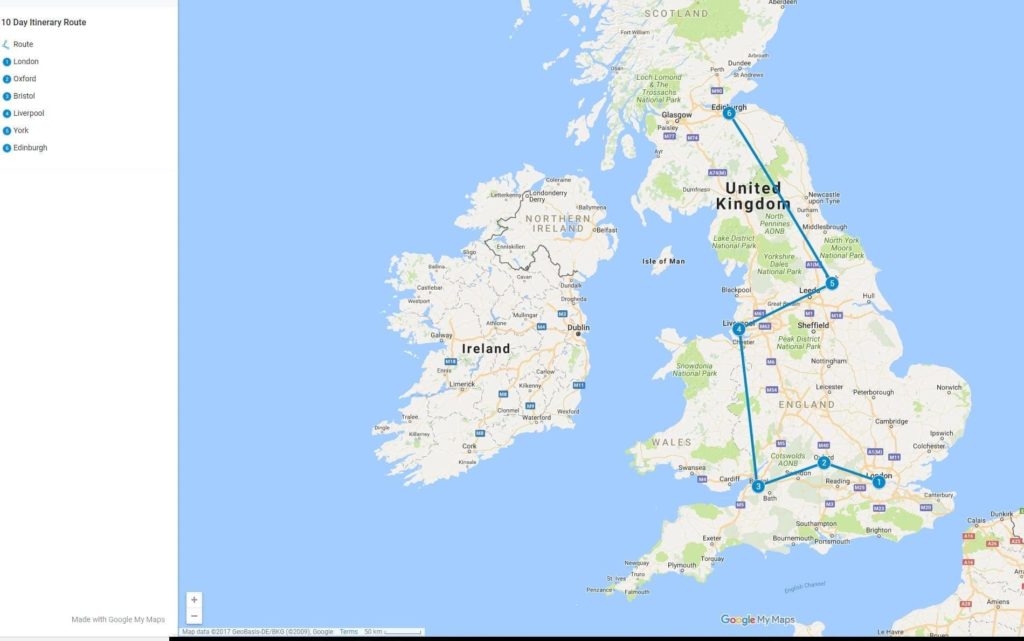 10 Days in the UK: Summary Itinerary
Here's a quick overview of this itinerary for reference:
Days 1 & 2: London
Day 3: Oxford
Days 4 & 5: Bristol
Days 6 & 7: Liverpool
Day 8: York
Days 9 & 10: Edinburgh
Tips for Using Public Transport in the UK
When it comes to taking public transit in the UK, you have two main options, the train or the bus, more commonly known as a coach.
By Train
As you can see from post, the train service in the UK is going to be the fastest way to get around for this public transport itinerary, especially between the major cities.
To get the best prices on trains, it's essential that you book in advance. Tickets purchased on the day are nearly always going to be more expensive. Advance purchase tickets will save you money and usually come with a seat reservation.
There are a number of websites for booking UK train tickets online. We recommend the Trainline service, who have been around for a long time, and who we usually find to be the easiest for booking train tickets across the UK.
Opt to collect your ticket at the station to save on the ticket delivery fee – you will need the booking reference number and your credit card to pick up the ticket. Note that this will usually require a PIN enabled credit card. Alternatively, they usually allow you to print your tickets at home or use e-tickets.
They also let you book tickets for destinations all across Europe, and so are a handy one stop shop for all your ticket needs.
If you'd prefer not to have to worry about booking all the train tickets individually, or figuring out the pricing structure, another option is to invest in a UK rail pass. These are only available to UK visitors who don't have a UK passport. If that's you, you can likely save time and money by buying a UK Britrail pass.
For this itinerary, the best pass would likely be the 8 day consecutive pass, which would get you from London to Edinburgh through all the locations on this itinerary. These are available in first or second class, depending on your budget and travel style. Get yours here.
By Bus or Coach
You can also easily do this itinerary by taking long distance bus services (called coaches in the UK). Coach fares are often cheaper than train fairs, although as you can see from the itinerary, they usually take quite a bit longer. We therefore would only advise them if you are looking to save the maximum amount of money, or for the shorter legs like London to Oxford, or Oxford to Bristol.
They can also sometimes be a little easier, such as in the case of Bristol to Liverpool, as that route by train requires a change.
There are a number of long distance coach operators in the UK. The two we would recommend are National Express and Megabus, both of which offer a wide range of routes across the country.
From London to Oxford specifically, you have more choices, as well as the above options you can take the Oxford Tube. We'd suggest finding the route that departs from closest to your hotel to make it easier to get to it with your luggage.
As with the train, in most cases the best deals are available if you book as far in advance as possible for a specific bus time.
Is this UK Itinerary Achievable with Children?
So first, I have to say that Jess and I don't have kids, so we don't have first hand experience of travelling with children. However, a common question from readers is whether or not this UK itinerary can be done as a family.
Of course, every family is different, and there is no one size fits all answer. It will depend a lot on your individual family and travel style.
That said, speaking to friends with children and other family travel bloggers, as a general rule you will want to adjust your trip pace somewhat to suit the needs of your family. With this in mind, I would probably advise slowing the pace a little bit for the trip, and in this case of this itinerary, perhaps skipping one or two towns so you can travel a bit slower.
Obviously what you choose to leave out is up to you, but I would overall suggest focusing on Edinburgh, York, Oxford and London as an example, with 2 – 3 days in Edinburgh / London, and 1-2 days in York / Oxford.
Other Options for Touring the UK
If, having read all the above, you are feeling a bit overwhelmed at the idea of planning your UK trip yourself, don't worry. We have a couple of other options for you to consider.
First, you could take a group tour of the UK. This will take you to a wide variety of sights, with someone else handling all the logistics, and letting you just relax and chill out.
We have used and can recommend Rabbie's Trail Burners for this sort of thing – they're a small group tour operator with lots of experience and great guides. As an example, they have an eight day tour that departs from London and goes to Edinburgh. Whilst the route isn't quite the same, you will still see plenty of cool stuff.
Finally, you can also arrange a private tour. This will usually be a more expensive option, but will mean you can put something totally customised together. This is a service offered by a number of companies, we would again recommend Rabbie's Trail Burners who offer a customised tour service.
Another option we are happy to recommend is professional driver-guide Robina Brown, who is a blue-badge guide offering tours across the UK. See her website here.
Where to Stay in the UK
For accommodation, there are a great many options to choose from, ranging from cosy B&B's through to upmarket hotels, and everything in between. We're big fans of Plum Guide, but for shorter city stays like those outlined in this itinerary, you will probably find hotels to be more convenient.
Our go-to choice to find the best deals on accommodation is with Booking.com. We find they usually have the best prices, they will price match if you happen to find a better deal, and they have a huge range of accommodation options – including apartments.
If you prefer an apartment or more of a hosted stay, then we recommend Plum Guide. We've tried many options, and have found Plum Guide to have the most consistent experience in terms of quality places to stay.
If you can't find the room or apartment you want on Plum Guide, or you want some new options to try out, we have some alternatives we also use. We suggest trying Vrbo to start with. For even more ideas to help you save money and get the best choice, we wrote a whole post on the best holiday cottage and apartment rentals options in the UK.
Between these options, you should find the best prices and places to stay for your trip, as well as a good selection of reviews and feedback to help you make an informed decision.
When to Visit the UK
The UK is good to visit at any time of year, although for the best weather and longer daylight hours, we'd definitely suggest visiting in the warmer months – from May to September. May and September are probably our favourite times of year, the weather is usually quite reasonable but the tourist crowds are not too intense.
Christmas, and the period leading up to Christmas, can also be a wonderful time to visit, when the streets and shops are all brightly lit and decorated for the festive season.
For a good example of this, check out our guide to visiting Edinburgh at Christmas.
Further Reading for your 10 Day UK Trip
We've got lots of resources to help you plan your trip to the UK, both posts we've written ourselves based on our experiences travelling in the UK, through to third party content we're happy to recommend. We think you'll find them useful for planning your perfect UK trip:
And that sums up our 10 day UK itinerary post! We hope you found it useful. If so, please share it on your favourite social media networks to spread the word. And, as always, if you have any questions or comments, feel free to pop them in the comments below!