In today's post, I'm going to share with you everything that I would recommend to the first-time visitor looking for a great two-day London itinerary.
This is not going to be a list of hidden gems, even though London has plenty of those.
This is a list of all the places you're going to want to visit on your first time to London – the iconic sights that you've seen in postcards and films – plus a couple of curve-balls you might not have thought of, but may be worth your time to visit.
I've also grouped these in a logical order in terms of visiting, so as to maximise your sight-seeing over your two days in London.
This itinerary would fit well into a longer tour of either Europe or the UK, and we suggest you take a look at our 2 week UK itinerary and 2 week Europe itinerary for some suggestions of what those might look like.
Jess and I are huge fans of London. I lived in central London for a couple of years, and we visit the city multiple times a year. So this guide is very much based oñ our personal experiences of London.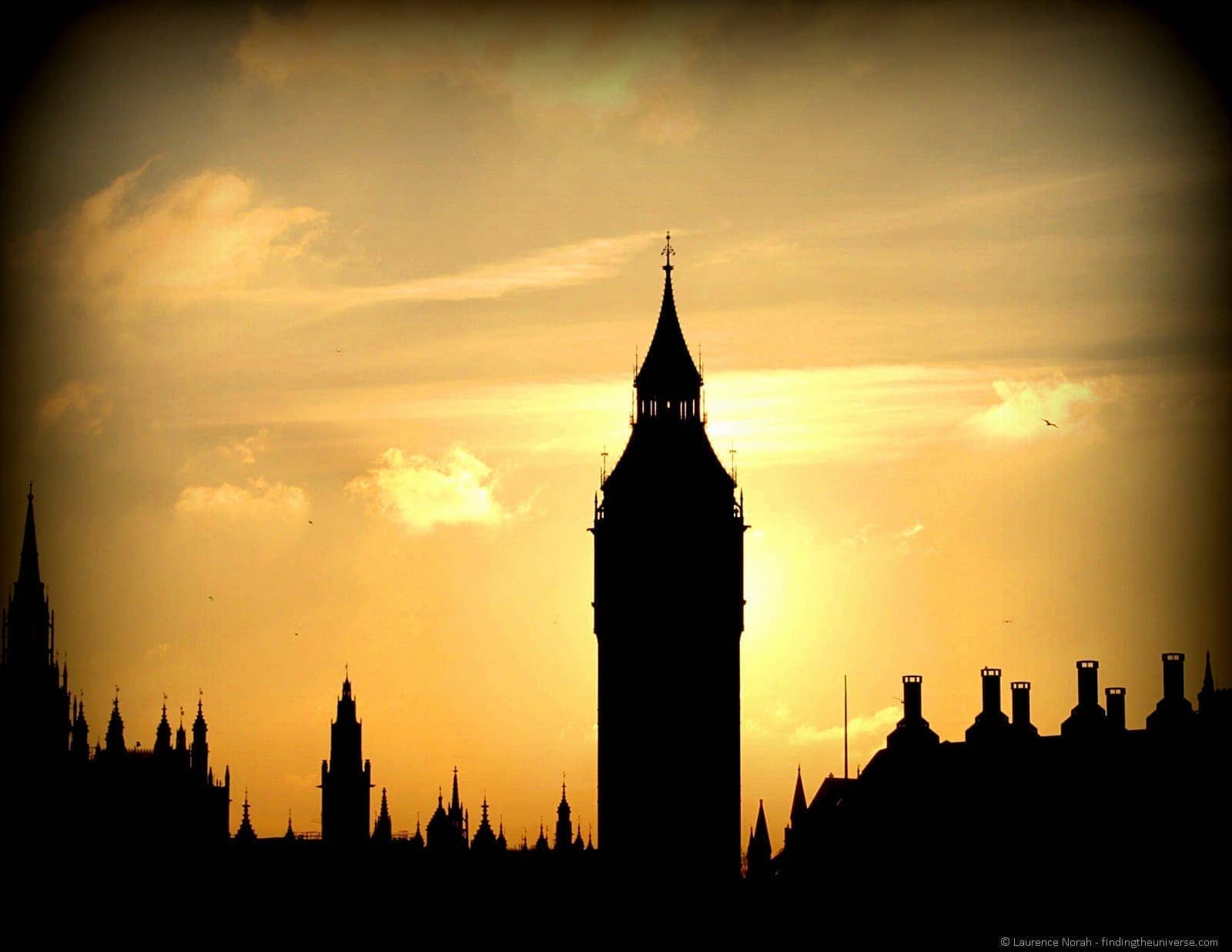 There's just so much to see and do, from some of England's loveliest city parks through to thousand year old castles and churches. And that's before I've even thought about all the culture on offer, from museums to musicals, theatre shows, live music and fine dining.
Every time we visit we find something new to do!
London is a big place with a lot to see and do, so you're not going to be able to get everywhere, and I don't want you to be spending all your time on public transport – the goal here is give you an itinerary whereby you can see as much as possible with minimal downtime for transport between sights. In fact, you might be pleasantly surprised to find out just how walkable London is on this two day itinerary! Let's get started!
A 2 Day London Itinerary
London Itinerary: Day 1
Tower of London
What better place to start your London itinerary than with a visit to the Tower of London, home to the English Crown Jewels and the site of numerous key historical events, including the execution of all sorts of people who were deemed inappropriate by whoever was in charge at the time.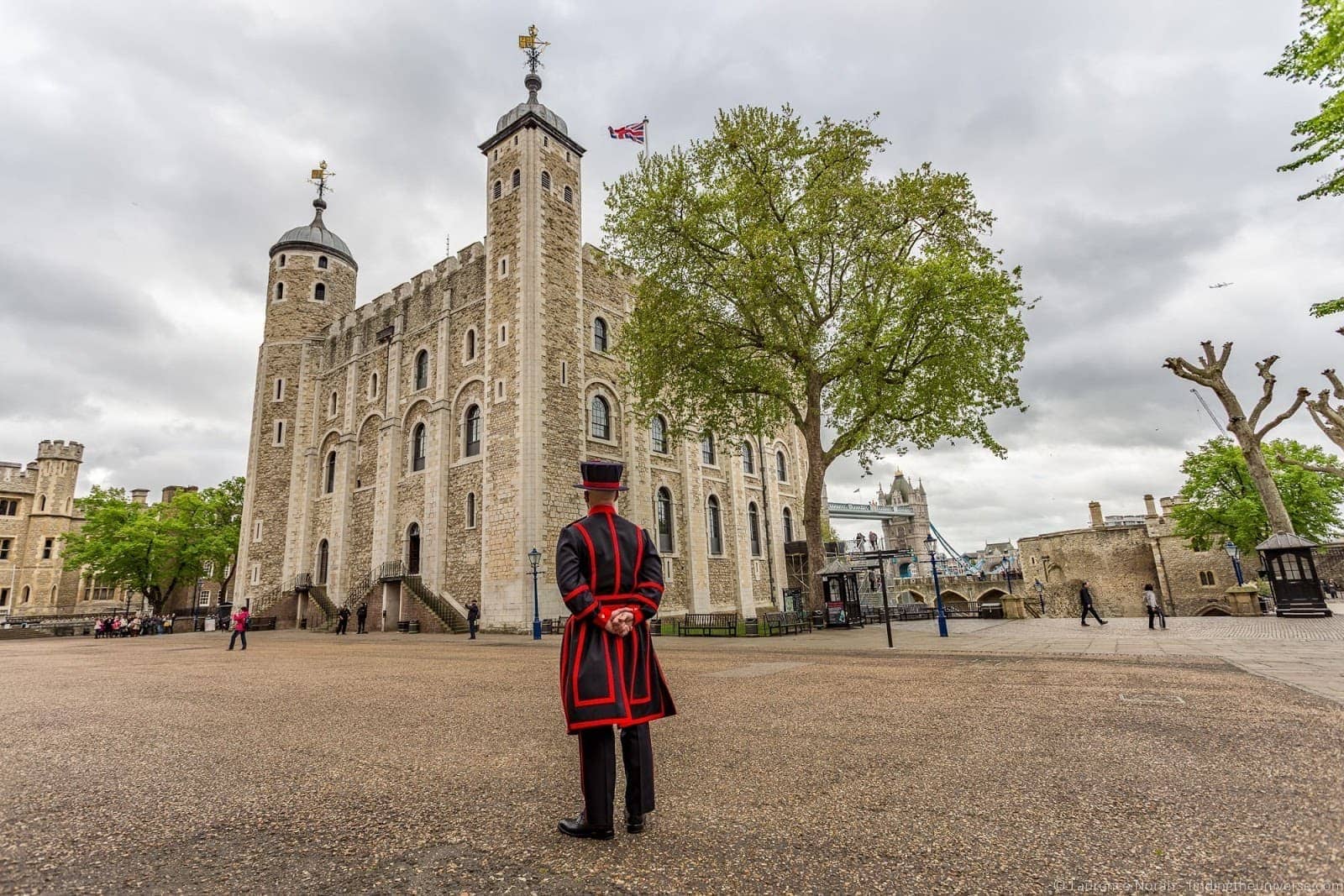 These days there's less blood running on the grass, but you will still find plenty to do, from popping in to see the monarch's crown through to exploring the White Castle at the centre of the keep.
My advice for getting the most out of your visit is to arrive as soon as the Tower opens, which is around 9am, and beating the crowds to the crown jewels. You're likely going to want to spend at least an hour here, if not two – there is a lot to see (and photograph!) here.
Entry is ticketed, but it's included in the London Pass.
Alternatively you can buy a ticket online in advance here. Using our link saves you some money on the adult admission price for the Tower of London, meaning these discounted Tower of London tickets are some of the best value we're aware of.
We also recommend checking prices via GetYourGuide here, and on the official website here, as pricing can vary. It's also worth comparing the refund policies. As far as we know, only GetYourGuide offers fully refundable tickets up to 24 hours in advance of your visit, which may make them worth it for peace of mind.
You see opening times and other information for your visit on the official site.
Tower Bridge Exhibition
On from the Tower of London, you're going to find yourself right next to Tower Bridge, the most iconic of all the London bridges. If you want to learn more about the bridge and not just take some classic photos, then you should visit the Tower Bridge Exhibition.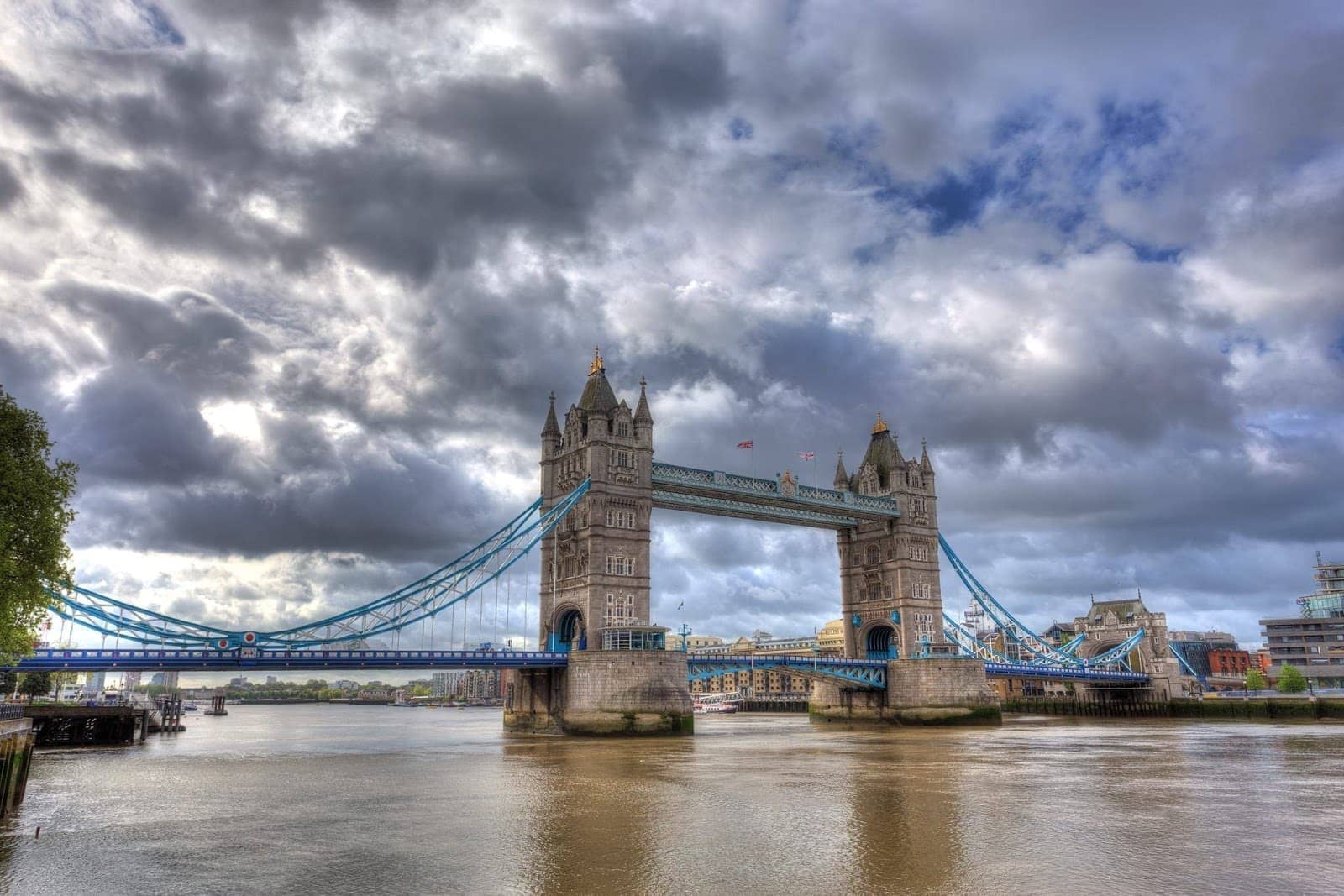 Here you can learn about the history of the bridge, including how it was built and how the lifting mechanism works to allow ships through. More excitingly, you can walk the glass floor walkway, a 42 meter high walkway that will definitely test any fear of heights you may have!
There's an entry fee, and you can see opening times and prices here. Included on the London Pass.
HMS Belfast
After you've crossed tower bridge, you might consider visiting HMS Belfast, which is permanently moored on the Thames a short walk from Tower Bridge on the south bank.
This historic warship, operated today by Imperial War Museums, will definitely be of interest to military buffs, or anyone with even a slight interest in boats.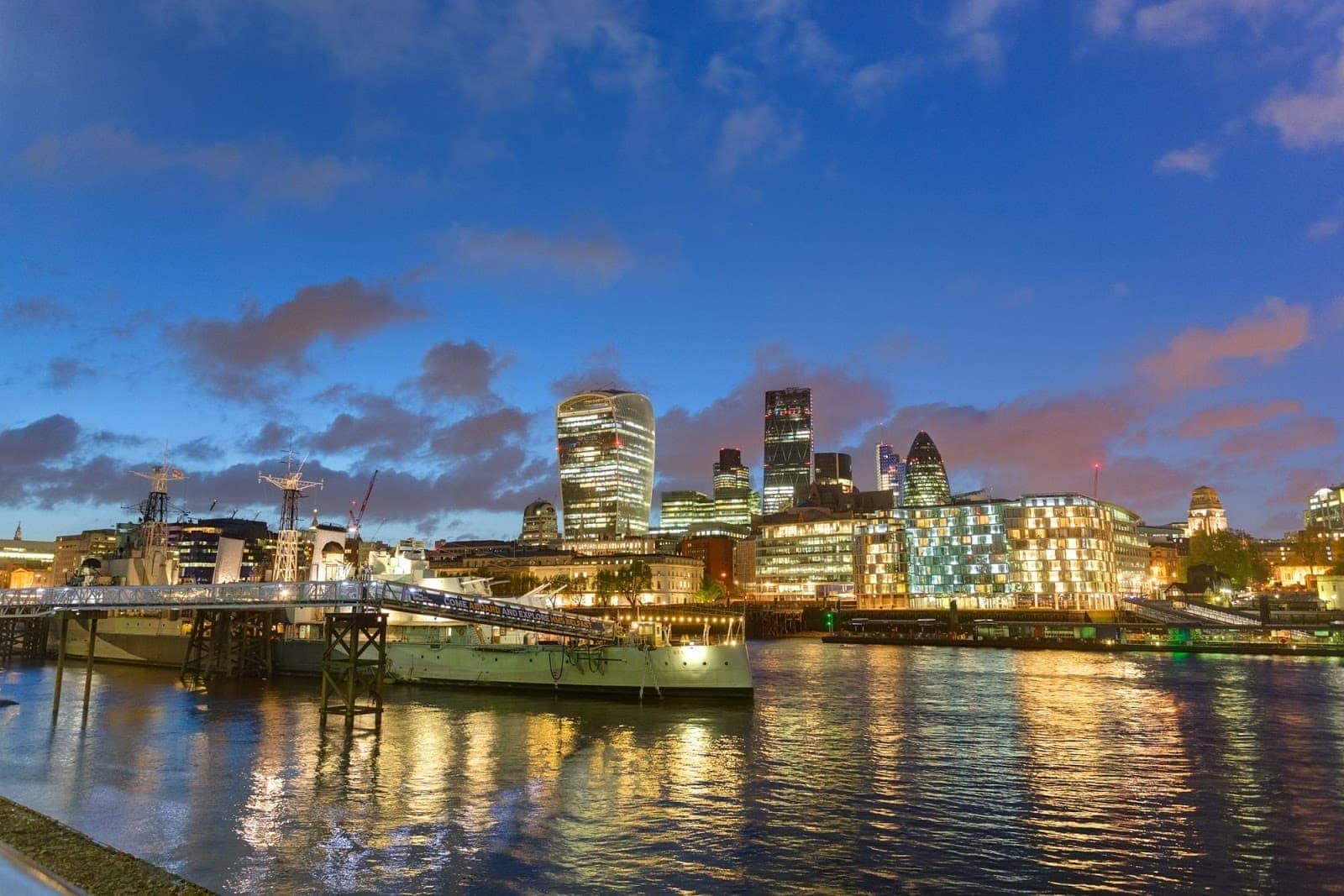 Launched just before the outbreak of World War 2, this Royal Navy Light Cruiser saw action in both World War 2 and the Korean War, before being decommissioned in 1963.
Since 1971 she's been a popular London tourist attraction, and you can spend a good deal of time learning all about operational life on board a warship, as well as the history of HMS Belfast specifically. Definitely a worthwhile part of your visit.
Entry is ticketed, see opening times and prices here. Tickets can be purchased at the ship or on the official website.
The Shard
For a truly spectacular view of London, you're going to want to head up London's tallest building, the Shard. This 95 storey skyscraper was opened in 2012, with the viewing deck opened in 2013.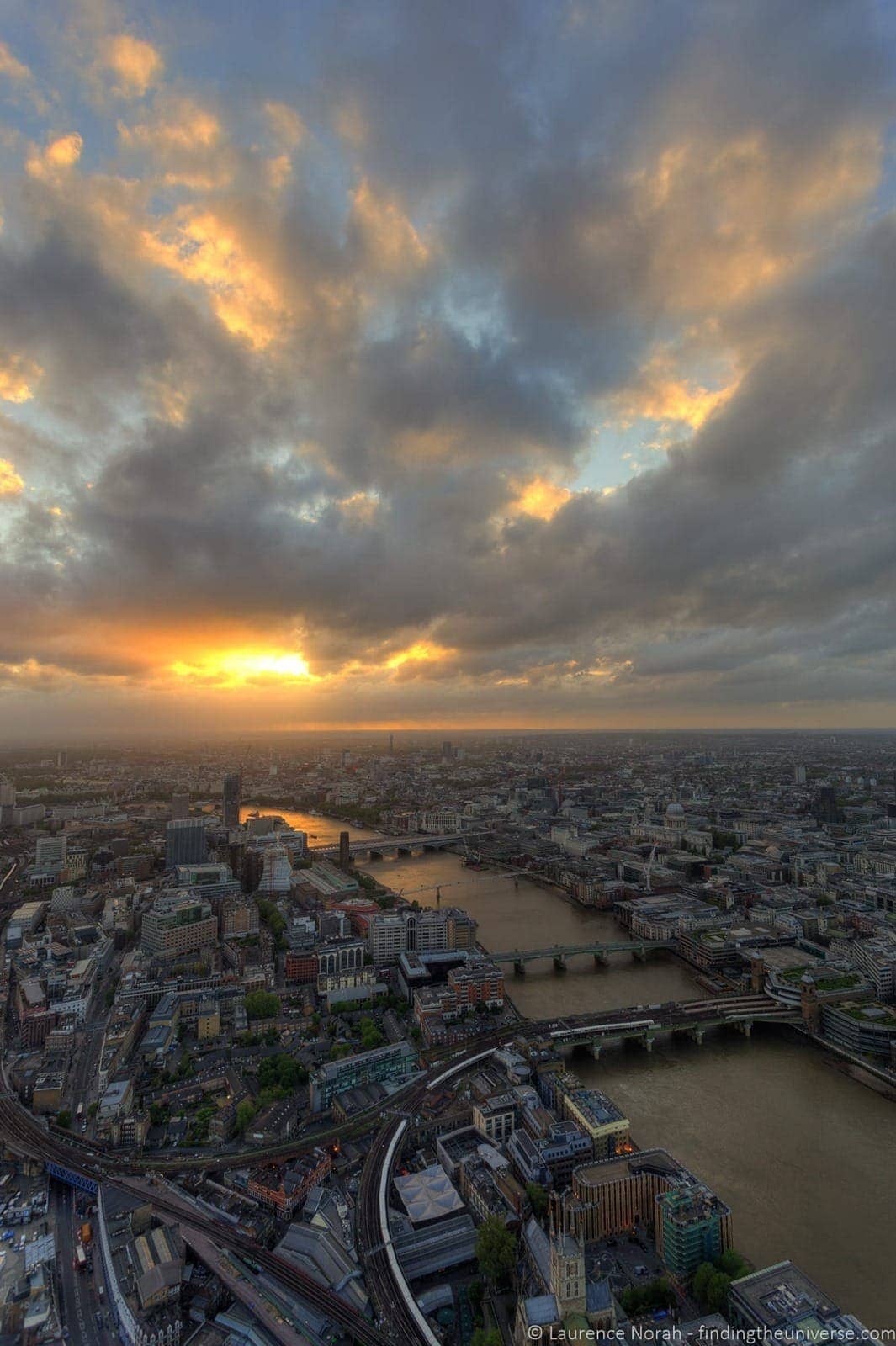 From the top you get incredible views of the majority of London, up and down the Thames. There are two floors from which you can take pictures, and this is one of my recommended photography locations in London.
Entry is ticketed and ideally should be booked in advance as this works out cheaper. You can see opening times and prices here.
You can book tickets in advance either on the official site, or here on Tiqets. The View from the Shard is also included on the London Pass, so if you have one of those it is definitely worth visiting this viewpoint.
As an alternative to the Shard, you might instead want to visit the London Eye. This doesn't go quite as high as the Shard, but you are closer to Westminster so get great views of the Houses of Parliament. You could also do both of course!
If you want to do the London Eye, we've generally found the best prices if you book in advance on the official site here.
We also have a complete guide to visiting the London Eye.
Houses of Parliament
From The Shard, my suggestion is that you head to London Bridge Tube station and take the Jubilee line to Westminster tube, two stops away. This is a 12-minute journey, and the only public transport you're going to need to take during the day.
Alternatively, if you want a nice walk, or are interested in some of the optional extras I go into below, then you should walk along the lovely south bank of the Thames.
This is one of my favourite walks in London, and if you have the time (around 45 minutes without stops), is well worth it. Along the way you'll see sights like Shakespeare's Globe, the Golden Hind, Tate Modern Museum and St. Paul's Cathedral.
Another option is to take the river boat – this is going to be a little more expensive than the tube, but is a unique way to get around London, and it will take you straight to Westminster Pier. A day pass on the river boat is included for holders of the London Pass.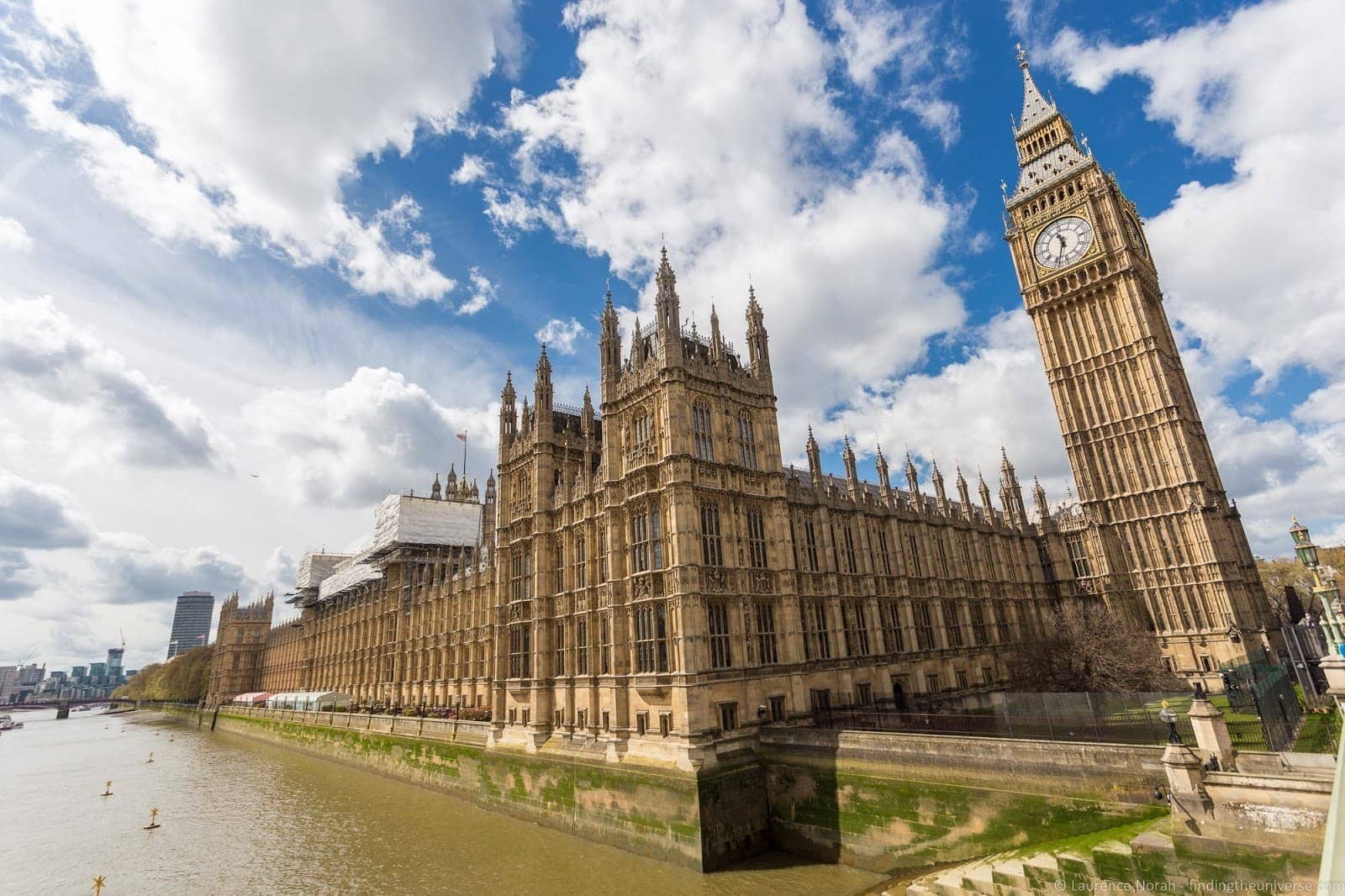 Either way, you're going to find yourself by the Houses of Parliament, officially known as the Palace of Westminster. This is the seat of government in England, home to the House of Commons and the House of Lords, and is where the politics in England takes place.
Whilst it is possible to go inside and take a tour, I'd suggest just taking photos from the outside of this beautiful building, particularly of the Elizabeth Tower, home to Big Ben, and then heading on to:
Westminster Abbey
Westminster Abbey is definitely one of the UK's most impressive churches. It's here that key events in the life of the British Royal Family take place including Royal Weddings (17 to date) and Coronations (the majority of British rulers since 1066!).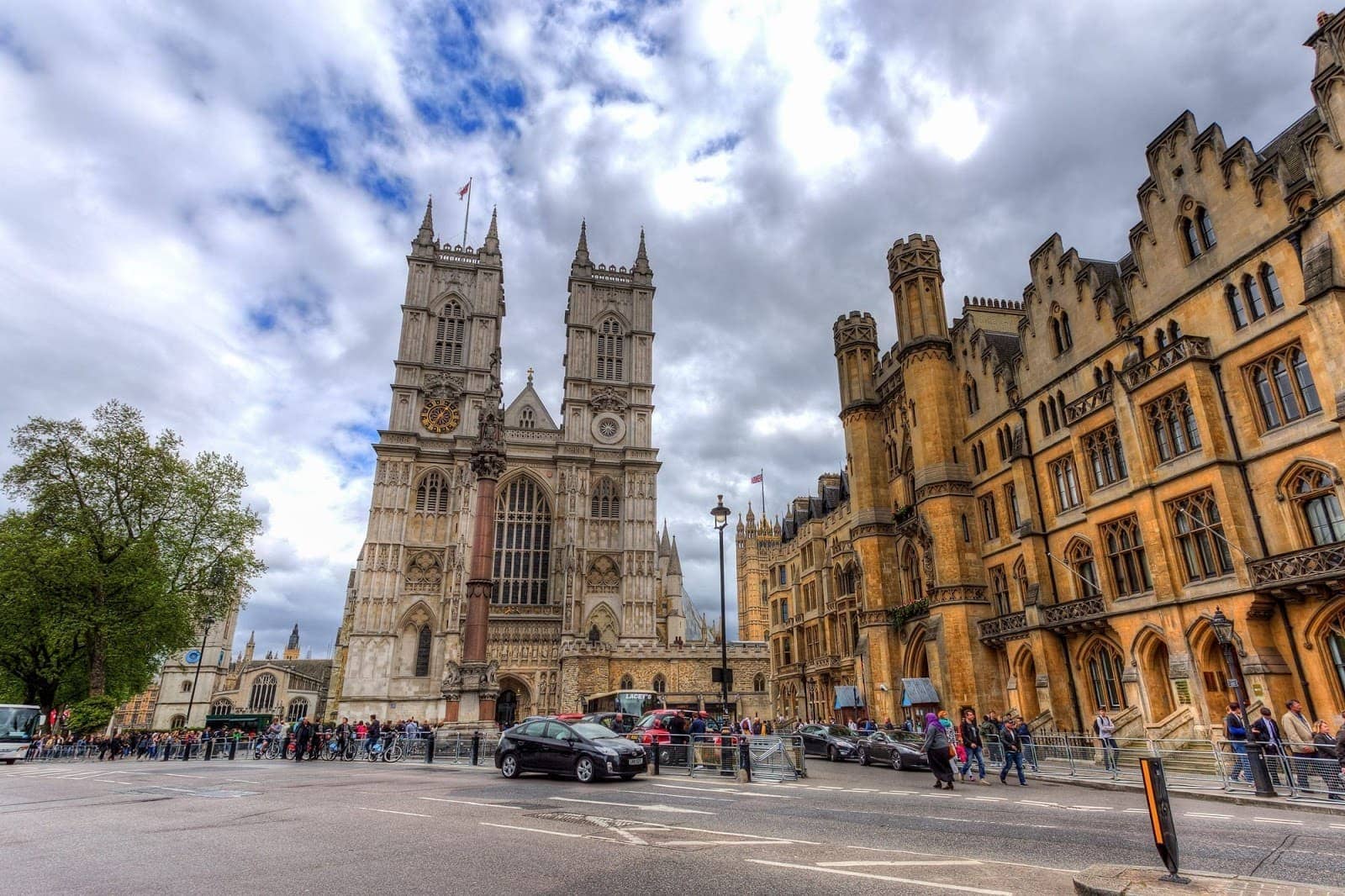 Westminster Abbey is also one of the most desirable burial sites in the UK, with countless famous figures from British history buried here, including Isaac Newton, Charles Darwin, Chaucer, and multiple British royals, prime ministers and more.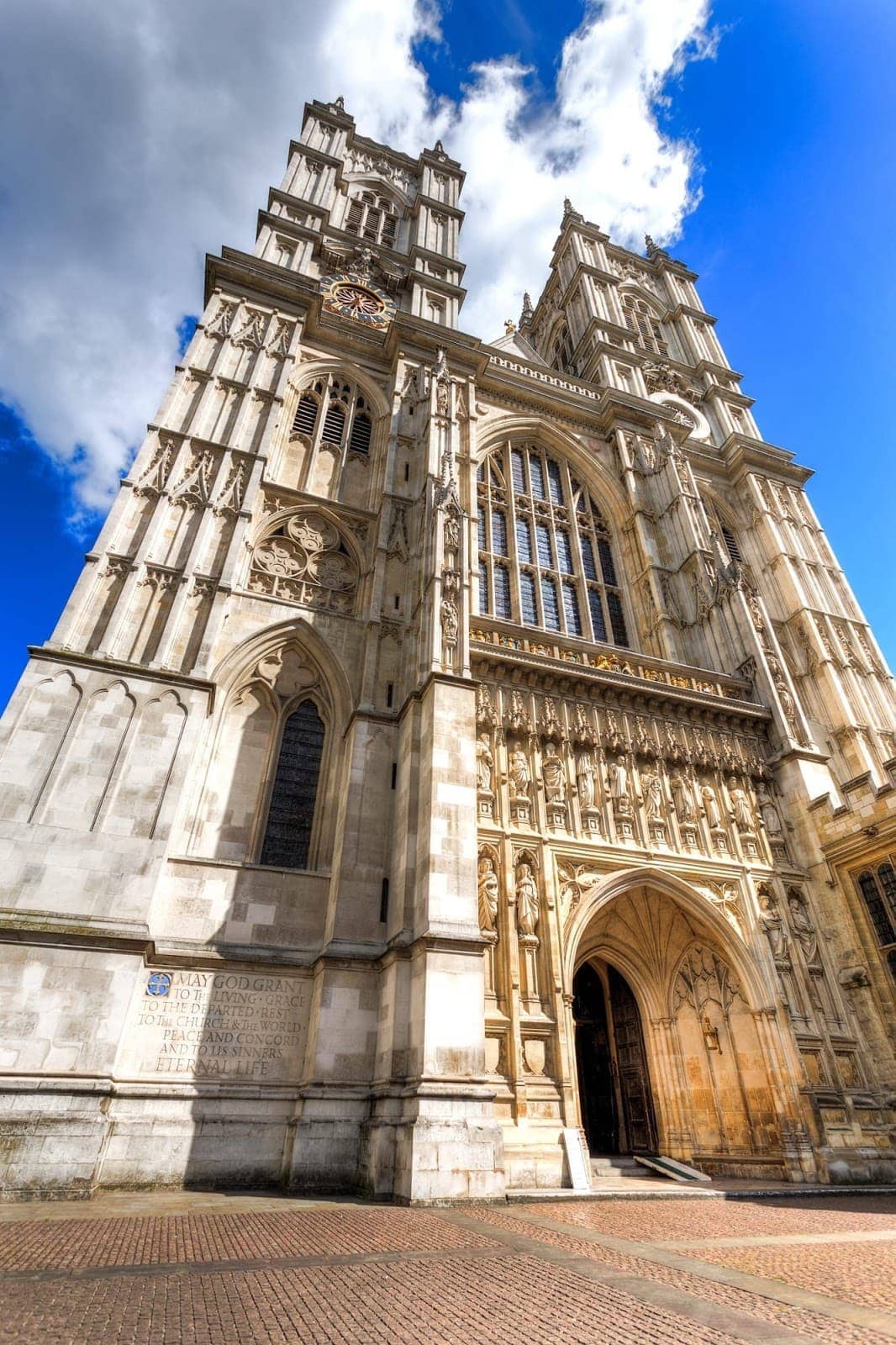 Even if you're not interested in the Royal family or the buried dead though, you can't help but be impressed by this gorgeous gothic style building. Again, there is plenty to see and do here (and the line to get in can take a little while), so plan at least an hour or two to fully appreciate the property.
There's a fee to get in to Westminster Abbey. See prices and opening hours here. Included on the London Pass. You can also book your tickets online in advance here, or book a guided tour in advance here.
Churchill War Rooms
Depending on how much you like to do in a day, you might still have time to fit in one last attraction.
If so, last on our list for the day are the Churchill War Rooms.
Set below the heart of the government buildings in London, this huge underground bunker is where Winston Churchill directed the majority of the war effort during World War 2.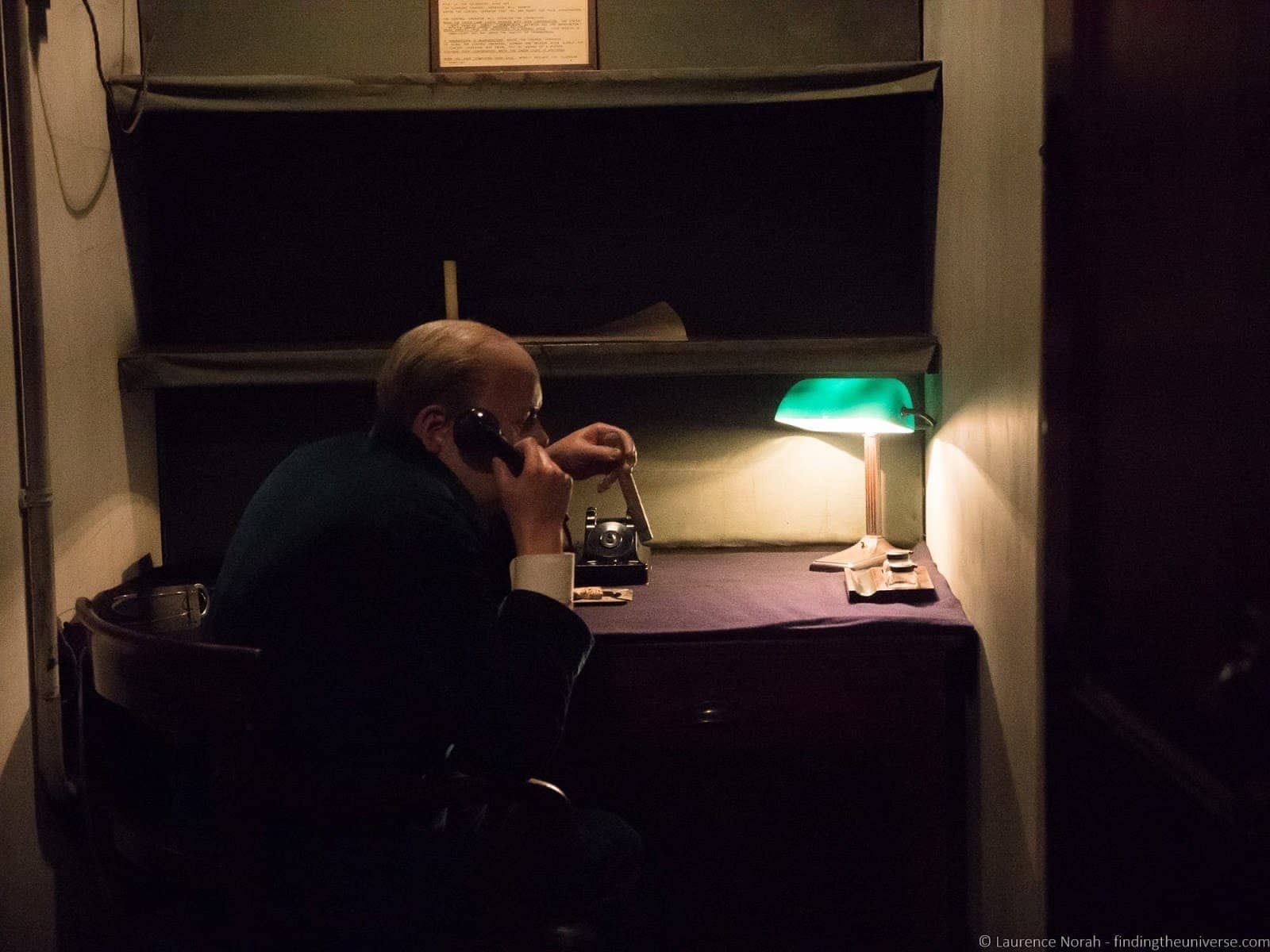 This maze of rooms is now open as a tourist attraction, and is a really fascinating place to explore, covering both the life and times of Churchill, as well as providing insight into the rooms themselves, and the people who spent so many years of their lives working away in secrecy underneath London during the war years.
An excellent audio guide is included as part of the tour, and again, you can easily spend a couple of hours here soaking everything in.
When you're done, you'll emerge blinking into the light, where you might want to take a stroll around St. James Park, or head through Whitehall to see the home of the British Prime Minster at No. 10 Downing Street, before finishing up at Trafalgar Square, where you've got full access to all the shows in the West End – an excellent way to spend the evening ahead!
The Churchill War Rooms are very popular, so we advise booking in advance. You can see prices and opening times here.
Another option we can personally recommend if you are particularly interested in Winston Churchill and the London Blitz, is the "London Churchill War Room" tour by Context Travel (use link above to get 10% off the price of any Context Travel tours).
This tour is around three hours in length and includes a guided visit to the Churchill War Rooms as well other sites in London related to the Blitz. You can book a small group tour or a private tour. Alternatively, this walking tour of Westminster also includes the Churchill War Rooms.
Optional Extras on Your Route:
I appreciate that you might not be totally in to some of the ideas I've floated above, or be a super-quick sight-seer.
Fear not, London has more for you! Along the south bank (always worth a wander), you can stop in at Shakespeare's Globe Theatre, the Tate Modern Art Gallery, and even quickly cross the Millennium bridge for a visit to St. Paul's Cathedral.
The Globe and St. Paul's Cathedral are both included on the London Pass, whilst the Tate Modern is free to enter.
London Itinerary: Day 2
Kensington Palace
On your second day in London you're going to head a little to the west, and take in some of the sights in this area, starting with Kensington Palace.
Inextricably linked with Queen Victoria, who was born here, Kensington Palace is a Royal Residence, and has been since the 17th century.
Today it's occupied by Princes William and his family, and whilst you can't visit the private Royal Residence, you can tour the State Rooms.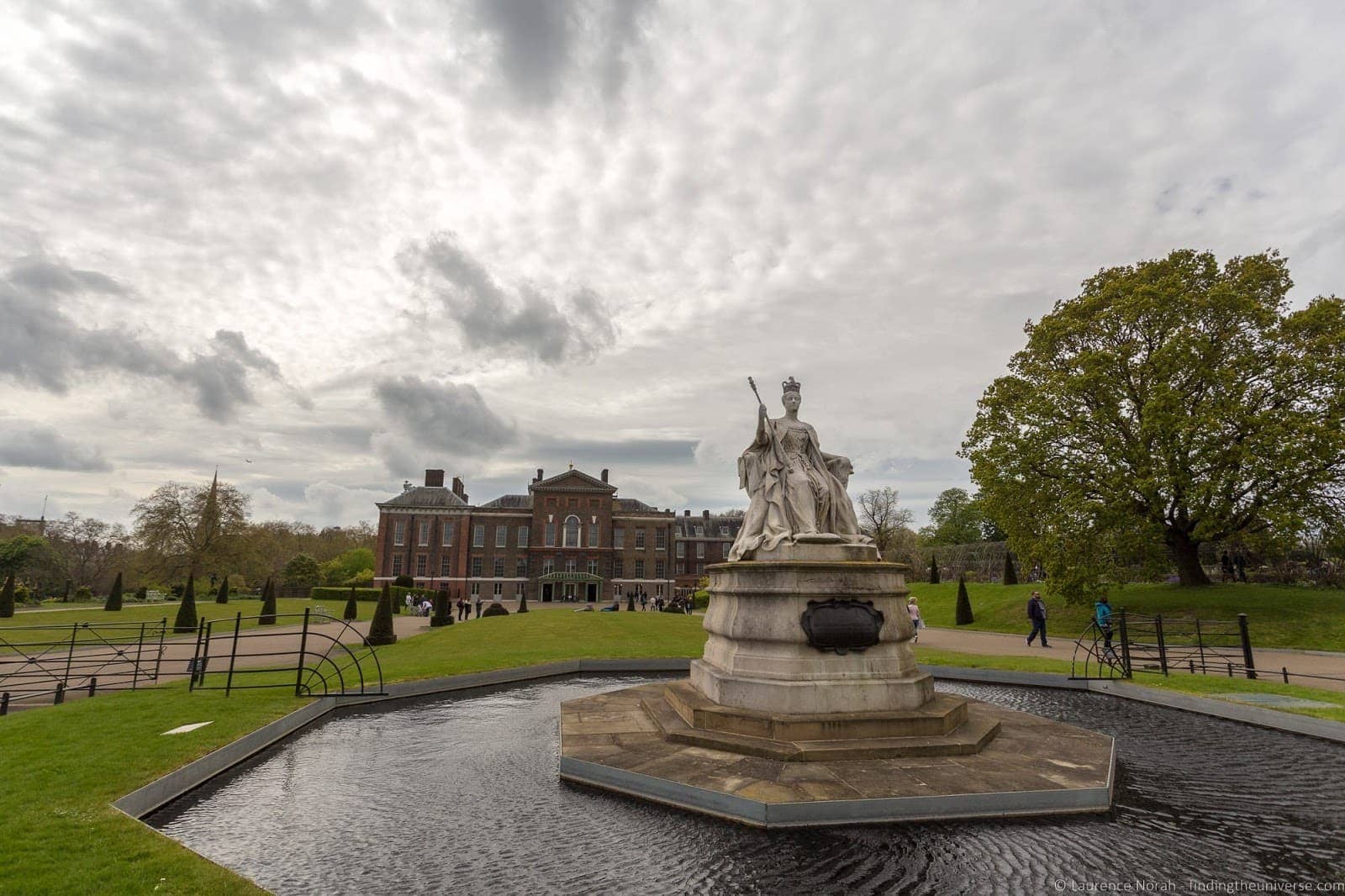 These have actually been open to the public for a long time, in a practice started by Queen Victoria in 1899, and today Kensington Palace is one of the most popular of the Royal Palaces for visitors.
There are a series of four themed routes through the palace, covering different aspects of the history of the palace, and all four are worth doing.
Then, when you're done, there's an excellent café where you can have a hot drink and a sandwich, before embarking on the rest of your day's adventures.
There's a fee for entry, and you can see opening times and prices here. It's free for holders of the London Pass – get yours here.
Note that due to this being a popular attraction, it can get quite busy, so we recommend purchasing your ticket in advance here if you are visiting without a London Pass.
Holders of the London Pass have access to the priority queue for ticket holders and do not need to reserve a timeslot (see Kensington Palace FAQ section on London Pass here).
However, it is recommended you turn up near to opening time, as capacity is limited, and if you arrive later in the day, you may be subject to lengthy wait times – this is why we have this first for the day on this itinerary.
Royal Albert Hall
From Kensington Palace, it's a lovely walk through Kensington Gardens to the Royal Albert Hall. This was opened by Queen Victoria in 1871, and is named in memory of her husband Albert, who had died six years earlier.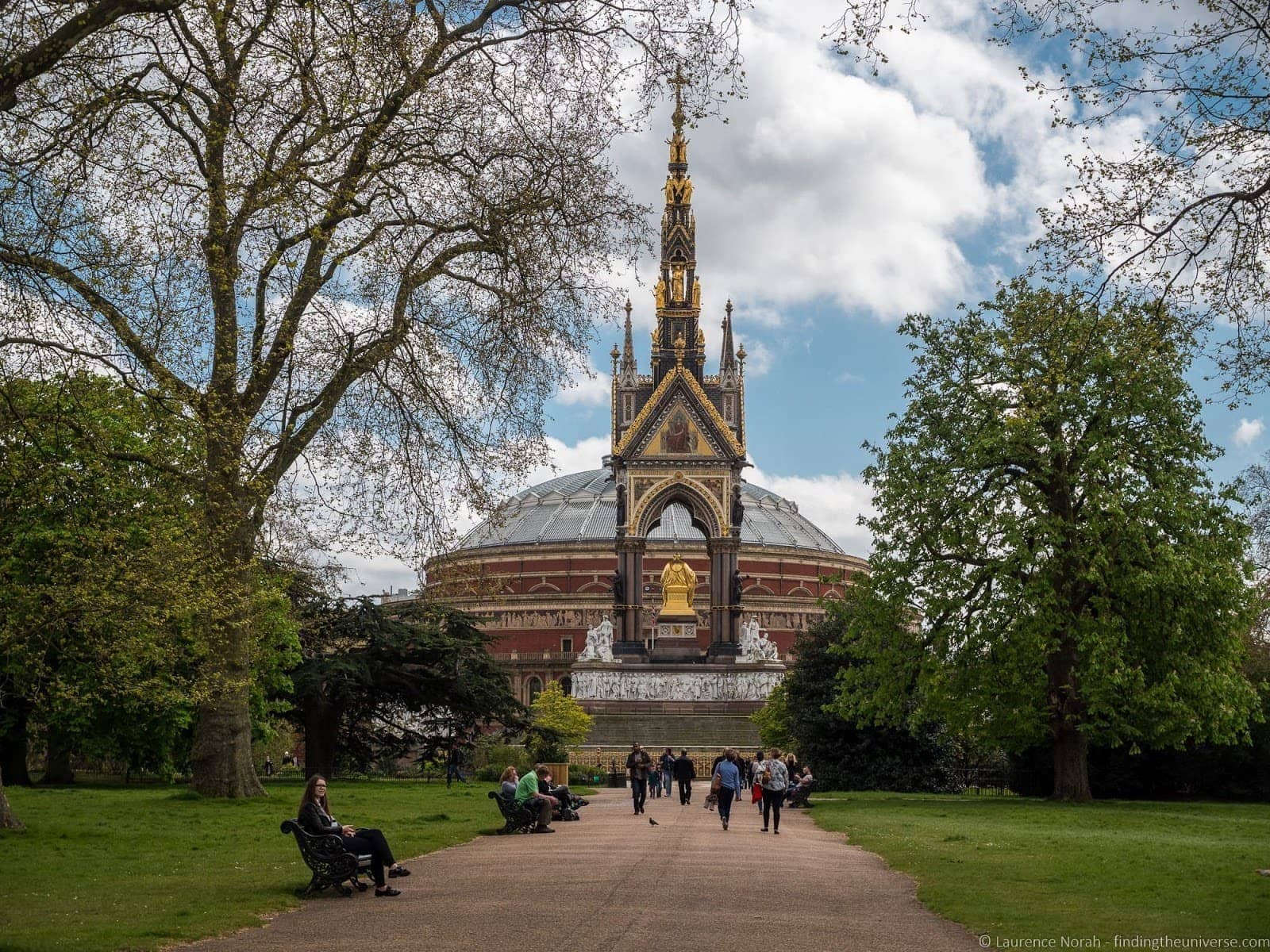 Purpose built as an entertainment space, today the hall is most famous for hosting the annual Proms – an eight week long series of classical music concerts and events. It also hosts all sorts of other events, from film screenings to tennis, so there's always something going on.
Even if there isn't anything going on though, it's worth a visit, with hour long guided tours available, where you'll be able to visit that gorgeous auditorium, the Queen's private suites, as well as learn a bit about the architecture and history of performances at the venue, which are now in excess of 150,000 since it opened. Pretty impressive stuff.
Tours carry a fee, and you should book in advance to avoid disappointment. You can see tour times and prices here. Free for holders of the London Pass, although you can't book in advance.
V&A Museum
Keeping with the Queen Victoria theme, your next stop is one of our favourite museums in London – the Victoria and Albert Museum, usually known as the V&A.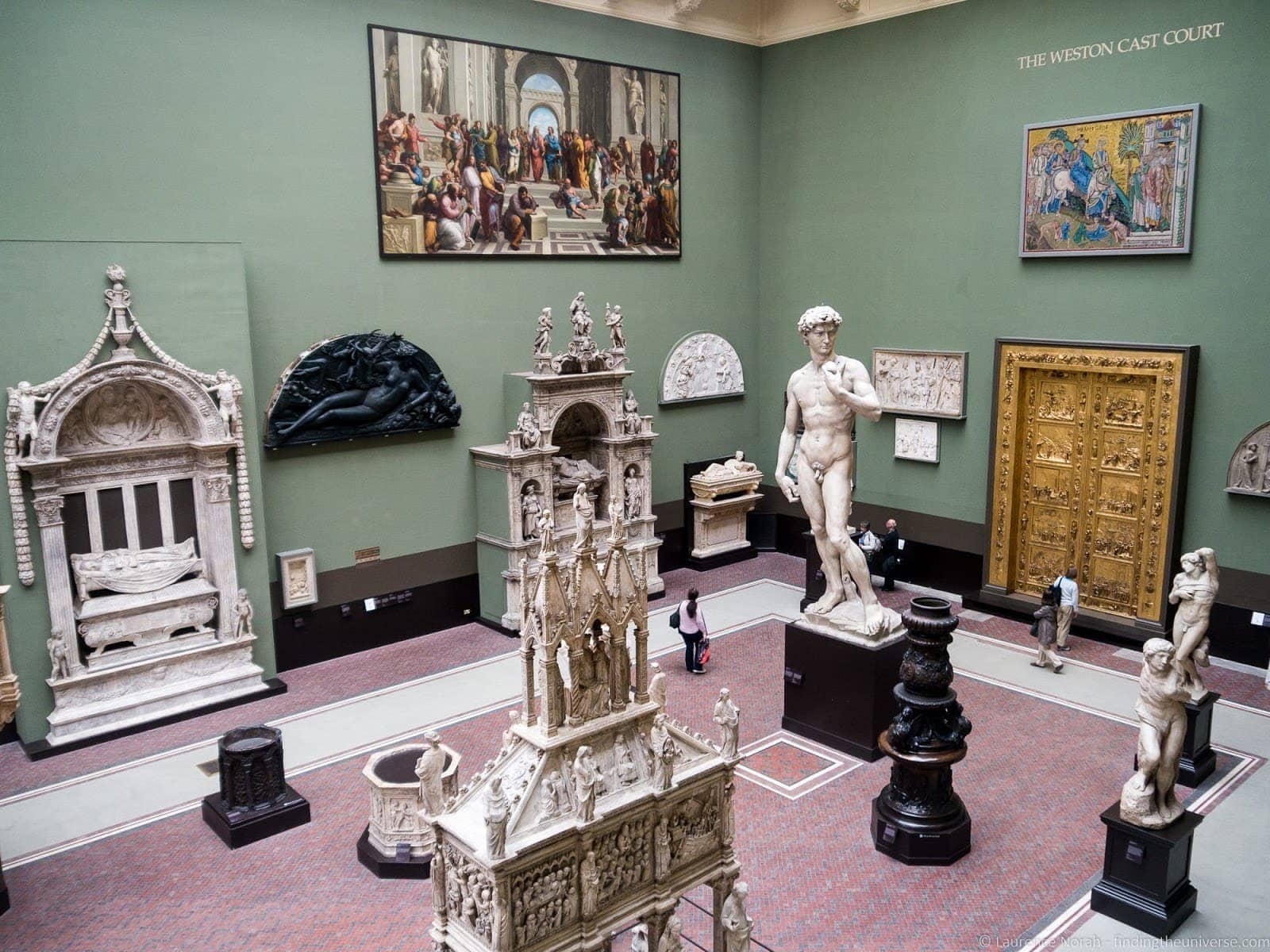 Free to visit (although there are usually special exhibitions for a fee), this is the world's largest museum of decorative arts and design, with over two million objects in the collection spanning 5,000 years of human existence.
As you might imagine, that's quite a lot to take in, and you could likely spend multiple days here exploring all the artefacts on offer.
Entry is free, except to special exhibits. See opening times here.
Buckingham Palace
Moving on from the V&A, and the last stop on the tour is Buckingham Palace. Depending on the time of year you visit, you have a number of options for visiting Buckingham Palace.
Personally, I'd advise going in the afternoon, after you've visited all the above, and to finish off your day. You'll avoid the crowds associated with the changing of the guard ceremony, and have an overall far more pleasant experience.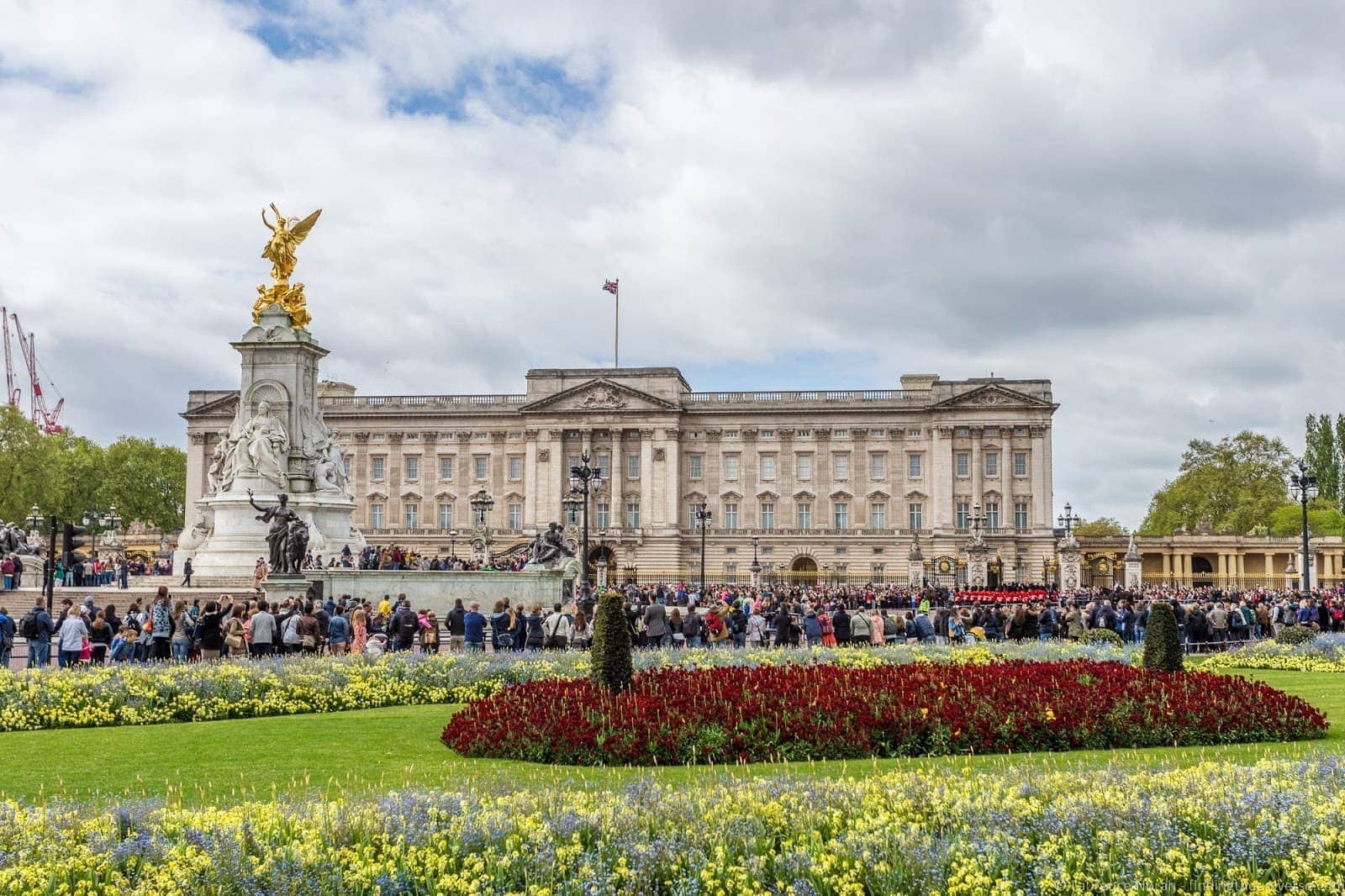 I do know however that lots of people do wish do experience the Changing of the Guard ceremony, so if that's you, you'll need to juggle the above itinerary a little as the ceremony takes place over 45 minutes in the middle of the day.
Finally, in the summer months, you can actually tour parts of Buckingham Palace. These tours last around two hours, and operate quite late into the evenings, so you could definitely do this at the end of the day. If this is something you want to do you definitely need to book in advance to ensure you get a ticket.
London Transport Museum
From Buckingham Palace you're going to head to Covent Garden, one of London's most well-known markets and a good place to watch street performers and grab a bite to eat or drink.
Here you'll also find the excellent London Transport Museum, which we think is well worth visiting. It covers the history of transport in London, from horse drawn carriages and trams through to the evolution of the tube.
It's definitely a popular place to visit, especially if you are visiting London with family. See opening times and prices here. Included on the London Pass.
From here you are well placed for the West End of London, where you can take in a show or just take advantage of some of the early evening pre-dinner dining deals!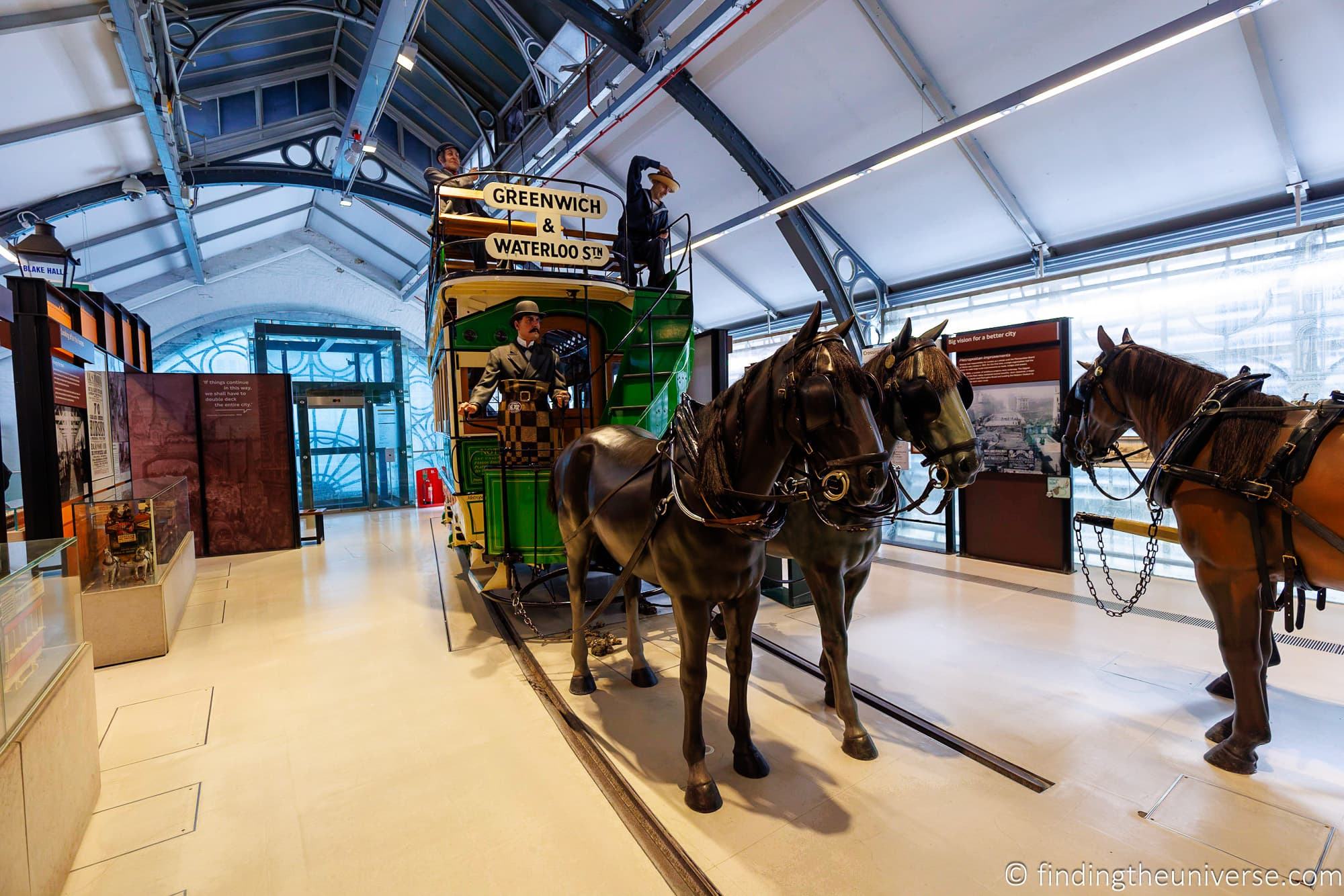 Optional Extras On Your Route:
Again, there is loads more to see and do in this area, really depending on what you're interested in. Harrods, the world-famous shopping experience, is a brief walk from the V&A museum.
You could also really go museum crazy, and drop in at either the Natural History Museum or Science Museum, both of which are free.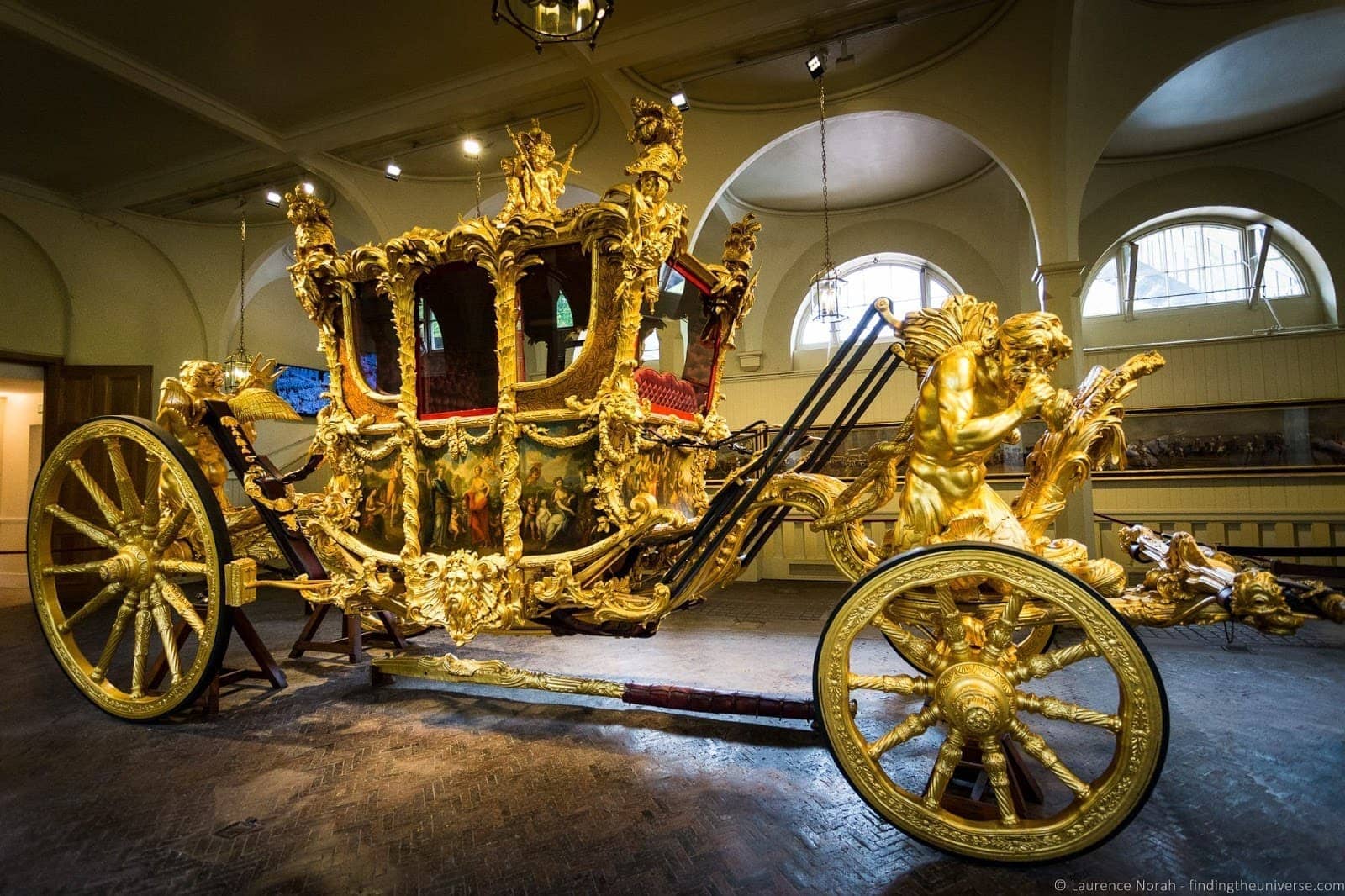 If you're into pageantry, just round the corner from Buckingham Palace, and officially part of the grounds, the Royal Mews is a fascinating place to visit, and much less popular than its exhibits deserve.
Finally, if you're into afternoon tea, you can experience a fashionable take on the high tea experience at the Berkeley.
2 Day London Itinerary Map
To help you visualise all the above we've put together a map so you can see where all the sights are and plan your accommodation and public transport appropriately. You can see this on Google maps here.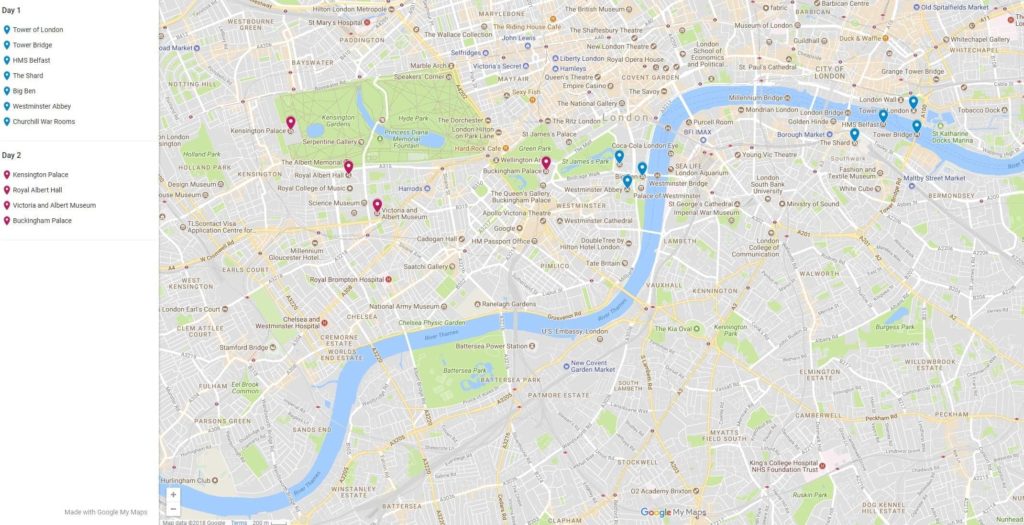 2 Day London Itinerary Overview
How to Save Money on Your London Itinerary Sight-Seeing
Whilst London does have many excellent free museums and sights, a good many of the sights in the list above are not free to enter. In fact, if you add up all the prices for just the main attractions on the list, without any optional extras, you're looking at over £170 in entry fees alone!
Thankfully, there is a way to save on sight-seeing, as well as take advantage of skip the line access, plus get free entry to loads more attractions should you end up having a bit more time to spare.
The London Pass (get yours on the official site here) is the answer.
For your two-day trip, you can pick up a two day London pass which will get you free access to the majority of the main attractions on the list above (plus lots more!), for only £124. Here's a breakdown of the savings based on our itinerary, looking at the attractions the London Pass includes.
London Pass Savings Calculations

Attractions
Normal Entry Cost
(November 2023 Prices)
Tower of London
£29.9 X 2 = £59.8
Tower Bridge
£12.3 X 2 = £24.6
View from the Shard
£37 X 2 = £74
Westminster Abbey
£27 X 2 = £54
Kensington Palace
£25.4 X 2 = £50.8
Royal Albert Hall
£18.5 X 2 = £37
London Transport Museum
£24 X 2 = £48
Total Cost Without Pass for Two Adults
£348.2
Total Cost of two 2 day passes
£248
Total Savings with Passes
£100.2
When you look at the cost of the attractions a couple will save around £100. And you could easily visit another attraction or two like St. Paul's Cathedral or the London Bridge Experience for even more savings.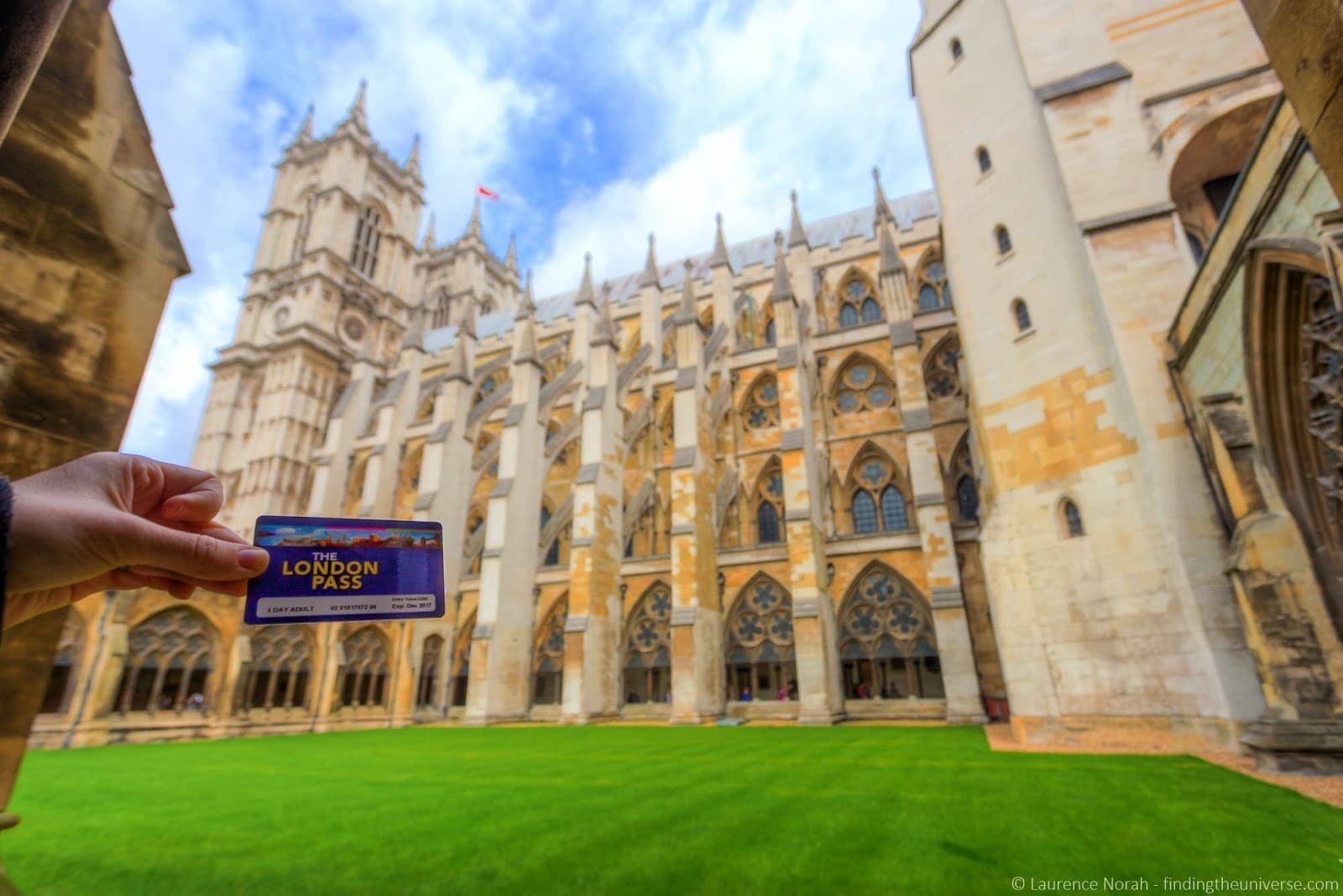 Check out all the attractions that the London Pass gives you free access to, and then order yours here.
We've used them on multiple trips to London, and just love how easy they are to use. They're available in a variety of lengths to suit any stay, plus you can pre-order an Oyster travel card to accompany your London Card if you're interested in that convenience.
For more information and an overview of the savings for various lengths of trips and sights that the London Pass offers, check out the full London Pass review that Jess put together on her blog.
Bonus tip: Hop on Hop off Bus tour & River Cruise
If you do invest in a London Pass, then you could take advantage of a couple of travel options it comes with. The first of these is a hop-on, hop off bus tour: with the London Pass you can use one of these for a day. They operate throughout the year, and are always a nice way to see a number of sights and learn about them.
Then there's the Thames River Cruise. You get twenty-four-hour access to this service with a London Pass, with 23 stops available along the river. I'd recommend this as the transport option on Day 1, between Tower Bridge and Westminster, meaning you can skip the tube and get some lovely views of London from the River Thames.
Given that these two items usually cost just around £60 together, and are included on the London Pass, to me this is just another excellent example of the value for money that the London Pass offers the London visitor.
If you don't get a London Pass – Book in Advance
If you decide not to invest in a London Pass but still want to see some of the sights in London, then I would highly recommend booking tickets in advance online for each attraction you want to visit.
Advance tickets are normally a little bit cheaper than the price on the door, plus they also usually let you skip the ticket lines and get straight in.
For busier attractions which have timed entry, an advance ticket is a must so as not to waste time. Here's a list of some of the attractions on our itinerary with links to the advance ticket sales.
Note that you usually have a choice between the official site and a third party site when booking tickets.
We generally use GetYourGuide when booking tickets as the prices are normally either the same or very similar compared to the official site.
The main advantage is that the majority of tickets they offer have the ability to cancel for a full refund if you do so more than 24 hours in advance of your trip. Most official sites do not offer refunds, so the peace of mind if we need to cancel is really handy. Of course, you will need to check the ticket description for the exact policy before purchasing.
Hopefully this will help you get your tickets all sorted out before your trip so you are ready to go when you arrive and won't have to waste time queuing!
Getting Around London
London is really easy to get around, with an excellent public transport network. It's also wonderfully walkable, as hopefully my itinerary makes clear.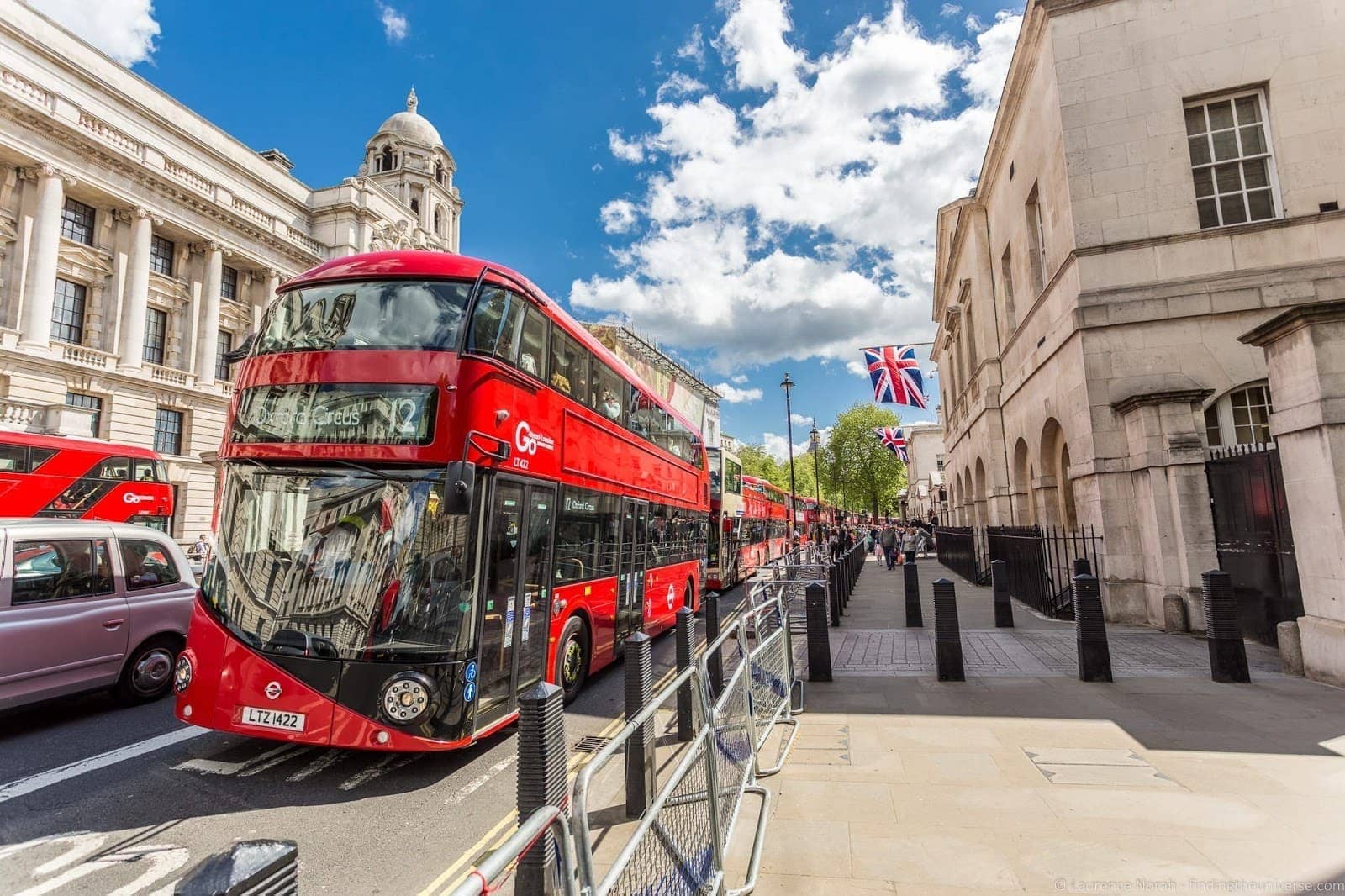 For public transport, you should consider investing in an Oyster Card. Available both online and from most tube stations, this prepaid card is the most cost-effective way to get around in London, offering fares that are significantly cheaper compared to buying individual tickets with cash.
You just have to load it up, and then tap in and out as you go through tube stops. It also works on London buses and river boats. Note that if you have a contactless bank card or Apple Pay / Google Pay device, this might end up better value – check out my post comparing Oyster and contactless to figure out which is best for you.
For more information on getting around London, check out my detailed Guide To Transportation Options in London.
Walking Tours in London
If you like walking tours, we recommend the company Take Walks, who are behind the popular walking tour company Walks of Italy.
They have expanded their portfolio, and now have a number of walks in London, including this London in a Day walking tour that includes the changing of the guard.
A walking tour of London is a good way to learn a lot in a relatively short time, and also to meet someone who can give you local insights and tips about the city. Obviously you will need to adjust your itinerary to include a walking tour.
Our suggestion would be to perhaps do the London in a Day tour on your first day, which covers the majority of the sites covered in our itinerary, and then continue with the second day as it is.
Another option we suggest are these tours by City Wonders, they offer a wide range of tours in London, from introductory tours through to more detailed and specific tours.
We have a full guide to some of the best walking tours in London, which is also worth reviewing if you are interested in a walking tour while you are in the city.
Where to Go After London – Day Trips & More
We're often asked where to head to from London after this two day itinerary is over, or just for suggestions on good day trips from London.
We've done quite a few day trips from London, including a day trip to Oxford, a day trip to Stonehenge from London, and a day trip to Blenheim and the Cotswolds from London. Based on these experiences we wanted to share some ideas for both day trips from the city and longer trips to see more of the country.
Hopefully these give you a starting point for the next stage in your trip!
Where to Stay in London
Accommodation wise, London has a wide range of options, ranging from hostels, through to self catered apartments and seriously upscale hotels. There's something to suit every budget, with en-suite double rooms starting from around $80 a night.
For this itinerary, we'd advise staying somewhere fairly central so you can get around easily. We'd suggest staying somewhere in the region between Kensington in the west and Canary Wharf in the east.
For examples of properties at different price points that are centrally located, here are some options:
Generally when searching for somewhere to stay our first choice is booking.com. They're easy to use, usually have the best prices, and have everything from hotels to hostels, guest-houses and even apartments. Try them for London and see!
If you prefer an apartment, then we recommend either Plum Guide or Vrbo.
Plum Guide doesn't have quite so many choices, but they carefully curate their listings so their options tend to be of a very high quality whilst still being available at a range of price points. See their listings for London here.
You also can read our detailed Plum Guide review to learn more about this service and our experiences using it.
If you can't find what you want from the above choices, or you want some new options to try out, we wrote a whole post on the best alternatives to AirBnB and a guide to our favourite holiday cottage accommodation in the UK which you should check out!
Between these options, you should find the best prices and places to stay for your trip, as well as a good selection of reviews and feedback to help you make an informed decision.
Practicalities for Visiting London
Power
London, and the wider UK, use a 220v standard for electricity, with a three pin plug. Travellers from most of the rest of the world, including mainland Europe and the US will need an adapter like this.
US travellers will also want to check their equipment supports the 220v standard, as the US uses a 110v standard. The voltage a device supports will be written clearly on the power adapter, usually in the form of 110v – 240v.
In our experience laptops, phone and camera chargers and other small electronics are universal, whilst larger devices like hair dryers and hair straighteners are not.
See more on travel adapters and how to choose one for your trip in our guide to the best travel adapters.
Currency
London uses the British pound, which is accepted across the British Isles. You can get Pounds from ATM's, banks and currency exchanges, although credit cards are widely accepted, and there is no need to carry large quantities of currency. It is helpful to have some change and some bills of course, but it is rare to find an instance where a card isn't accepted.
If you do use a credit or debit card, just make sure it doesn't charge foreign exchange fees or have a poor currency conversion rate. There are a number of excellent credit cards for travellers, and it's always worth checking to be sure you have a good deal before travelling and racking up unexpected fees.
Internet Access
Internet access is widely available in the form of WiFi all around the city, including in hotels and coffee shops, so you shouldn't have any trouble getting online. You can also pick up local SIM cards if you have an unlocked phone. These are usually excellent value as data rates in the UK are very competitive.
For more options on getting online when travelling, check out our guide to getting online when travelling to help you figure out the best options. We also have a guide to picking the best travel router, which can help you extend a weak WiFi network and share it across multiple devices.
Water
The water in the taps in London is safe to drink unless otherwise indicated. If you don't like the taste, bottled water is widely available. We usually recommend you travel with a re-usable water bottle like this to save on having to buy water bottles.
Safety
London is a safe city in our experience, although as with any major city, of course you need to keep your wits about you – keep your possessions in view all the time, keep your wallet or phone in a front pocket (with a zip if possible), and don't do anything that you wouldn't do at home. If you're going to use a taxi, make sure you use a licensed operator such as a black cab.
Further Reading For Your 2 Days In London
If you're looking for more inspiration for your London trip, here are some resources to help you out:
And that's it for my two day London Itinerary post! Got a favourite part of London that I missed? Let us know about it in the comments below!