I spent a very happy year living, working and road tripping around New Zealand, and in that time I got to see quite a fair bit of what this magnificent country has to offer.
But what if you don't have a year? What if you've got a more normal holiday period set aside for your trip, and you want to see as much of this phenomenally beautiful country as possible? Say… a month?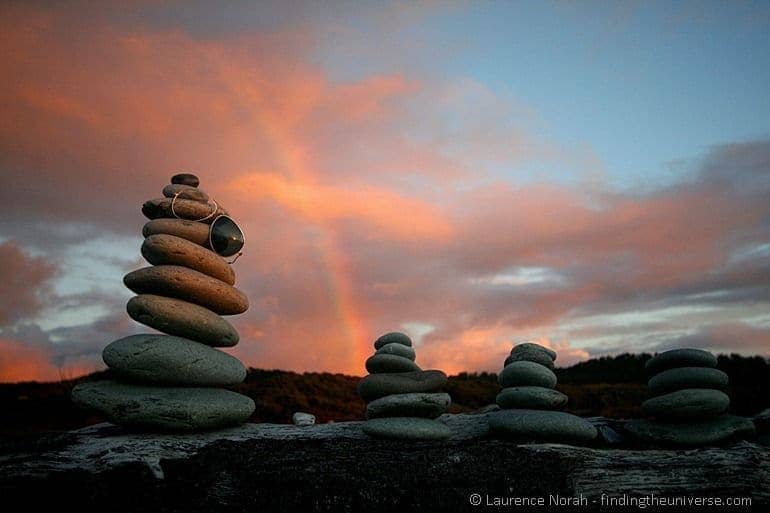 Well, fear not. New Zealand, unlike its vast neighbour, is a country which is eminently explorable in a month. Let's get started with some pre-trip planning, and then look at a detailed one month New Zealand road trip itinerary.
Pre-trip planning for New Zealand
How to Get Around New Zealand
For this trip, I'm going to recommend that you have your own transport. Whilst New Zealand has a number of tour buses, and a limited rail service, the best way to experience the country at your own pace is with your own vehicle.
For a month, the easiest option is to rent a vehicle. Your two main choices are to rent a car, or to rent a campervan.
Generally, if you are aiming for a budget trip, then a car combined with hotels and hostels will proably work out cheaper than a campervan. Campervan hire can be expensive, and for the most part you have to pay for campsites anyway.
If you decide to rent a car, we usually recommend and use Rentalcar.com's car rental price comparison tool, which works worldwide to find the best price on a rental car – it checks all the major car hire companies and we find it usually comes up with the best deal.
You could also try and buy a car and then sell it at the end, but in a month, you might not have the time or inclination to go down this road, despite the potential savings.
Of course, if you do want to rent a campervan to give yourself flexibility, and take advantage of the myriad beautiful campsites across the country, go for it! There are quite a few companies to choose from, we recommend taking a look at the options from Spaceship Rentals as a good starting point. Another great option is Motorhome Republic, who compare prices across a range of providers. You can see their New Zealand listings here.
There are other options of course for getting around New Zealand, from buses to local flights, and even a train, but I don't believe these offer the flexibility that you will need to get the most out of your trip, so I'm going to ignore them.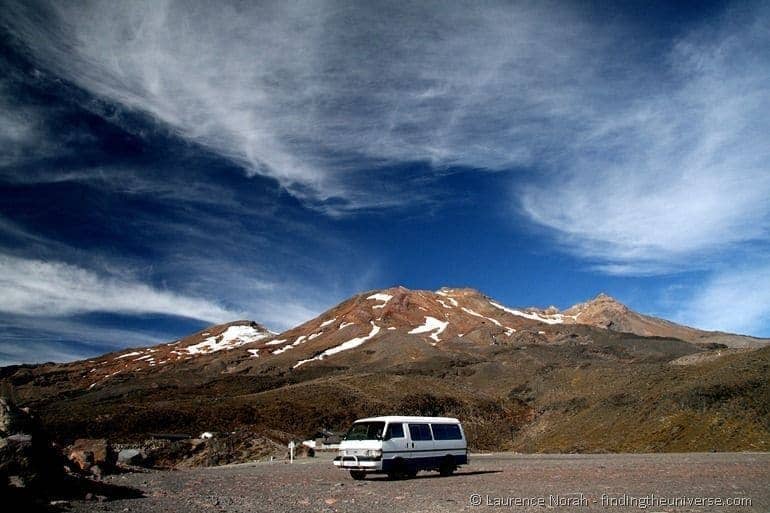 Accommodation in New Zealand
There is no shortage of accommodation in New Zealand, from tucked away B&B's and backpacker hostels right through to pricey high end establishments. There are also campsites galore, for the tent based travellers amongst you.
Prices vary. For a campsite, you will pay anything from 5 – 25 NZD per night per person. Hostel dorm beds go from around 22 NZD, whilst double rooms start at around 60NZD for two.
My advice would be to seek out the smaller, more personal accommodation providers, like the little hostels or B&B's with personality. New Zealand is home to some truly wonderful hideaways, which cater to all types of traveller and every budget. You won't be disappointed! Take a look at the booking.com listings for New Zealand to get the best deals.
When to visit New Zealand?
New Zealand has a fairly temperate climate, with four distinct seasons. It is busiest during the summer months (Dec – Feb), which is also when you are likely to get the better weather. Spring and autumn are also great times to visit, being less crowded and a bit cooler. If you're visiting for the snow, then you will want to go in winter, (Jul-Sep).
My itinerary is for a more summery visit, as in winter many attractions become snow bound and harder to visit.
How Much Does it Cost to Travel in New Zealand?
New Zealand isn't a budget destination by any stretch of the imagination. Your main costs are going to be accommodation, transport and then food and any activities you want to take part in.
You could skimp on experiences, but my advice would be to budget for them and enjoy. Expect to budget at least 75-200 NZD per person per day all in.
Safety in New Zealand
New Zealand is a safe destination, assuming the volcanoes don't go off while you are there. The main problem that affects travellers is having their vehicles broken into when leaving them parked for longer periods of time. Just ensure you take your valuables with you, and leave nothing at all on display, and you should be fine.
Let's get on with this then. Based on my experiences, this is what I'd do for a month in New Zealand. I'd also recommend reading this excellent post on places to visit in New Zealand for more tips and planning advice.
New Zealand Road Trip Itinerary: One Month
This New Zealand Road Trip itinerary is designed for a month of travel, however it can be extended or shortened of course depending on how much time you have available! I'd suggest that if you have less than two weeks to road trip in New Zealand, then focusing on the south island might be a good option.
Week 1 – The North Island
You're going to arrive into Auckland, pick up your hire car, and head out of the city. Auckland has its charms, but you're only here for a month, and you want to get started, right? So turn your motor south, and head down to the fabulously smelly town of Rotorua, around 3 hours drive south.
Day 1: Rotorua – Volcanic Wonderland and Cultural Experience
Rotorua is famous, predominantly, for being the home of volcanic activity on New Zealand. It's also one of the more important places for experiencing Maori culture. I recommend spending a couple of hours on a day trip to Wai-o-Tapu thermal reserve, around 30km south of the city.
You'll want to arrive in the morning to see the Lady Knox geyser go off, and then spend some time exploring the park, taking in incredible sights like the below pictured champagne pool.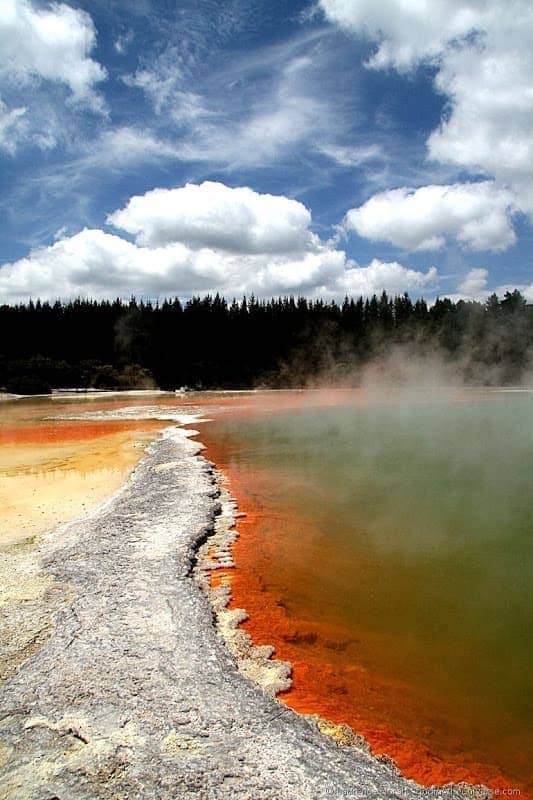 Other highlights of staying in Rotorua include spending some time in the Polynesian spa (which some say is a possible cure for jet lag?), exploring the Rotorua Museum (itself a former bath house from the Victorian era), and of course, experiencing a Maori cultural evening.
I went to both the Mitai and Tamaki performances, and felt that the latter had the slight edge. Save money on these by booking via a hotel or the tourist office – this is usually cheaper than booking directly.
After you've filled up on culture and volcanoes, you're going to head east, and take on the amazing East Cape of the north island – visited by less than 1% of visitors to New Zealand.
Days 2 – 4: East Cape – Deserted wilderness and spectacular coastal scenery
I've never understood why New Zealand's East Cape is so under visited. Sure, it's a bit out of the way, and it doesn't have the sweeping majesty of the peaks of Tongariro, or Mount Taranaki out on the west coast, but what it does have are epic deserted driftwood coated beaches, sweeping vistas from switchback tarmac, and fascinating Maori heritage.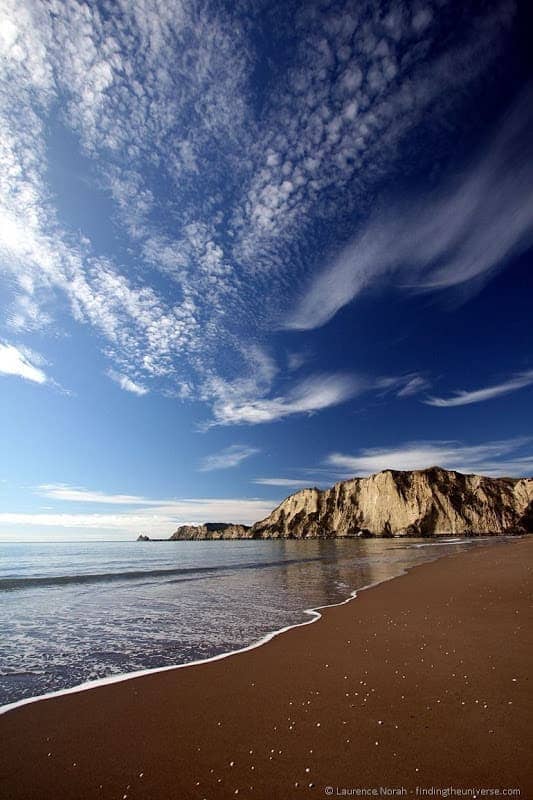 You're going to need at least two days to do this area of the world justice, with highlights including the beautiful Tolaga Bay, black sand beaches, the east cape lighthouse and picturesque Raukokore Church.
The route winds from Opotiki to Gisborne along state highway 38, and there's no shortage of accommodation along the way, from tiny guest houses and hostels to campgrounds. This is one road trip you will never forget – and we're only in week one!
Days 5 – 6: East Coast to Wellington – Wine tasting and Art Deco
After getting away from it all, what better way to get back to civilisation than by visiting the unusual art deco town of Napier on the east coast, and then spending some time exploring the world famous wineries of the Hawke's Bay area. You could even explore the wineries by bicycle, if you were so inclined.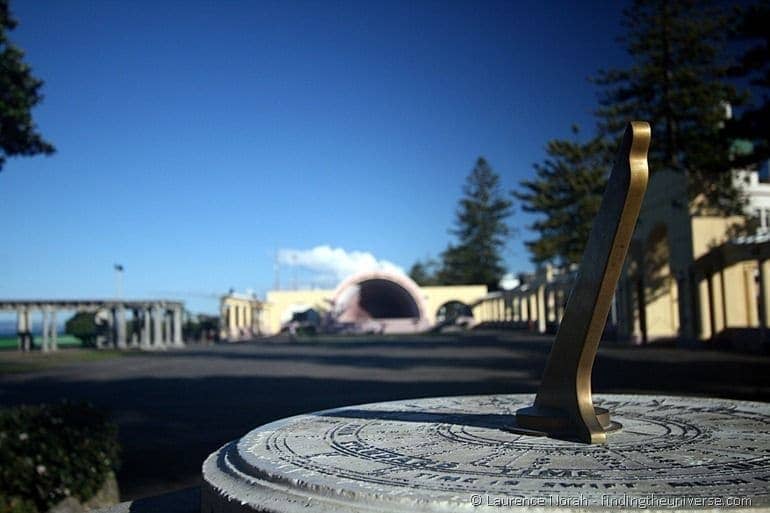 From here it's down through the beautiful Wairapapa region, where you can explore more gorgeous coastline (such as that found at Castle Point), ancient cemeteries, and a town built in honour of one man's travels. New Zealand really does have everything.
Now… with a car full of wine and memories, it's time to do the last stretch of the drive, and pop down to Wellington, New Zealand's capital, and the place where you're going to get your ferry to the South island.
Wellington is New Zealand's capital, and is one of the cities in New Zealand that really deserves your attention. It's also not very big, so you can easily squeeze in most of the highlights in a day, or even less.
My tips would be to take a walk (or drive, if you're feeling lazy) up Mount Victoria, for incredible panoramic views of the windy city, and then spend some time getting seriously culturalised in the Te Papa museum – probably New Zealand's best museum by far. This also happens to be free, and free is good.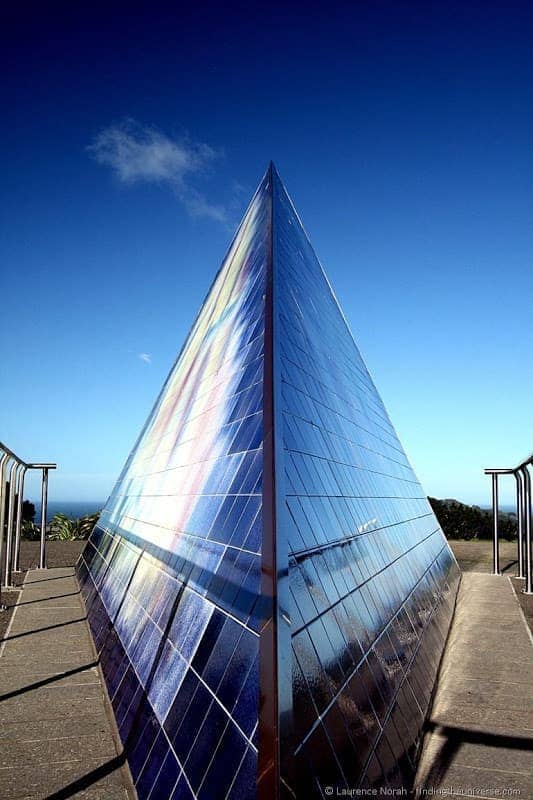 Once you're done, hop on the three hour ferry to the south island (in itself a beautiful trip!), and prepare to be amazed by mountainous beauty.
Alternative route from Rotorua.
The standard route for the north island followed by most goes as follows: Auckland – Rotorua – Tongariro National Park – Wellington. This route is well worn, and for good reason – it showcases some of the best of the North island in an easy to follow route.
My advice takes you off the beaten track, to the beautifully wild and deserted east cape region, and then down the wine region of the east coast. But if you just want to focus on the classic highlights, you won't go wrong with the route down the middle – although you're going to have your fill of epic mountains on the south island pretty shortly!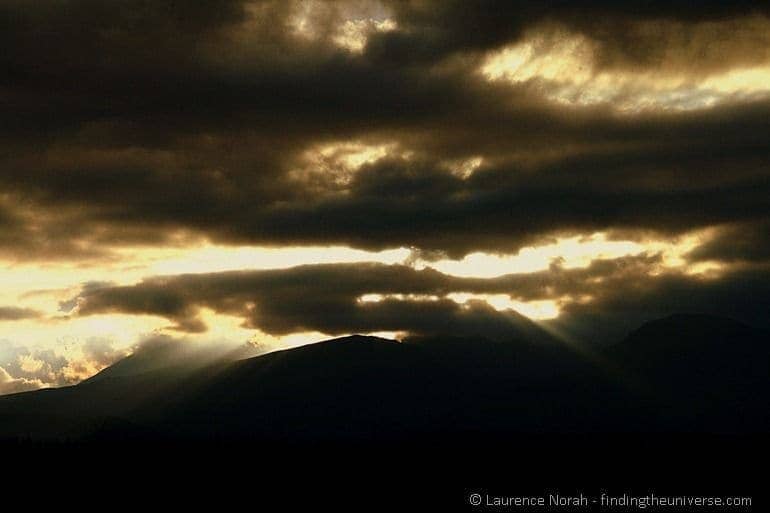 If you're looking for more to do on the North island, or want to spend a bit longer here, check out my five must do's on the north island for more ideas!
Week 2 – South Island North Coast
The ferry ride in through the sounds of New Zealand's south island should have whet your appetite for what is coming next. This island couldn't be more different from the north island – and lovers of majestic open scenery are about to get their minds well and truly blown. Let's start off with a tour of Queen Charlotte sound.
Day 8: Picton to Queen Charlotte Sound for inspiring fjord like scenery
The Queen Charlotte Sound is home to one of New Zealand's great walks, and is, by all accounts, a fabulous bit of a walk. For the less walk inclined amongst you though, you can drive along the Kenepuru road, which offers lots of exciting views with none of the muscle strain.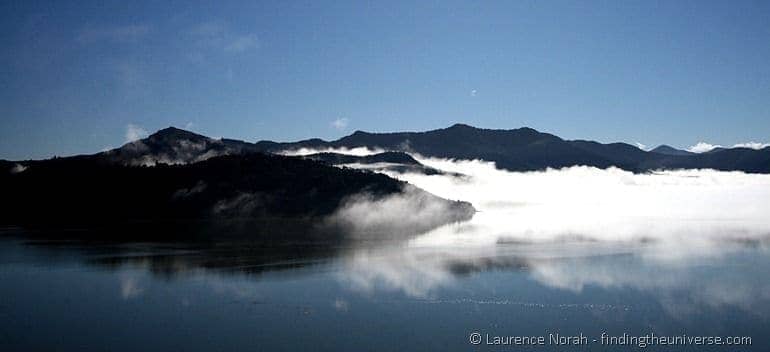 And what views they are. Low cloud will hang like fog over the sounds, grasping on to the mountain ridges with trailing fingery tendrils. The reflections of the sky in the mirror perfect water will make you want to cry out with joy, with only the perfect stillness that surrounds you holding you back. And I promise you, the south island is only getting started.
There are a variety of places to stay in this area, either in Picton itself or in a little hostel or B&B. Ideally though, you will have packed a tent and some rudimentary camping gear, and you're going to be able to set up camp at one of the fabulously located DOC campsites in the area. Don't worry if you forget to pack the coffee though, the next stop on the tour will sort you right out.
If you are at all into coffee, then Nelson needs to be on your to do list. New Zealanders are about as obsessed with coffee as any nation I've ever met, and Nelson isn't a bad place to get that coffee fix going.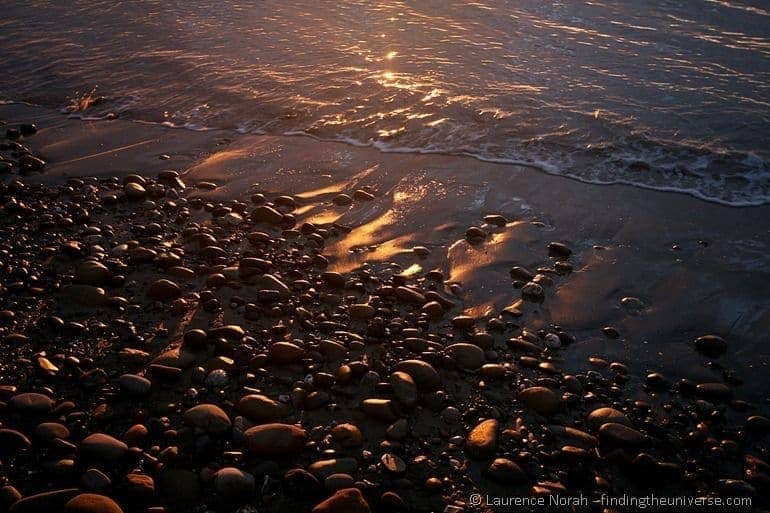 You'll be able to find places that literally roast the coffee beans in front of you, before serving it up in whichever style you prefer (and yes, New Zealand has its own name for every type of coffee – you'll want to read up before visiting!).
Nelson is also a pretty town for a wander, and a great launching point for heading to the north of the south island.
Days 10 – 13: Abel Tasman and Golden Bay for sea kayaking along the coast and amazing birdlife
The Abel Tasman national park is famous for gloriously golden sands and sparkling waters, with the highlight of a trip here being a kayaking expedition along the coast. Alternatively, if you're not into water, then you'll want to take a hike along the coastline and find out what there is on offer in New Zealand's smallest national park.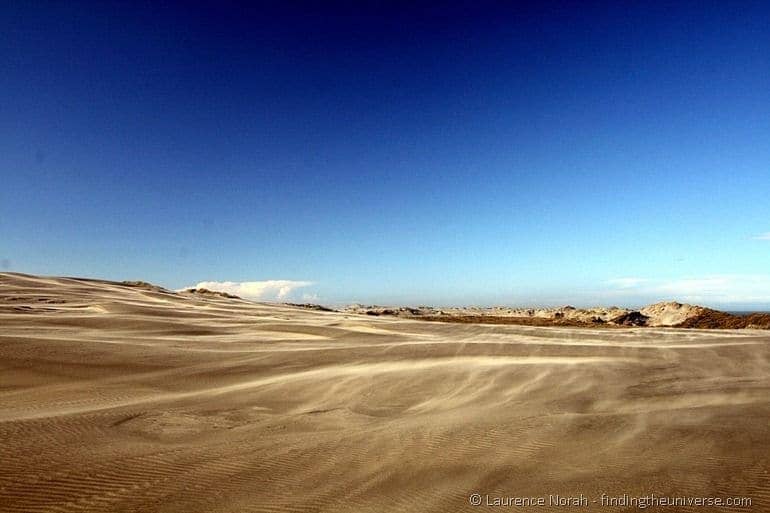 I'd advise setting aside a two to three days to really explore this area, doing some hiking, and seeking out the wildlife opportunities on offer, such as penguin watching or getting up close with fur seals. Then, head further north to Golden Bay – home to the 26 kilometre long Farewell spit, which is New Zealand's longest sandspit.
This is one of New Zealand's most diverse areas for birdlife, but if birds don't get your engine running, then wandering the dunes as windswept sands caress your ankles and azure skies meet endless ocean all around surely will.
Week 3 – West coast of the South Island
Ok, so I'm playing fast and loose with how many days there are in a week, but I'm not expecting you to be following this guide to the letter. Take it as a template to dream upon, and build your dream trip around it. Now, let's head to:
Days 14 – 15: Karamea for a laid back vibe, pounding seas, and the amazing rock formations of the Oparara Basin
For reasons of time, many visitors to New Zealand miss out Karamea, which, like missing out the East Cape, seems to me to be an oversight. This is a quirky little laid back town on the far north of the west coast of the island, which requires a bit of a detour to visit, as the only way there is a one way road up from Westport.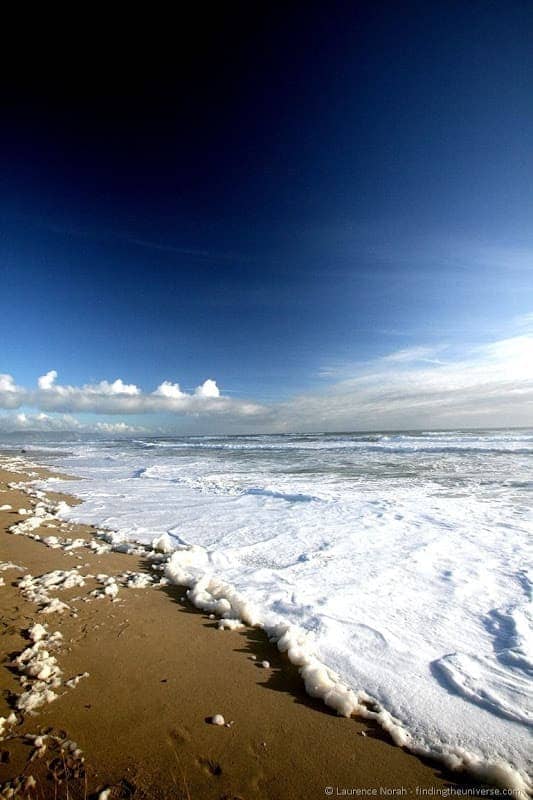 Most adventurers shirk this trip, and head south for the grand glaciers. We're going to get to those, fear not. But first, lets try out some whitebait, and visit Australasia's largest free standing limestone arch.
To get to Karamea from Golden Bay you have to go back on yourself a way until you hit state highway six, which will take you over to the wild west coast. Turn north instead of south via Westport, and follow the road parallel to the stretch of sand known as the Karamea Bight, with a gorgeous scenic drive through the mountains thrown in, before you emerge in the peaceful plain that is home to Karamea.
In Karamea you need to try out the whitebait (the towns principal attraction), and take some time to explore the Oparara Basin, which is a geological marvel about an hours drive north in the hills. Here you will find hollowed out limestone caves, arches spanning over 200 metres in length and a place known as the Moria Gate. Worth the detour, I assure you.
Day 16 – 18: Glaciers, Mountains and Possum Pie. Time to get epic on the West Coast
It's now time to head south, and start to take in some of New Zealand's serious masterpieces. I'm talking of course about the glaciers that can be found breaking free from the mighty spine of the southern alps, which stretch from one end of the isle to the other.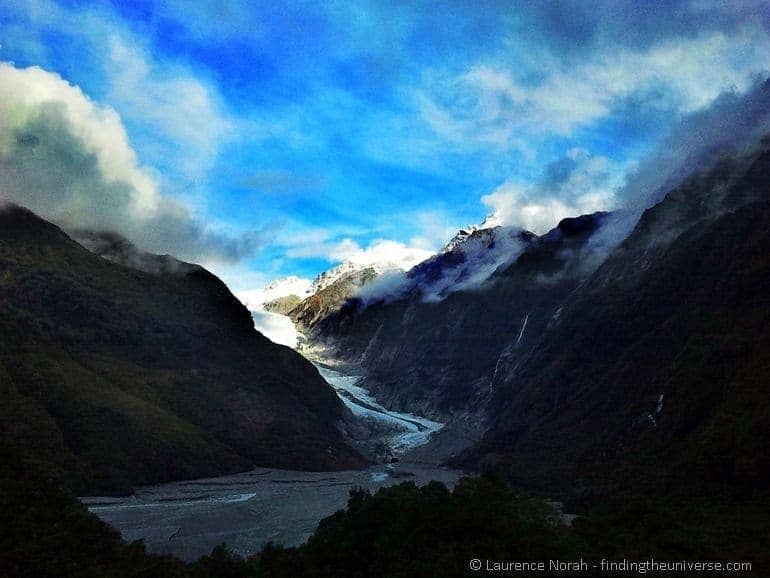 On your way down to the Fox and Franz Josef glaciers, you'll pass by the Pancake Rocks, weird shaped rocks which look just like stacks of pancakes. If you're lucky, it might even be sunny when you try to photograph them. You'll also have the opportunity to stop off at the Possum place, and learn more about this introduced pest than you ever thought possible. Then eat it, in a pie.
Finally, with the incredible backdrop of the southern alps to motivate you on, you're going to come to one of New Zealand's serious highlights, the Fox and Franz Josef glaciers.
There are a multitude of ways to experience these glaciers, from a short walk to just take a look at them, through to scenic flights and guided glacier walks.Whatever you choose to do, you will not fail to be inspired by quite how insignificant man is compared to the might of nature.
Whilst you're in the area, you'll also want to check out the Mirror Lake (Lake Matheson), for gorgeous photography opportunities of stunning reflected alpine scenery. Because why not?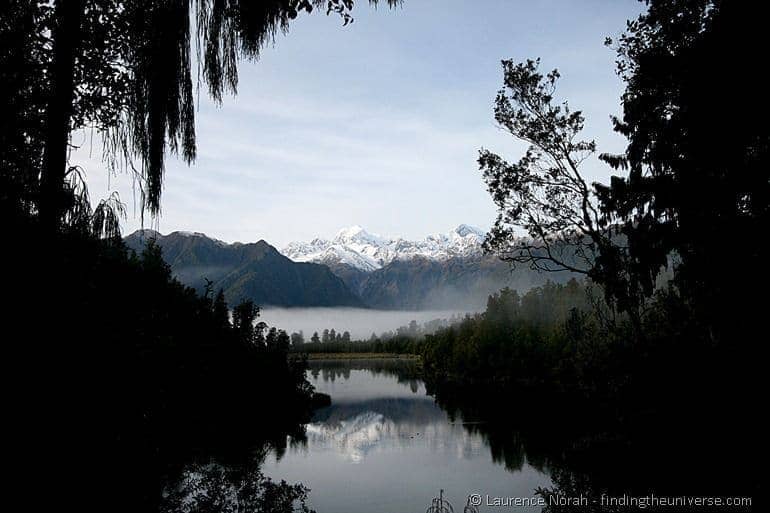 Days 19 – 20: Across the Haast Pass to Wanaka & Queenstown
Glaciers dusted off, it's time to head back across the spiney southern alps at one of the few crossing points, this one being the Haast Pass. This is another glorious bit of road through gorgeous alpine scenery, with the Mount Aspiring National Park providing the back drop. As well as incredible mountain vistas, there are also lakes galore to be impressed by.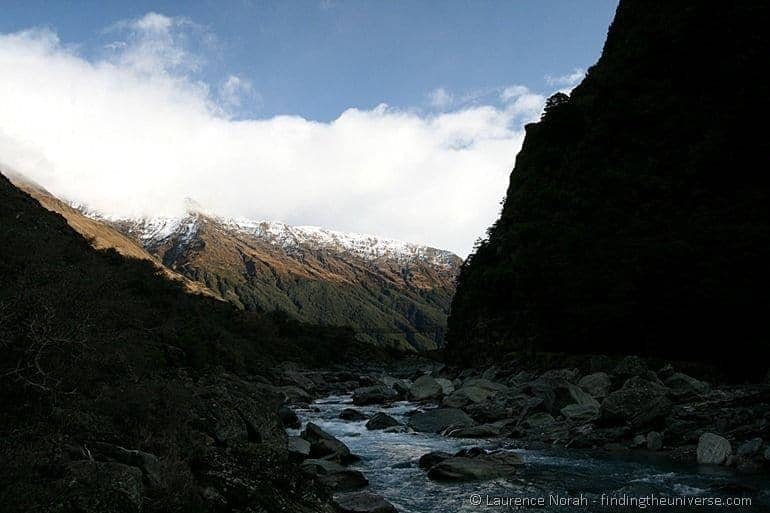 If you choose, you could stop off at Wanaka on the way across for a break, and take a wander along the lake. This is principally a skiing town, and is busiest in Winter, but there is plenty of scenery and hiking to enjoy all year round.
Then, head down to the adventure capital of New Zealand, Queenstown, where if there's anything you could imagine your body being made to do, the Kiwi's will have invented it, given it a name, and be willing to charge you to do it in Queenstown. Fun for everyone except your wallet.
Week 4 – Back to the mountains, and the home stretch to Christchurch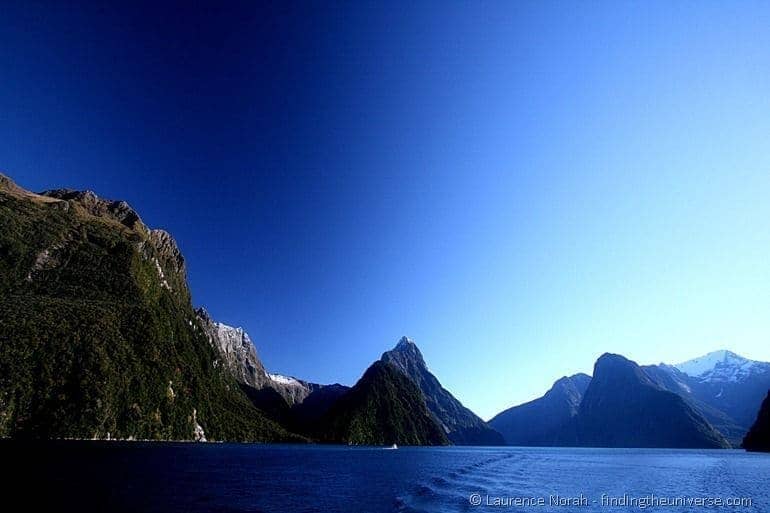 There's a list in New Zealand, of the top 100 things that every native must do before they die, and visiting Milford Sound and seeing Mitre Peak is number one on that list. Since we've got a month instead of a lifetime, it's a no-brainer that this one has made it into our itinerary as well.
It's a bit of a drive from Queenstown, as unfortunately the mountains didn't erode in quite the perfect way to create a logical transport route, but the drive, like so many trips in New Zealand, is worth it in of itself.
There are loads of things to see as you drive in, and the landscape changes dramatically as you drive along, from grassy plains to towering mountains. I'd advise stopping at the Te Anau DOC office for up to date route information and attraction opening times.
Once you get to Milford Sound, you are going to take a cruise. You are going to see mile high mountains, waterfalls cascading hundreds of metres over cliffs into the sea, and you are going to realise how incredibly glad you are to be alive. Because Milford Sound really is that special. Take as much time as you can to visit this special place, and surrounding attractions, because it is worth it. Read more about visiting Milford, including advice on cruises, weather and getting here, in my Milford Sound post.

Days 24 – 27: To Mount Cook, for a mighty impressive bit of mountain
You may think that by now you've had enough of mountains, and you want a bit of break. And that's cool. If you want, instead of heading back inland, you're welcome to pop out of Te Anau, and spend some time exploring the coast, with a trip to the Catlins, or some time in Dunedin. I wouldn't blame you for wanting to diversify. Even if it meant you might miss sights like this: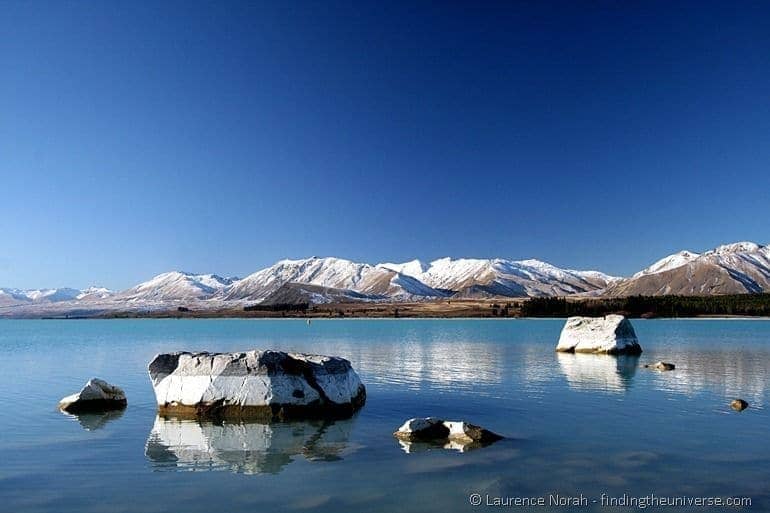 Because for me, the southern alps are the most impressive sight in New Zealand, and none is so impressive as Mount Cook, which towers above all his brethren at just shy of 4000m. This is the mountain that Hillary cut his teeth on before tacking Everest. I promise you, however many mountains you think I've taken you to on this trip – you need to do this one too.
It's a fair old drive up from Milford Sound to Mount Cook, so you'll probably want to break it up a bit. Maybe a stop off in quaint little Arrowtown, a historic gold mining village just past Queenstown, would be nice.
Once you get to Mount Cook, I can recommend taking on some of the short hikes in the area. The excellent DOC office can fill you in on all the details, as well as weather conditions and safety advice – this is a high up alpine region after all. There's even a posh hotel if that's your thing.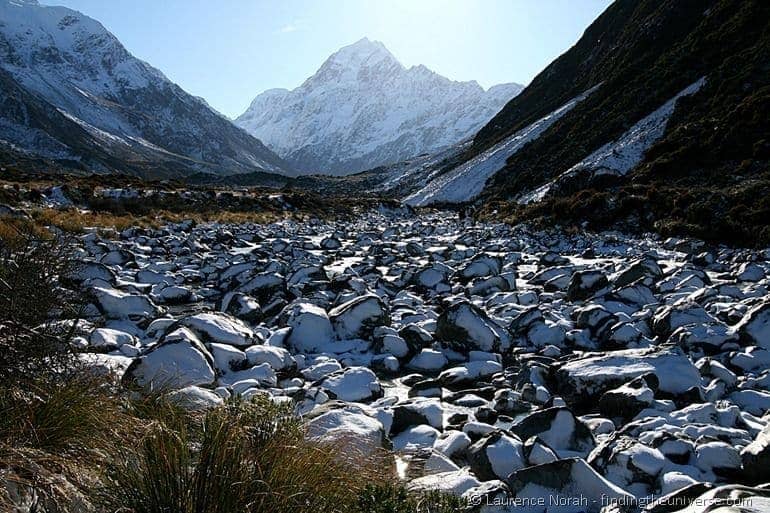 Personally, I can recommend the three – four hour hooker valley walk which takes you as close to Mount Cook as you can get, as well as the walk to the Tasman Glacier and lake. Both offer incredible landscapes with not too much effort.
Ok, you're running out of time in New Zealand. It's time to turn your nose to the coast, and high tail it to Christchurch, not forgetting to stop off at the above pictured Lake Tekapo on your way for a last view of spectacular southern alp scenery reflected in the eerie blue of a glacial lake.
Christchurch, as you are probably aware, was very badly damaged in the earthquake of 2011, which caused widespread destruction, loss of life, and serious damage to property. The city is much recovered since then, but continues to undergo construction work as it turns itself into a garden city, so it may not be as accessible as it once was.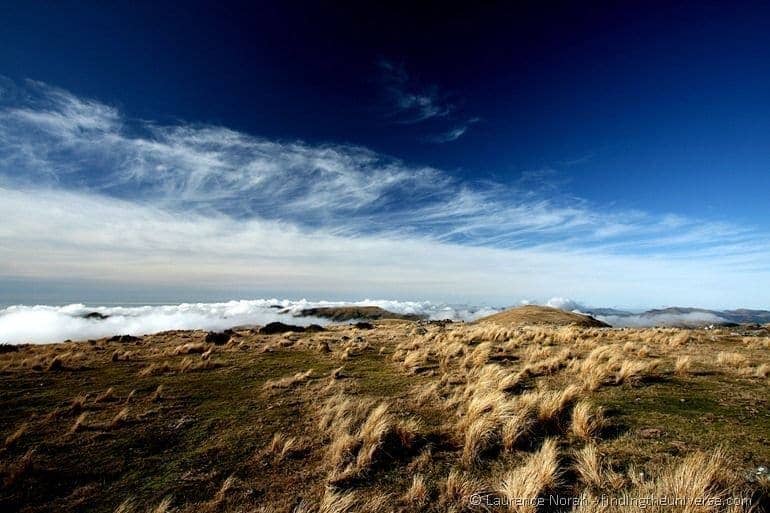 All is not lost, though. Just outside Christchurch you will find the Banks Peninsula and the charming French inspired town of Akaroa, which is just the perfect place to relax for however many days you have left on this incredible journey, take in some local air, and perhaps visit one of New Zealand's most scenic toilets.
Then, return your hire car, hop on a plane, and pat yourself on the back. You did it!
The End! Well done!
Whew! That's it for my round up of my ideal one month road trip itinerary in New Zealand. As always, a month is never going to be enough, but you should be able to see a lot of what this country has to offer in the time available.
New Zealand Road Trip Map
Here's a map of this road trip to help you plan. You can also see this map on Google Maps here.

New Zealand Road Trip Overview
Day 1: Rotorua – Volcanic Wonderland and Cultural Experience
Day 2 – 4: East Cape – Deserted wilderness and spectacular coastal scenery
Days 5 – 6: East Coast to Wellington – Wine tasting and Art Deco
Day 7: Wellington
Day 8: Picton to Queen Charlotte Sound for inspiring fjord like scenery
Day 9: Queen Charlotte to Nelson for incredible coffee and a laid back vibe
Days 10 – 13: Abel Tasman and Golden Bay for sea kayaking along the coast and amazing birdlife
Days 14 – 15: Karamea for a laid back vibe, pounding seas, and the amazing rock formations of the Oparara Basin
Day 16 – 18: West Coast: Glaciers, Mountains and Possum Pie. Time to get epic on the West Coast
Days 19 – 20: Wanaka & Queenstown for adventure
Days 21 – 23: Te Anau & Milford Sound
Days 24 – 27: To Mount Cook, for a mighty impressive bit of mountain
Days 28 – 30: Christchurch, and some relaxing in a French style
Further Reading
If you found this post helpful, you might like to check out my New Zealand guide section of the site, where I offer all kinds of advice, from must see attractions, through to awesome day hikes, as well as practicalities such as buying a vehicle, finding a job and even finding free internet.
For other reading, a fellow blogger wrote an excellent guide to your first time in New Zealand, which I found to be invaluable for my trip.
If you'd like some more resources to further plan your trip, then the following should help:
Enjoy – and if you have any feedback on this monster of a post, do share it in the comments below!