We've travelled the entirety of Scotland's North Coast 500 driving route several times now, and we've stayed in a wide variety of accommodation along the way, from guesthouses to hotels – and even castles!
One of the most popular forms of accommodation along the route, and one of our favourites, are the bed and breakfast accommodations on the North Coast 500.
These tend to be budget friendly (although of course there are exceptions!), usually costing in the region of £60 -£120 per night for two people sharing. As the name suggests, that price also includes breakfast.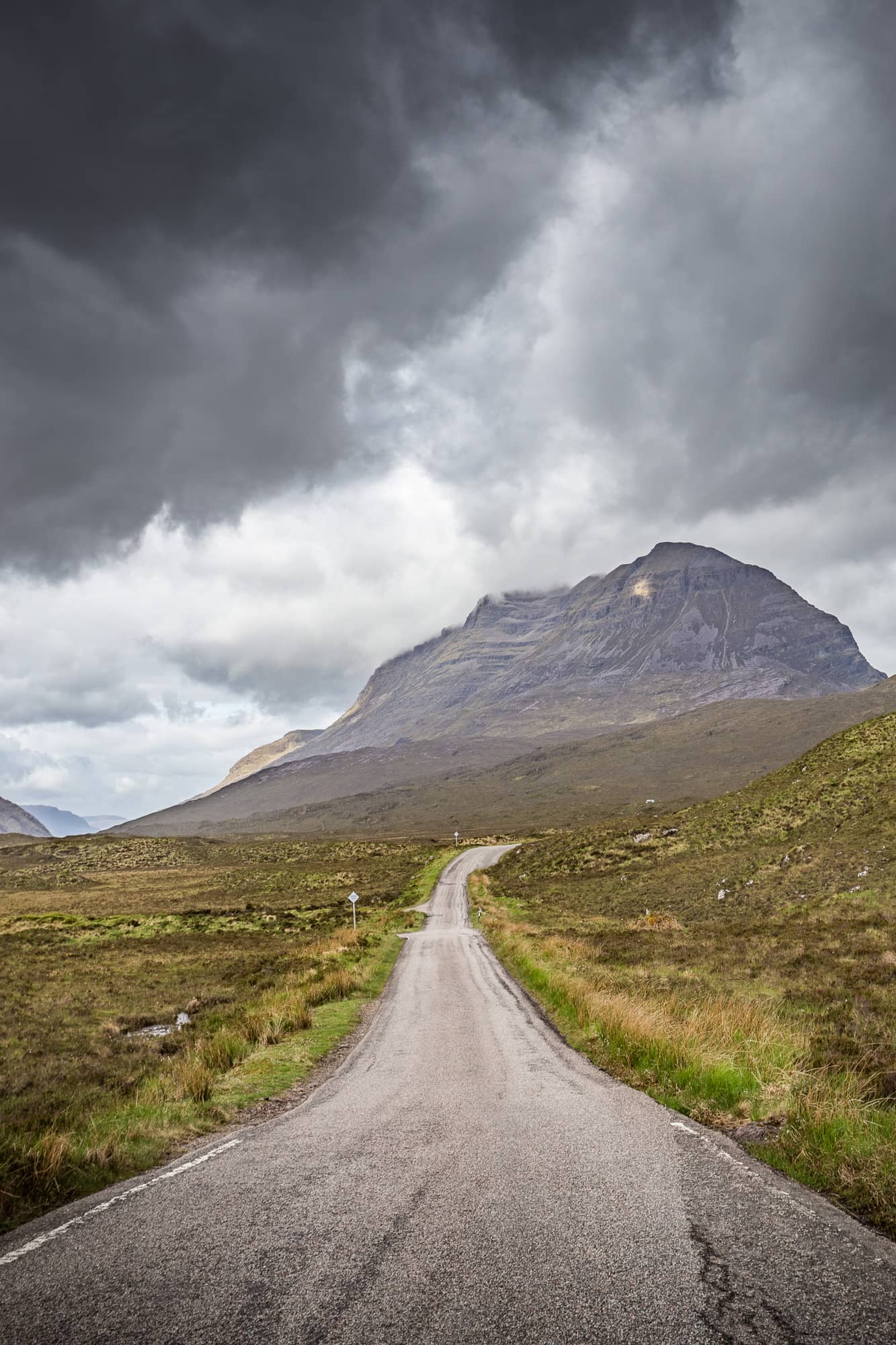 But our favourite thing about B&B's isn't the great price and epic breakfasts. Rather, it's the fact that they tend to be owned and run by locals, who have a wealth of local knowledge and stories to share. They also tend to be fairly small affairs with just a handful of rooms, meaning you get really personalized service.
We've stayed at a great many B&B's along the North Coast 500 route in order to find our favourites, and we've put them together in this list below.
We'd suggest reading this in parallel with our other North Coast 500 content, which includes our guide to planning a North Coast 500 road trip, our seven day NC500 camping itinerary (you can switch out campsites for B&Bs!), and our guide to where to stay on the North Coast 500.
Bed & Breakfasts on the North Coast 500
This list runs counter-clockwise, from Inverness up the east coast, then along the north coast, and down the west coast. We are happy to personally recommend every one of the properties on this list for your North Coast 500 adventure!
The first property on our list is in Inverness, the capital city of the highlands and also the start and finish point of the North Coast 500.
Inverness is very much worth taking some time to explore, as there's a great deal to do in the city and the area in general, from taking in the castle through to visiting Loch Ness.
Inverness also makes a great base from which to explore for a few days, and we have a guide to some of the best day trips from Inverness to help you do just that.
With all this in mind, you'll need somewhere to stay. Inverness has a wide variety of options, but one of our favourite B&B's is definitely No.55 B&B.
Run by two lovely ladies, this property is a five minute walk from the city centre. The breakfast is excellent, there's free on-site parking, and Amy and Sinead can help you out with recommendations for where to eat in the city (we took them up on their recommendation for dinner, which was lovely).
Rooms are en-suite, and the WiFi is free and works well throughout the building.
Address: 55 Kenneth St, Inverness IV3 5PZ
Price: In the region of £80 per night with breakfast for two sharing
Book Here: Click here to book No.55 B&B.
Just north of Inverness you'll find the Black Isle – a peninsula of land that is encircled by two bodies of water – the Moray Firth and the Cromarty Firth.
There's loads to do on the Black Isle, from dolphin watching to tasting local beer, and you could easily spend a day or two sightseeing here. See our complete guide to things to do on the Black Isle for some ideas.
If you decide to spend a little bit of time on the Black Isle, or don't feel like driving too far on your first day, then we can recommend a stop at the Factor's House.
This well rated boutique B&B is found in the historic town of Cromarty, and offers lovely en-suite accommodation, magnificent views across the firth, as well as an award winning breakfast with a focus on locally sourced, organic produce. Evening meals are also available on some days of the week.
Guests also have access to a private lounge which offers a log fire in winter, there's WiFi throughout the property, and free parking on site.
Address: Denny Rd, Cromarty IV11 8YT
Price: In the region of £120 – £160 per night with breakfast for two sharing
Book Here: Click here to book The Factor's House.
Heading north now to Dornoch, which is home to one of the famous golf courses in Scotland – the Royal Dornoch. Formed in 1877, it's a course that has a stunning wild setting, and is one that many golfers aspire to play on at some point.
Dornoch itself is a pretty seaside town with beautiful beaches, an excellent museum, and a 13th century cathedral. It's also close to the Falls of Shin, where you can see salmon leaping, as well as Dunrobin Castle and Loch Fleet Nature Reserve.
As you would imagine, you could spend a few days exploring the local area and taking in a round or two of golf. If you're looking for a B&B in the area, we can highly recommend the Steading. This is found just a five minute drive from Dornoch town centre, in a spectacularly converted barn which was once a part of the Duke of Sutherland's estate.
With beautiful views across the surrounding landscape from the immaculately restored property, the rooms offer luxurious amenities and bedding, and there are also lovely common areas in which you can get to know the friendly Australian owners, Jayne and Stephen.
Other features that you might not expect from a B&B include Tesla charging points and luxurious king size beds, as well as an on-site bistro serving meals.
Breakfast is excellent, rooms are all en-suite, and there's wi-fi throughout, as well as free parking on site.
Address: 4 Balnapolaig Steading, Balnapolaig, Dornoch IV25 3HA
Price: In the region of £95 per night with breakfast for two sharing
Book Here: Click here to book the Steading
Strathview Lodge is another good option near Dornoch, and would be particularly suited to birdwatchers as it's very close to the Loch Fleet Nature Reserve.
Of course, you don't have to be a bird watcher to appreciate this lovely B&B, which offers good-sized en-suite rooms and a tasty breakfast, as well as on-site parking and free WiFi throughout. It's about a 10 minute drive from Dornoch.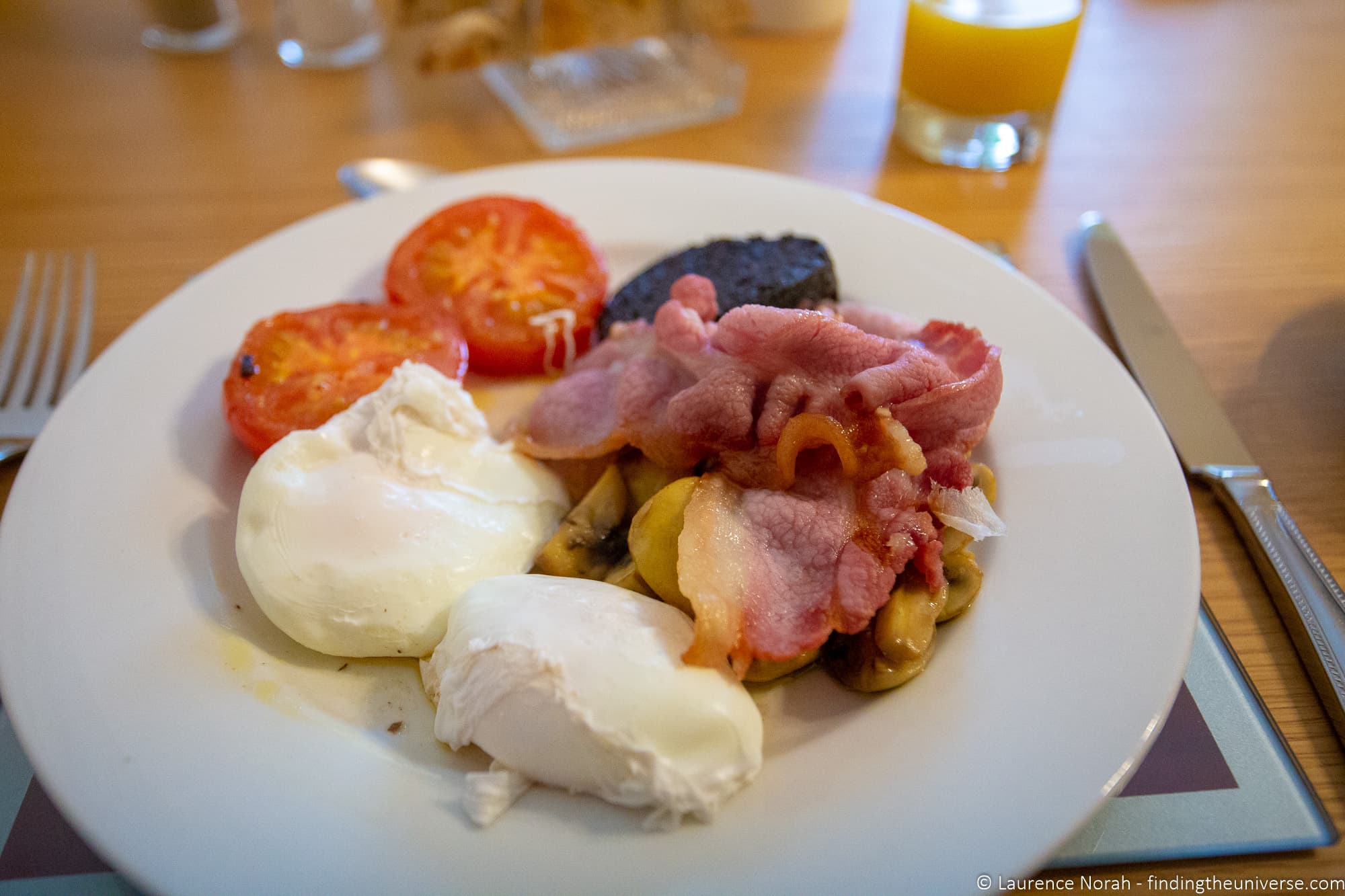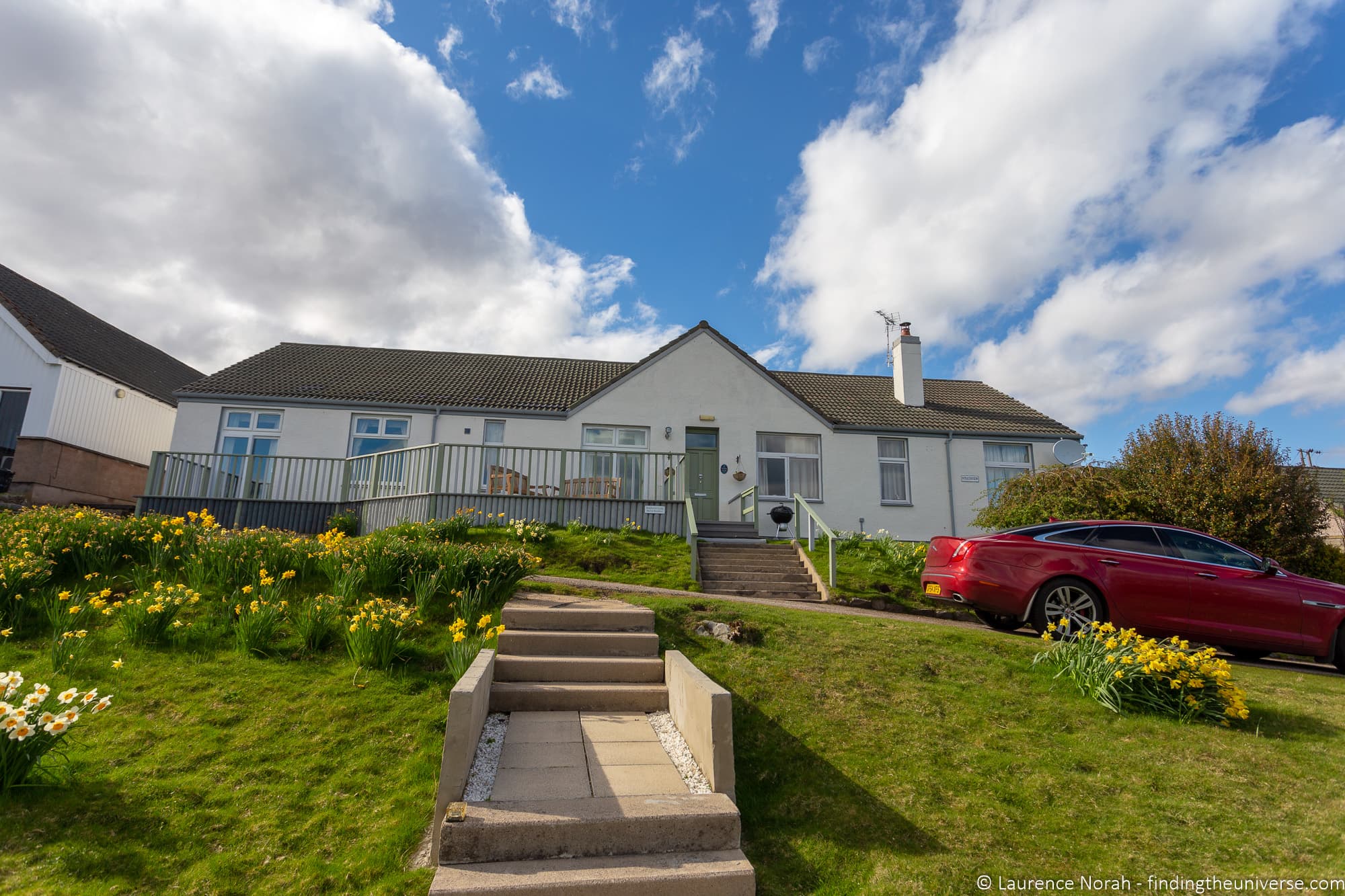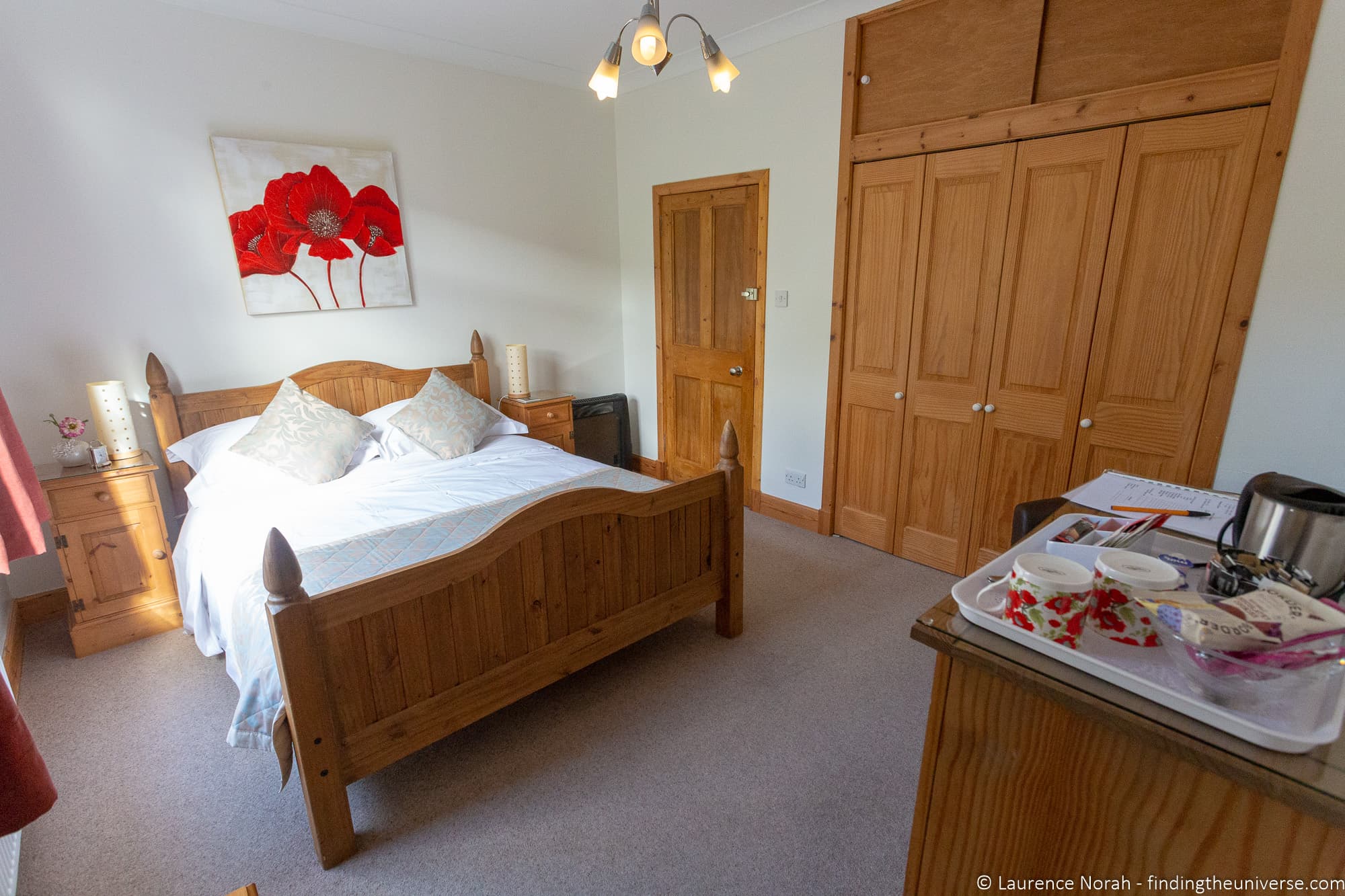 Address: Cambusavie, Dornoch IV25 3JD
Price: In the region of £85 per night with breakfast for two sharing
Book Here: Click here to book Strathview Lodge
If you're travelling with pets, this is a fantastic pet friendly property just south of Wick. And if you're not travelling with pets, like us, you should still stay here anyway if you're after a super-friendly welcome in a rather unique property.
A former laird's house, Thrumster House is very much a family home. It has an old-world feel – and you will feel more like a distant relative staying with family rather than a guest in a hotel. On arrival you'll likely be greeted by hosts Isla or Catherine, and one of the house dogs will most probably also be on hand to welcome you.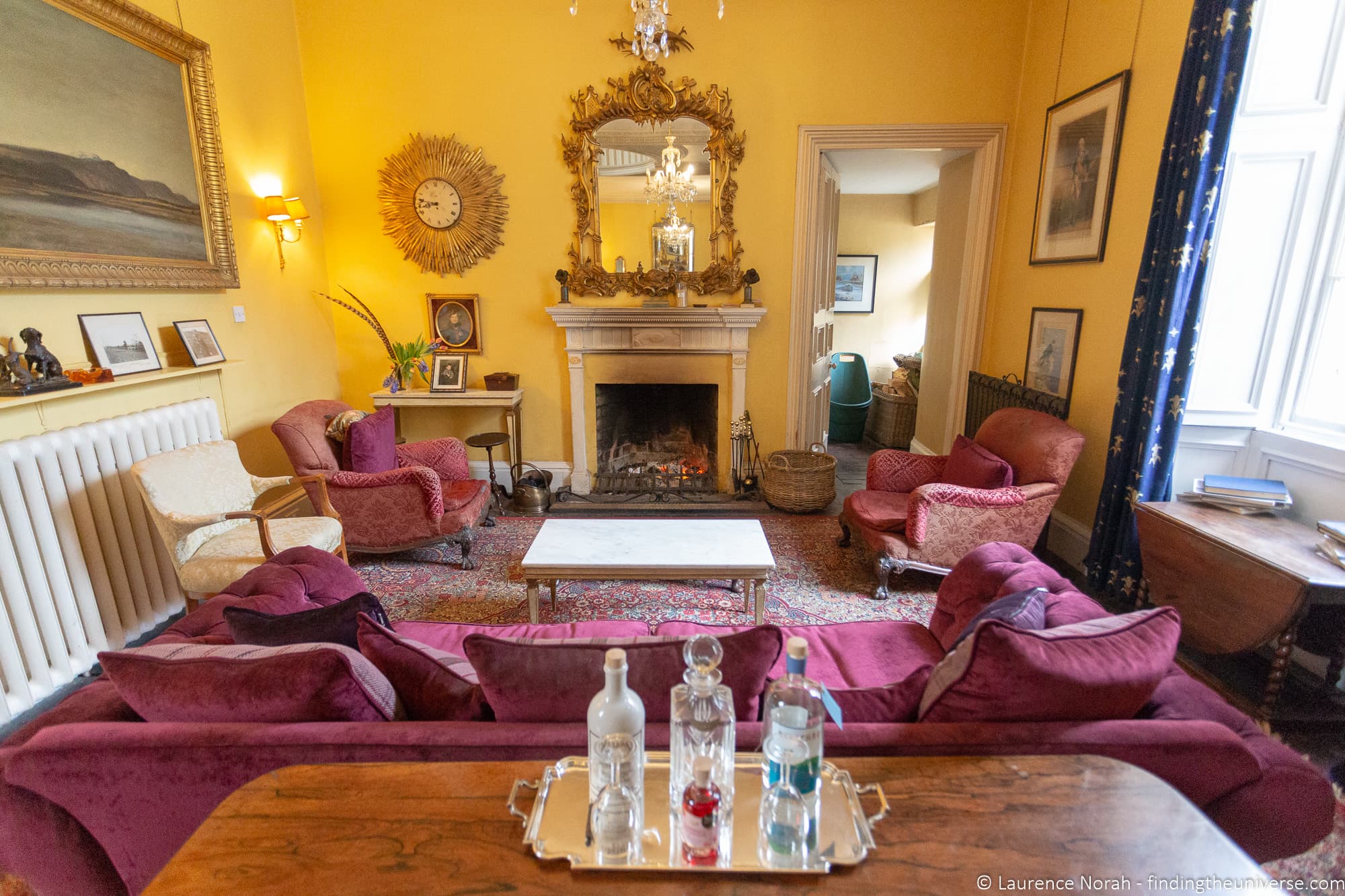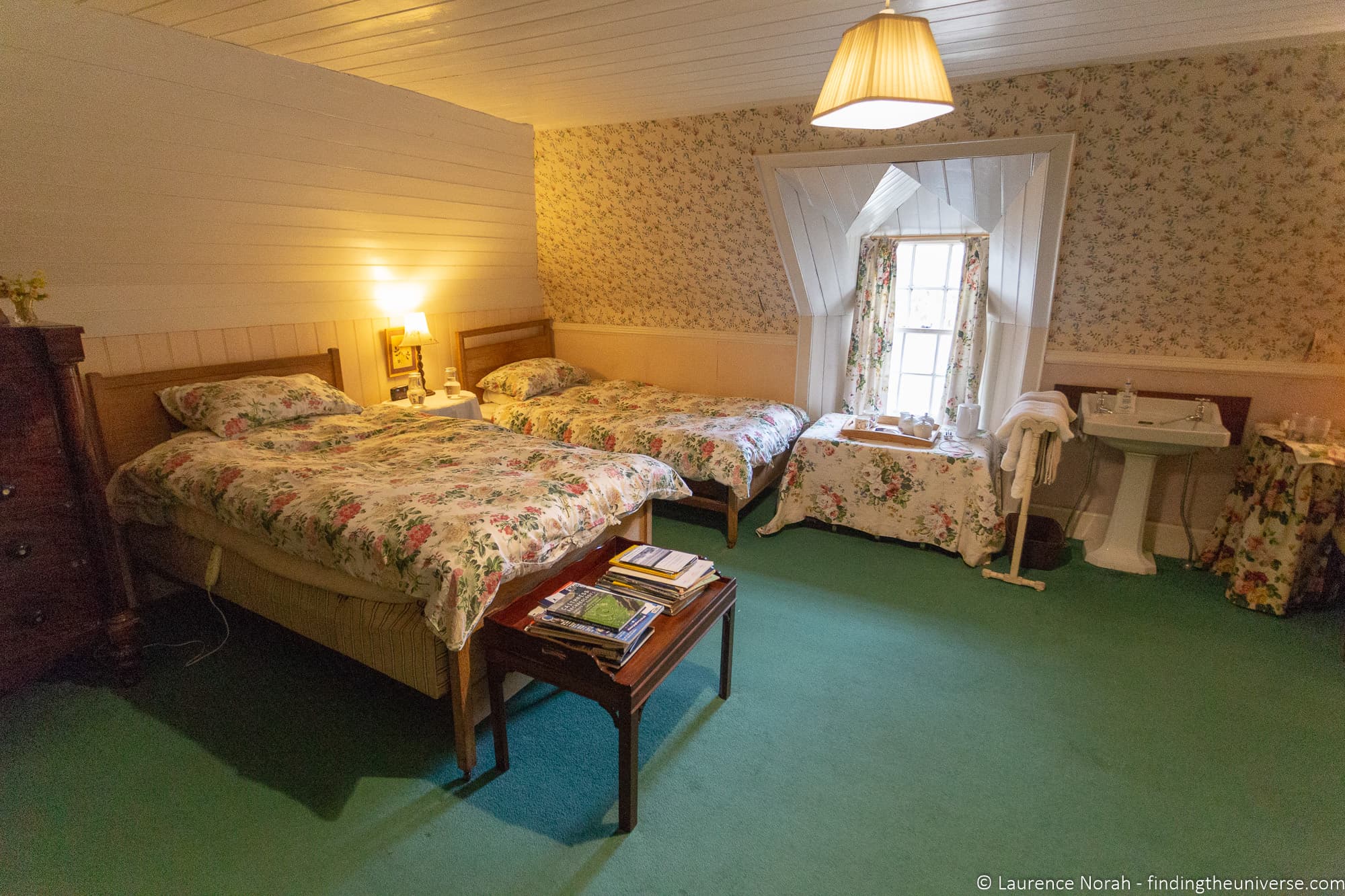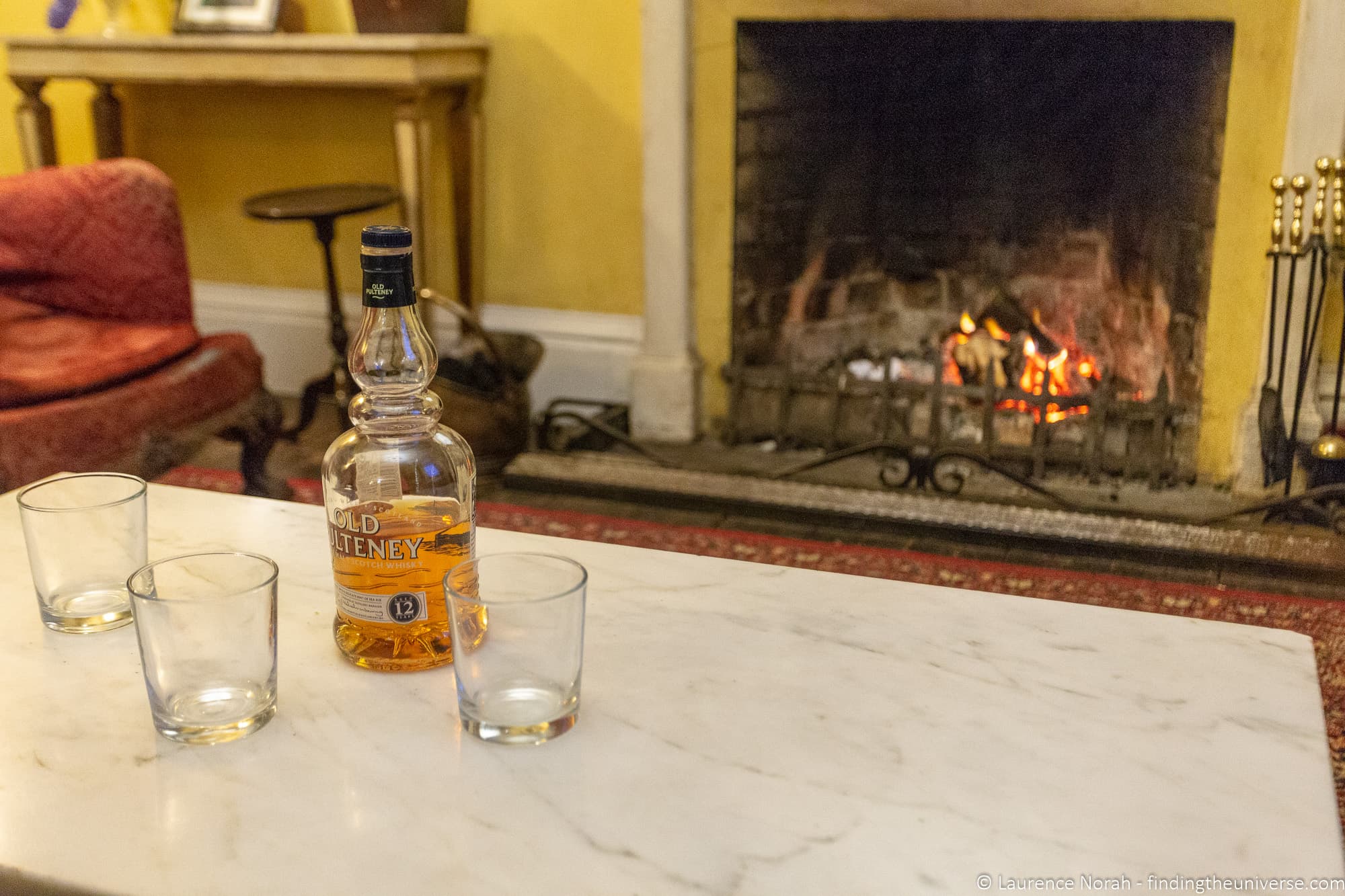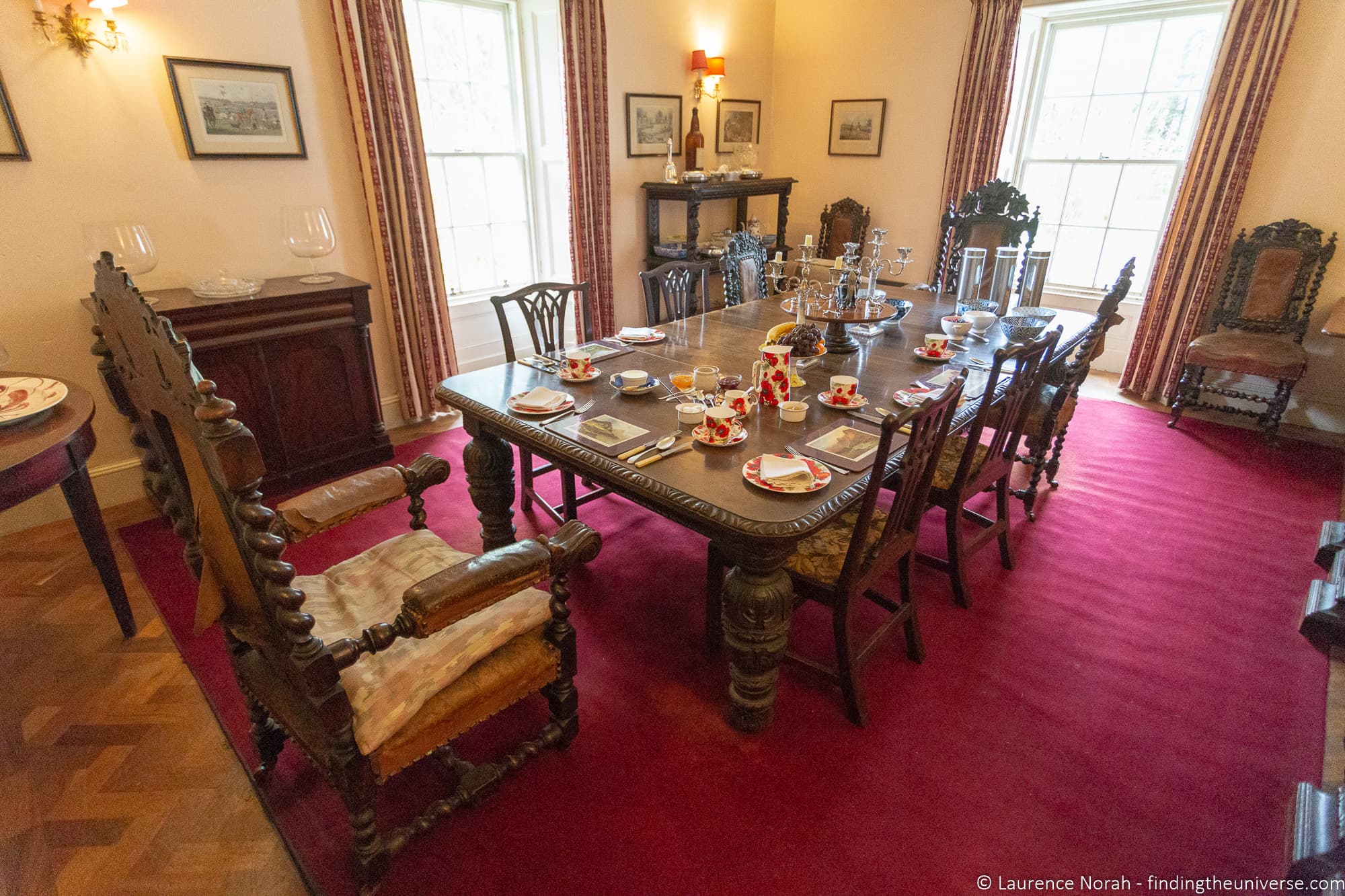 We loved our stay here, although the rustic old-world charm might not be for everyone. For us, feeling like part of the family and enjoying drinks with our hosts in the evening, who shared with us all sorts of stories about the property, as well as tips for what to do in the surrounding area, was a wonderful experience.
Wick is just a short drive away for meals, and there's even an Iron Age broch on the property. Those interested in archaeology will also want to investigate the nearby Yarrows Archaeological Trail, which we did. This is one of the largest concentrations of neolithic remains in Europe, yet receives very few visitors.
Rooms offer private bathrooms, there's free WiFi throughout, loads of car parking on-site, and it's pet friendly.
Address: Thrumster Estates, Thrumster, Wick KW1 5T
Price: In the region of £100 per night with breakfast for two sharing
Book Here: Click here to book Thrumster House
Salmon Landings is a relatively new addition to the North Coast 500, with owners Julie and Kevan having converted a former salmon fishing station into an wonderfully relaxed but luxurious B&B.
Attention to detail is the name of the game here, with no detail overlooked. It's described as a guest house with the heart of a luxury hotel, and we can't argue with that description – this is a truly wonderful place to stay.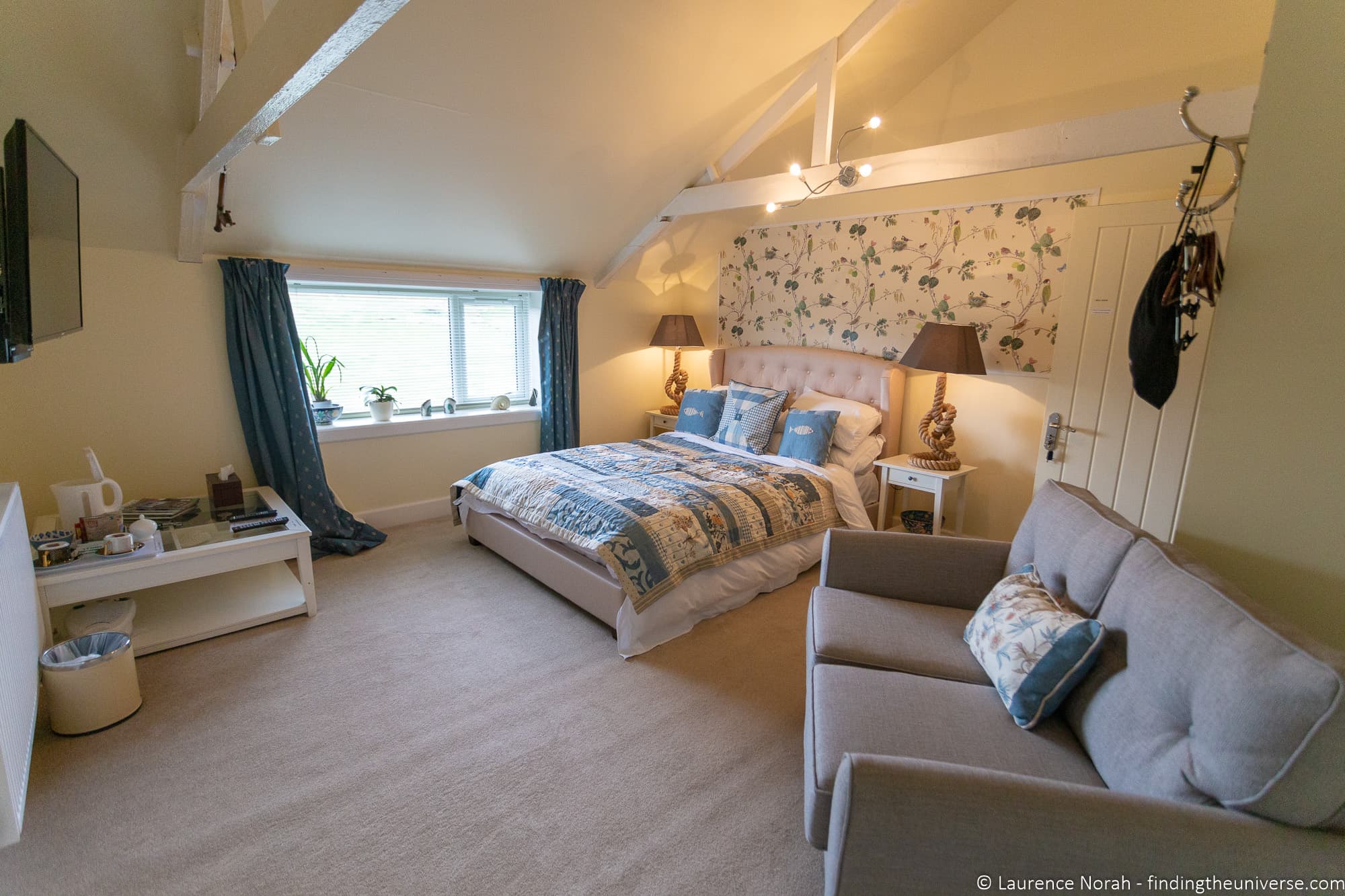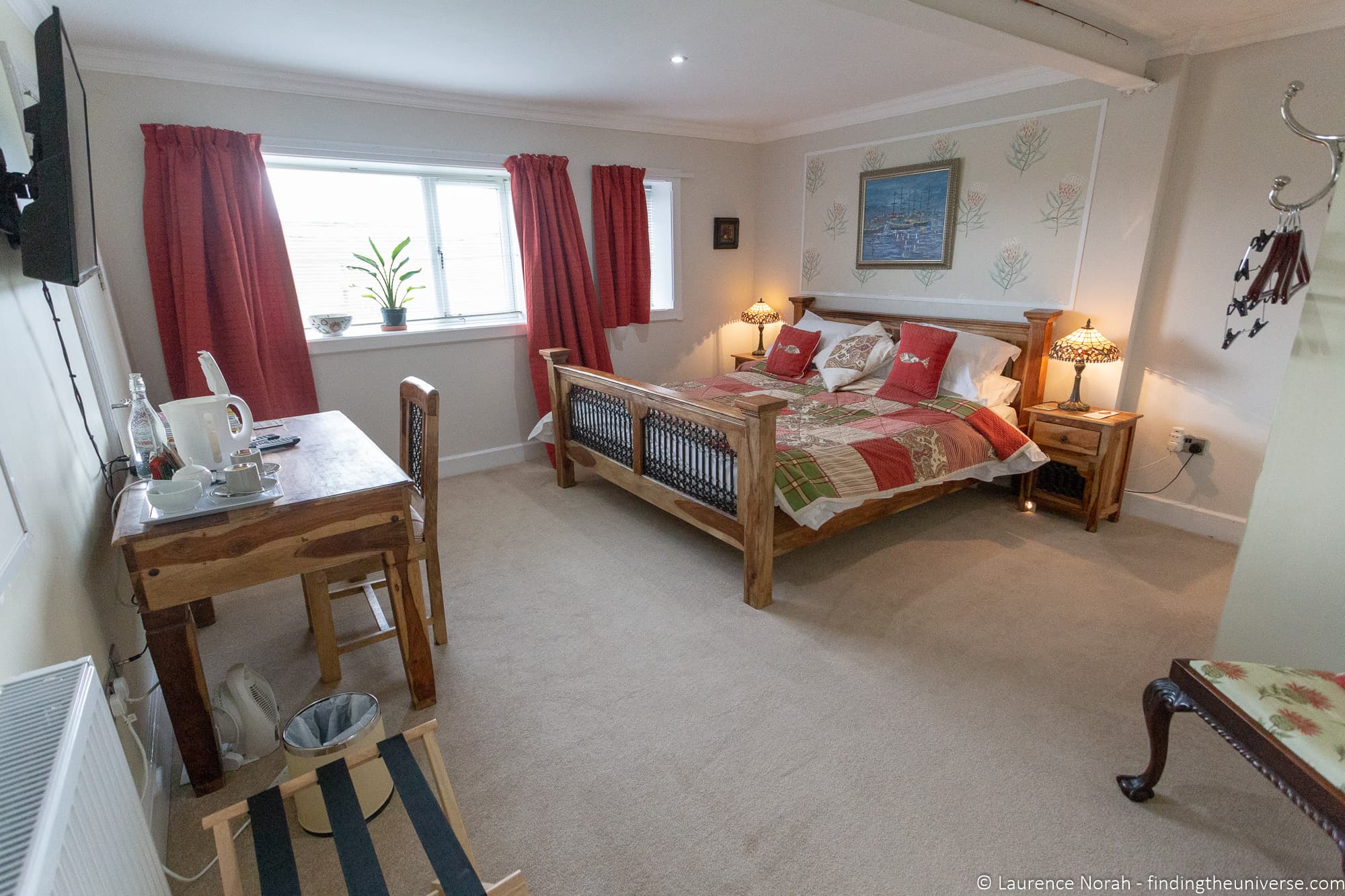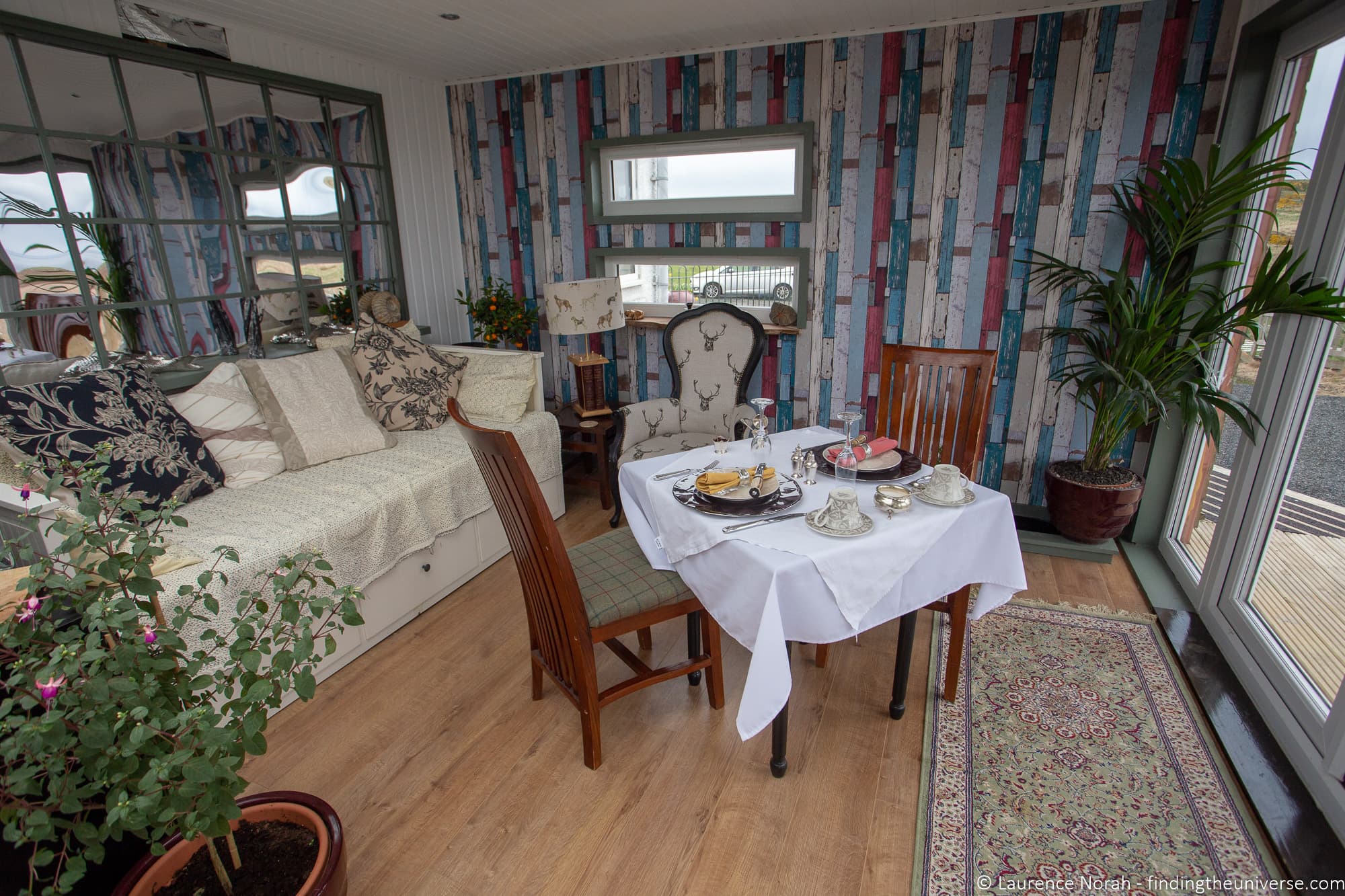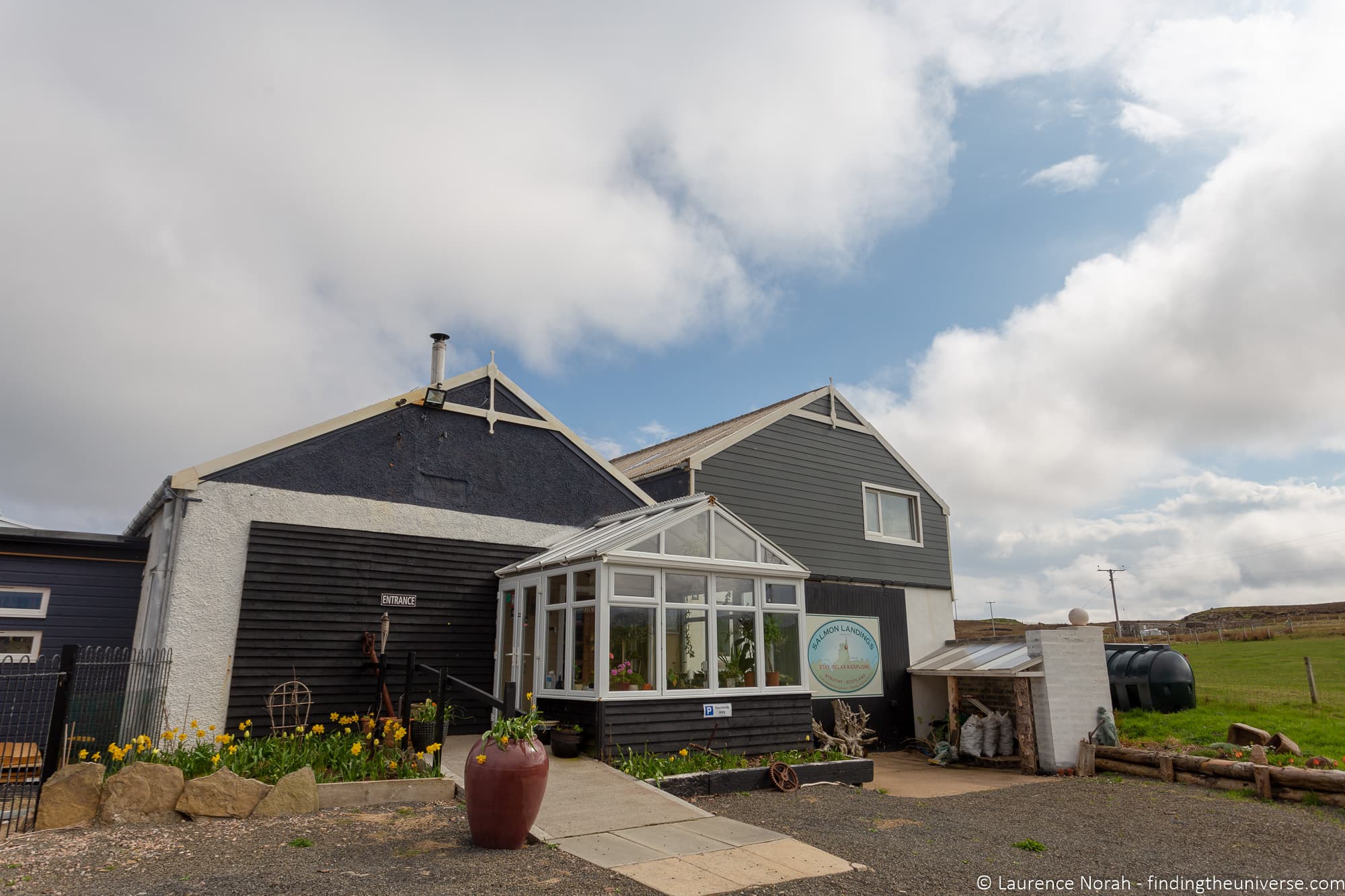 The four rooms are modern, with en-suite facilities, WiFi, and lovely decor and furnishings. They also have a tea room where they serve breakfast and tea.
Note that dinner options are limited during certain parts of the year in this area, so we recommend asking hosts at least a couple days before your arrival about recommended options.
Salmon Landings is one of the few properties open year round on this section of the route, and we are certain you will love this luxurious enclave on Scotland's far northern coast. You're guaranteed a warm welcome and excellent dining.
Address: Port Ghrant Rd, Strathy Point, Strathy By Thurso, KW14 7RY UK
Price: In the region of £100 per night with breakfast for two sharing
Book Here: Click here to book Salmon Landings
A little further along the NC500 and you come to the village of Tongue, which makes for a good overnight location. There are a number of nice walks in the area, including one up to the ruins of a small castle (Castle Varrich) on the hill opposite the town, from where you can get spectacular views.
If you decide to stay in Tongue, we can recommend the friendly and centrally located Tigh Nan Ubhal guesthouse. Hosts Angela and Jimmy cook an excellent Scottish breakfast, and rooms are comfortable and modern with all the amenities you could want.
We particularly liked the Highland Coo paintings on the walls. Just note that the rooms here are a little on the smaller side, although we were very comfortable.
The guesthouse doesn't serve evening meals, although there are two restaurants just moments walk away which serve meals and drinks. Note that the restaurants are not always open year round, so do check in advance if you are visiting in the winter season.
Address: Main Street, Tongue, Lairg IV27 4XF
Price: From around £80 per night with breakfast for two sharing. Note, cash only.
Book Here: Click here to book Tigh Nan Ubhal guesthouse
Our next stop on the NC500 for accommodation is Lochinver. This seaside fishing town has a number of attractions, including a pottery shop and an incredible pie shop, as well as a number of accommodation options.
Our favourite B&B in Lochinver so far is the Davar Guest House. This 4* B&B was purpose built, with four well-appointed en-suite rooms offering very comfortable accommodation. Of the rooms, three offer gorgeous views over the loch, and one offers garden views.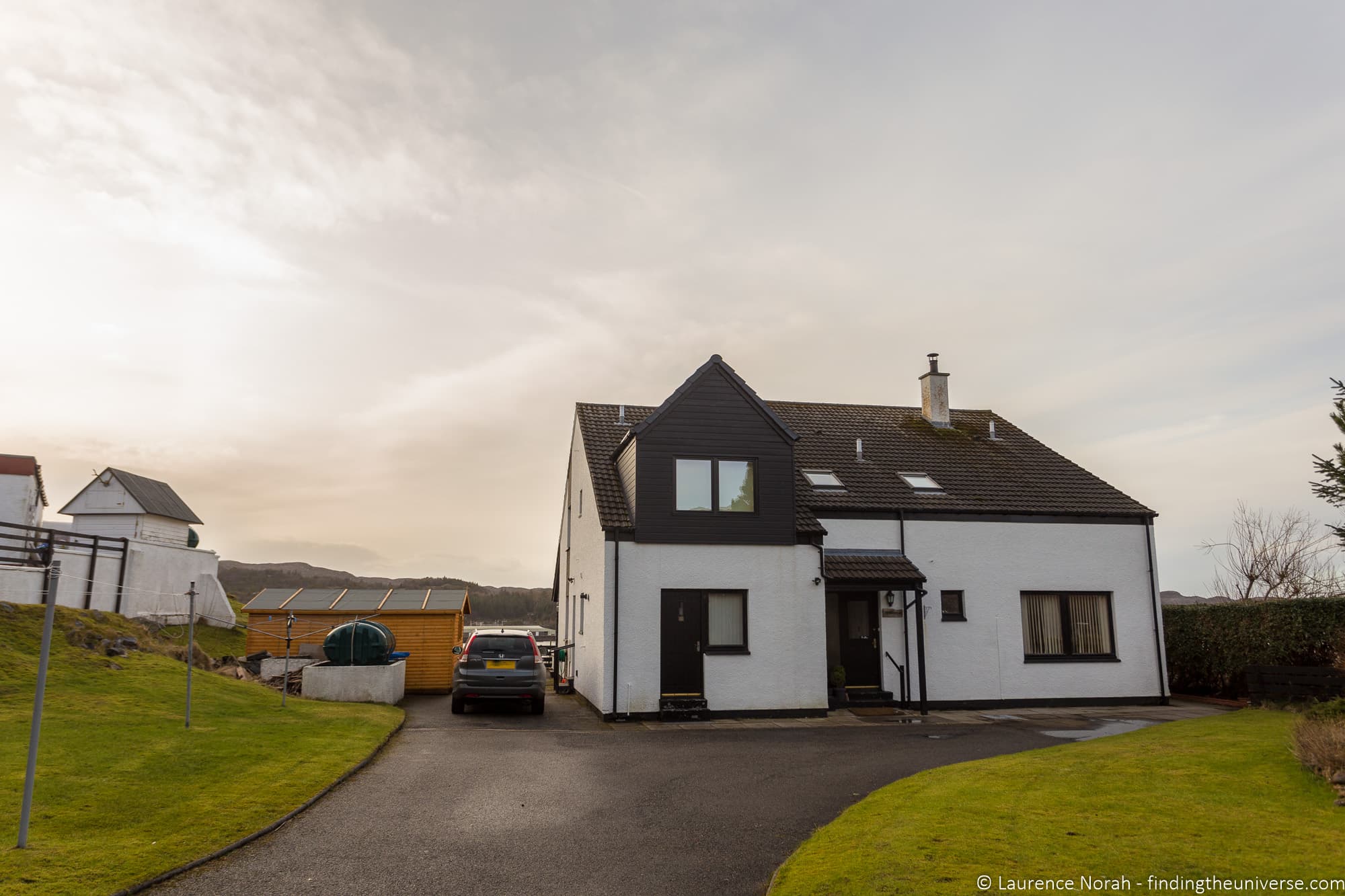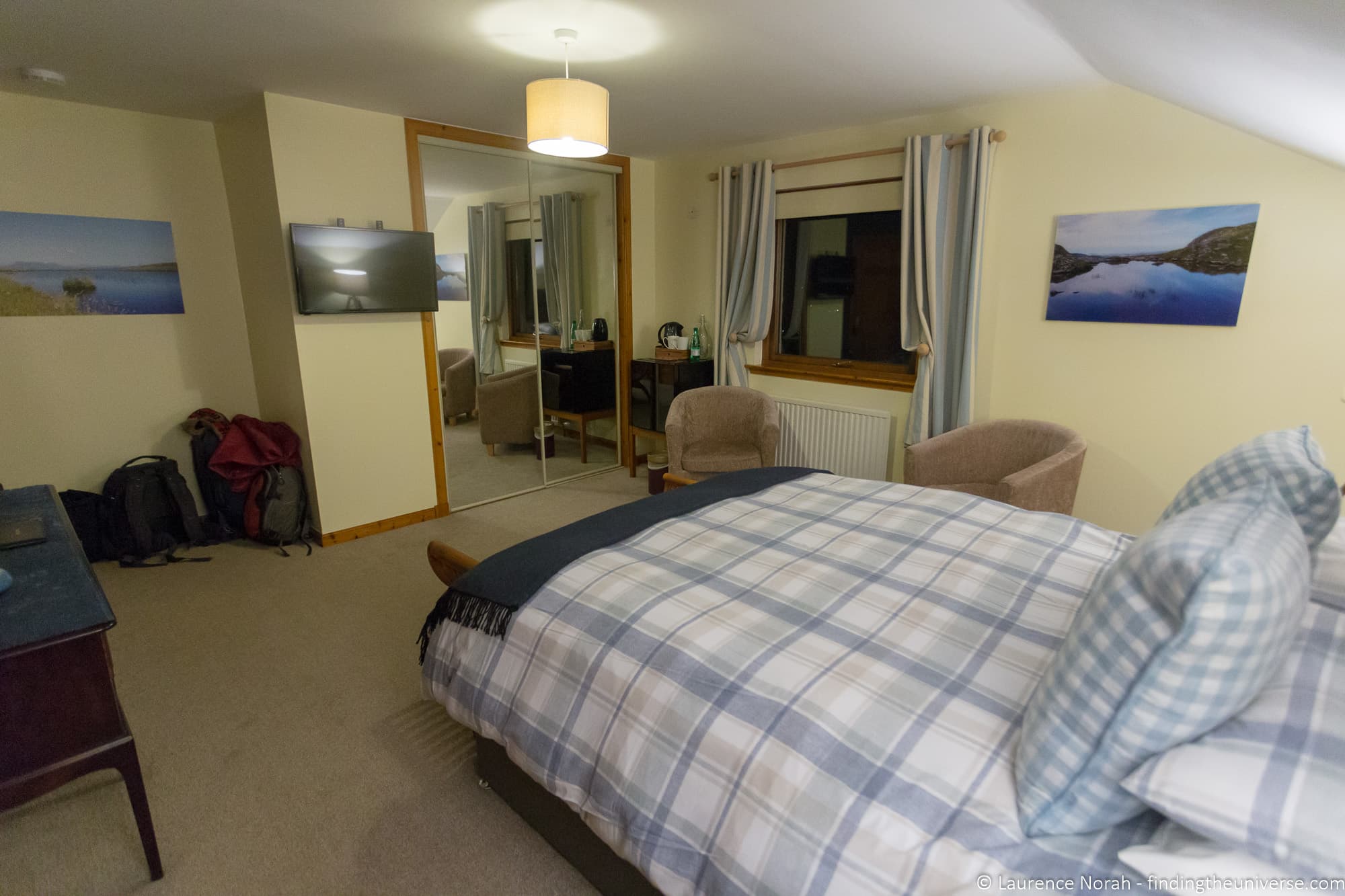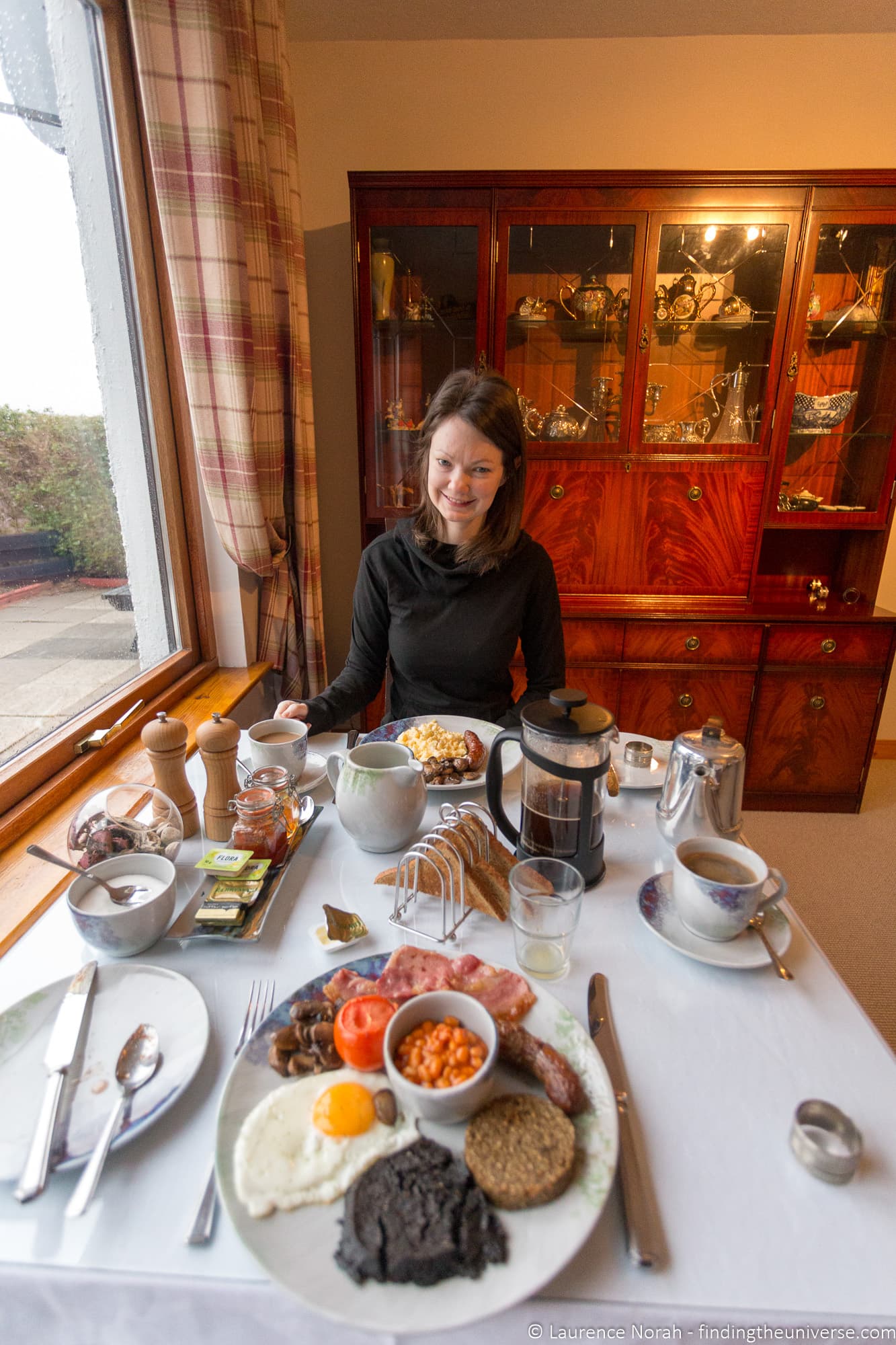 The owners Caren and Dave are very knowledgeable about the area, and shared with me some of their favourite photography locations on the NC500. They also put together an excellent home cooked breakfast using locally sourced ingredients, with many items such as the jams and marmalades being homemade.
We've had a lot of incredible breakfasts on the NC500, but the meal at Davar was one of our favorites!
Address: Davar, Lochinver IV27 4LJ
Price: From around £80 per night with breakfast for two sharing.
Book Here: Click here to book Davar
Our next three B&B's are located in or near Ullapool, the largest town on the west coast of the North Coast 500. There are a good many accommodation options here, however, it's a very popular town and base for exploring the surrounding area, so it can book up very quickly.
The first of our recommendations is the Westlea House Boutique B&B, which is found right in the heart of Ullapool, a short walk from the museum, shops and restaurants.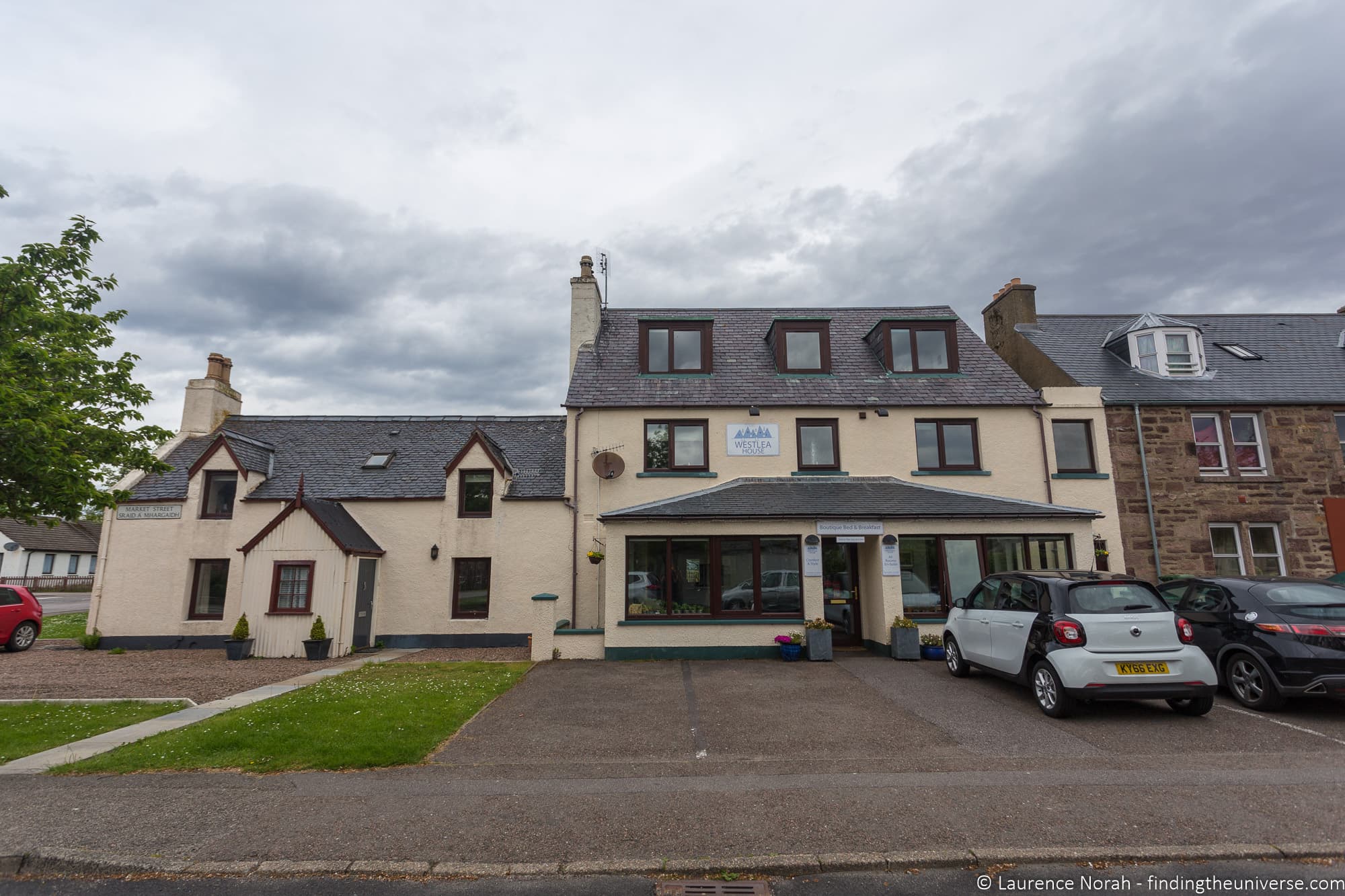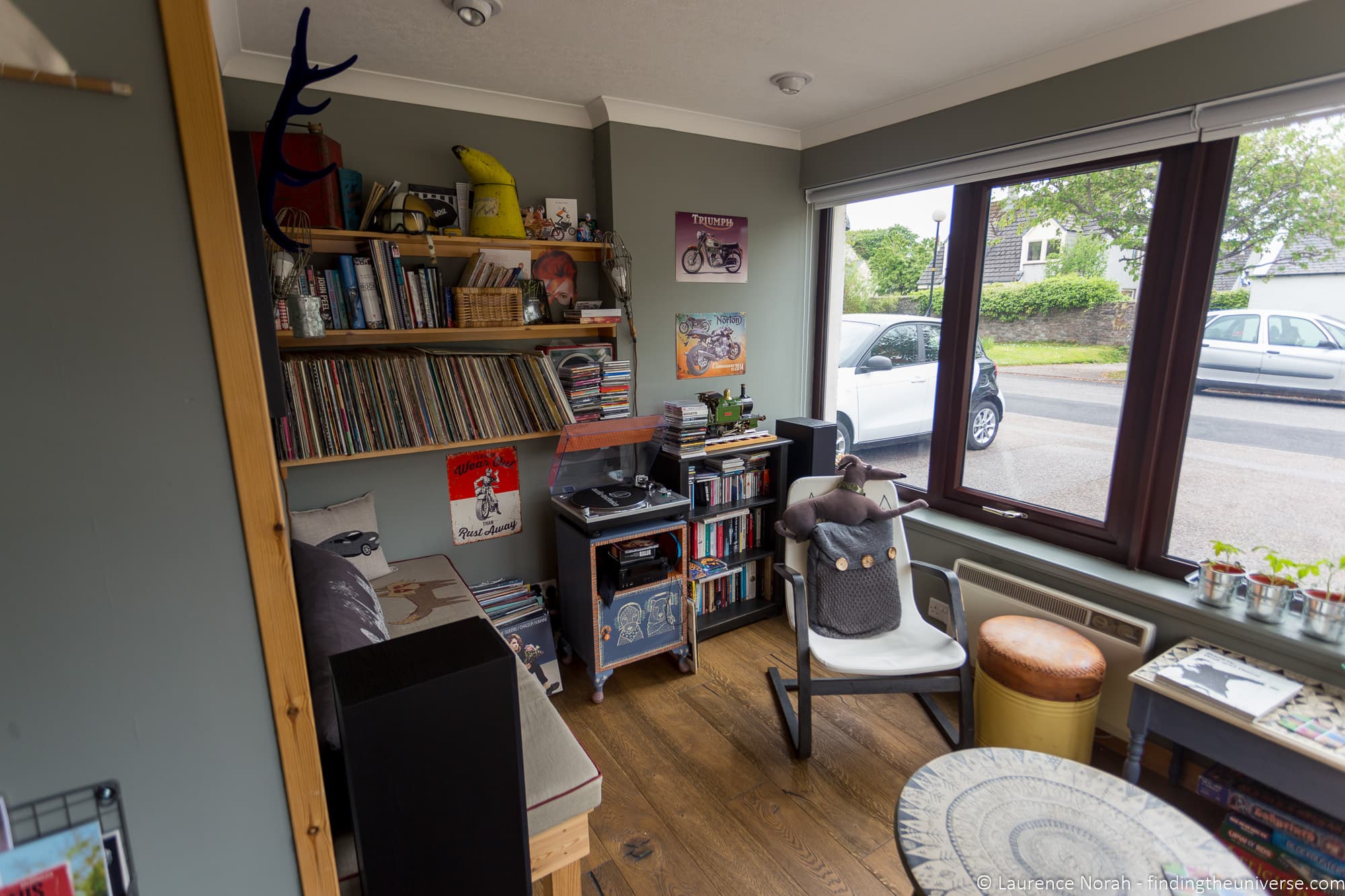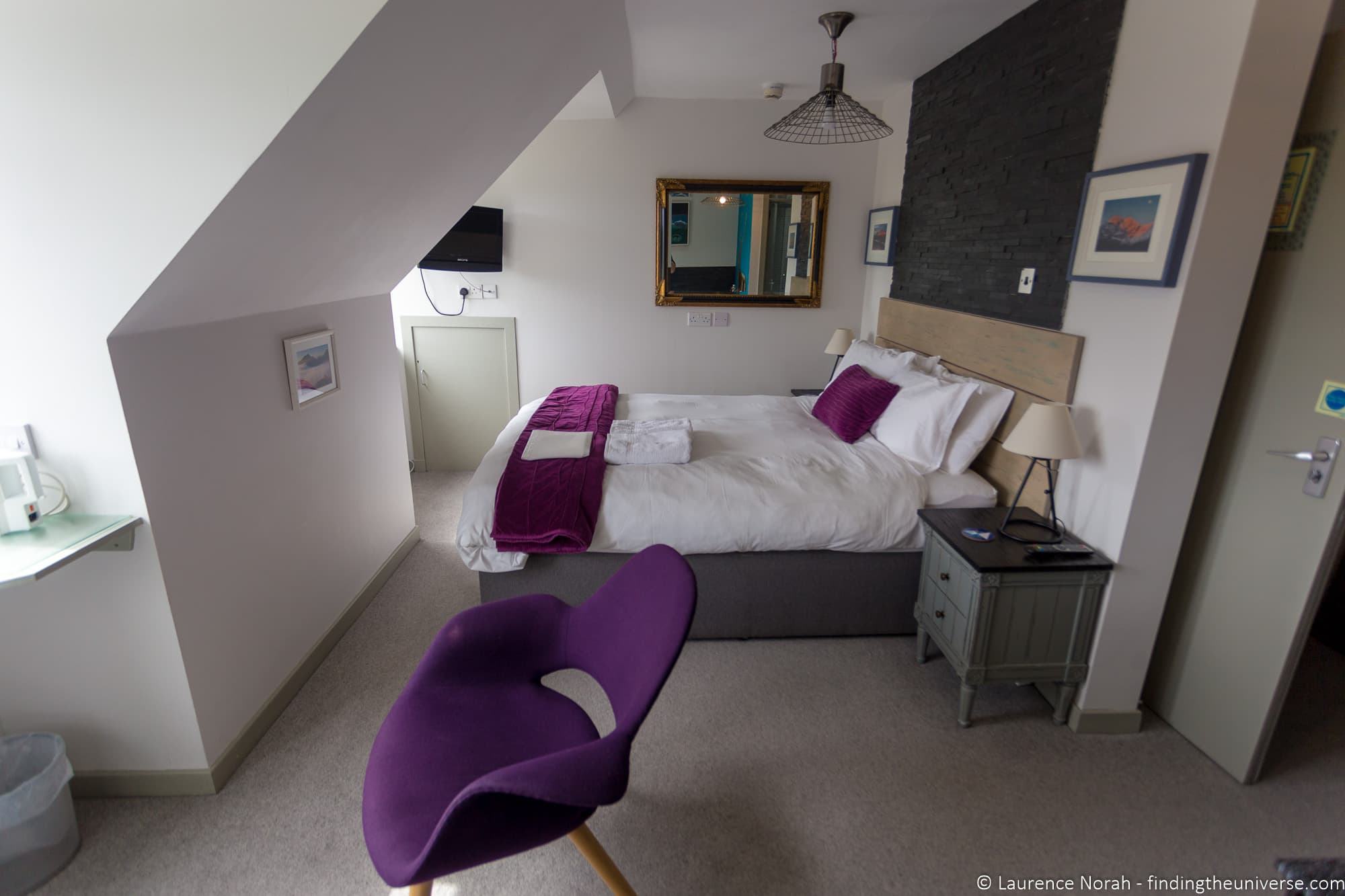 The Westlea House is beautifully decorated throughout, with each room having a unique style and decor. There's also a lovely shared area which includes a collection of vinyl records and a record player for guests listening pleasure. Each of the five rooms is en-suite, and features either a shower or a gorgeous roll-top bathtub.
An excellent breakfast is included, there's free off-street parking, a lockable shed for cyclists to store their bikes, and free WiFi throughout.
Note that if you struggle to find availability at Westlea House (it is very popular!), we can also recommend this B&B which we have stayed at.
Address: 2 Market St, Ullapool IV26 2XE
Price: From around £70 per night with breakfast for two sharing.
Book Here: Click here to book Westlea House
A few miles south of Ullapool, David and Sue have turned a former croft into a wonderful two room B&B with spectacular views over the surrounding area.
With only two rooms, Broomview Cottage is a wonderfully cosy and friendly B&B. You'll likely be welcomed by homemade cake and a cup of tea, and you'll have the option of a full Scottish breakfast, or a lighter continental.
As well as the two rooms, guests have use of the lounge, which on cooler days is warmed up by a log burning stove.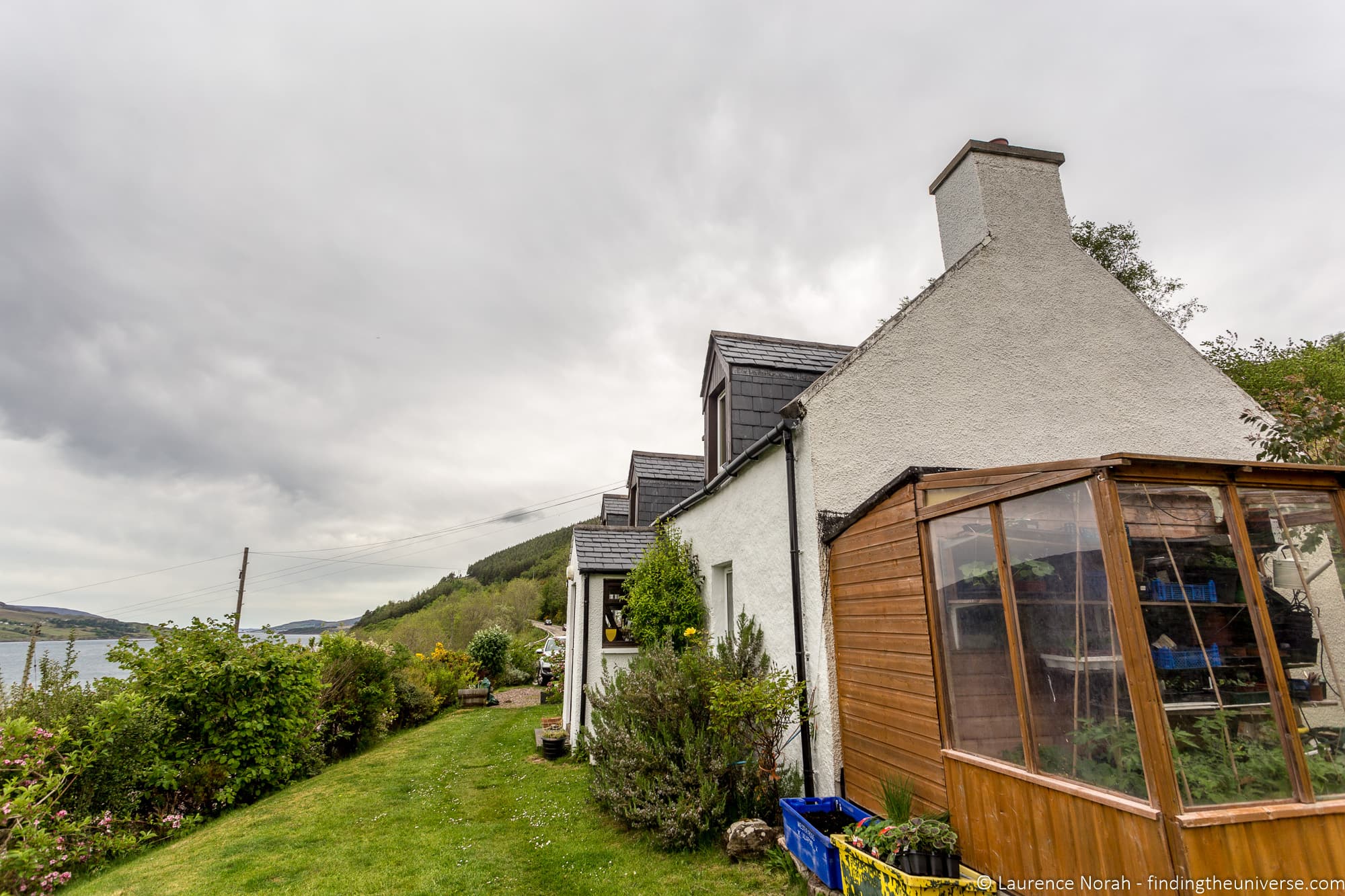 This is one of the few locations on this list that we haven't stayed overnight at. However, we were supposed to stay here once, but a booking error on our part meant that there wasn't availability. David and Sue were incredibly helpful at the last minute though, giving us ideas for where we could stay, and even offering up a pull out sofa as a last resort.
As it was, we ended up staying at the next property on our list, but we were hugely impressed by their kind hospitality, and our tour of the property the next day certainly convinced us that this was one to add to our list.
Address: Ardcharnich, Loch Broom, Ullapool IV23 2RQ
Price: From around £90 per night with breakfast for two sharing.
Book Here: Click here to book Broomview Cottage
Around eleven miles south of Ullapool, the Braemore Square Country House was a 19th century stage post which has been lovingly updated into beautiful accommodation by owners Lisa & Chester.
There are two types of accommodation available – four self catering apartments, and two B&B style en-suite rooms that come with breakfast. One of these is a twin, and one is a king, and both offer spacious accommodation.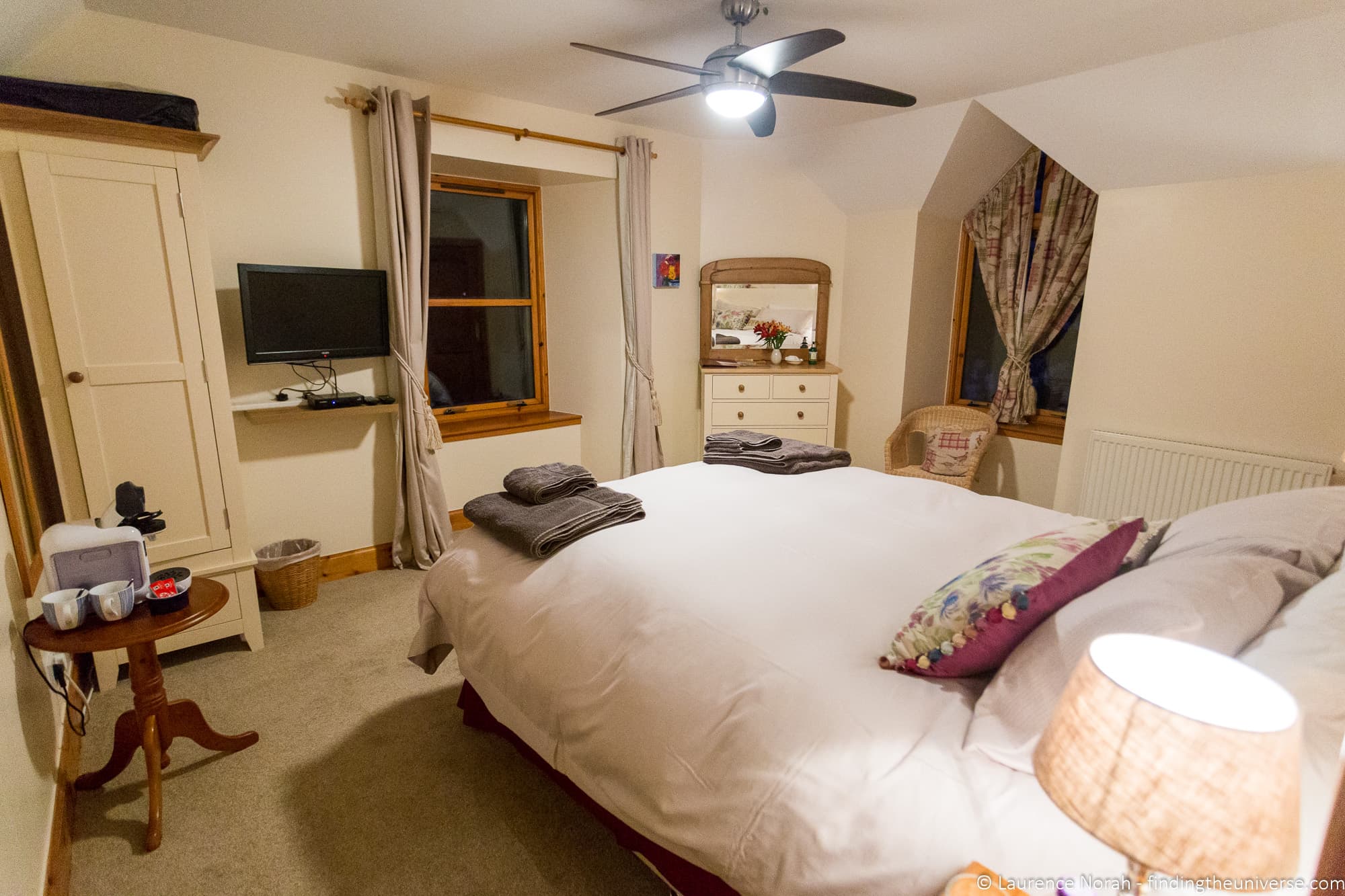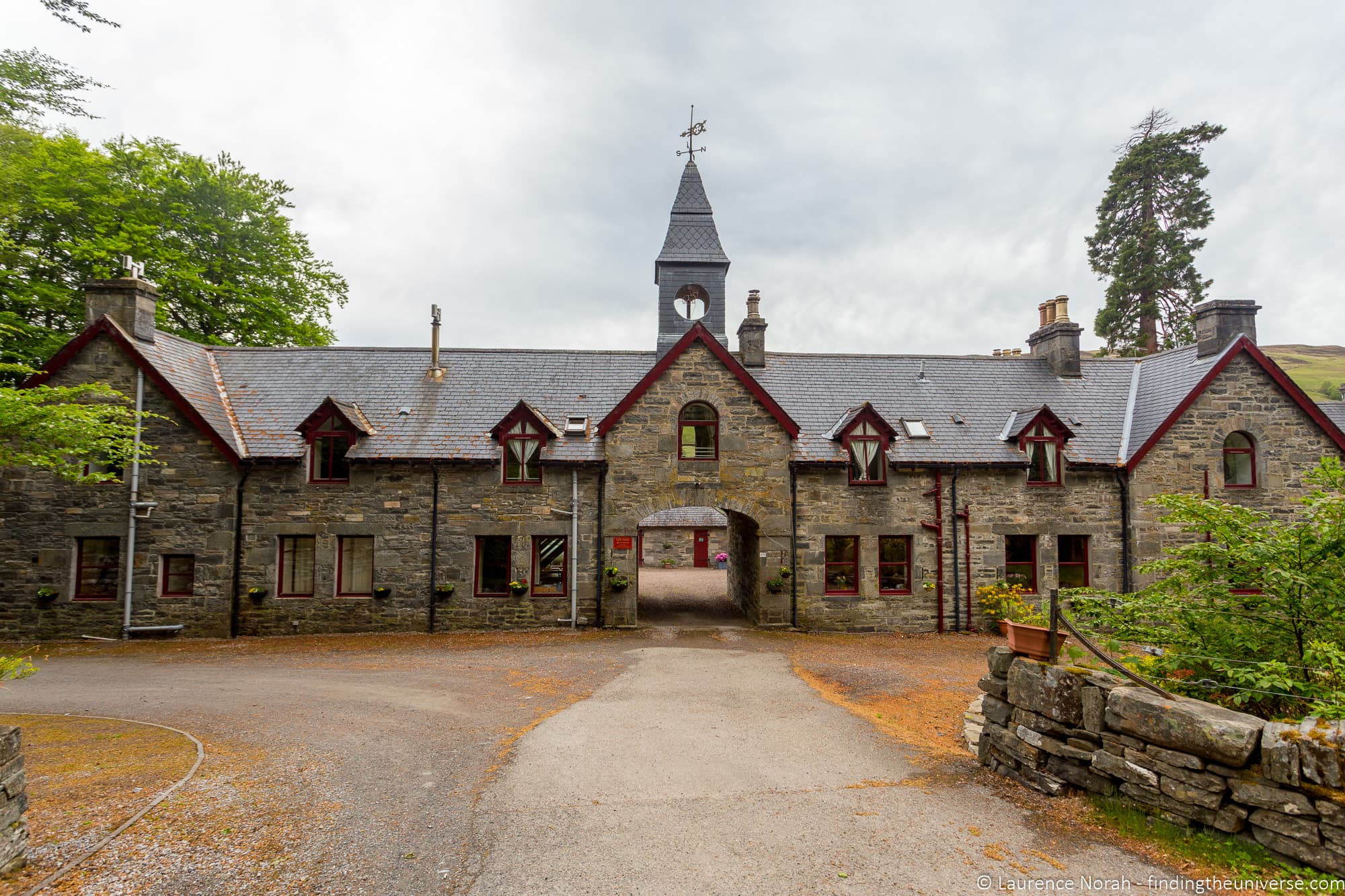 Note that as far as we can tell, a two night minimum stay applies for most rooms, a change from when we visited for one night.
All the room types are very comfortable, and we had a wonderful night's stay here. We particularly enjoyed the breakfast, which is cooked using locally sourced produce, including eggs from their own hens. We also loved meeting their herd of Highland Coos which they have on site – a highlight of our North Coast 500 adventure.
Address: Braemore Square Country House, Lochbroom, Garve IV23 2RX
Price: From around £130 per night with breakfast for two sharing.
Book Here: Click here to book Braemore Square Country House B&B
Whilst the Torridon Hotel offers a 5* lodging experience on the North Coast 500 (and one we highly recommend in our NC500 hotels guide), they also manage the Torridon Inn – a high end B&B style property on the same grounds.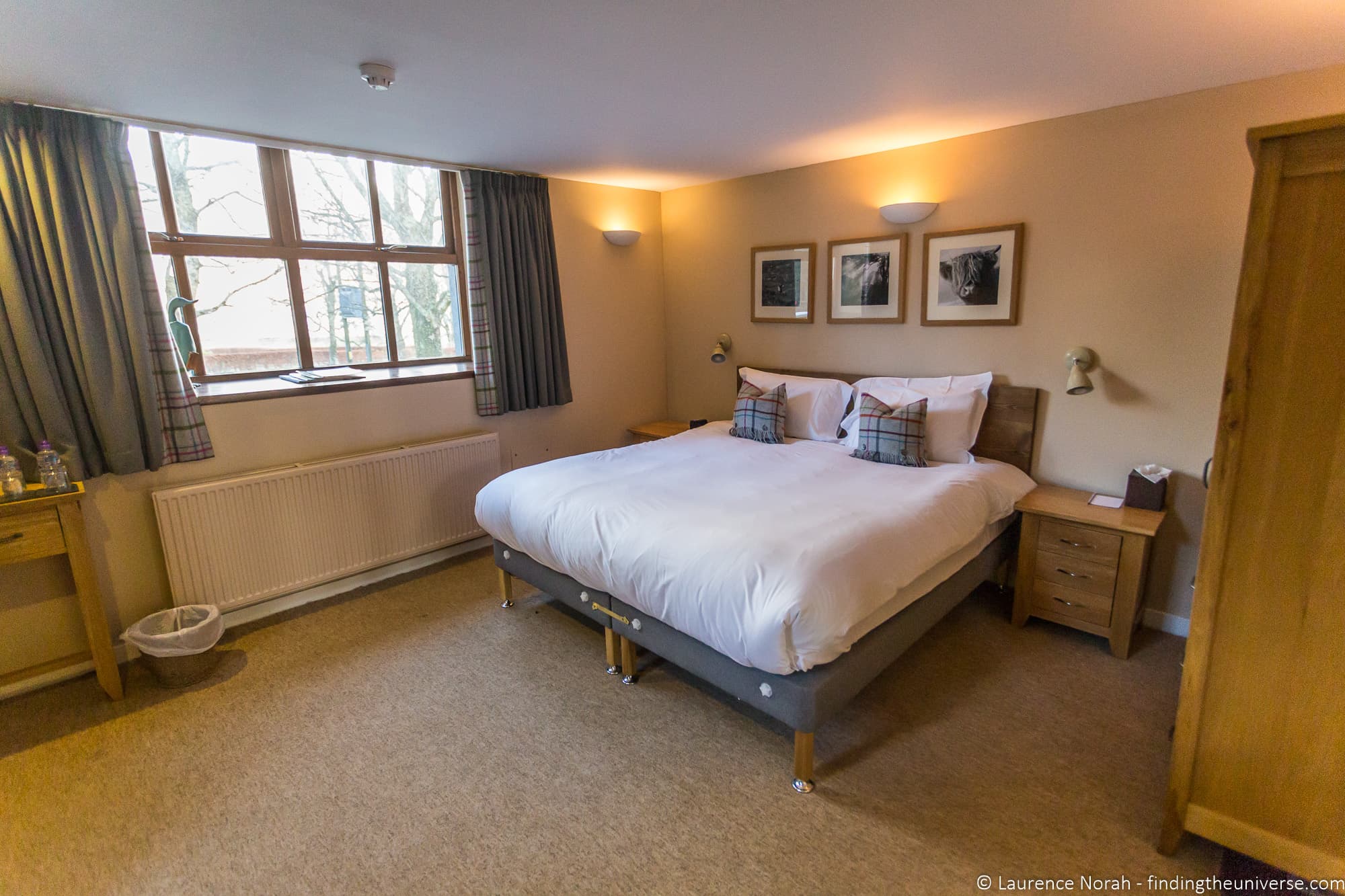 This has an excellent pub style restaurant, large rooms, tea and coffee making facilities and access to the various activities at the main hotel. Rooms would be particularly suited to families, as they have options for 2, 4 or even 6 person family rooms.
Address: Braemore Square Country House, Lochbroom, Garve IV23 2RX
Price: From around £90per night with breakfast for two sharing
Book Here: Click here to book The Torridon Inn
Towards the end of the NC500 is the village of Locharron, where you can take a safari to meet local deer, explore the ruins of a castle, and visit one of the largest tartan mills in Scotland.
When we visited Locharron, we stayed in the Pathend B&B. This has been run for a number of years by Adrian and Helen a couple who between them have decades of experience in hospitality.
When we visited, Adrian made us feel very much at home in their former Victorian Factor's House, giving us recommendations for where to have dinner as well as for what to see in the local area and surrounds.
The two rooms spacious rooms both have private facilities, and the room rate includes breakfast. It's also usually possible to book an evening meal in advance for an additional fee.
Address: Pathend B&B, Main Street, Lochcarron, Ross-shire, IV54 8YB
Price: £80 per night with breakfast for two sharing.
Book Here: Click here to book Pathend B&B
Our last entry on our guide to our favourite B&B's on the North Coast 500 is a bit of a cheat, as it's not actually on the North Coast 500. Creag Dubh Bed and Breakfast is found in the small hamlet of Erbusaig, just near to the road bridge that crosses over to the Isle of Skye.
This puts it within easy driving distance of many of the highlights of Skye as well as the world famous Eilean Donan Castle.
If you wanted to continue your Scottish road trip adventure beyond the NC500, and add on these locations for a few more days of exploration, we can recommend the Creag Dubh Bed and Breakfast as a great option between the NC500 and the Isle of Skye. Which was exactly why we stayed here, as part of a road trip that included both these awesome Scottish destinations.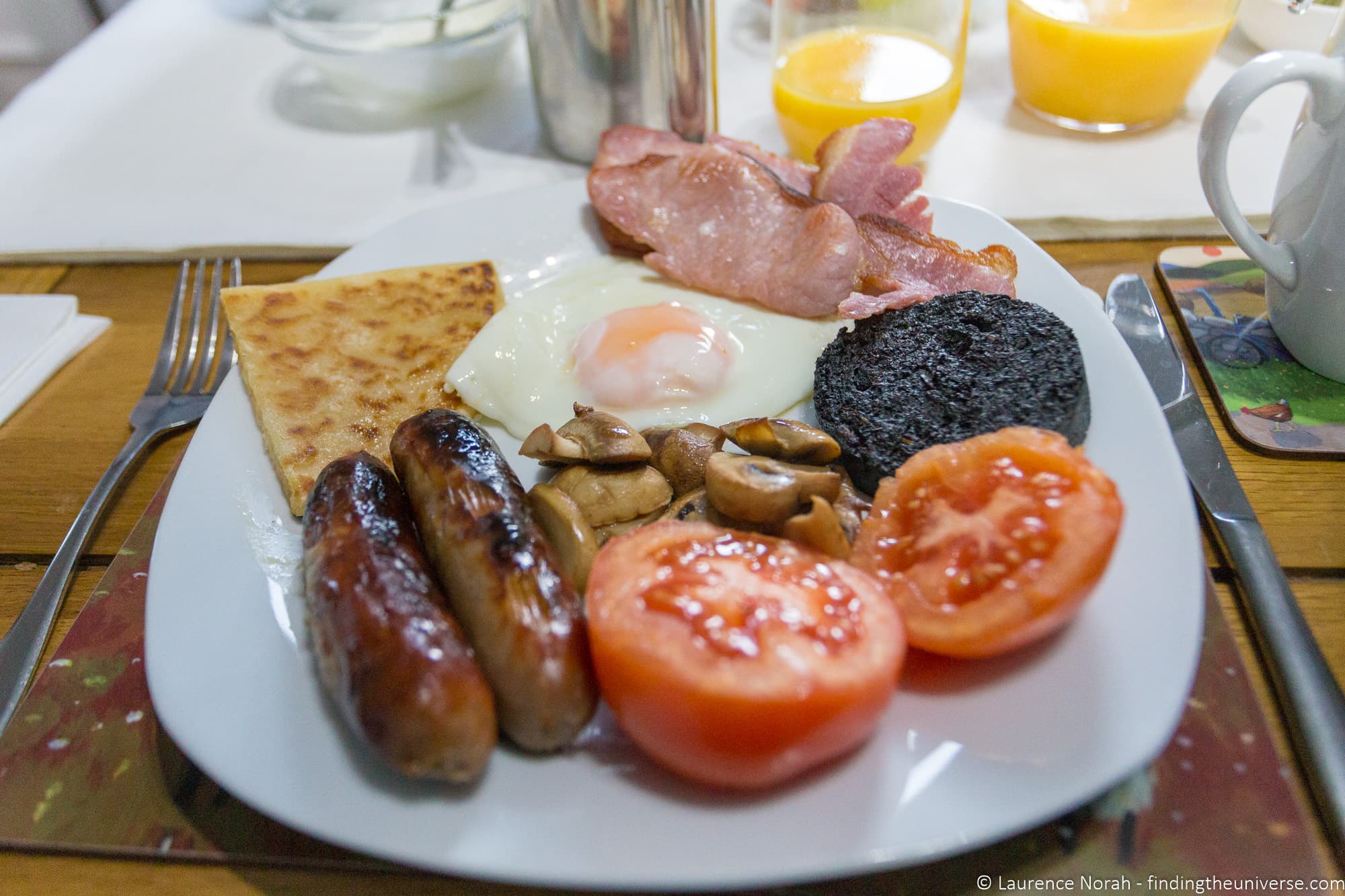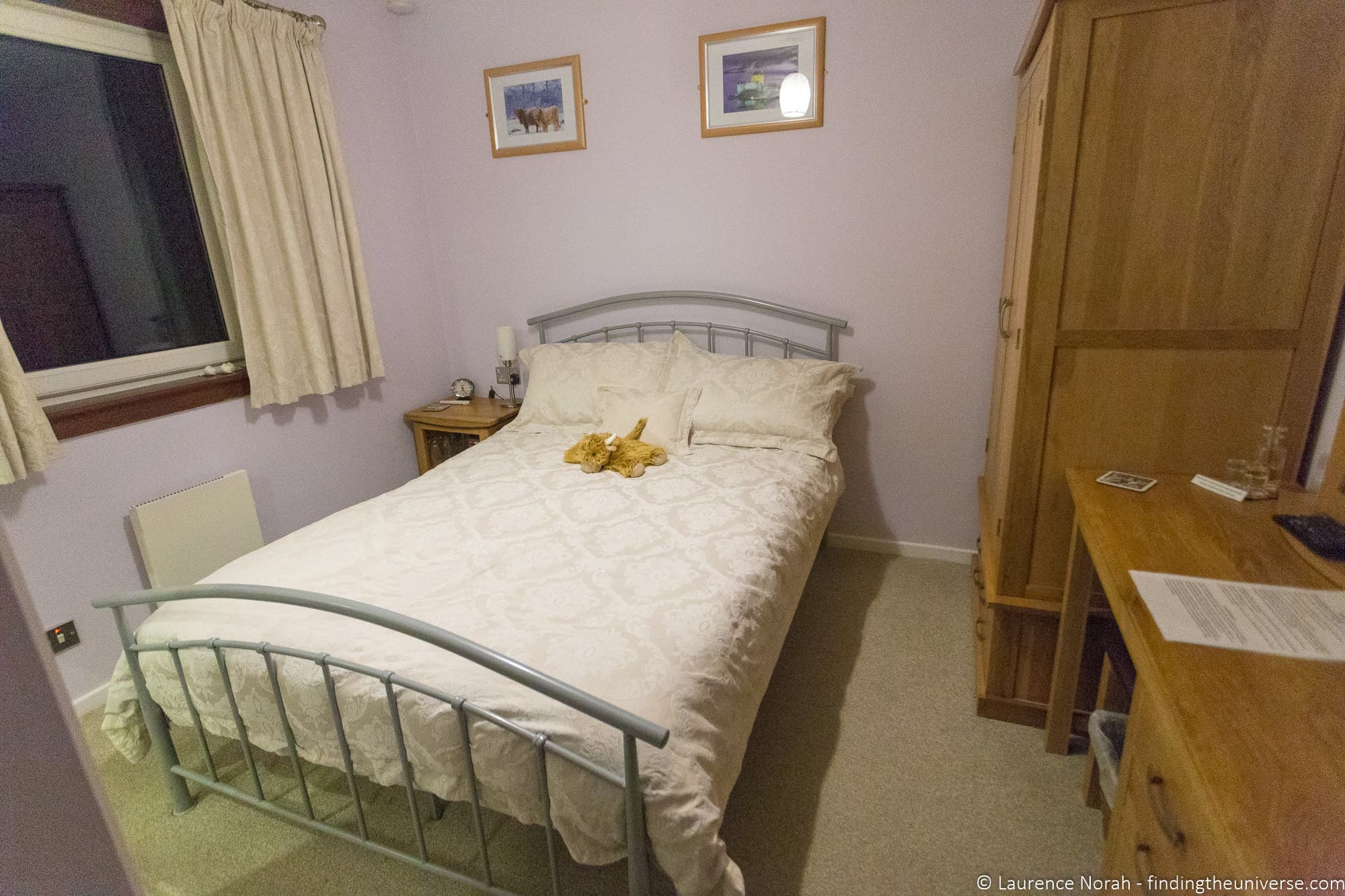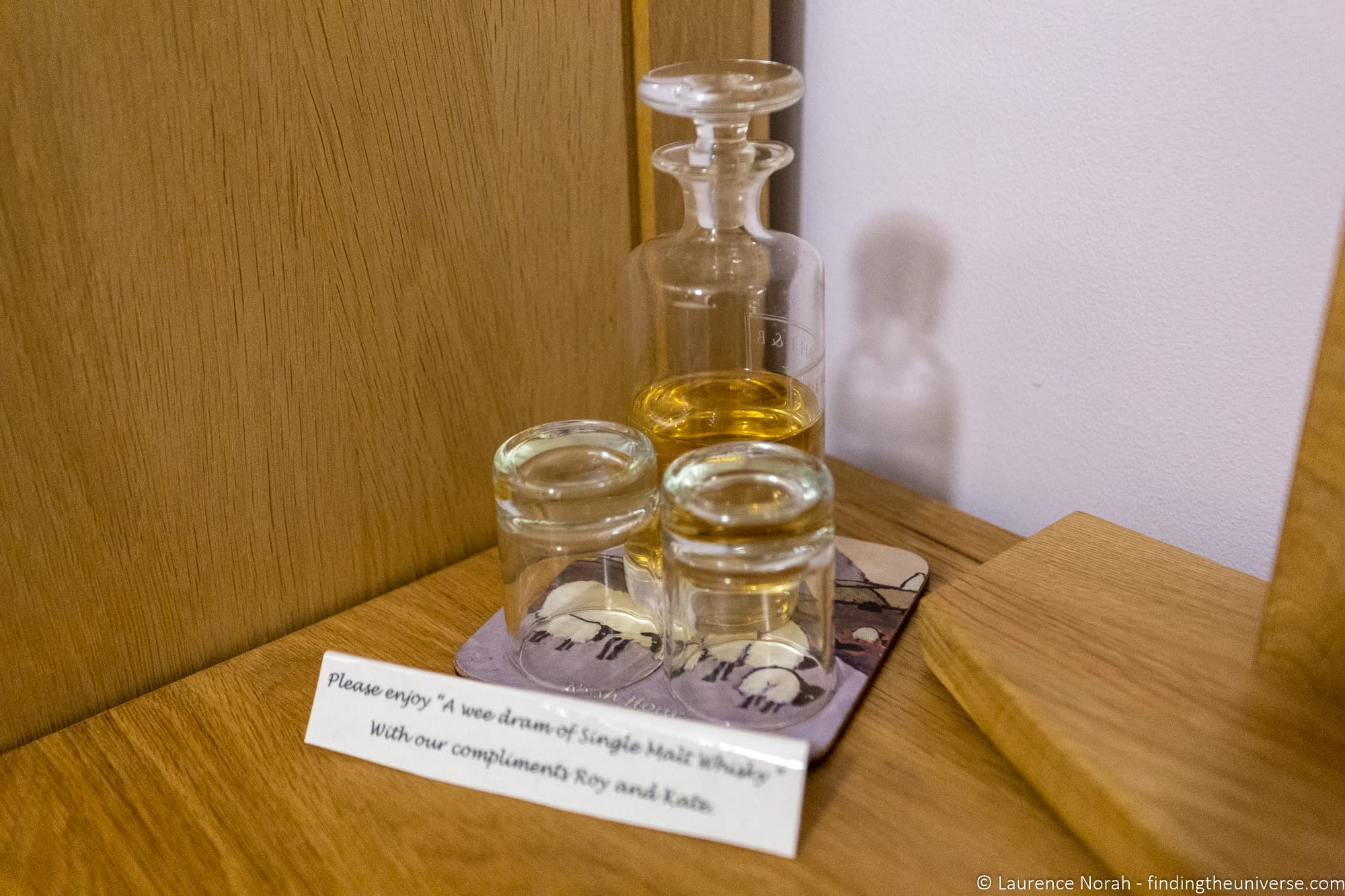 And we were very glad we did. Roy and Kate enthusiastically welcomed us into their home and showed us our accommodation. I was particularly impressed by the high-tech shower our room was equipped with, which included a radio and a variety of jets to ensure a full clean. The dram of single malt that was supplied was also much appreciated.
The rooms both have bath robes, free wi-fi and sea views, as well a flat screen TV, DVD player and tea/coffee making facilities. The double room we stayed in is en-suite, whilst the twin room has it's own private bathroom accessed through the hall. Breakfast was freshly made and plentiful, and there was free off-street parking as well.
Address: 5 An T-Sraid, Kyle IV40 8BB•01599 530334
Price: £80 per night with breakfast for two sharing.
Book Here: Click here to book Creag Dubh B&B
Map of B&B Accommodation Options on the North Coast 500
We've put together a map of all the accommodation options, which you can see below, as well as on Google Maps here.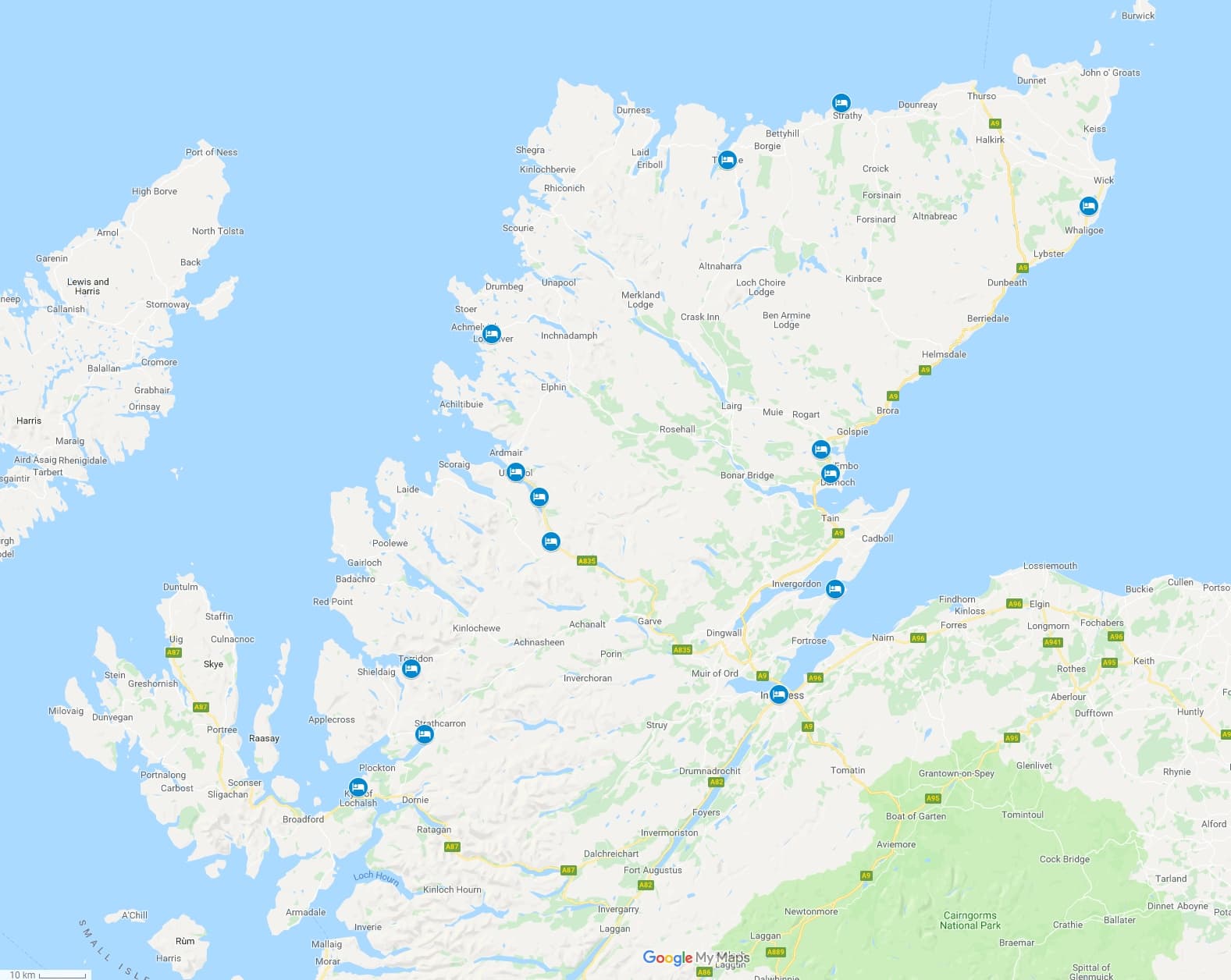 Tips for your North Coast 500 Accommodation
To help you make the most out of your NC500 road trip, we wanted to share some quick tips based on our experiences driving the route.
Book well in advance
The North Coast 500 has become very popular, especially in the summer months. From May to August, accommodation can become harder to find, and we advise against just hoping to be able to turn up in a town and find somewhere to stay.
This is especially the case for the B&B's we list here, the majority of which only have a handful of rooms. These can book out months in advance for the busiest times of year, and we highly recommend that you plan your route and book your trip as far in advance as you can so as to secure the accommodation of your choice.
We've included booking links for all the properties we've shared and a guideline price for each. Be aware that prices vary through the year, with the busier month of May – August generally having higher prices than the off-season months.
If you are having difficulty finding accommodation, we advise checking a number of different sites. For example, there are many AirBnB properties all around the NC500, which can be a good option – especially in the towns and cities like Inverness.
We also suggest trying booking.com, hotels.com, as well as the various options we list in our guide to AirBnB alternatives.
Go out of season
If you want to avoid the crowds on what has become a very popular driving route in Scotland, as well as take advantage of better availability (and often lower prices) on accommodation, we can very much recommend driving the NC500 out of season.
The busiest time of year is definitely from May to August. Whilst July and August are popular times for campers to drive the NC500, speaking to B&B owners, May and June are also very busy.
So if you can put up with potentially fickle weather and a few less hours of daylight, we can definitely recommend driving the NC500 between October and May. Just note that many hotels, restaurants, and attractions are seasonal along the route so be sure to check opening dates and times for the any places that are must-sees.
We've done the route in all four seasons and each have their appeal. Winter can be both challenging and rewarding, but perhaps not the best for a first time visitor!
Take your time
We understand that not everyone has an infinite amount of vacation time on their hands. However, we would urge you not to rush the NC500. Whilst it can be driven in two or three days, we would suggest that you will have a more enjoyable time if you take at least five, or ideally seven, days to do the route.
You could definitely spend even longer driving the route – we've drive the route multiple times, taking around a week each time to do it, and we've still not seen everything we want to see along the way.
If you take a bit more time, you'll be able to stay at some of these properties for longer than one night. This will let you get to know the locals a bit better, discover some of the less visited spots, and not feel that you have to rush on to the next stop so quickly.
Many B&Bs also offer discounts and special offers for those who stay more than 2 nights at a time.
Manage your Expectations
We're very happy to recommend all the properties on this route based on our experiences, however, it's important to remember that you are travelling in a remote part of the world, and so sometimes not everything will be perfect.
Supplies can be challenging to get, WiFi can be temperamental, and if you are used to travelling in a country like the USA for example, room sizes are likely to be smaller than you are used to in general.
We would definitely ask you just to keep this in mind when travelling – we think these things are all a part of the charm of travelling in such a beautiful and remote part of the world. Just throw yourself into the adventure with an open mind, and we are sure you will have an incredible time.
Chat to the locals
One thing we can very much recommend you do as you travel around the North Coast 500 is to spend a bit of time if you can getting to know the locals. The easiest way to do this is by talking to the hosts at each B&B you stay at.
You'll learn a lot about life along the NC500, get tips for what to see and where to eat in the local area, and generally get a great insight into this region of Scotland.
We've always enjoyed chatting with B&B owners along the route, and sometimes we'll drop in to a previous B&B for a chat when we're driving the route – even if we're not staying over!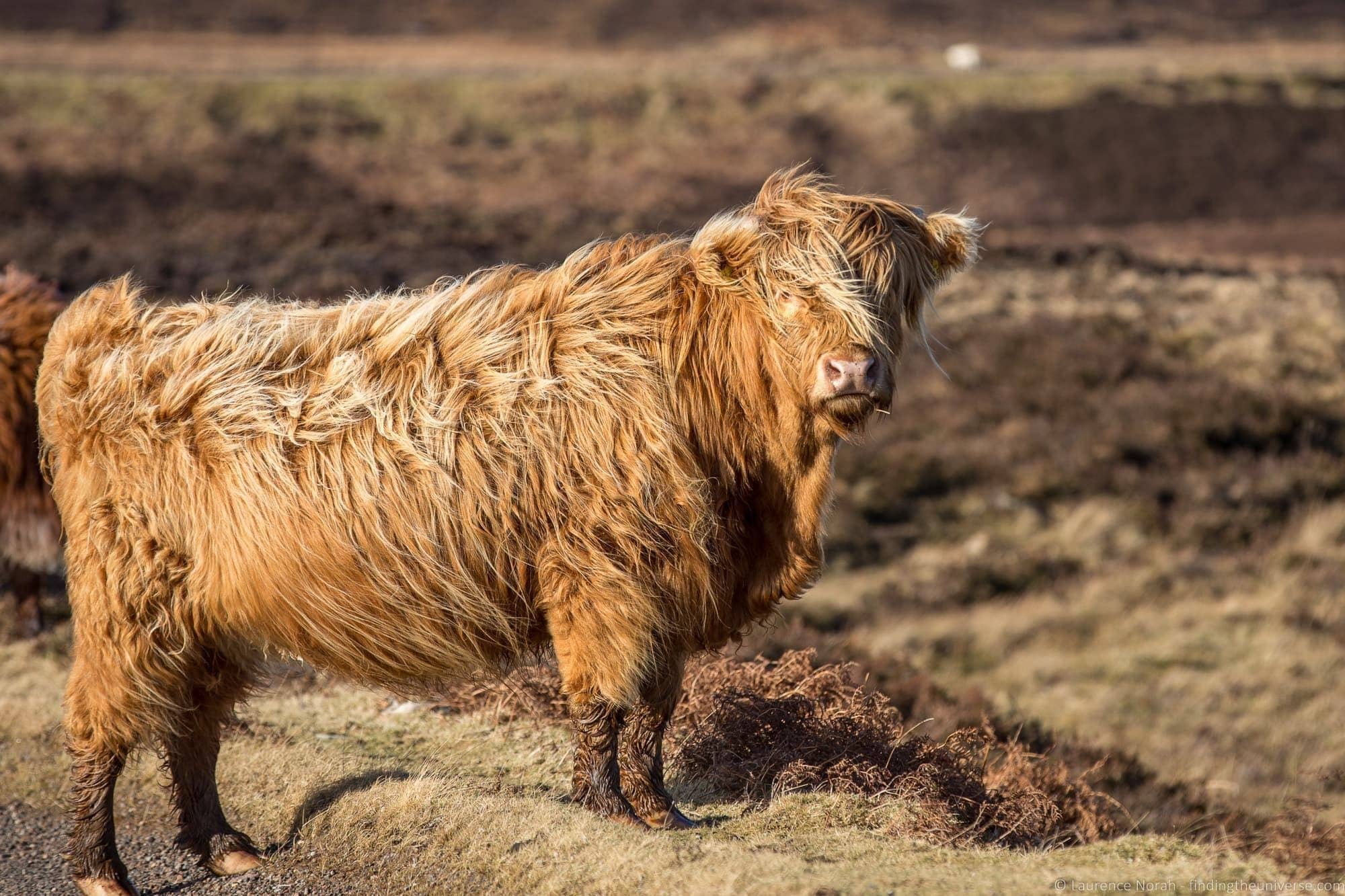 Further Reading for your NC500 Road Trip
That sums up our guide to some of our favourite B&B accommodation on the North Coast 500, based on our personal experiences driving the route. We're sure there are many more excellent accommodation options of course, but these are ones we can recommend based on our own travel experiences so far.
To help you further plan your NC500 adventure, we have put together a number of detailed guides, as well as some other general posts about travelling in Scotland and the UK which we think you will find useful. These are as follows:
And that's it! We hope you found this guide useful. As always, if you have any questions or feedback, let us know in the comments below!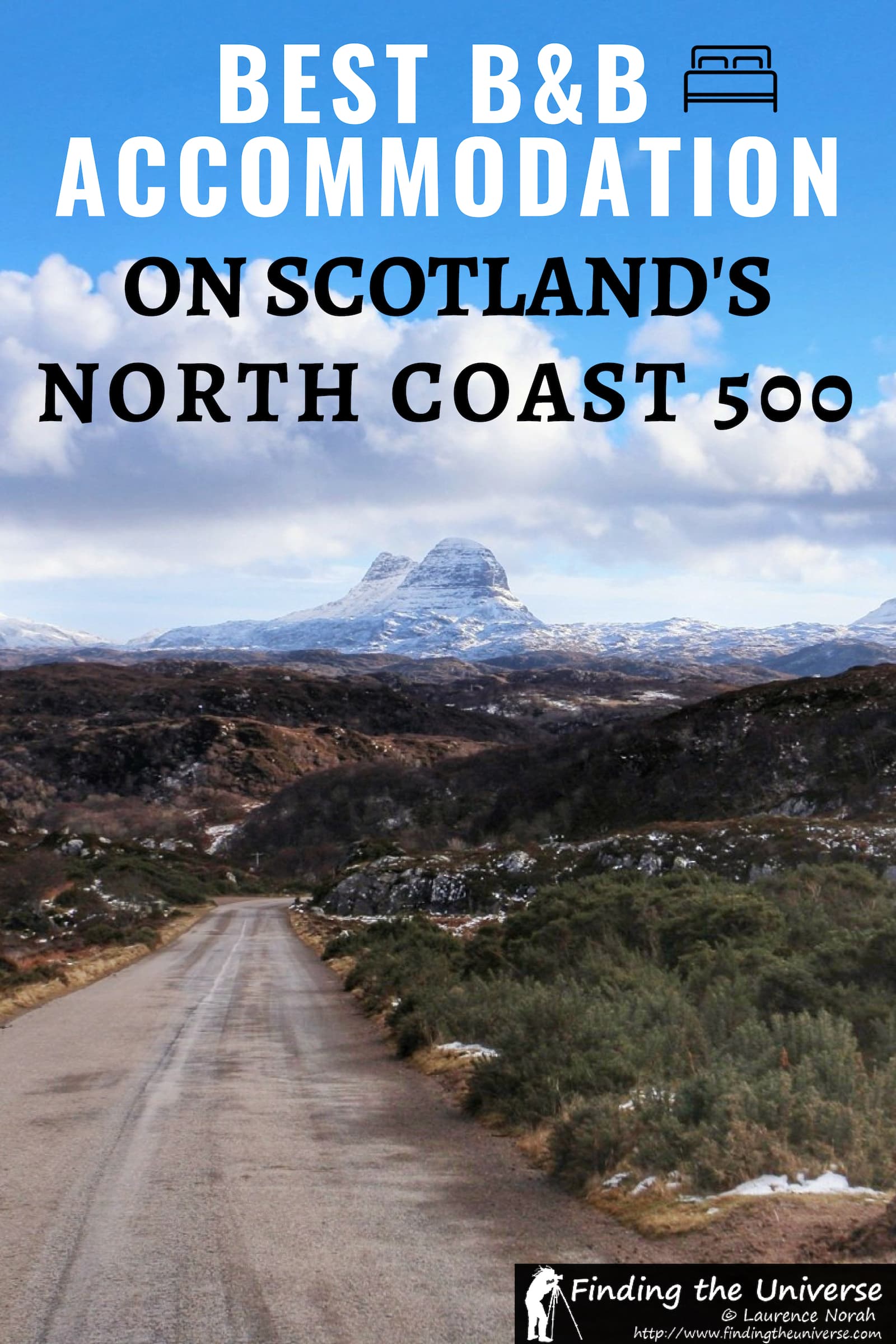 Home » Destinations » Europe » UK » Scotland »