Spanning a fabulous 500 miles around Scotland's northern coast, the relatively recently launched North Coast 500 road trip is already being lauded as one of the world's finest drives. As we're huge fans of road trips, and this one is practically in our back yard, naturally Jess and I took the opportunity to hit the road ourselves when the official NC500 folks invited us to do so.
Since that first trip, we've driven the North Coast 500 multiple times in both directions at all times of year. It's definitely one of our favourite road trips to take in the UK.
We've already written about our favourite photography locations on the North Coast 500, and we've put together a detailed guide to accommodation on the North Coast 500 as well as a 5 day North Coast 500 itinerary. This all forms part of our Scotland content.
For those of you planning your own North Coast 500 trip, Jess has also put together the definitive guide to planning a North Coast 500 trip.
In today's post, I want to share some of our absolute highlights of the North Coast 500 – an experience you definitely need to add to your travel wish list!
Highlights of the North Coast 500
Below are some of our favourite sights and experiences on the North Coast 500! They're not in any particular order, but we definitely recommend you try as many of them as possible when driving the route yourself!
1. Beauly Priory
Scotland is home to a great many ruined religious buildings. and Beauly Priory is no exception. Founded in the early 13th century, the priory was abandoned in the 16th century during the Reformation, and today only the ruins of the church building remain.
The property is cared for today by Historic Environment Scotland, and can be visited free of charge as part of a visit to the small town of Beauly. It's a short walk through the abbey grounds to the ruins, and it's a very peaceful and tranquil spot to visit.
2. Castle of Mey
If you're a fan of the Netflix series "The Crown", or 20th century British Royal History in general, you'll know that the current Queen's mother purchased what was known as Barrogill Castle in 1952.
This castle, on the far north western corner of Scotland, was in quite a state of disrepair, but Her Majesty Queen Elizabeth the Queen Mother (to give her her proper title), renovated and restored the property, She also changed it back to its original name of the Castle of Mey.
During her lifetime the HM the Queen Mother would visit every year for around four weeks, and following her death the castle has been open to the public during the months of May through September. We very much enjoyed visiting and learning about this piece of Royal history, and definitely recommend anyone passing by does the same.
3. Staying in a Castle
Speaking of castles, we don't think that any trip around the North Coast 500 is complete without a little time spent sleeping in a castle. There are many fantastic options to choose from, including Tulloch Castle, Kincraig Castle and Dornoch Castle.
In addition to castle hotels, you'll also find some fantastic historic homes, manor houses, lodges, cottages, and boutique hotels along this route which can make your stay a bit more special.
You just can't beat waking up in a four poster bed surrounded by old furniture and fabulous views of Scotland out of your window, followed by a full Scottish breakfast to set you up for the day.
For more information on castles, and accommodation in general along the North Coast 500, take a look at Jess's incredibly comprehensive guide to where to stay on the North Coast 500. If you are looking for a special spot along the NC500, you'll likely find a few you'll enjoy among our lodging recommendations.
4. Smoo Cave
One of the more unique caves in the UK, this is the only cave you'll find in the whole country that was formed by both sea water and rain water. The sea created the first large chamber through consistent erosion, while the interior caves were formed by rainwater.
Inside the cave interior, there's an incredible 20 metre high waterfall that drops into the cavern through a sinkhole, and then drains out through a river into the sea.
You can visit Smoo Cave free of charge, and it's a short walk down from the car park. You can also venture further into the cave by means of a guided tour – see this website for more information on tour operating hours and pricing.
Whilst you're visiting Smoo Cave, do take a bit of time to visit the Craft Village at Balnakeil. As well as being home to the incredible Cocoa Mountain, where you can reward yourself with a truly decadent hot chocolate, this little craft village is home to a number of shops and cafes where you will be able to peruse arts, crafts, and food from local artisans.
5. Ardvreck Castle
If you like castles (who doesn't like castles?), Scotland is definitely the country for you. Ardvreck Castle is one of our favourite castle ruins on the North Coast 500, and sits on a rock promontory jutting out into Loch Assynt.
The castle has been ruined since 1672, when Clan Mackenzie attacked and destroyed the castle, which had been built by Clan MacLoed.
Today, all that remains of a once much larger structure is the ruined tower and the castle foundations, although these are definitely interesting enough to warrant a visit, and are particularly picturesque at sunset and sunrise (especially if the Loch is still!).
If you prefer your castles of the non-ruined type, then fear not, the North Coast 500 has you covered. Other highlights we enjoyed include Dunrobin Castle, and the aforementioned Castle of Mey.
6. Adventure Activities
The wilderness of the North Coast 500 lends itself perfectly to a range of adventure activities, from hiking to mountain climbing to sea and loch kayaking.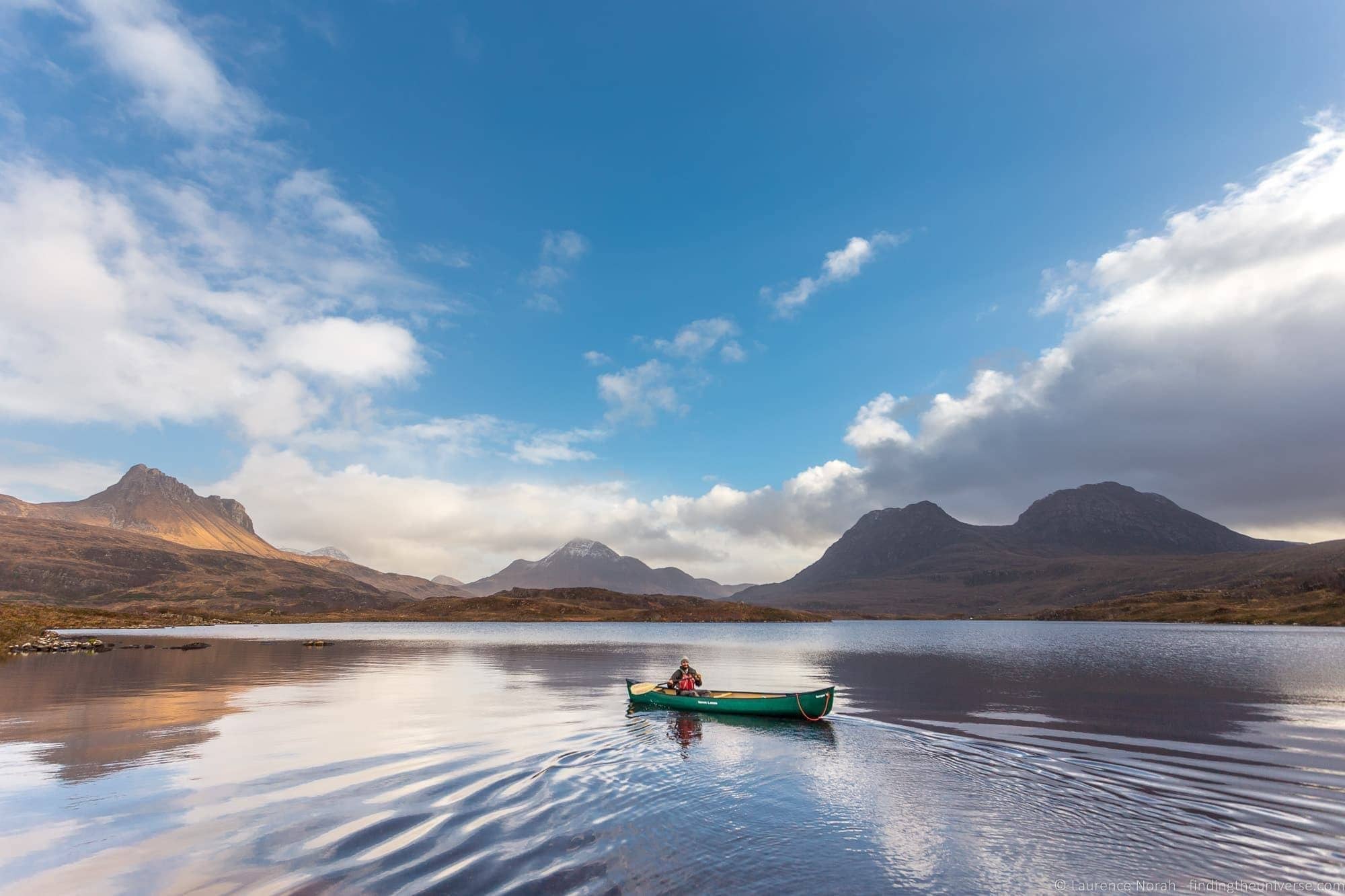 If you're interested in these types of activities, then we can highly recommend the services of Hamlet Mountaineering.
The owner Tim is a really knowledgeable guy with the expert knowledge you need to do a wide variety of activities in a safe environment. We've been kayaking with him on both lochs and the sea, and had a thoroughly wonderful experience. You can read our experience of a hike up Suilven and overnight camping trip here.
So if you're looking to hike up a challenging mountain, or kayak around the summer isles, we can highly recommend his services.
7. The Drive Itself
As the saying goes, "Life's a journey, not a destination." This, for us, perfectly sums up the North Coast 500 experience. Yes, there are sights and experiences not to miss, but don't forget just to sit back and just enjoy the drive itself.
Every corner on the North Coast 500 seems to reveal a new treasure, from a hidden beach to a sweeping vista to a stunning loch. Plan time in for a lot of sight-seeing as you go, and don't tie yourself to a strict itinerary that doesn't account for all the photos you'll be stopping to take!
8. Meeting the Highland Deer
One of the absolute highlights of our trip on the North Coast 500 was our experience with Colin Murdoch in Reraig Forest. Colin is an expert deerstalker who manages a herd of deer in this forest, and on our trip with him we got to within touching distance of his beautiful deer.
Colin was a truly wonderful character who entertained us for our entire tour with him with stories of his life working in the highlands, making us laugh out loud. This is one experience you really have to have first hand – visit his official facebook page for contact information, and be sure to book your tour in advance so as not to be disappointed.
9. Corrieshalloch Gorge
One of the fabulous things about the North Coast 500 is the variety of sights that you'll come across.
Take Corrieshalloch Gorge for example. This mile-long box canyon, spanned by a Victorian Suspension bridge and surrounded by woodland, is a wonder to behold, and quite unlike anything else you'll see on the route.
There's a series of waterfalls, as the River Droma hurtles through the narrow chasm, and it's well worth the short walk down from the car park to experience.
10. John O'Groats
If you grew up in the UK as I did, then the name John O'Groats will instantly be familiar as the most northerly point in mainland UK. Unfortunately, as I only recently learnt, my childhood geography knowledge was a castle of lies, as John O'Groats isn't in fact the most northerly point in the UK.
Instead, John O'Groats is the town which is the furthest away from another inhabited part of the UK, that being Lands End in Cornwall. Presumably "the town which is the furthest away from another inhabited part of the UK" wasn't quite as pithy as "most northerly", so that's the bit that stuck.
Whatever its title though, there is a cool sign with distances to notable locations, a good view across to the Orkney Islands, and some pretty little houses. So John O'Groats is well worth visiting, if only so you can say you've visited the town which is the furthest away from the another inhabited part of the UK", and impress all your friends.
11. The Spectacular Waterfalls
I love waterfalls, and I'll always do my best to seek them out wherever we go – even in places not necessarily known for their falls! There are plenty of truly spectacular waterfalls to visit along the North Coast 500, in a variety of shapes and sizes.
If you only choose to visit one or two, then we recommend the Fairy Glen at Rosemarkie or the impressive Clashnessie Falls near Clashnessie, both of which are really lovely.
12. The Highland Coos
No visit to the Scottish Highlands would be complete without meeting some of Scotland's wonderfully hairy Highland Cows, or "Coos" as they're known locally. These somewhat scary looking horned beasts are actually fairly docile, and they make for wonderful photography opportunities.
You can spot the coos in a number of locations along the route, where they might just be grazing, with one particularly good spot being on the road around the Applecross headland.
However, if you don't happen to be lucky enough to spot them "in the wild" as it were, don't worry, there are a number of locations where you're guaranteed to see them.
We suggest you first try the Robertsons Larder and Farm Shop, just north of Inverness, who have two lovely highland coos on their property, as well as a fantastic farm shop where you can stock up on picnic ingredients.
The other location we would suggest is the Torridon Hotel near Torridon, although as this is a hotel and therefore private property we'd suggest that you should look to spend the night here if you want to meet the coos, as we did.
13. The Friendly People
Scottish people are, in our experience, wonderfully friendly and welcoming. So certainly I couldn't write a post about our experience travelling the North Coast 500 without mention of the warm hospitality that we encountered all the way around.
From hotel staff and owners, to locals in the cafes and bar, we had only positive experiences on our adventure, and this was definitely one of the high points of the trip. When you're journeying the NC500, or in Scotland in general, do take some time to chat with the locals – you won't be sorry you did.
14. The Gorgeous Beaches
When visiting Scotland, people often talk about the beautiful scenery, which usually encompasses the mountains, highlands and lochs. However, what folks sometimes forget to mention are the beaches.
Scotland has some truly stunning beaches, with white sands and turquoise waters – if you squint a little, you might even think you're on a far flung Caribbean Island rather than in the northern reaches of the UK.
Of course, this illusion will be shattered as soon as you enter the water, which might look warm and inviting, but remains frosty throughout most of the year. Still, on a hot summers day it can be very refreshing to take a cold dip.
Some of our favourite beaches included Achmelvich, Sandwood Bay, and the series of coves just to the east of Smoo Cave – although there are hundreds of gorgeous beaches to discover around the route, and we're sure you'll find your own favorite!
15. The Whaligoe Steps
A rather unexpected find on our trip around the North Coast 500 were the Whaligoe Steps. These are a series of over 300 steps which zigzag 250ft down a fairly sheer cliff face to the natural harbour at Whaligoe.
These steps have been here since the early 18th century, when the harbour was in use as a fishing station. Whilst easier to access harbours have since been built in the area, the steps have been maintained, and they are a fun (if slightly terrifying) local attraction that are worth a visit.
They are a little hard to find, so follow the instructions on this site to locate them and the small car park. Then, when you are done climbing, reward yourself with a hot drink at the Whaligoe Cafe at the top of the steps.
16. Glen Ord Distillery
You didn't think I was going to write a post about the highlights of the North Coast 500 without mentioning whisky did you? Whisky is definitely my favourite beverage, and a tour of a Scotch distillery is a must on any visit to Scotland. Conveniently, Glen Ord Distillery can be found right along the route, so it's an easy stop to make.
Operating since 1838, Glen Ord produces a number of single malt whiskies under the Glen Ord label, and also produces whisky for the Johnnie Walker blends. The tour takes you through the whole whisky creation process, and culminates in a tasting – always the best part of the tour in my opinion.
For those of you driving, Scotland's drink driving limit is (sensibly) very low. Thankfully, the distillery tour folks are aware of this, and you can have your taster to go – meaning you can enjoy it when you get to your accommodation at the end of the day, which is what I did.
For more distilleries along the route, see our guide to whisky distilleries along the North Coast 500.
17. Dunnet Bay Distillery
Scotland is not just about whisky! There's been a huge boom in small batch Gin distilling in Scotland over the past few years, and one of the best of these is definitely the gin being produced by Dunnet Bay distillery.
Again, this is right off the North Coast 500 route, so is an easy stop. The tour is obviously a fairly short experience as this isn't a huge operation, but it's fun to learn about how gin is made, and then try some of the many fascinating flavours they have on offer.
We especially loved the bottles they use here, and the designwork on the bottles is pretty amazing. Definitely worth a visit even if you aren't usually a gin drinker – you might be converted!
18. Full Scottish Breakfasts
When you're driving the North Coast 500, one of the things you absolutely have to experience is a full Scottish Breakfast. Whilst the exact items you'll be served may vary slightly, I would suggest that you should definitely have a "tattie scone" as one of the key ingredients, thus differentiating this from a traditional Full English breakfast.
The other item that you would not usually find on a Full English would be a slice of haggis, one of Scotland's most famous food stuff that is worth trying at least once. Other items on your plate should include bacon, sausage, and a fried egg, as well as toast, baked beans, black pudding, fried tomatoes, fried mushrooms and possibly a lorne sausage.
If you get a plate with all of that on, you're definitely going to be set up for the day. If it sounds a bit too unhealthy, then why not try some other classic Scottish breakfast dishes such as porridge, or smoked salmon and scrambled eggs. Whichever you go for, we guarantee you won't need to eat for a while!
19. Bealach Na Ba
Not for the faint at heart (or those driving large vehicles!), the Bealach Na Ba is the UK's steepest road, and follows a winding gradient from sea level up to just over 2000ft, making it the third highest road in Scotland.
The road itself is stunning, featuring beautiful hairpin bends that wind down into the valley below. From the top, there are incredible views of the surrounding landscape, including (if you are lucky to have a clear day!), fantastic views across to the Isle of Skye.
It's not usually possible to drive over it in winter conditions, and isn't suitable if you're a nervous driver or have a large vehicle like a motorhome. If you do brave it though, you'll be rewarded with absolutely fantastic views and an experience that you won't forget in a hurry!
20. The Fabulous Food
There's a lot more to Scottish cuisine than haggis and breakfast, and we were hugely impressed by the quality of cuisine on offer at the restaurants, cafes and hotels that we stopped at on our journey around the North Coast 500.
From local favourites like salmon, venison and of course, haggis, through to more international cuisines, we were rarely disappointed by a meal on our trip, be it a beautifully prepared steak through to a pub burger.
Definitely be prepared for some delicious meals along your journey!
Tips for Driving the North Coast 500
Those were all our highlights of the North Coast 500! Now, I want to share with you a few tips for driving this route that will help ensure you have a fantastic trip.
These may seem either obvious or like I'm nagging you, but hopefully if everyone follows some simple common sense then the route will be enjoyable for everyone for many years to come!
1. Drive Safely
Ok, so this might seem obvious, but you'd be surprised. The roads in remote Scotland are not exactly designed for large volumes of traffic, so you're going to want to take your time to avoid hitting distracted pedestrians, bikers, and livestock (lambs are particularly vulnerable in the Spring and Summer months).
Only overtake where it's safe to do so, and if you're driving slowly, pull over often to let other traffic pass and avoid frustration turning into a dangerous situation.
2. Take your Litter With You
The increasing volume of traffic on the North Coast 500 has led, unfortunately, to some of the local services being slightly overwhelmed. In particular, you might notice that waste bins are full to overflowing.
If this is the case, and even if not, we'd suggest not adding to the problem and causing an unsightly mess, and instead holding on to your litter until you get to your hotel or guesthouse, where you'll be able to dispose of it without adding to the problem.
This has become a particular problem with campers and caravan owners with leaving behind waste, please don't pollute this beautiful area.
3. Learn about Passing Places
Many parts of the NC500 route feature single track roads, with designated spots for vehicles to pass each other safely. If you're not familiar with these, it can be a bit confusing, so do take a look at my post on how to drive on single track roads.
The main mistake we observed by drivers on the North Coast 500 was traffic pulling into a passing place on the wrong side of the road. You should only pull into a passing place that is to the left of your vehicle. If a vehicle is coming towards you and the passing place is on the right, wait in the road by the passing place, and let the oncoming vehicle enter it to pass.
4. Only Pull Off Where it's Safe to do so
Another popular mistake by visitors to the region is to just pull over wherever a beautiful vista is spotted in order to get a photo. This can be very dangerous as other traffic might not be able to stop in time. One mistake we also often see is folks parking in passing places. This is definitely not advised – passing places are for passing – not for parking!
We highly recommend not pulling over onto the verges of the roads as this causes damage and erosion, not using passing spaces as parking, and instead, to wait until there's a proper parking space for you to safely stop. This will be much safer for you, and other vehicles. We do get that there are incredible sights that are going to tempt you to stop, but please do so safely and legally!
5. Plan Your Accommodation Now
Another tip regarding the North Coast 500 is to plan your accommodation well in advance. The popularity of the route means that many accommodations book out, sometimes months in advance, and you don't want to spend your time hunting for somewhere to sleep.
We suggest using sites like booking.com or hotels.com to start your search. They cover a wide range of property types and let you filter across a range of criteria, from price and customer rating through to features like pet friendliness and parking.
If you'd like specific accommodation recommendations, take a look at the very detailed NC500 accommodation guide that Jess has put together, and start booking your lodging as soon as you can.
We also have a guide to our favourite B&B's on the North Coast 500, and a general guide to where to book holiday cottages in the UK.
6. Get a Vehicle you are Comfortable Driving
The North Coast 500, being an epic road trip, is definitely best experienced by driving it yourself. That way, you'll be able to set up your own itinerary, as stop as often as you like for sight-seeing and photography opportunities.
The route itself is well maintained and primarily on two lane roads, although some sections of it are on single track roads with passing places. It's all paved however – you won't need any off-road capabilities in your vehicle.
The most important thing, if you're hiring a vehicle for the trip, is to hire something that you are going to be comfortable to drive. On those single track roads you may need to reverse from time to time to let other vehicles through, so you might not want something too large if that is likely to be a problem.
If you go the rental route, we suggest this site to help you pick, which scans all the top vehicle rental companies to get you the best price, and also provides 24 hour support during your trip should you have any problems at all.
Some more options for rental are as follows:
For motorhomes, we recommend comparing prices across a range of providers using a service like Motorhome Republic. You can see their UK listings here. We can also recommend checking out Spaceships for camper rental, you can check their prices here.
For car hire, there are a range of providers and it's always worth shopping around to see what prices are on offer. The main car rental companies include Avis, Budget, Europcar, and Enterprise Rent-A-Car, but there are of course many options out there.
7. Be Prepared for All Weathers
As you'll see from the photos in this, and our other North Coast 500 posts, Scottish weather is somewhat changeable! So do pack accordingly. Even in the summer months you can get grey, wet and relatively cool days.
We suggest a series of layers that you can take on and off, and something waterproof – an umbrella is an idea, but it might be windy, so a waterproof outer layer or poncho would be better!
8. Have a Plan for your Meals
Similar to accommodation, there are not hundreds of restaurants and dining options along the route. In the busier months, you absolutely need to plan where you are going to be eating if you want a sit down meal, especially in the evenings.
Many B&B's for example are quite remote, and might not have evening meals available on site. Other hotels might have a restaurant or nearby dining option, but please be sure to book in advance to avoid disappointment.
Even in the larger towns like Ullapool where there is more choice, we have often found it hard to get reservations at the more popular venues. If there is somewhere you really want to eat, you will want to call ahead and reserve.
North Coast 500 Tours
If you'd rather not drive the North Coast 500 yourself, there are a small number of guided group tours available which is a good option for seeing this beautiful part of the world and not worrying about driving on single track roads!
At the time of writing we are know of two group bus tours along the NC500. The first is a 3-day tour from Inverness from Rabbie's Travel and this 4 Day tour from Edinburgh.
Further Reading for your North Coast 500 trip
And that just about sums up some of our favourite experiences and sights along Scotland's spectacular North Coast 500 route.
Before we leave you, we've put together a number of other posts as well as third party content that you might find useful for planning your trip, both specific to the North Coast 500, and for travelling to the UK in general. These are:
And that just about sums up our highlights of the North Coast 500! Is this route on your wish list, or have you already done it? Any questions about the route? Let us know in the comments below, and if you enjoyed the post, do take a moment to share it with your friends on social media!
So you know: our North Coast 500 trip was in partnership with the North Coast 500, who covered our accommodation and the majority of our meals and attraction entry. We covered our own transport costs and additional expenses. All opinions are our own, and you can always check our code of ethics to see how we choose who to work with!