One of our favourite road trips in the UK is the North Coast 500 – a driving route that loops around the far north of Scotland, taking in fantastic scenery, gorgeous castles, and loads of attractions. It's rapidly becoming billed as one of the best road trips in the world, and for good reason!
We've driven the route both ways a number of times, and have already shared some of our experiences doing so to help you plan your own NC500 road trip. We've put together a detailed North Coast 500 planning guide as well as a photography guide, a 1 week NC500 itinerary. and a North Coast 500 accommodation guide.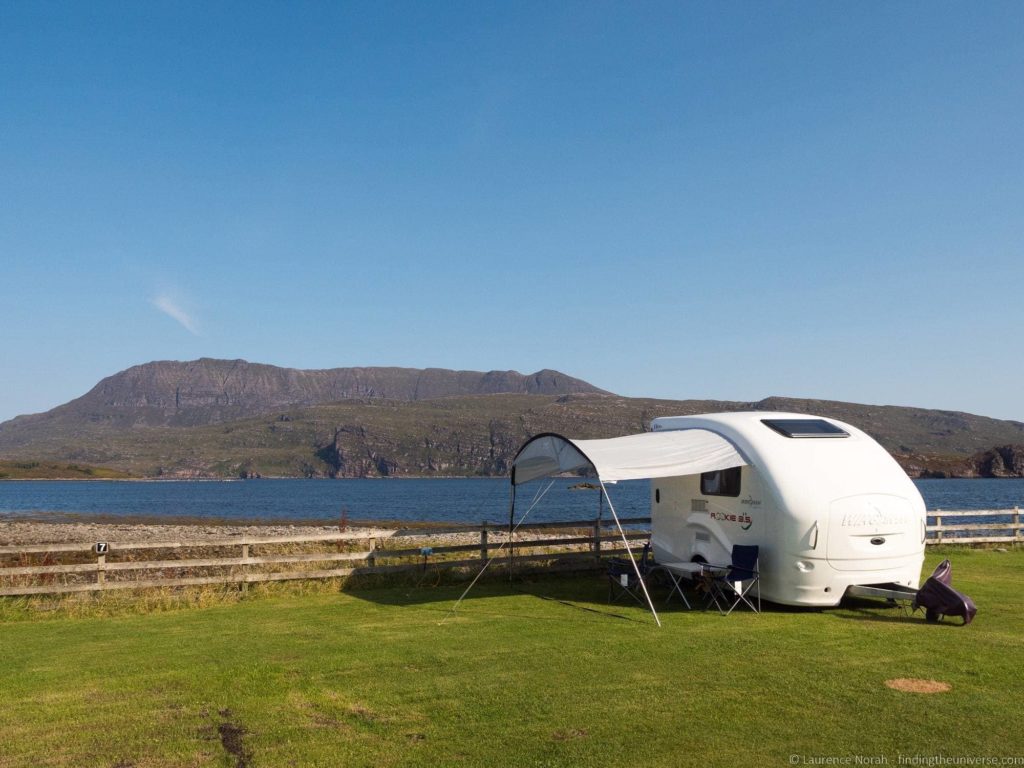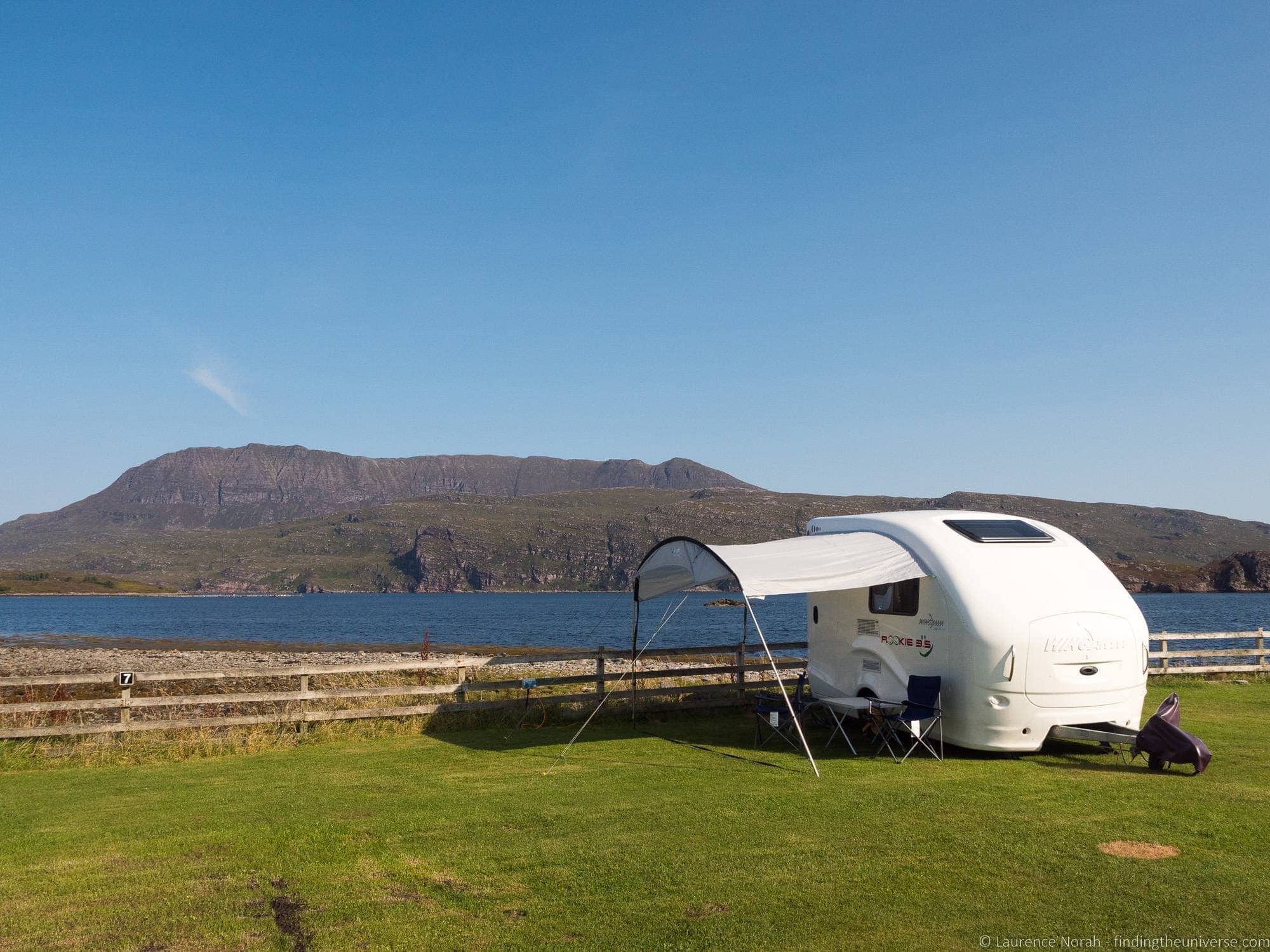 One really popular option for driving the North Coast 500 is to camp – either by taking a tent, or driving a campervan / RV. In this post, we're going to share a suggested seven day north coast 500 itinerary for those of you looking to camp around the North Coast 500.
We'll be including tips on the best NC500 campsites to stay at, places to get supplies and fuel, tips on campervan rental, as well as dedicated sections covering everything you need to know to have a fun time camping around the North Coast 500.
This post recommends a number of campsites, but it isn't comprehensive on every option. If you'd like a complete listing, see our guide to campsites on the NC500, which every camping and glamping options we could find around the route.
We think seven days is a good amount of time to see a lot of the route without rushing too much, although you could adjust this by a couple of days either way depending on your time constraints. We also have a 5 day North Coast 500 itinerary to help plan a quicker trip.
More time is always better, as you'd be able to fit in more fun activities such as hiking, clay pigeon shooting, kayaking, whale watching tours, and fly fishing.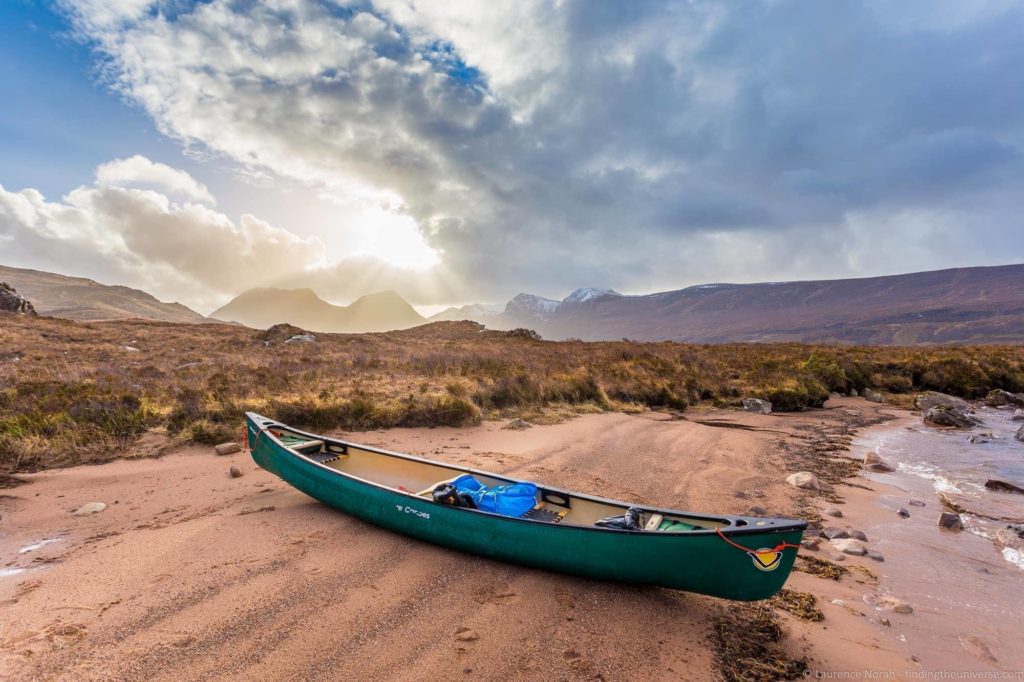 We'd highly recommend taking at least five days to drive the route – 500 miles might not seem like a lot, but the route is meant to be enjoyed, and many of the roads are single track and therefore can be slow going – especially if you are driving a larger vehicle like a motorhome!
If you have less time, we can recommend checking out the North East 250, a driving route that covers highlights of the Moray Firth coast, the Cairngorms National Park and Aberdeenshire. We have a 3 day NE250 itinerary you can take a look at.
This North Coast 500 camping itinerary will work if you are driving the route in a motorhome or packing a tent in your car.
You could also do it towing a caravan. although some of the sections of single track road will need to be skipped as they aren't suitable for caravans.
If you like the sound of this itinerary but don't necessarily want to camp, you might like to read it in parallel with our NC500 accommodation guide, and our guide to the best B&B's on the North Coast 500. We also have a 1 week NC500 itinerary that is more geared towards non-campers. But that's enough introduction. Let's get started!
7 Day North Coast 500 Camping Itinerary
This 7 Day North Coast 500 road trip itinerary has you going in a counter-clockwise direction, starting and ending in Inverness.
You can reverse it of course if you prefer though, and start anywhere you like, although Inverness is the most logical place to start and end as it has an airport and train station, as well as camping supplies and motorhome rentals.
If you have time, we can also recommend spending a bit of time in Inverness at the start of end of your journey. Highlights in the area include Loch Ness, Culloden Battlefield and Fort George, to name but a few, and the city itself has a lot of attractions that warrant a bit of time here.
Day 1: Inverness to the Black Isle
The first day of our itinerary has you exploring the city of Inverness and the nearby Black Isle. Definitely take advantage of the large supermarkets here to pick up last minute supplies for the route.
In Inverness there is plenty to see. The Inverness Museum is a good place to start your trip to learn about the history of the region, plus the tourism office nearby has a lot of information about attractions along the route that you might find useful.
We can recommend a trip to the nearby top of Inverness Castle for a wonderful view over the city, stopping in at the Victorian Market for trinkets, and a visit to Leakey's Bookshop if you love books.
For more ideas, check out our guide to things to do in Inverness.
From Inverness, you're going to head to the Black Isle, which, despite the name, is neither black nor an island. Instead, it's a peninsular bordered by two firths, originally named for the dark forests which covered it. Today, it's a popular spot for visitors, with a number of attractions to visit.
We'd highly recommend visiting the Black Isle Brewery where you can take a brewery tour and sample some of this delicious locally made beer – plus buy some for the rest of your road trip! Next, head up to the town of Fortrose, to explore ruined Fortrose cathedral.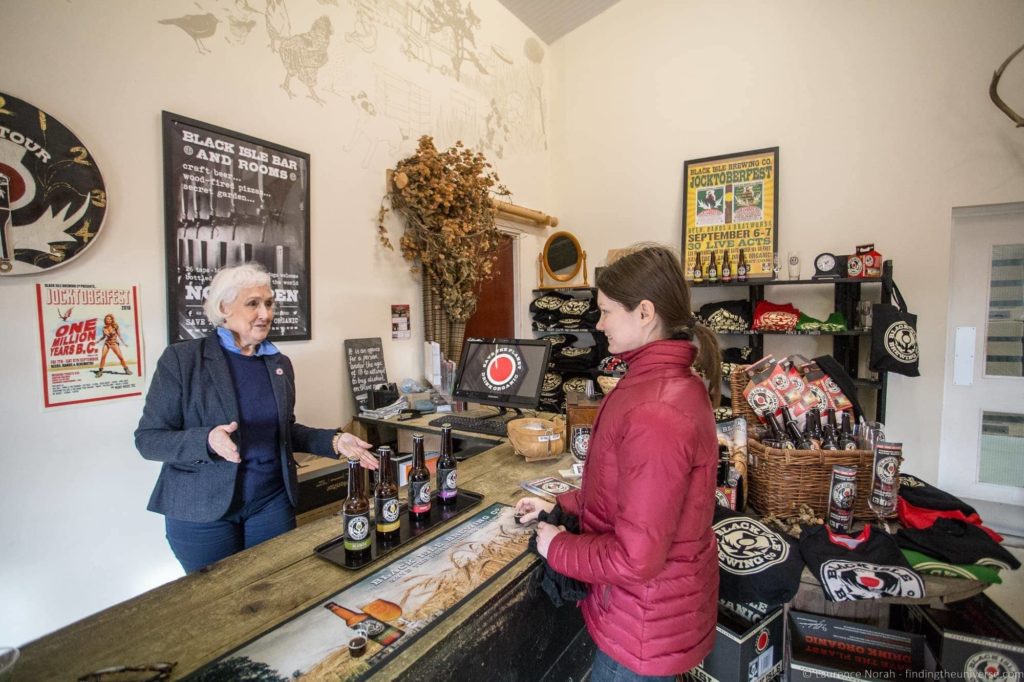 Just along from Fortrose is Rosemarkle, where you can learn about Pictish standing stones at the Groam House museum, plus take a short walk to the gorgeous Fairy Glen Falls – one of my photography highlights along the North Coast 500.
There's plenty more to do on the Black Isle, depending on how you are doing for time, including visiting the town of Cromarty, taking dolphin watching tours, and more.
Finally, we suggest you overnight at the Fortrose Bay Campsite. There's a lovely beach here, plus from the nearby Chanonry Point you might see dolphins chasing salmon!
Facilities en-route: Inverness has a wide range of large shops and service stations so you can stock up before you set off. We can also recommend Robertsons the Larder for picnic supplies.
Suggested accommodation: Black Isle – Fortrose Bay Campsite. Nearby alternatives are Dingwall Camping and Caravanning site and Bunchrew Caravan Park. If you prefer to head a little bit further north, check out either Delny Glamping or Evelix Pods Dornoch for a bit of a luxury camping option.
Day 2: Black Isle to Wick area
On Day 2 it's time to start heading north in earnest, with the route taking you up the relatively easy to drive A9 road.
There's plenty to see along the way to keep you busy though. If you're into golfing, you'll be passing the Royal Dornoch Championship Course, which is world renowned. Even if you're not into golf, a stop off in Dornoch is well worth it, the local castle hotel in the centre of town is worth seeing and the castle bar has lots of whisky!
Slightly north of Dornoch near the town of Golspie is Dunrobin Castle, a must-see stop on the North Coast 500. This is castle that seems to be straight out of a fairy tale, and a visit to both the castle and grounds should be high on your to-do list for the day.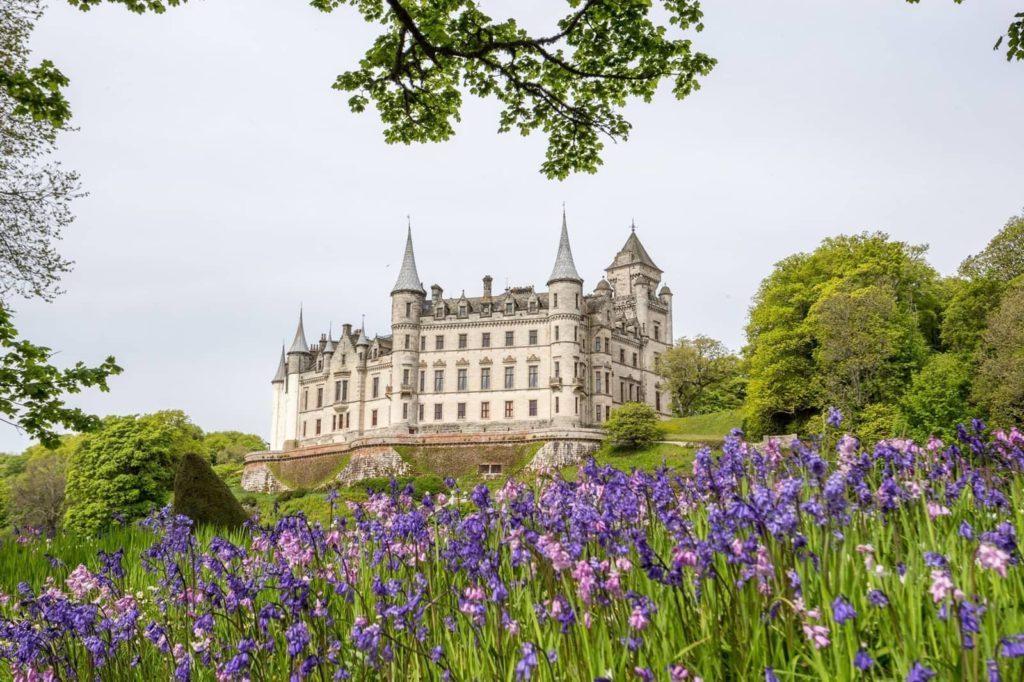 Heading on from Dunrobin, our next suggested stop is the town of Helmsdale. This has a cute fishing harbour, and the Timespan museum is a worthy stop to learn all about the history of this area. They also have a really good simple cafe, making this a good lunch stop option.
From Helmsdale, continue the journey up the A9 along the beautiful coastline, to your next stop – the Whaligoe steps. If you're also interested in old structures, there are a number of three to five-thousand-year-old structures known as brochs along this section of the road. Badbea is also home to a highland clearance village site.
At Whaligoe you'll find the Whaligoe Steps, a steep staircase which was built to provide access to the natural harbour formed here between two steep cliff walls. It's quite a walk down the 365 steps – try to imagine doing it with baskets full of fish, which is what the local women would have been doing in the 18th century!
If you're tired out after going up and down the steps, you'll be able to find refreshments at the top in the highly recommended Whaligoe Steps Cafe.
Finally, you'll end your second day in the Wick area. For campsites, you can decide how much you want to drive today. There's a campsite in Dunbeath, about 20 minutes before Wick. Or you can push on to John O'Groats, 20 minutes after Wick.
There was a caravan and camping site in Wick but this closed at the start of 2022 due to the owners retiring and it's unclear if it will be opening under new management.
In Wick itself you might want to visit the Pulteney Distillery Co to learn a bit about Scottish whisky, or the Wick Heritage Centre which is an excellent museum covering the history of the area.
If you have time, you might also want to head out to the ruins of Old Wick Castle or Castle Sinclair Girnigoe, which has s spectacular location perched on the sea cliffs, and makes for a nice spot to watch the sunset.
Facilities en-route: Wick is your best bet for supplies with lots of cafes, restaurants, & shops, including major grocery store chains Tesco, Lidl, and the Co-Op.
Suggested accommodations: Dunbeath – Inver Caravan Park or John O'Groats campsite at John O'Groats. For something a little different, head inland a little to Bower Wigwams and Pods, or a little further south to the North Star glamping pods!
Day 3: Wick to Dunnet Bay
For the third day of our North Coast 500 itinerary, we're going to visit the most northerly point in mainland Britain, see some stunning coastal scenery and try some Scottish gin!
From Wick, follow the A99 north. Along the way there are a number of brochs – thousands of year-old structures that are found throughout this area, and are well worth stopping off at.
You're now going to head up to John O'Groats, famed as being the most northerly town in mainland Britain. Here there are a couple of nice cafes, and on a clear day, a great view across to the Orkney Islands.
You can also take a five-minute drive east from here up to Duncansby Head Lighthouse, from where you might spot whales. From the car park here it's an easy ten-minute walk across the fields to see the Duncansby Head sea stacks – impressive piles of rock jutting out of the sea which are popular with a wide variety of seabirds.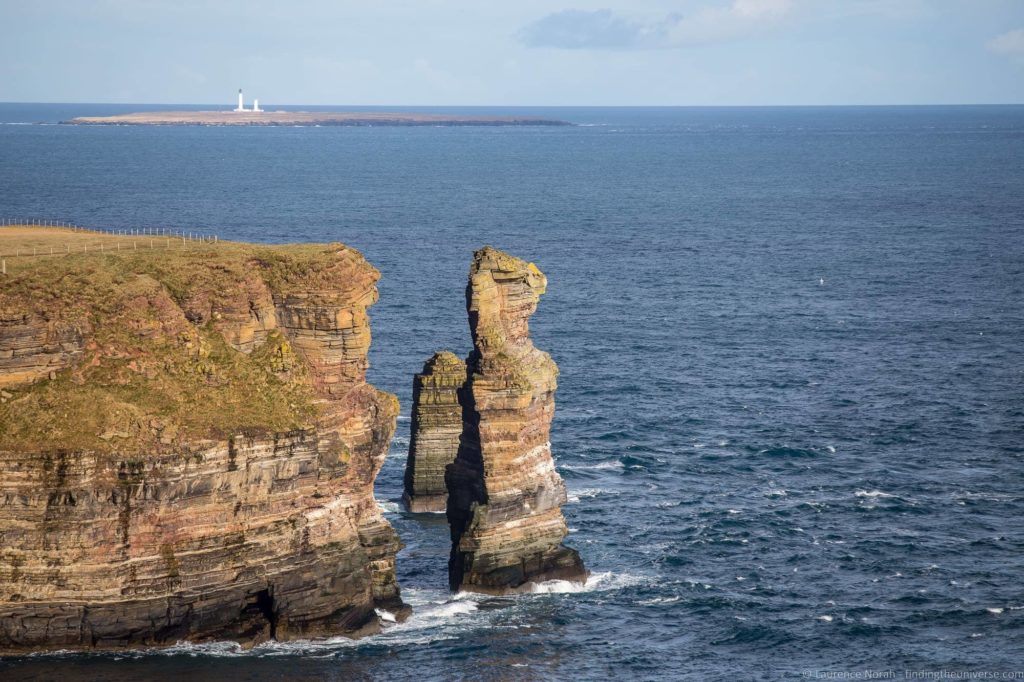 There are a number of nice cafes at John o'Groats for lunch and refreshments, we particularly recommend the Storehouse, where you can watch people taking pictures of themselves at the famous John O'Groats sign (and wait for a gap in the flow of people to get your own obligatory snapshot!). You can also take wildlife cruises from here.
Fans of TV show The Crown will definitely want to stop at our next recommendation – the Castle of Mey. This was the Castle that the Queen Mother bought, and she often spent time visiting the castle, which she helped to restore to it's former glory from it's fairly ruinous state. Today you can take a tour of the castle, the gardens, The Animal Centre (farm animals), and also have afternoon tea in the on-site tearoom.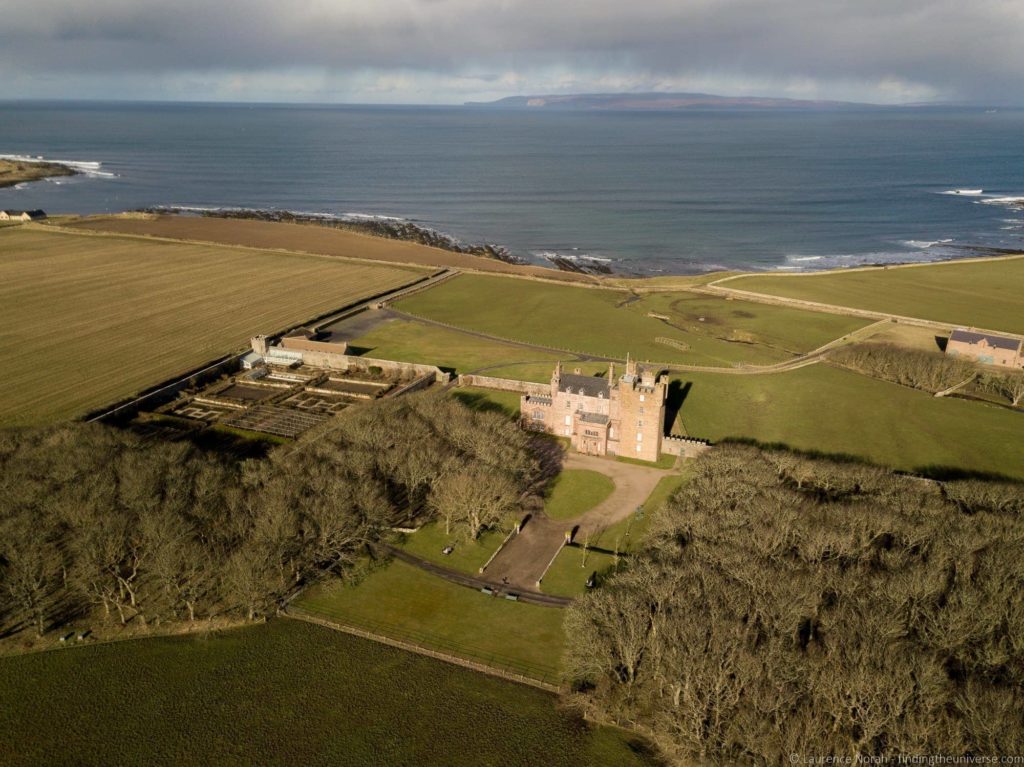 From the Castle of Mey, head along to Dunnet, where you can visit the Dunnet Bay Distillery, home to some mighty fine gin and vodka. Here you can learn all about how gin is made, plus try some of their distinctive flavors.
Then, head out to Dunnet Head, the most northerly point in mainland Britain, where you can admire the 19th century lighthouse, gaze across to the Orkney Islands, and spot seabirds.
Facilities en-route: Recommend picking up any needed supplies before leaving Wick. There are cafes and small store with essentials at John O'Groats. There is also a small store in Castletown.
Suggested accommodation: Dunnet Bay – Dunnet Bay Caravan and Motorhome Site. Nearby alternatives, Murkle Caravan Park and Morven View campsite. If you'd rather push on, try The Halldale Inn, a pub with touring park. For glampers, check out Braeside Retreats near Thurso. If you'd rather push on, there are also pods at the Wee Hoose Glamping pods.
Day 4: Dunnet Bay to Durness
The road from Dunnet Bay to Durness across the northern coastline of Scotland is where you're going to start encountering a primarily single track road. If you're not familiar with driving on these – take a look at our guide to driving on single track roads for tips.
From Dunnet Bay, you'll first pass through the town of Thurso. This is one of the last larger towns you're going to encounter for a couple of days, so is a good place to get any needed fuel and supplies. However we recommend also patronizing smaller convenience stores and shops as you travel the North Coast 500 as it is a wonderful experience and a nice way to support the local economy.
Thurso is well worth a stop for more than supplies though, and the town center is a good place to explore on foot. We can also recommend the North Coast Visitor Centre, an excellent museum set in the old town hall which has exhibits on everything related to Caithness, from Pictish Stones to nuclear power.
Next, continue to follow the A386 along the north coast, taking in the views. You'll go past Scrabster, which is where the ferry to Orkney departs from.
A good spot to stop is Strathy Point, where a short ten minute walk will reward you will lovely views of a lighthouse and the coast in both directions.
A little further along you'll find Strathnaver, home to a museum that will fill you in on the history of this area, with a particular focus on the clans and the Highland Clearances. Farr Beach is found here as well, which is a stunning beach, well worth taking a wander along, and popular with surfers.
The road continues to wind along the coast, and becomes single-track more often than not, so do exercise caution, especially if you are driving a motorhome or towing a caravan.
Our next stop is the town of Tongue, which has a small Spar (convenience store) with a petrol station attached. You can also have lunch here – there's a small cafe just before you get into Tongue itself (the Weavers Cafe), or food is available at the Ben Loyal Pub or the Tongue Hotel.
If you are looking for a hike, there is a path starting near the Ben Loyal Pub that leads uphill to a ruined castle above town. It is about a 1 hour leisurely round-trip hike up to the ruins of Castle Varrich, which is perched high on a rocky promontory and offers spectacular views.
Finally, continue your drive for another hour or so until you reach the town of Durness, where we suggest you spend the night. This is famous for the impressive Smoo Cave, a cavern you can walk inside which has a waterfall to admire. If you want to further explore the inside of the cave, you can take a guided tour. The area also has a number of beautiful beaches.
Facilities en route: Major fuel and supermarket brands in Thurso. Smaller grocery stores and cafe's in Bettyhill, Tongue and Durness. Full motorhome services at Sango Sands Oasis Caravan Park, as well as cafe's and pubs.
Suggested accommodation: Durness – Sango Sands Oasis Caravan Park. There is a campervan stopover at Kinlochbervie, although the latter is an additional bit of driving.
If you want a pod, there are options in Tongue, about 45 minutes before Durness. Check out Island View Glamping pods or the Ben Loyal Hotel and Glamping pods in Tongue. The latter has an excellent restaurant we can recommend.
Day 5: Durness to Achmelvich Bay
You're now going to be heading south down the west coast of Scotland, which is home to some of the most dramatic scenery you'll find anywhere in Scotland. Think sparkling Lochs, white sandy beaches, incredible mountains, and curvy roads.
Before leaving Durness, you might want to head to the Balnakeil Craft Village, a short way west of Durness, where you will find an excellent cafe serving mind blowing hot chocolate. There are also a number of local art and craft shops here, making this a great stop if you are looking for souvenirs from your trip.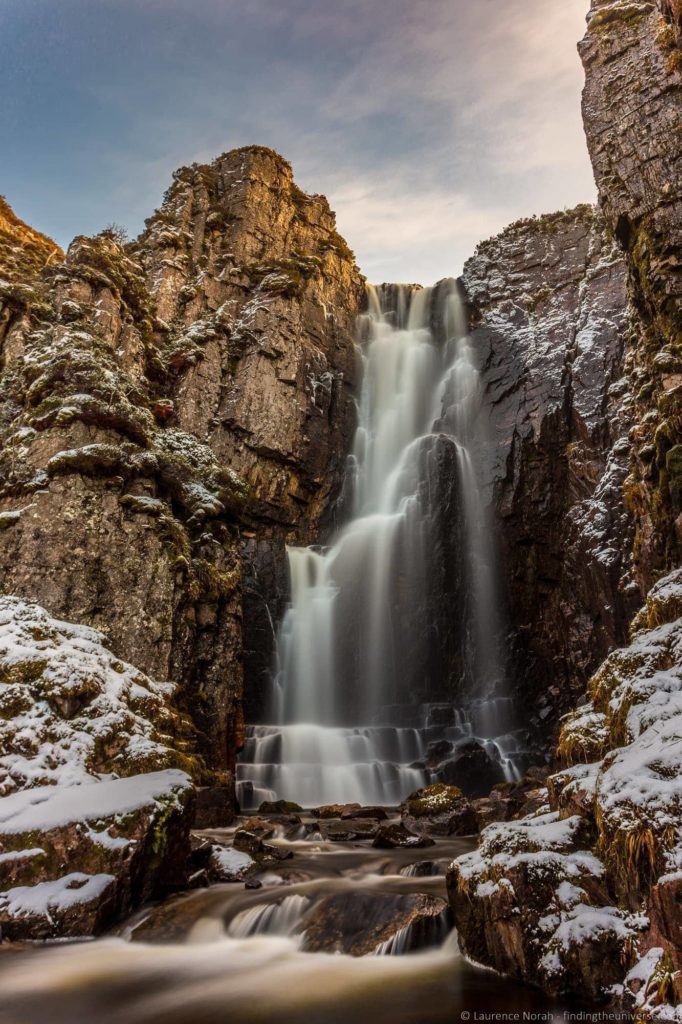 Next, start heading south on the A838. Despite it's "A" designation, this is largely a single-track road, and is not a section of road to rush. This is also one of the more remote parts of the North Coast 500, so services and stores are a little harder to come by, and there aren't really doesn't have any large towns until you reach Ullapool.
Still, this is kind of the point of coming to a remote part of Scotland! From Durness, the road winds down through some magnificent scenery, with lots of waterfalls and lochs to take pictures of as you go. After you cross the Kylesku bridge, keep an eye out for the Rock Stop, a visitor centre for the North West Highlands geopark, where you can learn all about the incredible geology of this area. They also have a cafe. You can also take boat tours from Kylesku.
After the Rock Stop you have a decision to make, which will largely depend on your vehicle. We can highly recommend turning off the A894 and taking the B869 towards Drumbeg just after Kylesku, although this road is not recommended if you are driving a larger vehicle or towing a caravan.
From the official NC500 website:
"We would also recommend avoiding the B869 from Lochinver to Kylesku as this can be a tricky route to follow for large vehicles. If you take the A837 back from Lochinver on the the main road you will be fine. As always, please take due caution on the roads and use passing places where possible."
If you do take the B869, you will want to stop at the general store in Drumbeg, which has won awards, and is a good place to pick up a bite to eat. On this road highlights include the waterfall at Clashnessie (a nice short 20 minute hike), and if you want to take a longer hike (3 miles each way), the walk out to the Old Man of Stoer is beautifully rugged.
Alternatively, if you have a larger vehicle, you can continue down the A894 and then turn onto the A837, following the shore of Loch Assynt until you reach Lochinver. From Lochinver, you can take the B869 road to Achmelvich, which is more manageable and only a short section.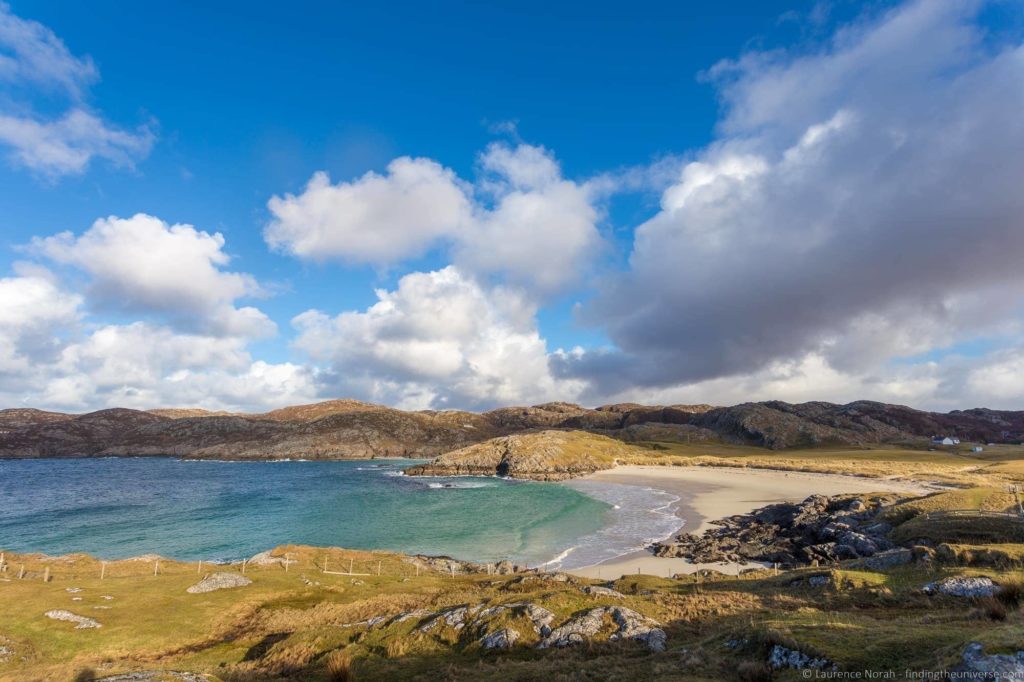 If you like fishing, then you are now in the perfect location. Local fishing expert Stewart has been fishing in the Assynt area for over four decades, and he now leads fly fishing tours in the area. These are great for experienced fishers to beginners, and fun for families. Definitely book in advance – full information on his website, Assynt Fly Fishing.
I'm going to suggest you spend the night on the peninsula, there are two nice campsites by the beach at Achmelvich Bay and Clachtoll Beach, both of which offer stunning white sand and turquoise waters. We think these are two of the most beautiful NC500 campsites!
There are also walking trails throughout the area. As mentioned above, the road around the south of the peninsula from Lochinver is easier to drive, so if you are pulling a caravan you will definitely want to come in that way.
Facilities en route: This stretch of the route is more limited, with Lochinver (a little south of the official route) being your best option for fuel and supplies. Lochinver has a few really good restaurants, a couple of small shops, and a well-known pie shop.
Suggested accommodation: Achmelvich Bay Shore Caravan Site or Clachtoll Beach Campsite. Also check out the NC500 pods at Achmelvich.
Day 6: Achmelvich – Gairloch
From Achmelvich, return to rejoin the A837, making a stop at Lochinver if necessary for supplies and fuel if you haven't already stopped.
From Lochinver, head back inland along the A837. You'll pass the glorious ruins of Ardvreck Castle, which are worth a photo stop and short walk, and then continue south.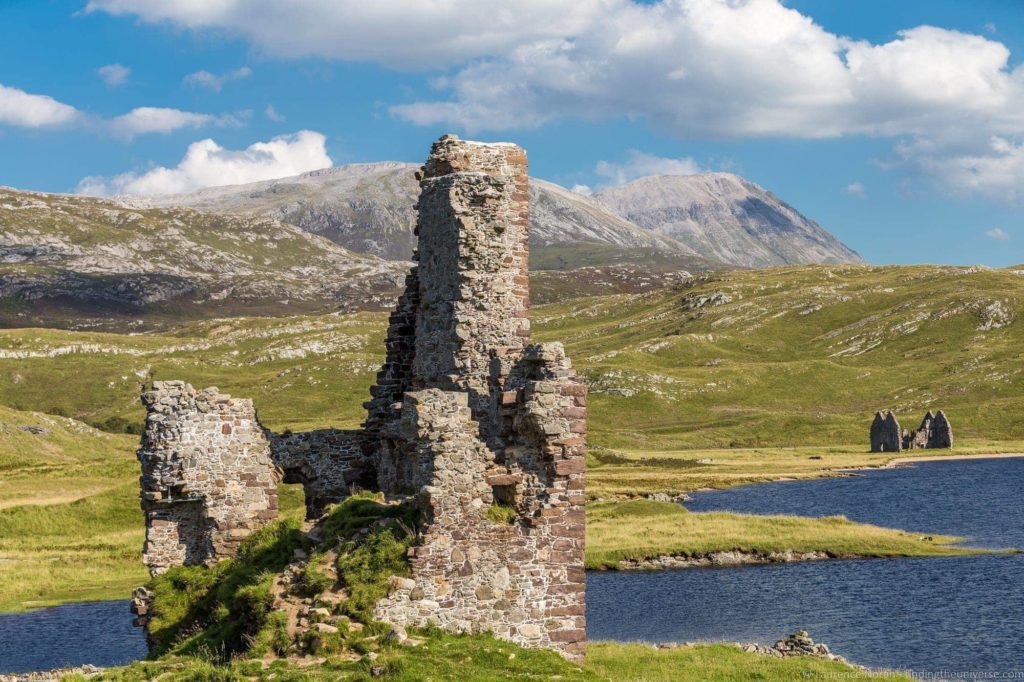 You'll shortly come to Knockan Crag, a national nature reserve which offers wonderful views, as well as a journey back through time where you can learn a bit more about the geology of the area. The signed walking route here takes about 30 minutes to an hour to complete, depending how far you go.
Depending on your interests, you might want to head back out to the coast towards Achiltibuie. There's an awesome outdoors company based in Achiltibuie, Hamlet Mountaineering, who offer a wide variety of outdoor activities which include guided hiking and climbing, canoeing, and sea kayaking.
If you're the outdoors type and want to get active, we can highly recommend them. They offer half day to multi-day tours. Be sure to book in advance. You can read our experience of a hike up Suilven and overnight camping trip with Hamlet Mountaineering here.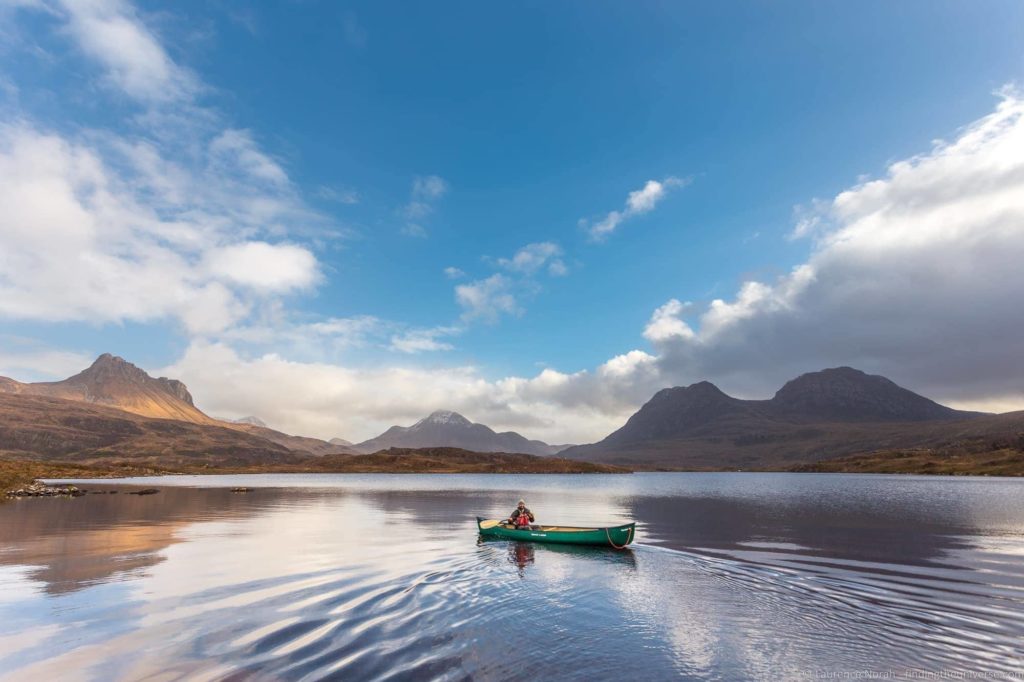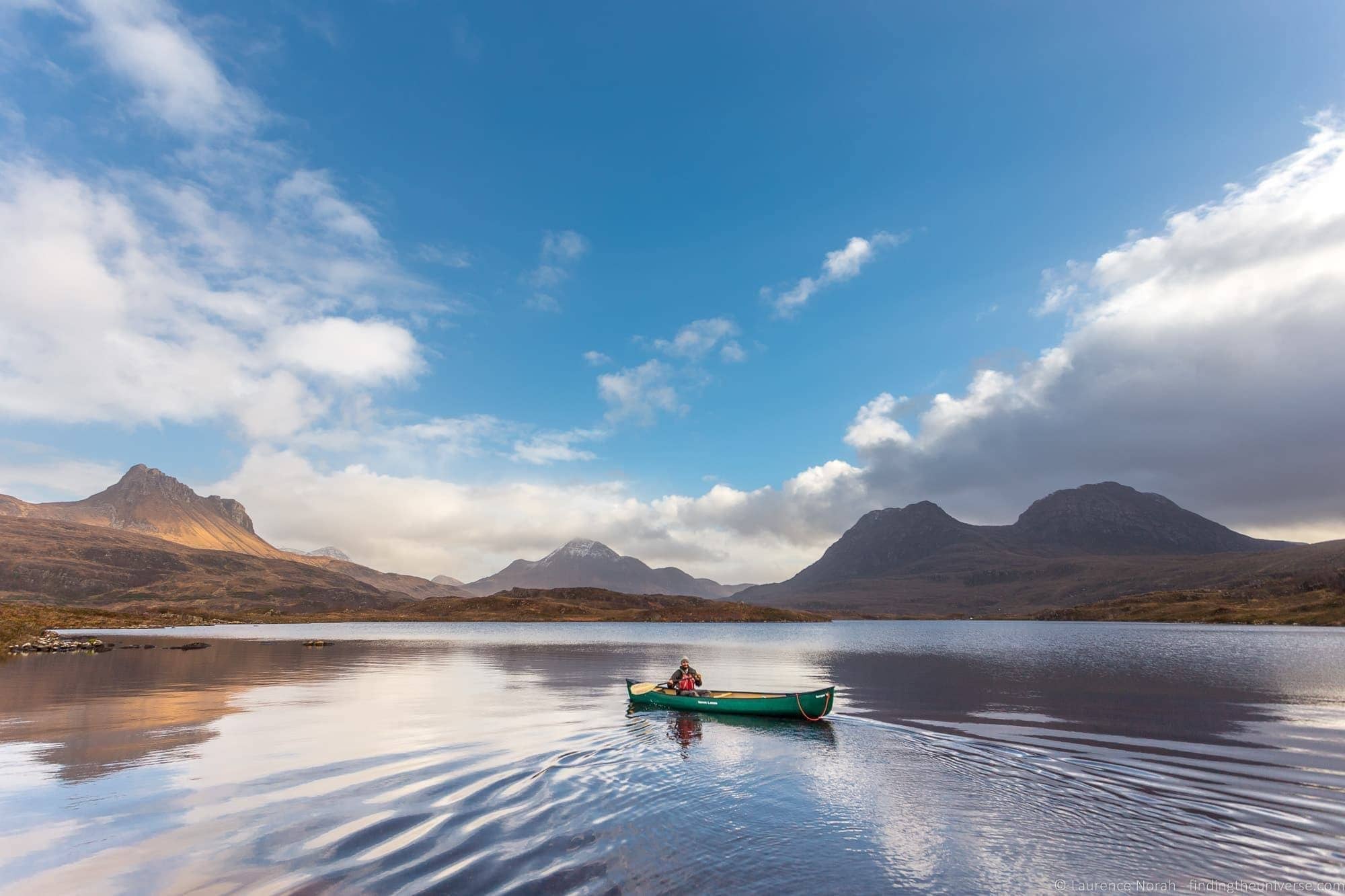 Otherwise, head on, and you'll arrive in Ullapool. A great town to stock up on supplies and stop for food (has several cafes and restaurants), and it also has a pretty harbor, lots of gift shops, and a good local history museum.
After Ullapool, stop off at Corrieshalloch Gorge to marvel at the steep canyon and test your nerves on the canyon bridge, then head back out to the coast on the A832. The scenery is definitely the star of the show today – you'll probably be making lots of unscheduled stops for photo opportunities.
Our recommendation would be to overnight at Gairloch as this will give you plenty of time to see the highlights along the way, although you could push through as far as Applecross if you were feeling so inclined. There's also a tent only campsite at Torridon, which is about halfway between Gairloch and Applecross.
Facilities en route: Lochinver has a small store and petrol station, Ullapool has a larger Tesco and another fuel stop.
Suggested accommodation: Gairloch – Sands Caravan and Camping Park or Gairloch Caravan Park. Other options include Torridon Camp Site (tents only), Sheildaig Camping and Caravans (also has cabins), Applecross Campsite.
Day 7: Gairloch to Lochcarron
From Gairloch, the plan for the day is to head to Lochcarron, passing through Torridon and around the beautiful Applecross peninsula. Depending on your time, you could also head back to Inverness rather than overnight at Lochcarron, if you were thinking of a 6 night / 7 day itinerary.
If you're not pulling a caravan or driving a huge motorhome, then a drive from Applecross down the incredible alpine-like Bealach na Ba road is a must. This is one of Britain's highest roads, and offers gorgeous views across to the Isle of Skye. The drive around the Applecross peninsula is also stunning, but don't expect to drive it quickly – it's a windy, slow, single-track road.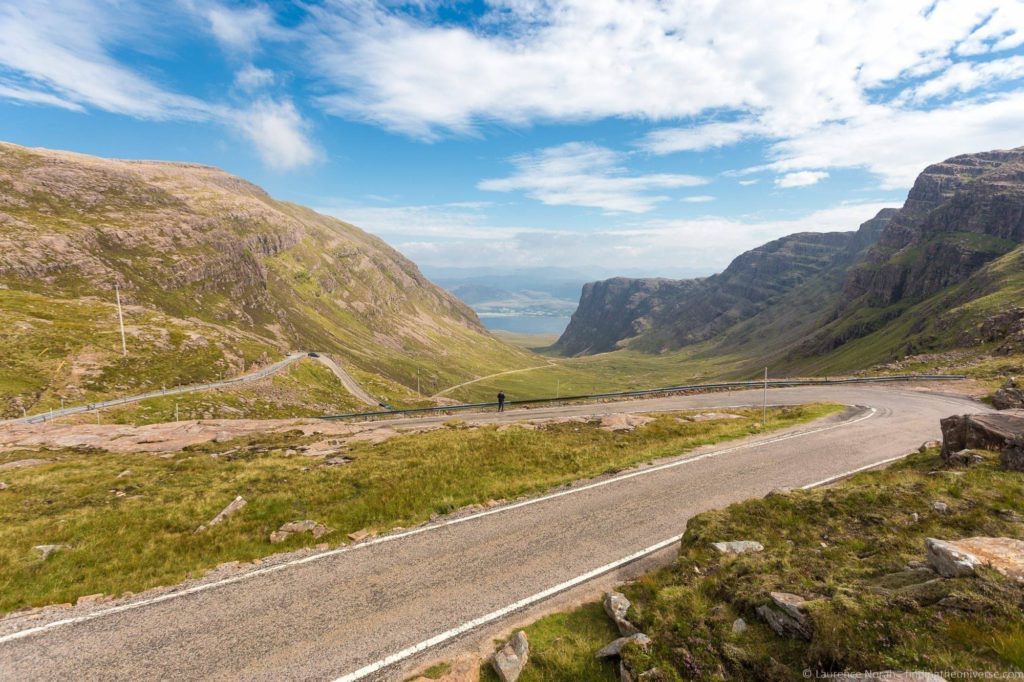 Just take your time and soak in the fantastic scenery, stopping off to take as many photos as you can. If you're after Highland Coo photos and somehow haven't spotted any by now, a stop at the Torridon is a good idea as they have a herd on site (plus a great cafe / pub).
Facilities en route: This is still quite a remote part of the world. You'll find some services at Kinlochewe, Applecross and Lochcarron. We can also recommend stopping off at the Torridon where there's an excellent cafe.
Suggested accommodation: Lochcarron – The Wee Campsite. Near Inverness – Riverside Chalets and Caravan Park
Finally, you return to Inverness from Lochcarron to finish off your fantastic North Coast 500 adventure! You could also extend your trip by a few days and take in the Isle of Skye at this point if you wanted to of course – it's your adventure after all!
Speaking of which, don't forget that just because you're camping doesn't mean you can't have a bit of luxury on your way around. You could mix up the above route by taking a break from camping, and maybe staying a nice property on the way around.
Based on the route, we can recommend Forss House Hotel around night 3, Eddrachilles Hotel around night 5 or the Torridon, around night 6. For more ideas, check out our detailed guide to the best hotels around the North Coast 500.
North Coast 500 Camping Route Map
To help you visualise the above, we've put together a map of our 7-day North Coast 500 itinerary, which you can see as an image below, and on Google Maps here. As well as the route, it also includes a number of campsites and glamping locations on the North Coast 500 for reference.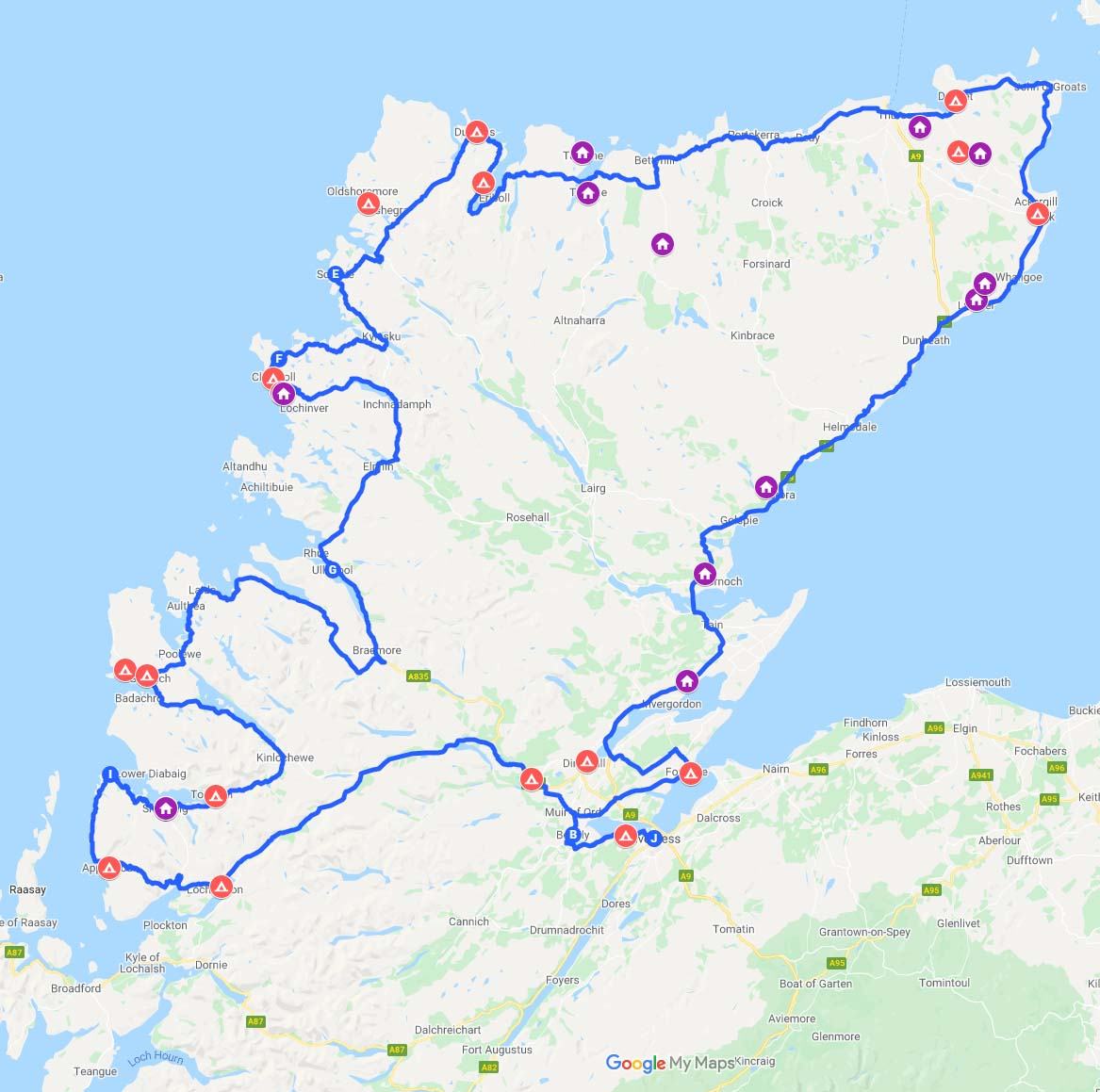 If you're looking for a physical map to take with you, the two main options are the Collins NC500 Pocket Map or the "Hit the Road 500 Route Around the Highlands by Yellow Road Maps".
These can be purchased online in advance of your trip from Amazon or Waterstones or eBay. They are also usually available at stores and tourist information offices around the route, including the Inverness iCentre.
There used to be an official printed map produced by the NC500 themselves which was freely available in tourism offices. However, this has now been discontinued in favour of a digital app.
Now we're going to go through some questions you may have about camping around the North Coast 500 and try to provide as much information as we can to help you plan your trip.
North Coast 500 Camping Itinerary Summary
Here's a quick overview of the itinerary day by day for reference:
Day 1: Inverness to the Black Isle
Day 2: Black Isle to Wick area
Day 3: Wick area to Dunnet Bay
Day 4: Dunnet Bay to Durness
Day 5: Durness to Achmelvich Bay
Day 6: Achmelvich – Gairloch
Day 7: Gairloch to Lochcarron
Where Can I Rent a Campervan, RV, or Motorhome for the NC500?
There are lots of options for campervan rental in Scotland. The widest choice is likely in Edinburgh, however for the NC500 you might want to look for options in Inverness. This is the easiest city on the route to get to from other parts of the UK, being well served by both flights and trains.
If you are doing a longer trip, or want to see more of Scotland, then Edinburgh is a good starting point. It's only three hours' drive from the start of the NC500 in Inverness.
Either way, if you are planning on hiring a motorhome for the North Coast 500, then we recommend comparing prices across a range of providers using a service like Motorhome Republic. You can see their UK listings here. We can also recommend checking out Spaceships for camper rental, you can check their prices here.
Another option is to rent via a peer-to-peer service, where you rent a motorhome from an owner. A number of websites exist to facilitate rentals like this, we recommend checking out the UK version of PaulCamper to start with as well as GoBoony UK.
If you'd like a more robust camper vehicle, check out the four wheel drive camper trucks from Wild Camper Trucks. See their Scotland options here.
When comparing prices, always check what's included. Look for things like unlimited mileage, the costs of extra drivers, and so on.
If you'd prefer to rent in Inverness there are a number of campervan rental options in the city. In Inverness, you can rent a campervan from companies including Highland Campervans, Loch Ness Motorhomes, and Rover Rentals.
In terms of age, to hire a car or motorhome in Scotland most companies will require you to be at least 21, although some will require you to be older than this. There may also be a surcharge for drivers under 25. You will also normally need to have held a license for at least a year. You can rent a motorhome on a standard drivers license. Always check with the rental agency to see what their policy requirements are before planning a trip.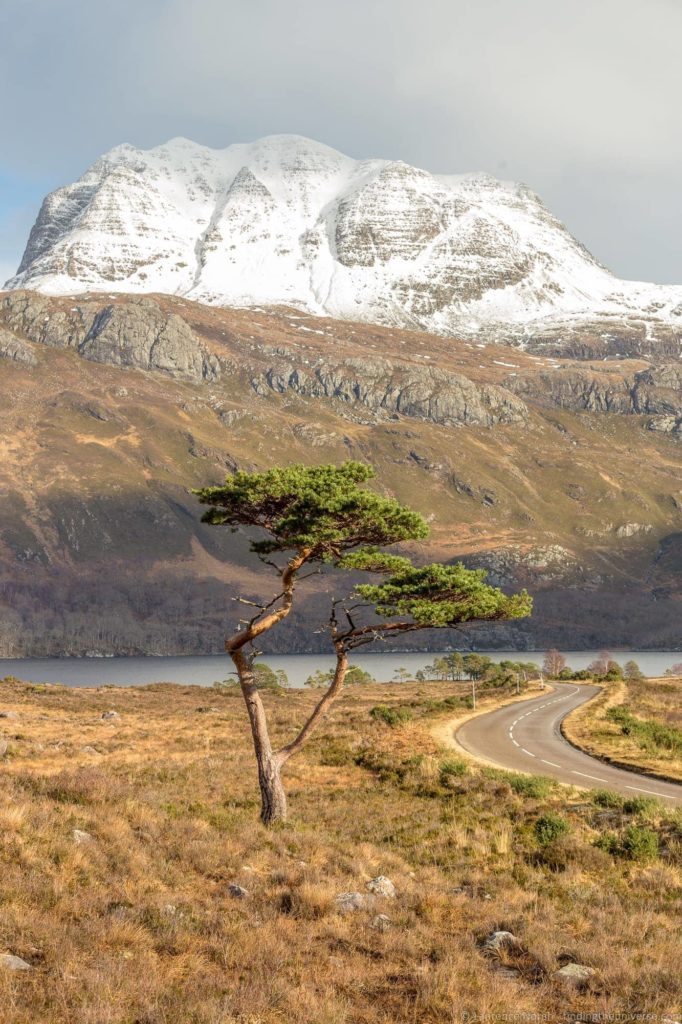 We highly recommend picking the smallest size vehicle you can find, as many sections of the North Coast 500 are narrow and winding, and this might end up being quite nerve-wracking or even impossible to drive. See more in the section below on vehicle size restrictions on the North Coast 500.
If that sounds too scary, consider using a hire car and a tent – there are a number of outdoor suppliers in Inverness from whom you'll be able to get fully kitted out for your North Coast 500 camping adventure!
Vehicle Size Restrictions on the North Coast 500
The only stretches of the route that really aren't suitable for longer vehicles (generally those over 26ft in length) are the B869 between Lochinver and Kylesku. Whilst there is no legal length limit, this road can be challenging in a longer vehicle, so you would be best taking the A837 / A894 instead.
The other stretch of the road you should avoid in a longer vehicle, and especially if you towing something like a caravan or even a trailer tent, is the Bealach Na Ba. This has some steep switchback bends and longer vehicles have gotten stuck here, which causes no end of issues for other drivers. Instead, take the main road from Shieldaig to Tomapress.
With the above said, if you are planning on driving a motorhome or towing a caravan around the North Coast 500, there are some things to keep in mind.
Long stretches of the route, particularly around the north west section between Tongue and Lochinver, is on single track roads. These have passing places, but in many cases you may have to reverse your vehicle some distance to get into a passing place. So if you are considering driving a vehicle that you are not confident in reversing, you might consider using a smaller vehicle as otherwise you could end up blocking the road and causing issues for other drivers.
In general, the recommended length for a vehicle on the North Coast 500 is up to 18 feet in length. Of course, if you are very familiar with your vehicle and confident in reversing it, then a longer vehicle will be ok.
Can you Wild Camp on the North Coast 500?
In this post you probably noticed that we have listed a fully serviced campsite for every night of the trip. These come with power hook ups and, more importantly, proper disposal points for chemical toilets and "grey water", as well as things like showers, flushing toilets, and picnic areas. Many are situation in scenic locations such as within a short walk of the ocean or a loch.
In Scotland, wild camping is certainly legal, but the definition of wild camping is away from a road, and not in a motorized vehicle. Here is a link to the Scottish Outdoor Access Code, plus guidance from Visit Scotland on wild camping.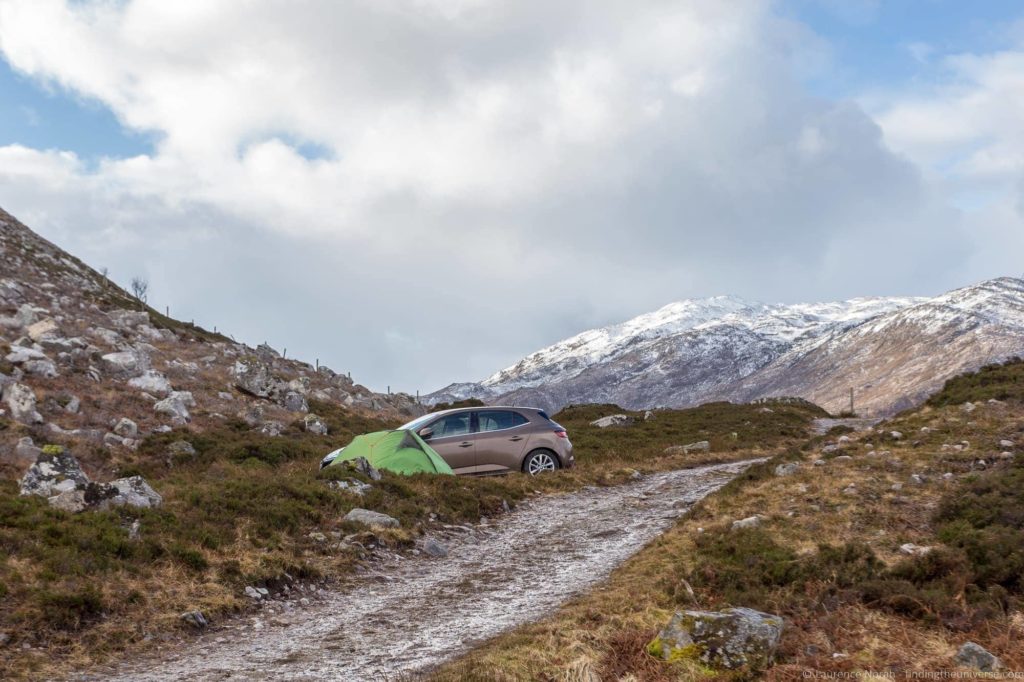 That said, there are places around Scotland and the North Coast 500 where you can park up your motorhome and spend the night far away from anyone. We would just suggest you take a look at our responsible tips for travel on the North Coast 500 below, be considerate, and not to park overnight where it is clearly stated that you are not allowed to.
Parts of Scotland, such as the Loch Lomond & Trossachs National Park, have already had to start clamping down on people wanting to camp because of the inconsiderate actions of a few, as well as overcrowding, so you don't want to be contributing to a future action like that.
We'd also urge you to consider supporting the local economy on your trip. Staying at local campsites along the NC500 means you'll be helping to do just that, plus you won't have to be worrying about finding somewhere to park, which can become a real challenge in the busier months (July and August especially).
Do you Recommend Tent Camping or Doing the North Coast 500 by Campervan /Motorhome / RV?
There are pros and cons to each approach, so what you choose will really depend on you, your travel style, your budget, and your driving ability.
Packing a tent into your vehicle, be that a car, motorbike or bicycle, will mean your overall footprint on the road is smaller. This will make it easier to navigate side roads and single track roads, as well as open up more wild camping options. Tent sites also tend to be cheaper as you won't normally need as much space, electrical hookups or chemical toilet disposal facilities.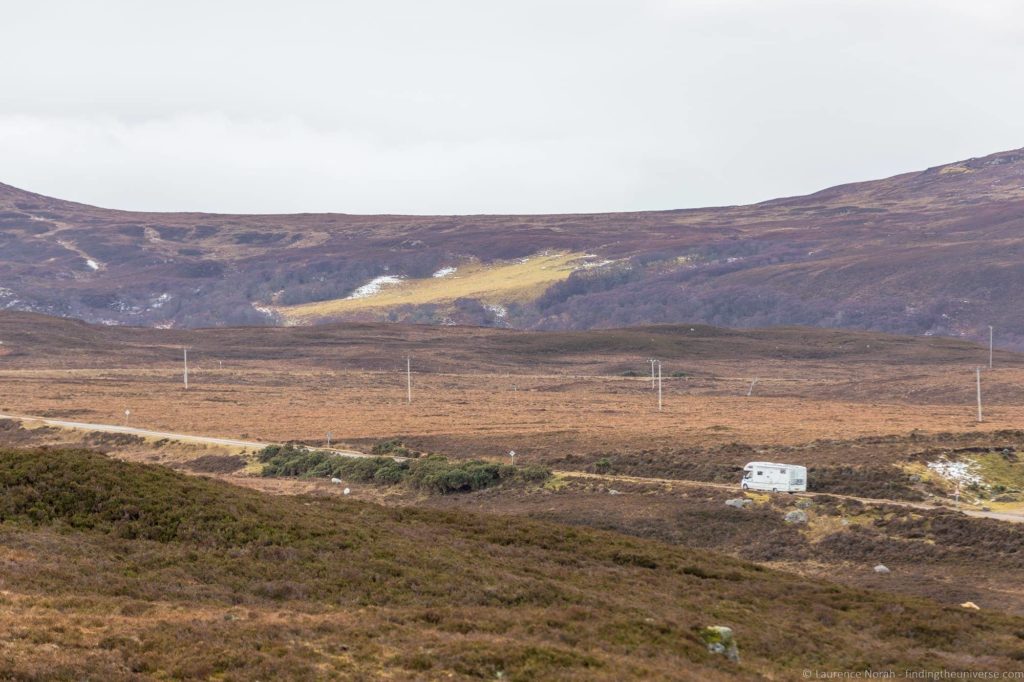 Campervans on the other hand provide lodging on wheels, meaning you don't have to worry about putting a tent up or taking it down, which is not much fun if the weather is against you. The larger ones come equipped with everything including the kitchen sink, meaning you can shower and use the loo. Even smaller vehicles usually have sleeping arrangements for two and a small kitchen area.
In a camper van you do have to think about where you'll be able to empty your chemical toilets, and they are both more expensive to hire, and more expensive to drive than a normal car. They also cost more per night on campsites.
Another option is do to neither of course. Many of the campsites we list on the NC500 have a variety of accommodation options from static campervans to wigwams and pods, so if you plan and book well in advance, you can "camp" around the North Coast 500 without having to take any camping equipment at all!
No matter which you choose, we recommend driving or renting the smallest sized vehicle needed for your group in order to be able to better handle the roads and parking areas along the route.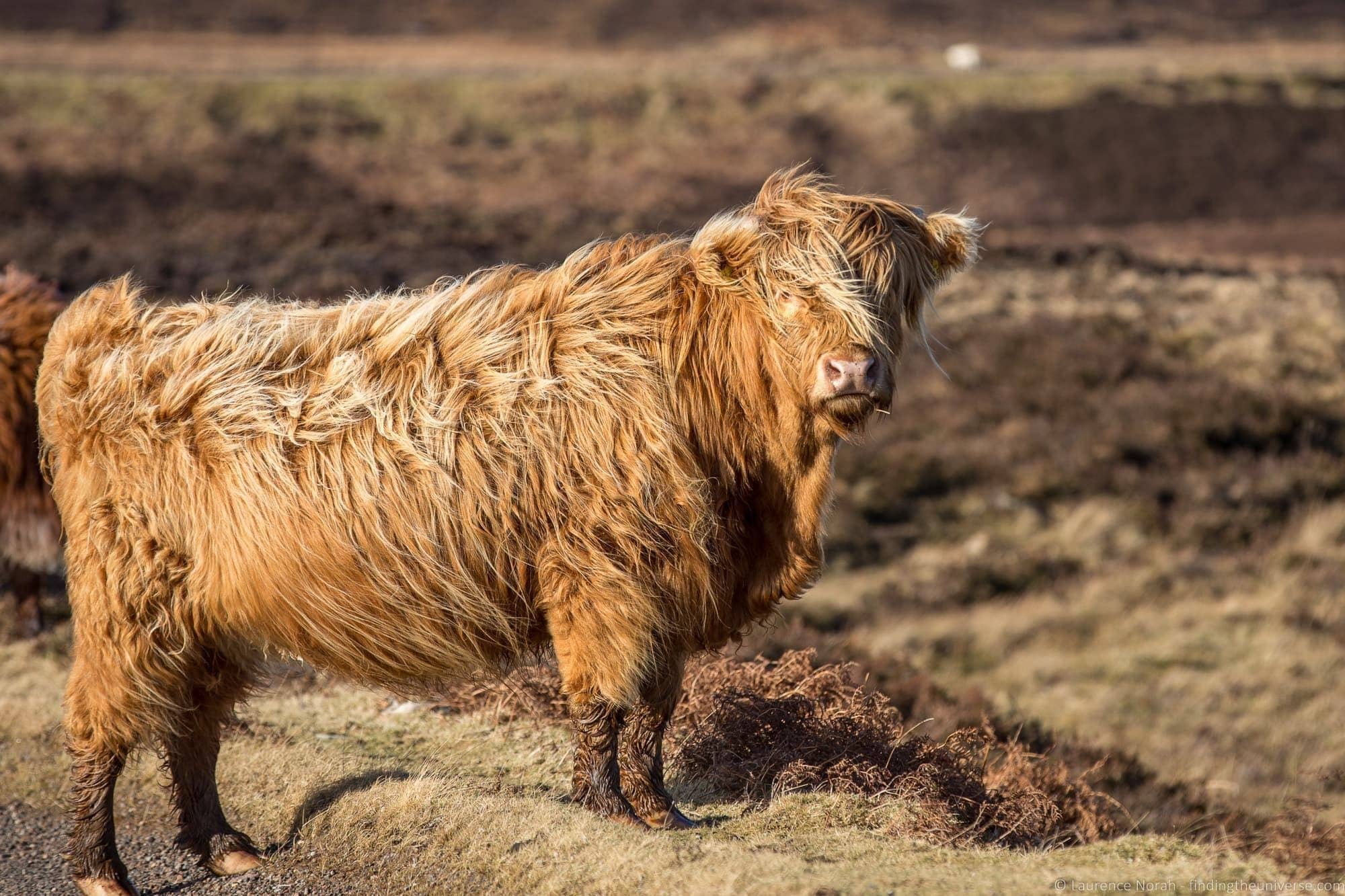 What services are offered at North Coast 500 Campsites?
The services vary from site to site, but the majority of the NC500 campsites that we recommend on this list offer electrical hook-ups, pitches for tents and campervan / motorhomes, flushing toilets and shower block. Some also have laundry facilities, picnic areas, public phone, WiFi, some offer playgrounds, vending machines, and other facilities.
Note that in order to effectively implement social distancing, some services may not be available at all campsites. This may include toilet, shower or kitchen facilities. Always check with the campsite in advance, especially if you are travelling with a tent, as the usual facilities might not be available!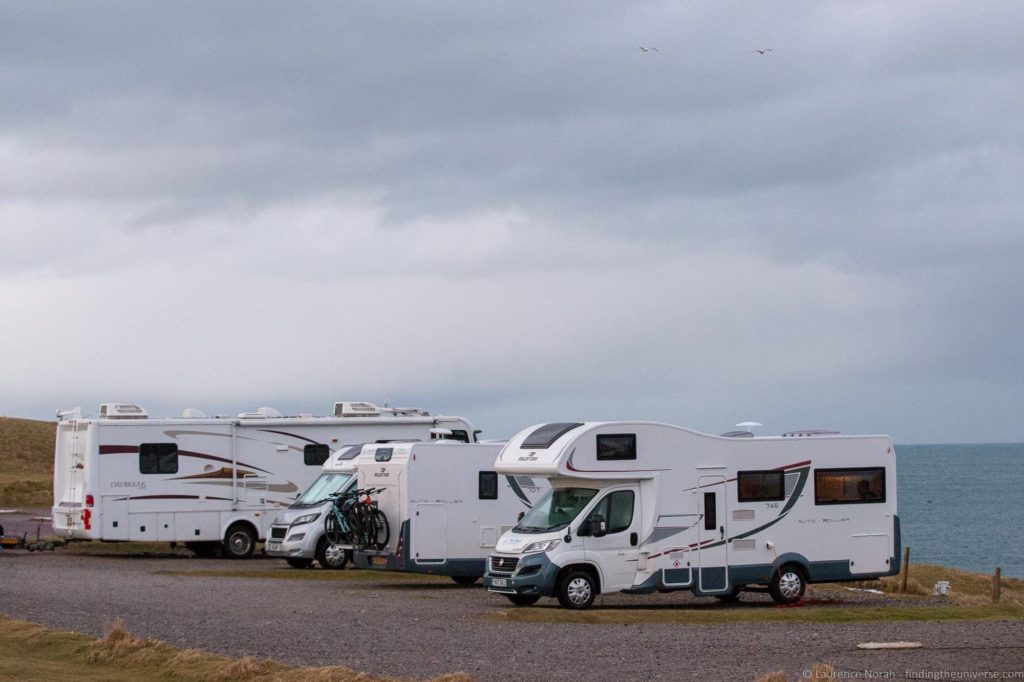 As well as these services, many of the sites we list and that you will find around the North Coast 500 offer static campervans, travel trailers, glamping tents, cabins, and wigwams for rent – great for those just wanting to "camp" but not have to worry about bring or setting up a tent!
Are there Dog Friendly Accommodation Options on the NC500?
Many campers love to travel with their dogs, and we often get requests from folks asking us if the route is suitable for dogs.
Certainly, the NC500 itself is dog friendly, with plenty of walking options and places where you can share the adventure with your pet.
In terms of accommodation, the majority of campsites that we have mentioned do accept pets. You'll need to check in advance of course for the campsite you want to stay at, and see if there are any additional fees.
For hotels, it is very variable. We have added information on which hotels and B&Bs are pet friendly on the NC500 in our NC500 B&B guide and our NC500 hotels guide so you can make an informed choice.
Do you Recommend Booking Campsites along the NC500 in Advance?
The North Coast 500 is becoming more popular every year, and we highly recommend booking well in advance for the busier months, which tend to be from May through to September. The peak season for camping is July and August (this coincides with school holidays in the UK and Europe), so you definitely need to plan and book well in advance for those months.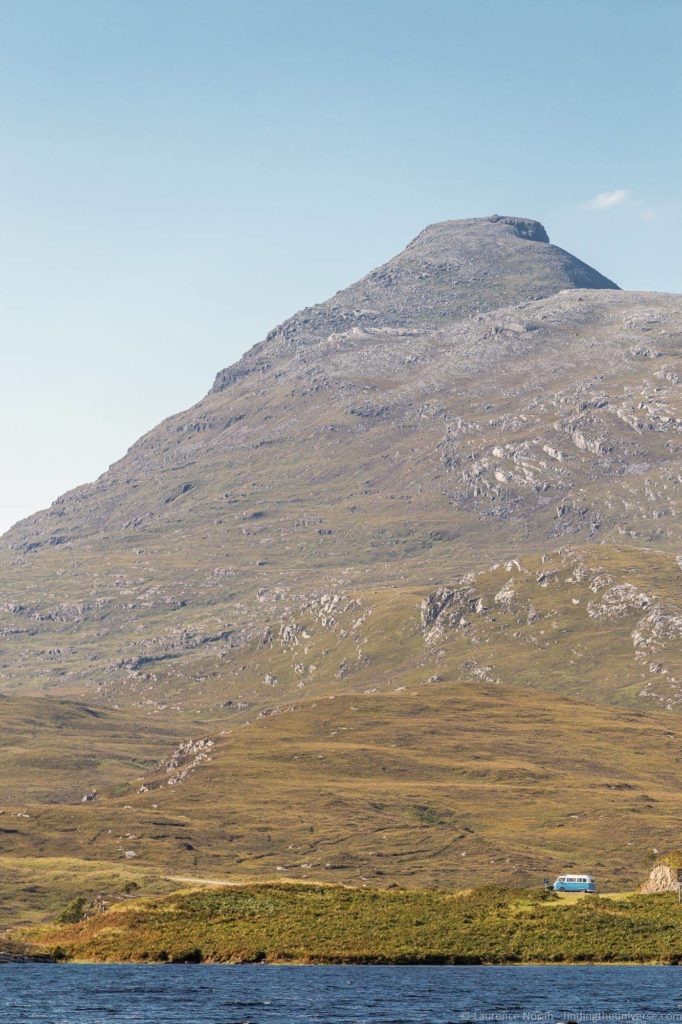 Areas that get particularly booked out tend to be the more remote areas where there are fewer options. For example, the northwest corner around Durness, and the southwest area around Applecross.
If you choose to travel in the winter months, you will likely not need to book in advance, but you should definitely research which options will be open, as many accommodation options and campsites close during this time.
Having Trouble Finding an Available Campsite or RV site?
Here are our tips to help you avoid having trouble finding an available campsite, and what to do if you're struggling to find somewhere to stay on the route.
Try to book in advance if you can (especially in June to August) to prevent this issue as you don't want to have to drive an hour out of your way
If you are in a tent, definitely consider wild camping
Don't discount hotels & B&Bs, even if the campsites are full you might be able to get a room. See our guide to the best B&B's on the North Coast 500 for some great options.
Holiday cottages and apartments are another option – see our guide to holiday cottage websites in the UK for lots of websites with thousands of properties available
Some stores, restaurants, and service stations have started offering inexpensive RV parking (and limited services) along the route as the route has gotten more busy, for example in Keiss we saw a sign advertising free overnight camping stops
Stop in at a tourist information center or local service station for local recommendations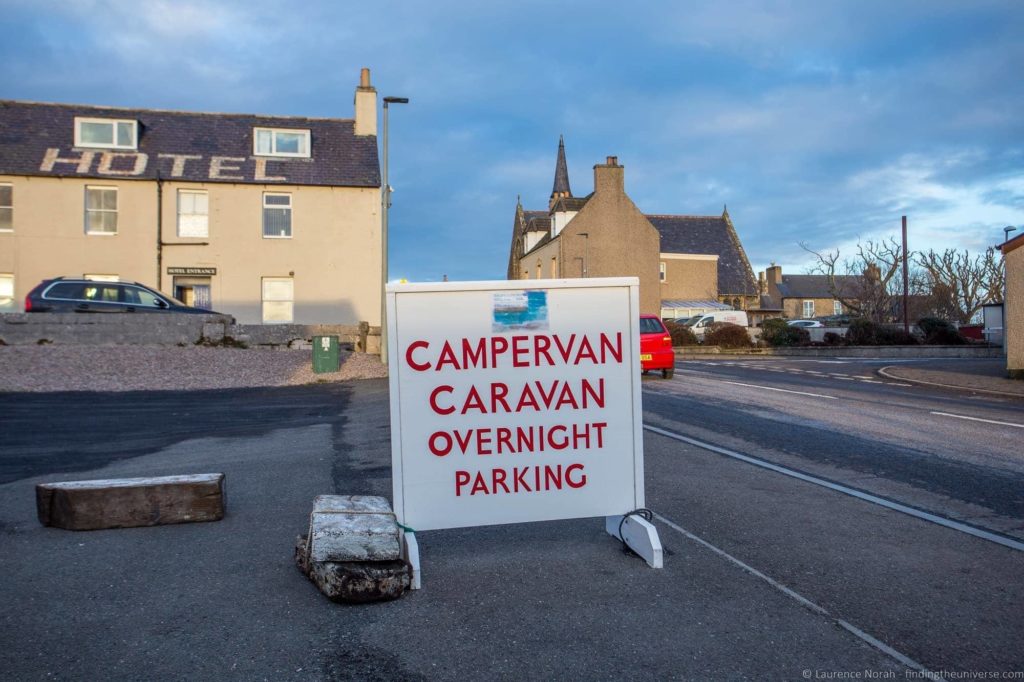 Tips for Responsible Travel when Camping on the North Coast 500
The North Coast 500 runs through one of the most beautiful parts of Scotland, and it will hopefully remain that way for many years to come. However, this is also a environmentally fragile area with more limited infrastructure than many other parts of the country.
Of course, the popularity of the route has brought more people to the area, which puts a bit of a strain on the local infrastructure, especially during the Spring and Summer months. There have also been reports of folks traveling a little irresponsibly.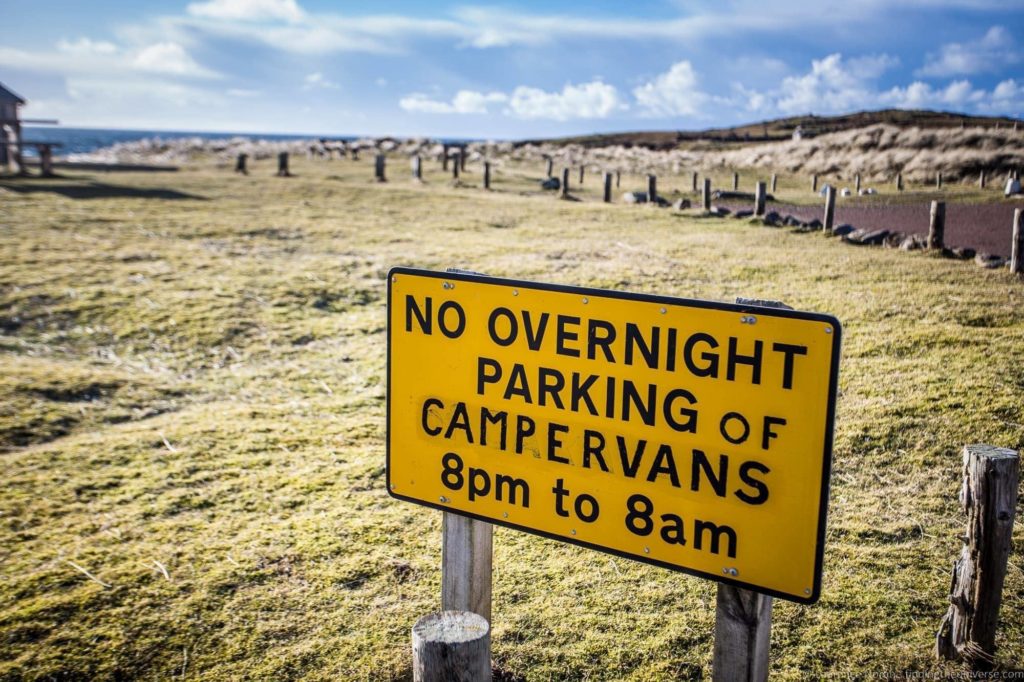 To help out, we wanted to share some tips for responsible travel on the North Coast 500, to help you minimise your impact and contribute to a positive experience for everyone.
Chemical Toilets: Dispose of your chemical toilets (and other waste) at proper dump points only. Don't dump them out anywhere else, they contain highly toxic chemicals and will cause serious damage to the environment if not disposed of properly. Also, please note that some campsites, especially the more remote ones, may only accept Green eco friendly toilet chemicals like this.
Single Track Roads: Driving on single-track roads might be a new experience for you, and it can be a little daunting. Read up on our guide to driving on single track roads to master the proper etiquette, and don't forget to use passing place to allow faster traffic to pass you.
Overnight Camping: We definitely recommend you use official campsites. If you choose to wild camp, make sure you do so in a zero impact way, leaving no trace behind, and only doing so where you are allowed to. Be careful not to block access roads or gates when you park up.
Litter: If there are no litter bins, just take your garbage with you until you find somewhere you can legally dispose of it.
Fires: You are welcome to have a fire or gas BBQ of course, but only if it is safe to do so and you extinguish it fully before you leave.
The Best Time to Camp on the North Coast 500
We have driven the North Coast 500 at a number of different times of year, including in winter. Based on our experiences, our suggestion for a camping trip would be to tackle the route between May and September, which will give you a shot at the best weather. It's also the time of year when the majority of attractions, shops, cafes, and services will be open.
Many of the campsites along the route (especially in the west and north stretches) are seasonal meaning that it is going to be more difficult to find campsites and camping services during the winter months. Most are open from March/April to September/October with fewer camping options available between November to March.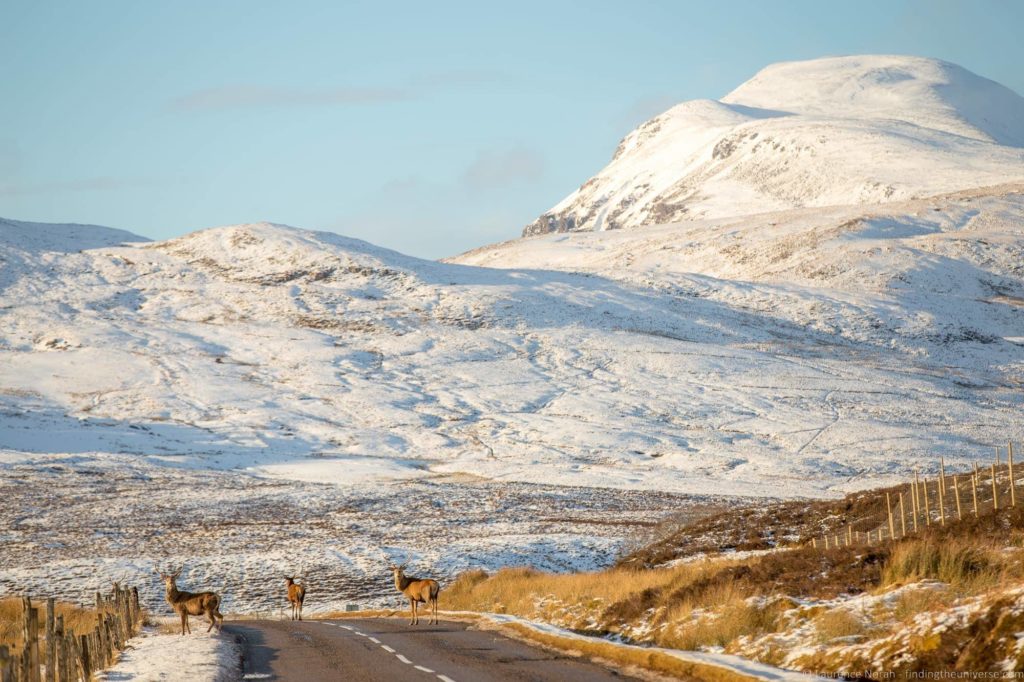 The route can be driven year round of course, although conditions in winter can include snow and ice conditions, and on the more rural roads these can take a bit of time to clear. So be prepared to go more slowly and for possible detours or road closures in the winter months.
However, winter does offer far quieter roads and if you are hunting true solitude, can be a wonderful time to travel. Just make sure you have the equipment and clothing to handle freezing conditions, and the driving knowledge to handle the road conditions. Also be sure to plan ahead to know which sites and services will be open during your trip.
What to Pack for a Camping Trip on the North Coast 500
We have a general packing list for London and the UK that covers many of the essentials you need, so here we will add in just those items you may specifically want for a NC500 camping trip:
Midge repellent – absolutely essential if travel from late May through to the end of September.
Camping gear (tent, sleeping bag, roll mat etc)
Cooking equipment (gas fire, pots, pans, cutlery, plates etc)
Toilet paper / soap or hand sanitizer (the toilets along the route are sometimes out of paper or don't have hot water and/or soap)
Road map of Scotland and North Coast 500 map (these maps are available from most Visit Scotland Tourism Information Centres along the NC500). Y

ou can also sometimes buy a copy of it online

here

.

Garbage / trash bags for your litter
Gear for outdoor activities (hiking, cycling, climbing, kayaking etc.)
GPS or offline maps on your phone
Duct tape (so useful!)
Winter gear: extra antifreeze, snow chains, emergency blankets, a collapsible snow shovel
The Rough Guide to the North Coast 500, as well as Rick Steves Scotland book
We have also put together two lists on Amazon which contain many of the above items in one place for ease of reference. You can see those on Amazon UK here, and Amazon US here.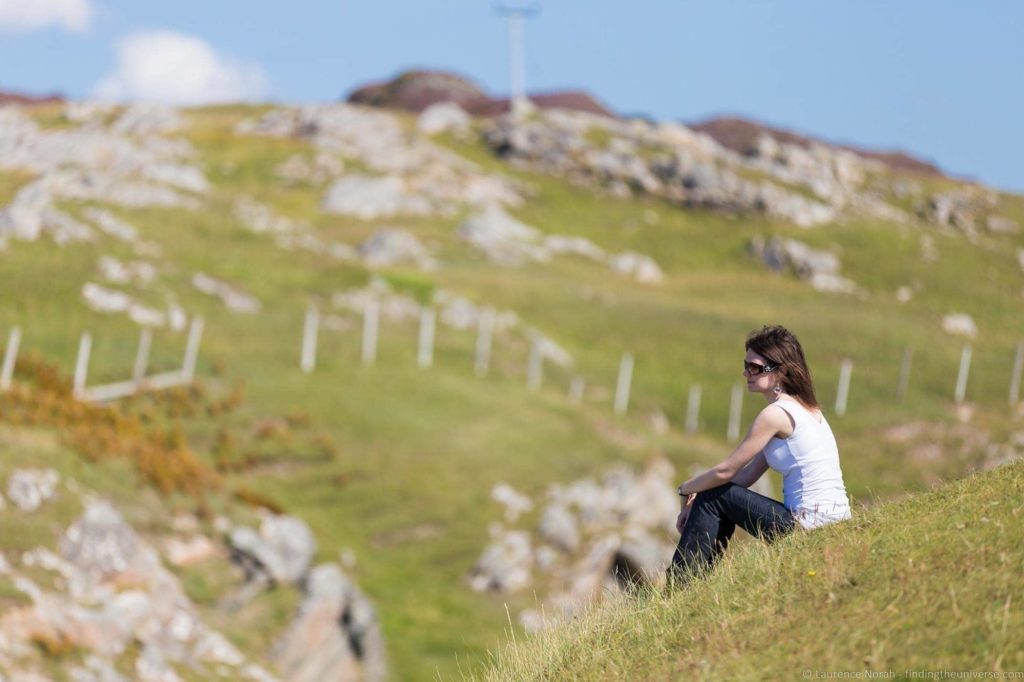 How Long To Plan for a North Coast 500 Road Trip
As you can see from our guide, we have suggested seven days for this NC500 camping itinerary. This is a good amount of time – you won't be too rushed, and especially when you are camping, you have to factor in time for getting set up and packed away each day.
We would say that the minimum amount of time for an NC500 road trip would be five days, as outlined in our 5 day NC500 itinerary.
You can do it in less time of course, but we feel that might be a bit rushed, and you would miss many of the highlights doing it in less time.
Further Reading for your North Coast 500 Adventure
We've driven the North Coast 500 route a number of times, and continue to add to our content on the route to help you have the best experience. Below are a number of articles and resources we think you'll find helpful for planning your NC500 adventure.
And that's it for our guide to camping on the North Coast 500! Is this the kind of trip you want to take? Have any questions or feedback for us? Just let us know in the comments below!