Glasgow is a wonderful city that is worth visiting, and it also makes for a great base to explore a number of Scottish highlights, from Loch Lomond to whisky distilleries to Burns Country. In today's post, we're going to go through our favourite day trips from Glasgow, to give you some ideas of what is possible when you base yourself in Scotland's largest city.
For each of the day trips we list we're going to give you all the information you need on how best to do the trip, including transport options, directions, and the amount of time it will require.
We'll also provide information on visiting Glasgow, including links to a number of other posts we've written about visiting this friendly city.
The Best Day Trips from Glasgow
Below you'll find some of our favourite day trips from Glasgow, which are not listed in any particular order – we think these are all excellent day trips.
We'd also highly suggest you spend some time exploring Glasgow itself if you're staying here, check out our guide to things to do in Glasgow to start with, and see the end of the post for more reading inspiration.
1. Loch Lomond & The Trossachs National Park
Certainly one of the most popular day trips to take from Glasgow is to visit Loch Lomond and the Trossachs National Park.
Loch Lomond is only around a 40 minute drive from Glasgow city center, making it an ideal destination to visit for the day. As well as Loch Lomond itself, which is surrounded by beautiful villages like Luss, there are other lochs like Loch Katrine, where you can take a steam boat across the lake for lovely sightseeing opportunities.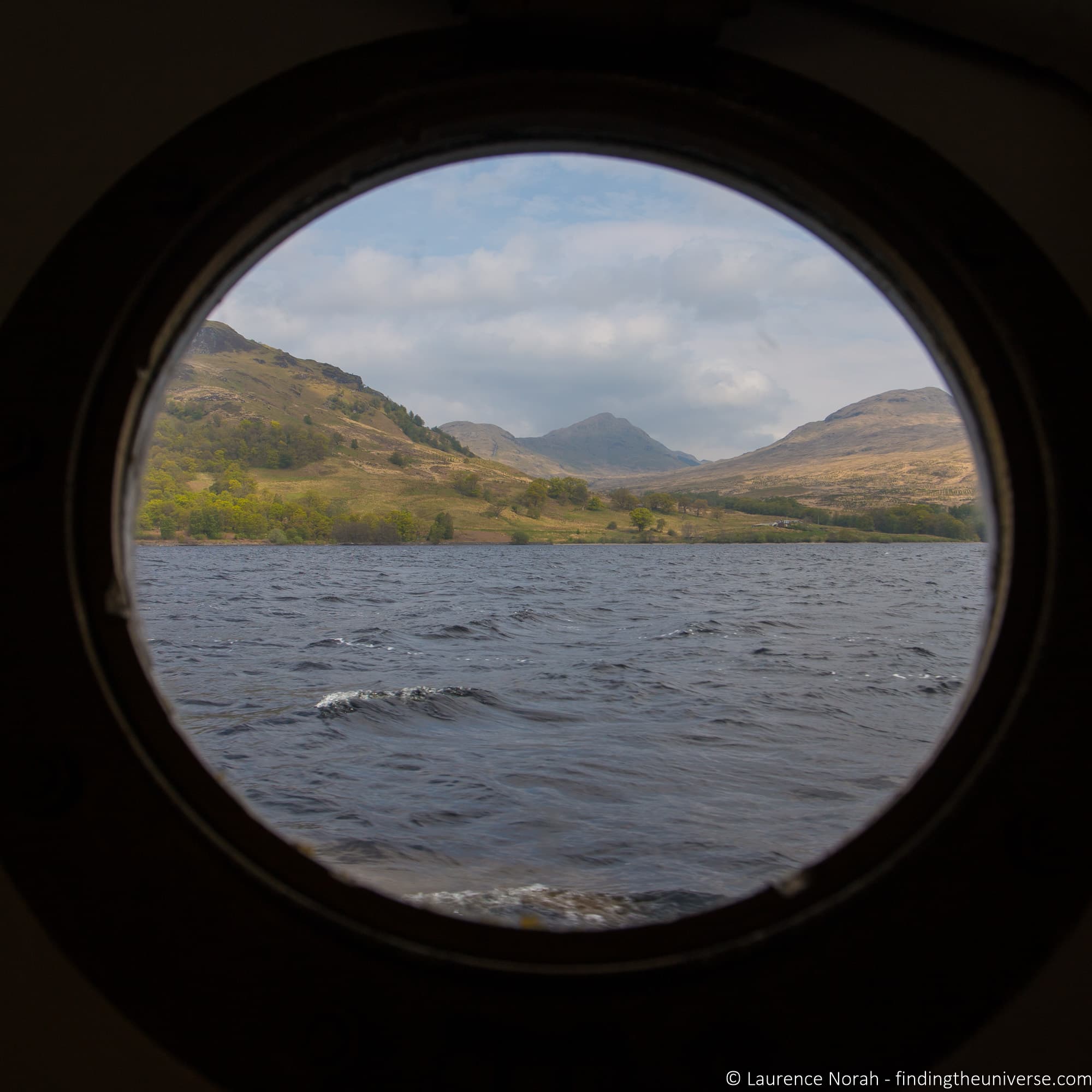 There are also myriad other adventures to be add, from water activities to adventure parks to cute towns and villages. There's even an ancient stone circle you can visit.
As you can see, there a lot to see and do in this area, and you could easily spend a whole day at Loch Lomond. We've put a full guide together of things to do in Loch Lomond, which should serve as inspiration. If you have the inclination, we can also recommend a visit to the Devil's Pulpit, which is just south of the park, and is a wonderful photography location.
How to get to Loch Lomond from Glasgow
Loch Lomond is only 25 miles from Glasgow, so one option is to drive yourself. This will certainly give you the most flexibility, and will be cost effective – especially if you are a group. Check car rental prices here.
It's also possible to take public transport to Loch Lomond from Glasgow, although this will be a bit limiting. From Glasgow, you can catch a train to Balloch, from where you can take a cruise on the Loch, as well as to Tarbet and Ardlui, from where you can take waterbus services to Loch Lomond. Check train times and book tickets here.
Within the park, there are a number of bus services, you can check and plan routes on the Traveline website.
An easier option if you don't want to drive or figure out public transport is to take a tour of Loch Lomond. For tours in Scotland we recommend and have used Rabbie's Trail Burners for numerous tours. We love their small group nature (their comfortable buses seat no more than 16), and their driver-guides are really excellent.
They offer two tours to Loch Lomond from Glasgow:
We think one of those would be a great option for visiting Loch Lomond, plus they both include some extra stops to complete the experience.
2. Burns Country, Ayrshire, and Culzean Castle
One of our favourite places to explore near Glasgow is Burns Country and the Ayrshire coast, which runs to the south west of the city.
This is definitely an undervisited part of Scotland, despite once being the birthplace of Scotland's most famous poet – Robert Burns.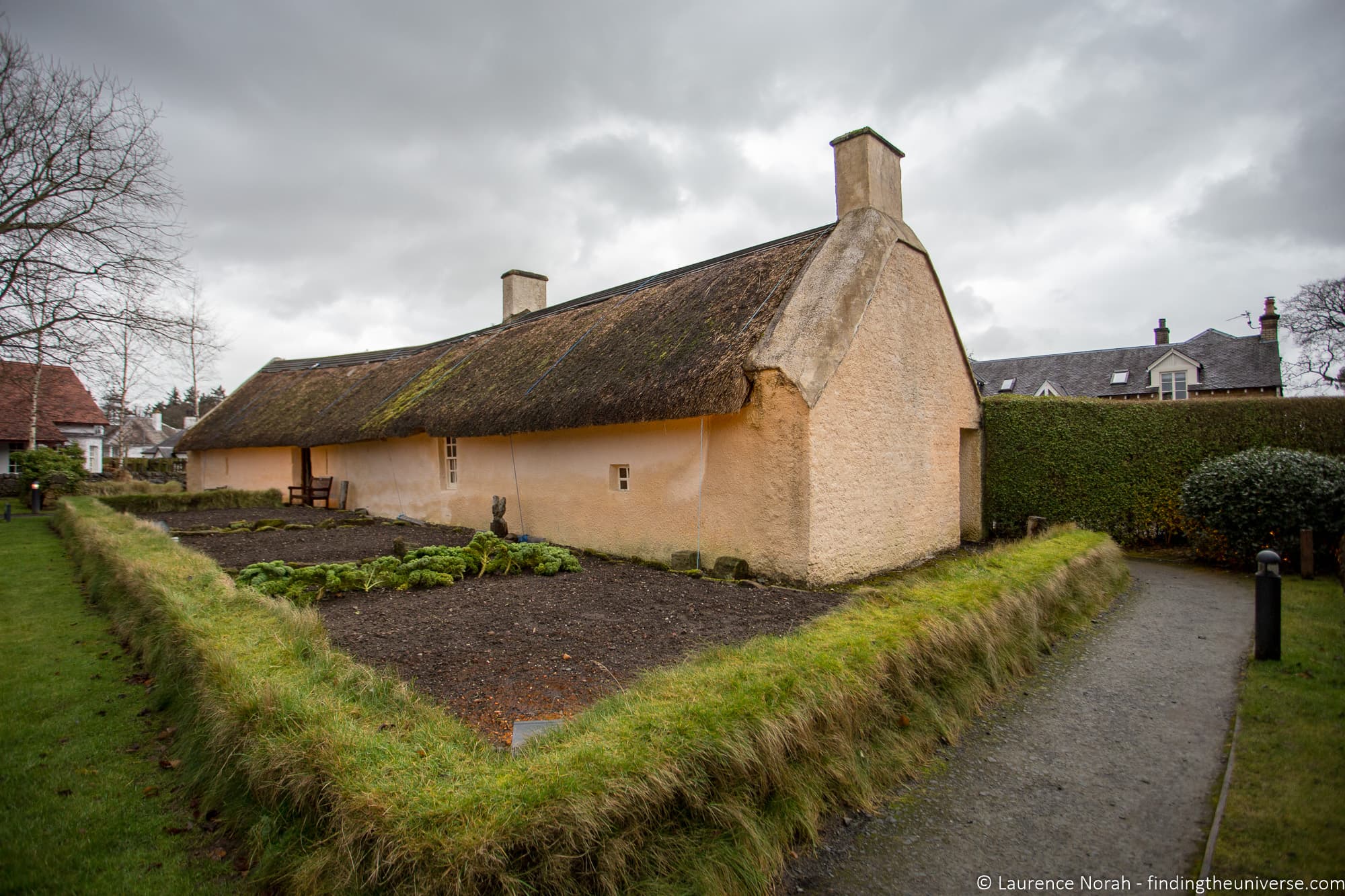 Burns, for those of you not familiar with him, was responsible for penning a wide range of well known poems, most famous of which today is "Auld Lang Syne", which is traditionally sung at Hogmanay, Scotland's New Year celebration. Burns even has his own day of celebration in Scotland, Burns Night, which is held annually on the 25th January, the poets birthday.
Burns Night celebrates all things related to the poet (and Scotland), and includes traditional dancing, poetry and song recitals, and traditional foods including, of course, haggis.
Whilst Burns lived in a number of locations around Scotland, the region of Ayrshire is the part of Scotland most associated with him. It was here that he was born, in Alloway, and today you can visit both the cottage of his birth and the Burns Birthplace Museum, which is a fantastic place to learn all about the poet.
Alloway is also home to the "Brig o' Doon", an old stone bridge that featured in a poem, and the crumbling Alloway Auld Kirk.
There are a number of other locations in Ayrshire that are also linked to Burns, including the Bachelor's Club Museum in Tarbolton, Souter Jonnie's Cottage in Kirkswald, and the Burns House Museum in Mauchline.
True fans will also want to head to Dumfries (home of the annual Burns Big Supper Festival), where you can visit another Burns House, as well as the Globe Inn and Ellisland Farm.
Of course, Ayrshire is more than just a series of sights relating to Robert Burns. There's lovely coastline here which is dotted with attractions. One particularly popular one is Culzean Castle.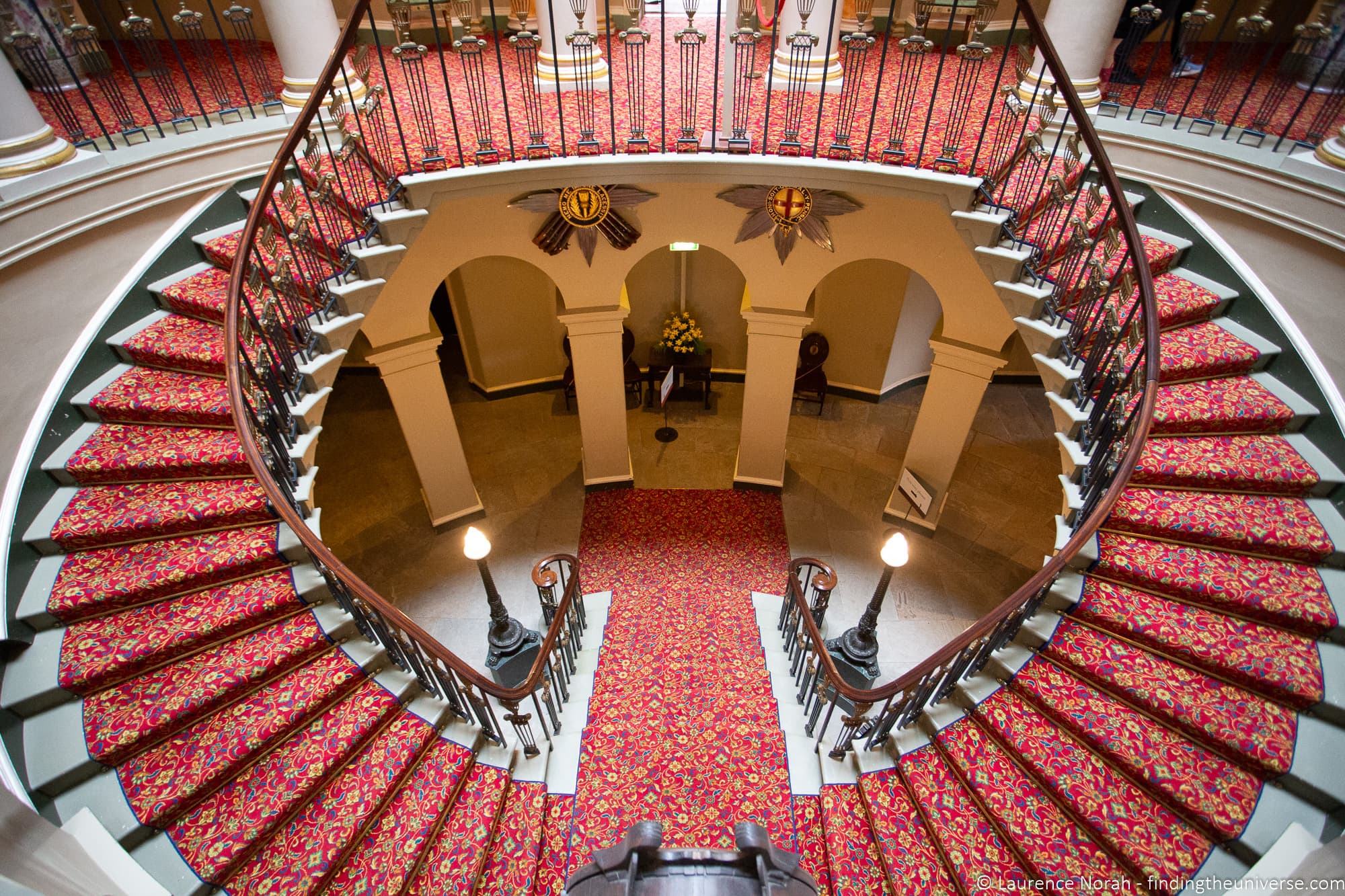 This beautiful castle, designed by Robert Adams, sits perched atop a cliff and has rooms you can tour, gorgeous gardens to wander, an on-site cafe, and even a beach. This is a must-visit location when touring this part of Scotland, and is easily reached from Glasgow as part of a day trip.
Note that many of these attractions, as well as others in this guide, are National Trust for Scotland properties. If you plan to visit a number of them, you will likely benefit from an NTS membership, which will give you free access to these sites. We have a membership and use it regularly across the UK, and it has paid for itself many times over! You can buy yours here.
How to visit the Ayrshire Coast from Glasgow
The two easiest ways to explore the Ayrshire coast are to either drive yourself or to take a tour. For the former, you can pick up a hire car in Glasgow and then plan your route yourself – with a whole day to play with you'll be able to see most of the Burns sights and Culzean Castle. The total round trip distance will be around 100 miles.
Another option is to take a specific tour. For this day trip, the tour we recommend and have done ourselves is the Culzean Castle, Burns Country & the Ayrshire Coast tour with Rabbie's. This is a full day tour which includes many of our suggested stops, which starts and finishes in Glasgow.
From Glasgow you can also take public transport to visit some of the sights in this area. For example, you can take the train to Ayr, from where you can pick up a bus that will take you to Alloway and Glenside. From the latter it's about a 20 minute walk down to Culzean Castle. You can check and plan routes on the Traveline website.
3. Outlander Filming Locations near Glasgow
Fans of the Outlander TV show have flocked to Scotland to visit the filming locations from the series, many of which are found either in Glasgow itself, or within easy driving distance of Glasgow.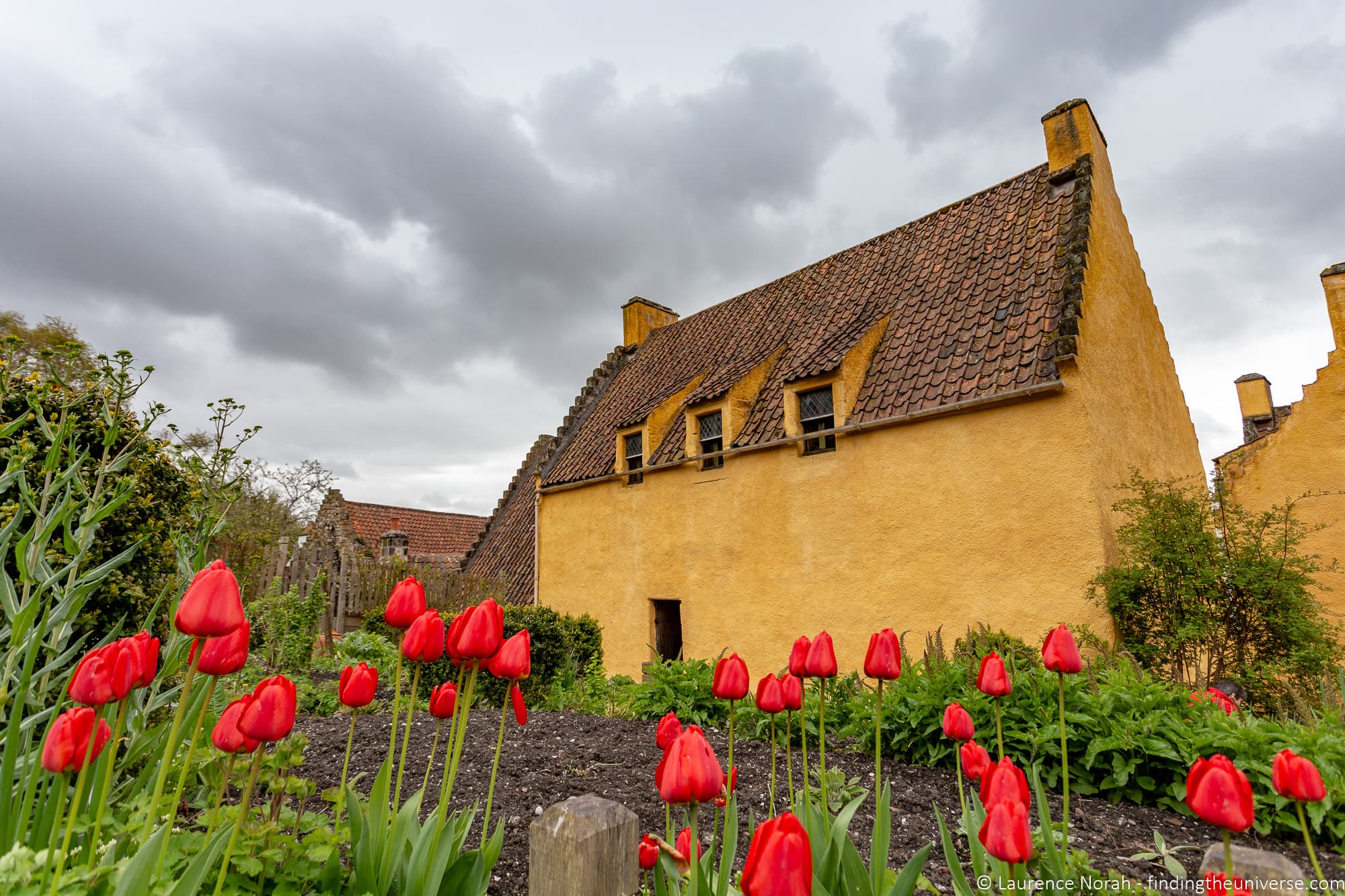 The main Outlander locations in Glasgow itself are as follows:
The main locations that you'll want to visit within driving distance of Glasgow are as follows:
There are of course more Outlander filming locations you can visit, but these are the main ones we think fans of the show will enjoy visiting as part of an Outlander day trip.
For more Outlander locations, see our detailed guide to all the Outlander filming locations in Scotland.
How to see the Outlander Filming Locations from Glasgow
For the locations in Glasgow, these are easy to enough to visit, either on foot or by public transport.
The Outlander filming locations outside of Glasgow are a little bit spread out, so our suggestion is to either visit them yourself with a hire car, or to take a tour.
In terms of a tour, we have taken and can recommend the Outlander Filming locations tour with Rabbie's. This is a full day tour, and despite Jess and I never having seen the show, we really enjoyed this tour, with the village of Culross, Blackness Castle, and Linlithgow Palace being real highlights.
If you do plan on visiting a number of Outlander locations, we can also recommend you look into a Historic Scotland pass. This will get you into over 70 properties in Scotland which are managed by Historic Scotland, which includes Doune Castle, Blackness Castle and Linlithgow Palace, as well as other major attractions like Edinburgh Castle and Stirling Castle.
4. Take a Tour of Whisky Distilleries near Glasgow
You can't come to Scotland and not visit a whisky distillery. Even if you're not a fan of the drink itself, we think this is something that is quintessentially Scottish in nature, and we always enjoy visiting the distilleries as they are usually historically interesting and in pretty buildings and/or locations.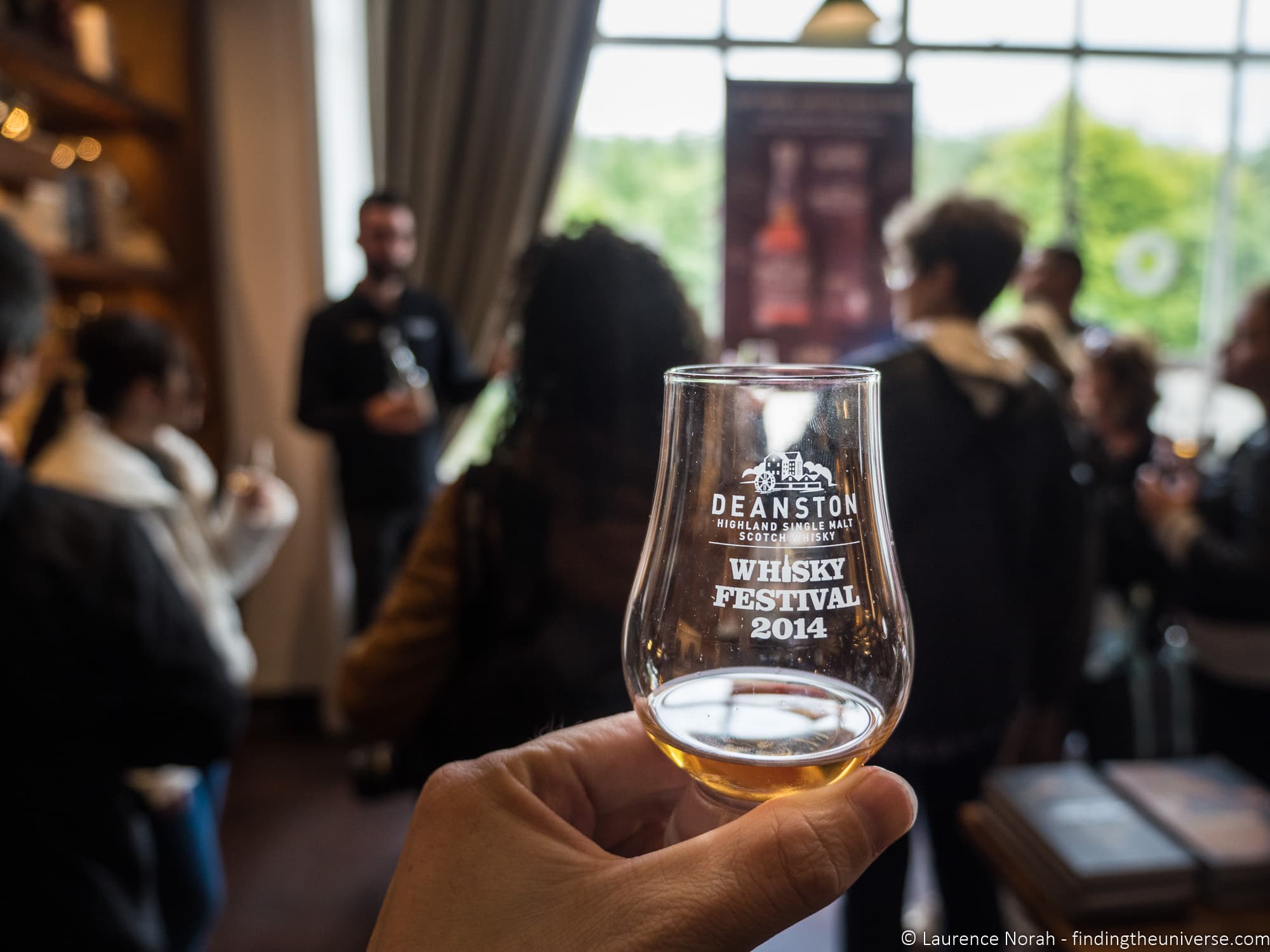 Of course, the opportunity to drink whisky is one Laurence would never pass up, even if Jess isn't convinced yet.
There are a number of Whisky Distilleries near Glasgow that you can visit, including one that opened in 2018 in the city itself. Here's a quick overview of some recommended options:
As you can see, there are a number of whisky distilleries both in and near Glasgow – and this is just the tip of the iceberg. Now, let's have a look at the best way to visit them.
How to get to the Whisky Distilleries near Glasgow
We would advise against driving to the whisky distilleries unless you have a committed designated driver, as whilst most of the distilleries will let you take your sample "to-go", it isn't quite the same experience. It's also definitely not worth drinking and driving in Scotland as the drink-drive limits are very low, and fines are quite high!
So, if you don't want to drive, you have a few options – take a tour, or use public transport.
The distilleries closest to Glasgow are easily reachable by public transport, and these are a good option if you also don't want to spend a full day doing whisky distilleries.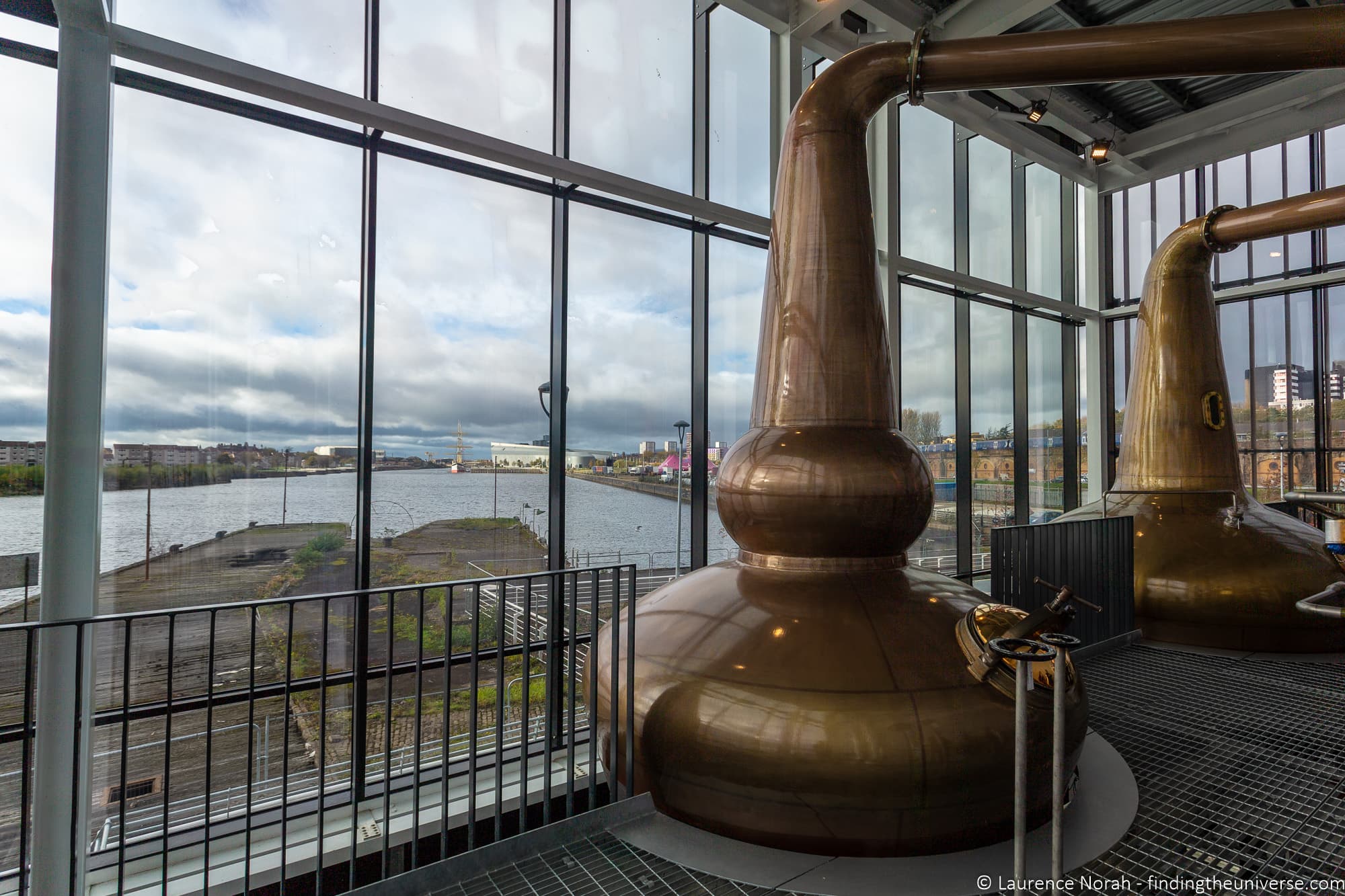 In this case your best option is likely going to be to visit one of the distilleries which is closer to Glasgow, like the Clydeside. This is near the the SSE Hydro and the Riverside Museum of Transport, and can be easily reached by bus from central Glasgow. You could even walk. Another option is to take Glasgow's hop on hop off bus, which has a stop just near here.
The next closest distillery we recommend is Auchentoshan Distillery, and the easiest way to get here by public transport is to take the train from central Glasgow out to Dalmuir, from where it's a 20 minute walk or four minute bus ride across to the distillery.
It's also possible to visit Glengoyne Distillery by public transport, with the B10 bus taking around an hour to get here. For Deanston, you can take the train out to Stirling, and then take the 59 bus to the distillery, which will also take an hour.
For more information on all these public transport options and for up to date timetables and route information, take a look at the Traveline website.
If you'd prefer to take a tour, which would be our suggested option, you have a few options. First, you can take a tour which includes a number of sights as well as a whisky distillery. We think this is going to be the best option as you'll get more out of your day. Alternatively, there are a couple of private tours from Glasgow which will just take you to the distilleries.
Here are the options we suggest:
5. Stirling
The city of Stirling, much like Edinburgh, is home to a beautiful medieval castle, a medieval old town, and many attractions that make is worth visiting.
Also like Edinburgh, the history of human habitation in Stirling goes back thousands of years, with structures believed to have been built where Stirling Castle today stands over 2,000 years ago.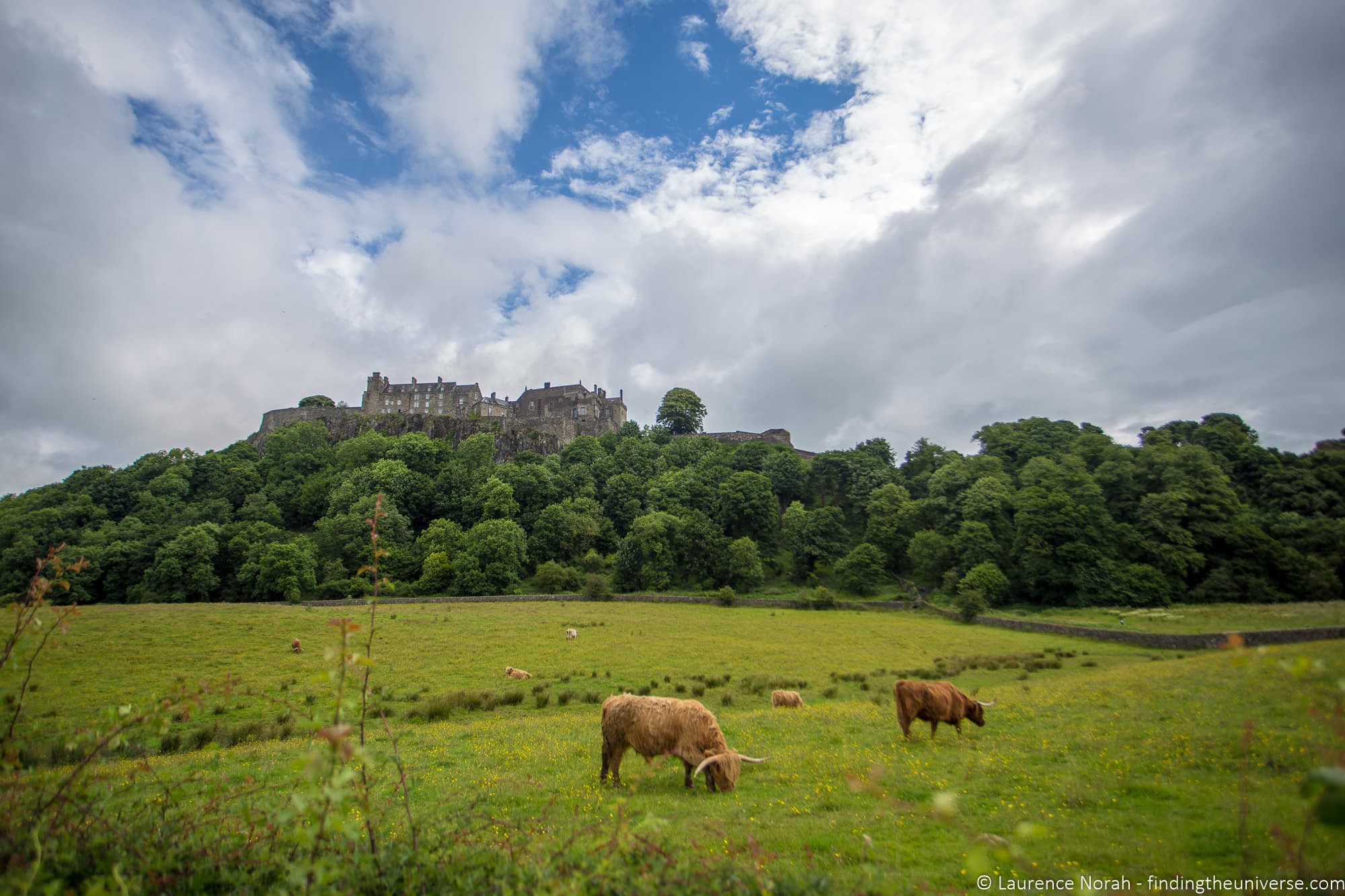 Stirling, with it's easily defensible hill, was a key strategic position for centuries, and was seen as the gateway to the highlands. With clear views across the plains in all directions, any army coming from or going to the Highlands was inevitably going to pass within view of Stirling itself. For a time, Stirling was also the capital of Scotland, although it has only been officially designated as a city since 2002.
Near to Stirling, and also worth a visit, is the National Wallace Monument. Built in 1869, this 220ft monument celebrates the story of Sir William Wallace, a 13th century Scottish freedom fighter who fought the English. The monument overlooks the location of the Battle of Stirling Bridge, where Wallace defeated the English forces under the command of King Edward I.
As you would imagine, there is plenty to do in Stirling to fill a day, from visiting the castle to wandering the medieval streets to visiting the Wallace Monument.
How to Get to Stirling From Glasgow
The easiest way to get to Stirling from Glasgow is to take the train – this is a direct service that takes just under an hour. You can find train times and book tickets online here.
Naturally, it's also possible to drive from Glasgow to Stirling, which will take around 45 minutes to an hour. This is a good option if you plan on doing additional sightseeing in the area, but if your only goal is to visit Stirling, we don't suggest hiring a car just for this purpose as you'll likely have to pay for parking, and the train will be just as easy.
The other option you have is to take a day tour. These will usually include time in Stirling as well as some other attractions, such as this tour by Rabbie's Tours which includes Stirling Castle, Loch Lomond and a whisky distillery.
6. Falkirk
Falkirk is very close to Stirling, and if you're visiting from Glasgow with your own transport, we can highly recommend visiting both these locations on the same day.
Falkirk has a number of attractions that make a visit worthwhile. First of these are the Kelpies. These massive statues of two horse heads are the largest equine statues in the world, and at 100ft high, it's hard to imagine they'll lose that title for a while!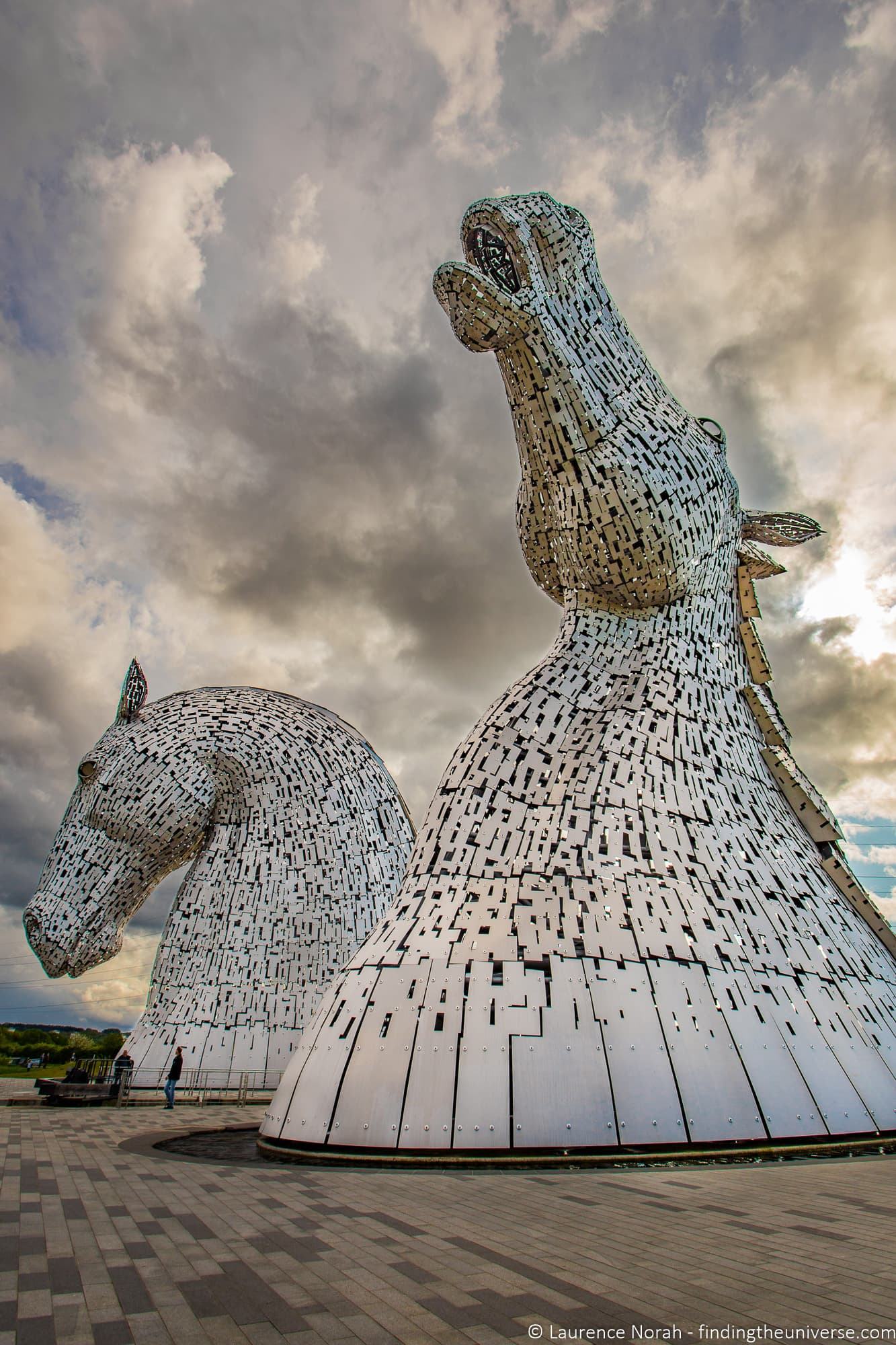 A Kelpie is a water spirit of Scottish mythology which shape shifts when it is on land, most commonly into a horse. They tend to be fairly evil in nature, with the stories surrounding them usually involving them enticing people into the water in order to be devoured. A story still told by some parents to keep children from going into water by themselves.
Thankfully, the Kelpie statues are somewhat less terrifying, and are instead just nice to visit and admire. Visiting the Kelpies is free. You can also take a tour and actually go inside the statues too, although there's a fee for this.
The second thing to do in Falkirk is to visit the Falkirk Wheel. This is a remarkable feat of engineering, which serves as a lift for boats, taking them up an impressive 24 metres in height. It's the only rotating boat-lift of its kind in the world, and it connects the Forth and Clyde Canal with the Union Canal, meaning you can take a canal boat between Glasgow and Edinburgh.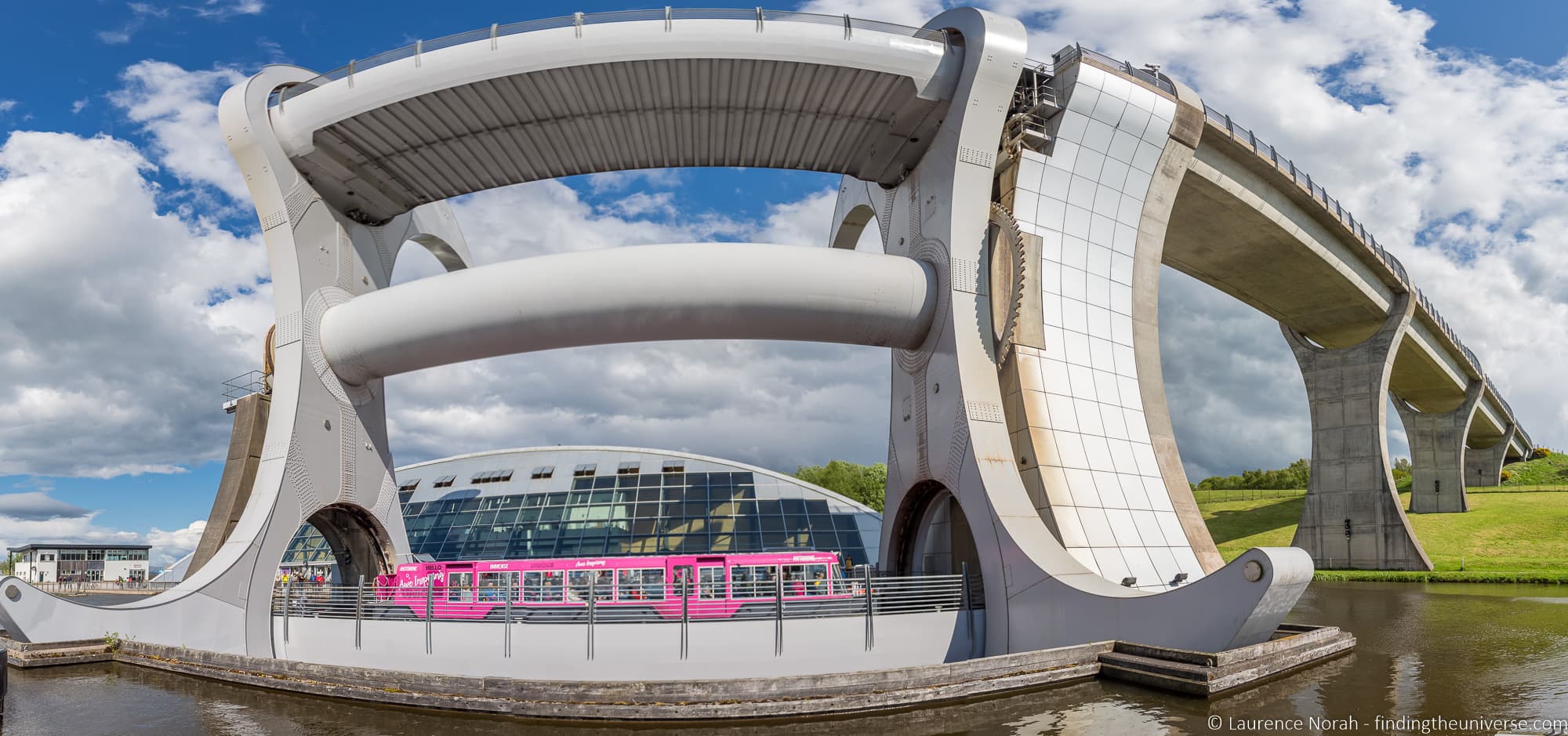 If you don't have a boat though, don't worry. From the Falkirk Wheel you can ride the on the boat lift as part of a boat tour, following which you take a trip on the Union Canal.
Finally, when visiting Falkirk, we can recommend visiting the beautiful Callendar House. This a a beautiful 14th century French style chateau, which is quite the sight. Also on the grounds are remnants the UNESCO world heritage listed Antonine Wall, which was the northern frontier of the Roman Empire for a wall.
The Callendar House grounds are open year round, and admission is free. You can also visit the house, and you can see opening times here.
How to Get to Falkirk From Glasgow
You have lots of options for getting to Falkirk from Glasgow. The easiest will be to drive, which will take you around 30 – 45 minutes. Driving will make your time in Falkirk a bit easier, as the three main attractions are somewhat spread out across the town, plus you'll be able to add in some other attractions such as nearby Linlithgow palace and Stirling Castle.
The next option is to take public transport. There are two train stations in Falkirk, and the train only takes around 20 minutes. Once in Falkirk, you can use public buses or local taxis to get around. Purchase train tickets here, and check out local public transport options here.
The final option is to take a tour. Rabbie's have a half day tour from Glasgow to Falkirk, which includes visiting both the Kelpies and the Falkirk Wheel.
7. Edinburgh
Of course, one awesome day trip to take from Glasgow is to Edinburgh! Whilst there are more than enough things to do in Edinburgh to fill a few days of exploring, a day trip will still let you see a great deal that the city has to offer.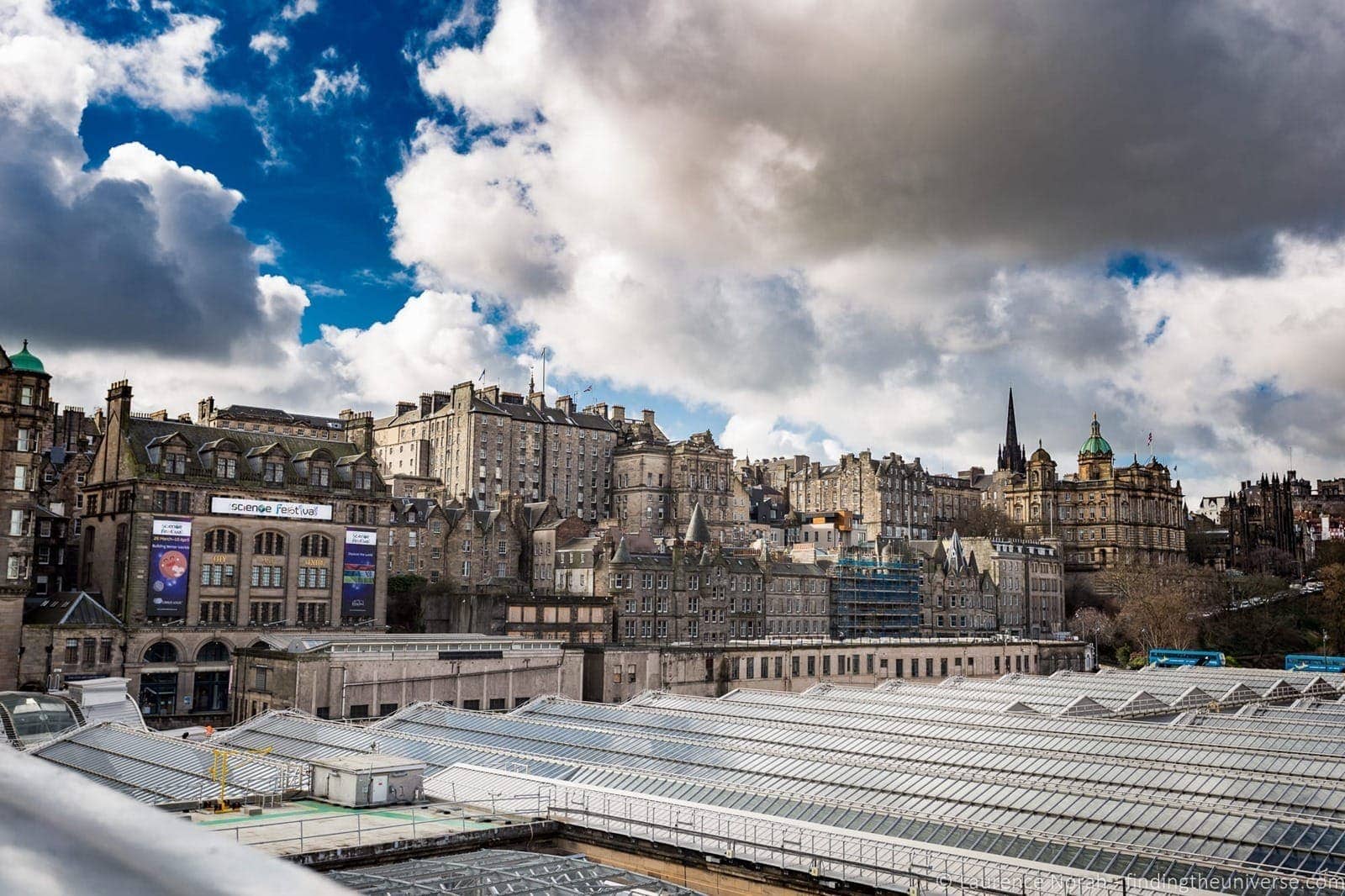 We'd suggest spending time visiting Edinburgh Castle, wandering the Royal Mile, visiting some of the many museums, perhaps checking out Edinburgh's Harry Potter locations and taking in some of the many free museums on offer.
You'll also find plentiful shopping, dining and entertainment options to keep you busy, whatever time of year you visit. And in the busy festival times over August and New Years, many people choose to stay in Glasgow and day trip to Edinburgh for cost saving reasons.
How to Get To Edinburgh from Glasgow
Scotland's two largest cities are well connected by road and rail, and there are many trains and buses a day running between the two cities. We'd suggest that taking the train would be the fastest and easiest option, depositing you right in the center of Edinburgh, within easy walking distance of the major attractions. Find train times and book tickets online here.
There are also buses between the two all the time, which will take between 60 and 90 minutes depending on traffic. Check bus times and buy tickets here.
You can also drive between the two cities, a trip we have taken many times. Our only advice is not to do this during the busy morning and evening rush hours, as the motorway between the two cities gets very busy!
We've not found any tours that run from Glasgow to Edinburgh, so you are going to have to do this under your own steam!
8. Museum of Rural Life & Pollock House
You don't have to go far from the city centre of Glasgow to find a number of interesting attractions which are worth visiting.
For example, just outside of the city center is the National Museum of Rural Life, a jointly run venture between the National Trust for Scotland and the National Museums of Scotland. Here you can learn all about the history of rural living in Scotland, plus visit a working farm and well-preserved traditional farm house. Definitely a good one if you're travelling with kids!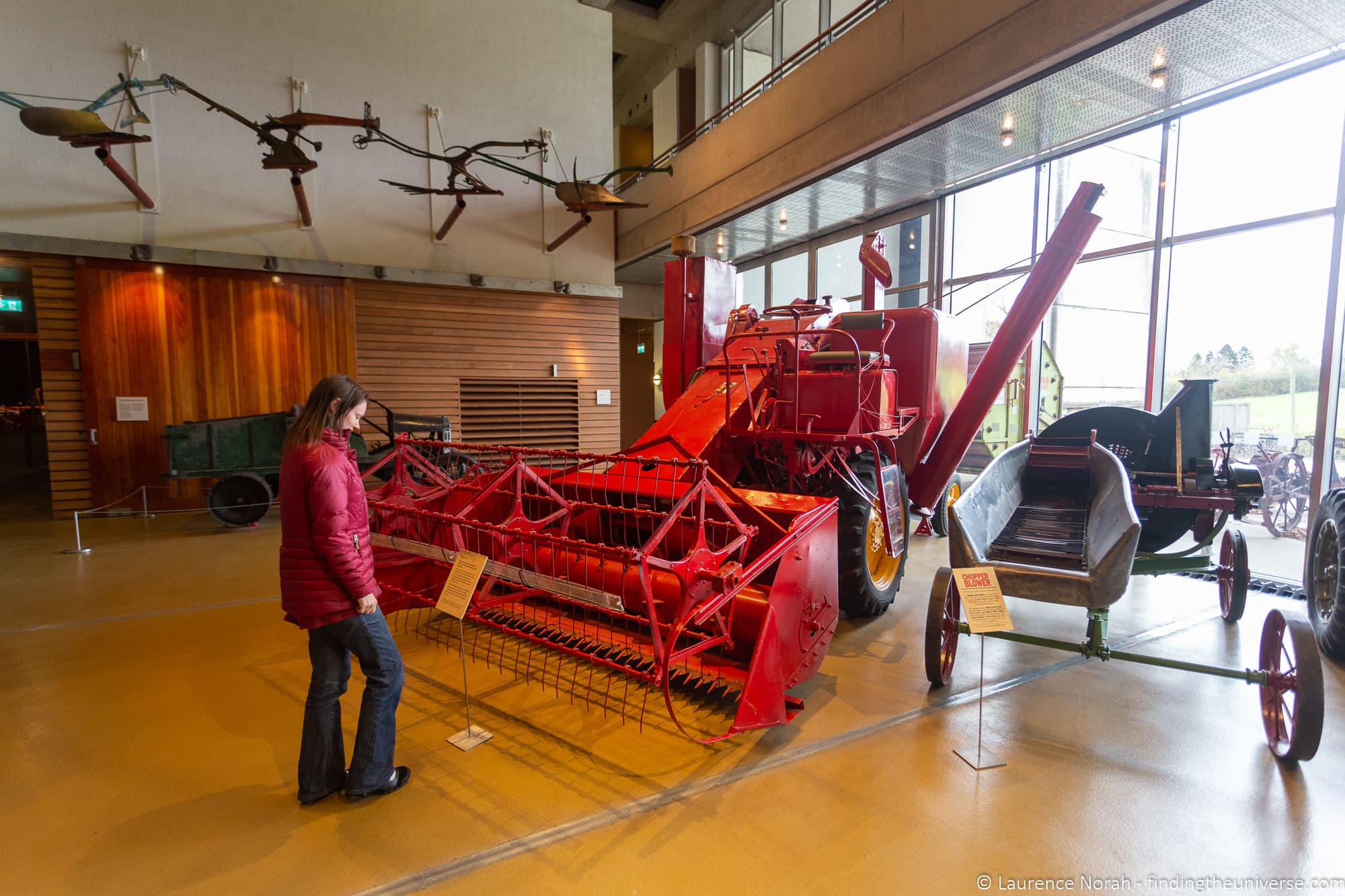 Another great option in a similar direction, just to the south of the city, is Pollok House, found in Pollok Country Park. This is an 18th century property that was the home of the Stirling Maxwell family, who lived on and owned this land for almost 700 years.
It's a beautiful property, and lovers of stately homes will definitely want to visit. Whilst you are in the area, we can also recommend exploring Pollok Country Park, which is a lovely green space for walking. It's also home to The Burrell Collection, which is a unique collection of art pieces that range from 5,000 year old Chinese artifacts to medieval treasures to French paintings.
Note the Burrell Collection is closed for renovations until 2020.
Getting to the Museum of Rural Life from Glasgow
Getting to the National Museum of Rural Life and Pollok Museum is easy if you have a car, as these are both just a short distance from the city center.
There's also a bus service that runs out to the Museum of Rural Life, which takes around half an hour from the city center.
Getting to Pollock House from Glasgow
To get to Pollock House from Glasgow, you can either drive or take public transport.
If you drive, there's parking on site, which is free for National Trust members You can also take the train from the city center out to Pollokshaws West, from where it's a 25 minute walk across Pollok Country Park to Pollok House.
9. Oban and Glen Coe
Looking north from Glasgow now, and a trip to the Scottish Highlands. These are a must-visit for anyone coming to Scotland, with the mountainous terrain and sweeping dramatic landscapes offering a marked contrast from the lowland region.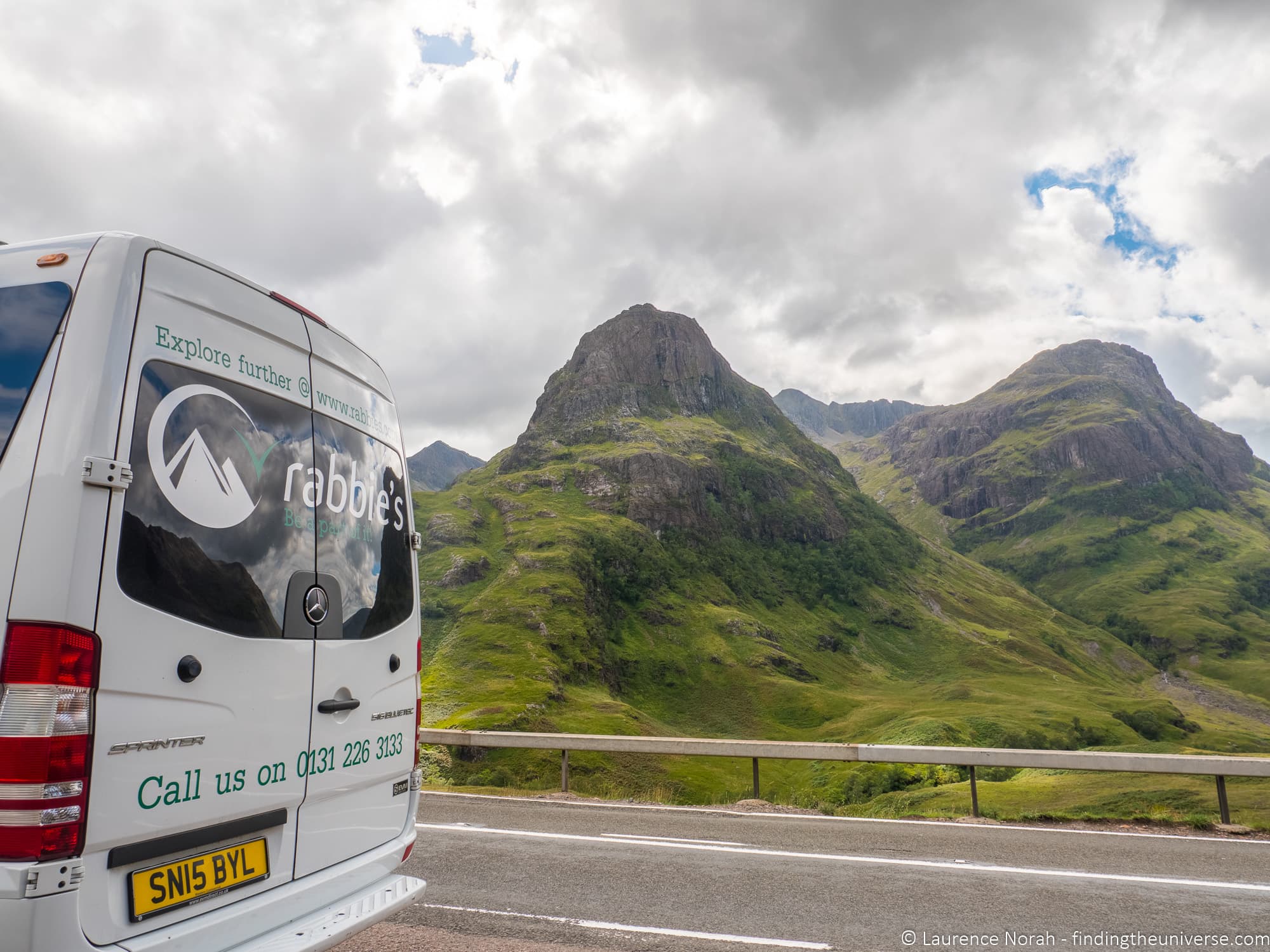 From Glasgow, you could do a day trip that takes you up through the pretty historical town of Inveraray, past the ruins of stunning Kilchurn Castle, through the town of Oban (also known as the seafood capital of Scotland), and then up to the majestic valley of Glen Coe.
Glen Coe is home to one of Scotland's ski resorts, as well as being a Harry Potter filming location and is very much worth visiting at any time of year.
On your way back to Glasgow, you could take a different route and head back down through the Loch Lomond and the Trossachs National Park, making for a complete and full day out.
How to get to Oban and Glen Coe from Glasgow
The two easiest options for getting to Oban and then on to Glen Coe are going to be either with a car, or to take a tour.
You can get also to Oban by train from Glasgow (a lovely journey that goes through the Trossach National Park), but you'll be a bit limited in terms of getting to Glen Coe, plus at three hours, it's a fairly long ride. This would work if you only wanted to visit Oban, but to be honest, we think taking a tour is going to be a better option.
The tour we recommend is the Oban, Glen Coe, Highland Lochs & Castles tour with Rabbie's, which stops at all the highlights we mention, and will give you a great taste of what Scotland has to offer.
10. Loch Ness
If you're excited about the idea of the Highlands and want to get even further into this region, then you might want to look into a trip up to beautiful Loch Ness.
Loch Ness is the home of Nessie, the Loch Ness monster, one of the most enduring and well known tales of the 20th century. It's also famous as being the largest loch by volume in the UK – if you added up all the water of the lakes in England and Wales, it would be less than the volume of water in Loch Ness!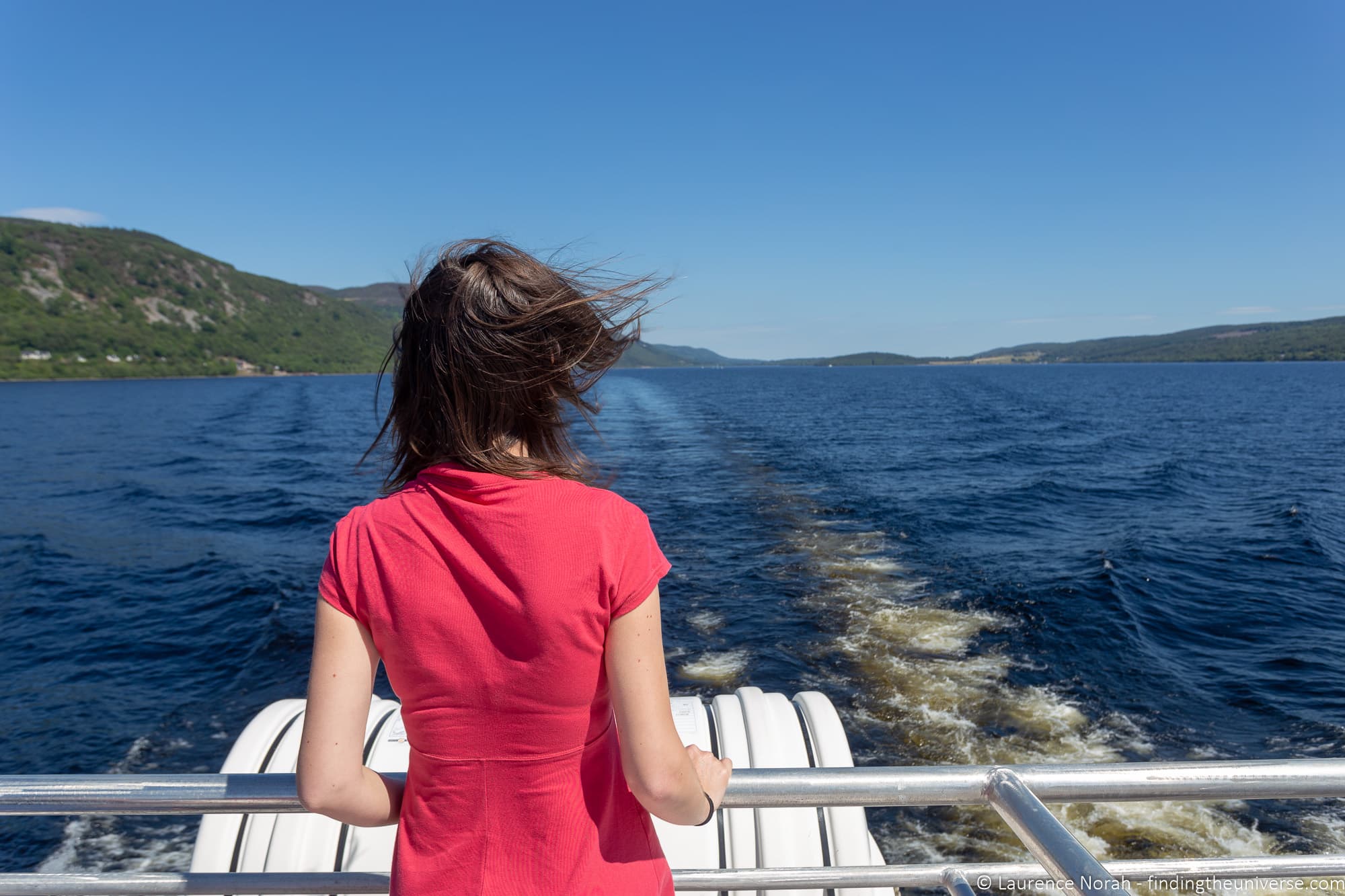 Of course, there's lots more to do in Loch Ness than hunt for Nessie. You can take a cruise on the lake, visit the crumbling Urquhart castle, and visit some of the cute villages around the Loch.
If you're planning on going all the way up to Loch Ness from Glasgow, it makes sense to do this as a loop. The drive is around 3.5 – 4 hours each way, so plan for this to be a long day with an early start and a late finish.
Highlights along the route that we'd suggest stopping at (or at least passing through!) include Loch Lomond, Kilchurn Castle, Glencoe, Fort Augustus, Urquhart Castle, Inverness, and the drive past the Cairngorms National Park.
In our opinion, visiting Loch Ness as a day trip from Glasgow or Edinburgh makes for a long day with a lot of driving, and it might be best split up into two days, with an overnight stop in Inverness.
Alternatively, our preferred option would be to base yourselves in Inverness and explore from here – Inverness is a beautiful city, and we have a guide to the best day trips from Inverness to give you lots of ideas for what to do from here. However, it is possible to do it, so let's look at the transport options.
How to Get to Loch Ness from Glasgow
The best two options for visiting Loch Ness from Glasgow are to drive yourself or to take a tour.
Public transport is an option, but only if you are ok with only seeing Loch Ness. In this case, you could take the train from Glasgow to Inverness, which will take around 3.5 hours. From Inverness you can then take a local bus to Loch Ness. However, we don't think this is a very practical option given how much time you will spend on public transport.
A better option would be to take a full day tour from Glasgow up to Loch Ness. The tour we recommend is the full day "Loch Ness, Glencoe & the Highlands" with Rabbie's, which includes a number of highlights and includes time for you to take a cruise on Loch Ness itself.
If you choose to drive yourself, we suggest planning out a route that heads up through Glencoe on the way there, passes along the side of the Loch, and heads back down the A9, and stops at a number of the attractions we mention on the way.
Full List of Suggested Day Trip Tours from Glasgow
To make things easier for you, we've put together a list of all the tours we recommend that depart from Glasgow.
You can also see all the day trips from Rabbie's Trail Burners which depart from Glasgow here.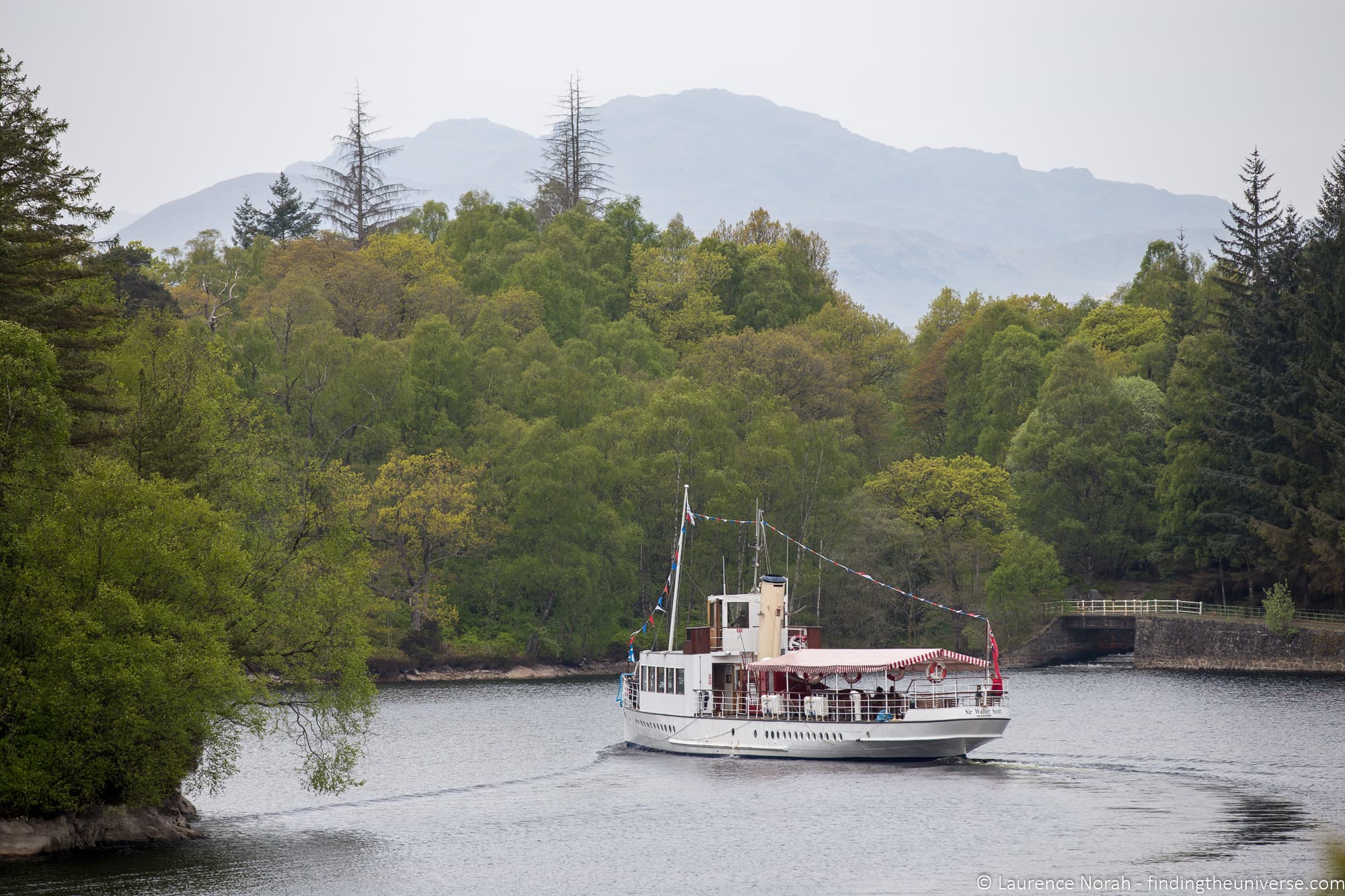 Where to Stay in Glasgow
Glasgow has a wide variety of accommodation options at a good range of prices, and we've always enjoyed staying in the city.
We usually recommend for accommodation that you check out Booking.com which lists a large variety of hotels, apartments, guesthouses, and hostels. You can see all their Glasgow accommodation options here.
We've personally stayed at the Jury's Inn which was centrally located and great value for money, as well as Native Glasgow, which offers comfortable serviced apartments right in the centre.
You can also take a look at our list of Airbnb alternatives for more options for your visit!
Further Reading
We've lived and travelled in Scotland for a number of years, and have put together a wide range of content to help you plan your trip to this beautiful country. Here are some articles we think you'll find particularly useful.
And that sums up our guide to the best day trips from Glasgow! As always, do let us know your feedback and questions in the comments section below.