In this post, we're going to share with you all our favourite day trips from Aberdeen. We'll also tell you the options you have for taking each day trip, including driving yourself, public transport, and day tours.
We're also going to share everything you need to know to plan your time in Aberdeen.
Found on the north east coast of Scotland, Aberdeen is a lovely city that often slips under the radar of most visitors to Scotland.
This is a shame, as the city has lots to offer, from excellent museums to a spectacular coastal outlook to a range of wonderful restaurants. You can see more in our guide to things to do in Aberdeen.
Aberdeen also make a great base to explore the surrounding area. There's a huge amount to see within easy reach of Aberdeen, including castles, whisky distilleries, and Scotland's largest national park. You could easily spend many days sightseeing from the city and not run out of things to do!
Best Day Trips from Aberdeen
The below adventures are our favourite day trips that you can experience from Aberdeen. As you can see, there are quite a few options to choose from, and hopefully there's something for everyone in this list.
Speyside Whisky Distilleries
Visiting Scotland without going to a distillery would be a tragic omission, even if you don't really like whisky!
Whisky is part of Scotland's heritage, and many of the distilleries dotting the landscape have a history which dates back for centuries.
There's no shortage of distilleries to choose from across the country. However, the region of Scotland near Aberdeen known as Speyside (due to the River Spey), is the home of some of Scotland's most famous and successful distilleries.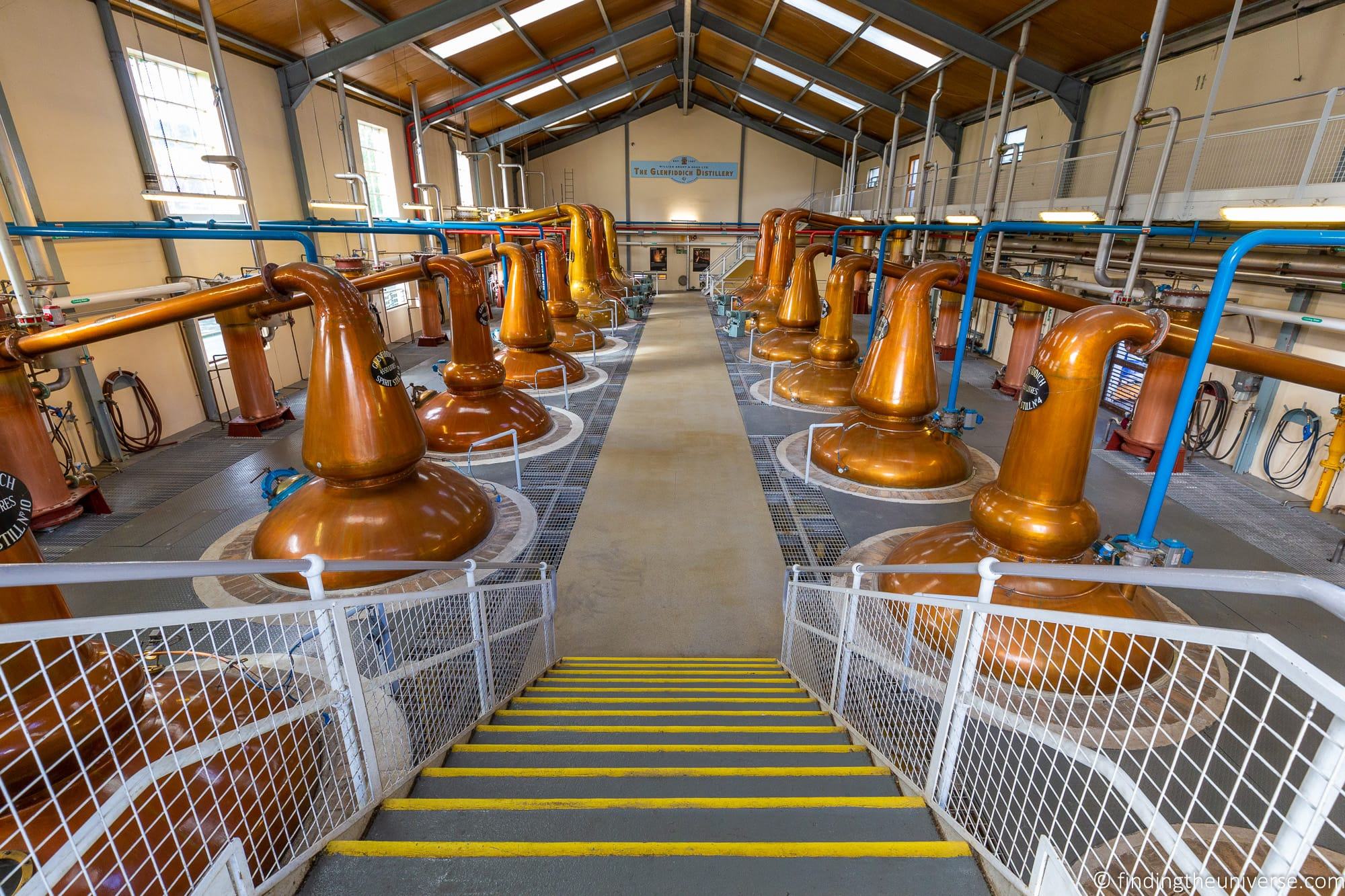 With over forty distilleries to choose from in the Speyside region, the majority of which are open to visitors, you certainly have plenty of choice when it comes to visiting a distillery.
If you plan on touring a number of distilleries, our recommendation would be to pick one of the more well known distilleries like Glenfiddich or Macallan, and then perhaps to visit one of the smaller distilleries so you can see some of the differences. Of course, if one of your favourite whiskys is produced in Speyside, we encourage you to visit that distillery!
In terms of the distillery tours, we have visited a great many distilleries all across Scotland, and the tours are very similar. They normally last for between 45 and 90 minutes, and will include a tour of the distillery as well as a complete overview of how whisky is made, from grain to bottle.
The tour will normally be followed by a sampling of the whisky. Sometimes, there will be more expensive tours which go into greater detail, and often include more whisky samples, or more premium whisky samples.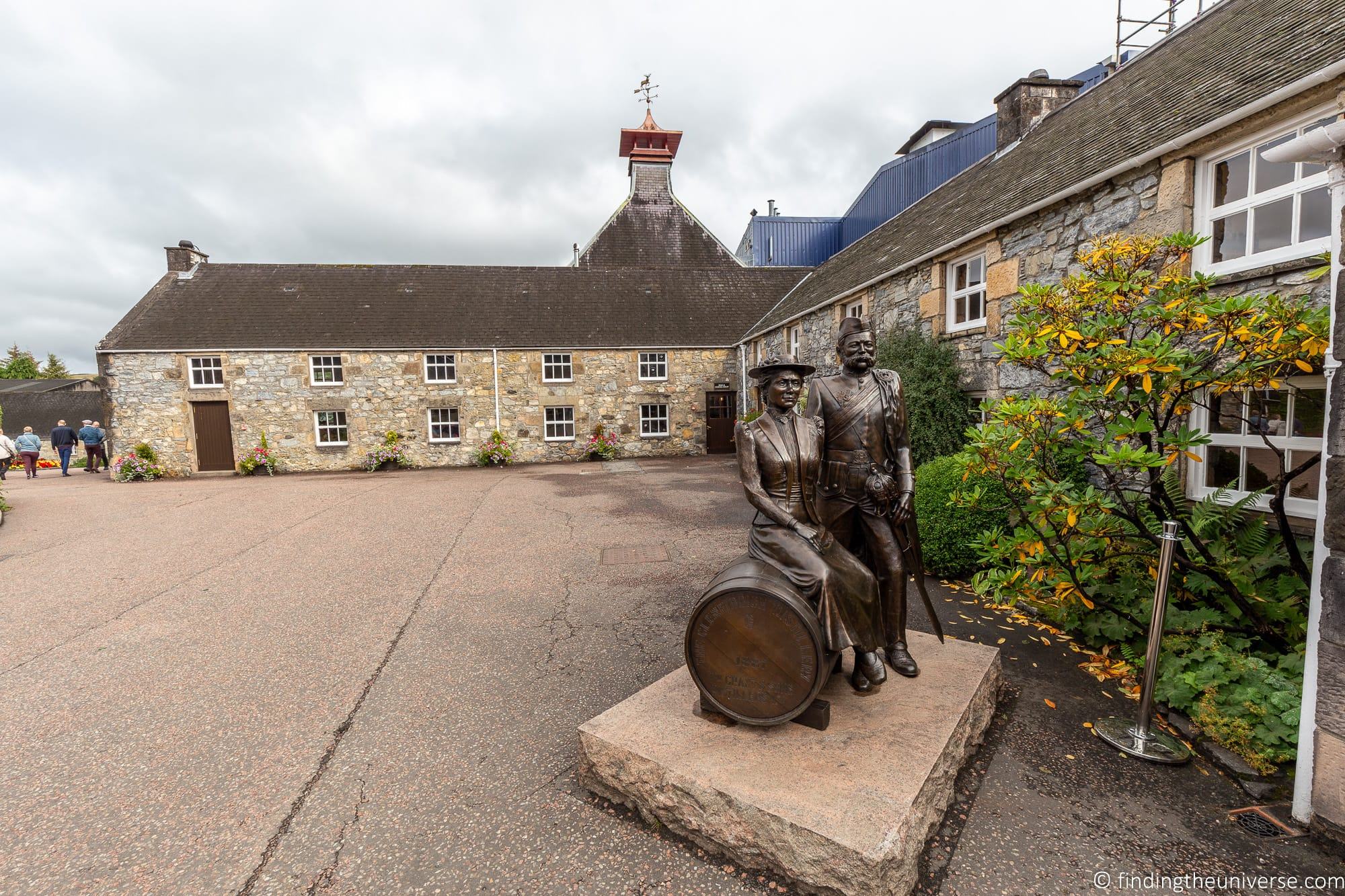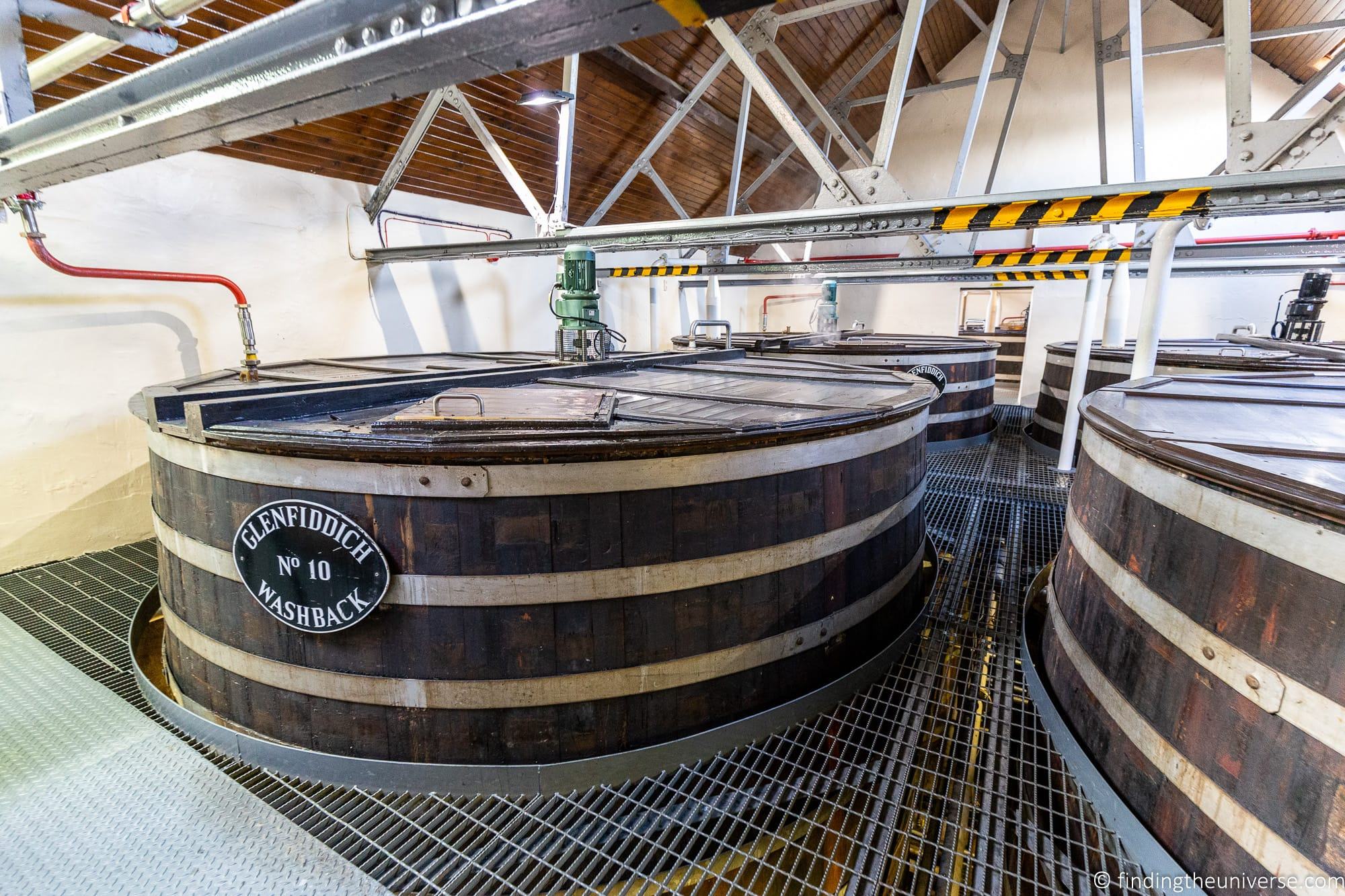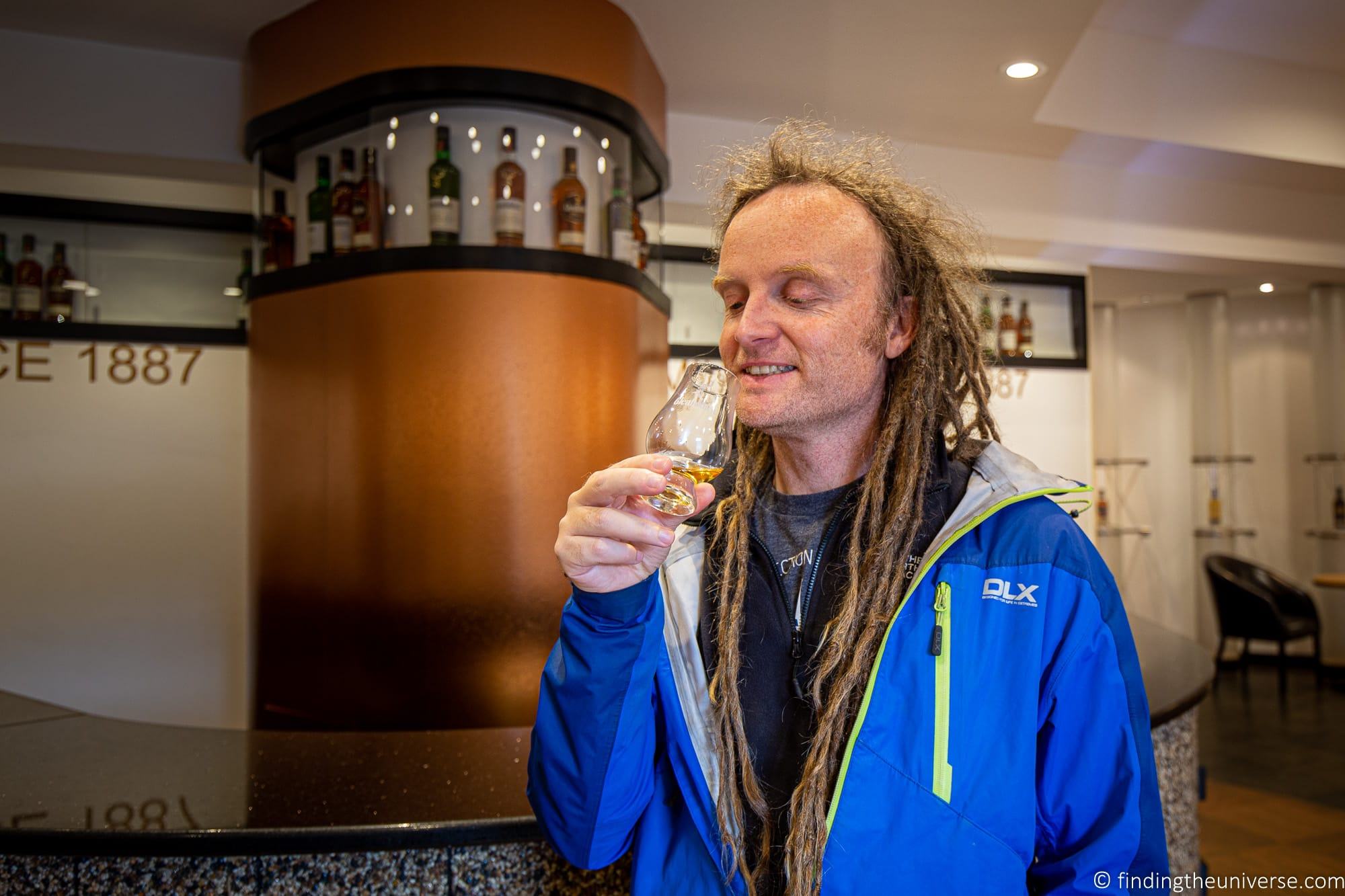 If you choose to drive yourself when visiting the distilleries, be aware that Scottish drink drive laws are tough, and even one dram will likely take you over the limit.
The good news is that all the distilleries are aware of this, and in our experience they all provide to-go vessels for their whisky samples.
That said, sampling the whisky on site is our preferred option where possible, which is why we recommend taking a tour to visit whisky distilleries rather than driving yourself. We took this tour from Aberdeen, which was excellent.
Whilst you are visiting the whisky distilleries in Speyside, we can also recommend visiting the Speyside Cooperage. This is where the barrels for much of the whisky distilled in Scotland are produced and repaired, and the on-site tour is well worth doing as part of your day of whisky experiences.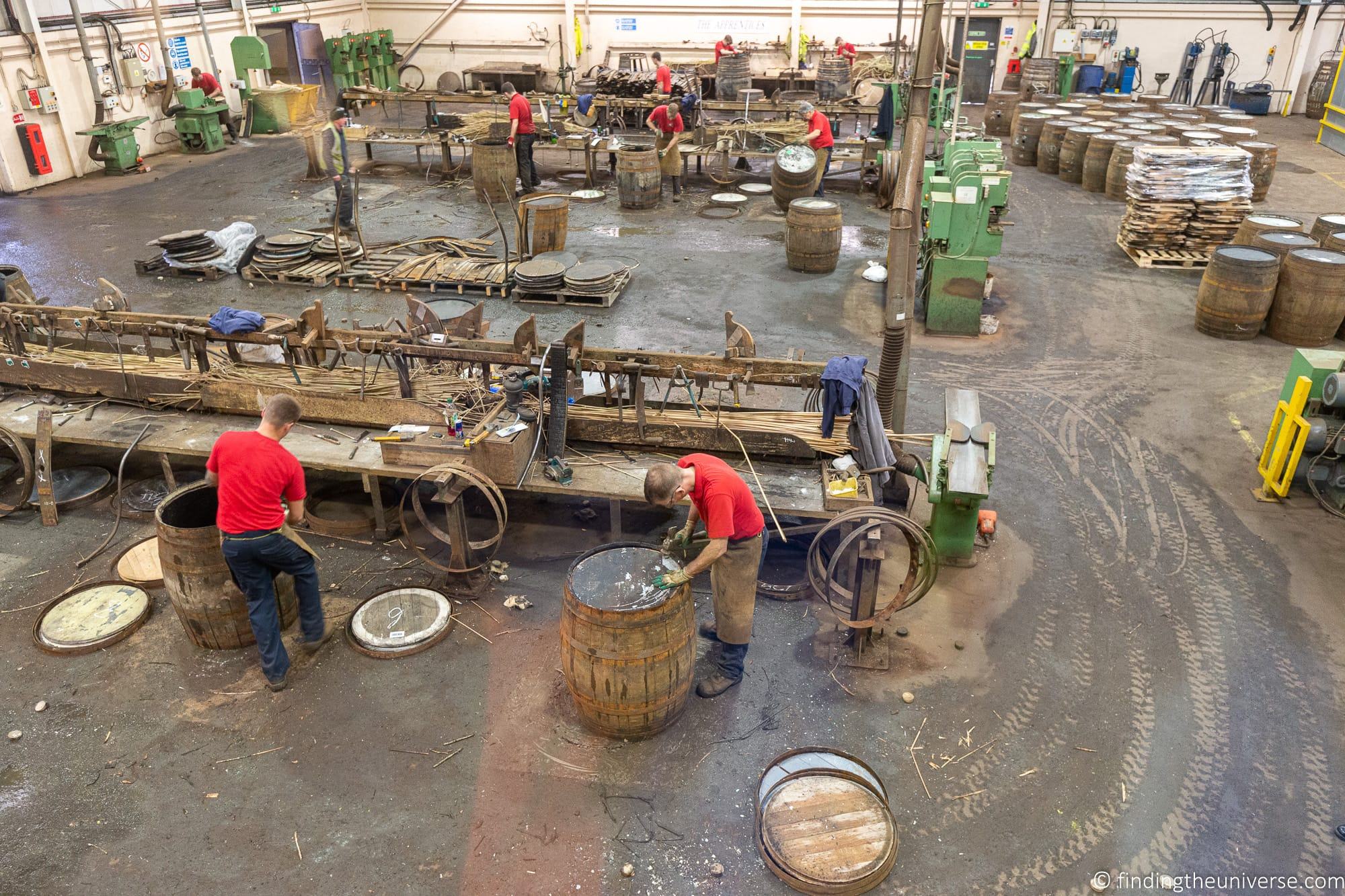 Now, let's take a look at your options for visiting the Speyside Distilleries from Aberdeen.
How to Get to the Speyside Distilleries from Aberdeen
Whilst you could in theory take public transport from Aberdeen to visit the Speyside distilleries, it would take you around three hours each way with a combination of train and bus. So we would generally advise against this. However, if you do want to, you can check schedules here.
Our suggestion instead would be to take a tour from Aberdeen which includes one or more distilleries.
As an example, we took this tour with our favourite tour operator in Scotland, Rabbie's. This small group tour visits a distillery and the Speyside Cooperage, and also spends some time exploring the beautiful countryside of Royal Deeside.
If you want a private tour experience, we have found the following options:
Of course, you can also drive yourself, either with your own car or with a rental. The advantages of driving yourself are that you can visit those distilleries that really interest you.
The disadvantage is that the driver generally won't be able to sample as you go, although all the distilleries we've visited to date do offer to-go samples for later enjoyment.
If you are really into your whisky and want to visit more distilleries, you might instead consider a multi-day tour. In this case, we'd suggest this 3 day tour from Edinburgh which focuses on Speyside. We also have more tour suggestions, and a lot more besides, in our comprehensive guide to whisky distilleries in Scotland.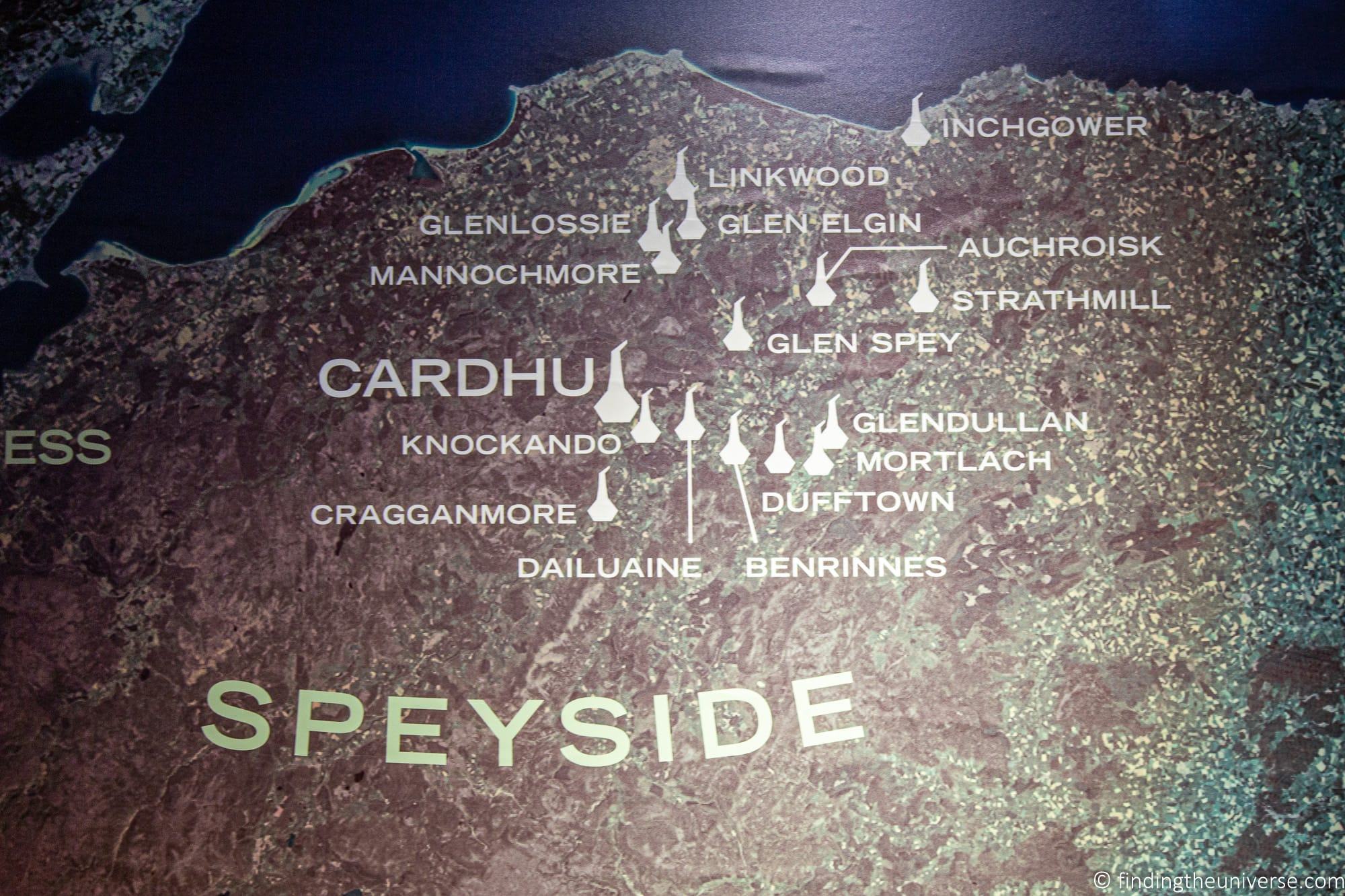 Dunnottar Castle & Stonehaven
Around eight miles south of Aberdeen are the spectacular ruins of Dunnottar Castle. It's believed that there has been some sort of building here since at least the 4th century, although the ruins on site today date from the 14th century.
The castle is found on a isolated outcrop of rock which juts out into the sea, creating a naturally defensible position that commands excellent views of the surrounding coastline. It's not hard to see why this was a location of great strategic importance.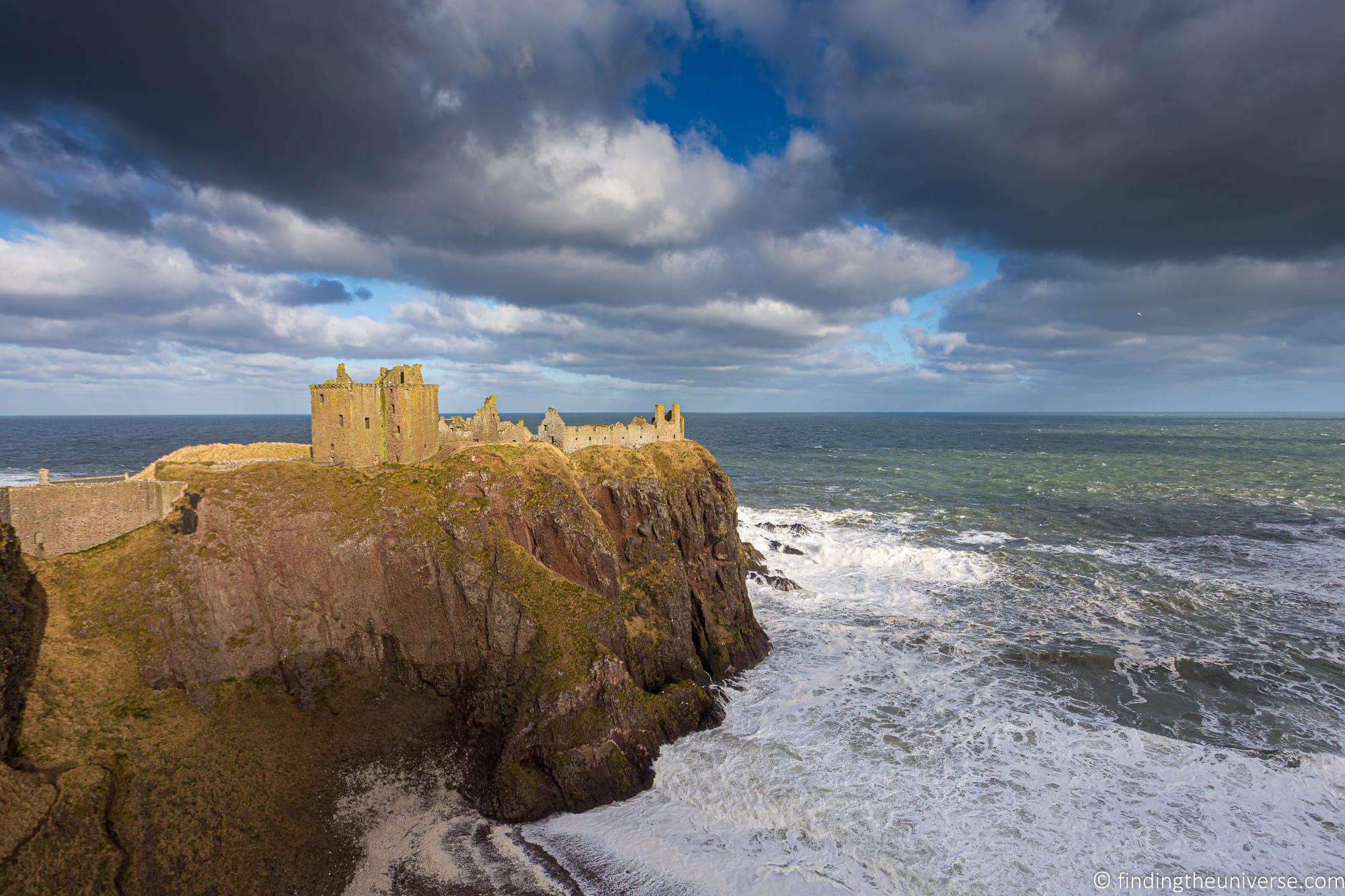 Over time, the castle has played host to a number of notable historic events as visitors. An early castle was captured and destroyed by William Wallace in the 13th century. Later visitors included Mary Queen of Scots and James VI, later James I of England and Scotland.
Perhaps the most famous incident in the castle's history was when it was used to hide the Honours of Scotland from Oliver Cromwell's invading army in 1651. These honours, also known as the Scottish Crown Jewels, consist of a crown, a sceptre and a sword, and they are the oldest surviving crown jewels in the British Isles.
If you are interested in seeing the Scottish Crown Jewels, they are currently on display in Edinburgh at Edinburgh Castle.
The castle withstood Cromwell's army for eight months, only surrendering when heavy cannons were deployed against the defending troops.
Before surrendering though, the Scottish Crown Jewels were smuggled out of the castle in secrecy, and stored at nearby Kinneff Parish Church, where they stayed until 1660.
The fate of the castle was sealed in 1715 when the last Earl was convicted by the government for treason due to his participation in the failed Jacobite rebellion.
The castle and its lands were sold to a mining company in 1717, at which point everything of value was stripped, including the ceilings. Only the shell of the castle and its buildings remained, and it fell into ruin.
Thankfully for you, the story doesn't end on a tragic note. In 1925, the castle was bought and restored, then reopened to the public.
Since then, the castle has been open to the public as a visitor attraction. You can either enjoy views of the castle from the surrounding clifftops for free, or you can visit for a small fee.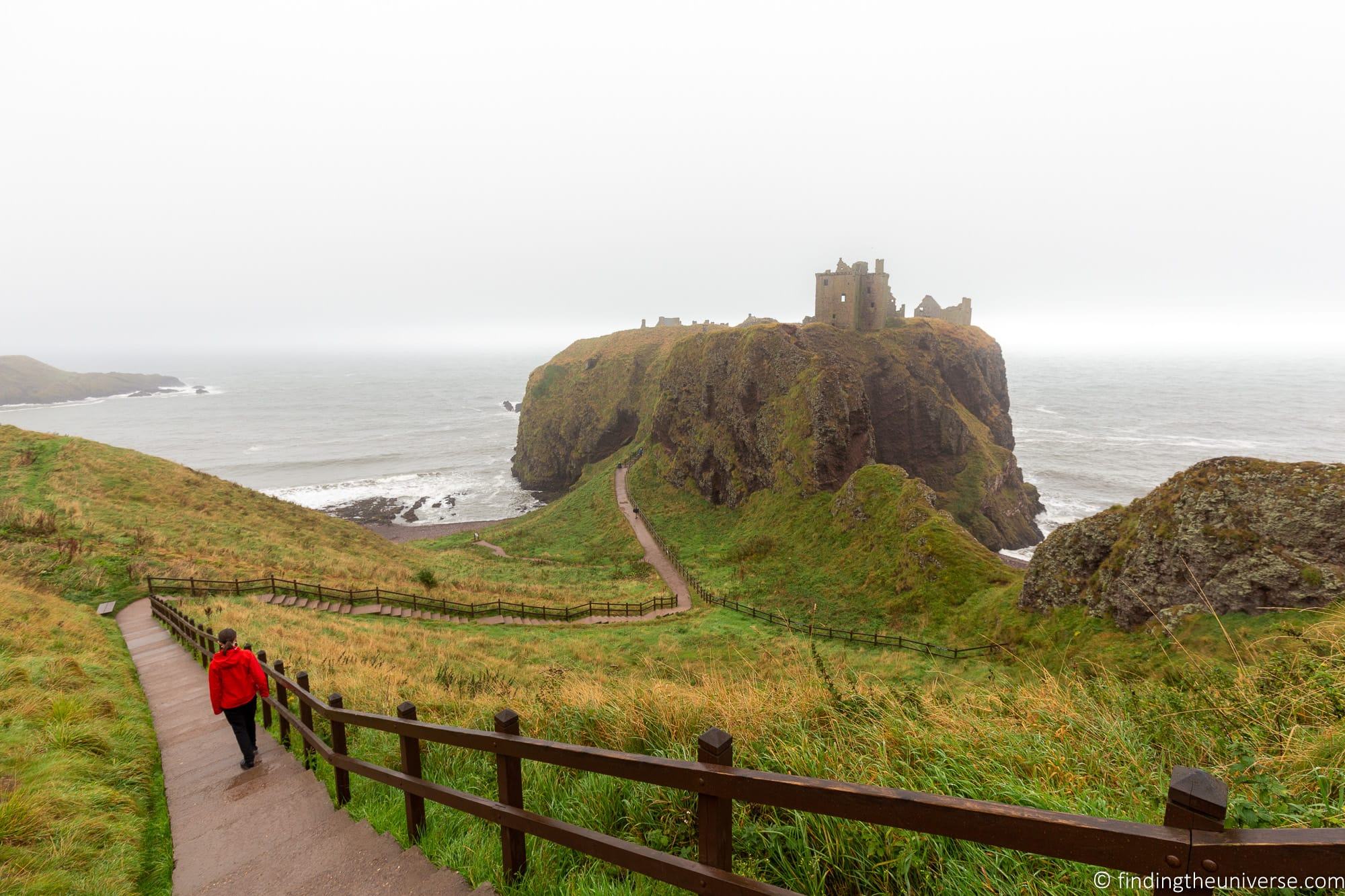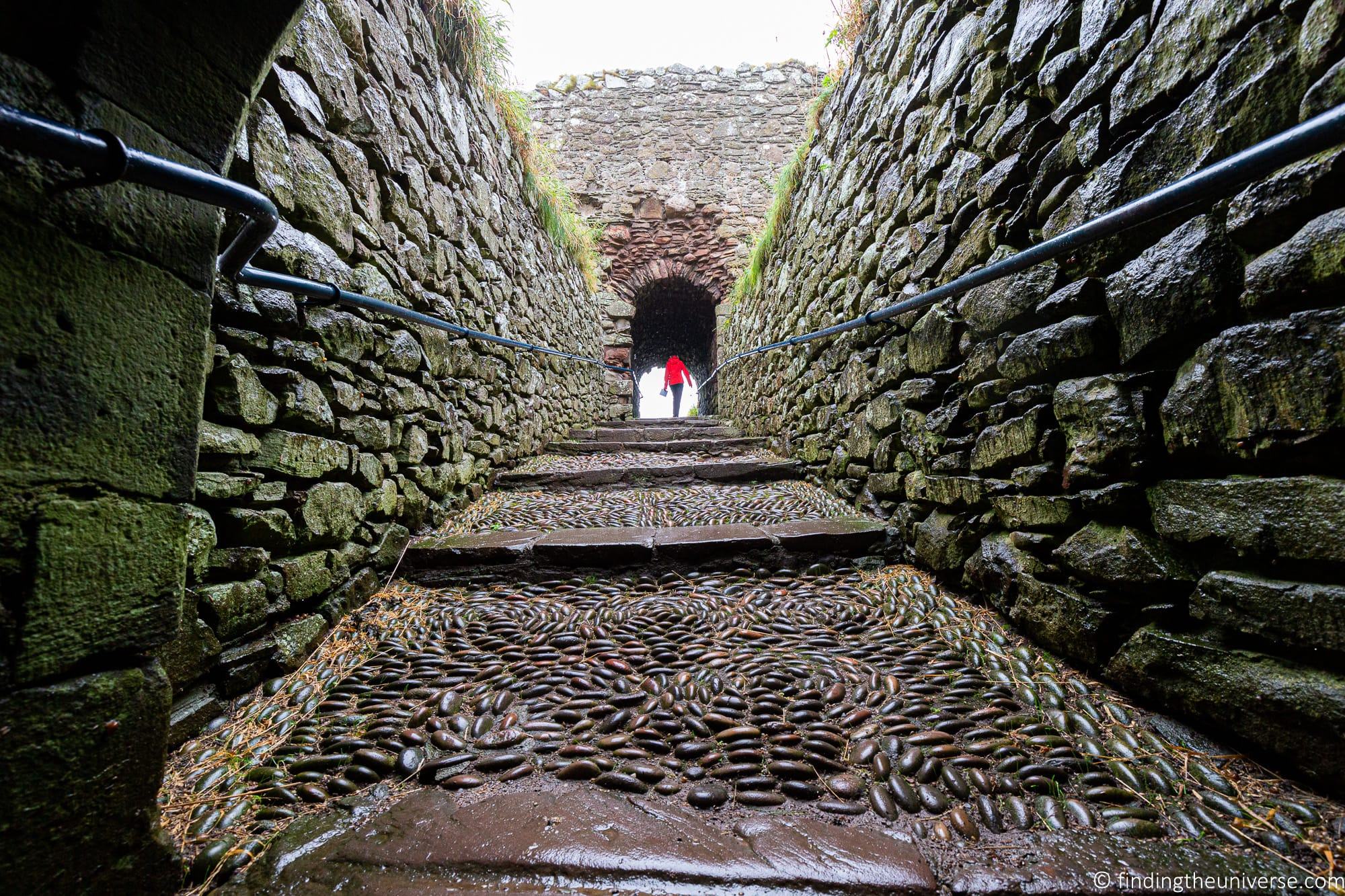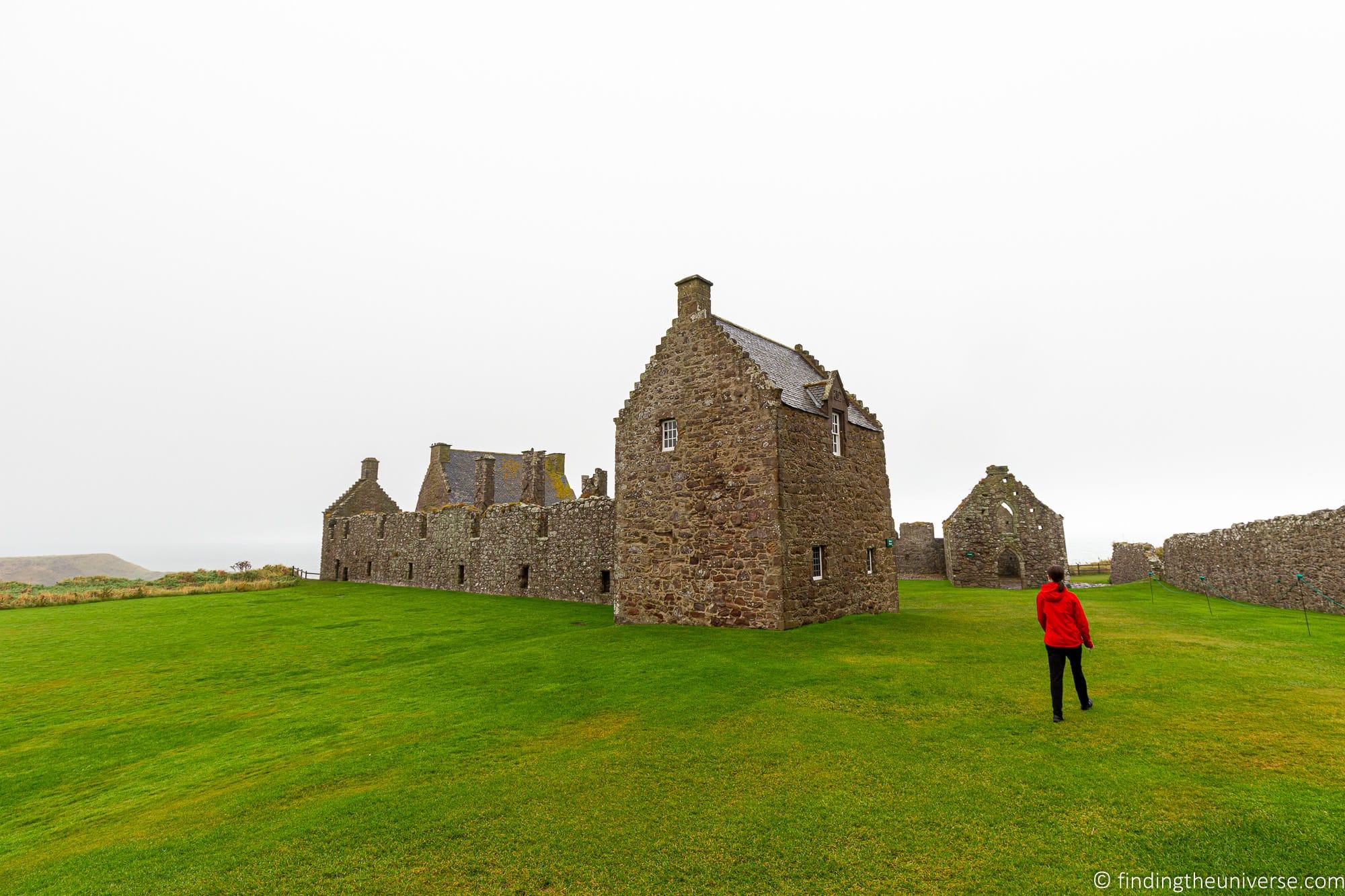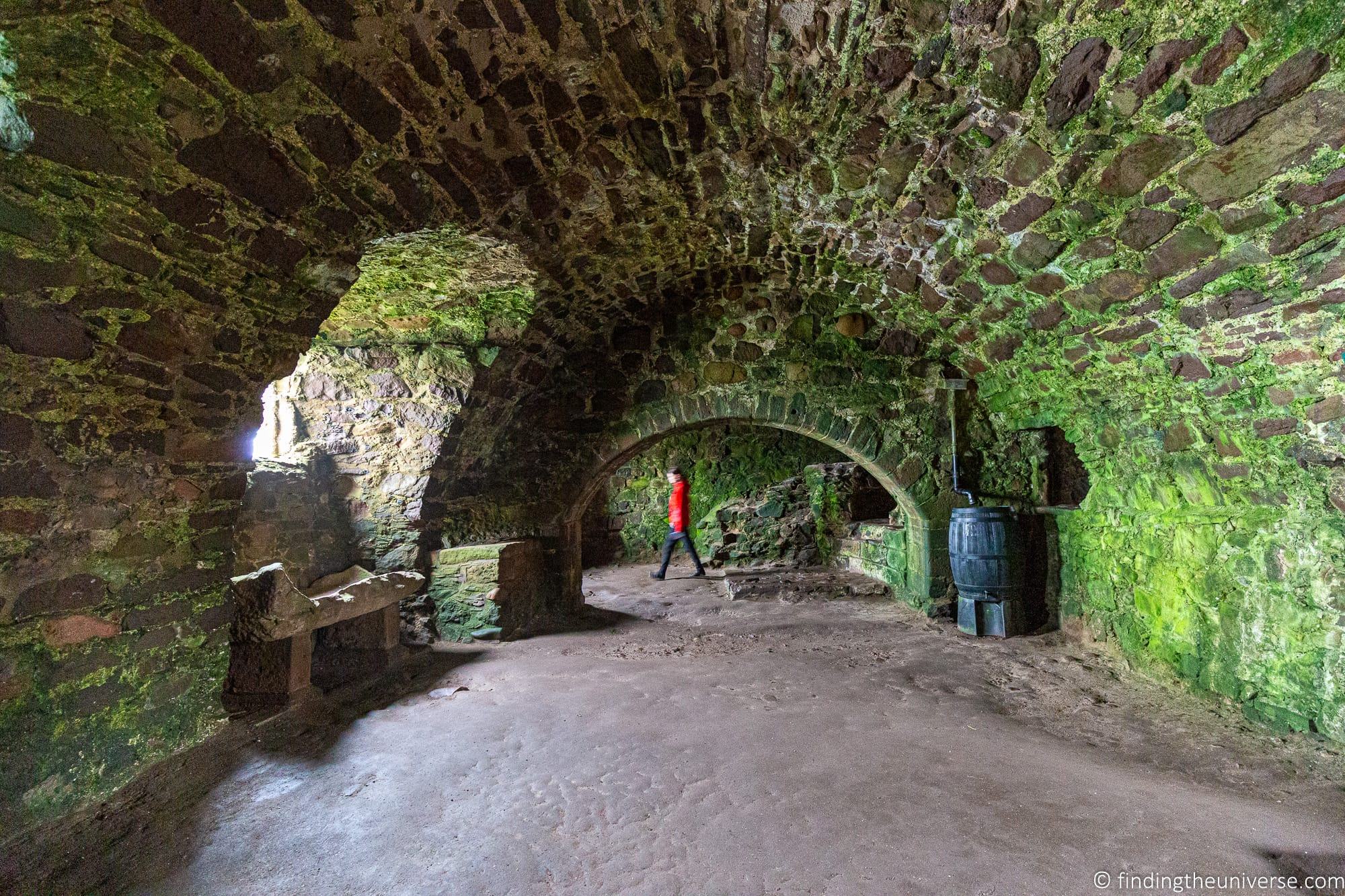 The castle is open throughout the year, with opening times on the website here. Advance booking is not necessary, but it is wise to check the castle website in advance of your visit as sometimes bad weather can cause it to close.
There's lots to see at the castle itself, and plan to spend at least 1.5 to 2 hours walking up to the castle and then exploring all the various structures and reading the information panels. We really enjoyed visiting and learning the history, as well as walking around the site. The views up and down the coast are also lovely, assuming you visit on a clear day.
Note that access to the castle is via a steep stairway which is not suitable for wheelchairs or those with limited mobility. However, you can still view the castle from the surrounding cliffs as access from the car park is via a fairly level well maintained path. The walk from the car park to the castle take around ten minutes.
If visiting Dunnottar Castle with your own transport, or via public transport from Aberdeen, we can also recommend visiting the nearby picturesque fishing village of Stonehaven.
This is a lovely village to wander around, which is also home to the fish and chip shop which invented the deep-fried Mars Bar, the fantastic Stonehaven Tolbooth Museum, and a very pretty harbour area.
If you visit Stonehaven, then you have the option to walk to Dunnottar Castle, see below.
How to Get to Dunnottar Castle from Aberdeen
There are a number of options for getting to Dunnottar Castle from Aberdeen.
First, you can take public transport. There is rail service from Aberdeen to Stonehaven, which takes around 20 minutes. See train times and book online here.
From Stonehaven you can then take the well-marked coastal walk to Dunnottar Castle. This is around a 3 mile round trip walk, which takes 90 minutes to 2 hours. You can see a description of the walk here.
Alternatively, you can take a taxi or the bus from Stonehaven to Dunnottar Castle.
Bus routes X7 and 747 depart from Stonehaven and stop around half a mile from the castle at Dunnottar junction, letting you walk the remainder of the way. See bus timetables here.
You can also take the bus directly from Aberdeen to Dunnottar Junction, and walk the remainder of the way (about a 15 minute walk). The X7 bus operates from Aberdeen, with the journey time to Dunnottar junction being around 50 minutes. You can see bus times here.
Another option is to take a tour to Dunnottar Castle. We took this tour to Dunnottar Castle with Rabbie's, which also included time exploring Royal Deeside. So as well as plenty of time to explore at Dunnottar Castle, we also visited the town of Braemar, the Falls of Feugh, and a couple of other highlights of the Cairngorms National Park.
If you'd prefer a shorter trip or a private tour that focuses on castles, this is a private four hour tour from Aberdeen which can include whichever sites you prefer. We'd suggest that four hours would be a good amount of time to experience both Dunnottar Castle and Stonehaven from Aberdeen.
Finally, you can of course drive to Dunnottar Castle from Aberdeen. There's free parking on site, and it takes around half an hour, depending on traffic. If you don't want to drive, you can also take a taxi, although make sure to arrange return transport or have a taxi number as there's no taxi stand at the castle and no rideshare options.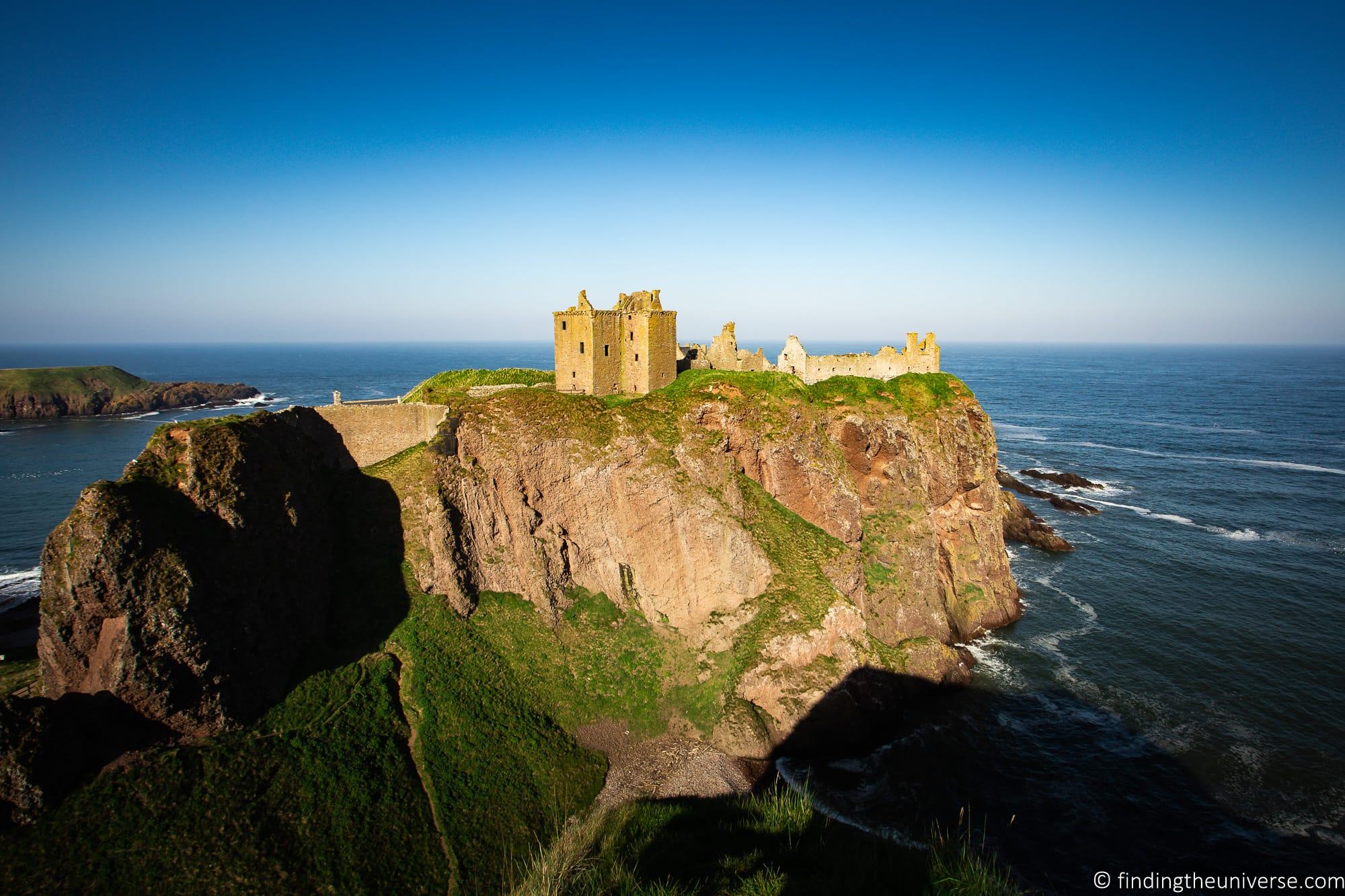 Loch Ness
Scotland is home to tens of thousands of lochs, which is the Scottish word for a lake. Whilst they are all beautiful in their own way, none has captured the imagination of the world quite so much as Loch Ness.
This is likely due to a number of reasons. The main one of course being Nessie, the fabled Loch Ness monster. Rumours of a giant beast living in the Loch have circulated throughout the 20th century, with various reported sightings and discredited hoax images adding to the legend.
Although no verified sighting of Nessie has ever taken place, this hasn't stopped Loch Ness from capturing the imagination of visitors from all over the world. Taking a cruise on Loch Ness and keeping an eye out for the monster is by this point a must-do when visiting Scotland.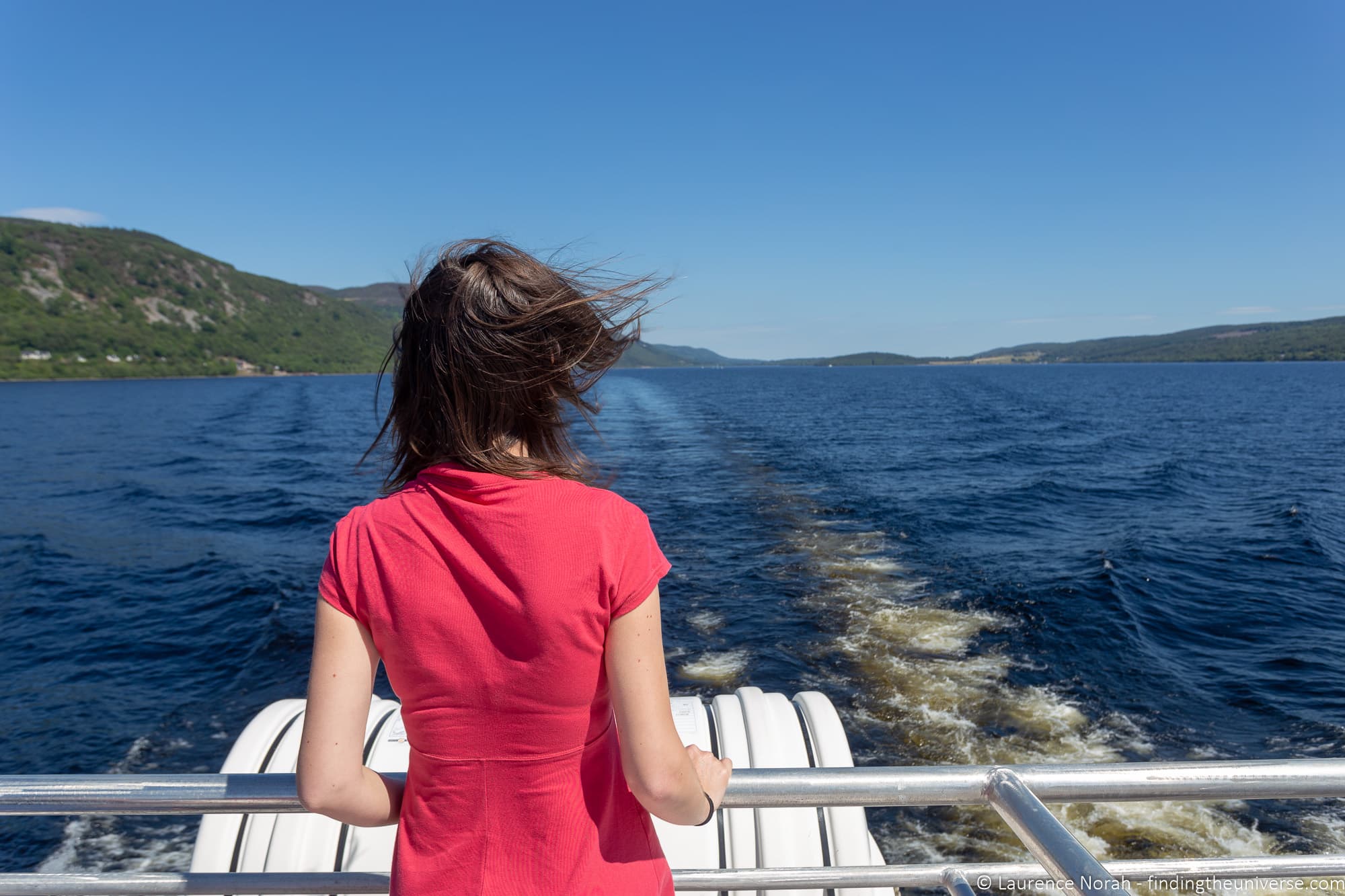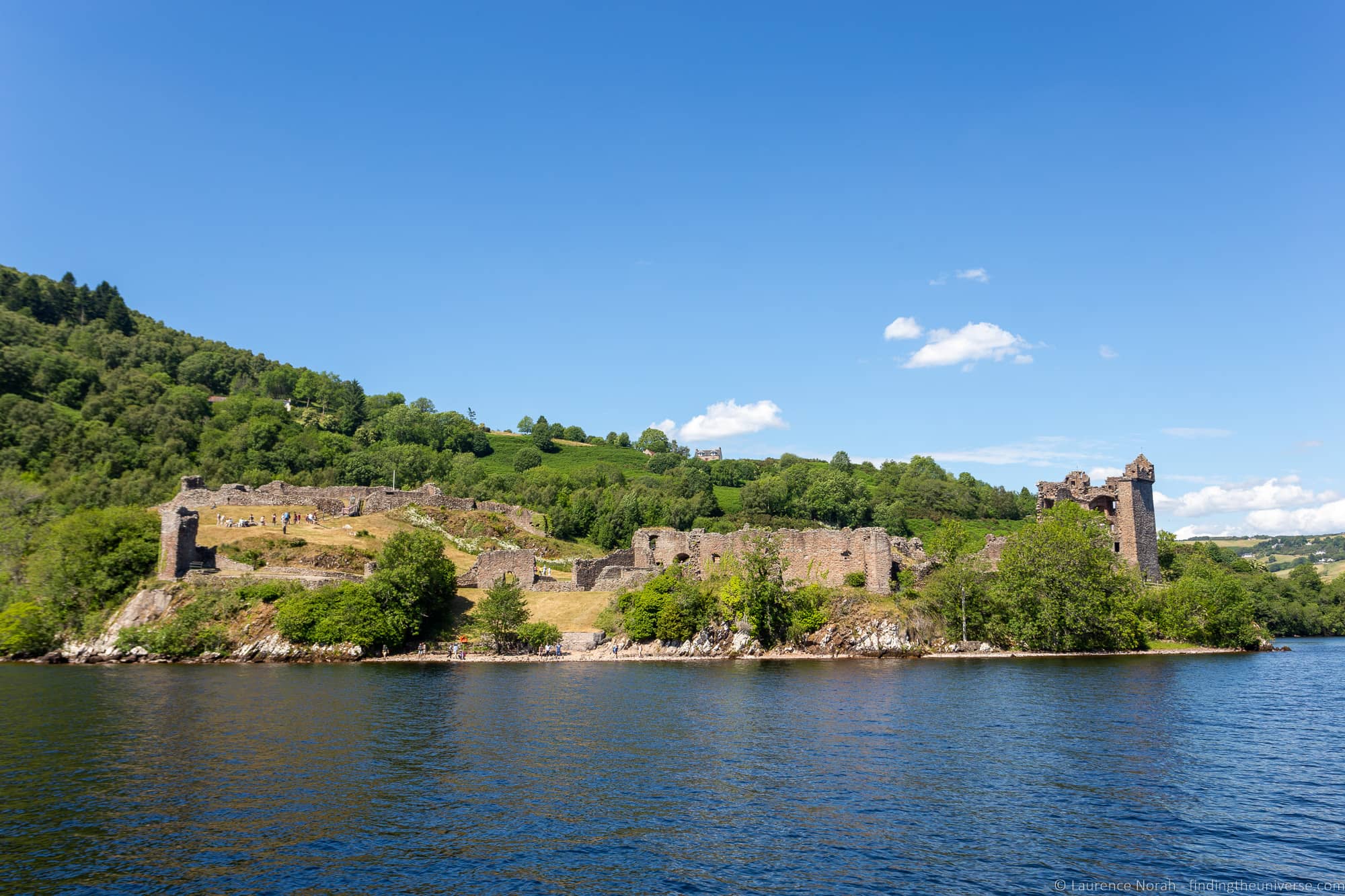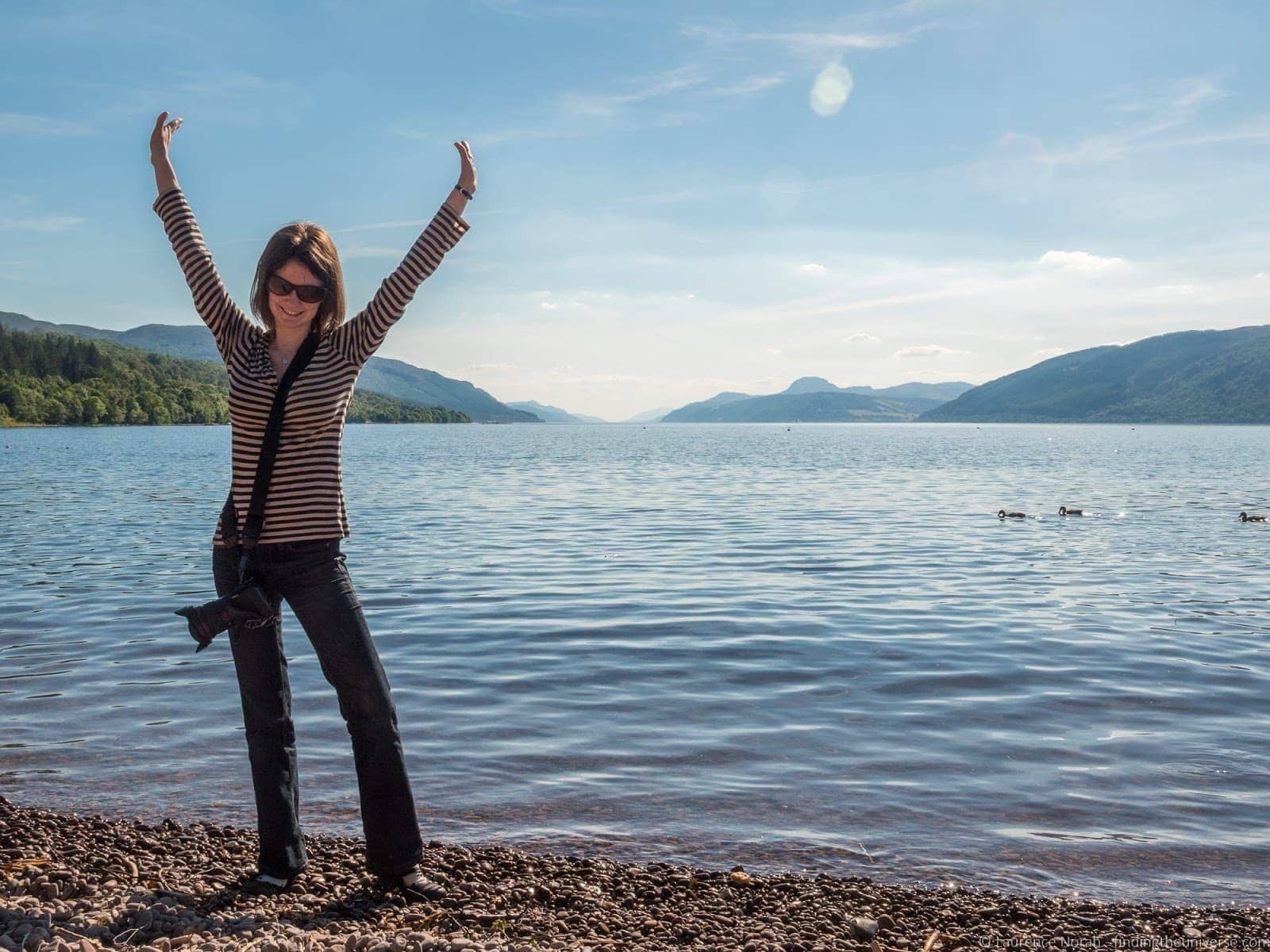 Of course, there are more reasons to visit Loch Ness than watching for Nessie.
To start with, the lake is interesting from a geographic perspective. It's the largest Loch in the British Isles by volume of water, containing more water than all the lakes in England and Wales combined! This water is incredibly murky, thanks to the peat sediment contained within.
At 23 miles long, Loch Ness is also a very large loch, and there are lots of attractions you can experience around the Loch. These include the ruins of Urquhart Castle, numerous hikes and wildlife spotting opportunities, a couple of museums, as well as cute towns and villages to explore.
We have visited Loch Ness numerous times, and also stayed on the shores of the Loch. It's a really beautiful part of the world, and despite its popularity and potential for crowds, is still definitely worth your time to explore. We have a complete guide to Loch Ness to help you plan your visit.
Aberdeen is closer to Loch Ness than Edinburgh or Glasgow, so it does work as an option for visiting Loch Ness. However, if you are visiting Inverness during your trip, we'd recommend waiting to take this day trip from there as it is much closer. Inverness makes a great base for day trips in the Highlands, including to Loch Ness.
How to Get to Loch Ness from Aberdeen
There are two main options for getting from Aberdeen to Loch Ness as a day trip – you can either drive, or you can take a tour.
Whilst in theory it is possible to take public transport, you are looking at a 4-5 hour trip each way with a number of changes, making it impractical as a day trip option in our opinion.
If you drive from Aberdeen, it's around a 3 hour drive. So this is possible as a long day trip from the city.
There are also of course tour options from Aberdeen to Loch Ness. Loch Ness is a very popular destination for visitors to Scotland, and as such there are tours to Loch Ness from most of the major cities in the country.
We would recommend this tour with Rabbie's from Aberdeen. What we like about the tour is that as well as giving you the opportunity to take a cruise on Loch Ness, it also stops at a number of highlights between Aberdeen and the Loch, including the beautiful Clava Cairns and the historically significant Culloden Battlefield. There are also lots of photo opportunities on the route.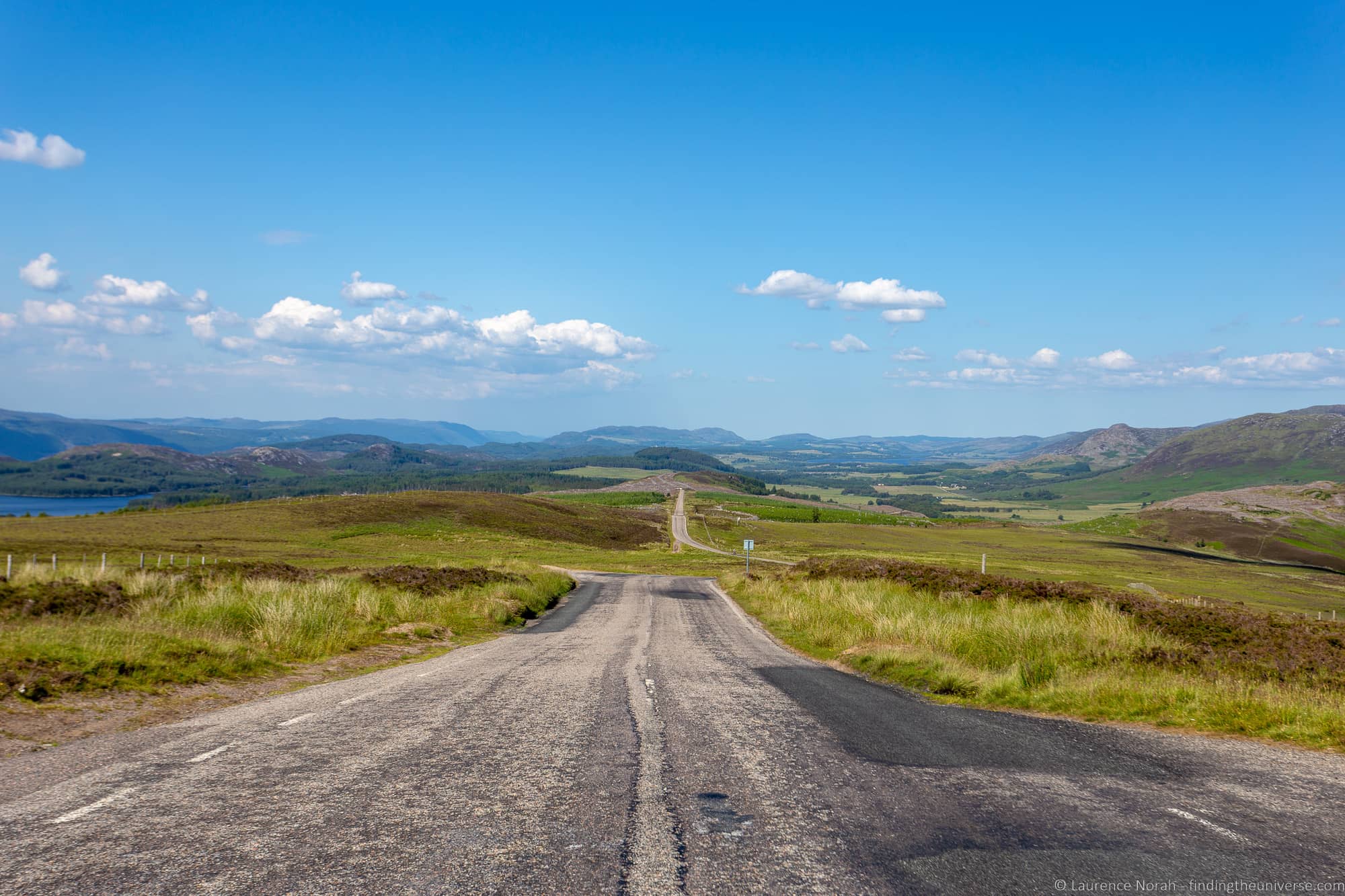 Moray Firth Coast
The Moray Firth is the huge sea inlet in the north east corner of Scotland. The firth is the largest in Scotland, stretching from near John O'Groats in the north, down to Inverness, and then out to Fraserburgh in the east.
Obviously, this is too much to take in in a day, however, the stretch of coastline which is near Aberdeen is very much worth enjoying on a day trip from the city.
Here you will find lovely fishing villages clinging to the edge of the land, spectacular rock formations like the Bow Fiddle Rock, and even the town that invented the famous Scottish soup, Cullen Skink, and after which the soup is named.
Highlights we recommend you include on your day along the Moray Firth include:
As you can see, there is more than enough to do here to fill a day of exploration. On your way up, we can also recommend a visit to the Peterhead Prison Museum, a former prison which has now been turned into a fascinating museum.
How to Get to the Moray Firth Coast from Aberdeen
In our opinion, the only practical way to visit the section of the Moray Firth coast described above is to drive. This will give you the flexibility to visit the attractions you are most interested in, which are stretched out along approximately a 60 mile stretch of coastline.
We're not aware of any group tours that visit this area (although you might be able to book a private tour with a flexible schedule like this one).
There also isn't a good public transport option for the region that will allow you to visit several places in one day along the coast. However, if there is just one (or maybe two towns) you want to visit, such as Elgin or Fraserburgh, you could do this trip by train or bus.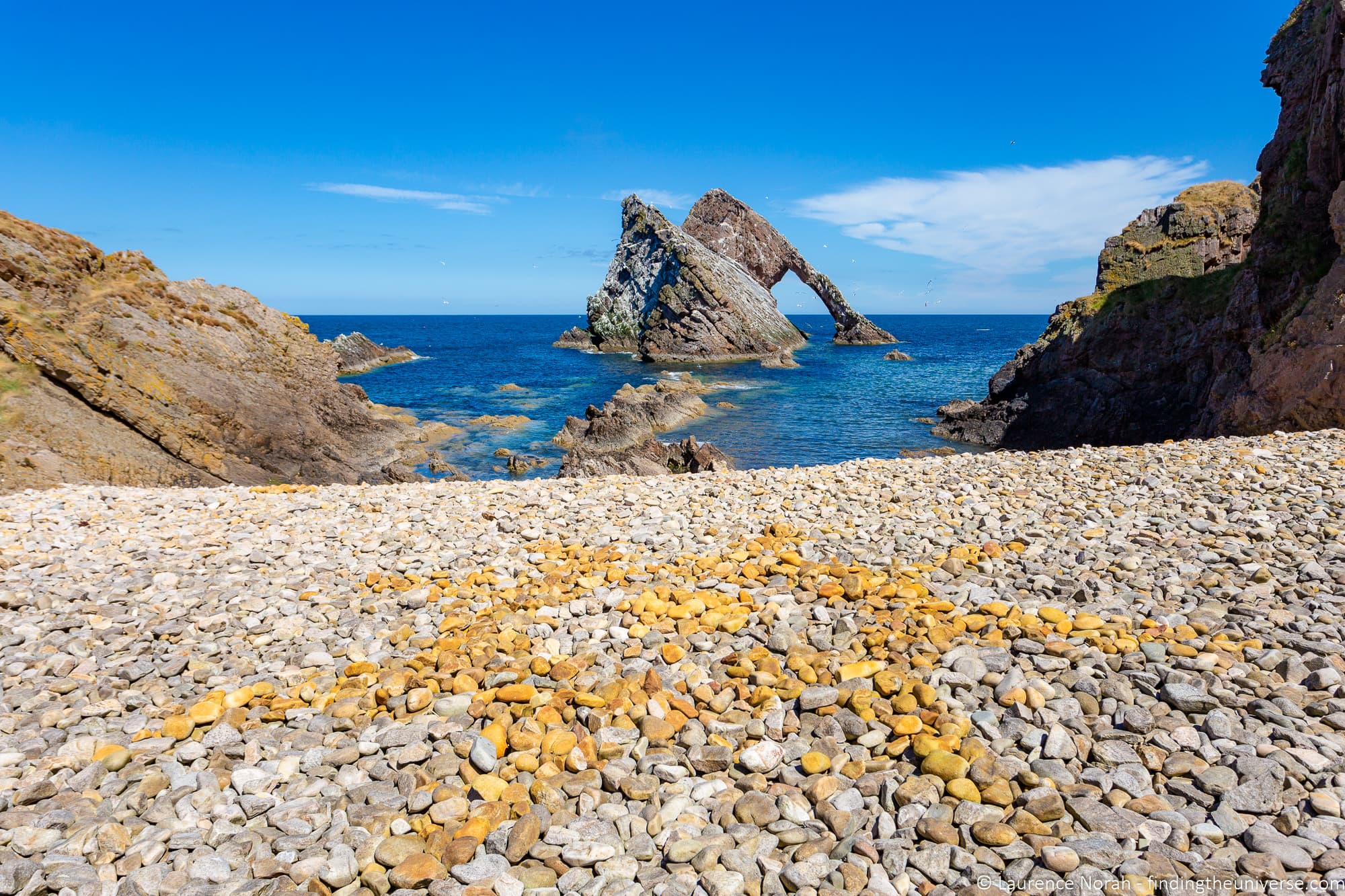 Cairngorms National Park
Established in 2003, the Cairngorms National Park is the second of Scotland's National Parks, and the largest national park in Britain.
We've visited the Cairngorms National Park in both summer and winter multiple times, and have never run out of things to do. Suffice to say, with only a day, you will want to focus on seeing some of the highlights, of which there are many!
The park has something to offer pretty much everyone. There are fantastic hiking and wildlife viewing opportunities, including the chance to see golden eagles, deer, red squirrels, osprey, and even reindeer.
There are also castles, whisky distilleries, art installations and museums, as well as outdoor adventure parks. Naturally there's also a range of lovely villages to explore and dine out in, and if you visit in summer, there's the option to visit one of the famous Highland games that take place in villages and towns across the Cairngorms.
There are lots of great hiking trails that you can explore all across the Cairngorm National Park, especially if visiting in the warmer months. For routes, we suggest this OS Explorer map of the region, and/or this walking guidebook of the area.
As you can see there's no shortage of things to see and do in the Cairngorms National Park, whether you're visiting in summer or winter. If the latter, see our complete guide to visiting the Cairngorms in winter for more inspiration. The hardest part will likely just be trying to figure out what you want to see.
How to Get to the Cairngorms National Park from Aberdeen
You have a number of options for getting to the Cairngorms National Park from Aberdeen.
First, it is possible to travel using public transport from Aberdeen to Braemar, using bus route 201 which offers a direct service. This operates from Aberdeen to stops in the National Park including Ballater, Crathie and Braemar.
Whilst obviously this doesn't cover the whole park, it is a good option if you want to take public transport.
For public transport information, we recommend and use this site.
If you want to travel by public transit, you could also either hike or look to hire bicycles within the park to get around to more places.
Naturally, another option is to drive yourself. It's around an hours drive from Aberdeen to the eastern edge of the Cairngorms National Park, after which you can explore at your leisure.
Finally, you can also consider taking a tour which includes the Cairngorms National Park.
For example, this tour with Rabbie's includes time in the national park as well as a visit to Dunnottar Castle, whilst this tour to Loch Ness also goes through the park and has a brief stop within.
You could also take a specific tour to Balmoral Castle in the Cairngorms National Park, a castle owned by the Queen, such as this one. Note however that Balmoral Castle is not open year round, so the tour is only available at certain times of year.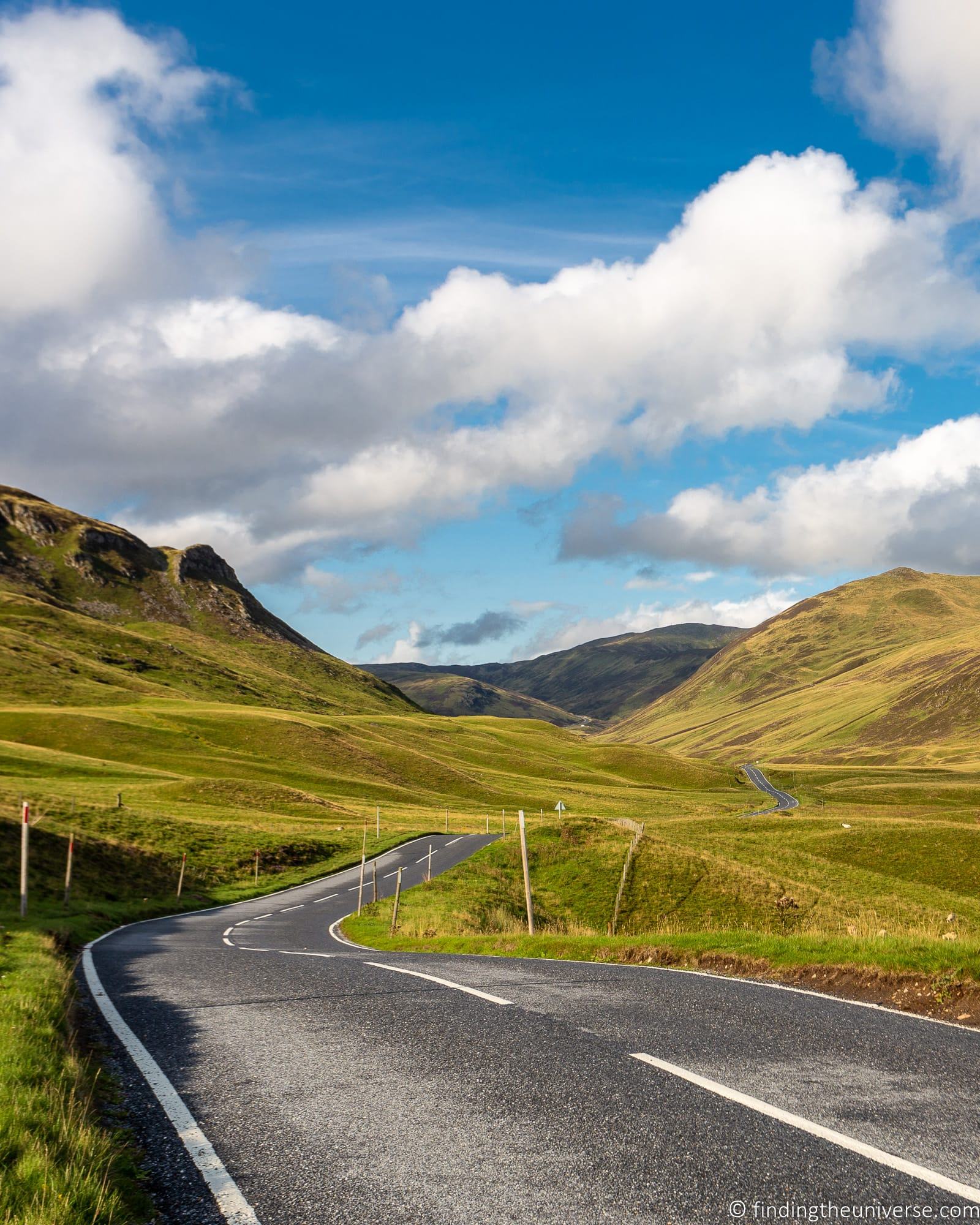 Royal Deeside
The River Dee runs from high up in the Cairngorms National Park to its mouth in Aberdeen itself. The area where the river runs is known as Deeside, and the specific section of the river valley between Braemar and Banchory is known as Royal Deeside.
The Royal connection arose when Queen Victoria visited in 1848 with her husband Prince Albert. They loved what they saw, and built themselves a property on the site of a former castle, which is now known as Balmoral Castle.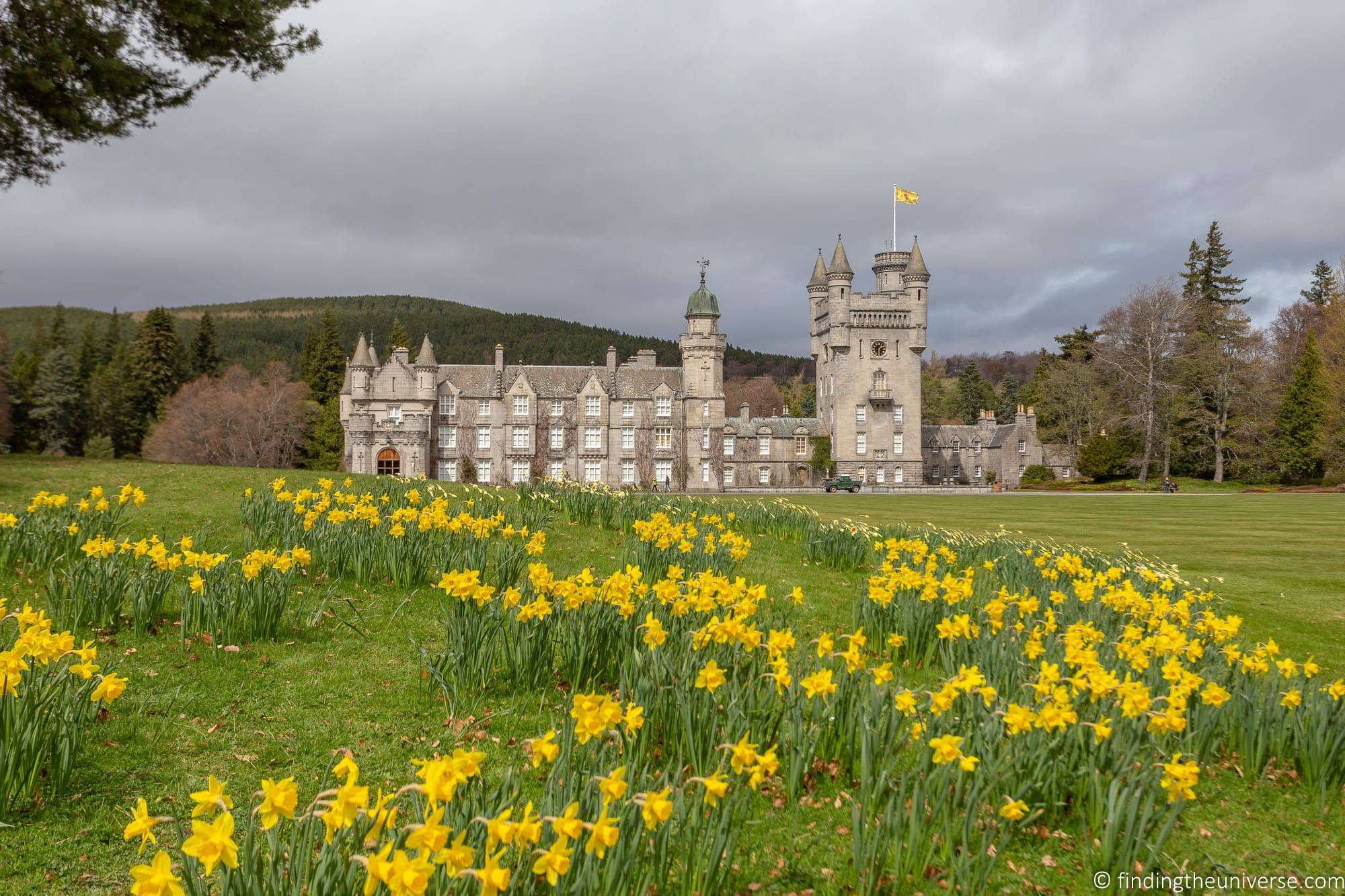 Today, the royal family still owns Balmoral Castle, and they visit every year, primarily in Autumn. Unlike many of the other properties where the Royal family live, Balmoral is not an official Royal Residence, and is privately owned by the Royal family. However, when the family is not in residence, you can usually visit the grounds, gardens, and exhibitions. Only one of the rooms of the castle is open to the public.
The road from Banchory to Braemar is filled with scenic sights, including castles, trails, towns and villages, medieval bridges and more. There are also plentiful walking and wildlife viewing opportunities in the area, and we've always enjoyed our visits to this part of the world.
Visiting Royal Deeside from Aberdeen
You have a number of options for visiting Royal Deeside from Aberdeen. We've taken a tour, and also driven ourselves, but public transport is also an option.
You can take bus 201 from Aberdeen, which runs all the way to Braemar following the route of the River Dee. You can get on and off at various points as you go, although you will of course want to check timetables to be sure you are able to see everything you want as they do not run that regularly. You can see schedules here.
Of course, driving yourself is another option. It will take you around 40 minutes to get to Banchory from Aberdeen, and then it's around hour or so to Braemar (although the journey will take longer as you will be stopping).
Finally, you can also take a tour. We took the Dunnottar Castle and Royal Deeside Tour with Rabbie's, which was a wonderful day out and took us to many of the highlights of Royal Deeside. Our driver even said that they sometimes spot members of the Royal family on the tour, but we weren't lucky enough to experience that!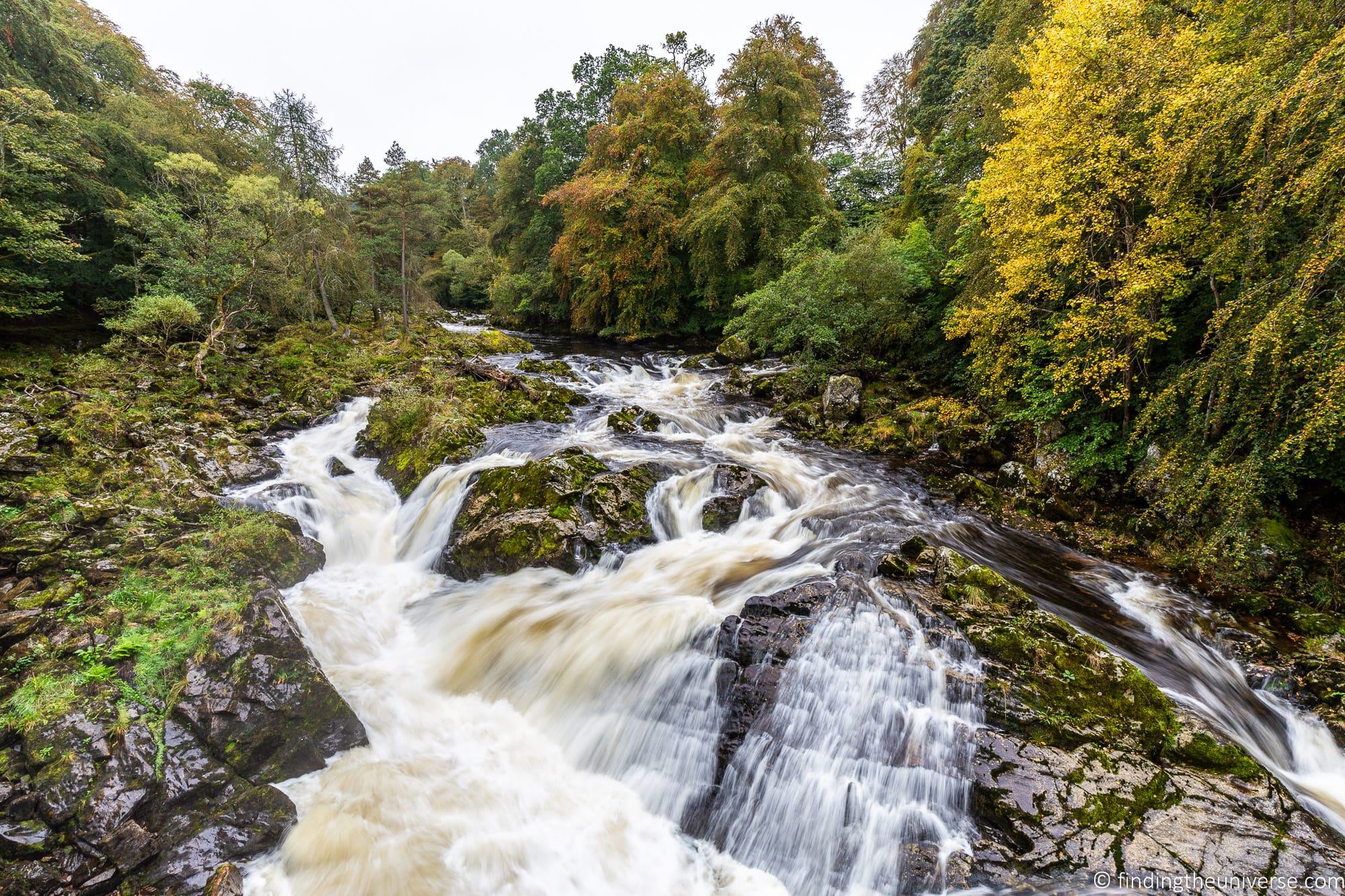 Aberdeenshire Castles
When I speak to folks visiting the UK for the first time and ask them what they want to see, a castle is very often high up on the list.
Well, Aberdeenshire has no shortage of castles from which to choose.
As well as the aforementioned ruined Dunnottar Castle and the royal Balmoral Castle, there's a lot of other options in various states of repair, from crumbling ruins to those which are still inhabited.
Note that many castles and historic homes in the region are seasonal and most are not open in the winter months, however, you can still sometimes visit the gardens and see the exterior of the properties.
Some of our favourite castles near Aberdeen, all of which we have visited, are as follows:
Drum Castle
Drum Castle was the home of the Clan Irvine chief, who was given the land and property by Robert the Bruce in the 14th century. The original tower house, which still stands, dates from the early 13th century, making it one of the oldest in Scotland.
Other parts of the castle were extended and added to in the 17th century and Victorian era, when castles became less about defense and more about practical living comforts.
The castle was inhabited by the Irvine clan right up until 1975. Today it is owned and operated by the National Trust for Scotland.
The grounds are open year round, whilst the castle is open for visiting on different days depending on the time of year. There's a fee for visiting, and you can see more information on opening times and prices here. National Trust members can visit for free.
It's around a 30 minute drive from Aberdeen to Drum Castle, or you can take a bus from the city to the castle entrance, which takes 40 minutes.
You can also visit Drum Castle on a tour from Aberdeen. This tour for example can be configured to include Drum Castle, as well as other locations including Crathes Castle and Dunnottar Castle.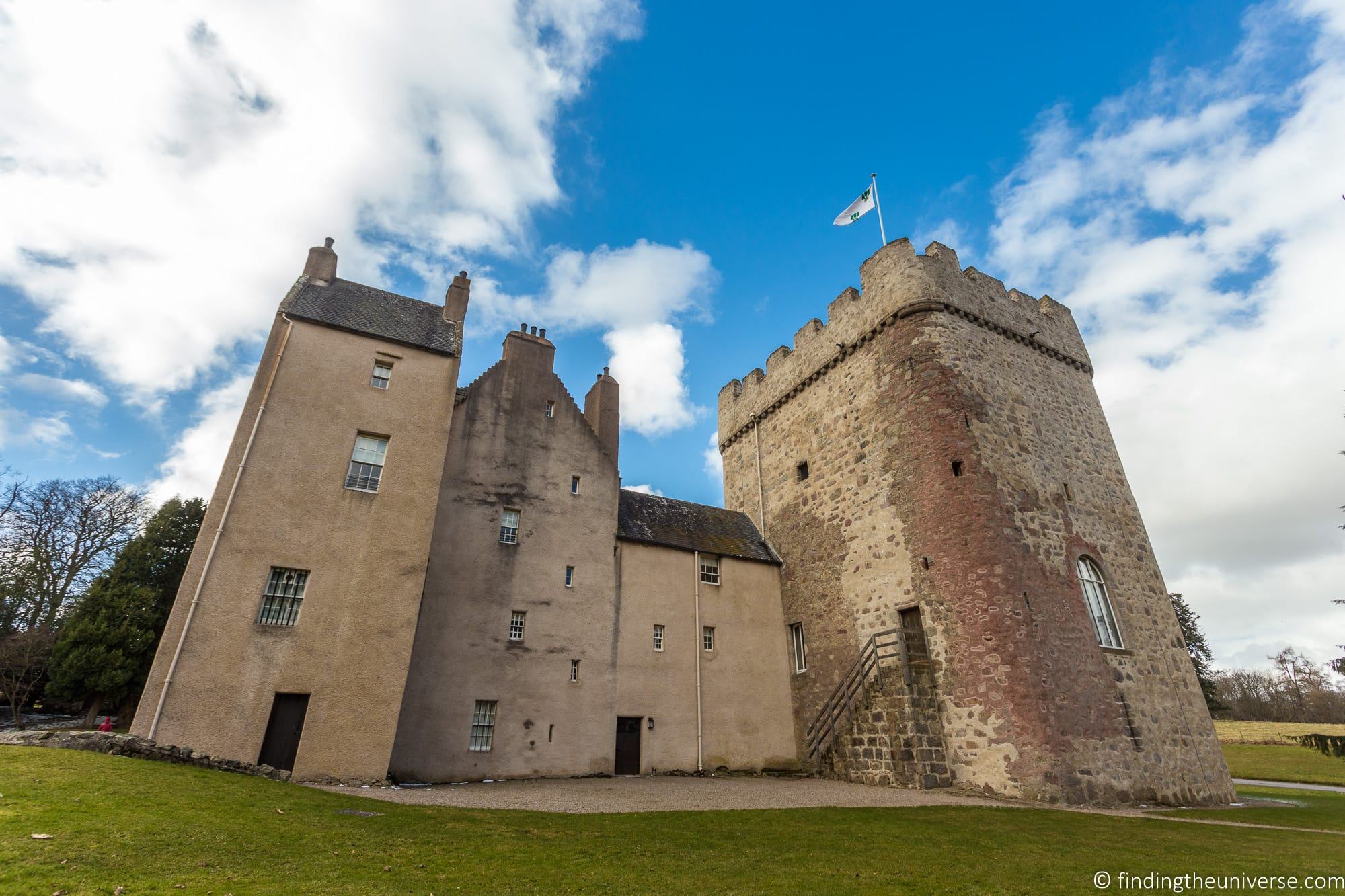 Crathes Castle
A few miles up the road from Drum Castle is Crathes Castle, another spectacular Scottish tower house which dates from the 16th century.
This castle was owned and built by the Burnett family, who lived in it for almost 400 years before giving it to the National Trust.
Again, the castle and grounds are open to visitors. The Yew trees on site are particularly impressive, dating from 1702, and the 4 acre walled garden is also a must visit.
Crathes Castle and grounds are open year round. You can only visit the castle on a guided tour, these run hourly with opening days varying depending on the time of year. There's a fee to visit the castle and the grounds, with free entry for National Trust members.
You can see the full opening times and entry fee for Crathes Castle here. From Aberdeen, it's around a 45 minute drive, or a 50 minute bus ride. Note that the bus stop is at the castle entrance, after which there's a mile walk to the castle itself.
You can also visit Crathes Castle on a tour from Aberdeen. This tour for example can be configured to include Crathes Castle, Drum Castle and Dunnottar Castle.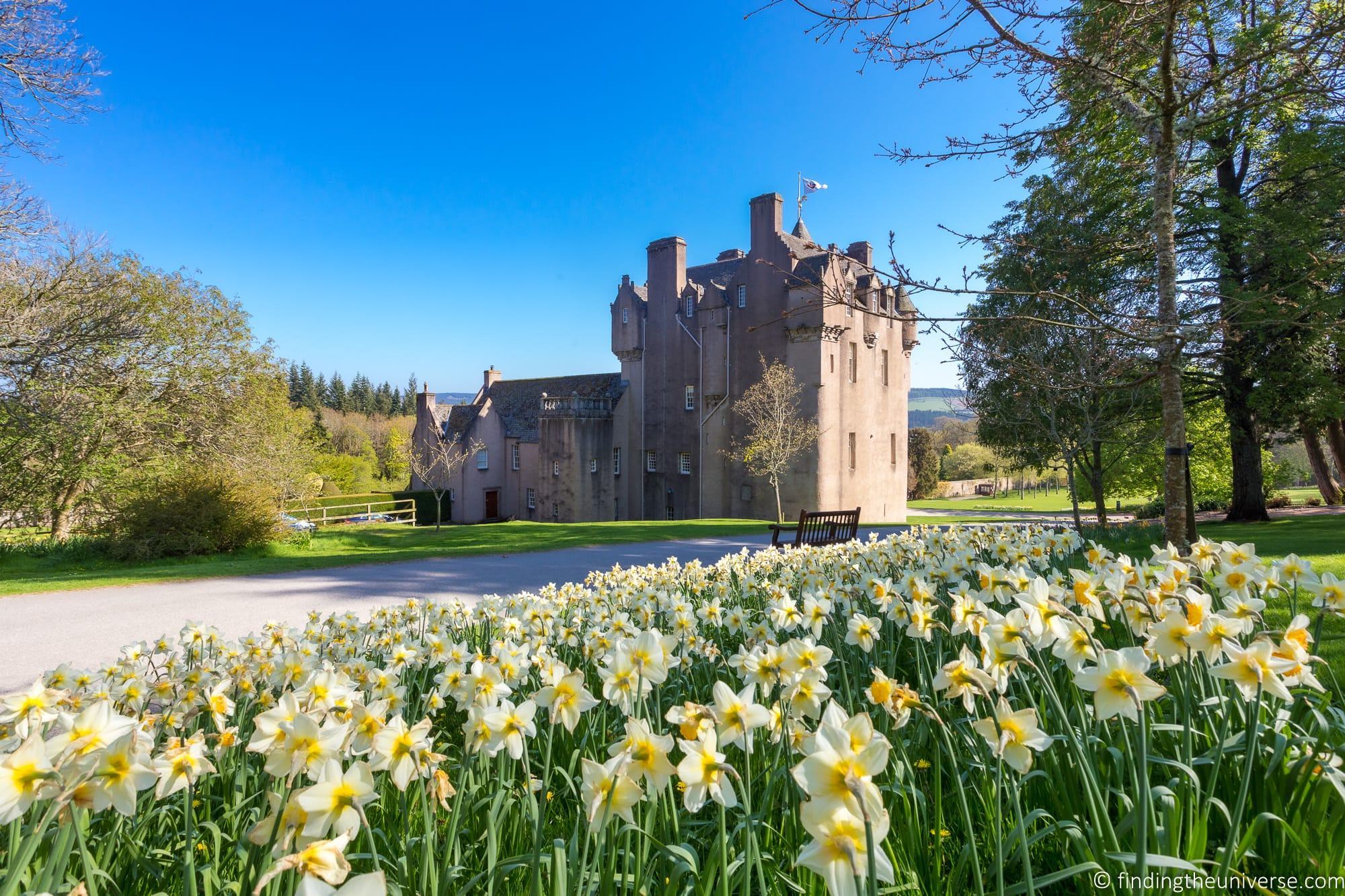 Castle Fraser
Castle Fraser is home to one of Scotland's largest tower houses, and is certainly an impressive sight to behold. Built in the 16th century, the castle was the home of the Fraser family, from whom it takes its name, and who lived here until the early 20th century.
After this time, the Fraser family line ended, and the property was bought by a private individual who turned it into a shooting lodge. Finally, it was given over to the National Trust in 1975.
Today you can visit both the castle and the grounds. The grounds are open year round, whilst the castle is open most of the year except mid December to the end of January. Depending on the time of year, you can visit either by guided tour, or on a self-guided basis.
You can see the opening times and fees for visiting here. Castle Fraser is free to National Trust members.
From Aberdeen it's around a 30 minute drive out to Castle Fraser, which is west of the city. We're not aware of any public transport to Castle Fraser.
Tolquhon Castle
If you prefer your castles of the spectacularly crumbling and ruinous variety, then you should definitely schedule a visit to Tolquhon Castle. This is around a half hour drive to the north west of Aberdeen.
The defensive part Tolquhon Castle was built in the 15th century, however in the late 16th century the castle was significantly added to by owner William Forbes. The goal was to create a beautiful place to impress guests, and the castle has been described as one of the most characteristic of the Scottish Renaissance.
I have to agree – when we visited Tolquhon Castle it was clear that this was something special, and the creator was clearly keen to wow visitors when they arrived. From the impressive gatehouse through to the courtyard and first floor gallery, there is a lot to see and be impressed by.
Tolquhon Castle is operated by Historic Environment Scotland, and there's a fee to visit. It's free for HES members. It's open daily except Thursdays from April to September, and closed at other times of year. You can see more prices and opening times here.
You can get to Tolquhon Castle by car from Aberdeen, it takes around half an hour. You can also take public transport, although the nearest bus stop is around 1.5 miles away.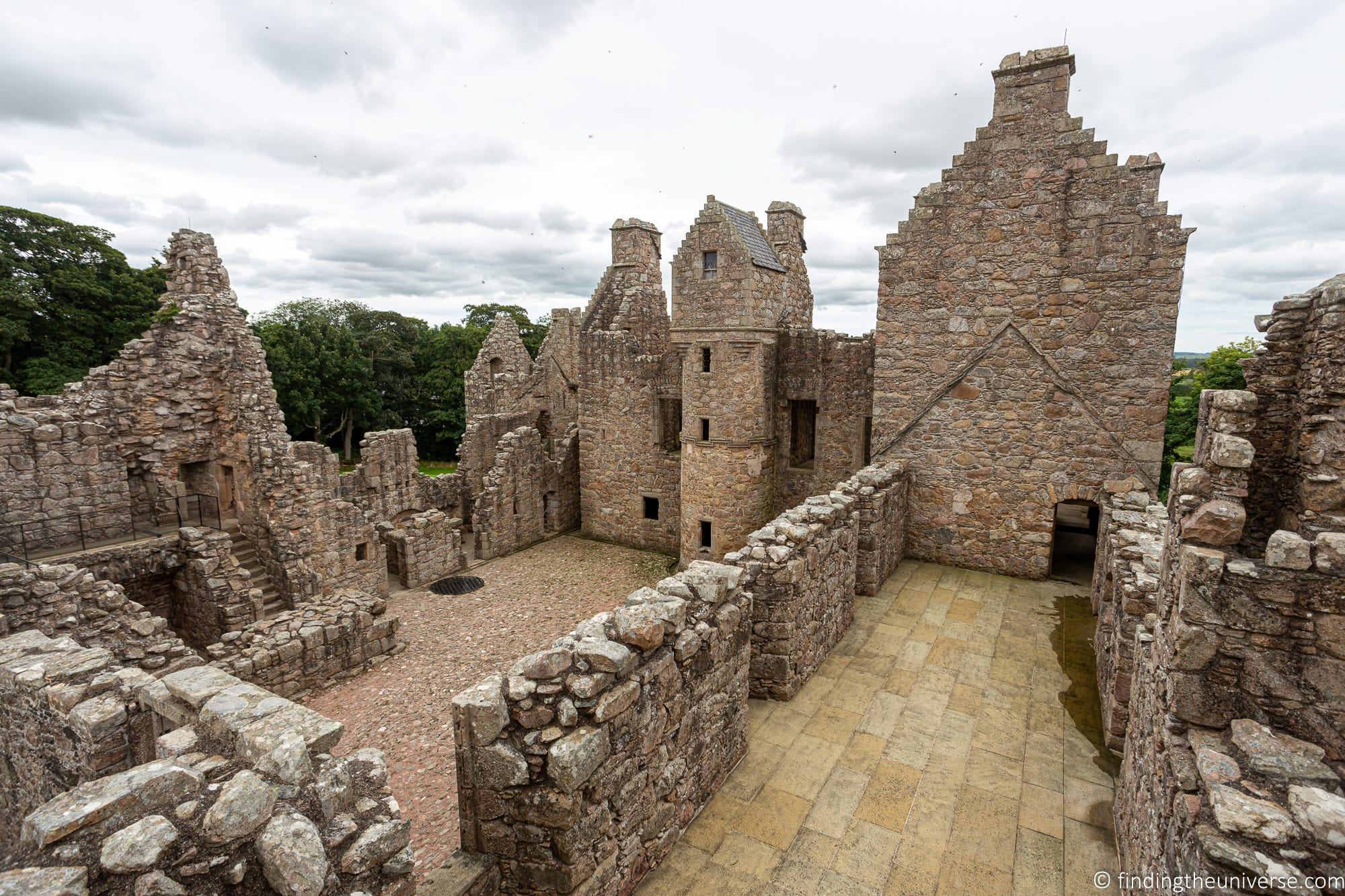 More Castles near Aberdeen
Of course, there are many more castle to explore in the area, including Fyvie Castle, Huntly Castle, Craigievar Castle, Kildrummy Castle, Braemar Castle, and Allardice Castle, to name but a few.
There's even Wardhill Castle, which you can hire out for exclusive use if you so wish!
We've been to most of the castles within driving distance of Aberdeen, so if you have any questions about a particular one, feel free to ask us in the Comments section below.
Visiting Aberdeenshire Castles from Aberdeen
The easiest way to get to the Scottish Castles listed above is definitely going to be to drive, especially if you want to visit more than one.
Public transport is an option for some of them as well, and you could definitely visit Crathes Castle and Drum Castle relatively easily from Aberdeen in a day by public transport.
It's also possible to book a tour which includes some of the castles on this list. For example: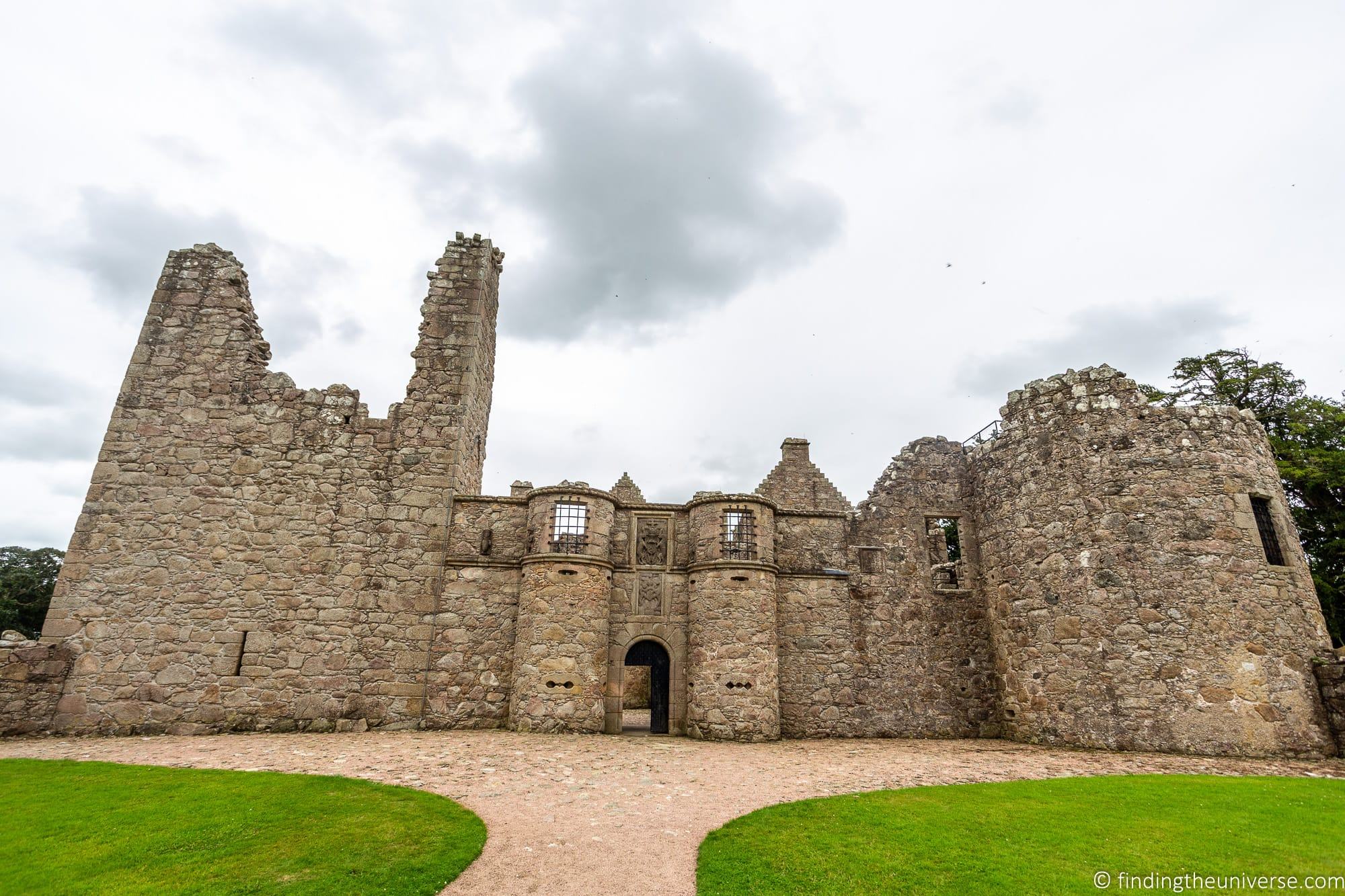 Arbroath & Dundee
Around fifty miles south of Aberdeen is the seaside town of Arbroath, and the city of Dundee. We would suggest that either or both of these make for an excellent day trip from the city.
Starting with Arbroath, and a highlight of this town for us is definitely Arbroath Abbey. Dating from 1178, this spectacular ruin is a must when visiting the town.
The abbey was built by King William of the Scots, and is also where he is buried. It's built of impressive red sandstone, and is well known as the place where the declaration of Scottish independence of 1320 was written.
Following the reformation, the abbey fell into ruin, and much of its stonework was stolen for use in other buildings. However, efforts to preserve the abbey started in 1815, and it remains a popular visitor attraction to this day.
You should consider spending at least 90 minutes to 2 hours at the abbey. There's an excellent visitor centre which explains the whole history of the building, as well as its role in the history of Scotland.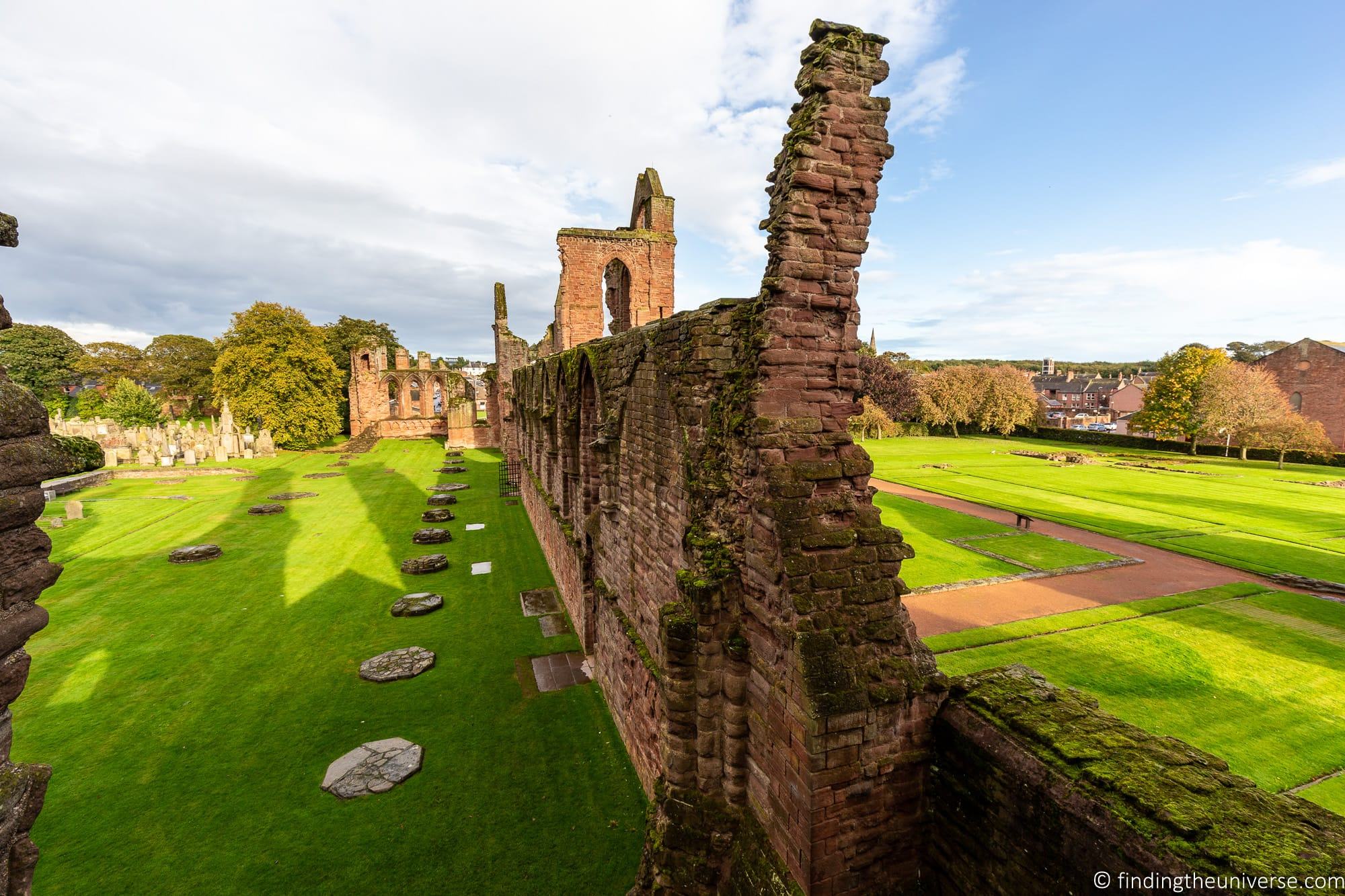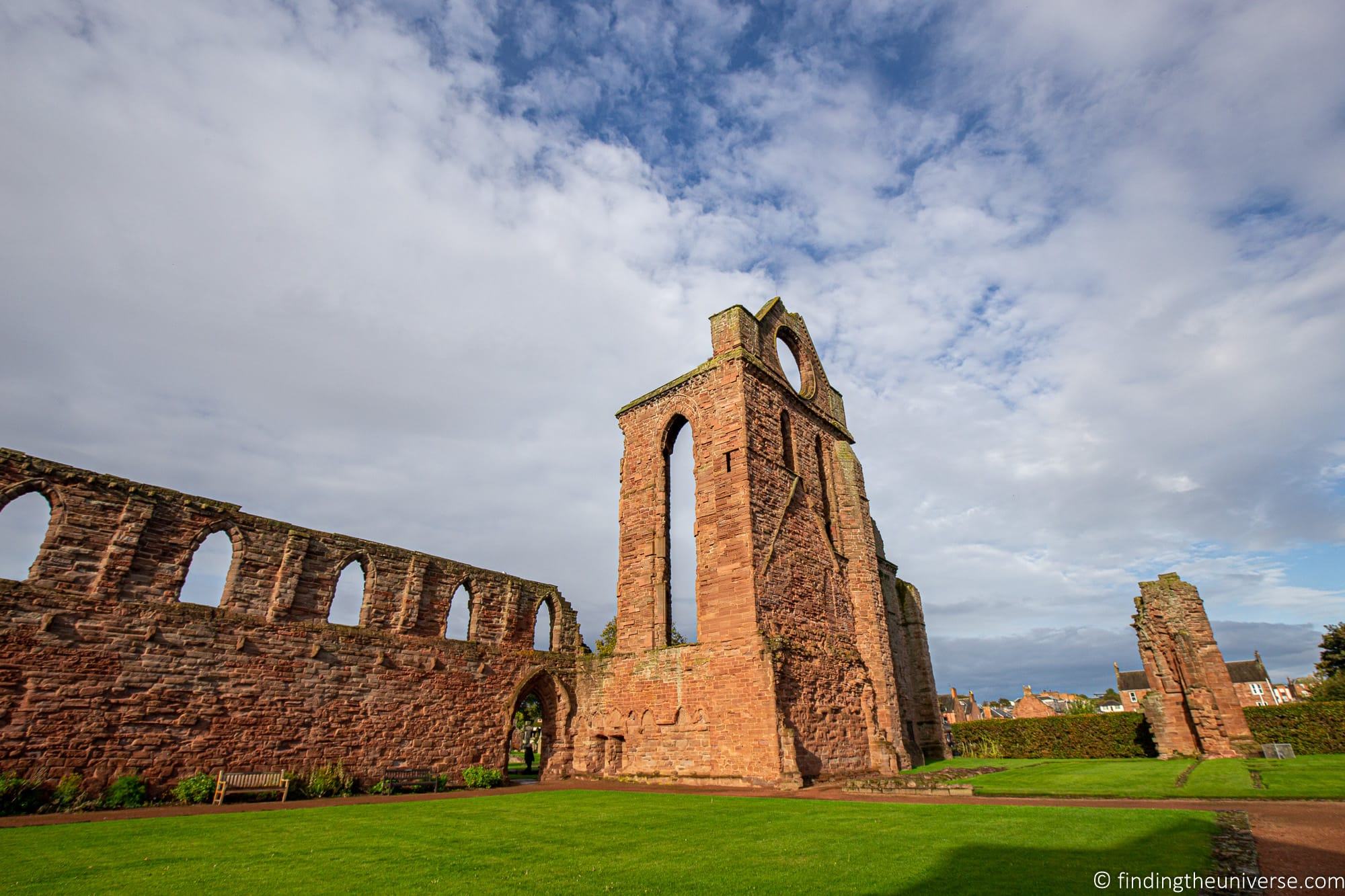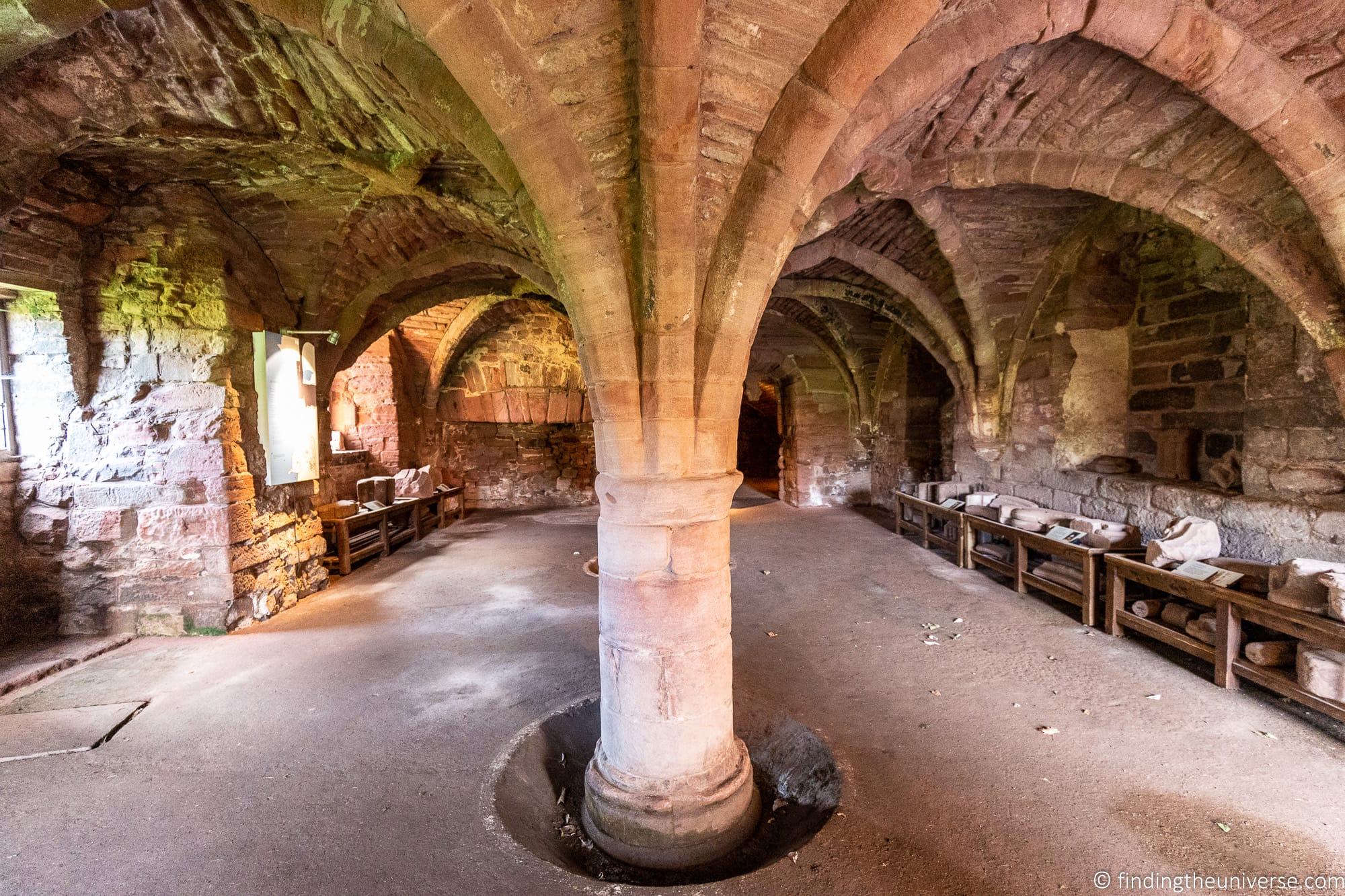 Then, you'll want to spend time exploring the ruins themselves, which are quite wonderful to behold. The abbey is operated by Historic Environment Scotland, and is usually open year round. There's a small fee to visit, although it's free for members of Historic Scotland or those with a Historic Scotland Explorer Pass.
You can see full opening times and pricing information here.
There is more to do in Arbroath beyond the Abbey of course. There's the small signal tower museum, a even a miniature railway. We can also recommend taking time to walk along the coastal path to Arbroath Cliffs. There are lovely views here of the red sandstone cliffs, and the walk continues for as long as you want to walk it.
If you are hungry, don't miss the local delicacy known as the Arbroath Smokie, which is line caught haddock smoked over oak chips. You should be able to find somewhere selling this in the harbour area.
Onwards from Arbroath now, if you still have time, you can then continue on to the city of Dundee.
Dundee is the fourth largest city in Scotland, and has a rich history of shipbuilding as well as textile production. It is a very underrated city in Scotland in our opinion as it has a lot to offer visitors given its size.
There is a lot to see and do in Dundee, enough to easily fill a few days. So if there are several things you want to do here, we'd recommend spending the full day here. However, if you have half a day, I would suggest a visit to the fantastic Verdant Works, a tour of the Antarctic expedition ship RRS Discovery, and a visit to the V&A Dundee.
All of these are open year round and are within an easy walk of the train station. The main exhibits at the V&A are free (although donations are always welcome at free museums).
The RRS Discovery and Verdant Works charge for entry, although there is a combined ticket which includes both these attractions and will save you a little on your entry fee, which you can buy at either location.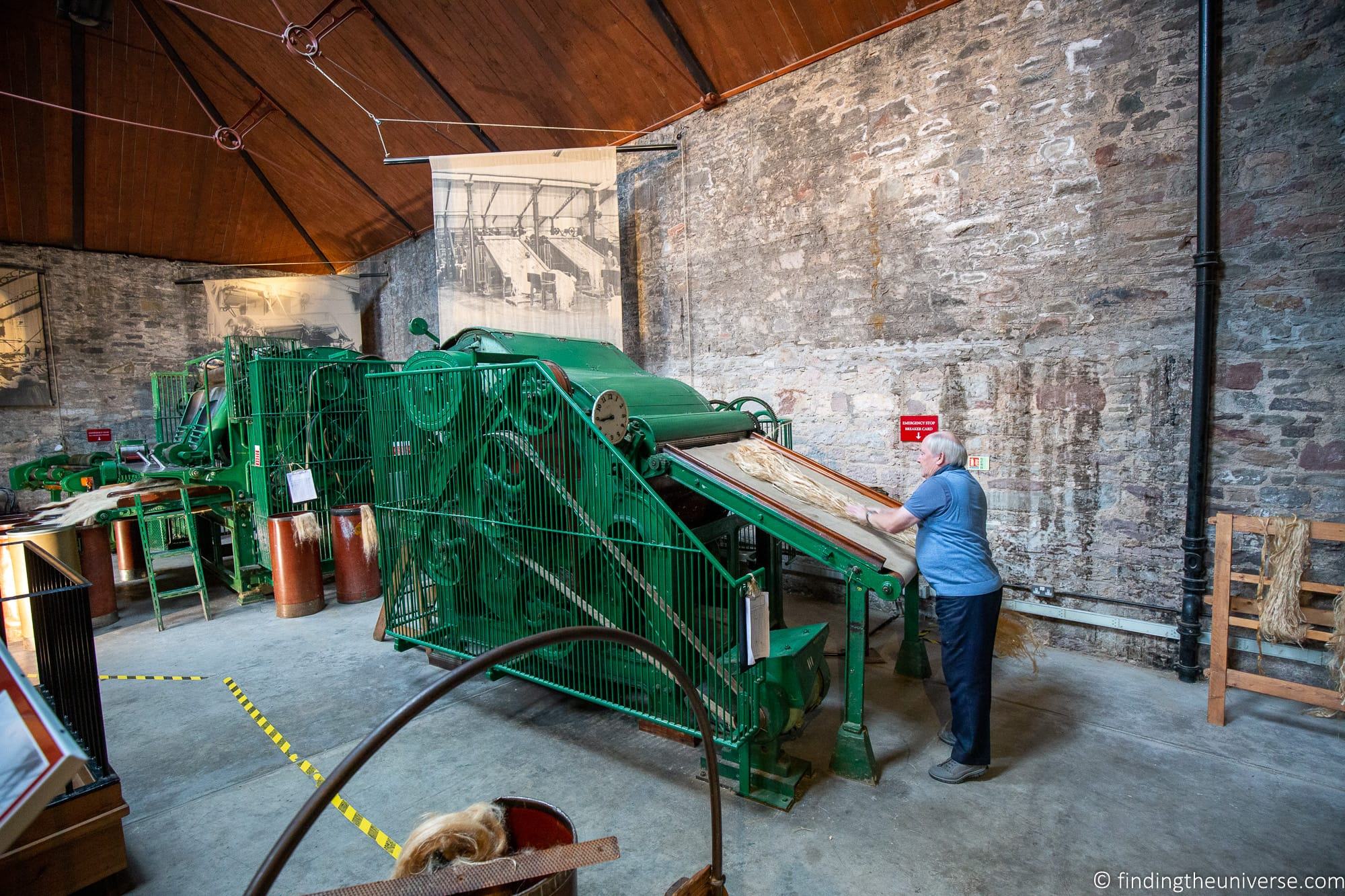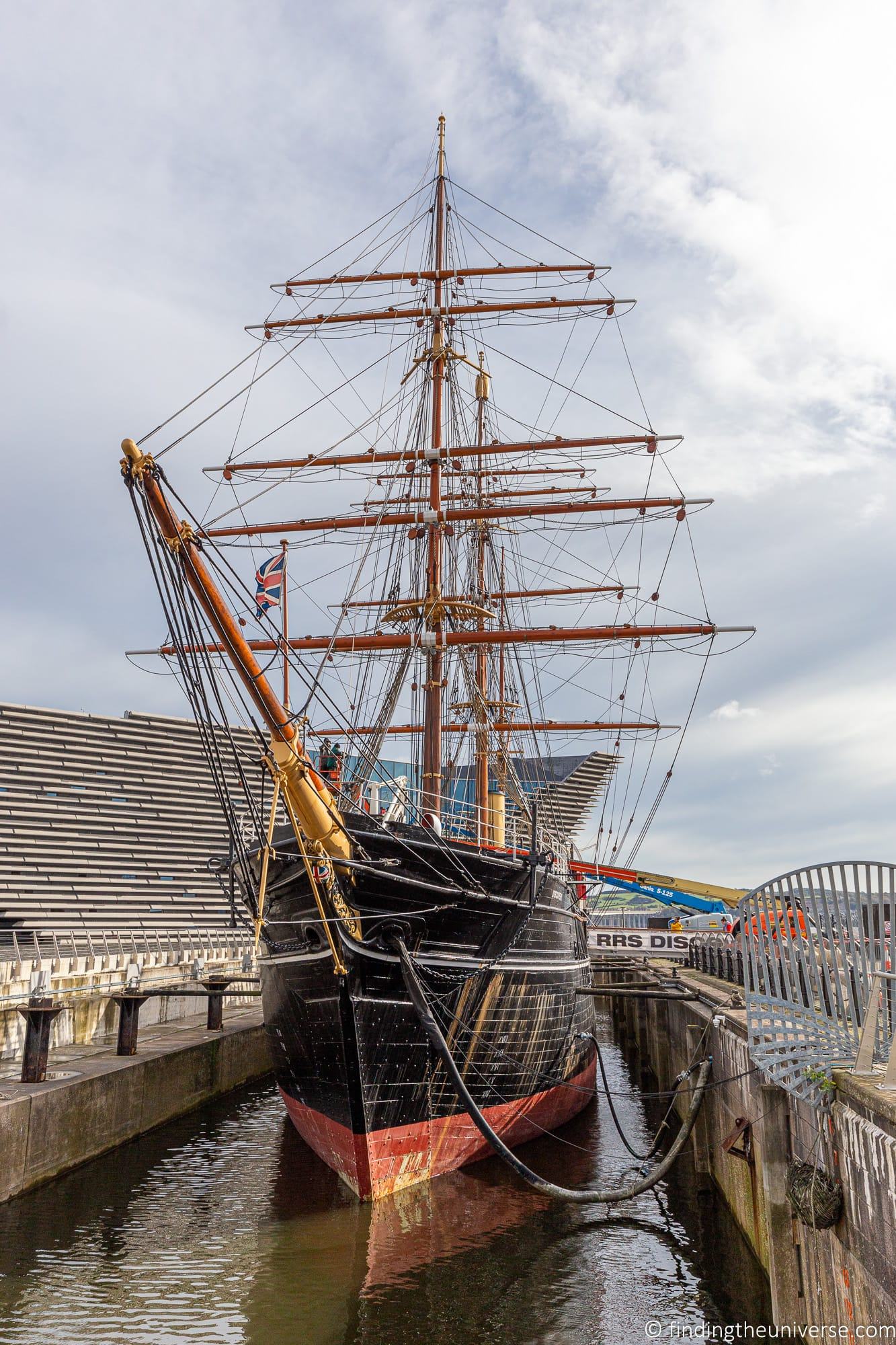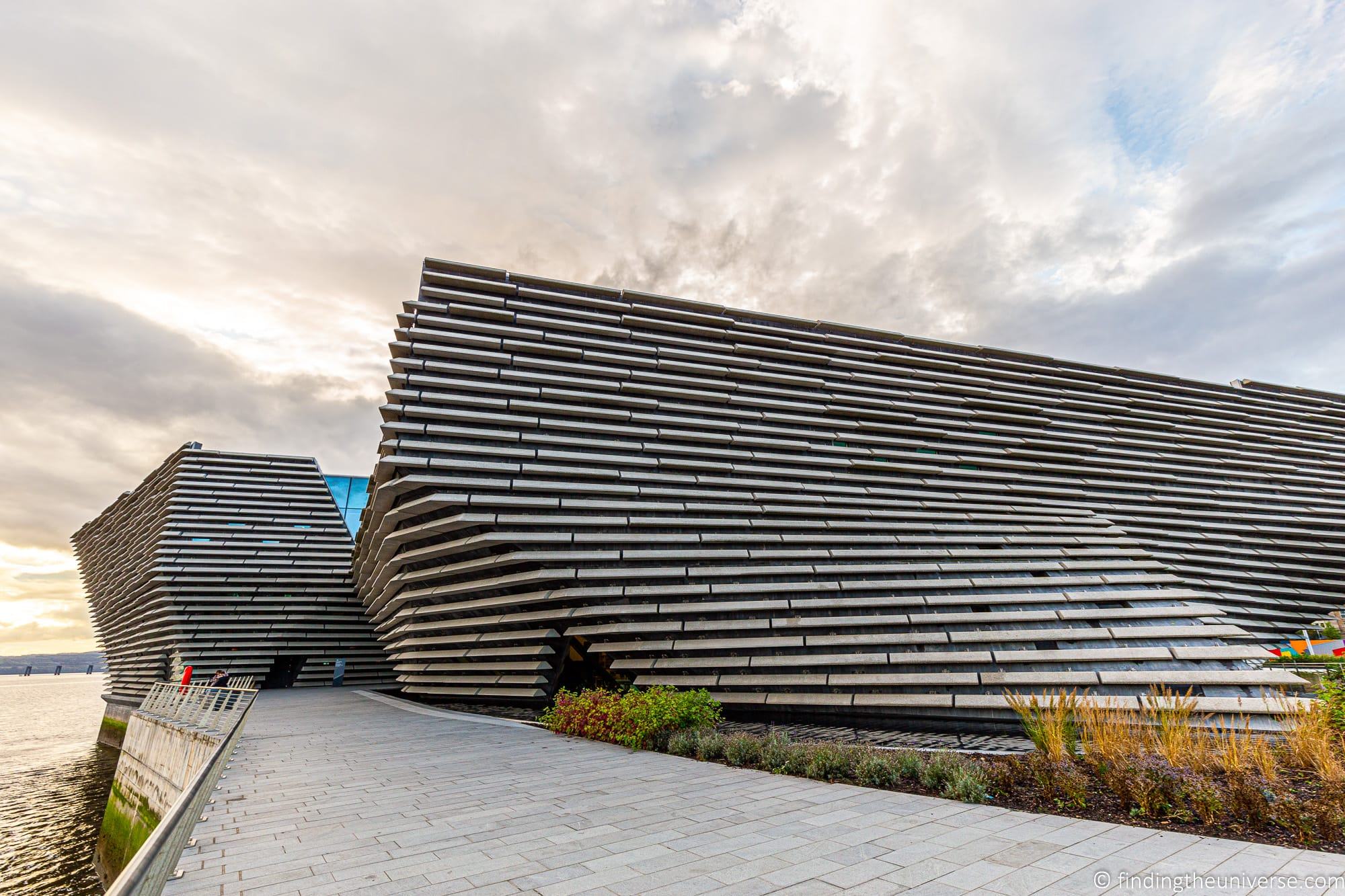 Getting to Arbroath & Dundee from Aberdeen
It's very easy to get to both Arbroath and Dundee from Aberdeen. First, by public transport you can take a train directly to Arbroath, which takes around 50 minutes. Then it's another 20 minutes on to Dundee by train.
Find train times and book your tickets online here.
It is possible to take the bus as well, but as this takes at least twice as long, we'd suggest the train is the best option.
You can also drive from Aberdeen of course. It's around a 1 hour 20 minute drive to Arbroath, and then around another half hour to Dundee. Honestly though, we'd probably recommend taking the train as it's faster and you won't have to worry about finding and paying for parking.
Ski Resorts
If you visit Scotland in winter, you might be interested to know that you can in fact go skiing in Scotland. Scotland is actually home to five outdoor ski resorts, three of which are found in the Cairngorms National Park.
Now, it must be said that the snow is not always fantastically reliable, and poor weather conditions can also be a challenge, especially the wind. So do be sure to check weather and snow reports before heading out.
However, I have been skiing in Scotland, specifically at Cairngorm Mountain, and I did have a wonderful time doing so, with great snow and fantastic views across the surrounding National Park.
The three ski resorts in the Cairngorms National Park are Glenshee Ski Centre (40km of runs), CairnGorm Mountain (30km of runs) and The Lecht 2090 (25km of runs). All three offer a range of runs as well as ski schools and equipment rental.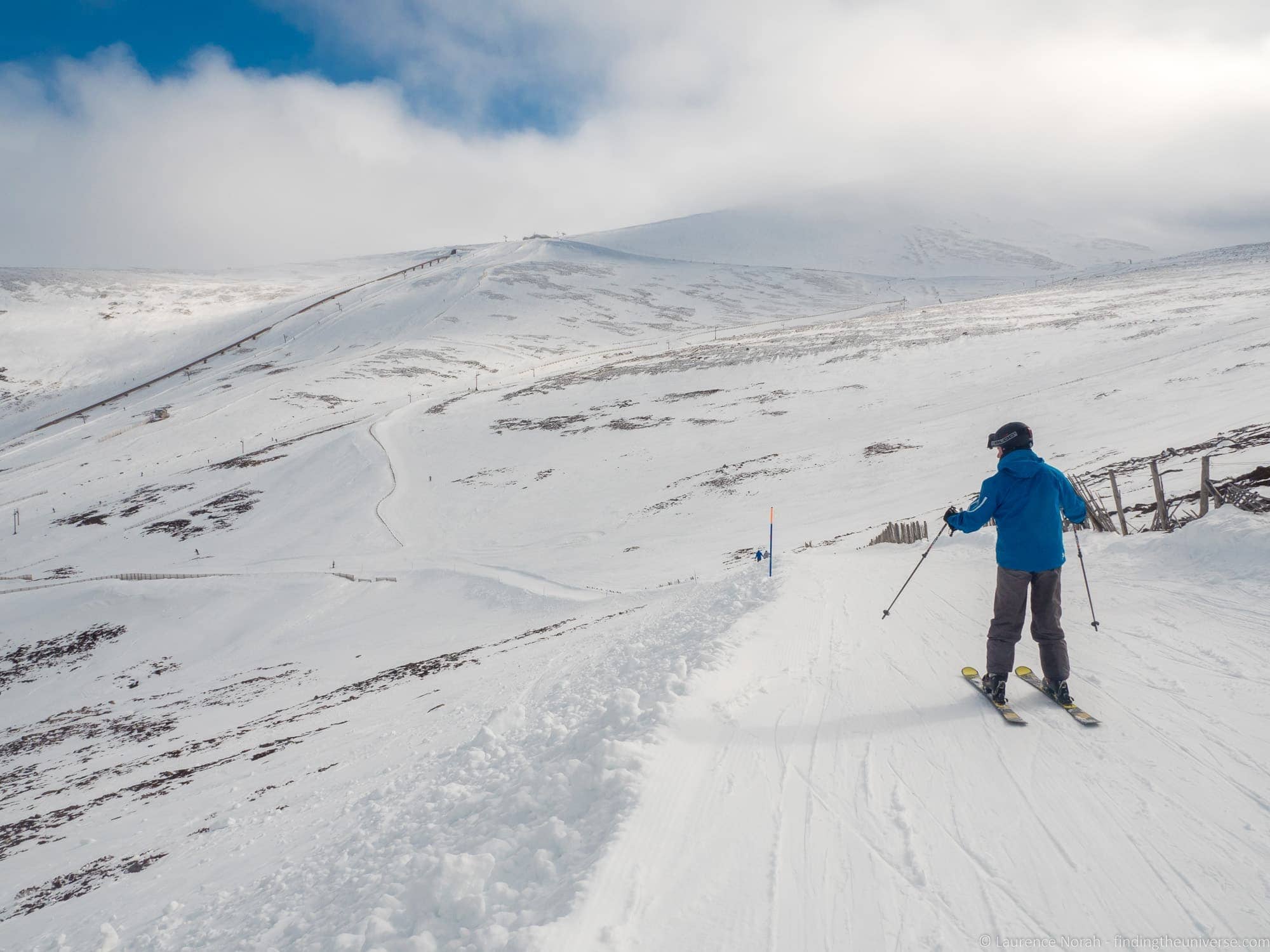 How to Get to the Ski Resorts from Aberdeen
Whilst Aberdeen is one of the closest large cities to the ski resorts in the Cairngorms, it is not that well connected to the ski resorts in terms of public transport. For this reason we would advise that driving is likely to be the best option.
The closest resort to Aberdeen is the Lecht, which is around 1h 35 minutes away. Glenshee is just under 2 hours drive. Cairngorm Mountain is a 2 hour 40 minute drive.
In theory you could also take the train from Aberdeen to Aviemore via Dundee, but this will take you over three hours each way, so isn't hugely practical. If you want to day trip via train for skiing, then Inverness or Dundee would make better bases.
Glenshee has a facebook page for ride shares, which is an option, if you can find someone coming from Aberdeen.
St. Andrews
Lovers of golf will no doubt have a trip to the seaside town of St. Andrews high up on their to-do list when visiting Scotland. But there's lots more to do here than play golf, as I shall explain.
After I talk about the golf.
You really can't visit St. Andrews without at least being impressed by the town's golfing heritage. It is, to many, the home of golf. The towns golf club was founded in 1754, and until 2004, this golf club was the legislative authority on the sport across most of the world.
There are of course a plethora of golf courses to choose from, including the world famous St Andrews Links. These include six courses, including the Old Course, which at 600 years old is believed to be the oldest golf course in the world.
Obviously, getting a game on such a venerable course is a priority for many visitors to St. Andrews, and you can read about how to get a round on the Old Course here. Even if you don't play golf, you might consider visiting the Golf Museum to learn about the history of the game.
Beyond golf, there is plenty more to see and do in St. Andrews to fill a day. There are a number of museums, the fantastic ruined St. Andrews Cathedral, the university, a pretty harbor area, high end boutiques, a botanics garden, and even a ruined 13th century castle.
We've spent lots of time exploring St. Andrews, and it is definitely a favourite small town in Scotland for us.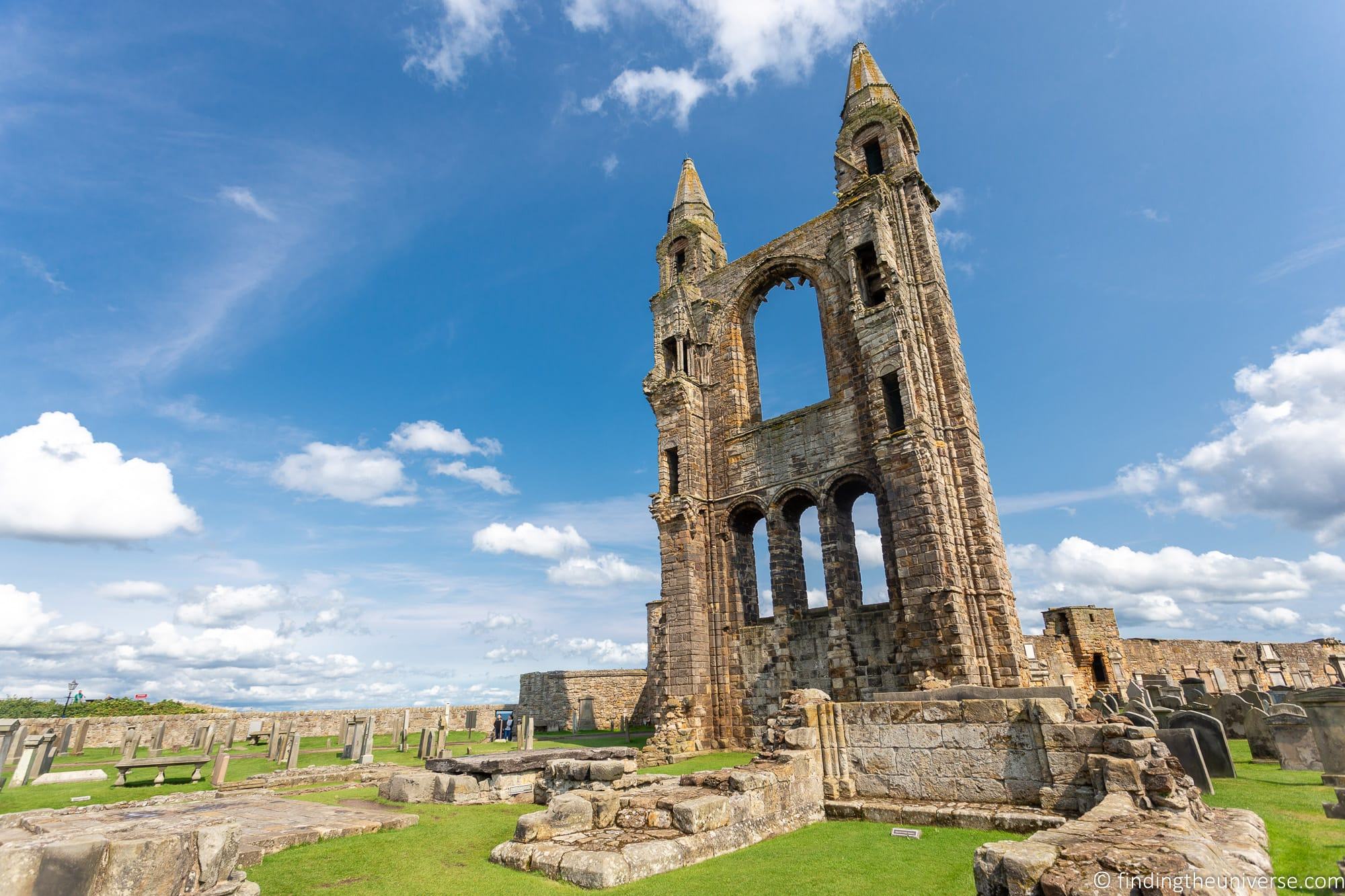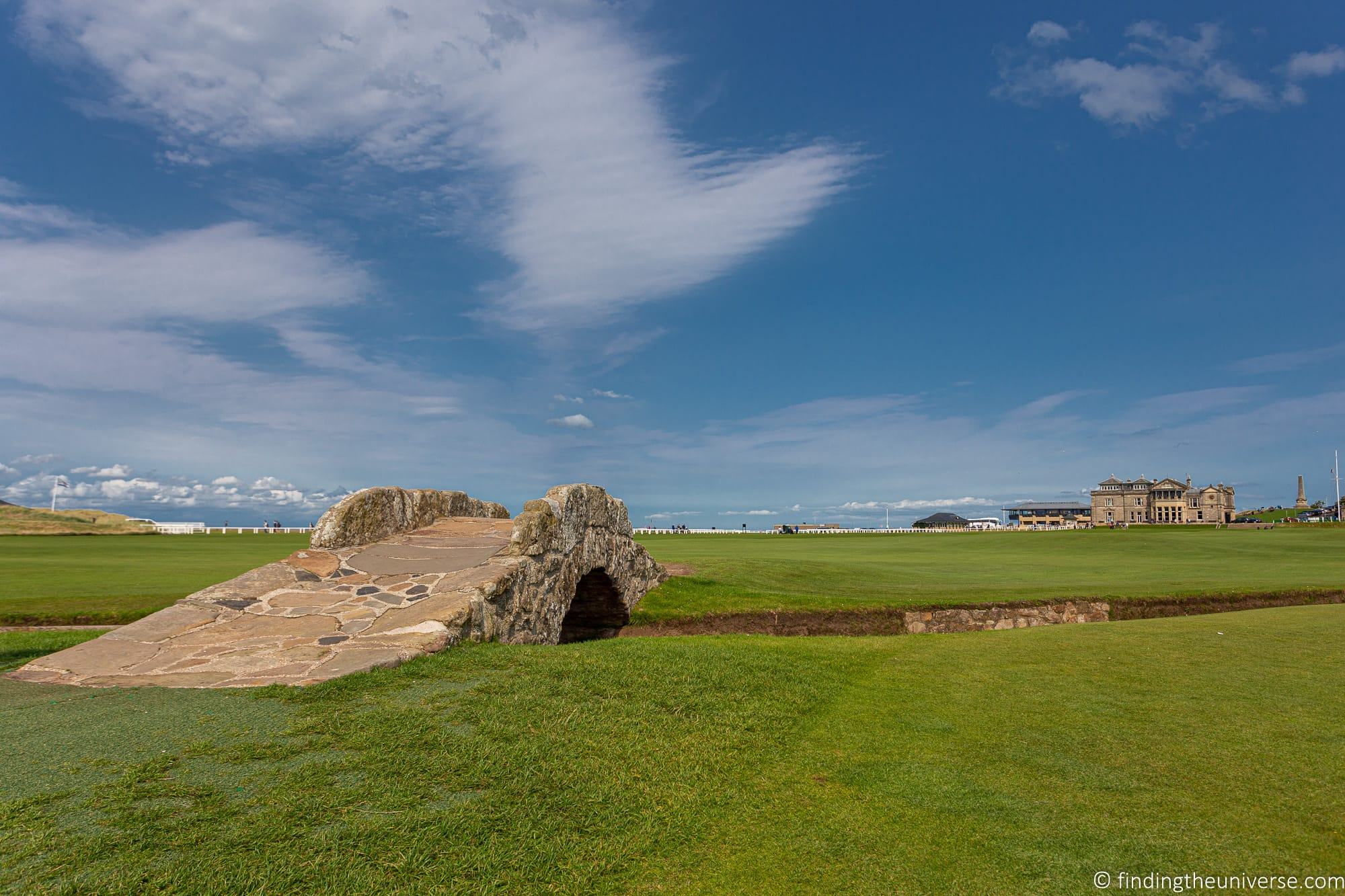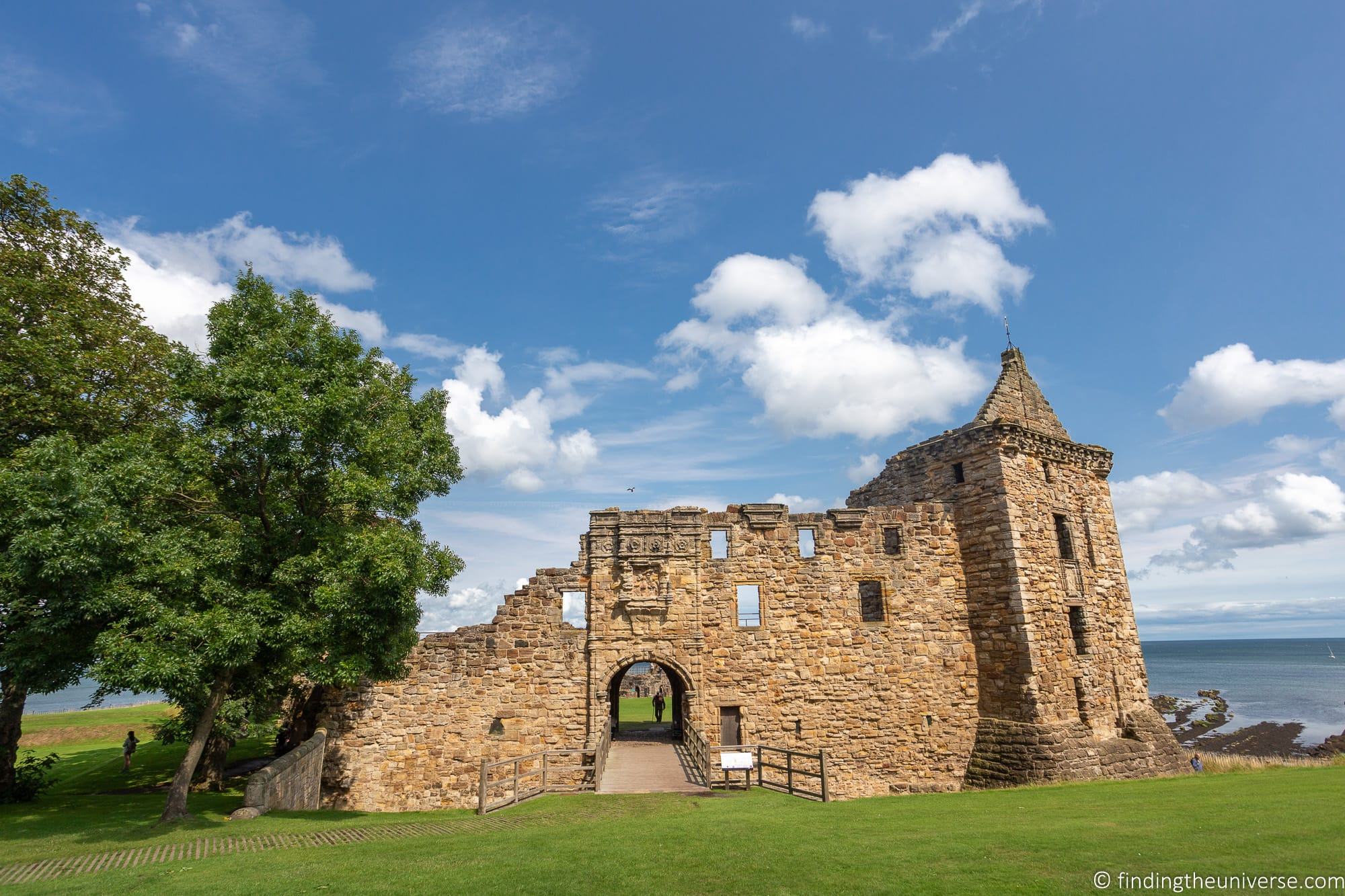 How to get to St. Andrews from Aberdeen
The simplest way to get to St. Andrews from Aberdeen is to drive, with the drive taking just under 2 hours.
It's also possible to get to St. Andrews by public transport from Aberdeen. St. Andrews doesn't have its own train station, so you can either take the train to Dundee, or the train to St. Leuchars, and then take the bus or a taxi the rest of the way.
You can check timetables for this journey here, and buy train tickets in advance here.
We're not currently aware of any tours that visit St. Andrews from Aberdeen.
The North East 250
Aberdeen sits along one of Scotland's popular driving routes – the North East 250. This 250 mile route loops around some of the best sights that this part of Scotland has to offer, including the Cairngorms National Park, Speyside, Royal Deeside, and the Moray Firth Coast.
We actually recommend that you take around 3 days to fully appreciate this route and see all it has to offer, and we have a detailed 3 day North East 250 itinerary here to help you do just that.
However, if you want to experience just a part of it, you can certainly do that from Aberdeen. We'd recommend picking one of the days on our route which passes near Aberdeen, and following the itinerary we have laid out for that day.
How to get to the NE250 from Aberdeen.
As the NE250 passes right by Aberdeen, it's easy enough to get to from the city. However, we recommend that you do this with a car. After all, this is a driving route!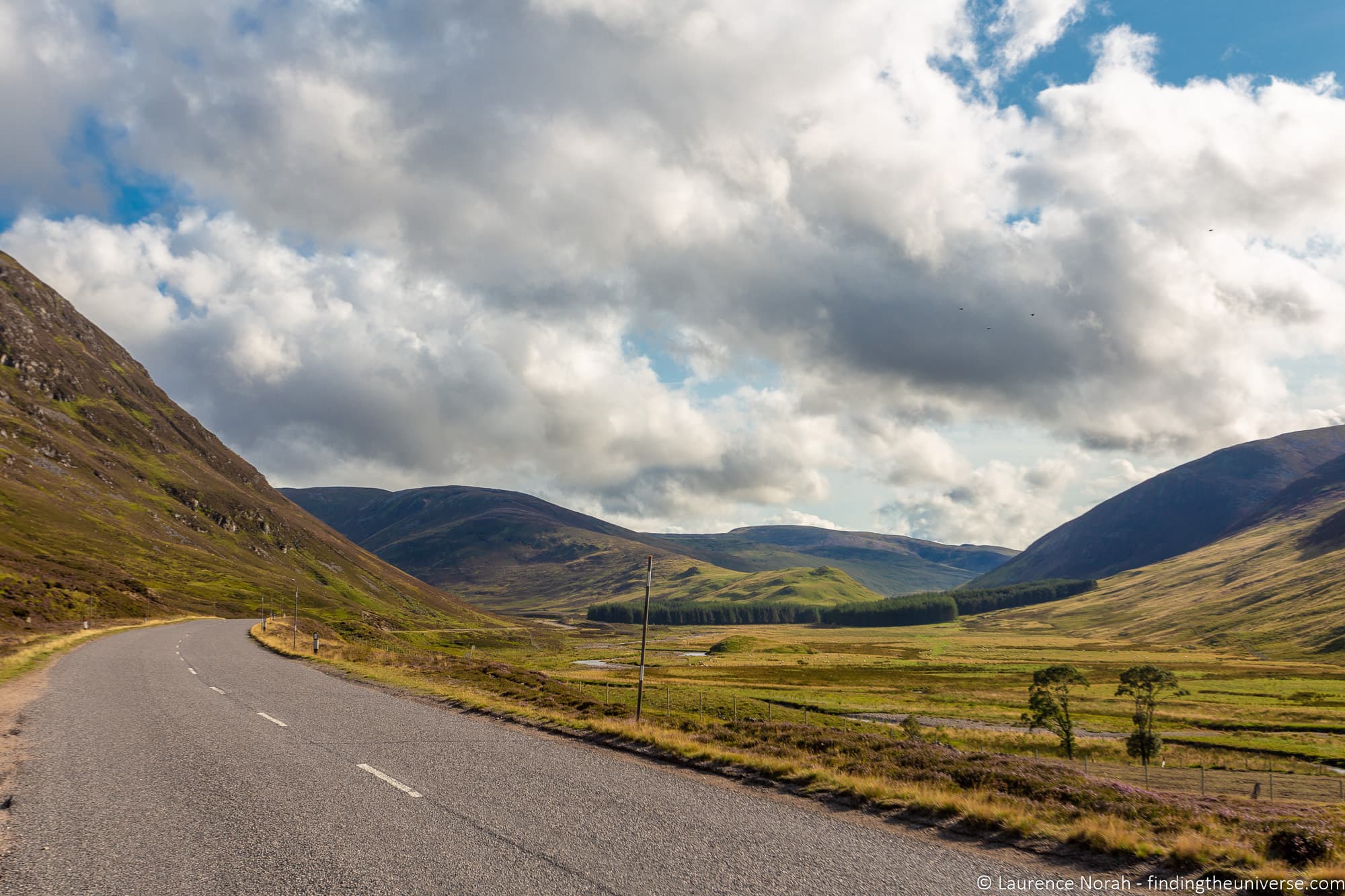 Highland Folk Museum
Last, but not least on our list of day trips from Aberdeen is the Highland Folk Museum. This is found within the Cairngorm National Park, however we think there is enough here to fill most of a day, which is why we've given it its own entry on our list.
The Highland Folk Museum is a large open air museum which aims to give visitors an idea of what life would have been link in the highlands from the 18th to 20th century.
The museum is home to over 30 historical buildings, each of which is furnished and decorated appropriate to the time period they represent. The site, which is a mile long, has a 1700s township at one end, and then you can journey through time to the 1930s working croft at the other.
The museum is very accurate, and fans of the Outlander TV series will be pleased to hear that several scenes from the show were filmed here.
At each location, there are also costumed performers who reenact the daily lives of the inhabitants of the time period. On some days these performers also demonstrate common tasks like rope making, cooking, or weaving.
We really enjoyed our visit to the Highland Folk Museum, although we made the mistake of not giving ourselves enough time to really enjoy it. So definitely give yourselves plenty of time to experience it.
If you visit and have more time, other attractions not far away include the Highland Wildlife Park, Ruthven Barracks, Dalwhinnie Distillery, and Loch Insh Outdoor Centre.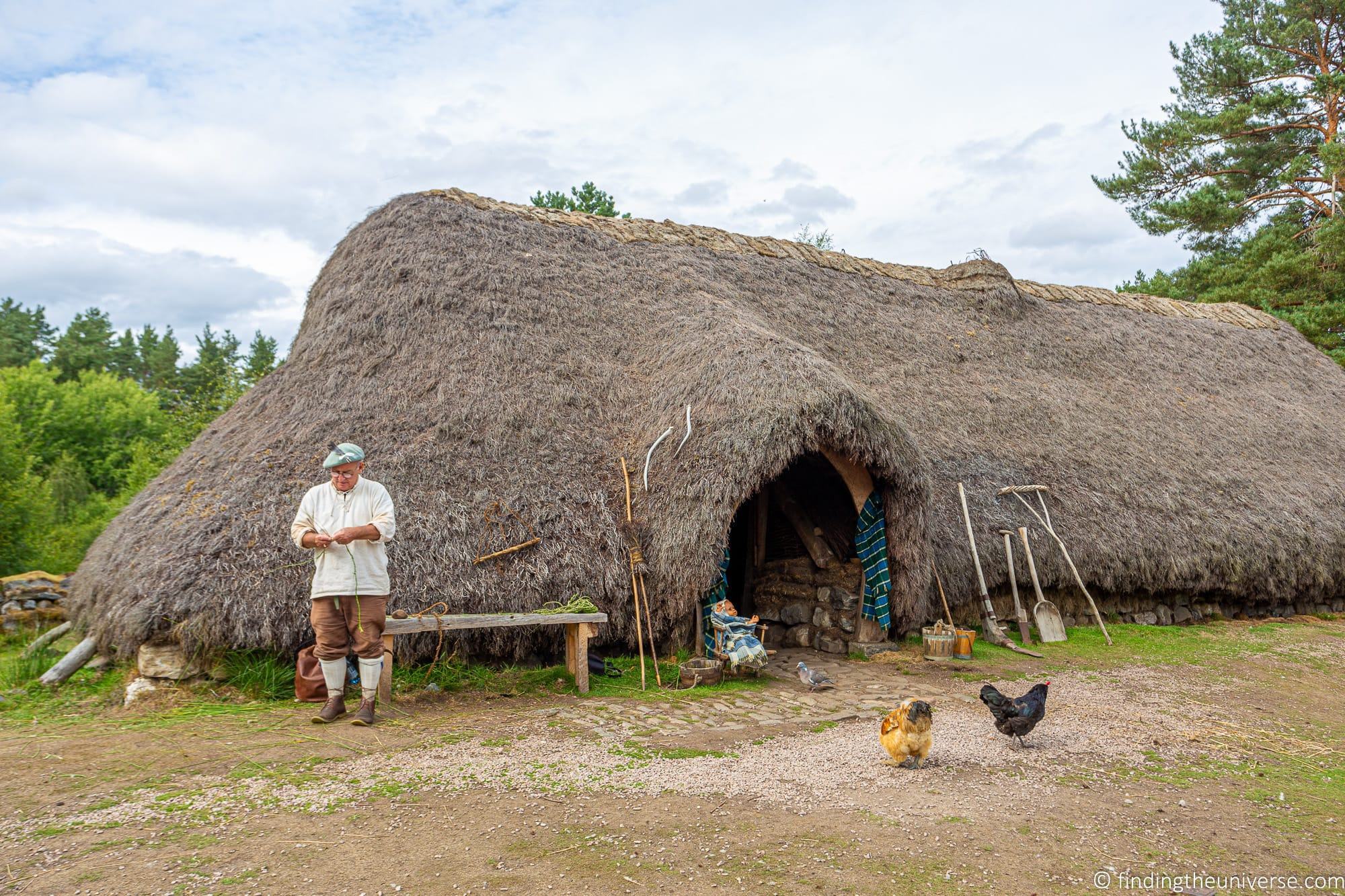 How to get to the Highland Folk Museum from Aberdeen
The easiest way to get to the Highland folk museum is definitely going to be to drive. The route goes through the scenic Cairngorms National Park, and is a beautiful journey.
There aren't any practical public transport routes that let you visit the museum in a day from Aberdeen, and we're also not aware of any tours. If you do want to visit by public transport, you would be better off basing yourself in Inverness or Aviemore.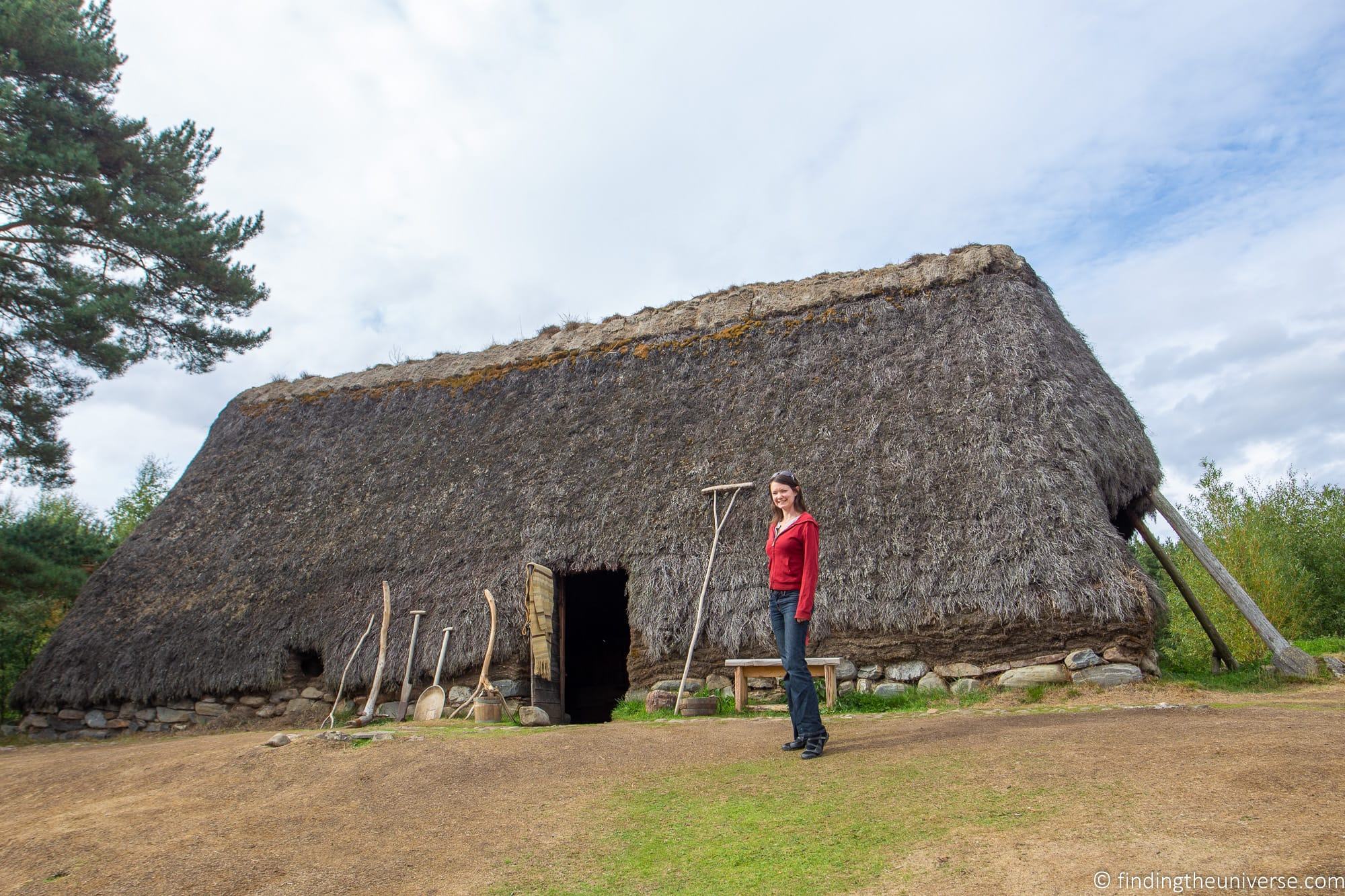 So those were all our favourite day trips from Aberdeen. Now we will share some practical information for your trip, as well as some more resources we hope you find useful for planning.
How to Get to Aberdeen
Aberdeen is on the the east coast of Scotland, and is well connected to other cities across Scotland by rail, road, and air.
By car from Edinburgh, it's around a 2.5 hour drive to Aberdeen. Glasgow is around 2 hours 40 minutes. Inverness is also 2 hours and 40 minutes away.
You can also take the train to Aberdeen from cities around the UK. There are direct services from Edinburgh (2h 20min), Glasgow (2h 34 min), and Inverness (2h 8 min). There are also direct services from other towns and cities across the UK. You can check time and book train tickets online here.
Aberdeen also has an airport which offers flight connections across the UK and to Europe. A number of airlines offer direct flights to London from Aberdeen, as well as other UK cities like Bristol and Cardiff. Check times and prices here.
Where to Stay in Aberdeen
We have visited Aberdeen a number of times and stayed in a range of properties. Based on our experience, we've put together this list of options across a range of budgets you help you pick the right accommodation for you.
If you are looking for a good value apartment, we have also stayed in this apartment hotel, which came with a kitchenette (option to cook when we wished), free breakfast, work space, and free parking.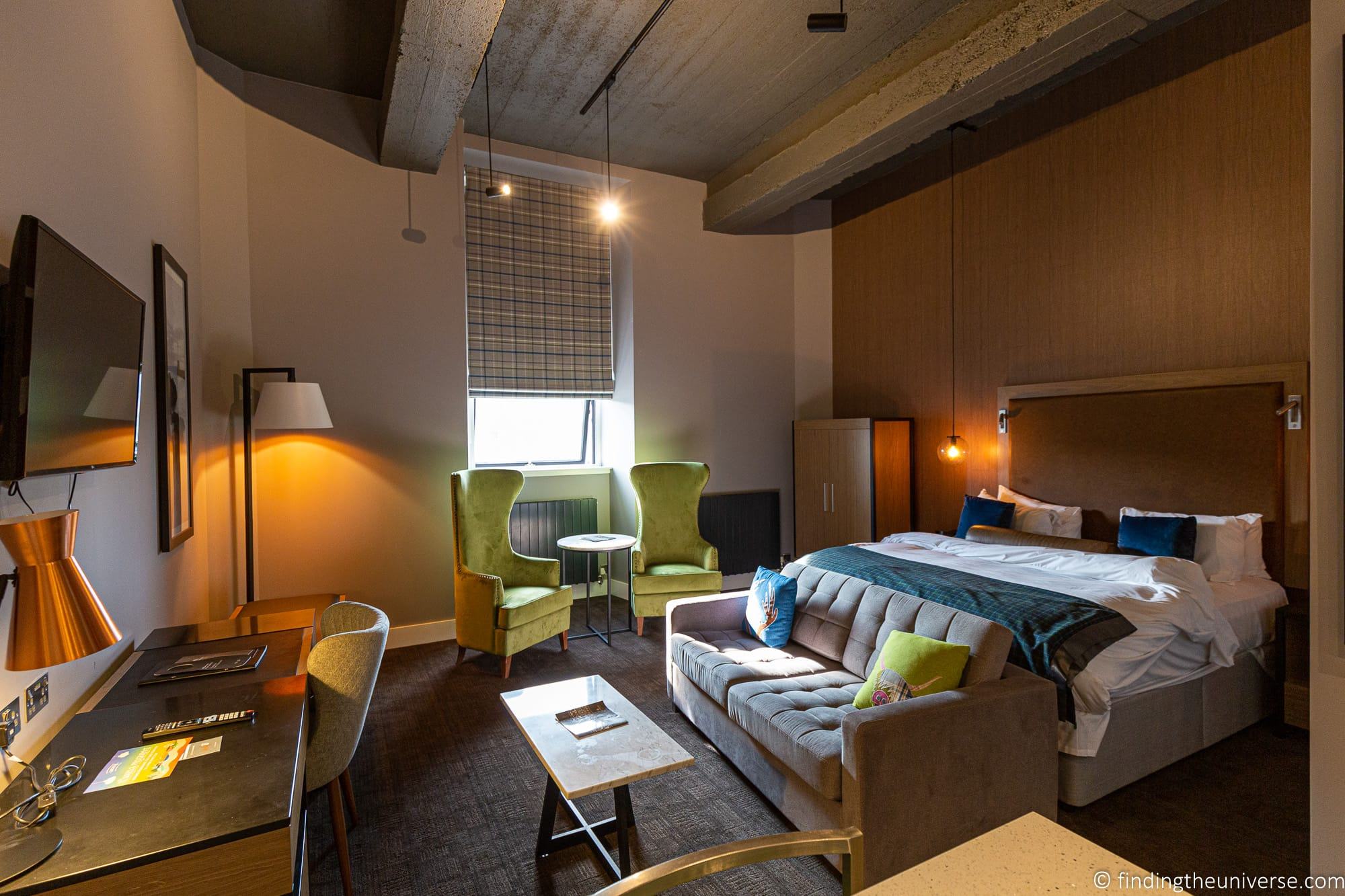 Further Reading
We spent a long time living in Scotland and have visited Aberdeen and its surrounds many times. As a result, we have quite a lot of content on this region and Scotland in general to help you plan your visit. Here are some guides we think you will find useful.
And that's it for our guide to the best day trips from Aberdeen. As always, we hope you've found it useful for planning your own adventures. If you have any questions or feedback about the post, do feel free to pop them in the comments below and we'll get back to you as soon as we can.