Scotland's Glen Coe is a beautiful valley which draws people who want to see some of the spectacular Scottish Highlands scenery. Glen Coe has been designated as both a national nature reserve as well as part of a national scenic area.
It's a fabulous location for hiking, mountain biking, and getting outdoors. It is also a wonderful area for photography, and is one of our favourite photography spots in Scotland. But there are also a number of other things to do in and around the small village of Glencoe, Scotland, including visiting museums and historical attractions, kayaking, and even skiing in the winter.
It's also a favourite with film fans, with a range of movies and TV shows using the dramatic scenery of Glen Coe as a backdrop. From Harry Potter to James Bond, Glen Coe is no stranger to the silver screen.
In today's post, we're going to share everything you need to know to plan your own visit to Glen Coe, including how to get here, where to stay in Glen Coe, what to see during your visit, and more! Let's get started with the basics.
Basic Information for Visiting Glen Coe
Let's start by providing you with all the practical information you need to plan your own visit to Glen Coe. This can help you plan when to visit, how to get there, and where you want to stay.
Is it Glen Coe or Glencoe?
When you are researching Glen Coe, you will likely come across the names "Glen Coe" and "Glencoe" being used interchangeably. Glen Coe is the valley itself, as a glen in Scotland refers to a valley. Glencoe is the name of the village which is found at the foot of the valley.
So I will use Glen Coe for the valley and area and Glencoe when specifically referring to the town in this post. You will see though that many businesses and people use these interchangeably.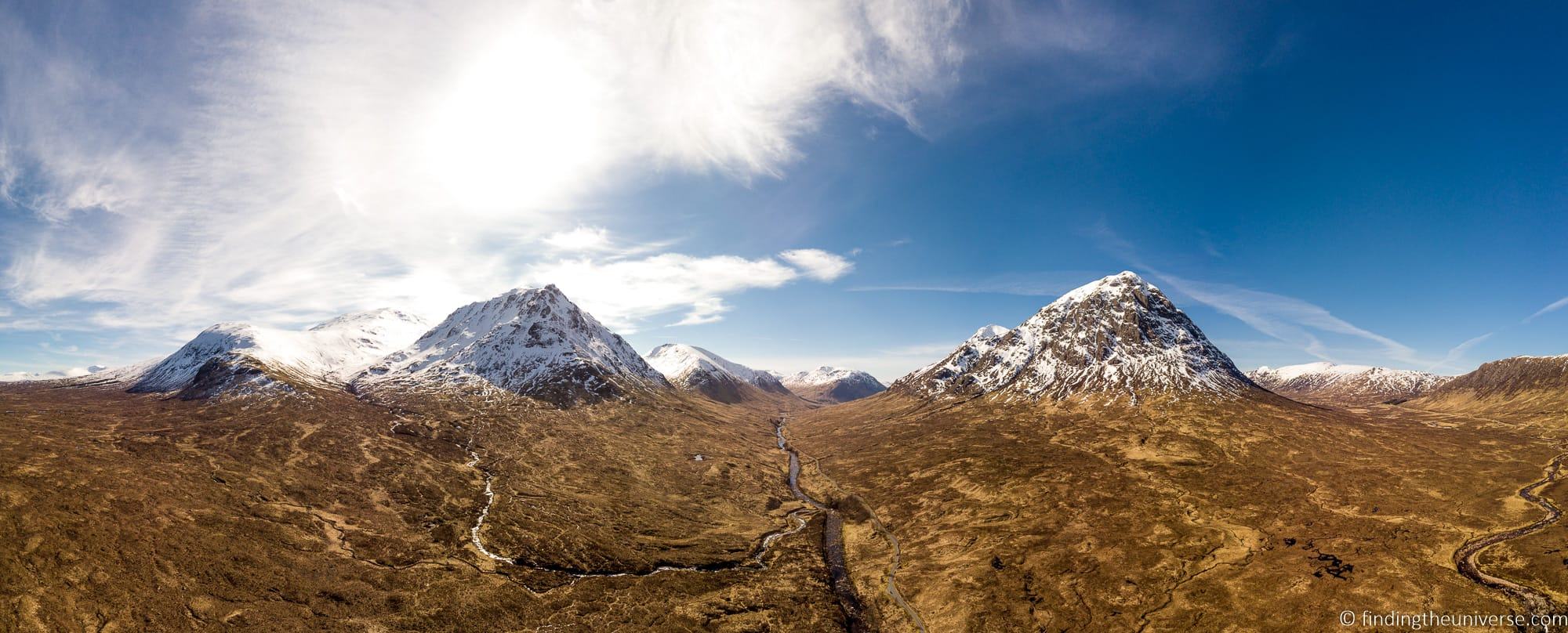 Where is Glen Coe?
Glen Coe is a valley in Scotland which is found in the Highland region of Scotland in the country of Argyll. It's on the west side of Scotland, with the nearest village being Glencoe.
Glen Coe is around 120 miles from Edinburgh by car (2.5 hours), 90 miles from Glasgow (2 hours), 16 miles from Fort William (30 minutes) and 85 miles from Inverness (2 hours).
How to Get To Glen Coe
There are a number of options for getting to Glen Coe.
First, you can drive. From Glasgow, Inverness and Edinburgh it's between a 2 hour to 2.5 hour drive as mentioned above. Driving will give you the most flexibility in terms of sightseeing and getting around the Glen Coe valley itself.
If you are driving yourself, you can definitely visit Glen Coe as a day trip from Edinburgh, Glasgow or Inverness, although taking more time will obviously let you see and do more in the area!
You can also take public transport to reach Glen Coe. There is a train station in Bridge of Orchy which has direct links to Edinburgh and Glasgow. There is also a train station at Fort William.
You can also get coaches or buses to Fort William. This is most practical from Inverness, as the bus from Inverness to Fort William only takes a couple of hours. You can see train and bus timetables and book tickets online in advance here.
From Fort William, local buses operate to Glencoe village, as well as to a number of stops in Glen Coe valley. You can check public transport times in Scotland on the traveline Scotland website here.
Finally, one of the easiest options for visiting Glen Coe from the major cities in Scotland is to take a tour. Many day tours and multi-day tours include Glen Coe on their itineraries. Obviously this will give you a bit less flexibility than driving yourself, but if don't have your own vehicle or would prefer to let someone else navigate the highland roads, this will definitely be the easiest option.
Some suggested tours to consider are below. Also see the section on tours to Glen Coe further on in this post for more ideas.
For more tour options, see the section later on in the post.
When to Visit Glen Coe
Glen Coe can be visited year round, and we have enjoyed visiting at all different times of the year.
Depending on when you visit there are different things to see and do, and you will have to plan accordingly as well. Here are some things to think about at different times of year.
It's also worth being aware that the weather in Scotland can be fickle at any time of year, so being prepared for rain and cooler temperatures even in summer is a wise idea.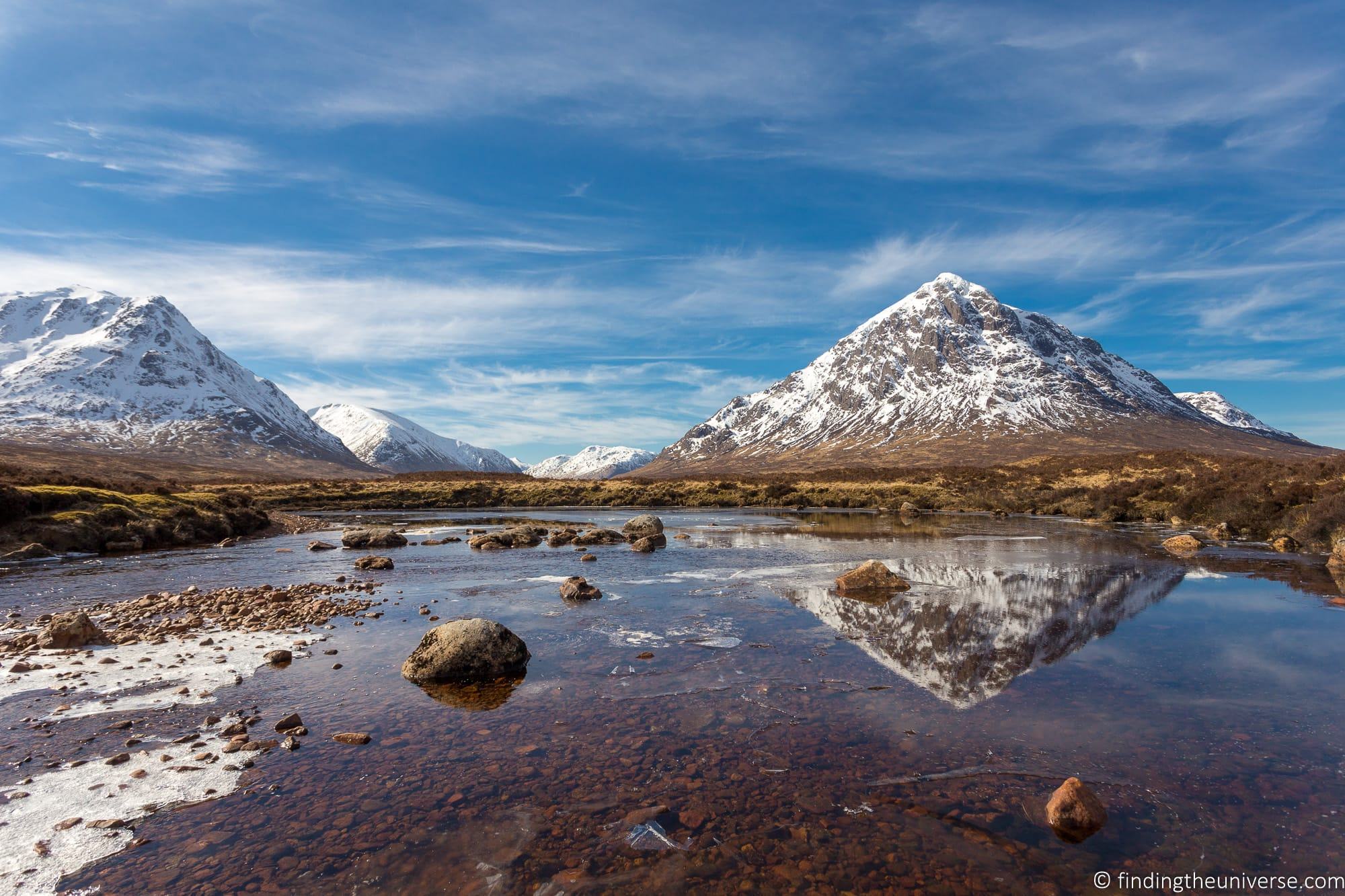 Visiting Glen Coe in Winter
Glen Coe can be absolutely beautiful in winter, with snow capped mountains and beautiful golden winter light. It's one of my favourite times to visit for photography. If you're into skiing, then winter is also when the Glencoe ski centre is open.
Of course, winter brings with it its own set of challenges for visiting Glen Coe. The weather can be very poor, daylight hours are more limited and it's going to be quite cold. So you will want to pack appropriate clothing and be prepared for changeable weather.
Visiting Glen Coe in Spring
Visiting Glen Coe in spring brings with it a number of benefits. There are longer hours of daylight, the landscape starts to turn from brown to green, and the wildflowers start to come out.
Spring still offers the change of snow on the mountains, meaning you can get nice contrast in your photos, but it's likely to be less crowded than in the summer.
Visiting Glen Coe in Summer
For the chance of the best weather, you'll want to visit Glen Coe in summer. Whilst Scotland rarely gets "hot", a good summers day in Glen Coe will see temperatures in the mid 20s C / 70s F. This makes for pleasant walking, and you'll have plenty of hours of daylight for sightseeing.
Of course, there are some downsides to visiting in summer. It's going to be a lot busier and crowded, so expect more traffic on the roads and more challenges finding a parking space if you are driving. Summer is also the time of the dreaded highland midge – a ferocious biting insect that travels in a swarm and can be quite unpleasant. If you're travelling the highlands in summer, you're going to want to bring insect repellant!
Visiting Glen Coe in Autumn
Scotland in Autumn can be stunning, as the trees turn a wide variety of colours. It's also usually a quieter time of year for travel, and the light can be stunning for photography.
Whilst much of Glencoe is open moorland without many trees, there are definitely patches of woodland which can make for some nice photography opportunities. In addition, the heather often blooms in early Autumn, creating a riot of purple across the landscape.
Camping at Glen Coe
There are a number of campsites where you can pitch a tent or park a motorhome or caravan in the Glen Coe area.
Some options include:
It's also worth noting that wild camping is allowed in Scotland. The definition of this is quite clear – it's for tent based camping and is usually defined as camping away from roads and habitation. It doesn't include motor homes. So if you are hiking into the backcountry, this is definitely an option. You can find out more about wild camping in Scotland on the Scottish Outdoor access code website here.
Glen Coe Accommodation
If you're planning on visiting Glen Coe for longer than a day, then you will need somewhere to stay. There are a range of accommodation options, some in the Glen itself, and some within an easy driving distance. The closest population centres are Glencoe Village and Bridge of Orchy. Fort William is also close to Glen Coe and makes for a good base.
Here are some options we recommend.
Of course, there are many more options in the area. See listings on booking.com for Glencoe here for more ideas of what's available.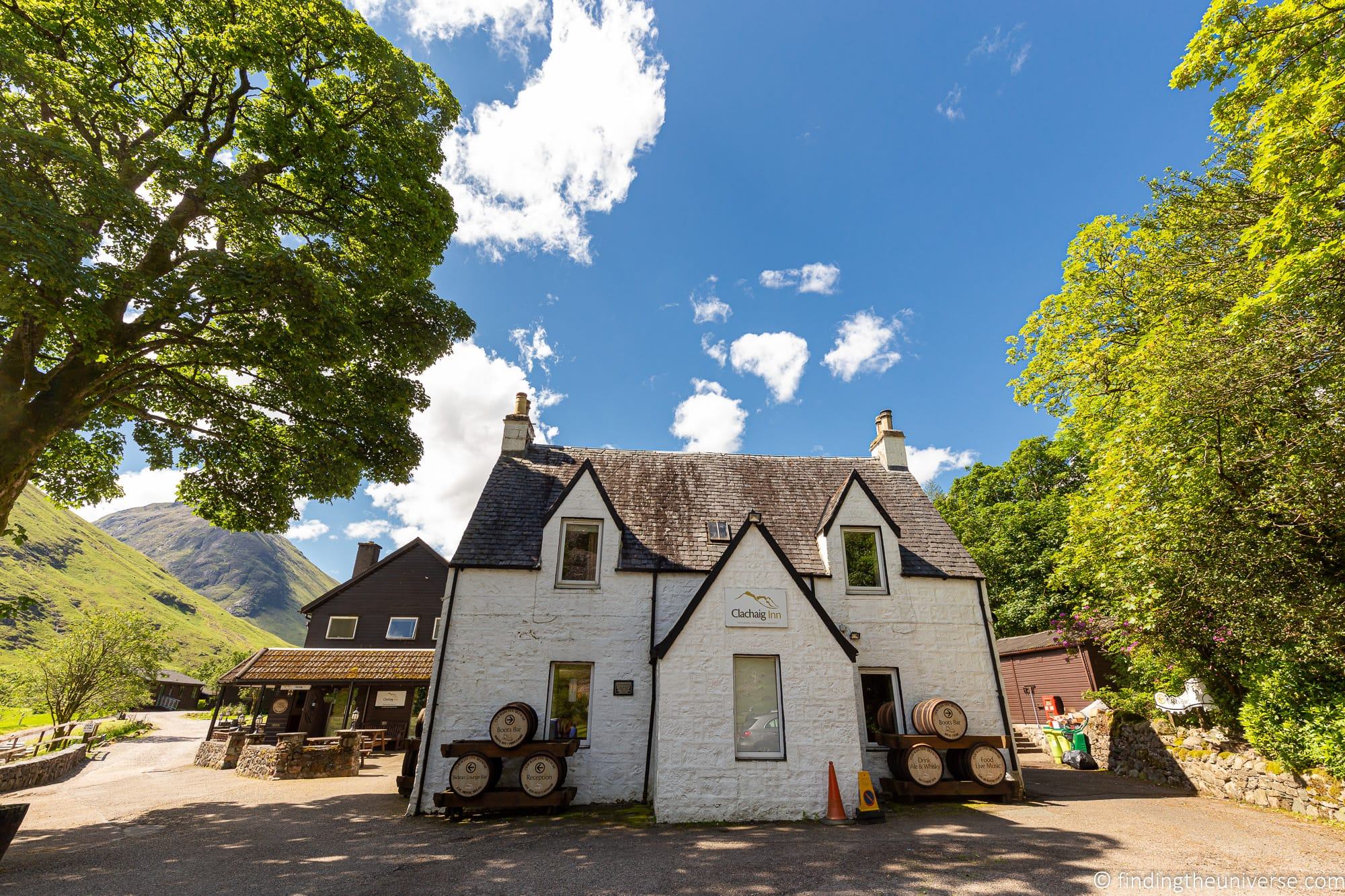 Things to do in Glen Coe
Now that you are prepared for your visit to Glen Coe, we wanted to share some of our favourite things to do when you are actually visiting! These are all either in or close to the village of Glencoe, or within the Glen Coe valley itself.
Stop at the Visitor Centre
Operated by the National Trust for Scotland, the Glencoe Visitor Centre is a great place to start your visit to Glen Coe. The visitor centre provides a lot of information on Glen Coe as well as nearby Glen Etive.
Here, knowledgeable staff will be able to give you information on walks in the area, what wildlife is around, as well as up to date weather forecasts. They have a large 3D map to assist them with helping you plan your time and get oriented.
There are also a number of interesting exhibits, including a short film on the geological history of the area, and a exhibit that showcases some of the mountaineers who have made the sport so popular in the area. There's also information on the infamous Glen Coe massacre of over 300 members of Clan MacDonald in 1692.
There are a number of walks that start from the visitor centre itself, which range in difficulty and can be a good option for those of you looking for a hike to do in the area. Sometimes there are also staff-led nature walks happening as well.
There is also a café and gift shop here with all profits being used to help protect and conserve the nature reserve.
There is a small fee to visit and for parking but it is free for National Trust members.
Go Hiking
One of the most popular activities in Glen Coe is hiking. It's not hard to see why – with spectacular landscapes and seemingly endless wilderness to explore, this is a fantastic location for lacing up those hiking boots and hitting the trails.
There are a wide variety of hikes available to suit all levels, from short walks that are under an hour long, to more challenging full day hikes up some of the peaks like Buachaille Etive Mor, from where you can get a lovely view of the surrounding valley as well as Rannoch Moor.
A great resource for finding hiking trails in Glen Coe and Scotland in general is the Walk Highlands website, and you can see some suggested trails in Glen Coe here.
Another option is to take a hike with a local guide who will ensure you remain safe and also take you to some of the best spots. This list of tours has some hiking options that include Glencoe.
Practice your Landscape Photography
As a travel photographer, I obviously had to list photography as one of the top things to do in Glen Coe. The landscapes here make for some spectacular photography opportunities, and you could spend days exploring and taking photos in the area.
I also want to say that you absolutely don't have to be a professional photographer or carry a pile of high end equipment to get great shots at Glen Coe. Of course you will be rewarded if you take the time to do so, but you can also get lovely photos with a smartphone or compact camera too!
There are multiple excellent locations for photography around Glen Coe. Some of my favourites include the view of the Lagangarbh hut, the views of Buachaille Etive Mor and the views of the Three Sisters.
However, there are plentiful locations for photography to discover, including small bodies of water and rivers that can lend an interesting compositional element to your photos.
If you'd like a guided tour of some of the best photography locations, it's possible to book a private photography tour of Glen Coe like this, which include transport and guide.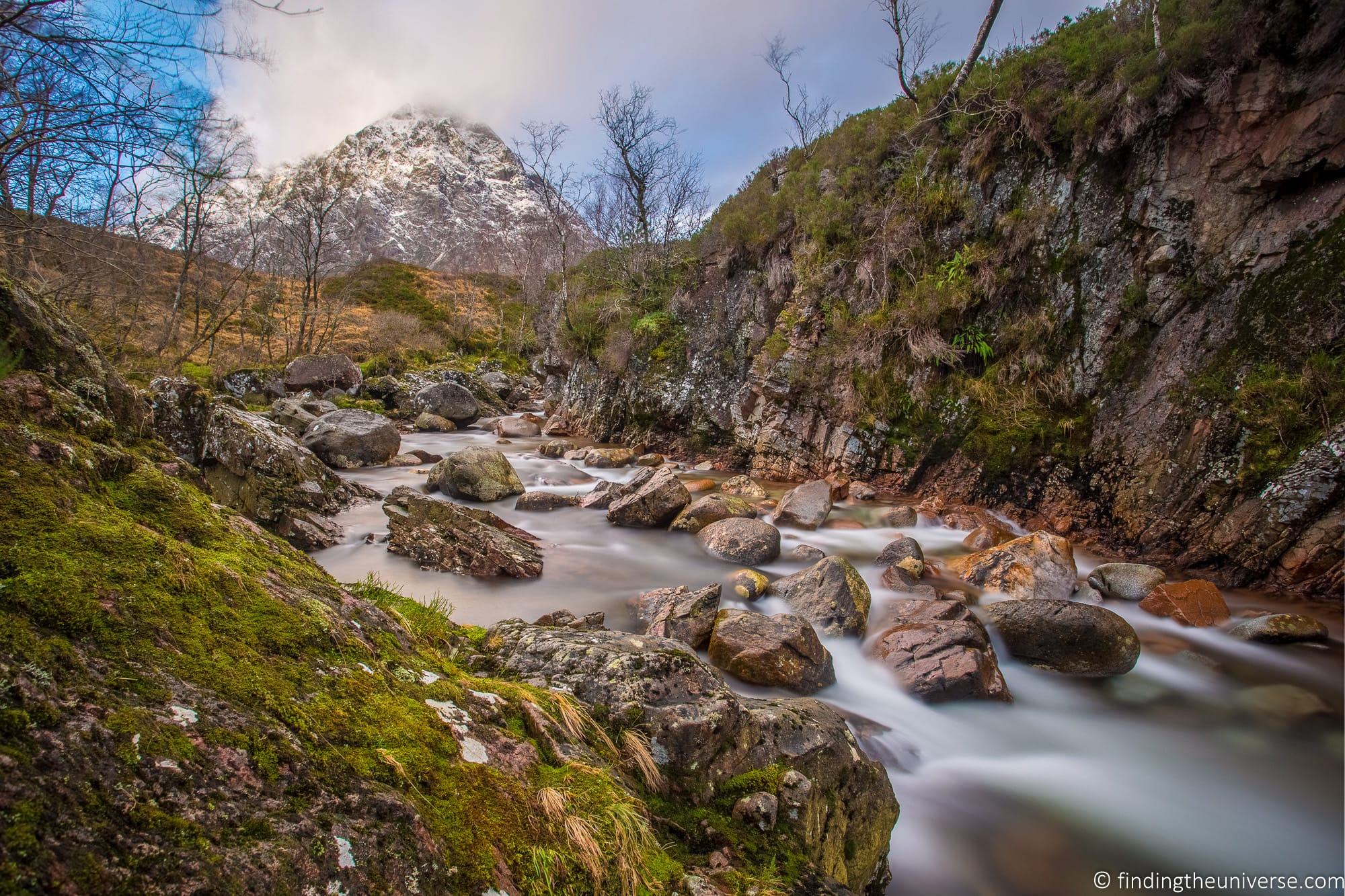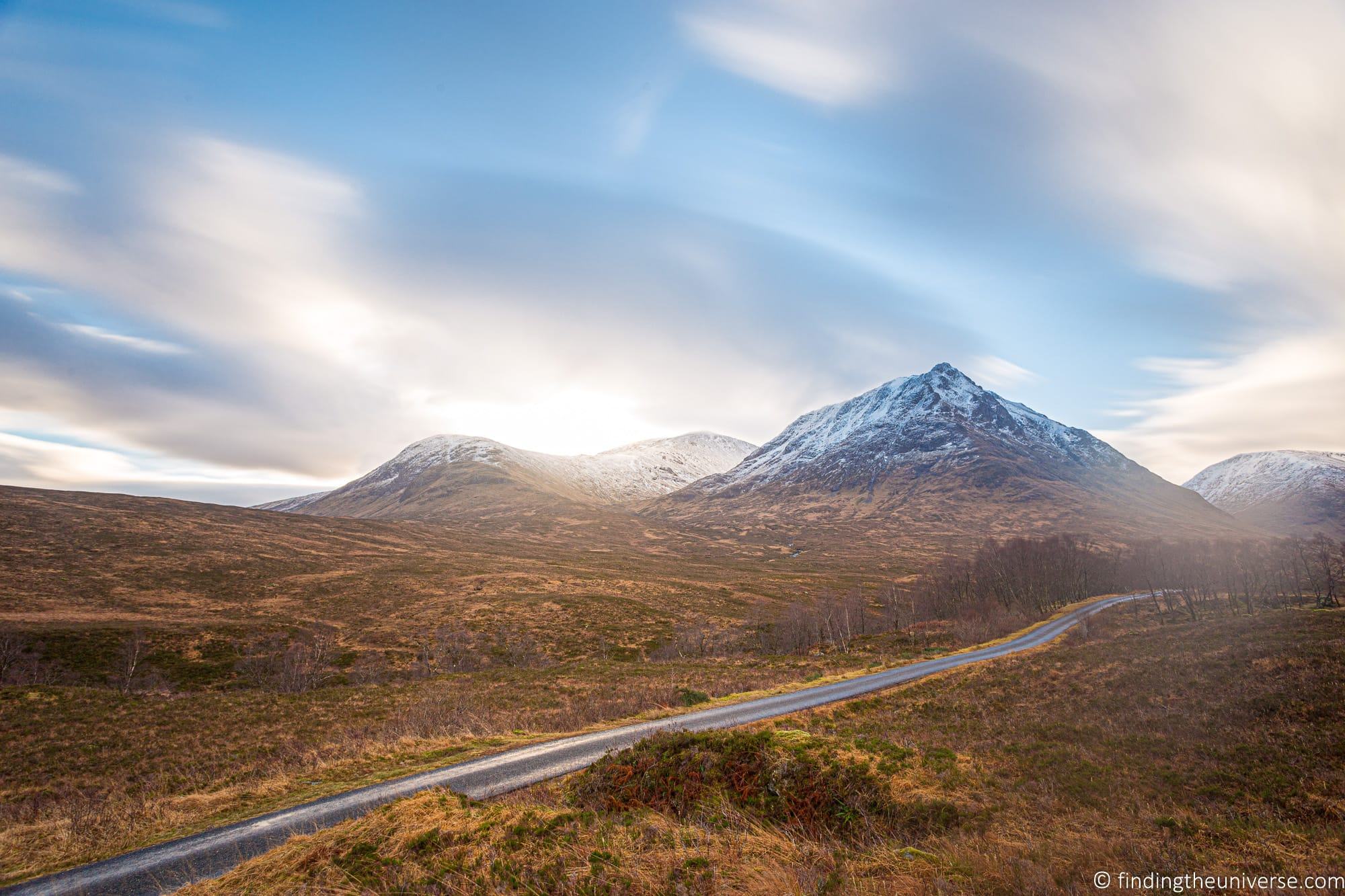 Look for Wildlife
Glen Coe is a National Nature Reserve, which means it's been recognised as containing habitats and species of national importance. Wildlife lovers will therefore enjoy the opportunities available in the Glen for spotting wildlife.
Species you might be lucky enough to spot range from the always impressive red deer through to mountain hares, ptarmigans, golden eagles, pine martens, and more! Birders in particular will enjoy what's on offer and I'd recommend bringing along a pair of binoculars.
The best place to see wildlife is to get away from the road and head off on some of the trails. The staff at the Visitor Centre are good people to ask for trail suggestions during your visit.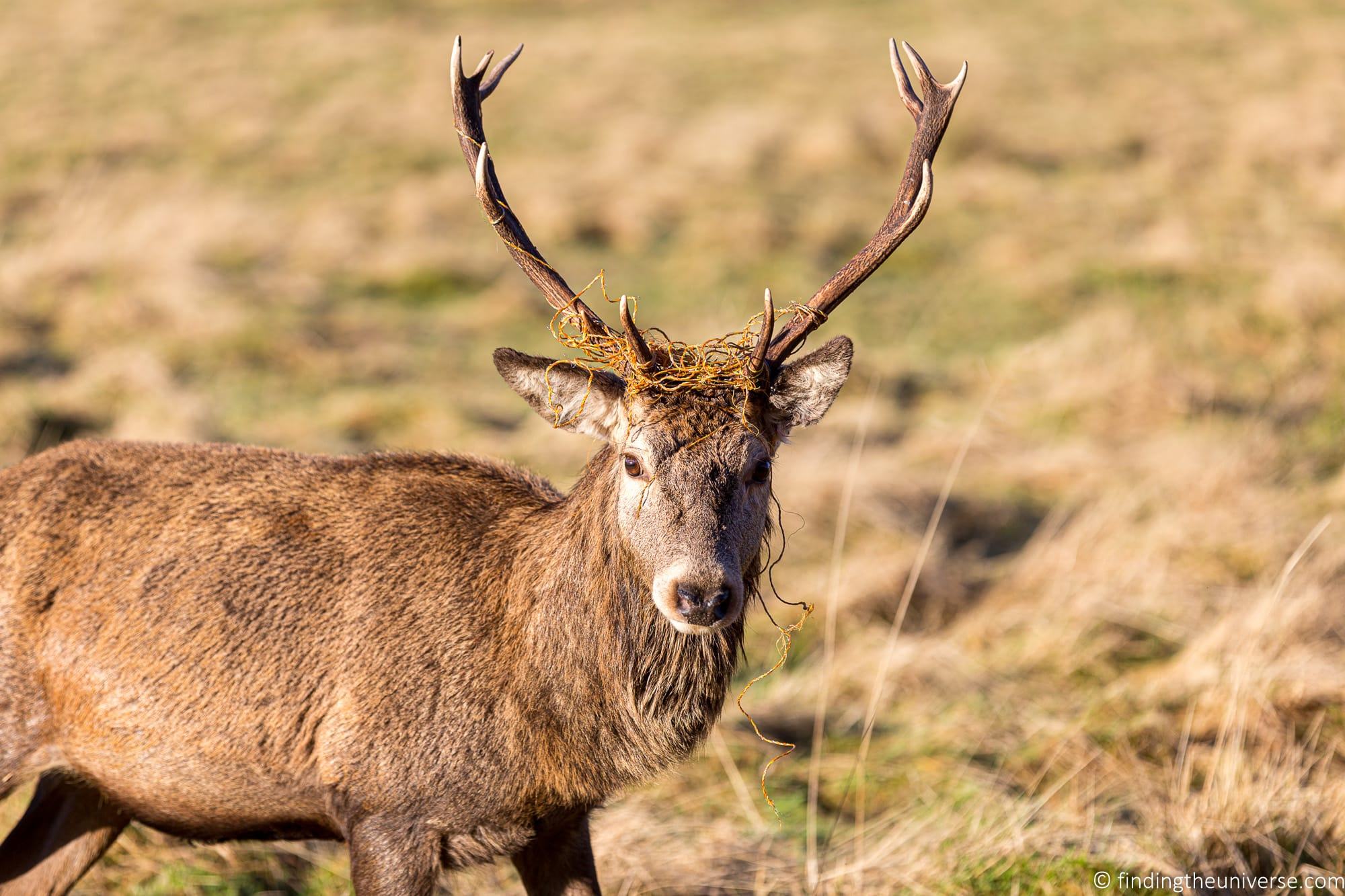 Go Cycling and Mountain Biking
Glen Coe is a popular area for downhill mountain biking, but it also has cycle routes that are appropriate for cyclists of all levels. So whether you're looking to throw yourself down the side of a mountain, or looking for something a bit more dialed back, you should find something to match your preferences.
One of the most popular cycling routes in the Glen Coe area is the Lochleven Circular Route (a 21 mile cycle route that circles Loch Leven). You might also consider biking a section of the The Caledonia Way, which is a 234-mile long distance cycle route.
If you want more focused mountain biking, then both Glencoe Mountain in Glen Coe itself and nearby Nevis Range offer dedicated downhill mountain biking routes with varying degrees of difficulty.
You can bring your own bike or hire one from a local bicycle rental shop.
Visit the Glencoe Folk Museum
If you want to learn more about the people who have called Glen Coe home over the centuries, then you will want to visit the Glencoe Folk Museum in Glencoe village.
Founded in the 1960s, the museum is primarily set in a pair of restored 18th century thatched cottages. It has a wide array of objects in display, from Jacobite relics to classic toys and domestic items, as well as memorabilia from the first and second world wars.
There is also a whole room dedicated to the massacre of Glencoe. This covers the events of the early morning hours of the 13th February 1692, when hundreds of members of the MacDonald clan were killed by government forces under the command of Robert Campbell.
The events were particularly shocking, as the perpetrators had spent the previous fortnight accepting the hospitality of the MacDonald's. Such a breach of highland hospitality sent shockwaves through the country.
The Glencoe Folk Museum is well worth a visit. There's a small fee to visit, and you can see prices and opening hours here.
Go Skiing at Glencoe Mountain
Yes – you can go skiing in Scotland! There are five ski resorts in Scotland, and one of those just happens to be in Glen Coe. The Glencoe Mountain ski centre is actually the oldest commercial ski resort in Scotland, and has been open since 1956.
Today, there are 20 runs which are serviced by 8 lifts. These range in difficulty from beginner runs to expert runs, and Glencoe boasts both the steepest and longest ski slopes in Scotland. It's also relatively easy to reach, as there's a bus stop at the ski centre, as well as a large on-site car park.
In addition to skiing, you can also enjoy snowboarding, sledging, and other winter activities here during the winter months.
There's even on-site accommodation at micro lodges, although you'll need to bring your own sleeping bag. If you are visiting Scotland in winter, then you might enjoy coming up to Glen Coe for a day or two of skiing.
If you're visiting outside the ski season, then Glencoe Mountain is still well worth visiting. Usually the chair lift runs in the summer, and there's a range of mountain biking, hiking and other outdoor activities available as well.
Finally, skiers planning on coming to this part of the world for skiing might also consider including the Glen Nevis resort. This is near Fort William, so only 30 minutes away, and combining the two resorts will give you some variety if you plan to spend a few days in the area.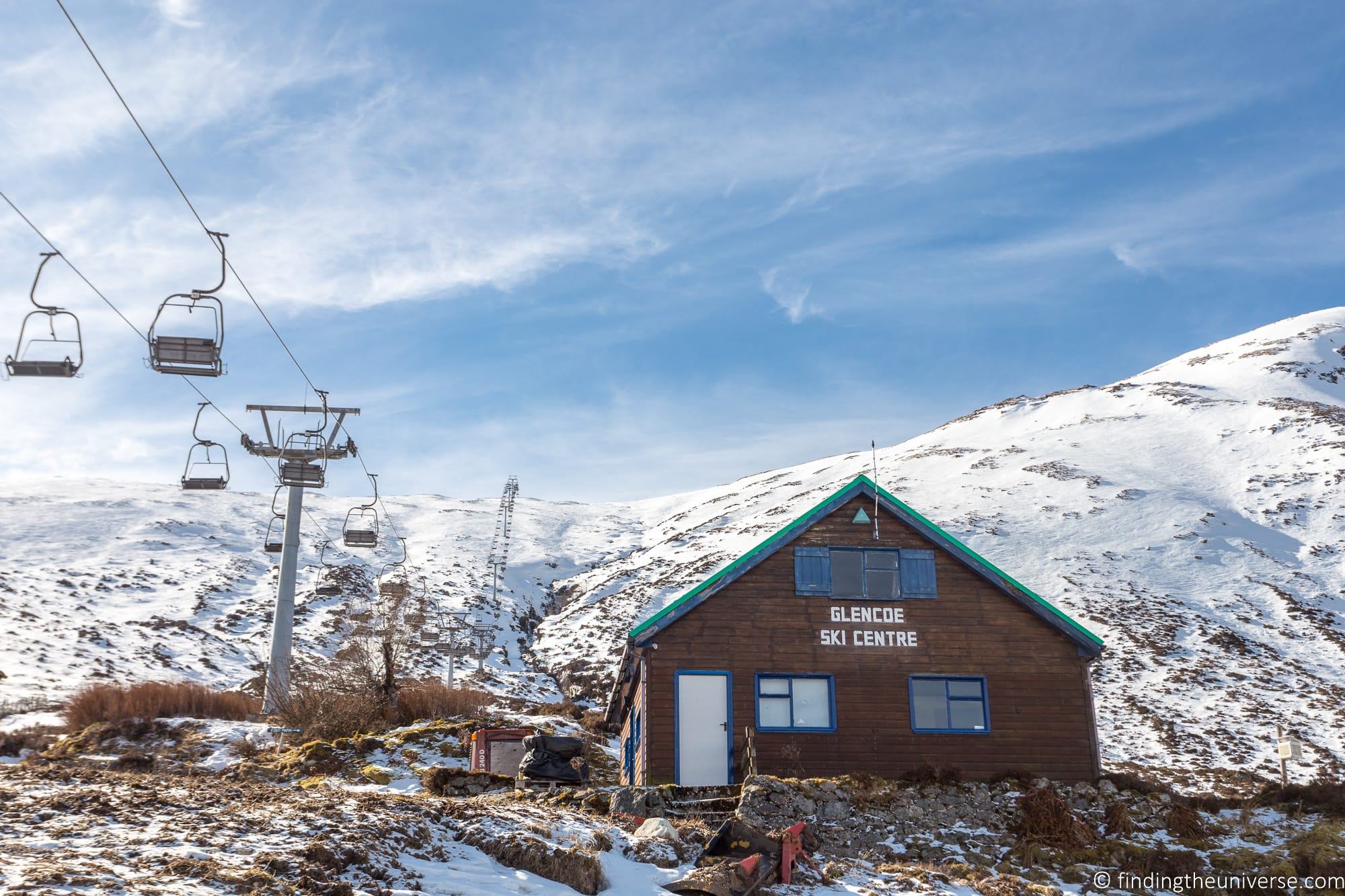 Find Film and TV Locations
The dramatic landscapes of Glen Coe mean that it has had a starring role in a range of films and TV shows. These have included the films Highlander and Rob Roy and the opening credits sequence of the television show Outlander.
Glen Coe is however perhaps best known for two film franchises – Harry Potter and James Bond.
In James Bond's Skyfall movie, the titular characters family home is found down the road which leads from Glen Coe to Glen Etive. This road is well worth driving as it is absolutely beautiful, although you'll want to read my guide to driving on single track roads if you're not familiar with them.
Another popular film series that extensively filmed in Glen Coe was of course the Harry Potter series. Multiple scenes were filmed in Glen Coe, including the location of Hagrid's Hut in Harry Potter and the Prisoner of Azkaban.
For more details on Harry Potter filming location in Glen Coe as well as elsewhere in Scotland, see our guide to Harry Potter filming locations in Scotland.
If you're interested in a tour, there are themed tours available for various TV and film locations which include Glencoe, such as this tour of Outlander filming locations from Edinburgh or this tour from Edinburgh of Harry Potter filming locations.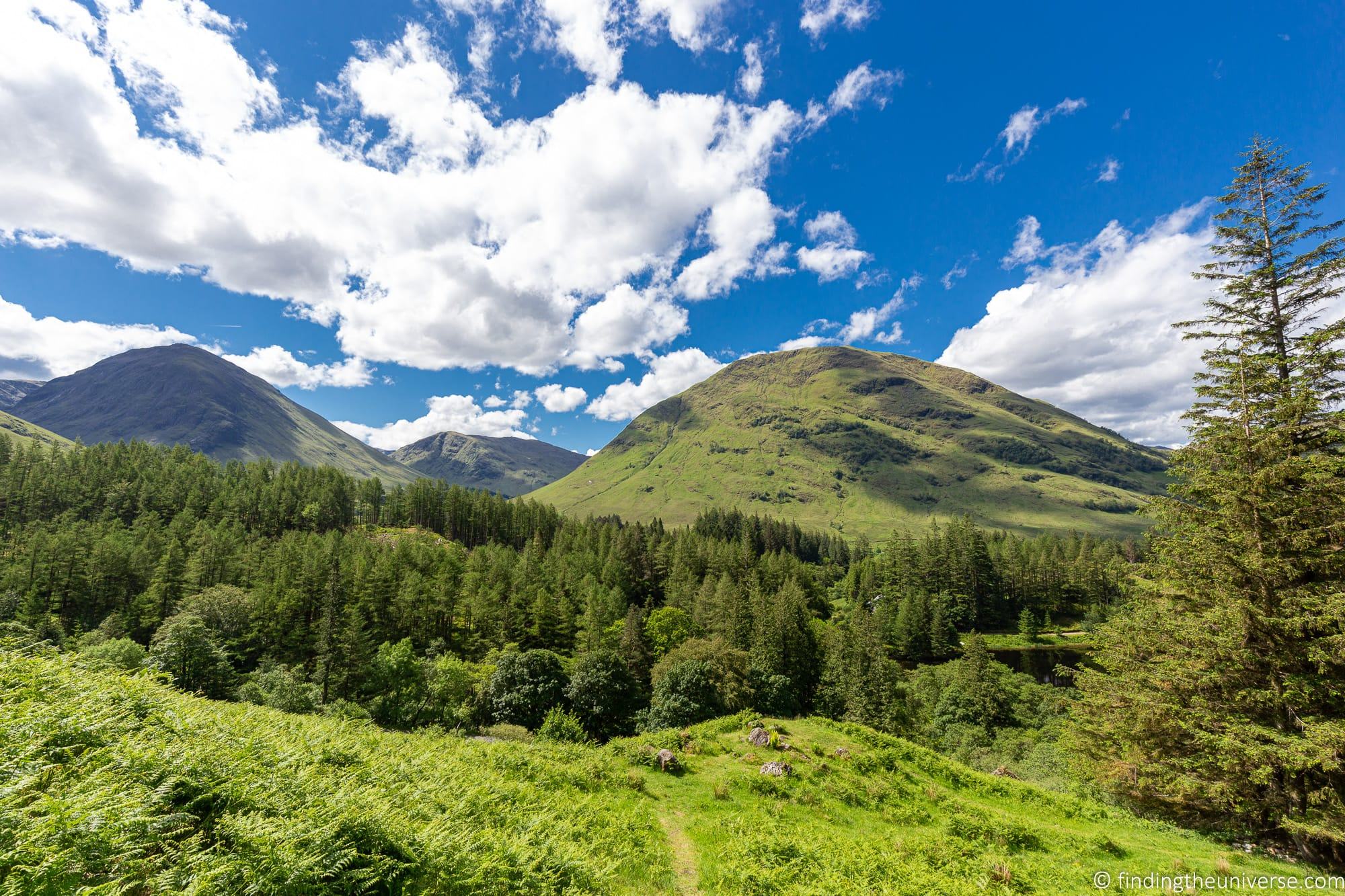 Go Ice Climbing
If you've ever wanted to try ice climbing, but weren't quite sure how, then you are in luck! Just near Glen Coe in Lochaber (7 miles from Glencoe village) is Ice Factor, the National Ice Climbing Centre.
The good news is that you don't need to visit in winter or have any previous climbing experience to have a go at ice climbing at Ice Factor. They have an indoor ice climbing wall, which is the largest in the world, where you can learn how to ice climb up to a height of 12 metres!
There's more than just ice climbing on offer here though. There are indoor rock climbing walls which are a great place to practice your rock climbing skills, and there's also an outdoor 250 metre long aerial adventure. The latter is ten metres high, and whilst I am proud to say I completed it, I must admit to being quite nervous about the whole thing!
I can definitely recommend the ice climbing experience, I had a lot of fun learning how to climb the ice even if I didn't quite make it the full 12 metres up!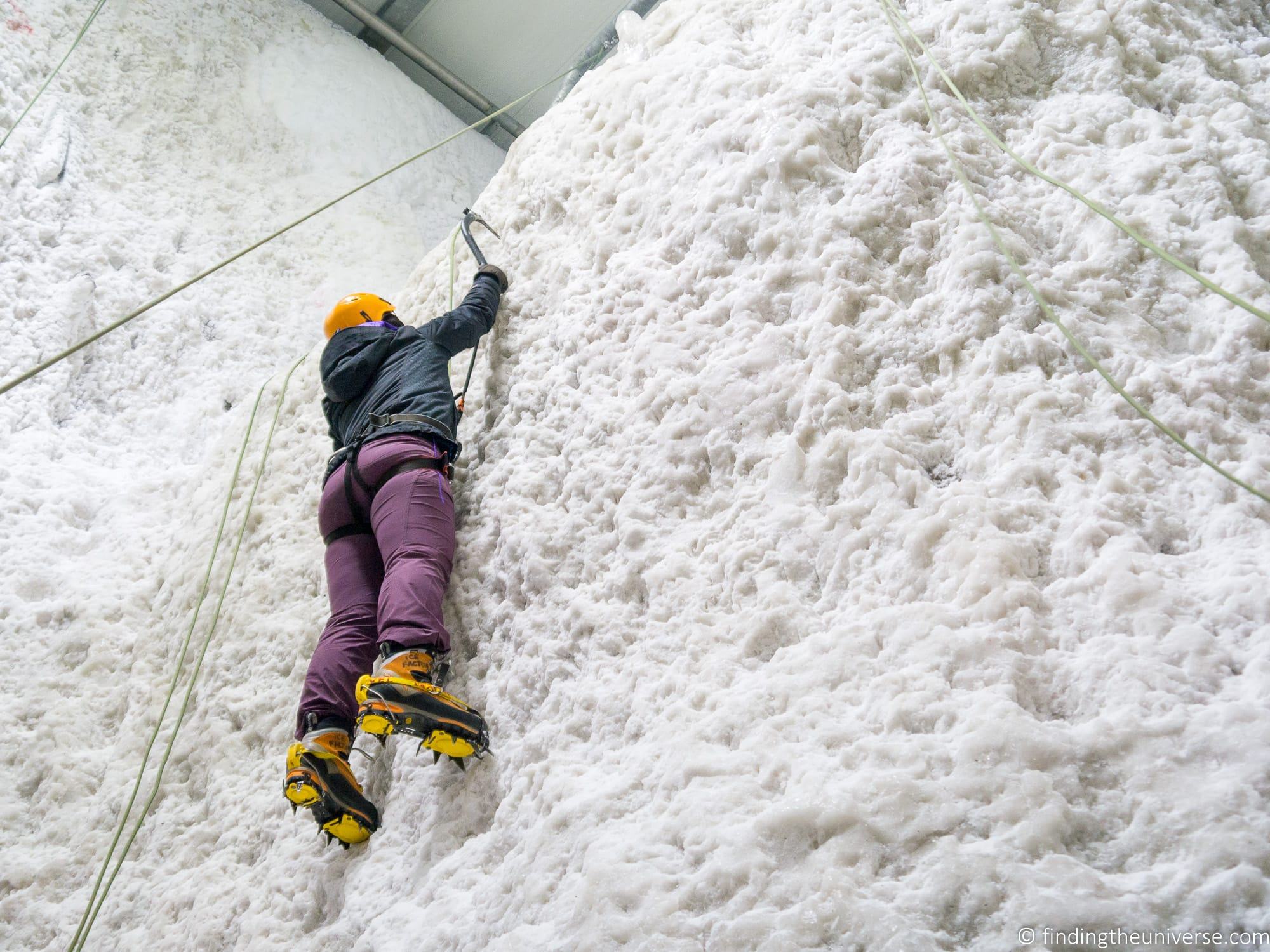 Visit Local Historical Sites
There are a number of local historical sites in Glen Coe that will be of interest to those looking to get a feel for the history of area.
The first of these is Signal Rock. Also known as the hill of the sun, this hill is believed to have been used as the gathering place for Clan MacDonald in times of emergency. Beacons would have been lit atop the hill, hence the name.
Signal Rock can be reached via a relatively easy walk of around 1.5 miles round trip, which shouldn't take more than 60-90 minutes for the averagely fit hiker. You can see a route map here.
Another site you can visit and pay your respects is the Glencoe Massacre Memorial. This commemorates the members of Clan MacDonald who lost their lives in the Glencoe Massacre. This is found a short walk from the Glencoe Folk Museum in Glencoe village. You can see the exact location on Google maps here.
On your way to the Glencoe Massacre memorial you'll also find the Glencoe War Memorial, which commemorates the residents of Glencoe who were killed or listed as missing in the two World Wars.
To learn more about the the history of the area and get advice on more historical attractions to visit in the area, we recommend visiting both the Glencoe Visitor Centre and the Glencoe Folk Museum mentioned earlier in the article. If you will be visiting Fort William, you might also want to stop at the West Highland Museum.
Waterfall Spotting
If you love waterfalls, there are quite a few nice to discover in Glen Coe. These are generally not huge, but they are certainly very picturesque. Some can be seen from the road, like the Meeting of Three Waters near the base of the Three Sisters.
Others you can discover with a bit of hike. One of my favourites is the waterfall with a backdrop of Buachaille Etive Mor. This is found here on Google Maps.
There are also larger waterfalls in the nearby area which aren't in Glen Coe itself. Grey Mare's Tail and Steall Falls are two large waterfalls that each require around a 90 minute round-trip hike to reach, but they are well worth the effort in my opinion.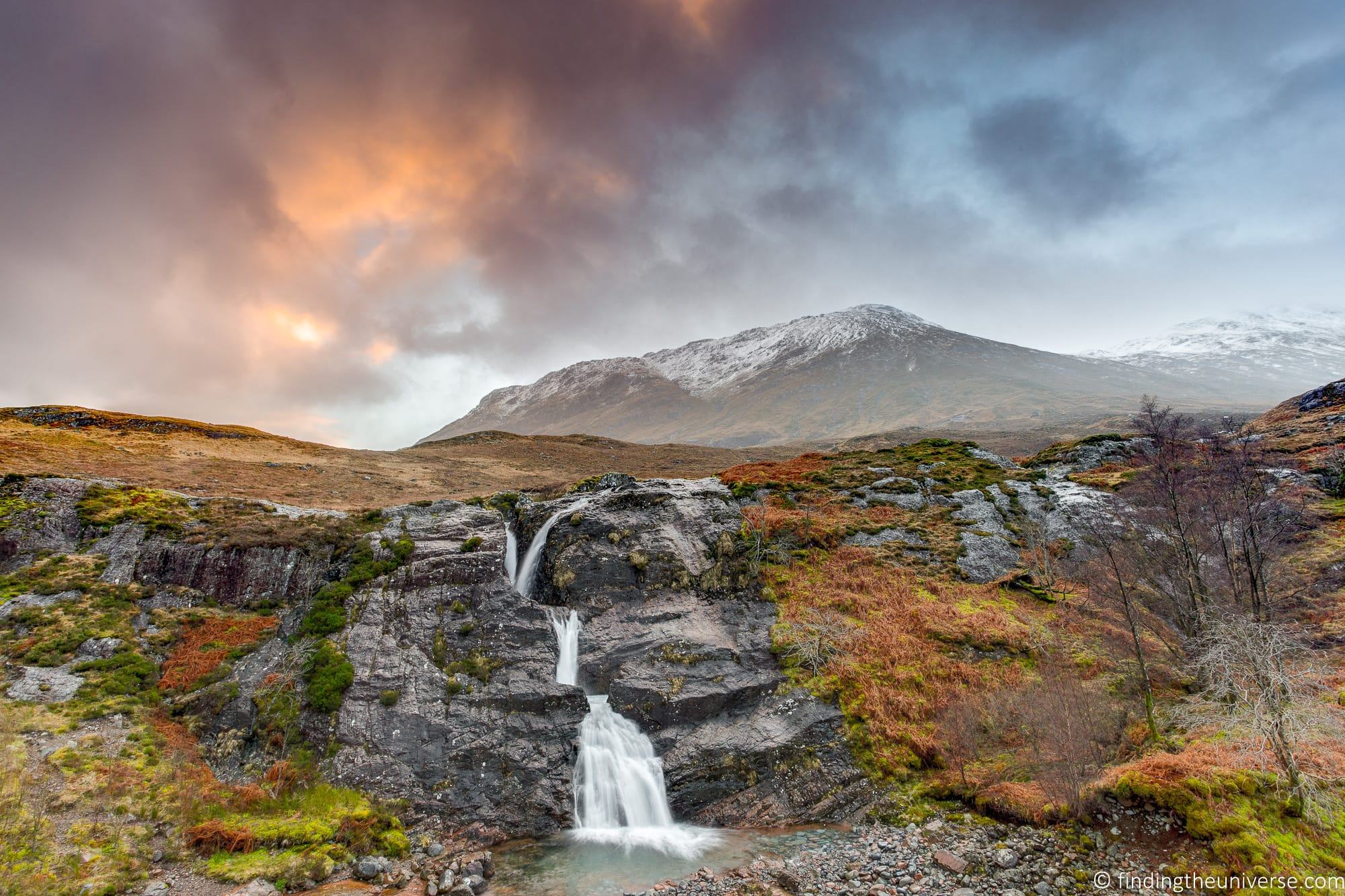 Play a Round of Golf
Whilst not strictly in Glen Coe itself, I wanted to include Woodlands Golf Course in my guide to visiting Glen Coe as it's so scenic.
Offering nine holes in Glenachulish, which is around 4 miles west of Glencoe Village, this is definitely one of the more picturesque golf courses in Scotland.
There's a fee for visiting, with your ticket allowing you play as many rounds in one day as you like. You can book your visit online here.
Go Canoeing or Kayaking on Loch Leven
The River Coe which flows through Glen Coe pours out into Loch Leven at Glencoe village. This sea loch is almost nine miles in length, and there are a number of islands within the Loch, one of which is the burial place of the MacDonald clan.
If you're interested in exploring the Loch, a great option is to take a kayaking trip with a company like this, which will let you experience the Loch from the water.
Attractions Near Glen Coe
If you have more time in the area, you might also want to explore nearby areas such as the town of Fort William, the Ben Nevis nature area, and Loch Lomond National Park. Here are some suggested sights you might consider visiting.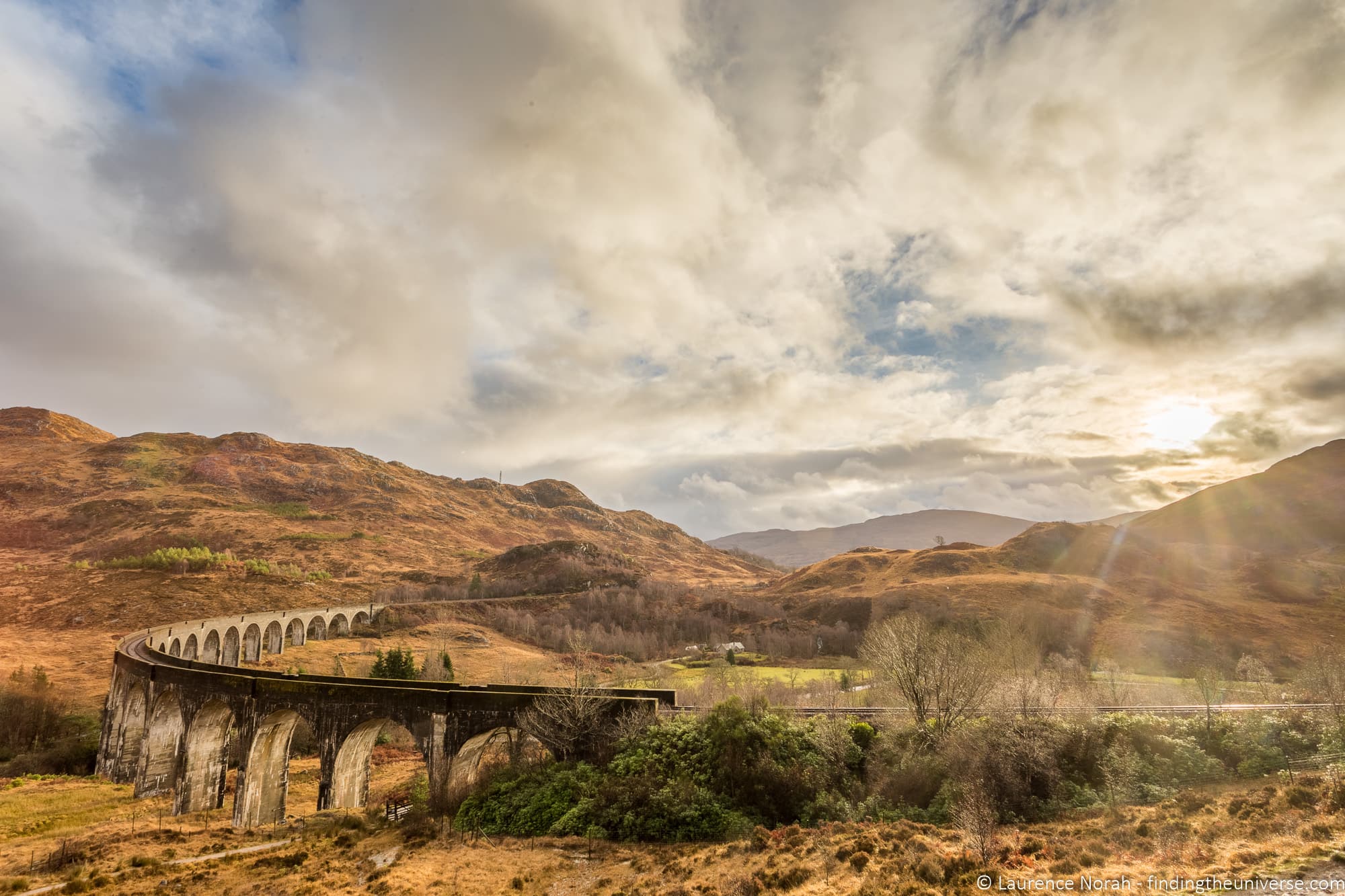 Tours of Glen Coe
One good option for experiencing Glen Coe is to take a tour which includes a stop here. There are a range of tour operators offering tours which include a stop at Glen Coe, with departures from locations around Scotland.
It's definitely important when booking a tour to check what it actually includes. For example, some tours will only include a couple of photo stops in the Glen, whilst others will be a more comprehensive experience. So do pick a tour that is right for what you want to experience.
Here are some suggested tours which include both day trips to Glen Coe and also some multi-day tours which stop in Glen Coe.
As you can see, there are lots of options to choose from, with both day trips to Glen Coe and multi-day tours available.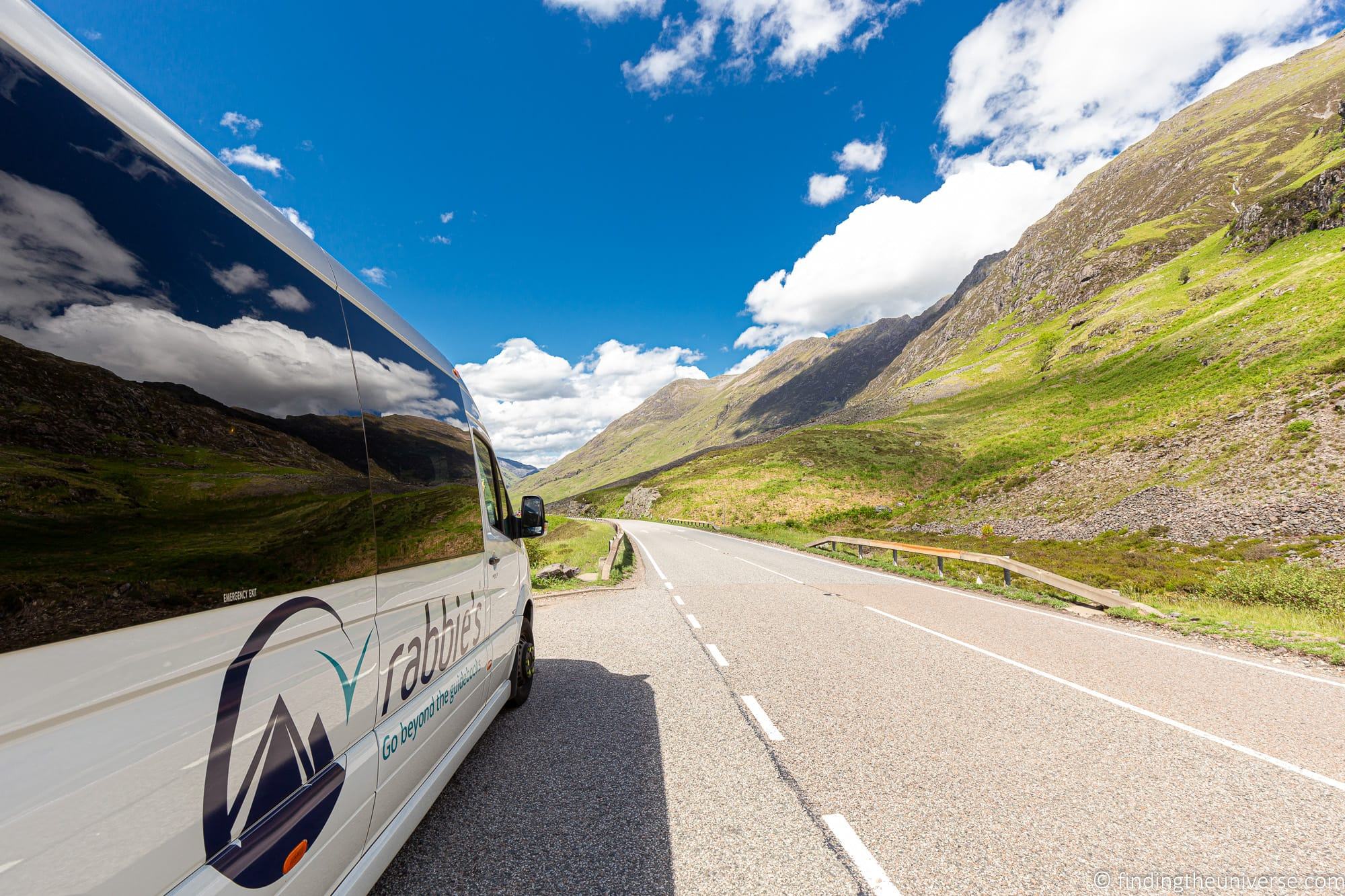 Further Reading
That's it for our guide to visiting Glen Coe in Scotland! To help you further plan your trip to Glen Coe and Scotland in general, we have a number of other posts which we think you will find helpful or inspirational.
And that's it for our guide to visiting Glen Coe in Scotland! Thanks for reading. As always, we're open to your feedback and any questions you might have on this or any of our other posts. Pop them in the comments section below, and we'll get back to you as soon as we can.