Did you know that not too far from Glasgow and Edinburgh in Scotland is a beautiful moss covered, 100ft deep gorge, through which flows an almost ruby coloured river?
This magic location, known both as Finnich Glen and the Devil's Pulpit (more on that soon), appeared in TV's Outlander (as the location for Liar's Spring), and also in the 2019 Detective Pikachu movie.
It's not well signposted, however, if you make the effort, it is a hugely rewarding spot for both photography and nature lovers.
So how do you find Finnich Glen, and the Devil's Pulpit which lies within? In this post I'm going to tell you everything you need to know to help you find the Devil's Pulpit in Finnich Glen, including where to park, how to get down into the gorge itself, photography gear to bring, and tips on taking pictures at Finnich Glen.
Let's get started with this new entry in my series of photography location guides, which also includes places like Northern Ireland's Dark Hedges, and Iceland's Crashed Plane.
How to Find the Devil's Pulpit, Finnich Glen
Why is it called the Devil's Pulpit?
The real name of the gorge is Finnich Glen. The Devil's Pulpit name comes from a rock formation that looks similar to that of a church pulpit – although presumably the red coloured water / sandstone seemed more satanic than saintly to early visitors.
The names Finnich Glen and Devil's Pulpit are often used interchangeably to describe the location though. The water isn't really red – it's the red sandstone of the gorge that gives it that look.
The way down to the glen is often called the Devil's Steps or Jacob's ladder depending on who you ask. So plenty of interesting names going on here!
Where is Finnich Glen / The Devil's Pulpit?
Finnich Glen / the Devil's Pulpit is about fifteen minutes' drive south from Loch Lomond, ninety minutes' drive west from Edinburgh and thirty minutes' drive north of Glasgow. Here's a map to help you find it in relation to those locations, which you can see on Google Maps, here.
How to Get to the Devil's Pulpit / Finnich Glen?
The easiest way to get to Finnich Glen is to drive. See the next section for information on where to park.
It is possible to take public transport to Finnich Glen, or at least, relatively close to it. First Scotland East operates the X10 service from Glasgow which stops in Killearn, just over 2 miles away.
However, bus services are not super regular, so you will want to check schedules in advance and have a reasonable itinerary in place before committing to this option.
Another option is to bus and cycle. There are a number of bus routes that pass within easy cycling distance of the Devil's Pulpit, so you could easily make a cycling trip of it.
Where do I Park for Finnich Glen?
If you're driving to Finnich Glen / the Devil's Pulpit, there is some parking nearby. However, as neither the glen nor the parking are signposted, you will want to read my instructions so you park in the best spot.
There used to be two locations where it was safe to park. However, the local council has now started to restrict parking in the area.
Currently the only parking available is the small parking area on the A809 next to the footpath just south of where the A809 crosses the glen itself.
Prior to 2020, you could also park a little further north at the junction with the B834, however this has been designated for emergency vehicle use only as of 2020, and commenters have reported that penalty notices are issued if you park here.
Here's a map that shows the current parking option highlighted in red and the approximate route of the footpath in blue.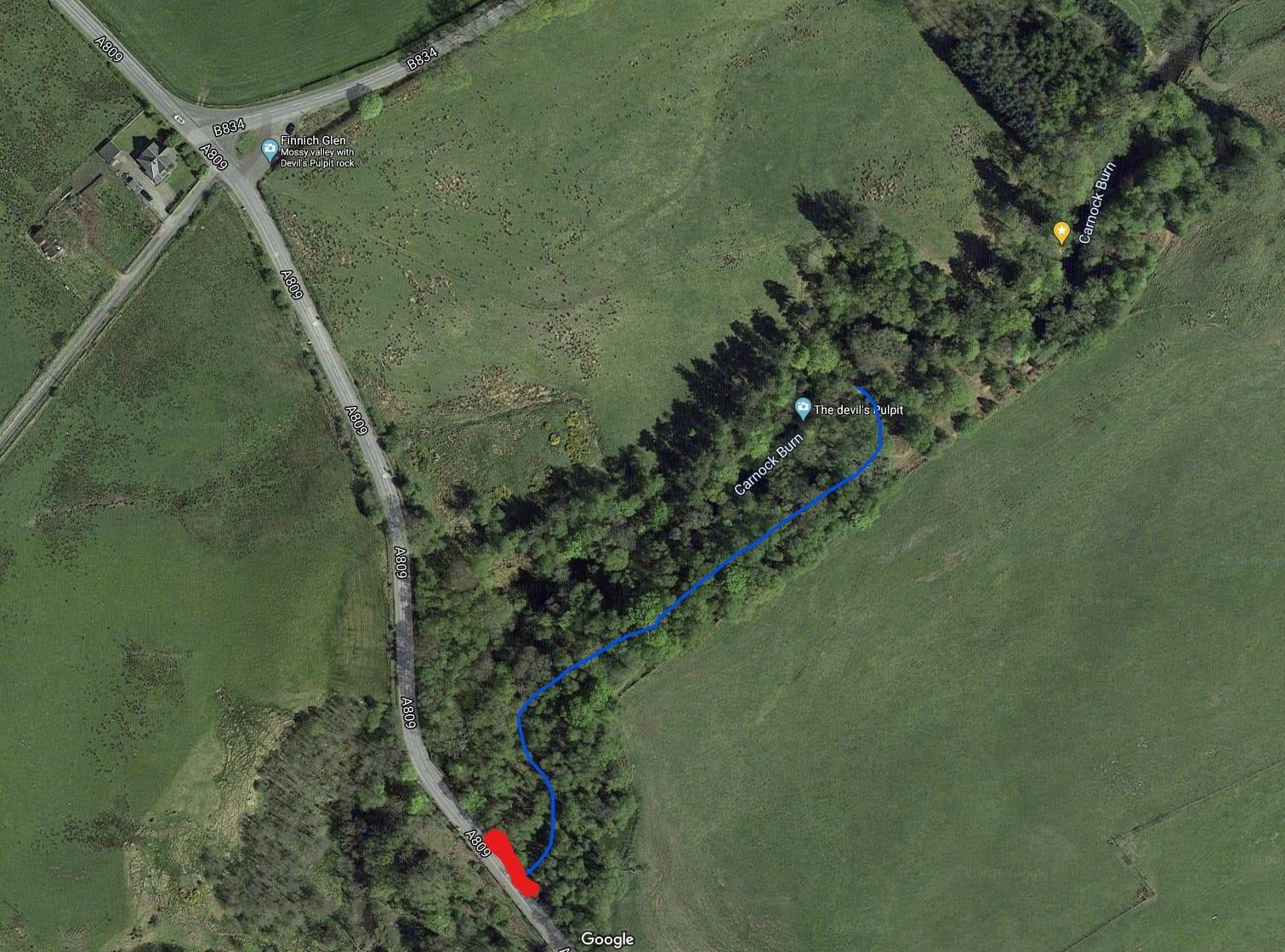 The parking by the footpath only has room for two or three cars.
Please be aware that the A809 is a main road with a lot of traffic, so do park considerately. Don't park in the actual road – only park off the road in the parking spots.
Unfortunately, as with many beauty spots around the world, Finnich Glen has become a victim of its own success, which has led to issues around too many visitors and not enough parking.
As of July 2020, the local council has painted clear double yellow lines on the roads surrounding Finnich Glenn in order to stop people from parking on the road, as this was causing a serious hazard to other road users. Fines are issued for non-compliance, and it is dangerous to park where you shouldn't, so please don't.
I have contacted the local council to ask what their plans are regarding safe parking in the area, but have not heard back. If you are concerned about the parking in the area, I recommend contacting them, which you can do here.
If there is no parking on site, there is a larger parking lot about three miles south along the A809 known as the Queen's View (see it on Google here). It is obviously much more of a walk from here, but there are lots of nice hiking trails in this area too so you could easily make a day of it.
My recommendation if you plan on visiting Finnich Glen is to visit early in the morning when there are likely to be less people around, or during the week when it will also be less busy.
The site is a lot busier over the summer months, especially at the weekend and over public holidays, and you will likely have a more pleasant experience if you visit outside of these times instead.
Also note that there are no on-site litter/trash facilities, so please be considerate of others and take your litter with you.
Important note – the parking situation at the Devil's Pulpit can change, so please read all posted notices, follow the laws of the road, and only park where it is legal and safe to do so.
How do I actually get down to the Devil's Pulpit?
Once you've found parking, there's a little gate you can get through to the footpath (in blue on the map above), and then a path to follow which winds along the gorge. When we visited the gate was open, but there was a small fence across the path I had to step over.
Note that various reports from different articles on the web show that the gate from the road to the footpath can sometimes be locked, in which case you might have to climb the wall to get to the start of the footpath. It's a pretty low wall, so not too much of a challenge.
Once you have found the footpath, it follows the south side of the gorge through the forest. It's pretty easy to follow, but do be careful as there's no fence and the drop down to the gorge is quite far. You need to walk around five to ten minutes, and you will come to the stone steps of "Jacob's Ladder".
Jacob's Ladder is an ancient stone staircase which runs down to the gorge below. It's very steep and in very poor condition, but is pretty much the only way to get down to the gorge without climbing gear.
As you can see in the photo, there were ropes you could use to help yourself as you go down and up. These are not regularly maintained, so there may or may not be ropes when you visit. As of May 2022 there were some ropes to assist in the descent and ascent, but these should be treated with caution of course.
Either way, this is a steep staircase and it can be very muddy and slippery, so you will want to take your time and be careful.
Once you reach the bottom, my suggestion would be to turn left and head westwards along the gorge to the waterfalls, which are the most photogenic part of the route.
Do I need any special gear to get to the Devil's Pulpit?
You don't need climbing equipment; however, good, waterproof walking boots would definitely be advised. The gorge itself doesn't have any paths once you are inside it.
Personally, I took off my boots and waded through the water, but you might prefer to take wellington boots or hip waders if you don't want to get wet.
Is it Dangerous to Visit the Devil's Pulpit in Finnich Glen?
There are a few things to be aware of when visiting the Devil's Pulpit. Firstly, the gorge walls are very steep, and there are no fences. So don't go too close to the edge when you're walking above the gorge itself as it is a steep drop down.
The path down to the gorge floor, the aforementioned "Jacob's Ladder", is in a fairly perilous condition. If you have mobility difficulties or a serious fear of heights this might be too hard.
When you're in the gorge, be aware that rocks or tree branches may become loose and fall into the gorge, particularly around times of rainfall.
Finally, do be aware that the waters can rise rapidly at times of rainfall, so do be very careful when visiting as it can become dangerous very quickly. So only venture as far as you are confident with, and heed the signs of danger such as the water level changing, or rainfall.
Overall, a trip to the Devil's Pulpit can certainly be done safely, but as with any outdoor location you do need to be careful.
What Photography Gear do I need?
From a photography gear perspective, you will need as wide a lens as possible in order to capture the whole gorge. I used a 17-40mm lens on a full frame camera. On a crop sensor camera, you'd want something like a 10-16mm lens. Basically, the wider the better. Take a look at what camera gear we use for an idea of what you might want to bring, as well as our guide to choosing the best travel camera for you.
As there's water down here which moves over waterfalls, you might also want a Neutral Density Filter. Something between a 6 and 10 stop should do. Read my article on Neutral density filters to help understand what they do and why you might want them for your photography.
To cut reflections in the water and make the red rocks underneath them more obvious, also consider using a polarising filter.
Finally, you're definitely going to want a tripod for your visit down to the glen. Those steep and narrow gorge walls don't let a lot of light in, so even without a neutral density filter you're not going to get a lot of light to shoot with.
It's also a very high contrast scene, with dark scenery around the water and walls, and bright areas in the sky, meaning you might want to bracket your photos and exposure blend them. Two definite reasons you need a tripod (if you're interested, I have a whole pile more reasons you need a tripod for your photography!).
I use and love the Vanguard range of tripods, and I've been an ambassador for them for a few years now. For this shoot I used their VEO range, which is a series of lightweight travel tripods. Definitely check them out if you're in the market for a new tripod.
Any tips for taking pictures at the Devil's Pulpit?
My suggestion would be to wade / walk upstream from the ladder along the gorge until you come to a couple of small waterfalls, which are very photogenic. Shoot as wide as possible, and try to get the feeling of those steep walls into your shot, and the contrast of the red water and green moss.
I'd also suggest checking out what the river has brought that can aid in your composition. A well placed dead log can make for a great bit of foreground. If that doesn't work, try adding in a human subject, ideally in a brightly coloured clothing, to balance the shot and give some depth and scale.
Tips for What to Do Near the Devil's Pulpit / Finnich Glen
The Devil's Pulpit is very close to Loch Lomond and the Trossachs National Park, and can also be easily reached from both Glasgow and Edinburgh. Whilst the gorge itself it's a stunning location, there's not much to do here beyond the short walk, so we'd recommend planning in some sight-seeing in the area.
At the top of your list should be a visit to Loch Lomond and the Trossachs National Park. This has all kinds of attractions, including vintage steamboat rides, hiking routes, cycling and even more excellent photography stops. Read our advice on the top things to do in Loch Lomond here.
Loch Lomond and region makes for the perfect day trip or overnight stop from Glasgow. Take a look at our guide to spending two days exploring Glasgow and Loch Lomond for ideas on how to fill those two days.
Where to Stay When Visiting the Devil's Pulpit / Finnich Glen
If you would like to spend a bit of time in this beautiful area, perhaps to further explore the beautiful Loch Lomond & the Trossachs region, then you might want to stay a night or two in the area.
The Devil's Pulpit itself doesn't have any accommodation on site as it is a rural attraction, however there are a number of lodging options nearby.
The closest accommodation is Finnich Cottages, a highly rated self-catering property. However this does have a minimum length of stay that varies between 3 and 7 nights, depending on the time of year.
A little further away is the small town of Drymen which has a number of accommodation options. In particular, the Shandon Farmhouse Bed and Breakfast is very highly rated.
Of course, there are many more lodging opportunities in the Loch Lomond region, as well as in Glasgow. Finnich Glen is also perfectly do-able as an easy day trip from Edinburgh, which has a wide range of accommodation options too.
Further Reading
And that summarises this guide to this epic photography location in Scotland! Before I leave you though, here are a few more resources related to photography, Scotland and the wider UK that you might find useful.
Since you're in Scotland already for this location guide, check out some of our Scotland content, including:
We also have content on the wider UK, including:
I have a series of detailed photography location guides, to help you find the perfect shot in locations around the world
I also have a number of articles dedicated to helping you improve your photography, including how to pick the best camera for travel, tips for cold weather photography and reasons you need a tripod for your photography
Finally, if you're interested in improving your photography, take a look at my online travel photography course, which has everything you need to know to start taking awesome travel photos, from picking a camera, to mastering the settings, to editing – and more!
Hopefully you found this guide to finding the Devil's Pulpit in Finnich Glen useful! As always, if you have any feedback, comments or suggestions, do pop them in the comments below. This is especially the case if you visit and find any of my advice to be incorrect, I would love to correct it and make sure it is right.