One of my favourite things about London is how it's basically a large collection of villages that have all grown together to become a big city. Taken as a city, it can seem overwhelming, but once you start to treat each area as it's own place to visit, you'll find it a lot more manageable.
On a recent trip to London, our accommodation happened to be in the Earl's Court part of the city, south-east from the centre. This was just a short walk (or even shorter tube ride!) up to Kensington, an area famous for shopping and a multitude of other activities.
We did our best to do as much as possible during our time there, and came up with the following ideas to help you to spend anywhere from a few hours to multiple days exploring Kensington.
Things to Do in Kensington London
Here's our guide to some of our favourite things to do in Kensington, which covers a number of museums, palaces and other attractions. As you'll see, there's a lot to do in this part of London, much of which is also free!
1. The Natural History Museum
Ok, there are a lot of museums in Kensington, so brace yourself. The three I've chosen are three of London's finest museums though, so if museums are your thing, you're going to have a ball. You're also going to run out of time, because all these museums can easily soak up a day or more of your time.
First up is the magnificent Natural History Museum, which is worth looking at from the outside even if you don't go into the building itself. I mean, look at it.
You'd be doing yourself a disservice if you don't go in though. From the mighty dinosaur skeleton who greets you at the main entrance, to the giant life-sized suspended blue whale in the marine area, through to the "escalator through the earth", there is loads to see and do. Those three things just mentioned were my favourites, but there's lots more.
One thing – the museum isn't exactly cutting edge any more, so if you are used to fancy interactive displays and holographic shizz, you probably won't find too much of that here. It's a museum from a slightly older time, but don't let that put you off.
Plus it's free. Hurrah.
2. The Science Museum
Conveniently next door to the Natural History Museum, and conveniently also free (who said London was expensive!), is the fantastic Science Museum. I remember visiting in the eighties as a child and being wowed by all the interactive exhibits.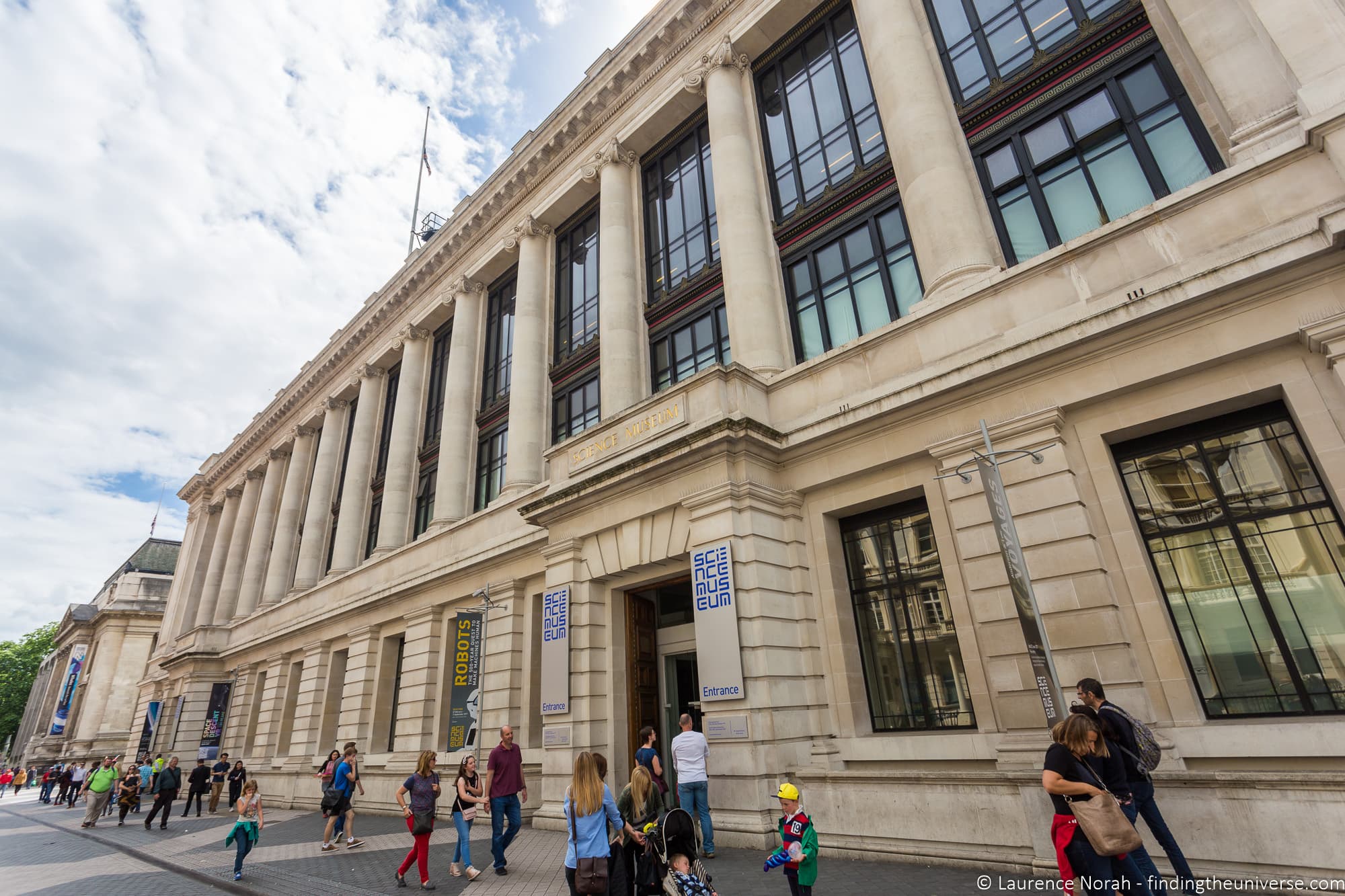 On our more recent visit, I was pleased to find that my happy memories of the Science Museum had translated well into modern times. The museum has exhibits on pretty much everything you can think of relating to science, from the Victorian steam age through to space exploration – basically whatever you are interested in, you should find something to inform, inspire and entertain.
There are loads of hands on exhibits too, making this a great family day out, and as mentioned, entry is free (with the exception of any special exhibits).
3. The V&A Museum
The V&A Museum, or the Victoria and Albert Museum to give it its full title, was a new addition to my "museums I've visited in London" list. For some reason, despite having lived in the capital for a number of years, the V&A Museum had somehow never had a look in.
Which, it turns out, was a terrible shame because damn, this is an awesome museum. Stuffed full of all sorts of treasures, from Roman and Greek artefacts (the giant pillars are a particular highlight), through to more modern collections, this is the perfect museum to round out the museum trilogy of Nature, Science, and Culture.
It's also free. Seriously London, your free museums rock.
4. Shopping in Harrods
Yeah, I can't really afford to actually *buy* anything in Harrods. But that doesn't mean I don't enjoy wandering around this exquisite department store and wondering what life would be like with my very own monogrammed luggage set from Globetrotter.
Or how much more I might enjoy Backgammon on a hand stitched artisan backgammon board.
Or how much I might enjoy the tea that is sold in the tea shop, poured in loose leaf form from giant urns, to pretty much any amount that you might want.
Ok, so it turns out I can afford something in Harrods. Tea. Terribly British of us, I know, but if you are looking for an excellent souvenir at a reasonable price, a bag of tea from Harrods is a good place to start.
5. Afternoon Tea at The Berkeley
Speaking of tea, all those museums and shopping have likely weakened your spirit, and the best way to revive them is no doubt with an afternoon tea experience.
I'm not going to lie, never in my life prior to this experience had I had afternoon tea. It's probably the sort of thing that gets your British Passport taken off you, so this visit to London with Jess seemed the perfect opportunity to get my afternoon tea experience on. Which I did, twice.
The first was at The Berkeley Hotel, and to be honest, it was not the most traditional of afternoon tea experiences. But it was a damn good one, so I'll let it slide.
Rather than a traditional afternoon tea featuring scones and cakes and, well, the sort of things you would imagine of an afternoon tea, the Berkeley offer a rather different experience. Their afternoon tea is fashion themed, with all the tasty pastries and cakes being modelled after recent fashion lines by top designers.
I'm not really a fashion expert (probably not a huge surprise), but thankfully the many cakes and pastries came with a little card which explained what was going on, and what each was meant to represent.
It was all a great deal of fun, made even more so by the fact that we had the posh version of afternoon tea, which meant starting with champagne. And who can argue with afternoon tea that starts with champagne? Certainly not me. Read a full review of our afternoon tea experience at the Berkeley, here.
6. Kensington Gardens
One of my favourite things about London are its huge amount of green spaces. I spent a great deal of time in Hyde and Regent's Park when I was living in London, finding myself a small corner to hide away from city life for a while.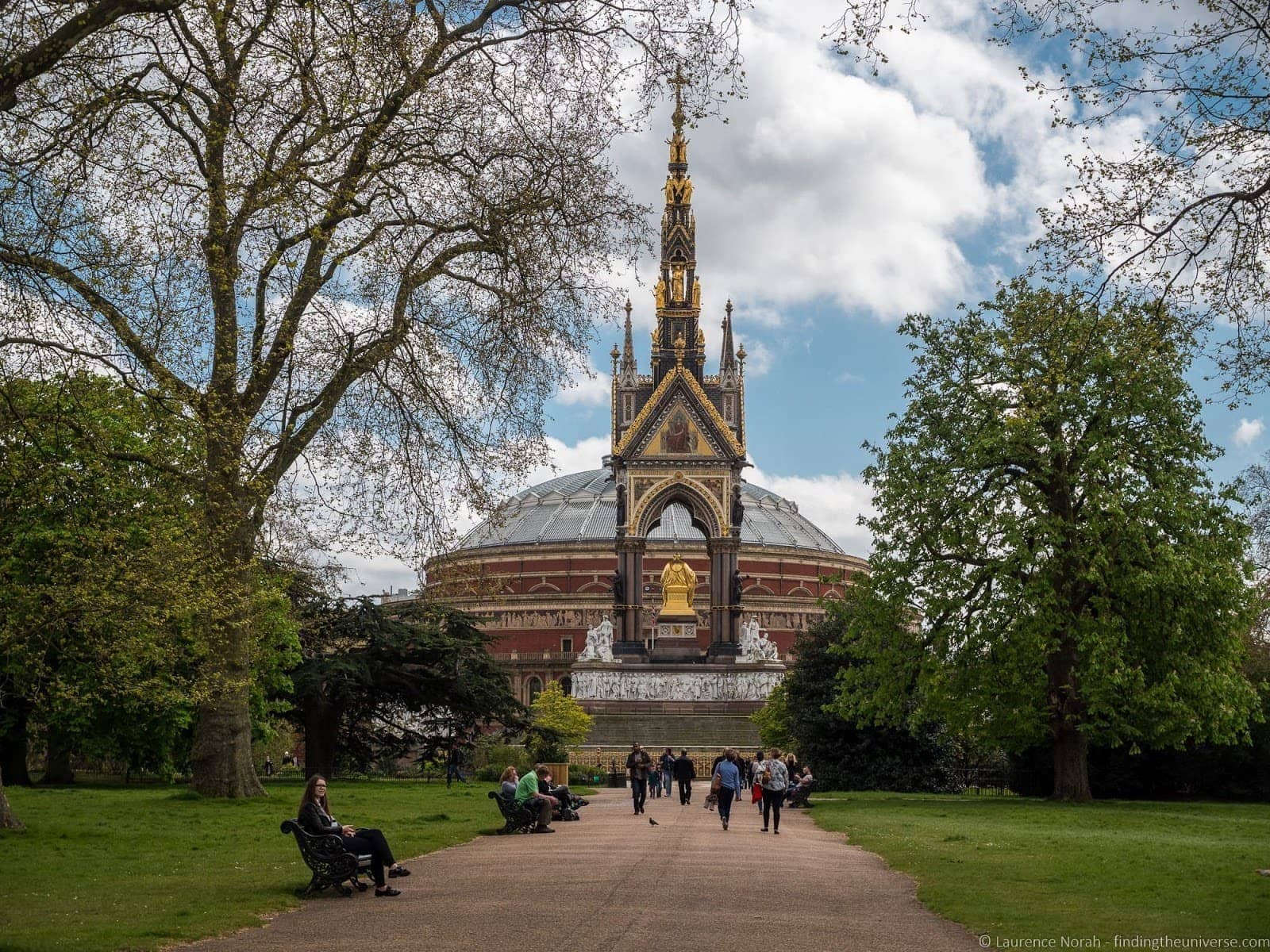 If all of the above has you craving an escape from the hustle and bustle of the city streets, than take a bit of time to head into Kensington Gardens, one of eight Royal Parks in the city, which covers 242 acres.
There are a number of things to enjoy in the gardens, including a statue of Peter Pan and the Albert Memorial. A couple of other notable highlights are:
The Serpentine Galleries
Lovers of museums and art certainly have no shortage of choice in Kensington. For those of you interested in modern and contemporary art in particular, we recommend a visit to the Serpentine Galleries in Kensington Gardens.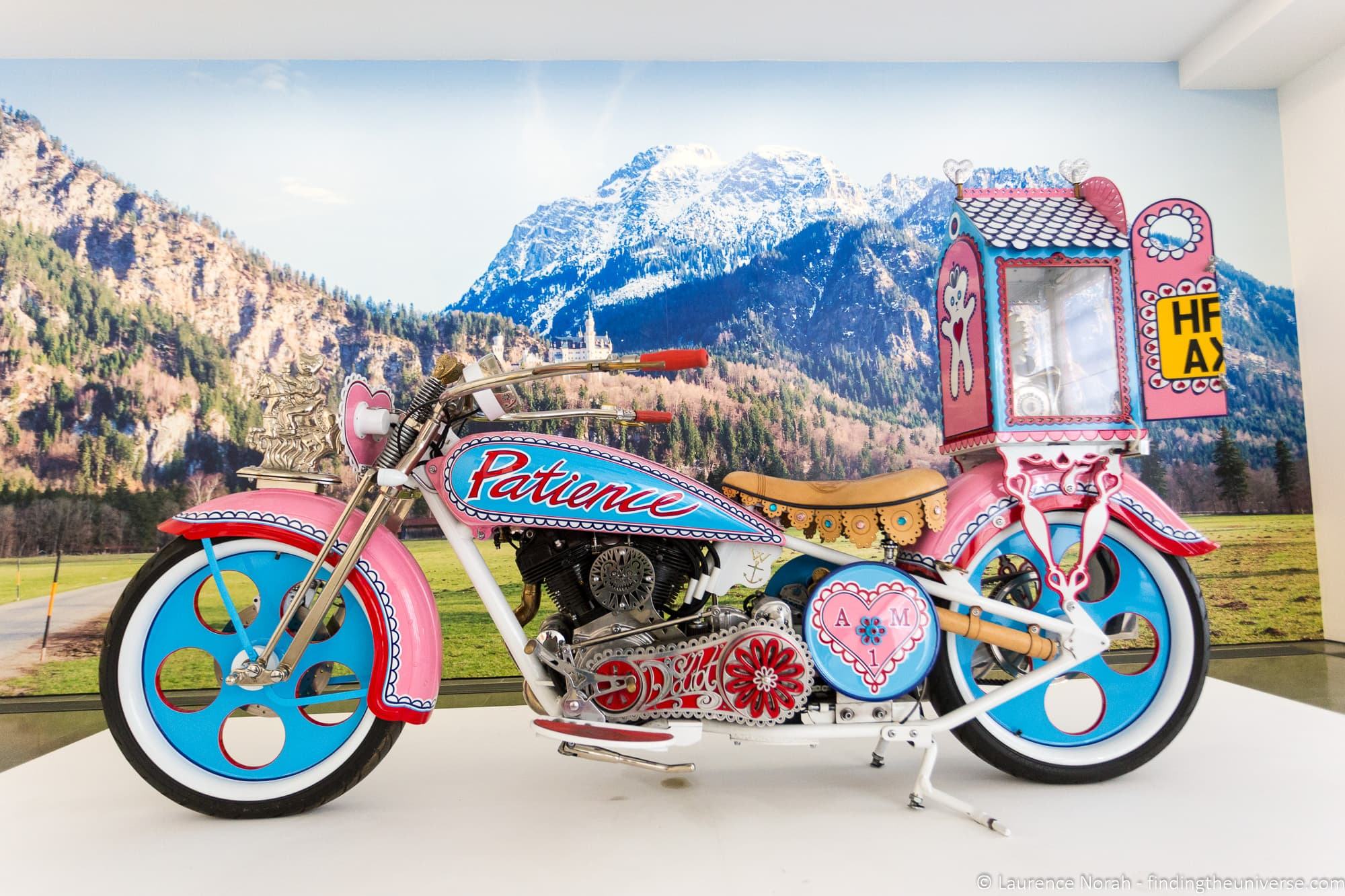 There are actually two museums here, the Serpentine Gallery and the Serpentine Sackler Gallery. These are a five minute walk apart, and both are worth a visit. They're also both free.
The Diana Memorial Fountain
A short walk from the Serpentine Galleries is the Diana Memorial Fountain, which is technically in Hyde Park, but we're not going to split hairs.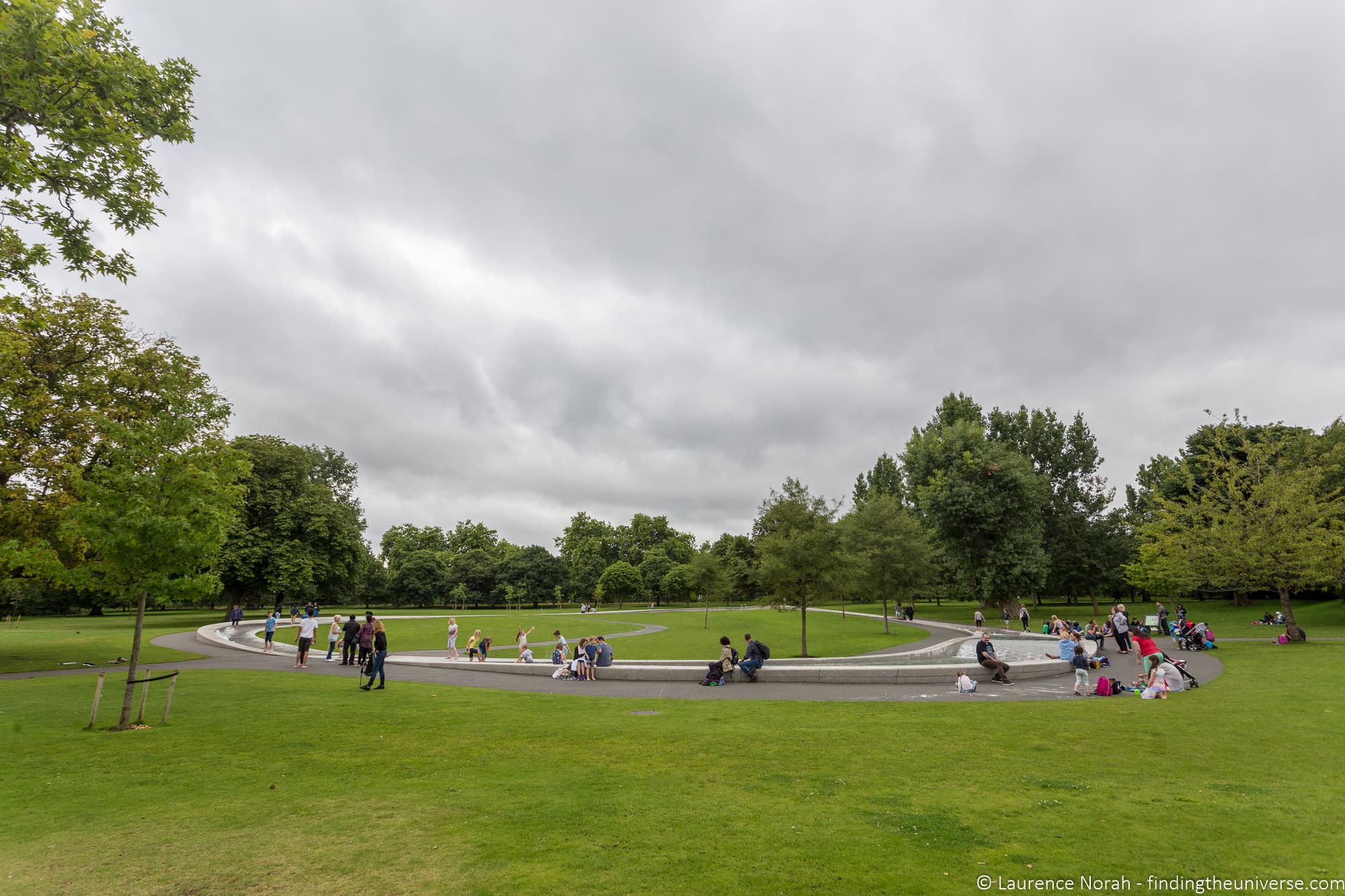 This fountain was opened in memory of Diana, Princess of Wales, who was the wife of Prince Charles, and mother to Prince's Harry and William, all three of whom are in line to the British throne. Diana died in 1997, with work on the fountain starting in 2001.
The fountain opened in 2004, and is designed to be an interactive piece, with visitors allowed to wade through the waters. If you choose to do this, do be careful, as surfaces can of course be slippery.
7. Visit Kensington Palace
The official residence of the Duke and Duchess of Cambridge (that's William and Kate), you can actually visit this Royal residence, including wandering around various Royal State apartments and the gardens.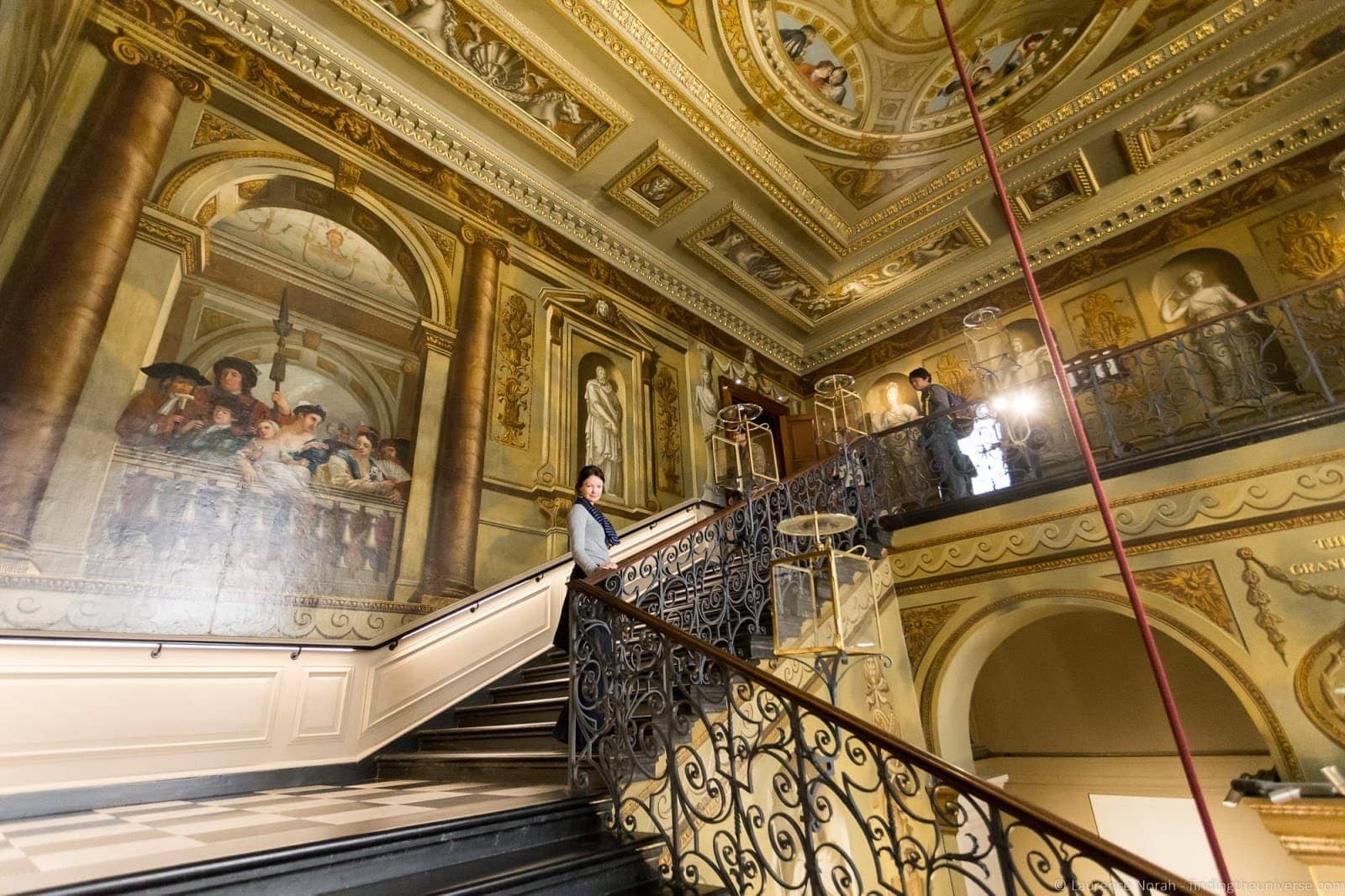 I wouldn't expect to actually bump into any Royalty when visiting, but this is where William, Kate and Harry do actually live, so there is always hope that you might find an errant Royal wandering the public areas. Keep your fingers crossed for that one.
Kensington Palace tickets can be booked in advance here, or you can use a London Pass, which includes entry to the Palace. See more about the London Pass in our full London Pass review here.
8. Visit the Royal Albert Hall
One of London's most impressive and well known performance venues is the Royal Albert Hall, a Victorian era performance house that plays hosts to everything from classical music concerts to tennis matches to film premieres – and more!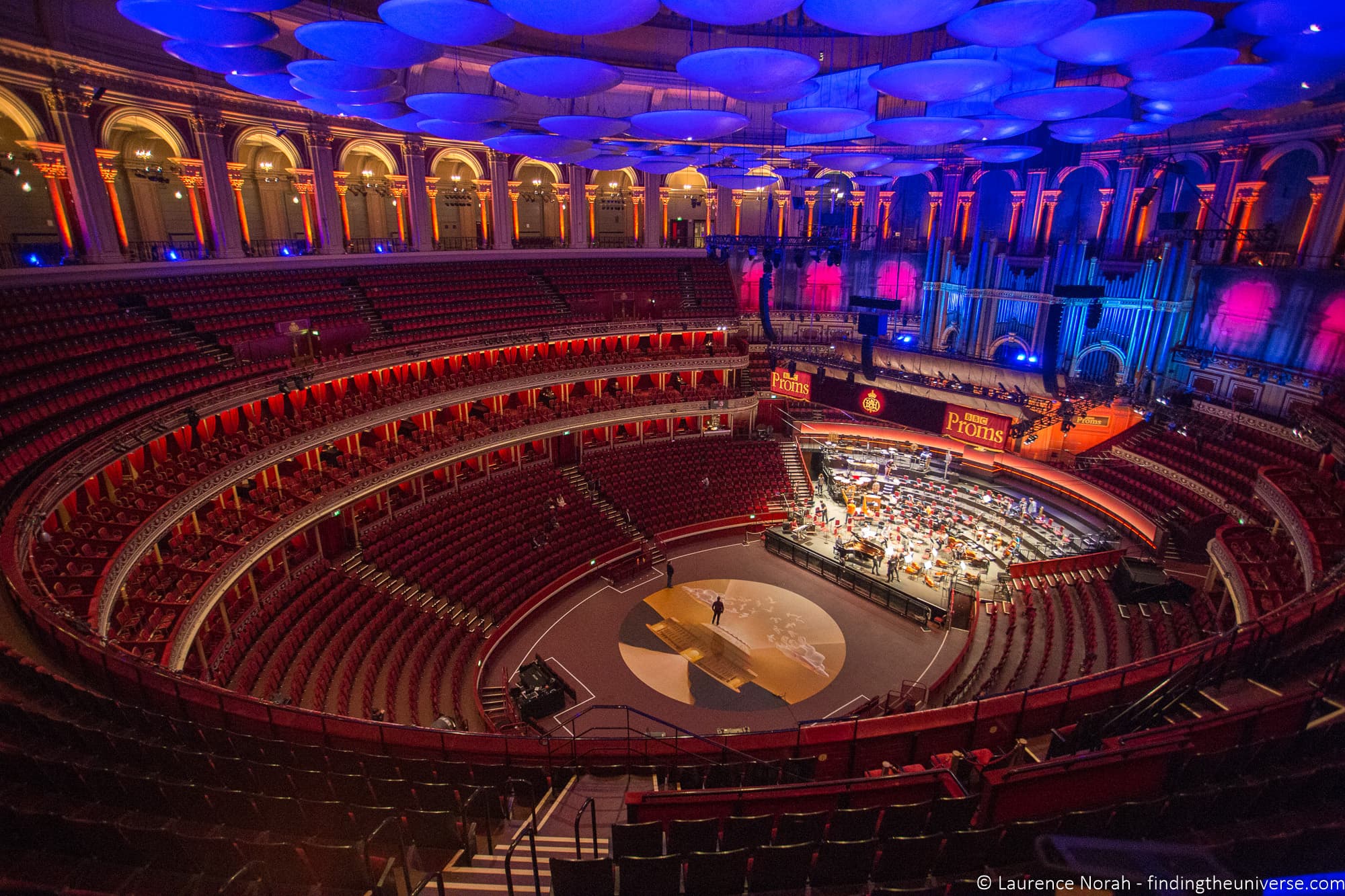 This magnificent building is named in memory of Prince Albert, the husband of Queen Victoria, who died 6 years prior to it being built.
As well as visiting for a performance, you can also take an hour long tour of the Royal Albert Hall. These are popular, so we recommend you book in advance. Also included in the London Pass.
9. Visit 18 Stafford Terrace
If you want to get a feel for what life might have been like in this part of London in late Victorian times, then you should definitely pay a visit to 18 Stafford Terrace.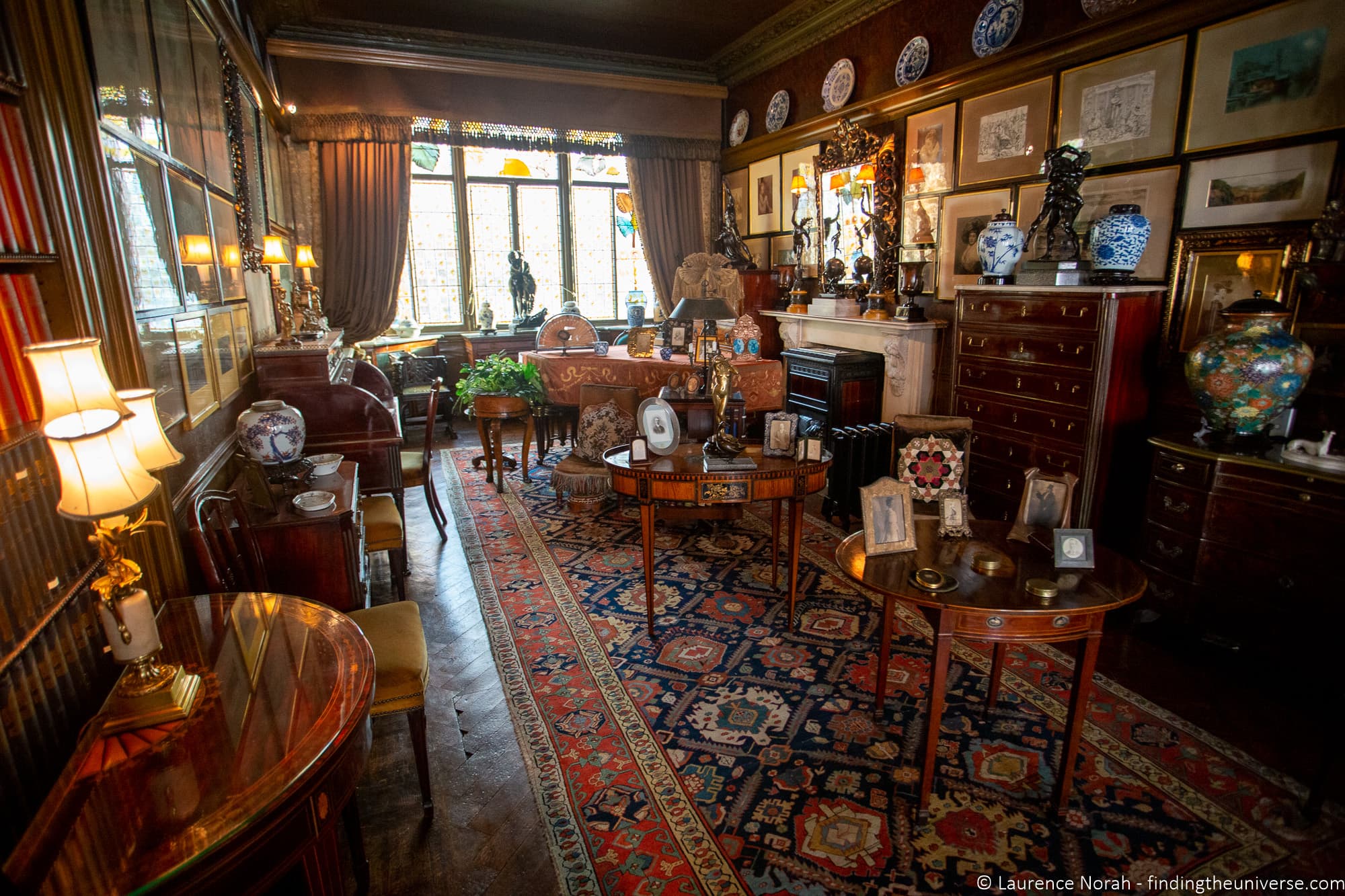 This was the home of the Sambourne family, an in particular Edward Linley Sambourne and his wife Marion Sambourne, who lived here for over thirty years.
The Sambourne's were a fairly well-off middle class Victorian-era couple, who lived and worked in this house. Edward was an artist, most well known for his illustrations which appeared in the British satirical publication "Punch".
The home is set out today much in the way that it would have been during the time that the Linley's lived here, meaning you can get a great feel for the way that the middle classes in the Victorian-era might have lived.
Be sure to check opening times before you visit, as the home is not open all the time.
10. Leighton House Museum
If you want to experience some more art during your time in Kensington, then a visit to Leighton House Museum should be on your itinerary.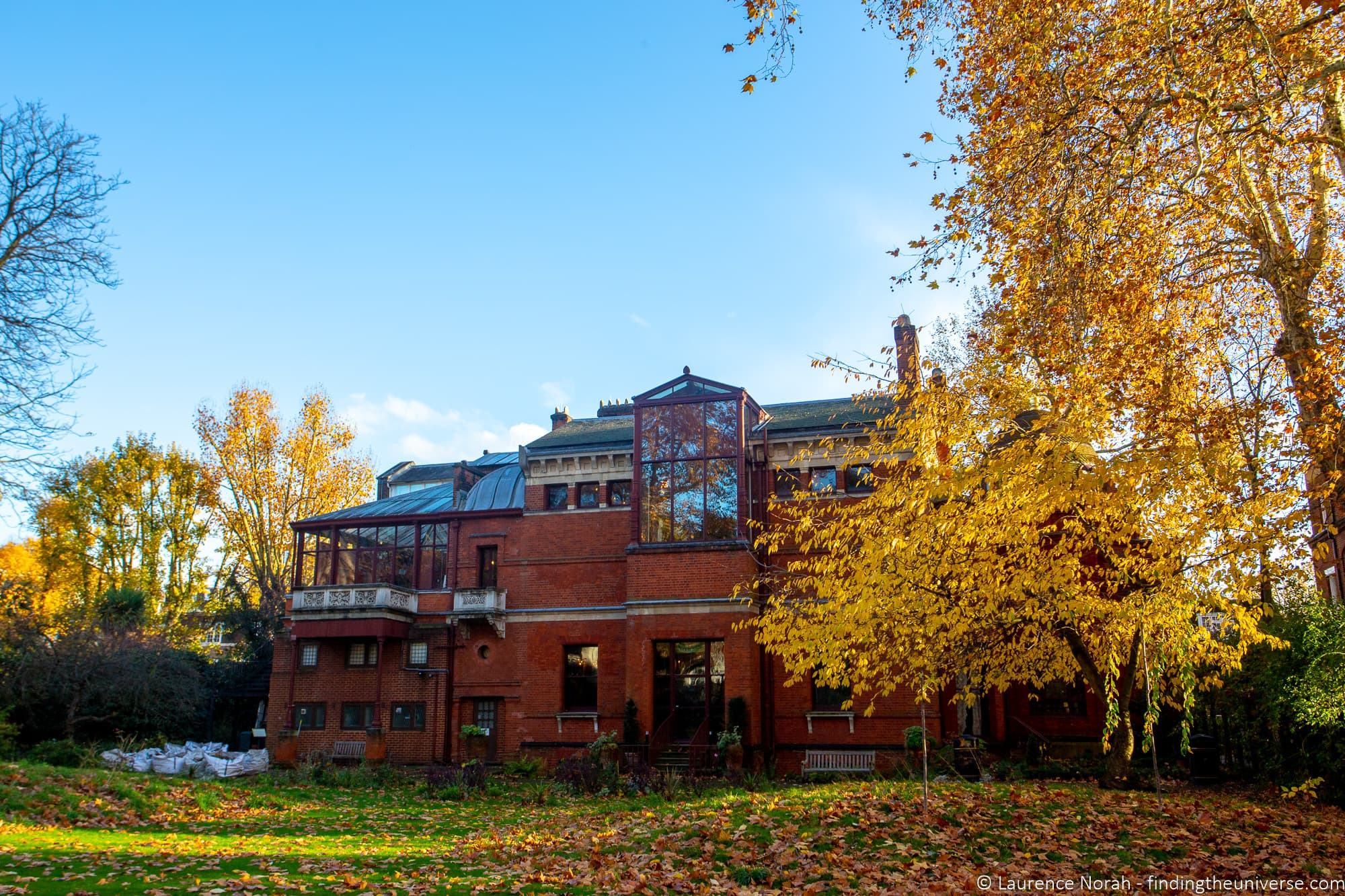 Open as a museum since 1929, and a companion museum to 18 Stafford Terrace, Leighton House Museum was the home of painter Frederic Leighton, who had the house purpose built. Today, as well as displaying 81 works by Leighton himself, art is also on display from members of the Pre-Raphaelite brotherhood.
The house itself is quite magnificent, with a number of interesting features, including a pseudo-Islamic court, and many art pieces from the middle-east. Interestingly, despite its size, the house only had one bedroom.
11. Have a Pub Lunch
If you fail to spot a Royal, don't worry. You can drown your sorrows with a classic British pub lunch.
Admittedly, this is hardly something you need to travel to Kensington to do, given that the entirety of the UK revolves around the existence of the local Public House, but since it's such a classic, I couldn't do anything other than include it here.
Favourites include various pies (meat, covered in pastry), fish and chips (although I prefer mine served at the sea side), and on Sunday's, the classic Sunday Roast, which will come with all sorts of trimmings. Go for the roast beef and Yorkshire pudding if you want to experience a true British meal, and don't worry, the pudding isn't a dessert.
Accompany the whole thing with a draft pint of real ale, and your day in Kensington will be complete. Even it it's just the beginning of the afternoon.
Another option if you'd prefer something a bit different is a visit to the Churchill Arms. This pub is an homage to everything Churchill, and in summer in particular, is absolutely stunning, thanks to the thousands of flowers that decorate the outside. They serve Thai food rather than traditional English pub food, but it is excellent, and the interior, which is filled with Winston Churchill memorabilia, has to be seen to be believed!
Where to Stay in Kensington
Kensington is a lovely area of London, with a wide range of accommodation options. As you can see, there's plenty to do here, and basing yourself in this part of the city for your time in London is a great option.
We've put together some suggested options for where to stay in Kensington below, across a variety of options. We can also recommend checking out the listings on booking.com for Kensington here, where you'll find everything from apartments to hotels to hostels!
For lots more options in Kensington, see our complete guide to hotels in London, which has tips for every area in the city including Kensington.
Map of Kensington Attractions
We've put all the above attractions into a map to help you plan your day in Kensington. As you can see, the attractions are all relatively close to each other, and can be explored on foot. You can also see this map on Google Maps here.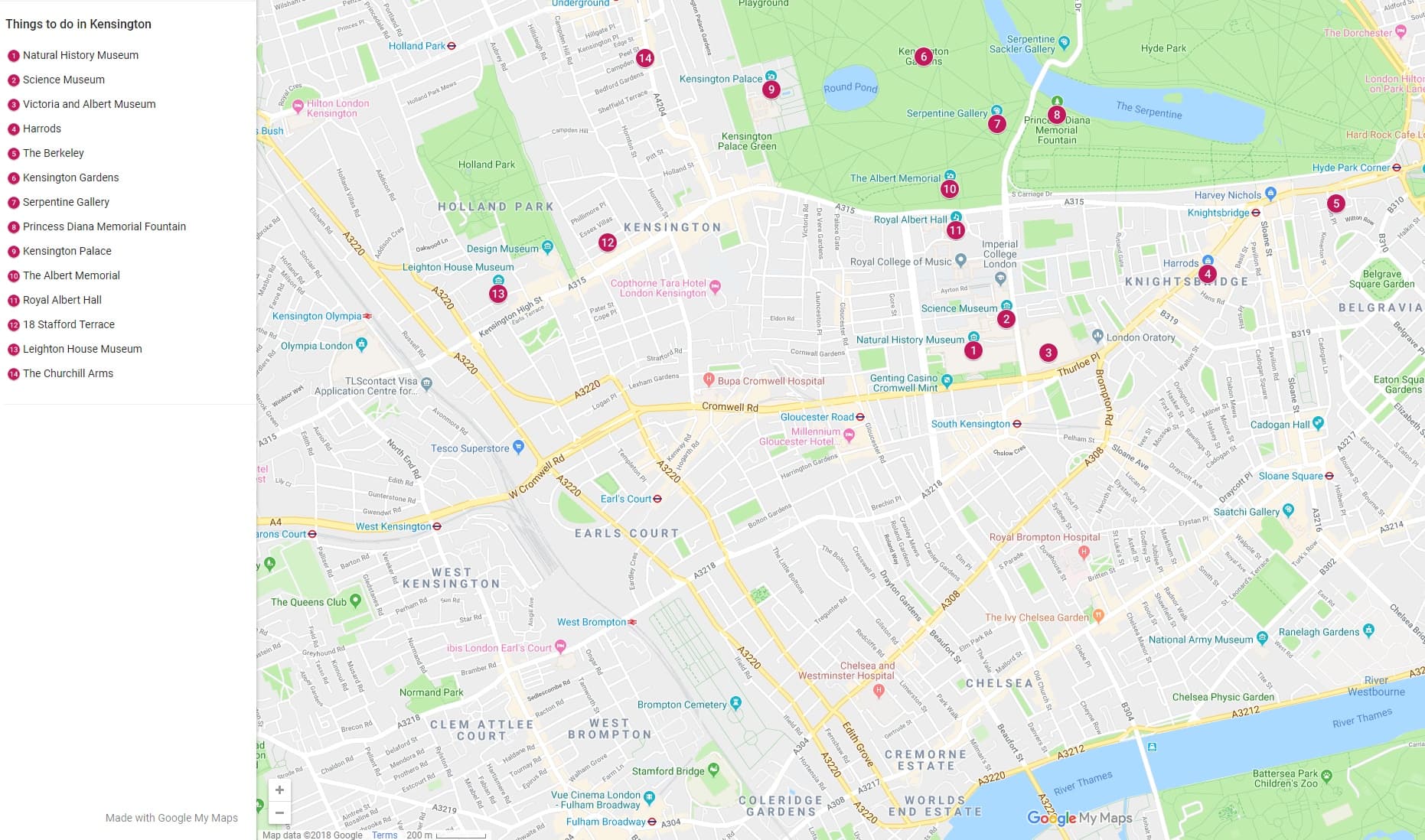 Further Reading for your Visit to Kensington
And that's it for our tips on what to do in Kensington. Before you go, here are some resources you might find useful for planning the rest of your trip.
And that's it for our guide to things to do in Kensington, London! As always, if you have any thoughts, questions or feedback, let us know in the comments below. And don't forget to share or bookmark this post for future reference!