In this post, I'm going to share you with you the best ways of visiting Stonehenge from London, specifically as a day trip. I'll also be including some other nearby locations such as Bath and the Cotswolds, to help you plan a full day out. I'll also tell you how you can actually walk amongst the stones themselves when you visit.
Stonehenge is one of the most popular sights in the UK, and for good reason – it's one of the world's most spectacular ancient monuments, with the reasons for their placement and the exact method of their construction still not fully known today.
We visited Stonehenge on a day trip from London, and in this post we'll share our experiences doing that, so you can decide how to do a similar trip.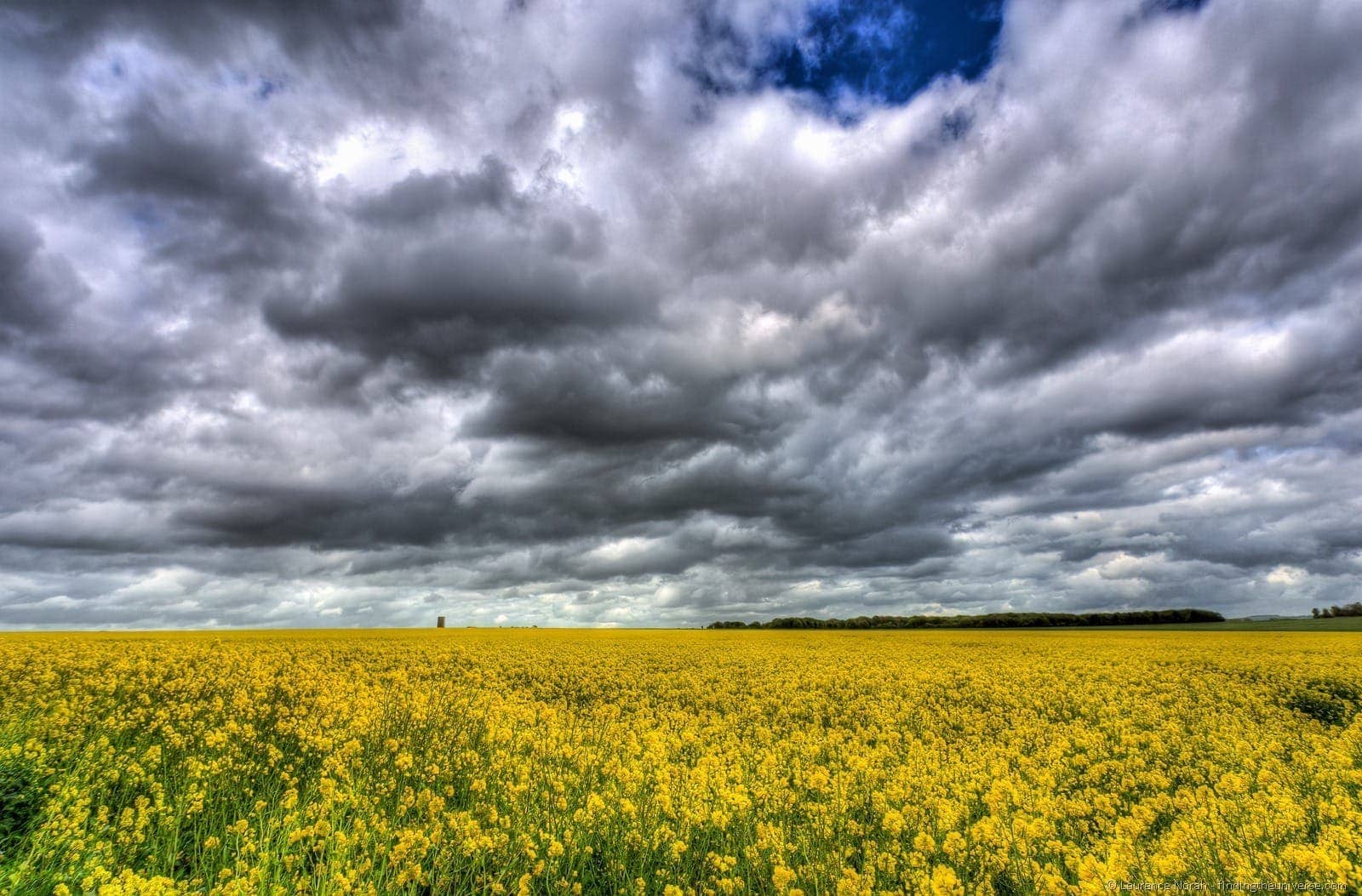 First, let's take a look at how our trip went, and then we'll look at some suggestions for planning your own trip to visit Stonehenge from London. You can use the menu below to head straight to the part of the post you are interested in if you prefer.
Our Experience Visiting Stonehenge from London
We were invited on a tour with City Wonders Tours from London, which covered Bath, the Cotswolds and of course, Stonehenge. The tour when we took it also included a pub lunch, which was excellent, although unfortunately this is no longer included.
The tour covers a lot of distance, so it shouldn't come as any surprise that there's an early start. In our case, we met up at 7.15am at Gloucester Road tube stop in London. When planning your own tour, try and find one that isn't too far from where you are staying. In our case, it was a five minute walk from our accommodation in London.
Everyone was on time, and our group was a good size, there being 18 of us. City Wonders only operate smaller groups, with a maximum size of 25.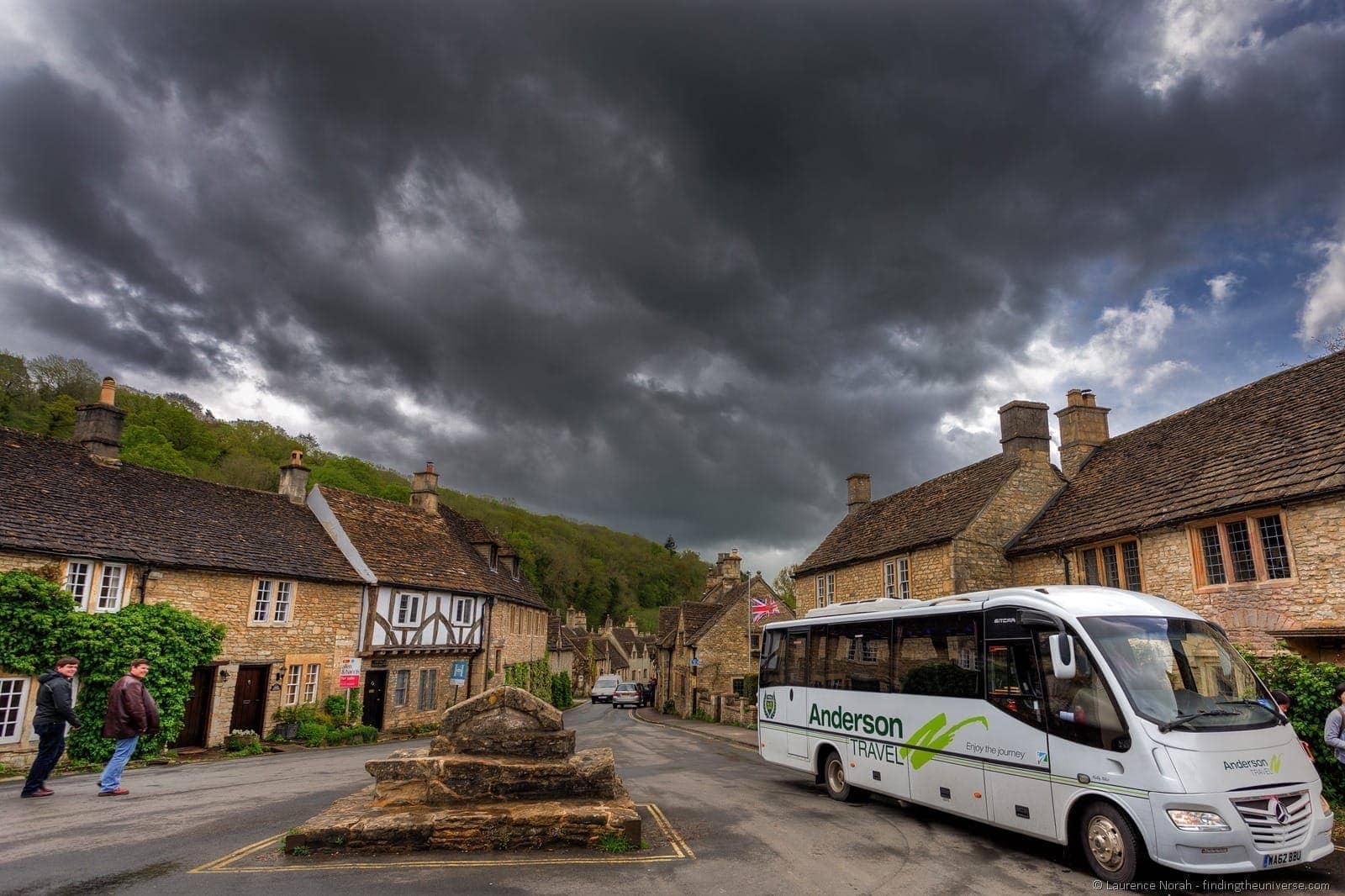 That smaller group size meant there was plenty of room on the bus, which was a medium size, and had oodles of legroom and exceptionally comfortable seats. As we pulled out of London at 7:30am, largely avoiding the morning rush hour, our guide Phil got started on chatting to us about our day and what we could expect.
First stop: Bath
Our first stop was to the Roman city of Bath, a good 2.5 hour drive from London. We arrived mid-morning, and Phil took us on a quick introductory tour of Bath, sharing with us some of his highlights and the history of the city. Then we were presented with a choice, we could visit the Roman Baths (admission extra), or take a guided walking tour with Phil.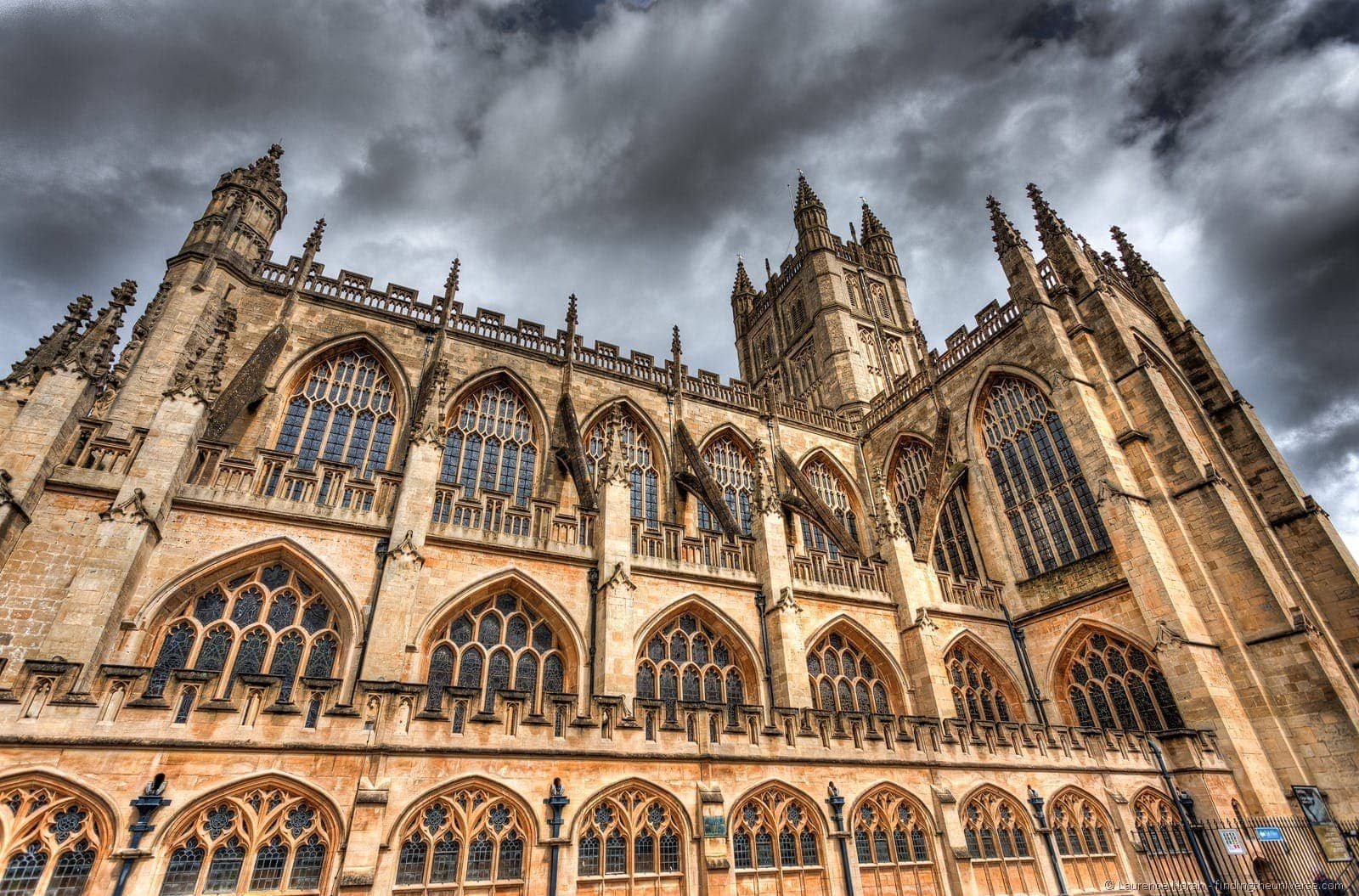 This option was presented to us as the heavens opened, with many on our group opting for the drier, interior choice. Myself and a couple from the US were the only brave souls who were happy to brave the weather, and Phil set us off on a 45 minute guided tour of Bath, taking in all the highlights, while Jess went inside to see the Roman Baths.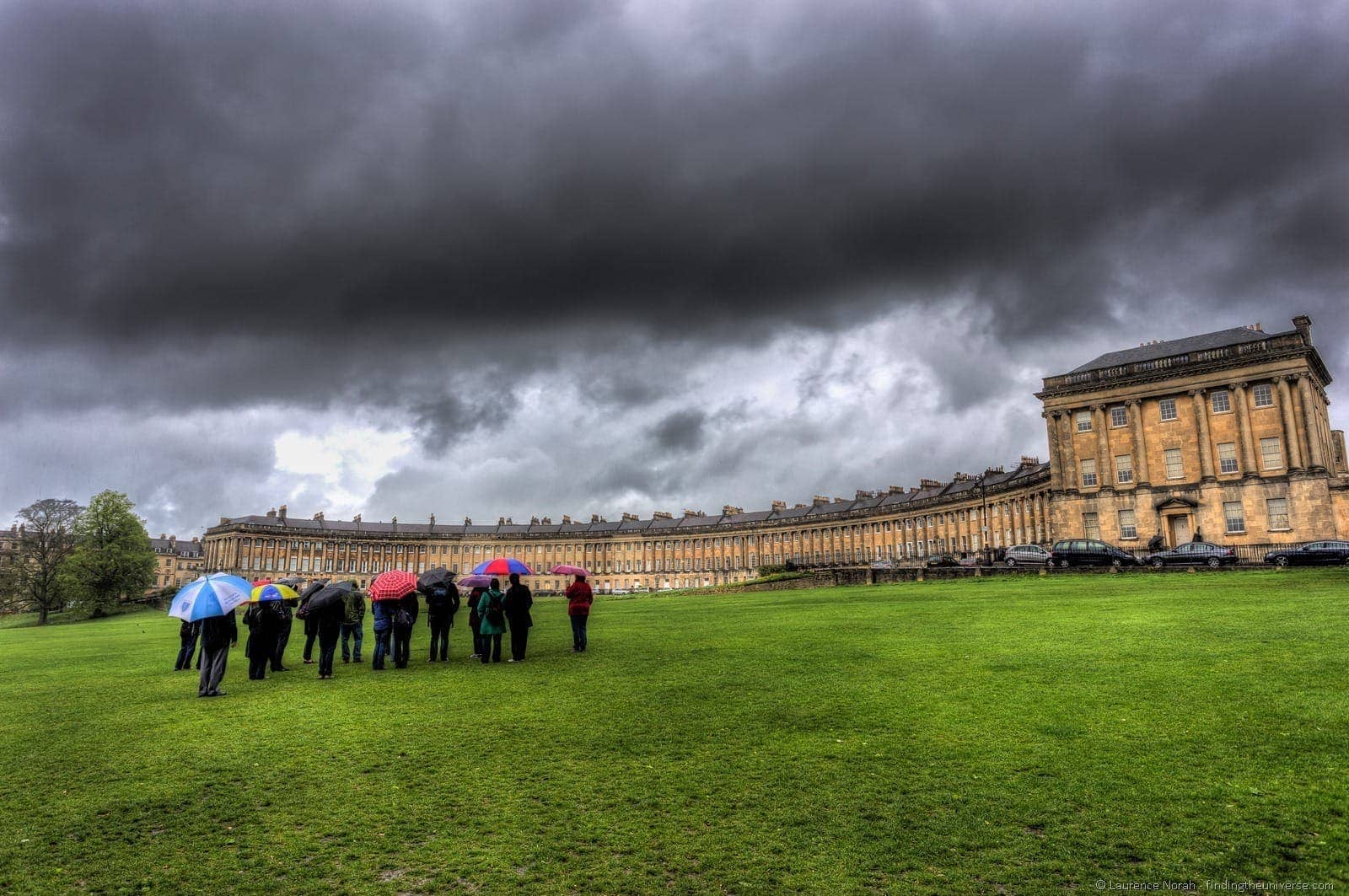 We saw the remarkable Pulteney Bridge (one of only four bridges in the world with shops on), as well as Bath Abbey, the Circus and of course, the Royal Crescent, as well as many other sights.
Throughout the tour, despite the weather, Phil kept us informed and entertained as to what we were seeing, which happily distracted me from the fact my jeans were slowly affixing themselves to my legs as the rain moistened me.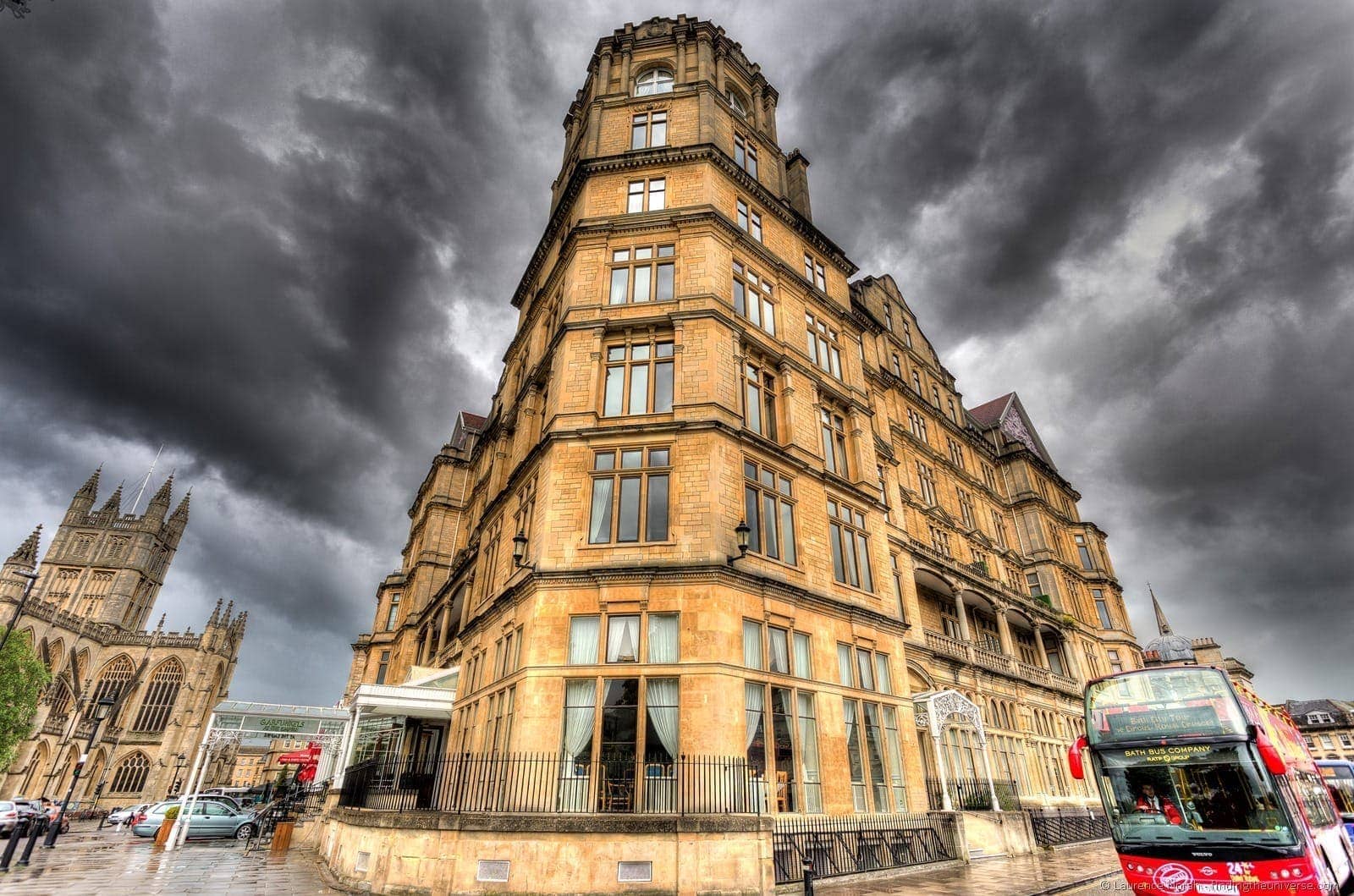 Finally, we reconvened back at the Roman Baths, where Jess and I had just enough time for a Bath Bun and a spot of tea at the Pump Room, the cafe attached to the Roman Baths, to the pleasing sounds of a live string orchestra. Then it was back to the bus, and around half an hour's drive to our lunch stop in the Cotswolds.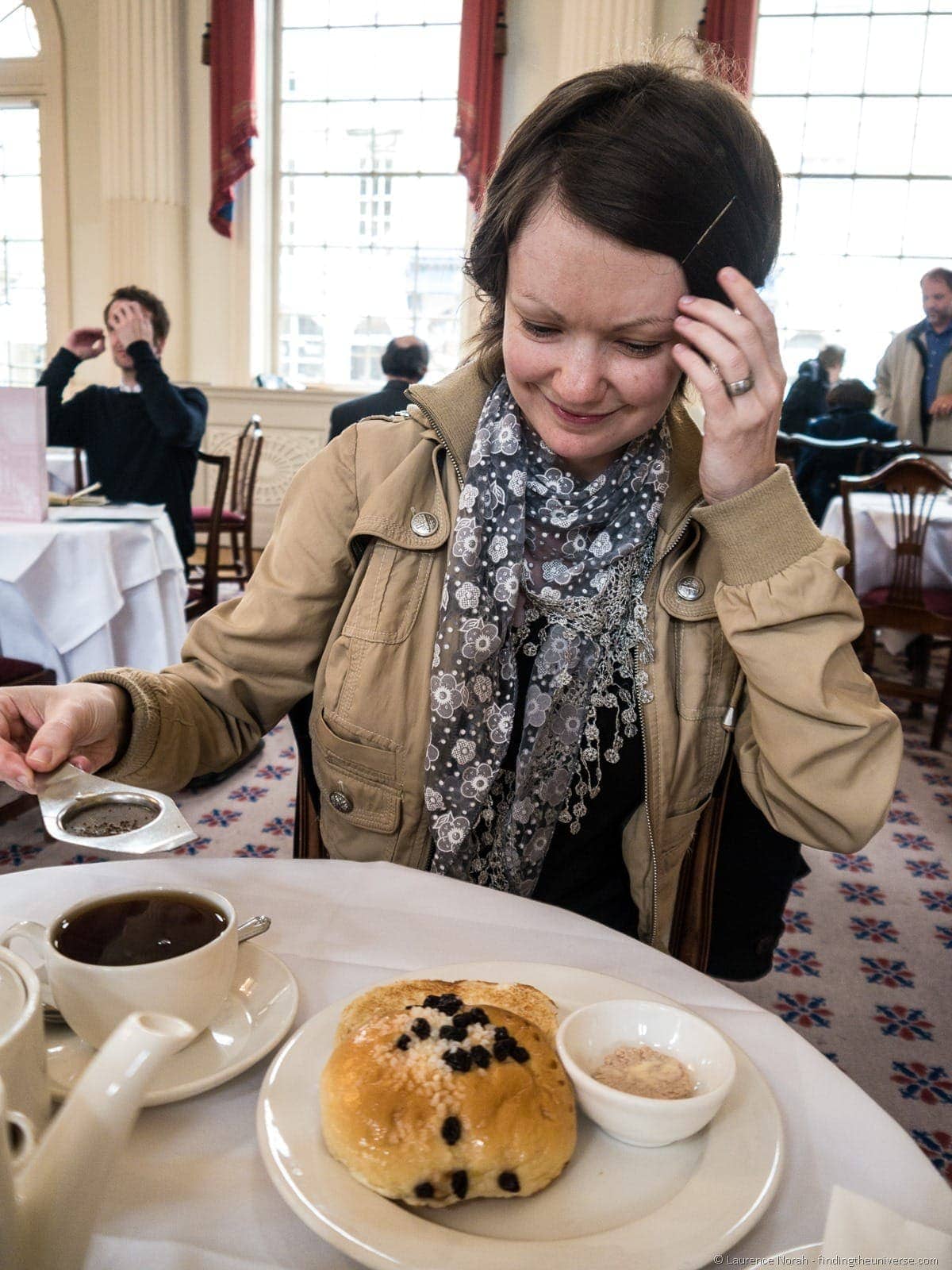 Lunch in the Cotswolds
As of 2017 a number of readers have let me know that lunch is not included on the tour we took any more, and the tour no longer stops in Castle Combe as a result.
This is unfortunate, as the lunch made the tour really excellent value for money. If you would like a tour that includes lunch, this similar tour includes lunch, as does this one.
I'll also add a little bit here about Castle Combe, a picturesque village in the Cotswolds, so you can decide if you'd like to visit it yourself. As I mentioned, it's very picturesque. So much so in fact, that while we were there a feature film was in the process of being shot on the main street.
It's pretty much everything you could want from a quaint English village in the Cotswolds, with incredibly cute stone houses, an old market cross, an ancient church (replete with crumbling gravestones and 13th century clock) and flowing stream.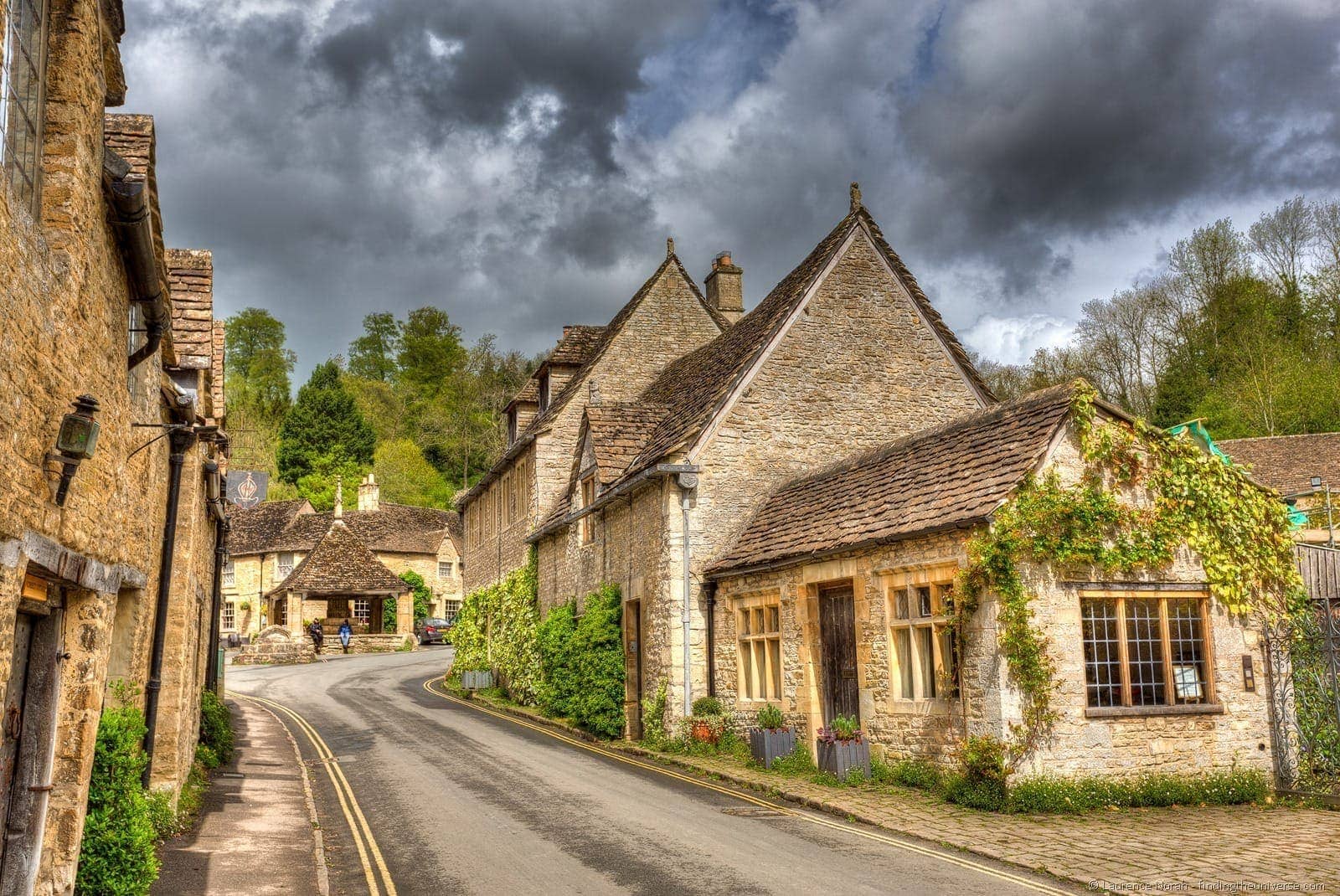 And of course, it has a lovely pub, where we had a fantastic two course meal, in between which I dashed around taking pictures and trying to catch the moments of sun that the day was at that point attempting to bestow upon us.
Visiting Lacock
After lunch, and a few more minutes wandering around Castle Combe (it's not a big place!), it was back in the bus for another 20 minute ride or so to Lacock, another lovely village in the Cotswolds, also stuffed with cute houses and streets, and almost entirely owned by the National Trust, who have preserved its natural appearance.
Beyond being pretty, Lacock is also interesting for two more reasons, both of which revolve around Lacock Abbey, a 13th century country house in the heart of Lacock.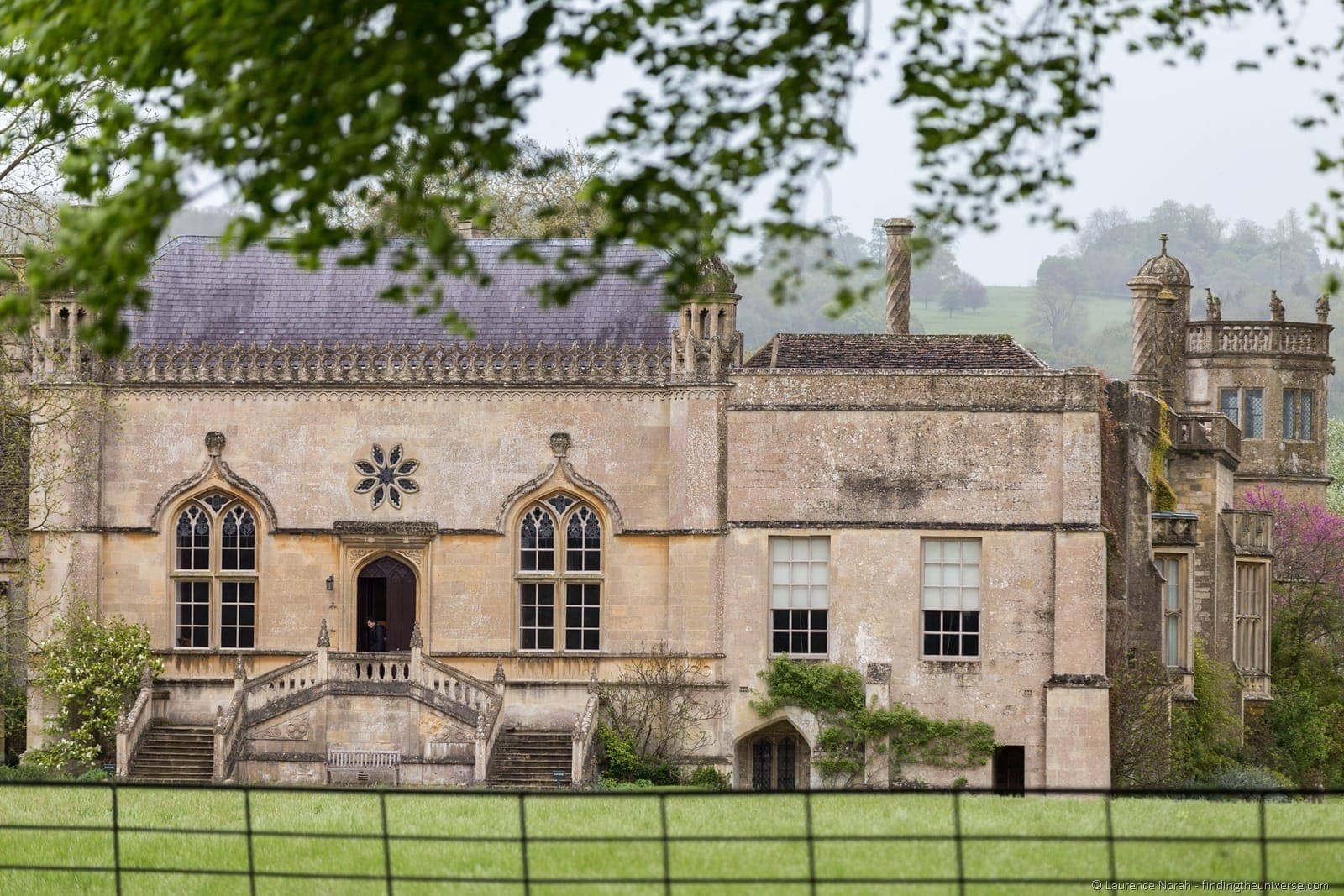 The first reason, interesting to me as a photographer at least, is that it was at Lacock Abbey in 1835 that the oldest surviving photographic negative was taken, by William Henry Fox Talbot.
If photography doesn't rock your boat, then maybe it's direct descendent will – the art of the motion picture. Lacock Abbey has played a starring role in a number of films as well as TV series.
Most notably in film, Lacock Abbey was featured in Harry Potter and the Chamber of Secrets, as well The Other Boleyn Girl. You can read more about its role in Harry Potter in our Harry Potter filming locations guide.
TV-wise, Lacock Abbey is the home of recently aired BBC TV show Wolf Hall, and Lacock itself was used as a location for the sixth season of Downton Abbey.  All of which should firmly put this place on the map of film and TV buffs!
Having spoken so much about Lacock Abbey, I of course now have to tell you that our tour didn't actually include a tour of this property, we just got to peer at it through the gates. We were given all the above details though, although the photographer in me was keen to get inside and check out the photography exhibition.
Instead, we had a tour around Lacock instead, with Phil pointing out points of particular interest, including a 14th century tithe barn, one of the best surviving examples in the country.
On to Stonehenge
After our walk around Lacock, it was back in the bus once more for another drive, this time to the highlight of the tour – the mystical Stonehenge.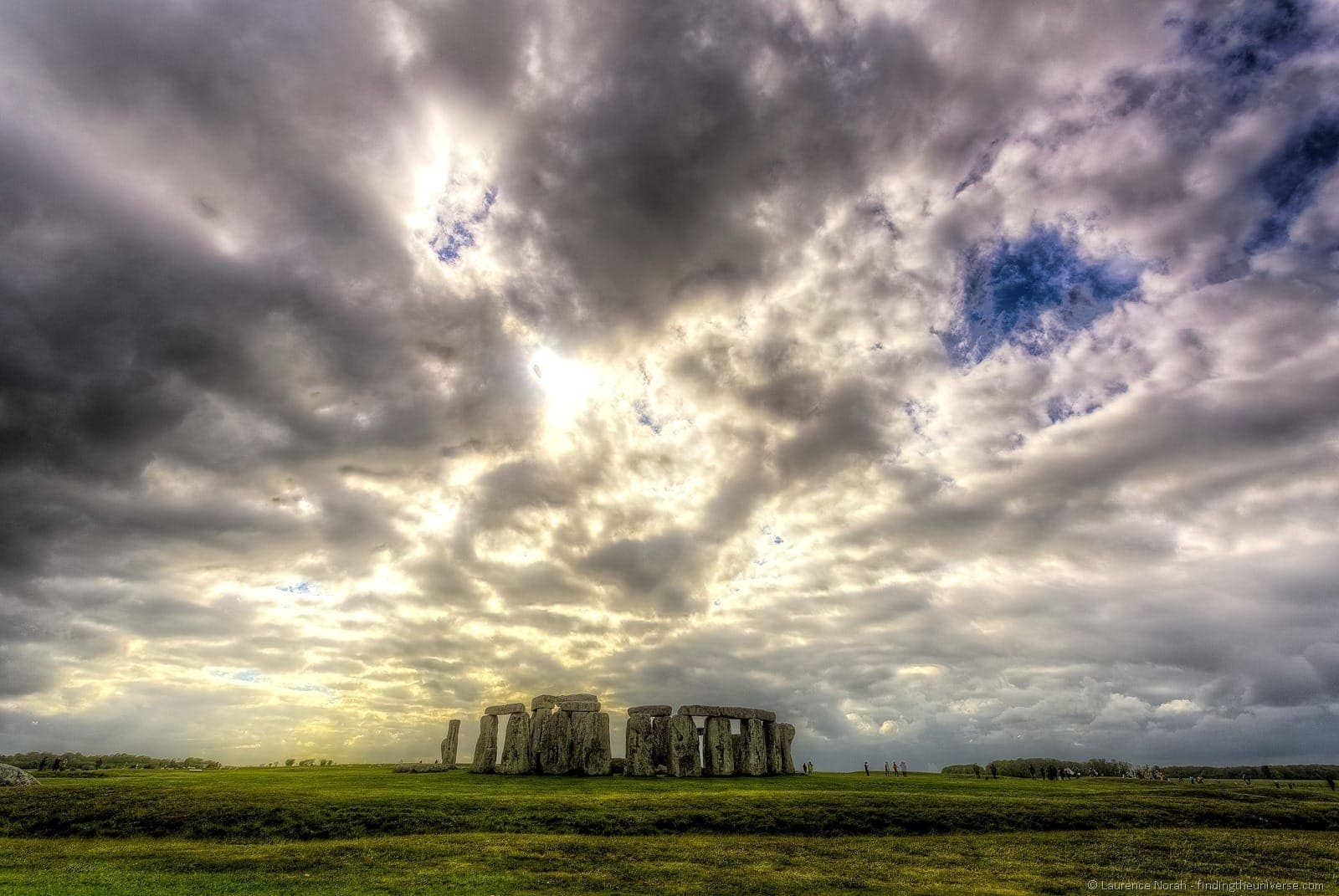 I've visited Stonehenge before, but it was quite some time ago, and things have changed for the better since my last visit. The road that used to hurtle traffic past the stones has been torn up and rerouted, and the visitor centre has been relocated to a site over a mile away.
Now, the magnificent stone circle is a much more pleasant visiting experience, feeling somewhat more back to nature than in years past.
It felt particularly natural on the day we visited, as the weather was quite spectacular in its ferocity. As mentioned at the beginning, there was a bitingly cold wind filled with fat raindrops, and clouds scudded low over the skies. We did have at least three seconds of sunshine in which I was able to grab an entirely unrepresentative photo of our visit, so I should be thankful for that at least.
The weather didn't deter Phil though. He said that anyone who wasn't keen on visiting the Stones was welcome to stay behind, but he was going to plough on regardless. And plough on he did, sharing with excitement and in detail the history of this incredible construction, with all the latest scientific theories alongside the myths and legends.
Phil's enthusiasm was infectious, and somehow everyone stayed in the group for the whole ninety minute tour around the rocks, in spite of the weather. Bravo, Phil.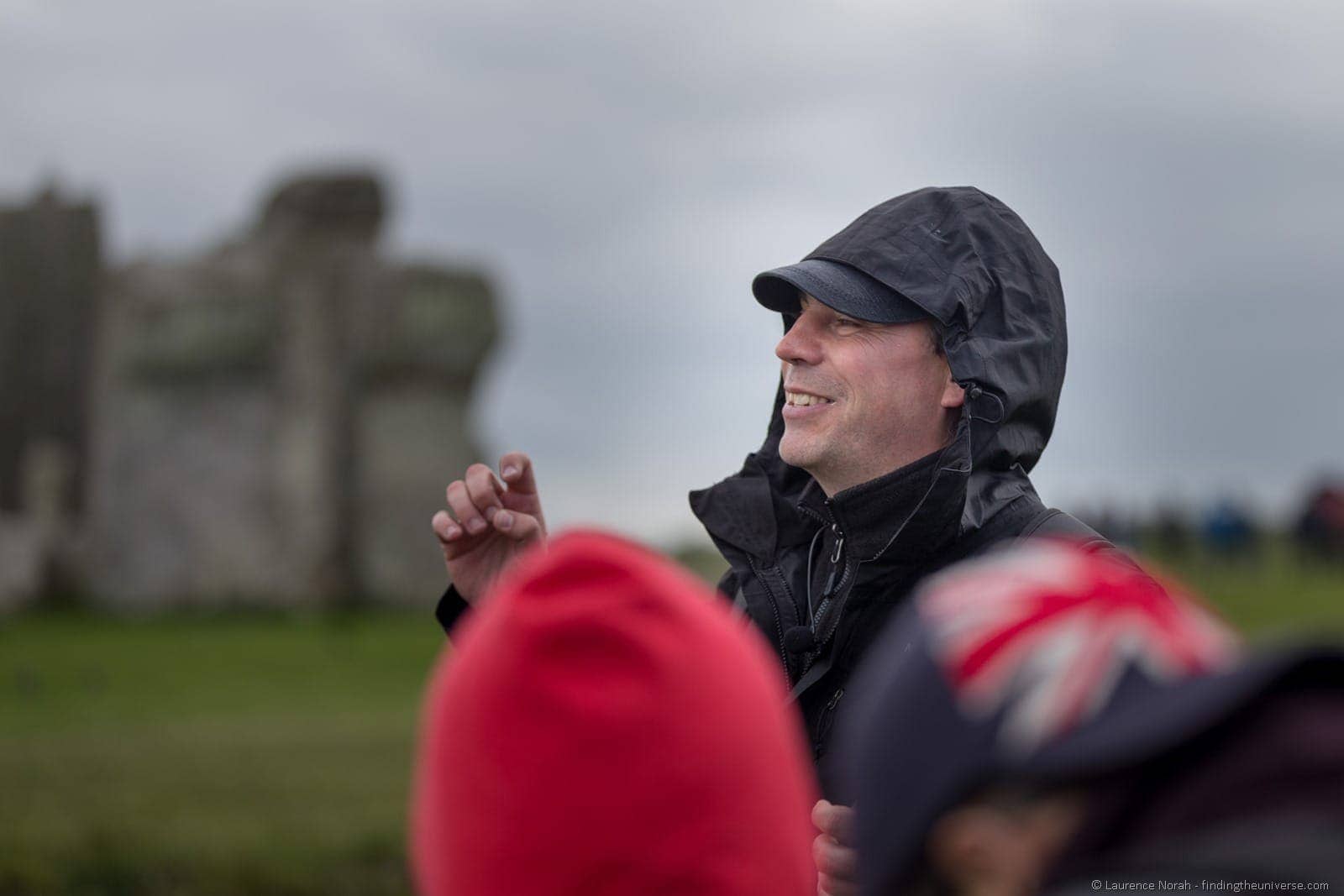 After this, it was back in the bus, and our noses turned back to London, and a relaxing drive home, on which pretty much everyone grabbed a bit of shut-eye. All in all, an excellent tour experience.
Now, let me share some facts and thoughts on the whole thing, to help you decide if this sort of tour is going to be for you.
Facts about doing a day trip from London to Stonehenge, Bath and the Cotswolds
How long did we have at each location?
Our Stonhenge tour left London at 7.30am and returned to our pick-up point at 8.30pm (13 hours!)
We had 1.5 hours in Bath (supposed to be 2 hours but traffic was bad)
We had 1.5 hours in Castle Comb, including lunch
We had 30 minutes in Lacock
We had 1.5 hours for Stonehenge
As you can see, this was quite a long day out. We had four stops at various sights, and five hours of sight-seeing accompanied by eight hours of driving.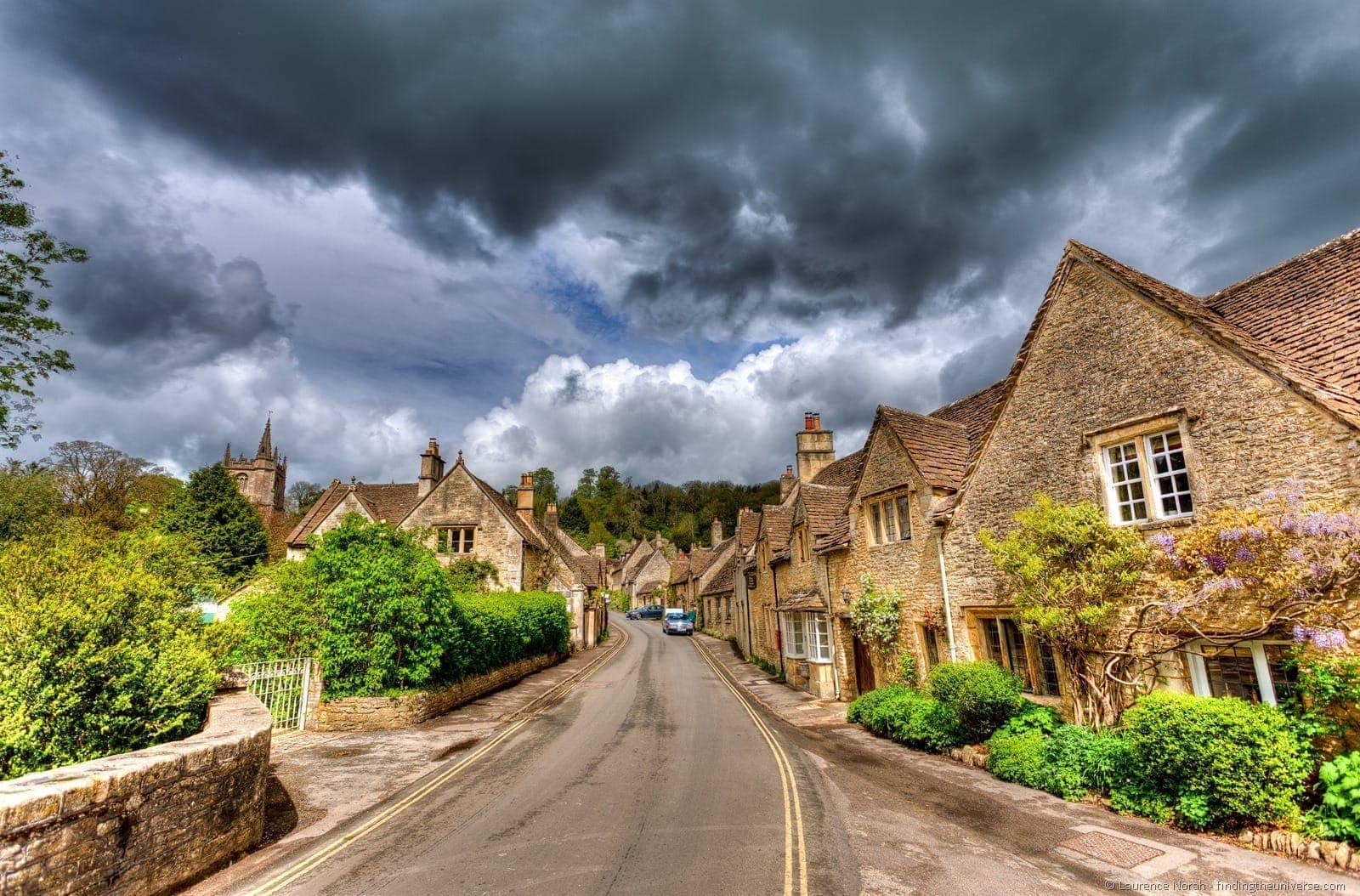 What was included on the tour?
Transport, guide, and driver
Excellent pub lunch (note, not included any more as of 2017)
bottled water
guided walking tour of Bath, Castle Combe, and Lacock,
Entry and guided tour of Stonehenge
What wasn't included?
Whilst tours vary in terms of what is an isn't included, our particular tour had the following exclusions.
Alcoholic beverages with lunch
Entry to the Roman Baths (or any other museums in Bath)
Tips for the guide / driver
Always check the inclusions and exclusions box on any tour you book, so you know what to expect.
Would you change anything about the tour?
Well, obviously, the weather!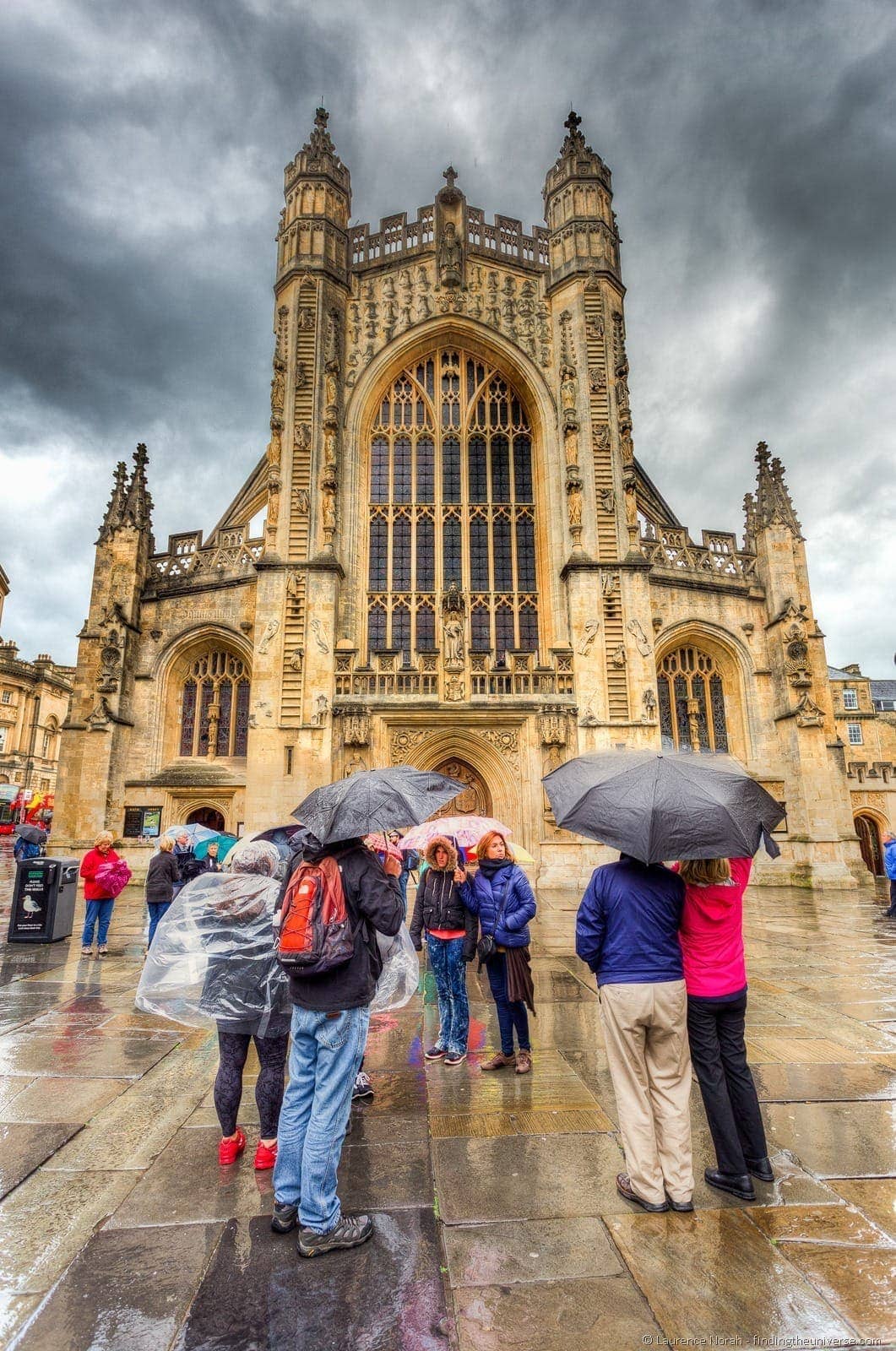 Apart from that though, the tour really packed a lot in, whilst not feeling rushed. Personally, I would have liked a little more time in Bath to explore, and a little less time at Stonehenge.
I also felt that the Roman Baths entry price should have been included, or at least, offered at a discount, as this was clearly a popular option. This is a tricky one though as on a fine day no doubt many people would take the Bath walking tour instead.
I'd also have loved to actually visit Lacock Abbey, although I appreciate that there was never going to be time for that given the schedule. Plus I understand not everyone is *that* excited about photography or Harry Potter. One to explore on a future trip methinks.
The lunch was fantastic, and it was excellent to have that included. Free WiFi on the bus would have been nice, but that could just be because I'm a blogger! Overall I'm just nit-picking – this tour was really comprehensive and the guide was excellent.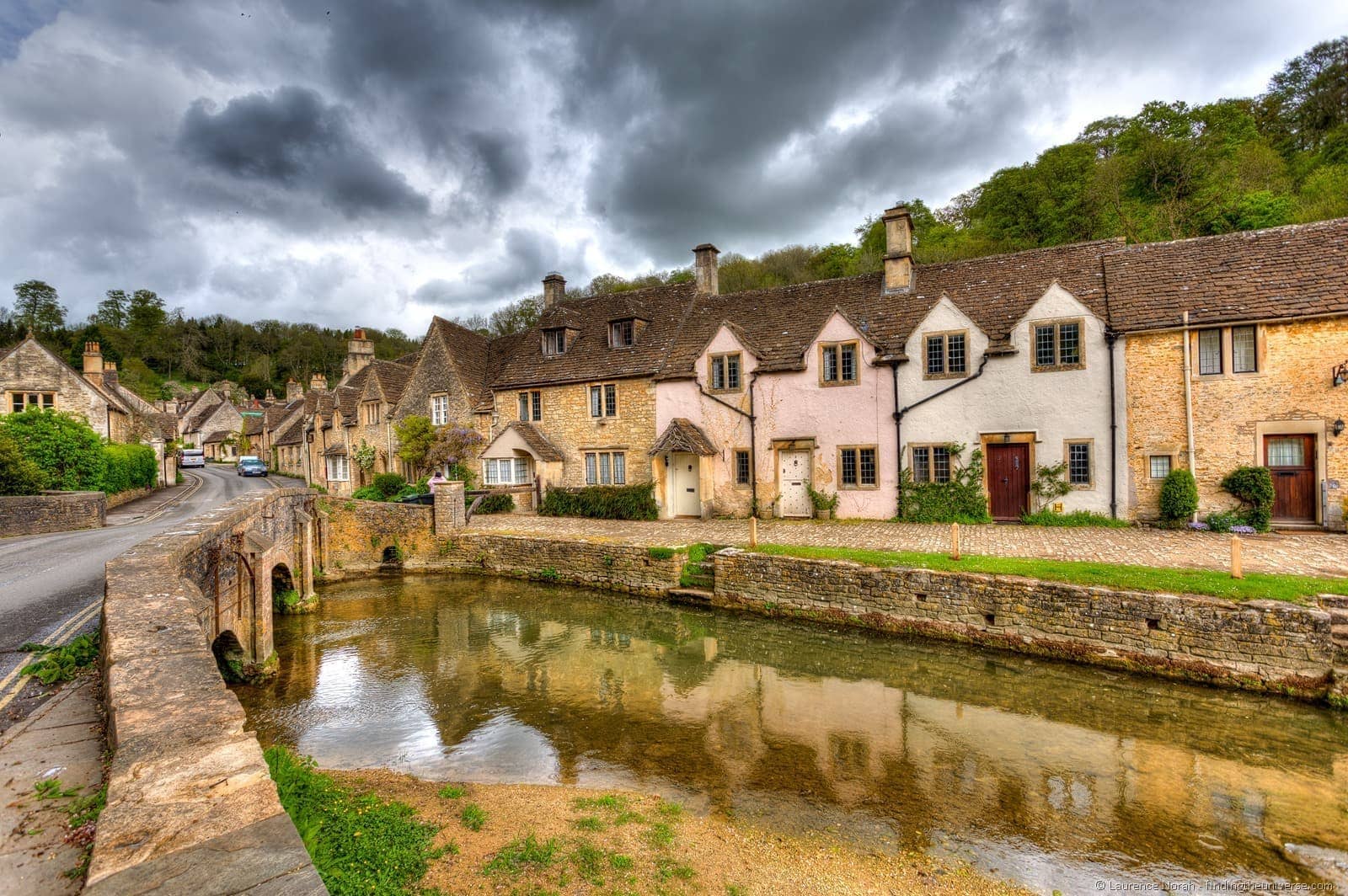 How should I prepare for a tour to Stonehenge from London?
You don't need to prepare too much. I'd advise bringing along layered clothing (British weather is not the best), ideally something wind proof, and cash for tips or any other extras.
If you're the sort to get oddly hungry, you might want to bring snacks, but the lunch will easily see you through! You'll also want to eat something before you start the trip, or grab a bun on arrival in Bath. A water bottle is also a good idea.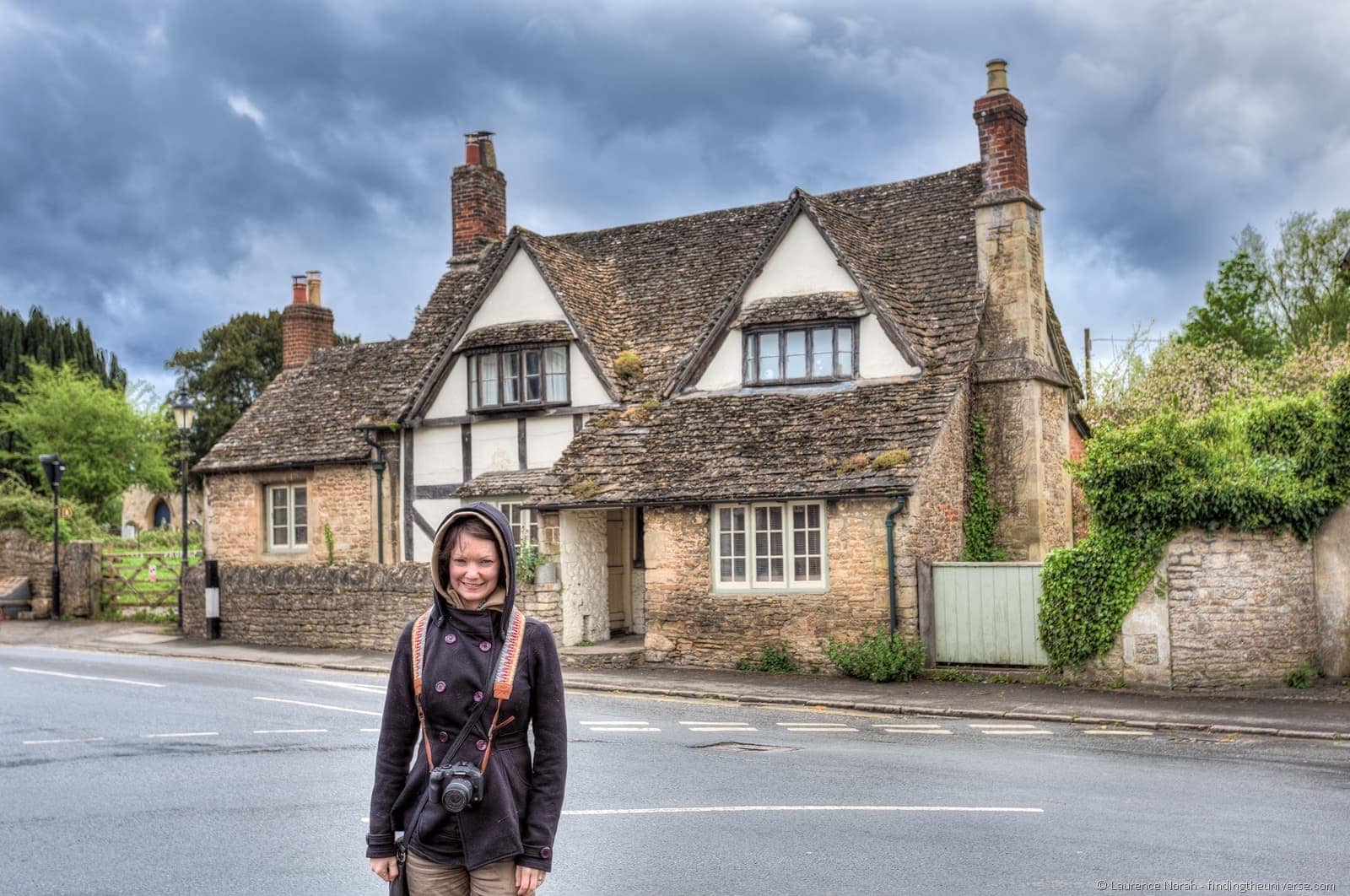 Which Tour to Take to See Stonehenge from London?
As noted, the tour that we originally took as changed somewhat, with no pub lunch or Castle Combe stop included.
To be honest, this is a very competitive market, with multiple operators offering Stonehenge tours from London. For the most part they are full day tours, and whilst Stonehenge remains the main highlight, they vary in a number of ways in terms of which other sights you will see.
Quite often, these bus tours will include between 1 and 3 additional stops. Be aware that more is not always better, as you have to get between all the stops and so you can end up spending a lot of time on a bus, and not as much time sight-seeing as you would like.
My suggestion would be to take a tour that includes no more than two (maximum three!) additional stops on top of Stonehenge, so you actually have some quality time to explore. Good stops in my mind would be Bath, a Cotswold Village or Salisbury.
In terms of specific tours we can recommend, here are some options:
Our suggestion is to shop around and find the tour that best meets your needs in terms of attractions visited as well as your budget. Most tours are fairly similar, but there are a few differences of course.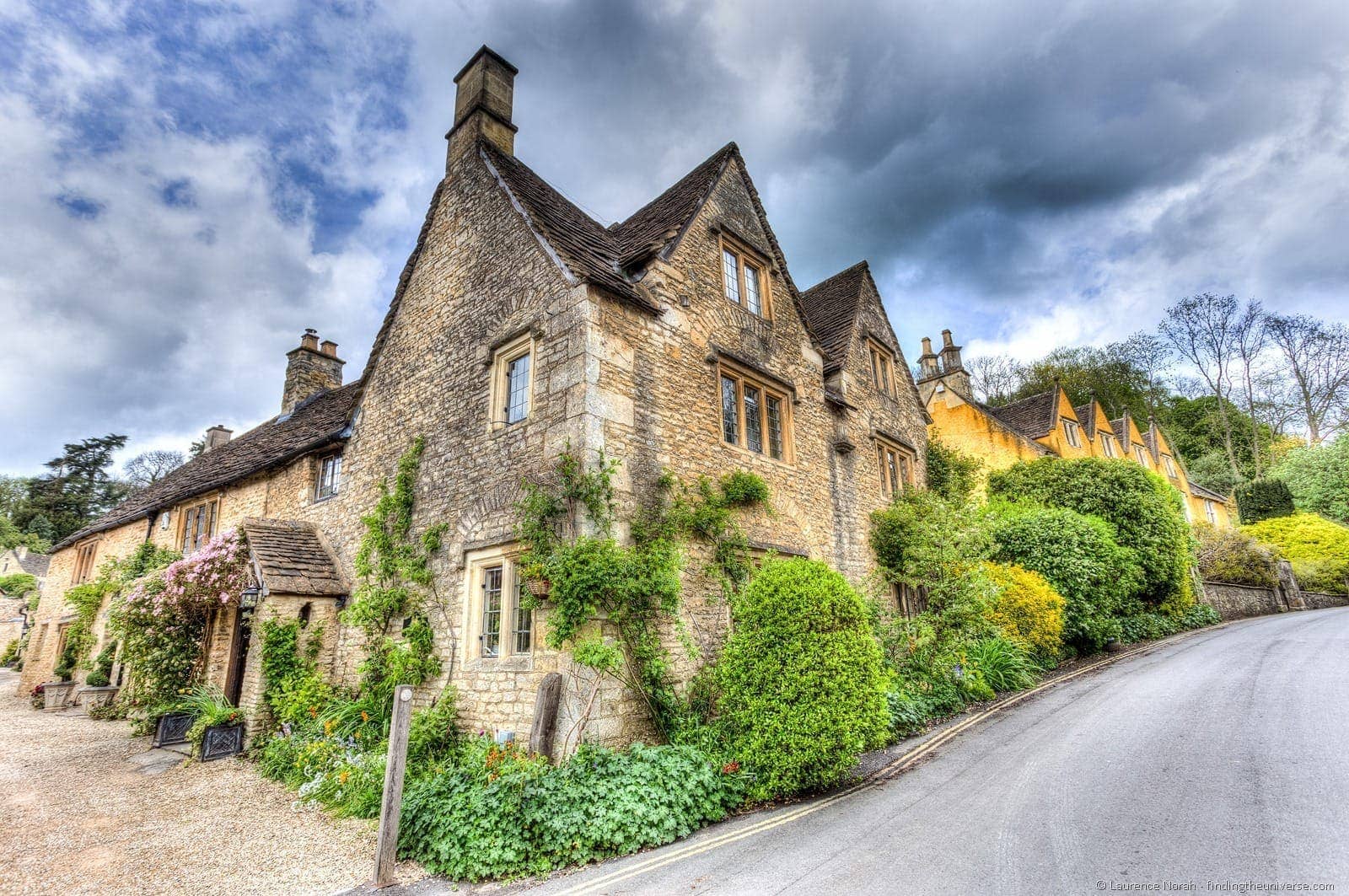 How Far is Stonehenge from London?
Stonehenge is 88 miles driving from London on relatively fast roads, although the traffic can definitely impact trip times. If you are driving, expect the journey to take around two hours.
Do I Need To Take  A Tour To See Stonehenge from London?
If you read my site a lot, you'll know that I'm a big fan of independent travel, and I've put together a detailed two-week self-guided itinerary of the UK that actually includes Stonehenge, Bath and the Cotswolds.
So of course, it is possible to see Stonehenge from London without taking a tour. The two main options are to either drive yourself, or to take public transport. Here's how those break down.
Drive yourself to Stonehenge
The easiest option is to drive yourself, just pick up a hire car in a London location, and drive out here. This will give you lots of flexibility, although of course, I appreciate not everyone wants to drive themselves!
If you do this, you'll want to book your ticket in advance to guarantee entry.
Public transport to Stonehenge
The other main option for getting to Stonehenge is to take public transport. The best option is to take the train from London to Salisbury, and then there's a shuttle bus that goes directly from Salisbury train station to Stonehenge.
There are a couple of trains an hour from London Waterloo, which take around 90 minutes each way. You can check times and book your train tickets online in advance here.
The shuttle bus is around 30 minutes. You can see the timetable and book tickets in advance here.
Taking public transport will let you explore both Stonehenge and Salisbury at your own pace, and is a good option if you'd rather not take a guided tour or drive, however, I do think Stonehenge does definitely benefit from a guide, and if you can visit some cute Cotswolds villages as part of your day trip from London, then you might as well!
Beyond Stonehenge and Salisbury, without your own transport, visiting all these sights in a day would be logistically challenging, whereas a day trip tour lets you have all the fun with none of the effort! And who doesn't enjoy that!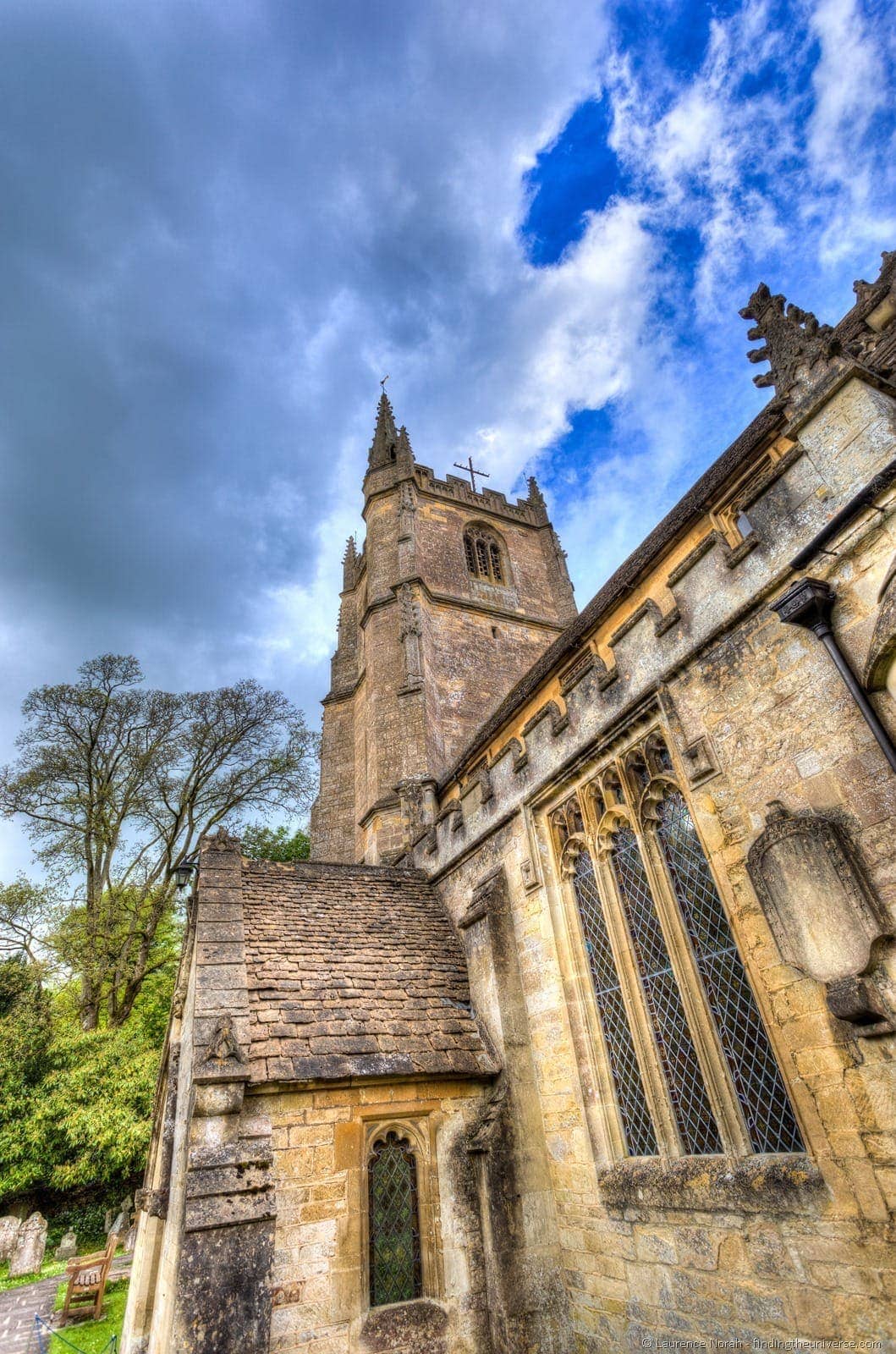 Further Reading
If you're looking for more inspiration for your UK trip, here are some resources to help you out: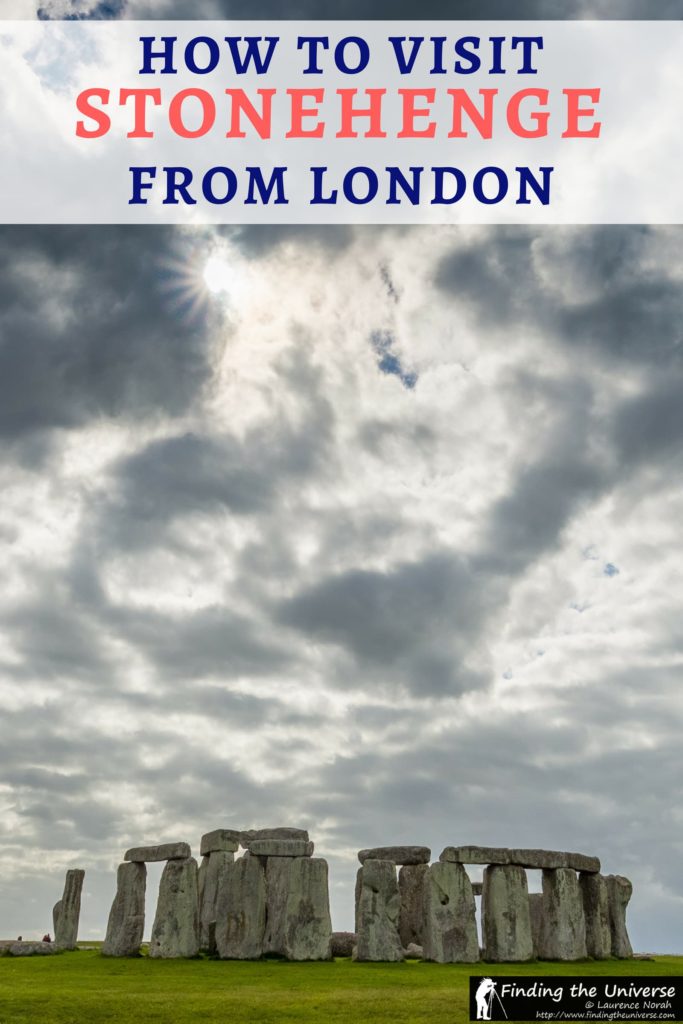 Disclosure: We were guests of City Wonders on this tour, but we paid for our own ticket to the Roman Baths and covered the guide tip ourselves. All opinions remain our own – see our code of ethics for more.