Sleeper trains! Jess and I are big fans, and we've taken them in a wide variety of countries. We've ridden all sorts of sleeper trains, from creaky old eastern European models through to the vintage Orient Express.
But one thing we'd never done is try a sleeper train in the UK. After all, the UK isn't exactly that big. You can get from London to Edinburgh in under five hours by train, so why would you want a sleeper version?
Well, there are a few reasons.
First, you save on the cost of a hotel night by sleeping on a train from London to Scotland.
Second, you don't waste precious exploration time stuck on a train – instead, you arrive bright and early in your destination, ready for a full day of adventure.
Third, unlike many train services in the UK, the Caledonian Sleeper service can be booked a whole year in advance, helping you figure out your transport well in advance.
And fourth – well, fourth, it's kind of fun!
In this post I'm going to share our Caledonian Sleeper review. This will include our experience travelling with the Caledonian Sleeper between Edinburgh and London, a journey we've now done twice in each direction. This was due to a kind invite by the folks at Caledonian Sleeper who offered to let us try out their services.
This post will cover the different classes available on board the Caledonian Sleeper, our review of the Caledonian Sleeper service between London and Edinburgh, and all the information to need to know about when planning a trip on the Caledonian Sleeper.
What is the Caledonian Sleeper?
The Caledonian Sleeper is a sleeper train service which operates a number of routes which link London with cities in Scotland, including Glasgow, Edinburgh, Inverness, and Aberdeen. Services run both ways six days a week, with the exception of Saturdays.
A sleeper train to Scotland has been running from London since the 1850's, although the service has been updated a few times since then – with a major update coming into service in 2019/2020.
It's been running in its current name, the Caledonian Sleeper, since 1996, and in 2016, Lonely Planet named the journey from London Euston to Fort William the best sleeper train journey in the world.
What Sleeping Options Are There on the Caledonian Sleeper?
As of 2021 there are four main options for travel on the Caledonia Sleeper. These are a Sleeper Seat, Classic Room, Club Room and Caledonian Double.
Please be aware that the Caledonian Sleeper service was fully upgraded in 2019/20, with entirely new trains.
Our images and experience were in 2018, on the old service, and we have not yet been able to take a journey on the new trains yet. When we do we will update this post with new images.
We have however updated the post to reflect the new products and experience, which is much improved.
Previously there were three options for travel, a sleeper seat, standard sleeper room and first class sleeper room. None of these were en-suite or offered a double room, and there was no WiFi or proper power outlets (although there were USB outlets).
The new trains are far more luxurious, with upgraded sleeper seats as well as en-suite sleeper rooms and even a double en-suite room option for couples. There are also fully accessible rooms, as well as WiFi throughout.
Here are the current options for accommodation on the Caledonian Sleeper.
1. Sleeper Seat.
The Sleeper Seat is generally the most economical way to travel on the Caledonian Sleeper. These are reclining seats in a 2 + 1 arrangement, which are similar in layout to first class seats on a normal British train.
As you will be sharing with other people in the same carriage, this is likely to be the least comfortable option, and you won't be able to lie flat.
There's a counter-service, but the lounge / dining car (called the Club Car) is off limits to sleeper seat passengers. All Caledonian Sleeper Seat passengers receive a sleep kit which comes with earplugs and an eye mask. Seats also feature a tray table, access to lockable storage, Wi-Fi, charging points and an individual reading light.
2. Classic Sleeper Room
The Classic Sleeper Room is an excellent option if you actually want a lie-flat bed and some privacy – especially if you're travelling with a friend or as couple or family. If you are travelling as a group you can book interconnected rooms for access to the adjacent room without having to go into the corridor.
The sleeper rooms accommodate two people, with two bunks on the walls – one above the other. If you are travelling on your own you will have the whole room to yourself. Note that on the old service you would have to share with a stranger but this is no longer the case.
You get a sleep kit with eyemask and ear plugs, and the room also has a sink, towels, bedding, standard AC and USB power outlets.
You are also able to access the lounge car, subject to space (priority is given to first class passengers, although it is rarely full), which has a range of seating options as well as a drinks and meal service. Breakfast is not included but is available for a fee. You can see an idea of available on board meals here.
The room doesn't have a toilet, but individual ladies and gents toilets are available at the end of each carriage. There are also no showers on board, but showers can be found at many of the stations along the route – there's a small fee to use these.
The Classic Sleeper Room grants access to the Club Car where dining and drinks are available. However, be aware that priority access to the Club Car is given to guests in Club Rooms or the Caledonian Double.
3. Club Room
If you're looking for a more luxury hotel-like experience for your overnight train between London and Scotland, or are travelling alone and really value your privacy, consider the Club Room.
This offers similar sleeping arrangements to the Classic Sleeper Room, in that it's a twin bunk. However, you also get an en-suite which has both a toilet and a shower.
As well as all the amenities included in the standard sleeper room, including WiFi and power points, you also get access to the station lounges at departure and arrival stations, as well as a free hot or continental breakfast, which you can enjoy either in your room or in the Club Car.
You also have priority access to the Club Car on the train.
In terms of the first class lounge access, we tried the lounge at London Euston which is shared with Virgin Trains. This had free refreshments, which included soft drinks, coffee or tea, and snacks (think cookies and pretzels). Alcoholic drinks were available for purchase.
It was fairly busy when we visited, but got quieter as the night progressed. It was nice enough, but not at the level of an airline airport lounge. There were some power sockets and free Wi-Fi throughout.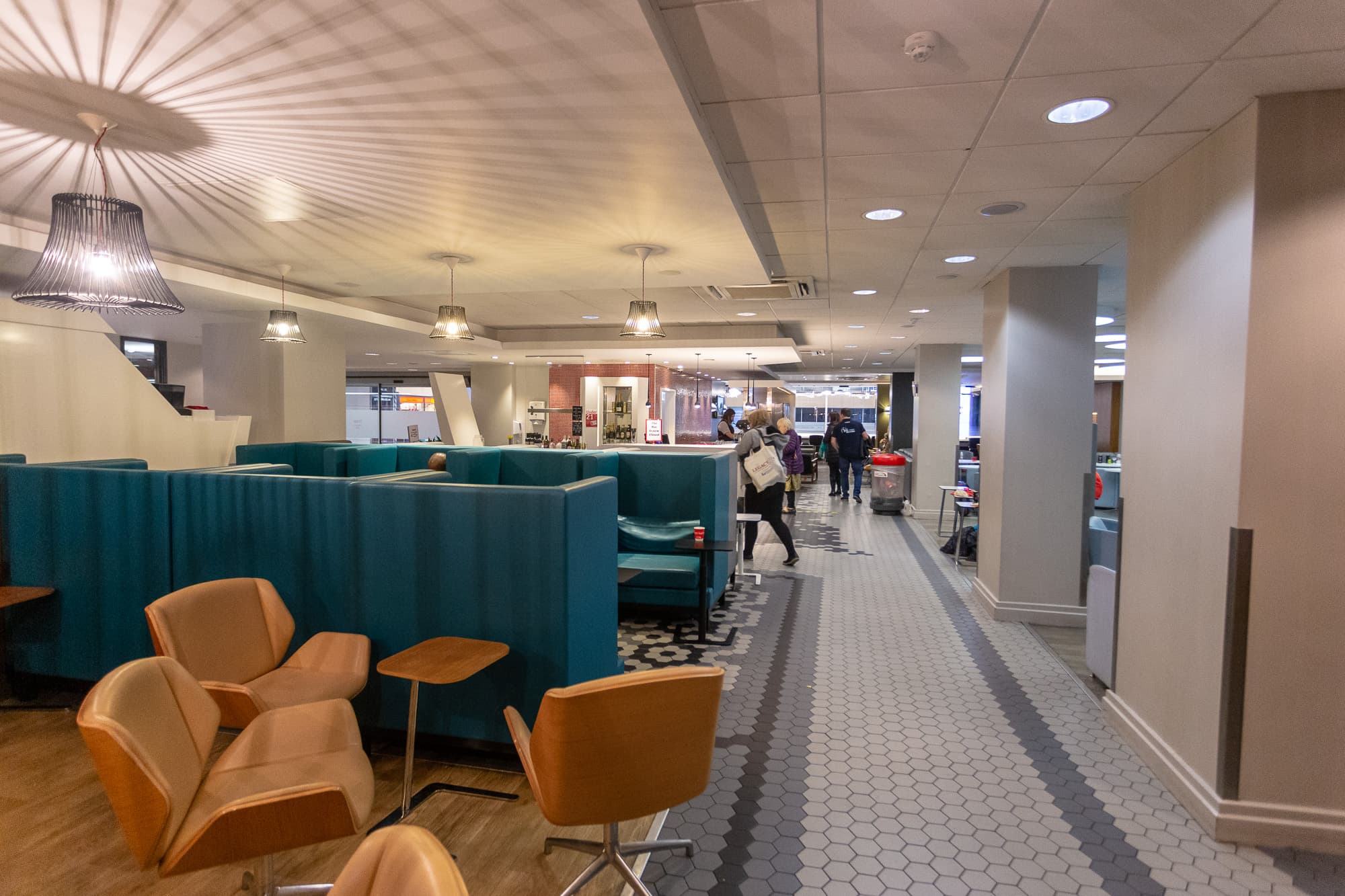 4. Caledonian Double
The ultimate in luxury, the Caledonian Double offers all the same amenities and facilities as the Club Room, but with a double bed instead of twin bunks.
If you're traveling as a couple, or simply want a more comfortable solo sleeping experience, this is going to be a great option.
Again, you get breakfast included, your own private en-suite toilet and shower, complimentary toiletries, station lounge access, priority boarding, priority club car access, Wi-Fi, charging points etc.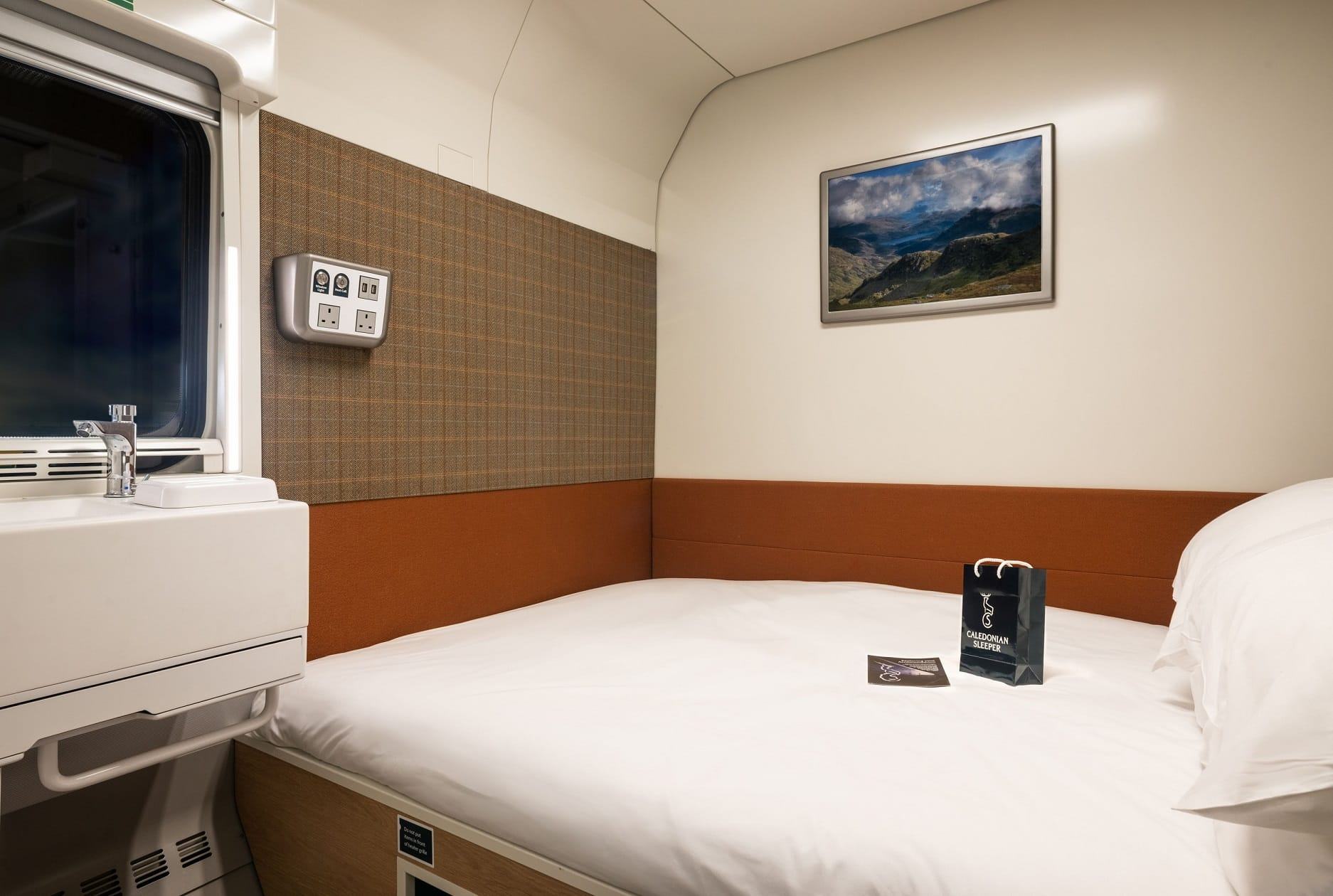 Caledonian Sleeper Review
As I said at the start of the post, Jess and I were invited to try out the Caledonian Sleeper on an overnight journey from Edinburgh to London and back again.
This is one of the shorter journeys available on the Caledonian Sleeper, lasting around eight hours. This is the "lowland sleeper" route, which operates between London and Glasgow/Edinburgh.
Again, note that our images are from the old service. All the trains have been fully replaced with more modern trains, so the new experience is going to be a big upgrade. However, I wanted to keep these images and review here to give you an idea of the overall experience.
In Edinburgh, which was where we started our journey, the train is available for boarding from 11pm, and the train itself departs at 23.40. We were lucky to have been given first class tickets, so we got on board in plenty of time to take advantage of everything the train had to offer.
On arrival our rooms were allocated and our breakfast order was taken, and after popping our luggage in our rooms, we headed to the lounge car to try out an evening meal from the options available. This was actually very good (and reasonably priced!), even though the current galley is restricted to sandwiches and microwaveable meals, and we enjoyed it.
Then, ready for bed, we headed back to our cabins. Cabins do lock, but when we travelled only the steward had the keys, so to get back into our cabin we had to find our carriage steward (this has changed with the new service, and all guests have their own keys).
Back into our cabins, we got ourselves ready for bed (I particularly liked the pillow spray that came in the first class cabin, and the provided bottled drinking water), plugged my phone into one of the four (four!) available USB ports, and went to sleep.
I'm pleased to report that we both slept well on the train down to London, although certainly we appreciate this won't be an experience for everyone. Trains move around and make noise as they travel, and whilst the earplugs certainly help, it's really down to the individual as to how you will sleep.
I would also add that to get the most sleep you should arrive as soon as the train is ready for boarding, having eaten before hand, and just head straight to bed. Trains arrive into London at just after 7am, and as we wanted breakfast in the lounge car, we had to be up by 6.30am to take advantage of that. A wake up call was available, but we just used my phone alarm.
We woke with my alarm and headed for breakfast. We were particularly impressed by breakfast – Jess had Scottish smoked salmon and scrambled eggs, whilst I went for the full highland breakfast. Then, finding ourselves already in Euston, we offloaded and started our London adventure.
Our return trip was similar, with the exception that on the journey north, the train from London to Edinburgh can be boarded at 10pm, meaning you can get a bit more sleep should you wish – or just enjoy a dram of whisky or two in the lounge car. It still doesn't leave until just before midnight, so if falling asleep whilst the train is moving is a problem for you, getting on board a little bit earlier might be the best option.
We were also a little disappointed on our northern version of the trip that an issue with food delivery meant that the highland breakfast wasn't available. Jess again availed of the smoked salmon and scrambled eggs, and I went for the bacon bap, which was excellent. It was also particularly nice to have breakfast in the dining car as we headed into Edinburgh, as the scenery on this part of the journey is really lovely, and is an excellent way to start getting excited for your Scottish adventure.
Overall, we'd definitely recommend you consider the Caledonian Sleeper for your transport needs when visiting the UK. You'll save the cost of an overnight stay, won't lose time travelling in the day, and will experience one of the world's great sleeper train journeys.
How Much Does the Caledonian Sleeper Cost?
As an indication, prices for the Caledonian Sleeper London to Edinburgh start from around the following:
£48 for a Seat
£145 for a Classic (single occupancy), £175 for a Classic (double occupancy)
£205 for a Club (single occupancy), £250 for a Club (double occupancy)
£335 for a Double (single occupancy), £400 for a Double (double occupancy)
Price for the Caledonian Sleeper from London to Fort William start from around the following:
£53 for a Seat
£195 for a Classic (single occupancy), £235 for a Classic (double occupancy)
£245 for a Club (single occupancy), £300 for a Club (double occupancy)
£395 for a Double (single occupancy), £470 for a Double (double occupancy)
Prices for the Caledonian Sleeper vary depending on time of year and the specific journey you book. You can check the prices for your specific journey online here.
Things to Know About the Caledonia Sleeper
Here are a few things to keep in mind when planning your Caledonian Sleeper adventure from London to Scotland (or vice versa).
Train arrival times
The lowland trains to and from Edinburgh and Glasgow arrive early into their respective destinations. This is great for giving you lots of time to sightsee, but if you are travelling with luggage you will have to factor that in as you'll have to find somewhere to leave it.
Many hotels will let you leave luggage if you arrive early for no additional fee, otherwise you may have to look at left luggage options. For example, this site provides Baggage services at a number of stations in the UK.
WiFi on the Caledonian Sleeper
The Caledonian Sleeper has full WiFi coverage. However, as this is a moving train, expect speeds to vary and for WiFi to drop out in areas of low signal or when passing through a tunnel.
Food / Drink on the Caledonian Sleeper
For travellers in one of the sleeper rooms, the Caledonian Sleeper Club Car has a range of drink and meal options including full dinners and breakfasts. Room service is also available.
There is a counter service available to guests in the sleeper seats for snacks and refreshments.
Pets on the Caledonian Sleeper
Pets are welcome on board the Caledonian Sleeper. Assistance dogs are free, whilst all other pets have a charge of £30 room cleaning fee at time of writing. Note this is per room rather than per pet. Up to two pets can travel per room.
If you wish to travel with a pet you need to have a room that is for your exclusive use so as not to inconvenience a stranger. Pets are not allowed in the seated carriage, on beds or in the Club Car.
Power on the Caledonian Sleeper
Power is available is the form of standard three-pin AC power outlets as well as USB sockets for each room. Power points are also available at each seat in the Comfort Seats.
Toilets / Showers on the Caledonian Sleeper
For travellers in the Comfort Seats or Classic Rooms, toilets are available at the ends of each carriage, but there are no onboard shower facilities.
Caledonian Double and Club Rooms feature an en-suite shower and toilet.
A number of stations offer Caledonian Sleeper passengers the option to shower either on departure or arrival. This is free for travellers in the Caledonian Double or Club Room, while there is a small fee for standard sleeper and sleeper seat passengers.
Stations with showers are London Euston, Glasgow, Edinburgh Waverley, Fort William, Inverness and Aberdeen.
Toilets are located at the end of each carriage, and unusually for a UK train, can be used when in a station.
Accessibility on the Caledonian Sleeper
The new Caledonian Sleeper trains have a number of fully accessible rooms. These include twin and double accessible rooms. The Club Car also has dedicated wheelchair space, and the Seated Coach also has a dedicated wheelchair space.
Accessible rooms feature an in-room lowered sink, large floor space to accommodate wheelchair turning and two emergency alarms. Read more about the accessible rooms on the Caledonian Sleeper and how to book them here.
Further Reading
As you can see, we thoroughly enjoyed our trip on the Caledonian Sleeper, and are looking forward to trying out the new version when we can. In the meantime though, here's a little extra related reading we've put together for you on the theme of the UK and trains. Enjoy!
And that sums up our experience on the Caledonian Sleeper train service between London and Scotland! Have you ever considered travelling by overnight train in the UK? Have any questions for us? Let us know in the comments below!
So you know, Caledonian Sleeper provided us complimentary first class tickets each way from Edinburgh to London Euston for the two of us. We covered the cost of our own evening meal on board. As always, our opinions remain our own – see our code of ethics for more on how we choose to who work with.