If you are planning on going gorilla trekking in Uganda, or you are just wondering what gorilla trekking entails you've come to the right place.
In this guide, we're going to share with you everything you need to know about gorilla trekking and where you can see the mountain gorillas in Uganda. This is based on our personal experiences trekking to see the mountain gorillas in Uganda.
By the end of this guide, you'll know where to see gorillas, how much it costs, how hard it is, what you need to pack, and more.
If you are not sure if you want to do a gorilla trek, this information should help you decide if it is an experience that is right for you or not. Gorilla trekking is expensive and can require some strenuous hiking so it is not for everyone.
There are also lots of photos to give you an idea of what to expect, as well as some tips on getting great photos on your gorilla trek. Let's get started!
Where Can you see Gorillas in Africa?
The first question you probably have is where you can actually see gorillas. There are a number of gorilla species, but most people travel to see the mountain gorilla. This is a sub-species of the eastern gorilla species, and there are only around 800 – 1,100 mountain gorillas currently in the wild. They are listed as a critically endangered species.
Mountain gorillas, as the name suggests, live in mountainous regions, and can only be found living in the wild in three countries in Africa. These are Rwanda, Uganda and the Democratic Republic of Congo.
There are only two wild populations of mountain gorillas left in the world. The first group lives in the Virunga mountains, a chain of volcanic mountains in East Africa. In this population the gorillas are scattered in groups across Uganda (Mgahinga Gorilla National Park), Rwanda (Volcanoes National Park), and the Democratic Republic of the Congo (Virunga National Park).
The second population lives within the Bwindi Impenetrable Forest in Uganda (Bwindi Impenetrable National Park).
Due to current safety issues in the Democratic Republic of Congo, most travellers visit the mountain gorillas in either Rwanda or Uganda.
Note that while we are specifically going to focus on gorilla trekking in Uganda in this article, much of the information such as preparation, packing, and the actual hiking experience is going to be fairly similar if you do gorilla trekking in Rwanda or Congo.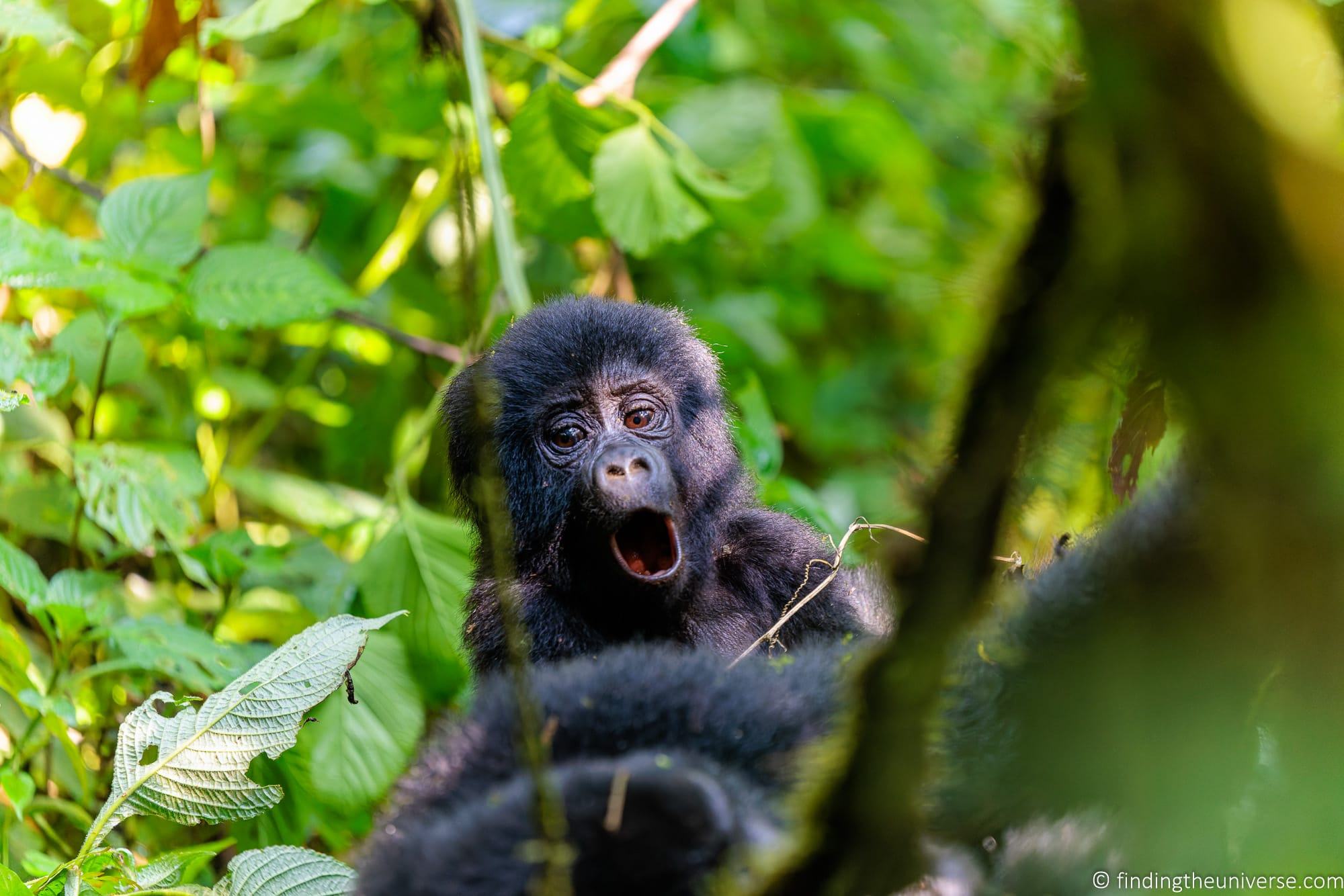 Where Can you See Gorillas in Uganda?
There are two national parks in Uganda where you can see mountain gorillas. These are Mgahinga Gorilla National Park in the Virunga Mountains, and the Bwindi Impenetrable Forest National Park.
The parks are located next to each other in southwestern Uganda, and both offer the opportunity to see mountain gorillas in the wild.
Mgahinga Gorilla National Park is home to around 80 mountain gorillas, of which two gorilla families have been habituated for visitors. It's a 13 square mile national park in the larger Virunga Mountains.
Bwindi Impenetrable Forest National Park is home to around 400 mountain gorillas, nearly half the world's population. Fourteen gorilla families have been habituated for visitors. This park covers 128 square miles, and there are four gorilla trekking regions:
Buhoma Gorilla Region, home to 3 habituated gorilla families
Ruhija Gorilla Region, home to 3 habituated gorilla families
Rushaga Gorilla Region, home to 5 habituated gorilla families
Nkuringo Gorilla Region, home to 3 habituated gorilla families
However, be aware that the gorillas aren't aware of things like park or country boundaries, and so the number of families that can be visited can vary if they migrate.
Most visitors to Uganda go to Bwindi for gorilla trekking as there are more families that can be visited and therefore more permits available. If you book a tour through an operator, they will likely pick the area and region for you based on your itinerary and lodging options.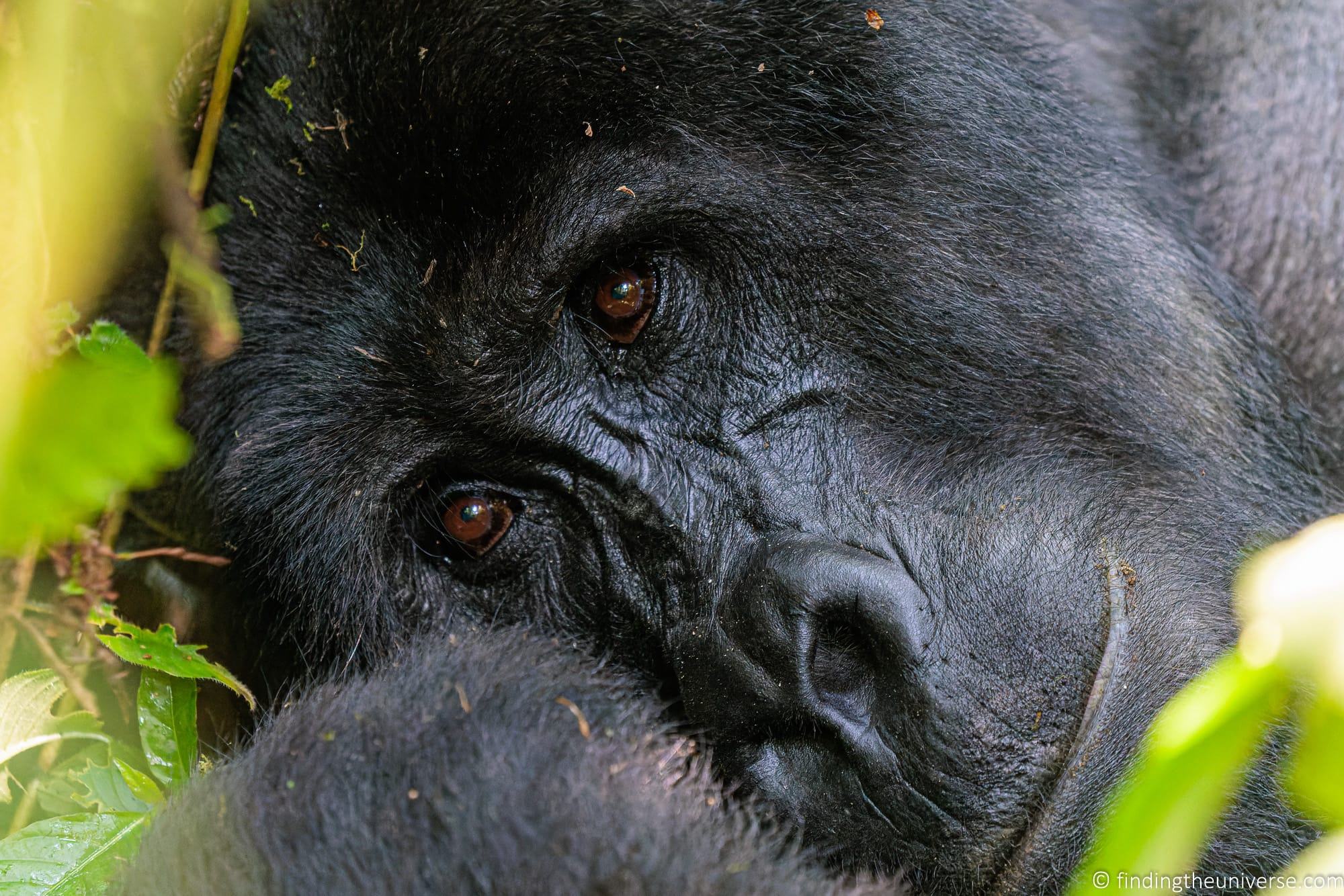 Is Bwindi or Mgahinga a Better Place to See the Gorillas in Uganda?
You have about the same chances of seeing the gorillas in Bwindi Impenetrable Forest National Park or Mgahinga Gorilla National Park.
Now, there are a lot more gorillas in Bwindi, so you are more likely to get a permit and do a gorilla trek in Bwindi than at Mgahinga. However, no matter which park, or which section of Bwindi you trek, the chances are about the same as each group will be assigned to trek a specific gorilla family on the day.
In terms of the actual hiking experience, they may vary a bit depending on which region; however, they are all relatively similar. Some people say hiking can be a bit easier at Mgahinga, but again this just depends on the day and the location of the gorillas.
Do you Need a Permit to go Gorilla Trekking?
Yes, you do need a permit to go gorilla trekking in Uganda (as well as in Rwanda or Congo).
Mountain gorillas are very rare, and they live in a remote and difficult to access part of the world. Visiting them is also a very popular activity. As such, you can't just wander into the forest on your own and seek out the gorillas. Even if it was allowed, it would be very difficult and rather dangerous.
Instead, the only way to see gorillas in the wild is to get a permit and take an official gorilla trek. In Uganda these are all arranged by the Uganda Wildlife Authority, and you need to book a permit in advance. Be sure that you arrange your gorilla trek before you travel to Uganda. If booking through a tour operator, they will likely arrange this on your behalf.
The permit includes the cost of the rangers who accompany you as well as bush trackers who track the gorilla family's movement so you have a better chance of seeing the gorillas.
Note that while it is possible that you could happen to see the mountain gorillas without trekking (e.g., our guide once saw them near the road) this is very rare as the gorillas rarely leave the forest. So if you want to see the gorillas, you will need to book a permit (or have your tour operator do so) to do a guided trek.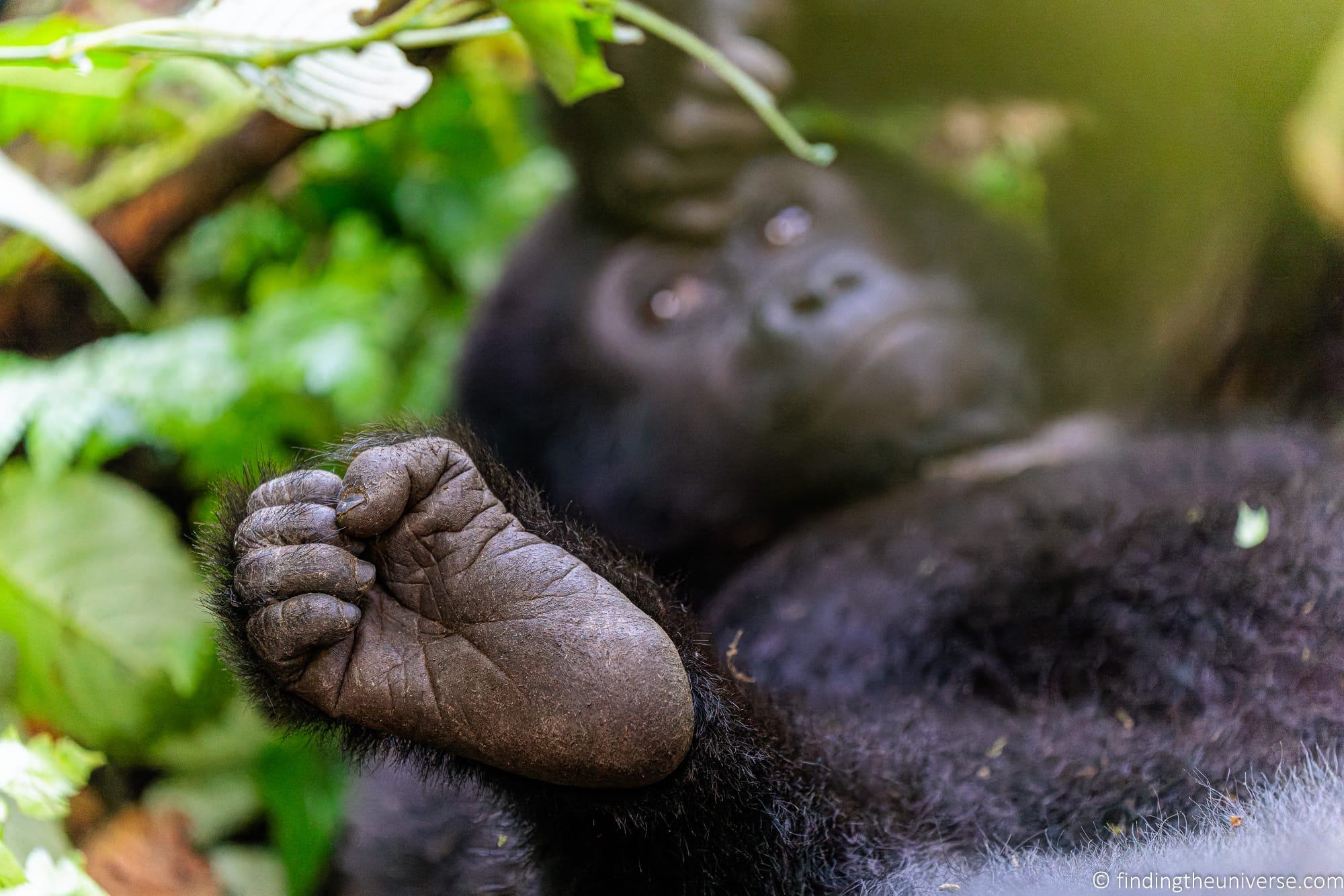 How Many People Go on a Gorilla Trek?
In order to protect the mountain gorillas and limit the amount of time humans interact with the gorillas, the numbers of people allowed to visit each gorilla family is controlled. Each group is limited to a maximum of eight visitors, plus the rangers, trackers, and any porters.
So, I would go with the expectation of 8 people in your group as it is a popular activity. But the number will just depend on the number of people who purchased permits for that particular day and the way that the rangers divide the groups.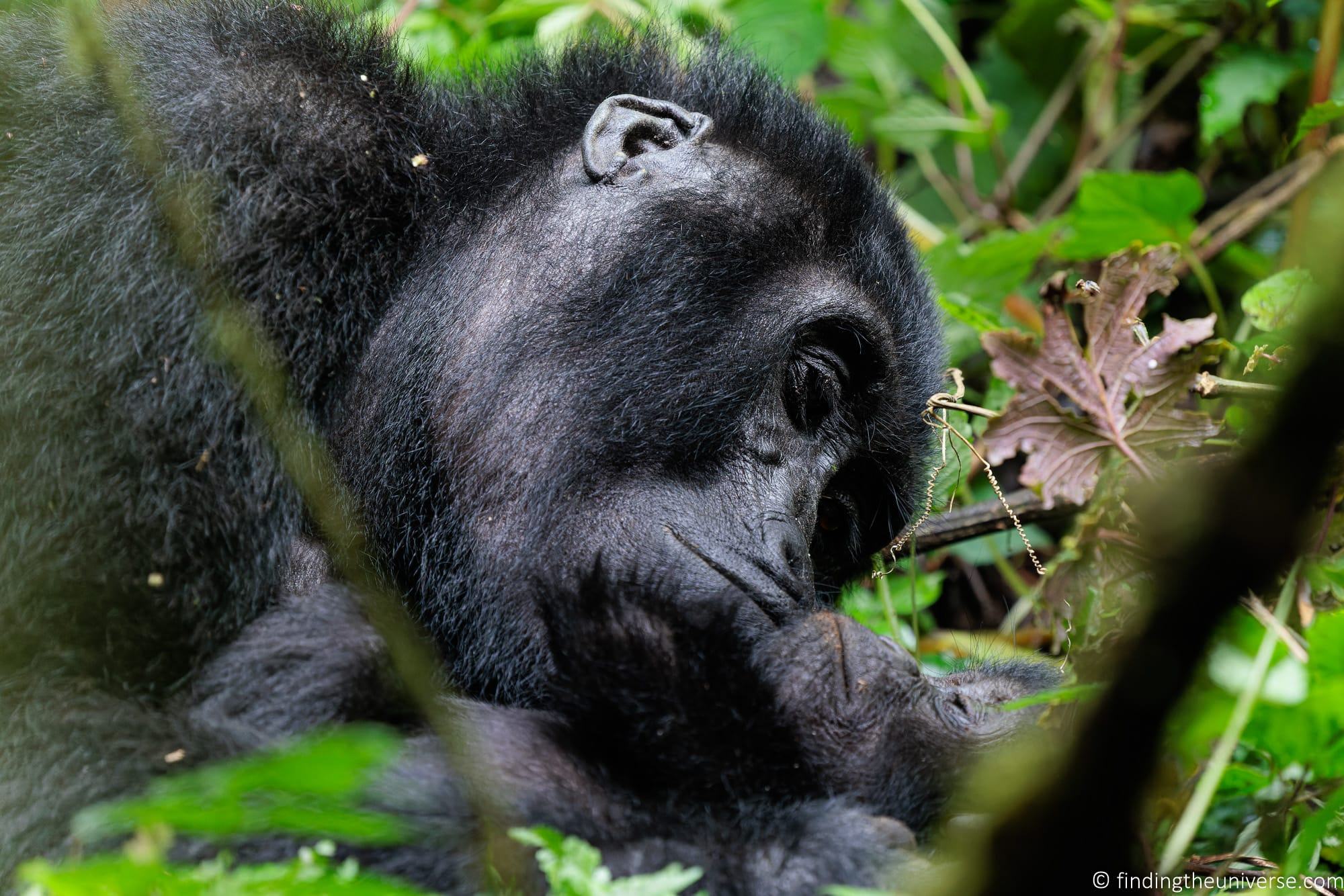 How Likely Are you to See Gorillas in Uganda?
We spoke to the rangers on our trip and also our guide in Uganda about how often people see the gorillas when trekking in the Bwindi Impenetrable Forest National Park. The overall consensus was that the chances are very good, most estimating that over 90% of the time visitors will get to see the gorillas.
The main reason that some people don't see the gorillas is not that the gorillas can't be found, but that travelers decide to return before they reach the gorillas. The trek to see the gorillas can be challenging, especially if the gorilla family being visited is further away, and some travelers may find that the trek is more arduous then they imagined and return.
Of course, as these are wild animals, there are no guarantees. Whilst the park has bush trackers who go out very early each day to find the gorillas, they do not have GPS tags or anything like that, so there is always a small possibility that they will be unable to locate them. But this is unusual.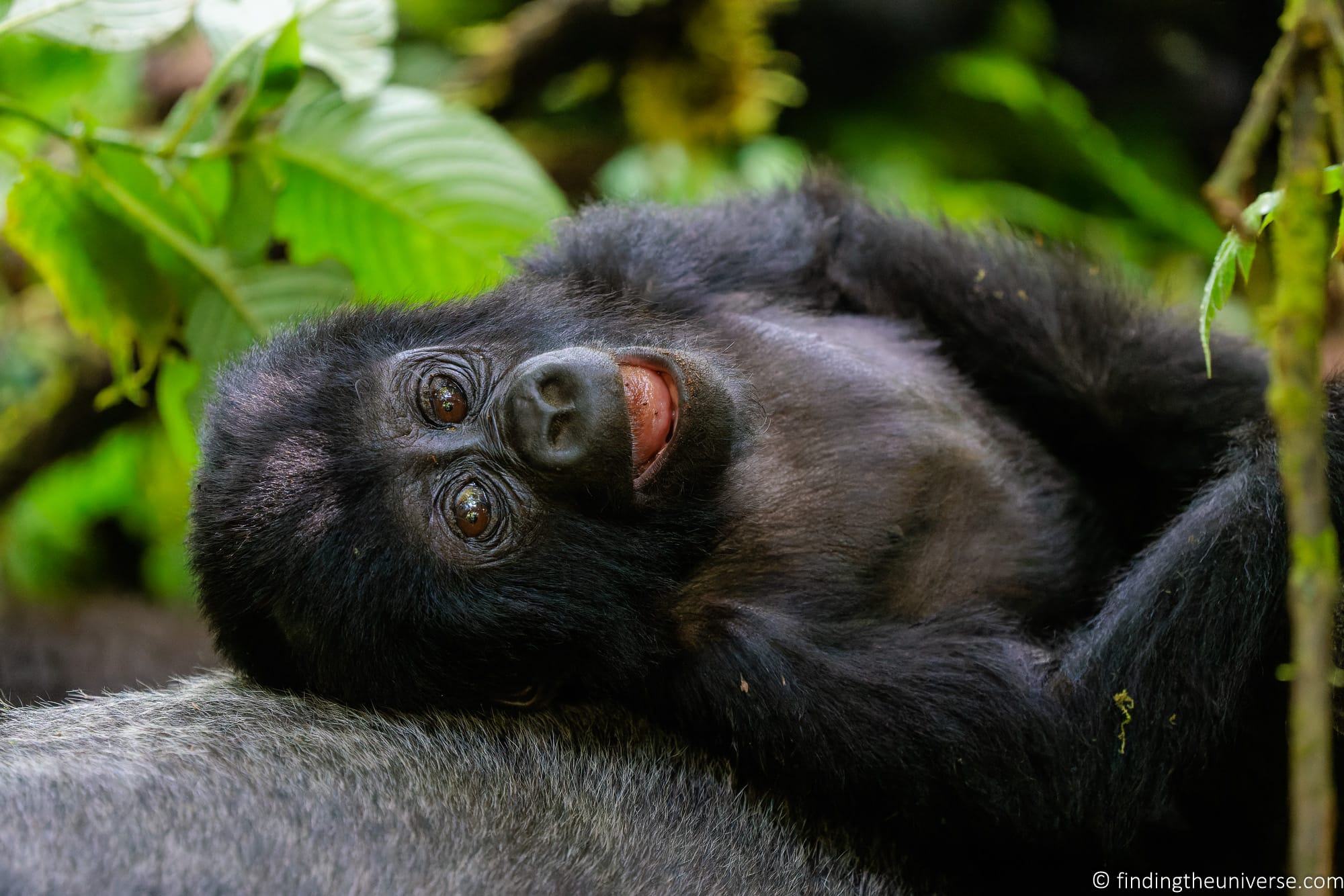 How Long Do You Spend with the Gorillas in Uganda?
So as to minimise the disturbance to the gorillas, once you find the family you are allowed to spend one hour with them.
We found that this time went by very quickly, but we had plenty of time to observe them and get all the photos that we wanted.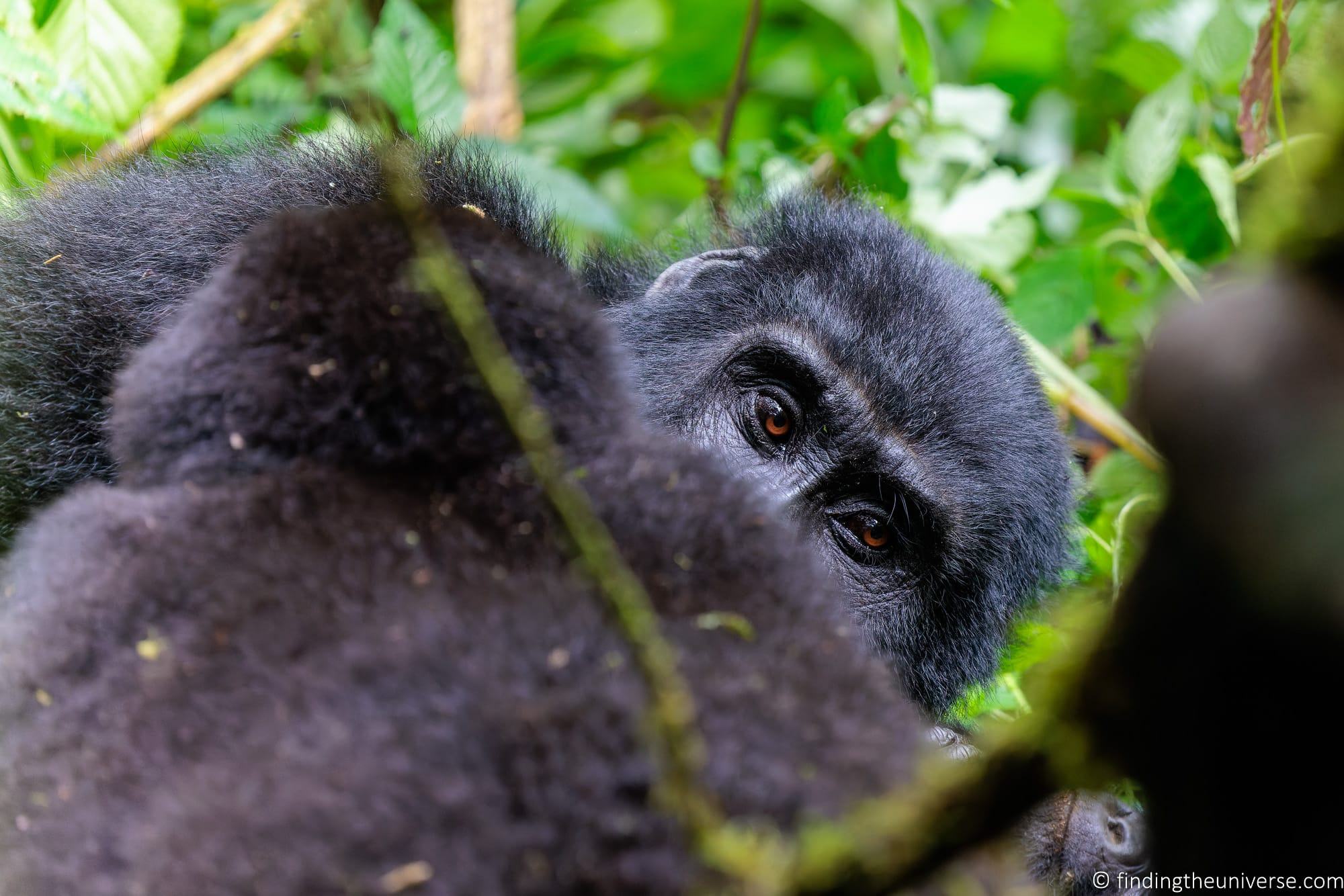 How much does it cost to go Gorilla Trekking?
Gorilla trekking is definitely not a budget experience. Prices in Uganda for gorilla trekking permits are below for 2023.
700 USD per person for foreign non residents
600 USD per person for foreign residents
250,000 Ugandan shillings for East African citizens
You can see the most recent prices on the Uganda Wildlife Authority website here. These prices include park entry, guide fees, and a contribution to local community development. However they don't include transport to and from the park or any accommodation. They also don't include tips for guides and trackers or the cost of hiring a porter (minimum of $15/person when we were there).
Whilst the prices are high, you should be aware that the funds are used for both gorilla conservation and also for wildlife conservation in Uganda in general. Some of the funds also go to the local community, to encourage gorilla preservation efforts. Mountain gorilla numbers have been rising in the past several years, and much of it is attributed to controlled tourism and conservation efforts paid for by trekking permits.
The cost of gorilla trekking in Uganda compares very favourably to the prices for gorilla trekking in Rwanda, where permits are currently $1500 for foreign non-residents. In Congo it's cheaper at $400.
What is the Gorilla Habituation Experience?
As well as the standard tracking experience, it is possible to book onto a Gorilla Habituation experience. This is a separate tour which as of March 2023 costs $1,500 USD per person.
The gorilla habituation experience has you visiting a gorilla family which has not yet been approved for normal tours to visit. Gorillas are wild animals, and it takes a while for them to become used to humans. This process is known as habituation, and the Gorilla Habituation experience has you visiting a gorilla family which has begun this process.
Whilst the experience is more expensive, it does give you a lot longer with the gorilla family. In fact, you get to spend four hours with the gorilla family, instead of the usual one hour. There are also stricter limits on the group size, with only four people per family instead of eight.
Despite the higher price, the habituation experience is still popular, and if this is something you are interested in doing we recommend booking as far in advance as popular due to the limited number of spaces available.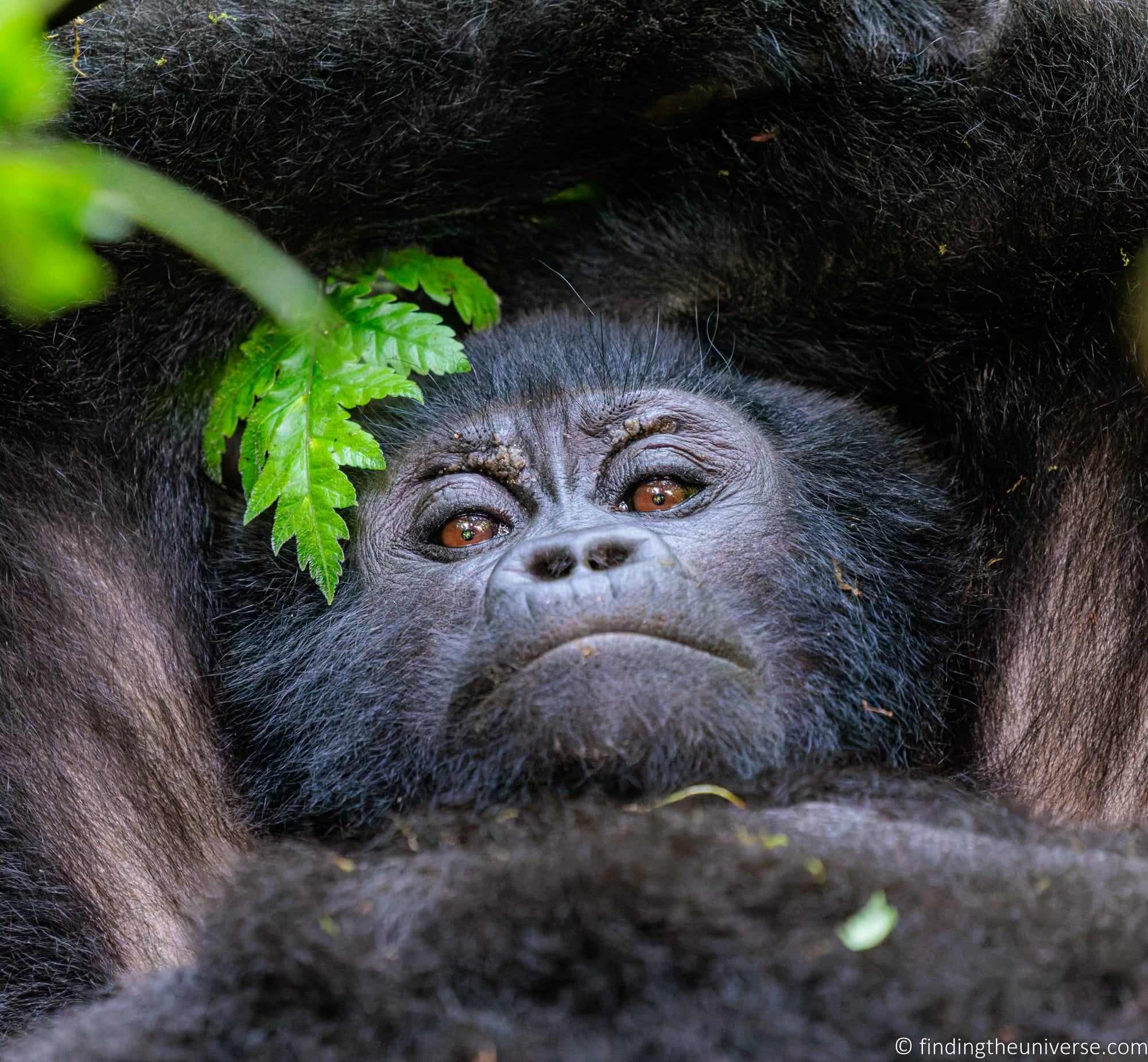 How to Book a Gorilla Trek in Uganda
In Uganda, gorilla trekking permits are issued by the Uganda Wildlife Authority.
For most visitors, their gorilla trekking permit is booked by their tour operator as part of their tour, and is the same price as booking it directly. If you are travelling independently, you can book on the UWA website here. Be sure to call or e-mail in advance of your booking via the link on the page to check availability before paying.
Gorilla trekking is a very popular activity in Uganda, and is something you will want to book at least two months in advance to ensure you are not disappointed as there is limited availability.
You should be aware when booking what the cancellation policy is and check before purchasing. In general, you get 75% back if you cancel more than 90 days before your trek, 50% if it's 46 – 90 days until your trek, 25% if it's 9 – 45 days until your trek, and nothing if you cancel within 8 days of your trek date.
However, definitely check what the cancellation policy is when you book as these might change.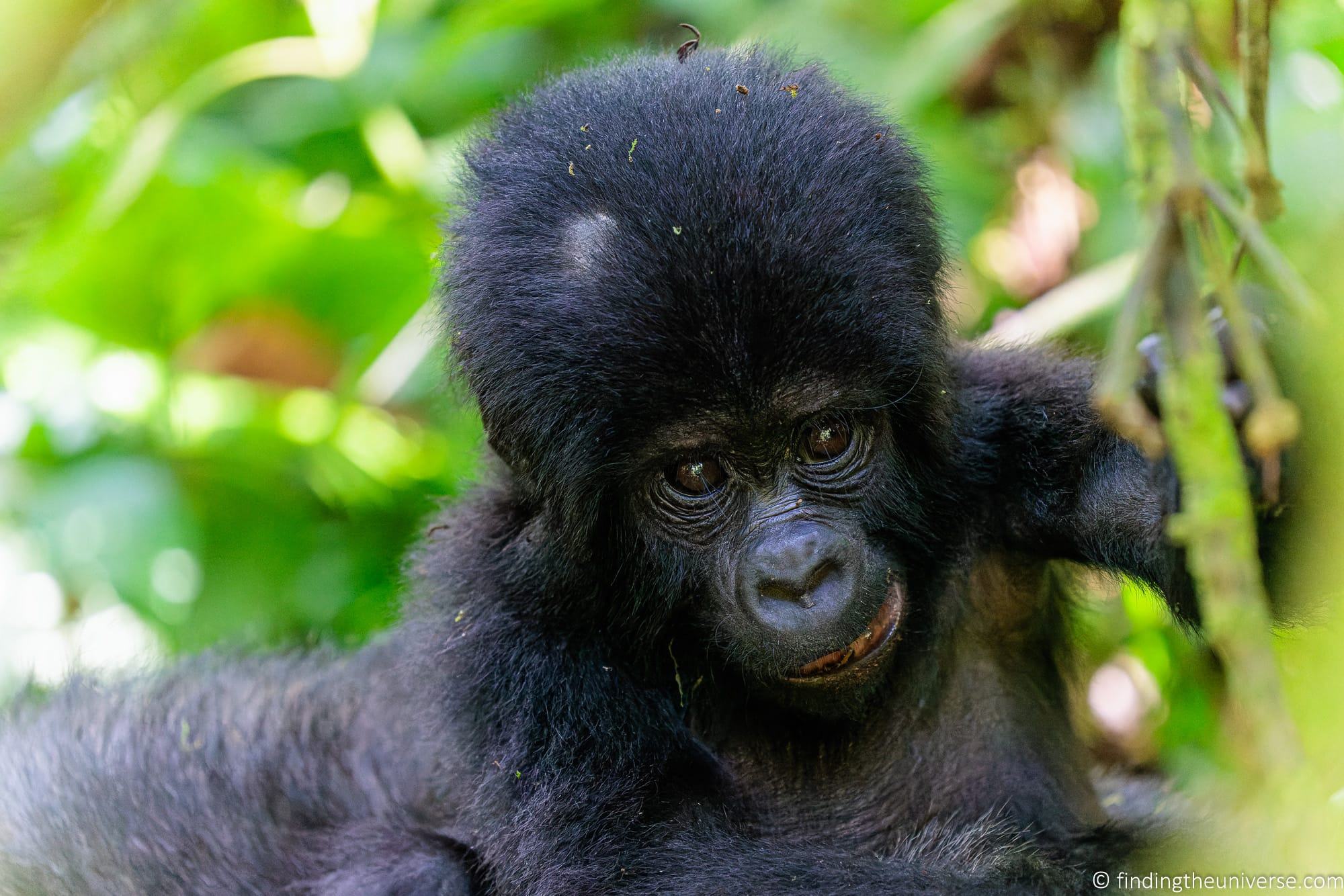 How Difficult is Gorilla Trekking?
The answer to this obviously varies, but as a general rule, gorilla trekking is a challenging and demanding physical activity.
The mountain gorillas in Uganda live in remote and densely forested areas. Whilst there are small trails through the jungle which have been created over time by visitors, expect there to be plenty of branches and thorns to watch out for as you walk.
In addition, when you get closer to where the gorillas are you will likely have to leave the trail and go through the jungle itself. The rangers and trackers will bring big machetes to help clear the way, but it can still be challenging to get through.
It can also be very hot, very wet, and very humid, as well as very muddy!
There is also no set route to visit the gorillas. They move around of their own free will, so the amount of time it will take to visit them can vary from under an hour to almost a full day depending on where they are and how long it takes the trackers to locate them. Treks can be as long as 5 hours each way.
So you can be lucky and have a shorter hike, or you can spend most of the day in the jungle. All this is to say, you will want to be both physically fit and mentally prepared for what might be a very challenging hike.
The good news is that you can get help in the form of porters who you can hire before you start your trek. These are extremely fit locals who you can pay to carry your bag or bags for you. The fee was a minimum of $15 per person when we did our trek (so be sure to bring cash if you plan to hire a porter). Porters can also help you up and down any particularly tricky sections.
However, you will still want to be fit enough to ascend and descend steep terrain, and sure footed on uneven, unstable, and slippery terrain. So if you have mobility issues or physical limitations, it is definitely worth thinking about whether you think you could do the trek before booking a hike.
I would add that in general the trackers and rangers have an idea of where each gorilla family will be as they visit them most days, and they don't tend to move too much. They also obviously want people to have a positive experience, and will try to split the groups up by fitness level. Usually each gorilla family will be a different distance away.
If you would prefer a less demanding hike, you can request your tour guide to let the rangers know that you would prefer to visit a closer family. You can also let the rangers know yourself of course.
Just be aware that there are no guarantees that this will be possible, or that the "closer" family will actually be closer!
I definitely don't want to put you off gorilla trekking, as it is an amazing experience that is well worth doing. I just want you to be fully prepared for it so you can get some hiking practice in well in advance!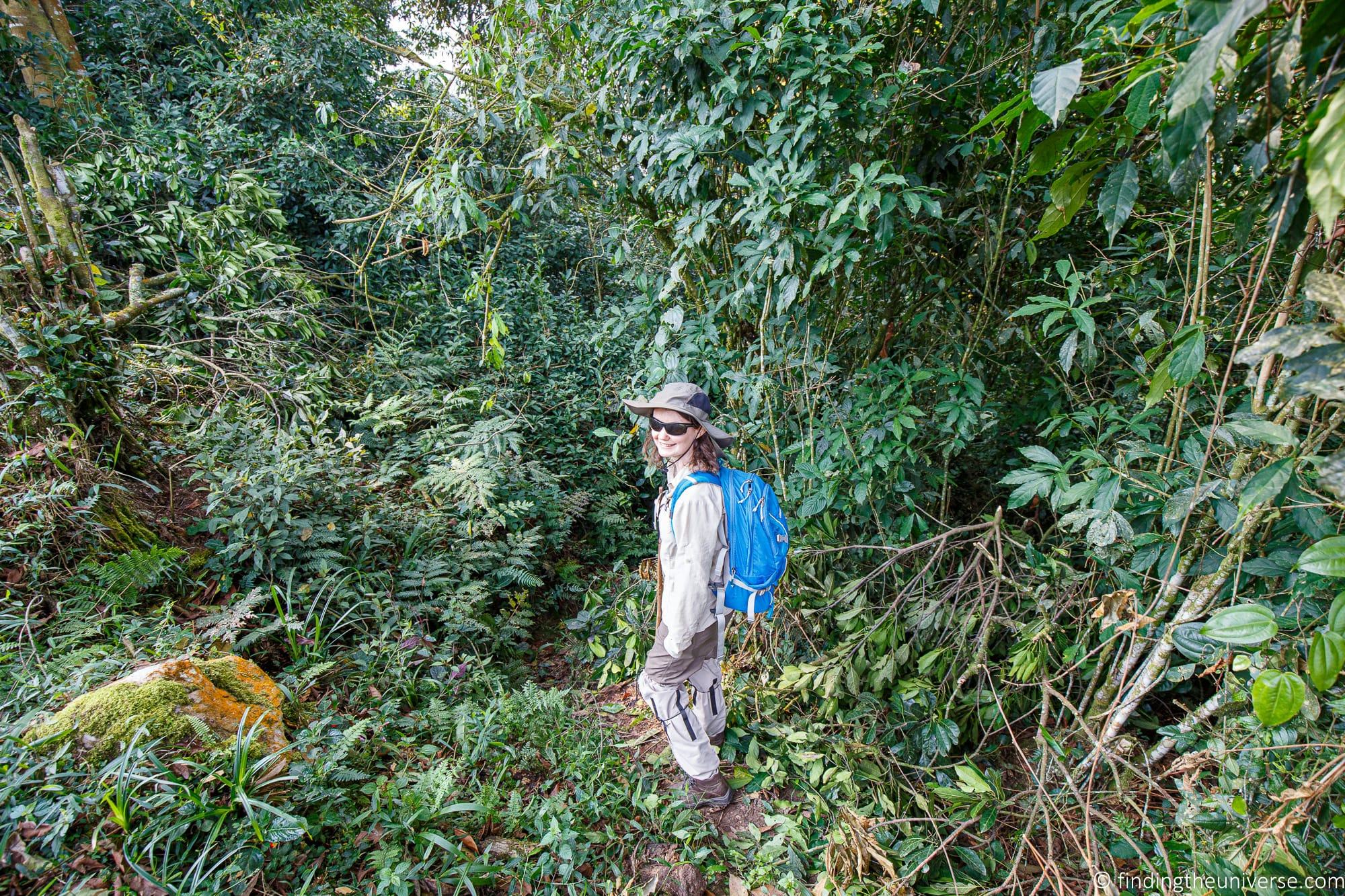 When is the Best Time to Go Gorilla Trekking in Uganda?
Whilst you can go gorilla trekking at any time of year in Uganda, we would suggest during one of the two dry seasons would be best if you are flexible in when you visit. Whilst there is always a possibility of rain in this mountainous region, it is less likely at this time of year, meaning you are less likely to get soaked during your trek.
There are two dry seasons in Uganda, one that lasts from about December to February, and one from approximately June to September. This is also a generally good time to visit Uganda for wildlife viewing.
But gorilla trekking can still be good in the wet season, but you do need to be prepared for the much greater probability of rain and mud which can make the hike more challenging and can impact how well you can see and photograph the gorillas.
Is there a Minimum Age for Gorilla Trekking in Uganda?
The minimum age for anyone wanting to go gorilla trekking is 15. Ages are verified using the date of birth in the applicant's passport.
If you are wanting to go gorilla trekking and are traveling with children under the age of 15, be sure to make arrangements for their care in advance. It is likely you will be trekking for several hours and possibly for most of the day.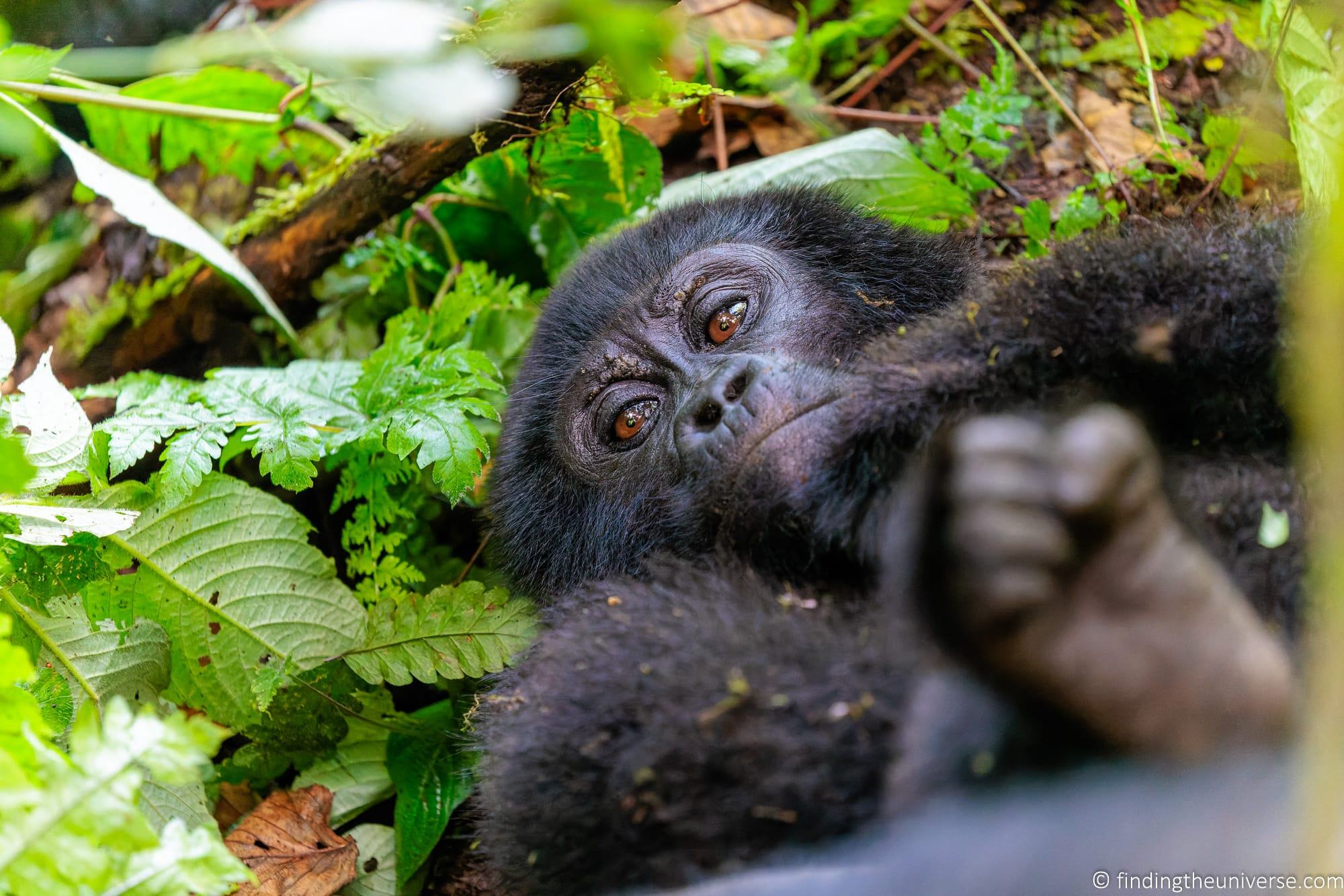 General Rules for Gorilla Trekking in Uganda
Prior to setting out on your trek you will be given a briefing which covers all the main rules of gorilla trekking. However, to give you some idea of what to expect, here's a quick overview of the main rules you need to know.
Group sizes are set to a maximum of 8 people
Once you find the gorillas, you have a maximum of one hour with the group
Photography and video is allowed throughout, without flash
No rubbish is allowed to be left. Everything must be carried out
Eating, smoking and drinking near the gorillas is forbidden
You should speak in a low voice and avoid making sudden movements or loud sounds
You are allowed to pee off the trail during the hike to and from the gorillas, as long as it is away from water. For solid waste, be aware that human waste needs to be buried in a hole at least 30cm deep. The ranger will have a small shovel, so just let them know if you need it.
You must keep a safe distance from the gorillas and on no account attempt to interact with them by making sounds or attempt to touch them
As gorillas are susceptible to catching human diseases, protecting them from catching them is important. Whilst mask wearing became common during the Covid-19 pandemic around the world, it has often been a requirement when visiting the gorillas since before then to keep them safe. During our trek we had to wear face masks during the hour with gorillas, but not whilst actually hiking. So be sure to check any pandemic or other related measures that might be in place to protect the gorillas before your visit.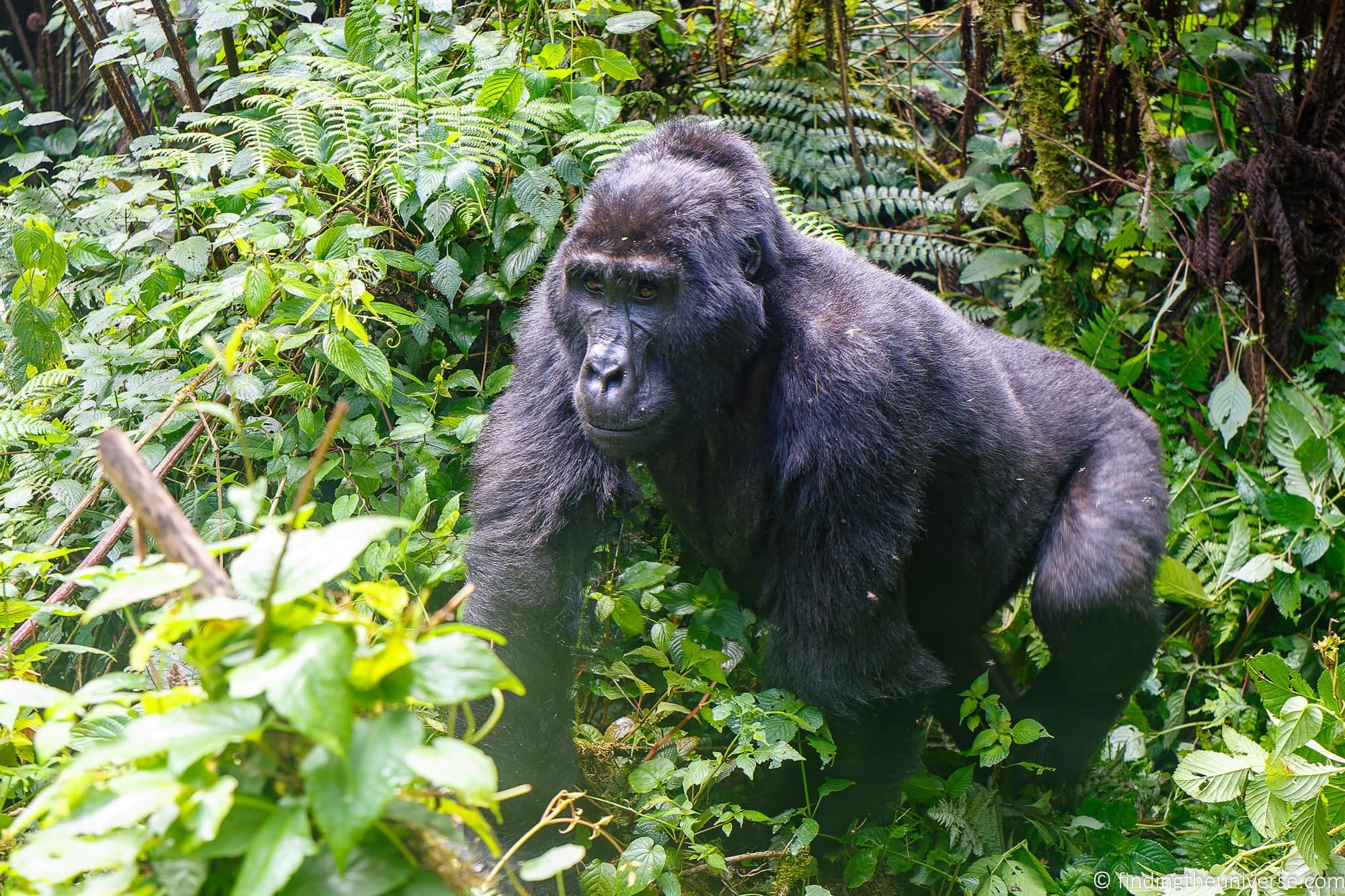 What to Pack for Gorilla Trekking
Now that you know what you expect, here is a quick overview of a suggested packing list specifically for gorilla trekking.
Hiking boots. Hiking boots are in my opinion an absolute must for gorilla trekking. The terrain is very challenging, and good ankle support and water protection are going to make for a much more comfortable hike. Just make sure you have fully broken in your boots before your hike. See our guides to the best travel shoes for men and the best travel shoes for women for some suggested brands; we both wore Scarpa hiking boots on the trek. You can search hiking boots on Amazon here and REI here.
Hiking pants / Hiking shirt. A comfortable pair of hiking pants and a lightweight long-sleeved shirt will make for a much more pleasant trekking experience and will help protect your arms and legs from sun, branches, and insects. Look for clothing made of lightweight and breathable materials which are good at wicking moisture away. We'd also recommend bringing layers as temperatures are likely to vary across the day; we wore quick-dry T-shirts under long-sleeved button-up hiking shirts. We like the Craghoppers range of clothing, some of which also includes built-in insect protection and sun protection. You can get them from the official Craghoppers store here as well as REI in the US here, and from Amazon here.
Waterproof Clothing or Rain Protection. Even when visiting in the dry season, there is a possibility of rain, so you'll want to be prepared for the possibility of rain on your hike. Waterproof clothing is one option, but the downside is that given how hot it can be, you might end up being really hot and sweaty. We packed a lightweight rain jacket with hood (Laurence) and a travel poncho (Jess). Search rain jackets on REI here and on Amazon here.
Sun Protection (Hat/Sunglasses/Sunscreen). No matter when you go trekking, you'll want to make sure you are fully protected from the sun. We recommend a wide-brimmed hat and sunscreen along with wearing long-sleeved shirt and trousers. Many people may also want to bring along their sunglasses.
Daypack with rain cover. You are definitely going to need a day pack to carry your various items, including your camera, water bottles, extra clothing, and snacks. A day pack with a rain cover is a good idea in case of rain. We'd recommend one with a rain cover that attaches to the backpack in some way so it's not ripped off by branches in the jungle. Search day packs on REI here and on Amazon here.
Camera. You will of course want to bring along your camera. I'd also recommend bringing along a lens cloth as well as extra batteries and memory cards.
Dry bag. The chances are you will be bringing a camera with you, and you will want a way to keep it dry should you experience a tropical downpour. If it's a smaller camera, then something like a Ziplock bag will work. Otherwise, you might consider a dry bag or backpack liner that you can put inside your daypack which will keep all your belongings dry. Search dry bags on REI here and on Amazon here.
Snacks / Lunch. Whilst the gorilla trek will normally start around 8.30am, there is a good chance that it will go on for more than half the day. In this case, you are going to get hungry and will want to carry some food with you. We'd suggest packing some high energy items like nuts, dried fruit, jerky, or granola bars.
Rehydration Salts. Hiking in humid conditions will cause you to sweat a lot, and when you sweat you lose both water and salts. When hiking in these situations, we always recommend carrying some rehydration salts with you. These can be added to water to replace lost nutrients.
Water bottle / water bladder. You are definitely going to need to drink plenty of water to stay hydrated so you will want to make sure you fill up your water bottles before leaving your hotel that morning. As a minimum you'll want to carry at least 1 litre / 33 fl oz per person, but if it's hot and you are doing a long hike you might want even more. If your day pack has a water bladder such as a Camelbak pack I would use that or you can just bring a regular reusable water bottle.
Gardening Gloves. This might seem like an odd suggestion, but it is recommended by the park service. A pair of gardening gloves will protect your hands as you push through the jungle from branches and insects such as the stinging caterpillar. This can also protect your hands from the wooden hiking poles (Jess had the start of a blister from using the free wooden pole). We didn't actually use gloves and we were OK; however, we had a relatively short trek. If you feel you want extra hand protection, they might be worth bringing along, especially if you already own a pair.
Gaiters. Gaiters offer protection from mud and dirt and can also keep stones and dirt from getting into your hiking boots. They can also offer some protection from biting insects. These are not a must-have but they are recommended. At the very least you will want to make sure you can tuck your hiking pants into your socks and they will stay tucked in even when hiking. If insects are the greater concern, you might want to consider leech socks as mentioned below (could be worn with or instead of gaiters). See gaiters on Amazon here and REI here.
Leech socks. These are definitely not necessary, but are good for peace of mind. Depending on the time of year you visit, there is a possibility of there being leeches. Whilst leeches aren't really dangerous, they are definitely unpleasant. Leech socks provide a barrier up to your knee that leeches can't get through. Leech socks also protect against biting insects like safari ants and stinging caterpillars and can also offer you some mud protection.
Insect repellent. The jungle is obviously a place where you are going to find insects, and while gorilla trekking in Uganda you may encounter insects such as safari ants, stinging caterpillars, and leeches. You will want to wear insect repellant to protect yourself from bites. It is recommended that you choose an insect repellent that includes at least 20% DEET as the active ingredient. While you are unlikely to encounter mosquitoes while gorilla trekking (altitude is too high) mosquitoes are present in other areas of Uganda and can carry malaria. We have had issues with insect repellent leaking so always keep it in a Ziploc bag.
Hiking pole. Most people use the free wooden hiking pole offered at the beginning of the hike. However, if you already own a hiking pole you like, you might consider bringing it along.
Passport. Don't forget to bring along your passport as it will be checked and needed to verify your booking. Everyone in your group, including children, will need to have their passports.
A face mask. As mountain gorillas share so much DNA with humans, diseases can easily cross the species barrier. It is a common requirement, even pre-2020, for visitors to have to wear masks when visiting the gorillas. It's a good idea to pack a good face mask that fits you well and you can breathe through.
Local currency or USD for tips. Tipping is a fact of life in Uganda, and despite the high price of the gorilla trek, tipping is still going to be expected. Carrying money on you is a good idea as the trackers you meet in the jungle might not accompany you back, and so you might want to tip them before you depart. Local Ugandan shillings are the easiest option, but U.S. dollars are also widely accepted.
Toilet paper. On a longer trek the chances of needing to go to the toilet increase, so packing some toilet paper just in case is a good idea.
For more general packing tips for your trip, see our guide to what to pack for safari.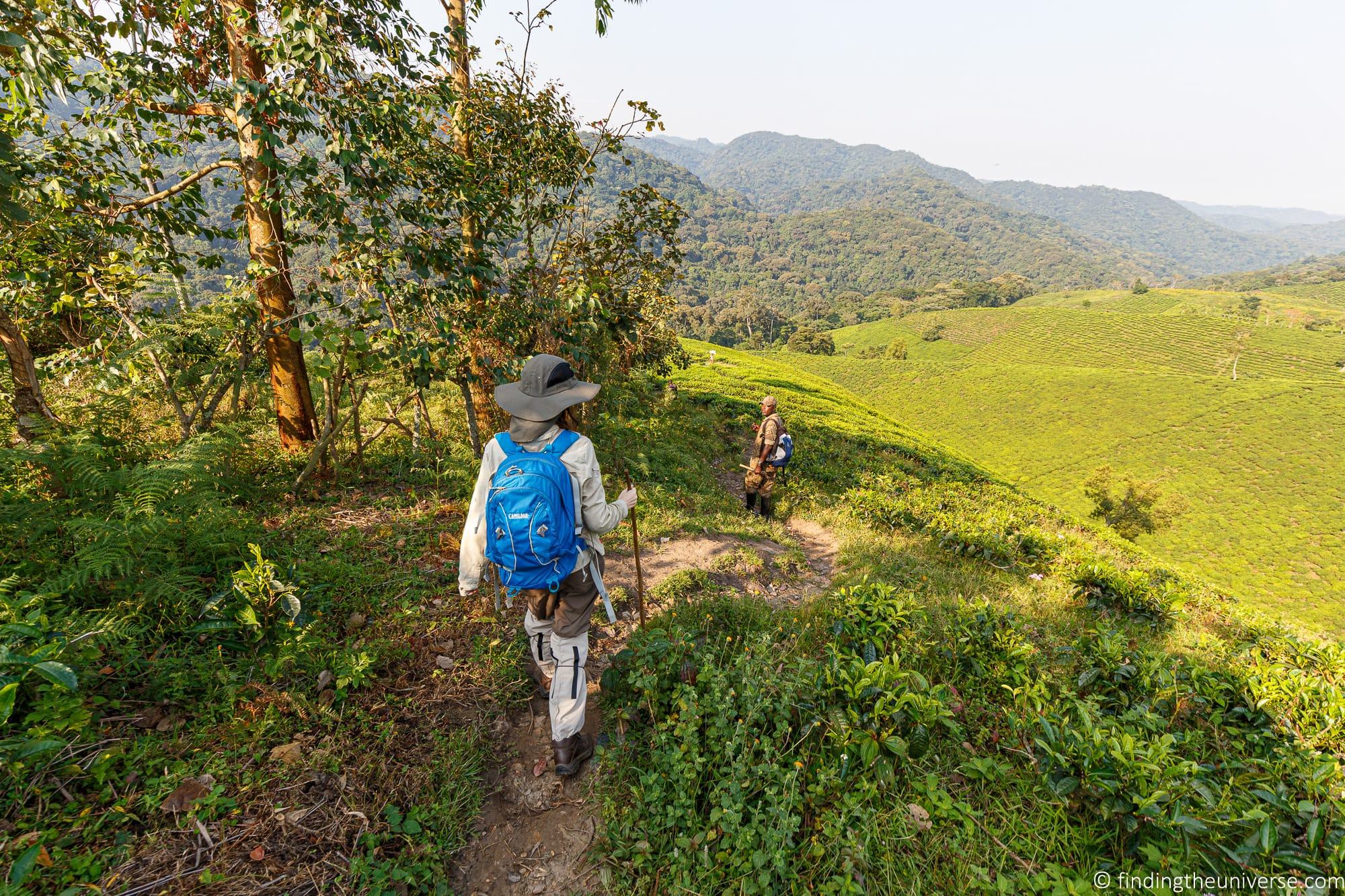 Where to Stay when Gorilla Trekking in Uganda
Normally, you need to be at the ranger station or gorilla trekking check-in point by 8:00am in the morning of your trek to check-in and do the briefing before heading out. So given the relatively early start, we recommend staying close to the gorilla trekking meeting point the night before your trek.
Given that your trek will likely take at least half the day and may take most of a full day, we also recommend considering staying a second night at the same place. Most people are pretty tired (and dirty) after the trek and will want to relax. You can then just return to your hotel, take a shower, eat, and relax for the rest of the day.
If you book a tour which includes gorilla trekking, your itinerary will normally include an overnight stay near the trekking start point so you can get there in time for the early start.
If you are self driving, then you will want to pick accommodation near to the gorilla trekking meeting point. Once you know where your trek will take place (one of the four regions in Bwindi or in Mgahinga), then you can choose a hotel as close to the ranger station as possible to minimise your transfer time that morning. Be aware that the roads in these areas can be quite rough going, so give yourself plenty of time.
One thing to note is that many of the hotels have very similar names, usually revolving around gorillas. So be sure when booking that you are choosing the right place.
Accommodation near Mgahinga
Mgahinga has fewer gorilla families than Bwindi and therefore has fewer hikers as there are fewer permits. As such, there are not too many accommodation options, but there are still a few options near the gorilla trekking meeting point.
Anjambere Iwacu Community Camp – a community owned camp right next to the national park entrance. Features both simple hut style accommodation as well as pre-pitched and bring your own camping. A solid budget option.
Mount Gahinga Lodge. The main high-end option in the Mgahinga area. Features a spa, individual butlers, and a location right by the park trail head.
Travellers Rest Hotel. A popular option is Kisoro, around a 45 – 60 minute drive from the park entrance.
Accommodation near
Buhoma Gorilla Region, Bwindi
Buhoma has perhaps the widest choice of lodging available and has a range of amenities. It's also the original gorilla trekking location in the park and one of the more popular.
Accommodation near Ruhija Gorilla Region
, Bwindi
Ruhija has a range of accommodation options that are more focused on budget and mid-range. Here are some options to consider.
Accommodation near Rushaga Gorilla Region
, Bwindi
With lots of gorilla families to choose from, Rushaga sees quite a few visitors. Here are some accommodation options to consider.
Gorilla Hills Eco Lodge – a well rated mid-range option near the Rushaga trekking centre. E-suite rooms, on-site restaurant and great views
Rushaga Gorilla Lodge – within walking distance of the Rushaga trekking centre, this is a good mid-range option with a full-service restaurant and a pool, as well as lovely views
Accommodation near Nkuringo Gorilla Region, Bwindi
Nkuringo does not have a huge range of accommodation options, however it does have some excellent high end options for those looking for a more luxurious stay.
Nkuringo Bwindi Gorilla Lodge – A well rated 4-star designer lodge offering a range of villas and garden cottages. Complimentary laundry service, on-site restaurant. 10 minutes walk from the Nkuringo Sector trailhead.

Clouds Mountain Gorilla lodge

– An award-winning luxury lodge which is also the highest lodge in Uganda. Individual cottages feature fireplaces, duvets and personal butlers. If you would like a luxury experience when gorilla trekking, this is the best option. A short walk from the Nkuringo sector trailhead.
As you can see there are lots of options to choose from across a variety of budget, so hopefully you will find something that works for you.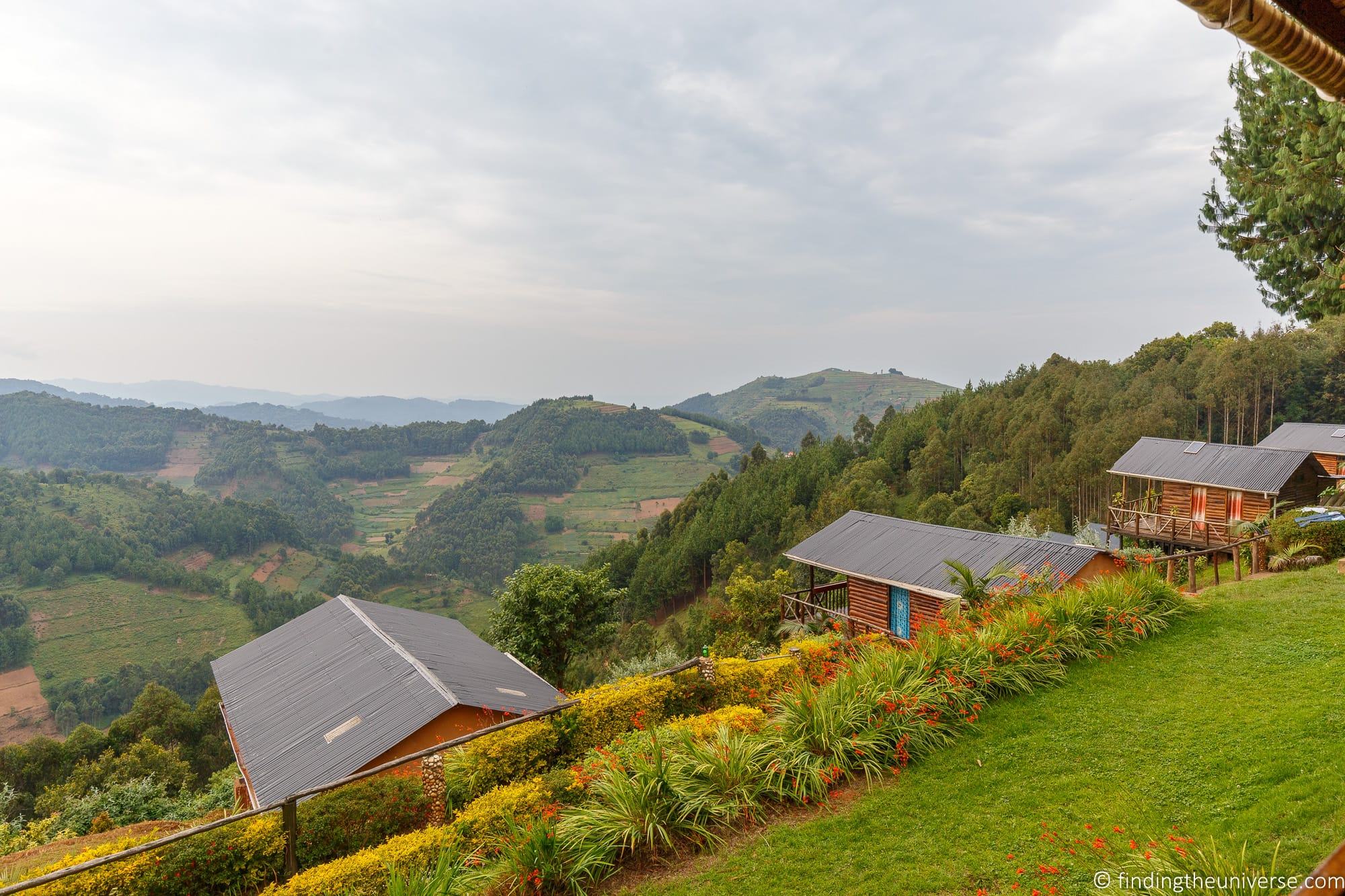 Our Experience Gorilla Trekking in Uganda
We did a gorilla trek in Uganda as part of a longer trip around Uganda, Kenya, and Tanzania. We spent 12 days in Uganda, and gorilla trekking was an activity we really wanted to do. We are fairly active but would not describe ourselves as super fit!
We went to the Bwindi Impenetrable Forest National Park, and specifically the Ruhija Gorilla Region. We stayed overnight at Bakiga Lodge, a rustic non-profit lodge offering simple accommodation with stunning views, just 10 minutes drive from the Ruhiga trekking centre.
Our day started around 7am with breakfast, and we left the lodge with our guide and vehicle at 7.40am, arriving at the trekking centre a little before 8am. Our guide registered us (we had to provide our passports), and then we took our seats for a briefing.
But before the briefing began, there was a short dance by some locals to welcome us. After the short dance performance, they collected tips to help support the community, so having some local currency on you is useful.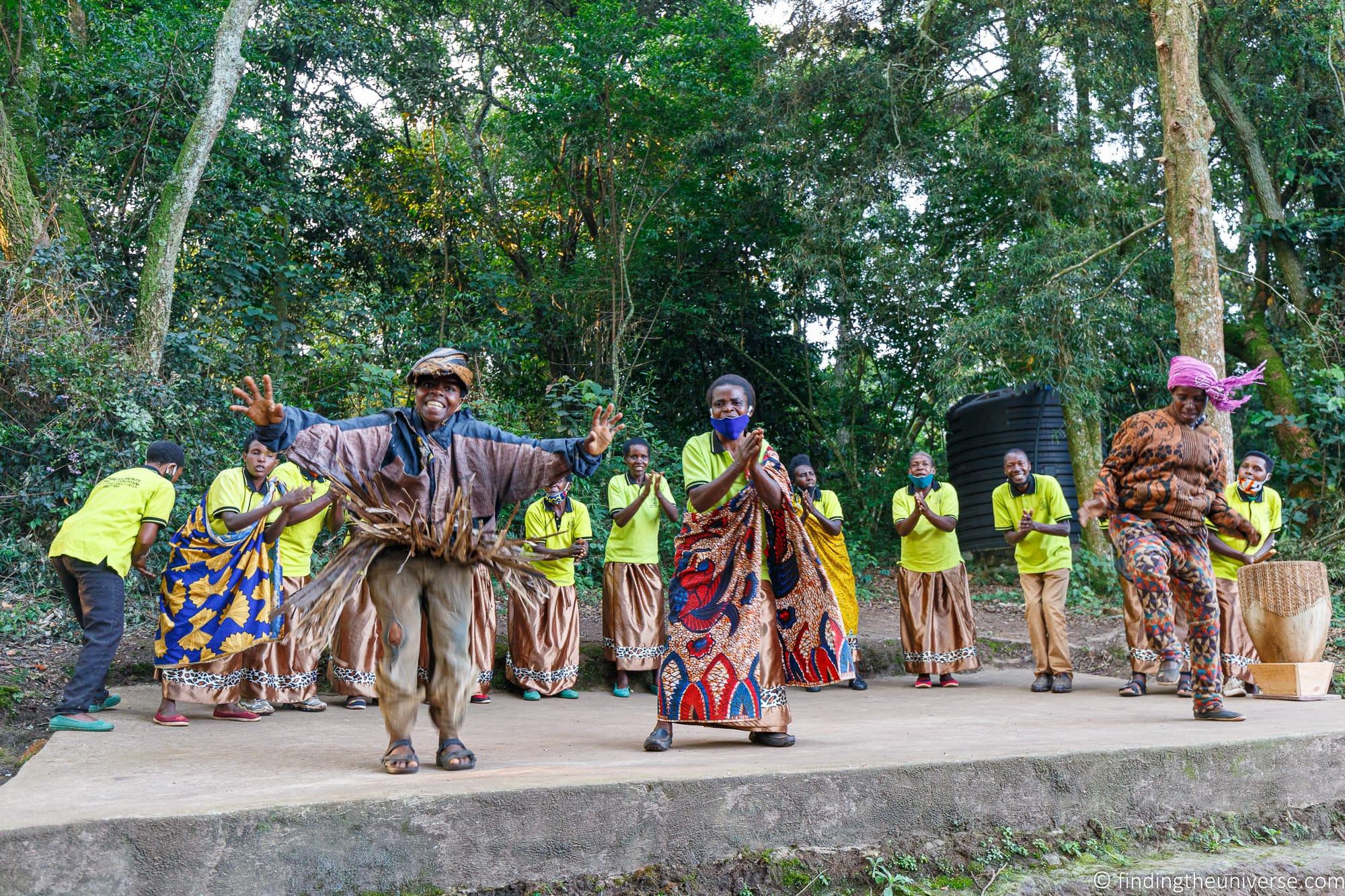 After the welcome, the ranger in charge of proceedings came to give us a briefing about the trek. We were given a bit of information about the area, the gorillas, and the rules and regulations about visiting the gorillas. We were also told to make sure we had plenty of water and snacks. We were then divided into two groups.
On the day we visited there were nine tourists in total. As the maximum number of people per gorilla family is 8, we were divided into two groups. There were four people in our group, and five in the other group. We asked for an easier hike as we didn't feel we had to make it harder for ourselves than necessary!
Once we were divided into our groups we were introduced to our specific ranger who would be leading us, as well as the two armed guards who would be escorting us. These were primarily to provide protection from wildlife, but the rangers can also escort hikers back if they find the trek too tough or get injured.
We were told that the trackers had a general idea of where our family, the Oruzogo group, was to be found. It was quite a distance away, but we would be able to drive down to a starting point for the hike that would take us a lot closer. We didn't realize that some treks don't start from the meeting point, so this is something that is good to know. The other group did start from the meeting point that day.
We drove with our guide for about 30 minutes, way down to the valley floor. Whilst it had been quite cool in the mountain tops where the trekking centre was, the temperature was much hotter near the base of the valley. The sun was also out, which was certainly better than rain, but added to the overall heat.
At the hike starting point, next to small village, we had the opportunity to hire porters. We opted not to as we felt pretty confident about carrying our own bags. The other couple we were with did hire a porter, who took one of their bags. We were also each given sturdy wooden walking sticks.
We set off on the hike, the first section of which was down through a tea plantation. This was a relatively easy path to follow and there were lovely views, but it did get quite steep as we descended towards the valley floor.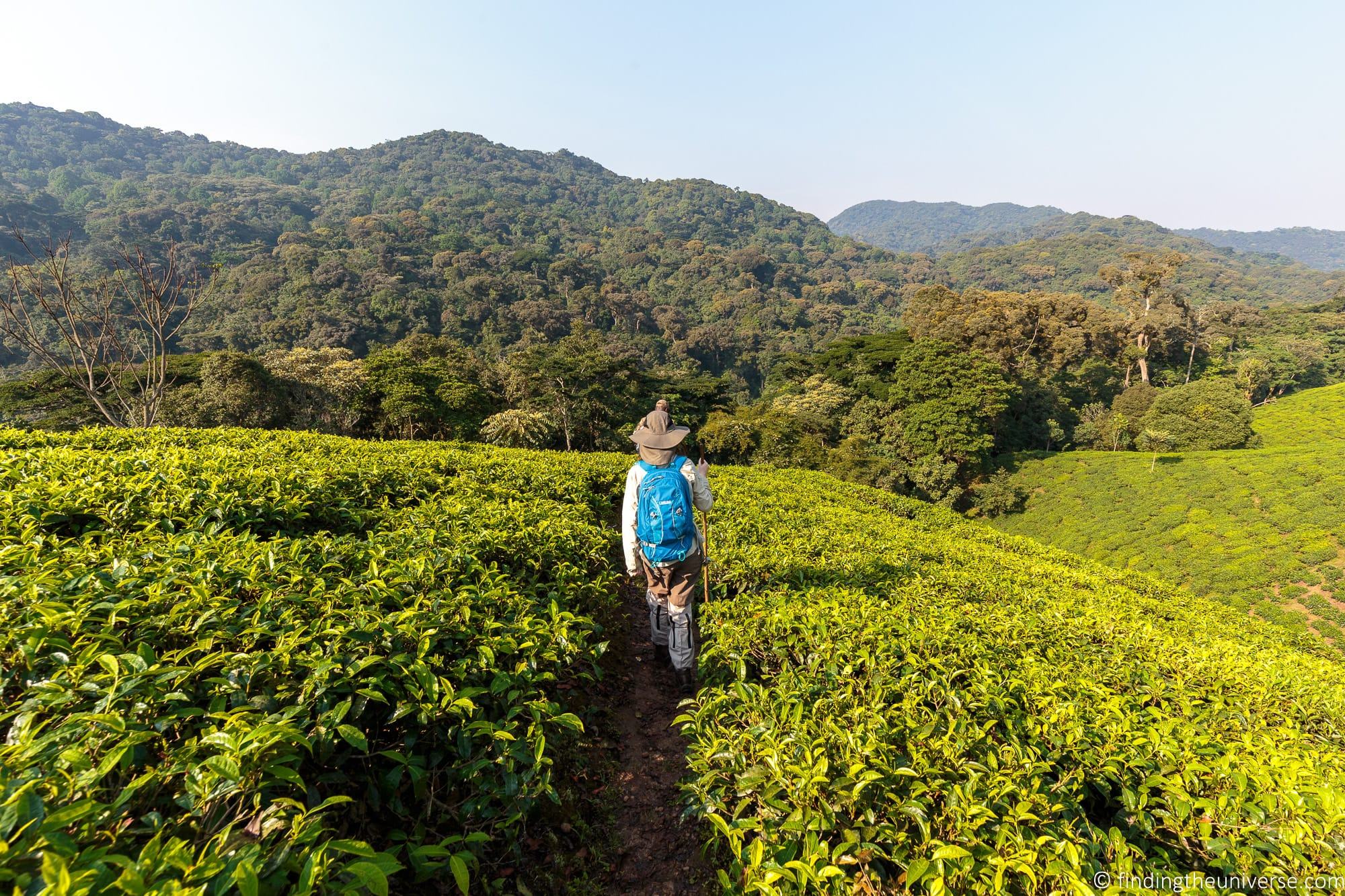 At the edge of the tea plantation we entered the actual jungle. Here, there was a small trail we were following, towards the trackers. We were told that each day the trackers go back to where they left the gorilla group the day before and then start looking for them from that point.
We trekked through the forest for about 30 minutes before we got to the base of the valley and crossed a rickety old moss-covered wooden bridge, setting off towards the trackers. However, a few minutes later, via shouts through the jungle from the trackers, we turned around and headed in the opposite direction.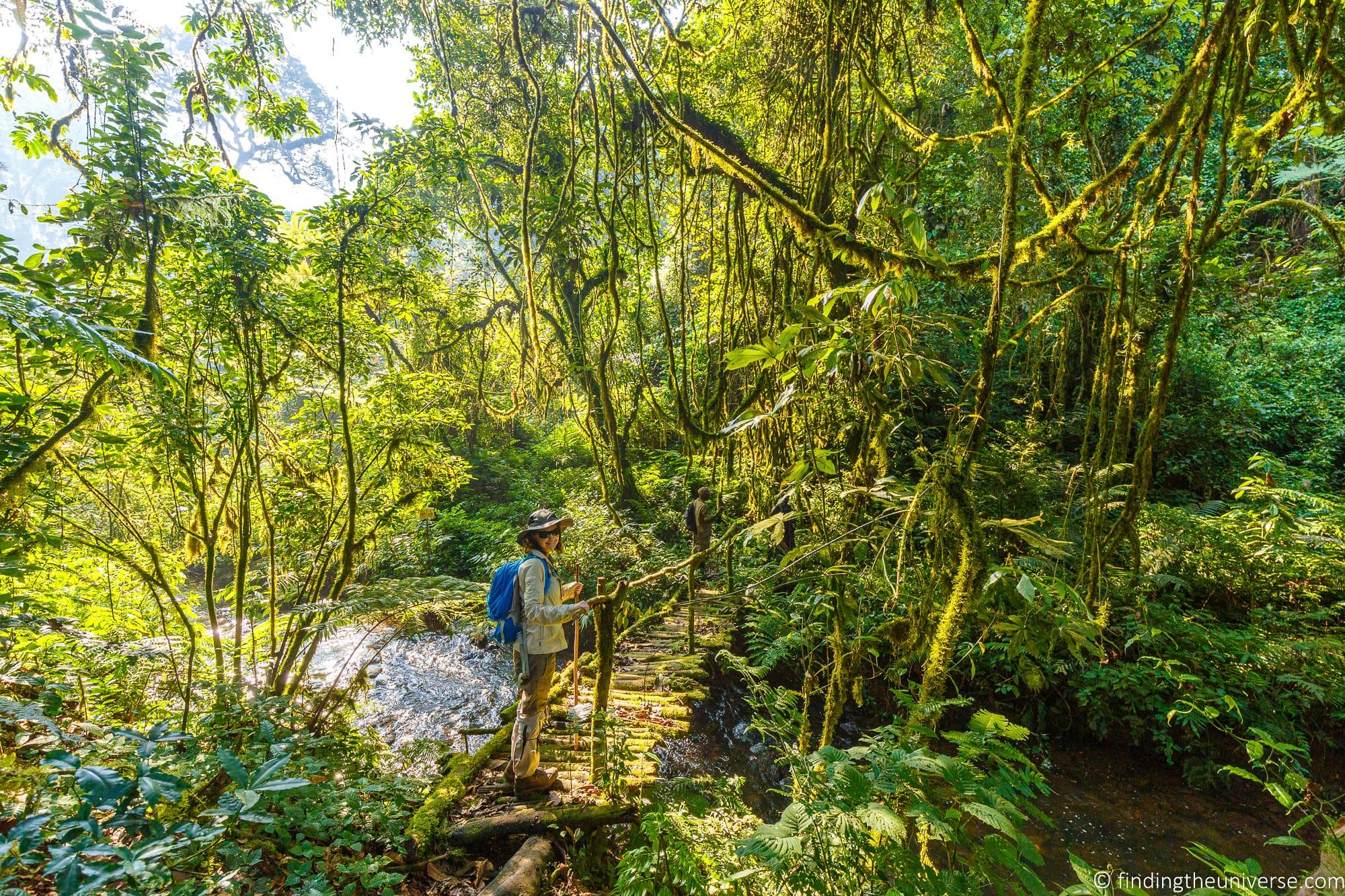 About 30 minutes of fairly muddy progress through the jungle along a small trail, we met up with our trackers who had by this point had located the gorilla family. We left the trail and pushed through the actual jungle for around 10 minutes, the rangers and trackers using machetes to clear a path, and came face to face with the gorilla family.
In our case, this was the Oruzogo group which when we visited consisted of 10 members. However, given how they were lying down in the forest under a lot of bush, we only got clear views of about 6 of the gorillas during our visit.
The closest to us was the large male silverback called Bakwate who is the dominant leader of the group. We were also close to the youngest member of the group, who was about 1 year old, and was the most active of the group. We also saw a couple of females and a couple of blackback gorillas (younger male gorillas) during our visit.
They were resting in a very dark bush but we had a fairly good view of several of them and were able to take all the photos we wanted. The trackers were able to clear away some of the undergrowth to improve our view as well.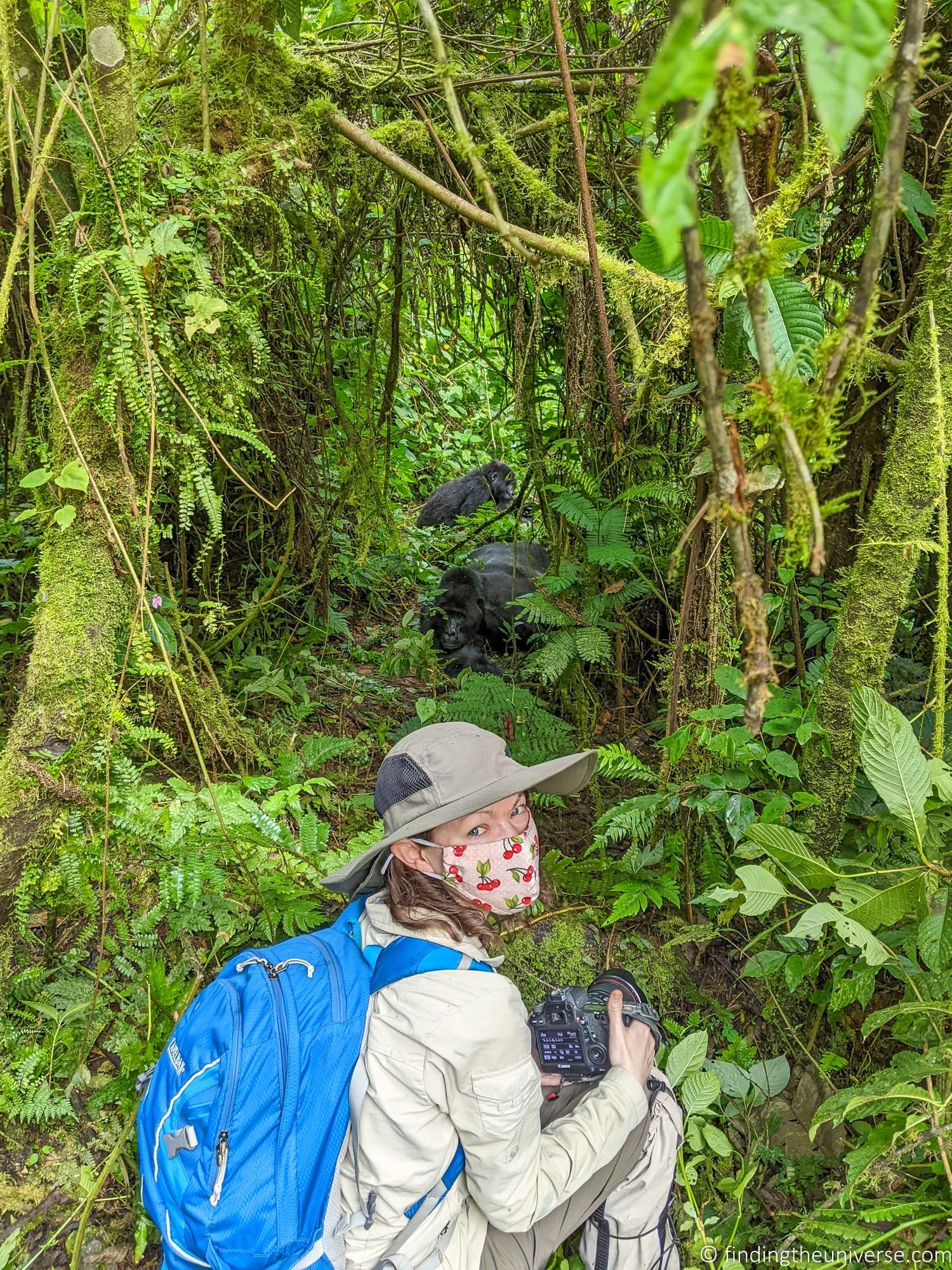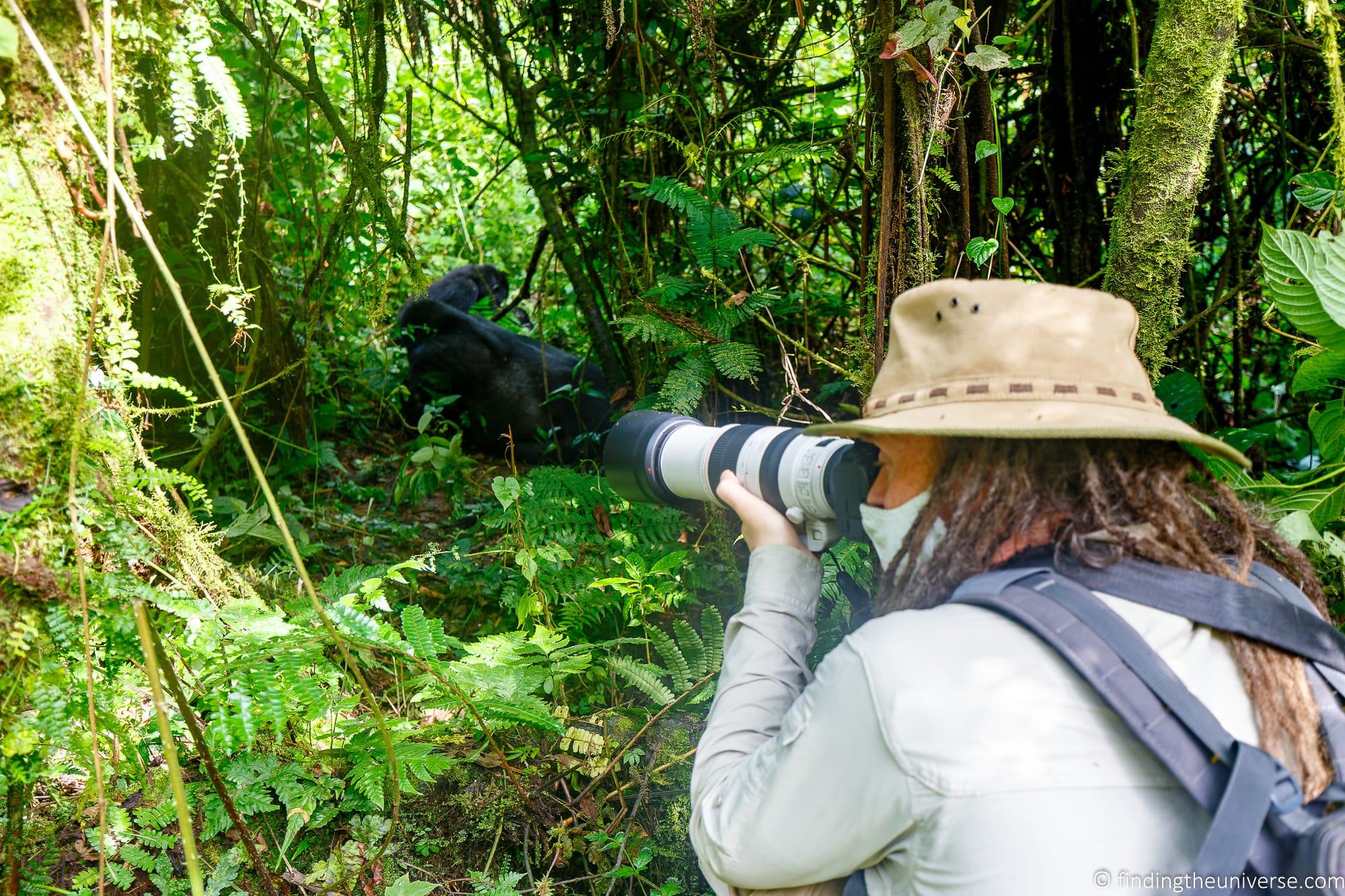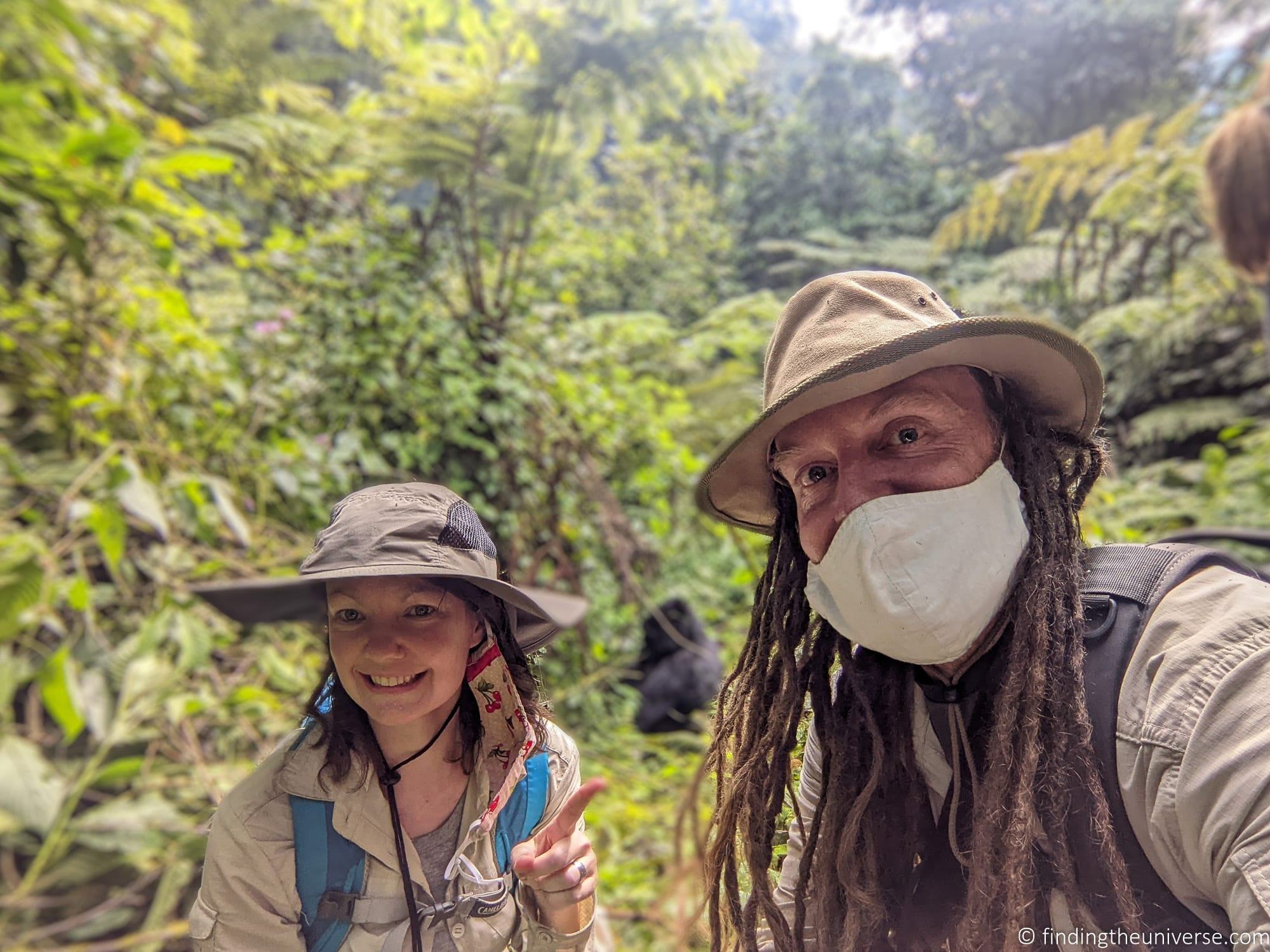 The gorillas were definitely not bothered by our presence and the clicking of camera shutters. They were very relaxed, and other than the baby gorilla playing around, they mostly lay quietly scratching at themselves, sleeping, and peering at us curiously.
About 30 minutes into our visit, another blackback gorilla joined the group from the other side. He walked through the forest around us, eating as he went, and then went to join the group. It was amazing how close it came to Jess (who was a bit scared and startled) as it walked by, but it seemed to take little notice of her. She backed up slowly to give it plenty of room to go by.
Overall it was a remarkable experience, and our hour flew by taking photos and just enjoying being near them and having a window into their world.
Finally, our hour was up and it was time to leave. Getting back was a similar experience to getting there, except it was mostly uphill. It was definitely tough, but as we knew how far we had to go it wasn't too bad.
Note that there were short breaks to drink water, rest, and have snacks along the trek. Most people in our group also stopped for toilet breaks. If you need to pee, you can do that just about anywhere off the trail away from water. Always let the rangers know if you need to go so they can stop the group and no-one gets lost or separated.
For solid waste, then you will need to tell a ranger so they can direct you to an appropriate spot and then you (or the ranger) will need to dig a hole and bury the waste. Rangers will bring a small shovel for this purpose. There were also toilets located at the ranger station where we met.
Once we got back to the vehicle, we posed for photographs and everyone in the group was presented with a signed gorilla tracking certificate.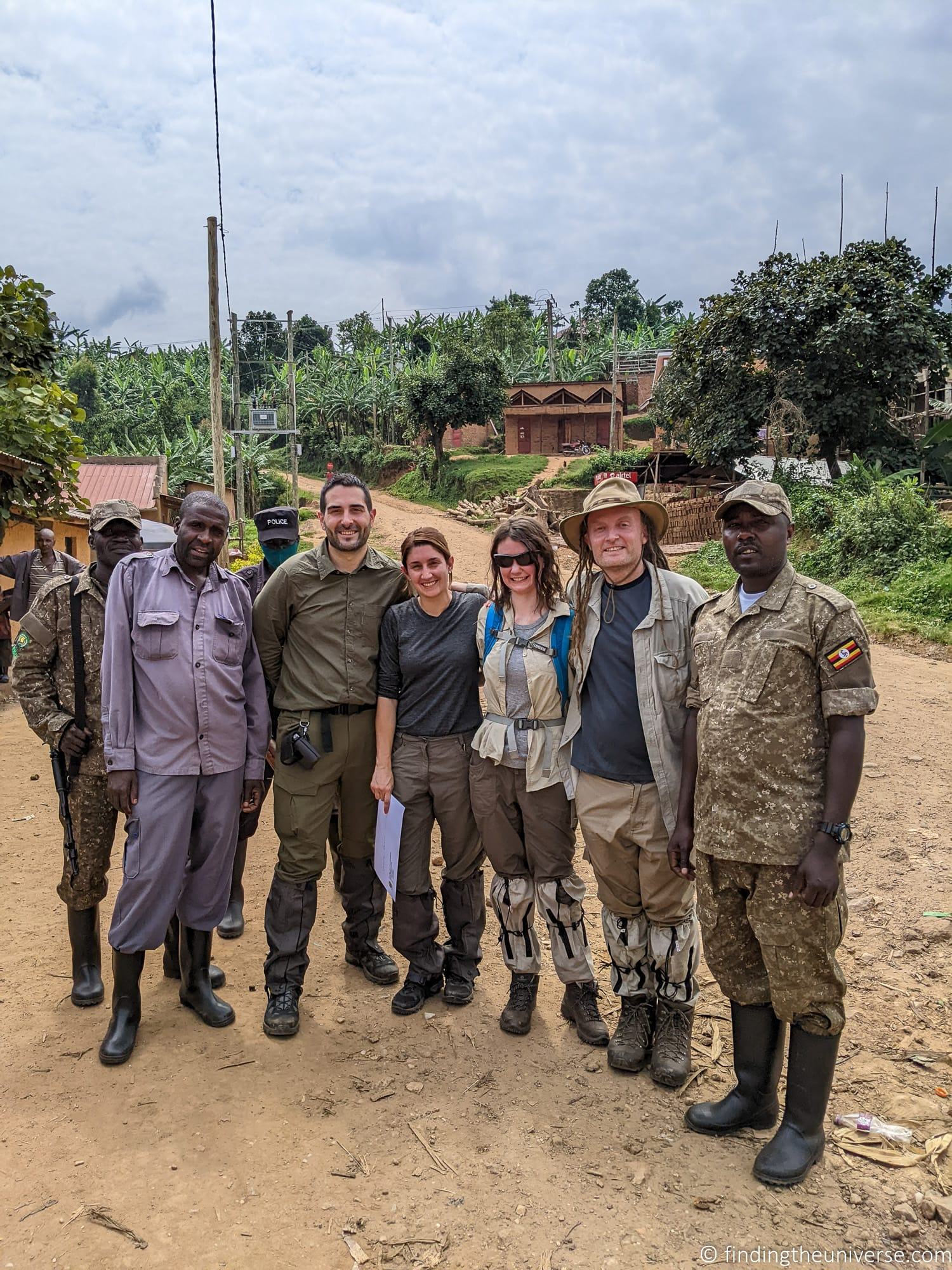 We then had to drive back to the ranger station to drop off our gorilla trekking guide who had ridden in our vehicle. We were leaving the ranger station before 1:00pm, so our total experience had taken about 5 hours in total from arrival to return.
Our total hiking experience was around three hours, including the hour with the gorillas. We were told that this was definitely one of the easier hikes and shorter times. We found out from our guide that the other group on our day took much longer, with a total hike of around six hours. So about twice the time it had taken us.
I would say that despite it being classed as "easy", it was definitely not an easy walk. All of us in our group found the going quite tough thanks to the steep terrain and hot climate. So easy in this case, for us at least, was a very relative term. However, it was absolutely worth it!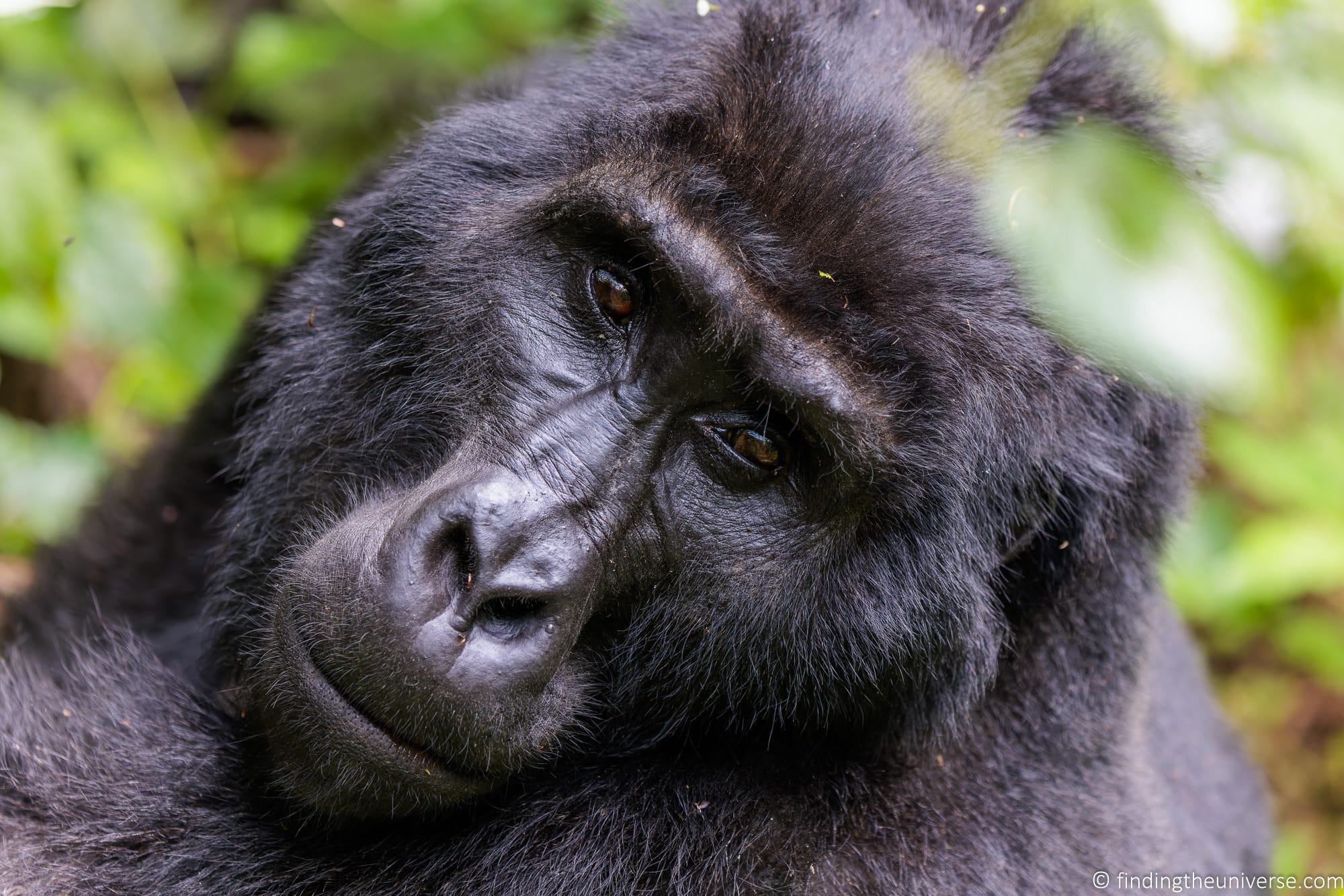 Tips for Visiting the Gorillas
I wanted to share some tips with you to help you have the best possible gorilla trekking experience.
Improve your fitness before your trip. This would probably be my number one tip. Gorilla trekking can be challenging, and you can make your whole experience a lot more enjoyable if you get in shape before you tackle it. Definitely practice hiking some hills if you can!
Pack and dress appropriately for the hike. Dressing appropriately for the hike and packing everything you'll need in your day pack will ensure you are prepared and comfortable during the hike. See our packing advice above.
Be honest about your fitness level and inform the rangers. If you don't think you are particularly fit, then you should let the rangers know and they should be able to allocate you to an easier group if possible. If you don't let anyone know, you could find yourself hiking much further than you needed to. Hiring a porter will also help.
Take breaks and go at a comfortable pace. Be sure to let your guide know if you need to slow down or take a short break. Be sure to drink plenty of water as you go.
Bring local currency with you. In Uganda, tipping is ubiquitous. The sums don't need to be particularly high, but having some local notes to tip the trackers and rangers in your party is a good idea. Also you will need cash if you want to hire a porter or buy souvenirs.
Go in the dry season. Trekking in the pouring rain and trying to keep your gear dry is no fun. Whilst of course rain is possible at any time of year, you are less likely to be rained on in the dry season, and almost guaranteed to be rained on in the wet season!
Stay overnight near the meeting point. Stay near the trekking start point to minimise your travel time in the morning. We'd also recommend staying in the same place for a second night on the night of your schedule trek so you can relax without having to travel anywhere that day.
Have good travel insurance. Most tour companies will require you to have travel insurance as part of booking the tour. Regardless, you should always have good travel insurance that specifically covers things like any medical bills and air evacuations. Whilst it is unlikely anything will happen to you, travel insurance is a small price to pay for peace of mind.
Enjoy the moment! This is an expensive and once in a lifetime experience for most people so make sure you take time to be in the moment and enjoy the hike and time with the mountain gorillas.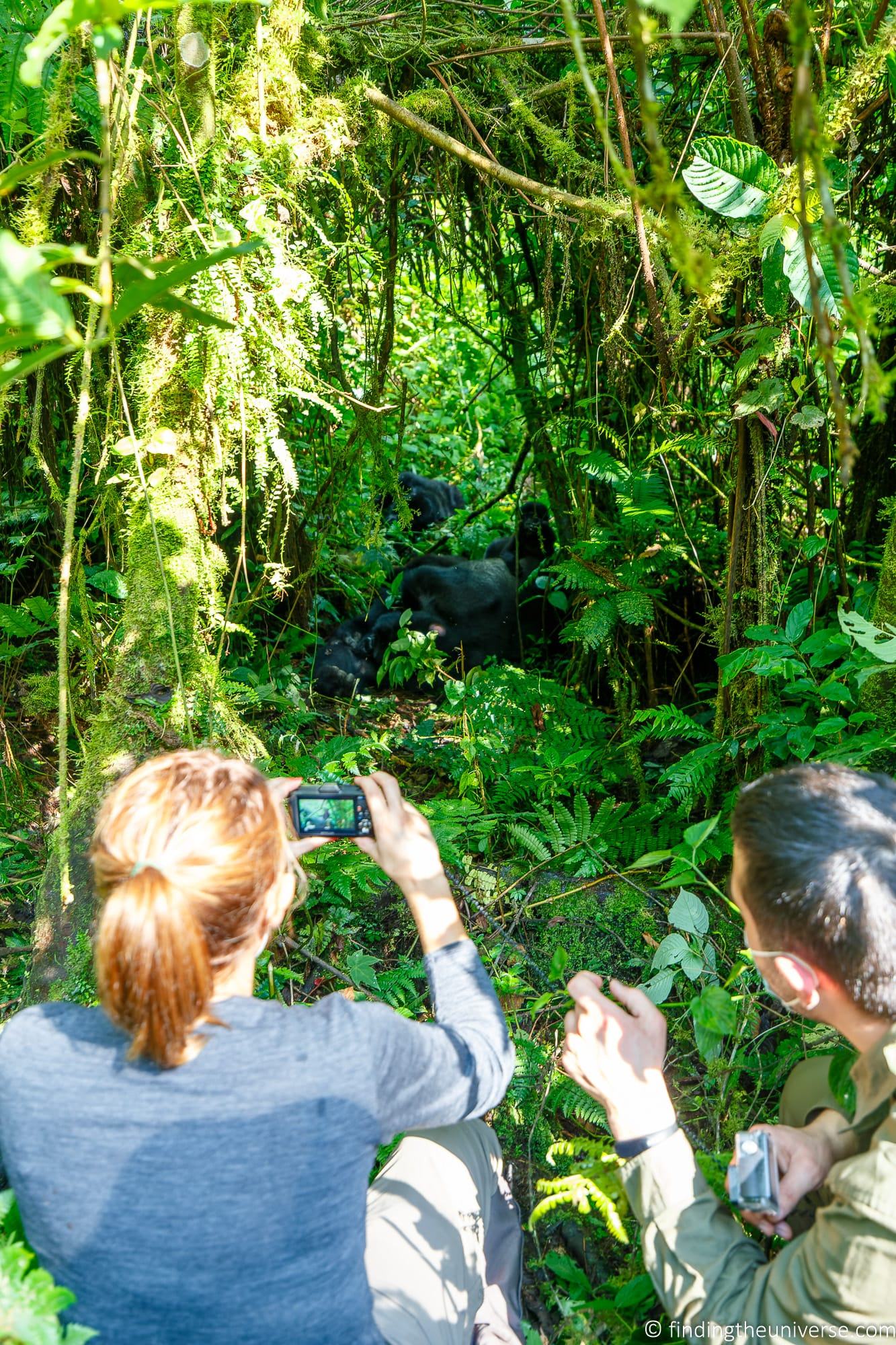 Tips for Photographing Gorillas
As a professional travel photographer I wanted to share some tips to help you get the best results when photographing gorillas in the wild.
If you are thinking about buying a new camera for your gorilla trekking, see my guide to the best safari camera for some tips and suggestions.
Disable your flash. You are going to want to take a lot of photos of the gorillas, and the forest can be a dark place. Many cameras will automatically enable their flash, which is not allowed. You can read more about disabling your camera flash here.
Understand ISO and Shutter Speed. When you find the gorillas, there's a good chance they are going to be somewhere fairly dark. Even on a sunny day the jungle canopy cuts out a lot of light, and the gorillas are likely to be in a shaded area too. In these situations you will find yourself needing to juggle a high ISO against a suitable shutter speed so you still get sharp images. If you'd like to know more about these controls, see my guide to the exposure triangle in photography
Don't worry about a super zoom lens. You are going to get quite close to the gorillas, so you won't need a camera with a massive zoom lens to still get good results. A 10x optical zoom, or a lens up to 200mm should be more than sufficient to get good shots.
Relax a little. When you first arrive at the gorillas the chances are, if you're anything like me, that you are going to be super excited and start pounding on your shutter button. Whilst this excitement is to be expected, you can probably relax a bit. The gorillas are unlikely to run away, and if you take a moment or two to compose yourself you will be able to ensure your camera settings and composition are good before you start capturing the moment.
Get down to their level. Wildlife photos nearly always look better when you are shooting at eye level rather than down to the animal. This might require you to get yourself lower down (watch out for biting insects and undergrowth of course), but should result in better images.
Try to make eye contact. I personally find that wildlife images where the subject is making eye contact with the camera are more interesting to look at. Whilst you can't control where the gorilla is looking, you can improve your chances by shooting in burst mode and taking sequences of photos, as the gorilla might make fleeting eye contact when you are shooting. Don't do anything to try and make the gorilla look at you though such as making noises, as this might upset them.
Experiment with wide and close up shots. If you have a zoom lens, it can be tempting to zoom right in on a single gorilla subject, to the exclusion of everything else. Whilst this will often make for a striking image, don't forget to include some wide angle shots we well. This will help to show the scenery and set some context for the viewer. It can also tell more of a story.
Photograph more than the gorillas. Whilst you will obviously want to take a lot of photos of the gorillas, your experience is going include a lot more than the hour you spend with them. Hiking through dense jungle is a unique experience as well, and you will likely come across numerous photography opportunities on your way to and from the gorillas that you will want to record!
Consider improving your photography skills. If you aren't sure about your photography skills and want to hone then, consider taking a photo course like mine, a local workshop, or similar, to ensure you are going to be able to get the best photos with your equipment.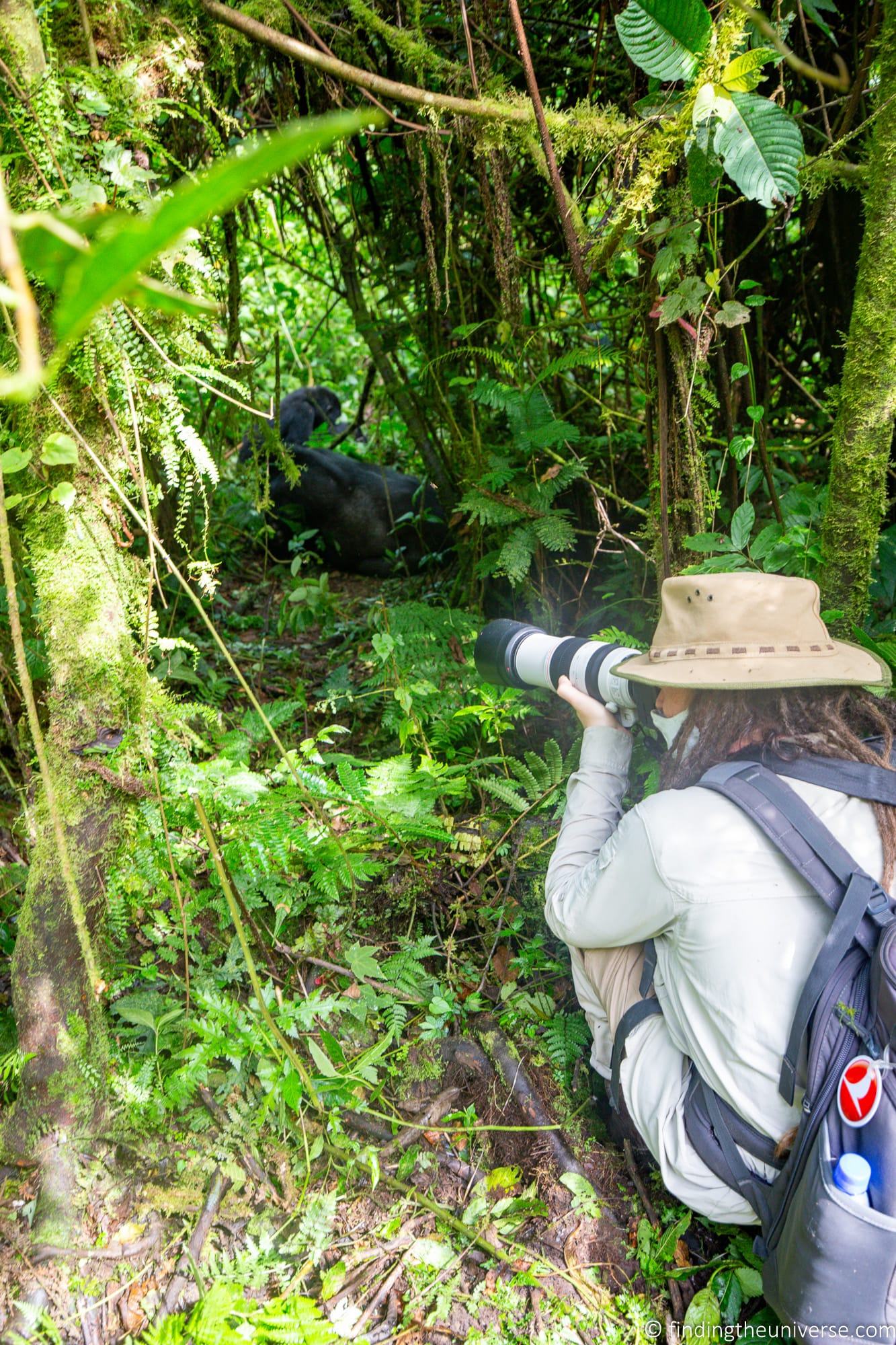 Gorilla Trekking Tours in Uganda
There are a multitude of tour operators in Uganda, and many tour itineraries will include gorilla trekking as it is very popular. However, you can also book shorter, more specific tours that focus on gorilla trekking, which would suit a shorter time in Uganda.
When looking at tours, make sure they include the gorilla trekking permit as this is quite an expense. Most tours do include it, but just make sure.
Here are a number of options to consider.
As you can see, there are lots of options to choose from and tours of various durations and prices. You can see more options on Viator here and GetYourGuide here.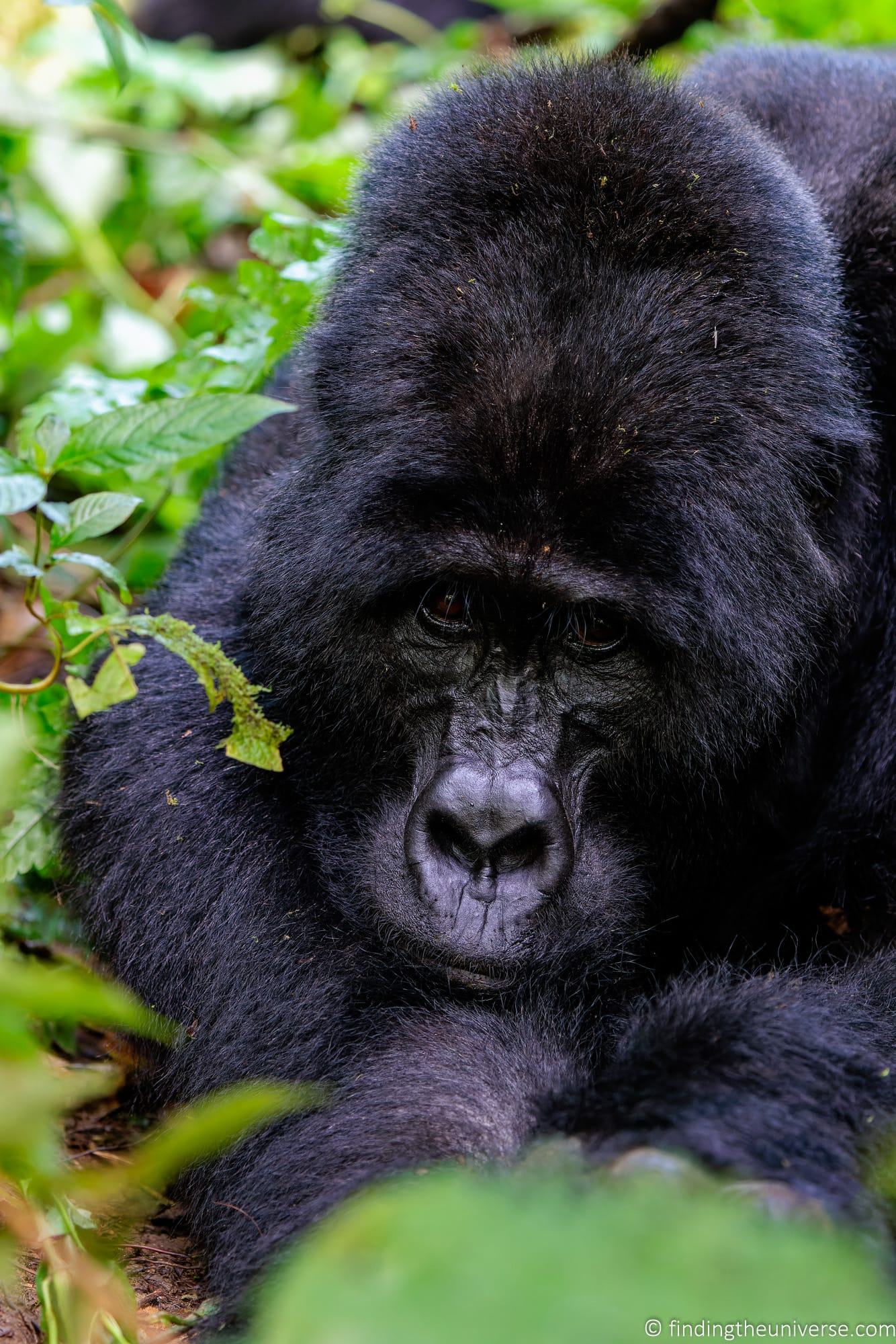 Further Reading
That sums up our guide to gorilla trekking in Uganda. We hope you found it useful! Before you head off, we wanted to share some links to other content we think you might find useful in planning your trip to Uganda.
And that's it! As always, we're open to hearing your questions. Just pop them in the comments below, and we'll get back to you as soon as we can.