Not satisfied with an epic fireworks display, a massive street party and a Viking-led torchlight procession to celebrate the new year (which they call Hogmanay), the folks of Scotland have also instituted an annual tradition known as the Loony Dook.
This involves getting yourself dressed up in the wackiest outfit you can find, marching through the streets of South Queensferry and then throwing yourself into the Firth of Forth.
Which connects to the North Sea. Which tends not to be very warm.
I have actually done this, and am delighted to have done so. Although I don't feel the urge to do it again.
In today's post I'm going to do two things. I'm going to share with you some photos of the madness that is the annual Loony Dook, and then I'm going to give you information should you wish to attend yourself – either as a spectator or as a participant.
Let's start with the photos, because they're so much fun!
Photos from the Edinburgh / South Queensferry Loony Dook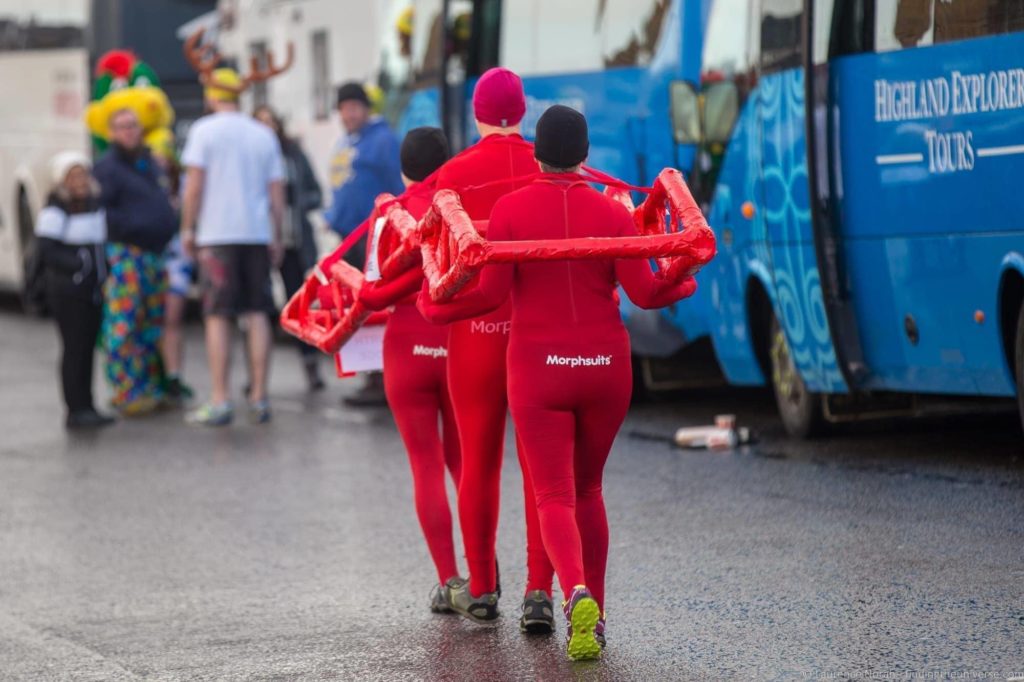 If you're going to dress up as a bridge, make it the Forth Rail Bridge.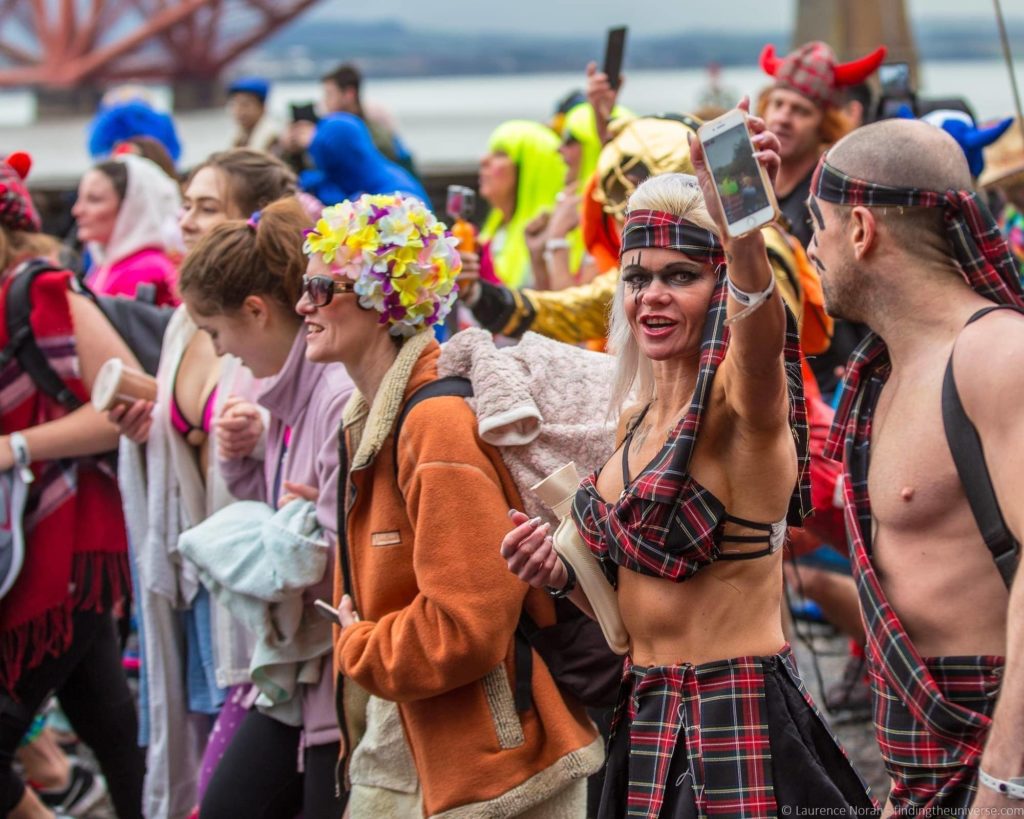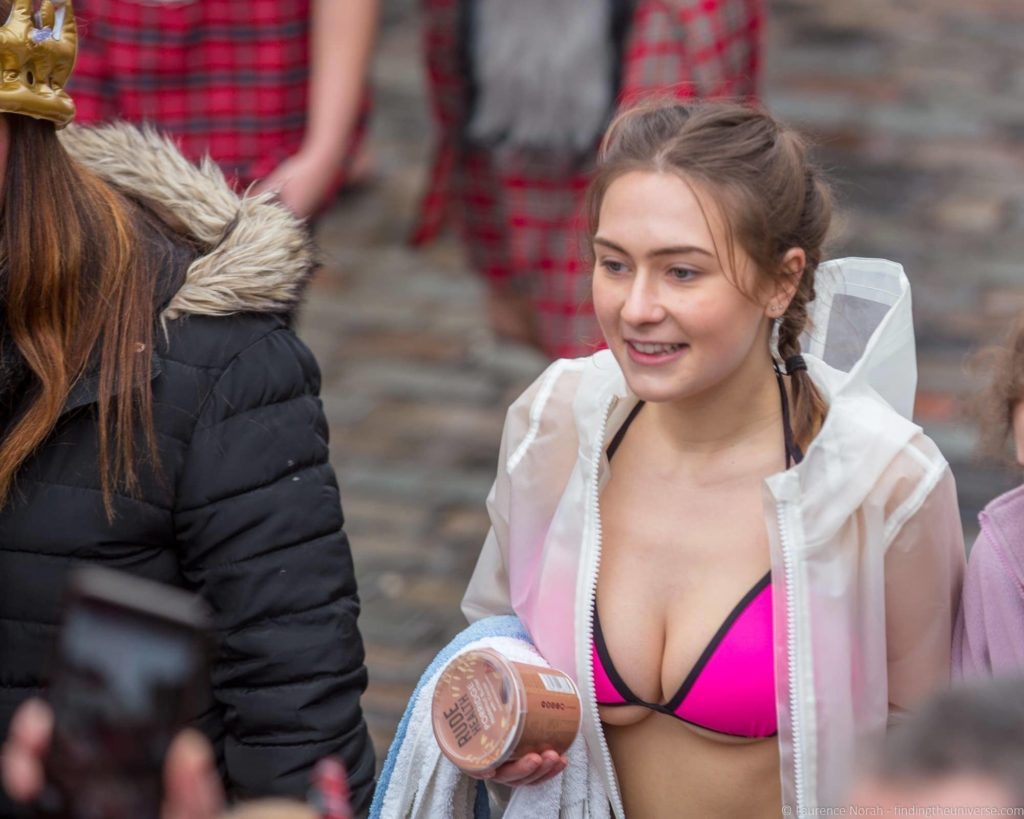 Because even when dooking, you've got to have your tub of porridge ready.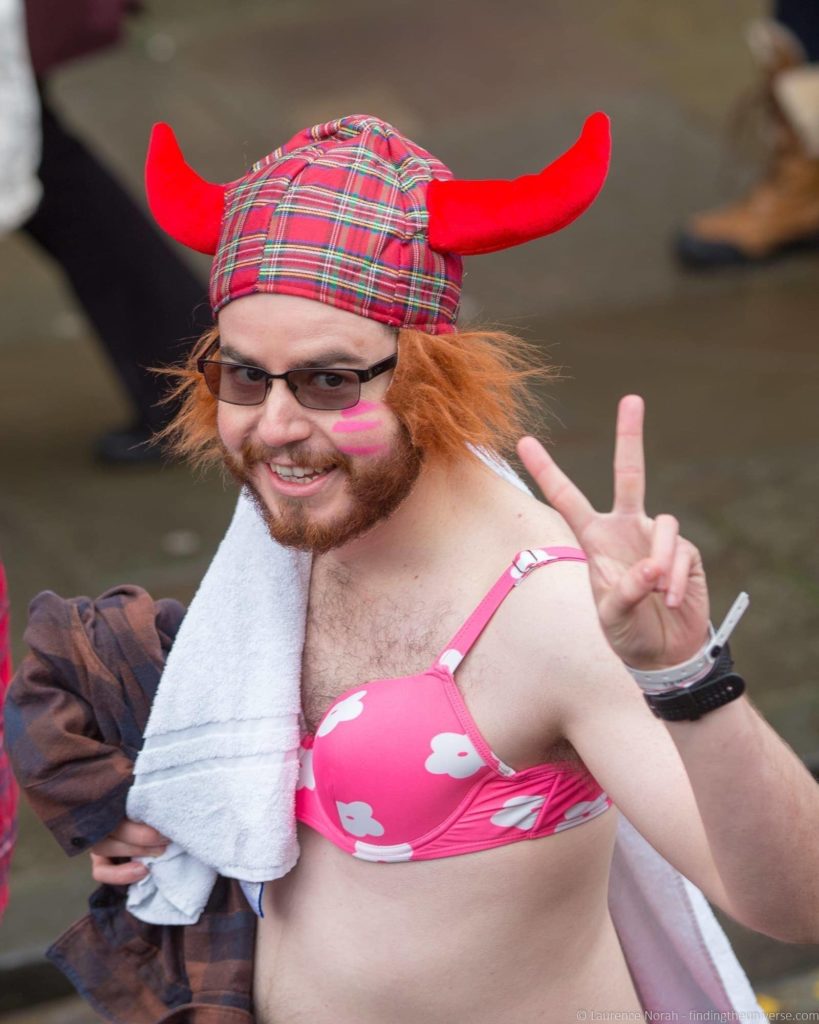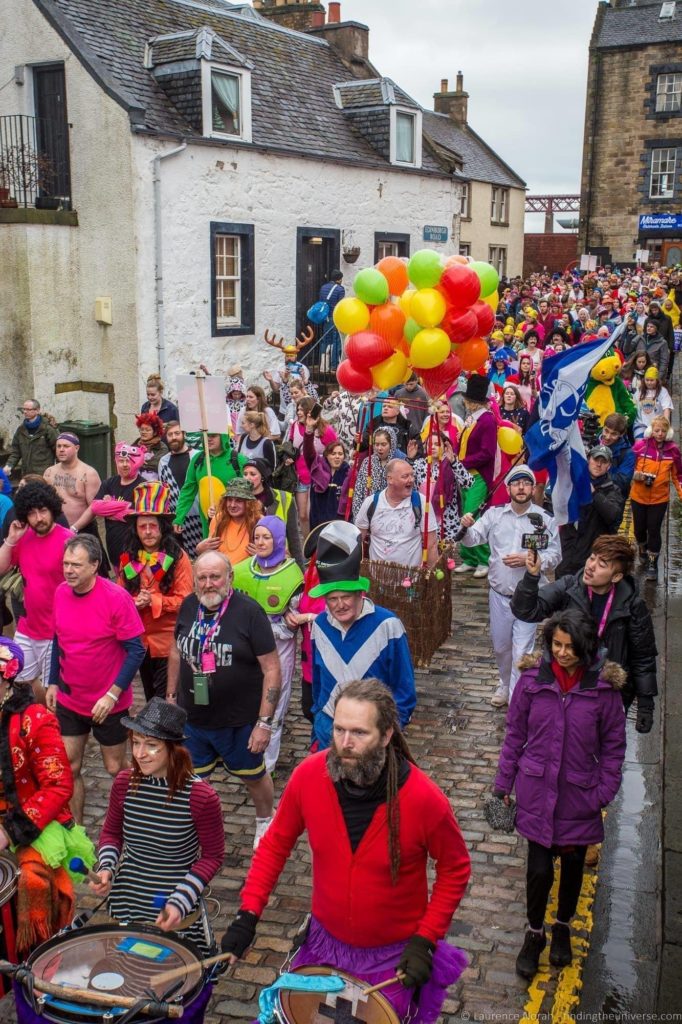 Dookers marching through South Queenferry, led by a drum band.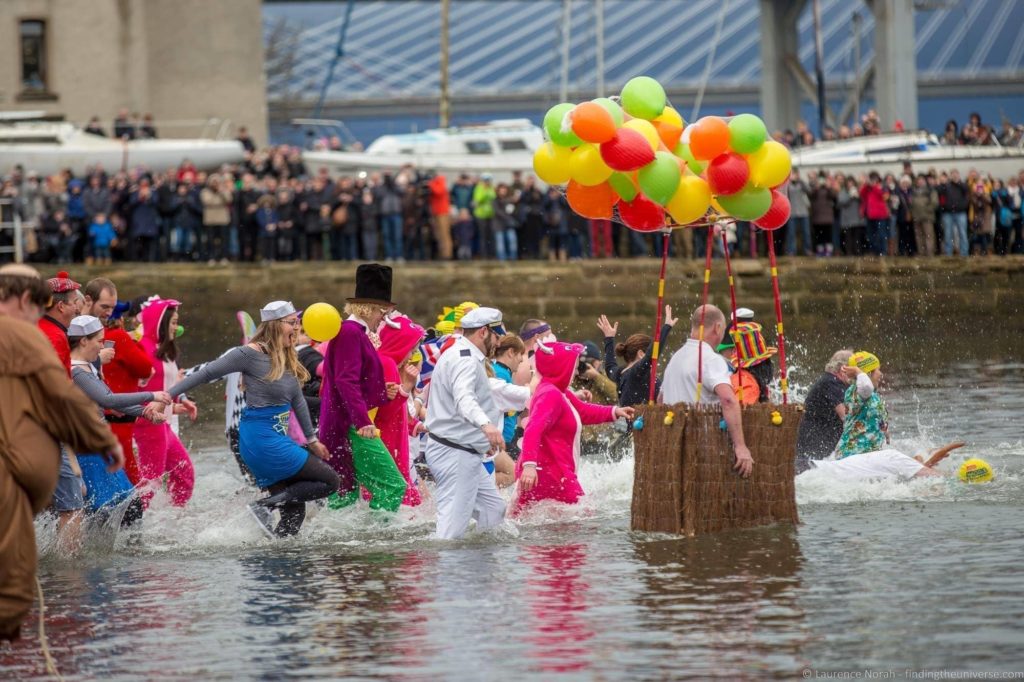 In they went…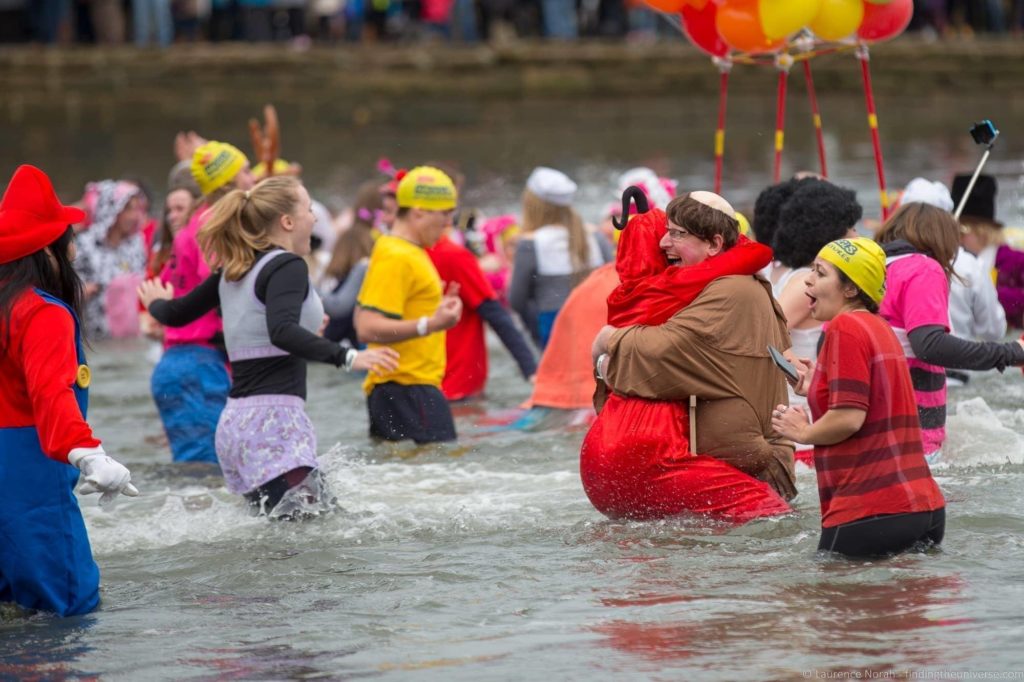 and went..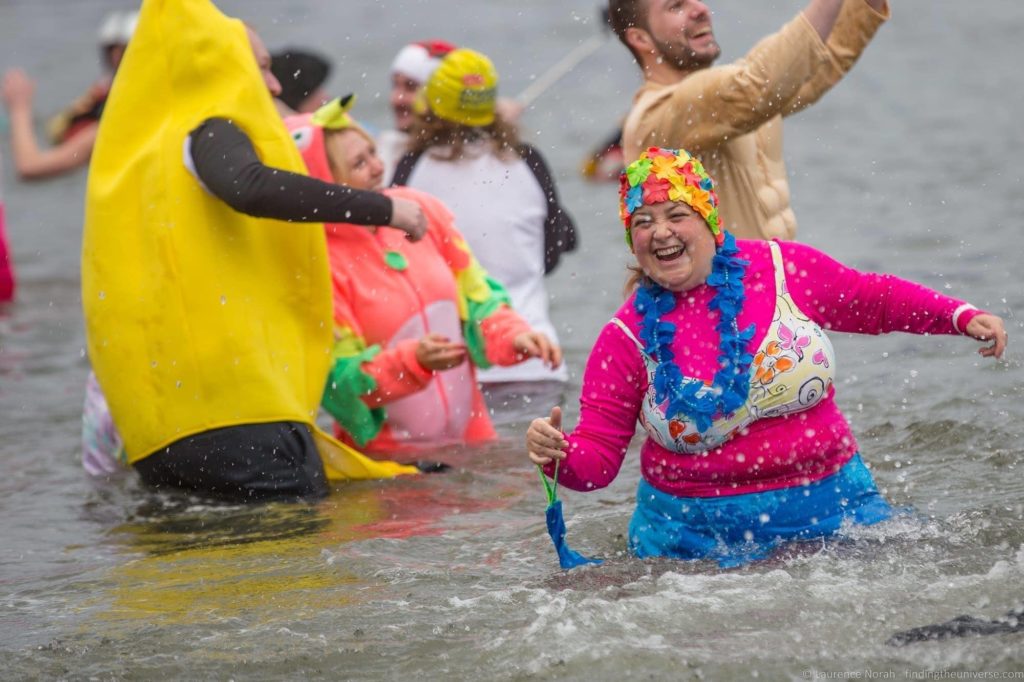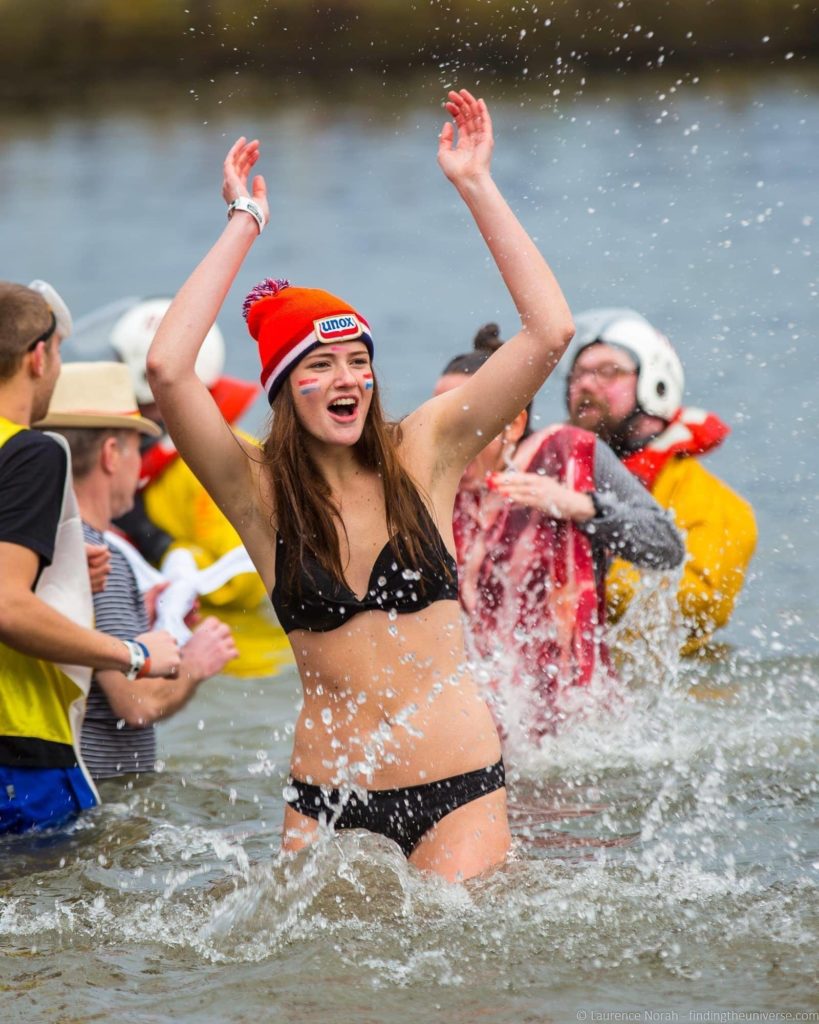 The water is not as warm as this image makes out.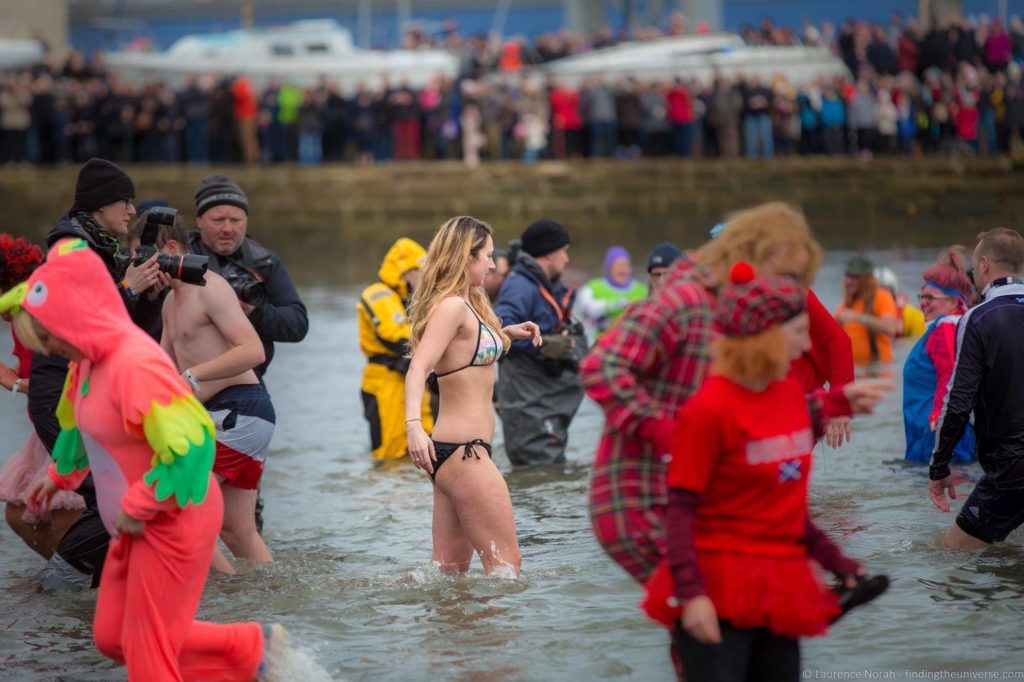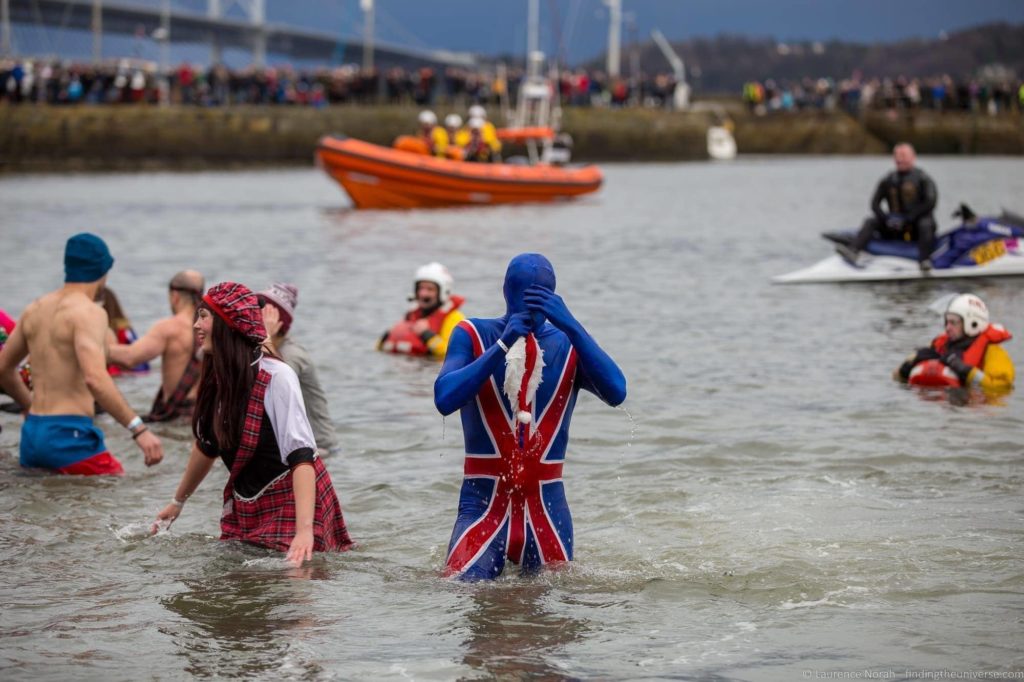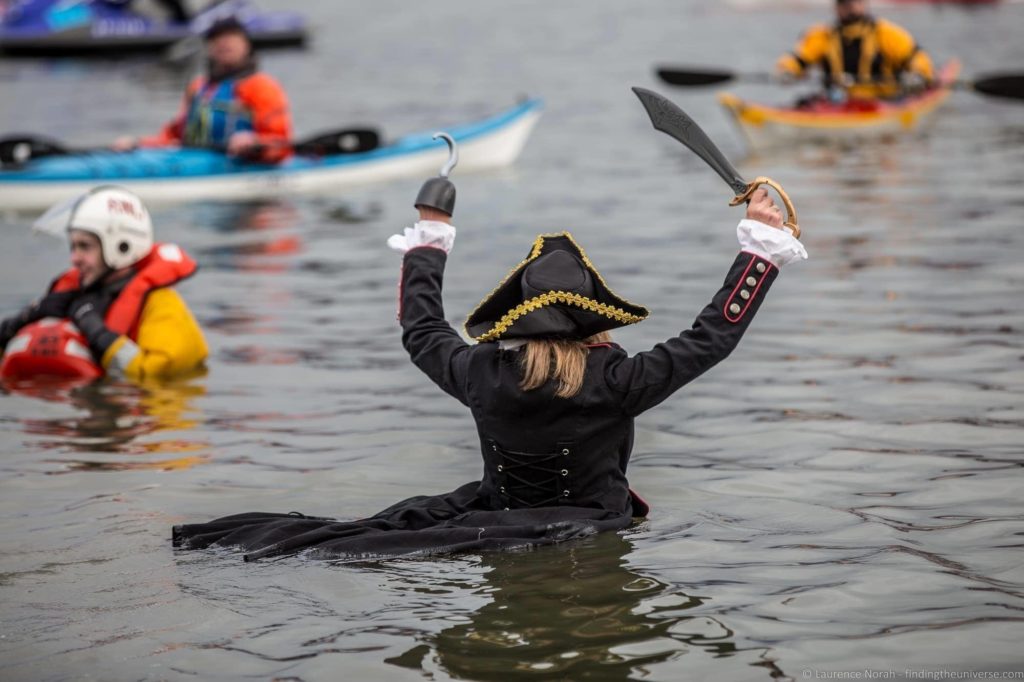 Farewell Captain Hook.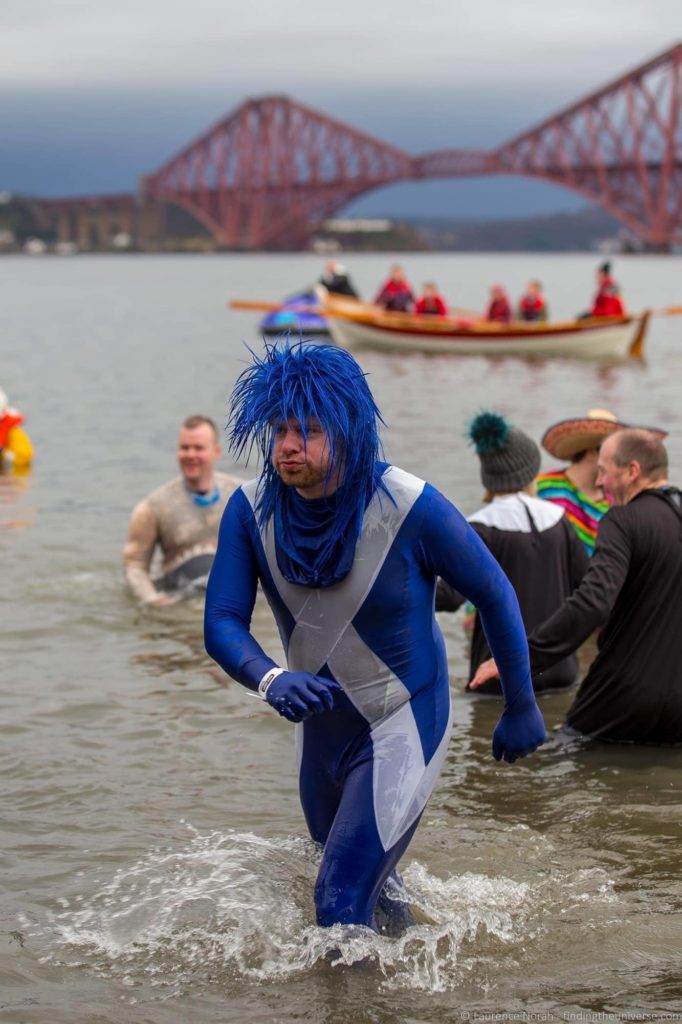 We woke the spirit of Scotland.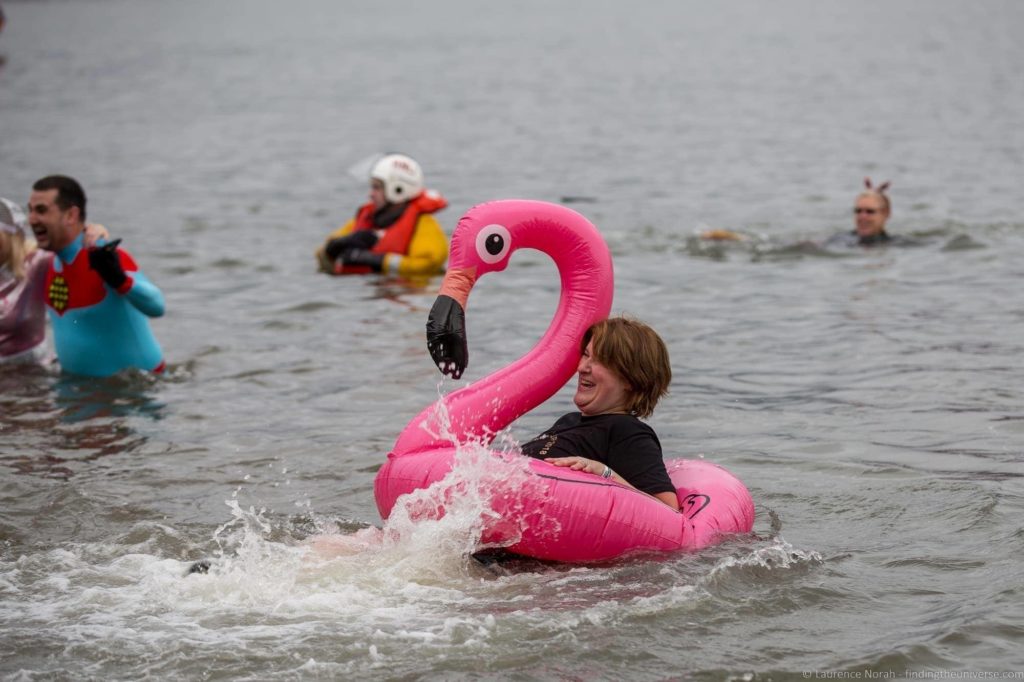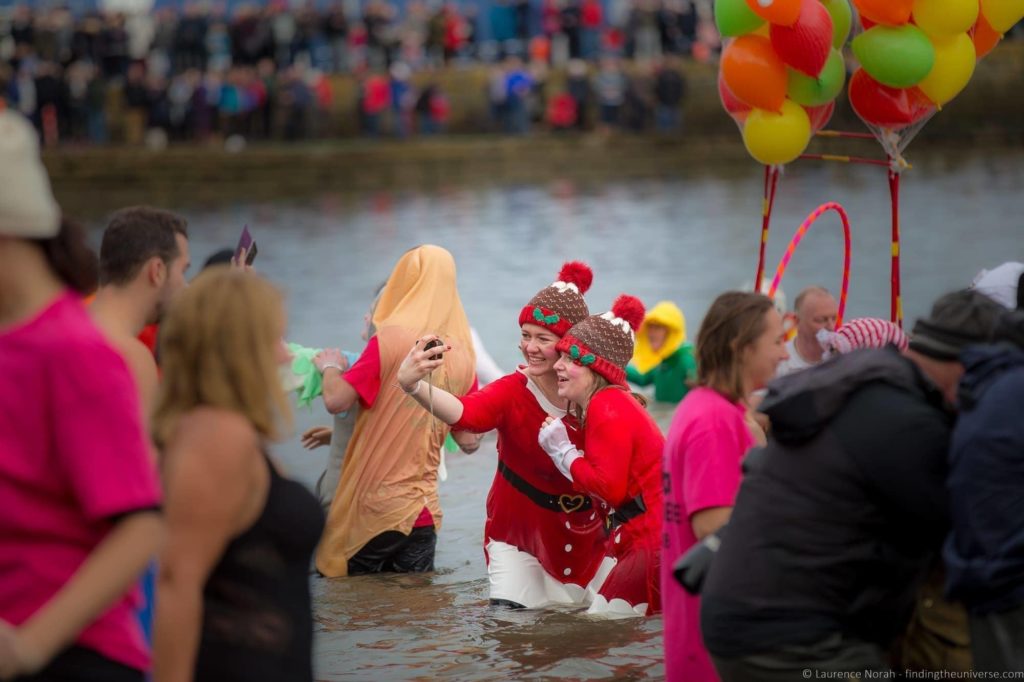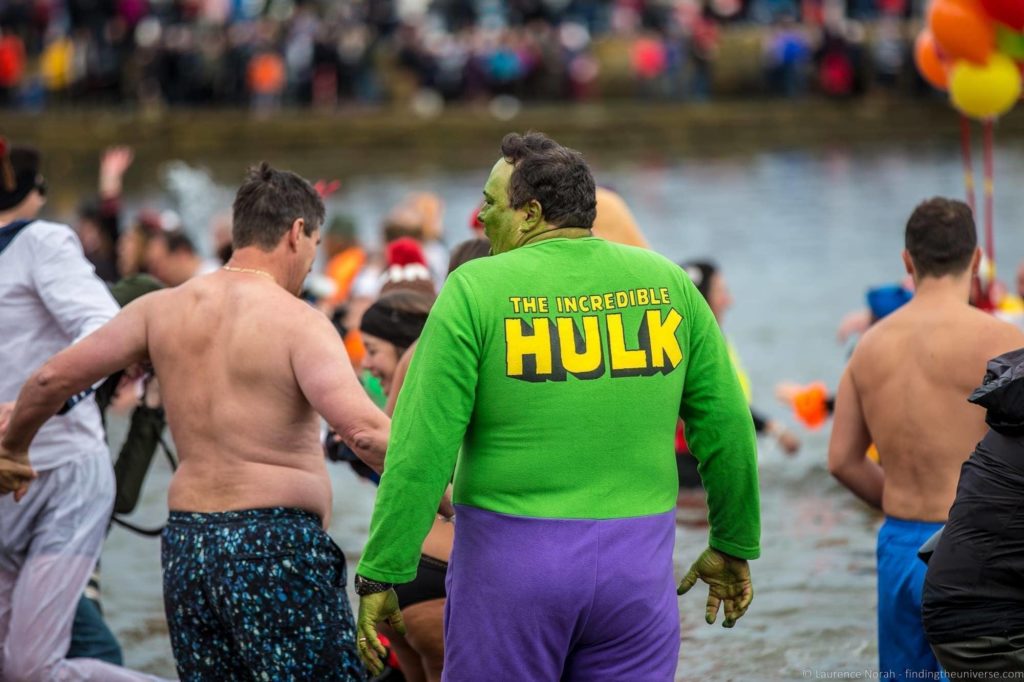 Hulk made an appearance.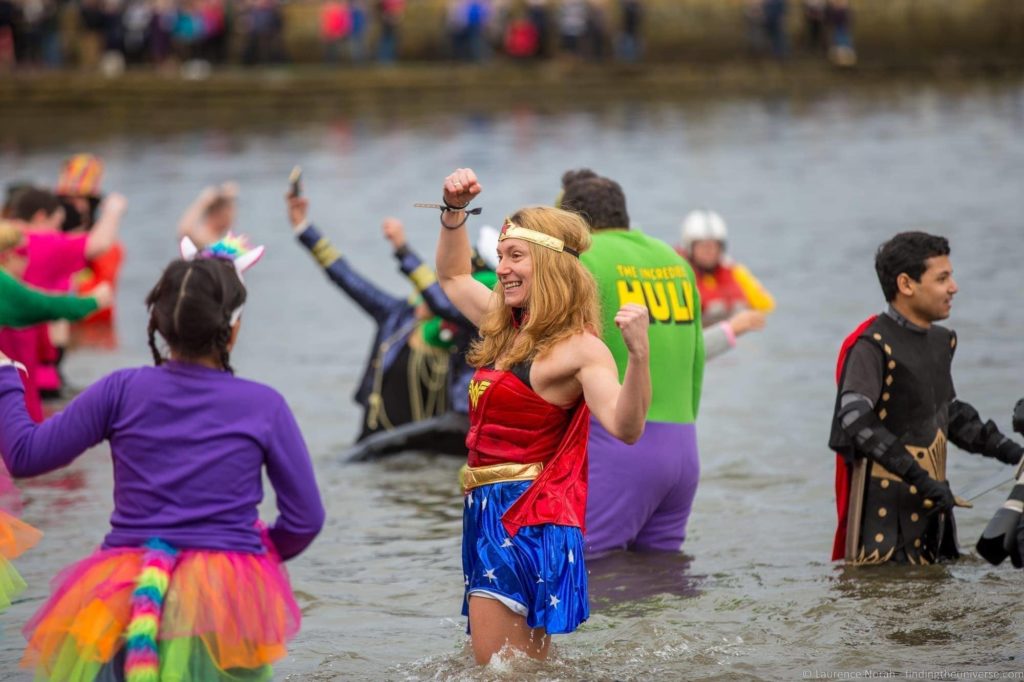 As did Wonder Woman.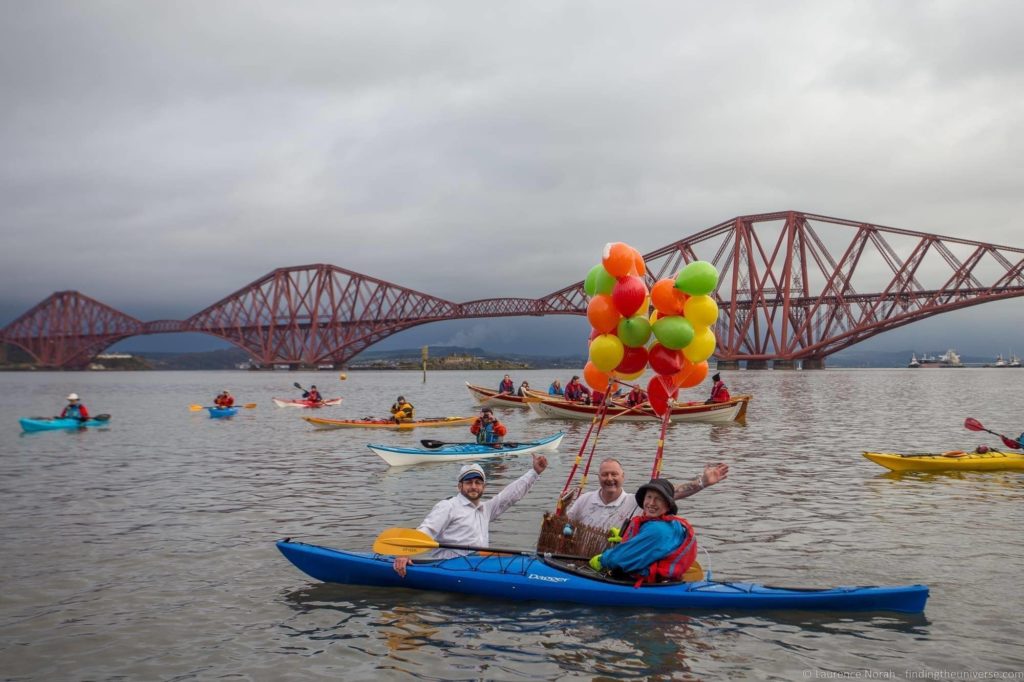 Up, up and away!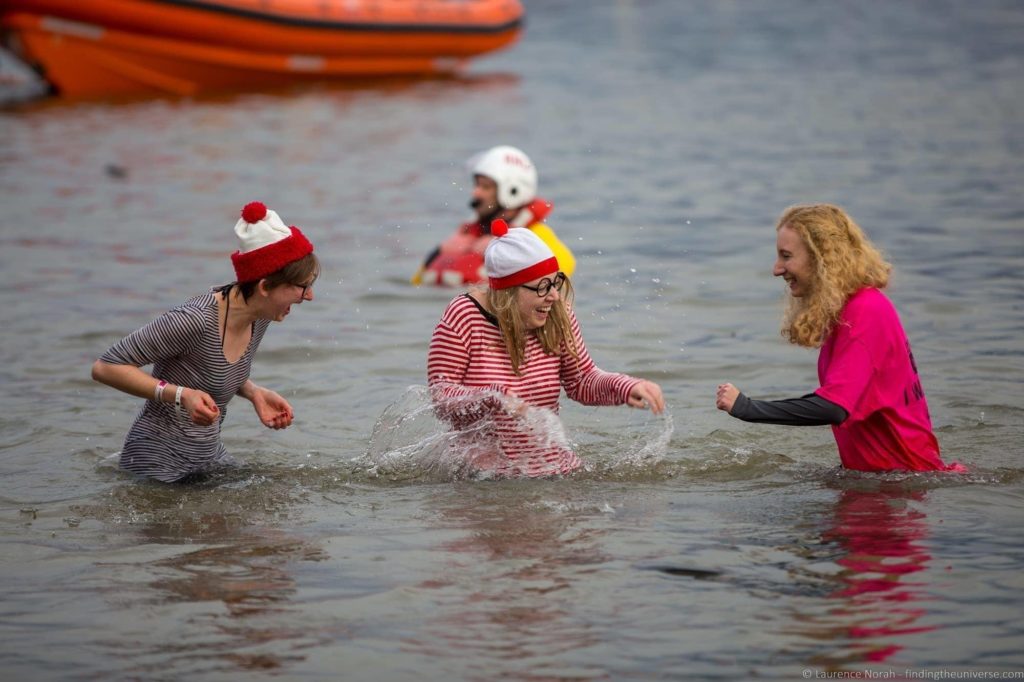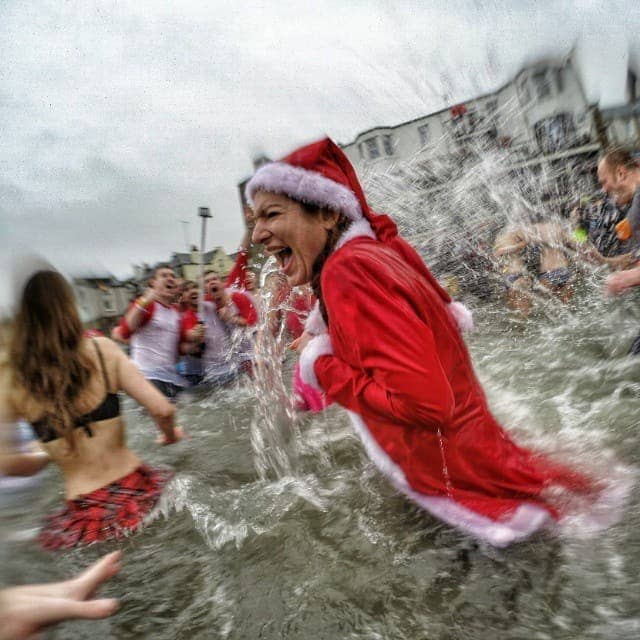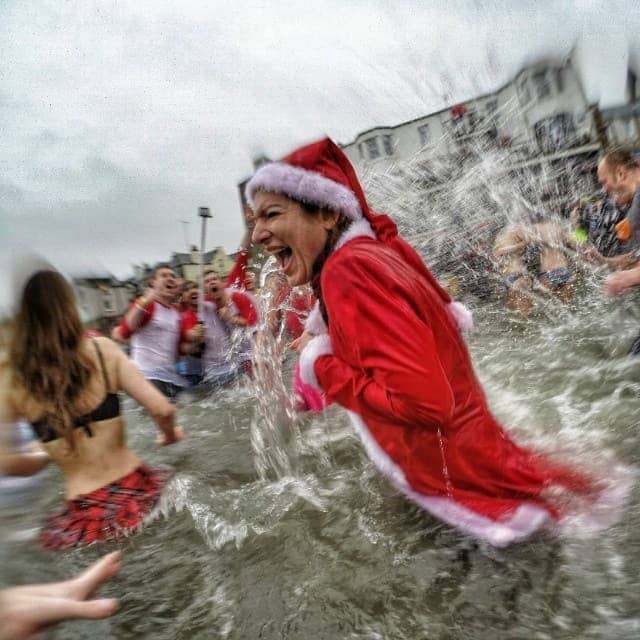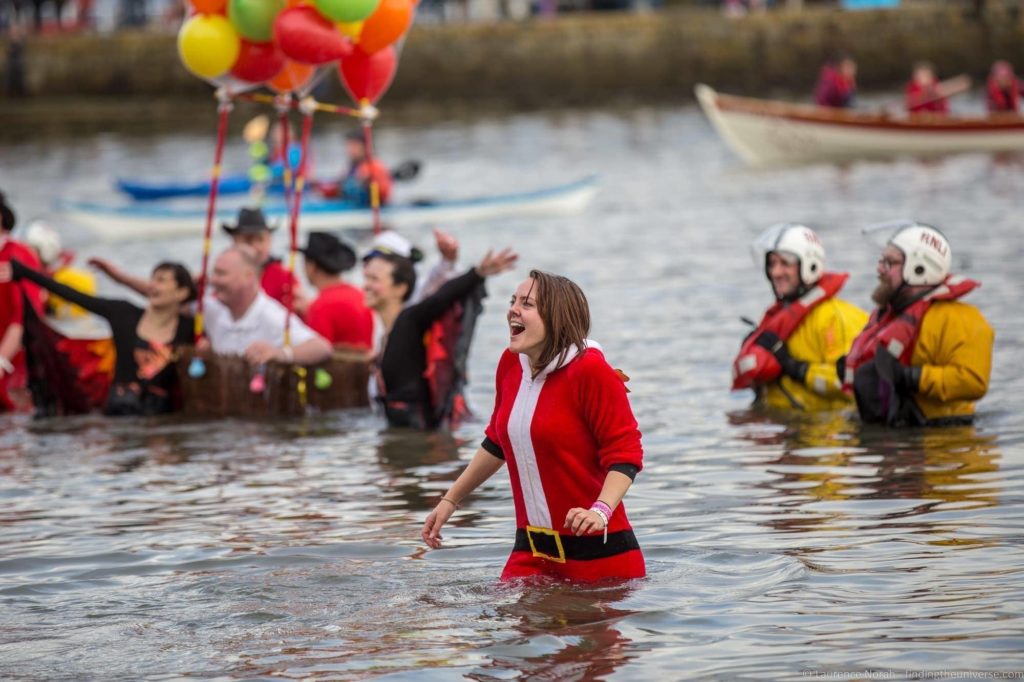 It was this cold.
These folks came as photographers.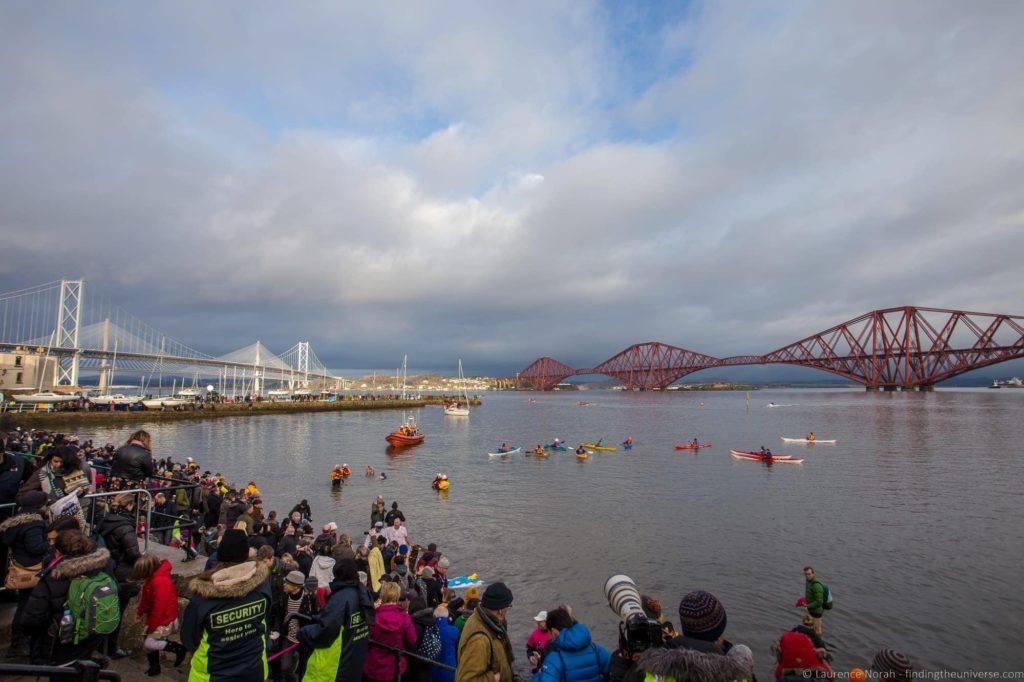 Lovely day for it!
And that's what the Edinburgh's Hogmanay Loony Dook looks like! Now, to help you plan your own attendance at this fun event.
Information on attending the Loony Dook 2019 in Edinburgh, Scotland
How to Register for the Loony Dook 2019
If you want to attend as a participant, you have to register in advance. There is a small fee for registration, and it usually opens around September. Registration is currently open for the January 2019 Loony Dook, you can buy tickets at the offical website here.
When is the Loony Dook 2019?
In 2019, the Dook is at 12.30pm on January 1st. Usually this is the time the parade starts, so attendees will want to arrive well in advance of this time to find parking and get registered, prior to lining up in the procession
As a general rule if you are planning for future years, the Loony Dook takes place every year on the first day of the year (1st January). The time depends on the tide, but it usually takes place sometime in the morning when the tide is on its way in, which makes it a safer event.
Can I attend the Loony Dook without going in the water?
Absolutely! Hundreds of people attend each year as spectators. There is a very festive atmosphere and it is a lot of fun to watch and to cheer on the participants.
It's also totally free to attend as a spectator, and you don't need to register. Just make sure you arrive well in advance, as you might have to walk a fair bit from your car if you drive.
Do I need  an outfit for the Loony Dook?
An outfit is not mandatory, but given how many people attend in fancy dress, you will probably enjoy your experience a lot more if you make a bit of effort.
How many people participate in the Loony Dook?
Normally around a thousand people take part in the actual "dook", which starts off as a procession through the streets of South Queensferry led by a drum band, before ending in the frigid waters of the Forth of Firth.
Is the Loony Dook safe?
The Loony Dook organisers take safety very seriously, with on-site police and medical professionals. There are also a number of lifeboat members in the water, to help anyone who gets into difficulty.
Of course, you have to remember that you are walking across a slippery beach in freezing temperatures and into very cold waters. So you have to be careful of course.
How do I get to the Loony Dook?
South Queensferry is a few miles outside of Edinburgh, so you'll need to plan your transport accordingly. The easiest way to get here is to drive, and there is free parking with marshals to help you get to your place.
There is also a train station here, Dalmeny, which serves South Queensferry. Finally, you can also take the bus, or taxis. Many Dookers do it as part of a tour from Edinburgh, so transport is included.
Some tour operators include the Loony Dook as part of their Hogmanay themed tours, and this can be a great option as an overall Hogmanay Scottish adventure.
Any tips for taking part in the Loony Dook 2019?
I took part in the Loony Dook in 2015. My advice is to have someone else handle your transport – either a tour company like this, or a friend. You'll want to bring a nice big towel and a bag of dry clothes that someone can give to you shortly after getting out of the water.
You'll also absolutely want to wear some form of footwear, like sandals or old trainers. I did it bare foot, which was a big mistake – the ground in January is very very cold!
For more advice on what to bring, check out my guide to what to pack and wear for Edinburgh's Hogmanay, which has a section on the Loony Dook.
Other than that, just go planning to have fun! The water is cold, but just throw yourself in without hesitating, splash around a bit, and then find that big fluffy towel. You'll survive.
Further Reading on Visiting Scotland
Before we leave you, we just wanted to share some more resources to help you plan your trip to Scotland, both for Hogmanay, and during the rest of the year.
Well, that sums up our guide to attending the Loony Dook in Scotland! Something you want to try for next year perhaps? Let us know your thoughts in the comments below!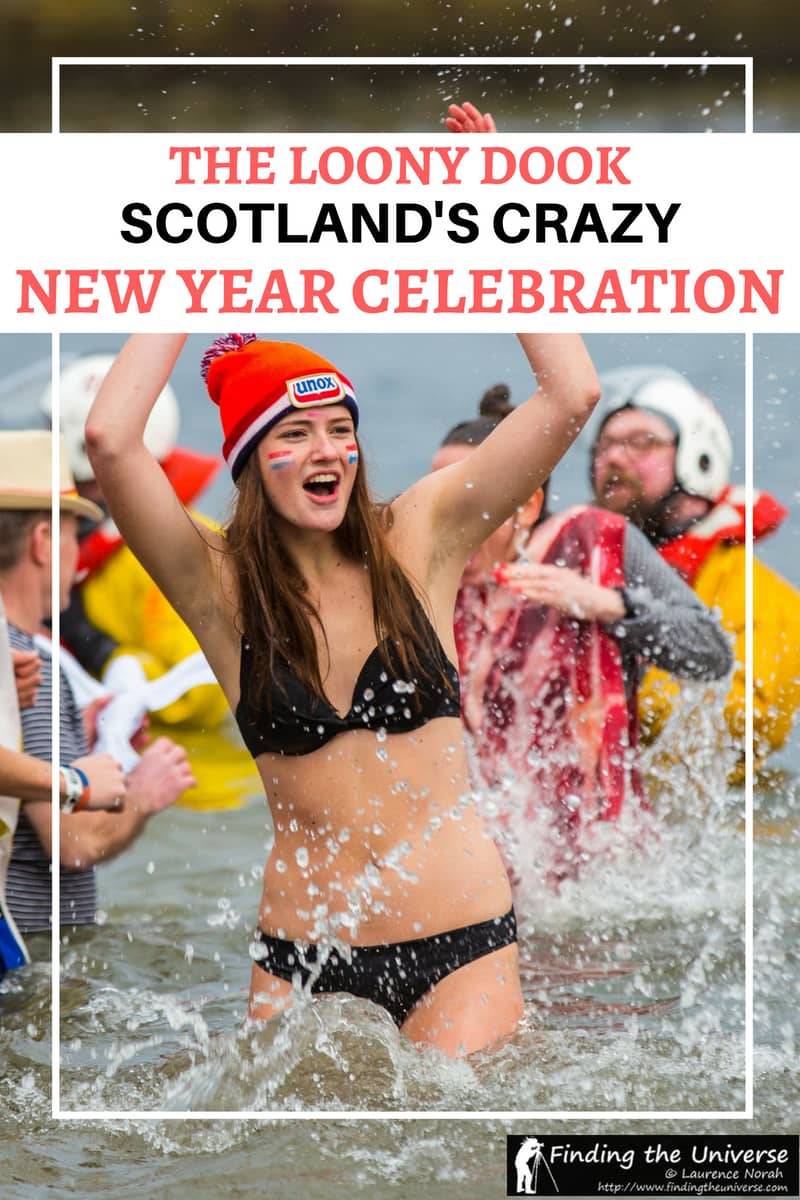 Home » Destinations » Europe » UK » Scotland »