Edinburgh is one of our favourite cities in the UK, and we think it's an awesome year-round destination. We've written a lot about visiting the city, and today we want to share some ideas for what to do during winter in Edinburgh Scotland.
Whilst the most popular time to visit Edinburgh is over the summer months, and in particular during the Festival Fringe that takes place in August, there are still plenty of reasons to visit Edinburgh in winter, including Edinburgh's Christmas Markets and one of the world's best New Years Eve parties.
In this post we're going to tell you everything you need to know to plan your own Edinburgh winter getaway, including what to do, which month to visit in, tips on getting around, where to stay, and more! Let's get started.
Things to do in Edinburgh in Winter
This is our guide to some of our favourite things to do in Edinburgh in winter. Of course, there's lots more to do in the city, but these are the highlights we recommend you focus on.
If you find yourself with more time, we have additional ideas for you at the end of the post. We also have a guide to visiting Scotland in winter in general, for more ideas.
Visit Edinburgh's Christmas Markets
If you're visiting Edinburgh in December (or late November / early January), then you'll find the city filled with all sorts of fun Christmas events and activities.
One of the most popular of these is the Edinburgh Christmas Market. This is a large and traditional German-style Christmas market as well as a Scottish market that fills much Princes Street Gardens from street level down into the gardens itself.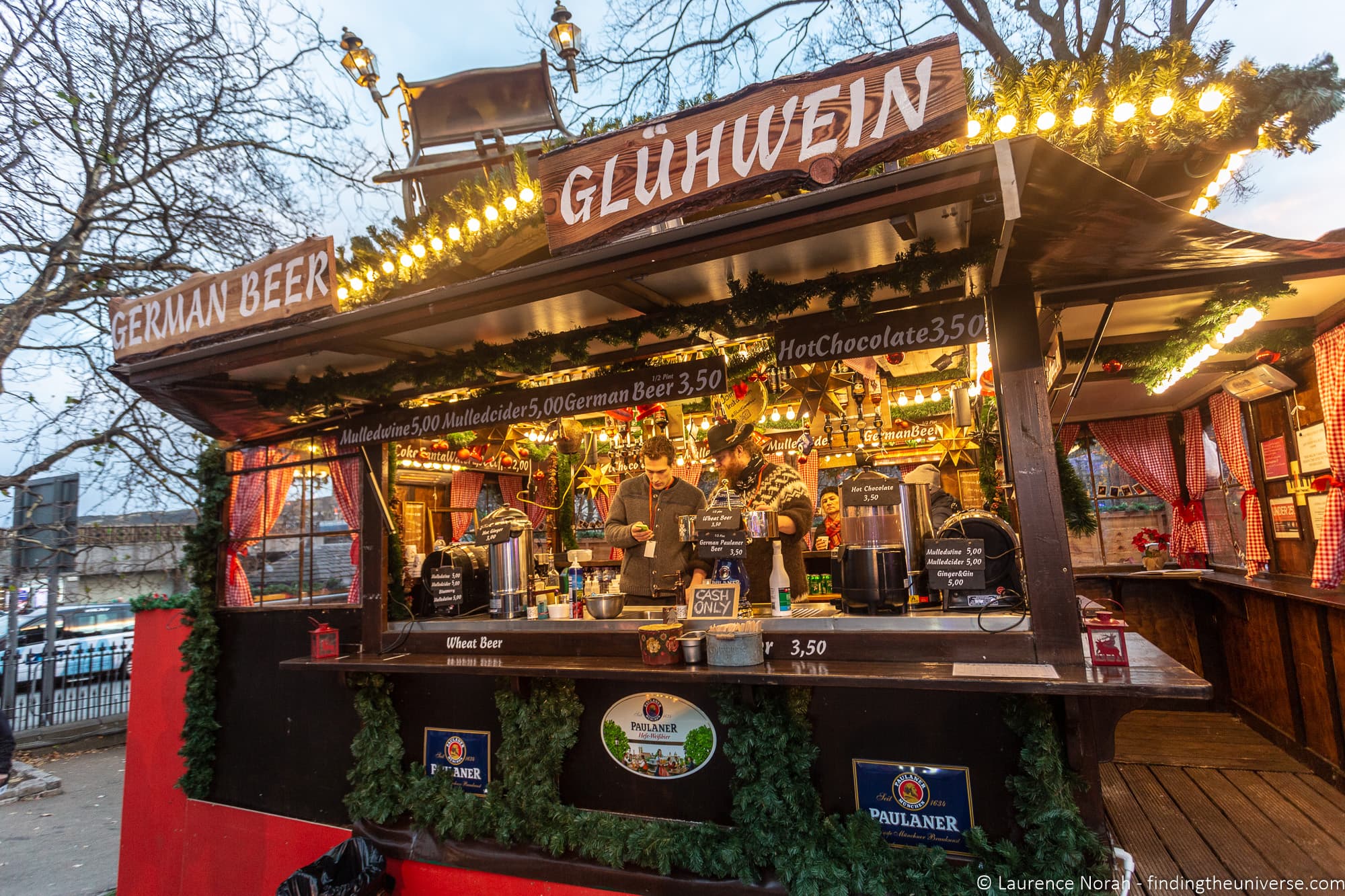 As well as stalls selling all sorts of Christmassy items, there's food and drink (yay Glühwein!), fairground style games, and a variety of ride options.
These rides vary from the toddler-friendly Christmas train, through to the Big Ferris wheel, and one of my favourites, the Star Flyer – a thrilling chair ride which takes you high up above the streets of Edinburgh. You can also find Santa here.
Each year the rides and attractions vary slightly, but there's always something fun to do. Entry to the Christmas Markets themselves is free, but rides and other attractions are paid. You can either pay in advance online to skip the queues, or pay in person.
Note that every year we have been in Edinburgh there's been a discount offered to residents on many of the attractions, so if you live in the "EH" postcode area, bring proof of address like a council tax bill in order to qualify.
For loads more information on Christmas fun, see our guide to Christmas in Edinburgh, which has lots more ideas for what to do at this time of year.
See the Christmas Lights
Every year in the run up to Christmas, Edinburgh becomes festooned with beautiful decorations and light installations. In recent years George Street has played host to some enormous installations. In 2018 for example, there was an interactive light event called Silent Light.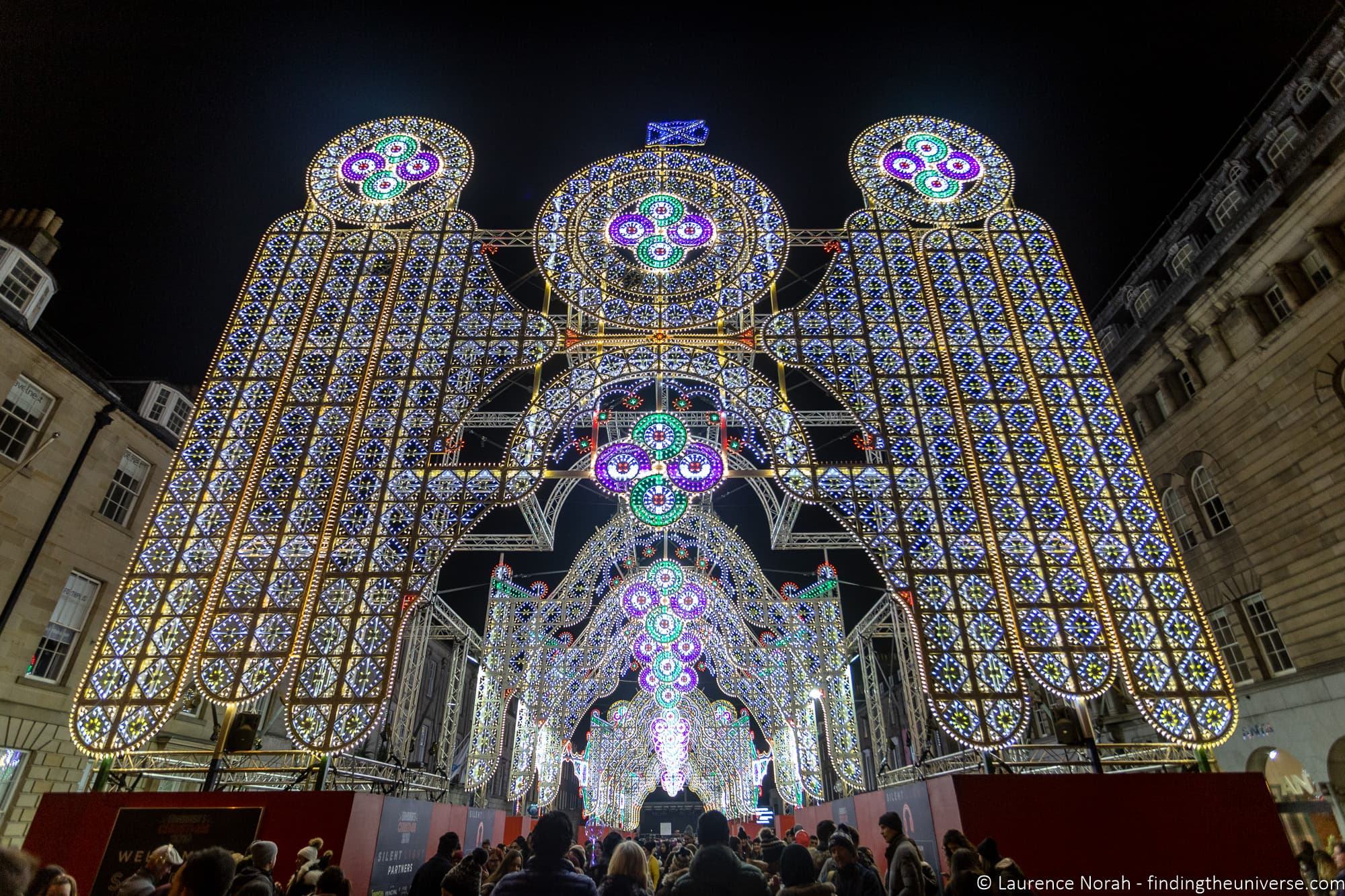 Silent Light was a silent disco, where participants were given headphones and could dance under a huge light installation that flashes in time to the music. This was a lot of fun. Every year these installations and events change, so check local listings for what's happening this year.
Another great light display can be found in the Edinburgh Botanic Gardens. The Christmas light trail here is spectacular, winding through the trees, and features both light installations and projections, as well as music and fire displays. This is well worth visiting. It is a ticketed attraction, and you should book in advance for this one to avoid disappointment.
There are plenty more light displays all around the city too, including the Christmas tree on the mound and on the Royal Mile, Princes Street, and George's Street. We think the Christmas lights are one of the nicest things about winter in Edinburgh, and the UK in general – helping to compensate for those dark early nights.
Visit Edinburgh Castle
Visiting Edinburgh in winter doesn't mean you need to skip out on the city's major attractions, which for the most part are open year-round.
At the top of our list of recommendations for what to do in Edinburgh is a visit to Edinburgh Castle. This impressive castle sits atop an extinct volcano in the center of the city, and is without doubt the most recognisable landmark in the city.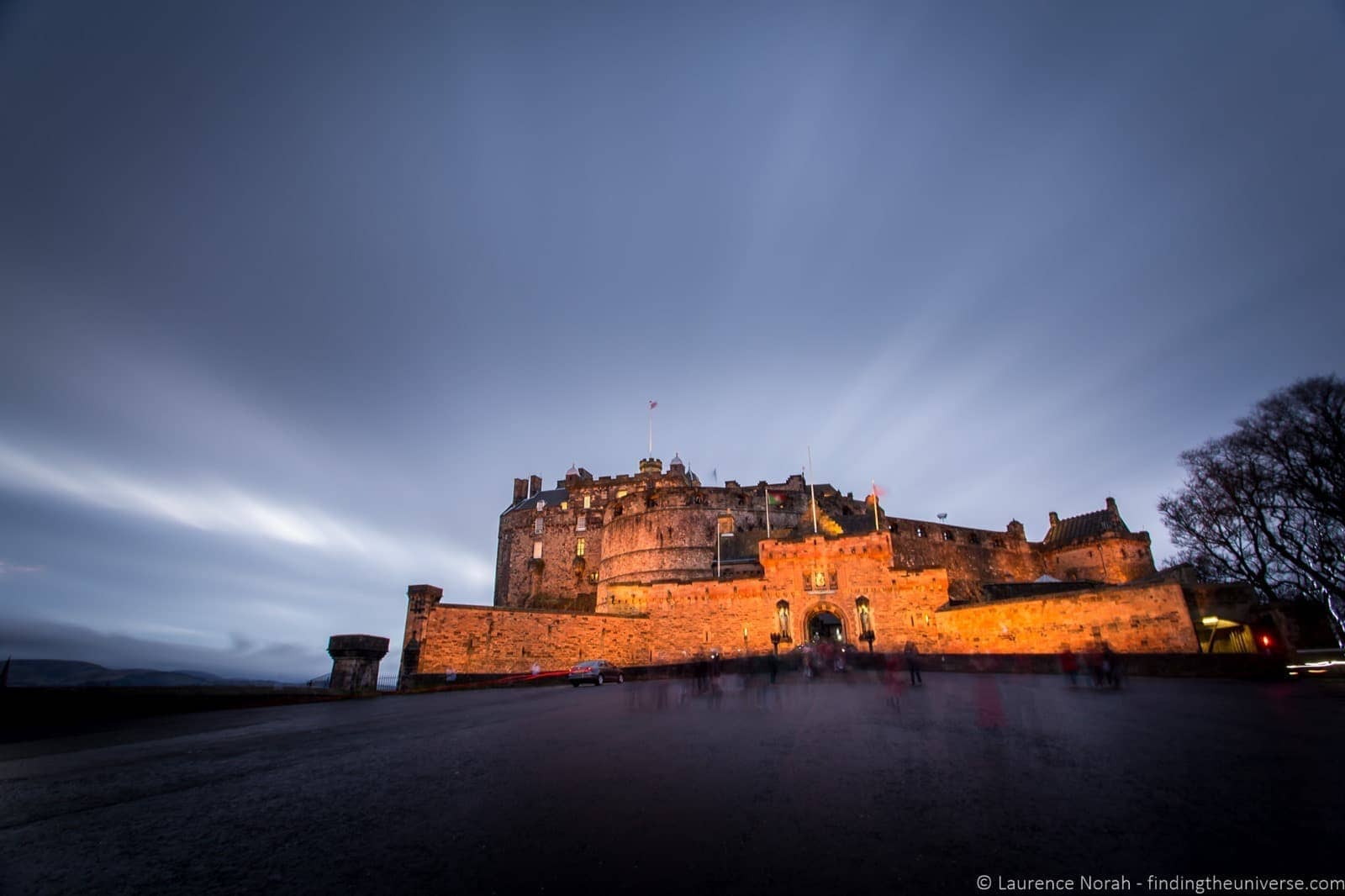 There has been a structure of some kind atop this hill for a very long time. So long in fact, that this is believed to be one of the oldest continuously inhabited structures in the UK.
The castle has a lot to offer the visitor, and you will easily be able to spend a few hours here. Inside the complex you'll find a 12th century chapel, the Great Hall, mighty cannons, the Scottish Crown jewels, and much more. It's also an excellent place to get views of the city, and we have included it in our list of Edinburgh photography locations.
We usually recommend booking your Edinburgh Castle ticket in advance to skip the lines. Advance ticket purchases are also cheaper than buying on the door, and you can show the ticket on your mobile so there's no need to worry about finding a printer.
If you're also interested in visiting Edinburgh's other popular Royal attractions, such as Holyrood Palace and Royal Yacht Britannia, you can save money by investing in a Royal Edinburgh ticket, which also includes a Hop on Hop off bus. Using our link also saves you 5% on the Royal Edinburgh ticket.
If you are wondering if buying the tickets is a good idea for you, Jess wrote a full review of the Royal Edinburgh Ticket here.
Walk the Royal Mile
Edinburgh's Royal Mile is the name given to a connecting series of streets that run for just over a mile from Edinburgh Castle down to Holyrood Palace – the official royal residence of the British monarch in Scotland.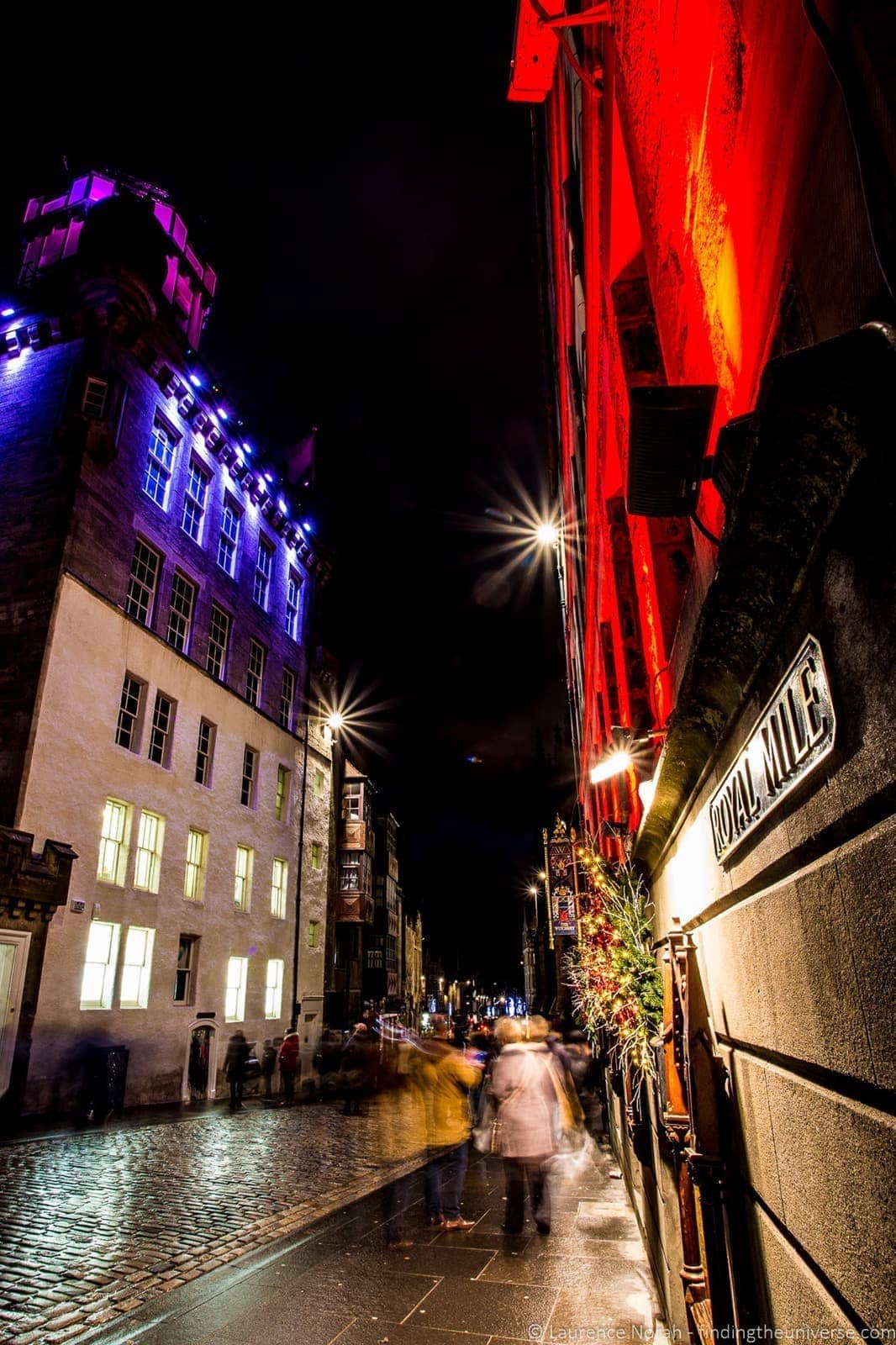 This street is absolutely loaded with visitor attractions, from the Scotch Whisky tasting experience through to the Camera Obscura, the Museum of Edinburgh, the Writers Museum and the Museum of Childhood.
Holyrood Palace is also open for tours, and this is well worth a visit. Formally known as the Palace of Holyroodhouse, this is where the Queen stays when on official business in Edinburgh.
It was also where Mary, Queen of Scots lived for a time in the 16th century, and you can still visit her apartments, which are in the oldest part of the building.
Go Shopping
Edinburgh is a good city for shopping at any time of year, but winter (and the run up to Christmas in particular) is definitely one of our favourite times to go shopping in the city.
This is largely because the shops go all out with their decorations, making the shopping experience wonderfully festive.
If you're in Edinburgh in January or February though, don't worry – instead of all the festive lights, you can take advantage of the post-Christmas sales! January in particular is an excellent month to snap up some deals, as stores look to get rid of their stock in time of the new seasons arrivals.
Climb Arthur's Seat
Visiting Edinburgh in winter doesn't mean you have to stay indoors! The city is often blessed with crisp clear days and stunning blue skies. If you happen to be in town for one of these days, we can highly recommend taking advantage of it and heading up Arthur's Seat.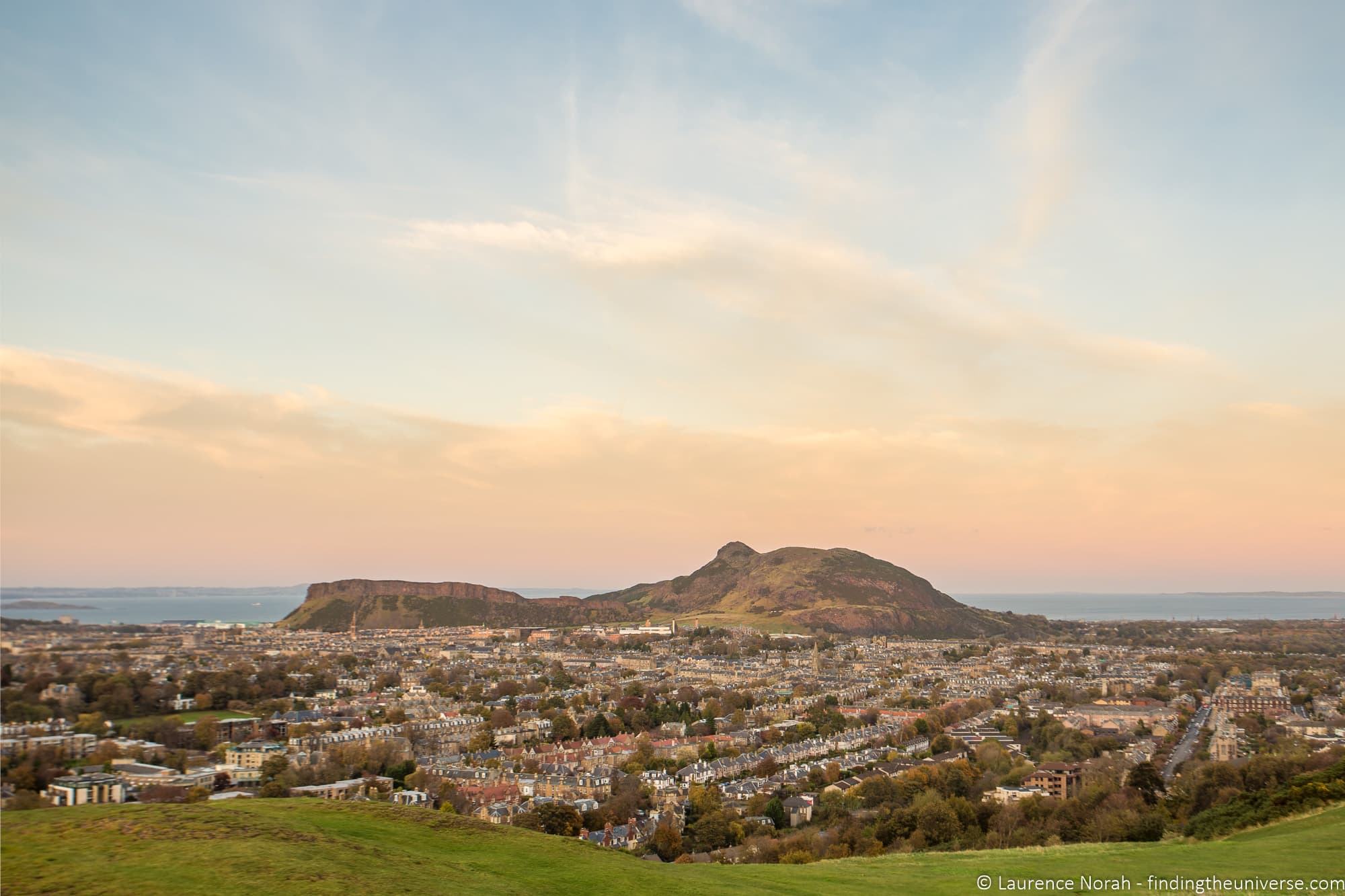 Arthur's Seat is a beautiful extinct volcano, just a short distance (15 minutes walk) from the city center. Here you can take a fairly steep hike up to the top, where you will be rewarded with fantastic views – definitely worth the effort!
Just be aware that in winter it can be a bit slippery or muddy, depending on the conditions. It can also be quite windy at the top, so do dress appropriately, and we recommend wearing good shoes with ankle support ideally.
If you want a longer hike whilst you are in Edinburgh, we can highly recommend a trip to the Pentlands. These are found just south of the city center, and are a range of hills that offer a wide variety of hiking opportunities. Another option, closer to the city centre and with less effort required, is Calton Hill.
Calton Hill is a shorter walk up, and there are both stairs and a relatively easy slope to access the top. Here you'll find the Nelson Monument, the National Monument, and the Dugald Stewart Monument, amongst other sights.
The view from Calton Hill across the city center, taking in locations including the Balmoral Hotel and Edinburgh Castle, is one of the most iconic photography locations in Edinburgh, and one we always recommend to visitors coming to the city – whatever the time of year!
Visit the National Museum of Scotland
As well as the many free museums on the Royal Mile, Edinburgh is also home to another fantastic free museum – the National Museum of Scotland.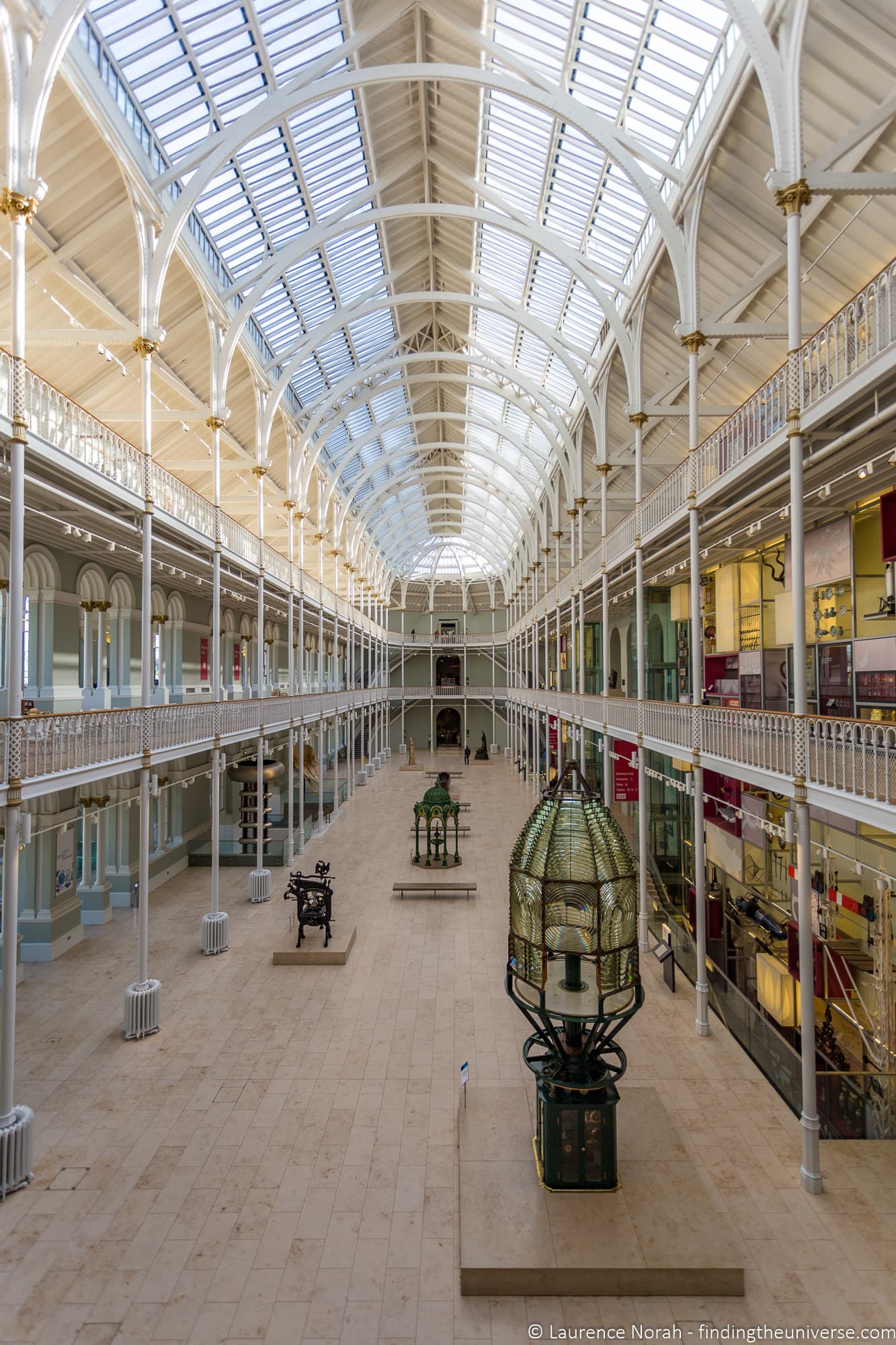 This is a fantastic museum which has something for everyone – from interactive science exhibits through to natural history, cultural heritage, and art.
This is a big museum where you could spend a fair amount of time, and it is perfect for a rainy day in the city especially – although it's worth visiting whatever the weather to be honest!
If you enjoy museums in general, and / or the weather is against you, you can also consider the Scottish National Gallery of Modern Art, which is a little way outside the city center.
Visit the Royal Yacht Britannia
Rated by VisitScotland as Scotland's best visitor attraction, the Royal Yacht Britannia was for forty years the official yacht of the Royal family. During her service, this vessel travelled over a million miles, carrying the Queen and other members of the Royal Family to destinations around the world.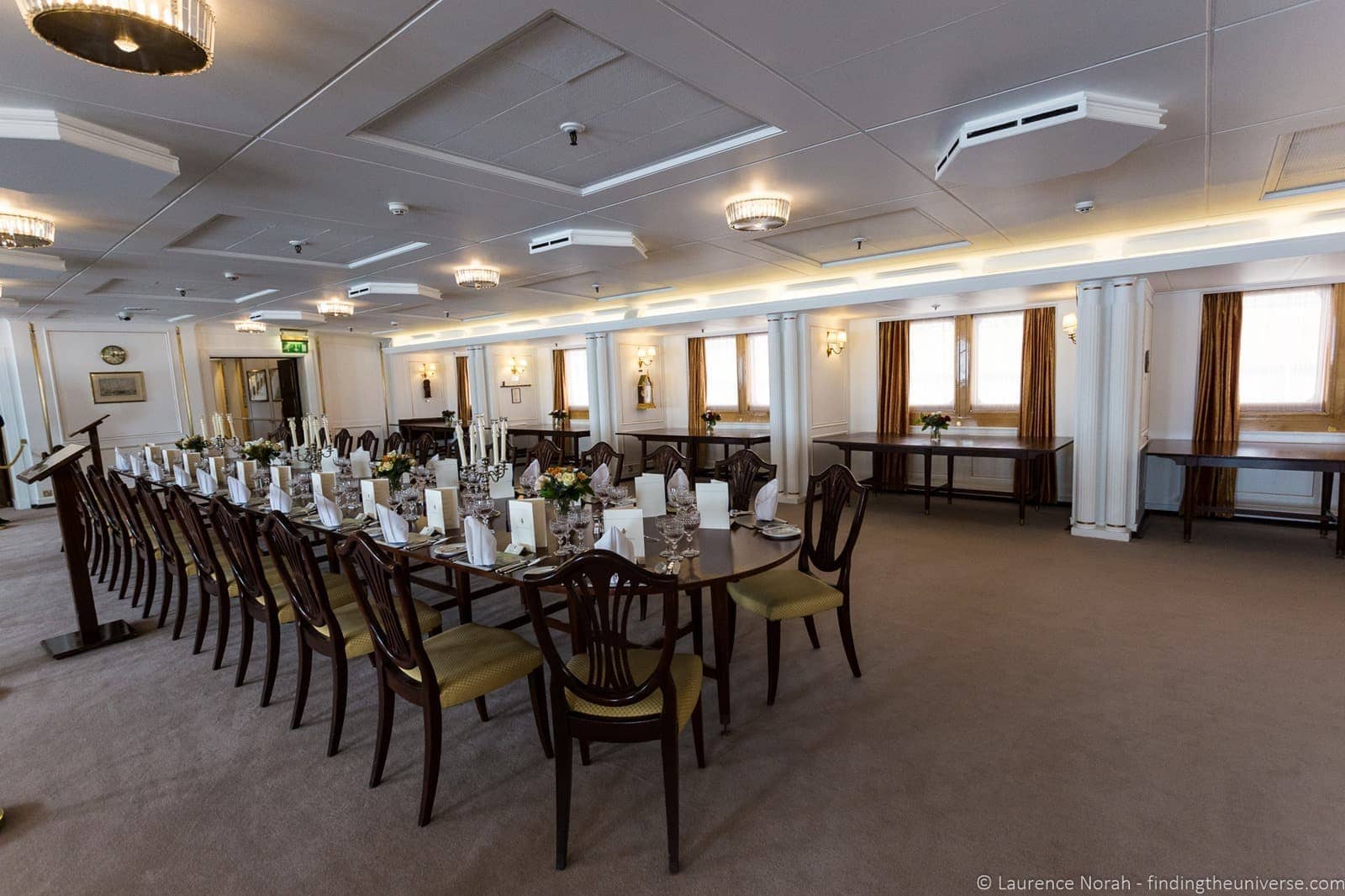 Today, the Royal Yacht is permanently berthed in Edinburgh, at the Ocean Terminal. To get here, you can either take a bus or taxi from the city center, walk, or use the Hop on Hop off bus, which has a stop here.
On board, you'll learn all about the history of the Yacht and the various people who lived and worked on board, from the captain and the Royal family, through to the rest of the crew. It's a fascinating insight into how a vessel like this operated, plus you'll get a chance to see the Queen's actual on-board bedroom.
As mentioned previously in this post, if you are going to visit a few Royal attractions in Edinburgh, which consist of the Royal Yacht, Holyrood Palace and Edinburgh Castle, then you can save money with a Royal Edinburgh ticket, which also includes a ticket for the Hop on Hop off buses.
Learn About Harry Potter
Edinburgh has a strong association with Harry Potter, as it was in Edinburgh that J.K. Rowling worked on the first few novels in her hugely popular series, and in fact she still lives in the city.
As a result, there are a wide range of Harry Potter related activities to do in the city. Most interesting, in our mind at least, is exploring the various locations that may have inspired the books, from the names on graves in Greyfriars Kirkyard, through to the cafe's where J.K. Rowling wrote the first novels, through to a pub that serves its own take on Butterbeer.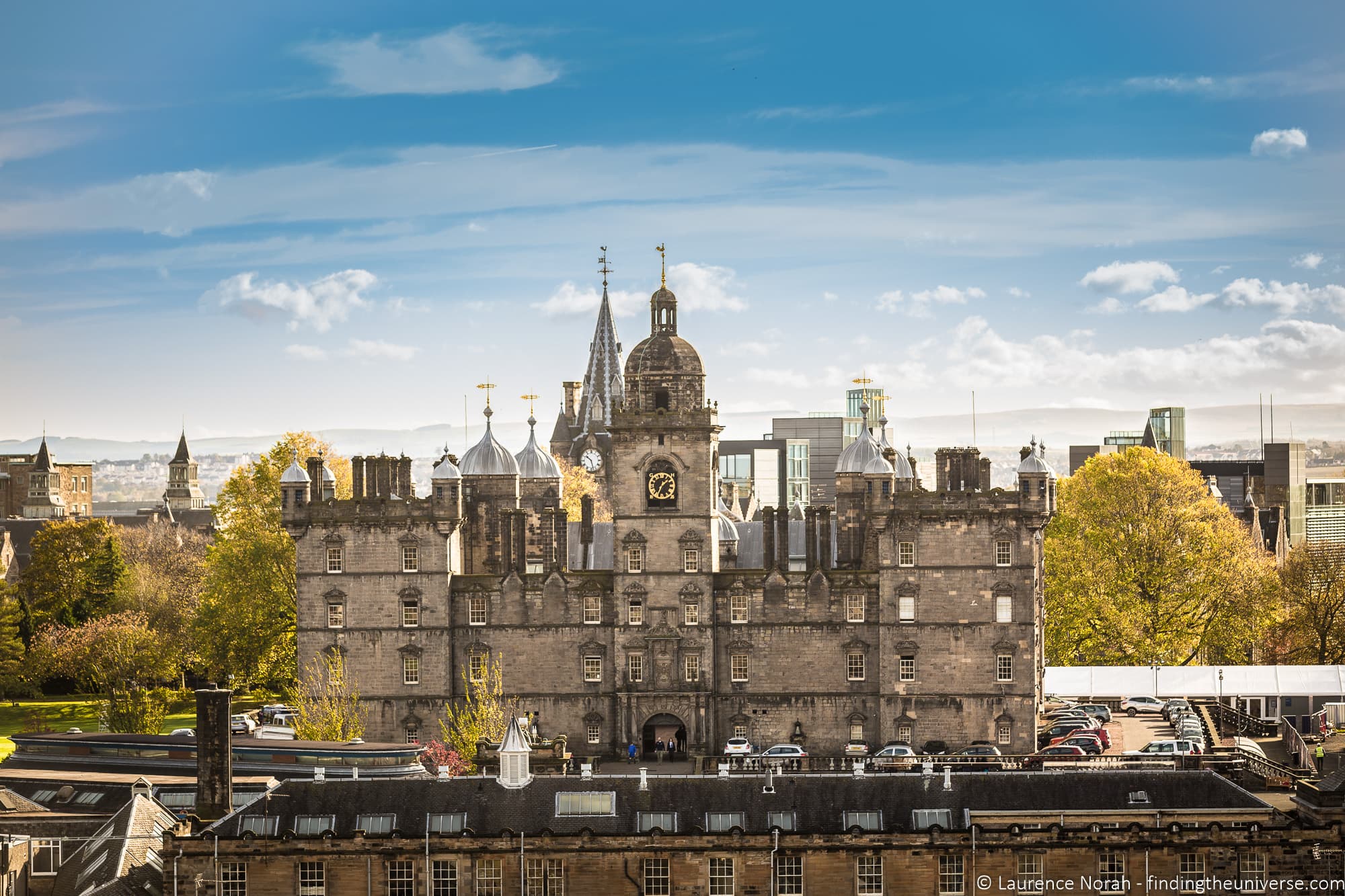 Of course, some links are more tenuous than others, and a great deal of the information that's out there is speculation rather than fact. To help you figure out which is which, and to plan your own Harry Potter themed tour of the city, which is good at any time of year, check out our detailed guide to Harry Potter in Edinburgh.
The guide has all the key locations in the city that have a Harry Potter connection, along with a map, walking route, and tips and suggestions for the best Harry Potter walking tours in Edinburgh.
For more on Harry Potter, see our guides to Harry Potter filming locations in Scotland, and Harry Potter filming locations in the UK in general.
Celebrate Hogmanay
One of the world's best New Years Eve parties is held every year in Edinburgh, and it is celebrated under the name "Hogmanay", which is the Scottish name for New Years Eve.
The Hogmanay celebrations actually start on the 30th of December, on which day there are various events including a huge torchlight procession through the city streets (although events vary by year).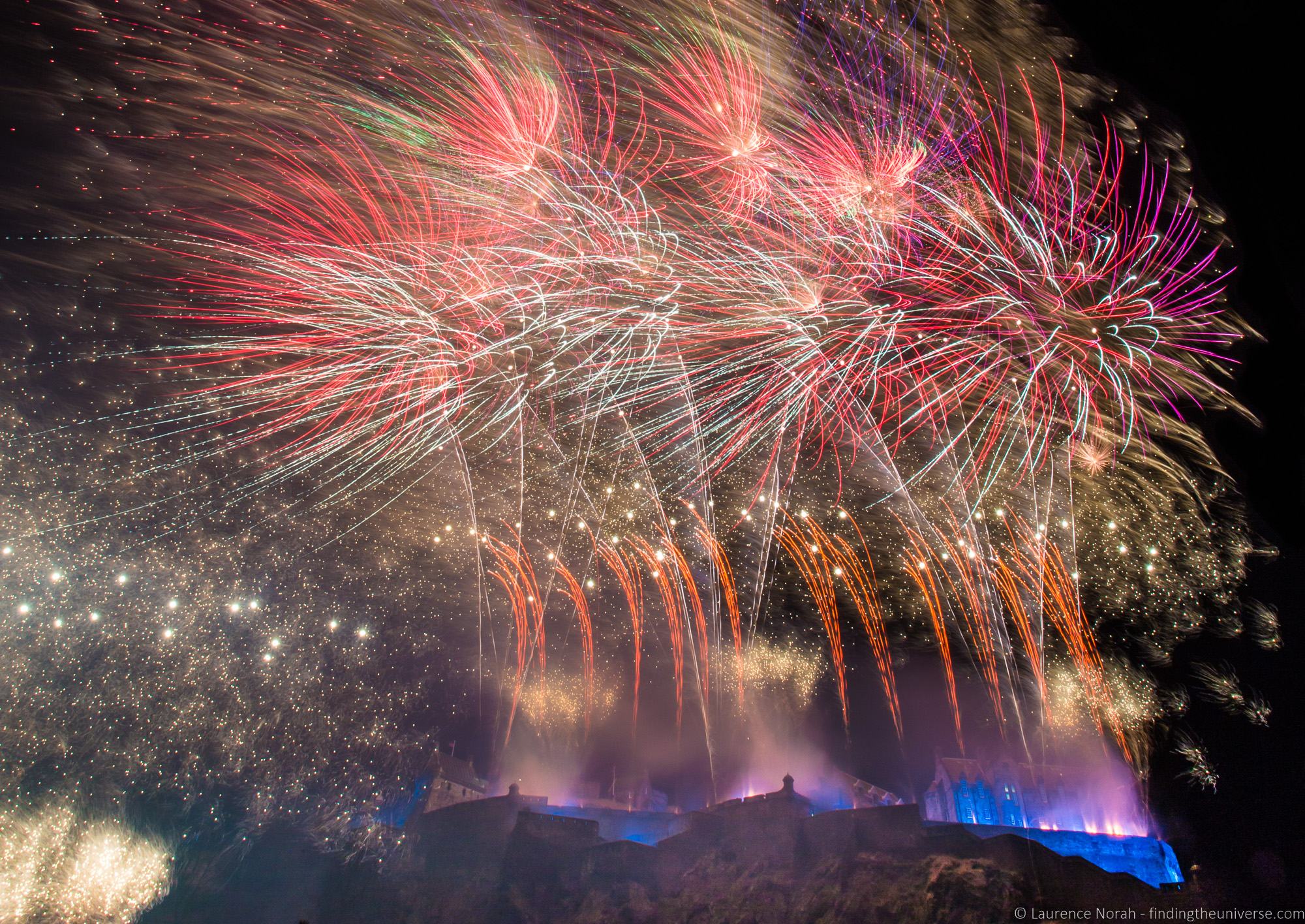 On New Year's Eve itself, Edinburgh's city center becomes a giant street party, with street performers, musical acts, bars, a Ceilidh, and more. There is also a concert in the gardens.
This is a huge event that draws thousands of people, and has to be seen to be believed. The highlight for many is of course the midnight moment itself, when a massive fireworks display launches over Edinburgh Castle.
That's not it though. True revellers will want to continue the party into the 1st of January as well, where a variety of events take place, including the annual Loony Dook, where the truly brave (or foolhardy) dress up in the wackiest outfits they can find, and go for a swim in the Firth of Forth. I've done this, and yes, it is very cold.
We've been lucky enough to attend Hogmanay itself three times, and based on our experiences we've written a number of guides. You should start off with our guide to Hogmanay in Edinburgh itself, followed by a guide to what to wear for Hogmanay.
We also have a full guide to the Loony Dook if you're feeling brave – although to be honest, this is one event that is just as much fun to watch as it is to take part in!
Have Afternoon Tea
When it's cold and windy outside, one wonderful way to get warm and full is to enjoy a traditional afternoon tea. We, and in particular Jess, love afternoon tea – it's a wonderful way to get a lot of delicious food in lovely surroundings, plus bottomless pots of tea!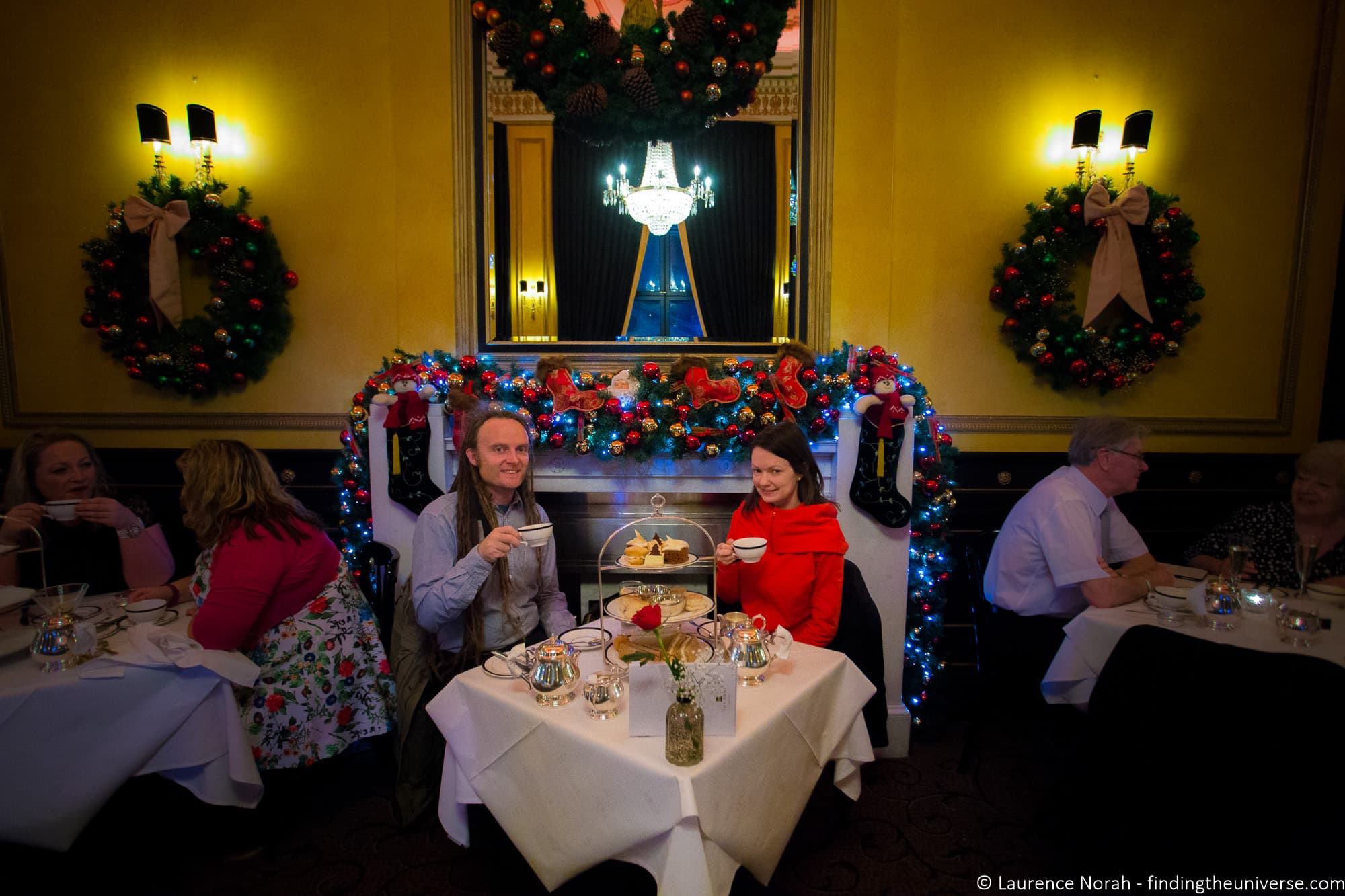 We have had afternoon tea at a few locations in Edinburgh, but our favourite in winter is at the Dome. This is always spectacularly decorated for Christmas, and the building, which was a former bank, is also quite lovely. This is a really popular option though, so book well in advance.
Take a Day Trip out of the City
Edinburgh serves as a popular base from where to explore other parts of Scotland. Whilst some tours are not year round, there are a number of tour operators who do run year round.
There are also loads of options for things to do in Scotland in winter of course. For example, you can go skiing in Scotland in winter, you can visit the Cairngorms National Park in winter, and winter is the ideal time to visit the Isle of Skye without the crowds!
Here are some suggested tours to give you some inspiration.
As you can see, there are plenty of options for day trips from Edinburgh, even when visiting in Winter.
When to visit Edinburgh in Winter?
Officially, winter in the UK runs from the 21st December through to the 20th March. However, we'd say that winter in Scotland tends to generally feel like it starts in November and runs through to the end of February.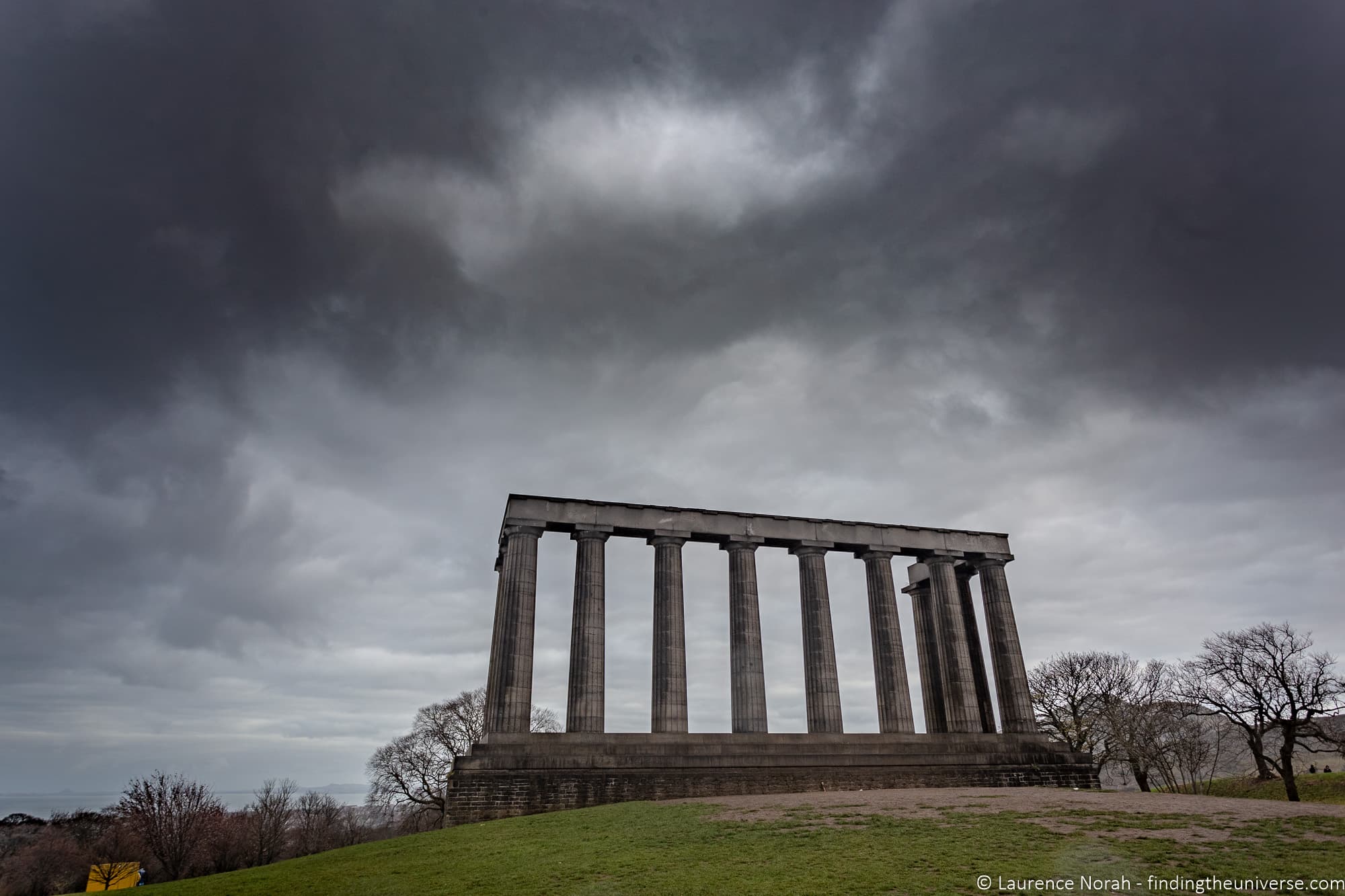 Usually by November the leaves are off the trees and the nights are closing in. The clocks in the UK go back at the end of October, meaning that by November it's usually dark around 4pm, and will definitely feel wintery! Conversely, by early March the days are lengthening, and it starts to feel a bit more spring like.
With this in mind, we're going to say that you have three main months to choose from for visiting Edinburgh in winter, December, January and February. Here's a breakdown of which is best and for what reason.
Edinburgh in December
December in Edinburgh is the time to visit if you want to do all the fun Christmas activities that the city has on offer. In fact, the official Christmas events run from around mid-November through to the first few days of January (you can see the official website for what is on when).
So if meeting Santa, shopping in a Christmas village, or spinning around in the Star Flyer are on your Edinburgh winter wishlist, we highly recommend visiting in December.
December is also the time to visit if you want to experience New Years Eve, or Hogmanay, in Edinburgh, with these events running from the 30th of December through to the 1st of January. Note that this is the busiest period in terms of the winter calendar, so accommodation will be more expensive and the city will be much busier overall.
If you are looking for a quieter experience, we'd suggest visiting right at the end of November or at the beginning of December, when things are getting going and there are fewer people out and about. St. Andrews Day, the patron saint of Scotland, has his day celebrated from the 30th November – 3rd December.
Edinburgh in January
Whilst the Christmas events are over, January is still a great time to visit Edinburgh. After Hogmanay, the city is much quieter at this time of year, so accommodation can be had for great prices, and you are unlikely to have to queue for most attractions.
It's also a good time for shopping in Edinburgh, as most of the stores will have their January sales going on.
If you visit late in January, you'll also be able to take part in "Burns Night". This is celebrated across Scotland on the 25th January every year, and is in honor of Scotland's famous poet, Robert Burns.
The night traditionally involves drinking whisky, eating "Haggis, Neeps and Tatties", recitals of Burns poetry, and traditional Scottish dancing. Various venues across the city host Burns Night activities, and these are a lot of fun to take part in. See our full guide to celebrating Burns Night in Scotland for more information.
Edinburgh in February
February is the month that the days finally start to lengthen. Snowdrops (a small white flower) will start showing their heads, and the city starts to shake off the wintry chill.
There's also lots to do in Edinburgh in February. The Six Nations rugby tournament (an annual competition between six of Europe's major rugby playing countries) will be playing, with some of the games at home in Scotland.
February is also one of the best months for skiing in Scotland, and you could even do a day trip to one of Scotland's ski resorts if you wanted to try skiing in Scotland!
It's also Valentine's Day of course, so romantics will likely be popping up to Edinburgh for a romantic getaway. Consider booking a weekend at one of the finer hotels in Edinburgh such as the Balmoral, the Witchery or the Caledonian.
Where to Stay in Edinburgh in Winter
Edinburgh has a huge choice of accommodation options, with everything from hostels to hotels and apartments on offer. Winter is a great time of year to visit as well, as for the most part (with the exception of the period around New Years Eve) there will be good availability and relatively good prices.
We've put together some options across the various price points to give you some ideas for where to stay. We usually use and recommend booking.com for accommodation when travelling, as we find they tend to have the widest choice and best prices. You can see all their Edinburgh listings here.
If you prefer an apartment, then we recommend either Plum Guide or Vrbo.
Plum Guide doesn't have quite so many choices, but they carefully curate their listings so their options tend to be of a very high quality whilst still being available at a range of price points. See their listings for Edinburgh here.
We've also used Vrbo all around the world, and they consistently have one of the widest choices of options to choose from.
If you can't find what you want from the above choices, or you want some new options to try out, we wrote a whole post on the best alternatives to AirBnB which you should check out!
Getting around Edinburgh in Winter
Edinburgh is a compact city and is relatively easy to get around. Most of the city is accessible on foot, with the major attractions within a 1 mile radius.
It is worth bearing in mind that the city does have a fair few hills and staircases, especially in the transition between the old town, which is on a hill, and the new town, which isn't.
Of course, foot isn't the only option. There's an extensive bus network and also trams that serves the city and surrounds, as well as taxis and Uber.
There are also the hop-on hop-off buses that run year round, which are a good option.
Getting To and From Edinburgh
Edinburgh is a very well connected city, and is easy to get to and from.
Edinburgh Airport is just a few miles outside of the city, and is connected by bus, tram, Airlink shuttle, and private hire vehicles. From Edinburgh Airport you can fly to cities across the UK, as well as Europe and the US.
Edinburgh's main train station, Edinburgh Waverley, is right in the heart of the city. Services operate direct to cities across the UK, including to London in around 4.5 – 5 hours. If you want to travel by train in the UK, we recommend you get your tickets on The Trainline, and book well in advance for the best deals.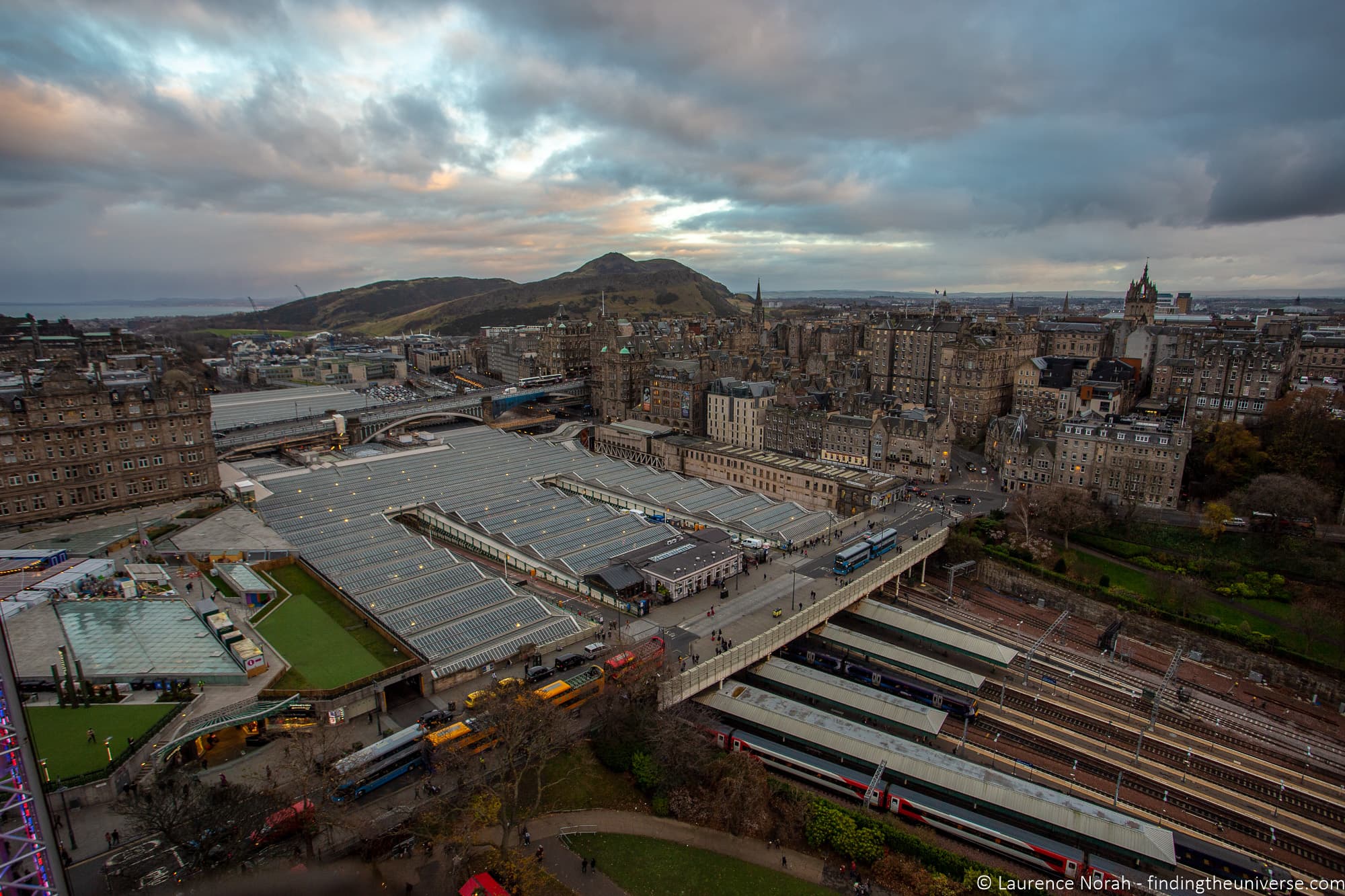 See our guide to getting from London to Edinburgh for more on that.
There are also a number of long distance bus operators in the UK, who offer services to and from Edinburgh. We usually recommend either National Express or Megabus for long distance bus travel in the UK, and as with the train, tickets are cheapest when booked well in advance.
Practicalities for Visiting Edinburgh
What to Pack for Edinburgh in Winter
Visiting Edinburgh in winter means you are likely to get fairly cold temperatures, likely just a few degrees above freezing. Snow in the city center is uncommon, but possible, and rain is very likely. Whilst this might not sound too cold, the city often plays host to fairly cold northerly winds, which can make it feel a lot colder.
We'd advise packing layers of warm clothing, depending on how badly you feel the cold. Certainly, warm gloves, a hat and a scarf are a good idea. We have a guide to travel scarves here if you need some more inspiration! We can also recommend thermal base layers if you really feel the cold, and of course, a warm coat.
We have a detailed guide to what to pack and wear for Hogmanay, which should also help you plan your Edinburgh winter packing list.
Power
Edinburgh, like the rest of the UK and Europe, use a 220v electricity supply. Unlike the rest of Europe, this is supplied through a three pin plug. As a result, travellers from most of the rest of the world, including mainland Europe and the US will need an adapter like this.
We'd also advise US travellers to Edinburgh to check that their equipment supports a 220v supply, as the US uses a 110v electrical system. Most devices will have this written clearly on the power adapter, usually in the form of 110v – 240v. Don't plug in a device that doesn't support the right standard into a plug, even with an adaptor, as it will damage the device and may even cause a fire.
In our experience most newer laptops, phone and camera chargers and other small electronics work across the full voltage range, whilst larger devices like hair dryers and hair straighteners are not.
Currency
Edinburgh, and the wider UK, uses the pound, which is accepted across the UK. These will look different to the pounds that are issued in England, however they are the same. One thing to be aware of is that currency conversion locations in some countries do often get confused by these "Scottish" pounds, despite them being legal tender, so you might want to either spend them all, or exchange them for English pounds or your own currency before leaving.
Pounds are widely available from ATM's, banks and currency exchanges across the city and country. Credit cards are also widely accepted, and there is no need to carry large quantities of currency. Most credit cards will work fine, but be aware that American Express is not as widely accepted in Scotland as it is in England.
If you do decide to use a foreign credit or debit card in the UK, just make sure it doesn't charge foreign exchange fees or have a poor currency conversion rate. There are a number of excellent credit cards for travellers, and it's always worth checking to be sure you have a good deal before travelling and racking up unexpected fees.
Internet Access
Internet access is widely available in the form of WiFi all around the city, including in hotels and coffee shops, so you shouldn't have any trouble getting online. You can also pick up local SIM cards if you have an unlocked phone. These are usually excellent value as data rates in the UK are very competitive.
For more options on getting online when travelling, check out our guide to getting online when travelling to help you figure out the best options. We also have a guide to picking the best travel router, which can help you extend a weak WiFi network and share it across multiple devices.
Water
The water that comes out of the taps in Edinburgh and the wider UK is safe to drink unless otherwise indicated. Whilst water fountains aren't always easy to come by, you can nearly always get tap water at a restaurant or cafe.
We recommend you travel with a re-usable water bottle like this to save on having to buy water bottles.
Safety
Edinburgh is a safe city in our experience, although as with any major city, of course you need to keep your wits about you – keep your possessions in view all the time, keep your wallet or phone in a front pocket (with a zip if possible), and don't do anything that you wouldn't do at home.
If you're going to use a taxi, make sure you use a licensed operator. These will have clear markings on the vehicle, and the drivers private hire license will be clearly displayed.
We've never had any issues of safety in the city in the years we've visited, but of course it is always worth being vigilant.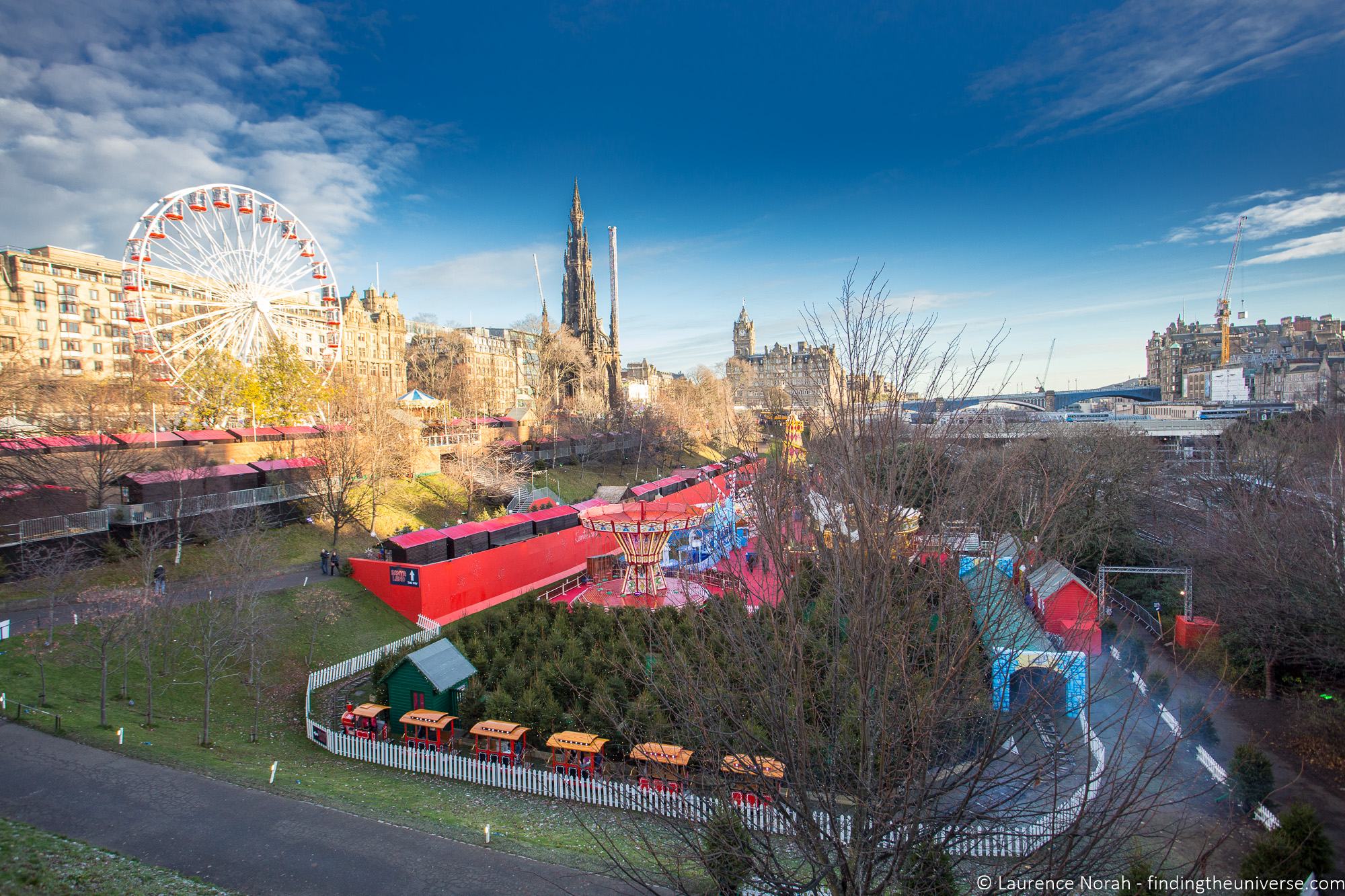 Further Reading
That sums up our guide to visiting Edinburgh in winter. Hopefully you found it useful and it will help you plan a wonderful wintery adventure in this lovely Scottish city.
Before you go though, we wanted to share with you some of our other guides. We've lived in Scotland for a while, and have put together a lot of content to help you plan an epic Scottish trip, both to Edinburgh, and beyond! Here are some of our favourites.
Well, that should certainly keep you busy for a while. As always, if you have any questions about your trip to Edinburgh or feedback on this post, just let us know in the comments below!