In today's post, we're going to share with you all our favourite things to do in Cambridge. As you'll find out, there's something for everyone in this compact city!
Located a 1-hour journey north of London, Cambridge is one of the UK's most well-known university cities.
With a history dating back to the 1st century AD, there's a great deal to see here to fill up at least a day of your time, and Cambridge is a popular place to visit as a day trip from London. From traditional pubs to punting trips to awesome museums and gorgeous old churches and colleges, Cambridge has something for everyone.
We're also going to share our tips for how to get around Cambridge, where to stay in Cambridge, tips for getting here and away, and the best time of year to visit Cambridge. Let's get started.
27 Things to do in Cambridge UK
As you'll see from this list, there's no shortage of things to do in Cambridge, from ancient English pubs to fantastic museums and gorgeous colleges.
We've included what we think are some of the best attractions in Cambridge, and hopefully you'll find plenty of ideas for your trip to the city.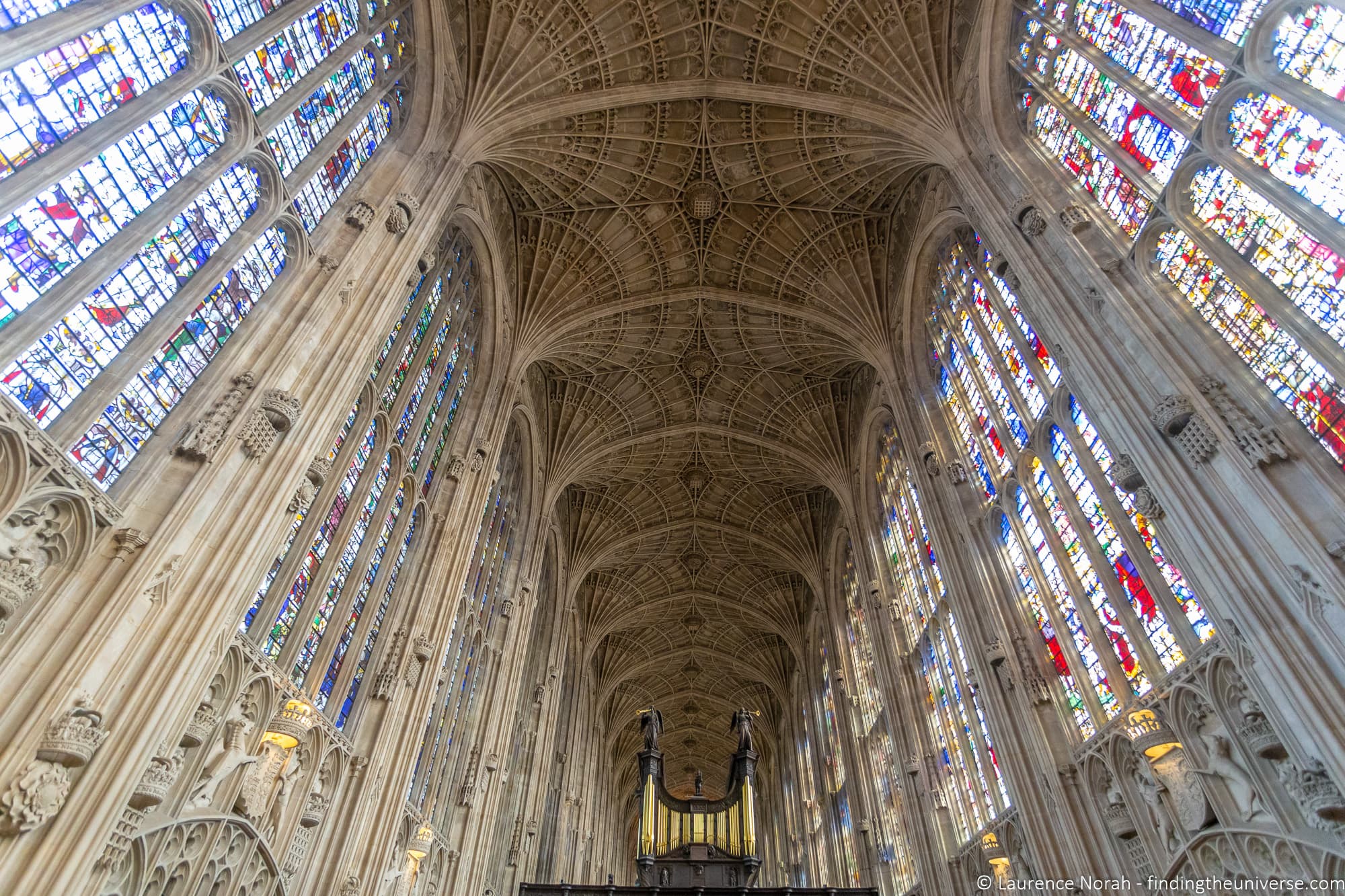 Visit the Cambridge University Colleges
Founded in 1209, Cambridge University is the second oldest university in the English speaking world (Oxford university is the oldest, see our guide to visiting Oxford here). The University itself consists of 31 colleges, each of which provides accommodation and manages the entry and tuition of their students.
The 31 colleges are divided into the "old" colleges, which were founded between 1284 and 1596, and the "new" colleges, founded between 1800 and 1977.
No visit to Cambridge is complete without visiting at least some of the Cambridge Colleges. We've already mentioned the King's College Chapel and the Wren Library of Trinity College, but we wanted to include a few more of our favourite colleges that you can visit.
You can explore many of these on your own, or you can take a walking tour of the Cambridge Colleges, where you will learn from a Cambridge graduate all about life at the colleges, as well as lots of history and information.
Please do note that all of the colleges in Cambridge are places of work and study, so always abide by the rules and behave with respect and courtesy to those who live and work here. If in doubt as to whether a college is open, we recommend stopping at the porters office, which will be at the entrance to the college, where you can ask for information.
Trinity College Cambridge
Trinity College in Cambridge is one of the largest colleges in the city. It was founded by King Henry VIII in 1546, and attendees included Isaac Newton, Lord Byron, and Betrand Russell, to name but a few. Trinity College has in fact produced 33 Nobel prize winners to date, more than any other Cambridge or Oxford college.
Speaking of Newton, it is oft speculated that the tree in the Great Court is the famous tree that inspired his theory of gravity. This is in fact incorrect – the actual tree is an apple tree, which can be seen at Woolsthorpe Manor, some distance north of Cambridge.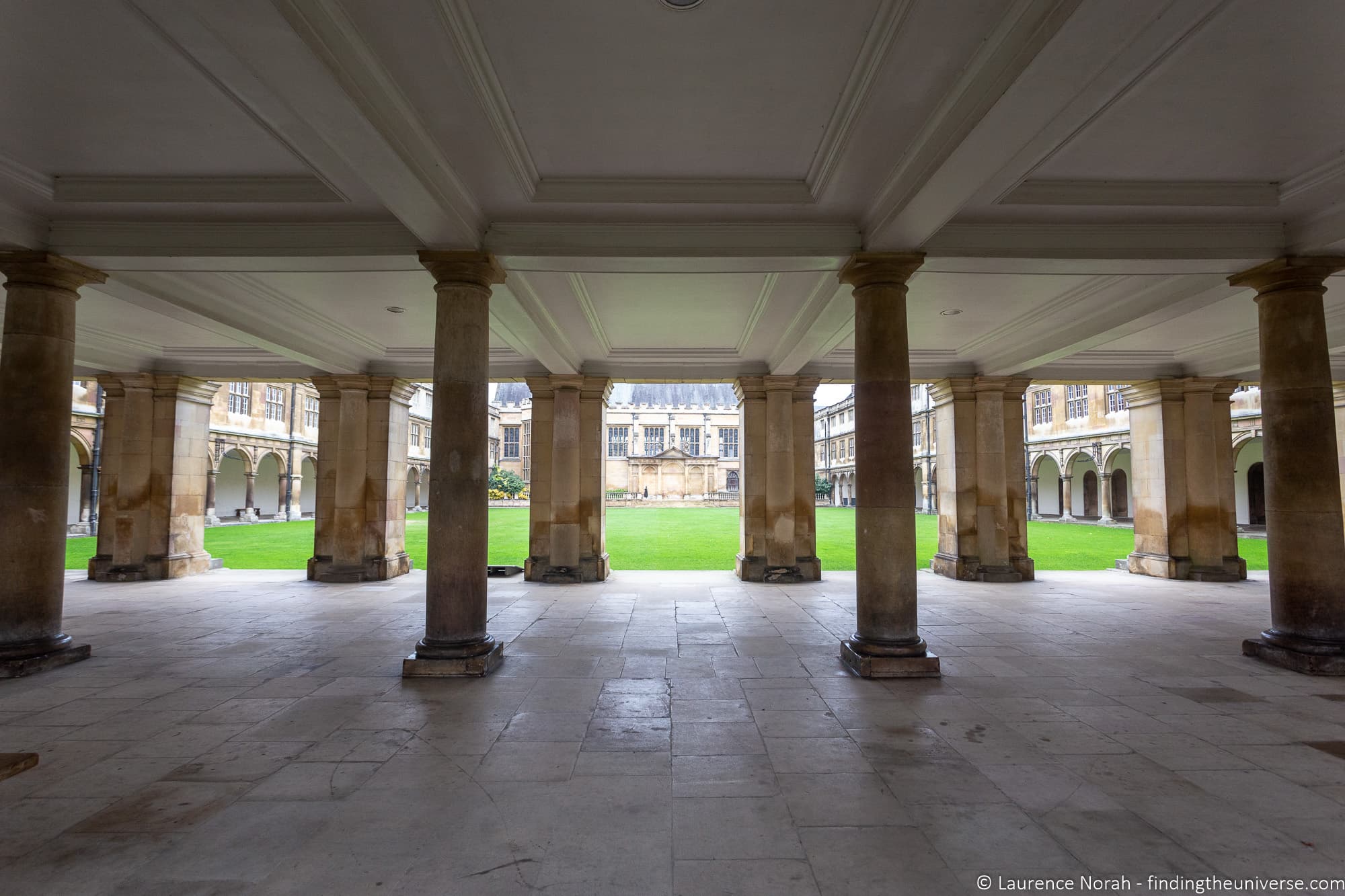 Highlights of a visit to Trinity College include seeing the Great Gate, the Great Court, and the Clock Tower, as well as the Wren Library.
You can visit the aforementioned Wren Library free of charge. For access to the Great Court and Chapel, there's a small entrance fee of £3 at time of writing, payable at the visitors booth in the Great Gate. Opening days and hours vary depending on the time of year. See more on the official website here.
Christ's College Cambridge
Originally founded as God's House in 1437, Christ's College was refounded under its present name in 1505.
Christ's College was where Charles Darwin and John Milton studied, and it is consistently amongst the top performing colleges in Cambridge in terms of academic standards.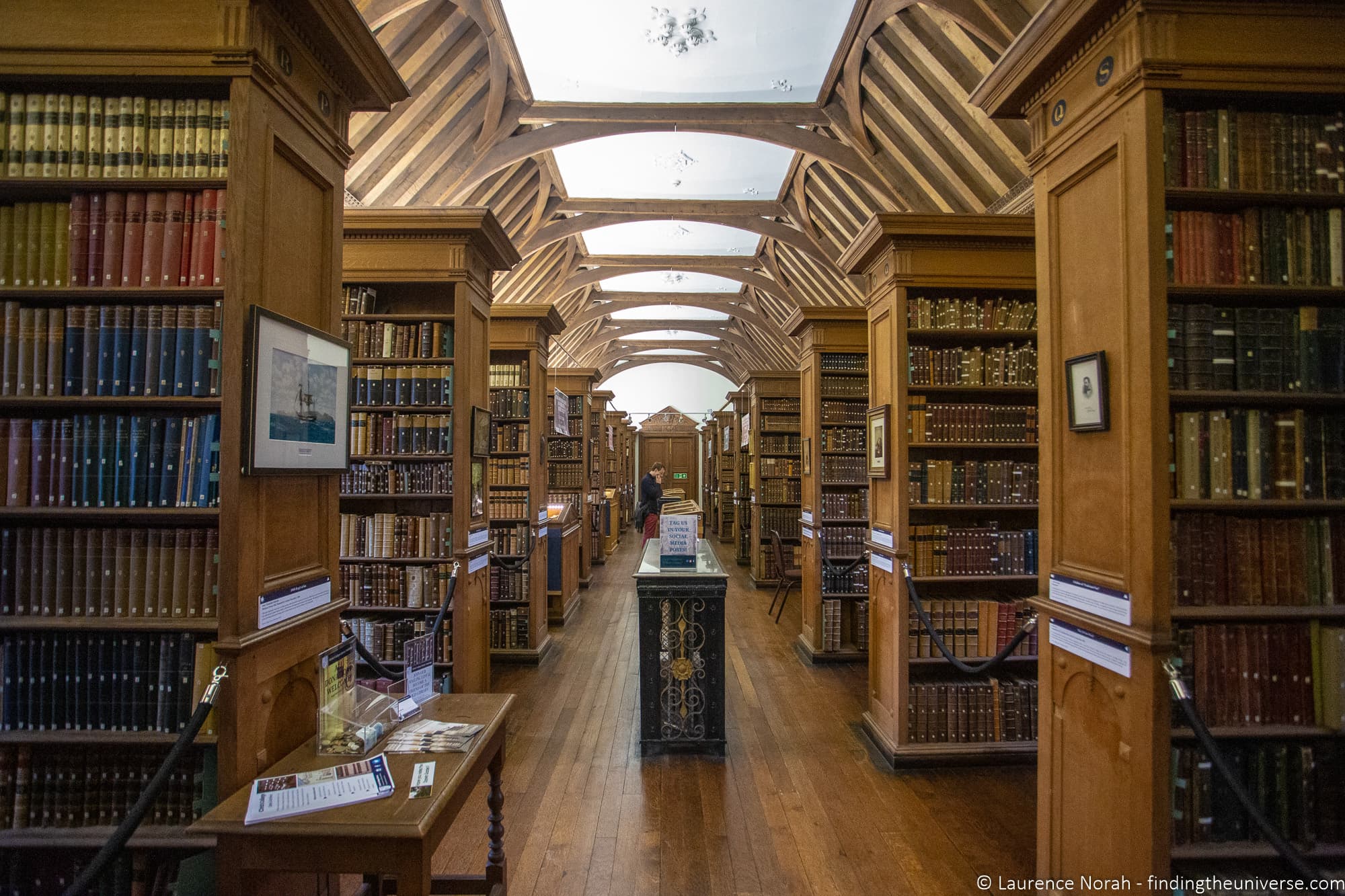 The college is open to visitors, with highlights including the original 15th century buildings and round lawn of the First Court, the Great Gate entrance on St. Andrews Street, and the Fellow's Garden.
The Old Library though is our favourite reason for visiting Christ's College. This library is home to over 50,000 rare printed books, largely acquired through generous donations. Book include first editions of the works of alumni John Milton and Charles Darwin, as well as many other treasures.
The Old Library is open from 2pm – 4pm on Tuesdays and Thursday, with visits outside of these hours possible by appointment. The college itself can be visited throughout the year 7 days a week from 9am to 4pm, and access is free. You can see more about visiting in general here, and visiting the old library here.
Pembroke College
Pembroke College was founded in 1347, making it the third oldest college of Cambridge University. It has stunning buildings, but it is perhaps best known for its gardens, which are beautiful.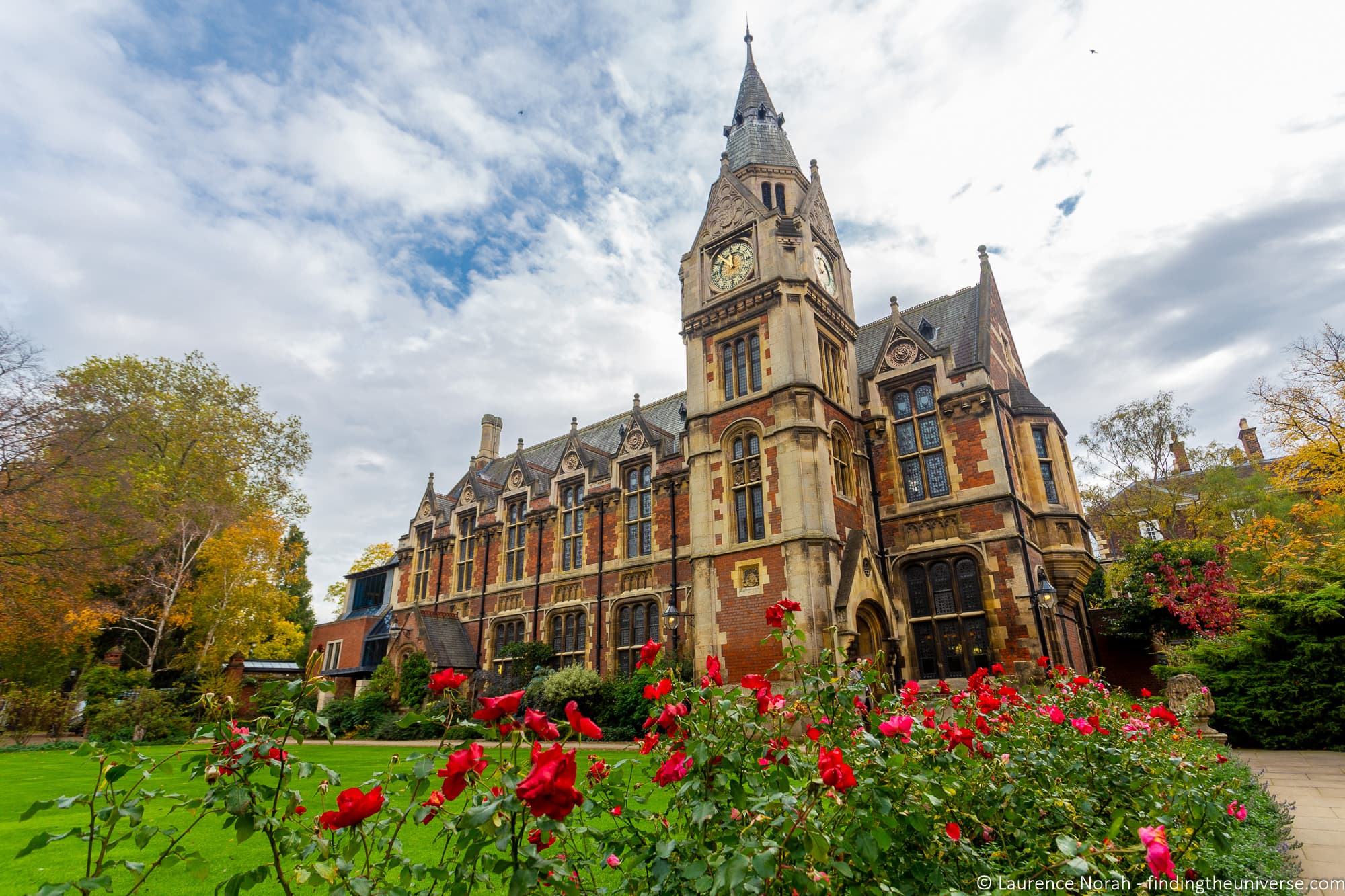 Other highlights include the chapel, and visitors are welcome to wander the grounds, although other than the chapel you cannot enter the other buildings.
Pembroke College is free to visit, and is open year-round from 10am – 5pm, with the exception of examination times. It's also included on various walking tours of Cambridge, such as this one which also includes punting. See more about visiting here.
St. John's College Cambridge
Founded in 1511, St. John's College has produced ten Nobel Prize winners, seven UK prime minsters, twelve archbishops, two princes and three Saints. Attendees include Douglas Adams, author of the Hitchhiker's Guide to the Galaxy (my favourite book!), William Wordsworth, and Paul Dirac.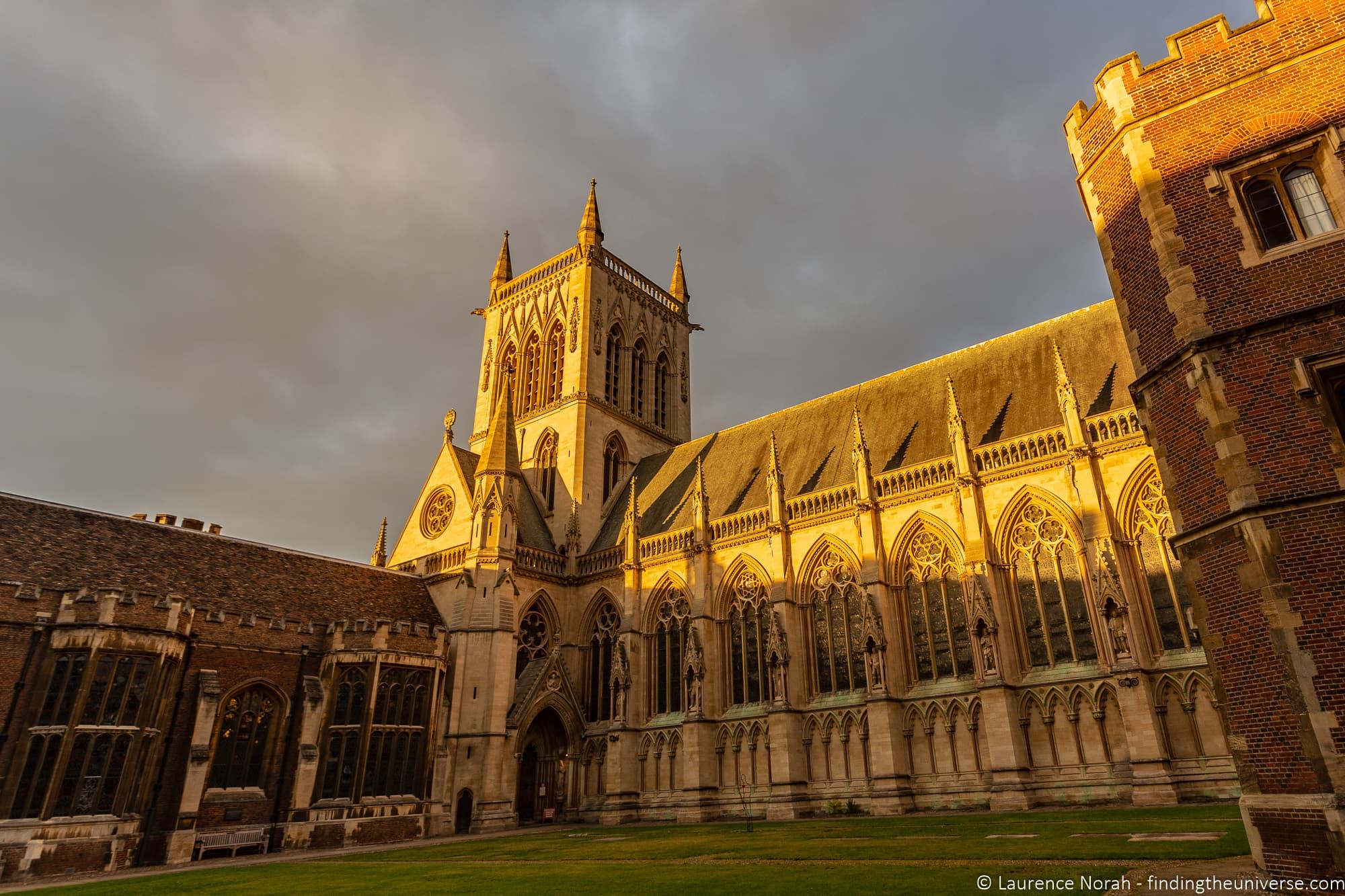 It's a beautiful college to visit, with a stunning chapel, the famous 1831 Bridge of Sighs, and extensive gardens.
St. John's is well setup for visitors. There's a signed self-guided walking tour that runs around the main sights of the college, including the iconic Bridge of Signs across the River Cam. You can download an accompanying leaflet for the walk from the official website here.
There's a fee to visit St. John's College, which is £10 per adult. The grounds are open to visitors year round (except from 25th Dec – 2nd Jan), from 10am – 5pm March – October, and 10am – 3.30pm the rest of the year. See more on the official site here.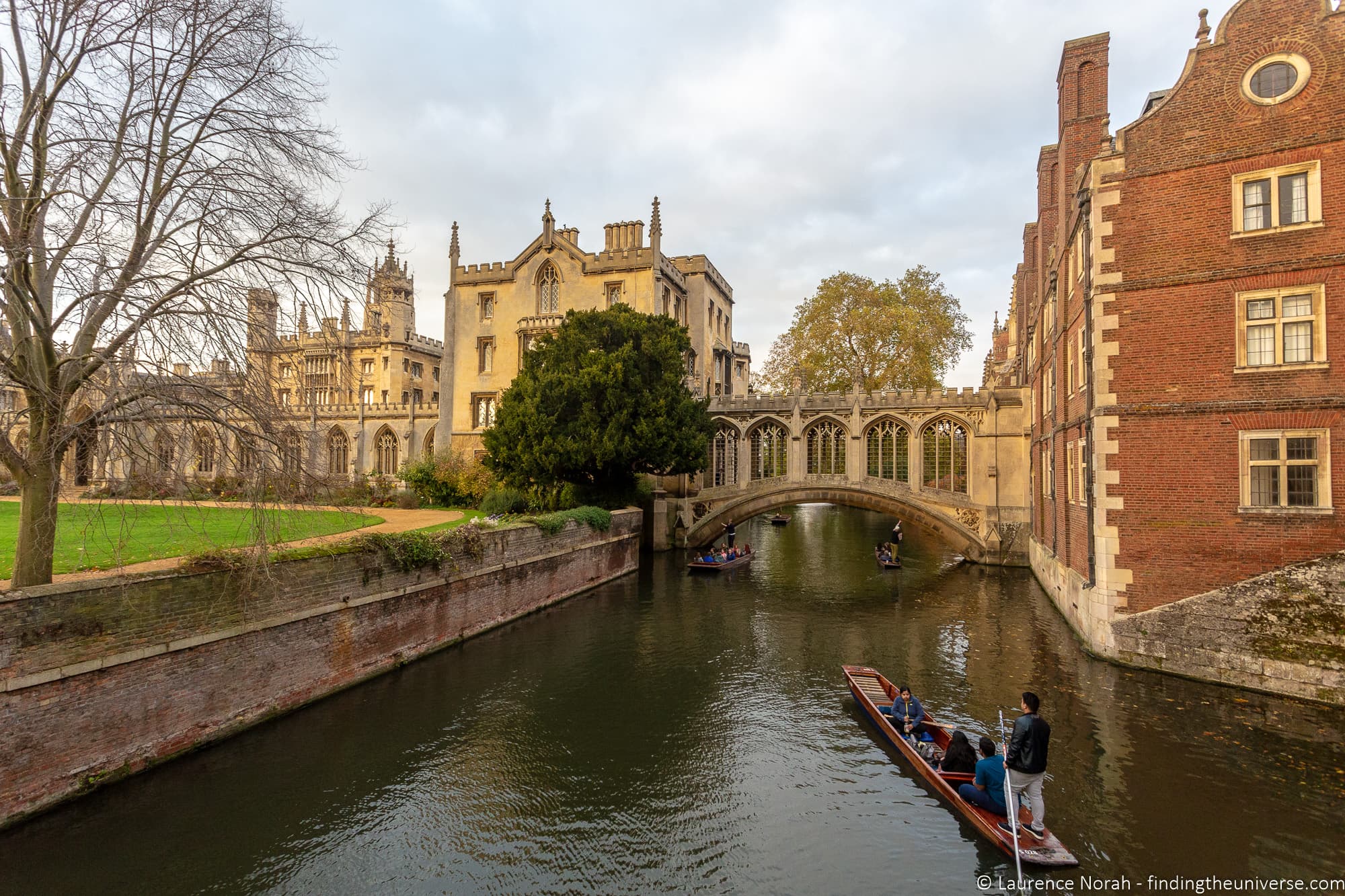 This was just a slice of some of the many colleges that you can visit in Cambridge. You could easily spend a day or more in Cambridge just visiting these stunning properties! You can also stay in some of the colleges outside of term time – see our guide to where to stay in Cambridge towards the end of the post for more information.
Finally, if you are visiting Cambridge with educational or research purposes in mind, you can also get access to some of the college's rich archives. Some of these have public visiting hours but for many you need to book an appointment.
For example, if you are researching Winston Churchill, you might want to visit the large collection of documents from the Churchill era (1874-1965) available at Churchill College.
Take a Walking Tour
If you want to get a good overview of the history of Cambridge and see some of the many highlights of the city, then a great way to do this is to take a walking tour. There are a number of different tours available, and we've highlighted some of our favourite options here.
A Cambridge University Walking tour with a Graduate. This tour takes you to a number of the Cambridge Colleges, and as you are led by a graduate of the university, you'll get to learn all about what life is like when you are a student here. A similar tour is also available as a private tour.
A Cambridge University and City Highlights guide. Led by a qualified Cambridge green badge tour guide, this private tour covers the highlights of the city as well as a number of the colleges, giving you a great overview of the city. A similar tour is available as a group tour here.
A combined Cambridge Punting and Walking tour. This tour combines two popular activities into one tour, and includes a guided punting experience as well as a tour of Cambridge. Both of these activities are with Cambridge Alumni, and the walking tour covers the highlights of the city as well as a number of the colleges.
If you'd rather see the city by bus, you might consider buying a ticket for the sightseeing bus. You can buy tickets for the Cambridge hop on hop off bus here.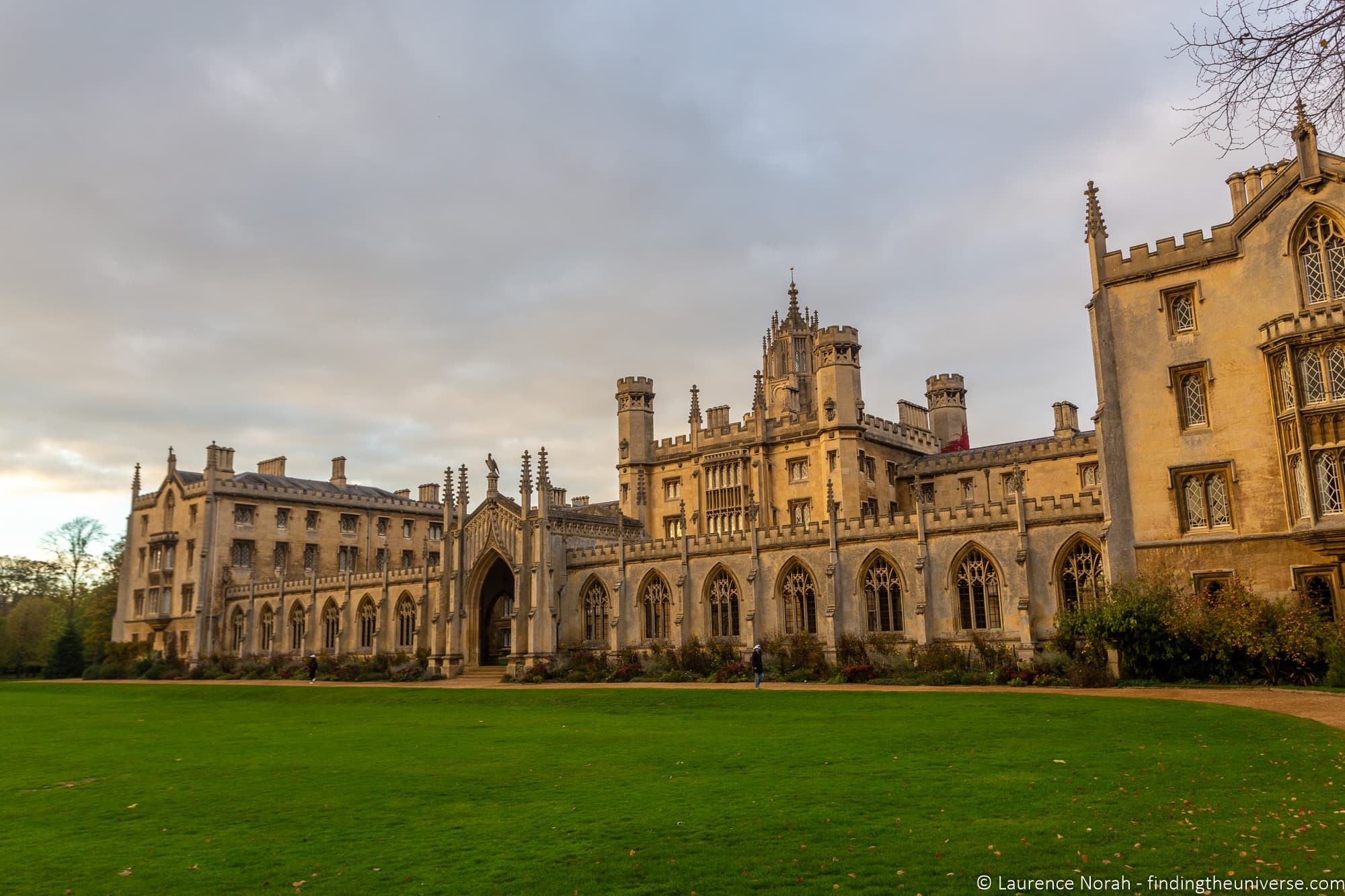 Scott Polar Research Institute
The Scott Polar Research Institute, also known as the Polar Museum, is a museum dedicated to the north and south poles of our planet.
As with many of the other museums in our guide to Cambridge, it is a part of the University of Cambridge museums consortium – of which there are eight in total in Cambridge. Each museum has a different focus and content, and they are all worth visiting!
The Scott Polar Research Institute is named for and in memorial to Captain Robert Scott, often referred to as Scott of the Antarctic. Scott was a British naval officer and explorer who died on an expedition to the South Pole in 1912.
The expedition successfully reached the pole, becoming the second team ever to do so, but all the members of the team passed away on the return leg.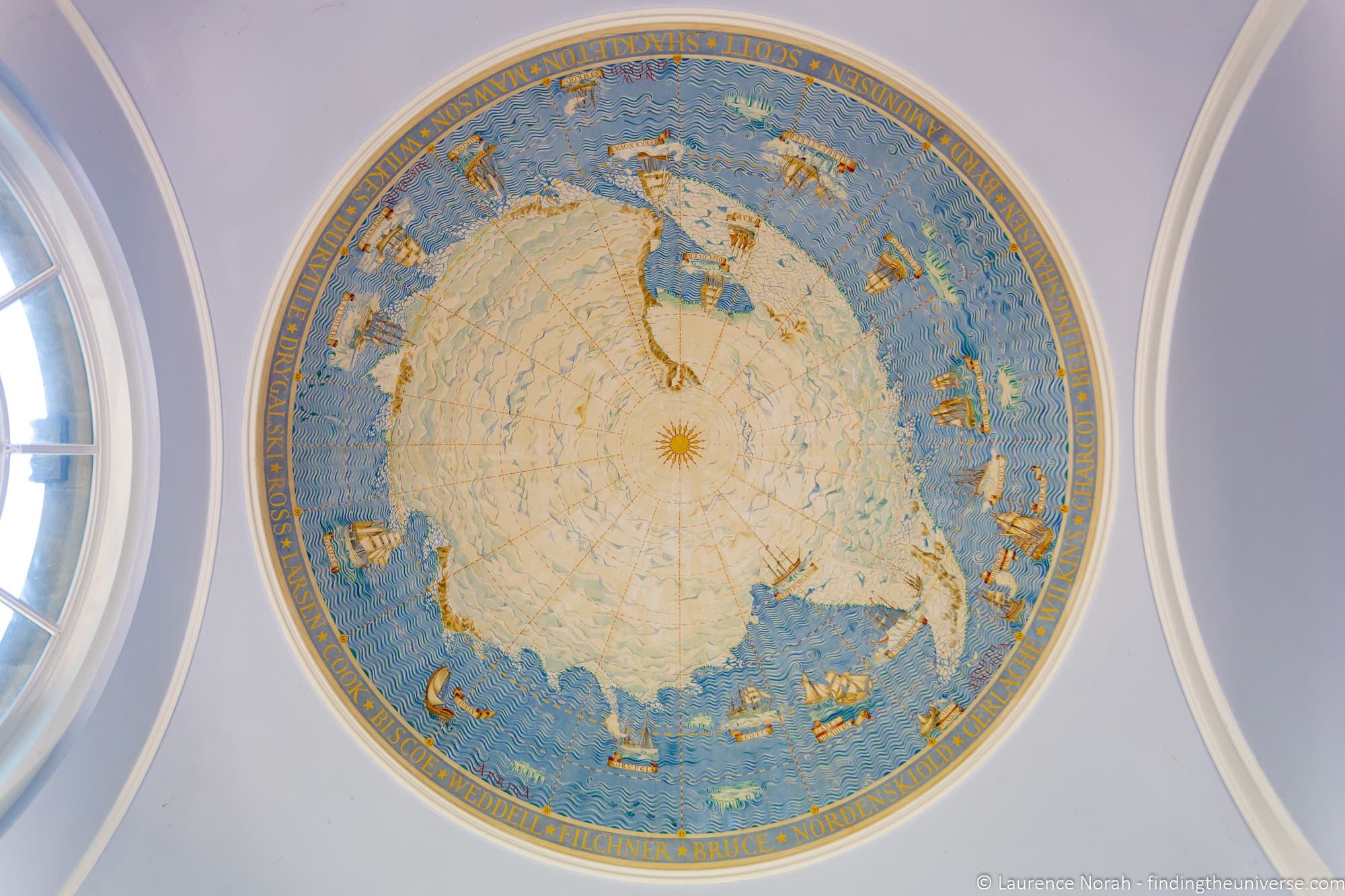 Today, the Scott Polar Research Institute, which was established in 1920, performs two main functions – it's a research base for a wide variety of Arctic and Antarctic research programmes, and it is the home of the Polar Museum.
The museum houses numerous artifacts and displays relating to both the Arctic and Antarctic regions. They cover the history of polar expeditions as well as the history, geology, and wildlife of the two regions themselves.
It's a fascinating museum, with objects including the last letters written by Scott, and is a must-visit for anyone with an interest in our planet's Poles, and exploration in general. The museum is open daily from 10am – 4pm, Tuesday – Saturday, and is free to visit (donations greatly appreciated).
They also host special events including talks, and special exhibitions. See the official website for more.
The Fitzwilliam Museum
The Fitzwilliam Museum is dedicated to art and antiquities, and was established in 1816 using the art collection bequeathed to the University by Richard Fitzwilliam. In 1848, the museum relocated to its present building, the beautiful Founders Building.
A highlight of this building is the entrance hall, which was designed by Edward Middleton Barry.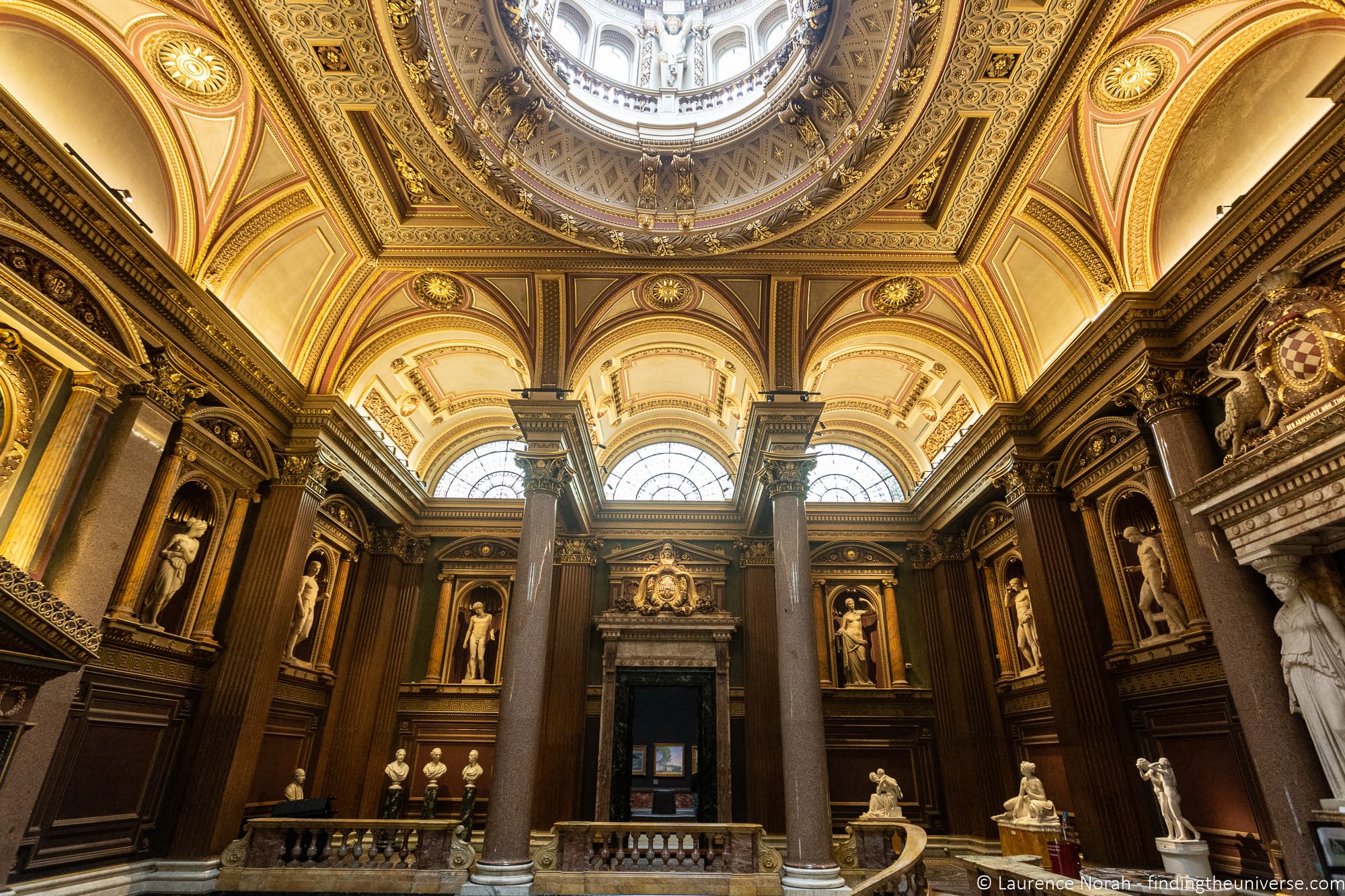 The Fitzwilliam Museum has a wide range of items on display, ranging from 16th century musical manuscripts to paintings by J.M.W Turner, as well as Egyptian, Greek and Roman antiquities, and art from China, Japan and Korea.
There's also an extensive collection of coins.
The museum is fairly large with a lot to see, although you can also just visit and take in the highlights if you prefer. Entry is free (donations are appreciated), and the museum is open 10am – 5pm Tuesday – Saturday, and midday – 5pm on Sundays. It's closed on Mondays. For more on what's on and up to date opening times, see the official website here.
Sedgwick Museum of Earth Sciences
The Sedgwick Museum of Earth Sciences is where you're going to come if you want to learn all about geology. Established in 1728, this is the oldest of the University of Cambridge museums, which is appropriate given that the subject matter will take you on a 4.5 billion year journey through the history of the earth!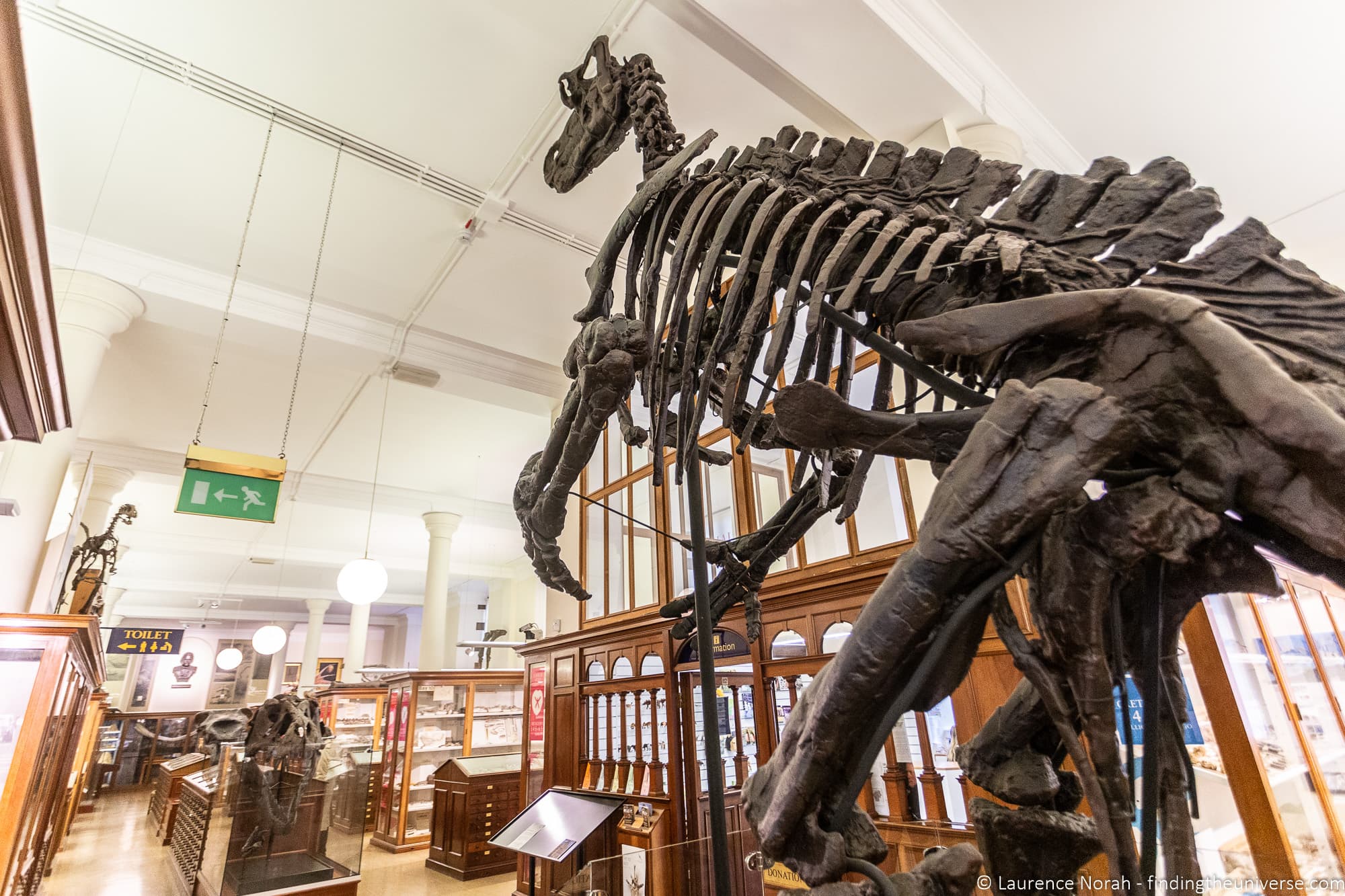 The museum has in its collection over 2 million specimens, which include fossils, minerals, and rocks, and which cover the majority of the lifespan of planet earth. As you would imagine, not all of this can be displayed at once, but there is a great deal to see and learn here.
The museum is open every day except Sunday. From Monday to Friday, it's open from 10am – 1pm, and 2pm to 5pm. On Saturdays it's open from 10am – 4pm. It's free to visit, and you can see more about what's on display here.
Museum of Archaeology and Anthropology
The fourth museum on our list, and dating from 1884, is the Museum of Archaeology and Anthropology. This museum is all about the history of people and the objects made for and used by people throughout the ages.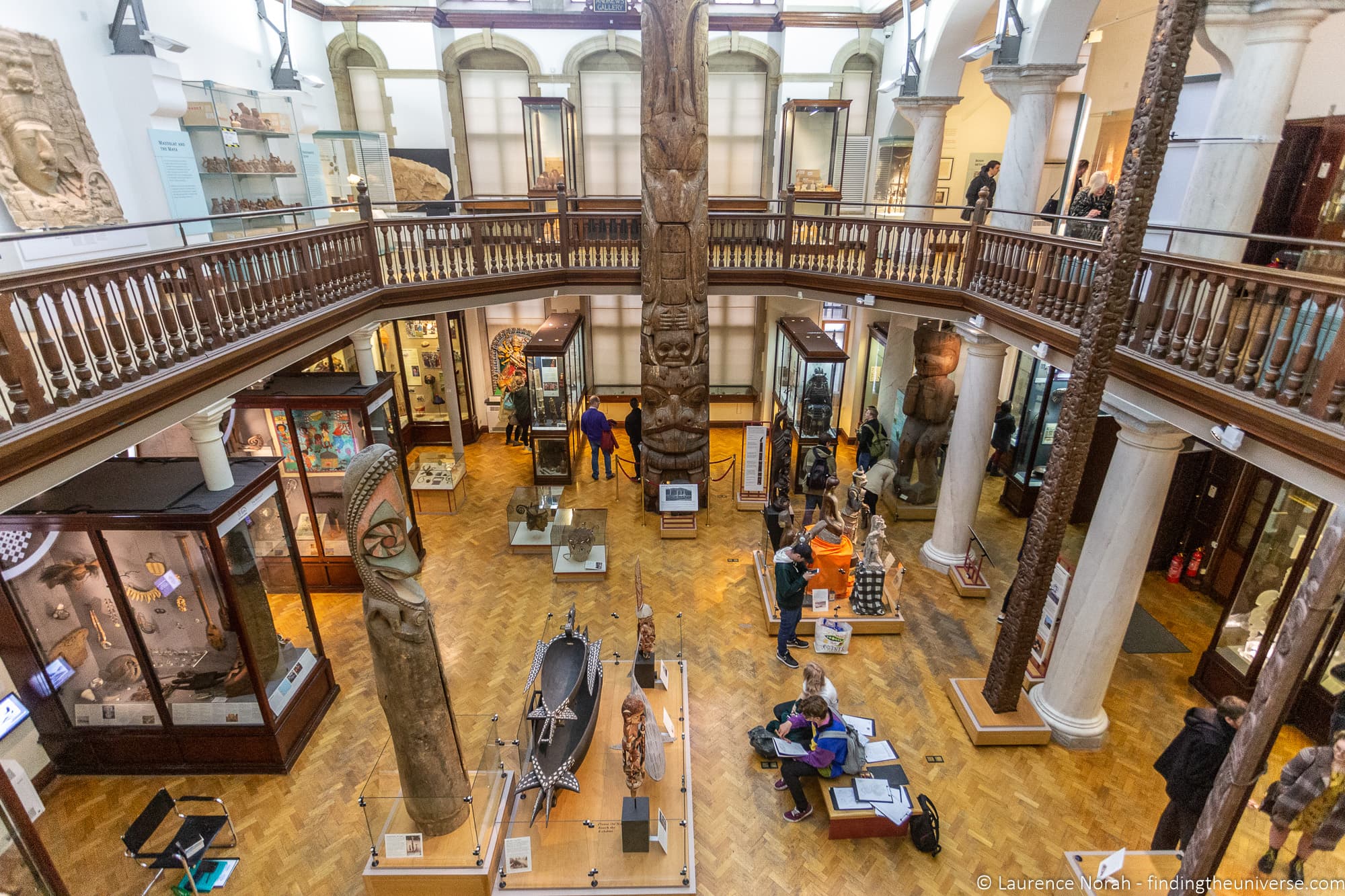 The ages in this case span a couple of million years and about a million artefacts, so there's plenty to see and learn about here if you're curious about where we came from and how we got to where we are today. It covers archaeology which is local to Cambridge as well as world archaeology, and there's also a whole floor on anthropology.
Highlights of the collection include the Haida Totem pole, as well as Roman and Anglo Saxon artefacts from Cambridge and surrounds.
The museum has free admission, and is open Tuesday – Saturday from 10.30am – 4.30pm, and Sunday from noon – 4.30pm. See the official website for more.
Museum of Zoology
If you are interested in the natural world, then you'll want to make a stop at the Museum of Zoology. This is a part of the University of Cambridge's Department of Zoology, which owns around two million specimens – thousands of which are on display at any one time.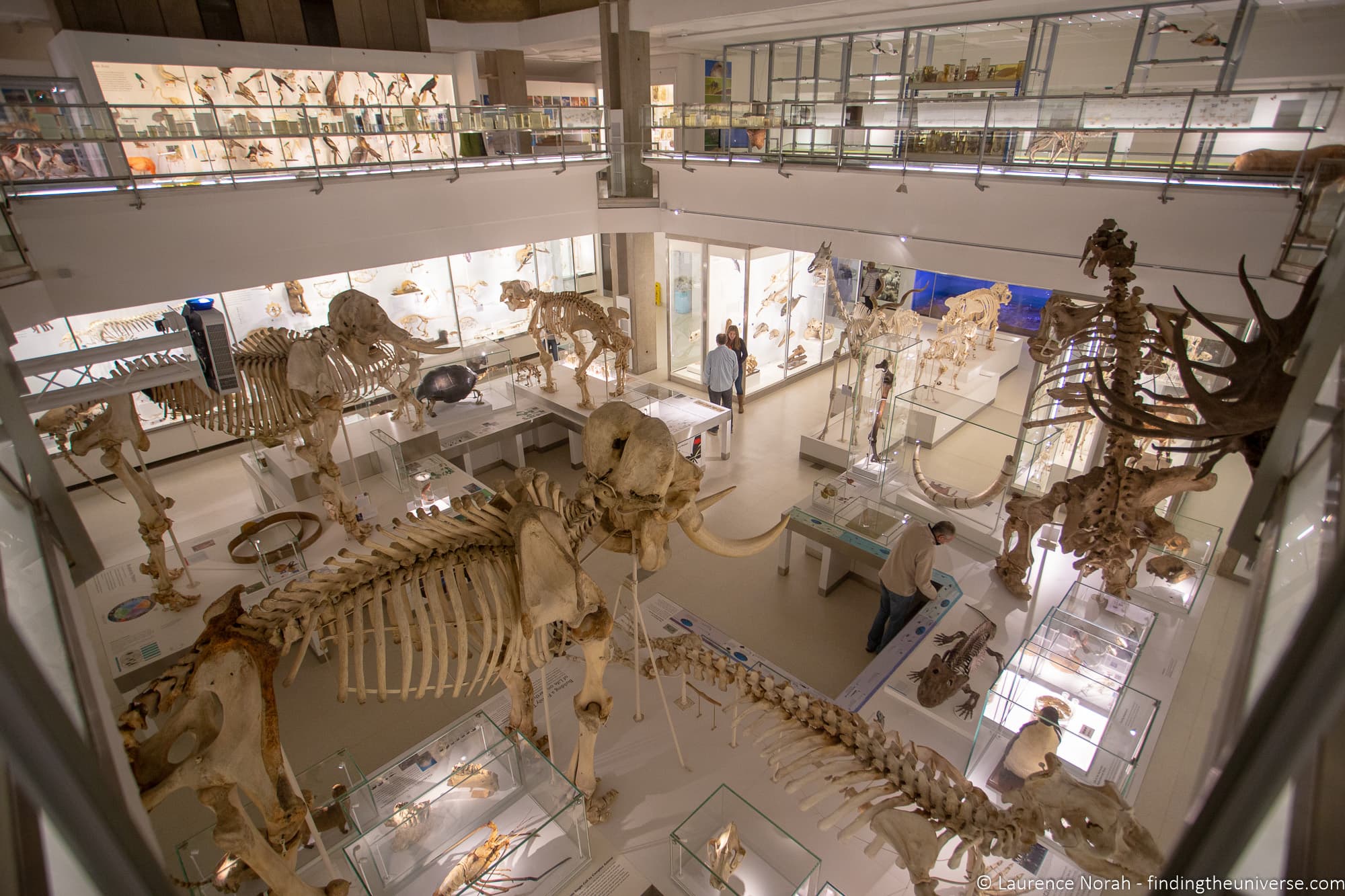 From the 22 metre long fin whale in the entrance area, through to elephants, insects, and molluscs, the museum has specimens on display which span the entire animal kingdom. There are also historically important items, including specimens discovered by Charles Darwin and Alfred Wallace, originators of the Theory of Evolution.
We think this would make a great museum visit for families in particular. There are Zoologists Clubs for different age groups, which run events throughout the year and have free membership. The museum also runs talks on various topics throughout the year, and there are rotating exhibitions.
Entry is free, with the museum open from 10am to 4.30pm Monday – Saturday, and noon to 4.30pm on Sunday. See more on the official website.
The Centre for Computing History
The father of computers, Charles Babbage, studied Mathematics at Cambridge in the early 19th century. Babbage would go on to design the "Difference Engine", which is generally regarded as being the first computer ever to be designed.
As such, it is appropriate that Cambridge is home to the Centre for Computing History, a museum which is home to a collection consisting of over 24,000 items relating to computers and computing history. These include books, vintage computers, memorabilia, game consoles and even mobile phones.
This is definitely an excellent museum for those of you with an interest in computing, and there are loads of interactive and hands on exhibits to keep you entertained. It reminded us a bit of the Computer History Museum in California. The museum is open from Wednesday to Sunday from 10am – 5pm, and there's a small fee to visit.
Whipple Museum of the History of Science
As should be apparent by now, Cambridge has a museum for pretty much every interest! The Whipple Museum of the History of Science is another of the University of Cambridge's eight museums, and this one focuses, as the name makes clear, on the history of science.
The museum houses a great many objects such as scientific instruments, models, pictures, and prints, which are used to relate the history of science. These cover a wide variety of scientific disciplines.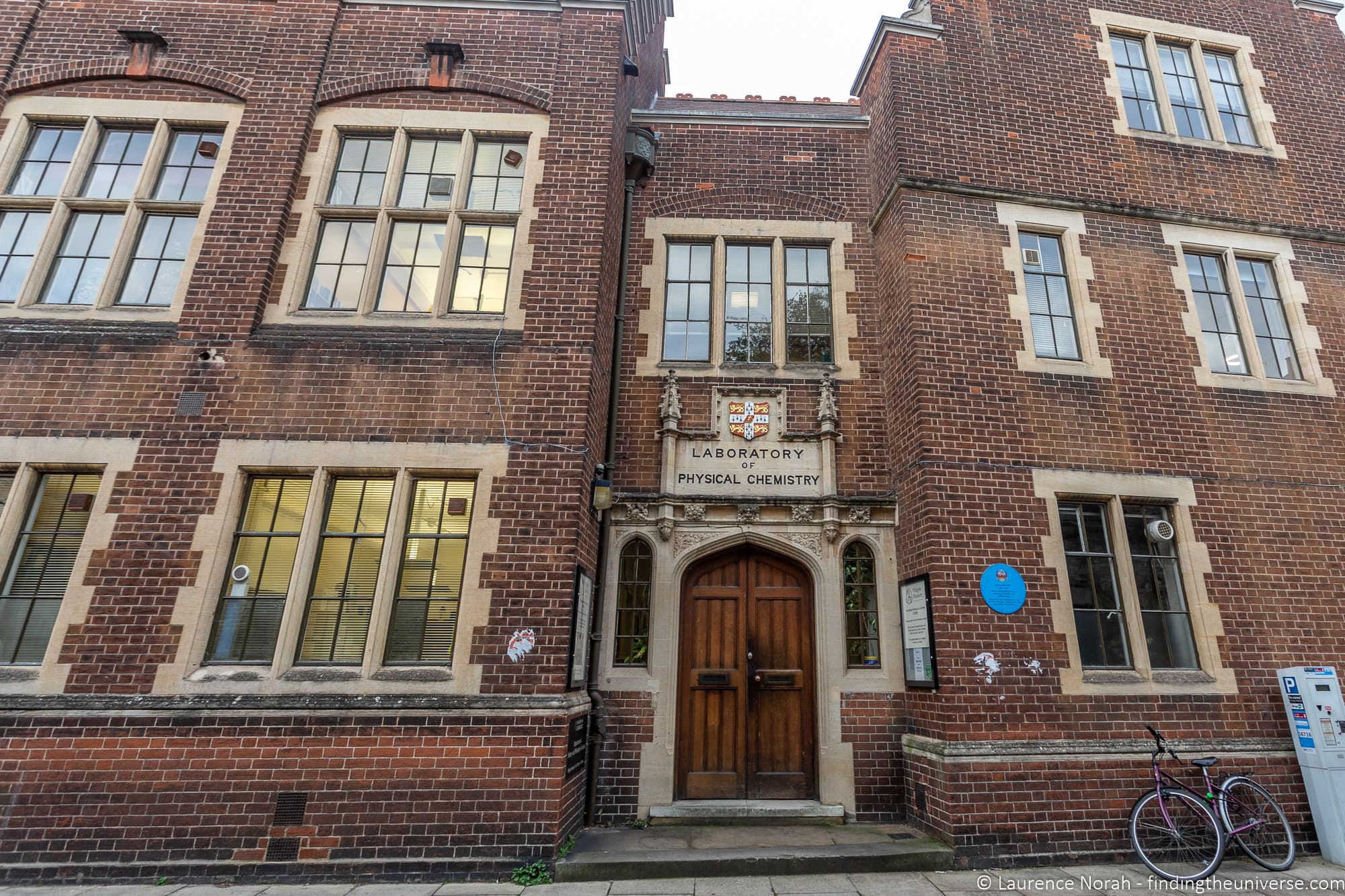 The collection is based upon the artefacts donated to the University of Cambridge by Robert Stewart Whipple, a 19th century scientist who grew up with a father as a scientist, and who spent his life creating (and collecting) scientific instruments.
Highlights of the objects on display include a copy of Isaac Newton's Principia Mathematica, Charles Babbage's Difference Engine No 1, and some of Charles Darwin's microscopes. These scientists were giant's in their fields, responsible for some of mankind's greatest scientific achievements, and being able to see first hand the tools and books they used and wrote is a wonderful experience.
The Whipple Museum of the History of Science is currently closed as it is undergoing refurbishment, and is scheduled to reopen in April 2019. See the official website for more information.
Kettle's Yard
For 20th century and contemporary art, you'll want to head to Kettle's Yard. This is found in the former home of Jim and Helen Ede, which consisted of four cottages that were merged into one unique property.
The property has been largely left laid out in the informal style of the Ede's, and much of the art on display is from their art collection. When they lived in the house, they would regularly hold open house tours to students of the university, and when they left Cambridge for Edinburgh, they gave the house and art collection to the University, which has been running it as an art museum ever since.
Entry is free, and the house is open from 11am – 5pm Tuesday – Sunday. Note that whilst it is free to visit, the house operates a timed ticketing system to manage visitor numbers. These are available from the house itself, or you can book them online up to a month in advance here, which we would recommend doing if you want to be sure to visit.
Cambridge Science Centre
If you're visiting Cambridge as a family or with kids, you may want to head to the Cambridge Science Centre. Whilst technically a museum, this is really a hands-on interactive learning centre where children and young people can find out all about what makes the world work.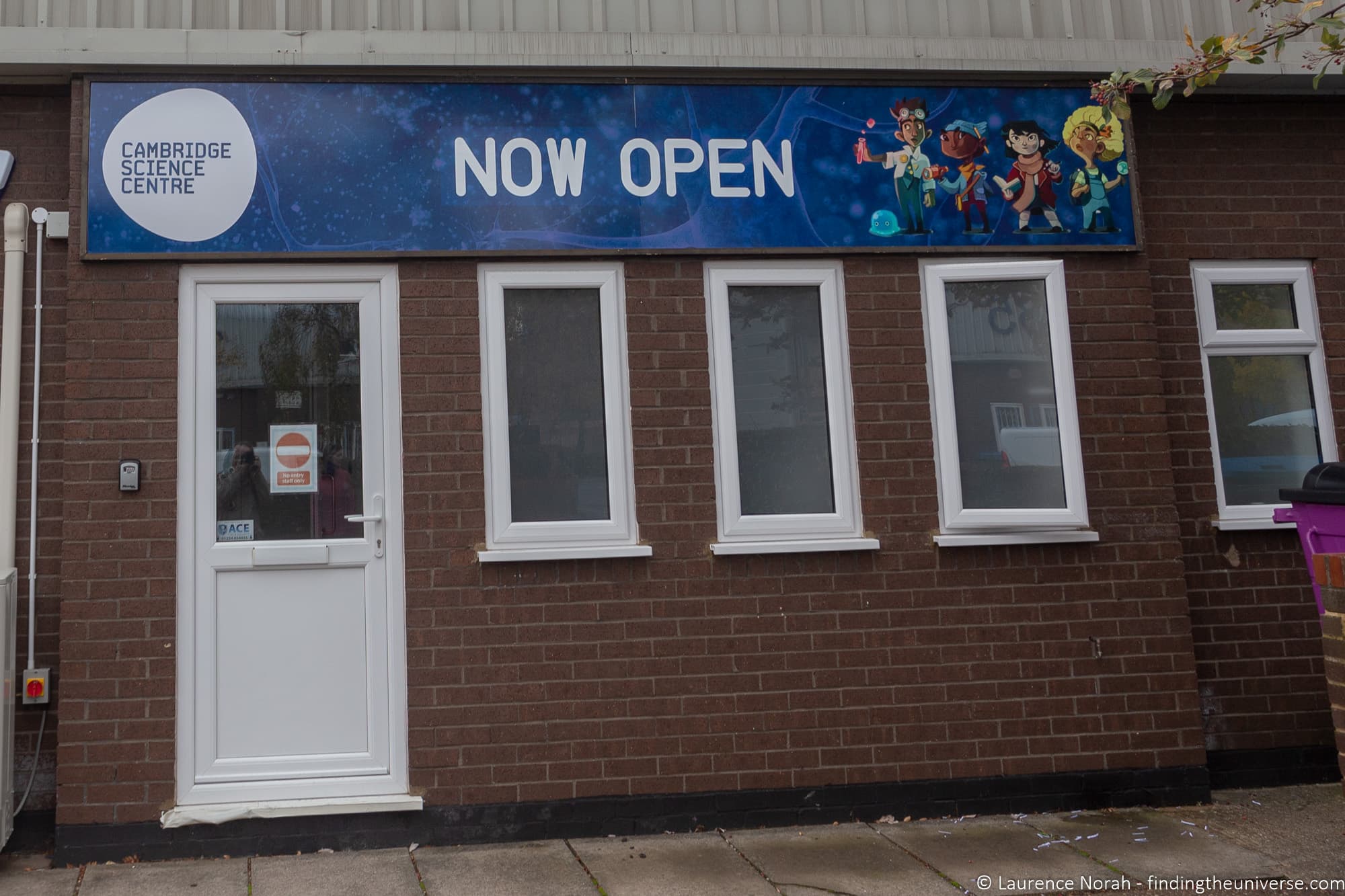 As well as the permanent exhibition, which includes content on everything from how cells work to how we survive in the present day, there are interactive shows and activities available throughout the day. Levers can be pulled, buttons can be pressed, and anyone with a love of science will have a great time here.
The Cambridge Science Centre is open Tuesday – Sundays from 10.30am – 5pm in school holidays, and has varied opening hours during term time. See more on opening hours and admission fees on the official website here.
Museum of Cambridge
By this point you might be wondering if there's anything apart from museums to see in Cambridge. Or, you're thrilled at the wealth of knowledge awaiting you, and struggling to decide which to visit.
Whichever side of that divide you fall on, this is the last museum in our list!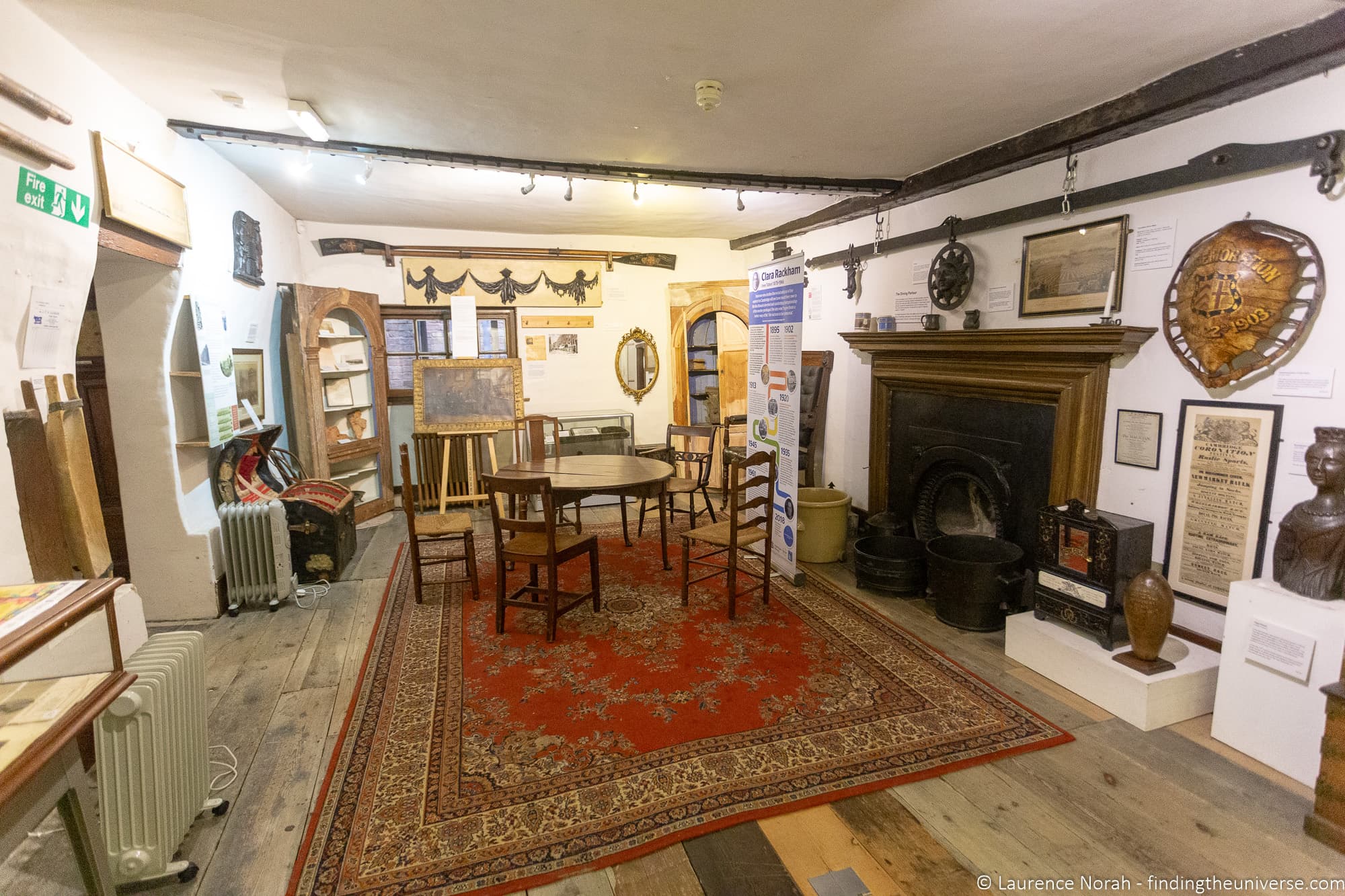 The Museum of Cambridge is found at the northern end of the city, and focuses on the history of Cambridgeshire, specifically over the last 300 years. This is the place to come if you want to learn everything about what has helped shape Cambridge into the city it is today.
It's set in a former 17th century coaching inn, giving it a very authentic setting, and has objects covering everything from social history to toys, art and clothing.
There's a small fee to visit the Museum of Cambridge, and it's open all week, although on Mondays, visits are by guided tour only. You can see the opening times and further information on their website.
Corpus Clock
The Corpus Clock is an incredible gold plated, 1.5 metre wide time piece and art installation. You'll find it at the junction of Bene't Street and Trumpington Street on the side of the Taylor library.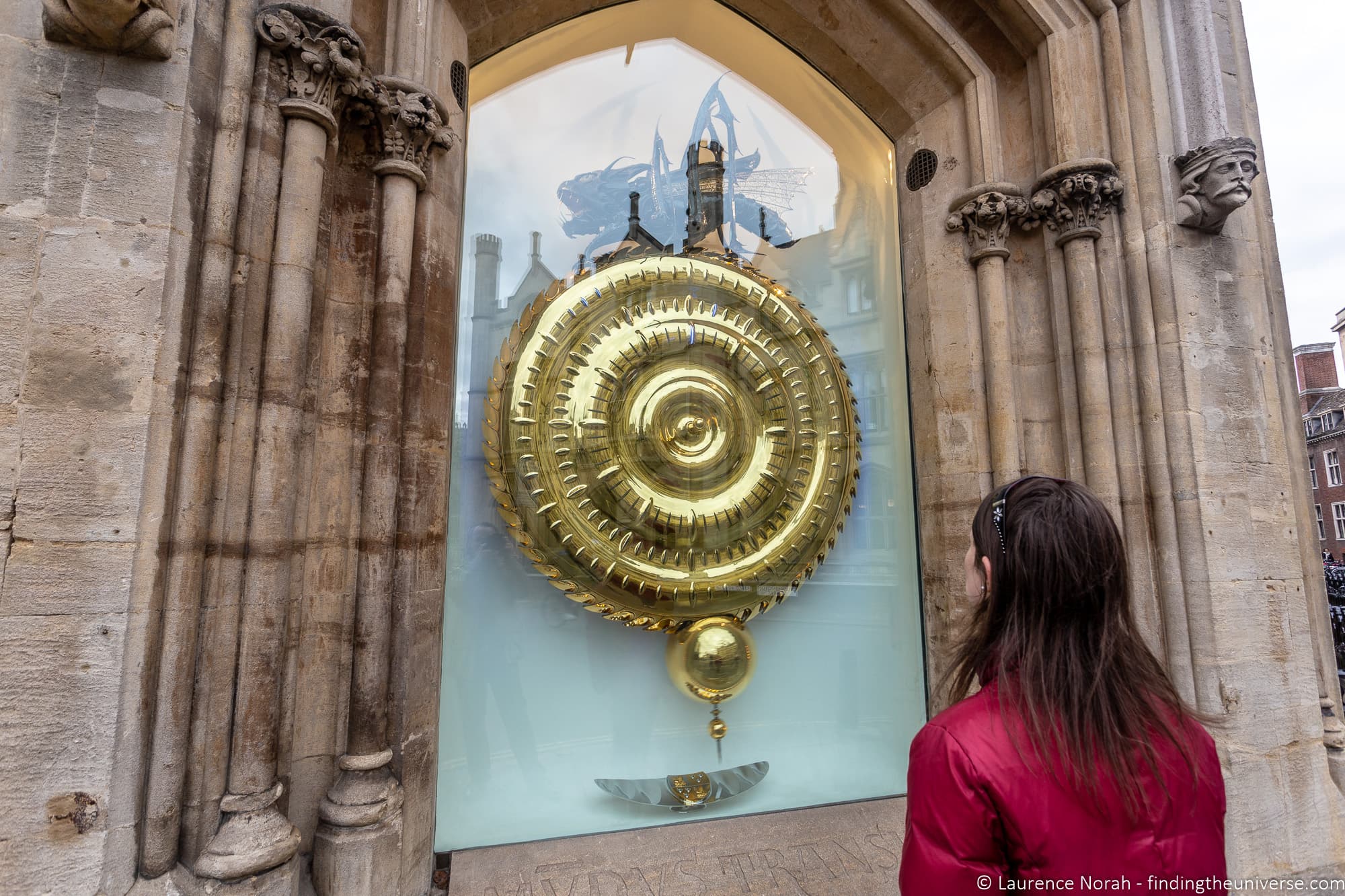 The clock involved over 200 people and the project to create it cost over a million pounds. It takes the form of a large golden disc, atop which sits a huge grasshopper, which is known as the Chronophage. This is Greek for "time eater", which is appropriate, as the grasshopper appears to eat the seconds as they tick by.
The clock is accurate, but as it moves erratically, it's only truly accurate once every five minutes. Still, you're not here to tell the time (which is challenging as there are no hands or dial to read, and so you need to understand the LED layout), you're here to appreciate a marvel of clockmaking, which was named as one of Time magazines best inventions of 2008.
The clock is free to visit and runs year-round. It's also often included on walking tours such as this one.
Great St. Mary's Church Tower
If you want to get a great view of Cambridge, we recommend heading to Great St. Mary's Church, where for a small fee you can climb to the top for panoramic views of the city.
The church is in the heart of the old part of the city, surrounded by cobbled streets and colleges, and is directly across from Kings College Chapel. As you would imagine therefore, the views from the roof are among the best you'll get in Cambridge.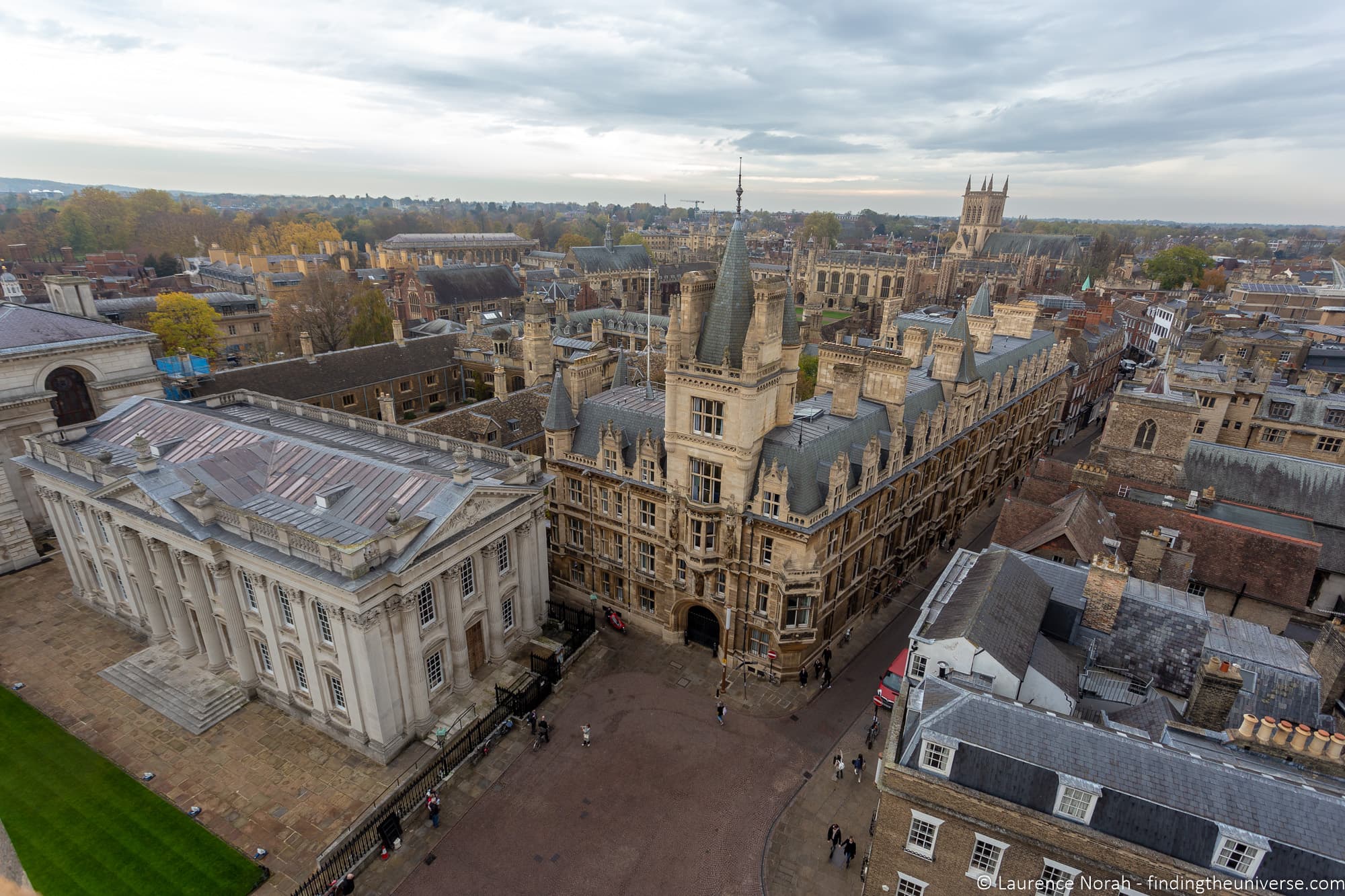 Of course, the church itself, which dates from the 15th century and is a listed building, is also worth spending time visiting. It's the university church of the University of Cambridge, and is home to the University Organ and University Clock.
The church also plays another role in Cambridge university life. All university undergraduates must live within three miles of the church, and university officers must live within 20 miles of it.
The Church is open Monday – Saturday from 10-5.30pm (4.30pm in winter), and 12.15 – 5pm on Sundays (4pm in winter). Tickets for the tower can be purchased at the gift shop, after which it's a 123 step climb to the top up a narrow winding medieval staircase! See more on the official website.
Castle Mound
It's time for some of the other highlights of Cambridge, of which there are many. We'll start off with Castle Mound, which is just across from the Museum of Cambridge.
This mound is all that is left of what was once a fairly formidable castle which dated back to the 11th century, and which was built following the Norman invasion in 1066 to control the route from London to the north of England.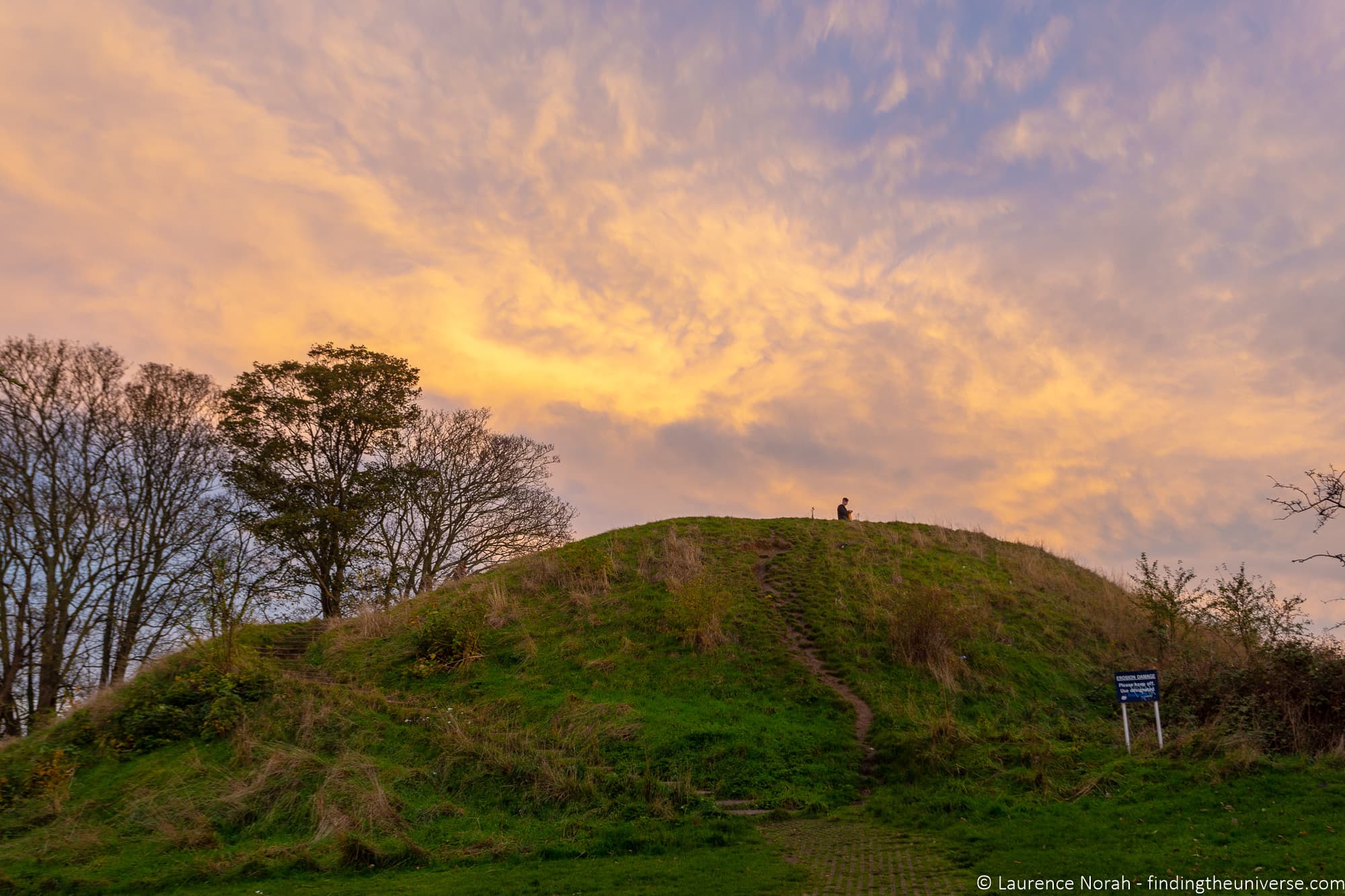 Over the years the castle saw various uses, including being used as the city gaol. However, much of the stone was incorporated into the construction of other buildings in Cambridge, including the colleges, and all that is left is the grassy motte.
This is still worth visiting though, as from the top of the motte you can get nice views across the city, and this is a popular spot to come to watch the sunset.
King's College Chapel
If there is one building which symbolises Cambridge, it would be King's College Chapel. This is the chapel of King's College.
A chapel, in case you were wondering how a chapel differs from a church, is usually a place of worship that is a part of a large nonreligious institution. This is why most colleges have chapels.
Whilst chapels are often relatively small, this is absolutely not the case with King's College Chapel, which is a large and seriously impressive structure.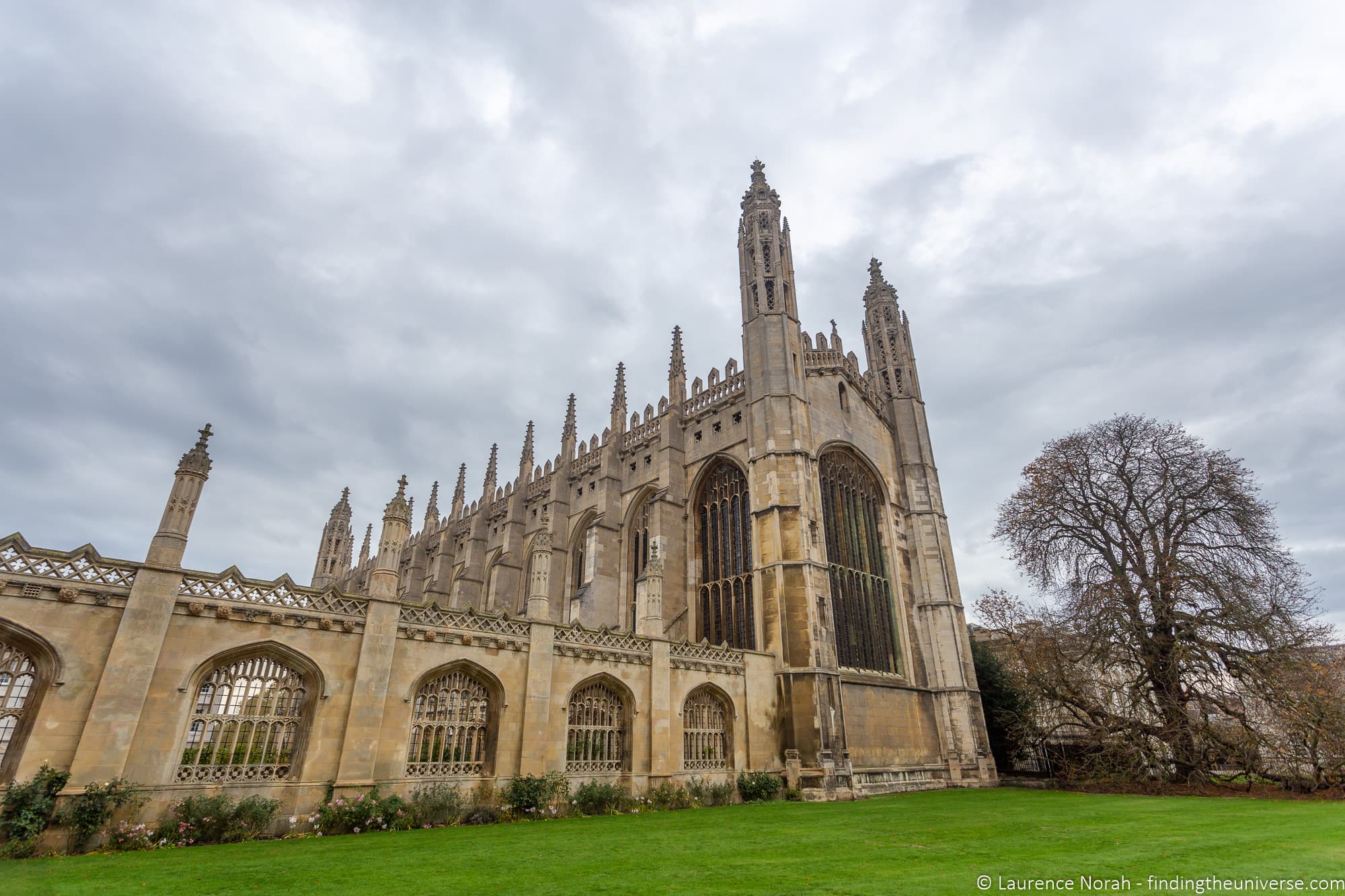 Built in the Perpendicular Gothic style of English architecture in the 15th century, King's College Chapel is a fantastic building that needs to near the top of your to-do list in Cambridge.
It has the largest fan vault in the world, spectacular stained-glass windows, and a rood screen that was funded by Henry VIII as part of his wedding celebrations for Anne Boleyn.
The chapel is still in active use, and it is the home of the King's College Chapel choir. It's possible to visit here and watch both mass and concerts, and the acoustics are excellent.
If you've ever watched the BBC's Christmas programming, there is always a broadcast of a solo performer singing Once in Royal David's City live from the chapel.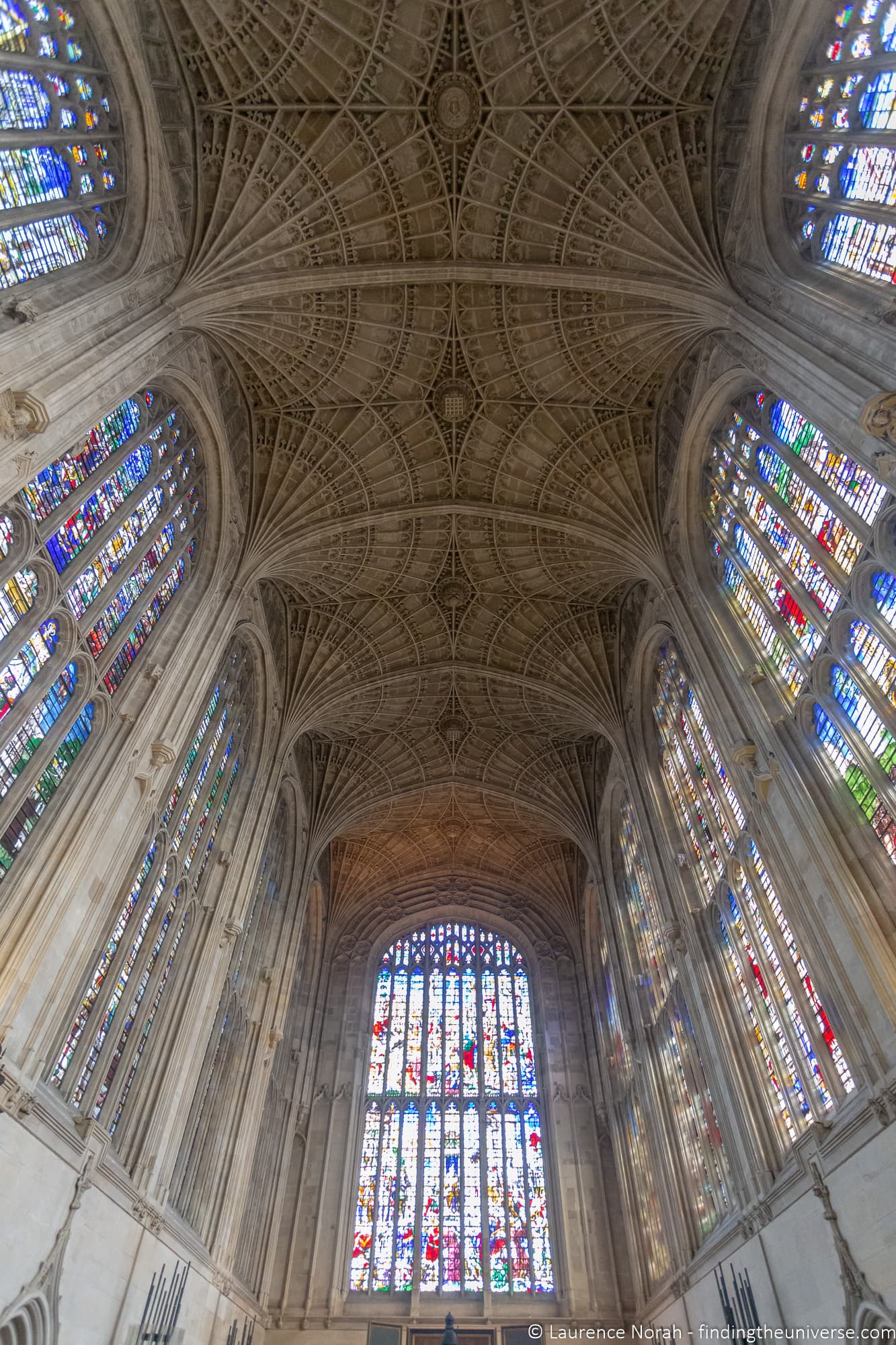 King's College Chapel has an entrance fee, with tickets available from the King's College visitor centre, which is opposite the chapel and college grounds. Tickets can also be purchased online here, to save you from queuing on the day. You can also take a tour which includes King's College like this or this.
The ticket gives you access to the chapel and the grounds of the College. The chapel is open every day of the week, but opening times vary depending on the time of year. You can see prices and full opening hours here.
Wren Library
The Wren library is arguably the most impressive of all the college libraries at Cambridge. It was designed and built for Trinity College by Sir Christopher Wren, who also designed London's St. Paul's Cathedral.
The two storey library consists of a single long room. The bookshelves go up to the height of the first floor, above which the huge windows allow light to pour in. This was the first library to be designed with windows large enough to allow for sufficient light in for reading.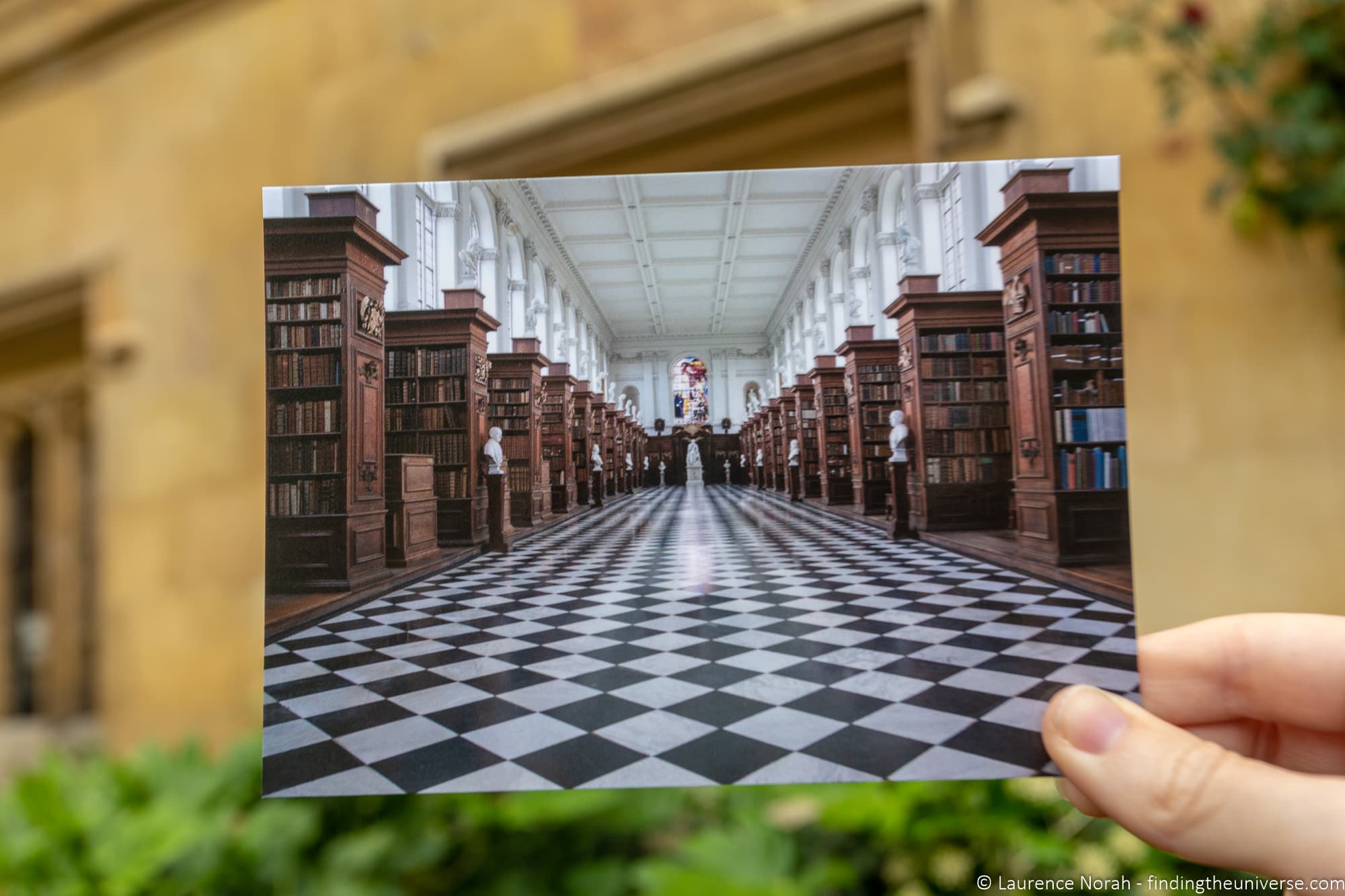 At the end of each bookshelf you'll find the bust of a noted author, as well a a limewood carving by Grinling Gibbons, whose work can also be found at Windsor Castle and Hampton Court Palace, and who was generally regarded as the finest wood carver in England.
Inside the library there is a section of display cases containing some of the libraries most notable books and manuscripts. These include Isaac Newton's first edition of Principia Mathematica, which has Newton's handwritten notes for the second edition, A.A. Milne's manuscripts for Winnie the Pooh and the House at Pooh Corner, and an 8th century copy of the Epistles of St. Paul, to name but a few.
The library is still very much a working university library, and as such access is carefully managed to as not to disturb those using it for academic purposes. Visiting hours are limited to 12-2pm, and visitors are restricted to 15 at a time. Photography is not permitted inside.
It's free to visit though, and there's a small souvenir shop where you can pick up postcards, although this is cash only.
Note – as of April 2023 the Wren Library is closed to the public. Check the official website here for more information and to see if it has reopened.
Go Punting
One of the most popular activities to do in Cambridge is to go punting. If you're not sure what that means, a punt is a type of flat bottomed boat, and punting involves pushing yourself along the river using a long pole to propel yourself.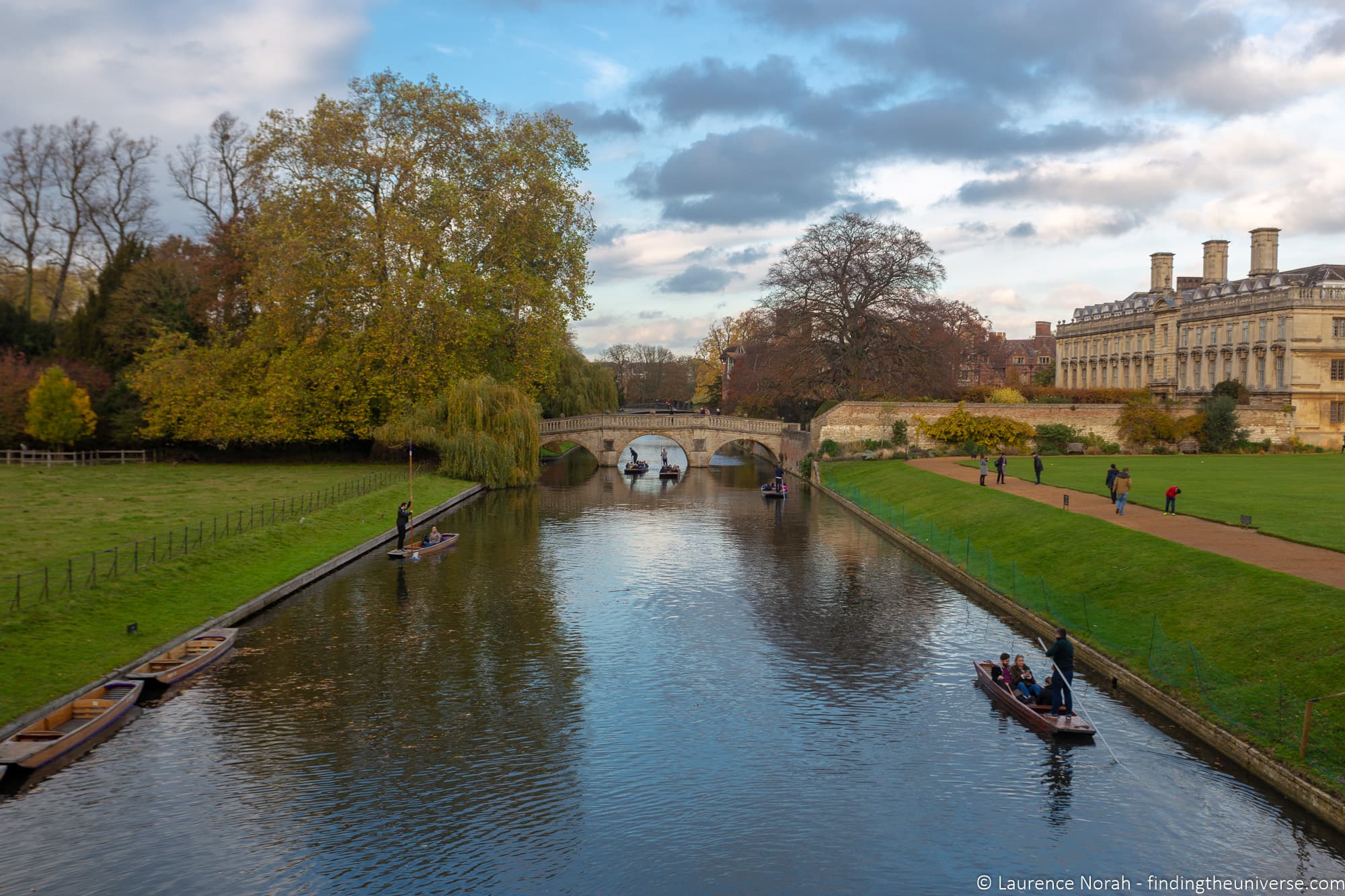 Punting is a lot harder than it sounds as we know from experience. So whilst you can hire a punt yourself and give it a go, we'd generally recommend that if you actually want to see some sights, you might prefer to take a tour with someone who knows what they are doing.
There are a variety of punt tour operators in Cambridge, with the majority offering tours of between 45 minutes and an hour – like this one with the Traditional Punting Company. Your punter will normally give you commentary about what you are seeing whilst also doing all the hard work, meaning you get to sit back and enjoy the unique views of Cambridge from the river.
Mathematical Bridge
Built in 1749, this famous Grade II listed wooden footbridge is a popular sight in Cambridge. Its unique construction give it the impression of being an arched bridge, but the reality is that it is built entirely from straight timbers.
This clever engineering design is why the nickname "Mathematical Bridge" has stuck.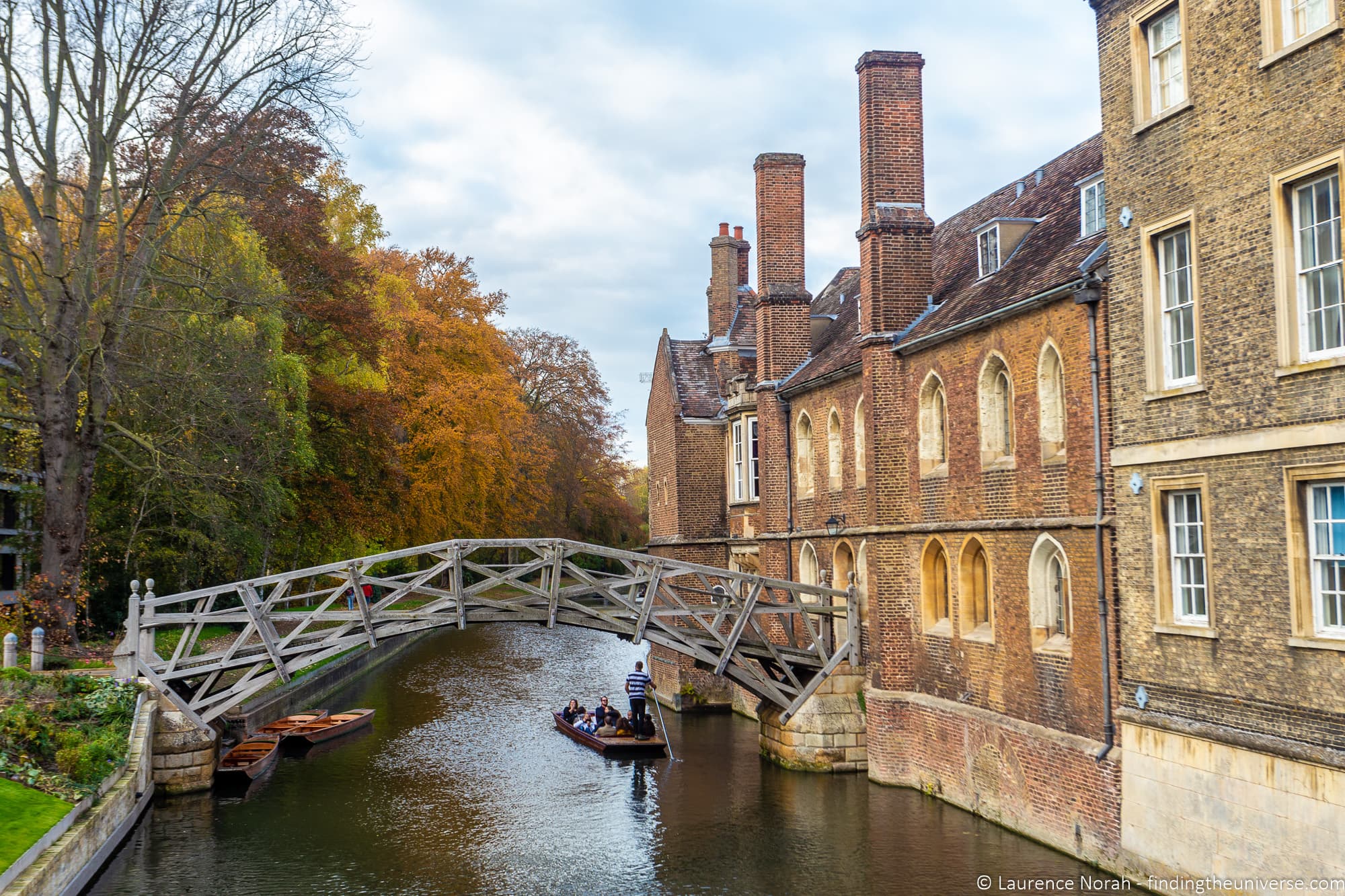 The Mathematical Bridge is in Queen's College, so to visit the Bridge you need to visit the college during its public visiting hours and pay the visitors fee, which is £3.50 at time of writing. You can see the opening hours of the college and visitor information here.
In our opinion though, the best view of the Mathematical Bridge is to be had from a punting tour, which will take you directly under the bridge. You can also get a more distant view from the Silver Street road bridge, just a little to the south on the river.
Have a Pub Lunch
One of the fascinating things about visiting Cambridge is the sense of history that seems to permeate the air here – particularly a history of scientific achievement. You can literally visit the places where some of science's biggest discoveries were made and unveiled.
In the case of the Eagle pub in Cambridge, you can both sit in the same place where Watson and Crick announced their findings on DNA, and enjoy a tasty pub lunch.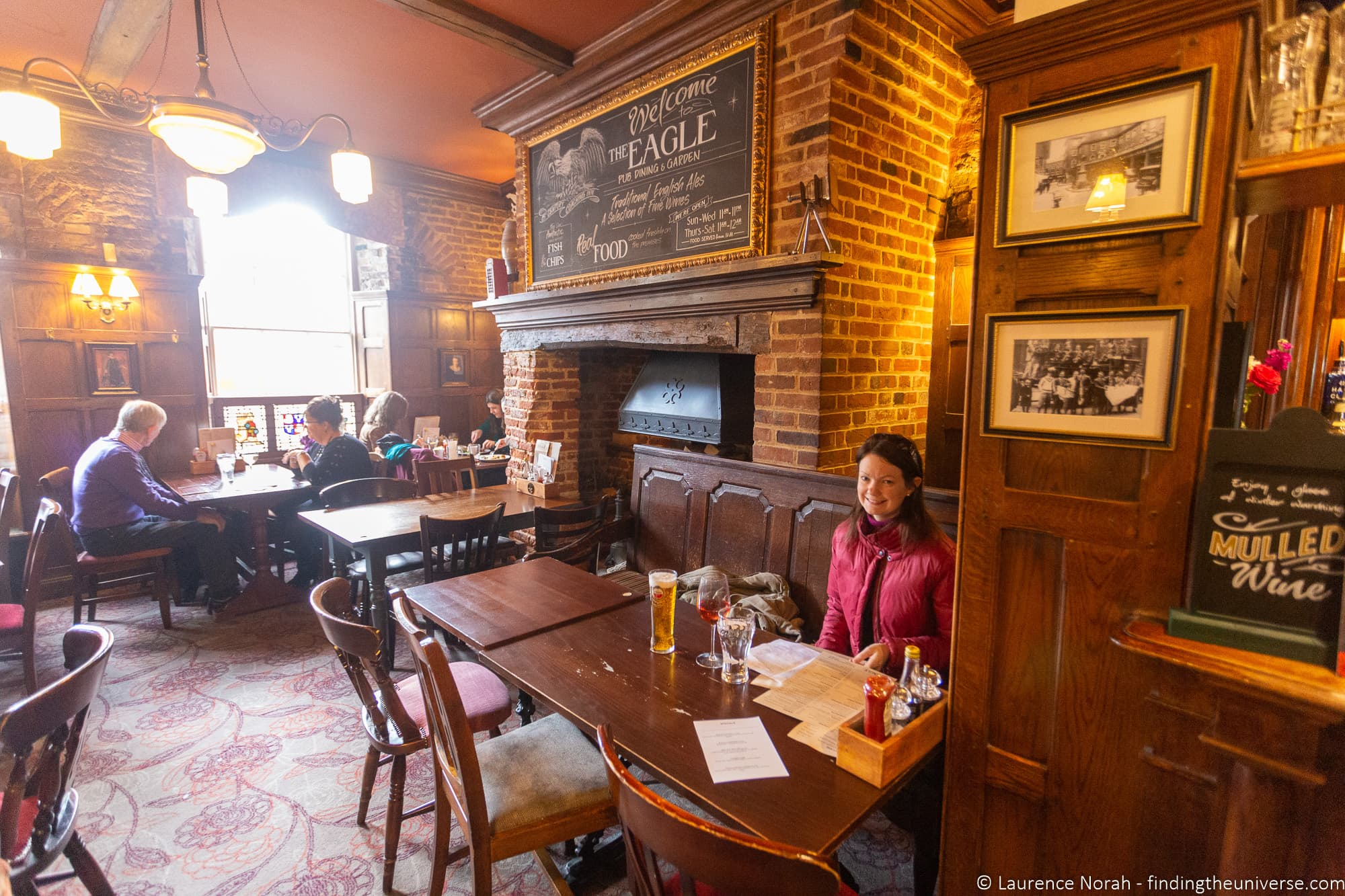 Of course, there are lots of places to have a great pub lunch. The Eagle is pretty special though, other than it's connection with Watson and Crick. First, it's arguably the oldest operating pub in the city, having opened in 1667. It also has a room known as the RAF room, where the graffiti of World War II airmen covers the walls.
Classic pub lunch fare in Britain includes dishes like steak and ale pie, fish and chips, gammon steak and eggs, or sausage and mashed potato.
We had an excellent pub lunch and pint of ale here, and you might want to come here or find another great pub in the city to do the same.
Cambridge Botanical Garden
Covering an area of 40 acres just to the south of the city centre, the Cambridge University Botanical Garden is a lovely place for a stroll.
Opened to the public in 1846, today the garden is home to a wide variety of plants and trees, which cover both British and international variants. There are large glasshouses which contain over 3,000 species, as well a a pretty fountain.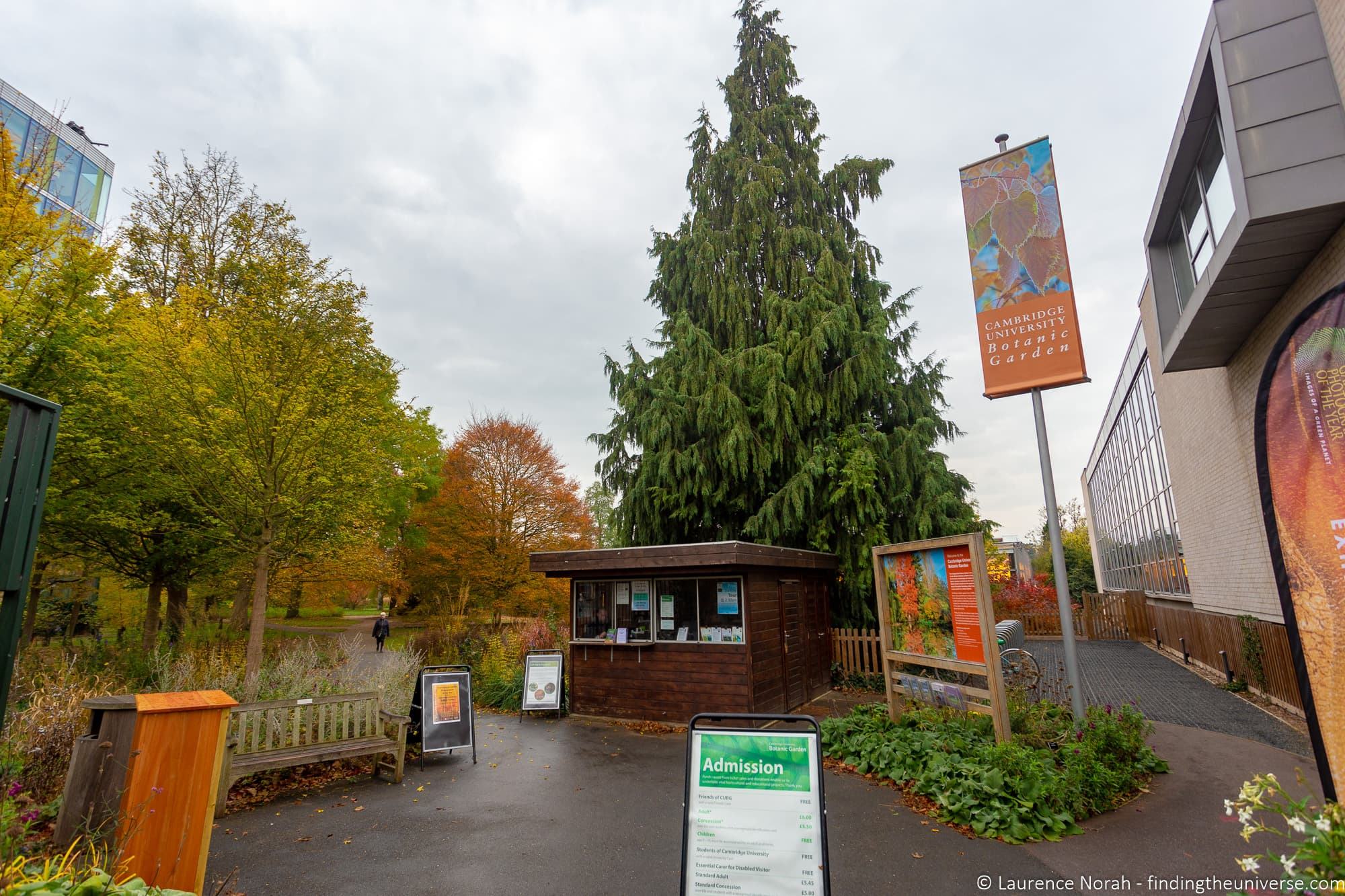 The garden is open year round, and there are self-guided trails you can take to explore the various collections on display. Opening times vary depending on the month, with the garden normally opening at 10am. At time of writing there's a £6 fee to visit, with concessions available. See more on the official site here.
Cambridge Market
Found right in the heart of Cambridge at the Market Square, next to Great St. Mary's Church is Cambridge Market. An outdoor market has been held in this location in the city since the Middle Ages!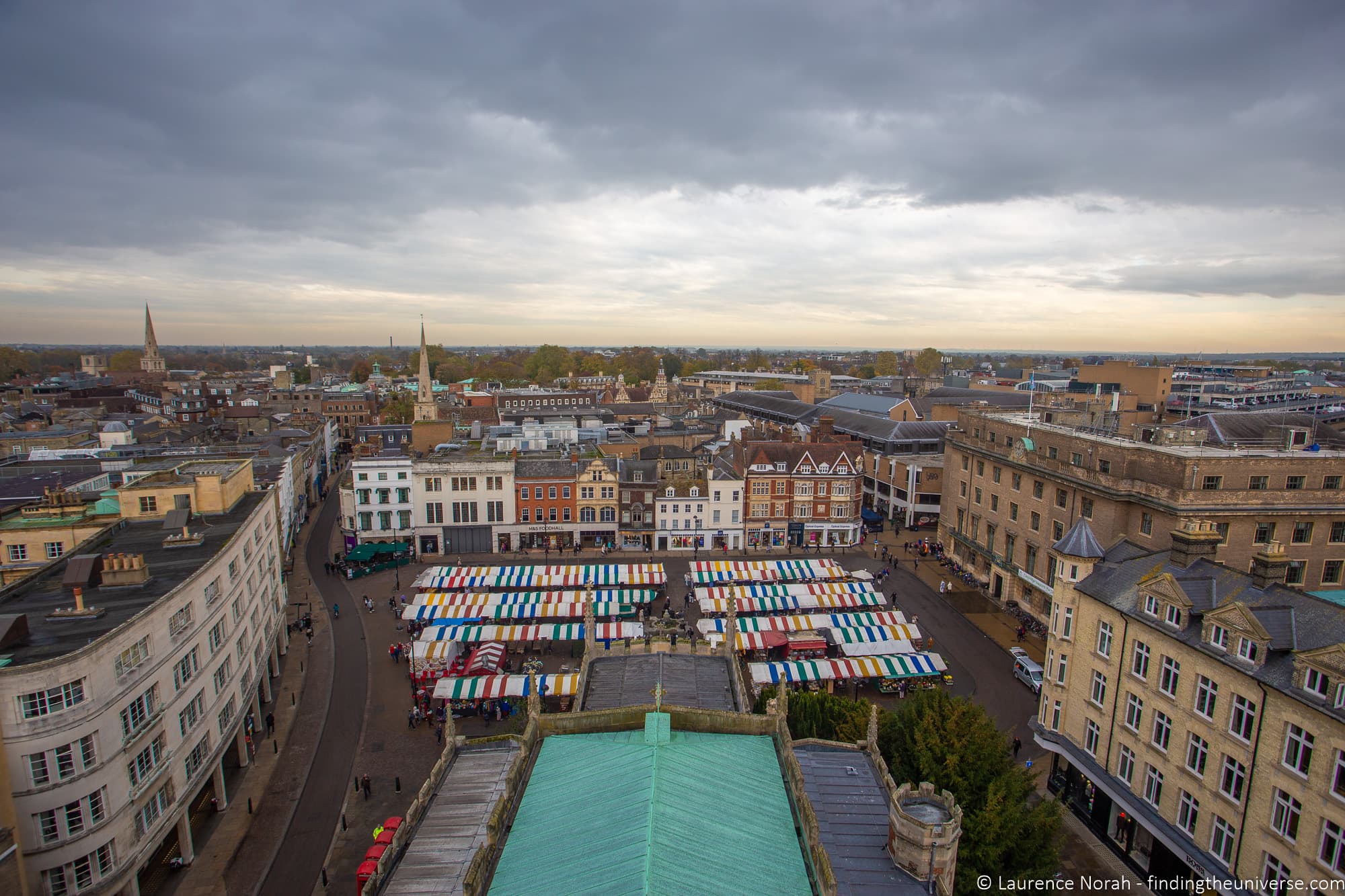 Today, there's a wide variety of products on sale, from books and clothes to food, plants and mobile phone accessories.
The market operates Monday – Saturday from 10am – 4pm. On Sundays, there's an arts and craft market, which also includes organic produce sales.
The Round Church
The Church of the Holy Sepulchre, more commonly known as the Round Church, is a 12th century stone built Parish church found in the centre of Cambridge on Round Church street.
The Church is managed by and is the home of Christian Heritage, and is one of only four medieval round churches still in use in England.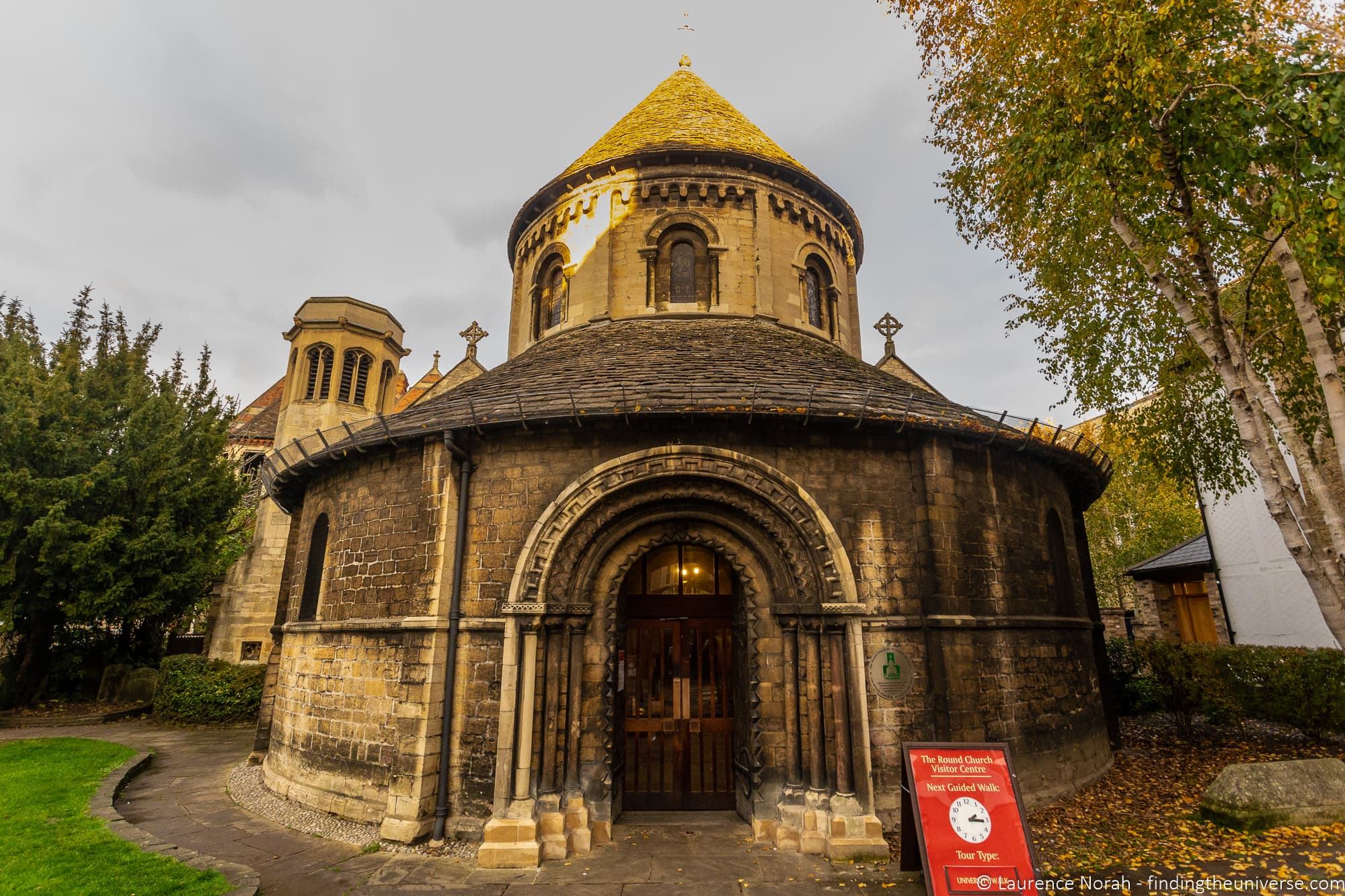 The church has an exhibition about the history and influence of Christianity on education and science, as well as a film about the history of Cambridge, and a display on the history of the church itself.
The church is open to visitors, and there's an admission fee, which at time of writing is £3.50. It's open every day except Sunday from 11am – 4.30pm.
The Christian Heritage charity also runs guided walking tours of Cambridge, which focus on Christian history, and which depart from and can be booked at the Round Church visitor center, or on their website here.
Map of Things to do in Cambridge
To help you visualize our recommendations for things to do in Cambridge, we've put them all in map. You can see this map on Google maps here.
Tours to Cambridge
Cambridge is a popular city to visit as part of a tour – either as a day trip from London, or on a multi-day tour of the UK. Here are a few options to consider, including tours of the city.
As you can see, there are a number of tour options, and we're sure you'll find one to suit your specific requirements.
When to Visit Cambridge
Cambridge is a good city to visit year round, with lots of both indoor and outdoor attractions. It is likely to be most busy during the summer months of July and August, and quieter in the off-season months like November and January.
One of the big attractions in Cambridge is of course the colleges, and these are active places of study. As such, they may close or have limited access for examinations.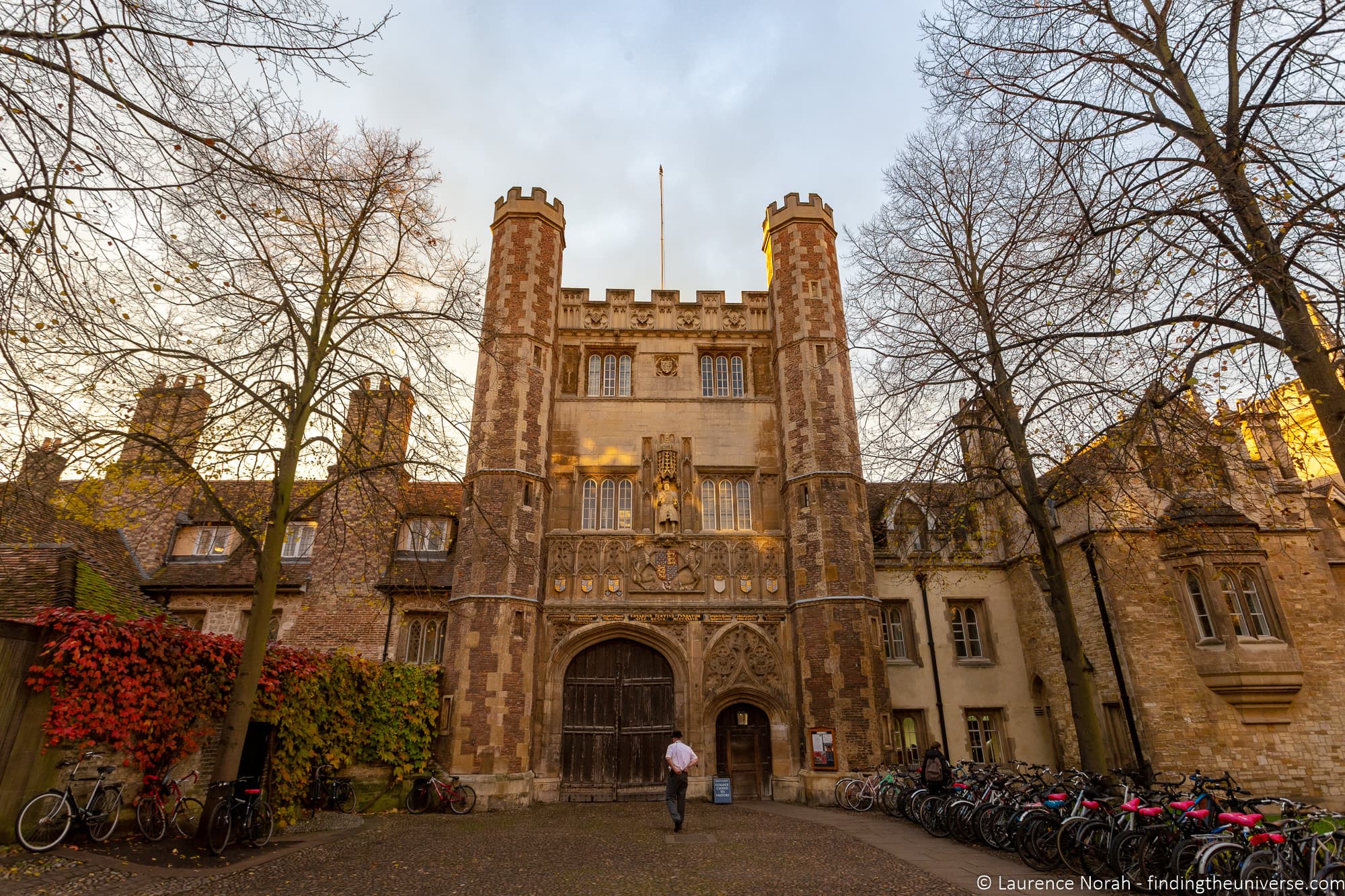 The majority of exams take place in between April and June, however exams can occur at other times, and if there is a particular college you want to see, you will definitely want to check their website to see if they have any visitor restrictions due to exams.
Also be aware that some colleges are rarely or almost never open to the public so be sure to check if there is one you particularly want to visit.
If you're visiting Cambridge for the day, we'd advise checking opening days for any attractions you are keen to visit. In particular, many of the museums in Cambridge are closed on Mondays for example, so you might want to avoid visiting Cambridge on a Monday if you want to visit these museums.
How to Get Around Cambridge
Cambridge is an easy city to get around on foot. From the train station to the city centre is around a 15 – 20 minute walk, although there are also buses, taxis, and Uber available.
If you think you'll be taking the bus a few times in Cambridge, you might consider buying a day ticket. For £4.50 (at time of writing), you'll get unlimited rides for one day across the centre of the city and immediate surrounding area on Stagecoach buses, including everywhere on our things to do list.
Tickets can be purchased on the bus, with both cash and contactless payments accepted.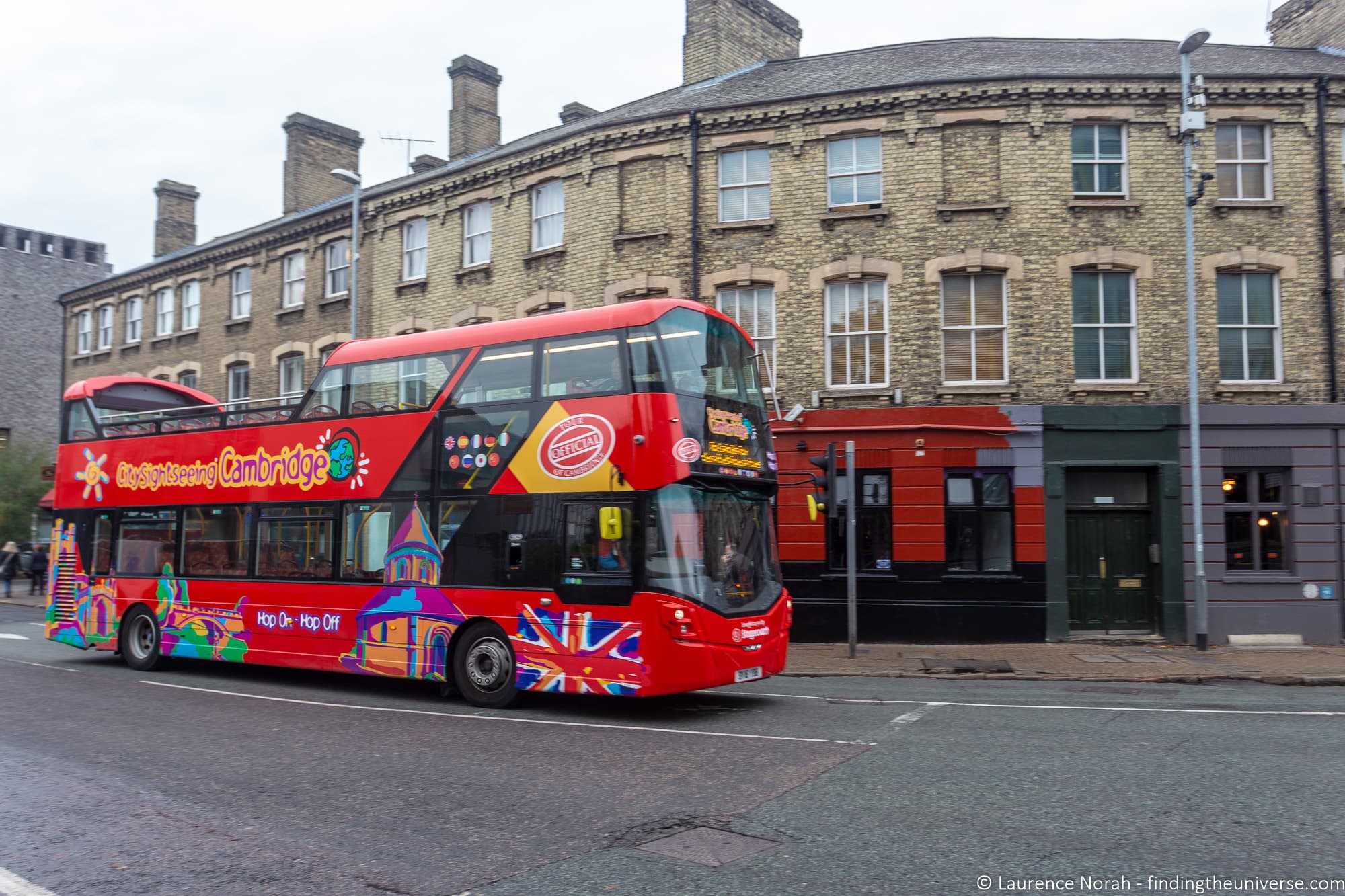 Another option of course is to take the Hop on Hop off bus. Tickets for these open top double decker buses will give you 24 hour riding privileges, which includes an audioguide, and the route stops at the majority of the highlights in the city. Buy your ticket here in advance.
How to Get to Cambridge
Cambridge is a well connected city which is easy to get to from other parts of the UK. From London, the best way to reach Cambridge is to take the train. Trains depart multiple times an hour from Kings Cross station, with journey times varying between 50 and 80 minutes.
We advise buying your ticket in advance here to get the best prices.
It's also possible to take the bus to Cambridge, however from London this will usually take a couple of hours, so we'd advise taking the train where possible. You can check bus times and prices here.
The nearest airport to Cambridge is London Stansted, from where you can take the train or bus to Cambridge.
How Long to Visit Cambridge For?
We'd suggest spending at least a full day in Cambridge if you can.
However, as you can see from our list of things to do in Cambridge, there's is a great deal to see and do. So whilst visiting Cambridge on a day trip is both a popular and viable option, if you stay for two or three days you will easily be able to fill your time.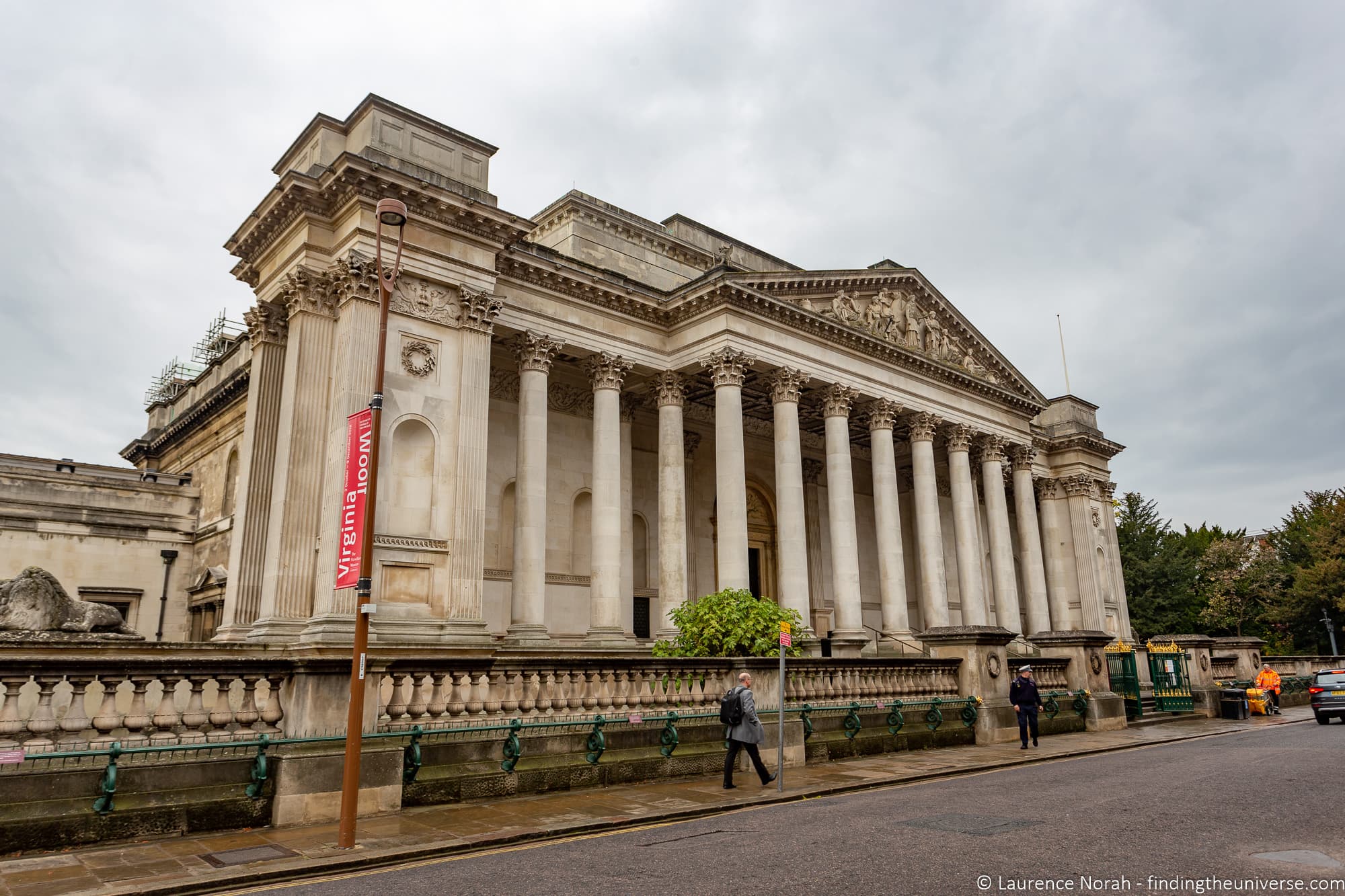 Where to Stay in Cambridge
If you choose to visit Cambridge for longer than a day, you'll want somewhere to stay. Cambridge has a wide variety of accommodation options, from hostels to hotels.
We've gone through and picked out some of the best options in Cambridge across a range of budgets to help you find the right place for you.
As well as the above, during summer and school breaks it is possible to sleep in the dormitories of some of the university colleges, such as Christs College.
Hopefully this gives you some ideas for where to stay in Cambridge. Take a look at all the options, from apartments to hotels, here.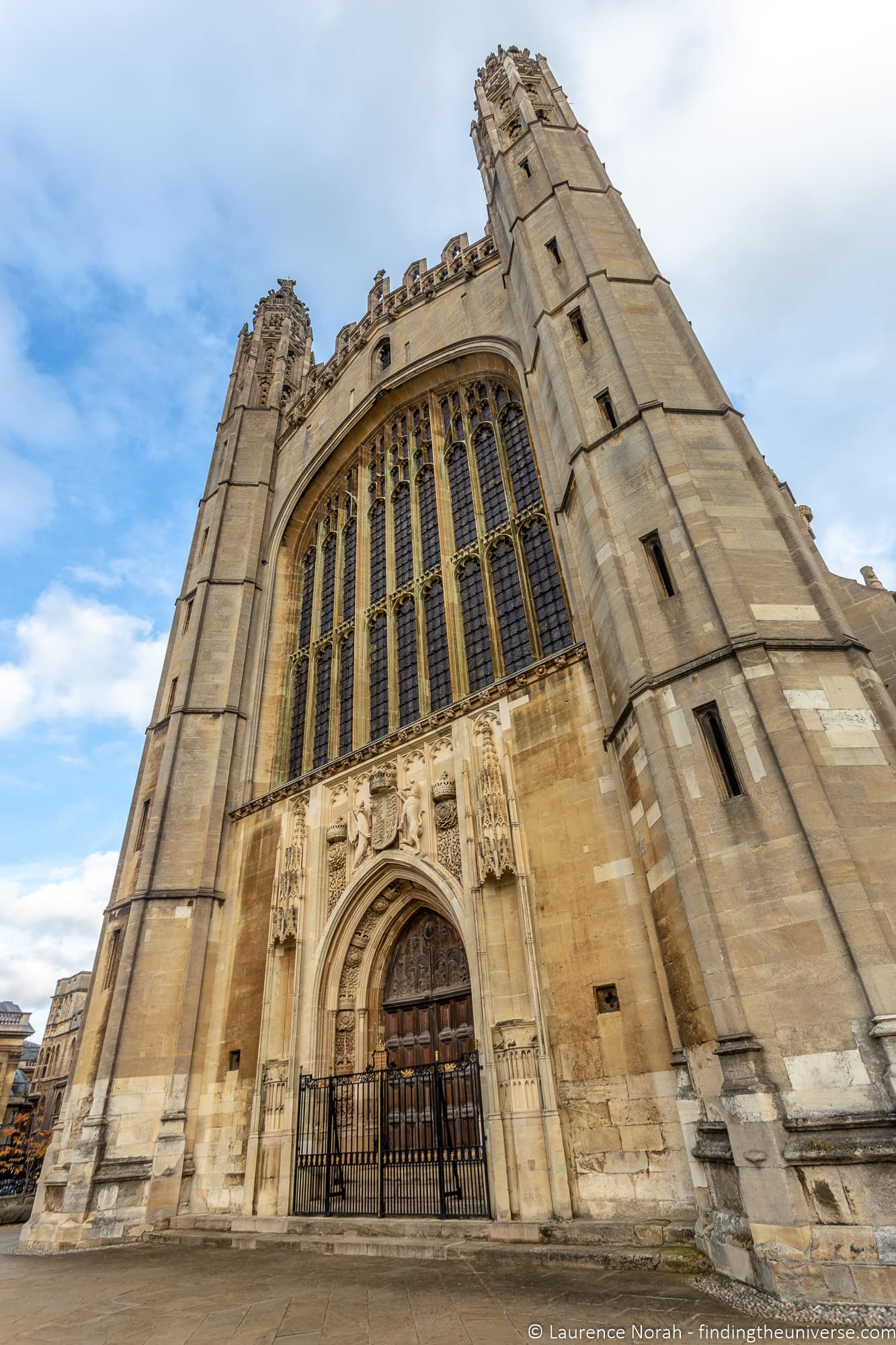 Further Reading
That's almost it for our detailed guide to visiting Cambridge in the UK. Before you go though, we wanted to share some more of our UK content to help you plan your trip here.
And that's it for our guide to things to do in Cambridge! As always, we're happy to hear your feedback and answer your questions – just pop them in the comments below and we'll get back to you as soon as we can.