Found on England's south coast, around 75 miles south west of London, Portsmouth is one of the UK's historic port cities. It has a rich maritime heritage, and has long been considered the home of the British Royal Navy. Today it is the home port for many of the fleet's flagship vessels. As you would imagine, there are plenty of things to do in Portsmouth!
Naturally, many of the attractions revolve around the sea, but there's plenty more to do in the city as well. Portsmouth makes for a great day trip from London, and can be reached in under two hours by train.
In this post, we're going to share with you some of our favourite things to do in Portsmouth, to give you some ideas for what to do in the city. We'll also share some suggested places to stay in Portsmouth, and lots of other tips to make your visit as easy as possible.
Let's get started!
Things to do in Portsmouth
Our guide to things to do in Portsmouth has some of our favourite things to do in the city as well as all the major attractions.
As you'll see, there's more than enough to do here to fill more than a day in the city, so if you are visiting on a day trip we'd suggest picking a few highlights that interest you and focusing on those.
In terms of orientation, the majority of the maritime and naval attractions are located at the Portsmouth Historic Dockyard. These can easily be visited together (with most covered by a joint ticket) and you could in fact spend just the full day here.
As these are the most popular attractions, we've highlighted them at the start of our list of things to do in Portsmouth.
HMS Victory
As already mentioned, the first few sites in our guide to things to do in Portsmouth are related to maritime history, for which Portsmouth is rightfully well known.
Perhaps the most famous of these sites is HMS Victory. HMS Victory, launched in 1765, was the flagship of Lord Nelson during the Battle of Trafalgar, one of the most well known British naval engagements.
In this battle, which took place during the Napoleonic Wars, the British fleet engaged the French and Spanish fleets off the coast of Spain in the Atlantic Ocean. The battle was decisive, with the French and Spanish fleet losing twenty-two of their thirty-three ships.
The British fleet suffered no loss of ships in this battle, although both sides suffered mortalities. Most famously, Lord Nelson was struck by a bullet and died before the end of the battle.
Following the Battle of Trafalgar, HMS Victory returned to the UK carrying Nelson's body. She was considered too badly damaged to be worth repairing for combat duties, and ended up fulfilling a variety of less than glorious roles, including being used as a prison ship and a storage depot.
She was nearly entirely dismantled in 1831, but public opinion prevented this from happening. Instead, she opened for limited visitors, and two visits by Princess Victoria in the 1840s further bolstered her appeal as a visitor attraction.
Unfortunately, rising visitor numbers and limited maintenance budget meant that her condition continued to deteriorate, and she nearly entirely sank beneath the waves in 1887, which would have been an ignominious end to a beautiful ship.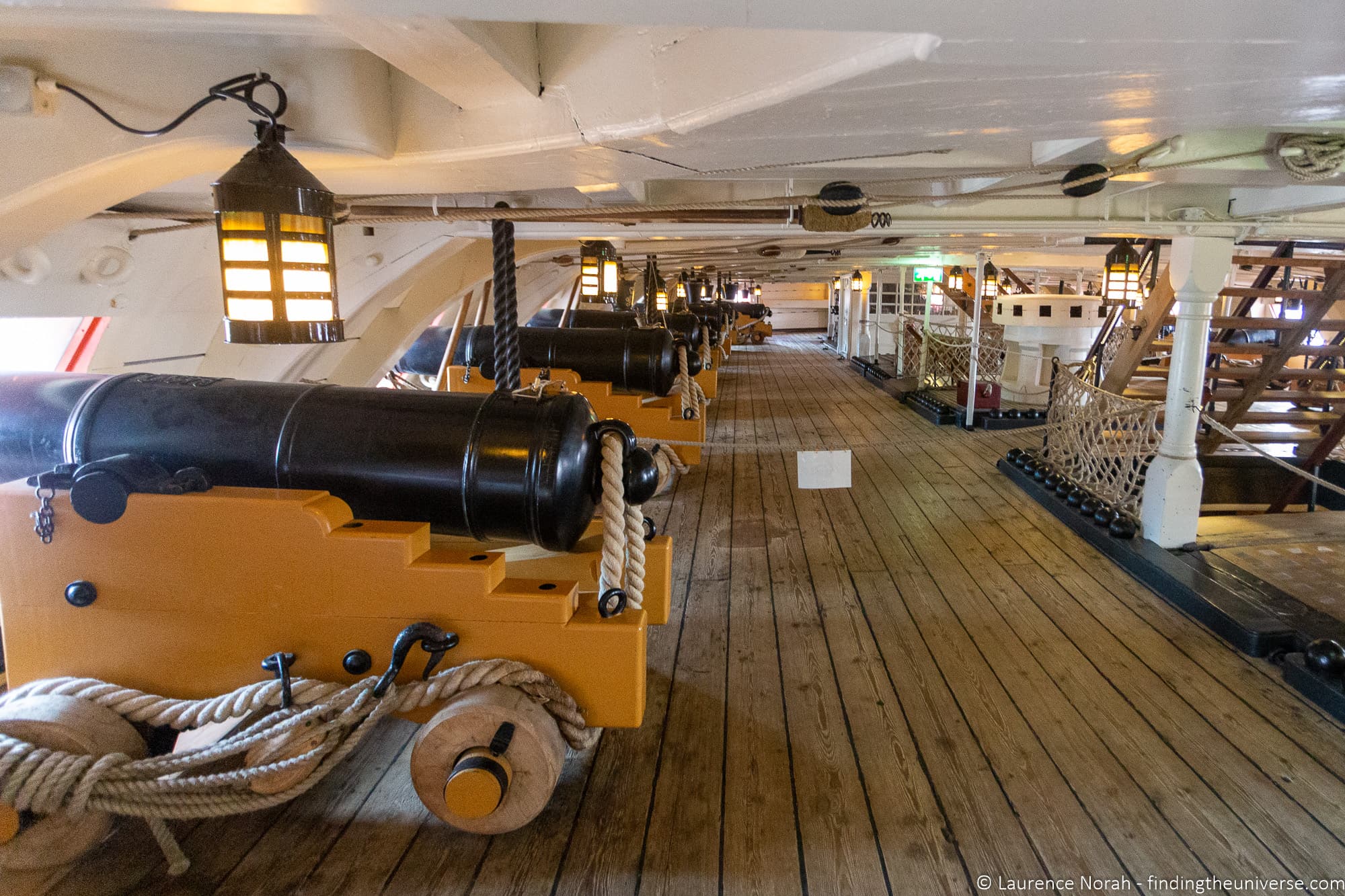 Thankfully, this didn't happen. A major public appeal in the early 1920s led to funds being raised to save her, and she was moved to the No 2. dock in Portsmouth. A major restoration process started, which continued for many years.
Today, HMS Victory is open to visitors, and is one of the most popular attractions in Portsmouth. Over 350,000 people visit her each year. She's also the flagship of the First Sea Lord, so is technically still in service, making her the oldest commissioned warship in the world.
We think a visit to HMS Victory is a must when visiting Portsmouth. The ship is set up as it would have been in 1805, just prior to the Battle of Trafalgar.
When you visit, you'll be able to see and get a feel for what life would have been like for the sailors and officers who lived aboard would have been like. You'll also be able to see the location where Nelson died, which is marked by a small plaque.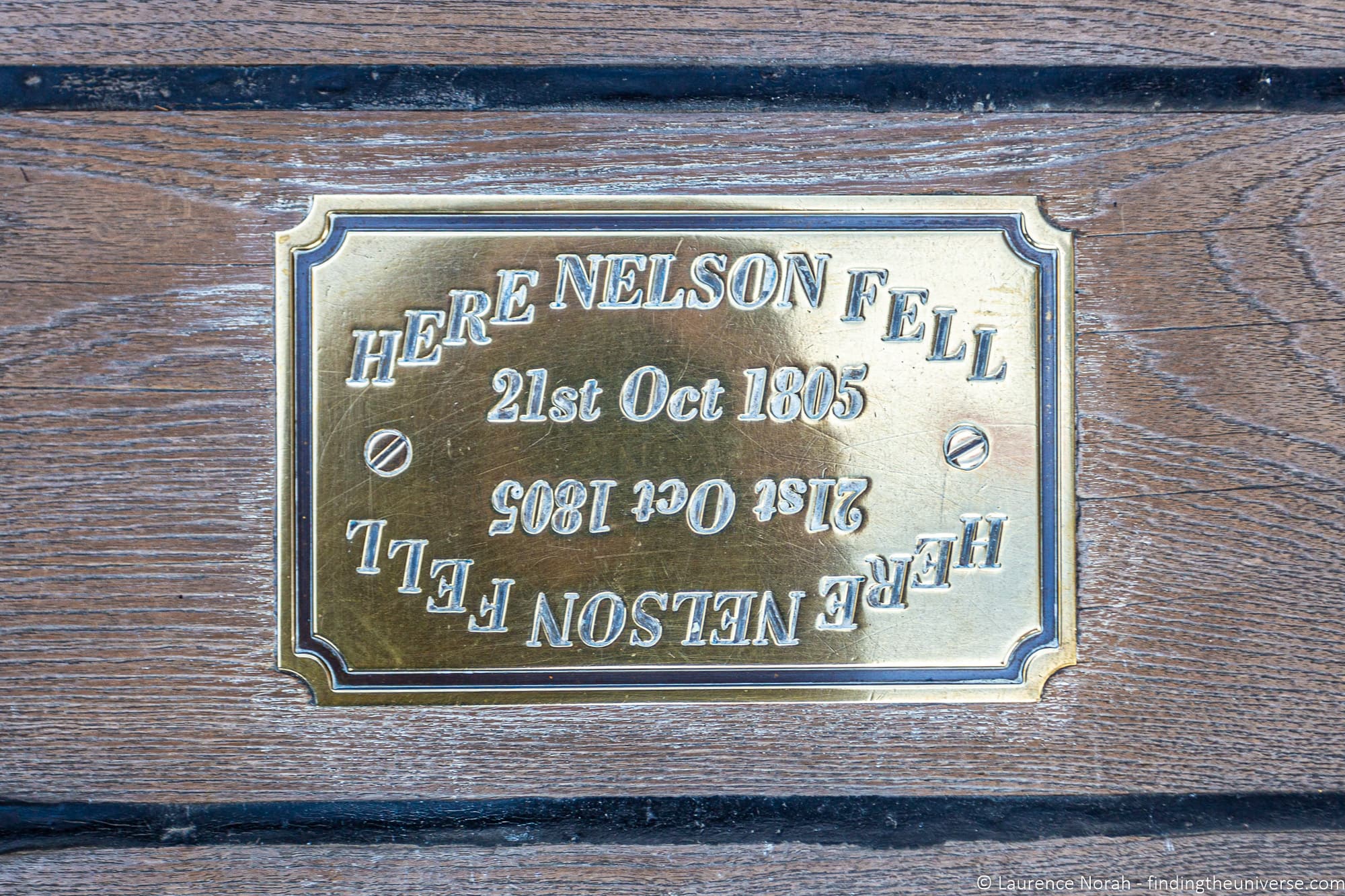 HMS Victory is open year round except for 24th – 26th December. There's a fee to visit, and you can buy your individual entry ticket online in advance here.
If you plan on visiting a few of the naval attractions, you can save money by booking a Historic Dockyard Ultimate Explorer Ticket. This give you access to a number of the naval attractions in Portsmouth, and is great value for money.
HMS Warrior
Continuing the theme of naval warships, HMS Warrior is another vessel you can visit during your time in Portsmouth.
Launched almost 100 years after HMS Victory, a visit to both of these vessels will let you see the pace of change that shipbuilding technologies were undergoing.
In particular, the materials used to build ships, and the means of propulsion, underwent significant changes in the intervening century. Where HMS Victory was a wooden ship powered by sail, HMS Warrior was a steam powered ship built out of iron, with sails as an optional propulsion mechanism.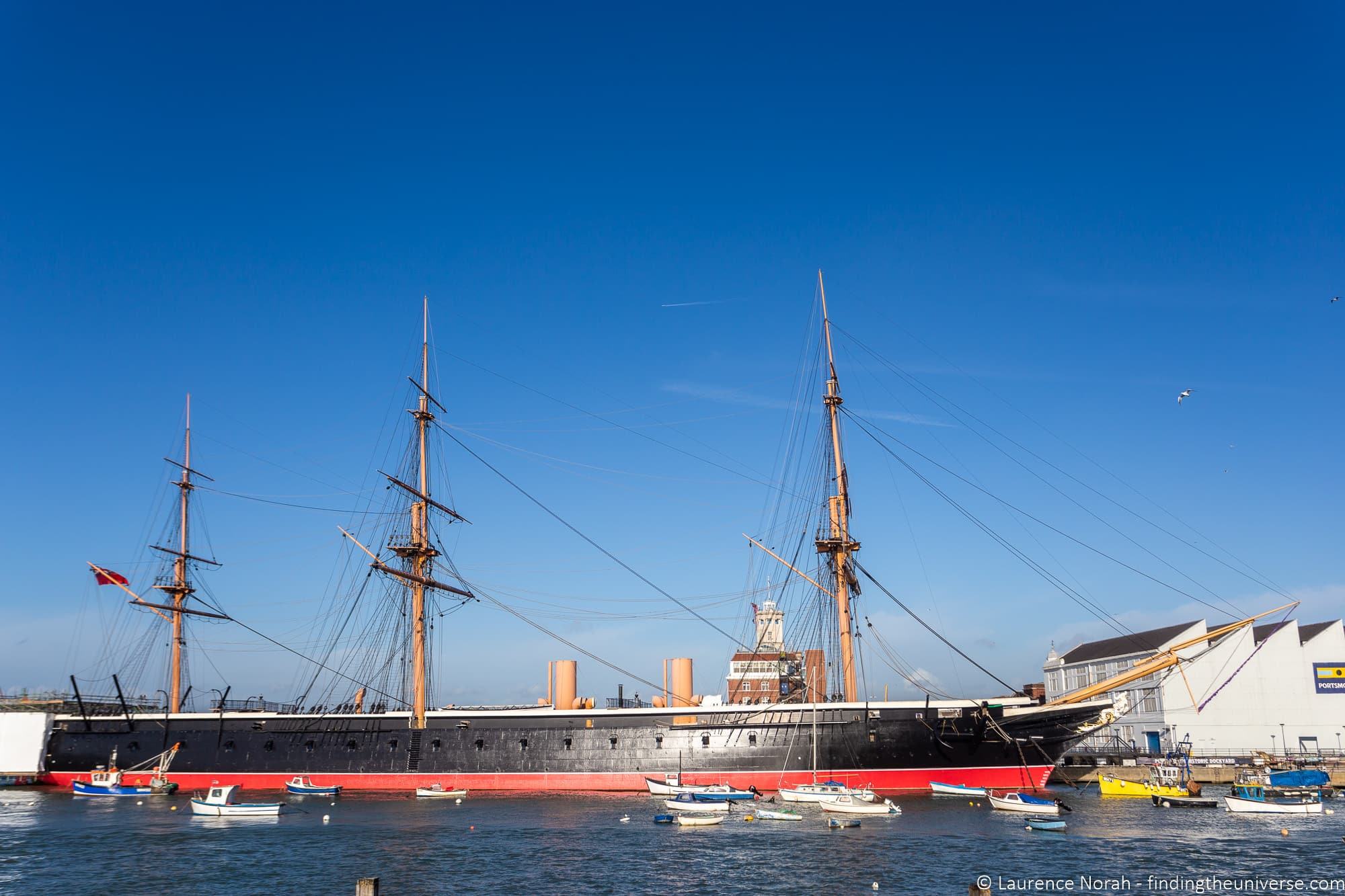 The scale of the ships is also quite different. HMS Warrior was over twice the size of Victory, yet carried fewer men.
In terms of service, HMS Warrior never saw action. Shipbuilding technologies started to move so fast that within twenty years of her construction she was already obsolete, and replaced by newer, faster and larger ships.
Much like HMS Victory, Warrior too had a number of years fulfilling a variety of less than glamorous roles, from being used for general storage to an oil jetty.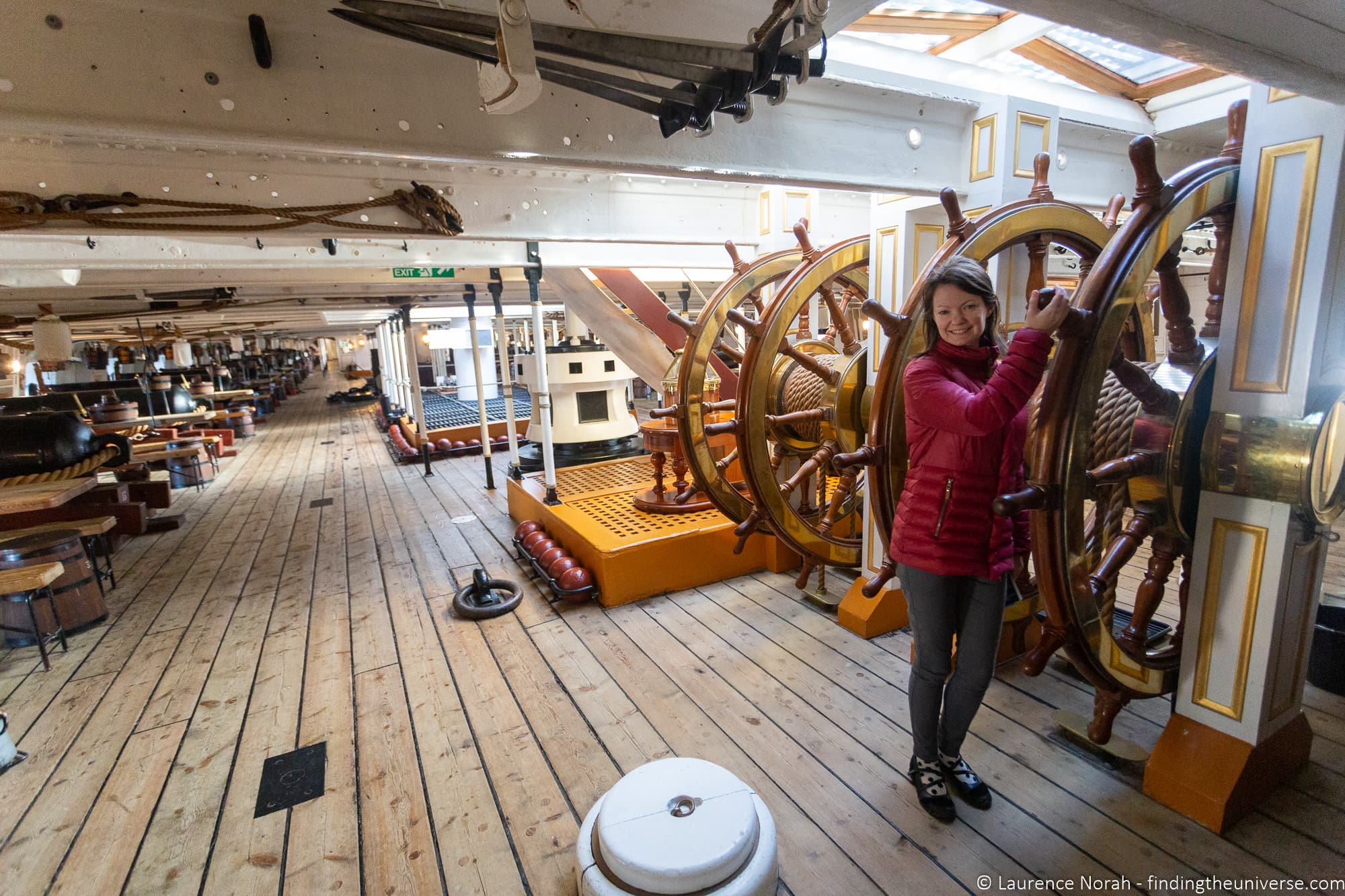 It was only in the late 1960s that the value of HMS Warrior, one of the first ironclad warships, was recognized, and efforts were started to preserve her for future generations.
Following a lengthy period of restoration, HMS Warrior opened as a museum ship in 1987, and has been welcoming visitors ever since. It's open every day except the 24 – 26th December, and you can see full opening times here.
As with HMS Victory, HMS Warrior is in the Portsmouth Historic Dockyard. You can buy an individual ticket for entry, but we would highly recommend the Historic Dockyard Ultimate Explorer Ticket, which offers significant cost savings over individual tickets. It's also cheaper booked in advance online.
National Museum of the Royal Navy
As the name suggests, the National Museum of the Royal Navy is the main museum in the UK dedicated to the history of the UK's oldest armed service.
The Royal Navy has a history which dates back to the beginning of the 16th century and the reign of Henry VIII. As the UK is surrounded by water, a strong ocean going armed force has always been a vital part of British defensive and offensive capabilities.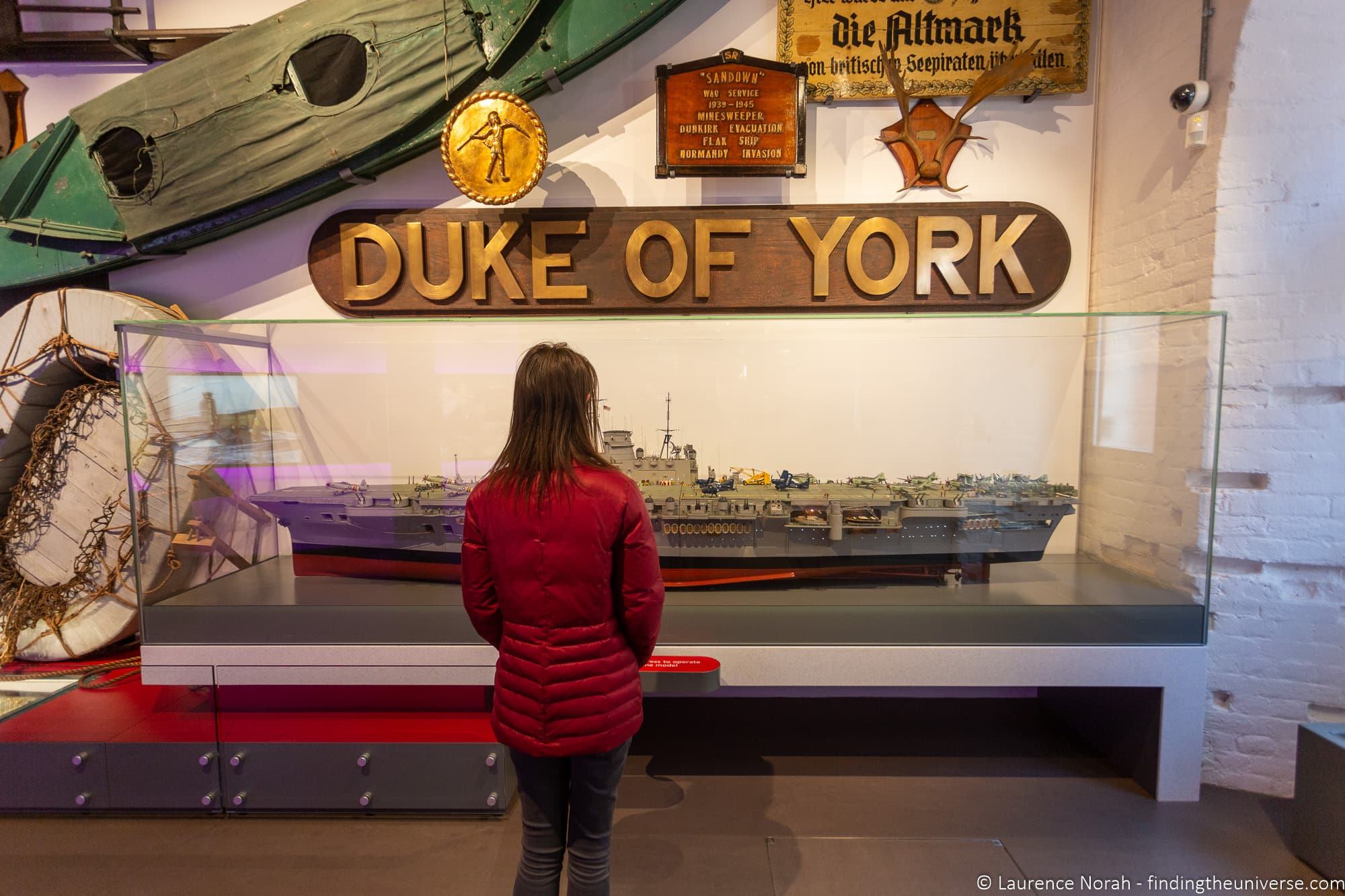 If you want to learn all about everything to do with the Royal Navy, including its full history, notable battles and present day capabilities and activities, then the National Museum of the Royal Navy is the place to come.
The museum is spread across three historic buildings which overlook HMS Victory. They have a wide range of exhibits, dating from the age of sail up to the present day. There's also a permanent exhibit of the original topsail from HMS Victory, flown during the Battle of Trafalgar.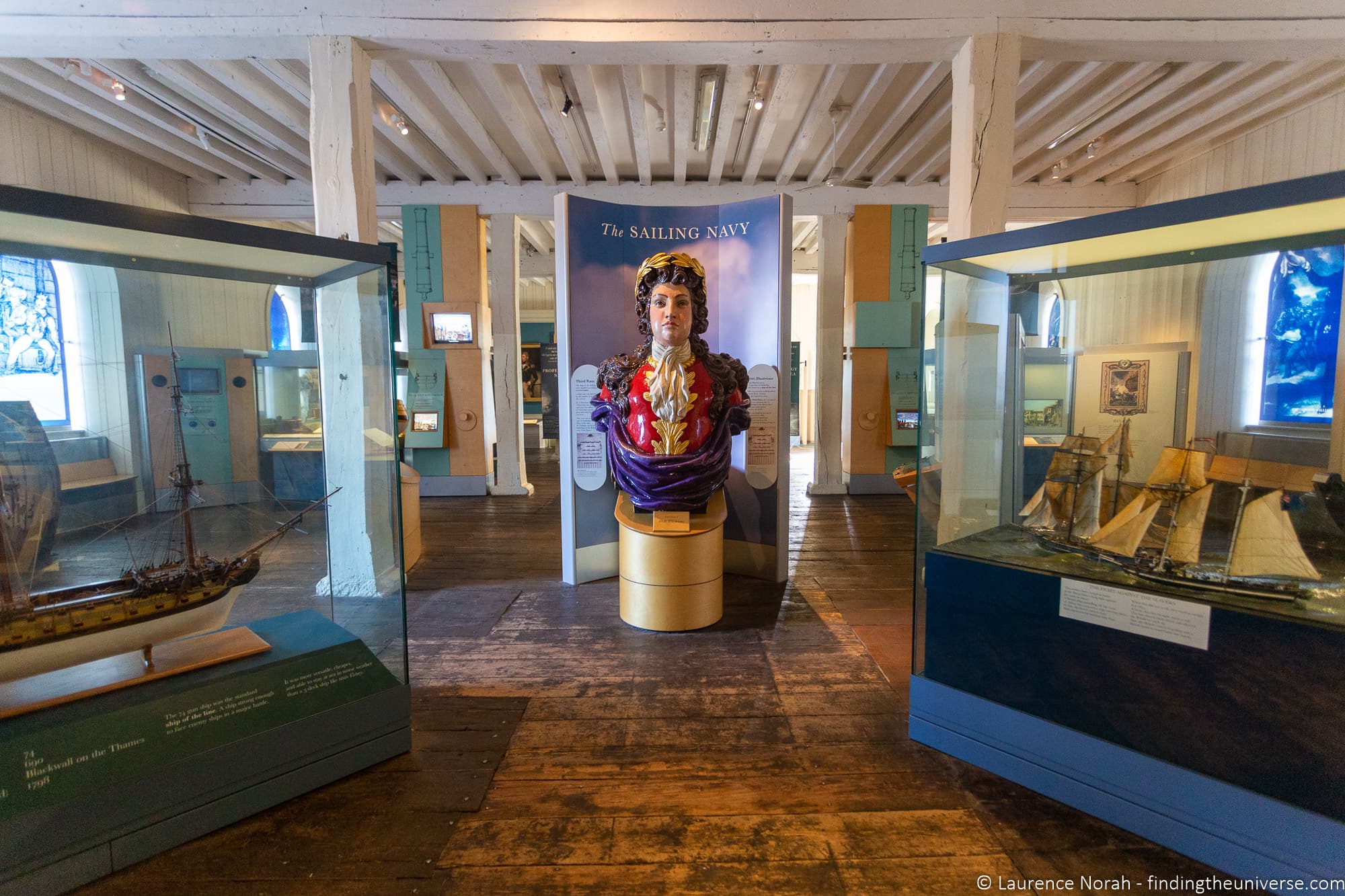 This is an excellent museum which is well worth visiting if you have an interest in naval history and ships in general.
The National Museum of the Royal Navy is open every day except the 24th – 26th December. You can see opening hours here. Again, there's a fee to visit, and it's also better value if you buy an advanced entry ticket here.
Portsmouth Historic Dockyard
All of the attractions listed above thus far are located in the Portsmouth Historic Dockyard.
This is actually a part of the Portsmouth Naval Base which is open to the public, and contains a great many attractions and activities that could easily fill a whole day.
As well as the three key sites outlined above, which we feel are the highlights, the Portsmouth Historic Dockyard is also home to the following attractions.
HMS M33 – A World War I monitor vessel, designed for coastal bombardment
HMS Alliance, the Royal Navy's only surviving WW2 era submarine
Action Stations – an large indoor attraction which focuses on physical and mental challenges, including rock climbing walls, simulators, and games
Harbour Tours – these tours take you out into the waters around the Historic Dockyard, where you'll see some of the active naval vessels in harbour, as well as various Portsmouth sights.
Boathouse 4 – used during WW2 as a boat building yard, and used today to teach boat building skills
Explosion Museum of Naval firepower – a museum found in the Royal Navy's former Ordnance Depot which tells the story of munitions
The Dockyard Apprentice – a museum covering 200 years of boatbuilding history, as seen through the eyes of dockyard workers
Temporary Exhibitions – there are often temporary exhibitions here. For example. on our more recent visit there was an excellent exhibition on the Battle of Jutland.
Note that depending on the time of year, different attractions will have different opening times and some are seasonal.
I personally was very pleased with my prowess of the climbing wall in Action Stations, and we think kids in particular will love visiting Action Stations in general. We also both really enjoyed the harbour tour boat ride.
The majority of the above attractions do require a ticket for admission. For the most part they are all included on the Historic Dockyard Ultimate Explorer Ticket. Some specific attractions like the Laser Quest experience (at Action Stations) have an additional fee.
The Historic Dockyard also has a range of food options, including cafes and a restaurant. There are also three picnic areas on site if you prefer to bring your own food.
Naturally, there are gift shops on site if you want to bring back a memento from your visit – in fact, there are four! There's a lot of choice, so don't forget to include some time to visit these.
Finally, if you are travelling by car, there is paid parking available on site. You can read about how to find this and applicable charges on the official website here.
Mary Rose Museum
The Mary Rose was the pride of Henry VIII's English navy when she was launched in 1511. She was one of the largest warships in the English navy at the time and served through three decades of conflict.
She sank in battle in 1545 with a loss of nearly all those on board, although the exact cause of her sinking remains unknown. It is theorised that a gust of wind may have caused her to lean too far over, causing water to flood through her open gunports, leading in turn to a catastrophic flooding event that rapidly caused her to sink.
This would have possibly been exacerbated by her being heavily loaded with armaments beyond her design that would have added to the instability.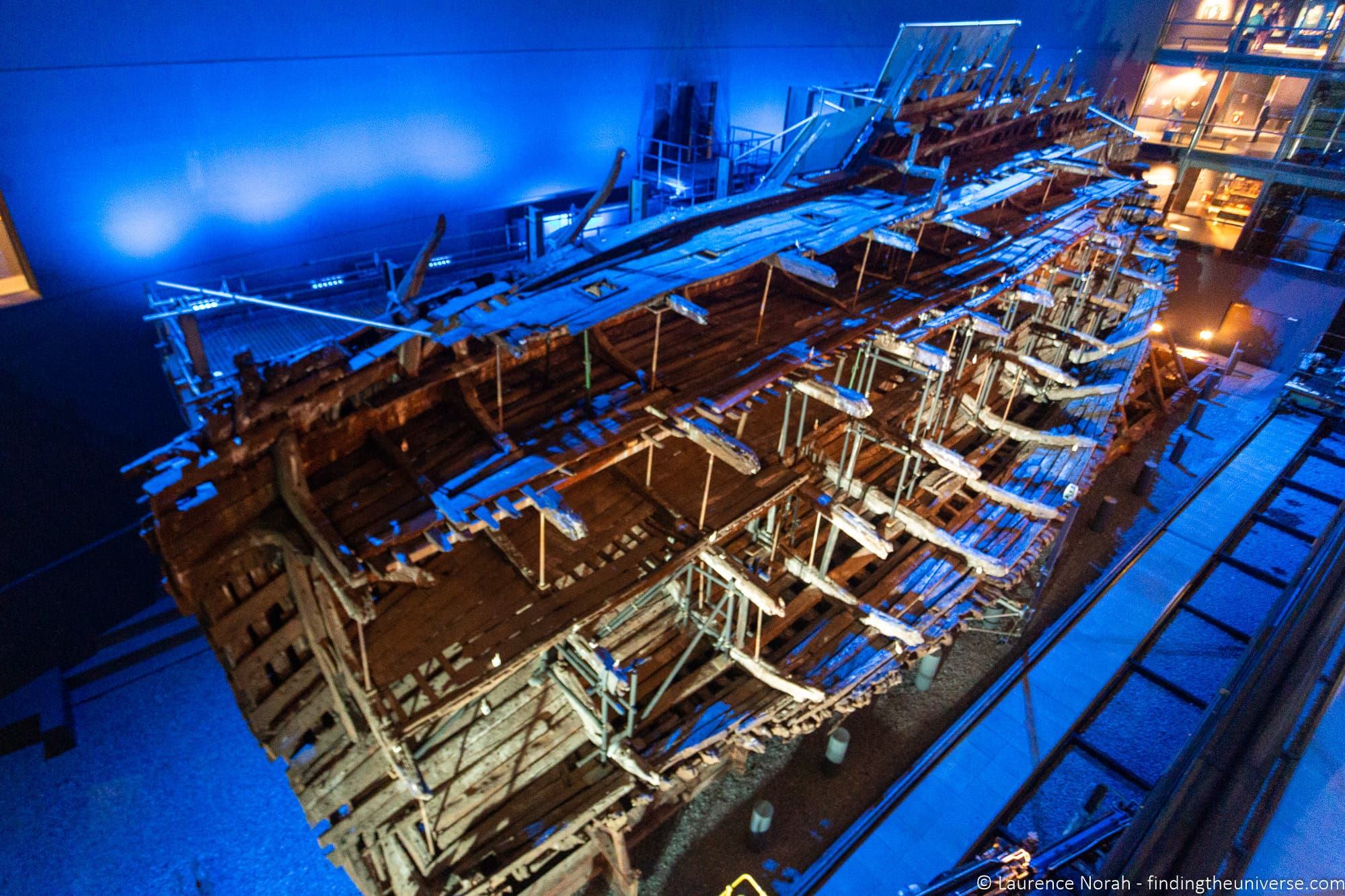 Whatever the precise reason for her sinking, which was not believed to be a result of enemy action, the Mary Rose was under the waters of the Solent with a loss of nearly four hundred lives.
Shortly after the sinking, a proposal was made to salvage the Mary Rose. However, the technologies of the 16th century did not lend themselves well to the recovery option, and other than some of the guns, rigging, and other items, the bulk of the wreck stayed where it was.
The wreck of the Mary Rose was rediscovered in the mid 19th century by a number of fisherman. This sparked public interest, and efforts were made to recover the wreck. However, these efforts also failed.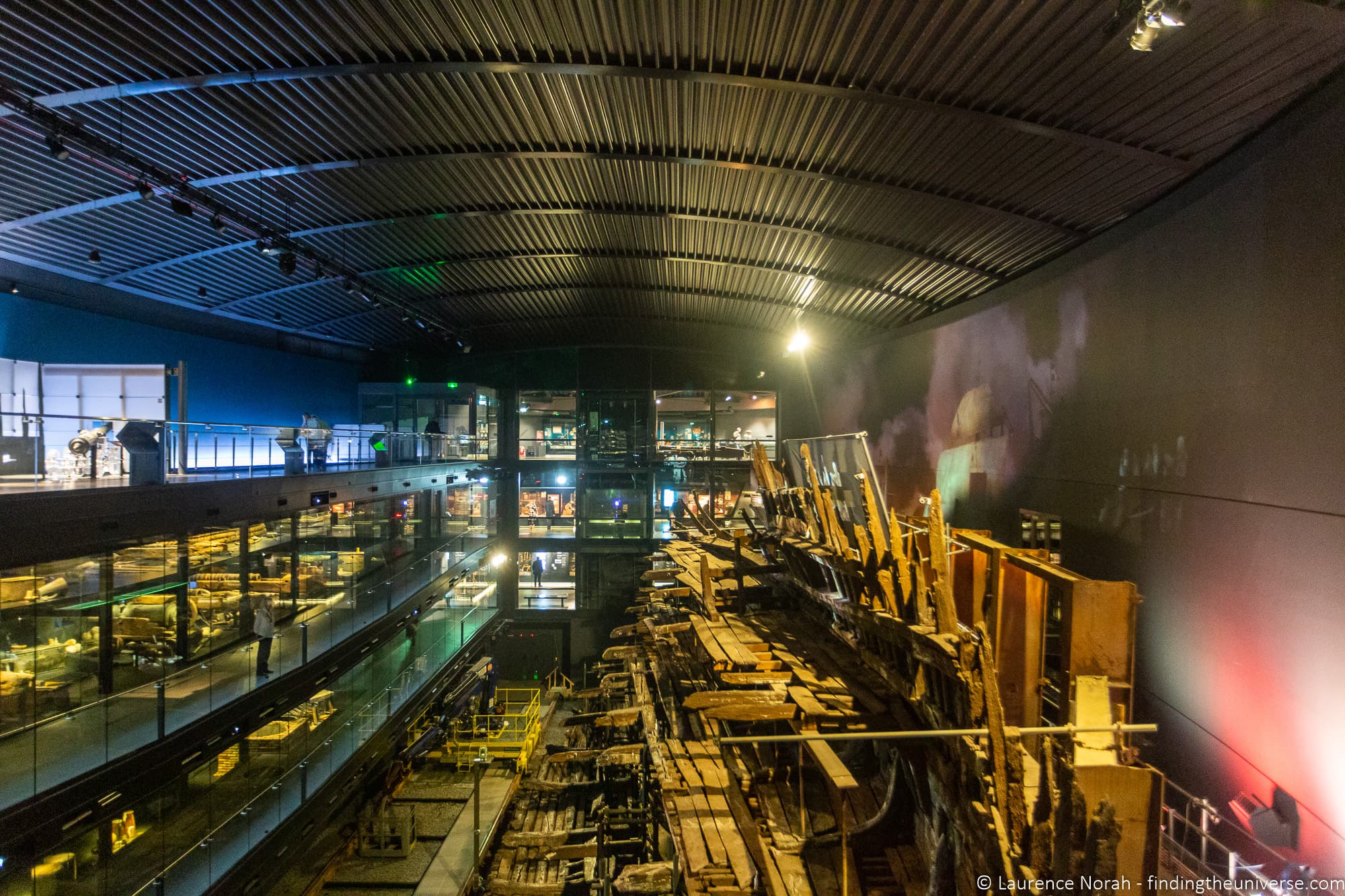 It wasn't until the middle of the 20th century that efforts were once again started to recover the Mary Rose. Her exact location was unknown, and it took a number of years for the exact site to be discovered.
The massive task of raising the Mary Rose then began, a project that took a great deal of time, money, and expertise to accomplish. Raising a 16th century warship after 400 years lying underwater was, as you might imagine, not a trivial exercise.
The good news is that it was indeed successful. From 1983 onwards, the Mary Rose was open as a visitor attraction. Over the years, the museum has expanded and refined the experience, and as of 2013 a brand new museum building was built over the dry dock where the Mary Rose is kept.
Now you can experience the Mary Rose in as pristine an environment as is possible. Unlike the previous experience, you are no longer completely separated by glass from the vessel itself. You'll learn all about the ship, it's design and construction, theories as to how and why it sank, as well as details of the recovery effort.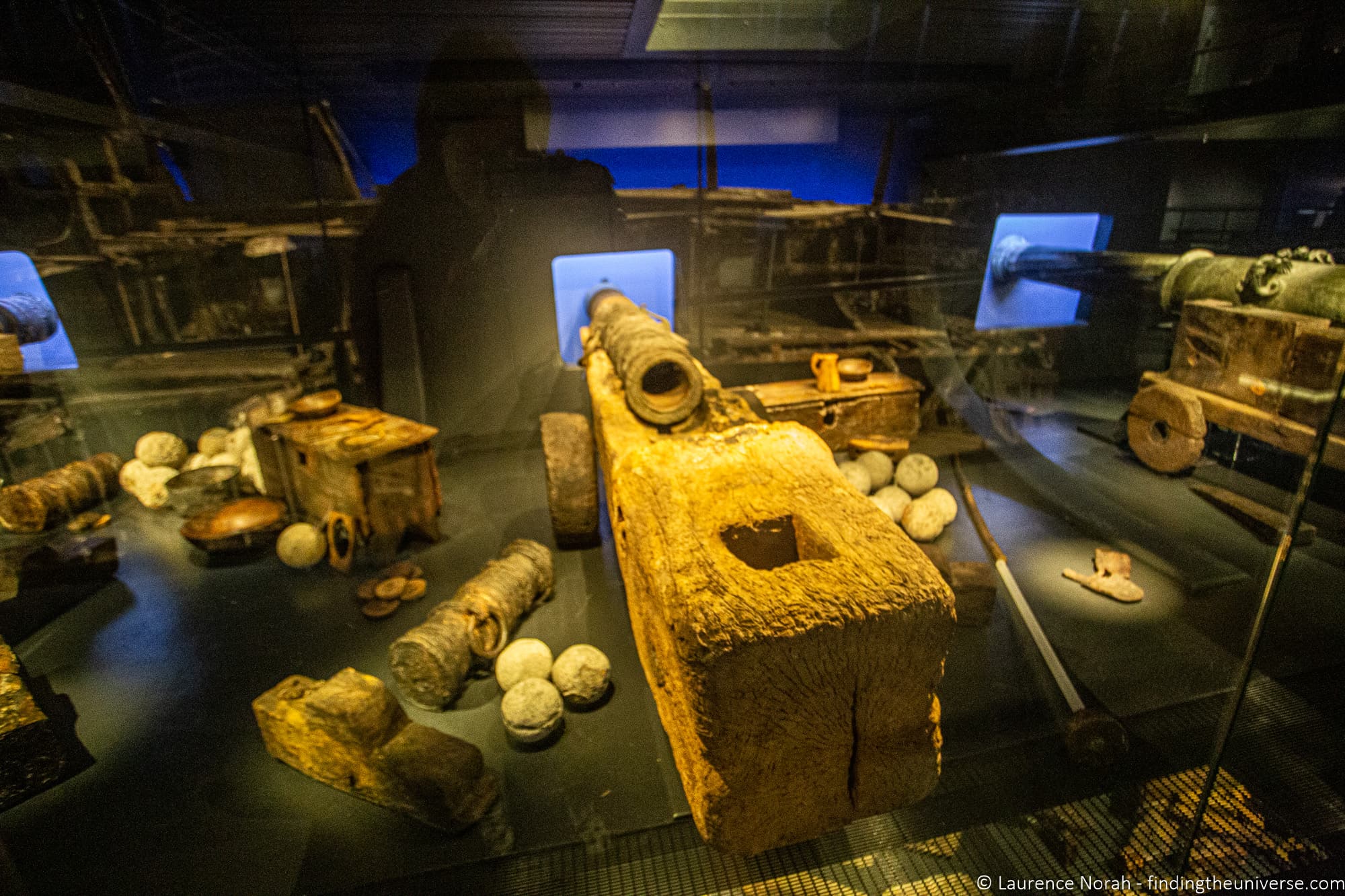 The Mary Rose museum is accessed through the Portsmouth Historical Dockyard, but is a separate attraction that requires its own ticket to visit. The ticket office is at the entrance to the Dockyard. You can save money and skip the ticket lines by booking your ticket in advance here. If you are visiting a number of attractions, it's also included on the Historic Dockyard Ultimate Explorer Ticket.
The Mary Rose museum is open every day with the exception of 24 – 26 December. You can see full opening times and visitor information on the official website here.
Spinnaker Tower
If you want to get a great view of Portsmouth and her surrounds, then you'll want to head to the Spinnaker Tower.
This 560ft (170m) high tower is one of the highest structures outside of London that is open to the public for views. There are three viewing levels, with the lowest at 100 metres above the ground.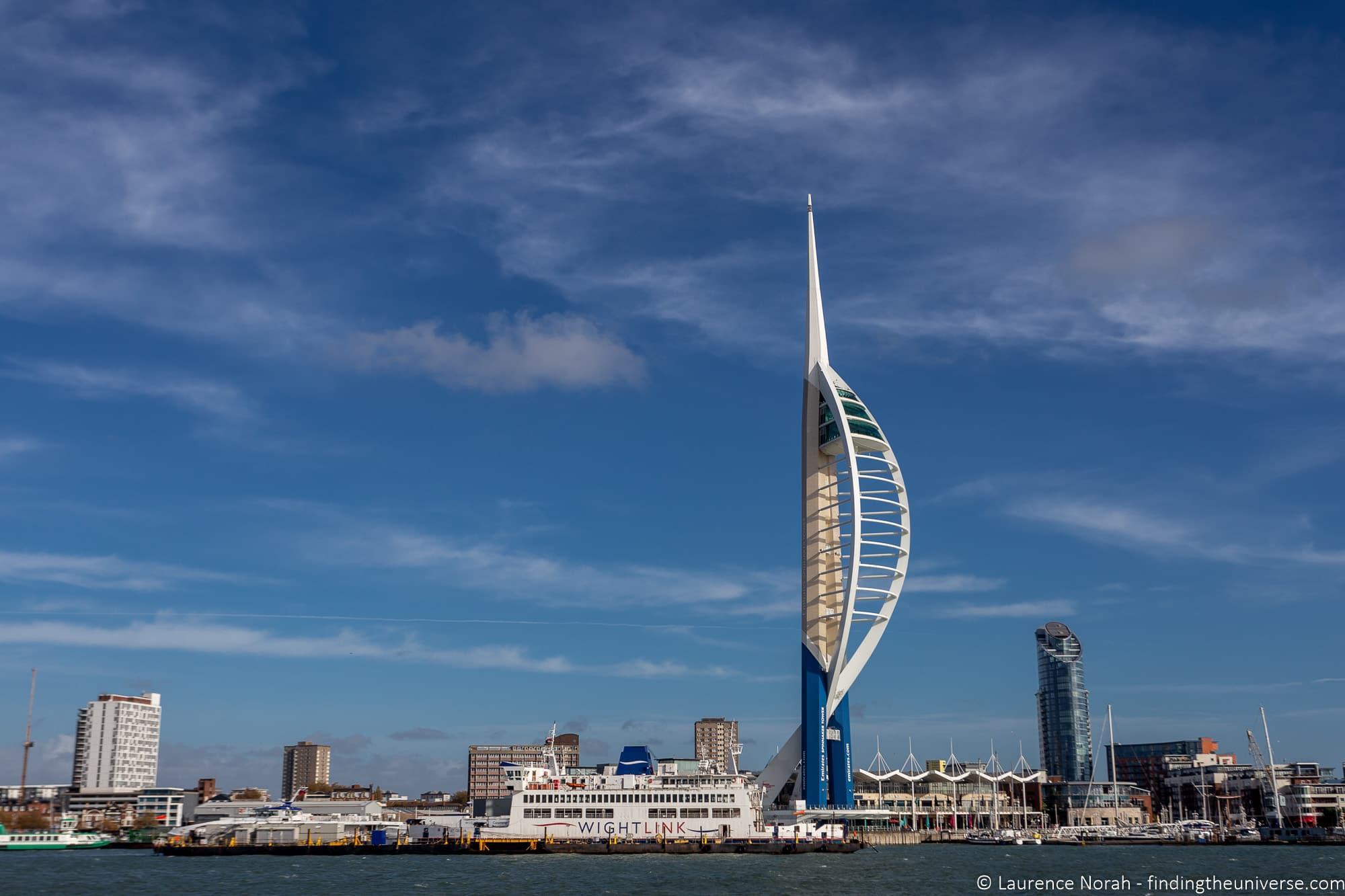 This one offers panoramic views of the city, and also has a large glass floor you can stand on if you're feeling brave!
We loved going up the Spinnaker tower and taking in the views, which are expansive. On a clear day, like we had, you can see for 23 miles, all the way out to the Isle of Wight.
You can book your Spinnaker Tower ticket online in advance here. With your ticket, you can visit the tower as many times in a single day as you like.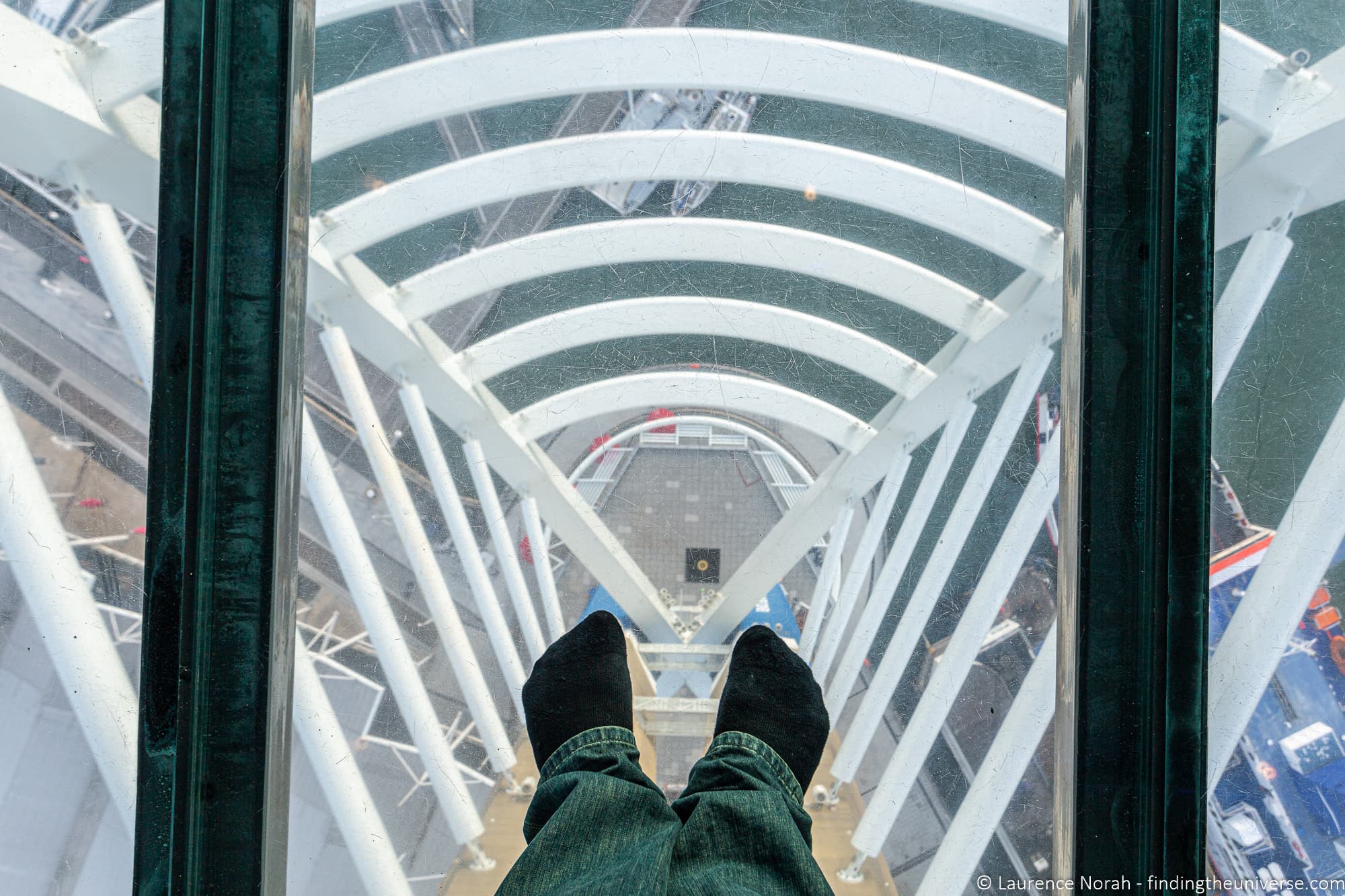 The tower is open every day, and there are two cafe's on site, one at ground level, and one on the middle viewing deck. You can see full opening times here.
There's a viewing guarantee too – if you can't see all three Solent forts, then you can revisit within three months for free, which we think is pretty cool.
Finally, you can save money if you plan on visiting the Spinnaker Tower and the Mary Rose. These tickets are not available online, but can be purchased at the ticket counter for either attraction. This is the cheapest option we found for visiting both attractions, and was the option we went for.
Portsmouth Museum
There are a number of museums in Portsmouth that are operated under the Portsmouth Museums umbrella, more of which are listed below.
The first is the titular Portsmouth Museum, which focuses on the history of the city of Portsmouth. Exhibits cover the history of the city and its people. Displays include recreations of rooms from different periods of history, as well as artefacts and objects.
There's also an exhibit focusing on Sir Arthur Conan Doyle, author of the Sherlock Holmes novels. Finally, there's are changing exhibits and a series of artworks on display which are drawn from the museums extensive permanent collection.
Portsmouth museum is open every day except Mondays, and admission is free. You can see full opening and visitor information here.
Round Tower
As you are no doubt realising by now, Portsmouth has been an important naval base for centuries.
Naturally, such an important naval location means that Portsmouth has long been a valuable military target. As such, suitable defensive fortifications have long been a key component of the city's make up. For a time in fact, Portsmouth was the most heavily defended city in Europe.
The Round Tower dates from the early 15th century, and was the first of Portsmouth's permanent fortifications to be built. It was built in response to various French attacks during the 100 Years' War, when Portsmouth was raided and burnt a number of times.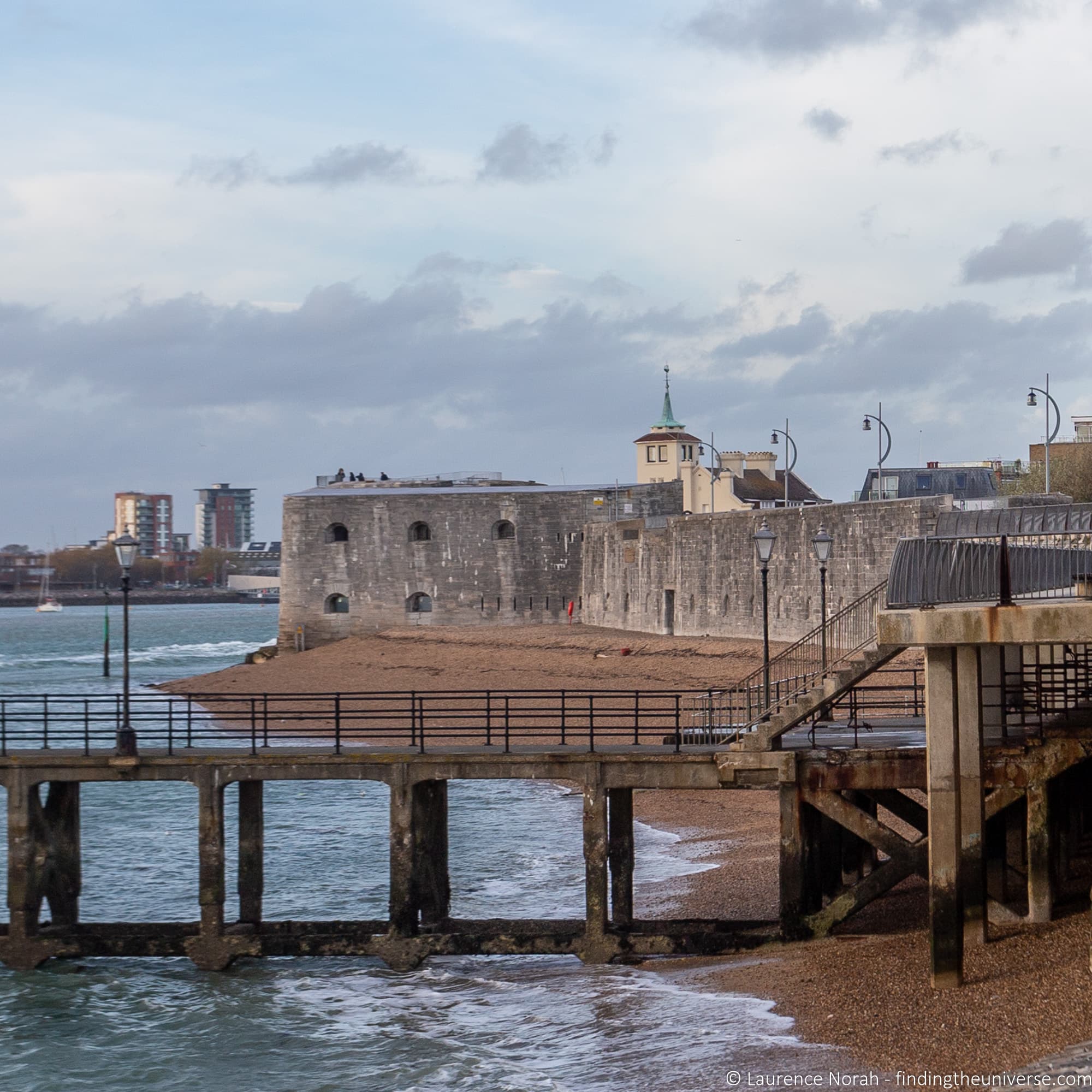 The first version of the Round Tower was built from wood, but this was replaced with a stone version in the late 15th century. The primary purpose of the tower was to defend Portsmouth harbour, and it occupied a commanding location at the mouth of the harbour entrance in order to achieve this goal.
Today, the Round Tower is operated by Portsmouth Museums. The interior is occasionally open for art exhibitions, but the roof is permanently open and offers excellent views of the harbour and surrounding area. It's also a good place to watch ships come and go in the harbour.
Around the Round Tower you'll find the Hotwalls Studios. These studios are found in the former derelict arches and defensive structures, and are now a thriving artistic community. This makes for an excellent place to pick up a souvenir from your visit to the city.
Monument to Australian Settlers
Portsmouth was the location from where the First Fleet of settlers set out for Australia in May 1787. These 11 ships would found the penal colony and would be the first European settlement in Australia.
In memory of this expedition, a sculpture called Bonds of Friendship was created in 1980, which symbolises the link between the UK and Australia.
The sculpture can be found on the walkway near the Square Tower, just along from the Round Tower, and there's also a statue to Horatio Nelson nearby.
Clarence Pier
If your idea of fun includes fairground rides and attractions, you will definitely want to make a visit to Clarence Pier when you visit Portsmouth.
This is one of the largest amusement parks on the south coast of England, and offers a range of rides, amusements, and food and drink options. There are roller coasters, a ferris wheel, waltz rides, and many more attractions. Great spot for families.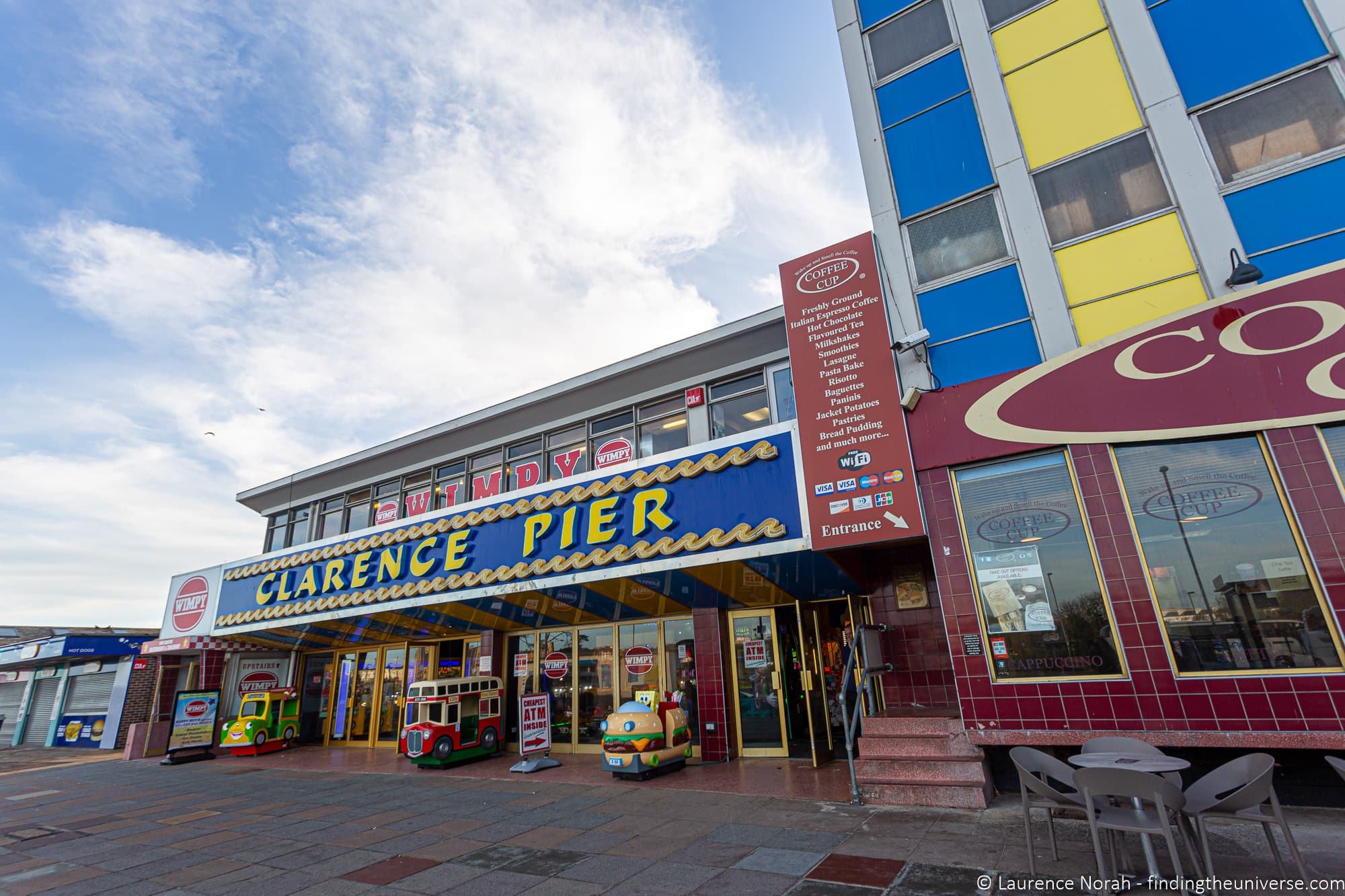 Despite the name, the pier doesn't extend out into the sea as with other piers you might be familiar with. Instead, it runs along the coast.
It's free to visit Clarence Pier, with each ride having an individual cost. It is primarily open on weekends and during the summer months, and is largely closed from November through to the end of February.
You can see opening times and more information on the official website here.
Portsmouth Cathedral
Formally known as the Cathedral Church of St Thomas of Canterbury, but more commonly known as Portsmouth Cathedral, this is one of two cathedrals in the city of Portsmouth.
Dating from 1188, the original part of Portsmouth Cathedral is one of the oldest buildings in the city. It was one of only two buildings to survive a French raid of Portsmouth in 1338 that destroyed much of the rest of the city.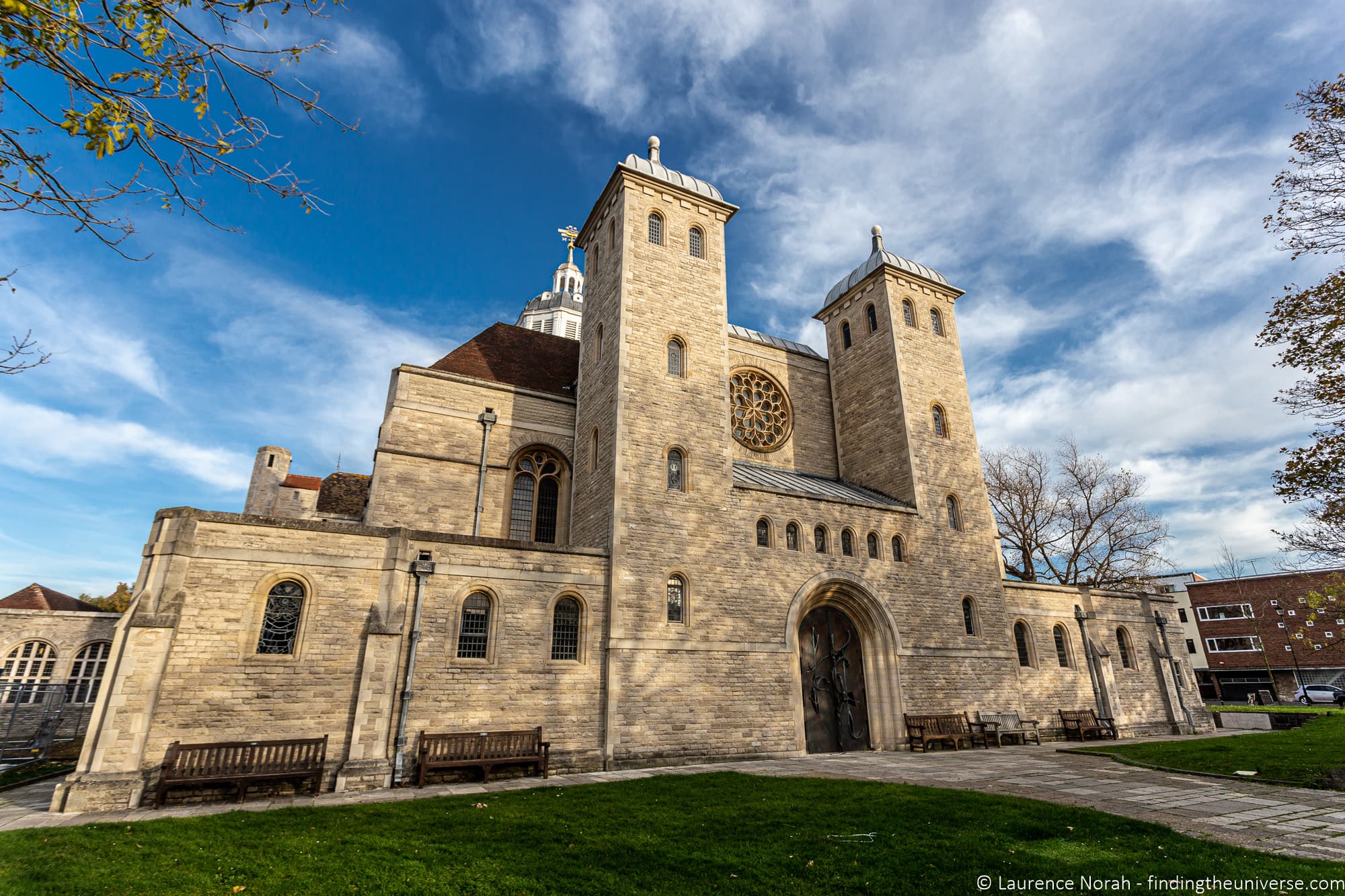 The cathedral that exists today is somewhat different to the small medieval chapel that was first built on this spot, although some parts still survive, notably the chancel and transepts.
The majority of the rest of the building dates from the 17th century when it was greatly expanded, and also the 20th century, when it was again expanded to fit its new status as a cathedral.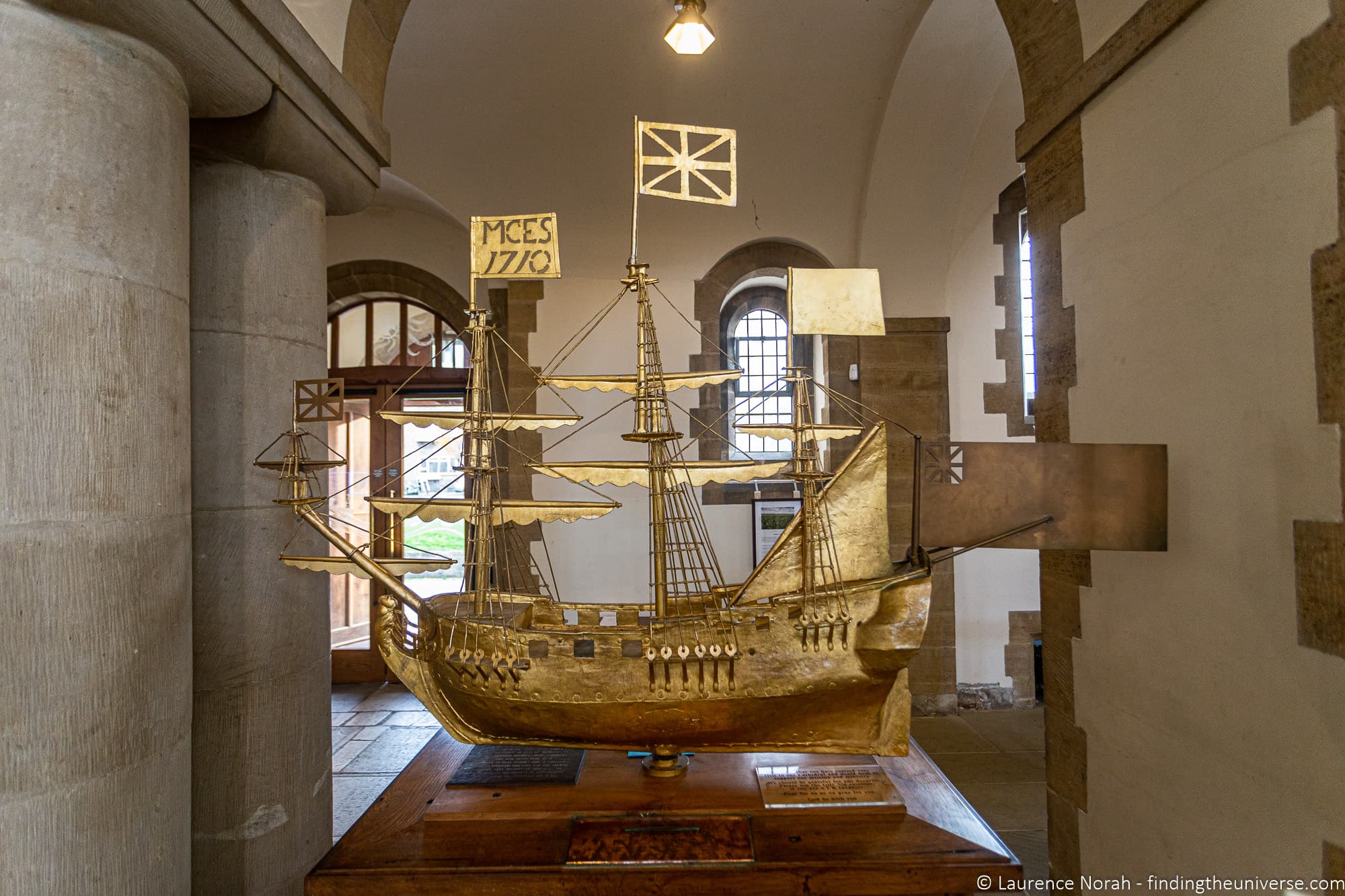 Portsmouth Cathedral is an active place of worship and is open to visitors every day of the year. It is free to visit, but donations are appreciated. There are guides on site to answer any questions you might have, as well as a cathedral shop.
Charles Dickens' Birthplace Museum
Arguably the most famous British writer of the Victorian era, Charles Dickens was born in Portsmouth in 1812. His father was a clerk in the Royal Navy and was stationed in Portsmouth for the first three years of Dickens' life.
For those of you with an interest in learning about Charles Dickens' early years, as well as his life in general, the museum is a must-visit location.
The home is laid out in the same style as it would have been when he was born, and contains a number of the author's personal possession and memorabilia. This includes the couch on which he died in Kent, many years later.
The museum is operated by Portsmouth Museums, and is primarily open from Fridays – Sundays. There's a small fee to visit. You can see full opening times and admission here.
Guildhall Square
Right in the heart of Portsmouth is the beautiful Guild Hall building, which dates from 1890. This was originally built for the local council, and is today primarily used as an events venue, hosting weddings, concerts and conferences.
The building sits on a square where there is a large statue of Queen Victoria. It is also close to the Portsmouth Central Library, which is worth a visit as it often has exhibitions.
Blue Reef Portsmouth Aquarium
If you are visiting Portsmouth with kids, the Blue Reef Portsmouth Aquarium is a great option.
This is found further along the Clarence Esplanade from Clarence Pier, and is around a 30 minute walk from the harbour area. It's a lovely walk, but local bus services are also available if you'd rather not walk.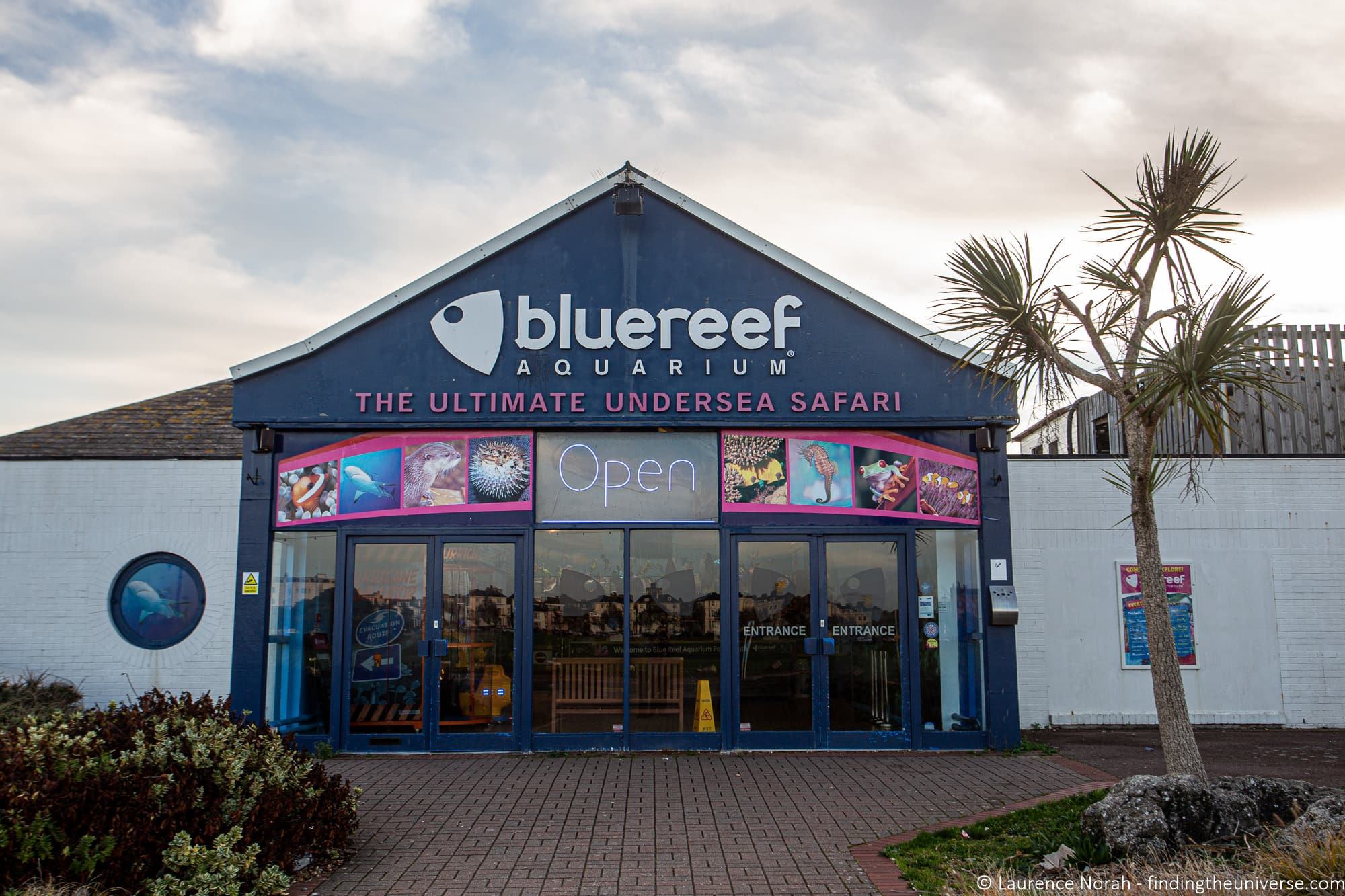 The aquarium itself has over 40 displays including a large ocean tank which features an underwater walkthrough tunnel. Species on display include sharks, lobster, seahorses and tropical fish.
The aquarium also has an outdoor activity area which has a wet play zone for kids, ideal for a hot summer's day. Blue Reef Portsmouth Aquarium is open every day of the year except Christmas Day or in exceptional circumstances. There's a fee for visiting.
See full opening times and prices on the official website here.
Southsea Castle
Southsea Castle was built in 1544 under the reign of Henry VIII. Like the Round Tower, it was constructed in order to provide Portsmouth with enhanced defensive capabilities and protect against the threat of invasion by both the French and the Holy Roman Empire.
It is believed that when the French attacked in 1545, during the battle where the Mary Rose was sunk, that Henry himself watched proceedings from this castle.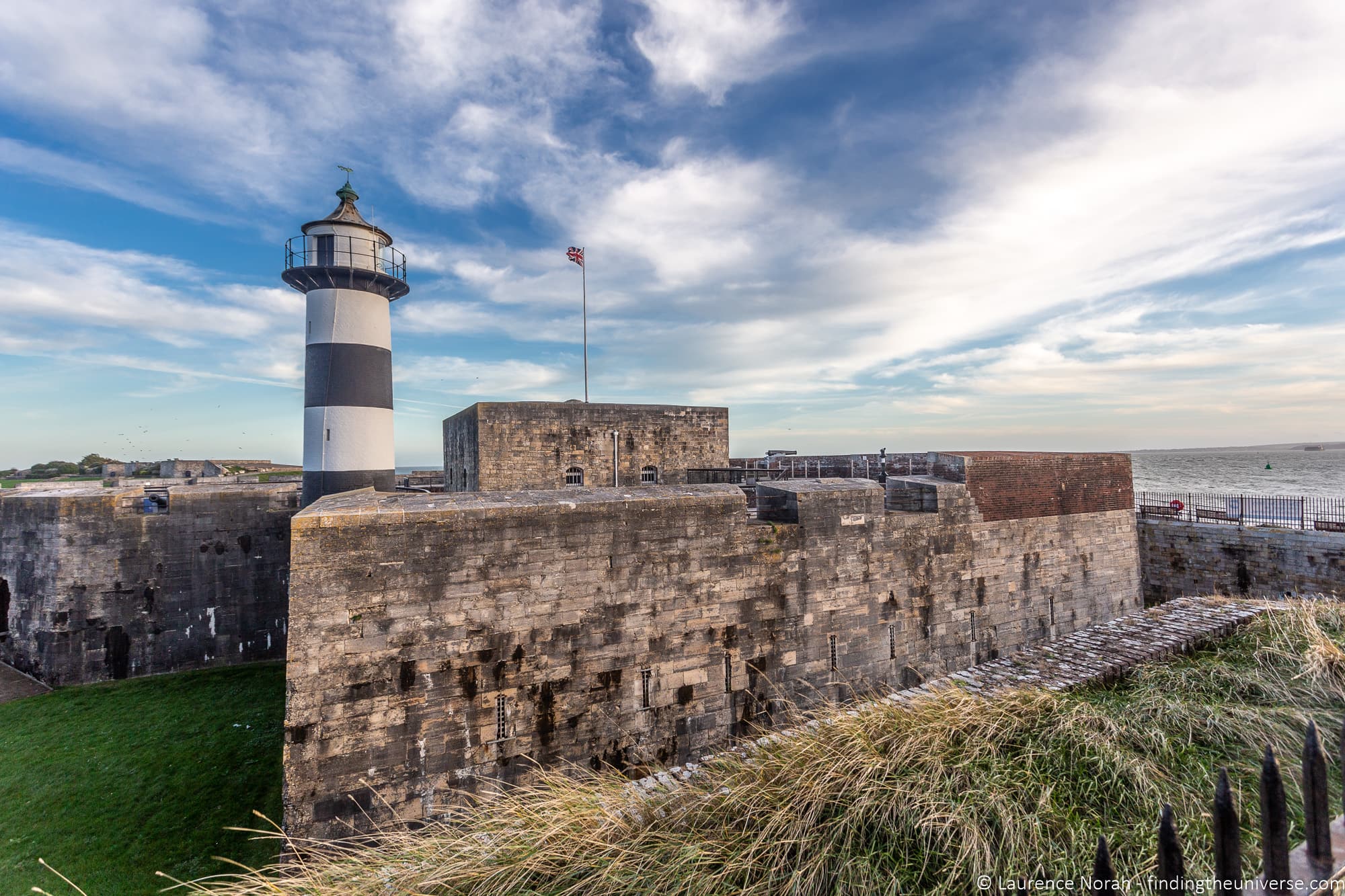 Following the 100 Years' War the castle entered a period of disuse, and it wasn't until the 17th century that it saw active use again, primarily during the English Civil War. It was further upgraded during the 19th century, as a result of the Napoleonic and Crimean Wars. It was also a part of the British coastal defenses during both the first and second world wars.
By the 1960s however, the castle had outlived its usefulness and became obsolete. Still, four hundred years of service is pretty good by any standard! It was sold to Portsmouth City council who restored the building and re-opened it as a museum in 1967, as part of the Portsmouth Museums.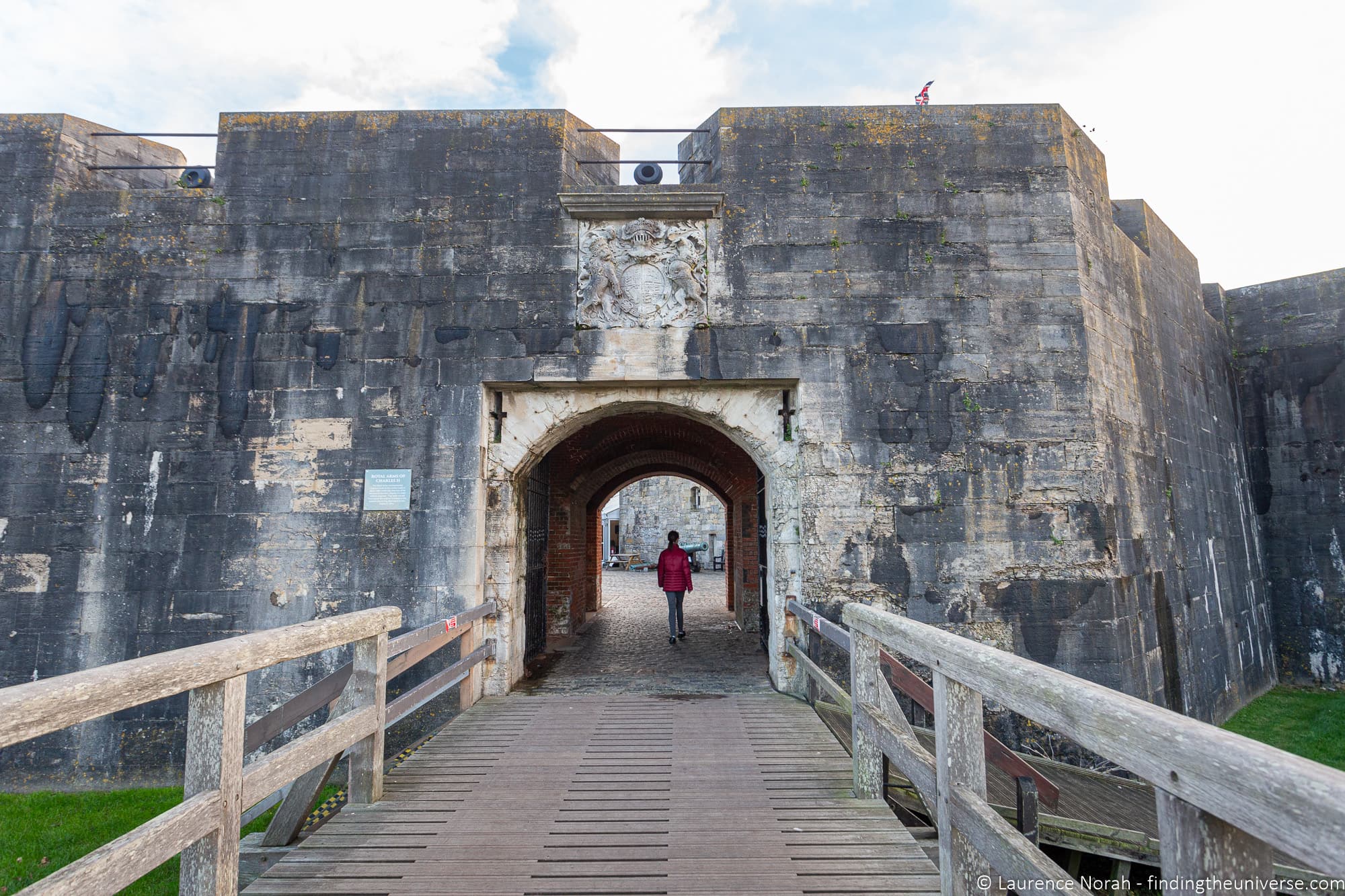 It remains a popular tourist attraction in Portsmouth, and is open from March to October every day except Mondays. It's free to visit although donations are greatly appreciated to keep the site open to visitors. You can see full opening times and information for visitors on the official website here.
There is also a cafe, gift shop and microbrewery on site.
D-Day Story
On June 6th, 1944, over 150,000 troops of the Allied forces landed on the German occupied beaches of Normandy. The invading forces were supported by almost 7,000 vessels and almost 200,000 naval personnel, as well as over 11,000 aircraft.
This remains the largest seaborne invasion in history, and was the first step in liberating Europe from the Nazis. The day is often referred to as D-Day.
We've visited the D-Day landing beaches in Normandy, where there are a number of sites you can learn about the events of D-Day. However, Portsmouth is also home to a D-Day museum. This is more than logical, as all those troops and ships had to marshal, train and launch from somewhere, and numerous ports along the south coast of England were these launch locations.
Portsmouth specifically was the headquarters and main departure point for the Sword Beach invasion. Sword was the most easternmost of the six D-Day landing beaches, and almost 30,000 men landed here, in a force made up of British, French, Polish, and Norwegian soldiers.
As you would imagine, having coordinated such a major invasion, there are many locations in Portsmouth that were directly involved in the D-Day landings, as well as numerous people.
Their stories, and the story of D-Day itself, are told in the excellent D-Day Story museum, located near Southsea Castle. This is home to a huge array of information, as well as items from D-Day itself, including an original landing craft.
The museum also has a cafe and an excellent bookshop with a wide range of titles related to D-Day.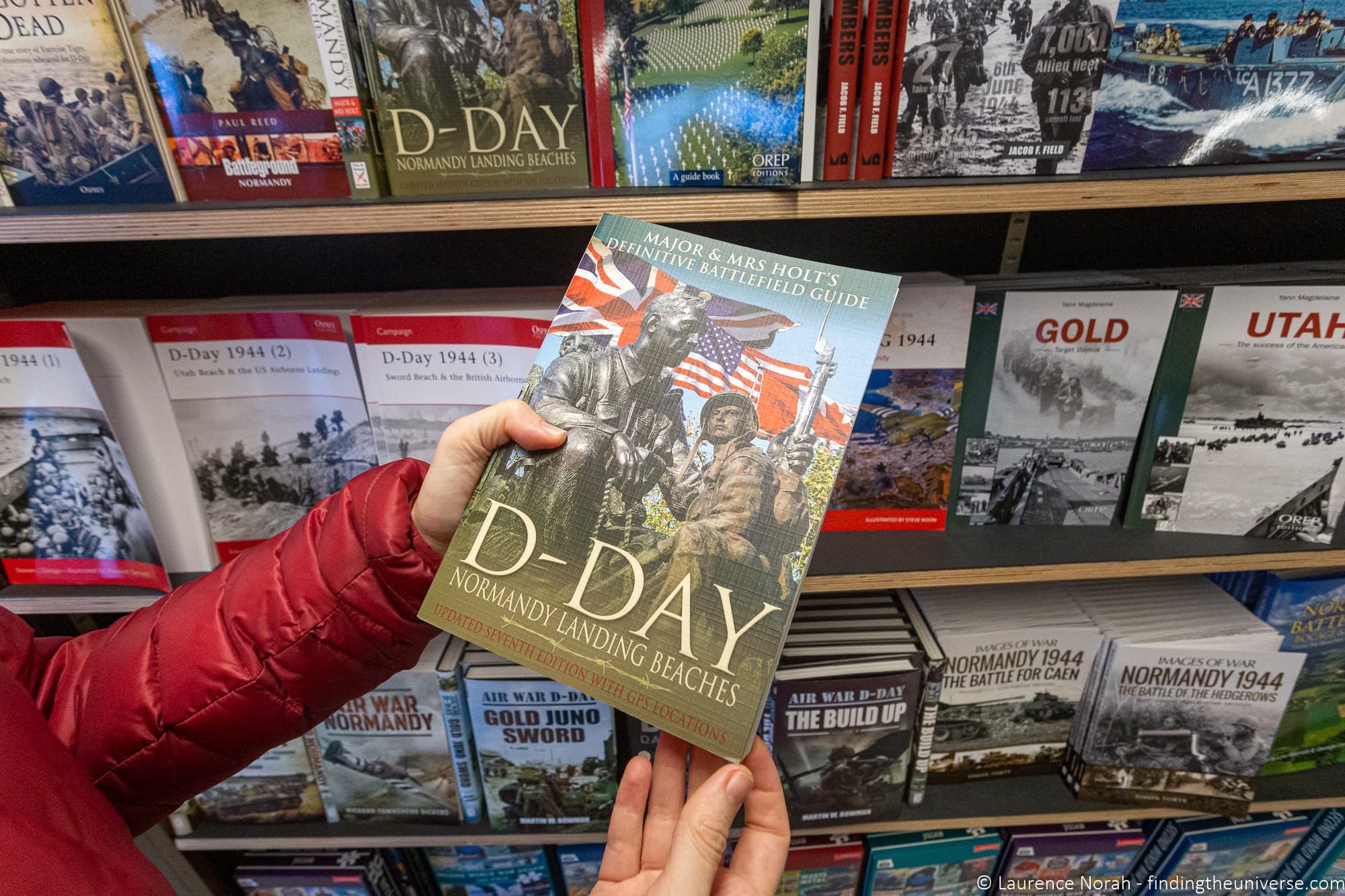 With some exceptions, this museum is open year round, and there's a fee for visiting. You can book tickets online in advance here.
Visit the Isle of Wight
Last on our list of things to do in Portsmouth is a bit of a cheat, but we think it's a fun one. Portsmouth is home to the only passenger hovercraft service in the UK, which will whisk you across to the Isle of Wight in just ten minutes.
This is both the fastest and, we would argue, the most fun way to travel to the Isle of Wight. You can book tickets for this passenger service here.
Once on the Isle of Wight, there is loads to do – see our guide to visiting the Isle of Wight, and our guide to following the Queen Victoria Trail on the Isle of Wight for some inspiration.
Of course, we'd only really suggest heading over to the Isle of Wight if you have more than a day to spend in Portsmouth.
If you do visit, we'd suggest getting around using either the Needles Breezer or the Downs Breezer – the islands two hop on hop off bus services.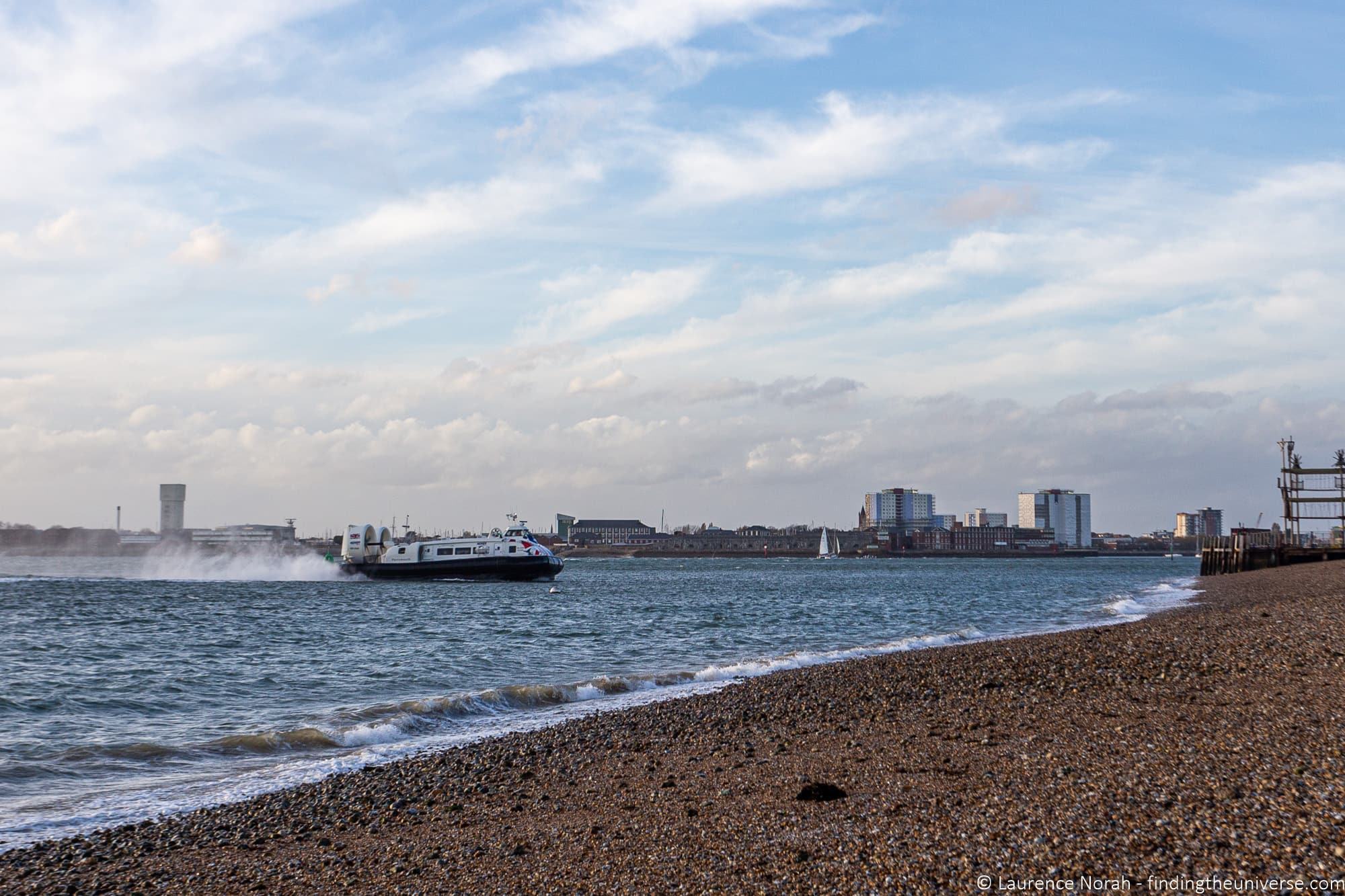 Of course, if you don't feel like going to the Isle of Wight, that's fine too. We can however still recommend you at least take a bit of time to watch the hovercraft arrive or depart from its terminal near Clarence Pier, which is a sight you are unlikely to forget for a while!
Getting to Portsmouth
Portsmouth is on the south coast of the UK, around 75 miles south west of London. To the east are the cities of Bognor Regis and Brighton, and to the west is Southampton.
Portsmouth is well served by transport routes. A direct train service runs regularly from London, and takes around two hours.
The closest airport to Portsmouth is Southampton airport, around 20 miles away, which can be reached by train or car from Portsmouth.
There are also a number of bus companies operating services between Portsmouth and other cities in the UK, including London. These primarily depart from the Portsmouth bus interchange at The Hard, which is next to Portsmouth Harbour train station.
It's also possible to take a guided day tour from London to Portsmouth, such as this one.
For bus and train tickets, we recommend the Trainline website, where you can book both bus and train journeys across the UK.
Getting Around Portsmouth
We found Portsmouth easiest to navigate on foot, with most of the attractions within relatively easy walking distance of each other.
However, there is also an excellent local public transport network, with buses operated by Stagecoach and First Bus. Taxis are also available, as are ride sharing services like Uber.
Tours of Portsmouth
If you would like to visit Portsmouth as part of a tour, we have found the following tours for you to consider. Most of these focus on the naval sights in the city, which is the primary reason most visitors choose to visit Portsmouth.
A full day private tour from London of the Portsmouth Historic Dockyards, including HMS Victory and HMS Warrior. Also includes the Mary Rose, a harbour tour, and a packed lunch.
These guided walking tours offered by Portsmouth City council
Where to stay in Portsmouth
If you want to extend your stay in Portsmouth beyond a day trip, there are plenty of accommodation options to choose from. We've picked some for you to consider, arranged in order of distance from the Historic Dockyard area.
Hopefully this gives you some ideas of the options in Portsmouth. For more ideas, see the full Portsmouth listings on booking.com here.
Further Reading
Hopefully our guide to things to do has given you lots of ideas for how to spend your time in this lovely English coastal city.
To further help you plan your time in the UK, we have written a number of other guides. Here are some we think you will find most useful.
And that's it for our guide to Portsmouth! As always, we're happy to help you out and take feedback on any of the above – just pop your questions in the comments below and we'll get back to you as soon as we can!