I spent a good deal of my childhood in Oxford, and it has long been one of my favourite cities in the UK. As you can imagine, we've explored the city in great detail! In today's post, I want to help you plan your own day trip to Oxford, with a guide to all our favourite things to do in Oxford.
Being so close to London, Oxford makes for a popular day trip from the English capital. It's only an hour by rail from central London, with trains running regularly. So it's easy enough to stay in London and just visit Oxford for the day. Oxford is also very compact and easy to get around, so you'll be able to take in a good many highlights in a day.
Of course, there's plenty to do for more than just a day if you'd prefer to spend longer in Oxford, so I've also included some tips on accommodation for a longer stay as well.
Here are some ideas for things to do on an Oxford day trip, based on both our recent visit and my previous experience living there. There's also a section on how to get to Oxford from London to help you plan.
Things to do in Oxford on a Day Trip
Here's a list of all our favourite things to do in Oxford which you should be able to do in a day trip from London, or other nearby location.
1. Take a walking tour
One thing Jess and I did this time round that was different to my previous visits was to take an official walking tour. This was an excellent way to get oriented (I always get lost in Oxford, the place is a maze!), learn about some of the history of the city, as well as see some University Colleges, of which there are many!
We took the Official University and City Tour, which started at the visitor centre and which is run by the official Oxford Tourism Board. Tours run a number of times a day, and are led by licensed blue badge guides, which means they really know their stuff.
The tour lasted a couple of hours, with our guide taking us to some of the highlights of Oxford, including the covered market, the high street, the Radcliffe Camera, the Bodleian Library and of course, a number of the university colleges.
It was excellent value for money, and a wonderful way to quickly get a handle on the layout of Oxford, the history of the town, and to learn more about the university colleges. We also went in to a number of the universities, and were given advice and tips as to which ones we should come back to to visit independently.
Finally, our last port of call was the optional Divinity School, a stunning building which also doubled up as the location for the Hogwarts Sanatorium in the Harry Potter movies.
Film buffs will know that Oxford was featured in many of the Harry Potter films – see our guide to Harry Potter filming locations for more of these. Plus you can take a specific Harry Potter walking tour if that's what you are interested in.
All in all, a very worthwhile couple of hours of exploration! If you're interested in doing a walking tour of Oxford, this is a link to the tour we took so you can book in advance now.
Alternatively, you can also take a tour of Oxford which is led by an Oxford student, which is a fun way to get more of an insight into what life here is like as a student. These tours cover similar ground and last around the same amount of time – you can see the reviews and book online here.
2. Visit the University Colleges
We visited a number of the colleges on our walking tour, and they are just stunning. Our guide had given us some ideas as to which we could visit by ourselves, including some of his personal favourites, and I would very much recommend setting aside a bit of time to explore the colleges by yourself.
A little bit about Oxford University. One of the oldest Universities in the world, Oxford University is made up of thirty eight colleges, each of which is independently governed. There's no campus, with all the colleges, halls, faculties and departments set throughout the city centre.
Visiting the colleges is a bit hit and miss depending on the time of year. In addition, some of the colleges (notably Christchurch), do charge an entry fee. Since opening times vary depending on the time of year and the exam schedule, your best bet is to draw up a shortlist of colleges you would like to visit, and pop into the porter's office for each college to see if it's open. The porter's office is pretty much always at the entrance, and we found that they were always more than happy to help us out.
We visited a number of the colleges, including David's College, Exeter College and Trinity College. I particularly liked the chapel at Exeter College, arguably one of the most picturesque of all the college chapels, and the gardens at Trinity College was also gorgeous to walk in.
Christchurch, which is generally regarded as one of the more spectacular colleges, was unfortunately closed on the day we visited, but if it's open when you're in town, I'd highly recommend popping by.
3. Go Punting
Punting is a classic pastime in Oxford, and one that is best enjoyed over a lengthy period of time, where you can learn how to actually do it, and maybe even reach a pub somewhere on your journey.
I've punted a few times before, but usually in the company of a competent punting friend. On this visit, it was just Jess and I, so I was given the task of figuring out how to make the boat move along the river in the direction I wanted it to go.
After a slightly confusing start where I confused the front and back of the punt, and following some helpful advice from the punt house as to my technique, we set off upstream, with the theory being that this would make for an easier return journey. I settled into a vaguely efficient rhythm, managing to avoid both the riverbanks and other punters, and we had a lovely time, even if we didn't get quite far enough to find a pub.
For punting, I've always gone with the Cherwell Boathouse. It's a great location, there are pubs in both directions, and they have a lovely bar and restaurant on-site if you don't quite make it the half hour upstream that's required to find a pub. We went this time, and were thankful for the friendly service and helpful punting advice! Punts are hired either by the hour, or the day, with the most up to date prices on their website.
4. Imbibe a Beverage
If you struggle to punt your way to a pub, don't worry. Oxford has no shortage of fantastic watering holes, with some personal favourites including The Eagle & Child (popular with Tolkien), The White Horse, the Lamb and Flag, and the King's Arms.
At the top of my list though is The Turf Tavern. A little tricky to find, being as it is down a tiny alley just next to the Bridge of Sighs, if you're struggling just find a local to give you directions. This is one of the oldest pubs in Oxford, and has a lovely outdoor beer garden as well as plentiful indoor seating and a wide selection of beers as well as food.
It's popular with University students, and has had it's fair share of famous faces over the years, including former Australian Prime Minister Bob Hawke, who downed a yard of ale in 11 seconds. Not as easy as it sounds. Other famous visitors include Bill Clinton, and legend has it that it was at the Turf Tavern that he "did not inhale". Whatever you think of that story, you're bound to love this venue.
5. Visit Oxford Castle
If you are travelling with children, they'll likely love a visit to Oxford Castle. Originally built in the 10th century, the castle served first as the main defensive centre of the town, back when castles were genuinely useful for that, before being used as a prison from around the 14th century.
Whilst much of the original castle was destroyed in the English Civil War, the parts that survived were incorporated into Oxford's official prison, and stayed that way until 1996, when it was concluded that it probably wasn't the most modern of prison constructions, and decommissioned.
Now, the surviving castle complex serves a number of functions, with part of it being a hotel. As a visitor wanting to learn more about the history though, you'll want to take an Oxford Castle Unlocked tour, which gives you access to the Motte (a big earth mound), St George's Tower, the crypt and parts of the prison.
The tour, which ran for around half an hour, largely comprised St George's tower, and was performed by a character actor who assumed the role of King Stephen. From him, we learnt all about the history of the tower and it's various uses, as well as some notable characters who had been held here.
We also got to go up on the roof of the tower itself, which had great views over the city. After the tour was complete, we were able to explore the prison, where we got a bit of an insight into prison life over the years, which looked pretty miserable! You can buy tickets online here.
6. Climb the University Church
Regular readers will know that one of my favourite ways to see a city is from above, usually by finding a nice tower and climbing to the top of it. It turns out that even in all my years living around Oxford I had never found a suitable tower, which was a bit of a failing as it turns out there's an excellent view to be had from the top of the University Church of St. Mary the Virgin, which is right next to the Radcliffe Camera.
It's a bit of a climb to the top, and there's an entry fee of £4, but the view is more than worth both the effort and expense.
Practicalities for Visiting Oxford
Where to Stay in Oxford
If you want to stay in Oxford for longer than a day, there are plenty of options in Oxford for accommodation to suit the majority of budgets.
We stayed a little way outside of the city centre at the peaceful Hawkwell House Hotel, found in Iffley Village. This is just a short taxi ride from Oxford City centre, or a ten minute bus ride. It's also walkable via a lovely riverside footpath.
Our room was very comfortable, and the included English breakfast was of course appreciated. Other details like free wi-fi and luggage storage rounded out a solid offering.
If you'd prefer to be more central, there are lots of options for city centre accommodation in Oxford – check out the booking.com listings for Oxford here to get yourself started.
How to Get To Oxford from London
Oxford is very easy to get to, being served by trains and buses, and of course by car. There are direct trains from London Paddington to Oxford multiple times an hour – if you get one of the fast trains the journey time is around an hour.
Avoid the local trains which stop at more than four stations on the route, as this can make the journey more like two hours! We recommend the Trainline website for advanced booking reservations – we've tried most of the train booking sites in the UK and the Trainline is our favourite for ease of use.
Always book train tickets in advance of your travel for the best prices in the UK, and opt to either have them delivered to your mobile device, or to pick them up from the station, to save on postage fees.
There are also buses to Oxford from the centre of London, Heathrow Airport, Gatwick Airport and Stanstead Airport, as well as many other destinations around the UK.
Buses (also known as coaches) in the UK are usually a little bit cheaper than the train, although they do take a bit longer. We recommend Megabus for bus travel, see their prices and book in advance for the best deals here.
If you'd prefer to drive yourself, Oxford is between 60 and 90 minutes drive from London. If you're visiting Oxford as part of my detailed two week UK itinerary, then you'll know that a hire car is my preferred method of getting around the country, giving you more flexibility and control over your trip. Check here for a competitive car hire quote, sourced from some of the most popular rental providers in the UK.
Finally, if you want to just visit Oxford as part of a tour and let someone else handle all the logistics, there are a number of tours you can take from London. Here are a few options to choose from:
As you can see, there's no shortage of choice when it comes to options for visiting Oxford as a day trip from London, as well as trips incorporating some other popular destinations.
Further reading
We've got lots of resources to help you plan your trip to the UK, from posts we've written ourselves to third party content we're happy to recommend. Here it is: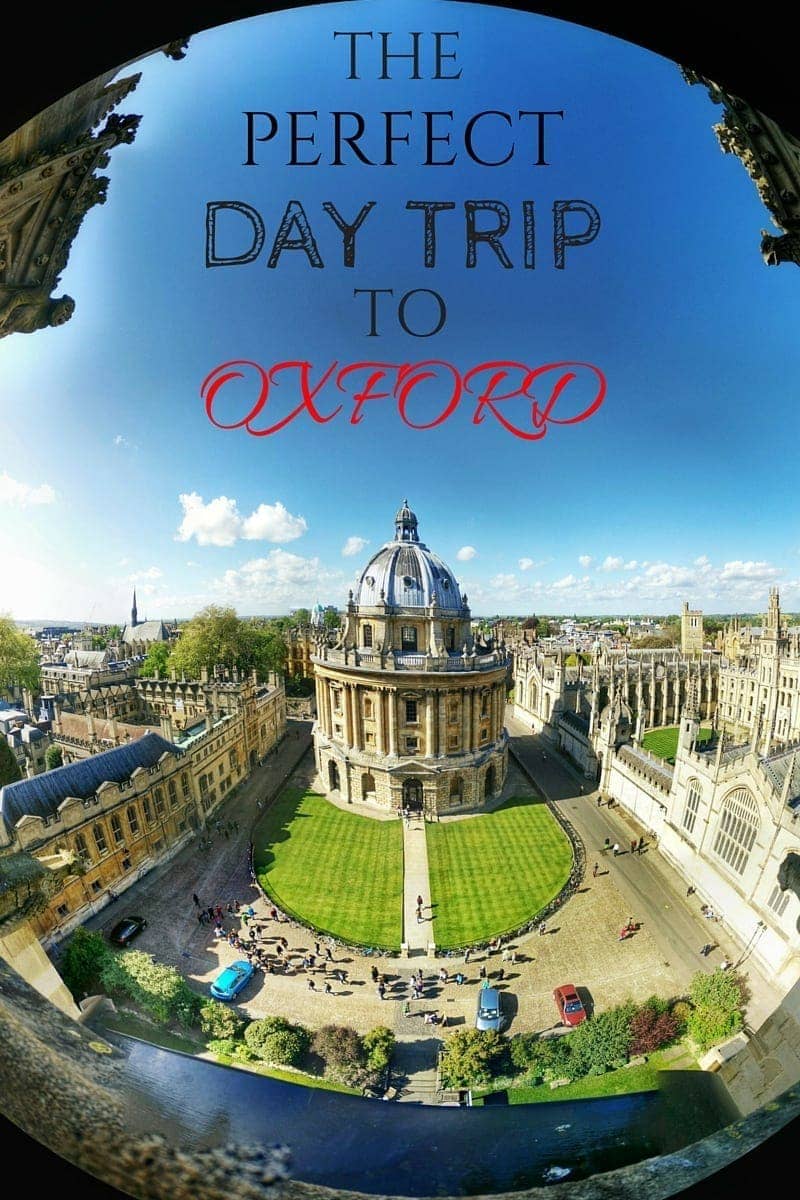 So you know: we partnered with Visit Britain for our trip to Oxford, who covered our accommodation, walking tour, punting trip and Oxford Castle visit. As always, opinions remain our own – check out our code of ethics for our disclosure policy.