Jess has wanted to see puffins for a very long time, so when the Scottish Seabird Centre in North Berwick, Scotland, offered us a trip on one of their bird watching tours at the start of puffin season, naturally we leapt at the opportunity.
Since then we've actually visited twice, and done two trips with the Scottish seabird centre – one sea safari, and one landing on the Isle of May, where puffins actually nest.
Of course, it's about more than just puffins. There are loads of species of seabirds that you can see from the Scottish Seabird centre, including the world's largest colony of northern gannets. And seabirds aren't all – you might even be lucky enough to spot seals or even dolphins!
In this post, I'll share our experiences of visiting the Scottish Seabird Centre in North Berwick. I'm also going to share some tips on when is the best time of year to visit, what to expect, how to get to the Scottish Seabird Center, tips for photography and other gear you might consider bringing, and more. Let's get started!
Our Visits to the Scottish Seabird Centre
The RIB Three Islands Seabird Safari from the Scottish Seabird Centre
We have done two visits to the Scottish Seabird Center. Our first visit included entry to the seabird centre itself, and then a trip on a fast rigid inflatable boat (RIB) around three islands, which lasted around 75 minutes.
This first trip was at the end of May, which was during puffin breeding season. We had booked an afternoon Three Islands Seabird Safari, but turned up early because we wanted to explore the Seabird Discovery Centre a little bit before hand.
This was an excellent decision, and one we highly recommend to anyone planning a trip on one of the boats. You'll learn all about the various bird and marine life that lives on the various islands around North Berwick, plus get the opportunity to see it all up close with the interactive live camera feeds.
It was both fun and entertaining, and we think is worth including as part of your visit. There are plenty of kid-friendly exhibits for families.
Of course, the highlight of our day was the seabird safari. So once we had seen everything we wanted to see in the discovery centre, we walked through to the harbour where our boat ride would leave from.
The Scottish Seabird centre offers a range of boat rides, the most popular of which are the Seabird Catamaran Cruise (perfect for all ages) and the Three Islands Seabird Safari RIB trip (the one we did).
They also offer two trips that actually land on some of the islands – the Isle of May and the Bass Rock landing trips, the former being what we did on our second trip (more on this below). These are very popular and book out well in advance, so if those interest you we highly recommend booking as far in advance as you can.
The Three Islands Seabird Safari RIB trip we took was the fast boat safari. This would take us around three islands: the Lamb, Craigleith, and the Bass Rock.
This being a fast boat in Scottish weather with no cover, obviously there was the potential that we might get wet – either from rain, or from sea spray.
Thankfully, the folks at the Scottish Seabird Centre have thought of this issue, and after check-in you are given a full set of top to bottom waterproofs and of course a lifejacket. Then, the only concern was my camera equipment – thankfully my Vanguard Alta Sky 49 has a built-in waterproof cover which solved that problem.
Then it was on to the boat itself. There's room for 12 passengers on the RIB boat, and you sit on a raised and incredibly padded seat. This doesn't look like it's going to be comfortable, particularly in a bouncing boat, but we were hugely impressed by how soft the ride was when sitting on these seats.
There was also space under my seat area for my camera backpack, which was convenient as I put my camera away while the boat was moving between the islands to protect it from the spray. With all the movement of the boat, it was practically impossible to use it at these times.
Finally, with everyone on board and the safety briefing complete, we were on our way. Our boat had two staff members – one person to operate the boat and one guide. Our first stop was the Lamb, a fairly small rock island which, fun fact, is owned by Uri Geller, who believes it is a hiding place for ancient Egyptian treasure.
We didn't spot any treasure, but we certainly saw plenty of seabirds, including, yes, our first puffins! We also saw a seal basking on a rock, so the trip was off to a positive start.
After circumnavigating the Lamb, we zipped across to our next stop, Craigleith Island. Again, this is a fairly small island, and like all the other islands we visited, is of volcanic origin. This is home to cormorants, shags and guillemots, as well as puffins, and we saw all of these species, including closer views of puffins!
Finally, having slowly circumnavigated Craigleith and taken many photos, we headed to the Bass Rock. This is by far the largest of the islands located off this part of the Scottish coast, and can be seen from miles around.
It's a very dramatic rock, with walls of basalt rising vertically out of the sea to a height of 107 metres, and is home to the world's largest population of northern gannets – over 150,000 of them in fact.
As you can imagine, this makes for spectacular viewing, with thousands of birds wheeling overhead and stacked up on the rocks before you. Bass Rock is also home to a lighthouse, which makes for some interesting photographic opportunities. You get close enough to smell the guano! The circuit around Bass Rock is definitely a highlight of the ride!
Once we were done with the Bass Rock, and had taken a great many photos, our boat turned it's nose for home. Before we returned to North Berwick harbour though, there was one final treat in store. We cruised in along the coast, and were given a fantastic view of Tantallon Castle, whilst being regaled with tales of shipwrecks along the coast. All in all, a fantastic day out, and one we can highly recommend!
The Isle of May Landing Trip from the Scottish Seabird Centre
Our second trip with the Scottish Seabird Centre was an Isle of May landing. This is a half-day trip, which sees you taking a fast boat out to the Isle of May, and then spending some time on the island. Normally this runs April – September.
When we did the trip, the boat was a covered RIB with dual 400hp engines. This meant it went very fast, but we were protected from the spray as the seating area was entirely enclosed. For this reason, we were not issued with full coveralls for this trip, just lifejackets.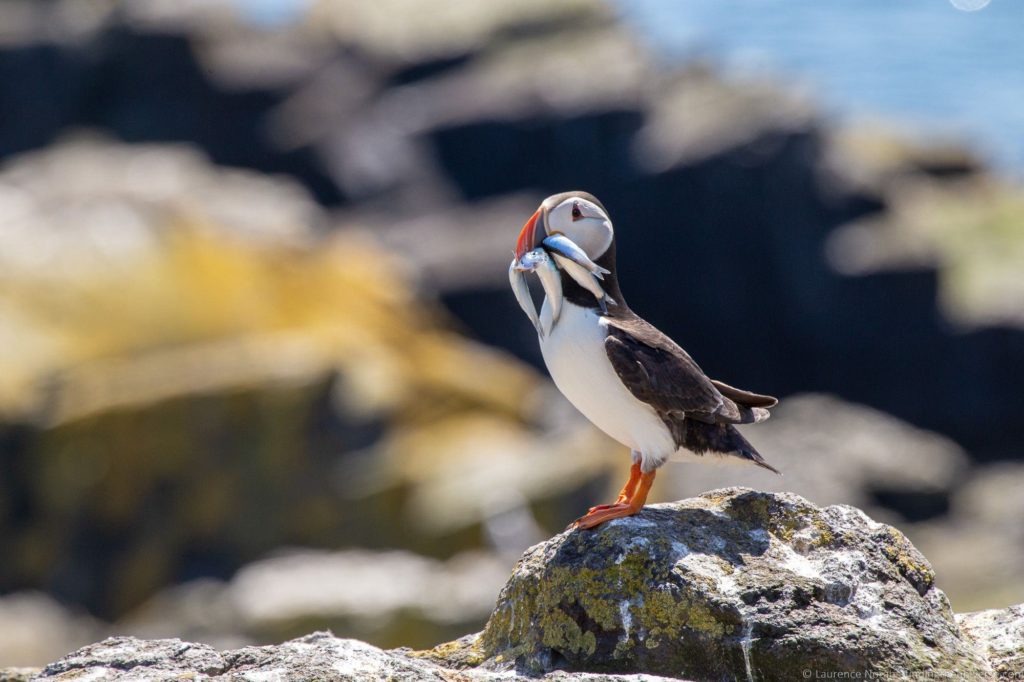 The journey to the Isle of May took around half an hour each way, and on our trip we had three and a half hours on the islands itself. Times may vary depending on tide times and sea conditions, but we believe our trip was fairly representative.
On the Isle of May, the main draw during our visit, which was in early July, was the huge puffin colony. There were literally tens of thousands of puffins flying all around us all across the island, and as they had chicks in their nests, the majority of them were flying with food in their mouths.
Which means a lot of photos of puffins!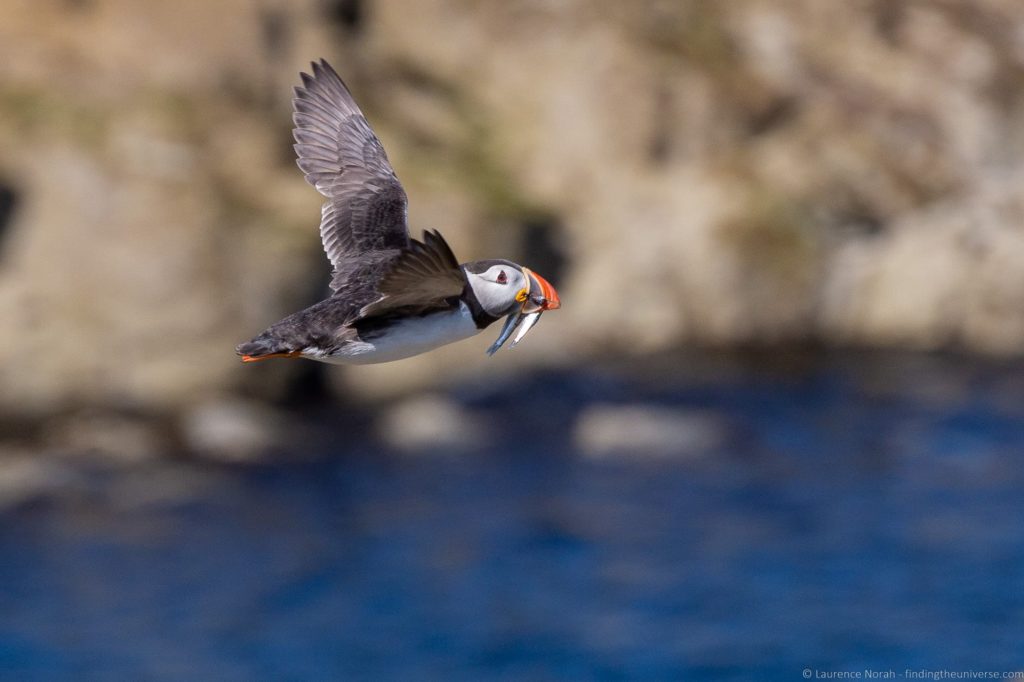 Of course, puffins weren't the only draw. The island has a lot of other nesting birds, including Arctic terns, gulls, guillemots and razorbacks, to name but a few. We also saw a seal on the way in to the jetty, which was nice!
Whilst on the island, we were given a welcome talk, and then given the option of taking a guided tour or going off on our own. We chose the former, but we did take advantage of the opening of the lighthouse on the island to visit it.
The day we visited was very hot, luckily we had put suncream on before we visited as there was no real shade on the island with the exception of the lighthouse and the visitor welcome area. This visitor welcome area was also home to some toilets.
We did forget drinking water, which was a huge omission given how hot it was, and the island doesn't have drinking water available for day visitors. Thankfully one of the passenger boats to the island does have a small shop onboard, from which you can buy snacks and drinks, so we were saved by that.
We'd definitely suggest bringing your own snacks and drinks though. Just be aware there are no litter facilities on the islands, so you must take all your rubbish home with you.
When Can you See Puffins in Scotland?
The puffin breeding season normally runs from April through to August. Eggs are laid on at the end of April or start of May, incubation takes 36-45 days, and fledging occurs 34-60 days after hatching.
So you can definitely see puffins on land from late March through to August in Scotland.
Our favorite time is around June and July though, when the puffins are feeding their chicks and you can get those iconic photos of puffins with their beaks full of fish!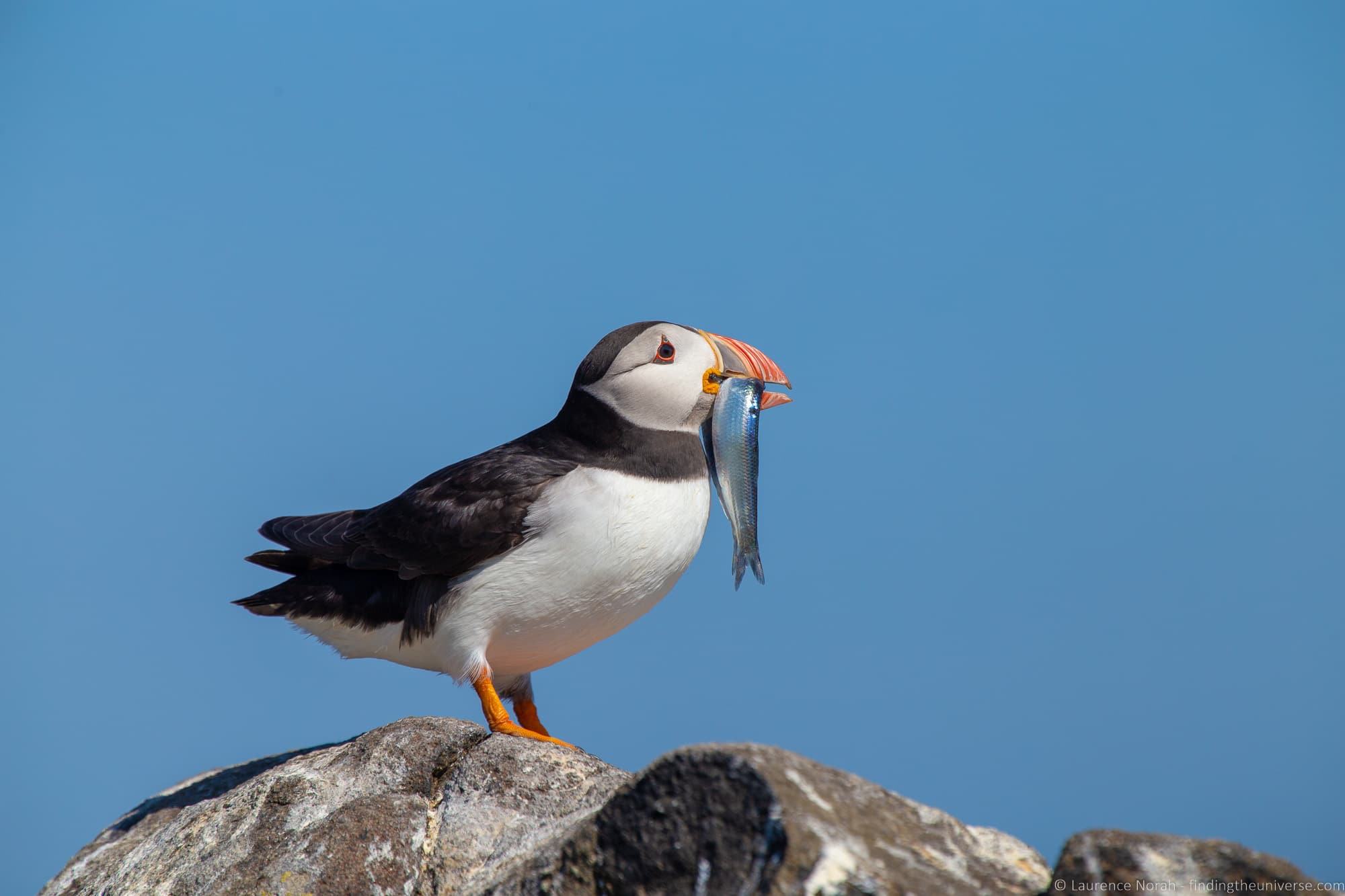 Where Can You See Puffins in Scotland?
Puffins nest in a number of locations around Scotland. We've seen them on the Isle of May and Lunga, but you can also see them on Handa Island, Fowlsheugh and Sumburgh Head (Shetland).
Practicalities for Visiting the Scottish Seabird Centre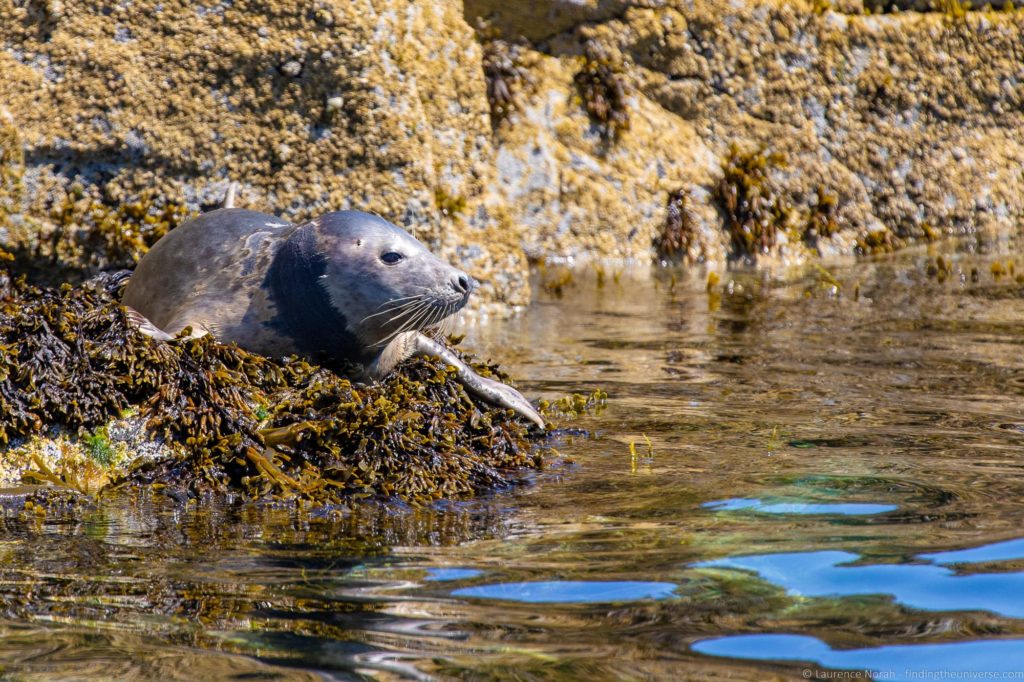 Scottish Seabird Centre Opening hours and prices
The Discovery Centre at the Scottish Seabird Centre is open year round, with opening hours varying depending on the time of year. There is an admission charge, with concessions available – check their website for the most up to date information on pricing and opening times. There's a café on site which serves hot and cold food and drinks as well.
Boat trips only operate in the better months between Easter and Autumn, and carry a separate price, although if you book a visit to the Discovery Centre at the same time as booking your boat trip, you'll get a discount. We'd suggest doing both if you can, as you'll learn a lot more. For full information on all the boat rides they do, see the website here.
Camera tips
If you're keen on getting some great photos of seabirds, here are some tips to help you out, covering gear to take and general advice on getting the best shots.
I took two full frame camera bodies with me on both trips, one equipped with a wide angle lens (17-40mm) and one equipped with a telephoto (70-200mm). For the Isle of May landing, I also took a 2x teleconvertor, giving me an equivalent 140-400mm lens. I certainly telephoto lens more, and just used the wide angle for the shots of the islands and us on the boat, although it did come in useful for capturing the drama that is the Bass Rock up close.
I would definitely suggest that you take a camera with as long a zoom as you have, because seabirds are quite small and unless you are very lucky, you won't be closer than 10 – 20 metres to them. Most of the puffin shots in this post are cropped from the original to focus more on the puffin, and having more zoom can save you from losing resolution in crops.
If you don't do one of the island landing trips, you're going to be shooting from a rolling boat. Whilst the boat does slow down and occasionally stop, the sea is always going to be moving, so you'll want to shoot at a relatively high shutter speed and do your best to hold your camera as still as you can.
If you are doing a landing trip, you might want to bring a monopod to support your lens. You will also get quite close to the puffins compared to a boat safari, and many people visiting were happy with the photos they were getting from their compact cameras. So definitely don't leave your camera behind if you have one – you don't need an ultra long zoom or top of the range SLR camera to get good photos on the Isle of May!
The sea environment is also, obviously, a rather wet place. I'd highly recommend having a waterproof bag of some description to stow your camera equipment in, and to put it away during the periods of travel between the islands. Even if it's a calm, dry day, spray can be picked up and get your gear wet. We had a fairly grey day with moderate seas for our RIB safari, and we didn't get particularly wet, but I was glad to have my camera bag nonetheless.
Don't forget, if you're looking for camera gear recommendations, we have a full list of what we travel with, as well as a guide to choosing a travel camera to help you out!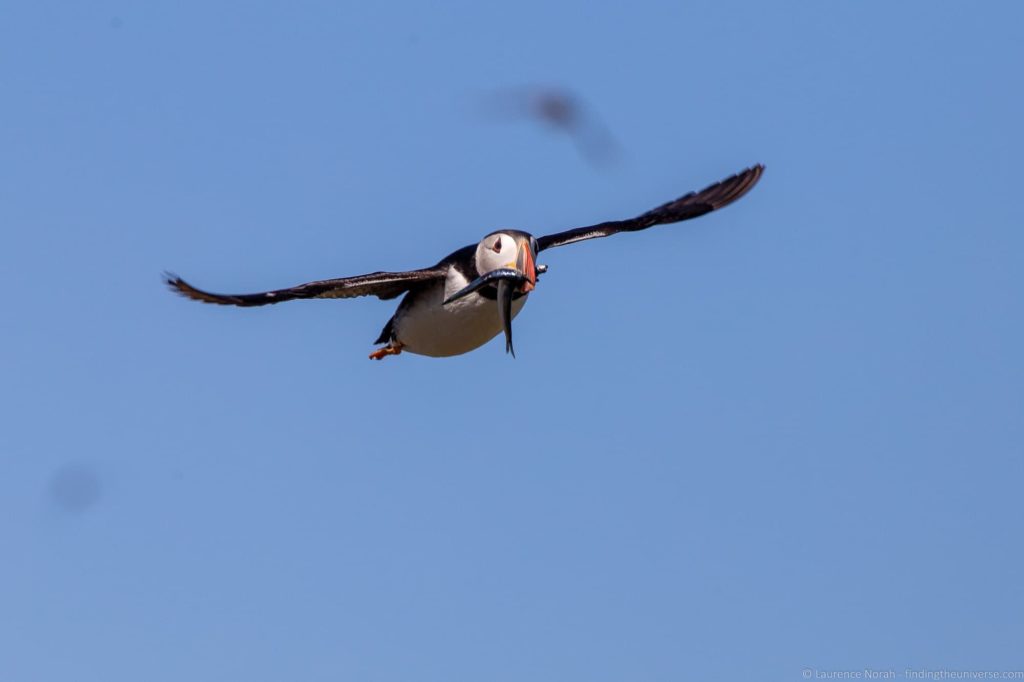 Getting to the Scottish Seabird Centre
The Scottish Seabird Centre is in North Berwick, which is around 25 miles east of Edinburgh, or 100 miles north of Newcastle Upon Tyne. Obviously you can reach it by car, and there is car parking available in North Berwick for visitors.
It's also easy to reach by public transport from Edinburgh. The fastest option is the direct train service from Edinburgh to North Berwick with Scotrail, which takes around 35 minutes. There are also a number of buses you can take. In both cases, hold on to your bus or train ticket, as these can be redeemed for discounted admission to the centre if you don't book in advance.
Further Reading
That pretty much sums up our experience and guide to visiting the Scottish Seabird Centre in North Berwick, Scotland. Before we leave you though, we wanted to point you in the direction of some of our other Scotland and UK resources that you might find useful if you're planning a trip here.
And that's it! We hope you enjoyed our post. As always, if you have any questions or comments on any of the above, don't hesitate to let us know, either from our contact page or in the comments below. Safe travels!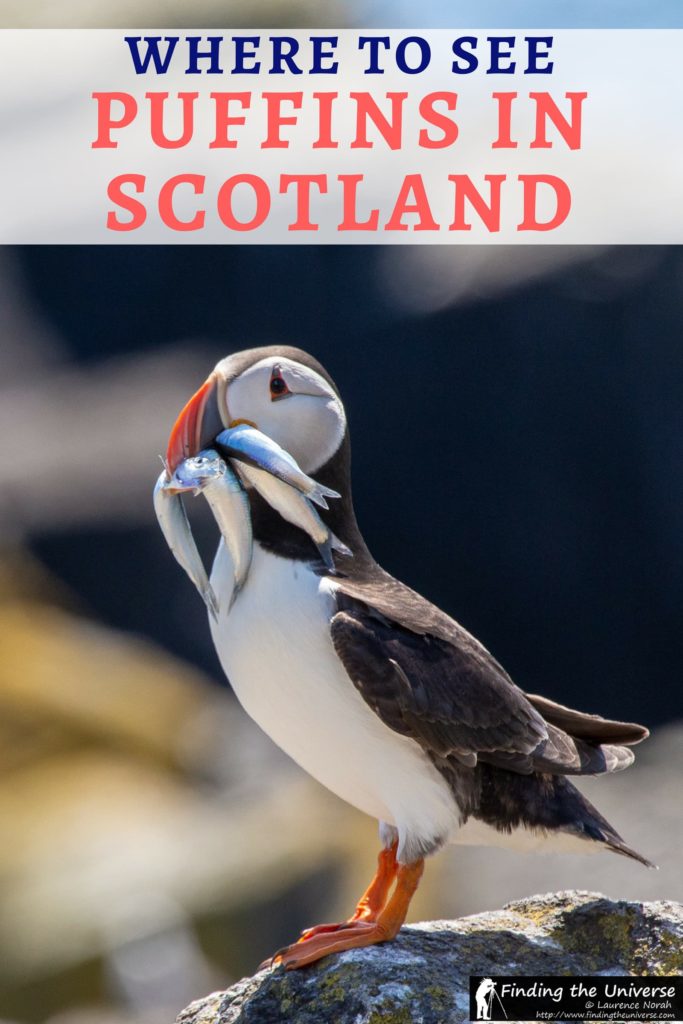 So you know: The Scottish Seabird Centre provided us with complimentary tickets for both the boat ride and our visit to the discovery centre, in exchange for us sharing our thoughts. As always, opinions remain our own – check our out Code of Ethics for more information on how we partner with folks and what that means.