Located in northern Italy, Milan is Italy's second largest city and the capital of the Lombardy region. It is a major financial and commercial center and is well known as one of the world's fashion capitals. However, there's lots more to do here than shop at high-end fashion stores!
We've visited Milan a number of times at different times of year, and in this guide we're going to share with you some of our favourite things to do in Milan.
Whether you are interested in shopping, art, museums, or food, we're sure you'll find something to love in this cosmopolitan city.
As well as a guide to things to do in Milan, we'll also provide some tips on getting around the city, where to stay, how to save money on your visit, and some suggested tours you might consider taking. Let's get started!
Things to do in Milan
This guide covers our favourite things to do in Milan. Of course, there are many more things to do in the city, but this should give you a great starting point for planning your visit. If you are looking for a more structured guide, see our guide to spending 2 days in Milan.
Duomo di Milano
The Duomo, Milan's spectacular Gothic cathedral, is the largest in Italy. The cathedral's full name is the Metropolitan Cathedral-Basilica of the Nativity of Saint Mary. It took six hundred years to build (1386 to 1965), and the result is very impressive.
You can of course go inside (a small fee applies) and admire the interior, and we would definitely recommend doing that. The interior is home to the world's largest gothic vaults of a complete church, and it is indeed massive.
You'll find beautiful stained-glass windows, altars, sarcophagi, and statues. One of the more interesting, if slightly disturbing statues, is the one depicting Saint Bartholomew holding his flayed skin. The most important relic at the cathedral is a nail which is believed to be one of the nails used in the crucifixion of Jesus. An annual celebration called the Rito della Nivola is held around this relic each year.
Underneath the Duomo, and accessed from the interior, is the Archeological Area. This is where you can see what has been excavated of the Baptisteries of Saint John and Santa Tecla which date from the 4th century AD.
Another area to visit is the Duomo's roof terraces. This does require an additional fee, but it is absolutely worth it in our opinion for the lovely views. The roof is a huge space filled with gothic spires, and a trip up here is a must when visiting Milan. You can visit the rooftop by taking the stairs or the elevator.
There is also a museum, The Museum of the Duomo, located in a separate building next to the church. The Duomo Museum contains a large number of art and other elements from the cathedral. This is worth visiting either before or after you see the cathedral.
There are different tickets you can buy depending on which areas of the cathedral you want to visit. Most of the cathedral tickets include access to the cathedral, the archaeological area, and the Duomo Museum. You pay extra if you also want to visit the rooftop terraces.
Tickets can be bought here. An option with an audioguide is available here, or you can book a guided tour here. The Cathedral with rooftop access is also included on the Milan Pass.
Don't forget that this is an active religious building, and like in most churches across Italy, a dress code applies if you wish to enter the cathedral. This generally means nothing too skimpy and that you need to have both your shoulders and knees covered. This applies for both men and women.
In front of the Duomo is, rather unsurprisingly, the Piazza del Duomo; a vast square filled with tourists and pigeons. It's a good place to take photos of the cathedral.
It is strongly advised not to feed the pigeons. Feeding them is not good for the pigeons or for the local people who have to work around and clean the square.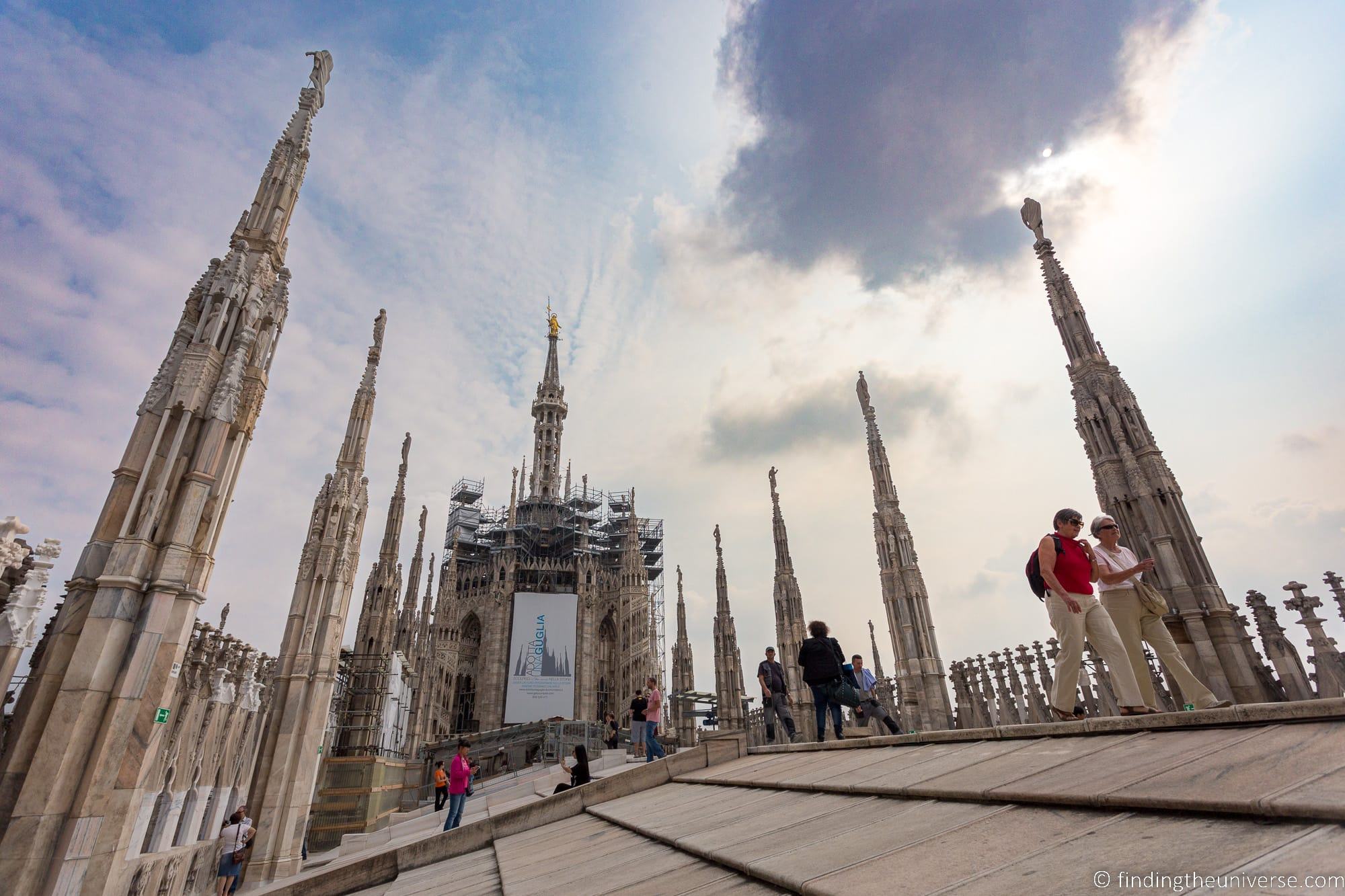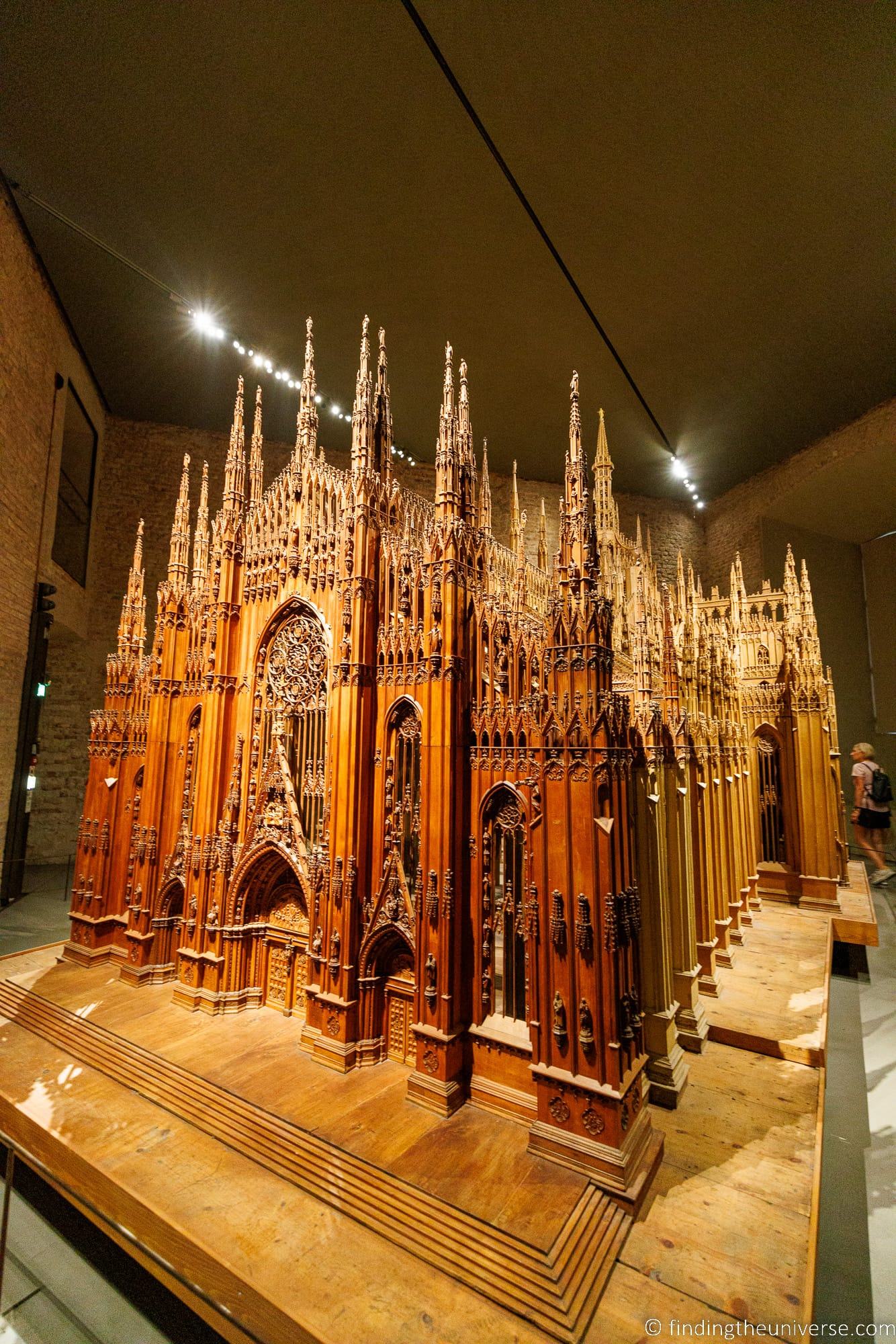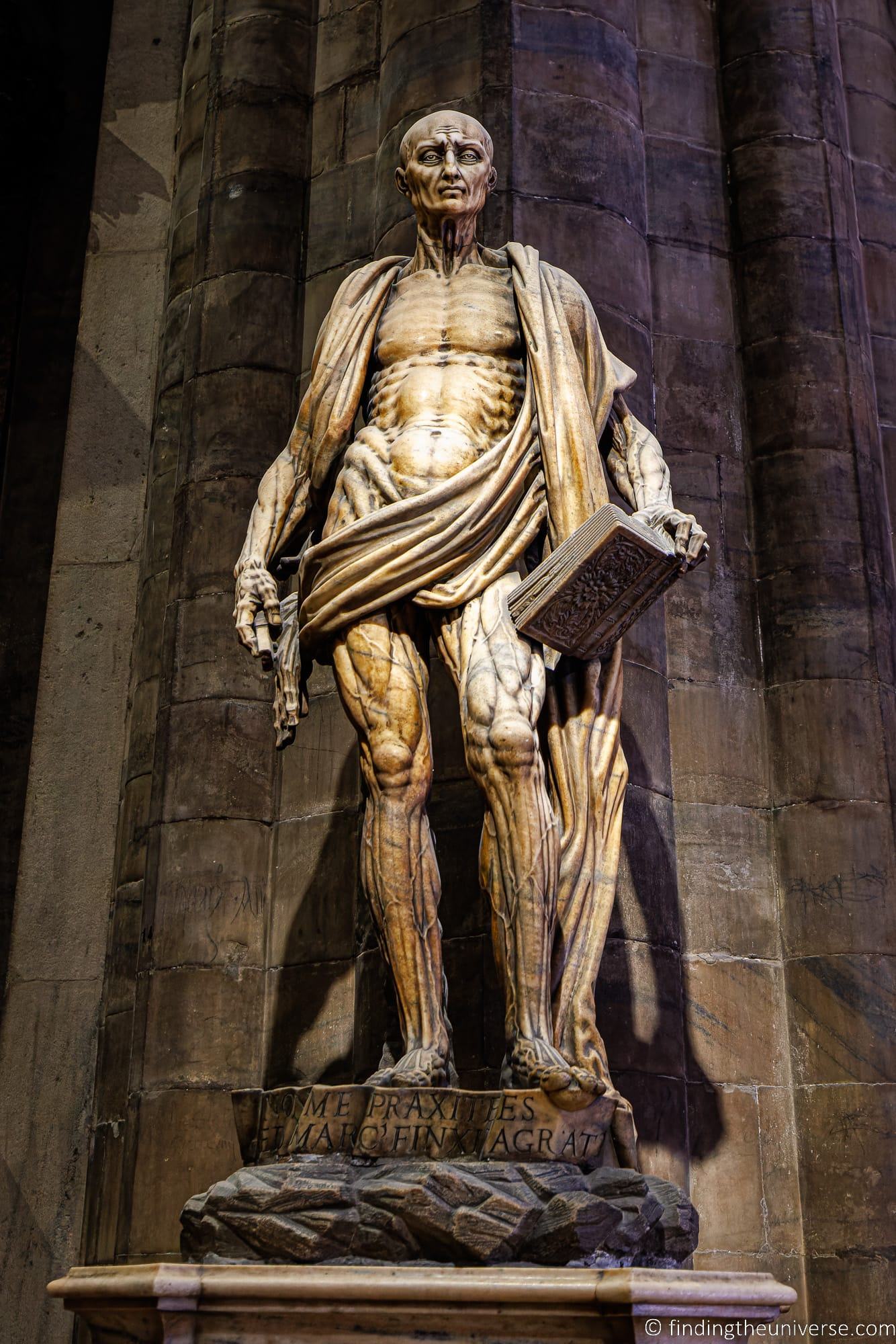 Galleria Vittorio Emanuele II
As we mentioned at the start of this guide, Milan is known for shopping and fashion. And one of the best places to marvel at high-end shops is at the spectacular Galleria Vittorio Emanuele II.
This ornate building is one of the world's oldest shopping malls. It's named for King Vittorio Emanuele II, who was the first King of a united Italy, starting his reign in 1861. That was the same year that construction on this mall started, with a grand opening in 1877.
The entrance by the dome is a huge triumphal arch, with "A Vittorio Emanuele II I Milanesi" inscribed above the entrance. The shopping mall itself consists of two incredible intersecting glass topped arcades. Where the two arcades meet in the middle, there's a huge glass and metalwork dome, under which on the floor you will find an impressive mosaic floor.
These mosaics portray the coats of arms of the three capitals of the Kingdom of Italy (Turin, Florence and Rome), as well as the Milanese coat of arms.
Shops lining the gallery include such icons as Prada, Gucci, and Louis Vuitton. There are also some of Milan's oldest bars and restaurants here.
Honestly, you don't need to like shopping or even intend to go inside a store to appreciate the beauty of this building. It is conveniently right next to the Duomo, making it an easy stop on your tour of Milan. If you don't have a Prada budget, it can still be a good location to consider having a Campari cocktail or enjoying a cup of coffee.
One thing many visitors do is make a visit to the mosaic of a bull (part of Turin's coat of arms). This is because it is considered good luck to put your heel in the spot and spin around.
There are many opinions about how to do this correctly (only the right heel is correct; spin three times around; spin one time around; and so on).
Traditionally, it was also only done on one day of the year by Italians. So, these days you mostly just see tourists enjoying the ritual. But it is a bit of fun, and who knows, you might get some luck out of it as well. And if you don't, well, the people watching opportunities are good too!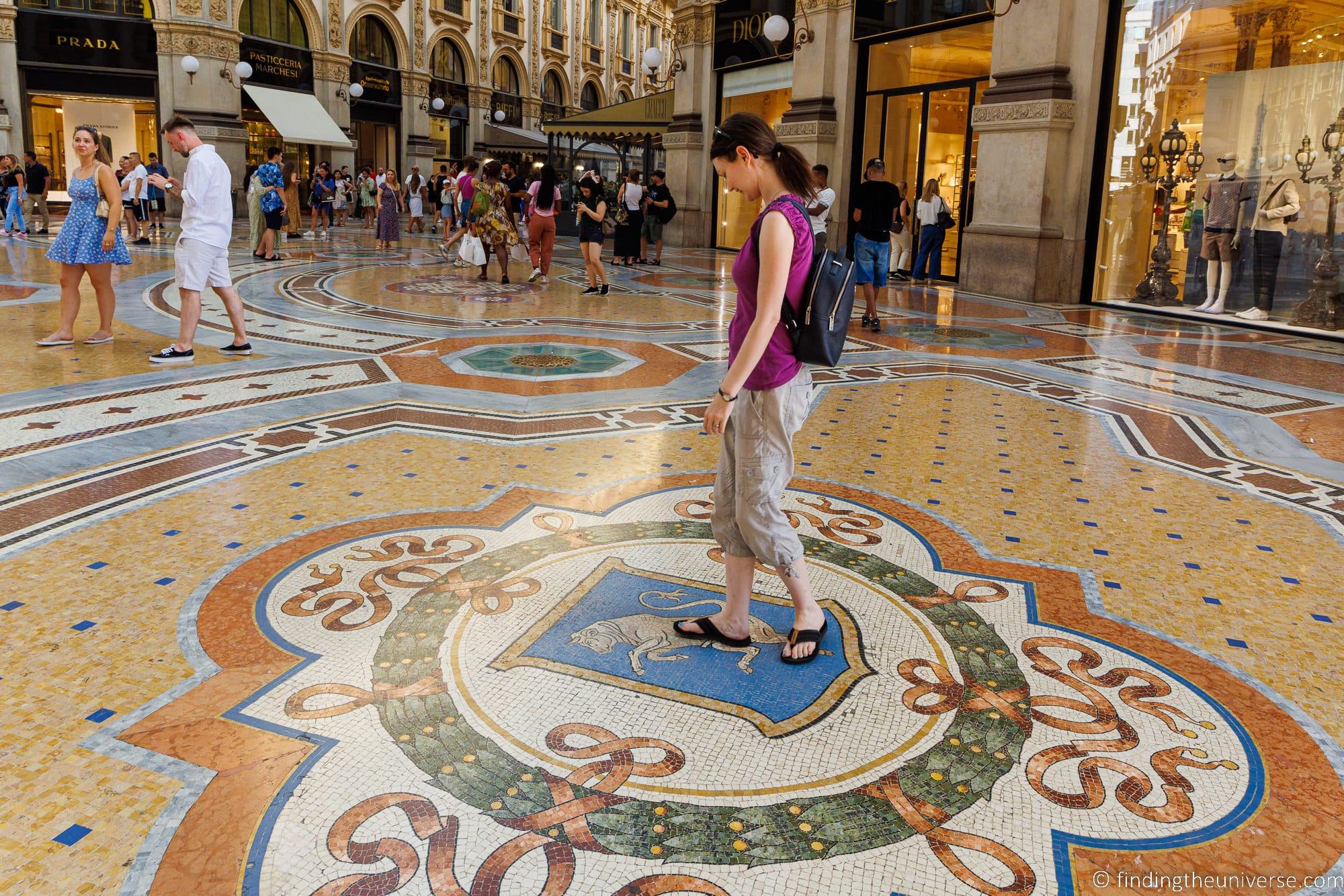 Teatro alla Scala
Milan is home to one of the world's most famous opera houses, the Teatro alla Scala, also known as La Scala. It is located near the Galleria Vittorio Emanuele II.
Dating from 1778, this theatre is one of the world's leading opera and ballet theatres. The world's greatest opera singers have performed here, and it has been the setting for premieres of productions such as Madame Butterfly.
It is of course possible to visit the theatre and attend a performance, although these tend to be quite popular and so you will want to book well in advance. You can see the schedule of performances and book tickets on the official website here.
If you'd like to see the theater without attending a performance, then you can book either a guided tour or you can visit the museum.
Museum access lets you see the theatre from some of the boxes, although access is dependent on the rehearsal schedule. The theatre may also be undergoing work, as it was when we visited.
A guided tour is more expensive but also more comprehensive, normally giving you behind-the-scenes access so you can see how the theatre works. This is a very popular tour with limited availability, so definitely book in advance for that.
You can see tour times and prices, as well as museum entry times and prices on the museum website here. Access to the Museum is also included on the Milan Pass.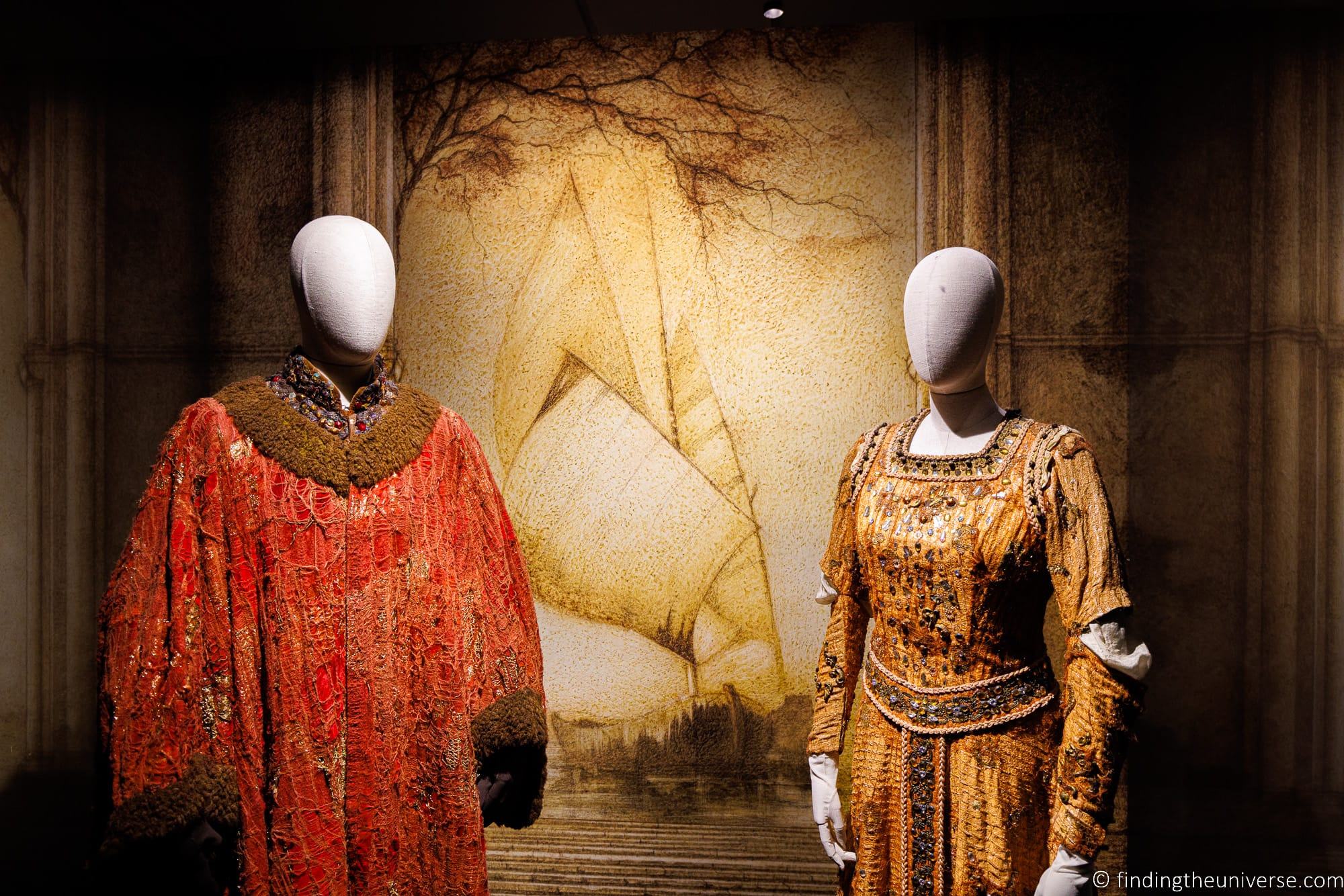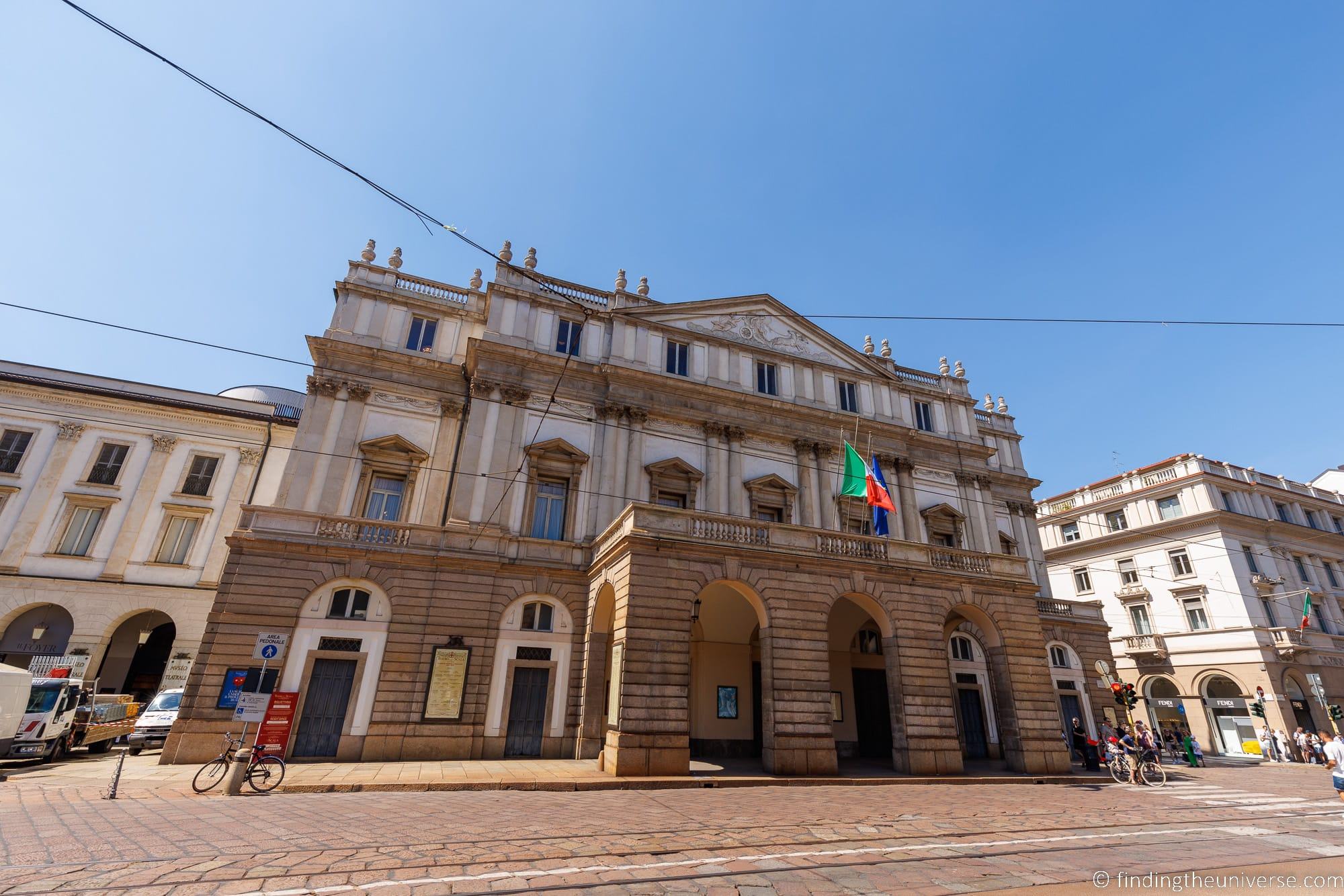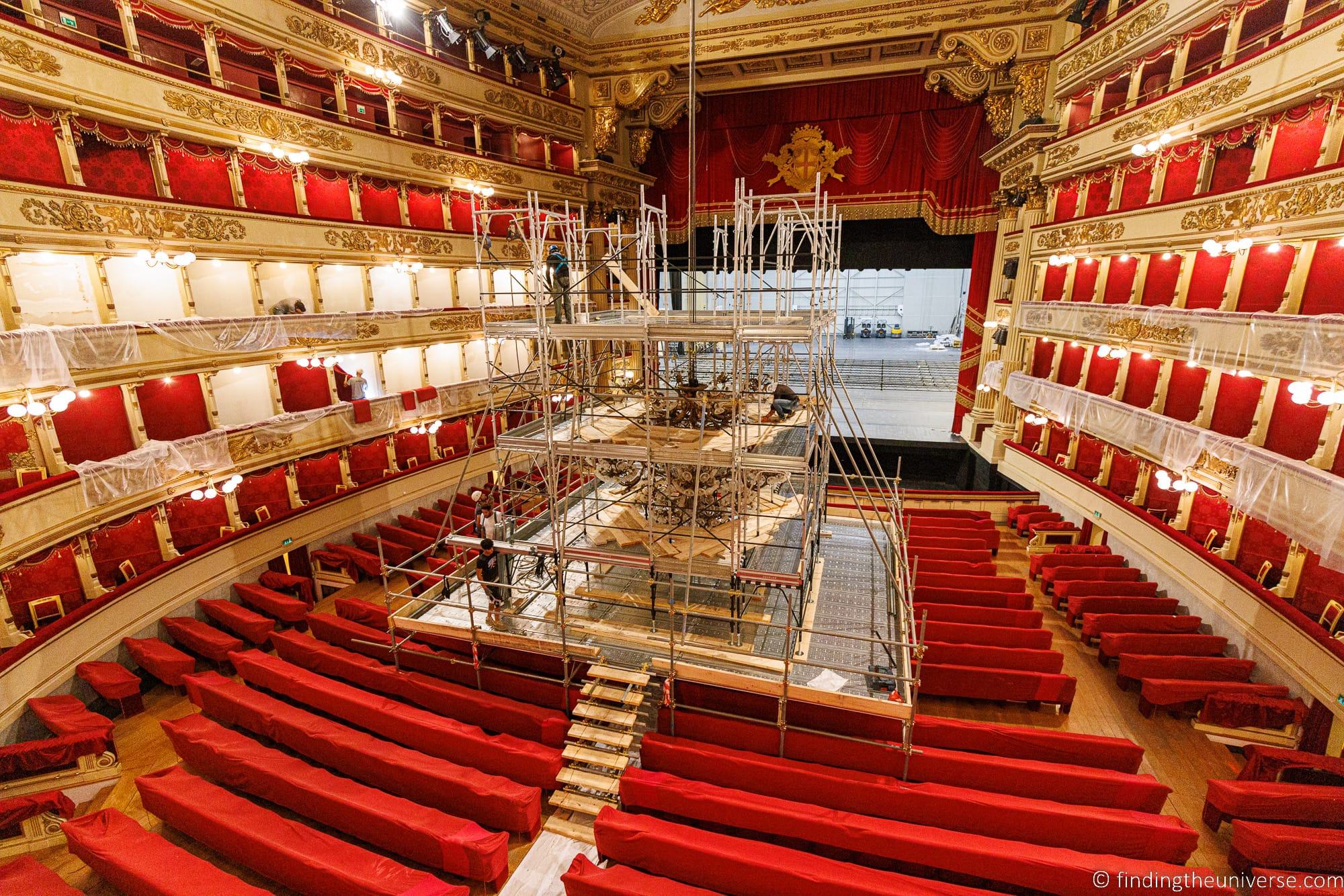 Santa Maria delle Grazie and Da Vinci's "Last Supper"
Milan is home to one of the world's most famous paintings, the "Last Supper" by Leonardo Da Vinci. This is painted onto a wall found in the refectory, or dining hall, of the Santa Maria delle Grazie church.
The painting depicts the scene of Christ's Last Supper with the Twelve Apostles, and specifically the moment when Jesus announces that one of the twelve will betray him.
It is widely regarded as one of Da Vinci's most important works. The mastery of perspective, and the way it seems to naturally extend the room where it was painted are quite amazing.
In addition, the depiction of emotion on the characters faces as they respond to Jesus's announcement is superb, with recognisable emotions ranging from surprise through to anger and shock.
Unfortunately, Leonardo decided to experiment with unfamiliar techniques and materials when it came to actually creating the mural, which meant that it started to deteriorate almost as soon as it was completed.
Over the centuries (it was completed in 1498) it has suffered a great deal of damage, as well as various restoration attempts. Today's version of the painting is the result of a 21-year restoration project that was completed in 1999. Little of the original work by Da Vinci remains, although the work is still hugely impressive to see.
As a visitor today, you enter a strictly climate-controlled environment that minimises humidity in an effort to reduce further damage. You cannot bring in any food or drinks (even if in your bags). If you have these, you will want to leave them in a free locker before your visit.
The lighting is also controlled. When we visited, photography was permitted (without flash), but video and selfie sticks were not permitted.
A visit does require some planning and you'll want to book your tickets in advance. This is a hugely popular sight in Milan and tickets on the official site can sell out months in advance. The first time I visited Milan I wasn't aware of this, and so missed out. On a return trip, whilst tickets had sold out, I was able to visit by taking this excellent walking tour.
So don't panic if tickets aren't available for your date, you may still be able to visit by joining a guided tour that includes tickets such as this tour or this one.
It's important to realise that however you visit, there are strict controls in place. Visits are limited to 15 minutes, with a maximum of 35 people allowed in per time slot. Everyone enters and leaves at the same time.
When we visited, we each had to show a government issued photo ID (such as a passport or driver's license) that matched the names we'd provided the tour company to collect our tickets. So you may want to be sure to have a photo ID on you.
You are also not allowed to take any larger bags, bulky items, umbrellas, food, or drink inside. There are free lockers where you collect your ticket, but just be sure to leave enough time to use them before your visit starts.
Despite the strict controls, we think a visit is definitely worth it, as the painting really is impressive to behold. We can also recommend visiting it as part of a tour, as the guide can help you understand what you are seeing as there is limited information inside the room itself.
After visiting The Last Supper, since we were part of a guided tour, our guide then took time to explain more about the painting, Leonardo's time in Milan, and how it came to be painted on the walls of this Dominican convent. Our guide also pointed out some of the art and architecture within the 15th century Santa Maria delle Grazie church before we continued on with the tour.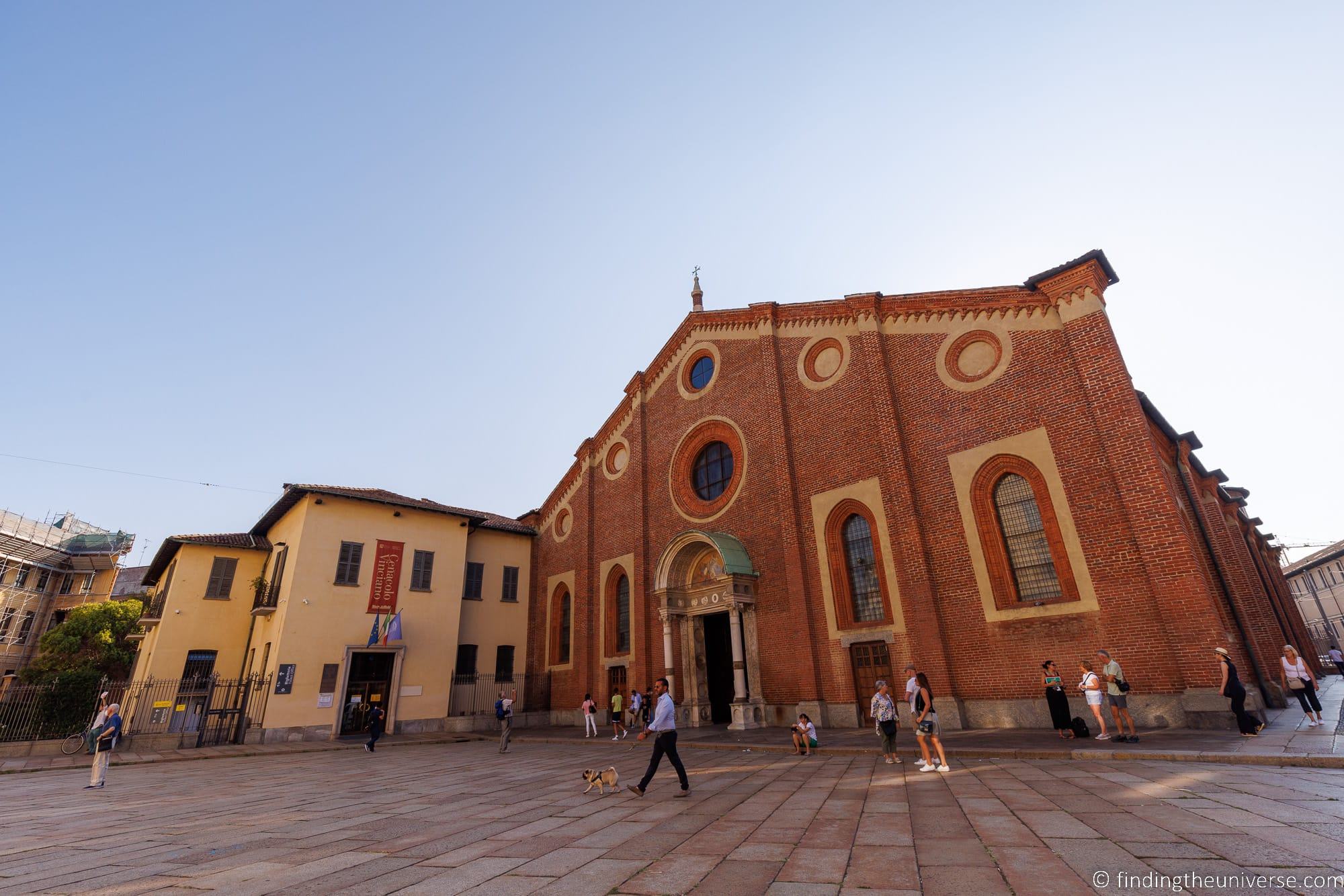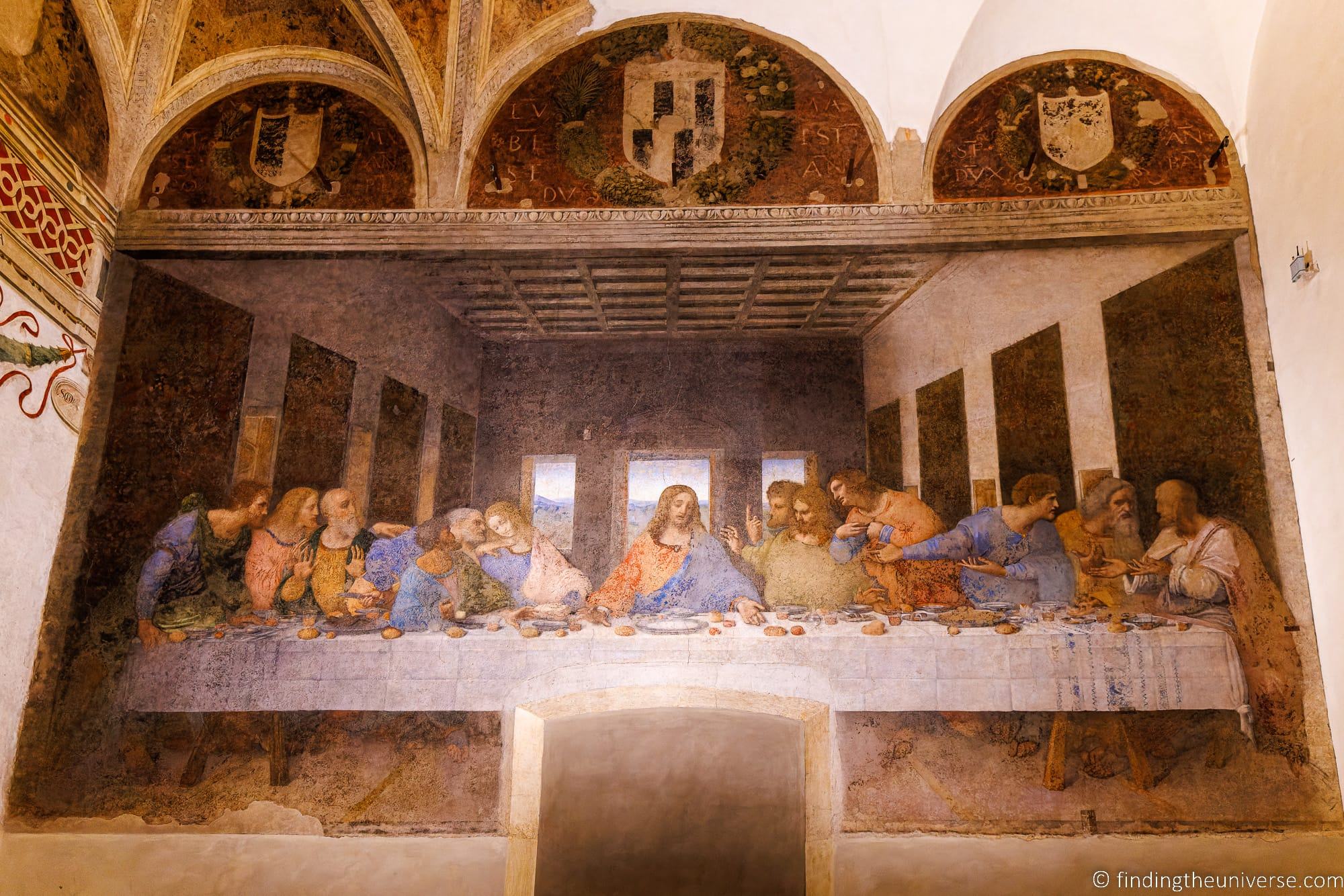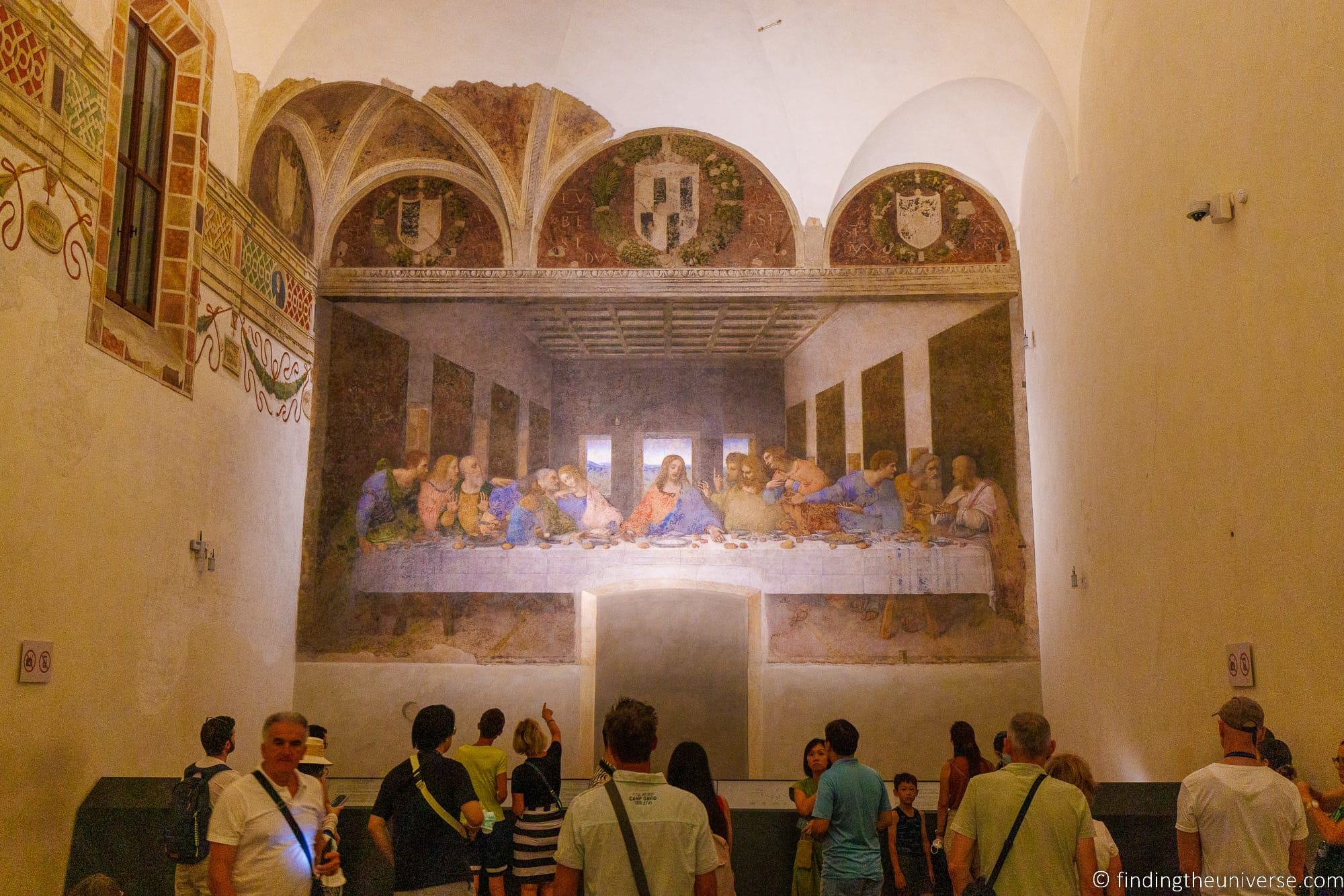 Castello Sforzesco
In the Middle Ages, different regions of Italy were ruled by different powerful families. In Milan, the House of Sforza were the ruling family from 1450 through to 1535. During this time they built the massive Castello Sforzesco on top of the remains of a 14th century castle.
It was built as the residence of the head of the Sforza family, and as you might imagine, no expense was spared in its construction. Designed to fulfill both defensive and aesthetic roles, the castle is an imposing brick construction which includes thick defensive walls as well as defensive towers. At the time, it was one of the largest fortresses in Europe.
It was also decorated by the finest artisans of the day, including Leonardo da Vinci and Bramante.
Today, a large part of the castle still survives, and it is open to visitors. The castle grounds are free to visit, however you can also visit the castle museums, of which there are eight. These are found within the castle itself.
The museums cover a range of subjects, including Renaissance art, ancient art, musical instruments, Egyptian artifacts, and archaeology. It is a huge complex with loads of museums within that have a bit of everything on offer including paintings, statues, porcelain, violins, sarcophagi, coins, furniture, tapestries, weapons, and armour. Be sure to leave some time as there is a lot of ground to cover if you wish to visit all the museums.
You'll also find the Museum of the Rondanini Pieta, which houses Michelangelo's last known sculpture. It's an unfinished work, and when compared to his beautiful Pietà in St. Peter's Bascilica, it is pretty underwhelming. However, it is worth seeing if you are visiting here and it is one of the most well-known artworks in the collection.
Entry to the Castle Museums is ticketed, and offers great value considering how much it includes. You can see prices and opening times here. It's also included on the 3-day Tourist Museum Card.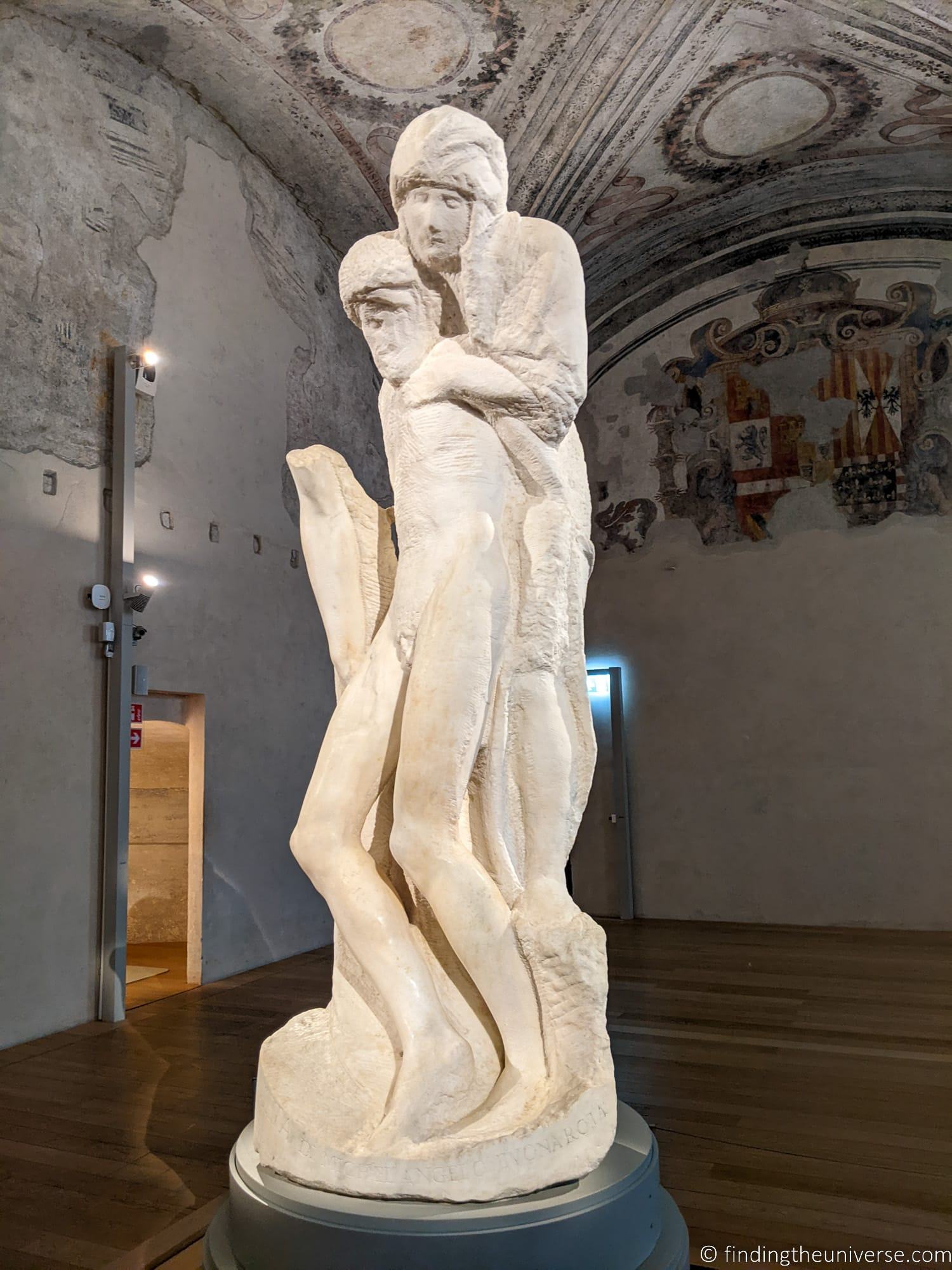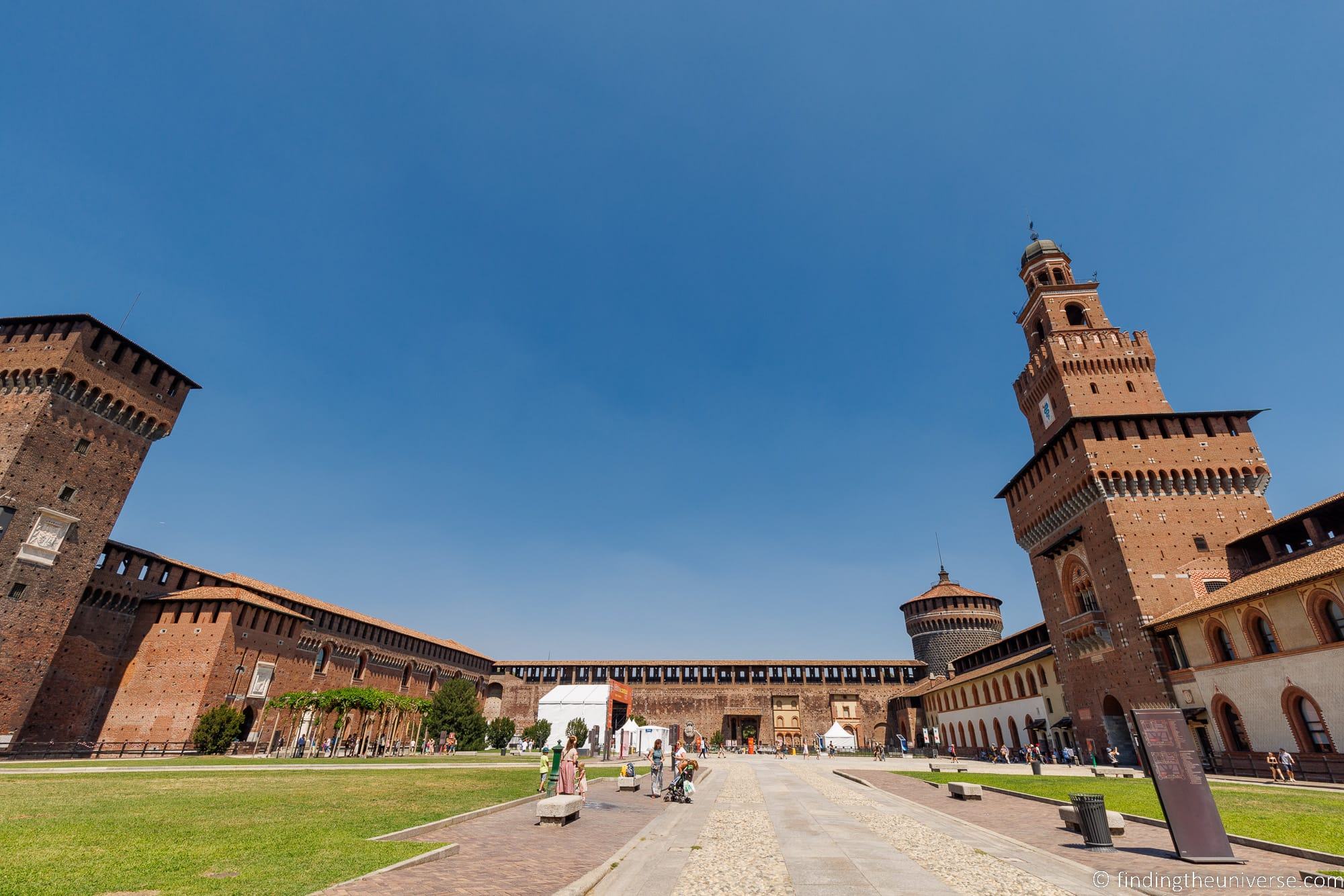 Parco Sempione
This 95-acre public park, designed in the style of an English garden, is located next to Castello Sforzesco. It was established in 1888 with the intention of providing the visitor with panoramic views of both the castle and also the Arch of Peace opposite it. We think it has definitely achieved this aim.
It is a very nice park, with sculptures, ponds, plenty of lawn to relax on, and some lovely old trees where you can find shade on a hot day.
On weekends, especially in the warmer months, the park is very popular with locals. You'll find vendors with ice-cream carts, drumming circles, musicians, kids playing, people performing, and families enjoying a picnic.
Inside the park, but accessible from the outside, is the 108 meter (354 ft) high Branca tower. This panoramic viewing tower is named after the Branca liquor company, and it is open for visitors.
An elevator will take you to the top, from where you can get spectacular views across the city. It's ticketed, and you can buy your ticket online in advance here.
Also in the park (with the entry outside the park) is the Triennale, a museum for design and architecture.
Cimitero Monumentale
Cimitero Monumentale is the main cemetery used by the Milanese elite. A number of well-known Italians are buried here, but if you are not Italian, you might not recognize many of the names. But you may still want to visit here to see the many beautifully carved tombs and monuments that can be found throughout the cemetery.
Many families tried to make sure they were not forgotten and left a lasting impression. So don't be surprised when you come across a pyramid decorated with a sphinx as a memorial, towering angels, or a tomb depicting a life-sized bronze version of the Last Supper.
When you arrive at the cemetery, there is an unobtrusive tourist office on the left. Admission is free, but it is worth visiting this office to see a map, get information from staff, and such to plan your visit.
You will then make your way into the Famedio, which is also known as the "Temple of Fame" and which is the main entrance to the cemetery. The huge building was originally designed by local architect Carlo Maciachini as a Catholic chapel and a place of burial and celebration of the memories of those who had passed. Several well-known Italians are buried in the building or below in the crypt.
After visiting the Famedio, you can enter the cemetery itself. This is divided by faith, with the largest part given over to members of the Catholic faith. However, there are also sections for Non-Catholics and for Jewish people.
The cemetery is free to visit. As this is a place of rest, there is a dress code and you are asked to dress respectfully. You can read more about visiting on the official website here.
Cimiterio Monumentale is about a 20 minute walk from Sforzesco Castle. It also has a subway stop, Monumentale, making it easy to reach by public transport from anywhere in the city.
It's worth noting that there isn't much information here in English to help guide your visit, so if you are interested, you might consider joining a guided tour of the cemetery. For example, this 1.5 hour tour can help give you context and ensure you visit the most important and interesting locations within the cemetery.
Try Milanese Food
As with many parts of Italy, Milan has a range of local dishes that you should try while in the city. Many of these are quite hearty, and some can only be found in winter when the temperatures are cooler.
One of the things you'll notice is that rice and polenta dishes are much more common here than in more southern regions of Italy. Boiled and stewed meats are also popular. The most famous cheese from the region is Grana Padano, which you'll find on most local cheeseboards along with the local salami.
Some of the highlights you should try include:
As you can see, there's plenty to fill you up in Milan! For more ideas, see this guide to Lombard cuisine.
If you don't have a lot of time in Milan, but want to try several local foods, we'd recommend taking a food tour. Some we recommend considering include:
Of course, there are many more options. See all the food themed tours in Milan on GetYourGuide here.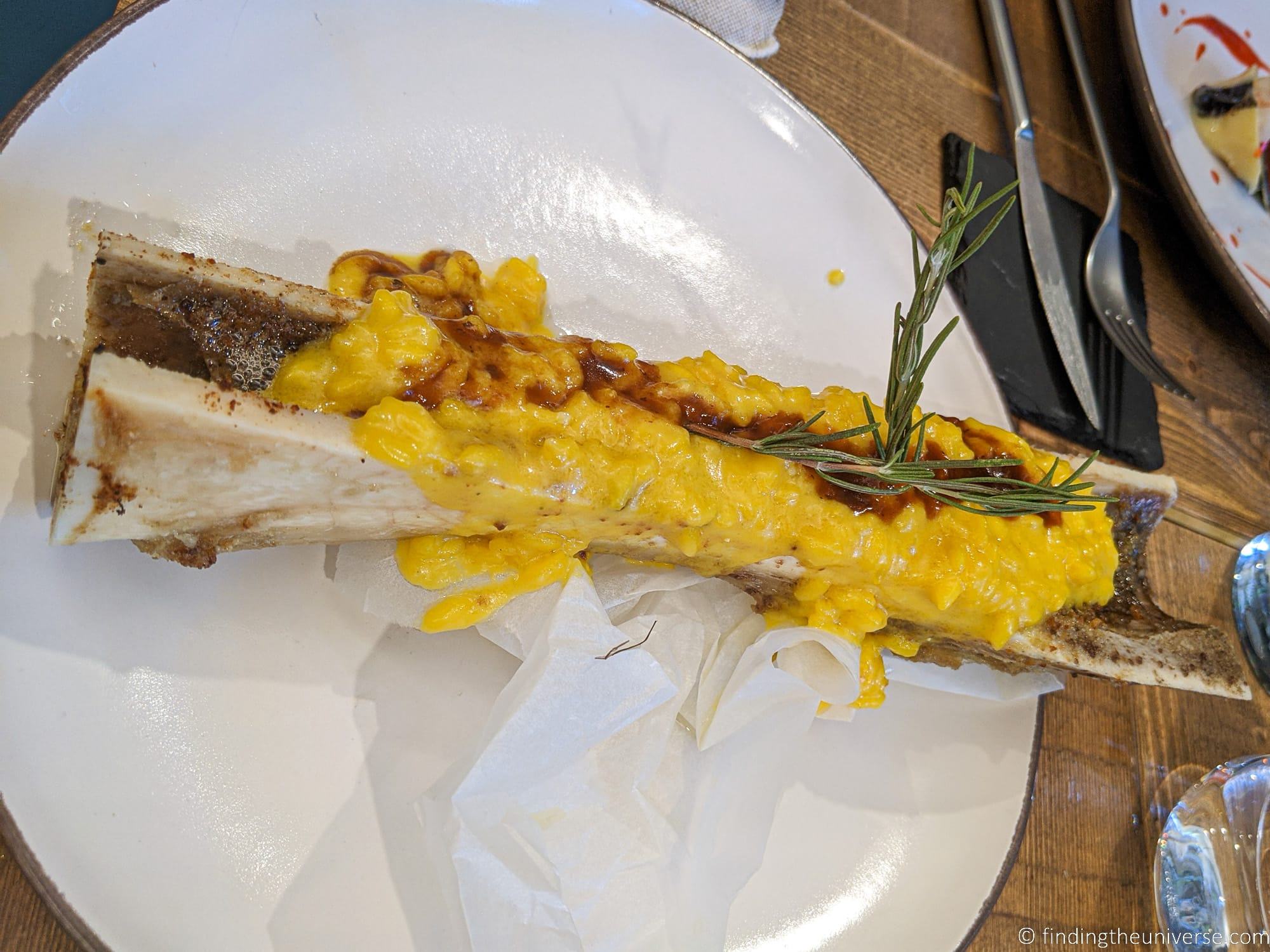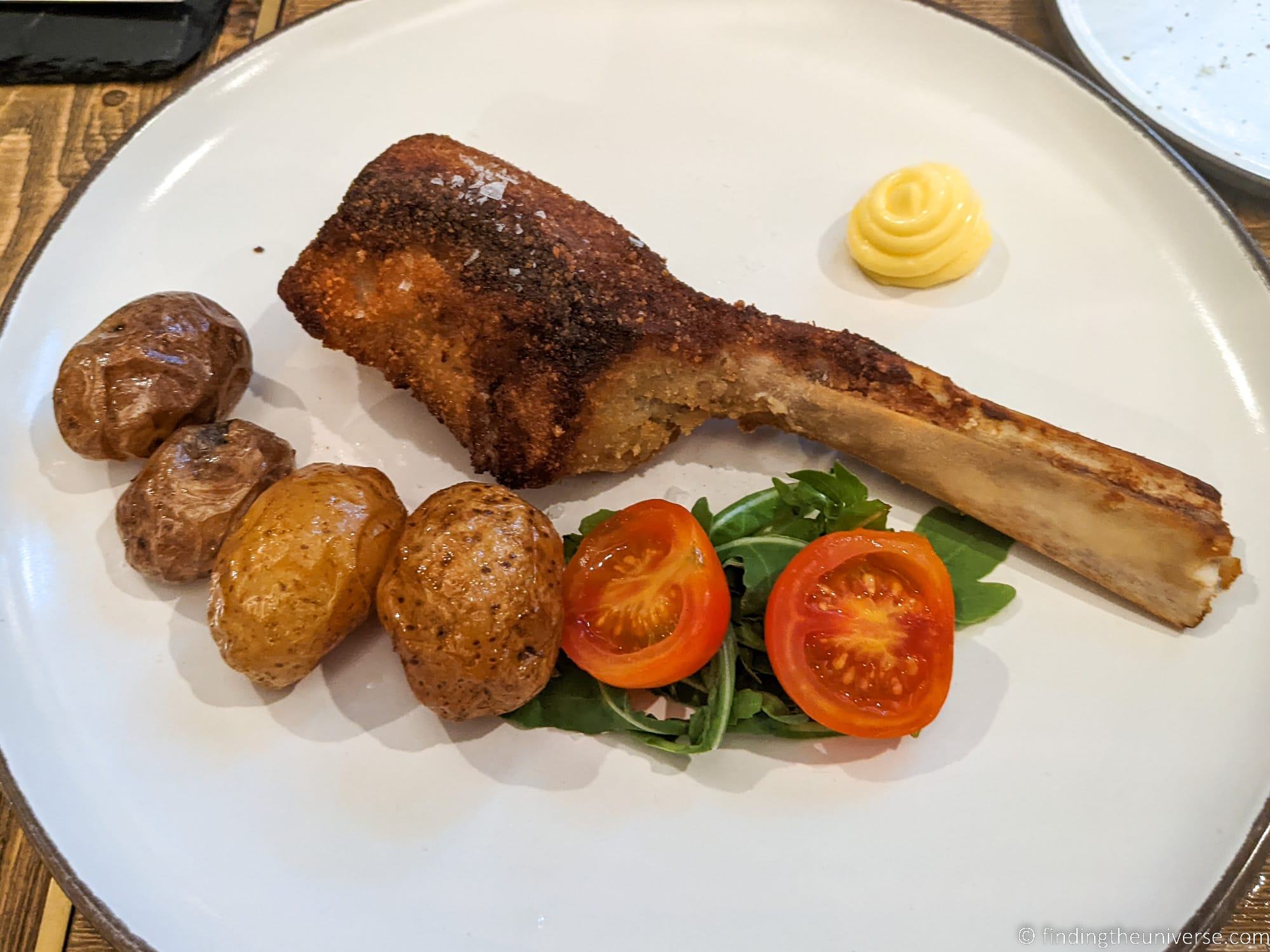 Go Shopping
Milan is known as one of the fashion capitals of the world, and hosts the Milan Fashion Week twice a year, one for the autumn/winter collections and one for the spring/summer collections. You can see the dates for the upcoming fashion shows here.
However, you don't have to be here during Fashion Week to buy some Italian fashion of your own. If you are into high-end fashion, Milan has you covered, with all the top designers (both Italian and international) to be found in the city. But you can also find smaller indie brands, high street brands, and your everyday fashion brands in the city.
If you are looking for high-end designer wear in Milan, then head to the Quadrilatero della Moda, which literally translates as fashion square. This is where you will find the highest concentration of Italian design houses and boutiques. Another good spot is the previously mentioned Galleria Vittorio Emanuele II.
If you are more in search of a bargain, a popular place for visitors who enjoy shopping is to head out of town to the Serravalle Designer Outlet centre.
With over 200 stores, including Versace, Gucci, Nike, Armani, Calvin Klein, Prada, Celine, Levis, Burberry, and The North Face, this massive shopping centre is about an hour from Milan. You can visit here by train, or you can book a convenient round trip shuttle transfer here.
If you'd like to learn more about fashion in Milan, you may also consider taking a tour like this with a style guide. They'll guide you through the options and you'll learn about the history of fashion, what a Made in Italy label means, and visit a designer's studio.
There are more fashion and shopping related tours here as well, some are aimed at learning about fashion and others are geared to helping you shop for clothing in the city. If you want to shop but feel intimidated or are not sure where to start, a personal stylist guide can definitely help.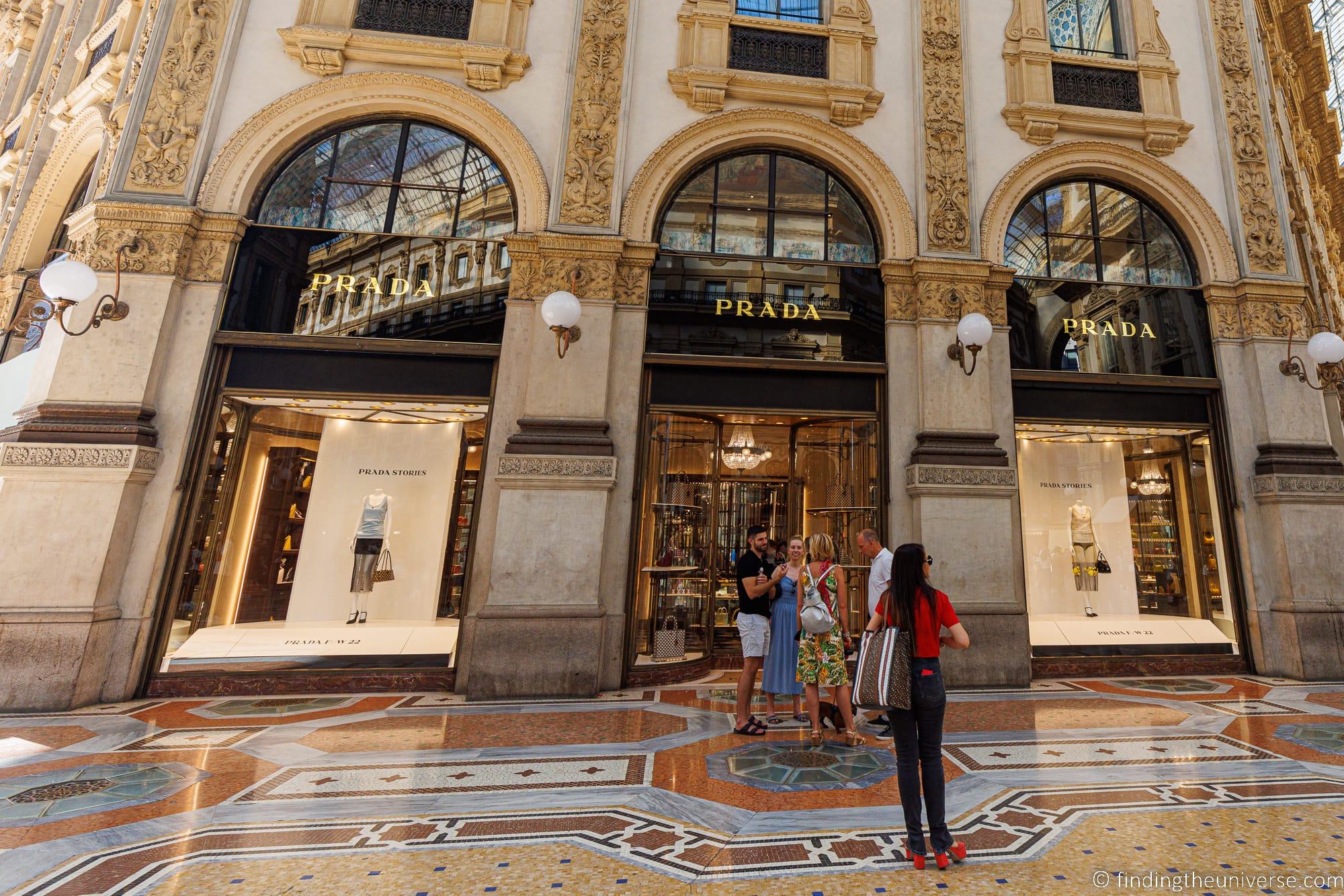 San Bernardino alle Ossa
San Bernardino alle Ossa is a Catholic church which originally dates from 1145. However, the original was destroyed by fire, and was replaced by the church you see today which was consecrated in 1776.
The church might not look like too much from the outside, however it is quite a pretty church inside and it is particularly well known for its ossuary or bone chapel.
This is a small side chapel which is entirely decorated with human bones, similar to the Capuchin Crypt in Rome.
You might be wondering why this is. Well, in 1210, the cemetery adjacent to the church ran out of space. So, the bones of the dead were stored in a room specifically built for this purpose. It certainly makes for a dramatic sight.
This church is just a 5-minute walk away from the Duomo. It's free to visit, and the ossuary can be found just to the right of the main church.
Piazza dei Mercanti
The Piazzi dei Mercanti, or Merchant's Square, is the former medieval centre of Milan. It is much smaller than it used to be in the Middle Ages, when it was the bustling heart of the city, however, we think it is worth a visit.
Here you'll find four main buildings, including the 13th century "broletto", which was the city's administrative capital at the time. There are also two palaces on the square, as well as an early 14th century loggia.
In the centre of the Piazza you'll notice a pit surrounded by two columns, which dates from the 16th century. There are also various statues and monuments around the square.
Many people miss Piazza dei Mercanti because it's a little bit tucked away. However, as it's so close to the Piazza del Duomo and offers a unique glimpse into Milan's history, we think it is well worth at least a quick stop.
Pinacoteca di Brera
Lovers of Italian art will definitely want to head to the Pinacoteca di Brera, or "Brera Art Gallery". This was probably our favorite art museum we visited in Milan.
This is the main public gallery in Milan which is dedicated to Italian paintings, and it spans a time period from the 13th century through to the 20th century. The museum has works from a huge variety of artists including Raphael, Bramantino, and Mantegana. We particularly liked the Canaletto paintings, largely because we have a soft spot for Venice.
Something else we also found interesting when we visited were the public displays of restoration activity on various works. So you can actually see the restoration process in action, which is quite fascinating to behold.
There's a fee to visit, and when we visited you needed to pre-book your ticket online in advance to visit. You can read more about opening times and prices on the official website here.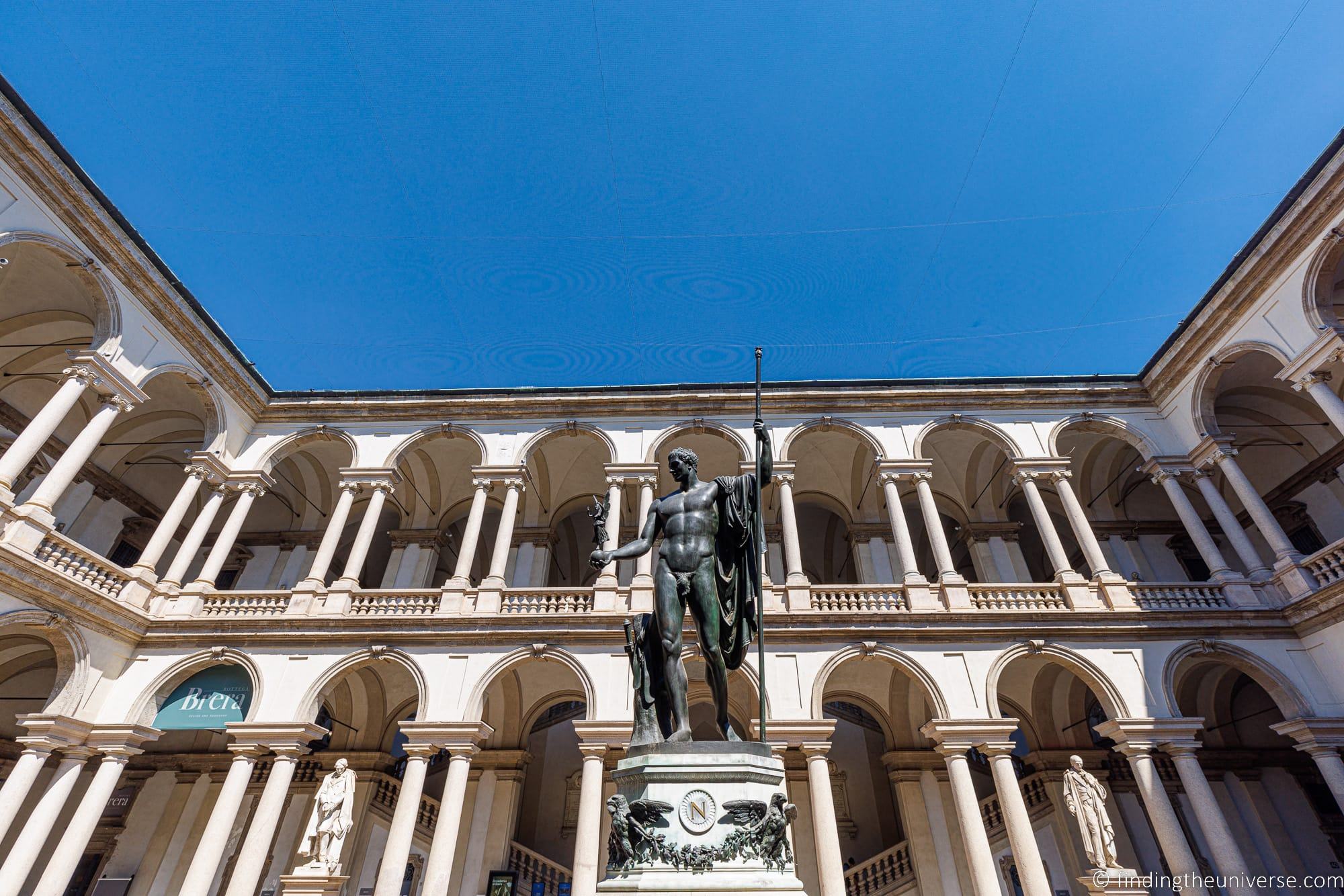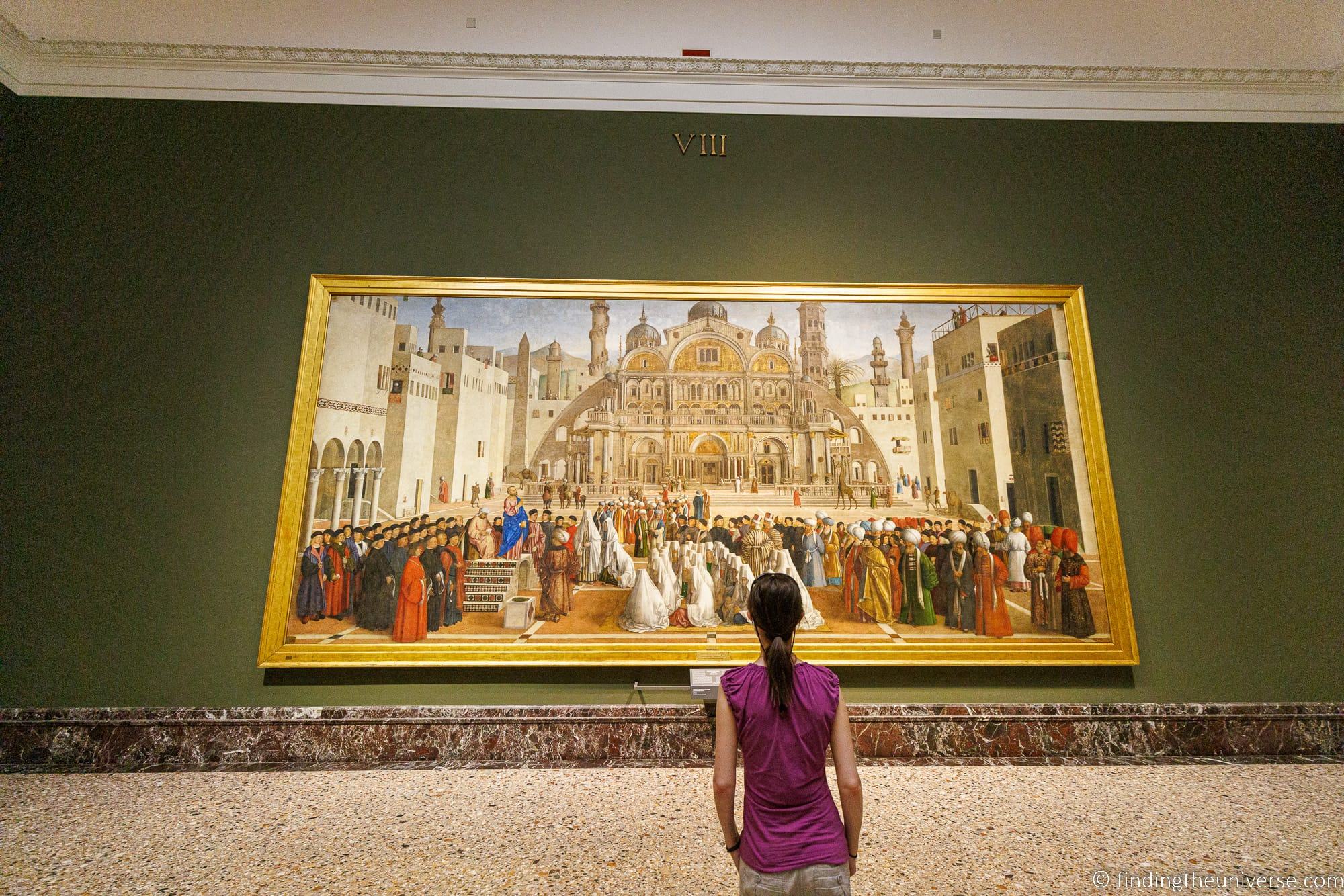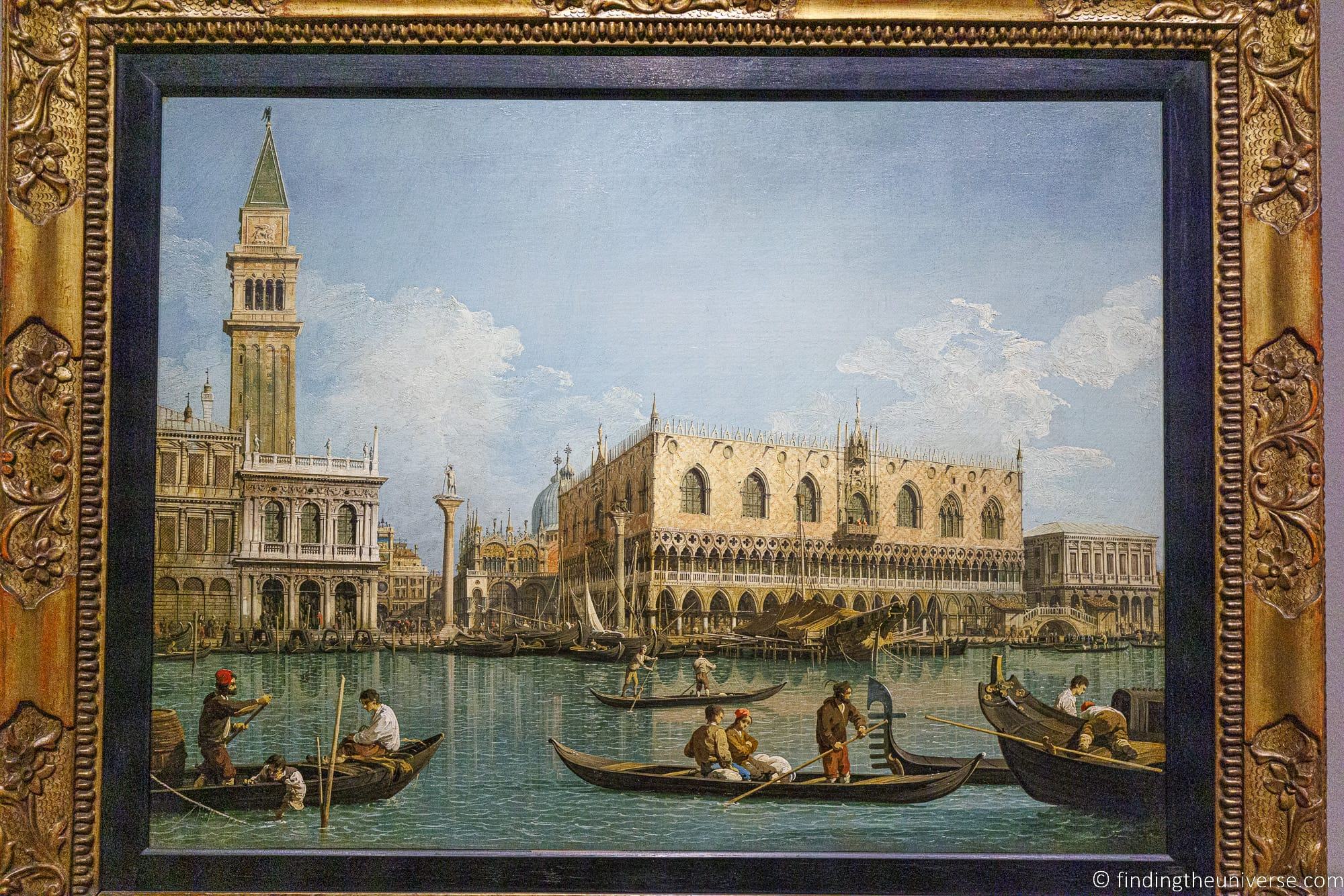 Basilica di Sant'Ambrogio
Whilst the Duomo is by far the most popular and visited church in Milan, there are of course a number of other churches you might consider visiting when in the city.
The Basilica di Sant'Ambrogio is one of these. This is one of the oldest churches in the city. It was originally founded in 379 by St. Ambrose, Milan's patron saint, at a location where numerous martyrs were buried. When he founded it, it was known as the Basilica Martryum.
The version you see today dates from the early 12th century, when the church was rebuilt in the Romanesque style. It was renamed in honor of the city's patron saint, and his remains are buried here.
The church is slightly unusual in that it has two towers, which reflects how the basilica was inhabited by two separate religious groups, the monks and the canons.
The 9th century "Monk's Tower" was used by the resident monks to call the faithful to their mass. The canons were not allowed to use this tower, and so they built their own tower in the 12th century!
The basilica is open to visitors and you can find out more about visiting on the official website here.
Navigli district
If you're looking for an area to while away an evening, enjoy an apertivo or just people watch, then you should consider a visit to the Navigli district. Found in the south west of the city, this is where you'll find what remains of Milan's canal system.
Originally, landlocked Milan had five canals, which date back to the 12th century. They were built to connect Milan to the lake system of Italy, enabling trade and transport. In particular, the marble for the construction of the Duomo would likely have been transported via these canals.
It is also said that Leonardo Da Vinci was involved with improvements to the canal system in the 15th century. Whilst it's hard to prove either way, he was certainly in Milan and working for the duke at the time, so there's a good chance he would have given any improvements his input.
Today two canals remain, the Naviglio Grande and the Naviglio Parvese, forming a triangle that is today known as the Navigli district. A lot of work has been put into reviving the area, which now boasts cafés, bars, restaurants, art galleries, design stores, book shops. It's a great spot to while away a few hours after a day of sightseeing.
Just be aware that prices will likely be higher than in other parts of the city due to the popularity. But it is a lovely location and I always come here for a drink and meal when in Milan.
In the spring and summer months you might also consider taking a canal cruise, which you can book here. A canal cruise is also included on the Milan Pass.
You can also visit the Navigli area on a guided tour like this, and on an aperitivo tour like this.
Hop on Hop off Bus Tour
If you would like a convenient way to get between the major sights in Milan which also comes with an audioguide to introduce you to the city, then consider a Hop on Hop off bus tour.
We always enjoy taking a hop on hop off bus tour, especially when we visit a new city. It is a good way to see the layout and see the main sights of a city. They take away the hassle of navigating the public transport system and give our feet a rest from the sightseeing.
And if you do some planning, they can also be a very convenient way to get between the sights. If using them for this purpose, we recommend planning out your itinerary to correspond with the bus stops.
Milan is a large and sprawling city and these buses cover the majority of places that most visitors would want to go. If you don't want to use public transit in Milan, these are a good option.
Milan's Hop on Hop off buses offer four different routes and cover all the major attractions in the city. You can buy your tickets online in advance here. A Hop on Hop off bus ticket is also included as part of the Milan Pass.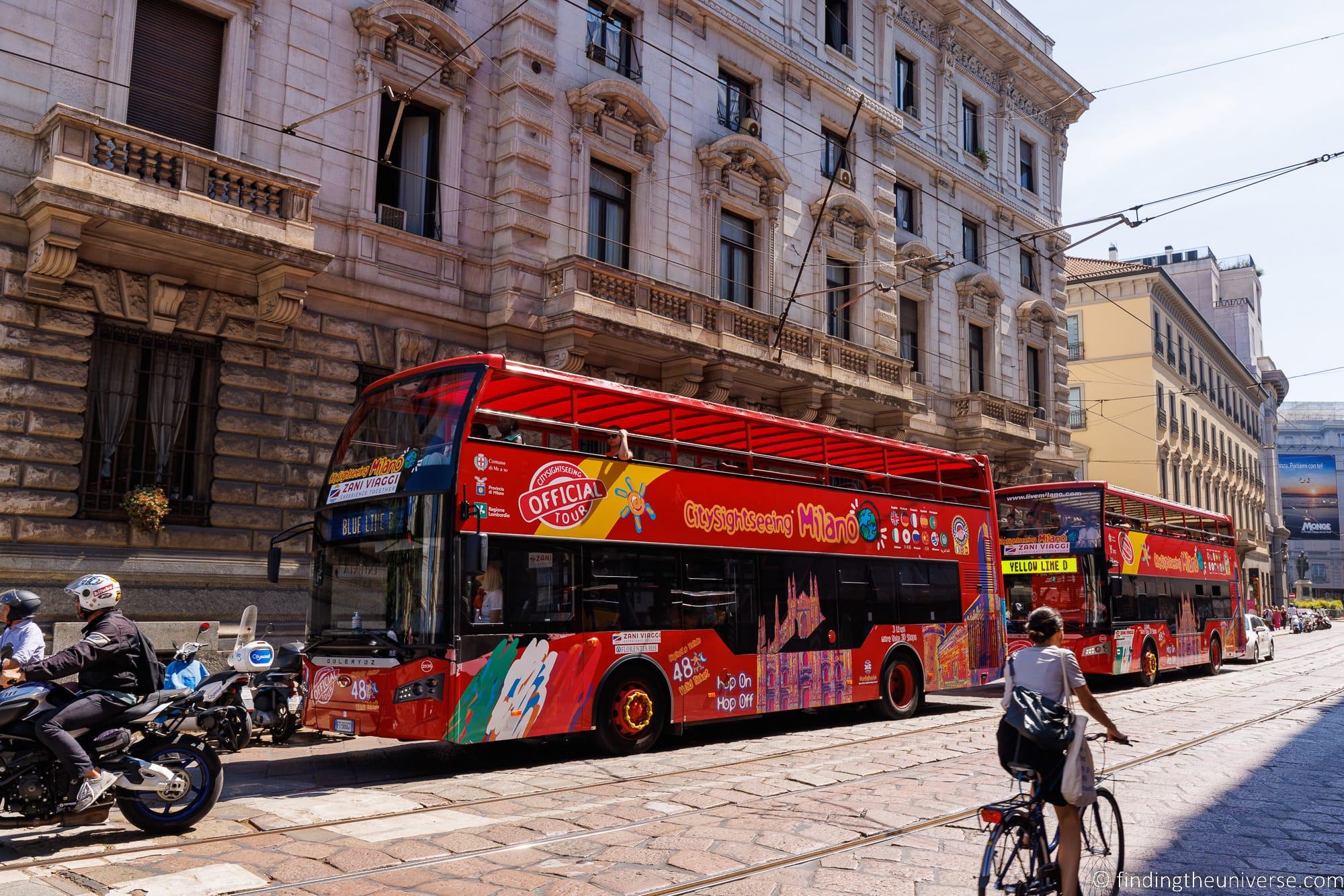 Roman Sites in Milan
"Mediolanum", as Milan was known as during Roman times, was one of the largest and most important cities in the Roman Empire in Italy. For a time, Milan was the capital of the Western Roman Empire.
Unfortunately, not a lot of Roman Milan can still be seen today as most of the original structures have been destroyed, buried, or reused over the centuries. There are glimpses here and there, you just have to know where to look.
For example, in front of the Bascilica di San Lorenzo, you will find large Roman columns known as the Colonne di San Lorenzo. These Corinthian columns are believed to date from the 2nd century and to have come originally from either a temple or public bath house.
Another location for spotting Roman ruins is the former location of the Palazzo Imperiale di Massimiano, where you can see a small remnant of what would have once been an impressive imperial palace.
This was built by the Emperor Maximian when Milan was the capital of the Western Roman Empire, and was the official residence of the Emperor and his court.
You can find remains of Roman walls and a tower from the time of Emperor Maximian (3rd century) in the courtyard of the Archaeological Museum.
If you are interested in learning more Roman Milan and seeing more Roman artifacts (as well as Greek and Etruscan), then you may want to plan a visit to the Milan Archaeological Museum. You can find out more details about visiting here.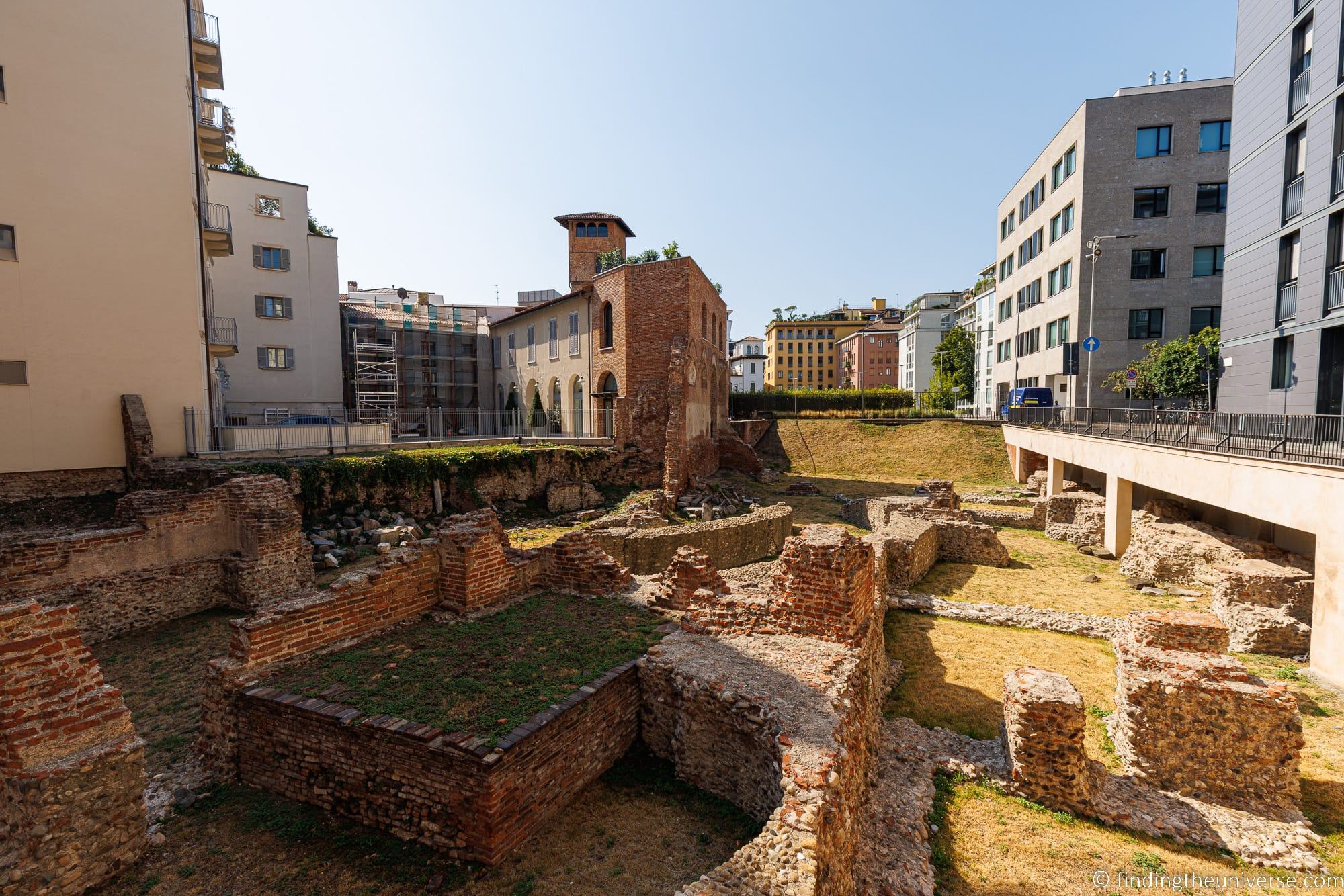 Starbucks Reserve Roastery
Italy is well known for coffee and its coffee culture. So it was with a bit of trepidation that Starbucks, the world's best known coffee chain, opened its first store in Italy. The main reason for this is that Italian coffee culture is quite different to the American coffee culture of Starbucks.
In Italy, it's far more common for coffee to be served as a shot of espresso, often consumed standing up at the counter in a ritual that may only last minutes. It was actually in Milan that Howard Schultz was first inspired to offer espresso-based drinks to American consumers.
So Starbucks had to do something a bit special to bring their style of coffee consumption to Italy. And we think they definitely succeeded in Milan, where in 2018 they opened the Starbucks Reserve Roastery in the city's former stock exchange and central post office.
When it opened, it was only the third Roastery in the world, although more have since opened. A Starbucks Roastery is definitely not your average Starbucks. It's a grand experience, where you can watch the whole coffee roasting process happening right in front of you.
There's also a huge range of coffee beverages and production styles to choose from, ranging from standard coffees through to coffee-based cocktails, pour over coffees, and more. There's also an on-site store, where you can purchase a range of coffees and coffee accessories.
Overall, we think this is a worthwhile stop on a visit to Milan. The interior design is beautiful, and it's interesting to see the coffee roasting process in action. Plus the coffee and mocktails we had were really good.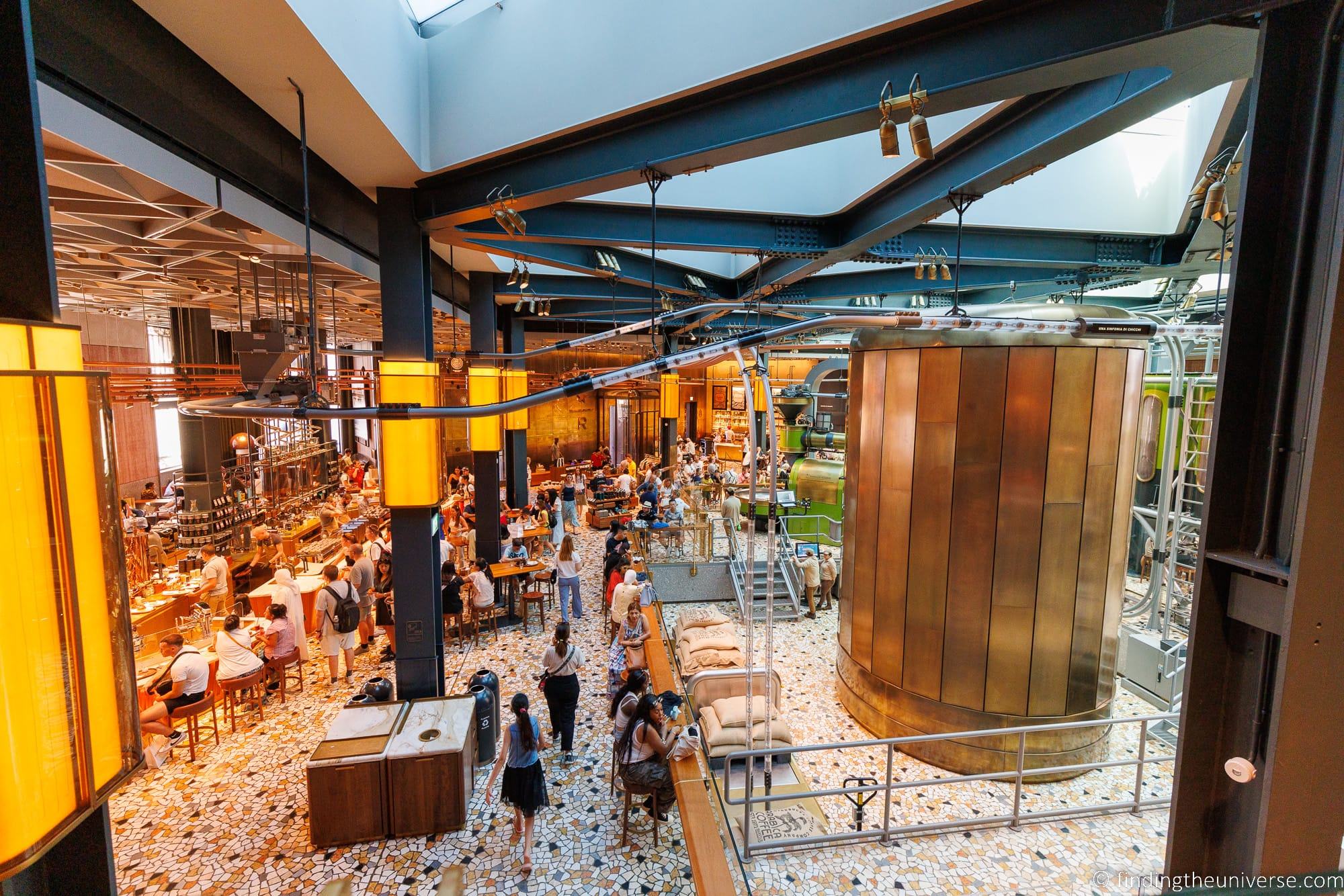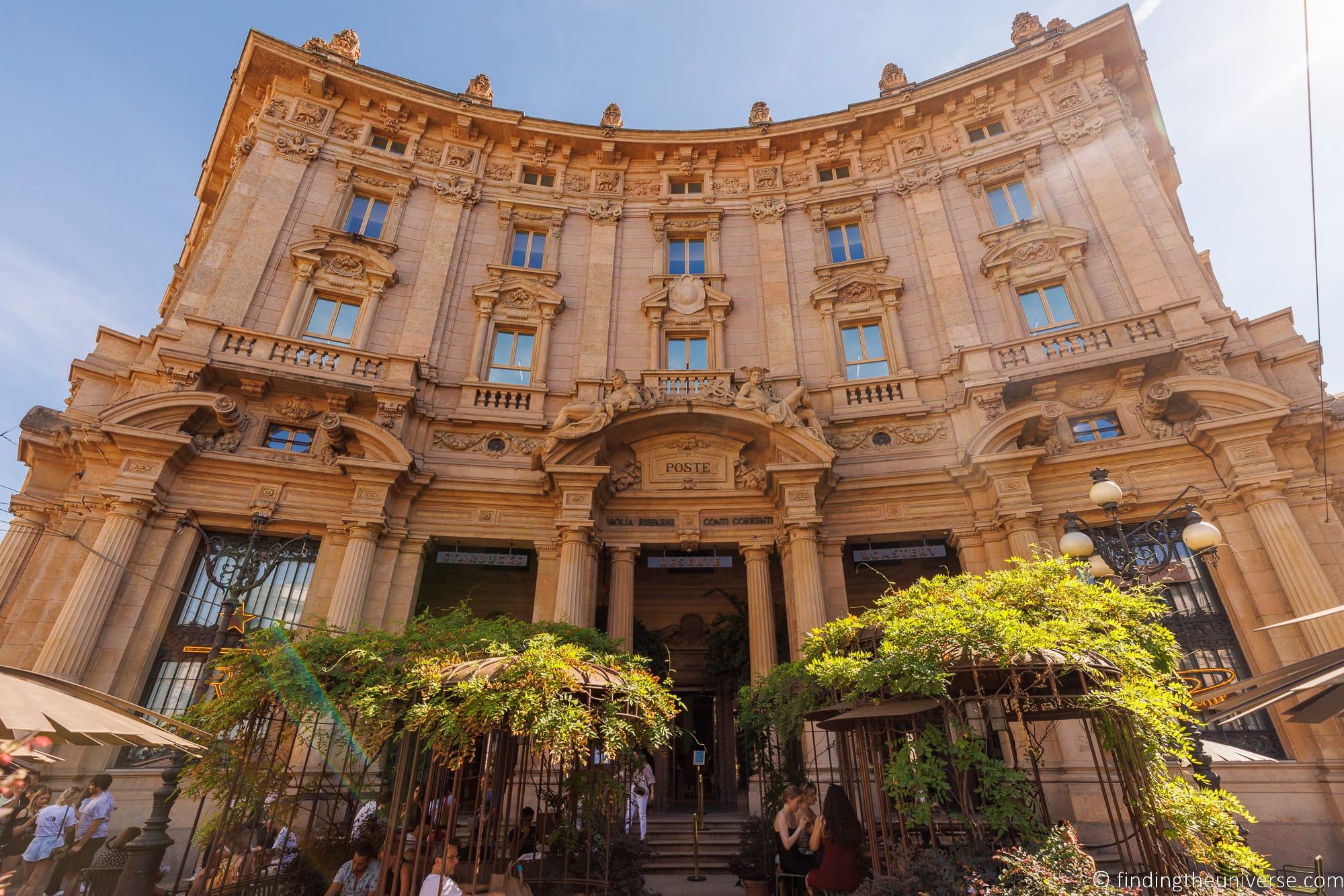 Museo del Novecento
The Museo del Novecento is an art museum that focuses on twentieth century art. The permanent collection takes you through time through the 1900s. There are also regularly changing temporary exhibitions.
The gallery features Italian artists including Amedeo Modigliani, Carlo Carrà, and Umberto Boccioni. It also has an excellent collection of works by international artists including Pablo Picasso, Henri Matisse, and Paul Klee.
There is a fee for visiting, and you can find out more about prices and opening times on the official website here. The museum is included on the Tourist Museum Card.
The museum is located next to the Duomo so it is easy to combine with a visit before or after visiting the cathedral.
Shoah Memorial
The next recommendation is to a place that was essentially forgotten for over four decades. During World War II, Milan was the central deportation location for the Jews of northern Italy. As you are no doubt aware, during the Second World War, millions of Jews as well as other groups deemed by the Nazis to be inferior were systematically murdered.
Milan's central train station was where the Jewish prisoners were loaded onto trains and dispatched, primarily to Auschwitz, where the majority of them were killed.
Deportation happened at Platform 21, an underground loading area which was designed for freight transport. It allowed for large volumes of freight to be handled through the station without disruption to passenger services.
The secretive nature of the location made it ideal for the much more sinister use of processing Jewish prisoners. They were loaded onto livestock freight cars in the early mornings, before the cars were raised up via elevator and sent to the concentration camps. Nearly all those who passed through lost their lives.
Today, the platform and deportation facility has been restored and was reopened as a public memorial, the Memoriale Della Shoah Di Milano, in 2013. It is the only surviving deportation facility that can be visited in the world.
A visit starts with an introduction by a staff member. Then you are able to visit the deportation platform and see a railway car which was actually used for deportation. There is also a wall of names, testimonials, and places for reflection.
There's a fee for visiting, and you can find out more about opening hours and prices here. It is normally closed on Fridays, and guided tours are generally available on weekends. We highly recommend that if you wish to do a guided tour, that you book these in advance. There is also a library and bookshop located here.
One other thing to look out for when in Milan are the Stolpersteine or "Stumbling Stones". These are brass markings which can be found in the streets, and which mark the locations where Jewish people lived prior to being deported. The first memorial stones in Milan were placed in 2017.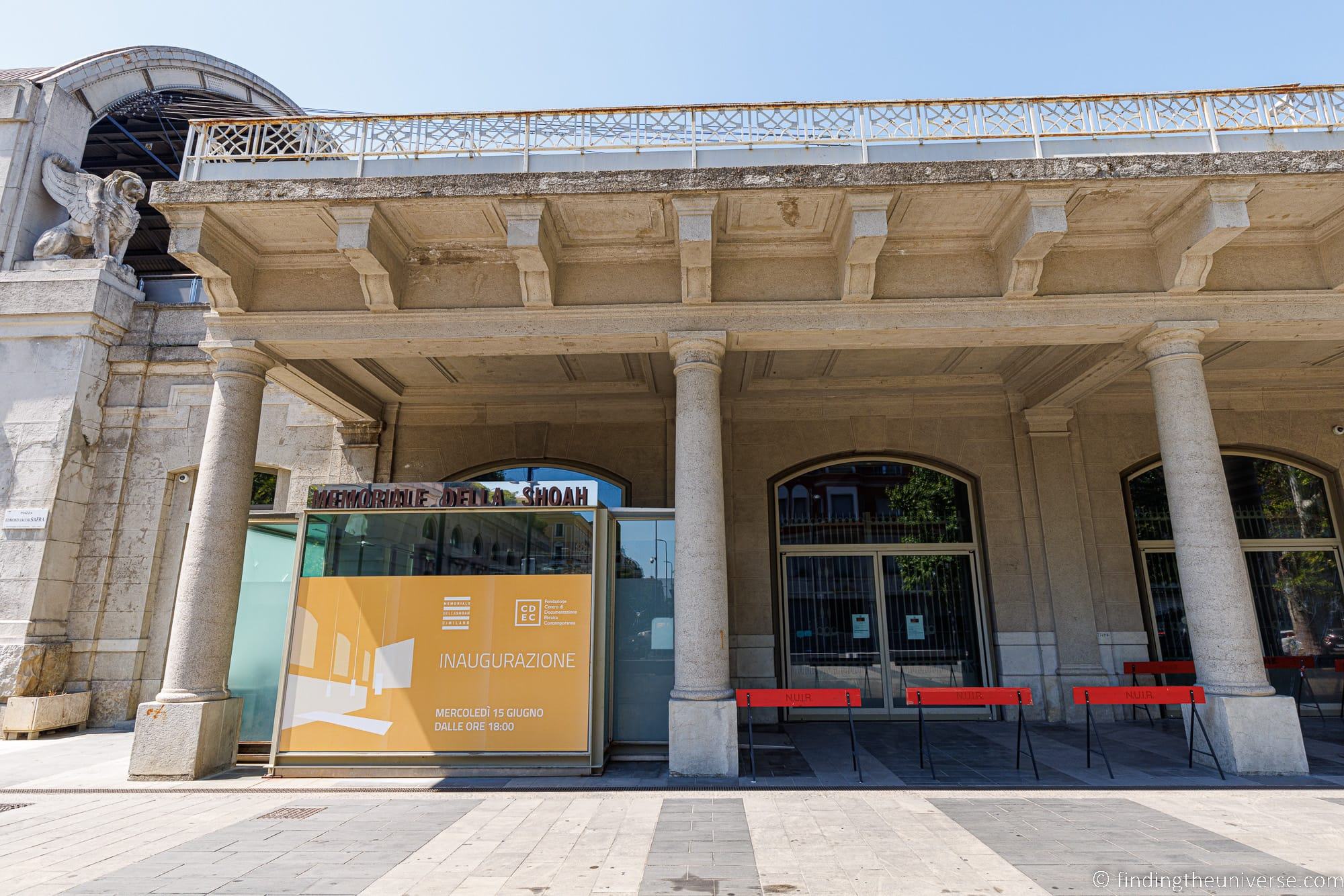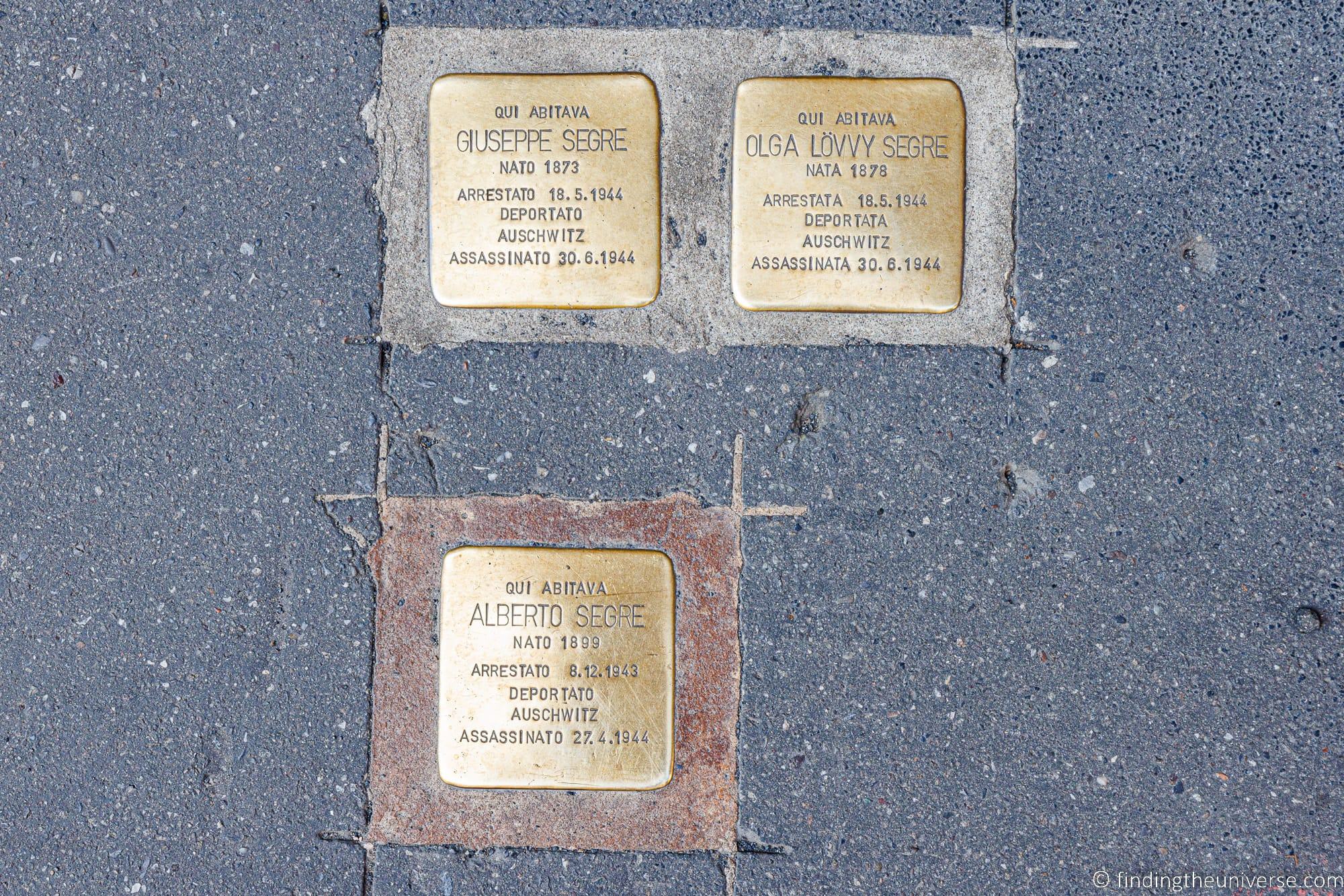 Drink Campari
If you are wondering what kind of aperitivo to enjoy in Milan, a Campari cocktail is a good one to consider.
One of the most well-known alcoholic beverages invented in Italy is Campari. This liquor, which is characterised by its bitter flavour and red color, was invented in 1860 in Novara (about 50km west of Milan). Production began in 1904, with a plant in the Milanese suburb of Sesto San Giovanni.
Today, Campari is used in a number of popular drinks. It is the basis for well-known cocktails including the negroni (gin, vermouth, and Campari) and americano (sweet vermouth, soda water, and Campari).
For something a bit lighter, you can also drink it mixed with soda water (Campari & soda), orange juice (Garibaldi cocktail), still white wine (pirlo), or sparkling wine (Campari spritz).
You can drink Campari all across Milan, but for a special experience, consider heading to the Camparino in Galleria in the Vittorio Emanuele II Galleria. It's by the entrance closest to the Duomo. This Campari Bar was first opened as a wine shop by Gaspare Campari in the mall, however, in 1915 it was turned into a bar.
For over 100 years it has been serving up Campari based drinks to a range of clients. And, if you feel it's too early for a Campari, they also have coffee of course. This is Italy after all.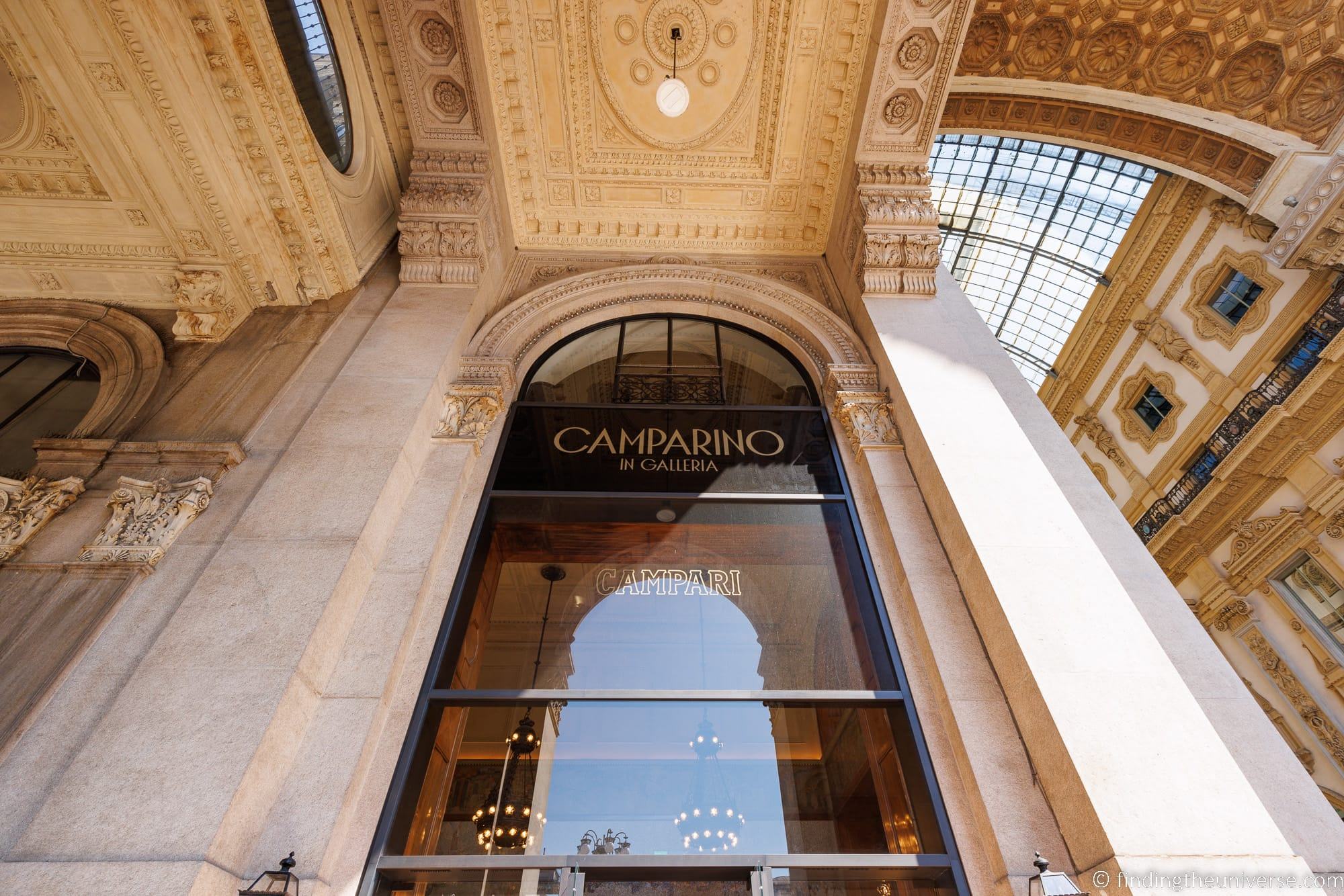 Chiesa di San Maurizio al Monastero Maggiore
Sometimes referred to as Milan's Sistine Chapel, the church of Saint Maurice al Monastero Maggiore is an early 16th century church. It was consecrated in 1518 and is still an active church today and is also used to host concerts.
It is easy to walk by but we would however suggest that you pop in, because the interior is absolutely stunning. That's because it is covered in incredible 16th century frescoes, which seem to adorn every available space. These depict a range of scenes, from the life of Saint Maurice through to familiar biblical scenes like the tale of Noah's Ark.
It's free to visit, although we strongly suggest leaving a donation as it is kept open by volunteers. You can see opening times and more information on the official website here.
The church is attached to a Benedictine convent, Monastero Maggiore, which is now in use as the Civic Archaeological Museum. There is a fee to visit the museum.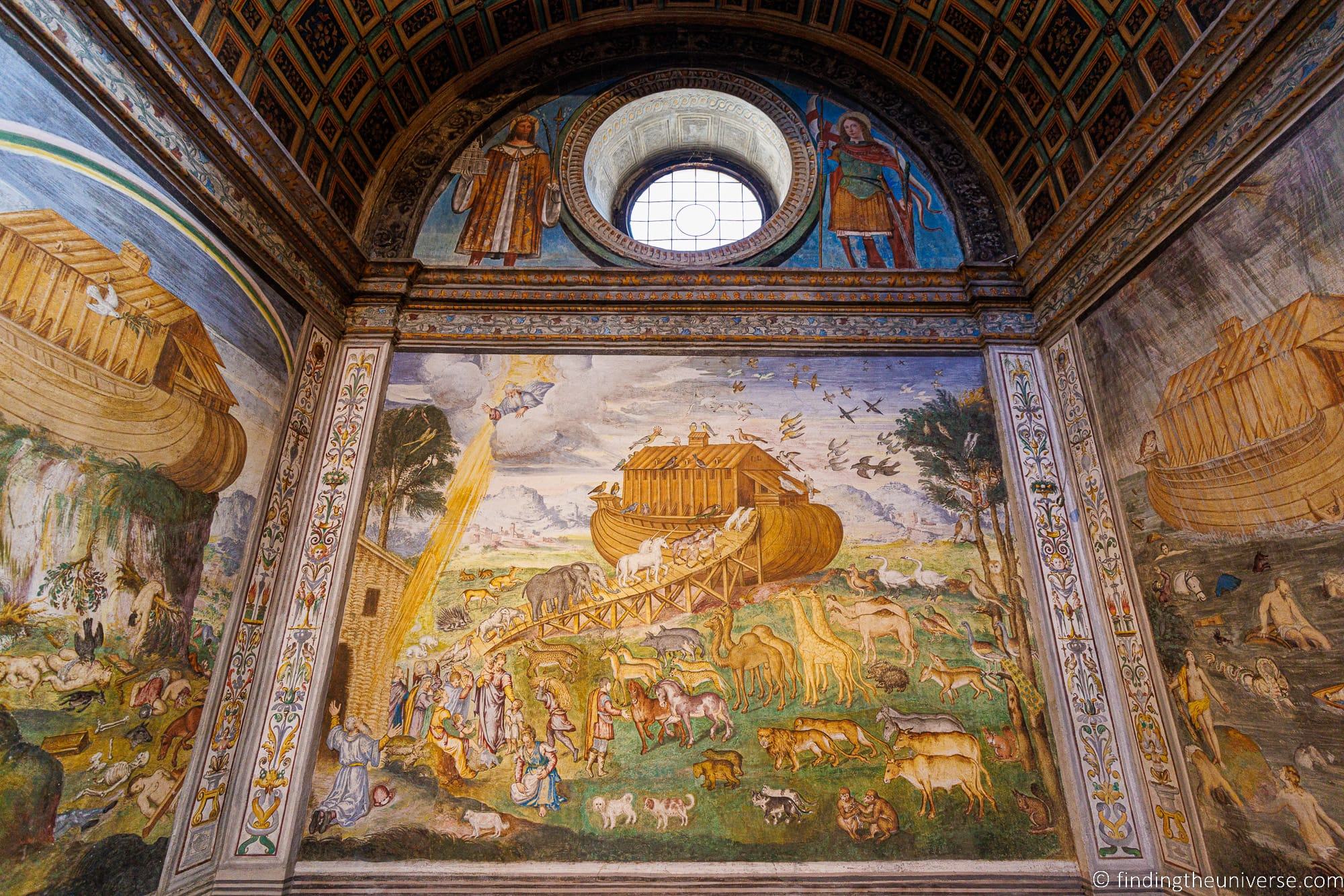 San Siro Stadium
Football fans might want to consider including a visit to the San Siro Stadium as part of their visit to Milan.
Built in 1925 as the home for A.C. Milan, the stadium also became the home of Inter Milan in 1947. Since then, San Siro has been the home ground for both teams, which is a little unusual.
Today, the stadium has a maximum capacity of 80,018 spectators, making it the largest stadium in Italy and one of the largest in Europe.
Naturally, you can visit to watch a game if you happen to be in town at the right time and are able to find tickets. You can see match times here. The stadium is also used as a performance venue for concerts.
If you aren't in Milan for an event or game, or would rather just tour the stadium, this is also possible. Tours are offered most days, and they include a visit to the on-site museum as well as a guided tour of the stadium, including the locker rooms of both teams. You can see tour availability and book online here.
The San Siro stadium is a little to the west of the city centre. You can reach it either by public transport (metro stop San Siro Stadium, Line 5) or one of the Hop on Hop off bus lines has a stop here.
Another option if you are an A.C. Milan fan is to visit Casa Milan. This exhibition focuses purely on A.C. Milan, and covers the club history and achievements.
It's a fun interactive museum, but you should be aware it is not at the stadium and does not include stadium access. The nearest metro stops are Lotto or Portello. It's also a stop on the hop on hop off bus which then continues on to San Siro stadium.
You can book tickets for Casa Milan online here.
More Museums in Milan
Whilst we have already listed several museums you might want to visit during your time in Milan, there are many more that you might want to include on a trip.
Milan has museums that cater to many tastes, from science and technology through to art and design. Here are some you might consider:
As you can see, there's something for everyone when it comes to museums in Milan.
Note that some of these museums are covered by one or more of the city passes we mention further on in our guide. So if you do plan to visit multiple museums, do check if you can save money with a pass.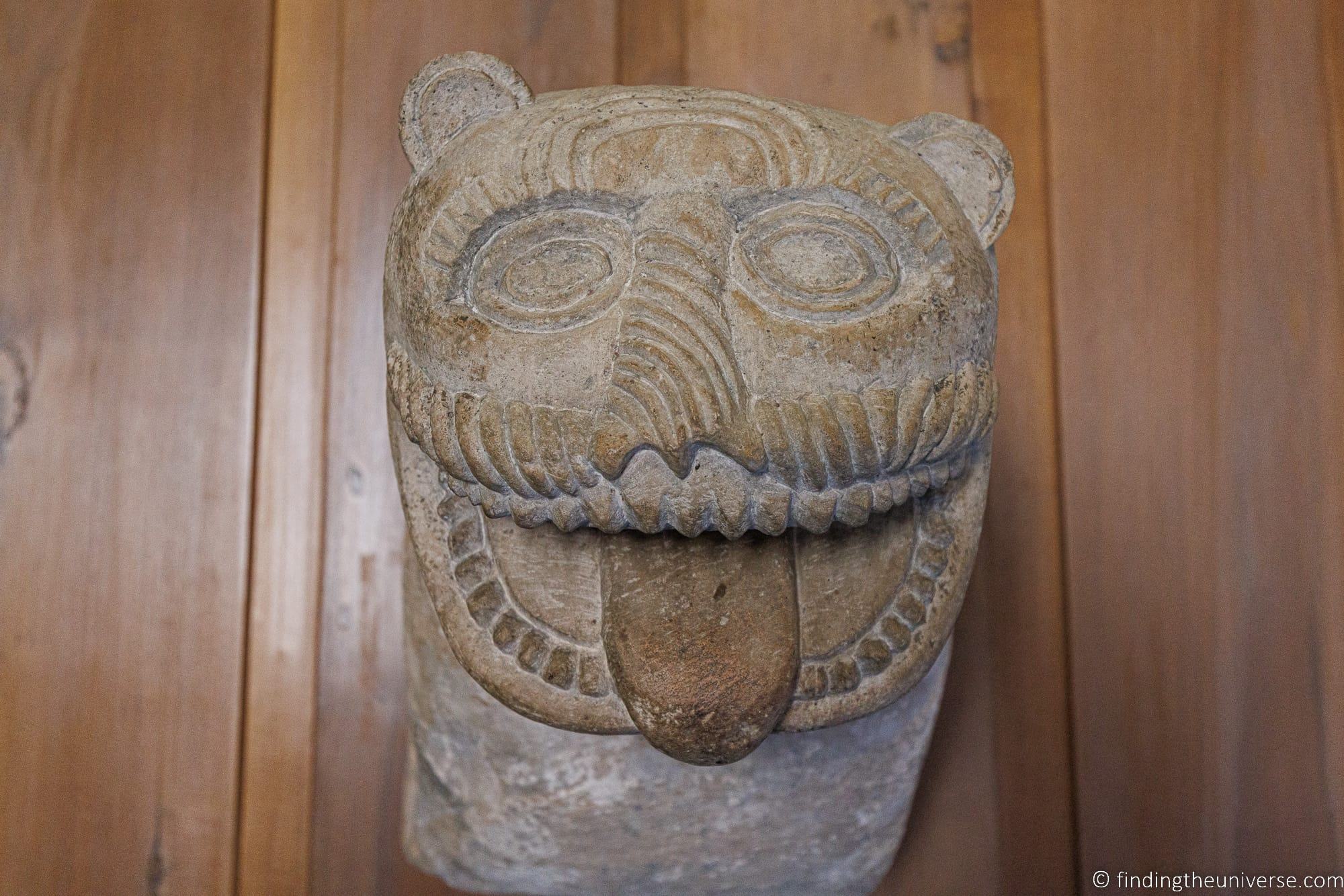 Walking Tours of Milan
One of our favourite ways to explore a new city is on a walking tour. We've taken a lot of walking tours in cities across the world and loads of them in Italy.
Hopefully you will find plenty of options for tours in Milan if that is of interest to you.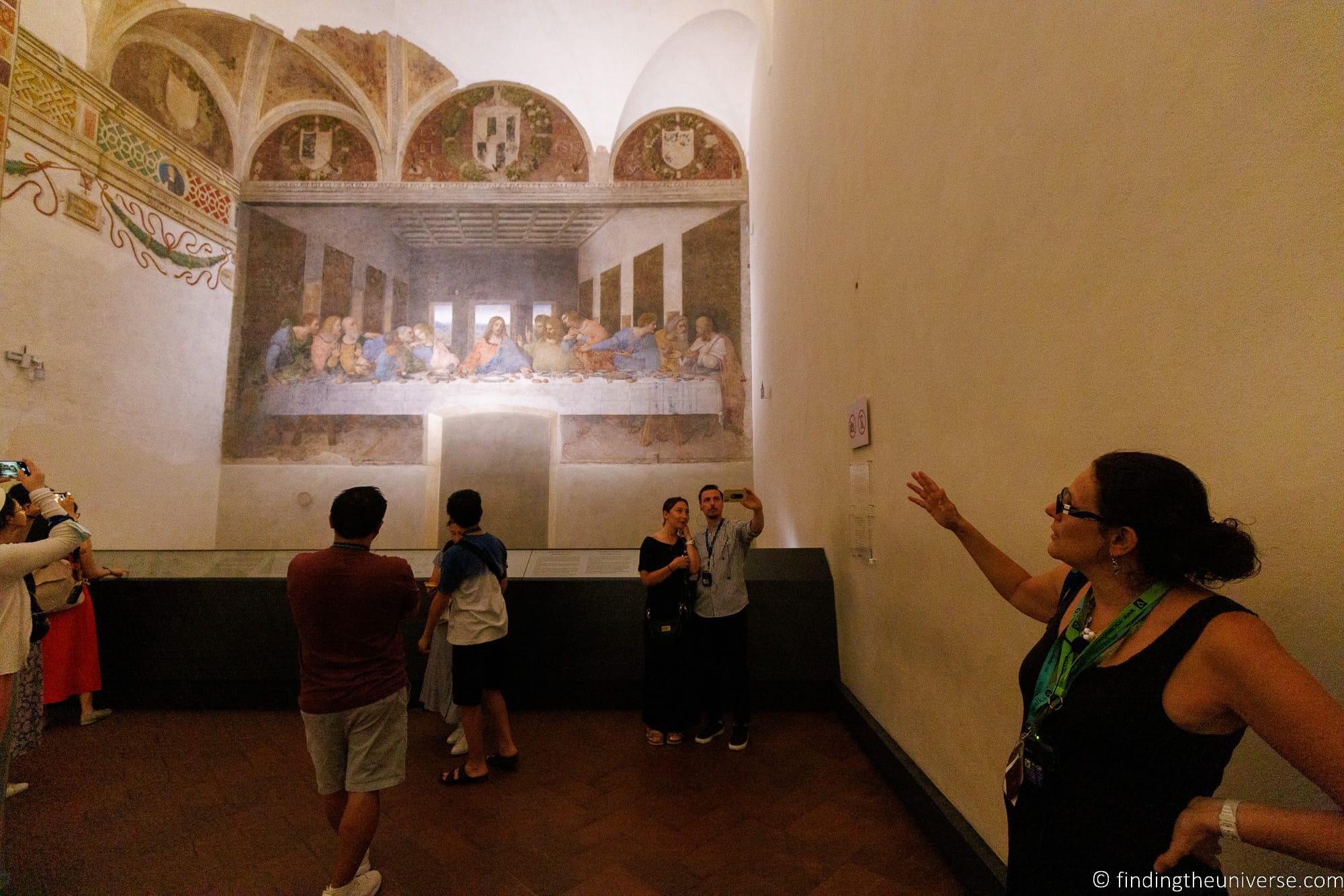 Sightseeing Passes in Milan
When we visit a city, we always check to see if there is a city sightseeing pass that might save us money. These often include free or discounted entry to attractions, and also often include public transport.
The main passes that are available for Milan are:
For most visitors we think Milan Pass makes the most sense as it includes free entry to the most popular sights in Milan including the rooftop of the Duomo. It also includes the hop on hop off bus and a Navigli Canal Cruise (seasonal).
If you are more interested in public transport and visiting some sights with a discount, then the Milano Card might make more sense.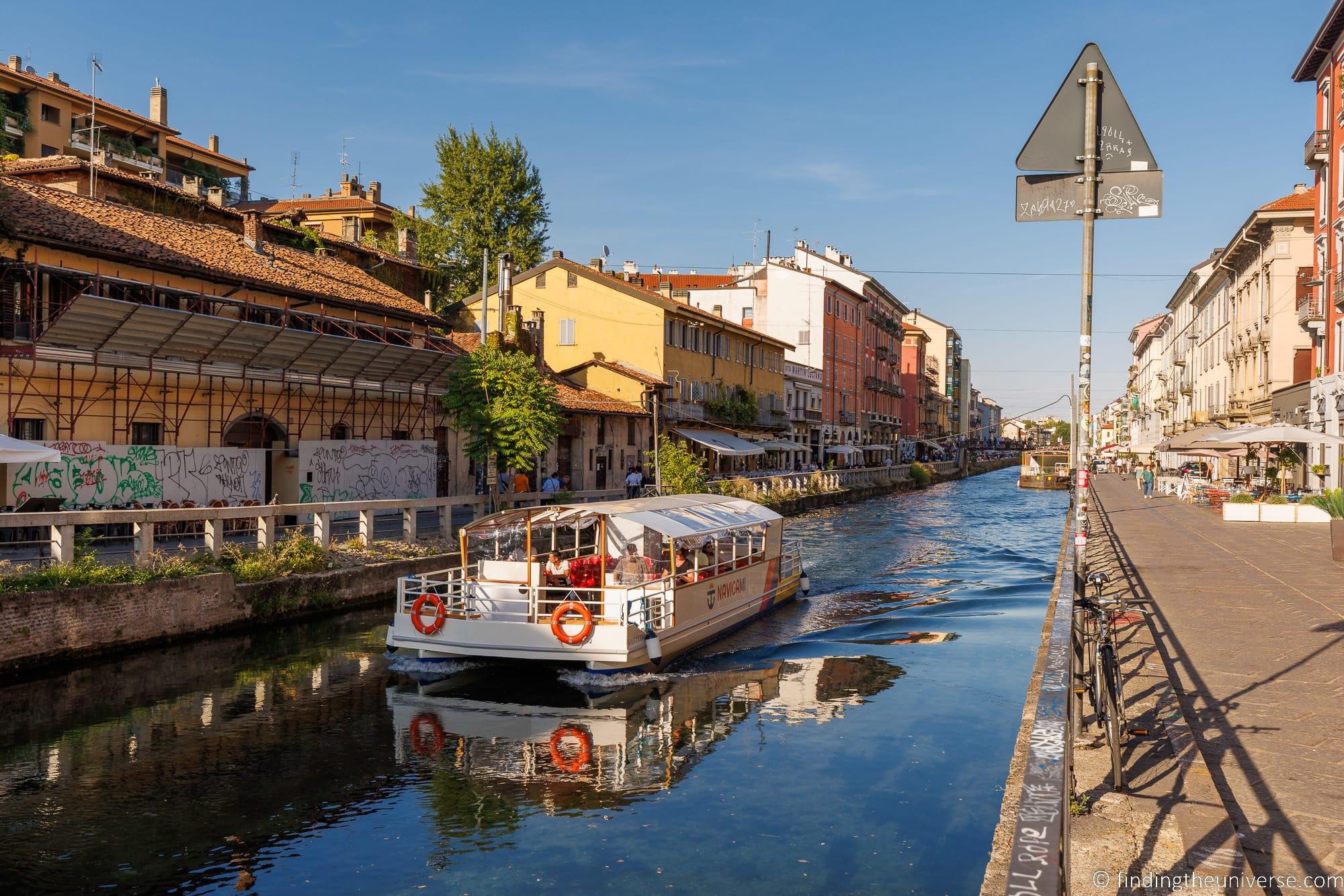 How to Get Around Milan
Milan is quite a large city, but the historic city centre is not too big and it can be fairly easily explored on foot. But when you need to go outside the city center or just don't want to walk, the city has an excellent public transport system which includes an underground metro system, buses, and trams.
There are also hop on hop off buses which can get you between the main sights easily. Many of these includes stops at places away from the center that are popular with visitors including the Navigli canal area, train station, and San Siro Stadium.
We generally find the subway to be the easiest and fastest way to get around, although we also like the informative nature of the Hop on Hop off bus.
The trams are also quite iconic. Some of these are actually the same trams that you'll find in San Francisco, where about ten of Milan's vintage trams were delivered and are still in service today.
Finally, you can also get around by bikes and e-scooters, most of which can be easily rented via smartphone apps.
Where to Stay in Milan
As a major Italian city, Milan has plenty of accommodation options to choose from. Here are some suggested options, ordered approximately by budget from low to high.
Hopefully this gives you plenty of options – whatever your budget.
Day Trips from Milan
There's a lot to see and do in Milan, but there's also plenty to see and do in the surrounding area!
When we've stayed in Milan, we've enjoyed day trips out to Lake Como, Lake Garda, as well as many of the surrounding towns and cities. With its good train connections, Milan makes for a great base for exploring the region!
We've put together a guide to what we think are some of the best day trips from Milan to help you plan some trips.
As you can see, there's no shortage of options!
Further Reading
We've visited Italy many times, and have explored lots of the cities and regions that the country has to offer. Here are some more posts we think you'll find useful to help you plan your trip.
And that's it for our guide to things to do in Milan! As always, if you have any questions or comments, just pop them in the comments section below and we'll get back to you as soon as we can.