If you're planning on spending 3 days in Rome, we think this post will help you make the most of your trip.
Rome is easily one of our favorite cities in Europe. It is absolutely stuffed full of sights, with thousands of years of history layered upon itself – you'll find everything here from Roman ruins to Renaissance art.
It's also home to fantastic food, the Vatican City and sights like the Trevi Fountain, the Colosseum and the Spanish Steps.
We have visited Rome many times over the years and always find more to see and do. Certainly, 3 days in Rome is not enough to see absolutely everything that the city has to offer, but it's definitely enough to see all the highlights if you manage your time effectively.
With a focus on the highlights in Rome, we wanted to share what we think is an excellent itinerary for three days in Rome, which covers the attractions that visitors to Rome are most likely going to want to visit. This covers all the major highlights for your three day visit.
Following the itinerary, this post is then full of tips and advice for visiting Rome that will help you get the most out of your stay, as well as save money on attraction entry, transport and accommodation.
To get the most out of your trip and to be sure you see all the major attractions, you will need to do a bit of forward planning and even reserve your entry time to the key attractions – otherwise you'll waste your time standing in lines unnecessarily and even miss out on being able to visit.
Don't worry though, we explain everything in this post to help you save time and make the most of your budget, whatever that may be.
If you are visiting Europe on a longer trip, this guide to 3 days in Rome fits in perfectly with our 2 week Europe itinerary, which you might also want to check out for some ideas and advice on travelling in Europe. We also have a 10 day Italy itinerary to help you plan further adventures in Italy.
Now, let's get started with our guide to the best things to do in Rome in 3 days.
3 Days in Rome
This guide to Rome is quite full, so do feel free to adjust it to meet your own interests.
It is certainly possible to do everything in this guide with 3 days in Rome, and you can see the comments at the end of the post for feedback from many visitors who have used this guide to do just that!
However, if you would prefer a more relaxed itinerary, you can definitely adjust it to suit.
Day 1: Rome Itinerary
Vatican City
The Vatican City is the first thing on our list for your visit to Rome. It's a country of its own, inside Rome, and is home to world-famous sites including the Vatican Museums, the Sistine Chapel, and St. Peter's Basilica.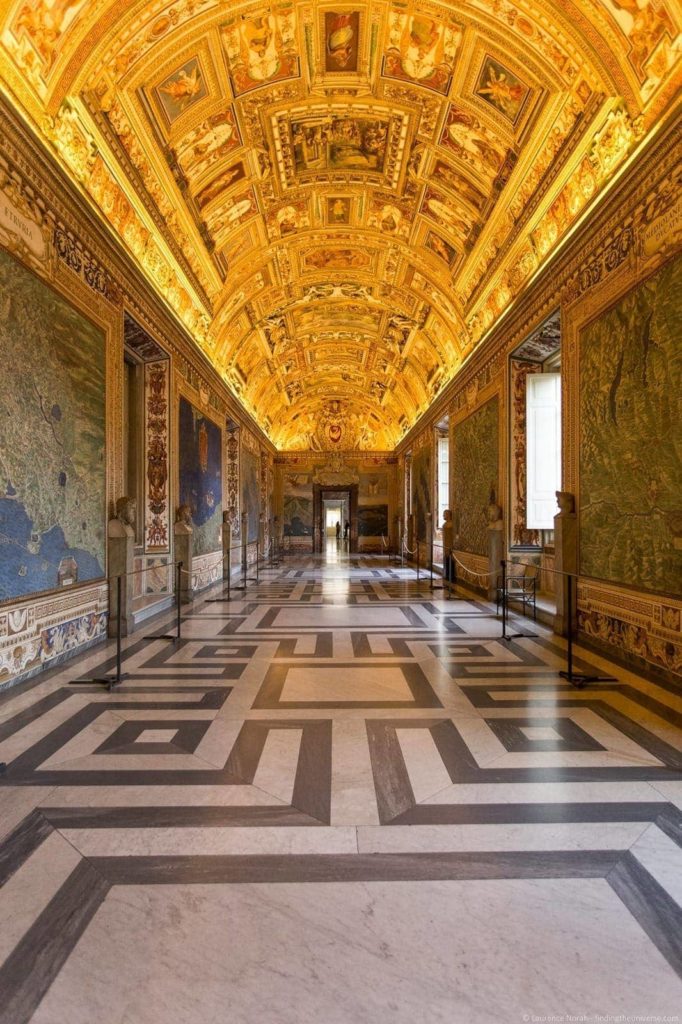 We recommend you come here early and head straight for the Vatican Museum with your pre-booked ticket. We cover ways to skip the lines in Rome further on in this post, but if you purchase a Rome Tourist Card or Omnia Rome and Vatican pass, you will have the option to pre-book a timeslot for your skip the line entry.
If you don't get a pass, another option is to book your tickets online which will give you skip the line access to the Vatican Museums and Sistine Chapel. You can buy tickets online with GetYourGuide here and Tiqets here (for Tiqets we have a 5% discount on their normal price with our link).
You can also book tickets directly from the Vatican here. Prices and availability fluctuate, usually the Vatican site is the best value but it can vary so do check them all.
Doors to the Vatican Museum open at 9am, so we recommend you arrange your entry for as close to then as you can manage. The Vatican Museum gets really crowded as the day progresses, so getting here early will let you enjoy it for a while before it gets too busy.
You can also book to take a tour which gets you early entry to the Vatican before the doors open for general admission. This tour for example starts at 7.30am and includes breakfast in the Vatican, as does this tour with Take Walks.
We've done the Take Walks early entry Pristine Sistine tour and can very much recommend it, the tour guides are excellent and can really bring what you are seeing to life.
For an even more exclusive experience, you might consider the VIP Vatican Key Master's Tour. This is a premium tour that has you in the Vatican at 6am to accompany the Key Masters as they open the museums up. It's an amazing experience, and one we thoroughly enjoyed; however it has limited availability and is more of an experience than a tour. Check that out here.
There's loads to see in the Vatican Museums, which span 7km of exhibits, so you could spend a whole lot of time here.
Our favorites include the Map Room, the Sistine Chapel, and the fabulous double helix exit stairwell, but we're sure you'll discover treasures of your own.
See our guide to visiting the Vatican for everything you need to know, including all the highlights.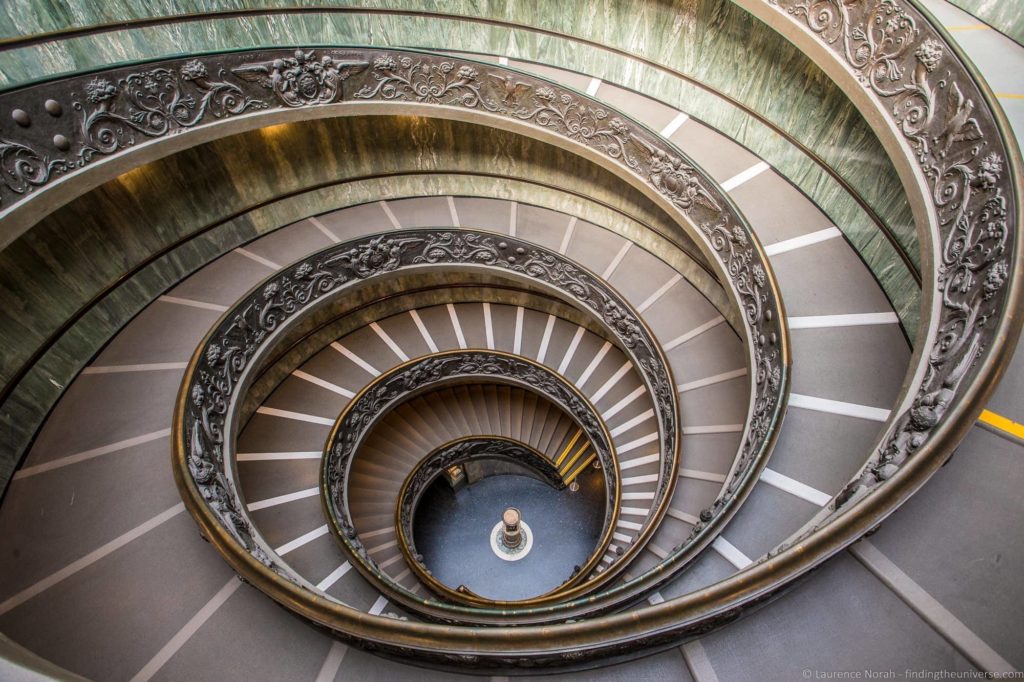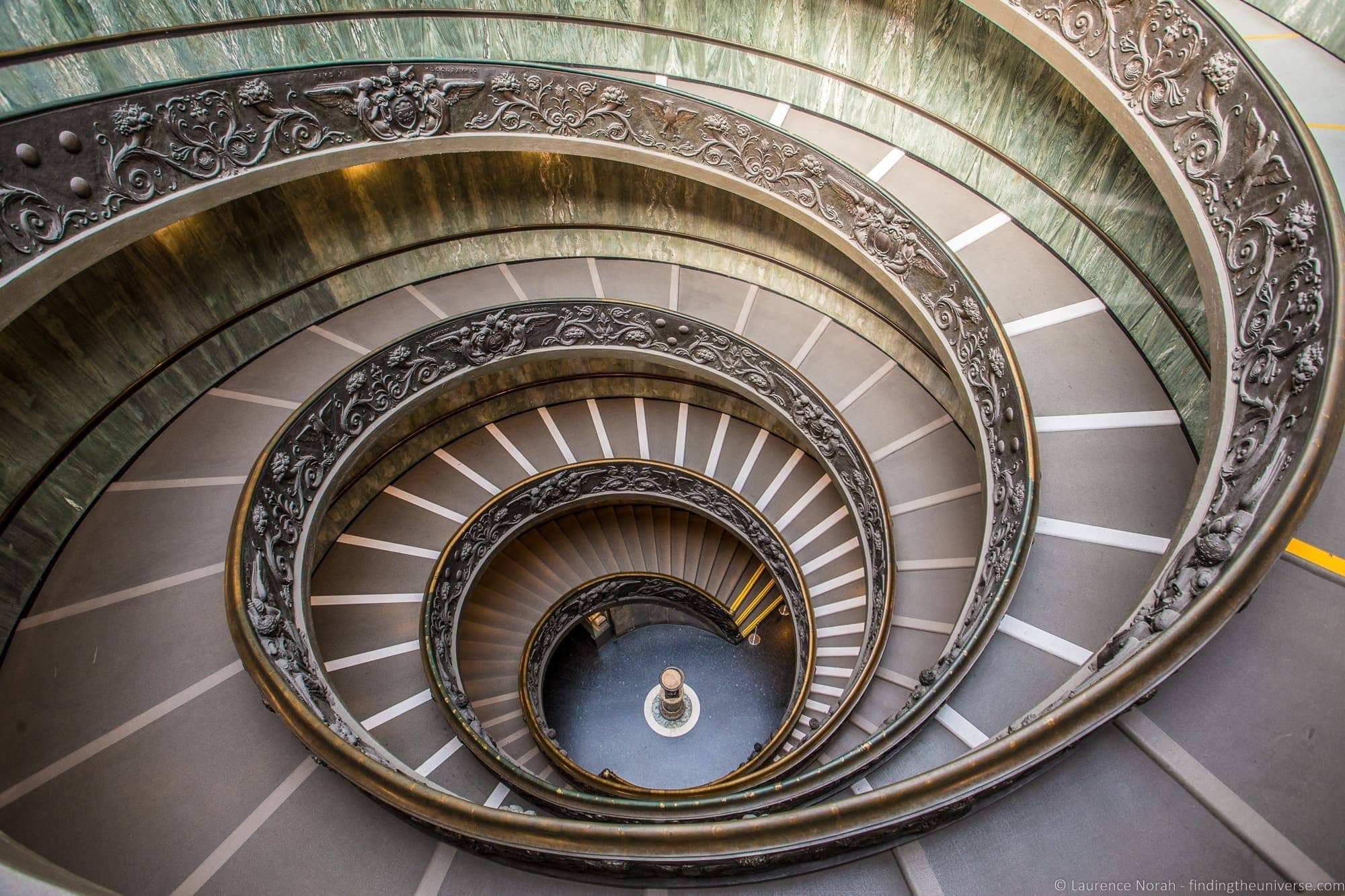 Next, it's back outside and on to St. Peter's Basilica.
St Peter's Basilica doesn't have an entry fee, but as of March 2023 it also doesn't have skip the line tickets (skip the line tickets used to be a paid alternative and we hope they come back soon!).
So the best option if you want to skip the line at St. Peter's Basilica is to invest either in a tour like one of these or a pass which includes a tour like the Rome Tourist Card. Some tours of the Vatican, like this one, also include skip the line access to St. Peter's Basilica which can be a good all in one option.
At busier times of year some form of quick access like a tour is absolutely worth it, but if you are visiting in the off season it's not really necessary.
Once inside, you'll be able to enjoy visiting the world's largest church, and what is regarded as one of the holiest Catholic shrines.
With designers including Bramante, Raphael and Michelangelo, it's a truly Renaissance building, and is a work of art in itself – before you even start to consider all the artworks within! If you're up to it, we highly recommend the climb to the top of the dome. This offers superb views across the city, as well as the chance to see the Basilica from above.
Once you're done with the Vatican City attractions, you can head on to our next stop. Don't feel you need to rush though – the Vatican City is definitely going to be a highlight of the day, and you are welcome to spend a few hours exploring at your leisure. The rest of Rome will wait. When you're ready, a short walk will take you to the next stop on our list.
Note, the Vatican is closed on Sundays and some other days – you can see all opening times and days on the official website here.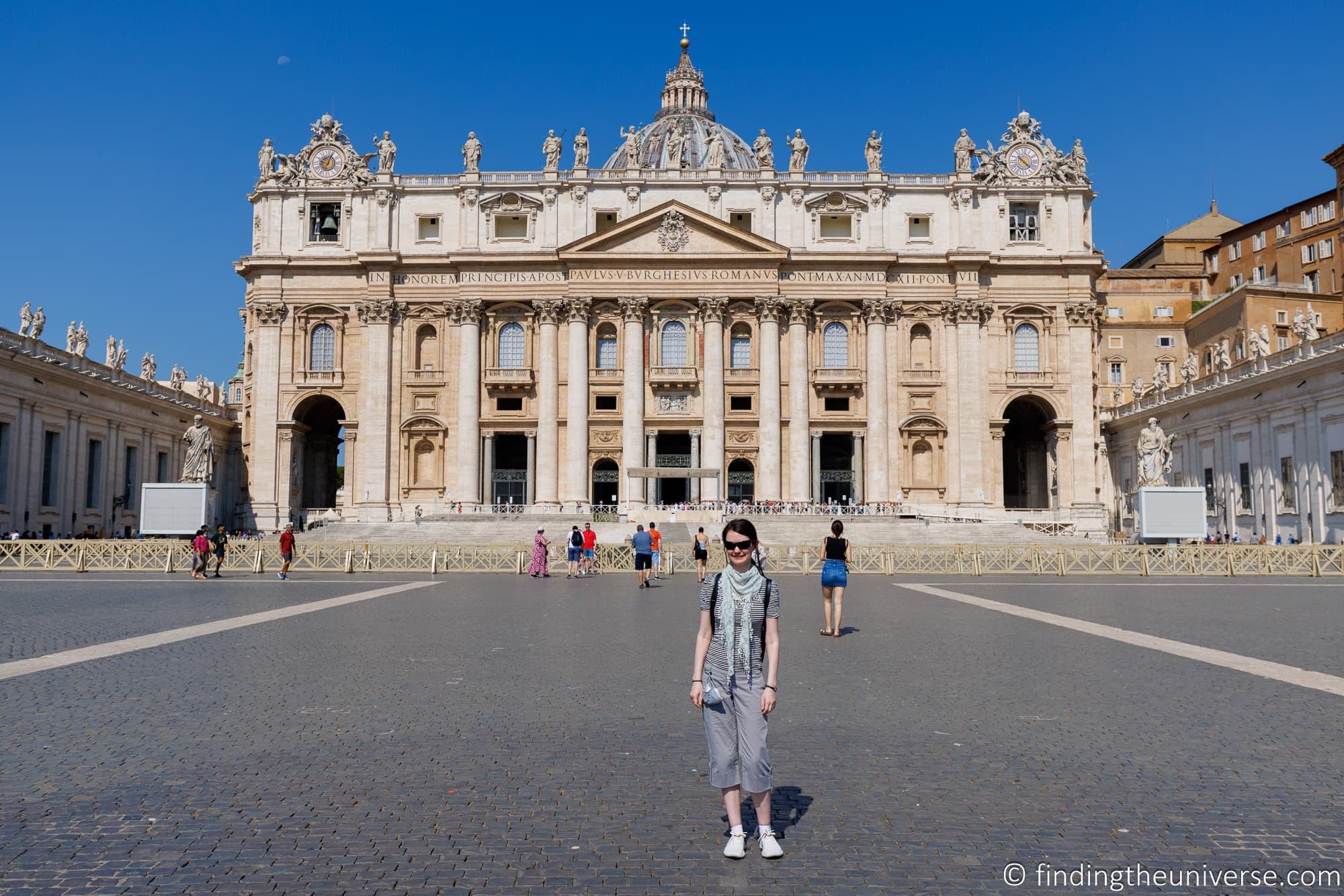 Castel Sant'Angelo
Originally built as a mausoleum for the Emperor Hadrian, Castel Sant'Angelo has been sitting on the banks of the river Tiber for nearly two thousand years.
In that time, it has evolved from its initial role as a tomb, becoming a fortress, a castle, and finally, a museum.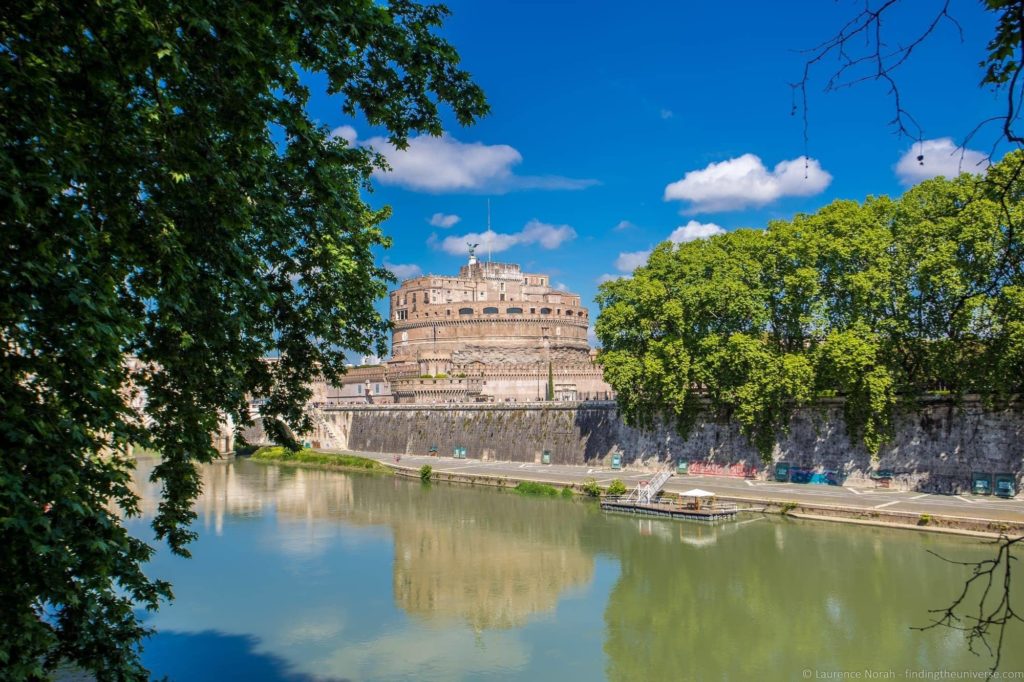 Today it is open to the public, and you can climb right to the top, for gorgeous views of the city. You'll also be able to marvel at the building techniques that have allowed it to survive for two millennia.
The Castel is open every day from 9am – 7.30pm with some holiday exceptions – see more here. You can buy tickets in person or from the official ticket site here.
You can also buy tickets from GetYourGuide here or from Tiqets here. It's always worth comparing as prices vary, in most cases the official site will be the best value but not always.
Piazza del Popolo
From the Castel Sant'Angelo it's a pleasant twenty-minute walk along the banks of the river Tiber to the Piazza del Popolo.
This was the location of the northern gate of Rome, and is where, for countless years before trains, planes and cars, travelers would actually arrive into Rome.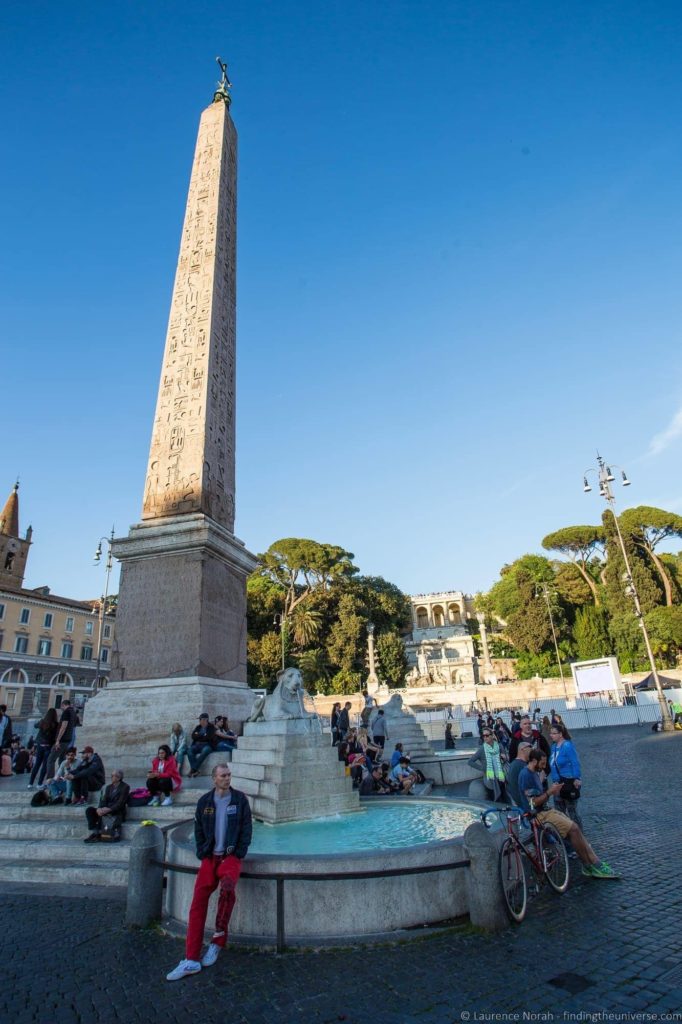 From here, three roads span southwards in a trident formation, with the central road, the Via del Corso, running dead straight through the centre of Rome to the Piazza Venezia.
Originally this would have been the route from the northern gate of Rome to the Roman Forum.
In the centre of the Piazza is an Egyptian obelisk, dating from the rule of Ramses II, which was brought to Rome in 10BC, and put in this plaza in the 16th century.
On the south side of the Piazza are the twin churches of Santa Maria in Montesanto, and Santa Maria del Miracoli, sitting either side of Via Corso.
Spanish Steps
We're going to continue our first day by taking in a few of Rome's highlights that you can take as long or as little time to visit as you wish. First on the list are the Spanish Steps.
You can access these by walking in a south easterly direction through the Villa Borghese Gardens and down Viale della Trinita dei Monti.
This 135 step staircase was opened in 1735 to link the Spanish Embassy near the bottom of the steps to the Trinita dei Monti staircase at the top, and are today a popular spot to stop, eat Gelato, and watch the world go by. They were made particularly popular in the 1953 movie Roman Holiday, starring Audrey Hepburn.
Note that as of August 2019, it's no longer permitted to sit on the Spanish Steps as they have been classified as a monument, and there is the potential of being fined if you do so. So stick to standing on them instead!
Trevi Fountain
Continuing our must-visit Rome highlights, our next stop in our wanders through Rome is the Trevi Fountain.
This is the world's largest Baroque fountain, and is always a popular location – whatever time of day (or night!) you visit. Built in the early 18th century, it is said that if you throw a coin into the fountain, you are guaranteed to return to Rome.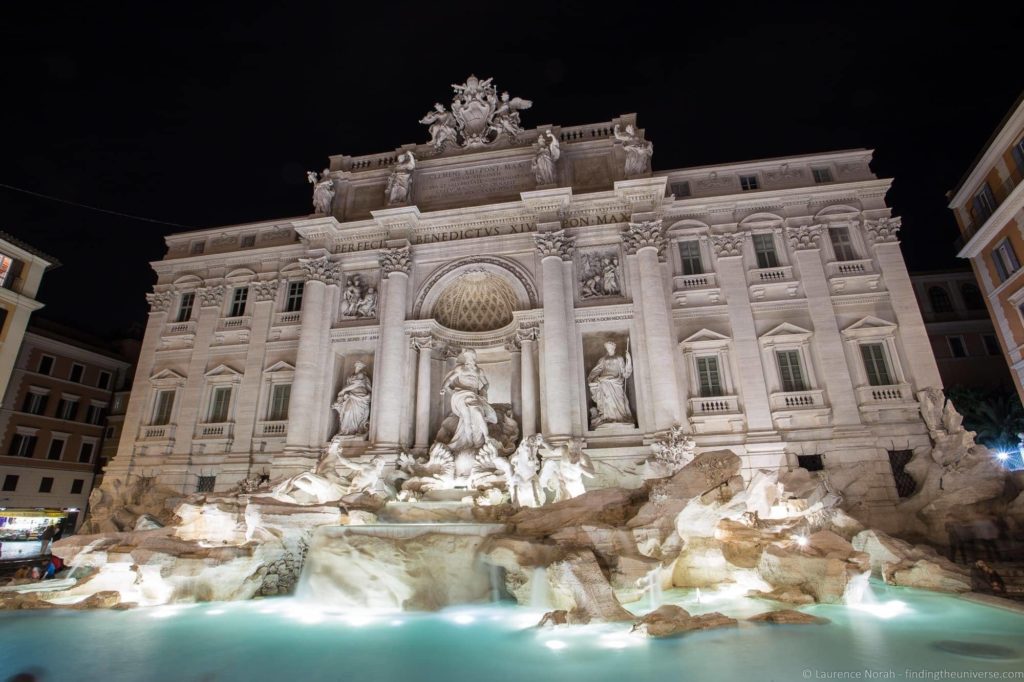 This seems to be a popular past time, as over three thousand euro's worth of coins are throw into the fountain each day.
These go to a good cause – each night the coins are removed from the fountain and used by a charity that helps those in need purchase food.
In our experience this is nearly always a crowded location. If you want to visit it without the crowds then come here early in the morning when central Rome tends to be a bit quieter.
The Pantheon
A little walk from the Trevi Fountain is the incredible Pantheon. This building, which has been standing for almost 2,000 years, is the best preserved Ancient Roman monument in Rome.
I dare you not to be impressed by its incredible dome, which even today, two thousand years since it was built, still holds the record as the world's largest unreinforced concrete dome.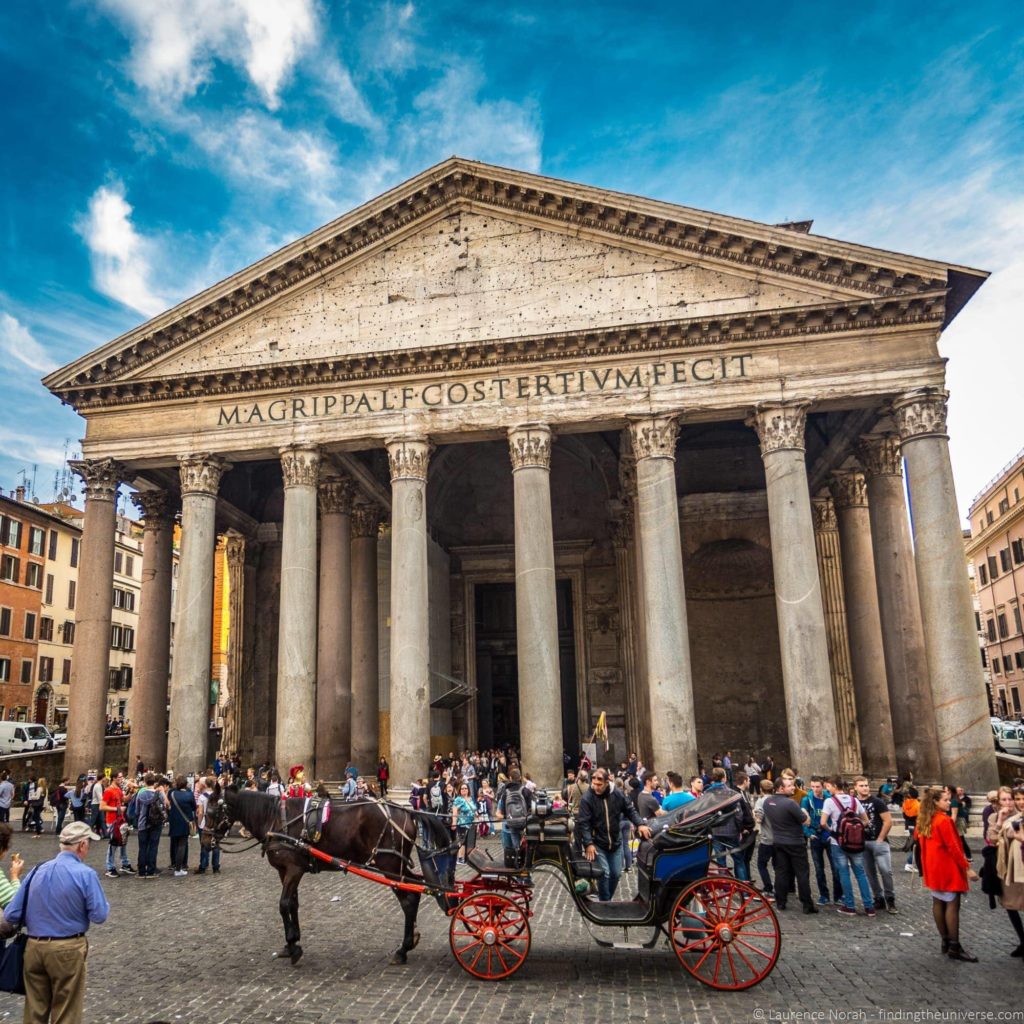 Originally built as a temple to the Roman gods, the Pantheon was converted for use as a Christian church in 609 AD, which is the main reason it survives in such excellent condition today.
It's also notable for being home to the graves of a number of important folk, including the painter Raphael and two Italian Kings.
For a long time the Pantheon was free to visit but as of July 2023 there's a small fee. You can pay this on-site, or you can buy it online in advance from the official site here (you'll need to create an account).
Tickets with an audioguide are also available from GetYourGuide online here, although they are a bit more expensive.
You also can book an audioguide in advance here to help explain what you are seeing.
We think it's very much worth the small fee as we have never failed to be impressed by this incredible building when we have visited it!
Piazza Navona
Wow, this has been a busy first day in Rome! We recommend finishing your adventure off with a visit to the Piazza Navona.
This has been a designated public space since the 15th century, and is full of gorgeous Baroque architecture.
Its most famous feature is undoubtedly Bernini's fountain, which stands at the center – the Fountain of the Four Rivers, which dates from 1651.
The Piazza is a fun place to be, and often features street performers and markets, depending on the time of day and week that you visit. We always enjoy sitting and watching the fun in the evenings here.
There are a lot of options here for dining and drinking as well, although bear in mind that you always pay more in Rome at the more popular locations, especially if they have a terrace or view.
We ate at Caffe Domiziano, which has two seating areas. It's cheaper to sit in the section on Corsia Agonale rather than on the main square. The food is the same, just the price is different.
Our current favourite cafe in Piazza Navona though is Ai Tre Tartufi, which has friendly staff and a good selection of drinks and food.
Another option to consider, rather than ending your day here, is to take a food walking tour.
We've taken many food walking tours in Rome, with this evening food and wine tour of the Trastevere neighborhood being one of our favorites. A food tour is a great way to try a lot of local food (and often drink), and also to get some recommendations for other locations to eat in Rome.
See our complete guide to food tours in Rome for more suggestions. Now, time to rest before day two of our three day Rome itinerary!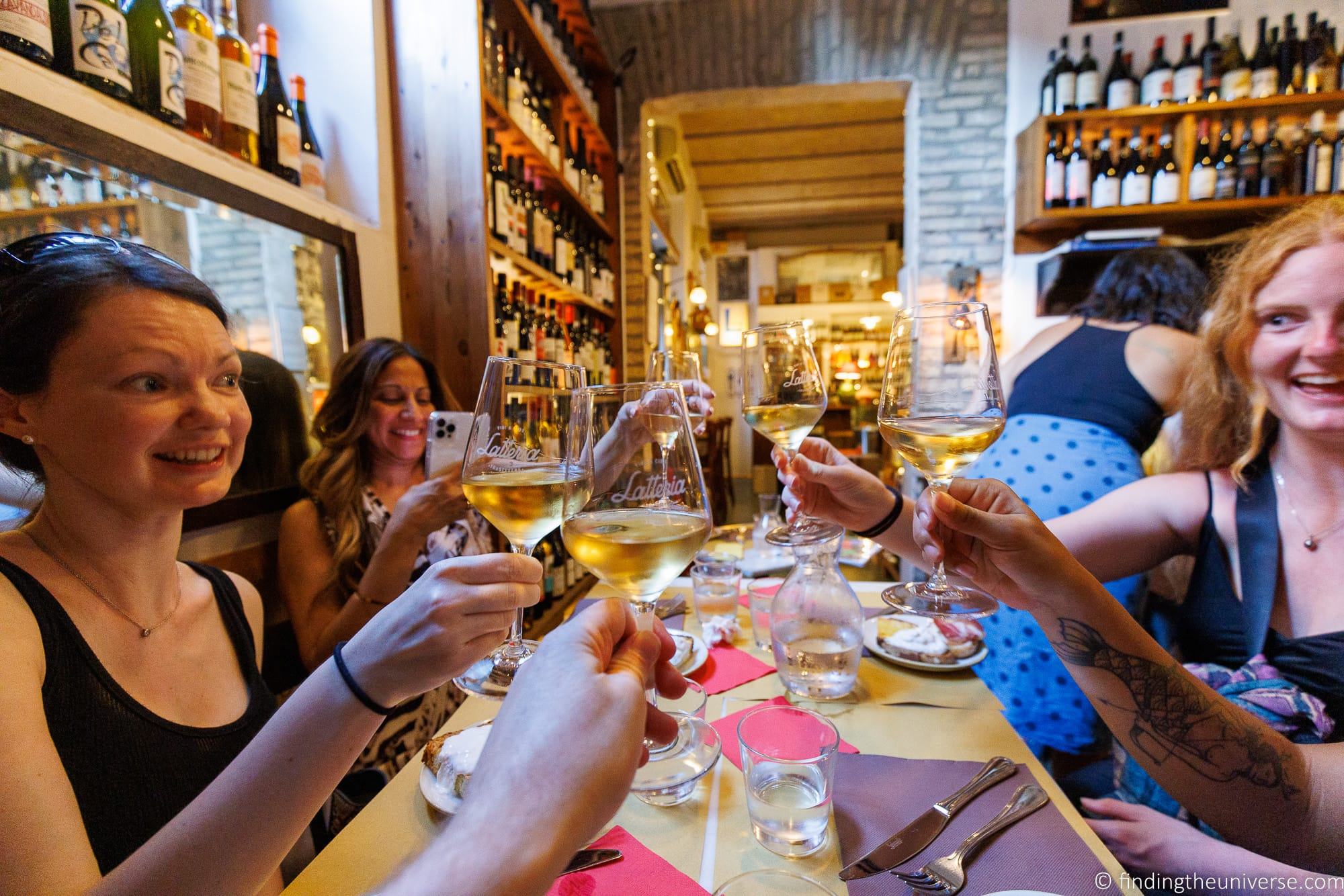 Day 2: Rome Itinerary
Colosseum
Our second day in Rome starts with another Rome highlight – the Colosseum, also referred to as the Coliseum.
Built in Roman times as a space for holding public spectacles, the Colosseum is most famous for being the home of gladiators, who would battle it out in front of audiences that could number as many as 80,000 people.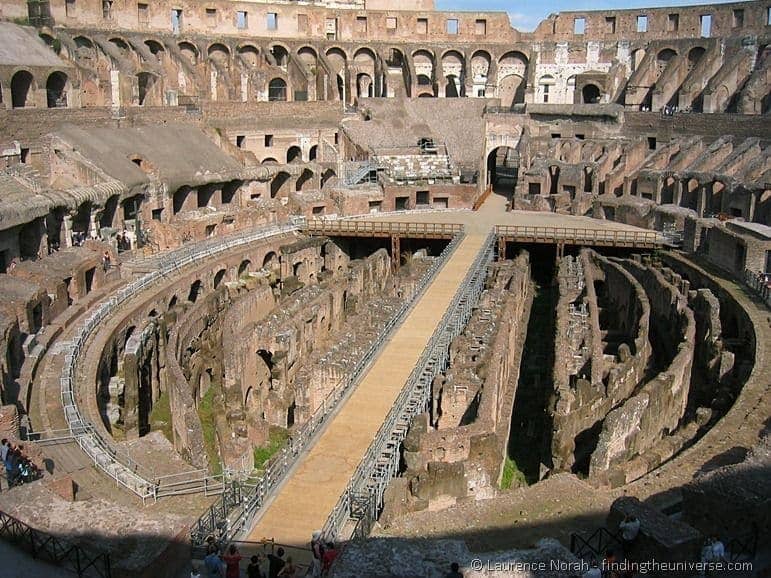 The Colosseum is the largest amphitheatre in the world, and despite suffering some damage in its two thousand years of existence, is still hugely impressive to visit.
It's one of the most popular destinations in Rome for visitors, so again, our advice is to come as early as you can, and take advantage of a pass or advance ticket purchase options so you can skip the ticket queue and go straight to the security line.
Skip the line access for the Colosseum is included on the Rome and Vatican Pass, the Roma Pass and the Rome Tourist Card . It's also included if you take a guided tour like this one with Take Walks.
Alternatively, you can book entry to the Colosseum directly from the official website. You can also book on GetYourGuide here. GetYourGuide is a little more expensive than the official site but a lot more user friendly in our experience, and we use them for a lot of our tour and entry tickets when we travel.
If neither of those options works, try this option, which has tickets available from a different ticket pool for a slight premium, which include a video on Ancient Rome.
Note that even if you are using a city pass that includes access to the Colosseum, you will still need to make a reservation to visit.
You need to do this as far in advance as possible to secure the time you want. You can make the reservation either by calling the reservation line, or (more easily) by booking online.
If there are no timeslots available, your best option for visiting the Colosseum is to take a guided tour like this, or like this, as guided tours have a separate ticket allocation system. If you book a guided tour, you don't need to book a separate ticket or timeslot for visiting the Colosseum.
We highly recommend reading our detailed guide to visiting the Colosseum, which will help you make the most of your visit and not waste time in lines, as well as to understand the rules around passes, time slots and so on!
The Colosseum is open every day, with times varying depending on the time of year. You can see more information here.
Roman Forum & Palatine Hill
Your Colosseum ticket is also good for entry to the Roman Forum & Palatine Hill (as long as you visit on the same day), which is conveniently located right next door.
If you don't buy a ticket in advance for the Colosseum, then we suggest you visit the Roman Forum first, as the queues for tickets are much shorter.
However, they can only sell same day timeslots for entry to the Colosseum, and in the busy months these are not available.
Again, we highly recommend advance booking your tickets and timeslots for the Colosseum to avoid disappointment, or booking a tour which includes both like this one from Take Walks.
So what's special about the Forum? A lot! This was the seat of power during the reign of the Roman Empire, as well as the central marketplace and business district. Basically, Roman life for centuries revolved around this area of Rome, and no visit to the city is complete without walking these ancient ruins.
The Forum is open every day, you can see full opening hours here.
Mouth of Truth
Time for a bit of fun! If you've seen the movie Roman Holiday with Audrey Hepburn, you'll remember that Gregory Peck and Audrey Hepburn pop their hands into the mouth of this massive stone figure, which is said to bite off the hands of liars.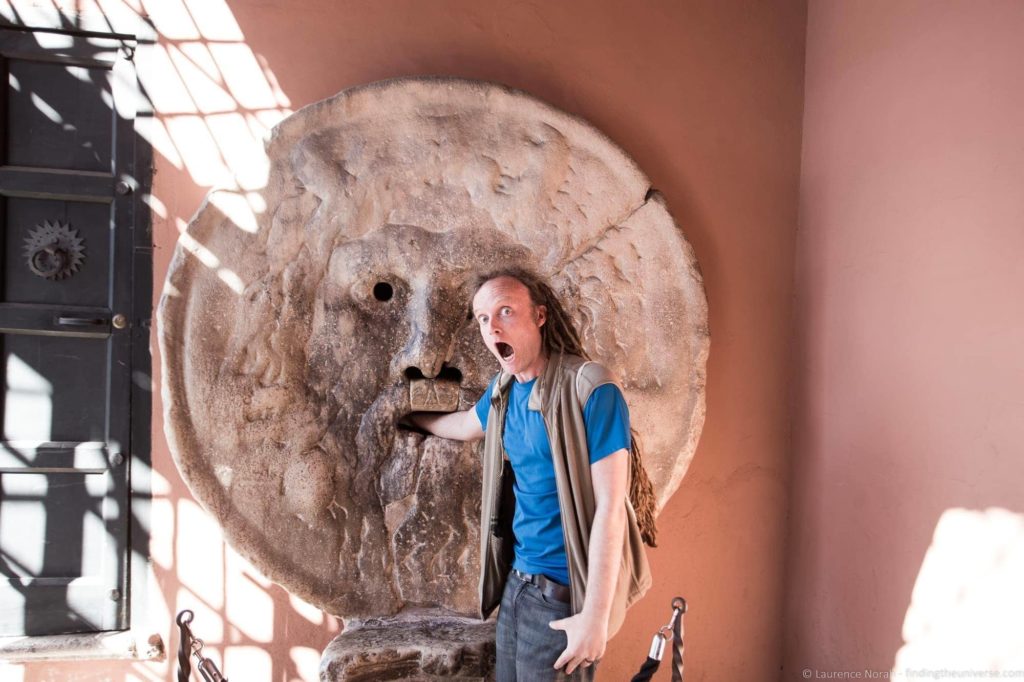 It's not exactly known when or how this belief originated, but the good news is that you too can visit the Mouth of Truth, or Bocca del Verita, and pop your own hand in for a photo opportunity.
You'll find it outside the entrance to the Santa Maria in Cosmedin church, which is also worth visiting. In can get busy here in the summer months, but the line is kept moving fairly quickly, so you won't have to wait too long.
Pyramid of Caius Cestius
Did you know that Rome has a two thousand year old Egyptian style Pyramid? Well, it does. The Pyramid of Cestius was built around 12BC, at a time when Rome was obsessed with all things Egypt, to serve as the tomb for a wealthy Roman.
The tomb has since been looted, and little is known about its original occupant, but the marble covered 36 meter high pyramid is the only one of its kind in Europe, and we think is definitely worth your time to visit.
Whenever we visit Rome with friends or family, we love taking them to see this as it's such an unexpected sight in the city.
It's now incorporated into the Aurelian Walls of the city (which helped to ensure it's preservation), and one of the best places to see if from is the non-Catholic cemetery of Rome.
Whilst you're at the cemetery, which is a beautifully peaceful spot, do take the time to visit the grave of the English poet Keats, one whose "name is writ in water", who died in Rome at the young age of 25, far before his recognition as one of the greatest English poets of all time.
Baths of Caracalla
Those Romans really liked to build stuff on a big scale. The Baths of Caracalla are no different. This vast bathing complex could accommodate up to 1600 bathers at one time, in a complex that covered over 62 acres.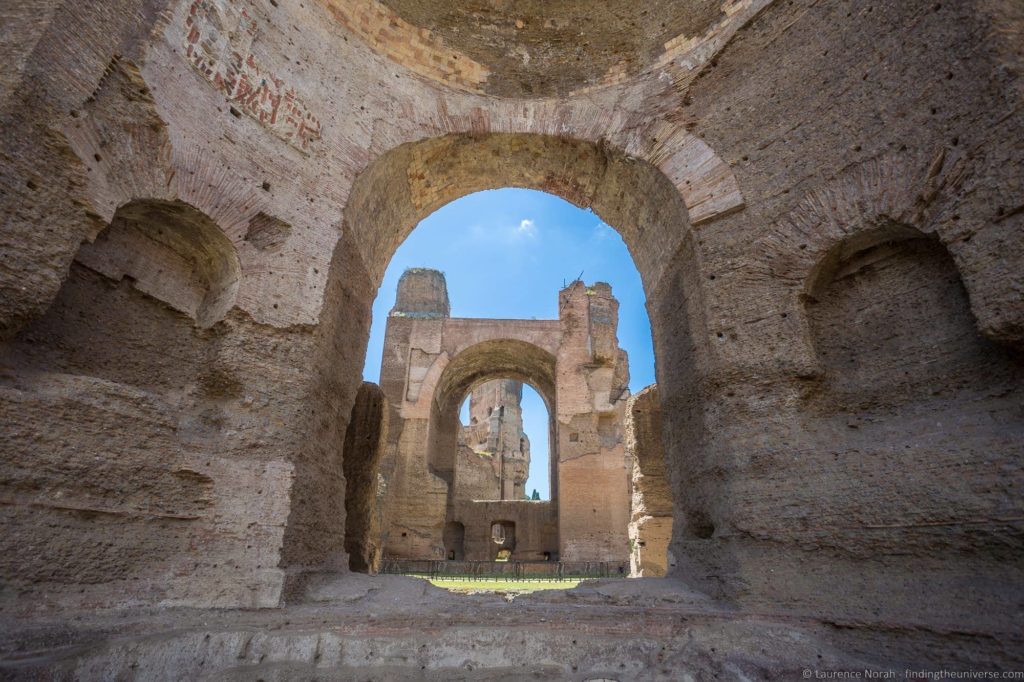 Whilst time has taken its toll on the Baths, they are still open to visitors.
You can wander between the mighty walls and appreciate the vast scale of the operation and the millions of bricks that were used to construct them, as well as some of the surviving details like the mosaic floors.
It's not at the top of visitors lists to Rome, but is definitely one of our favorite spots to visit in the city, so we urge you to include it in your itinerary, especially as you're already in the area.
The Baths of Caracalla are open every day except Christmas Day. Opening hours vary by time of year, you can see more here.
St. John in the Lateran
The Papal Archbasilica of St. John in the Lateran is the cathedral church of Rome and the seat of the Pope in the city, and as such, is one of the most important churches in the city.
Whilst nearly everyone makes it to St. Peter's Basilica, less people make it out here, to what is in fact the oldest Basilica in the city, making this a quieter and more relaxing place to visit.
Highlights include the Lateran Obelisk, the largest standing Egyptian obelisk in the world, the Borromini designed Knave, the Cloister and the Scala Sancta.
These last are a stairway of 28 steps, found in a building just across the road from the Basilica itself, which are said to be the same steps that Jesus walked up on his way to trial in Jerusalem.
Today, pilgrims to Rome can be seen climbing the stairs on their knees, which is the only way you're allowed to ascend.
Finally, find yourself some delicious food or perhaps a gelato, and congratulate yourself on another excellent day in Rome!
Note that St. John in the Lateran is closed on Sundays.
Day 3: Rome Itinerary
Appian Way and The Catacombs
For the third day on our three day Rome itinerary, we suggest you take a break from the city centre sight-seeing and head out along the Appian Way.
Built in 312BC, this is believed to be one of the oldest surviving roads in the world, and was of enormous importance to the Roman Empire, linking the capital to southern settlements including Naples and Brindisi, and allowing for the quick movement of troops and goods.
At the time, it was the widest and longest road in the world, and in testament to the quality of its construction, much of what you can see today is still original stonework. Those Romans built things to last!
There are a variety of attractions to see along the Appian Way, beyond the road itself, and the key sights are to be found along the first ten miles of the road, in the Parco dell'Appia Antica.
You can visit the road yourself, or you can take a tour which includes parts of the Appian Way. We have done and enjoyed this one from Take Walks but other are available including this one on GetYourGuide. Most tours focus on the Appian Way and Catacombs.
Another popular option is to take a bike or e-bike tour with catacomb visits along the route.
If you decide to visit yourself, you'll want to head to the start point of the road, the Porta San Sebastiano. You can reach this via public transport from the city.
From here, it's a ten-minute walk to the first major sight on the Appian Way, the Church of Domine Quo Vadis, which dates from the 9th century.
Alternatively, as the walk along the first part can be a bit tricky, you can take the bus a little bit further than the start point if you prefer.
After the Church, there are two Catacombs you can visit, the Catacombs of St. Callixtus and the Catacombs of St. Sebastian. The former are slightly larger and were the burial place of 16 popes, numerous Christians and a number of martyrs.
Following on from the Catacombs, you can continue your journey along the Appian Way should you so wish, to the tomb of Cecilia Metella and the Circus Maxentius, which are about another 10 – 15 minute walk along the Appian Way.
All in all, from the Porta San Sebastiano to the tomb of Cecilia Metella, you're looking at about a thirty-minute walk, with plenty of attractions on the way. Whilst you can continue on at this point should you wish, we'd suggest returning to the city now, and heading to the:
Borghese Gallery
The Borghese Gallery is in the Villa Borghese gardens, and houses the Borghese collection, a collection of art that is easily one of the finest in Rome. This is by far our favorite art gallery in Rome.
With incredible pieces from the likes of Raphael, Bernini and Caravaggio, to name but a few, this museum is truly a must visit.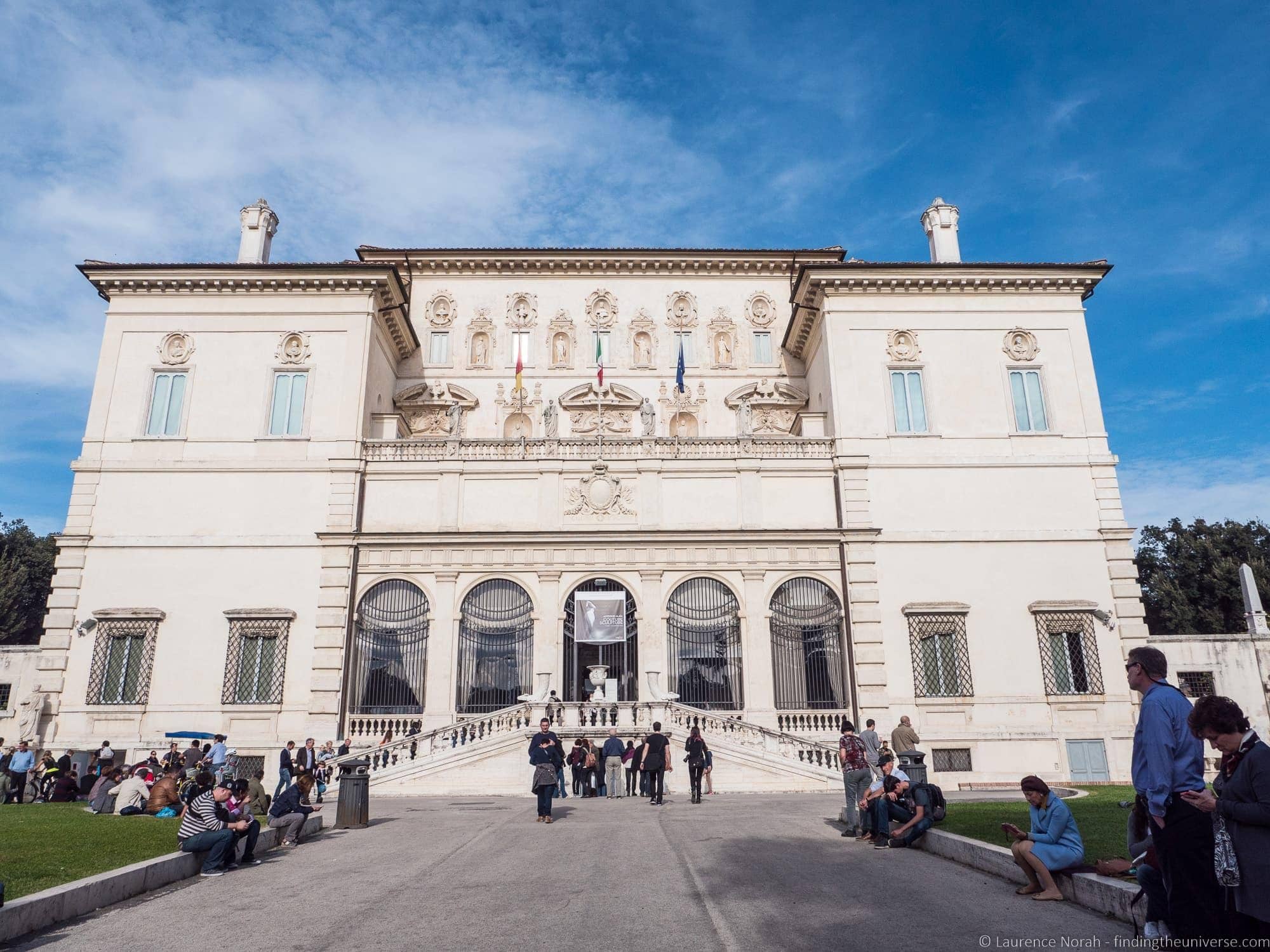 It's not huge, spread across two floors and twenty rooms, but the high quality of work on display means that everything you see is basically a masterpiece.
It's also guaranteed not to be too crowded, as they only allow 360 people in at a time. Compare this to the 30,000 visitors a day that the Vatican Museum hosts, and you will enjoy being able to breathe whilst you appreciate the art on display.
It'll take forty-five minutes to an hour to get to the Borghese Gallery from the Circus Maxentius part of the Appian Way, so you need to factor this in when planning your routes. Also, be aware that if you visit on a Sunday that public transport can be reduced.
The reason I mention this is because the Borghese Gallery has timed entry and reservation is mandatory. To reserve, just call the reservation line: +39-06-32-810. Once you enter, you have two hours to see the Gallery.
Alternatively, if you wanted to do a guided tour like this, your tour company will arrange the time for you, although again, these need to be booked in advance. Read about our experience touring the Borghese Gallery with Take Walks here.
The Borghese Gallery is closed on Mondays, but is otherwise open every day from 9am – 7pm. See more here.
Note – usually the Borghese Gallery is included on the Roma Pass and the Omnia Rome and Vatican Card, but it has had availability issues on these cards of late. Always check with the official website for any card you purchase to be sure everything you want to see is included.
Villa Borghese Gardens
Once you're done with the Borghese Gallery, we recommend heading over to the west side of the Gardens, towards the Piazza del Popolo.
The view from the terrace overlooking the Piazza del Popolo is one of our favourite views in Rome, especially at sunset.
If you can, try to time your visit here to enjoy that and reflect on three wonderful days spent exploring Rome!
Rome 3 Day Itinerary Map
Here's a map of the above itinerary showing all the attractions across the three days you'll be in Rome. You can click here to see this map on Google.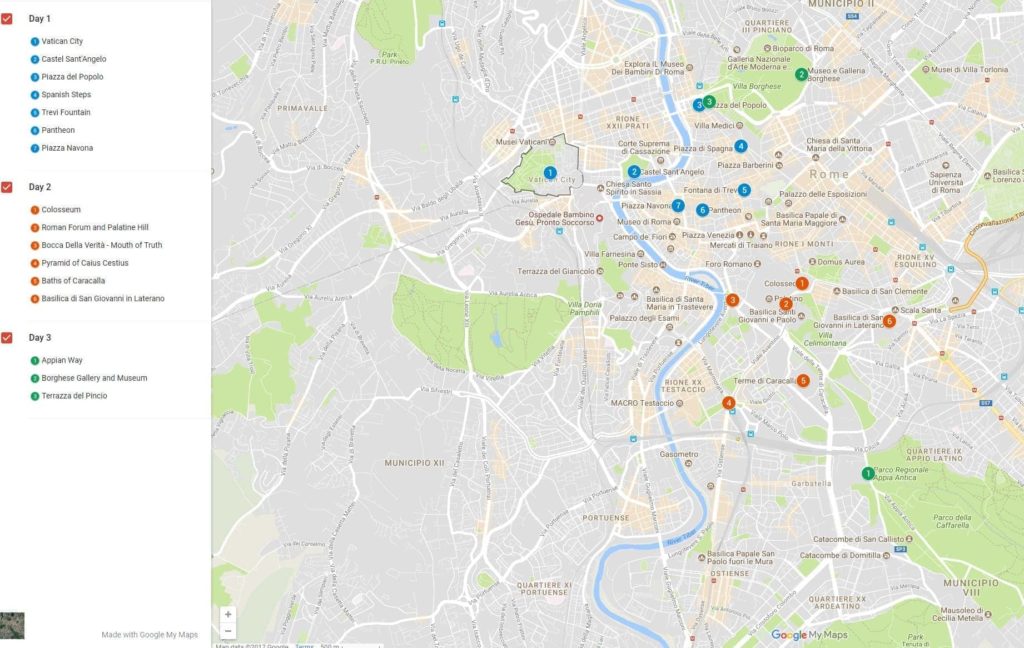 3 Day Rome Itinerary Overview
Day 1: Vatican City, Castel Sant'Angelo, Piazza del Popolo, Spanish Steps, Trevi Fountain, Pantheon, Piazza Navona, optional food and wine tour
Day 2: Colosseum, Roman Forum, Bocca Della Verita, Pyramid of Caius Cestius, Baths of Caracalla, Basilica di San Giovanni in Laterano
Day 3: Appian Way, Borghese Gallery, Terrazza del Pincio
How to Save Money and Skip the Lines in Rome
As with many cities around the world, Rome has a number of passes that help you get free and discounted admission, as well as skip the line privileges at key attractions – including many of the above.
There are three main attraction passes for Rome that we usually recommend – the Rome Tourist Card, the Omnia Rome and Vatican Card and the Roma Pass.
Which you choose will depend on your sightseeing goals, so we're going to go through these in a bit of detail now to help you choose.
In brief, for our three-day Rome itinerary we recommend either the Rome Tourist Card or the Omnia Rome and Vatican Card.
The first option we suggest is the Rome Tourist Card. This includes pre-booked skip the line entry to the Vatican Museums and Sistine Chapel, St. Peter's Basilica, as well as the Colosseum.
It also has some useful audio tours for the city. It then includes a 10% discount on other Rome attractions.
This is a great option as it includes the pre-booked timeslots for the major attractions in Rome like the Vatican and Colosseum, making this a very convenient pass to use. It's also cost-effective, and you can then add on other attractions you are interested in. You can buy yours in advance here.
If you plan on doing absolutely everything in our itinerary, then you might also consider the Omnia Rome and Vatican Card. The main downside is that it requires a bit of planning to make the most of it, and it doesn't currently (as of March 2023) include skip the line access to St. Peter's Basilica.
This pass is brought to you by the same folks who also run some of our other favourite city passes including the London Pass and the Barcelona Pass, and consists of two physical passes – an OMNIA card and the aforementioned Roma Pass.
Here's what the Omnia Rome and Vatican Card covers:
Free entry with Skip the Line access to the Vatican Museum & Sistine Chapel, and the Basilica of St. John in the Lateran and the Cloister. Note it does not include skip the line access to St. Peter's Basilica, which is a definite issue at busier times of year
Free audio guide at St. Peter's Basilica and the Basilica of St. John in the Lateran and the Cloister
Free entry to two out of six listed attractions, which includes the Colosseum, the Roman Forum and Castel Sant'Angelo
Skip the line entry at the Colosseum and Roman Forum (these count as one attraction when visiting using the card in the same day). Note you still need to book a timeslot for the Colosseum with these cards.
Discounted entry at attractions once you have used up your two free visits – this will be the concession rate
Discounted entry at over thirty other sights in Rome, including the Baths of Caracalla and Appia Way attractions
A 72 hour travelcard for Rome which covers all the major public transport, including buses, trams and metro
A 3 Day Hop-on Hop-off Bus ticket
A detailed guidebook to Rome and map of the city
As you can see, this pass includes a lot. One of the most valuable aspects of it, in my mind, is the skip the line access at the Vatican Museums and the Colosseum. I cannot stress enough how important these features are.
The line for the Vatican Museums in particular can be hours long (seriously, hours), and in the heat of the summer this can be a torturous experience.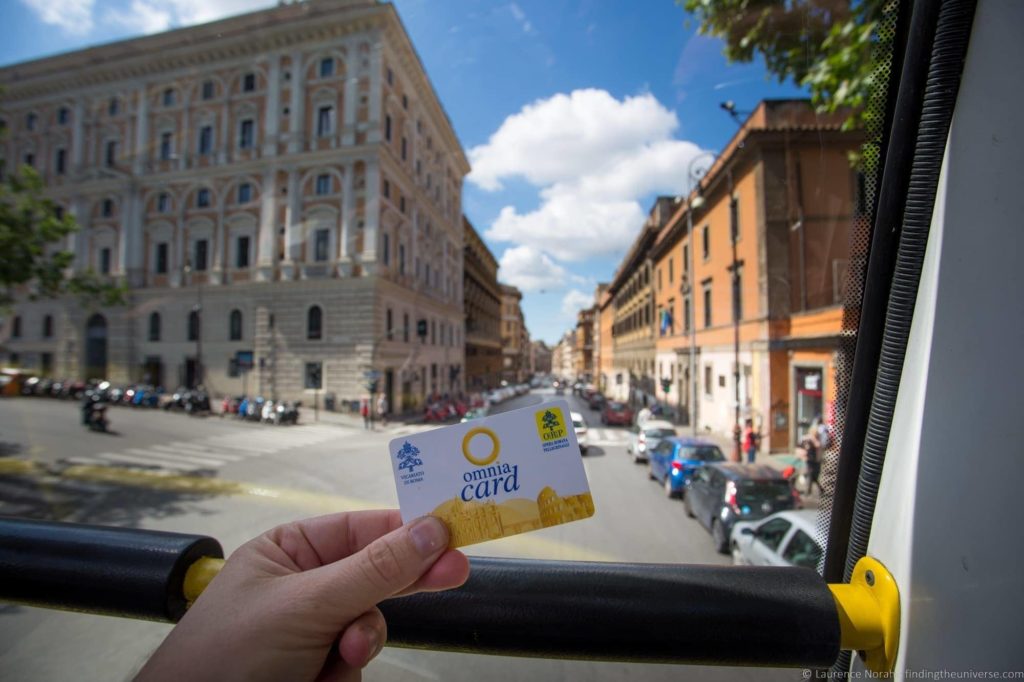 The Omnia Vatican and Rome Card gets you past this queue and straight in to the security line, and the same applies at the Colosseum. Seriously, don't waste your time in Rome standing in line.
To get the most out of the Omnia Vatican and Rome Card though, you have to be a little bit clever, and plan ahead. Or, you can just follow my itinerary, as I've ordered the attractions in a way that will save you the most money when using the Omnia Vatican and Rome Card.
As you can see, there's a list of six attractions, of which you can choose two that you get free entry to with the card. As these are not all the same price, to maximise your savings you want to try and use your free entry on the most expensive attractions.
Once you've used those two entries up, you will get a discounted admission when you use your card. Based on the three day itinerary above, we recommend you use the pass for free entry to the National Museum of Castel Sant'Angelo, and then for the combined entry ticket to the Colosseum and Roman Forum. This will save you around €35.
The other thing to be aware of is that for some attractions you need to book your entry in advance. These include the Vatican Museum and the Colosseum.
My advice, as you can see in the itinerary, is to book the earliest entry you can. The Vatican Museum gets very busy, and the first hour or so in the morning is the quietest time to visit.
For the Colosseum, you need to book your timed entry slot. If entry to the Colosseum is important for you, please check availability on the official website here before purchasing the Omnia Vatican and Rome Card.
Be sure to check for availability for the €2 Roma Pass reservation option rather than general availability as they come out of a different pool, and Roma Pass reservations are often available even if general tickets are showing as sold out.
If there is no availability, then you will not get access to the Colosseum even with the pass.
Instead, read our guide to visiting the Colosseum for other options you have.
You don't have to book a pass of course. You can either book tickets or tours individually for many of these attractions. This will be more economical if you only plan on visiting some of these attractions.
If you don't plan on buying a pass, then we strongly recommend booking your timeslots in advance as most of the attractions in Rome are hugely popular and do sell out.
For example, you can book Vatican tickets here, Colosseum tickets directly here, and St. Peters entry tickets directly here.
If you go down this route, make sure you choose the option that lets you print the ticket yourself so you can proceed directly to the security line. Note that the Colosseum now operates a timed entry system as well, which as of 1st March 2019, includes pass holders.
Also be aware that there are many sites that sell tickets at a mark-up, so if you want the best prices it's best to compare against the official site for the attraction, although we would add that these tend not always to be super user-friendly!
The exception to this is St. Peters Basilica, which doesn't currently have fast-track tickets and so if you want to skip the line the best option is to book a tour.
The other pass that you might consider is the Roma Pass. Whilst this comes with the Omnia Vatican and Rome card, it can also be purchased separately, in a 2 day (48 hour) or 3 day (72 hour) version. The Roma Pass includes free / discounted admission to many of Rome's attractions as well as a transport card for the public transport network in Rome.
However, it doesn't include entry or skip the line access to any of the Vatican attractions, including the Vatican Museum or St. Peters Basilica, nor does it include the Rome Hop on Hop off bus.
We think that for 3 days in Rome, either the Rome Tourist Card or the Omnia Vatican and Rome Card is a better option.
For us, the true value of these passes isn't the cost saving – even though they do offer that. Instead, it's the fact that it makes it so much easier and hassle free to visit Rome.
You'll get to all the attractions you're really going to want to see without spending time standing in line. And that's why we think they are worth looking into for your trip to Rome.
Find out more and buy your Rome Tourist Card from the official site, here.
You can buy the Omnia Vatican and Rome Card here. You can also check the price on GetYourGuide here for comparison.
Summary of Best Pass Options for Rome
Here's a quick summary of the main pass options for Rome.
First, the Rome Tourist Card. This includes skip the line entry to the Vatican, the Colosseum, St. Peter's Basilica, and an audioguide tour of Rome, amongst other things. There's also a 10% discount on a number of other attractions. You can book your timeslots for the attractions when you book the pass, which makes everything a lot easier.
Second, the Omnia Vatican and Rome Card. This includes the Vatican Museums, as well as a choice of a number of major attractions like the Colosseum and Castel Sant Angelo. It also includes transport in Rome and a Hop on Hop off bus. It's more expensive than some other passes and you do have to book other attractions like the Colosseum separately, but it does include pretty much everything you might need for your time in Rome.
Third, the Roma Pass. The previous pass actually includes this pass, which includes free / discounted admission to many of Rome's attractions as well as a transport card for the public transport network in Rome. Notably it does not include the Vatican attractions.
Fourth, consider the Best of Rome All Access pass. This 3-day pass includes fast track reserved entry to the Vatican Museums, Sistine Chapel, Colosseum, and Roman Forum. There's no transport included on this pass, or discounts on other attractions.
Hopefully that gives you plenty of ideas as to which Rome discount card might be best for your trip!
Getting Around Rome
Rome is really easy to get around, with much of it very walkable. The itinerary we're laid out is designed to be logical and easy to follow, so you won't waste time getting from place to place. Getting from each location to the next should be either a short walk, or a single bus or metro ride away.
If you decide to buy the Omnia Vatican and Rome Card it includes free public transport for your three days in Rome, as well as the Hop on Hop Off bus.
Alternatively, you can either buy a travelcard yourself, or just buy tickets as you go. A one way ticket, known as a "B.I.T" costs €1.50 and is valid for 100 minutes from when you activate it.
With the B.I.T. you can change transport types as you go, with the exception being you cannot re-enter the metro system if you leave it.
These single tickets can be bought from metro stations as well as convenience stores and newsagents, and need to be activated with a timestamp when you board the first transport.
For buses this will require putting the card into a machine located on the bus. Metro entry barriers will automatically timestamp your ticket as you insert them at the barrier.
Not stamping your ticket is the same as travelling without a ticket, and you can be penalised for doing this.
As of 2023, many Rome buses now have contactless payment options as well, so you can just pay as you board by touching your contactless card to the terminal.
How to get into Rome from the Airport
Rome has two major international airports that you might fly into – Rome Fiumicino (FCO) and Rome Ciampino (FCO). Flights from the North America usually arrive at Fiumicino, whilst flights from Europe may arrive at either.
It's easy to get into central Rome from either airport.
From Rome Fiumicino, you can take the train, bus, or taxi. There's a train station on site which will get you into the city centre in around 30 minutes to an hour. Prices range from €8 – €14, depending on if you take the fast Leonardo Express or the local train services (FL1).
Note that the local train service (FL1) does not go directly to Termini – it goes to Rome Trastevere, and then you would need to change onto the FL5, which you can take to Termini.
There are also a number of bus options which cost from €5, and which take around 50 minutes to an hour, and take you to Termini train station. There's also a taxi stand. You can also arrange either a shared shuttle or a private transfer service, which needs to be booked in advance.
From Rome Ciampino, there's no on-site train station, but there is a local train station just five minutes away by bus. This train costs around €1.50. There are also buses from Ciampino, which also cost €5. Ciampino also has taxis, although as this is a smaller airport there are generally fewer available. You can also book a shared shuttle or private transfer service in advance.
Both airports also have private and shuttle transfer options that you can book in advance.
Where to Stay in Rome for 3 Days
Rome certainly has no shortage of places to stay. For this three day itinerary, we'd suggest you stay somewhere central, to make accessing all the attractions as easy as possible. Our suggestion would be to stay somewhere in the area between the Piazza Navona, Piazza Venezia and Piazza del Popolo.
For some options close to the historical city centre and all the sights in our itinerary, consider the following. These are ordered approximately by price, from low to high, but do always check prices for your dates as they can vary.
Of course, there are many more options. We tend to use Booking.com for most of our accommodation when we travel, they have a wide selection of options, with everything from hostels to apartments to hotels. The review system makes it easy to pick a good option, and they have an excellent cancellation policy.
As an example of what is available, beyond the above mentioned hotels, here's a well rated hostel, and a fantastically located apartment. As you can see – loads of options!
If you prefer an apartment, then we recommend either Plum Guide or Vrbo.
Plum Guide carefully curate their listings so their options tend to be of a very high quality whilst still being available at a range of price points. We've stayed at a number of their properties around the world, and you can see our review of the Plum Guide here. See their listings for Rome here.
If you can't find what you want from the above choices, or you want some new options to try out, we wrote a whole post on the best alternatives to AirBnB which you should check out!
We also have a page full of travel resources, which includes our tips for getting the best deals on accommodation, which you can find here.
When to Visit Rome
With a Mediterranean climate, Rome is a city that can be visited throughout the year. However, it gets very busy and very hot in the summer months, especially in August, so we'd advise avoiding August if you can. If you must visit in August, we highly recommend you pick up the Omnia Vatican and Rome Card so you don't have to queue for attractions in the unshaded heat.
We've visited Rome at all times of year, and our favorite time to visit is April / May, which we think offers a good balance between nice weather and less crowded attractions.
Another thing to be aware of is that many museums and attractions are closed on Mondays. In addition, there is free entry to lots of the key attractions in Rome on the first Sunday of every month – we'd suggest avoiding this day if you possibly can as the crowds are unbelievable!
Practicalities for Visiting Rome for 3 Days
Safety in Rome
In our many visits to Rome we've never had any safety problems although pickpocketing is not uncommon in crowded tourist areas.
As always, practice basic safety precautions. Keep valuables concealed, don't carry large quantities of cash, only use official taxis and so on.
Power in Rome
Electricity is of the 220v standard, with the 2 pin European style plug. Travellers from countries like the UK and the US will need a travel adapter like this, and US travelers need to check their equipment supports the 220v standard – it will be written clearly on the power adapter.
See more on travel adapters and how to choose one for your trip in our guide to the best travel adapters.
Currency in Rome
Rome is a part of the Eurozone, meaning the currency is the Euro. You can get these from ATM's, banks and currency exchanges, although credit cards are of course widely accepted.
We suggest using a credit card where you can – just ensure it has no foreign currency transaction fee.
Internet Access in Rome
Internet access is widely available in the form of WiFi all around the city and in hotels and coffee shops, so you shouldn't have any trouble getting online.
You can also pick up local SIM cards if you have an unlocked phone. If you are travelling from the USA, consider a Google Fi package which lets you use your data overseas.
For more options on getting online when travelling, check out our guide to getting online when travelling to help you figure out the best options.
Drinking Water in Rome
The water in the taps is safe to drink, although many locals prefer the taste of bottled water. You can also drink the water that comes out of the taps in the fountains, so just carry a drinking water bottle with you and hydrate as you go.
Of course, if you don't like the taste, bottled water is widely available.
Dress Code in Rome
Many of the attractions in Rome are holy places, and you need to be dressed appropriately.
There will be big signs explaining what you should wear, but generally, you need to have clothing that covers your knees and shoulders.
This can be an issue with warm weather clothing choices, particularly in summer, so we advise that if you choose to wear tank tops or shorts to keep items to cover your shoulders and knees with you like shawls, scarfs, long skirts, or pants that convert into shorts.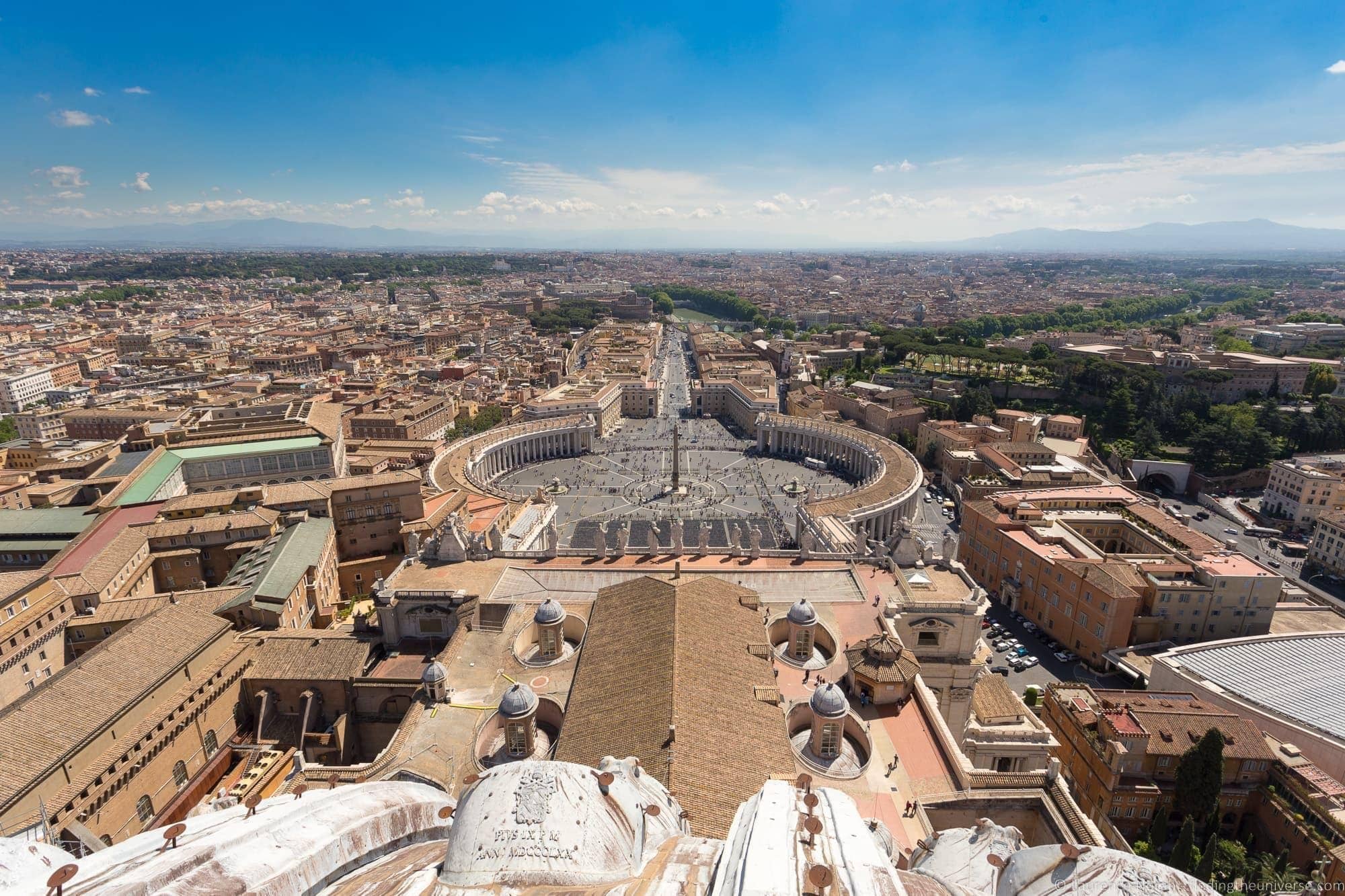 Luggage Storage in Rome
It may be that on your day of arrival or departure in Rome, you'll find yourself needing to leave your luggage somewhere.
Usually your hotel or apartment will have left luggage facilities, however, if this isn't the case (often the case with apartment rentals for example), you will definitely want somewhere to leave your luggage for the day while you sightsee.
Many of the attractions in Rome won't let you take bags in with you, and even those that do will require you to do additional screening.
As such, we'd recommend you leave your luggage behind so you can explore without being weighed down. We'd suggest this luggage service, which has locations at Termini station as well as the Pantheon and other parts of the city.
We also suggest checking out Nannybag, a service which has storage points across Rome (and other cities around the world).
Tours We Recommend in Rome
We've taken a number of tours in Rome, and can definitely recommend these if you're looking for a guided experience. For walking tours specifically, the companies we recommend are Context Travel (10% off tours with this link), Take Walks and Devour Tours.
With Take Walks, the first tour we recommend is their introduction to Rome tour. This is a good tour to start with as it covers some of the highlights of the old city centre, helps orient you, and includes a gelato. It runs in the evenings, so is a good option if you are looking for something to do on your arrival day.
Another excellent Rome tour they offer is their Rome in a Day tour, which covers many of the highlights of the city in one day, which is a great way to see the sights in Rome and not worry too much about skip the line tickets and queues.
They also offer more specific tours of popular attractions. We can recommend the "Pristine Sistine" tour, which gets you early access to the Vatican Museums before they open to the public, which is even better than skip the line access. If you decide to do this, then you may find that a Roma Pass is going to be better value than the Omnia Rome and Vatican Card.
We've also taken their "Colosseum & Roman Forum" tour, which covered the Roman Forum and the Colosseum. Finally, we've taken a tour of the Borghese Gallery on the "Borghese Gallery Tour with Tickets".
If you prefer your tours to include food and wine, then we can highly recommend Devour Tours, who are the sister tour company to Take Walks. We've taken their food tours in a number of cities.
In Rome, one of our favorite Devour tours is the Trastevere Gourmet Food and Wine tour, which we thought was excellent. As this tour runs in the evening, you can likely include it on most of the days on our itinerary.
You can see our complete guide to Rome food tours here for some more ideas and options for your visit.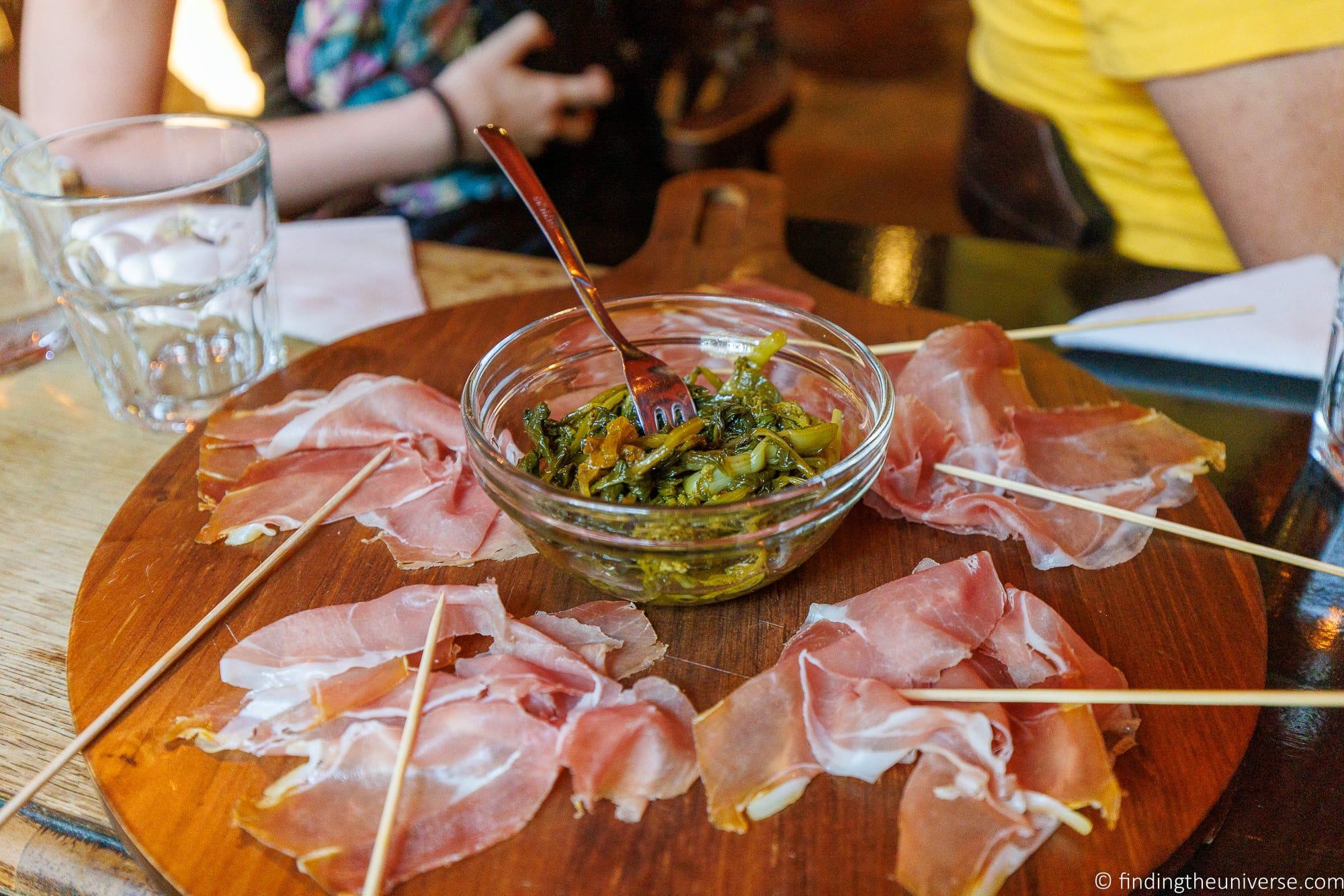 We've also taken tours with Context Travel in Rome, who offer very small group tours for the intellectually curious. These are fairly specialized tours, one focusing on Rome, the Grand Tour and the Romantic Poets, and the other on the history of the Popes and Rome political power.
Context Travel also run a series of tours of Rome you can take before you leave for Rome, which can be a good way to familiarize yourself with the city or a particular landmark before you visit. You can see their online program here.
We've written fairly extensively about our tours with these two companies in Rome, and I link to these reviews in the further reading section below to help you decide if these are going to be good options for you.
There are of course other options for tours in Rome, including all the tours on this page, which offers a variety of things to do from different providers. So definitely check out the options to figure out what is best for you!
Next Steps for Visiting Rome
Having read all the above, I hope everything is clear. I admit, Rome is a wonderful city to visit, but planning in all the attractions and avoiding those dreaded queues might feel a little overwhelming. With that in mind, here's a quick checklist to help make sure you get the most out of your stay.
Plan when you are going and book your flights and accommodation
Decide which attractions you really want to visit based on the above itinerary, and any other research you have done
Check timeslot availability for the Colosseum on the official website if you want to visit
Decide if something like the Rome Tourist Card or Omnia Vatican and Rome Card is going to be for you, and purchase it in advance. If you aren't interested in the Vatican attractions, or are going to visit them on a walking tour, you should definitely consider the Roma Pass instead. This includes transport and a number of other attractions in Rome.
Make any walking tour reservations with either Context Travel or Take Walks. This is also an option for visiting the Colosseum if timed slots are not available. You can also look at tour options on GetYourGuide as there are lots of options to choose from.
If you're not getting an attraction pass, make your reservations in advance for all the attractions you know you want to visit which aren't part of any walking tours you book. In particular, you will want to book in advance for the Vatican Museum, the Colosseum and the Borghese Gallery if you plan on visiting these attractions.
When comparing tickets on different sites, be sure to check the cancellation / refund policies. In our experience, the official site for each attraction does not offer any refunds if you need to cancel. GetYourGuide generally offers a refund on most of their tickets if cancelled within 24 hours of your visit, which can offer peace of mind, although do check the policy on each ticket as it varies by attraction. See all their Rome tours and activities here.
If you are getting an Omnia Vatican and Rome Card or Roma Pass, make sure to book your timeslot for the Colosseum as far in advance as possible
Enjoy your trip to Rome knowing you're not going to waste time in line for anything but gelato!
Where to Go After Rome?
I'm often asked in the comments on this post, and our other Rome content, where to go after Rome, and the best way to get there.
My advice if you want to explore Italy a little bit further is to visit cities like Florence and Venice.
The easiest way to get to these is to take the fast train service. These run frequently and are very quick. Tickets are cheapest when booked well in advance, plus booking in advance will usually guarantee a seat reservation.
You can book train travel in Italy (and Europe in general), on our recommend train ticketing site: Trainline.com.
Another option if you would rather base yourself in Rome and don't want to worry about booking train tickets, is to take a day tour from Rome. Some options from Rome include:
As you can see, you have plenty of options from Rome!
Further Reading for your 3 Days in Rome
Well, that was a lot of content to help you plan your trip to Rome! As well as the above, we have a number of other resources we'd like to recommend to help you out, both content we've written ourselves, and resources we've found online. Between this post and these resources, you should be able to put together the perfect trip to Rome!
And that sums up our idea of how to spend the perfect three days exploring Rome! We hope you found this itinerary useful, and now have plenty of ideas for things to do in Rome for three days.
Are you planning a trip to Rome? What do you want to see when you do? Let us know in the comments below!