Venice is without doubt one of our favourite cities in Europe, and when we came to choose somewhere to hold a small wedding ceremony for our wedding, Venice was our pick.
If you're visiting Venice for one day, as is often the way, you might be wondering what you should do. Well, in this post, I'm going to tell you everything you should do with one day in Venice.
Venice is a city that just captures my imagination in a way that few other cities are capable of. It's a maze of tiny streets, a collection of islands linked by bridges and waterways, and the whole thing is possibly going to sink one day. There is art, music, architecture and food.
Most importantly of all, perhaps, the whole place is pedestrianized, what with there being no roads capable of fitting a car on. Seriously awesome for someone who loves to get to know a place by foot, like me.
So. When you're in Venice for a day – what should you do? Here's the answer!
1 Day in Venice
Visit St. Mark's Square
St. Mark's square, or Piazza San Marco, is an absolute must for any visit to Venice, and the starting point of our one day Venice itinerary.
One of my most enduring travel memories is having the whole square to myself during an immense thunderstorm, when everyone (including the pigeons!) scurried for cover, and I didn't. I ended up somewhat wet, but happy. It's also where we held our impromptu wedding ceremony with friends and family. Suffice to say, a special place for both of us.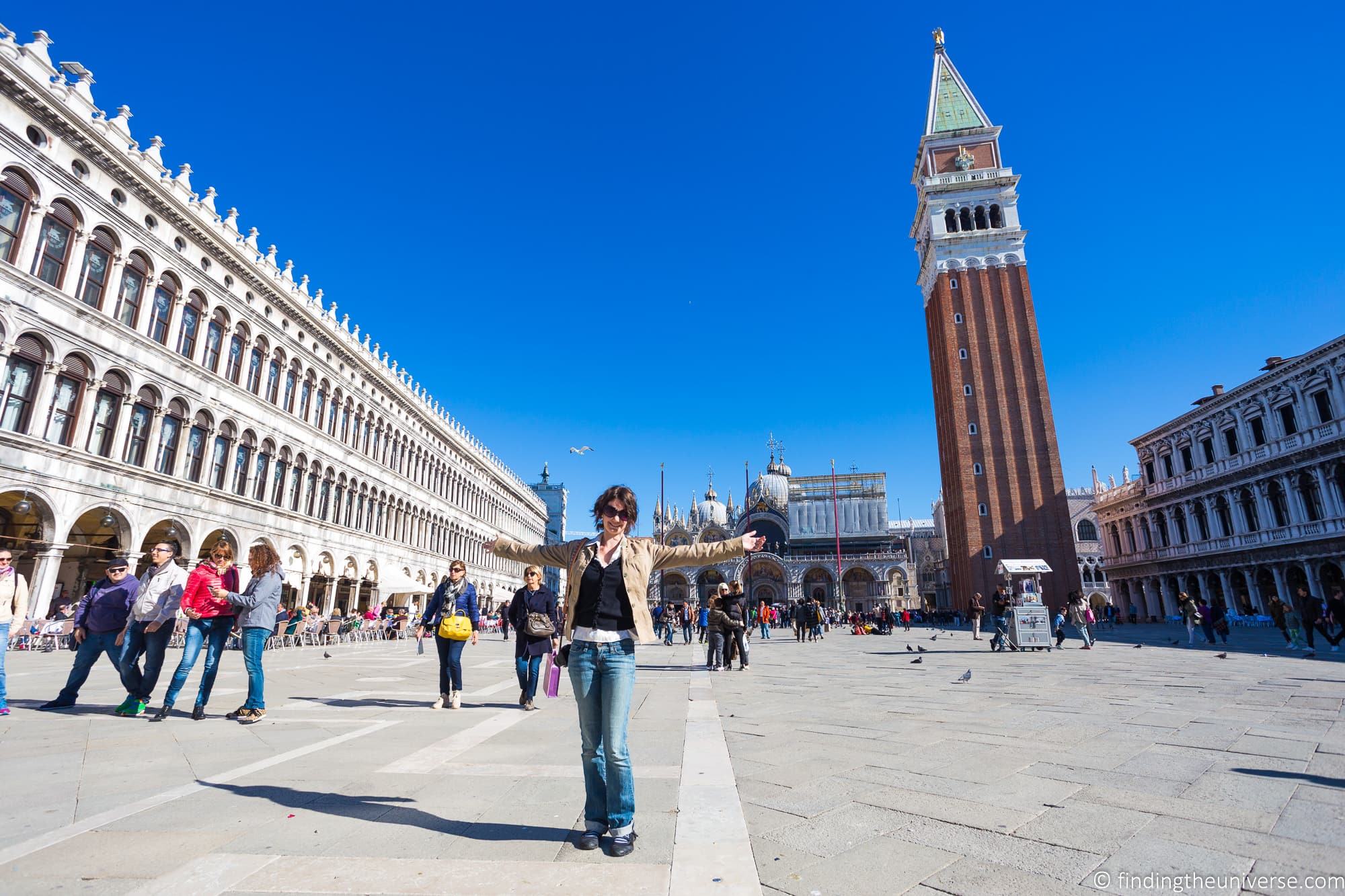 The Square is home to a number of sights that are worth taking some time to look at. First, I'd highly recommend getting your legs into shape with a quick scoot up the Campanile di San Marco – the large bell tower at the corner of the square. An elevator is also available.
This will afford you with quite splendid views across Venice, and the surrounding lagoon and islands. The orientation probably won't save you from getting hopelessly lost down the many back streets, but it's great for taking some panoramic photos all the same.
Back down at ground level, you'll want to take in the Basilica di San Marco. This is one of the most famous churches in Venice. There are two options for visiting, you can pay €3 on site and join the line, which can be long. If you'd prefer not to queue however, you can book a skip the line ticket for a slightly higher fee from the official website here. This is probably worth it in the busier months of June – September.
Around the Piazza there are also a great number of museums and other churches, as well as the Doge's Palace. The majority of these are ticketed, we suggest buying a ticket that gets you access to multiple venues, like this. This will also skip the ticket lines which can be very lengthy, especially for the gorgeous Doge's Palace.
Another option for visiting these sights is to take a guided tour – see our guide to visiting St. Mark's Basilica and the Doge's Palace for more on these.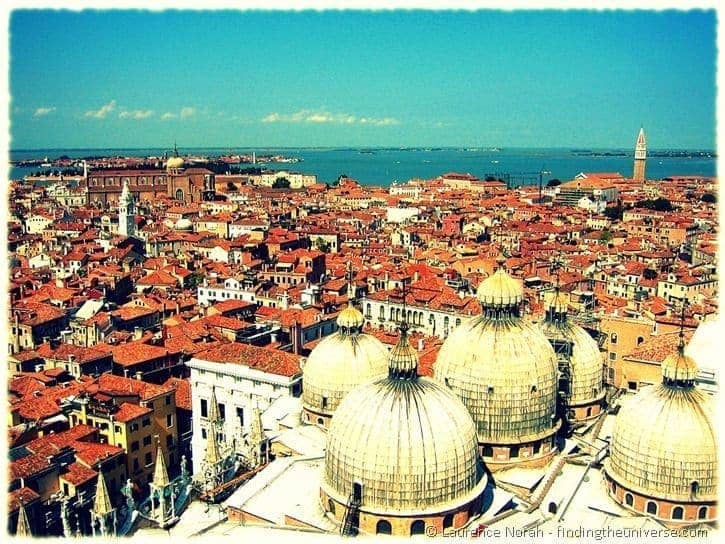 Otherwise, the square is also home to a number of cafes, many of which have live orchestral music.
You'll pay handsomely for the privilege, but sitting in this square listening to classic music and enjoying a cup of fine Italian coffee is an experience that everyone should have at least once in their life. Apologise to your wallet later!
Bridge of Sighs and Doge's Palace
Just beyond St. Mark's Square is the Doge's Palace, which was home to the Doge of Venice. The Doge was the ruler of the Venetian Republic, and the most powerful person in the city.
The Doge's Palace is well worth visiting. It can be visited as part of a guided tour like this Doge's Palace and St. Mark's Basilica tour, or you can book your ticket online in advance here. It's also included on the Venice Pass.
Just next to the Doge's Palace is the Ponte dei Sospiri, or Bridge of Sighs. This links the interrogation rooms of the Doge's Palace with the next door prison across the Rio di Palazzo.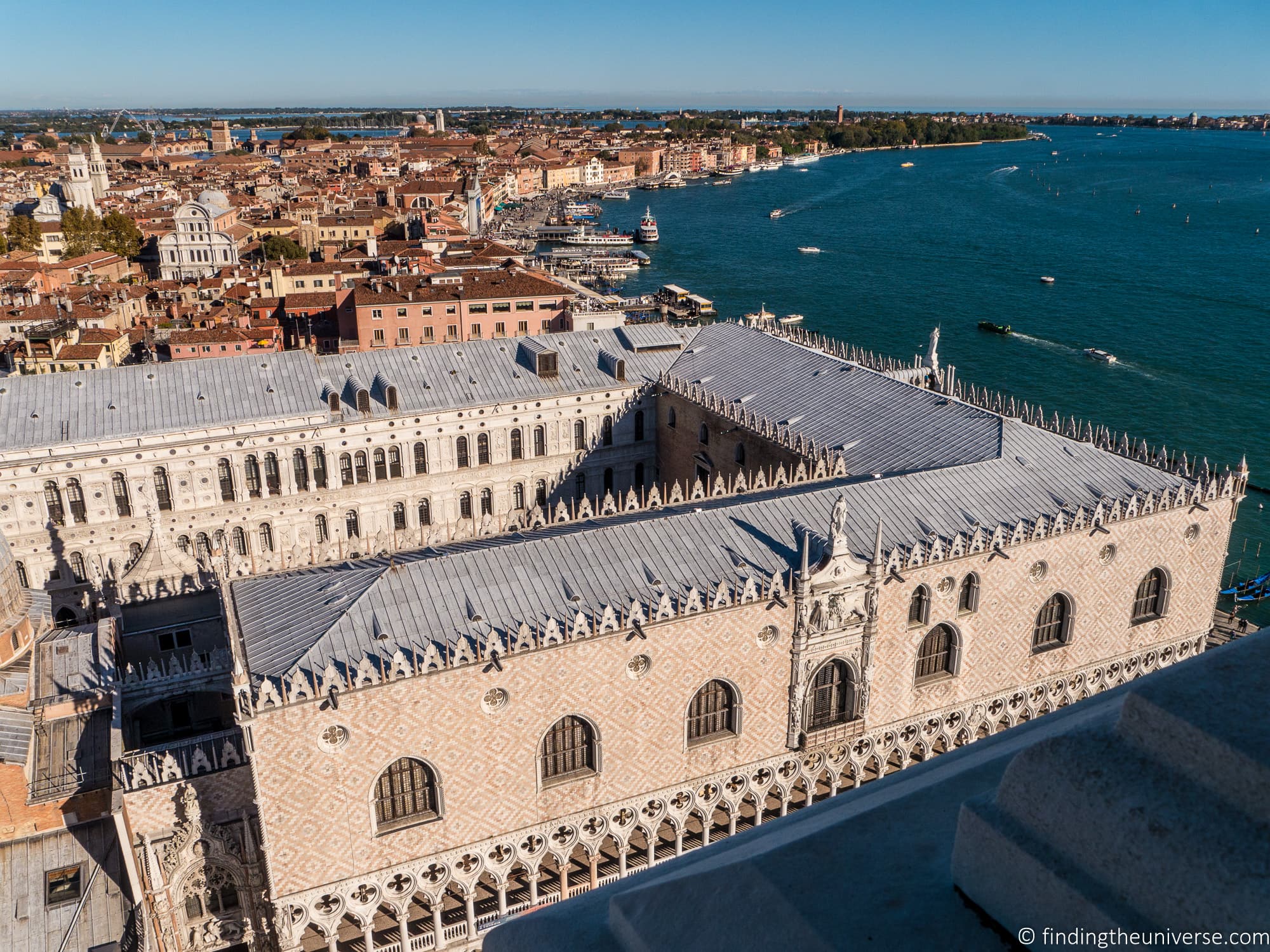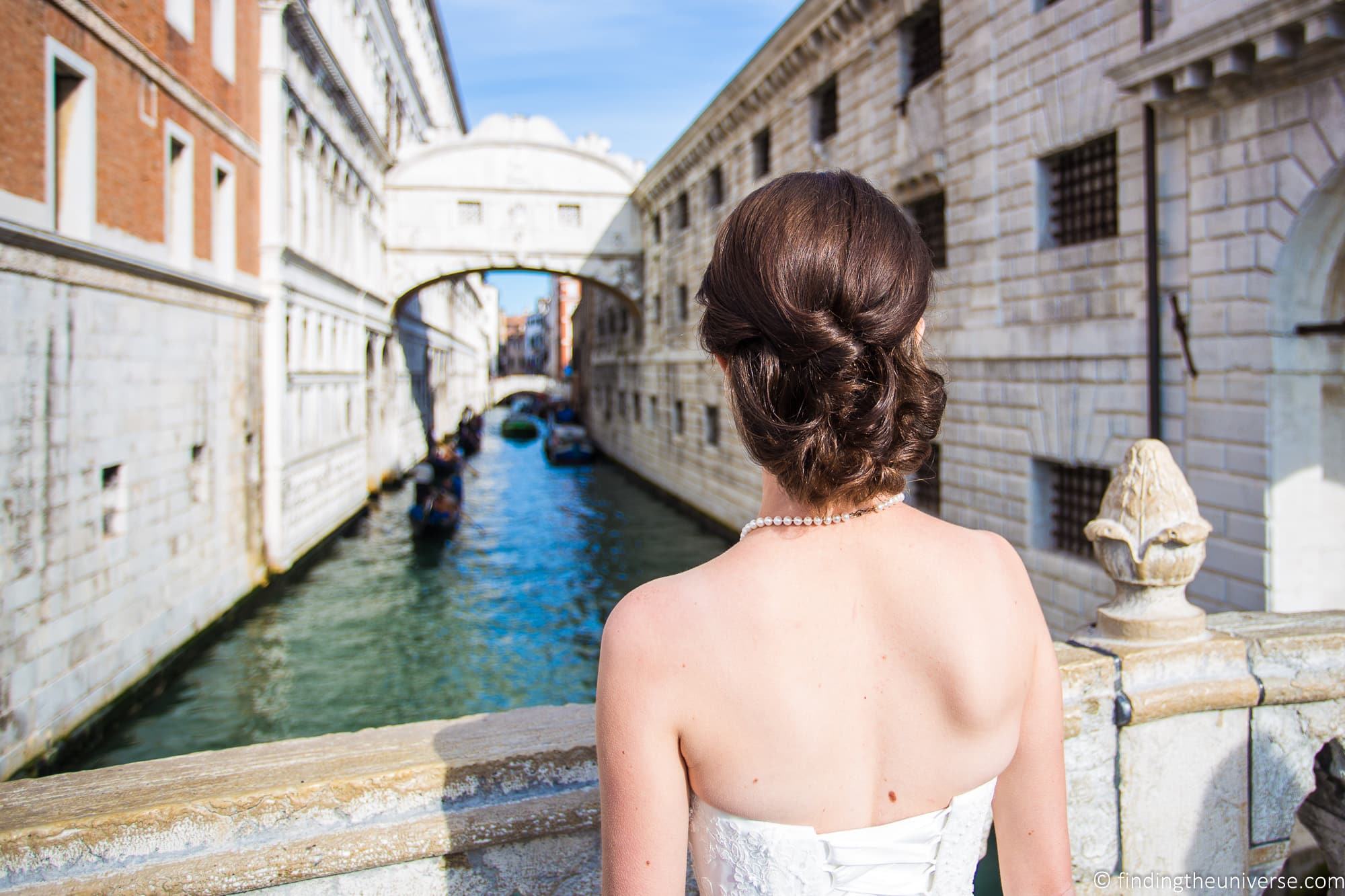 The bridge, which dates from 1600, was used to take prisoners from the Doge's Palace to the prison. The name originates from the notion that as prisoners crossed the bridge, they would sigh as they had their last glimpses of Venice before being incarcerated and executed.
Whilst this sounds wonderfully romantic, it's likely not really true, as by the time the bridge was built the prisoners were generally just petty criminals who weren't executed. Plus, the view from inside the bridge isn't exactly amazing. Still, it's a nice story, and the bridge itself is very pretty from the outside.
Ponte dell'Accademia
One of my favourite views in Venice is the one down the Grand Canal from the Ponte dell'Accademia. This is no more than 15 minutes walk from St. Mark's Square.
Here you'll see the boats and gondolas making their way up and down the canal, with the Basilica di Santa Maria della Salute framing the view at the end. It's a wonderful spot for getting a classic photograph of Venice.
Lovers of art will also likely want to check out the nearby Accademia Museum (entry fee, book in advance on the official website here). The Peggy Guggenheim collection is also a popular attraction just a few moments walk away. Book skip the line tickets for that in advance here.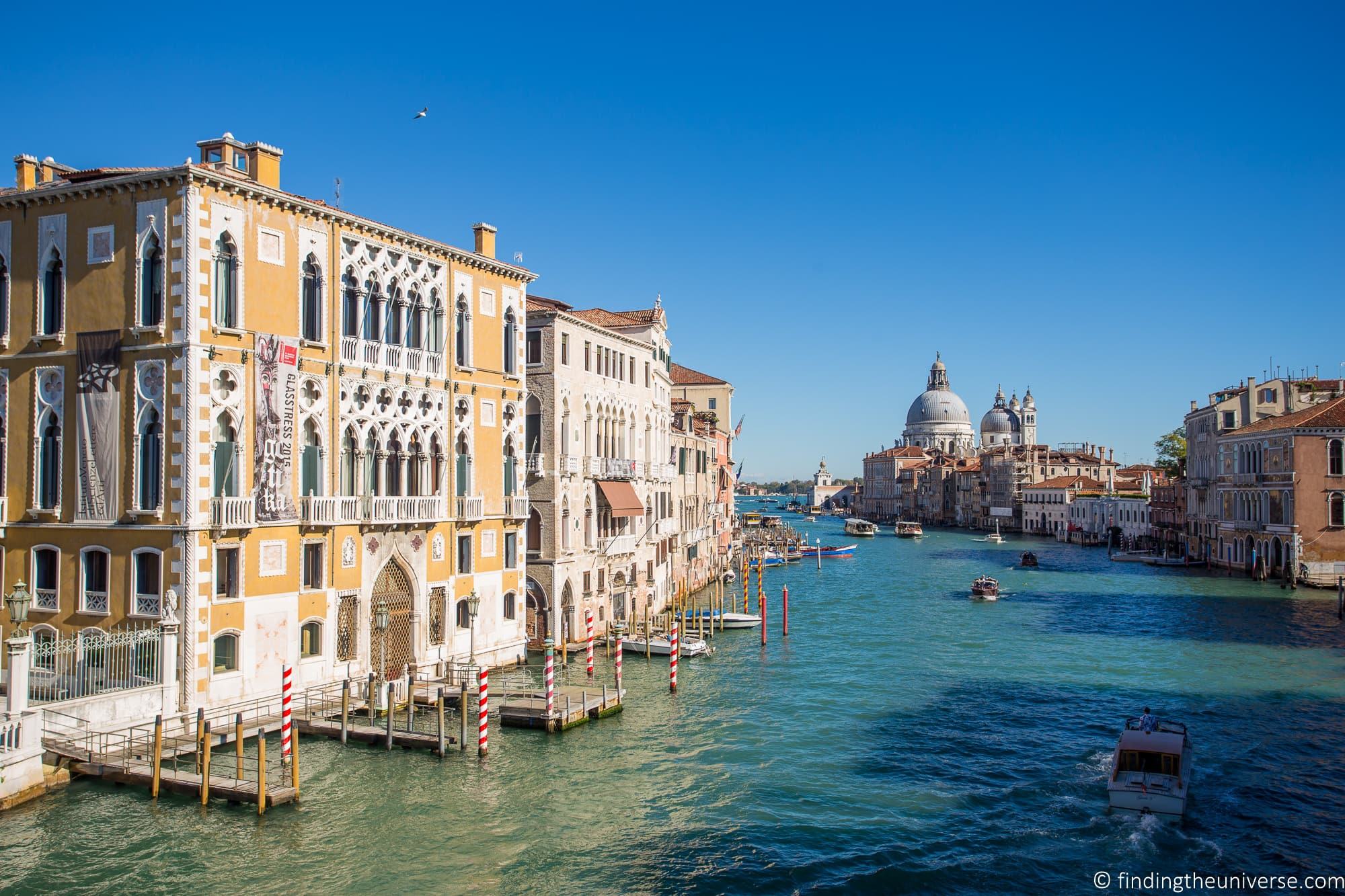 Lunch Somewhere
You've had a busy morning so far so it's probably time for some food. There's a huge range of eateries in Venice, ranging from eateries serving up Cichetti (Venice style tapas) through to fine dining venues.
Honestly, there's a lot of choice across a range of budgets. Venice is not a cheap city, but you should be able to find a delicious meal at a price point that suits.
Rialto Bridge
Now you're going to visit arguably the most famous of all the bridges in Venice, the Rialto bridge. This is also the oldest bridge spanning the Grand Canal in Venice.
It was originally built as a pontoon bridge back in the 12th century, although the present version dates back to the late 16th century.
The Rialto bridge gets its name from the Rialto market which sits on the eastern bank of the river. The bridge was created to link this market with the western bank. The bridge has a covered central section which is home to shops and markets, with pedestrian access on either side.
It's obviously a popular place to visit, but still a must when in Venice for a day!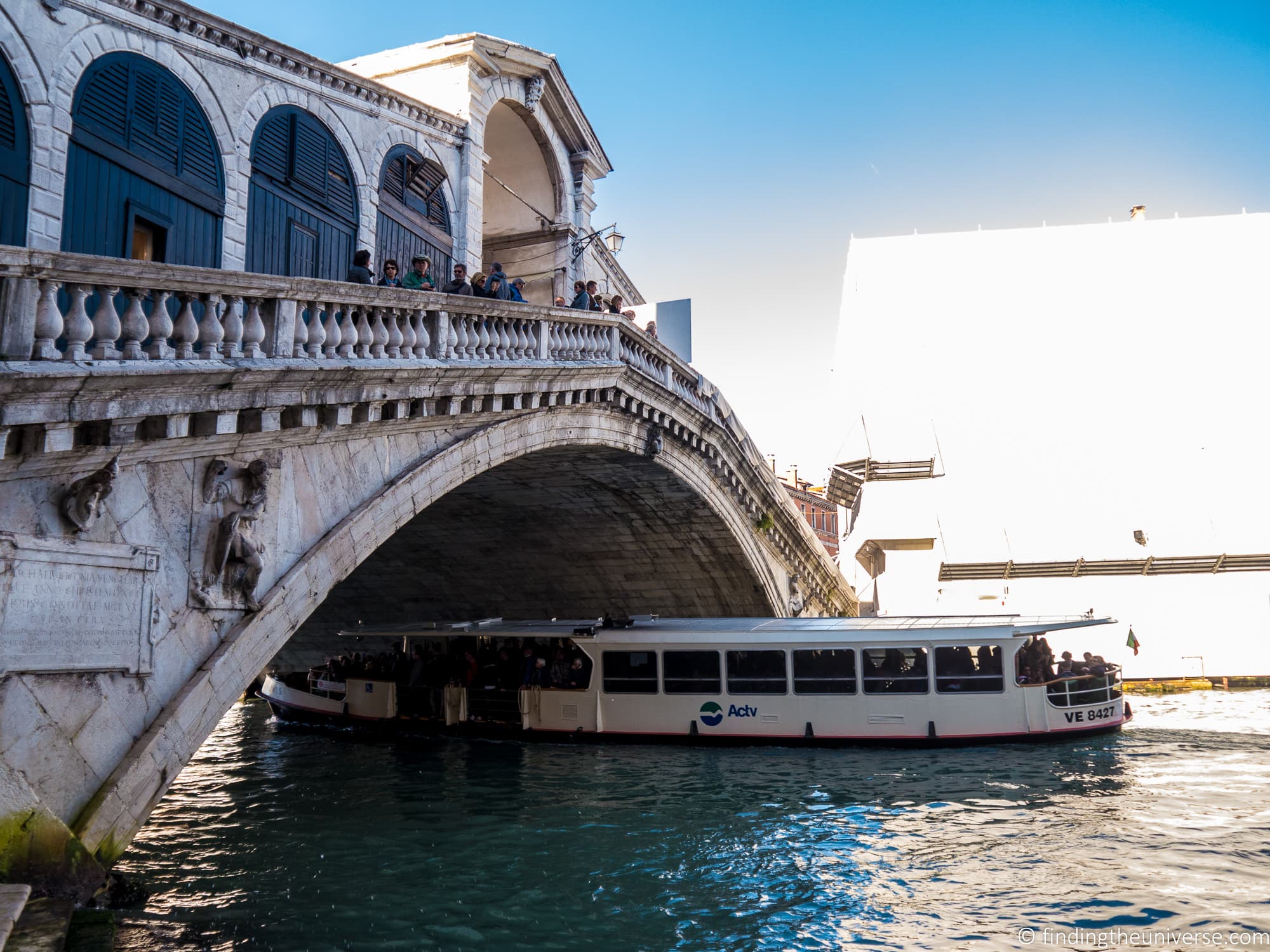 Gondola Ride
Now then. Venice is a city of waterways, and no visit to Venice is really complete without a trip on some form of water borne transportation.
If you're travelling with your significant other, and your idea of heaven is a gentle meander down the back waterways of Venice, just the two of you, luxuriating on some pillows while a muscle bound man serenades you.. well.. you'll sure be able to find an experience approximating that.
Although, as with the coffee in St. Mark's Square, it's an experience you best keep secret from your savings account. Prices are fixed, and there are gondola stations around the city with signs up showing the price. We recommend having a quick chat with your potential gondolier before boarding to confirm things like route, duration and to confirm the price.
We love going on the gondola in Venice as a couple but of course it's not for everyone.
Another good option for taking a gondola ride is to do it as part of a guided tour which includes a gondola ride, like this.
Alternatively, you can book a shared gondola ride here, or a private gondola ride here. Be aware that prices are set by the city for Gondola rides, and they depend on factors like duration and time of day. A shared Gondola ride is also included on the Venice Pass.
Expect to pay €80 for a 25-30 minute private tour in the day, and more at night or for a longer tour. Usually in person prices for the private tours are better value than booking in advance, although at busier times of year booking in advance can save you queuing. Busier locations like around Saint Mark's Square will have more lines, whilst quieter backstreets will often have no line at all.
If you're not overly romantic, and you just want to experience Venice from the water, then you have no shortage of options. If your heart is set on a gondola, then you can take a gondola taxi from one side of the river to the other. It'll be over quickly, but at least you can tick the gondola box.
Alternatively, there are water taxis, water buses, and water sight-seeing tours. Take everything you would normally find on a road, imagine it on the water, and you will find it in Venice. Whichever one you do, you'll be sure to enjoy it!
Back Streets of Venice
Venice has a lot going for it, with churches, museums and incredible bits of architecture literally jumping out at you on every corner.
The other thing that Venice has is a lot of people. The funny thing though, is that most visitors seem to stick to the main street that takes you on a big loop past all the main highlights.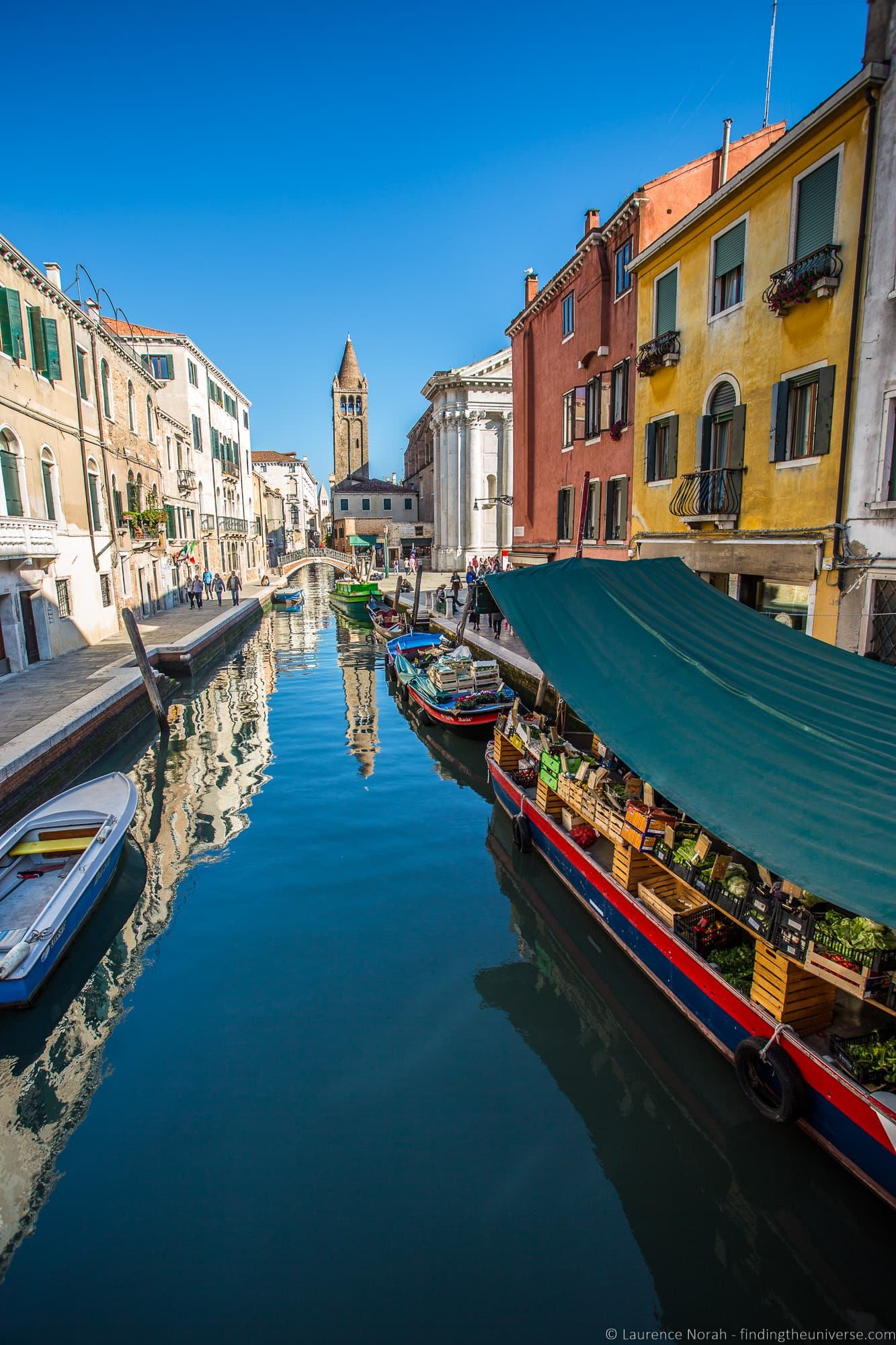 If you duck off the main streets, as we usually do, you will find yourself in a maze of back alleys. I'd advise abandoning the map and just giving up on trying to maintain any sense of direction – just wander freely and lost. Venice is, after all, an island, and you won't be lost forever.
You will, however, be rewarded with a side of Venice that is often overlooked and far less busy than the main thoroughfares. And then you will realise why Venice is my favourite city in Europe.
Duck into a church or two, find a quiet square to enjoy an apero, or simply revel in being completely lost. Venice is an attraction in itself, and you should take some time to appreciate it.
Murano & Burano
With only a day in Venice, you might be pushing it to venture beyond the most well-known part – the central area made up 118 islands. But there are more parts of Venice that are worth a visit if you feel adventurous.
For example, the four islands of Burano are well worth a visit, with their colourful houses and slightly more laid back feel.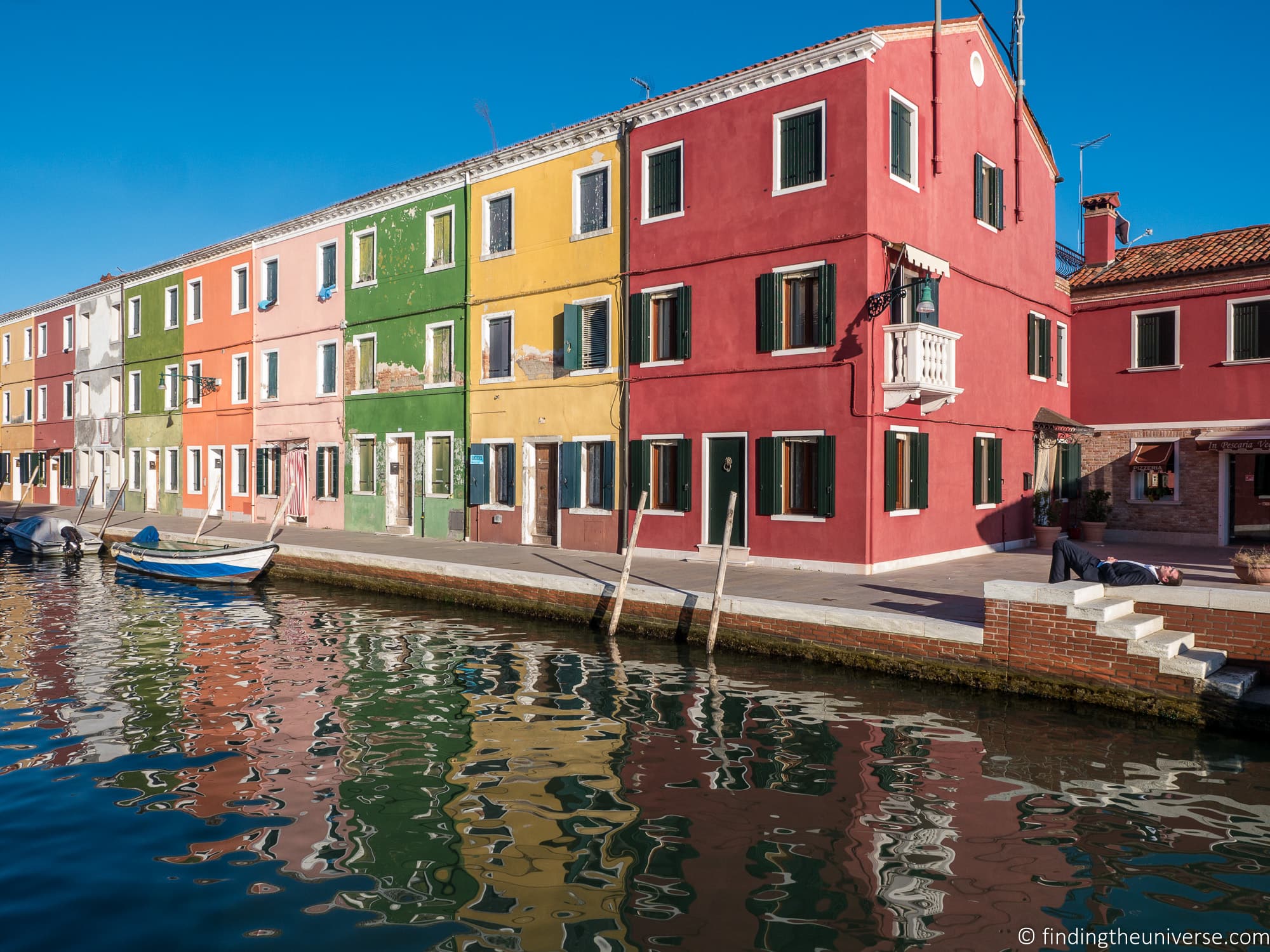 There are many more islands, including Murano and Torcello. My point is – don't forget that Venice extends beyond the central area that you will first come upon, and has plenty of opportunities for exploring! Don't be afraid to jump on a boat and get out there.
When to go to Venice and other Practicalities
Venice gets very warm (and very crowded!) in the summer months of June through to August, although you can escape the crowds by hitting the back streets. Also in February / March, Venice has a huge carnival, which is another very busy time to visit.
My preferred time to visit Venice would be the quieter shoulder months, when it is a little cooler and likely to be less busy. So that would be March – May, and September – November. Although this is a tourist town, so don't expect to be on your own whichever time of year you choose to visit.
If you want to visit the churches, remember that it's common practice for there to be a dress code, which usually means no short skirts or bare shoulders. You don't want to be turned away after queuing for a long time, so make sure you are dressed appropriately!
If you want to get around Venice by public transport, this is easy enough. The system is operated by the ACTV. Tickets can be purchased for everything from a single ride up to multi-day usage tickets known as Tourist Travel Cards.
The single ride fare of €9.50 (as of May 2023) is somewhat pricey, but if you buy a day or multi-day pass these start to offer better value. We normally pickup a 2 or 3 day pass, which is easy to pre-book here. Then you can just collect it in Venice and use it for your transport. It's also a good way to sight-see in the city as the views from the waterways are incredible.
Where to Park in Venice
Venice is a car-free city, so if you visit by car you will need to park in one of the parking locations outside the city. There are a number of these available, at varying price points and distances from the city.
When we have travelled by car, we've often used the Parclick service to find and book car parking spaces in advance. This service lists parking locations in a number of countries in Europe, and we appreciate that it lets us find a space in advance and pay, so we know we are both guaranteed a spot, and we don't have to worry about how much it will cost.
You can see the various car parking options near Venice on Parclick here.
Where to Stay in Venice
Finding the best deal on your accommodation is an important part of trip planning – helping you to get the most from your budget, as well as find the property that is right for you.
Here are some property suggestions if you decide to stay overnight in Venice.
Of course, Venice has many more accommodation options than the four above, across a variety of price points and styles. Our favourite way to find the best deals on accommodation is booking.com. They're easy to use, usually have the best prices, and have everything from hotels to apartments.
See all the listings on booking.com for Venice here.
If you prefer an apartment, then we recommend Plum Guide.
Plum Guide carefully curate their listings so their options tend to be of a very high quality whilst still being available at a range of price points. Plum Guide carefully curate their listings so their options tend to be of a very high quality whilst still being available at a range of price points.
We've stayed at a number of their properties around the world, and you can see our review of the Plum Guide here. See their listings for Venice here.
If you can't find what you want from the above choices, or you want some new options to try out, we wrote a whole post on the best alternatives to AirBnB which you should check out!
Tours of Venice
If you are visiting Venice for only a short time, a great way to get a detailed overview of the city is to take a walking tour. We've taken a number of walking tours in the city, and have always learnt a lot.
There are a few different walking tour options, depending on your interests. You can take a shorter introductory tour, or a longer tour that will cover much of the cities highlights. There are also specialist tours which get you into places you might not normally be able to access. Here are some of our recommended tours in Venice.
Hopefully this gives you some ideas of the tours available to you when visiting Venice.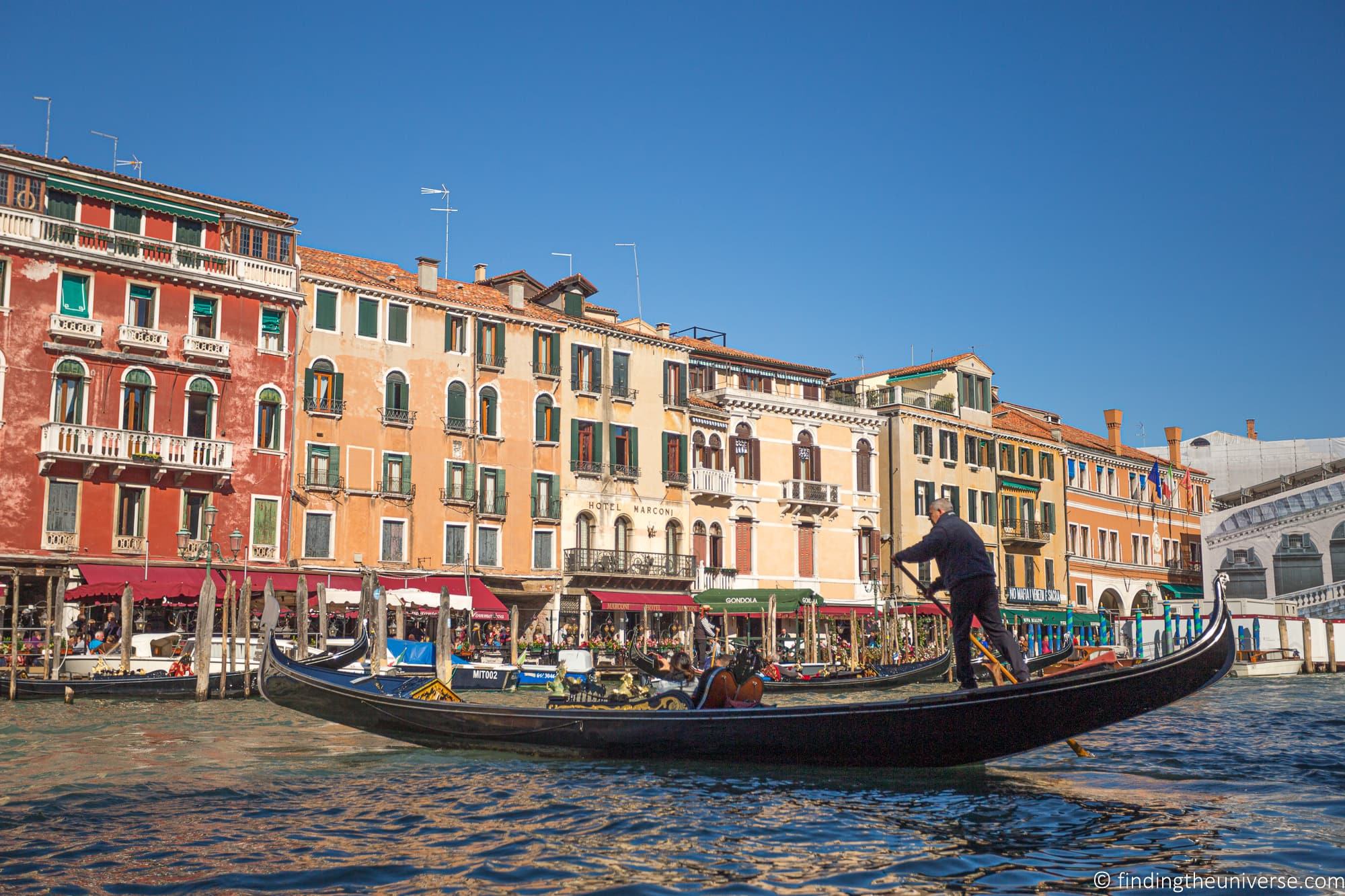 Venice City Passes
As with many cities around the world, Venice has a number of passes that get you discounted or free admission to some of the many attractions on offer. These can definitely save you money if you plan on visiting a number of attraction. Just be sure that you will take full advantage of them before investing to be sure. Here are some of the passes you might consider for Venice.
For a day in Venice, the pass we recommend is The Venice Pass. This includes the Doge's Palace, a shared gondola ride, and a Venice audio guide. You also qualify for 10% discount on other attractions in Venice.
Whether or not this pass is right for you will of course depend. It offers a cost-effective way to include a Gondola ride on your trip to Venice, along with access to the Doge's Palace and an audio guide.
If you would prefer a lower priced pass which focuses more on museums, then consider the Venice Museum Pass. This is available in two versions and offers great value if you plan on visiting a number of museums in the city including the Doge's Palace.
If you plan on seeing more in your day, then you might also consider the Venice Discovery Pass. This includes the Doge's Palace and public transport in the city, as well as access to 15 churches. However, it might be tricky to get maximum value out of it in one day.
Finally, you might consider this Venice City Pass. This comes with many inclusions, but for only one day in Venice, might not work out to be great value depending on how much you plan to see and do.
Further Reading
Hopefully this guide gives you lots of ideas for what to do in Venice for a day. Before you head off, we wanted to share some other content and resources we think you'll find helpful for planning your time in Venice and Italy in general.
And that's it for our guide to visiting Venice for a day! So – have I sold you on Venice? Let us know your thoughts and of course, if you have any comments or questions, pop them on the site using the form below, and we'll get back to you as soon as we can!