Venice recently won the battle for my favourite city in Europe, after a tense battle between four other serious contenders.
So far, though, it has been seriously lacking its very own personalised post about it, treatment that cities like Rome and Paris have already received. Poor old Venice. Fear not – I haven't forgotten you!
Venice is a city that just captures my imagination in a way that few other cities are capable of. It's a maze of tiny streets, a collection of islands linked by bridges and waterways, and the whole thing is possibly going to sink one day. There is art, music, architecture and food.
Most importantly of all, perhaps, the whole place is pedestrianized, what with there being no roads capable of fitting a car on. Seriously awesome for someone who loves to get to know a place by foot, like me.
So. When I'm in Venice… what do I get up to?
Visit St. Mark's Square
St. Mark's square, or Piazza San Marco, is an absolute must for any visit to Venice. In fact, one of my most enduring travel memories is having the whole square to myself during an immense thunderstorm, when everyone (including the pigeons!) scurried for cover, and I didn't. I ended up somewhat wet, but happy.
The Square is home to a number of sights that are worth taking some time to look at. First, I'd highly recommend getting your legs into shape with a quick scoot up the Campanile di San Marco – the large bell tower at the corner of the square.
This will afford you with quite splendid views across Venice, and the surrounding lagoon and islands. The orientation probably won't save you from getting hopelessly lost down the many back streets, but it's great for taking some panoramic photos all the same.
Back down at ground level, you'll want to take in the Basilica di San Marco. This is one of the most famous churches in Venice, and it's also handily free, which is a rarity in this town.
Around the Piazza there are also a great number of museums and other churches. Entry to these is not normally free, although you can save money by buying a ticket that gets you access to multiple venues, if that is your thing.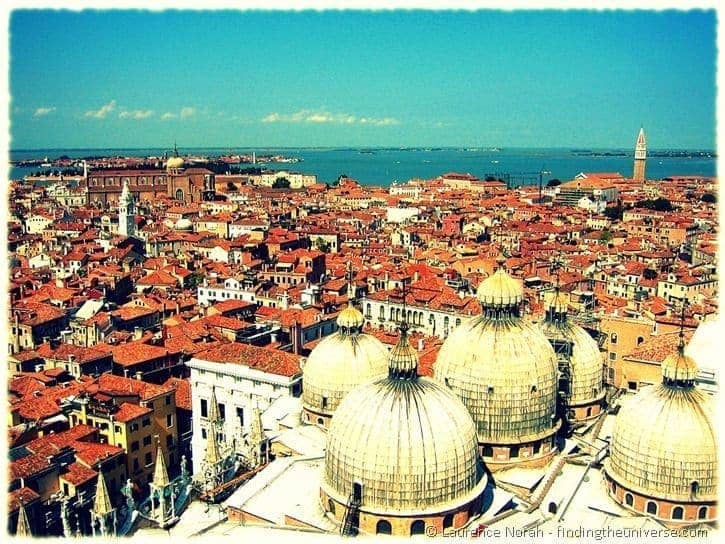 Otherwise, the square is also home to a number of cafes, many of which have live orchestral music. You'll pay handsomely for the privilege, but sitting in this square listening to classic music and enjoying a cup of fine Italian coffee is an experience that everyone should have at least once in their life. Apologise to your wallet later!
Explore the innumerable back streets
Venice has a lot going for it, with churches, museums and incredible bits of architecture literally jumping out at you on every corner.
The other thing that Venice has is a lot of people. The funny thing though, is that most visitors seem to stick to the main street that takes you on a big loop past all the main highlights.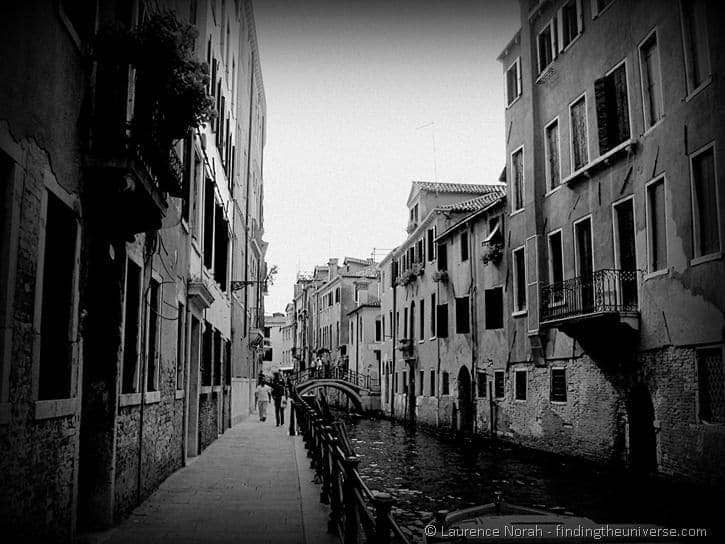 If you duck off the main streets, as I usually do, you will find yourself in a maze of back alleys. I'd advise abandoning the map and just giving up on trying to maintain any sense of direction – just wander freely and lost. Venice is, after all, an island, and you won't be lost forever.
You will, however, be rewarded with a side of Venice that is often overlooked and far less busy than the main thoroughfares. And then you will realise why Venice is my favourite city in Europe.
Head out to the other islands
The most well known part of Venice is the central area made up 118 islands. But there are more parts of Venice that are worth a visit. The four islands of Burano are well worth a visit, a fact that is corroborated with wonderful pictures by Ayngelina of Bacon is Magic on her blog post on Burano.
There are many more islands, including Murano and Torcello. My point is – don't forget that Venice extends beyond the central area that you will first come upon, and has plenty of opportunities for exploring! Don't be afraid to jump on a boat and get out there… which brings me to my next point…
Take a boat ride
Now then. Venice is a city of waterways, and no visit to Venice is really complete without a trip on some form of water borne transportation.
If you're travelling with your significant other, and your idea of heaven is a gentle meander down the back waterways of Venice, just the two of you, luxuriating on some pillows while a muscle bound man serenades you.. well.. you'll sure be able to find an experience approximating that.
Although, as with the coffee in St. Mark's Square, it's an experience you best keep secret from your savings account.
If you're not overly romantic, and you just want to experience Venice from the water, singing be damned, then you have no shortage of options. If your heart is set on a gondola, then you can take a gondola taxi from one side of the river to the other. It'll be over quickly, but as least you can tick the gondola box.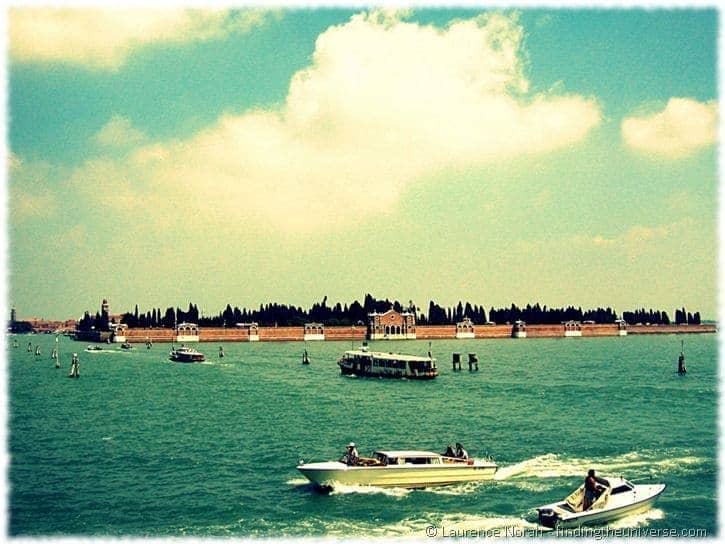 Alternatively, there are water taxis, water buses, and water sight seeing tours. Take everything you would normally find on a road, imagine it on the water, and you will find it in Venice. Whichever one you do, you'll be sure to enjoy it!
When to go and other practicalities
Venice gets very warm (and very crowded!) in the summer months, although you can escape the crowds by hitting the back streets. My preferred time to visit would be the quieter shoulder months, when it is a little cooler and likely to be less busy. Although this is a tourist town, so don't expect to be on your own whichever time of year you choose to visit.
If you want to visit the churches, remember that it's common practice for there to be a dress code, which usually means no short skirts or bare shoulders. You don't want to be turned away after queuing for a long time, so make sure you are dressed appropriately!
Plan your Accommodation now!
Finding the best deal on your accommodation is an important part of trip planning – helping you to get the most from your budget, as well as find the property that is right for you.
Our current favorite way to find the best deals on accommodation is with HotelsCombined. These guys let you search over 100 booking sites at once, including booking.com, Agoda and TravelPony, and nearly always get the best price. Try them and see!
Alternatively, if you prefer an apartment or more of a hosted stay, then I recommend AirBnB. I've tried all the others, and AirBnB consistently has the most options for locations around the world. Plus, if you've never used them before, you'll get a $25 discount on your first booking with this link!
Between these options, you should find the best prices and places to stay for your trip, as well as a good selection of reviews and feedback to help you make an informed decision.
So – have I sold you on Venice? Do you think it belongs up there as my favourite European city? Or are you firmly entrenched in the camp of people who believe that it's a tacky, overpriced, overflowing tourist trap that just smells awful in summer? Hit up the comments below and let me know!