The county of Cornwall in the UK has beautiful beaches, lovely countryside, and some spectacular coastal vistas. So it should come as no surprise that a trip to Cornwall is a popular option for both holidaymakers in the UK and visitors from overseas. Today, I'm going to share a suggested detailed Cornwall itinerary with an overview of things to do in Cornwall in a week.
I actually grew up in Cornwall, and spent many of my formative years exploring the county. More recently, since our time living near Bath in the UK, Cornwall has been a nearby county for short breaks.
I think Cornwall has something for everyone. Whether you're looking for a family getaway with some beach time, a more active holiday featuring surfing, hiking, or cycling, or want to explore some ancient historical sites, Cornwall has something for you. It's also home to a massive range of accommodation options, from cosy remote cottages to seaside bed-and-breakfasts.
In this post, I'm going to share with you everything you need to plan the perfect trip to Cornwall.
First, I'm going to answer some questions about Cornwall that you might have. Then, I'll share a suggestion of an itinerary for a week in Cornwall. This list of things to do covers a range of activities that should easily fill a week in Cornwall, but you can of course adjust it to your own timeframe and interests.
Finally, I'll share some advice to help you get the most out of your Cornwall trip, including tips on where to stay in Cornwall.
We'd suggest also looking at our guide to things to do in Cornwall, which has a comprehensive list of ideas for what to get up to in this beautiful English county.
Let's get started with this guide to things to do in Cornwall in a week!
Where is Cornwall?
Cornwall is a county in England, found in the very south west of the country. It borders Devon but is otherwise essentially a long peninsula, jutting out into the Atlantic Ocean.
It's around 230 miles from London, 150 miles Bristol, and 300 miles from Manchester. If you are coming here from London, you are looking at a 5 hour drive or train ride from the capital.
How To Get to Cornwall
Our recommended option for getting to Cornwall is to drive. This will give you the greatest flexibility in terms of sight seeing when you are there.
Cornwall is well connected by road with a mix of dual carriageways and motorway connecting the county to the rest of the country. Do be aware though that it is a popular destination and at certain times of year, particularly around school holidays, the roads can get quite congested.
From London it's around a 5 hour drive, and from Bristol it's around 3 hours. Of course, these drive times will vary depending on which part of the county you are visiting.
Cornwall is also well connected by rail, with a fast rail connection running from London to Penzance in just over 5 hours. You can also reach Cornwall via train from many other parts of the country. Check train timetables and book your train tickets online here.
You can also travel by coach to Cornwall from locations around the UK. This will generally take a bit longer than the train, but might be a better option depending on where you are travelling from. You can check coach prices and timetables across a number of operators here. We also recommend National Express and Megabus, both of which offer a wide range of routes across the country.
You can also fly to Cornwall from other parts of the UK as well as some overseas locations. The main airport in Cornwall is Cornwall Airport in Newquay. You can then either rent a car or use public transport to get around.
Another option for getting to Cornwall is to take a guided tour. These usually run for a number of days and will generally include your transport and tour guide, as well as accommodation. For example:
This 5 day tour from London includes Devon and Cornwall as well as a number of other popular attractions in the southwest. We've taken multiple tours with Rabbie's and always had a great time.
This 7 day tour from London includes Cornwall as well as Devon, the Isle of Wight and many other attractions along England's beautiful south coast
How to Get Around Cornwall
You have a number of options for getting around Cornwall, which are:
Driving yourself
Taking public transport, which includes bus and train services
Cycling
Taking a taxi
Taking a tour
Driving yourself in Cornwall
The easiest way to get around Cornwall is to drive yourself. This will give you the most flexibility for sightseeing.
Most visitors to Cornwall who drive do so in a car or a motorhome. The latter is a popular option if you want to camp or have more flexibility over where you stay. If you want to hire a motorhome, we recommend checking prices on the Spaceships website and Motorhome Republic, which should give you a wide range of options.
If you do drive in Cornwall, there are a few things to bear in mind. First, many of the roads in Cornwall are single track country lanes, so if you aren't used to driving on these you might want to read my guide to driving on single track roads.
Second, at certain times of year the roads do get busy with holiday traffic. If you are visiting at a busier time of year, prepare to spend a bit more time travelling between locations due to the possible traffic.
Finally, for visitors with cars, parking can often be an issue at busy times of year. Most attractions, including the picturesque villages, do have parking lots available which operate on a paid basis. Be sure to bring plenty of coins for these, as they don't all accept card or mobile phone payments.
Note that many attractions in Cornwall are operated by the National Trust, including a number of beaches and coastal areas, and National Trust members get free parking at these car parks.
If there is an attraction you are visiting and it's a busier time of year, we'd recommend giving yourself plenty of time to find a parking spot.
If you'd rather not drive, you still have a number of other options for getting around Cornwall.
Public Transport in Cornwall
The public transport network in Cornwall is quite comprehensive. A bus network covers the majority of the county. In addition, many of the pretty coastal towns like Looe, Falmouth and St. Ives are connected to the fast mainline rail line with scenic branch lines. You can see a map of these here.
You can certainly get around the majority of Cornwall by public transport, however it will definitely take longer than driving yourself. Depending on the type of trip you want to do, and the amount of sightseeing you have in mind, you might find it works for you or doesn't. For timetables and journey planning, see the traveline south west website here.
There are also specific tourist buses in Cornwall, which can be an excellent option. For example, the Lands End Coaster operates from St. Ives to Lands End, stopping at a number of scenic points along the way, and connecting with the St. Ives and Penzance train and bus stations. This is an open top hop on hop off route, and is a great way to get around this part of Cornwall without a car.
Similar hop on hop off bus services in Cornwall include:
FirstBus also runs a series of buses under the DayTripper network name. These routes are specifically designed for visitors and link up attractions across Cornwall by bus, including locations like the Lost Gardens of Heligan, the Eden Project, Lanhydrock and many more.
Prices for the DayTripper service are very reasonable, and give you access to the whole network. You can find out more and book tickets for these services here.
Overall, it is certainly possible to tour the majority of Cornwall by public transport, and arrive in Cornwall by public transport. So don't feel you need a car to have an amazing adventure in Cornwall!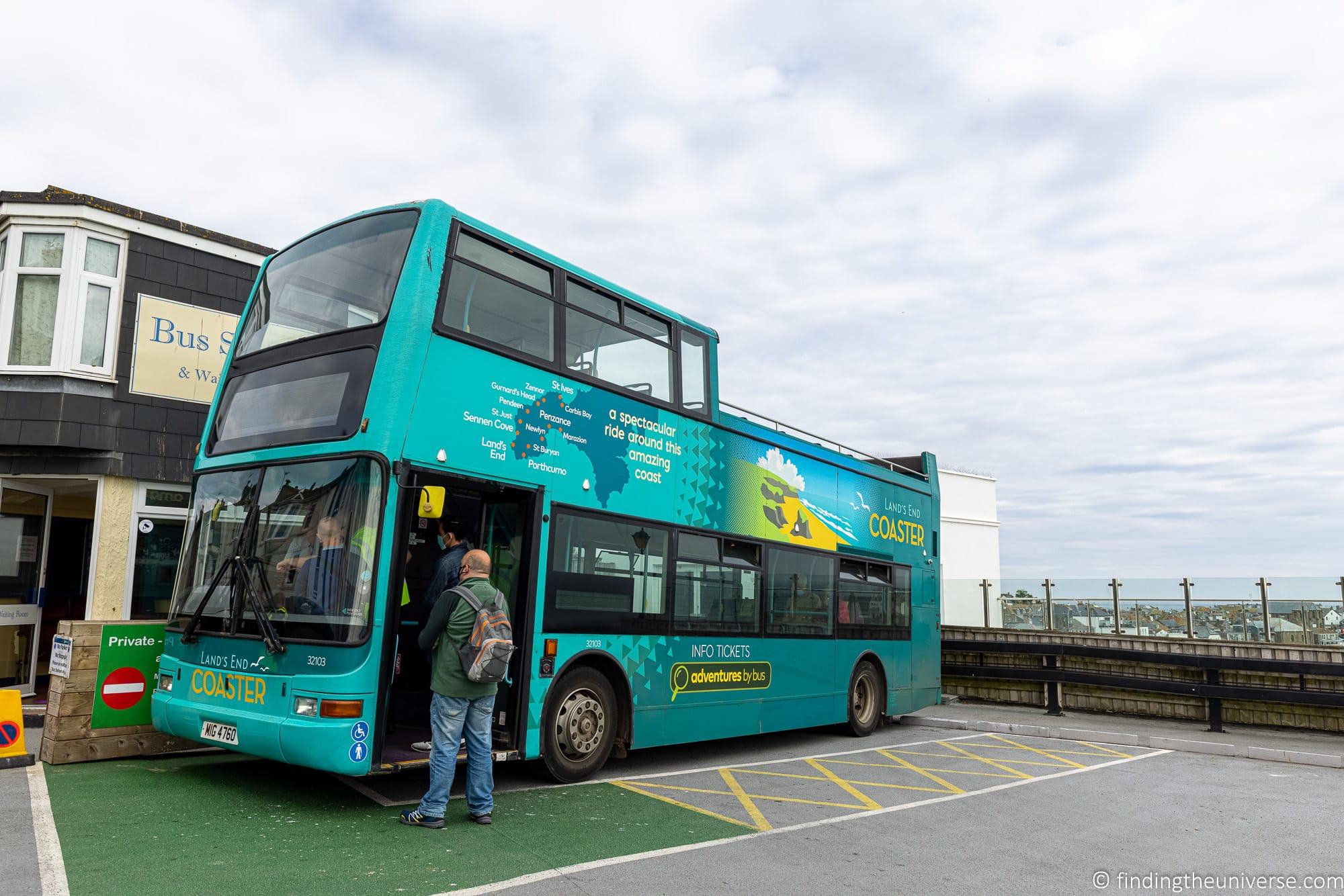 Cycling in Cornwall
Another option if you are feeling fit is to cycle. You can either bring your own bike, or you can hire one. The county is popular with cyclists and there are a number of cycle routes, some of which you can see here.
Taxis in Cornwall
You can also take a taxi to get from place to place. There are a number of providers, and your accommodation provider will normally be able to advise on a good local operator. Just bear in mind that this can be a pricey option if you need to move around a lot.
Guided Tours of Cornwall
Another option as mentioned above is to join a guided tour from a larger city like London to visit Cornwall which will include a guide and all your transportation. These trips may just focus on Cornwall or may include a number of locations around the southwestern part of England. For instance this 5-day tour includes a visit to several locations in Cornwall and Devon plus a visit to Stonehenge.
Or you can arrive in Cornwall yourself but take tours – either individual day tours or a longer tour. For example, you can put together a custom tour like this if you have a specific destination in mind that you want to visit during your time in Cornwall. Or you can book a multi-day tour that will pick you up from the airport or your hotel like this one.
See more tour suggestions further on in this planning guide.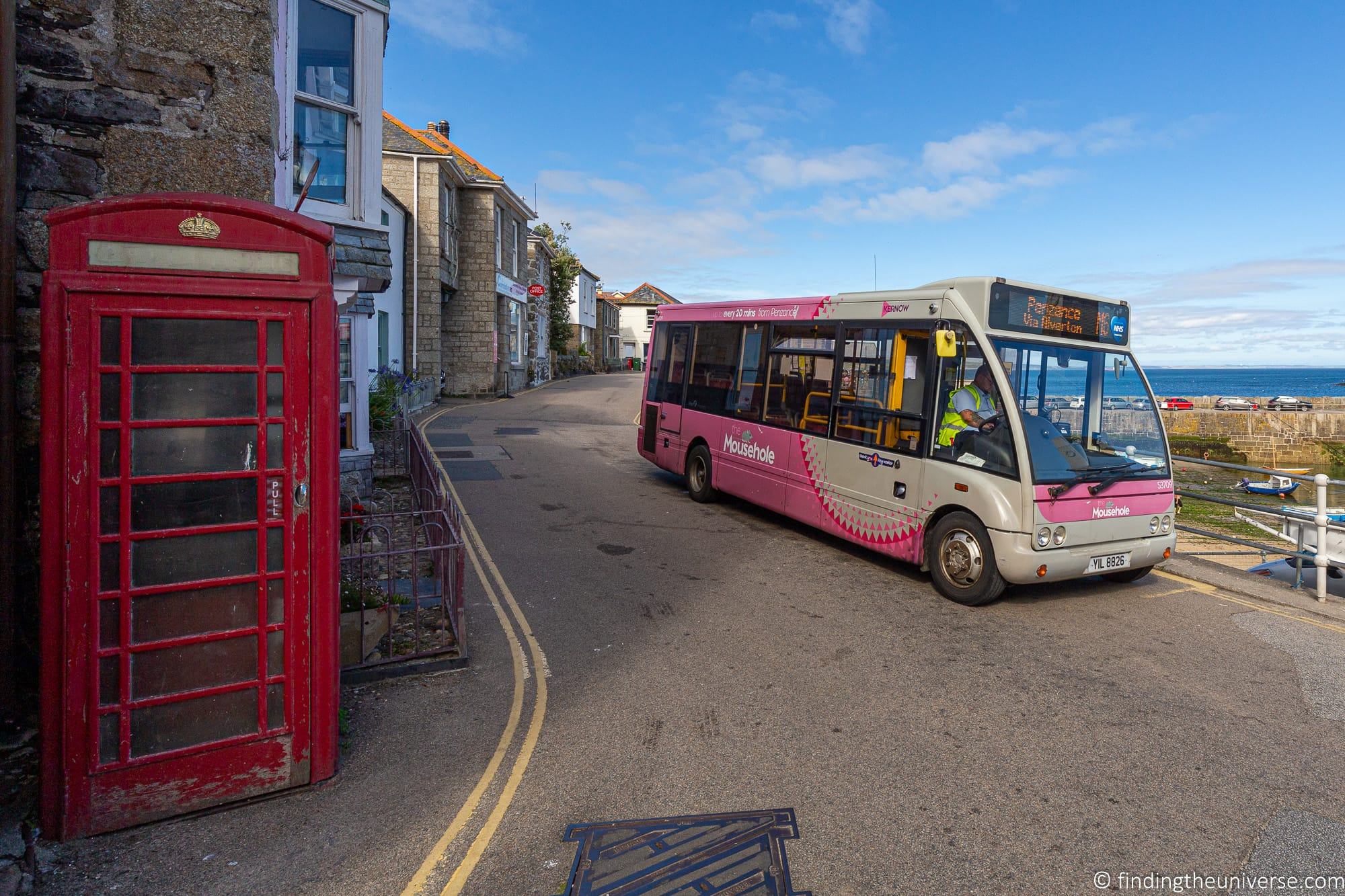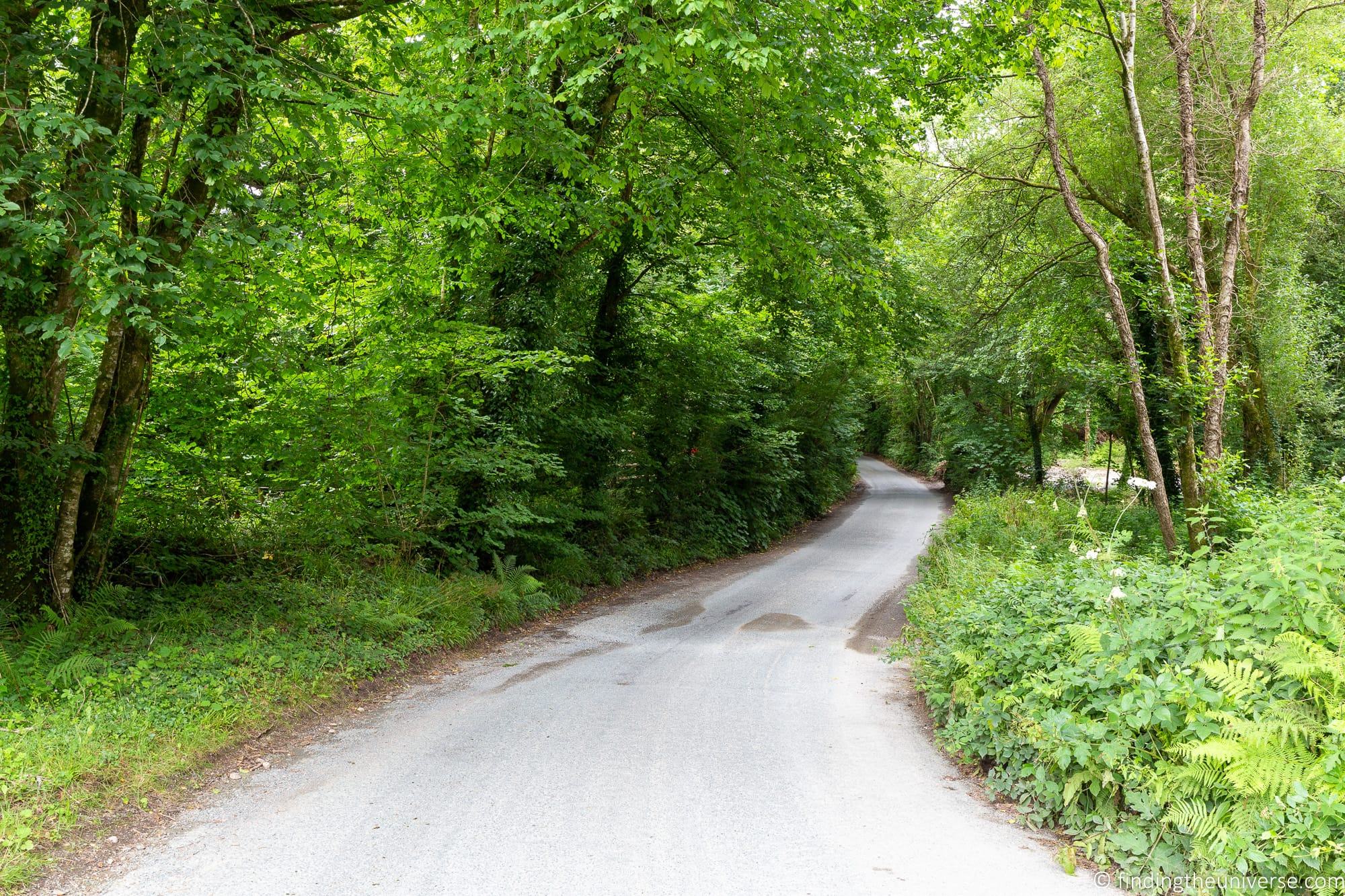 What is There to do in Cornwall?
There is a huge amount to see and do in Cornwall, certainly something for everyone.
The county is known for its spectacular coastline and gorgeous beaches, meaning it's popular with beach goers, swimmers, and surfers, as well as people who enjoy walking, camping, and cycling.
There's lots more beyond stunning beaches and coastline though. From cute fishing villages through to historical sites and attractions, delicious food, and interesting museums, Cornwall really does have something for everyone. See our list of things to do in Cornwall for more ideas!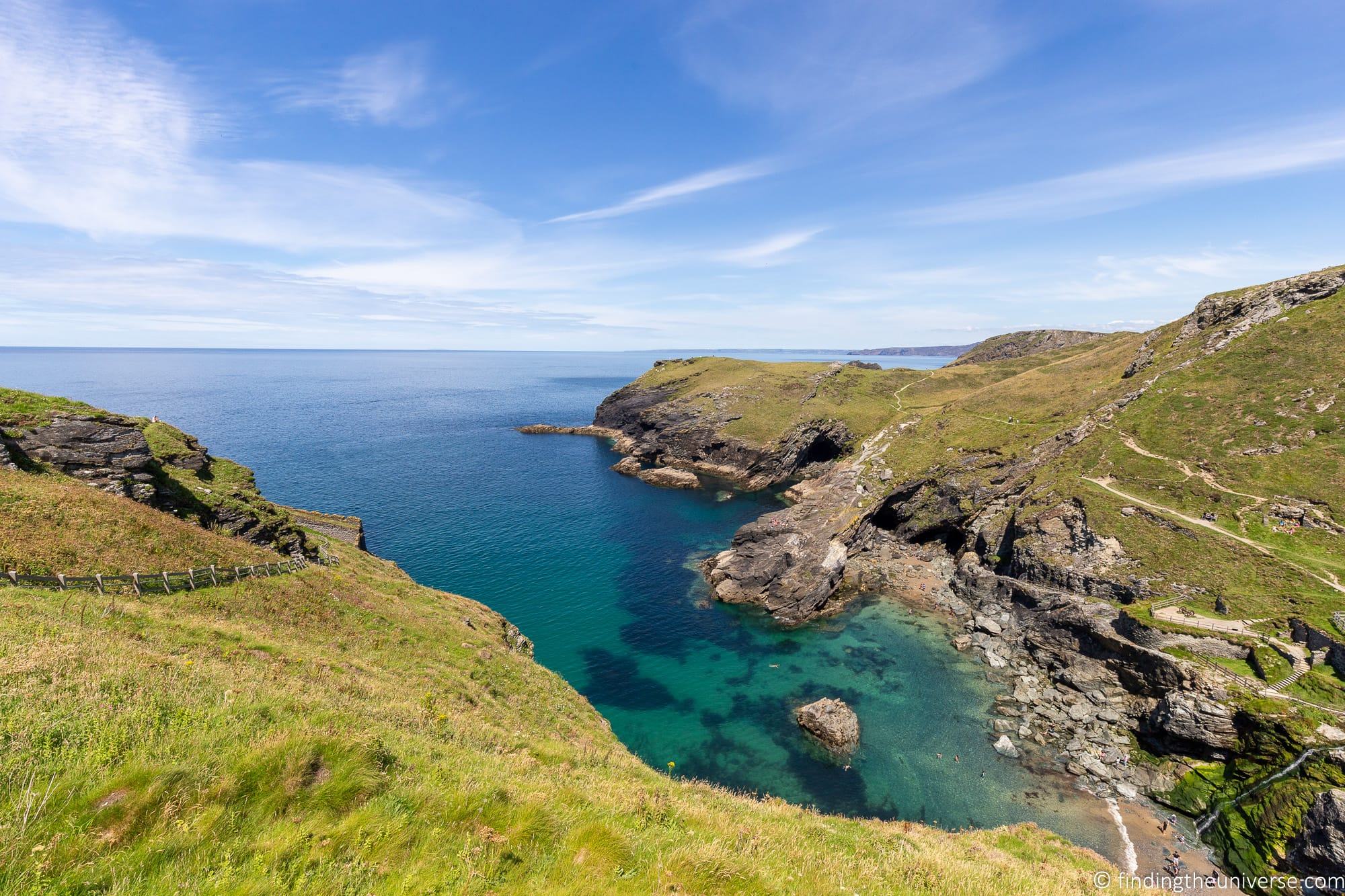 How Long Should I Visit Cornwall For?
We'd recommend visiting Cornwall for at least three days, such as over a long weekend. However, a better amount of time would be around a week which would give you more time to see more of Cornwall's highlights.
To give you an idea of what to do during that week, see our suggested itinerary below for a week in Cornwall. Of course, should you choose to stay for longer, there's plenty to keep you occupied!
When is the Best Time of Year to Visit Cornwall?
The most popular time of year to visit Cornwall is over the summer months of July and August. This is when the weather is most likely to be warm, and also coincides with the majority of school summer holidays in the UK. With lovely beaches and swimming, Cornwall makes for a popular holiday destination for families.
If you'd prefer to avoid some of the crowds but still get some warmer weather, then the months of May, June and September would be our suggested time to visit. These months should be a little less busy, whilst still affording you plenty of good weather to enjoy the outdoors.
Of course, Cornwall can be visited at any time of year, it's just a question of preparing for the weather and dressing appropriately. It's also worth being aware that even if you visit in the summer months, rain and cooler weather is very much a possibility. So always be prepared, and perhaps plan for some indoor attractions for part of your visit just in case!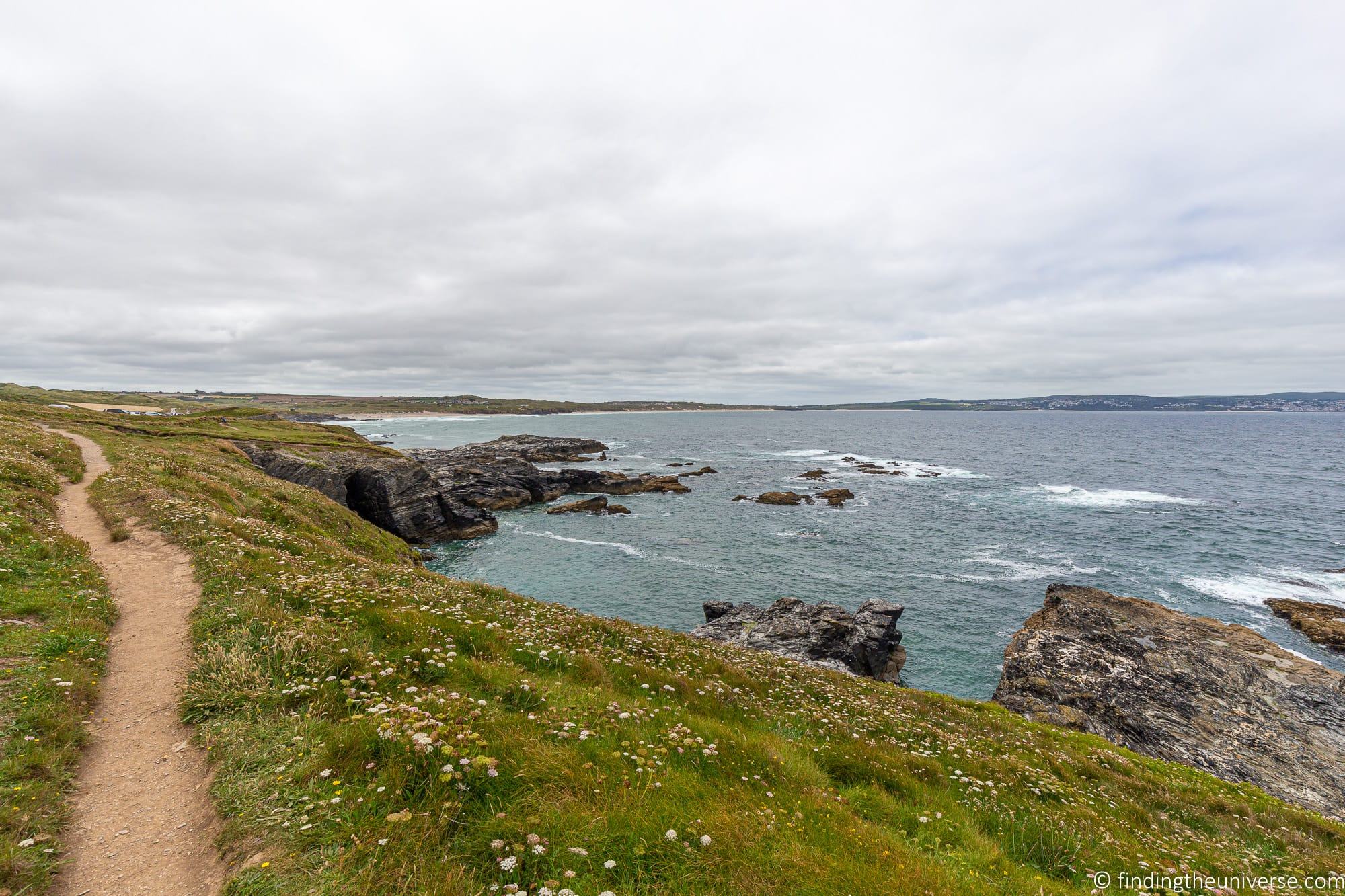 1 Week Cornwall Itinerary Ideas
First, I'm going to share a suggested itinerary for a week in Cornwall, and then I'll go into more detail about the recommended featured attractions so you can make a plan that suits you.
Day 1 – Tintagel Castle, and the fishing villages of Boscastle and/or Port Isaac
Day 2 – Hiking on Bodmin Moor & visiting Charlestown Port and its museum
Day 3 – Eden Project
Day 4 – Coastal Hike or Beach Day
Day 5 – Land's End, Geevor Tin Mine, & Mousehole
Day 6 – St. Michael's Mount and Lizard Point
Day 7 – Coastal Hike or Beach Day
Detailed Guide to Things to do in Cornwall in a Week
To help you plan your time in Cornwall, we've put together this list of suggested attractions that you could fill a week in Cornwall with. Of course, there is plenty more to see and do in Cornwall, so you could definitely spend more time in the county or fit more in to your week.
Alternatively, if you'd rather spend more time on the beach or relaxing, that's fine too! You could just pick one or two of the attractions that interest you, and spend the rest of your holiday how you wish.
Here are our suggestions for some of the attractions you might consider visiting during your Cornwall trip. These are arranged in approximately the same order that they appear in our Cornwall itinerary above, although we have grouped some attractions together like the fishing villages or beaches as you might not want to visit all of these.
Tintagel Castle
If you like legends or castles (or both!), then you're going to want to include a visit to Tintagel Castle on your trip to Cornwall.
Found on the northern coastline of Cornwall next to the village of Tintagel, this ruined medieval-era castle is closely linked to the legend of King Arthur. This connection was re-enforced and romanticised in the poetry of Alfred, Lord Tennyson, as well as a number of other Victorian-era writings.
Whether or not you believe the legend, Tintagel Castle is well worth a visit. It's actually on a small island-like peninsula, which is connected to the mainland by an impressive bridge. There aren't a lot of castle remains to be seen, but those that are there are interesting. A walk around the island is also very rewarding, and the views up and down the coast are spectacular.
Tintagel Castle is operated by English Heritage, and it's free for members. Otherwise there's a fee to visit. You can find out more about prices and opening hours on the official website here.
Tintagel Castle is close to Bodmin Moor as well as the fishing village of Boscastle (see the entry on fishing villages for more on this). There are also a number of beautiful hiking trails along the coast here.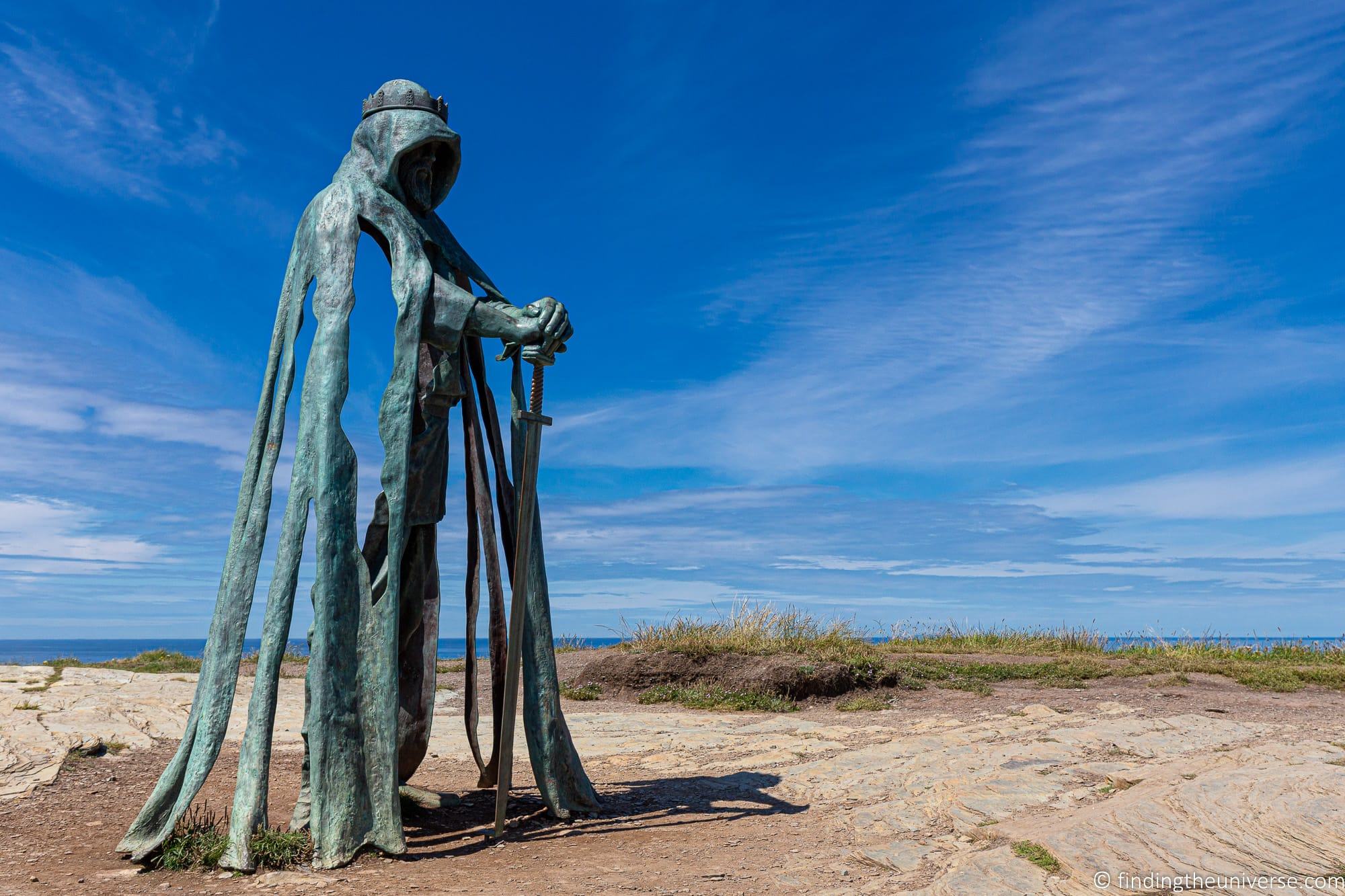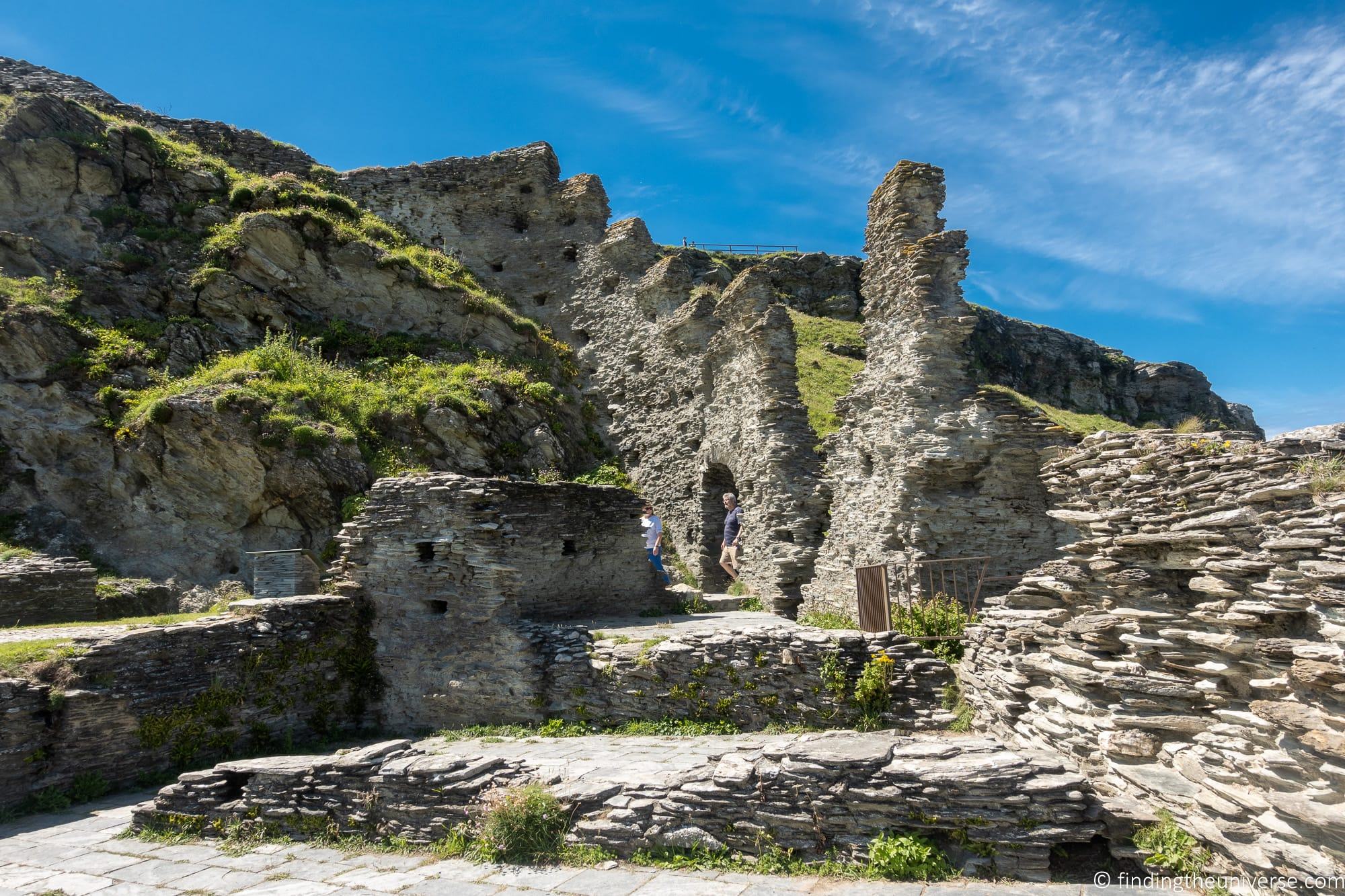 Fishing Villages in Cornwall
Fishing has been central to the Cornish economy for centuries, and it is still very much a part of modern Cornish life.
Many of the villages in Cornwall are located where they are due to natural features that make for a good harbour. The village then spreads around this harbour which remains the focal point and heart of the community. The result is usually a very picturesque village clinging to the edge of the land, which has both historical and cultural significance.
We highly recommend visiting at least one of these cute fishing villages in Cornwall. They're picturesque and pleasurable to walk around, and they also often have nice shops and restaurants where you can pick up a souvenir or locally produced meal.
There are of course many cute fishing villages dotted all around the Cornish coastline to choose from. Some of our favourites include:
Polperro – found on the south-east Cornish coast, Polperro is a beautiful little fishing village. The coastal walk to Looe via Talland Bay is also excellent.
Charlestown – on the south coast of Cornwall near the town of St. Austell, Charlestown is a beautiful 18th century fishing village and commercial port used to export china clay. The harbour is beautiful and is usually home to a number of tall ships, and there's a fascinating museum here that tells the story of shipwrecks around the world. It's also been a filming location for a number of movies and TV shows, including Poldark.
Mousehole – found on the south west Cornish coast near the town of Penzance, Mousehole is a really gorgeous fishing village with a range of local shops and a pretty pale sand beach. It's been an important fishing location from at least the 14th century.
Port Isaac – one of the most popular fishing village to visit in Cornwall, partly due to it featuring in the Doc Martin TV series as the village of Portwenn. Found on the northern coast of Cornwall, this has a beautiful natural harbour and lovely coastal views, but expect it to be busy.
Boscastle – the tiny village of Boscastle on the northern Cornish coast is famed for its stunning natural harbour which is formed by a narrow inlet. Much of the village and surrounding lands are owned by the National Trust, who have an informative visitor centre on site.
Of course, there are many more picturesque fishing villages to discover in Cornwall, and part of the fun of a trip here is to discover some of these for yourself.
Most of these fishing villages are near some of the other attractions in our list, so we'd recommend combining a visit to one of these fishing villages with another stop or two.
For example, Mousehole is near Land's End and Geevor Tin Mine, whilst Boscastle and Port Isaac are quite close to both Tintagel and Bodmin Moor.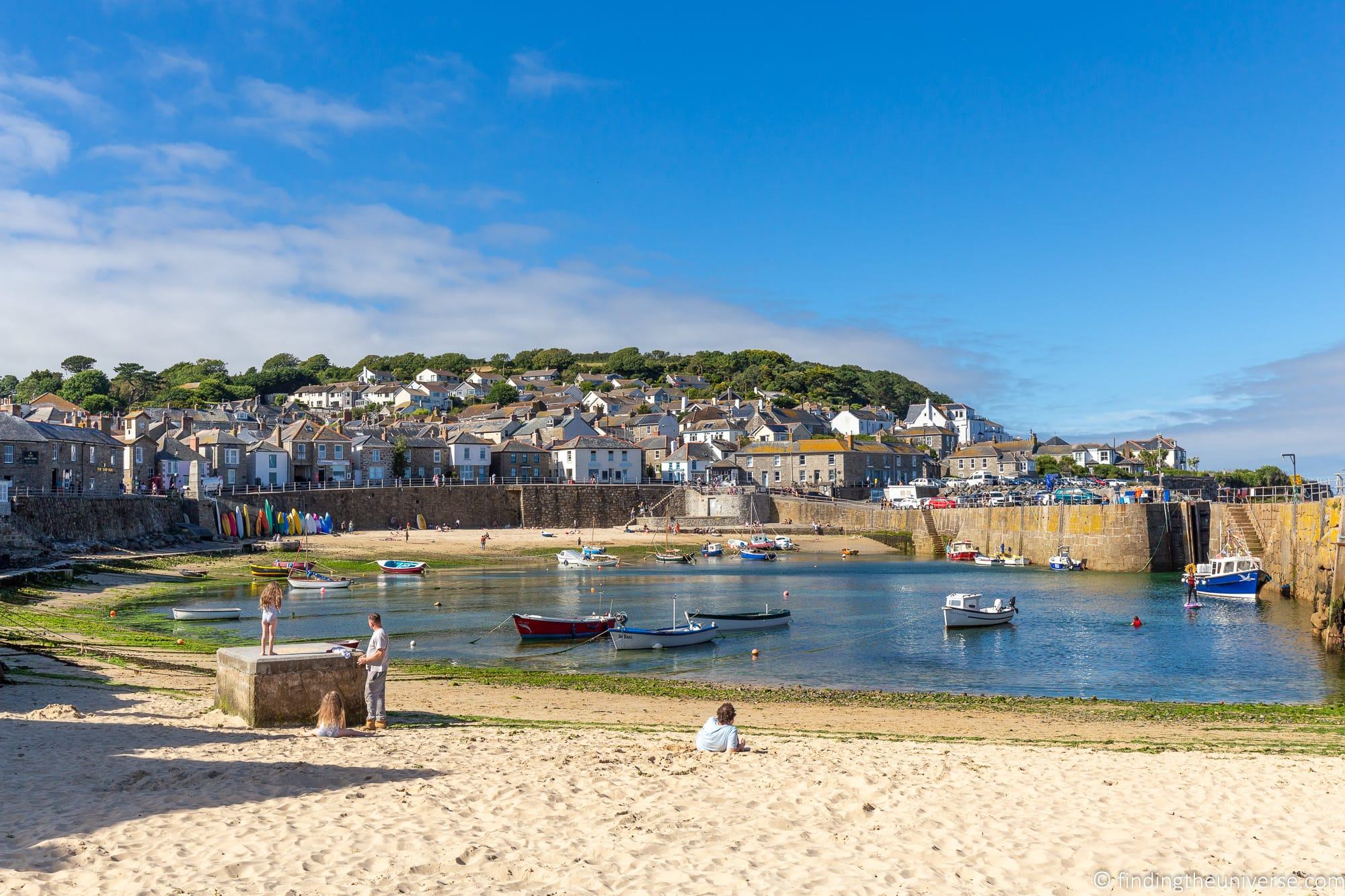 Bodmin Moor
One of my favourite memories from my time growing up in Cornwall were the various walks we took on Bodmin Moor. This is a large expanse of granite moorland which cover 80 square miles of the county, and it's a wonderful place to hike and enjoy nature.
There are a number of features which make Bodmin Moor an interesting place to visit. First, being a granite moorland means that it is home to a number of "tors". These are basically large freestanding granitic outcrops which jut out of the ground. The highest of these is Brown Willy, which is the highest point in Cornwall at 1,368ft.
As well as hiking and the fun photography opportunities that the rock outcrops present, another reason we enjoy Bodmin Moor is to see the ponies that roam freely. There are around 1,000 of these present on the moor, and with their thick fur and shaggy manes they are very pretty.
Overall, spending half a day or more on Bodmin Moor is a day well spent in our opinion. There are plenty of hikes to choose from, and the views from the tops of the tors across the county are spectacular. It's also a great place for star gazing, and I in fact watched the 2020 comet from the top of one of the peaks here.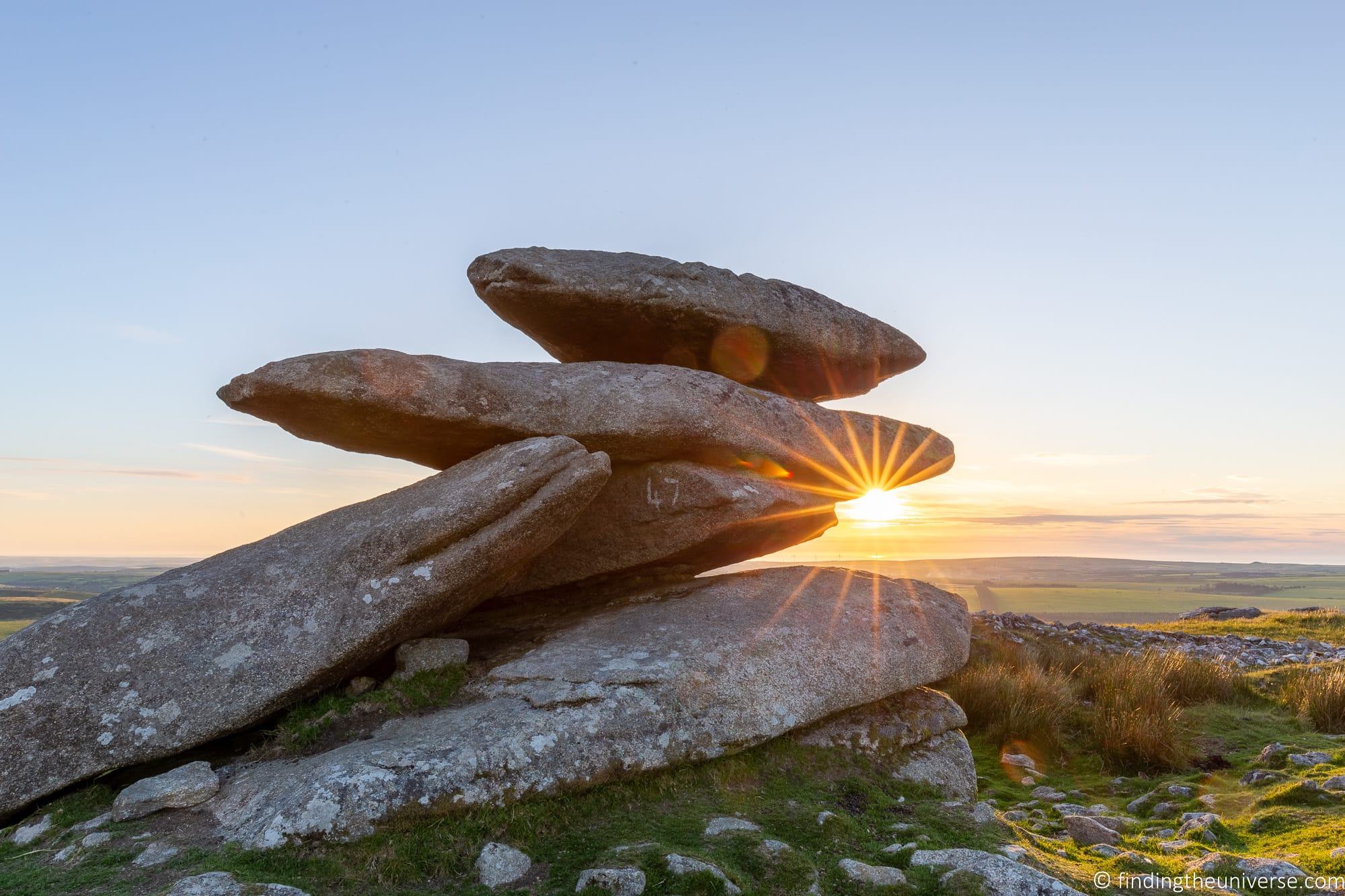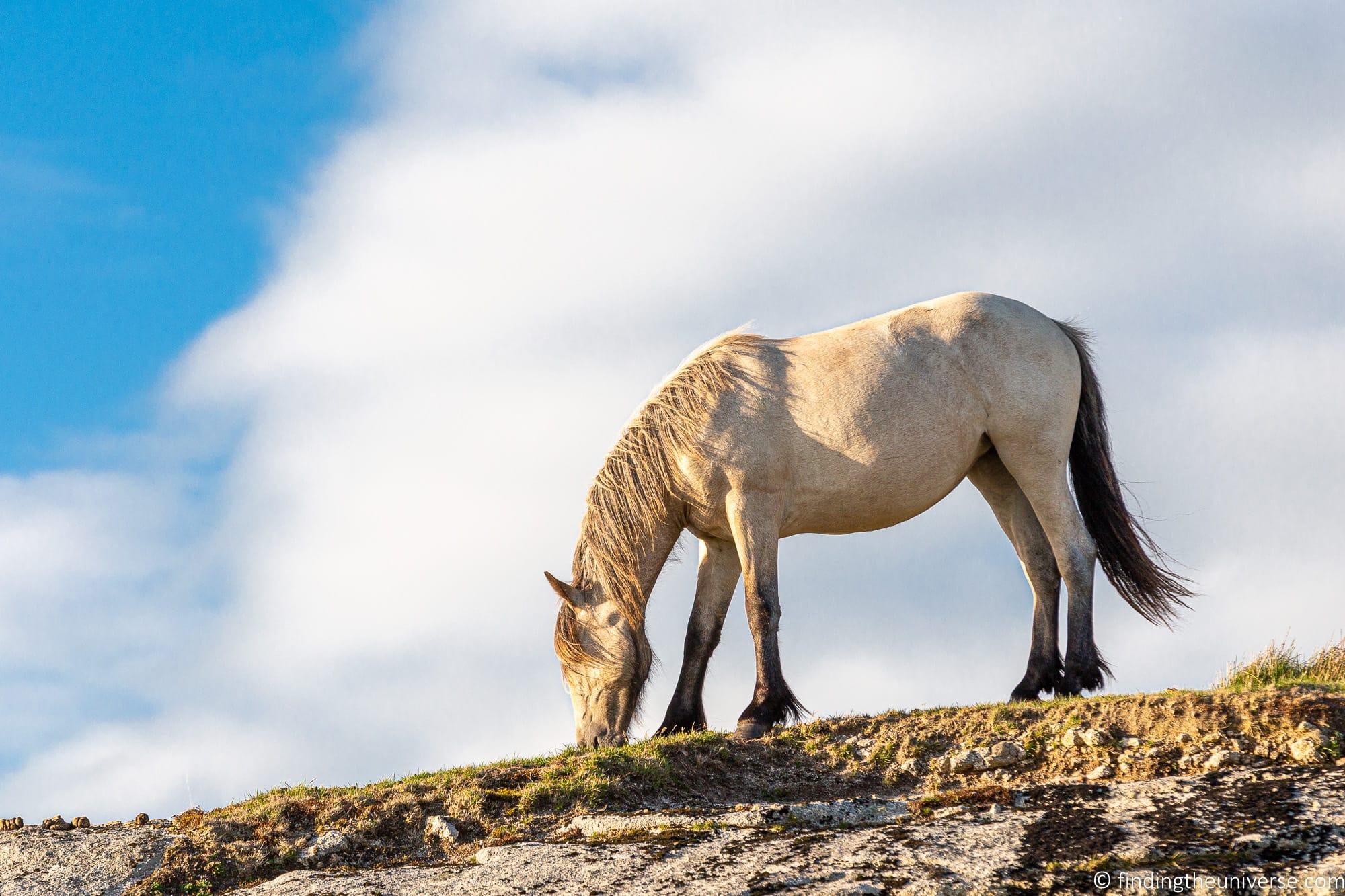 Eden Project
One of Cornwall's most well-known visitor attractions is the Eden Project. The site consists of two massive enclosures which are formed from a series of overlapping geodesic domes.
The largest of the two enclosures is the tropical biome. This covers an area of almost four acres, and is home to what is essentially an indoor rainforest. It's the largest indoor rainforest in the world, and within you'll find a huge range of tropical plants, from coffee and bamboo to banana and rubber. As you would imagine, this biome is kept at a warm and humid temperature year round.
The Mediterranean biome is smaller, at 1.6 acres, and inside you'll find a range of temperature climate plants such as olives.
As well as the two massive covered biomes, the Eden project is also home to a large outdoor botanical garden. This has Europe's second largest redwood forest, as well as a great many other plant species. There are also a number of art installations on site.
All in all, there is lots to see and do at the Eden Project, and you could easily spend a half day or longer on site. You can find out more about opening hours and admissions fees at the official website here.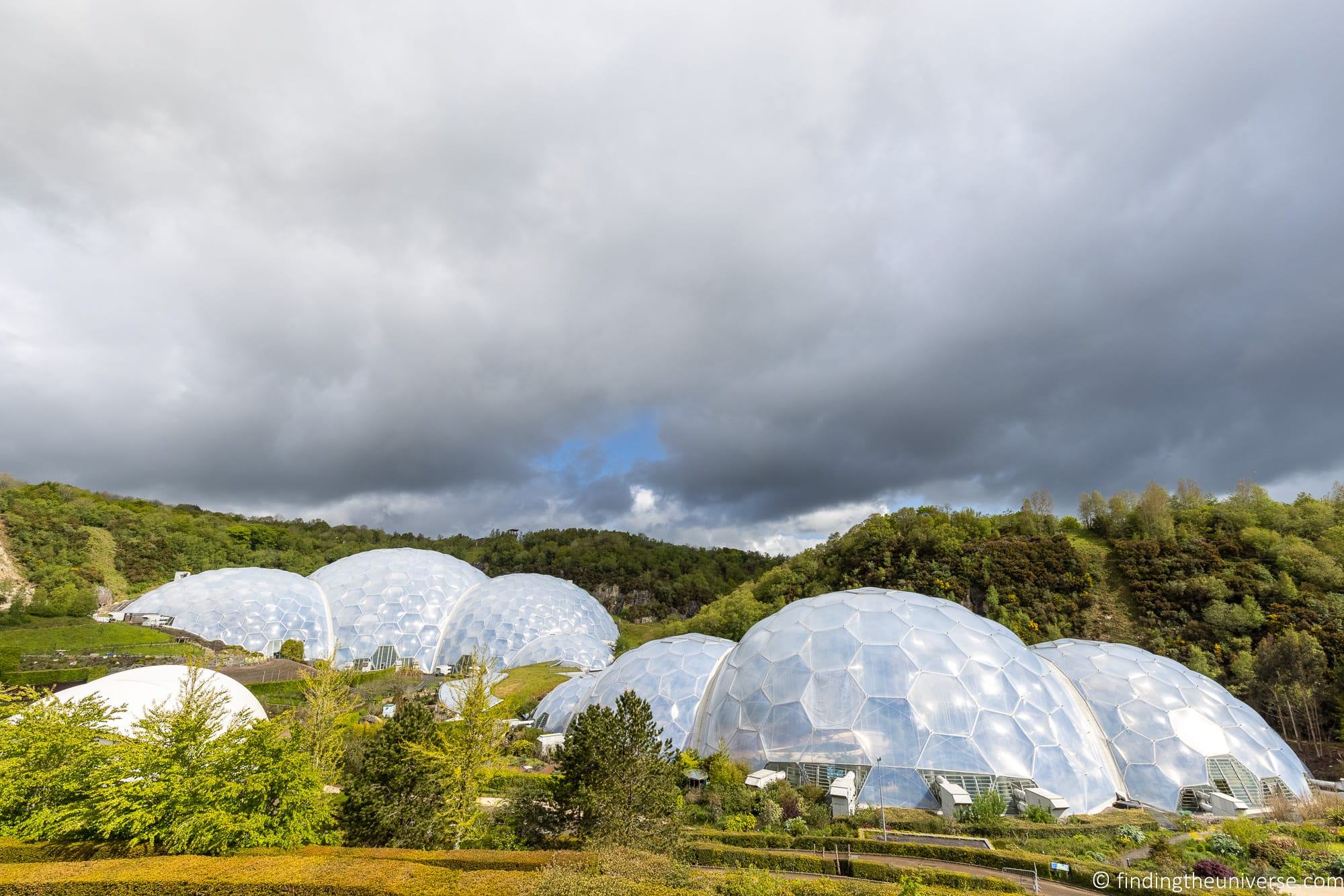 Take a Hike
An activity we always enjoy when we travel is taking a walk or a hike. Cornwall is a wonderful place for everything from a gentle stroll to a multi-day hike. The coastal paths in particular are fantastic, offering endless vistas and secluded coves and beaches to explore.
Good options include the hike from Portreath to Hayle, which provides the opportunity to see seals around Godrevy lighthouse, or the shorter coastal hike from Looe to Polperro.
We also love the stretch of coastal path from the Botallack mine ruins through to Pendeen Lighthouse, which has a number of interesting old mine buildings as well as lovely coastal views and bird viewing opportunities.
There are also inland walks of course, including walks across Bodmin Moor as I mentioned earlier in this guide. One popular walking / cycling trail near Bodmin Moor is the Camel Trail which follows the Camel river along a former railway line.
If you're looking for some walking inspiration, this list of walks is a great starting point.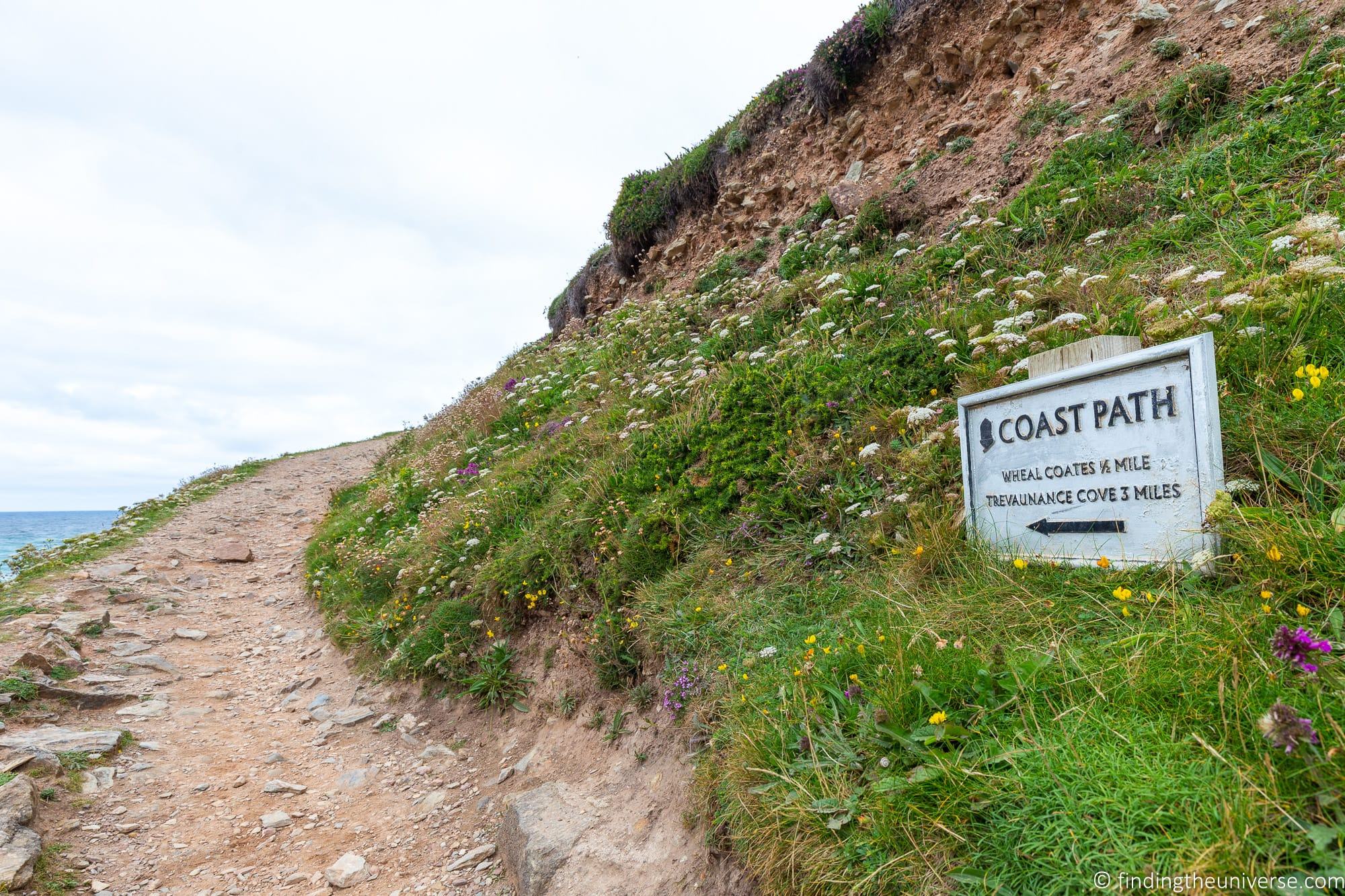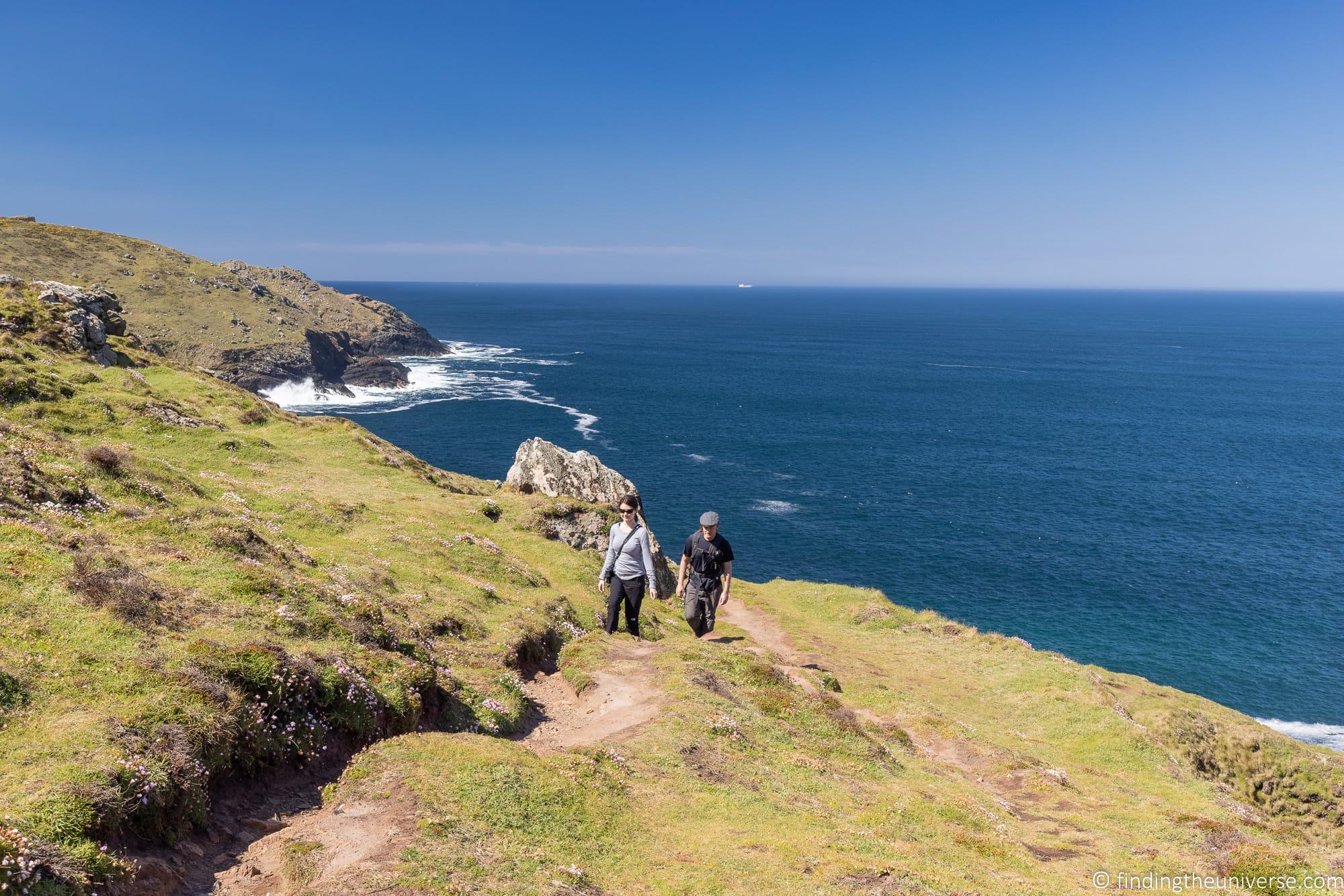 Land's End
In our opinion, no visit to Cornwall is complete without a visit to Land's End, the most westerly point in both Cornwall and England. There is just something about standing on the beautiful coastline here, and getting that "edge of the world" feeling.
Land's End is a busy tourist attraction. That's not anything new though – tourists have been coming here to see the western edge of England for at least 300 years! So as long as you are up for some crowds, we think you should follow in their footsteps.
There are a few things to do at Land's End. First, there's the famous signpost which you can pay to have your photo taken at. Next, there's a little museum which covers the history of the "End to end" route, which is basically the journey from Land's End in England to John O'Groats in Cornwall. This is a route that has been covered thousands of times over the years via a wide range of transportation methods.
If you are visiting with family, there are some fun attractions geared to kids and families. These include Arthur's Quest, a 4D film experience, and a 200 year old farm where you can interact with a number of animals.
There are also shops, places to buy snacks and food and of course, magnificent coastal views to enjoy. Land's End itself is free to visit, but parking and most attractions do have a fee. Find out more on the official website here.
Land's End is close to Mousehole, a popular fishing village, as well as Sennen Cove, a stunning beach. It's also close to the next attraction on our list, and combining these two activities into one day out would make for a fun filled day!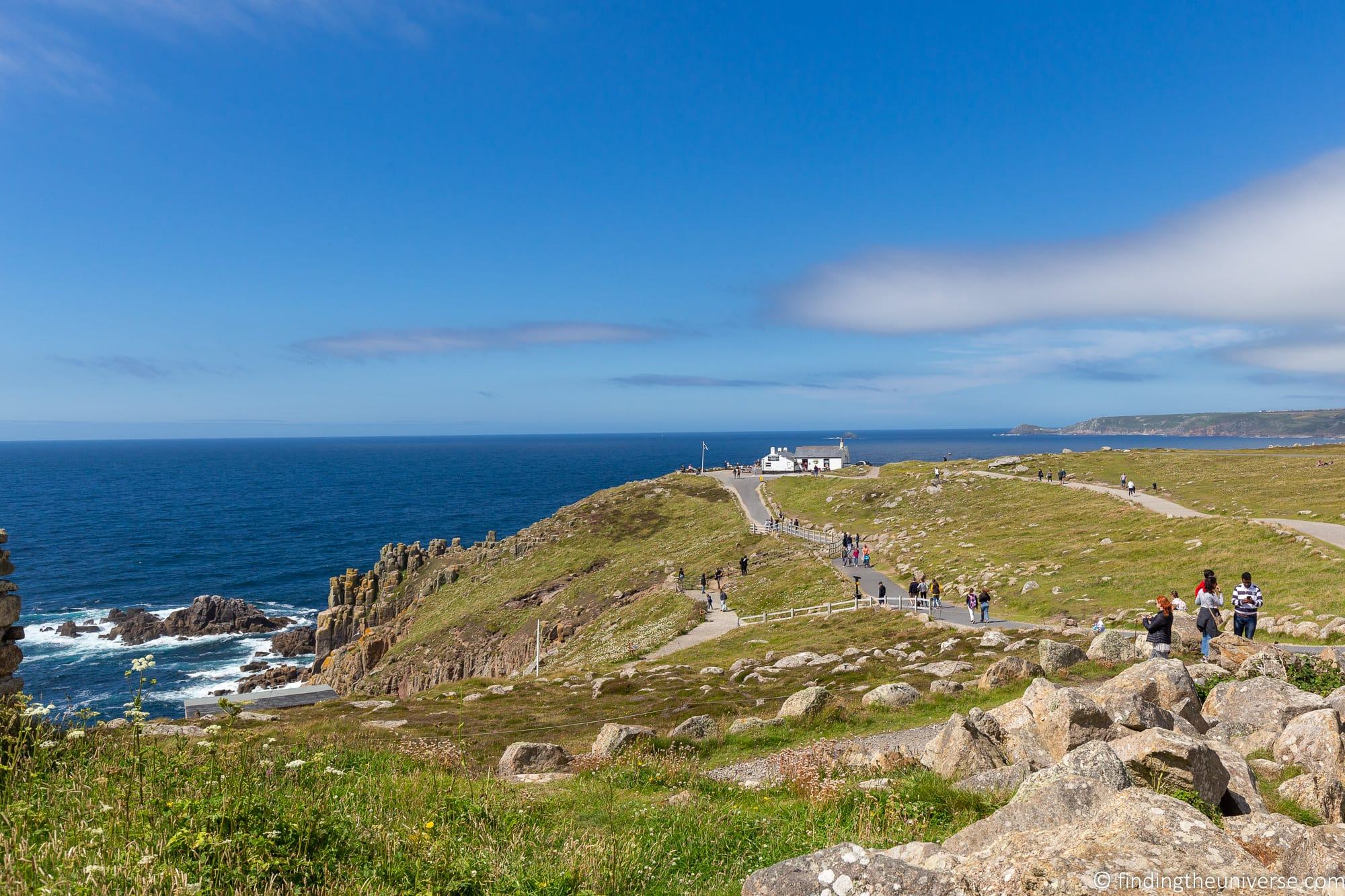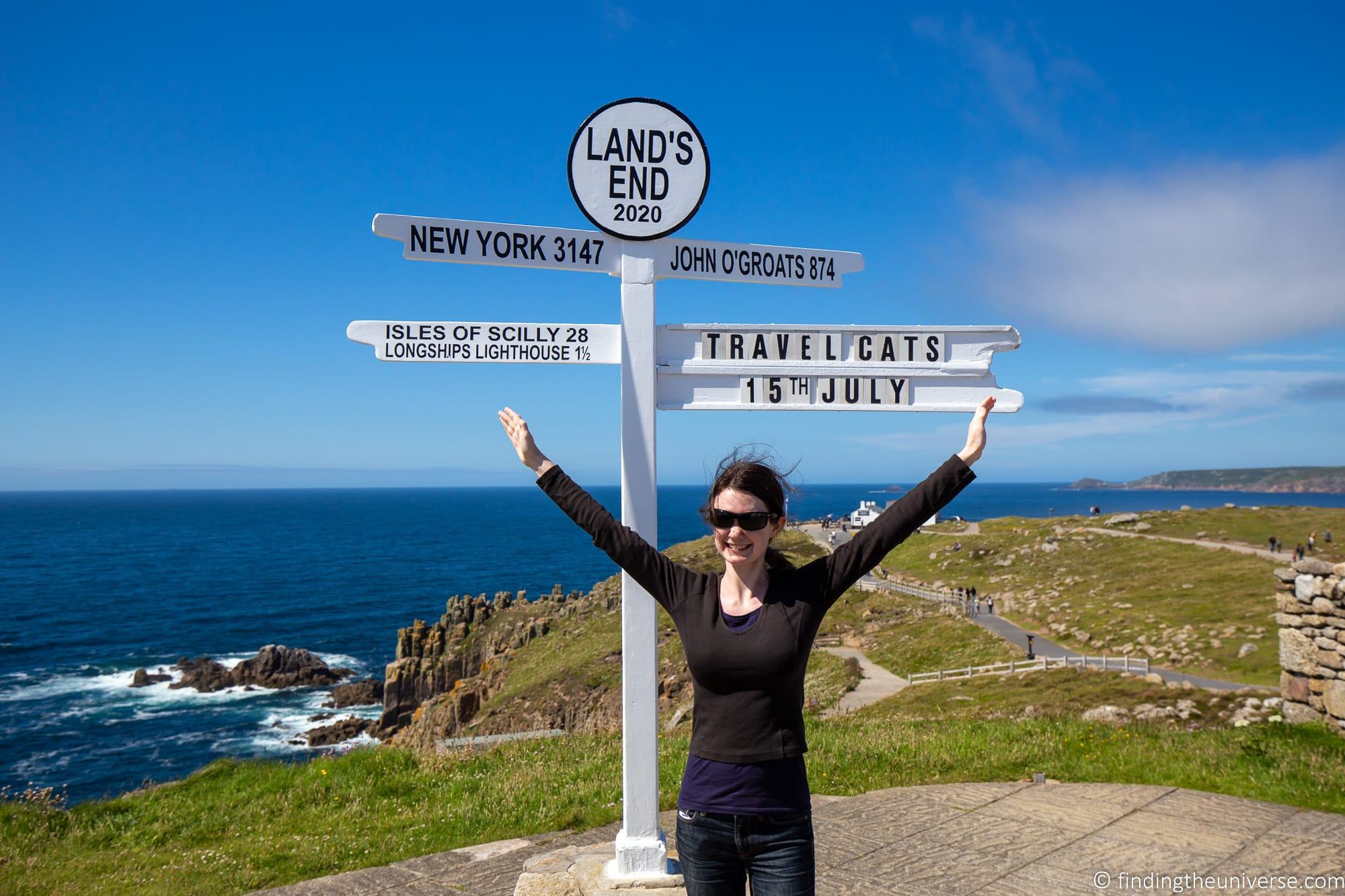 Mining History
As well as fishing, another natural resource has been exploited in Cornwall for thousands of years, and that is tin. Tin is a metal which has been mined in Cornwall since at least 2150BC, with the last tin mine closing in the county in 1998.
The heyday of Cornish mining was the 19th century, with tin and copper being the primary metals mined. At the time, this was one of the richest mining locations in the world, and at it's peak over 600 steam engines were powering over 2,000 mines across Cornwall.
Tens of thousands of men were employed in the Cornish mines, with many of these men later to emigrate overseas when the Cornish mining industry began to decline.
Today, the Cornwall and West Devon Mining Landscape is actually a UNESCO World Heritage site. This recognises both the sites themselves, as well as the expertise that was exported worldwide.
To understand some of the history and heritage of mining, we would recommend visiting one of the preserved mines in Cornwall.
There are a number of these that you can visit, with our recommended mine being the Geevor Tin Mine. Found in the St. Just mining district around 30 minutes drive from Land's End and Penzance, a mine has operated here since the late 18th century. The Geevor Tin Mine itself was operational from 1911 until 1990.
It's operated today as a museum and heritage centre, and is the largest preserved tin mining site in the UK. There's an excellent museum on site, and you can walk through many of the buildings to learn about mining and life as a miner. In addition, you can walk through "Wheat Mexico", an 18th century underground mine.
There's a fee to visit Geevor Tin Mine, and you can read more about opening hours and prices on the official website here.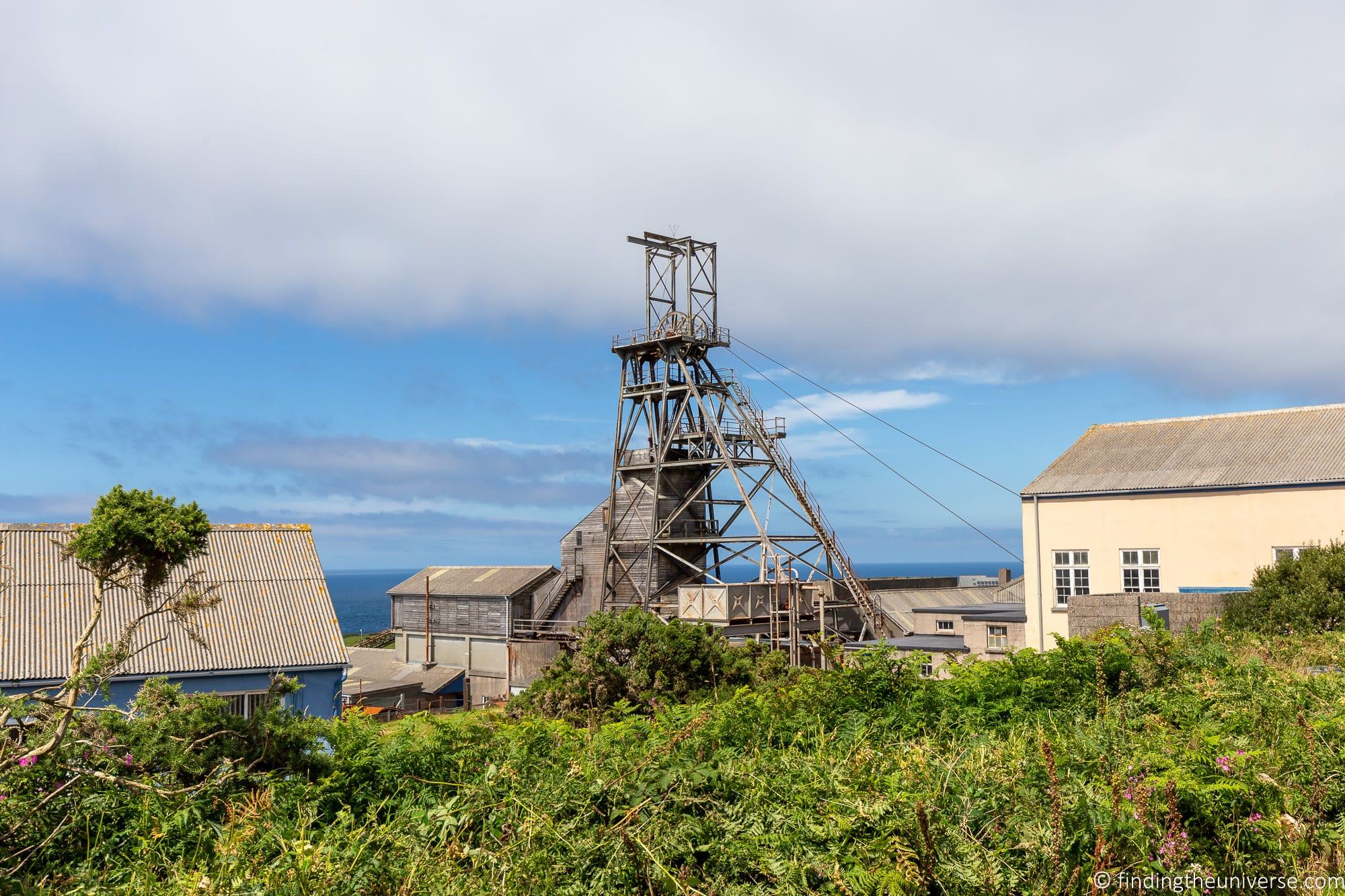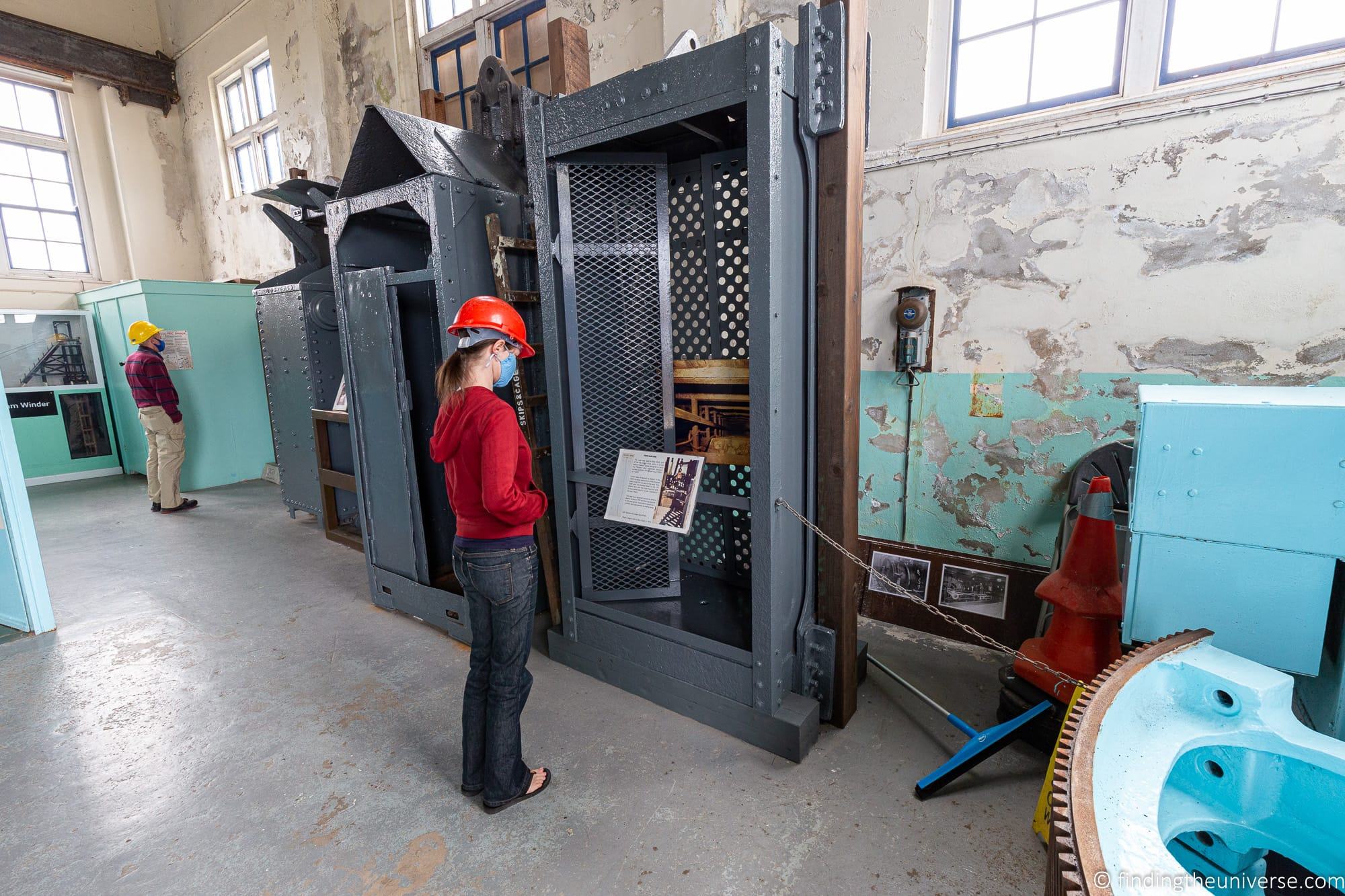 Go to the Beach
A huge draw for visitors to Cornwall, especially those with children, are the spectacular beaches on offer all around the coast. Cornwall has over 250 miles of coastline, and over 300 beaches to choose from! So wherever you are in the county, you're likely to be quite close to a gorgeous beach.
Many of these beaches feature gorgeous golden sands and turquoise waters, and many also offer safe swimming (although the water isn't going to be quite as tropical a temperature as they look!).
In addition, many of the beaches in Cornwall, particularly those on the north side of the county, offer excellent surfing conditions. Cornwall is a very popular surfing destination in the UK, and it's a good place to learn to surf as well.
If you're looking for a beach in Cornwall, this site has a good list where you can filter by things like whether or not the beach has a lifeguard or toilets nearby.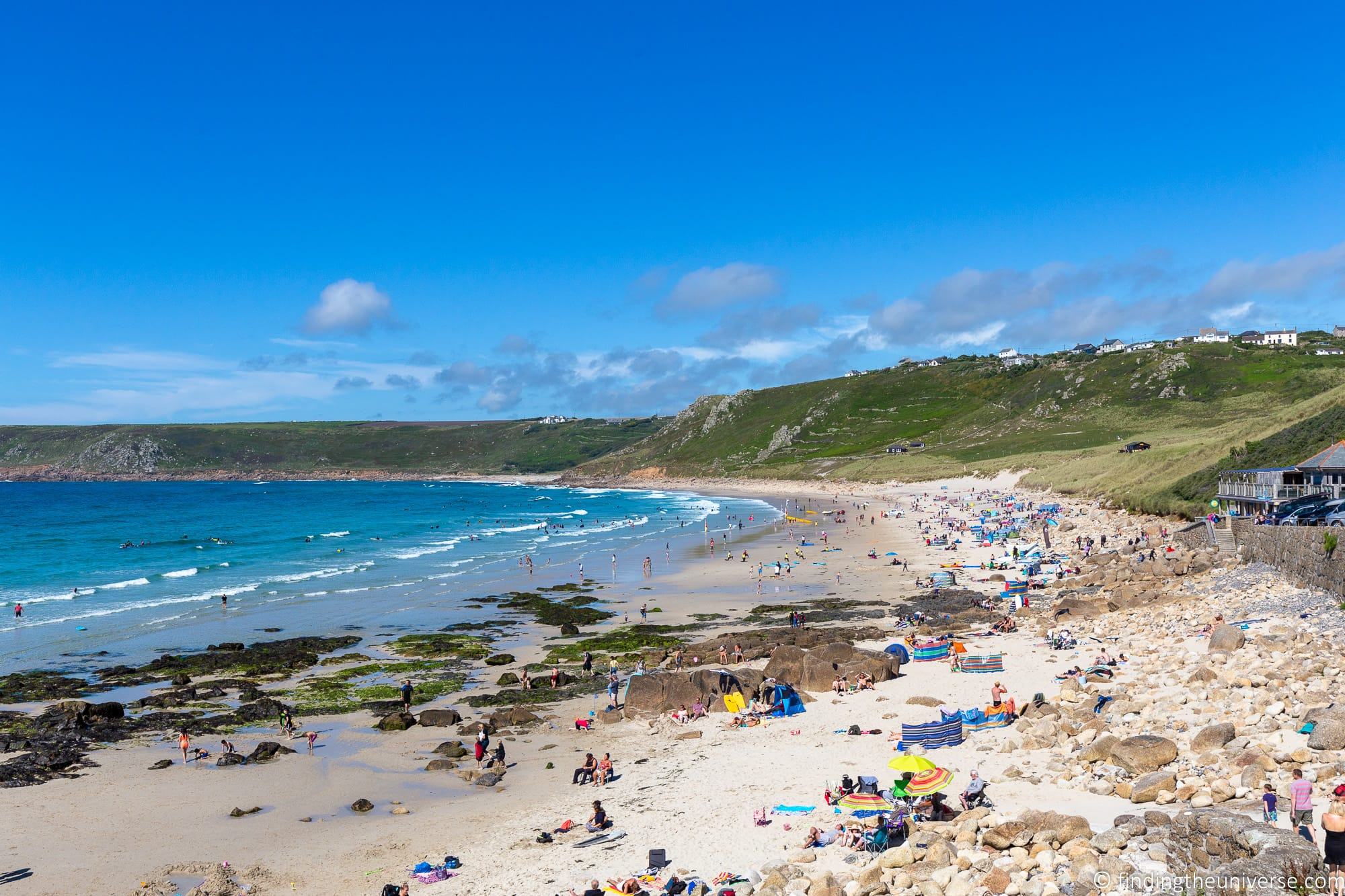 St. Michael's Mount
Just off the southern coast of Cornwall near the town of Marazion is the island known as St Michael's Mount. This island is accessible at low tide across a granitic causeway, and is home to a medieval church and a castle, as well as a community of people.
You might be thinking this sounds somewhat familiar. There is an island just off the French coast called Mont St. Michel, which is also home to a famous abbey and a church. This is not a coincidence, as the same order of Benedictine monks were responsible for developing both islands into places of worship.
Today, St. Michael's Mount is managed by the National Trust, and is open for visitors. At low tide you can walk across the causeway to the island, which takes around 15 minutes, or you can take a boat. On the island you can explore the garden, castle and church.
Entry to St. Michael's Mount is free to National Trust members, otherwise there's a fee for visiting. You can read more on the official site here. We'd recommend allocating at least three hours to your visit.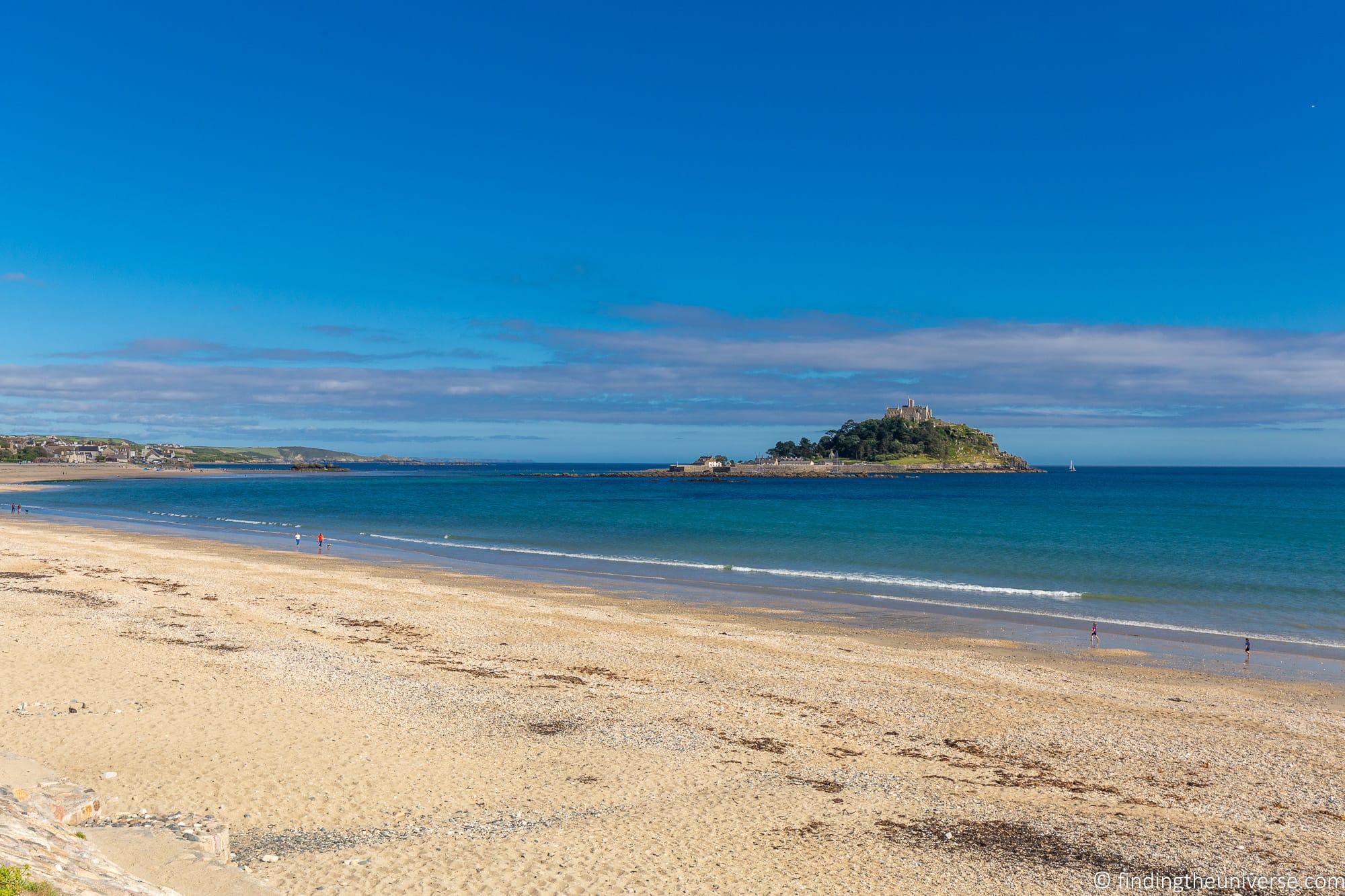 Lizard Point
Continuing south from St. Michael's Mount will bring you on to the Lizard Peninsula and the Lizard Heritage Coast area. There are many beautiful beaches and coves in this area, such as Poldhu beach, as well as some excellent coastal walks.
One popular attraction on the Lizard Peninsula is the Lizard Point. This is the most southern point of mainland Britain and England, and is a popular tourist attraction. It's free to visit and is operated by the National Trust.
Another interesting location that is worth a visit on the Lizard Peninsula are the Marconi sites. These include the Marconi Centre and the Lizard Wireless Station at Bass Point. It was from here that Marconi undertook wireless experiments, and from where he broadcast the first transatlantic radio message.
The Marconi Centre is open for visitors and is free, with donations appreciated.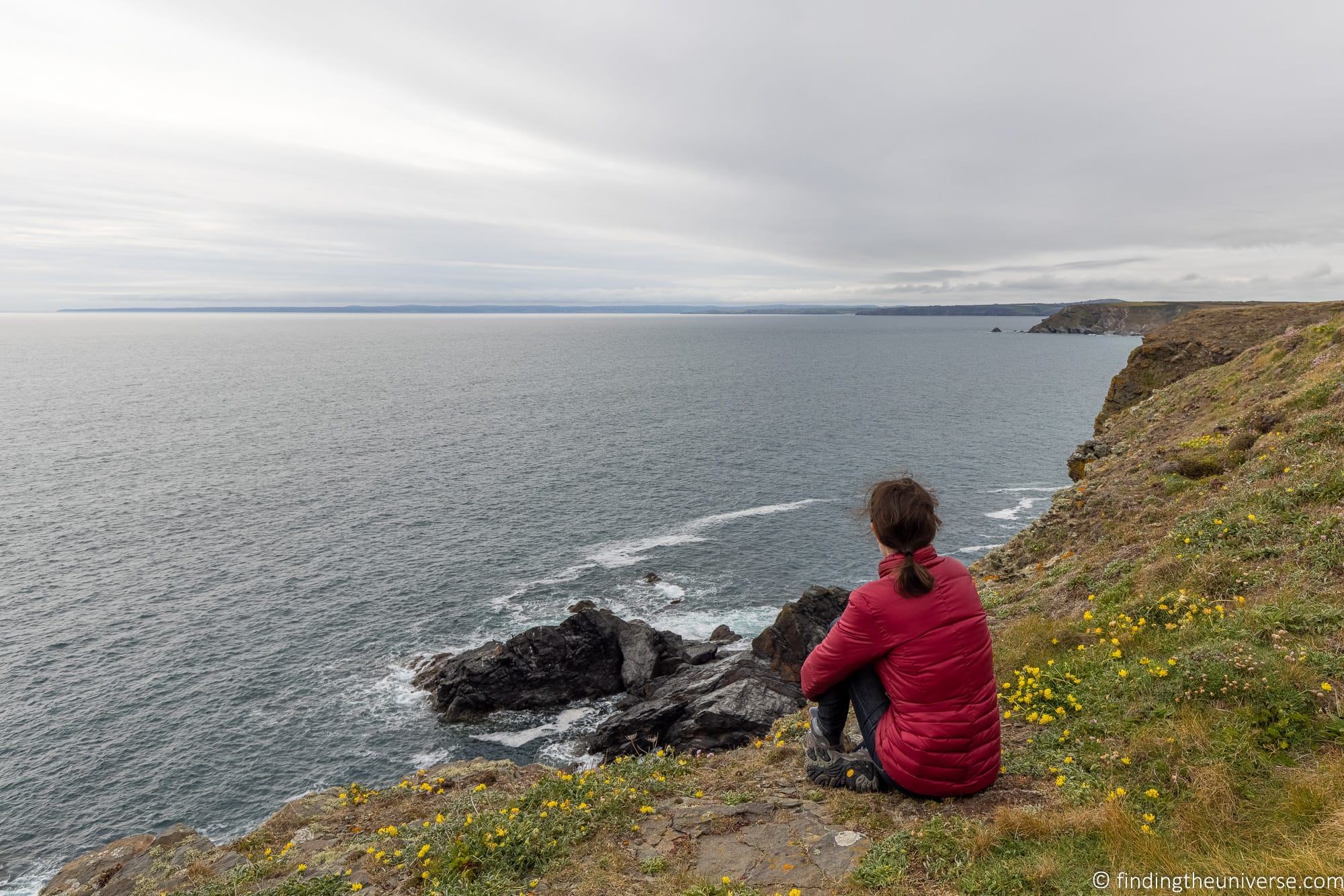 Where to Stay in Cornwall
Cornwall has a huge range of holiday accommodation options, from hotels and B&B's to self catering cottages to glamping and camping sites. You can pick a cute seaside village to stay in, or somewhere more central.
In our experience, properties closer to the sea or a good beach tend to be more expensive, whilst those inland can offer better value for money. If you visit during the busier summer months, expect to pay more and plan to book well in advance as properties can go fast. Cornwall can be a pricey destination as it is very popular.
When it comes to location, Cornwall is not huge, but it can take a couple of hours to drive from one end to the other. So you will have to decide if you prefer to pick a location to base yourself from for the duration of your holiday, or if you want to move around a bit if you are there for a longer period of time.
If you plan on doing a lot of sightseeing around the county, you might want to split your time between two base locations so you can explore different parts of Cornwall from different locations and reduce driving time.
There are pros and cons to each approach. If you pick a single central location you won't have to pack up and relocate part way through your trip and it can save you money as longer stays can be more cost effective than shorter stays.
We enjoy staying in the area around Bodmin as this puts us close to many attractions, but if you want to be closer to beaches you'd probably prefer a more coastal location.
It is good to think about if you want to be able to walk to a beach or to restaurants, or if you prefer to be in a more rural spot and perhaps want to cook your own meals. This will help you narrow down your lodging time and location preferences.
As I mentioned, there are a number of different accommodation options. I'll cover some recommendations for each category below.
Hotels & B&Bs in Cornwall
Here are some well-reviewed hotels and B&Bs across a variety of budget located in different parts of the county that we think could work for our itinerary:
As you can see, there are plenty of options to consider, and this is just the tip of the iceberg. For many more options, click here to see all the listings for Cornwall on booking.com.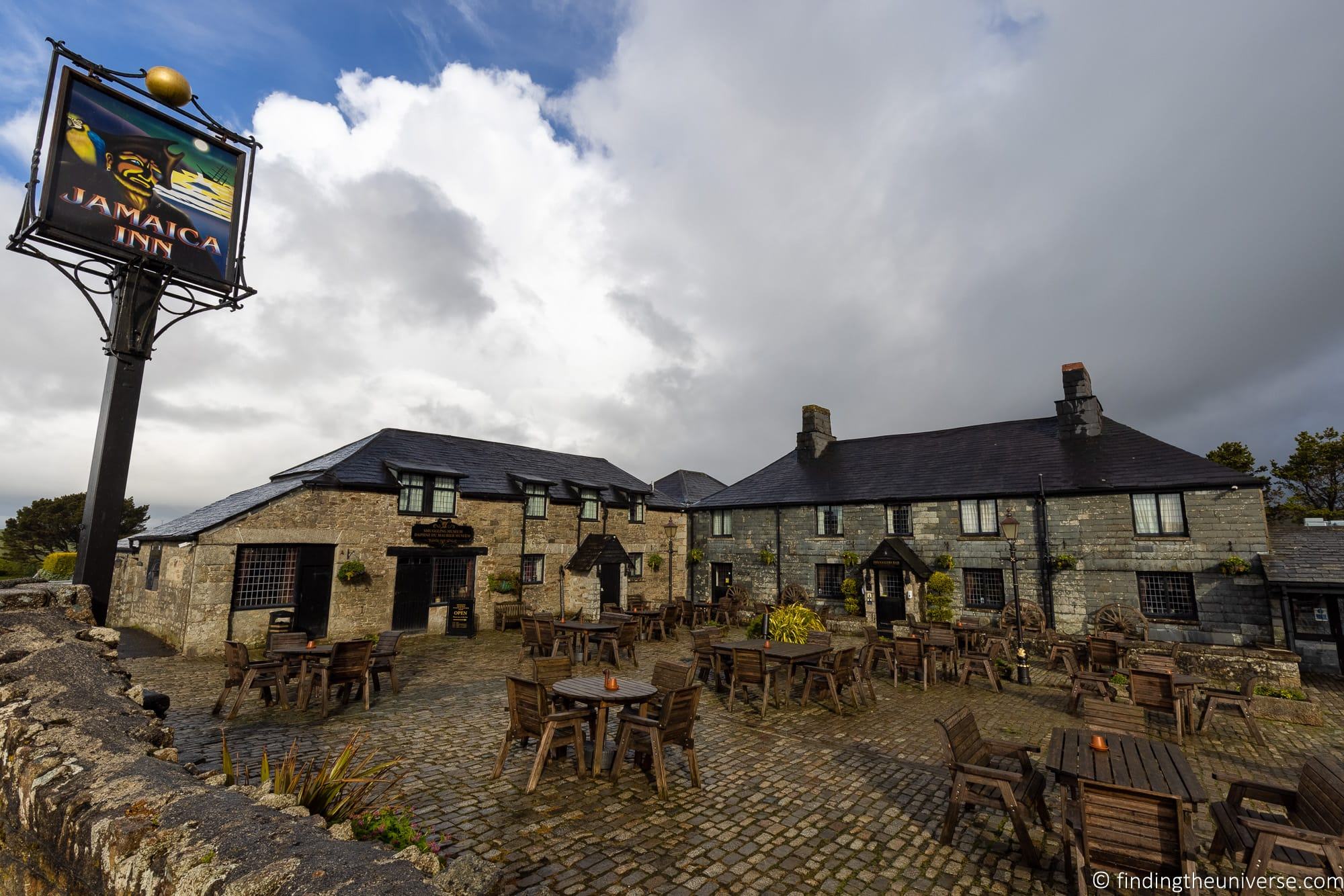 Self-Catering & Holiday Cottages in Cornwall
There are of course a lot of options when it comes to accommodation in Cornwall. Our preference for a week long trip like this would be to book a self-catering cottage. Sites we'd suggest you try out include:
If you are looking for a holiday cottage and need more options to choose from, see our guide to the best holiday cottage booking websites in the UK for more choices.
Glamping Sites and Campsites in Cornwall
Cornwall is of course a very popular destination for camping, with a wide range of campsites available. These range from basic sites with limited facilities where you need to bring all your own accessories, through to higher end Glamping sites where you can hire cabins or yurts.
There are of course many options to choose from, here are some well-rated suggestions.
Fir Hill Glamping Yurts – just near Newquay, this campsite offers lovely yurts which feature real beds and kitchenette, as well as access to shared facilities including bathrooms, BBQ facilities and lounge.
Looe Yurts – these are found just near the fishing town of Looe. A small number of comfortable yurts are on offer with real beds and log burners. Shared facilities include bathrooms and a kitchens.
Tehidy Holiday Park Wigwam Camping Cabins – if you love the idea of camping but prefer a real bed, en-suite facilities and luxuries like a TV, then check out these beautiful and highly rated camping pods in the south west of Cornwall.
Of course there are hundreds more options to choose from. Useful resources for finding campsites in Cornwall include the Cool Camping website and the UKCampsite website.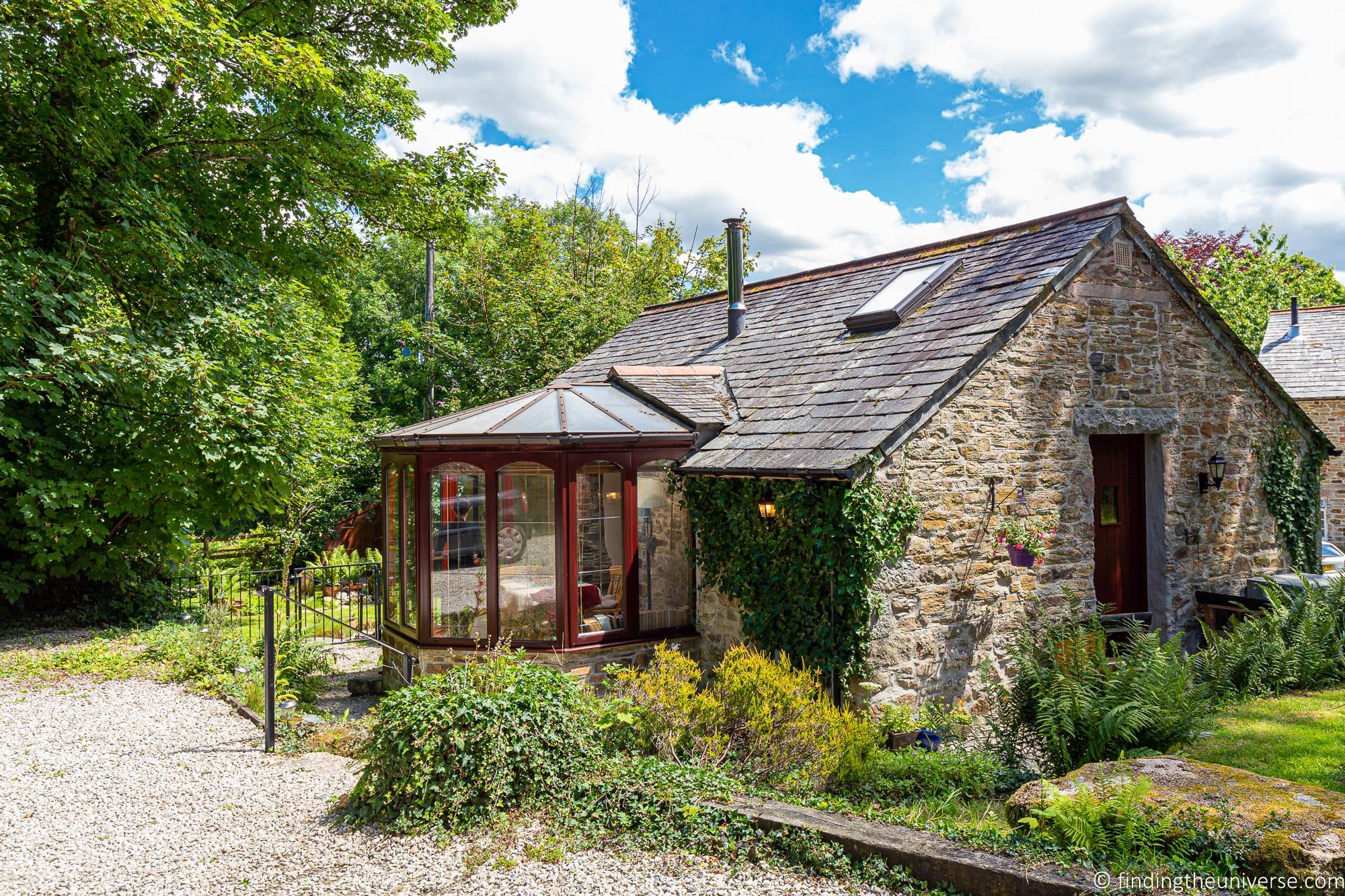 Tours in Cornwall
If you have a specific interest in a particular subject or attraction, you might want to book a tour that includes this attraction. A tour can be a great way to get insights you might not otherwise be able to get, plus they are usually a lot of fun.
In addition, depending on where you are travelling from and how you plan on getting around, you might find that booking a tour is a great way to visit a number of attractions without having to drive yourself.
There are a number of tours in Cornwall, which range from just a few hours to multi-day tours. Here are some to consider when you are planning your Cornwall trip.
Day Tours in Cornwall
Multi-Day Tours of Cornwall
If you'd like a longer tour of Cornwall which also includes your accommodation, check out this 3 day private tour which can be fully customised to your interests. Departures from locations around Cornwall.
This 5 day small group tour from London includes Devon and Cornwall as well as a number of other popular attractions in the southwest. We've taken multiple tours with Rabbie's and always had a great time.
This 7 day small group tour from London includes Cornwall as well as Devon, the Isle of Wight and many other attractions along England's beautiful south coast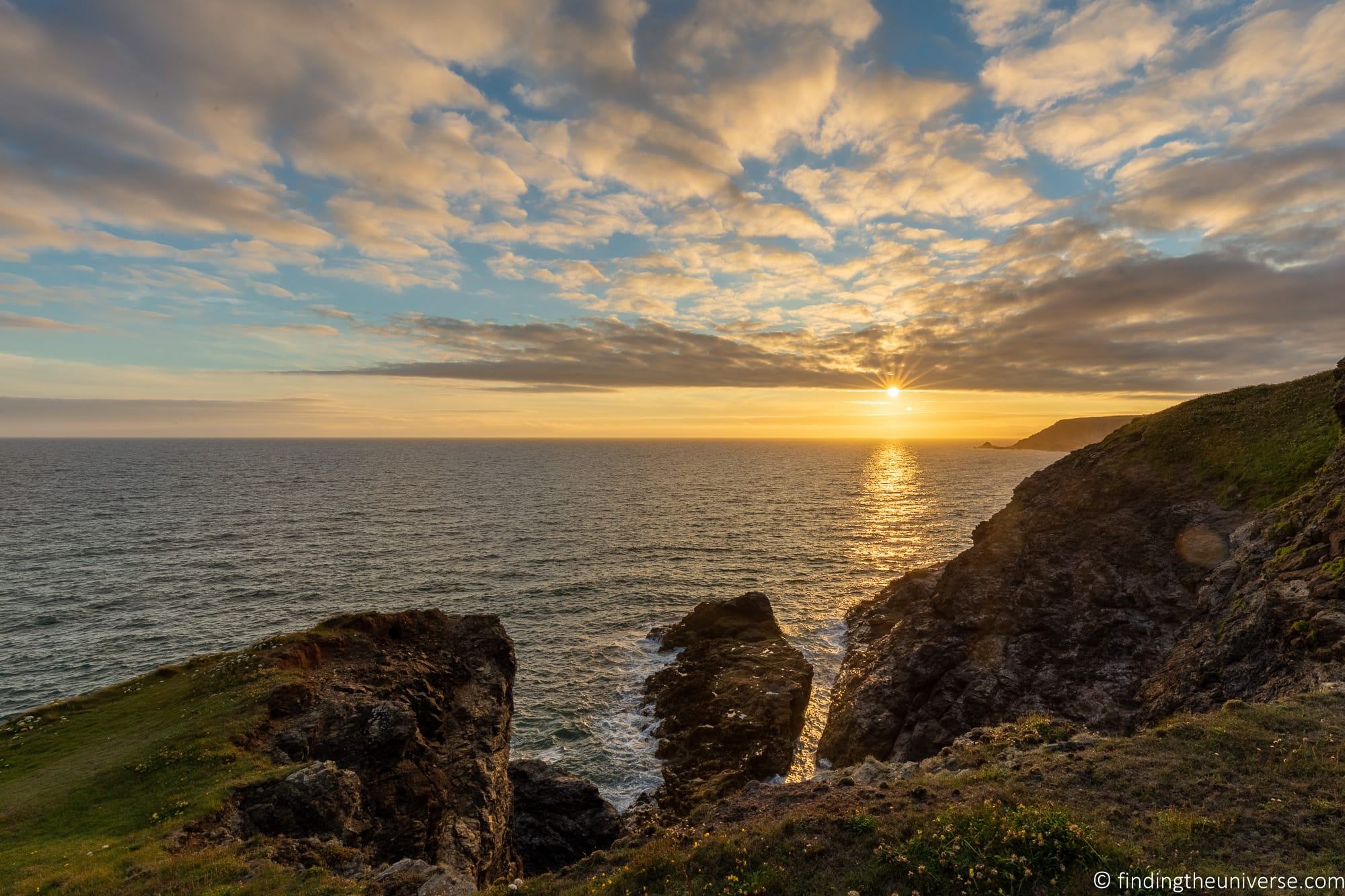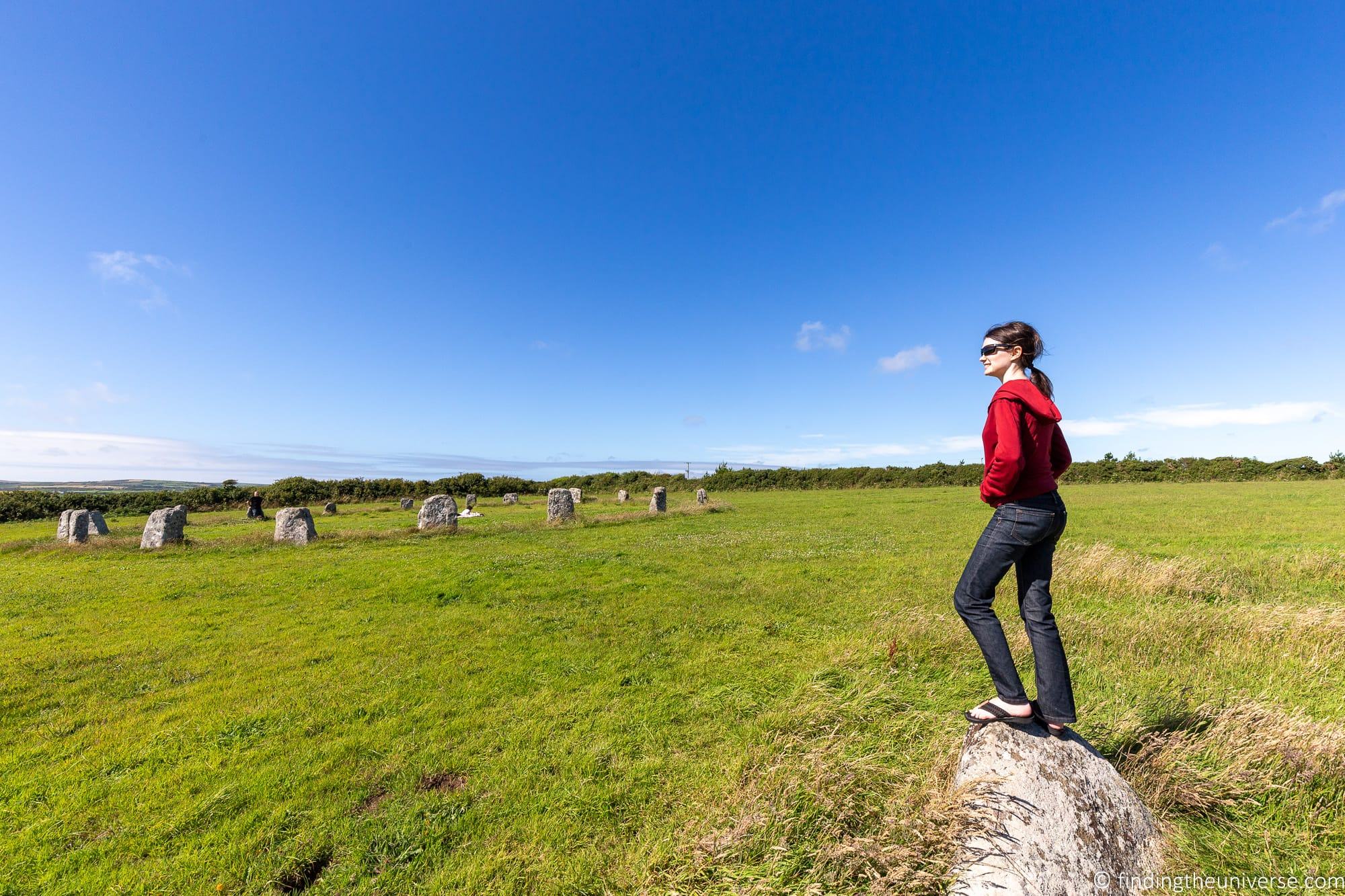 Further Reading
Well that's it for our Cornwall guide! We hope you find it useful in helping you plan a trip to Cornwall, and gives you some ideas for what to do.
Before you head off, we did want to share some other content that you may also find useful or inspirational for future trips.
And with that, we come to the end of our guide to visiting Cornwall for around a week! As always, we're happy to hear your comments and answer any questions you might have. Just pop them in the comments section below and we'll get back to you as soon as we can!