In this post I'm going to share with you a whole range of things to do in Stratford-upon-Avon, a town we have visited and explored a number of times during our time living in the UK.
Stratford-upon-Avon is well-known as the birthplace of Shakespeare, and there are many sights in the town related to the Bard. The town itself is a medieval market town found in the Midlands of England just south of the city of Birmingham.
It's only two hours from London by train, making it a good option for a day trip from the city for those who want to learn more about Shakespeare, and life in the Tudor period in general.
However, there's also plenty to do in Stratford-upon-Avon to fill two or three days of exploration, and ideally we recommend spending at least a night here if you can.
In this guide I'll share with you everything you need to know to plan a visit to Stratford-upon-Avon. That includes our favourite things to do, as well as tips on getting here and where to stay. This is all based on our personal experiences visiting Stratford.
Things to do in Stratford-upon-Avon
There's plenty to do in Stratford-upon-Avon. Here are some of our favourite activities and sights in the city. I'll start with Shakespeare's attractions as these are the most popular, which I'll order based on a timeline of his life.
Following these, there are of course a number of other things to do in Stratford-upon-Avon, which I've included as well.
Shakespeare's Birthplace
As the birthplace of arguably the most famous writer in the English language, a lot of the attractions in Stratford-upon-Avon focus around William Shakespeare.
With that in mind, we're starting our list where Shakespeare's life is believed to have started. This 16th century cottage on Henley Street is where Shakespeare is thought to have been born, in early 1564. His exact birthdate is unknown, but it is known that he was baptised on April 26th in 1564.
Shakespeare's parents were John and Mary and he was the third of eight children in the family. The house was both the family home and where Shakespeare's father John carried out his business as a successful glovemaker.
The house, built in a traditional style of wattle and daub around a wooden frame is fairly simple. For the time, the six rooms (three upstairs, three downstairs) would certainly have been generous, although it is simple in style, layout, and decoration.
The house is one of five properties that are managed by the Shakespeare's Birthplace Trust, an organization that came into being in 1847 when it bought this property. We think it makes a good starting point for learning about Shakespeare's early life, family, and upbringing.
To get to the cottage you pass through the Shakespeare Centre, which is filled with information about the life of the bard, as well as many documents and important items relating to his life.
Entry to the house and associated Shakespeare Centre requires a ticket.
You can see prices and opening times on the official site here. You can also book your tickets online here.
If you plan on visiting a number of the Shakespeare sites in Stratford-upon-Avon then we would recommend buying the Shakespeare story ticket which includes the majority of the properties operated by the Shakespeare Birthplace Trust and is valid for a year.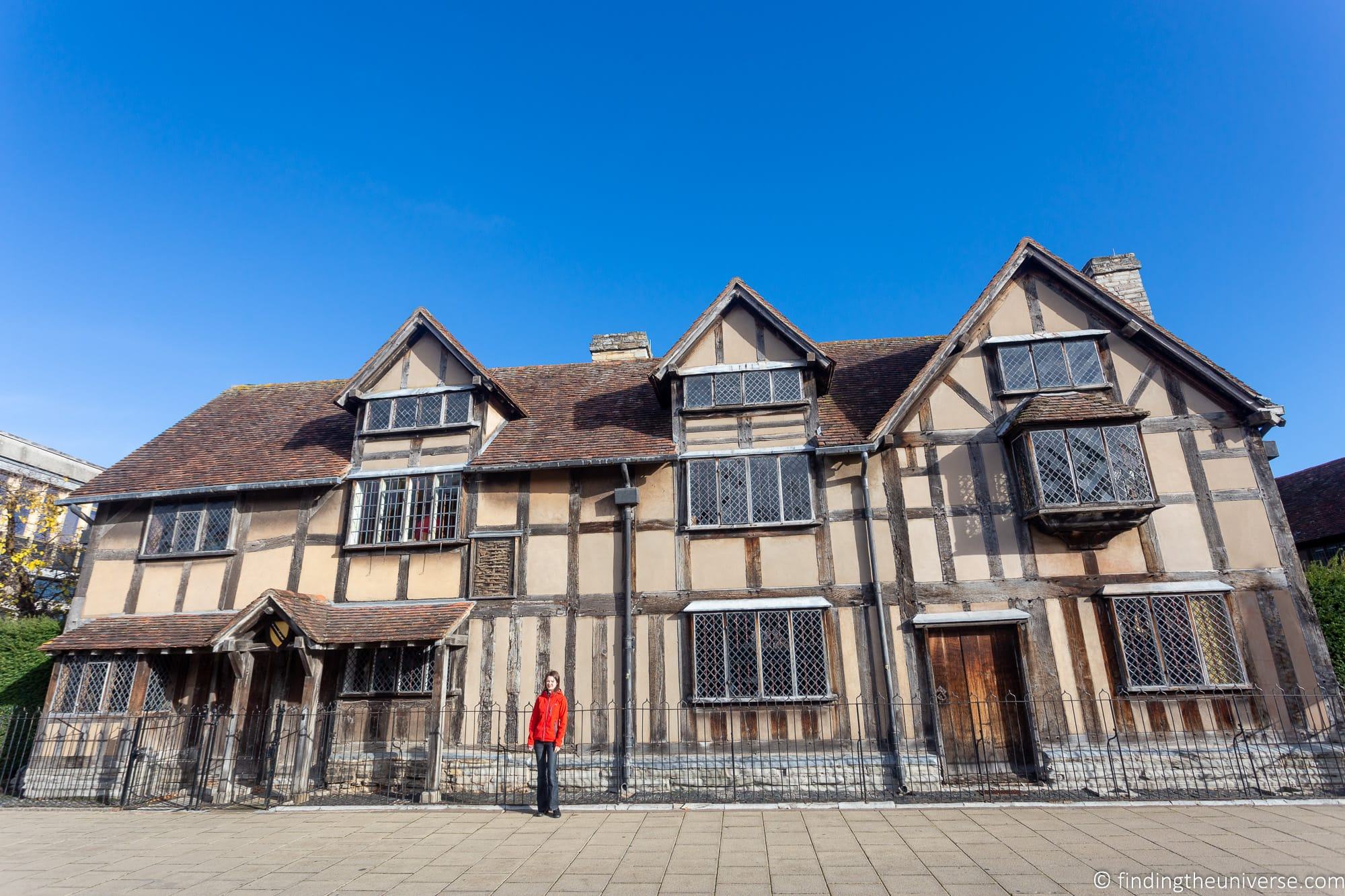 Shakespeare's Schoolroom & Guildhall
Continuing in the timeline of Shakespeare's life, the next attraction you might consider visiting is Shakespeare's Schoolroom & Guildhall.
This building had two main purposes in Shakespeare's time. The ground floor was used as the local council offices, and Shakespeare's father John served as chief magistrate of the town council as well as mayor of Stratford. As a result, he would definitely have been here for various duties.
The first floor of this building, which dates from 1417, was used by King's New School for teaching from the 1560s. Shakespeare is believed to have attended the school in the late 1560s to early 1570s.
Whilst no actual attendance records survive to prove this either way, the school was free and only a quarter of a mile from his home so it would have been a logical place for him and his siblings to have received an education. It is also more likely because his father would have been familiar with this building as part of the local council.
Regardless of whether Shakespeare truly did attend, the school is worth visiting both for the interesting historic building, and also to get a feel for what education would have been like in Shakespeare's time. Visitors can dress up in Tudor style clothing, partake in a Tudor school lesson, learn some Latin, and have a go with a quill and ink.
When you sit at the worn desks and try to master writing with a quill and ink, it's not hard to imagine yourself back in a Tudor classroom!
You can see more on the official website here, and buy tickets online here. It's also included on the Warwickshire Explorer Pass, another good way to save money on sightseeing in the area if you will be visiting enough of the included attractions.
When you visit, we can also recommend popping into the next door Guild Chapel. This dates from the 13th century and is home to some of the rarest medieval wall paintings in Europe. It's free to visit, but donations are appreciated.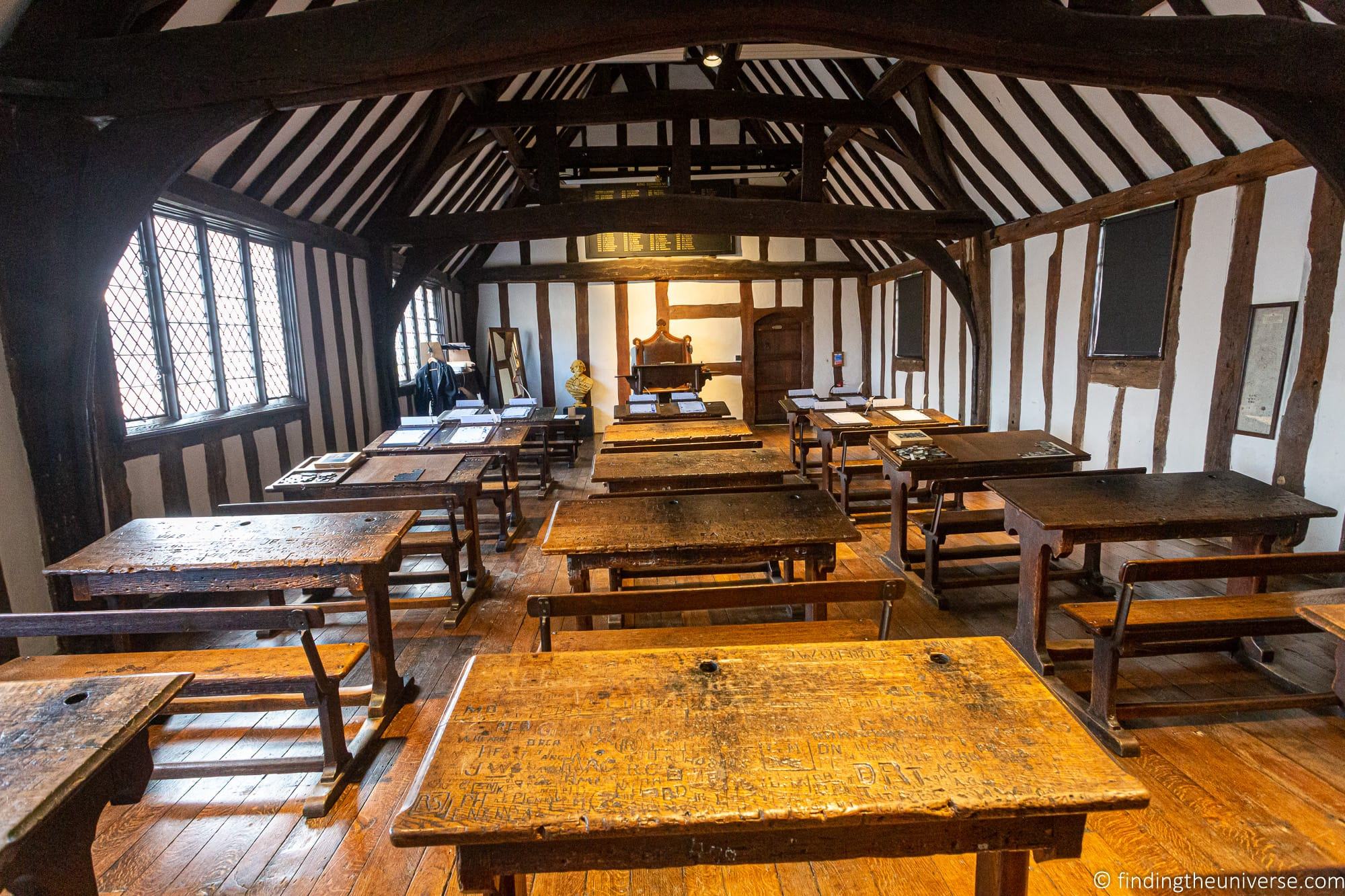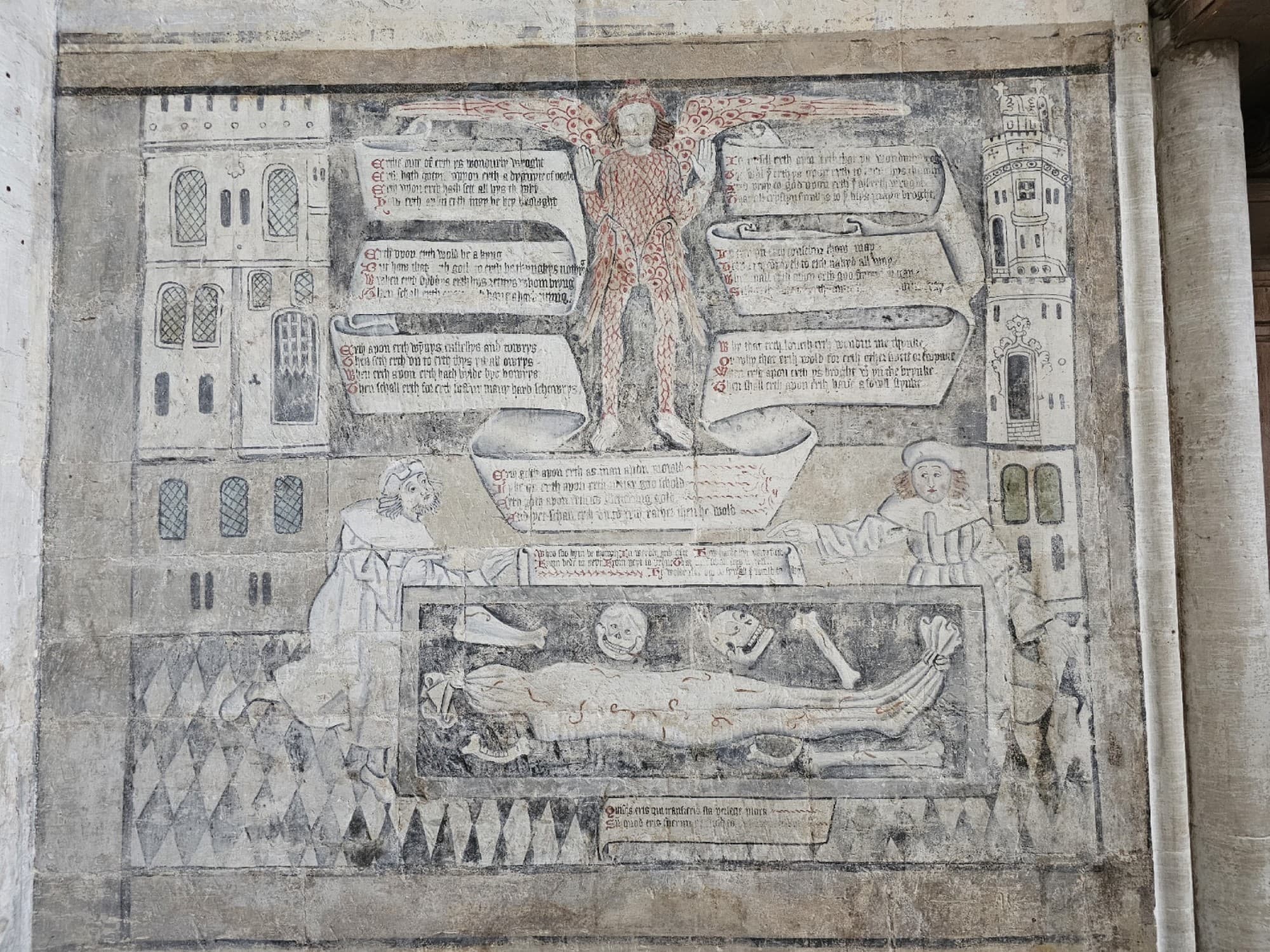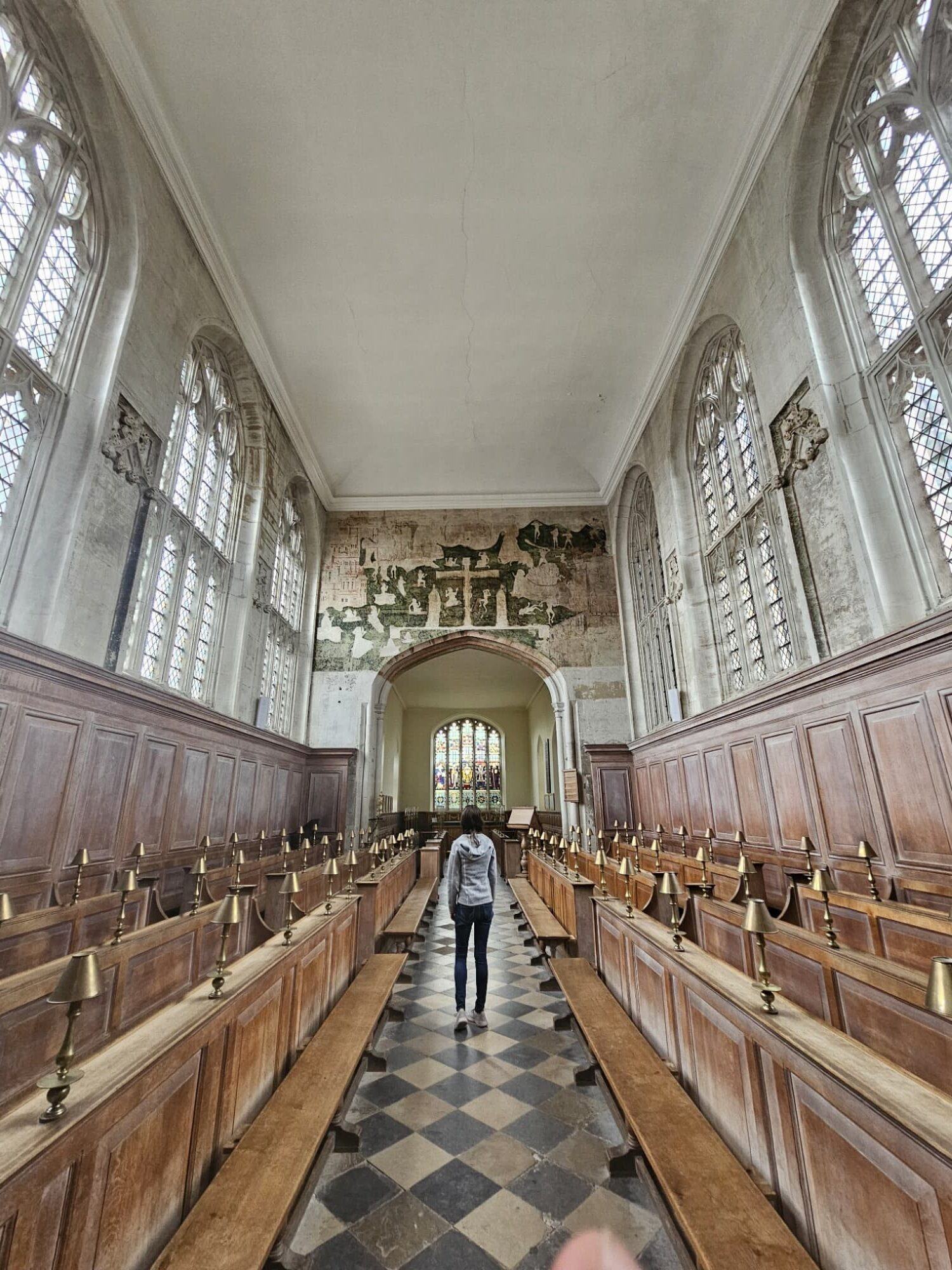 Anne Hathaway's Cottage
The next event in Shakespeare's life that is definitively known about is his marriage to Anne Hathaway. A marriage license was issued on the November 27 1582, when Shakespeare was 18 and Hathaway was 26. Six months after the marriage Hathaway gave birth, and they would remain married until Shakespeare's death.
To learn about Anne Hathaway and her life before Shakespeare, you will want to visit Anne Hathaway's cottage. The name is somewhat misleading, as the cottage is actually a twelve room farmhouse. It's a very picturesque lovely thatched Tudor home.
It's so picturesque in fact that five full scale replicas of the cottage have been built—three in the USA, one in Canada, and one in Australia!
Today, the cottage is open as a visitor attraction and operated by Shakespeare's Birthplace Trust. There are nine acres of garden to explore, a sculpture trail, beautiful willow creations, and of course the cottage itself which has a number of items dating from the period.
The property is around a mile from the centre of Stratford – either a nice 20 minute walk, or an easy taxi or bus ride away. It's also part of the Stratford Hop on Hop off bus route.
Entry to the Anne Hathaway house and grounds requires a ticket which you can buy online here. It's also included on the Shakespeare story ticket which includes the majority of the properties operated by the Shakespeare Birthplace Trust and will save you money if you visit a few attractions.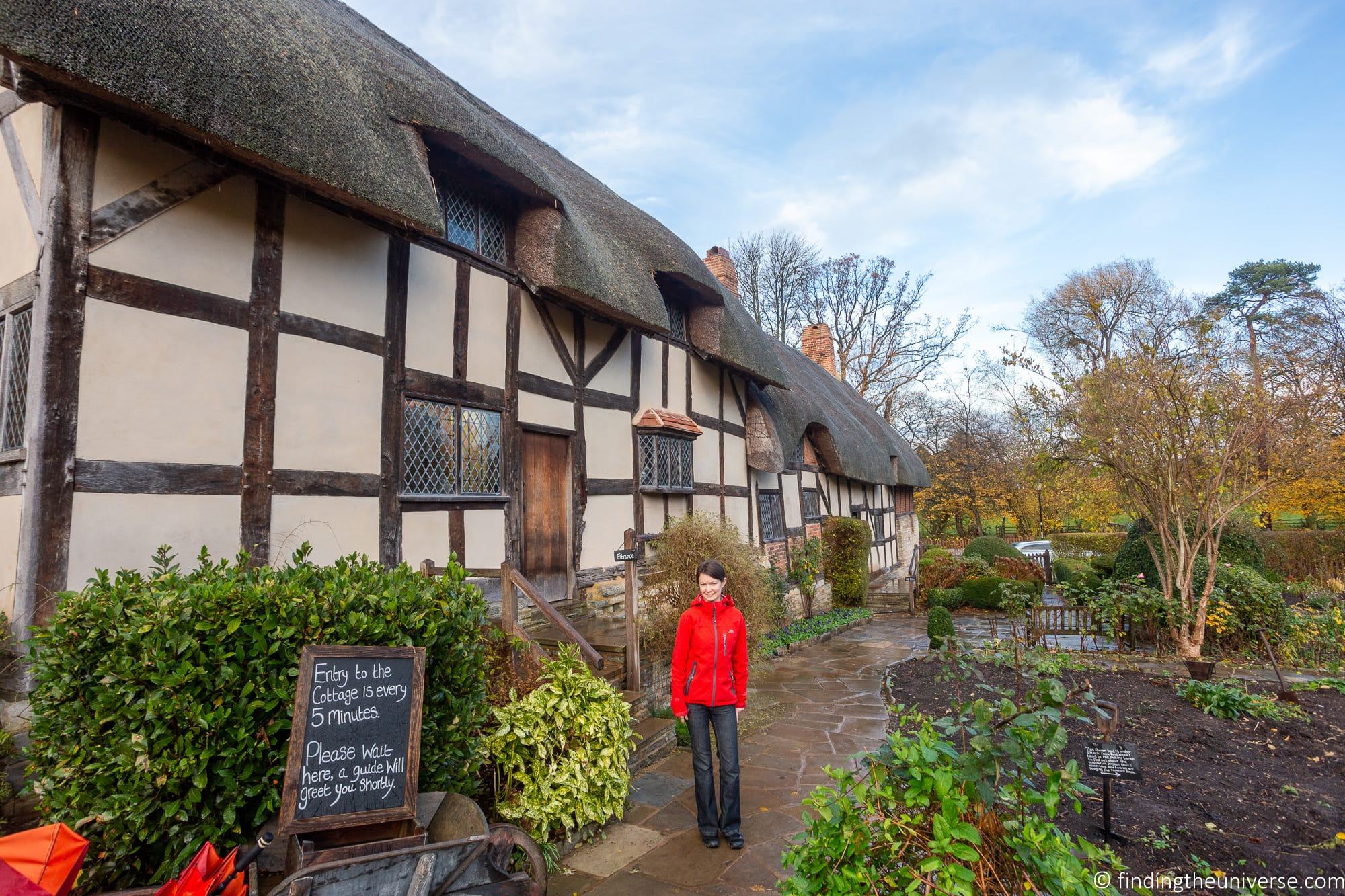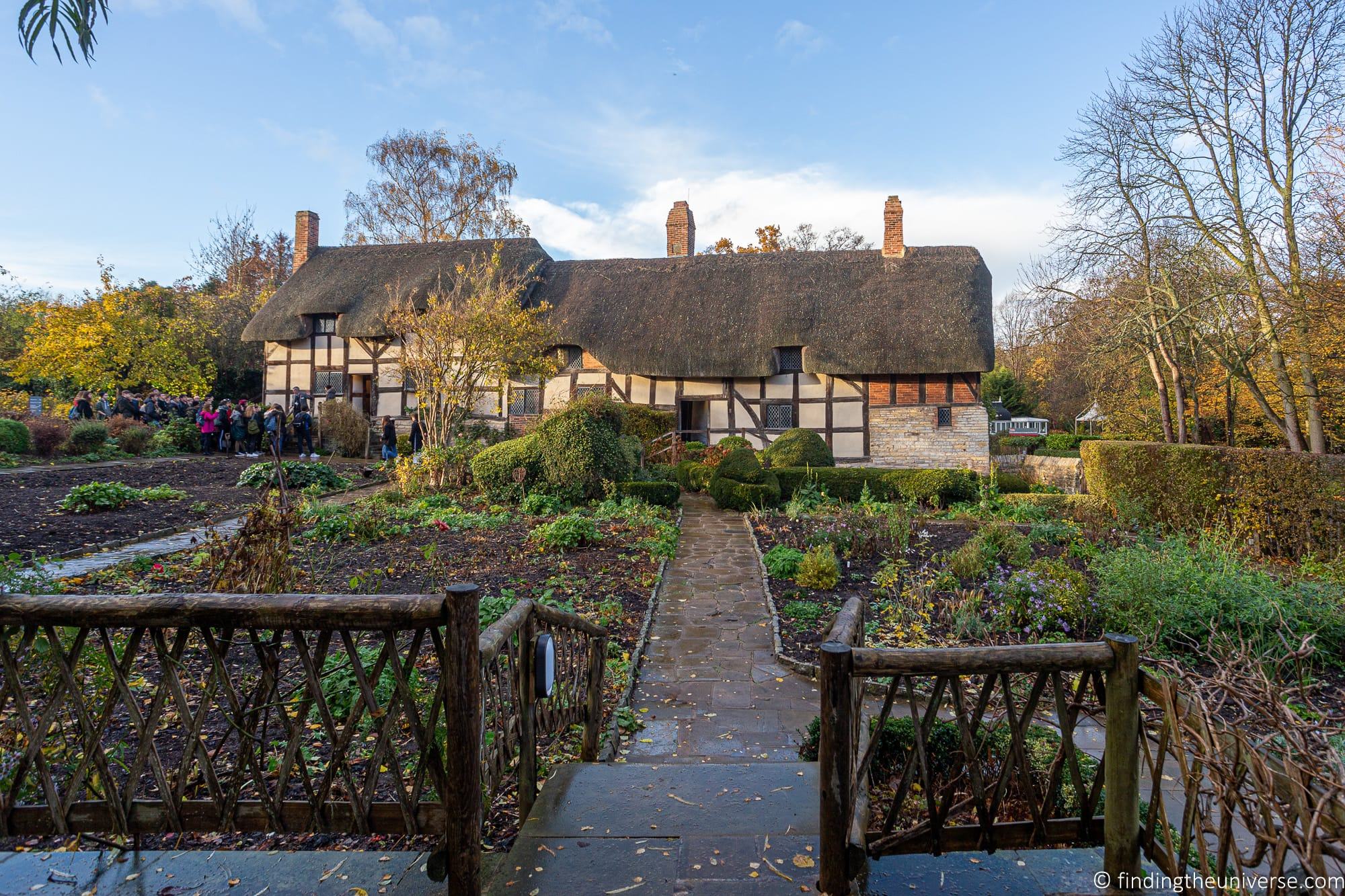 Shakespeare's New Place
Not a huge amount is known about Shakespeare's life in the years directly following his marriage to Anne Hathaway. They did have two more children, a set of twins, one of whom died aged 11 in 1596.
It's only in 1592, ten years after they were married, that Shakespeare's name starts to pop up in association with the London theatre scene. By this point, a number of his plays were starting to be performed in London, and the earliest review of his work appeared in print at this time.
Despite the first review being negative, Shakespeare obviously became a success. By 1597, he had started to amass wealth, and at this time he bought a new home in Stratford-upon-Avon which is known as New Place.
It's worth noting that whilst Shakespeare spent most of his time in London during his writing year, his wife Anne actually lived in Stratford-upon-Avon. Shakespeare did of course spend some of his time in Stratford, and from 1597 the New Place house was where he did just that. It was the family home for 19 years, and Shakespeare died here in 1616, with the house passing on to his eldest daughter Susanna who moved in with her husband.
When Shakespeare bought New Place, it was the second largest house in Stratford-upon-Avon. It dated from 1483 and was known to have ten fireplaces as well as expansive grounds.
Unfortunately, the house itself does not survive. It was destroyed in 1759, partly as a result of the owner at the time growing tired of constant visitors! As a result the exact layout, floor plan, and design isn't known for certain.
The ground where the house stood, as well as the home next door, was acquired by the Shakespeare's Birthplace Trust in 1876. The home next door was turned into a museum dedicated to Shakespeare and his family, and the grounds, where the house once stood, are open to visitors.
Entry to New Place requires a ticket. It's included on the Shakespeare story ticket which you can buy here.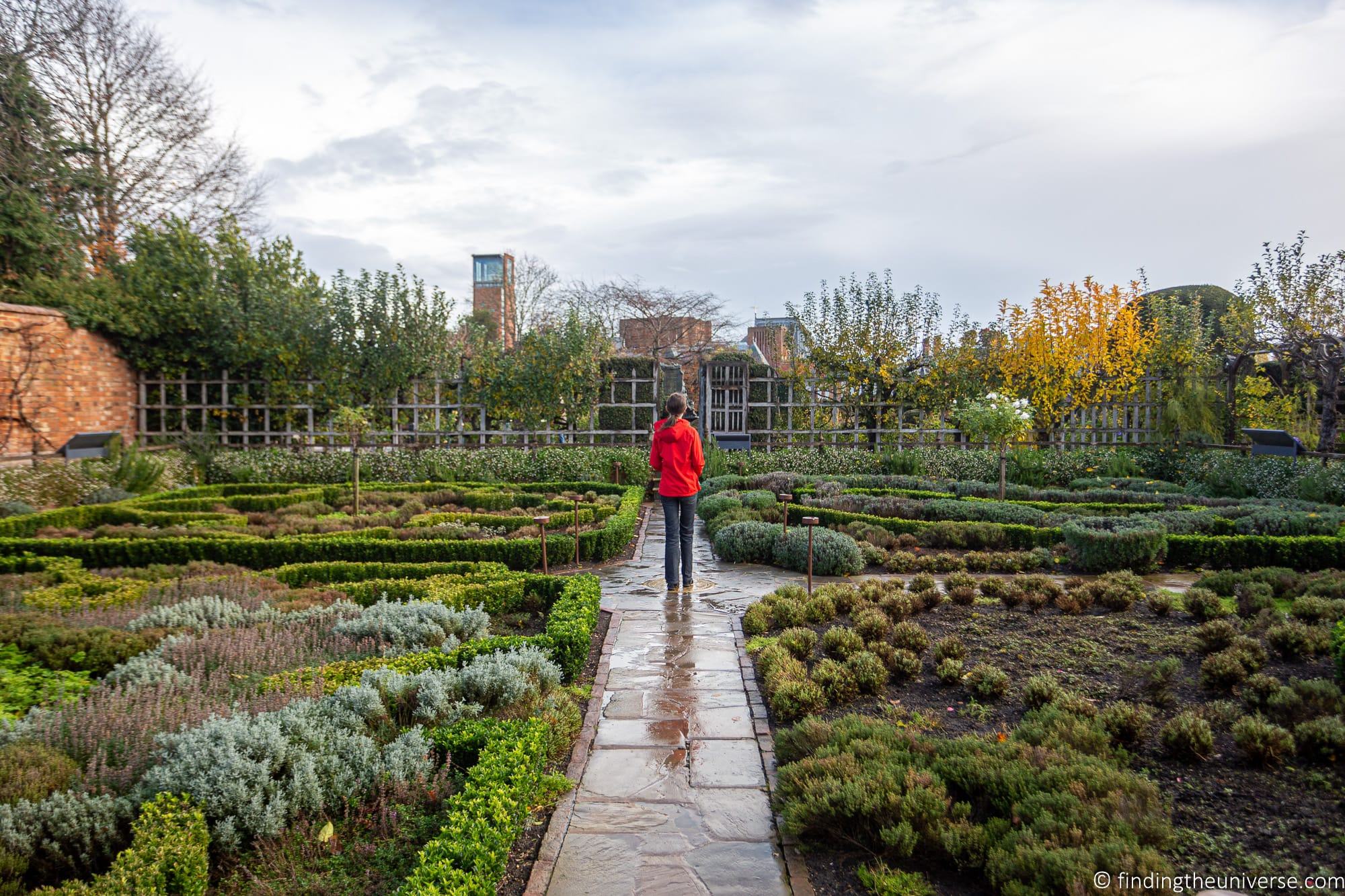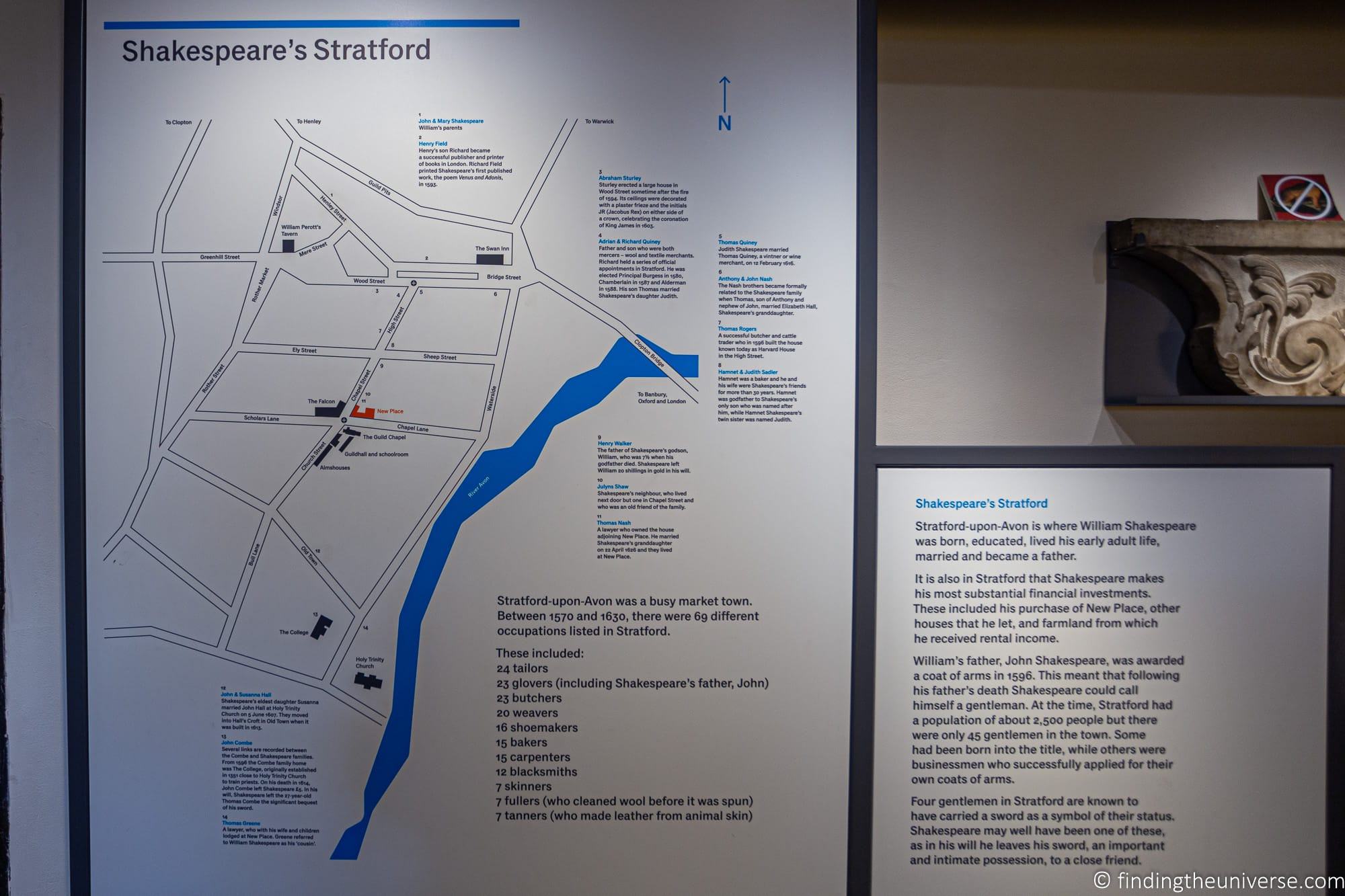 Hall's Croft
Shakespeare's oldest child, Susanna, also lived in Stratford. In 1607, aged 24, she married John Hall, to become Susanna Hall. From 1613 until 1616 they lived together in Stratford in a property which is today known as Hall's Croft. When William Shakespeare died in 1616, they moved to the New Place house.
After the Hall's left, the property passed through various hands and was updated and enlarged. As a result, the property that can be visited today is somewhat different to how it would have been when Susanna and John actually lived here. It was acquired by the Shakespeare Birthplace Trust in 1949 and restored. It opened to the public in 1951.
Today the property is laid out to give an idea of how a 17th century family home would have looked. It has a number of 17th century furniture pieces (no originals from the Hall's time survive) as well as medical objects from the time to illustrate John's work as a physician. There are also paintings and objects from other time periods, as well as a garden displaying medicinal herbs used in the Tudor period.
The property is well worth visiting to get more of an insight into Tudor life. Entry to Hall's Croft requires a ticket. However as of June 2023 it is closed. You can see more on the official website here.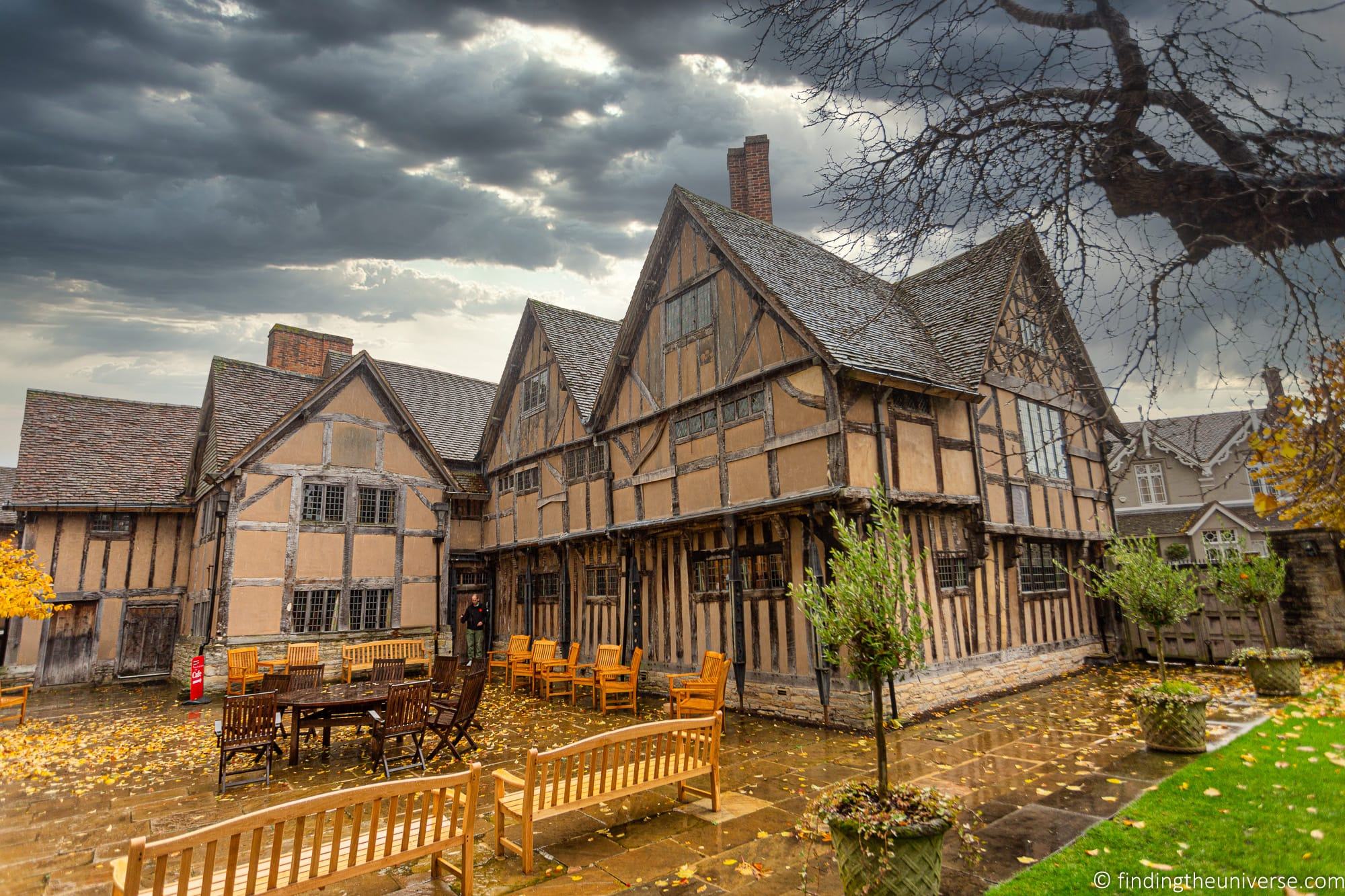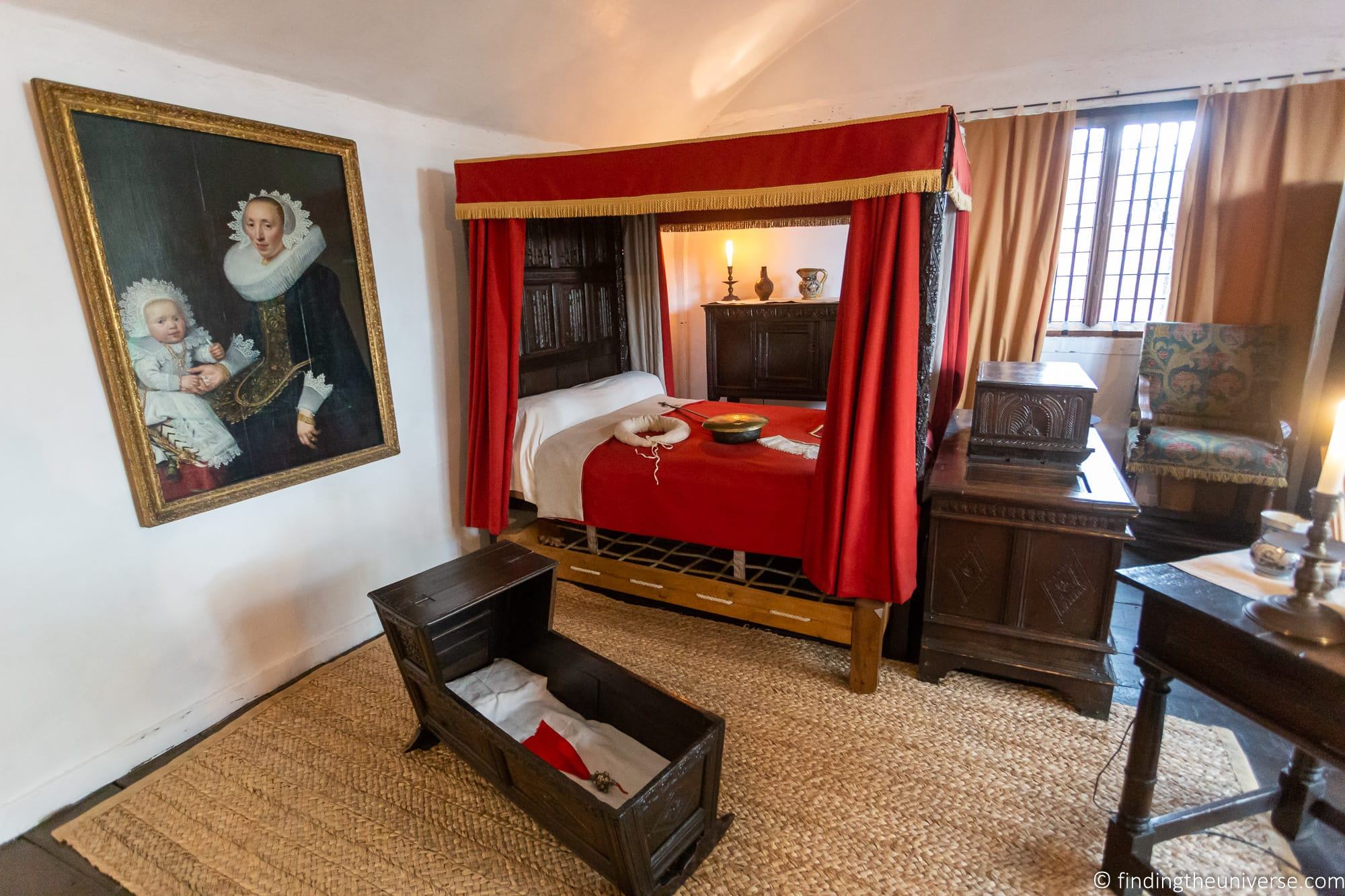 Holy Trinity Church
Shakespeare was born in Stratford-upon-Avon, and died at his home in Stratford in 1616. Two days after his death he was buried at Holy Trinity Church in Stratford-upon-Avon.
The Church was also where Shakespeare was baptised and where he married Anne Hathaway. In addition, his daughter Susanna married her husband John here. Throughout his life, Shakespeare would have attended weekly services at the church when he was in Stratford-upon-Avon.
For all of these reasons, Holy Trinity Church is a popular place for visitors. A visit to pay respects at Shakespeare's grave is a good way to finish your journey through Shakespeare's life. His grave is found in the 15th century chancel, with his famous epitaph reading:
"Good friend for Jesus sake forbeare, To dig the dust enclosed here. Blessed be the man that spares these stones, And cursed be he that moves my bones."
Whilst the warning may seem odd in modern times, in Shakespeare's time it was common for bodies to be removed either for medical research or simply to make room for new bodies. The epitaph seems to have done the trick, as Shakespeare still rests in peace in the chapel.
The Holy Trinity Church is open for visitors, and is free to visit. However, do be aware that this is still very much a working place of worship, and access may be restricted for events like funerals or specific services. You can see the main visiting hours here.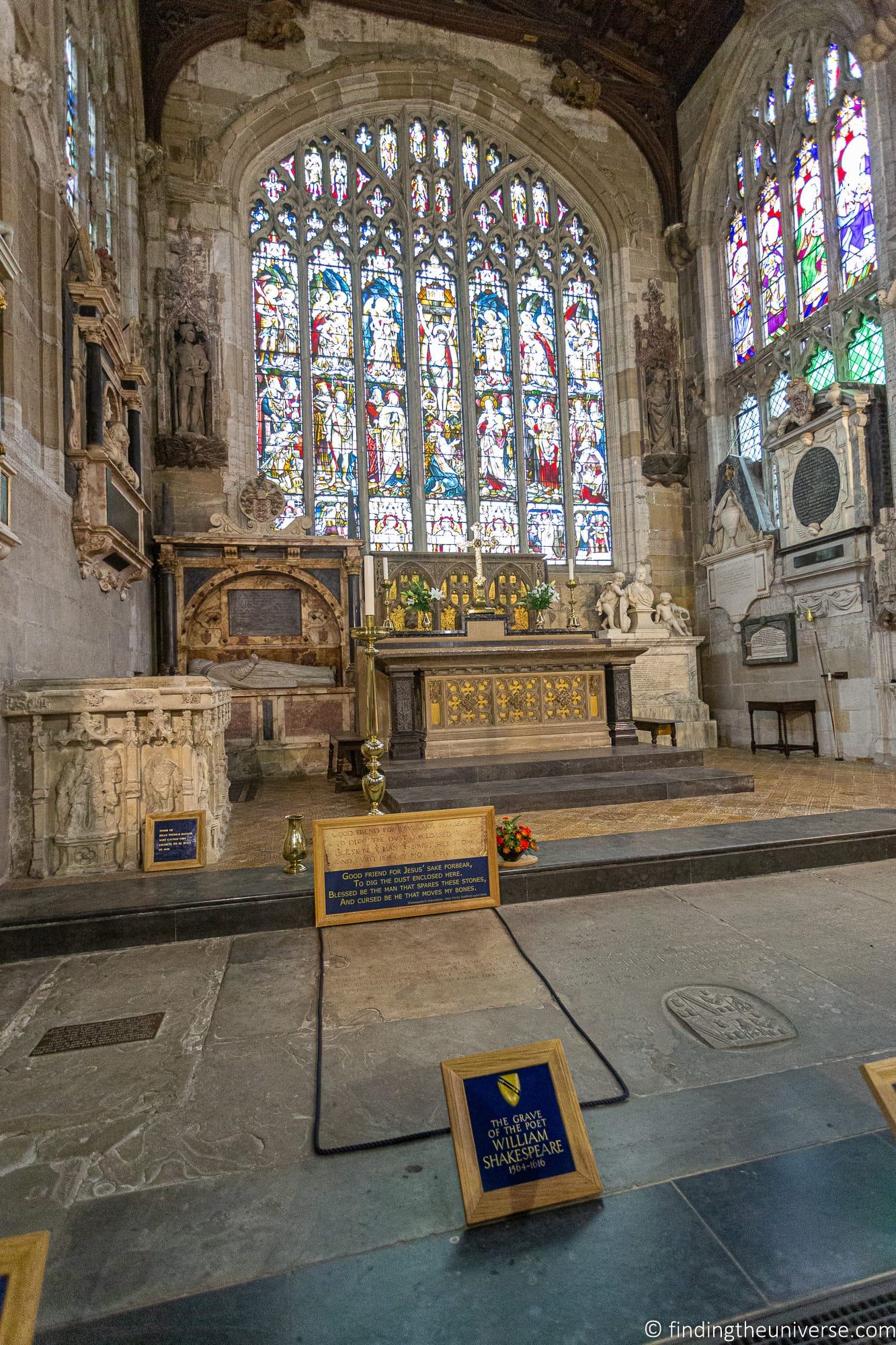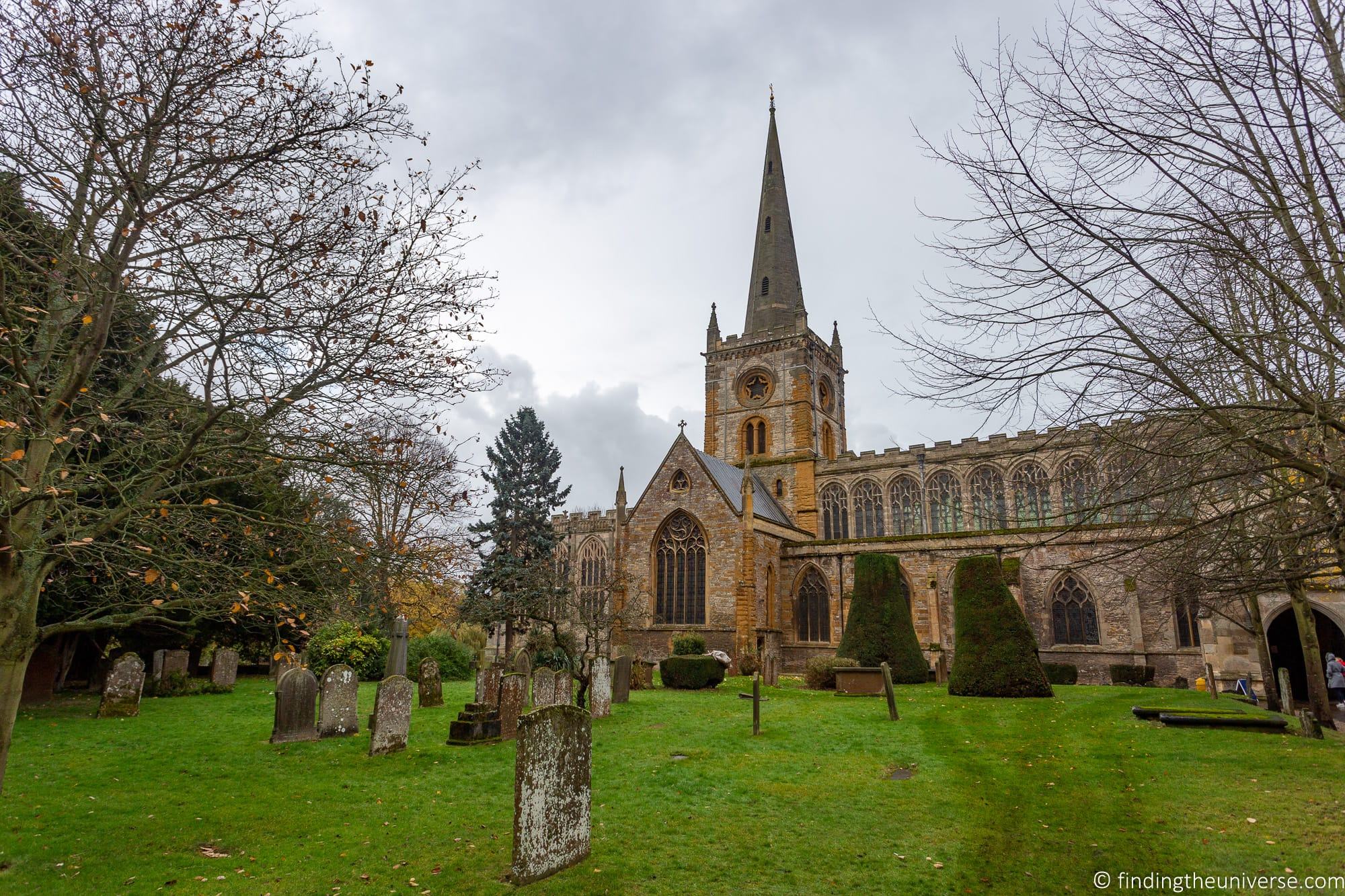 Mary Arden's Farm
Finally, in terms of sights directly related to Shakespeare's life and family, I also wanted to mention Mary Arden's Farm. This isn't actually in Stratford-upon-Avon, rather, it's in the village of Wilmcote around three miles away.
The farm was the home of Shakespeare's mother, Mary Arden. Due to historical confusion over which home the Arden family actually owned (only discovered in the year 2000), there are today two neighboring properties that the Shakespeare Birthplace Trust owns.
The building originally thought to be Mary's home actually belonged to a neighbour, Mr. Palmer , and is now called Palmer's Farm.
The smaller building where Mary actually lived, which was called Glebe Farm, is now known to be Mary's actual house.
The good news is that the trust owns all the building and land, which is today operated as a working Tudor farm which is open for visitors with various activities available.
If you are visiting Stratford just for a day, it might be a bit of a stretch to also visit as well as all the other sights. However if you are here for a couple of days, or have an interest in a Tudor farm (it's great for families), this is definitely worth visiting in our opinion.
We particularly enjoyed the Palmer's House tour, which is led by knowledgeable and costumed guides. We also tried our hand at willow weaving, which was a lot of fun.
The farm is included on the Hop on Hop off bus tour of Stratford, otherwise you'll want to either take a taxi, train (Wilmcote train station is just a couple of minutes walk away) or public bus to get here.
Entry to Mary Arden's Farm requires a ticket. You can see more on the official website here.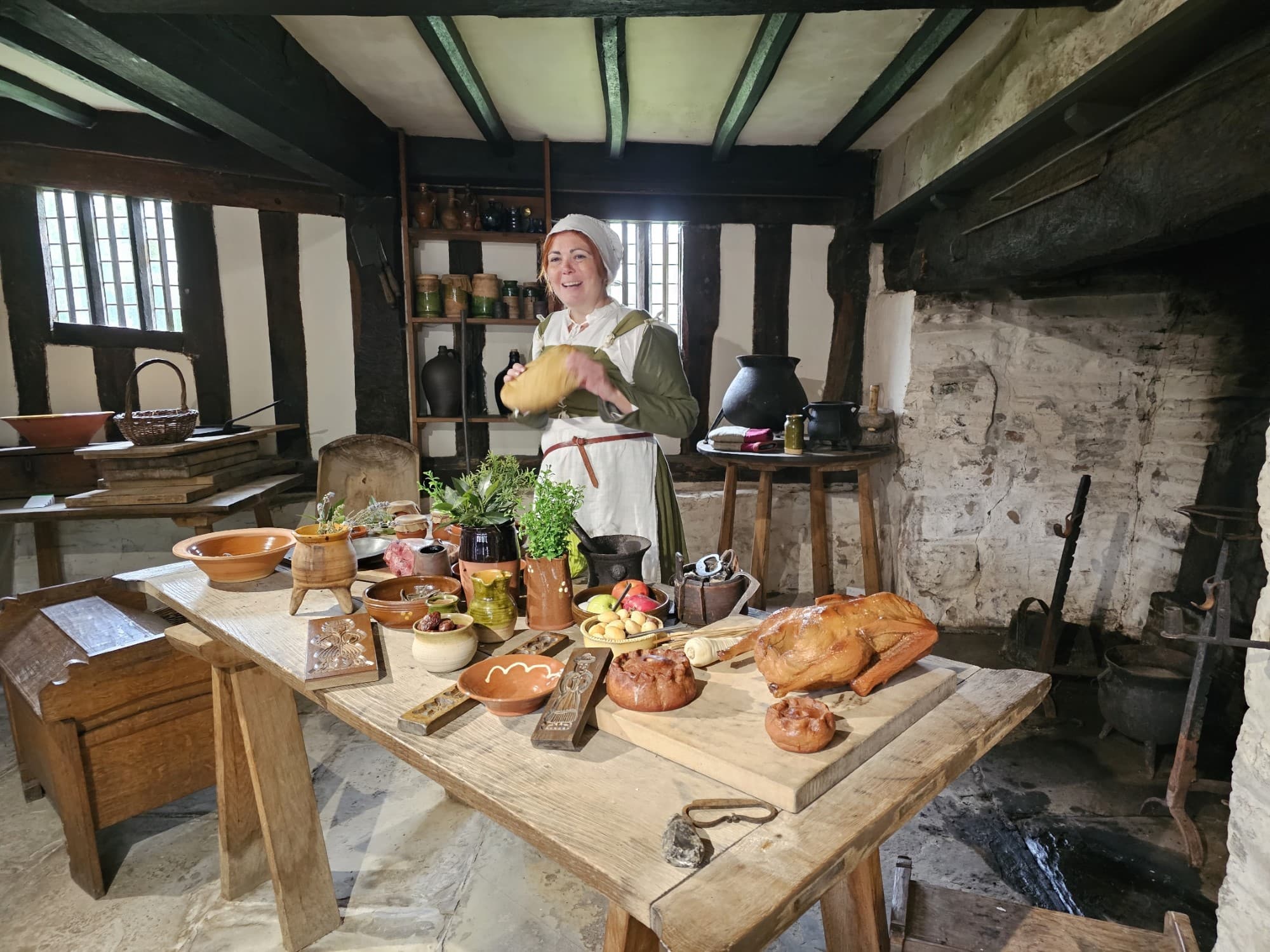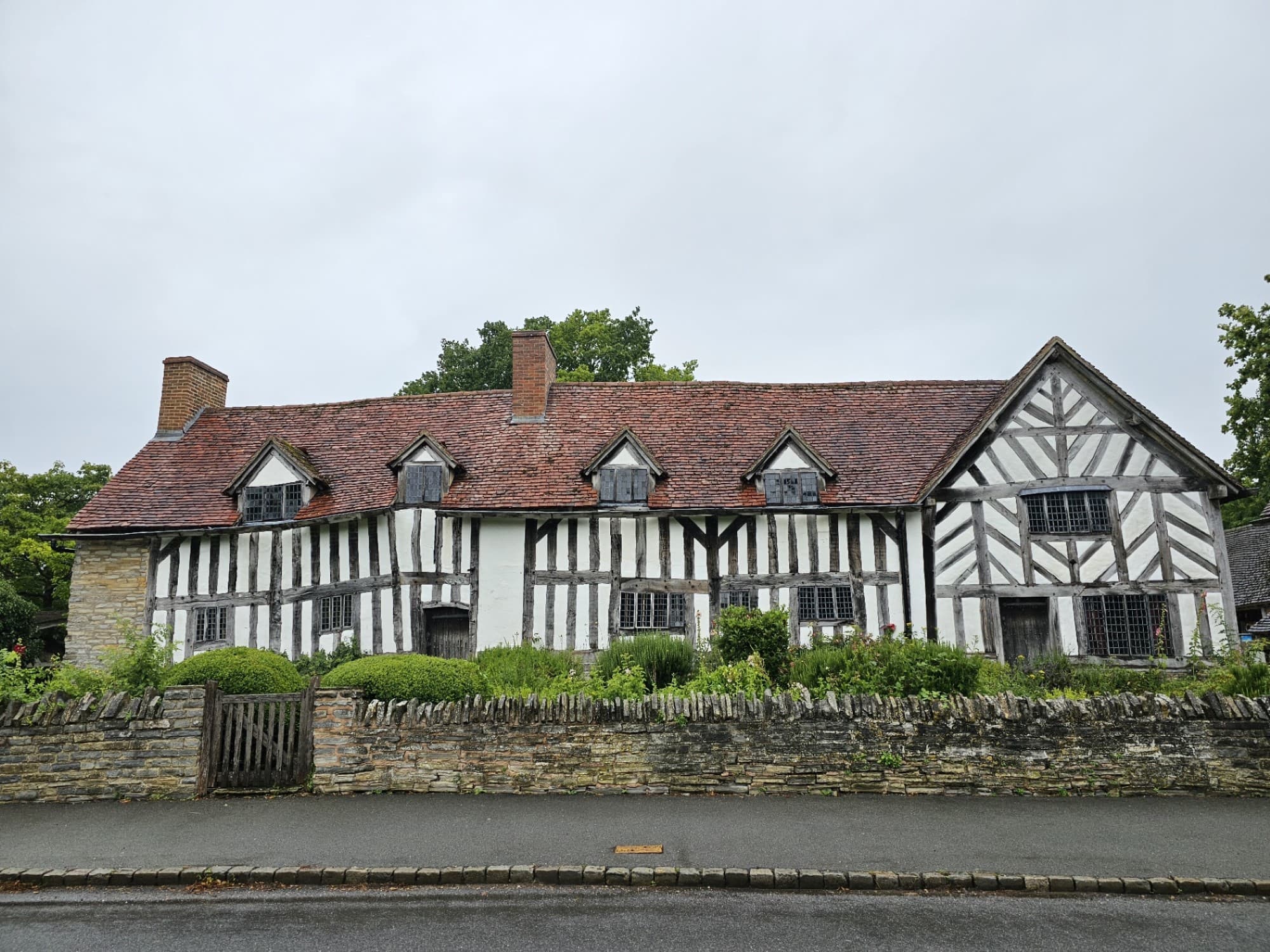 The Royal Shakespeare Theatre
Many of the visitors who come to Stratford-upon-Avon are interested in Shakespeare, and having learnt all about his life, will want to experience one of his plays.
If so, you'll want to head to the Royal Shakespeare Theatre in Stratford. Owned by the Royal Shakespeare Company, the theatre regularly performs Shakespeare's plays. This Grade II listed building seats just over 1,000 people, and is the home of Shakespeare's plays in Stratford.
The theatre is designed as a "one-room" theatre, meaning that the audience and the actors share the same space, with the audience sitting around three sides of the stage. This creates a more intimate experience, and is akin to the theatres that Shakespeare's plays would have originally been performed in.
The Royal Shakespeare Theatre shares a building with The Swan Theatre, which is a smaller venue. This focuses on plays from Shakespeare's contemporaries as well as other playwrights from Europe and the rest of the world. The Royal Shakespeare Company also operates The Other Place, a 200 seat theatre for more modern productions, family events and other arts performances.
If you want to see a performance at any of these theatres, you will want to plan ahead and book your ticket in advance. You can see what's on at all these venue on the official RSC website here.
For a view of Stratford, you can also head up to the top of the RSC Tower. This is part of a paid 60-minute tour which also includes behind the scenes stories and access. You can find out more about that and book it here.
Of course, if you are visiting Stratford as a day trip from London, you may want to schedule a trip to the Globe Theatre in London as well where you can see a play performed in a very traditional setting.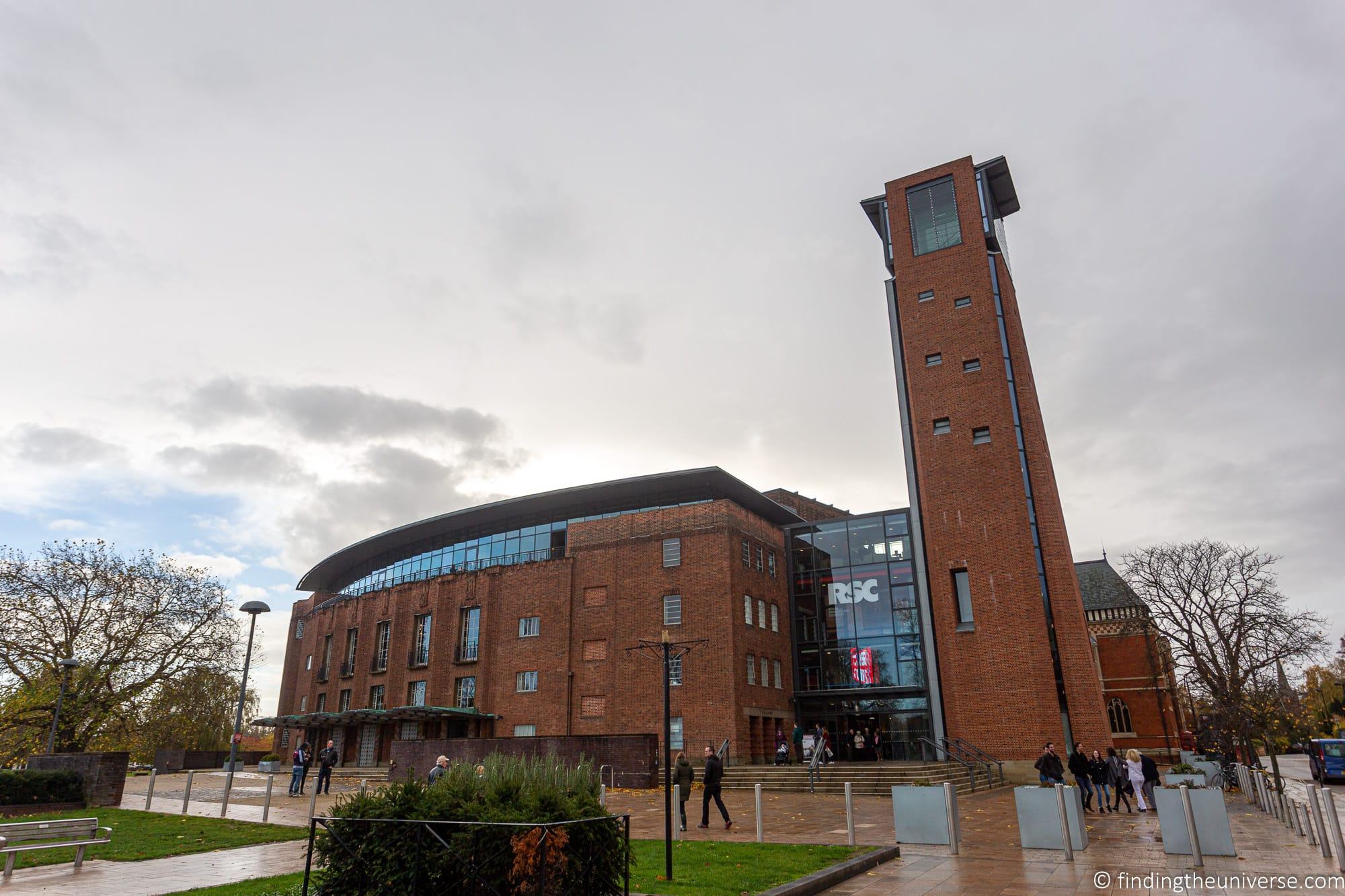 Tudor World
As you've probably noticed from this guide, Stratford-upon-Avon is firmly associated with Shakespeare. Shakespeare lived in England during the end of the Tudor period, which ran from 1485 through to 1603.
It was called the Tudor period because the ruling monarchy was from the Tudor family, starting with Henry VII and ending with the death of Elizabeth I in 1603.
A lot happened during the Tudor period to shape the country, including the English Reformation and dissolution of the monasteries, the founding of the Royal Navy, and a cultural renaissance during the reign of Elizabeth I. Shakespeare lived during this Elizabethan cultural renaissance and age of exploration.
The Tudor period is also noted for its architectural style, and you'll see a lot of the typical half-timbered buildings from the period as you explore Stratford-upon-Avon.
A lot of the wood is not actually structural – wood was expensive, and wealthy Tudor's loved to show off their wealth by using more wood than necessary!
If you would like to learn about life in the Tudor period beyond Shakespeare, then you should include a visit to the Tudor World attraction on your list of things to do in Stratford-upon-Avon.
Found in a beautiful Grade 2 listed 16th century building, this museum will let you get a feel for life during the time that Shakespeare lived. Costumed actors and exhibits bring the period to life, covering everything from the Black Death to crime and punishment in the era, through to things like the start of tourism and of course, entertainment!
It's a lot of fun with a lot of knowledge included. There's an admission fee, and you can find out more about opening times and prices on the official website here.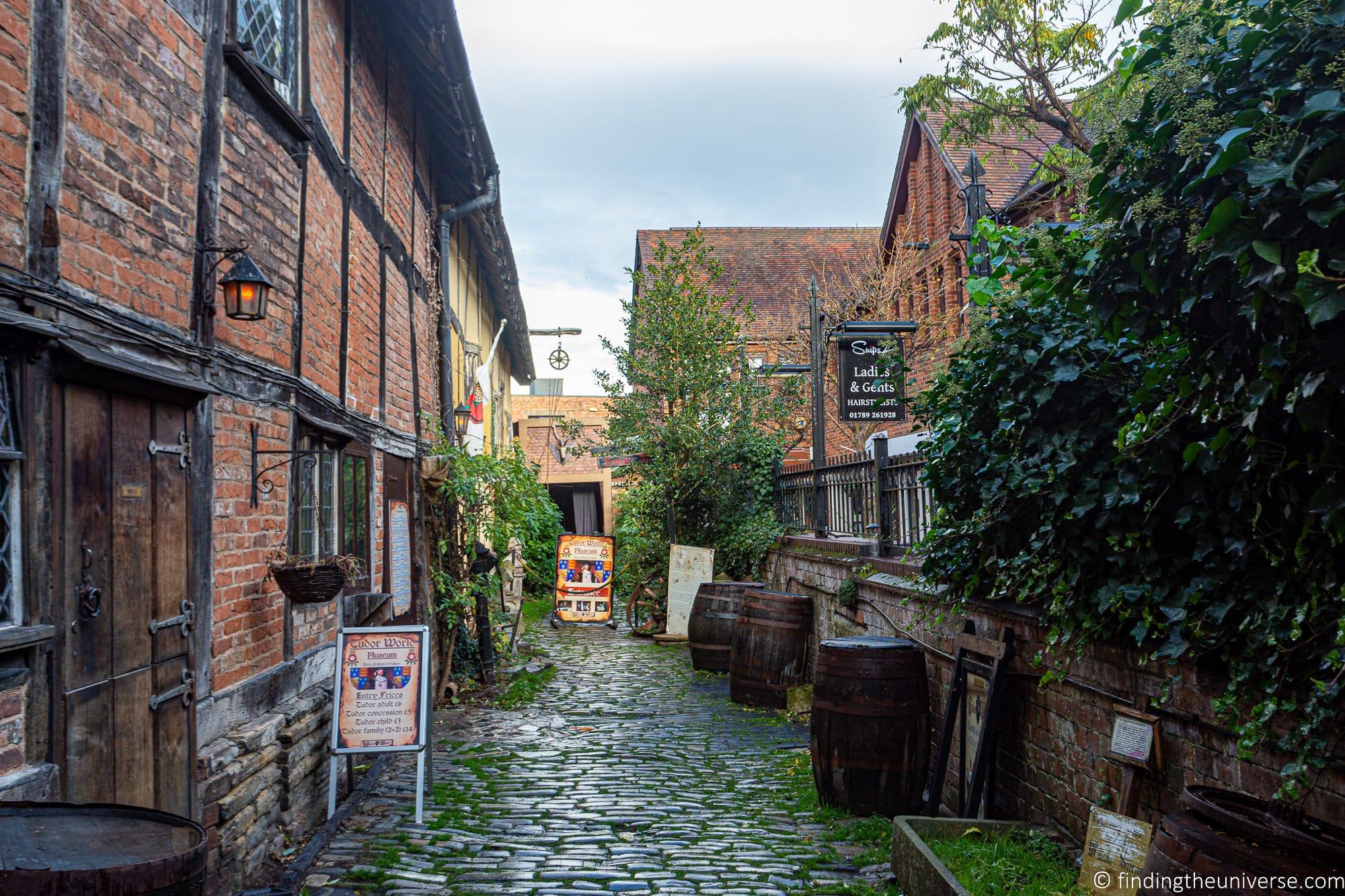 Magic Alley
Here's something a little bit different, and one that will appeal to lovers of fantasy and magic. Magic Alley is a store that specialises in all kinds of fantastical products. From books and toys to crystal balls, magic tricks, and historic art prints, this is a great store to let your inner magician or witch roam free!
If you're looking for a gift for someone in your life, or just want to pick up an unusual souvenir from your time in Stratford-upon-Avon, then this is a great option.
As well as the store, Magic Alley hosts an interactive museum where you can take part in an actual quest. This is popular with families in particular. There's a fee to take part and visit the museum, and you can see more on the official website here.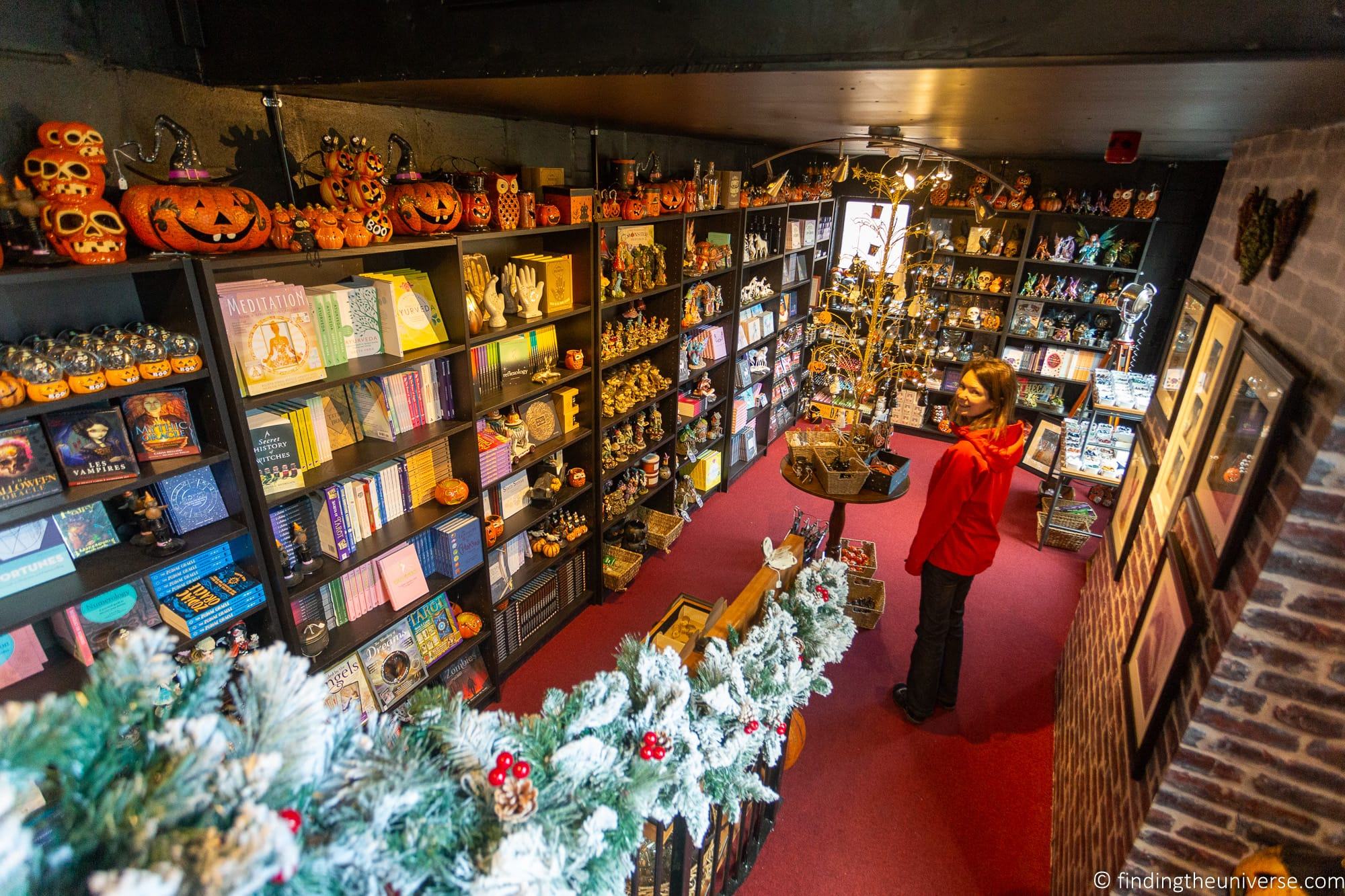 Stratford Butterfly Farm
If you love butterflies you will definitely want to visit the Stratford Butterfly Farm. This is the largest tropical butterfly attraction in the UK. Their rainforest flight area is home to over 2,500 butterflies who fly freely around their rainforest environment.
The butterfly farm is also home to a huge insect collection, two leafcutter ant colonies, fish ponds, and a wildflower garden. It's a popular attraction for families and butterfly lovers alike. It's also very conveniently located, just five minutes walk from the town centre, opposite the Royal Shakespeare Theatre.
The Stratford Butterfly Farm is open year round, and there's an admission fee. You can read more about opening times and prices on the official website here. It's also included on the Warwickshire Explorer Pass.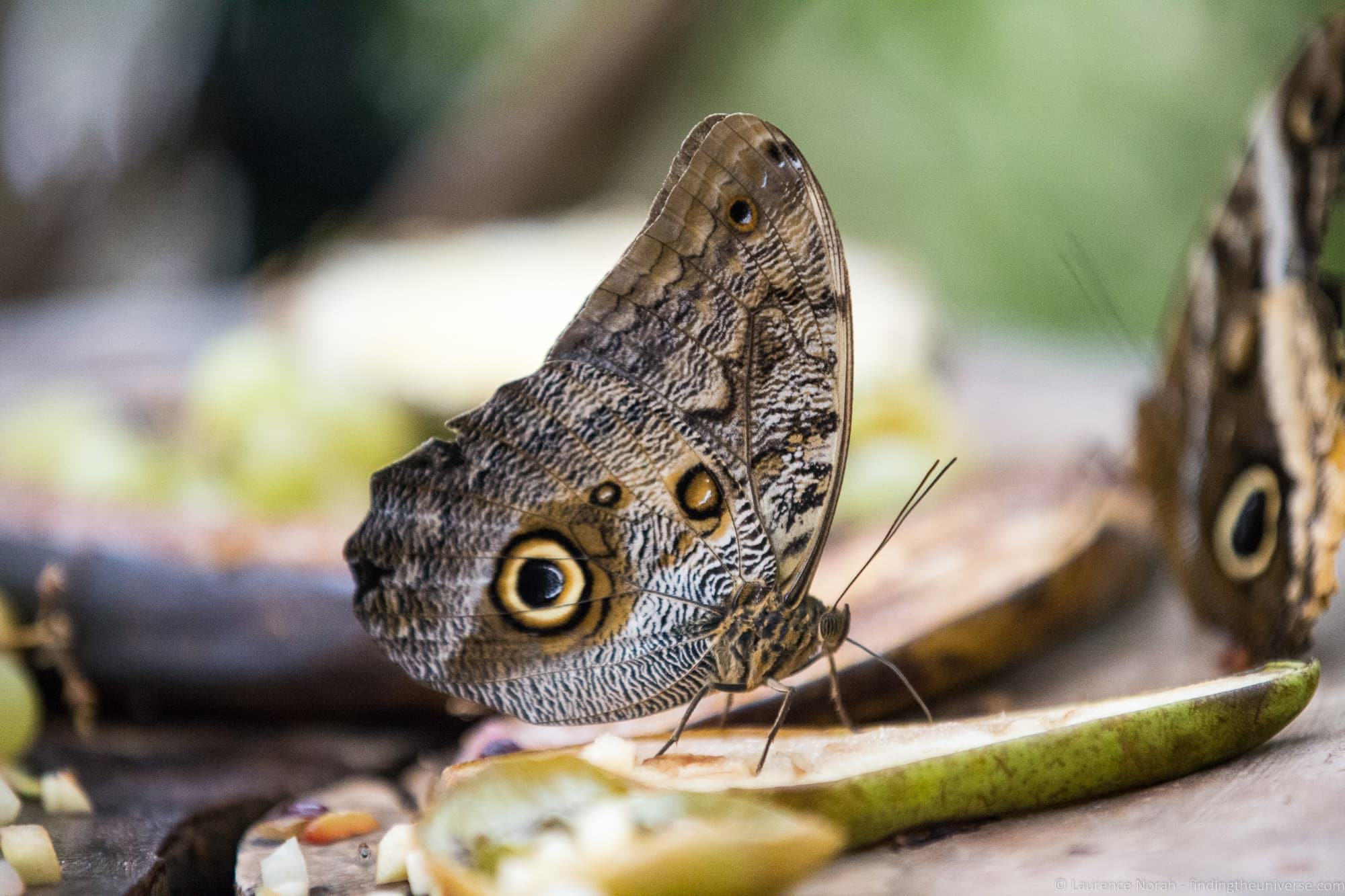 River Cruises
As the name of Stratford-upon-Avon suggests, the town sits upon the River Avon. This river flows from Naseby in Northamptonshire for 85 miles, through Stratford-upon-Avon, before joining the River Severn at Tewkesbury. In Stratford, it connects with the Stratford-upon-Avon canal in the centre of the town.
All this water means it's possible to do a range of water based activates in Stratford, with a river cruise being a particularly popular option in the warmer months. Cruises are operated by a number of local providers, including Avon Boating, Canal & River Tours, Bancroft Cruisers, and Countess of Evesham.
A variety of cruises are offered, from dinner cruises on the Countess of Evesham through to group tours and private tours with the other operators. Avon Boating also offers small boat hire if you'd prefer to captain your own vessel!
For river cruises, you'll want to reach out to each company and book as required. A river cruise is also usually included as part of the Warwickshire Explorer Pass.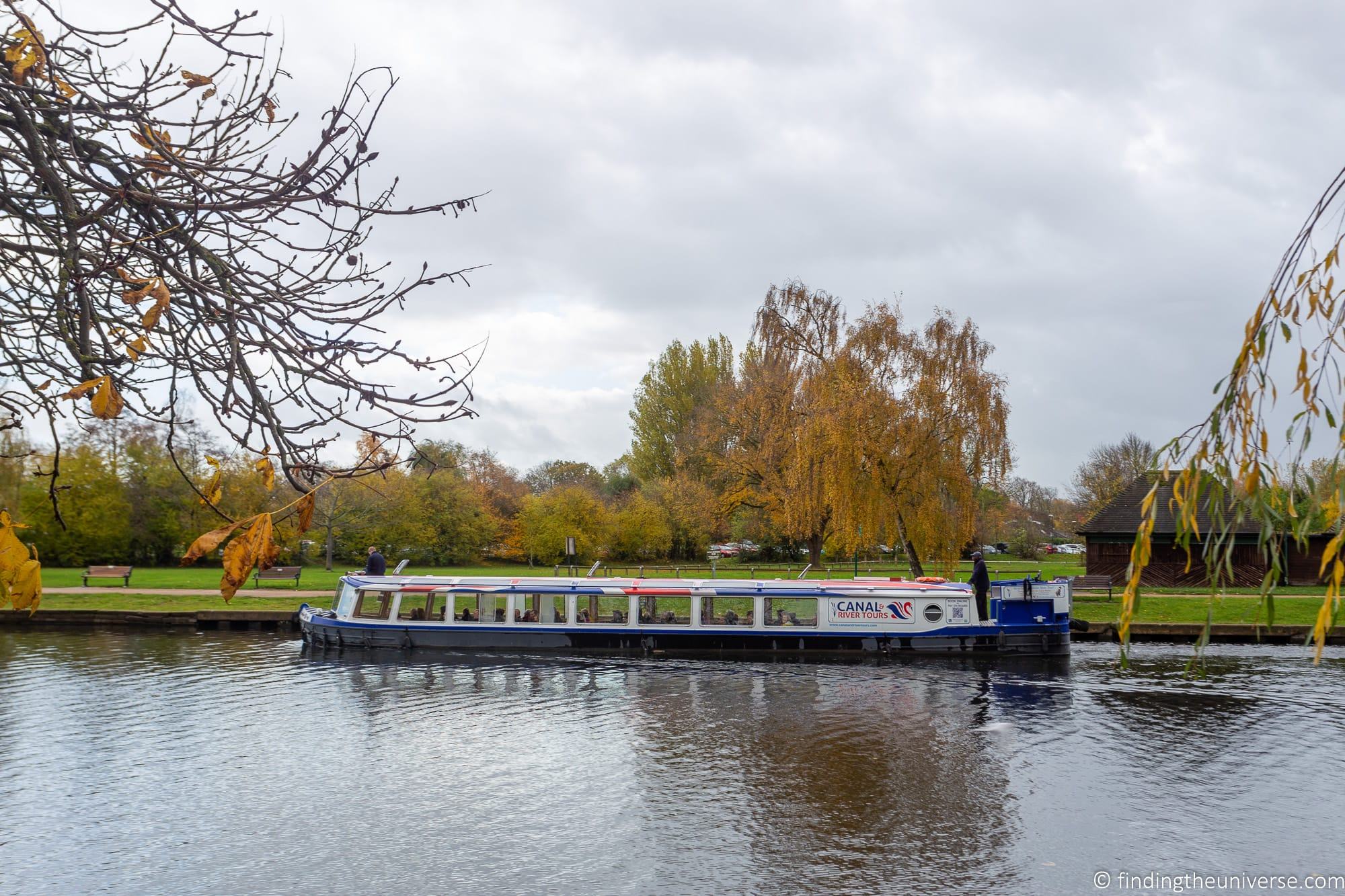 Shakespeare Distillery
Lovers of gin will want to head for the Shakespeare Distillery, found on the Drayton Manor Farm estate on the north western side of Stratford-upon-Avon.
Established since 2015, this distillery handcrafts a dry gin, as well as a number of flavoured gins. The distillery has a shop for purchases of their products, and you can also take a distillery tour, visit the gin school and learn how to make your own gin, or attend a cocktail masterclass.
In the summer months, they also run gin tasting river cruises on the River Avon!
Other than the shop, all the other activities are paid and should be booked in advance. You can book your gin distillery tour online here. It's also included on the Warwickshire Explorer Pass.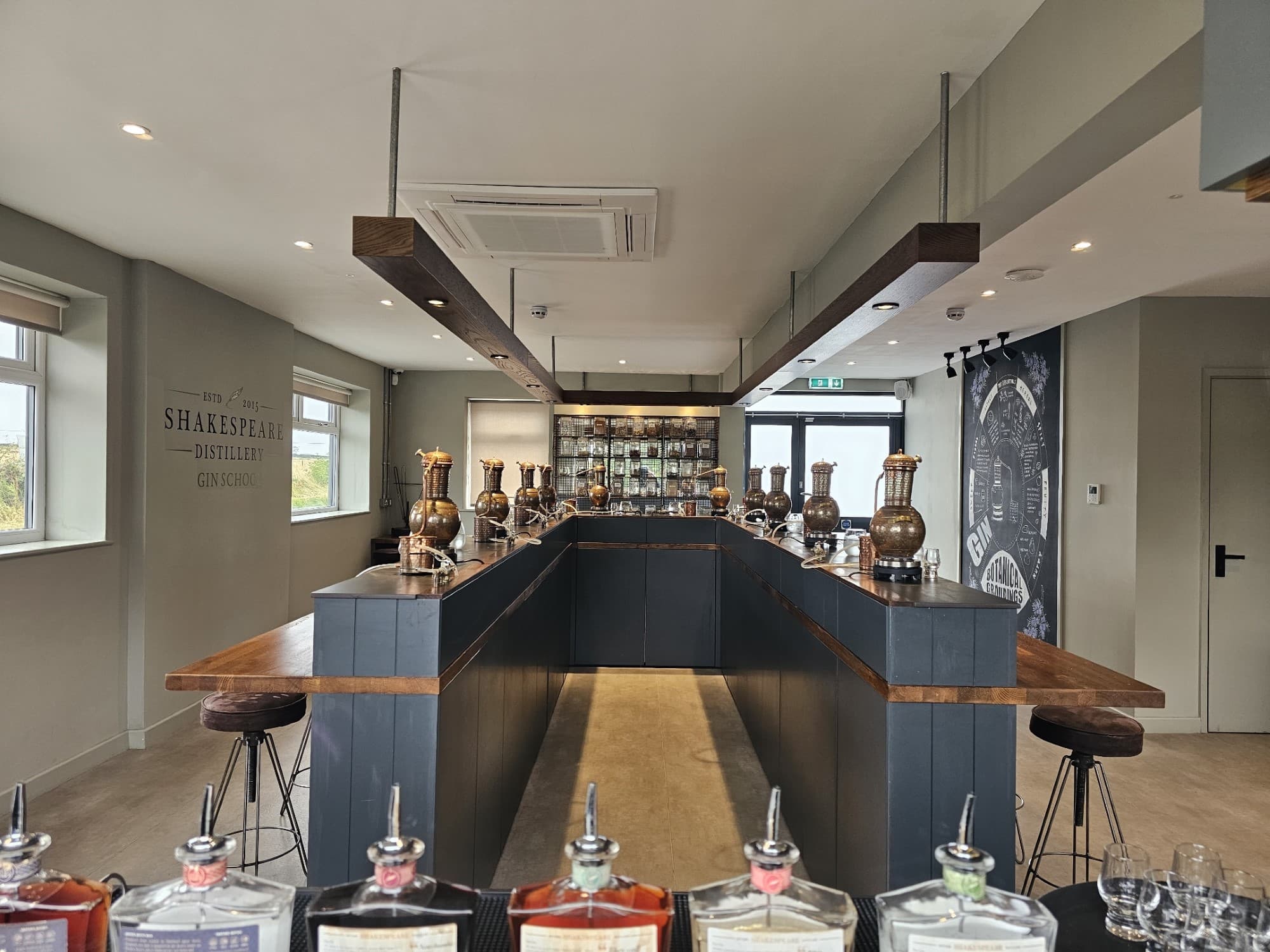 Mechanical Art & Design Museum
The Mechanical Art & Design Museum, also known as the MAD, is the only museum in the UK that serves as a permanent venue for mechanical art.
It's filled with a whole host of interactive art pieces which move and thrill, with a focus on kinetic art and automata.
If you or your family loves to learn how things work, watch mechanical creations spring to life, and even build your own creations, then the MAD Museum should definitely be on your to-do list in Stratford-upon-Avon.
The MAD is open year round. You can see opening times and prices, as well as book your entry, on the official website here. It's also included on the Warwickshire Explorer Pass.
Old Thatch Tavern
We imagine that all your exploring will likely have made you hungry! With that in mind, how about having lunch at a pub that's been around since the 15th century— the Old Thatch Tavern? This atmospheric old watering whole features beautiful wooden beams and a partially thatched roof. It's not hard to imagine Shakespeare himself enjoying a drink or two here back in the day.
As well as a fine selection of food which is all made on-site, this pub has wide range of drinks options. You can eat inside or outside in the courtyard garden. It's popular, so we would recommend booking in advance if possible.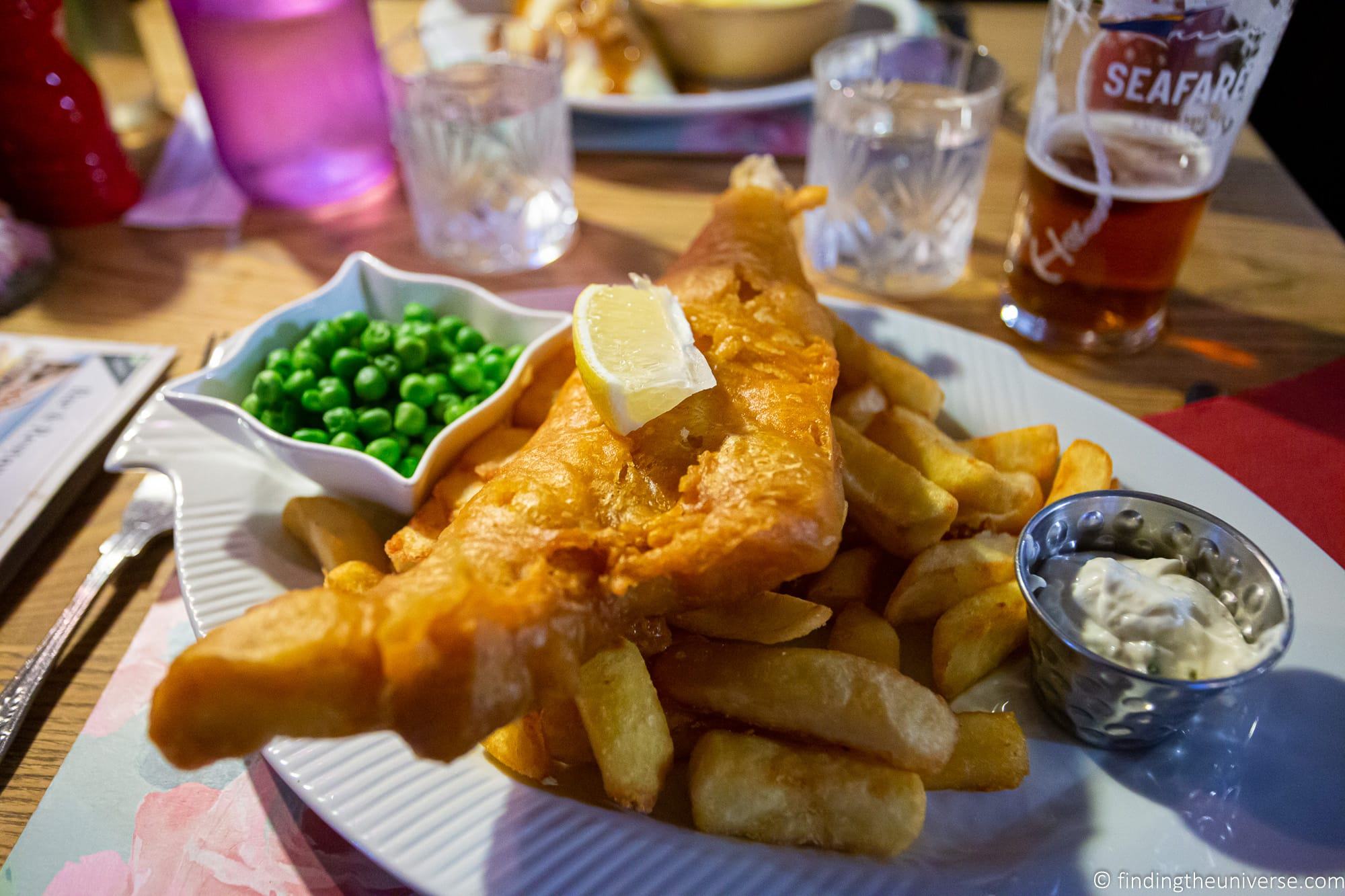 Hop on Hop off Bus
A good way to see all the sights in Stratford upon Avon and to also learn about the history of the city is to take a hop on hop off bus tour. This tour stops at all the major highlights, including Mary Arden's farm outside the city.
You get free commentary and you can get on and off as often as you like for the duration of the pass. Whilst Stratford is certainly small enough to walk around, we still think the sightseeing bus can be a good tour option, especially if you plan on heading to Mary Arden's Farm or Anne Hathaway's Cottage.
You can book Stratford upon Avon Hop on Hop off bus tickets here.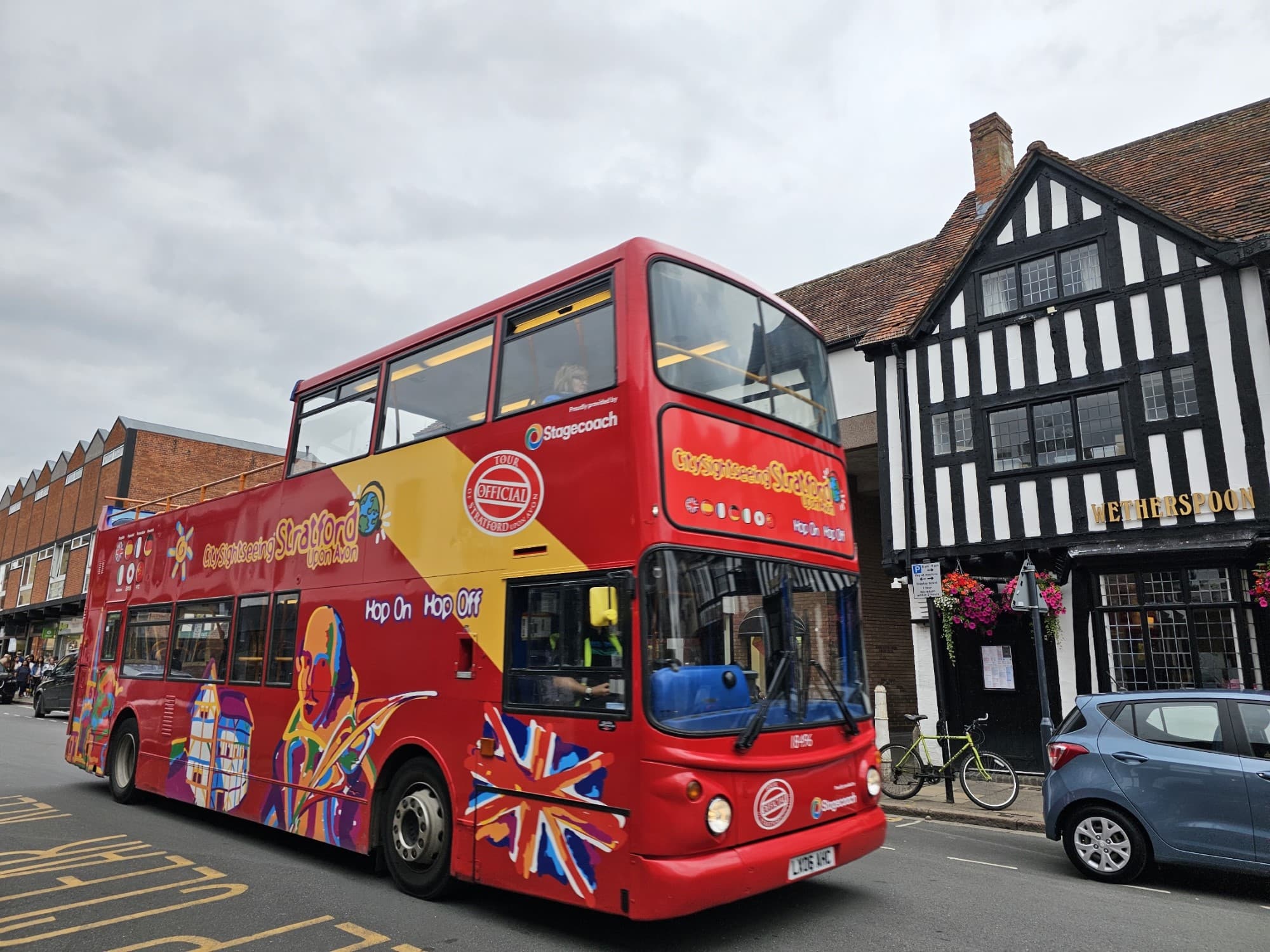 Big Wheel
If you want a good view of Straford Upon Avon, you have two options. First, you can go up the aforementioned RSC Tower at the theatre.
The other option is to ride Stratford's Big Wheel.
This seasonal attraction is normally found in the Stratford Recreation Ground near the river, and it offers lovely views across the city. There's a fee to ride it, and you can check prices and opening times on the official website here.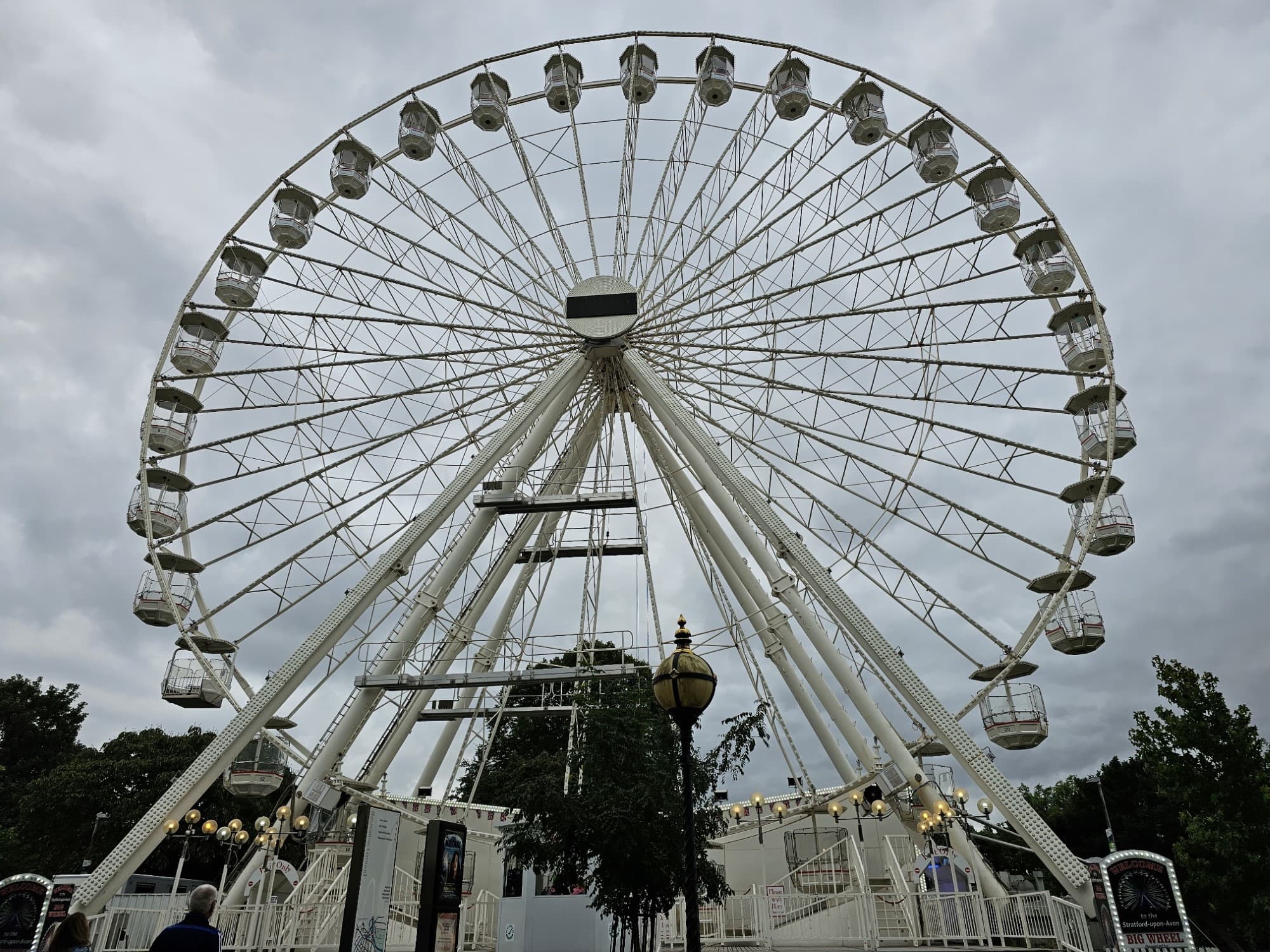 Rother Square Market
Stratford upon Avon has been a market town for centuries, so visiting a market when you're in town seems like the appropriate thing to do.
With that in mind, we'd recommend visiting the Rother Square market. Found next to the Shakespeare Memorial Fountain, this market has a whole range of items for sale, from farm food to jewellery to gin to candles and clothes.
You can find out more about when the market is on here.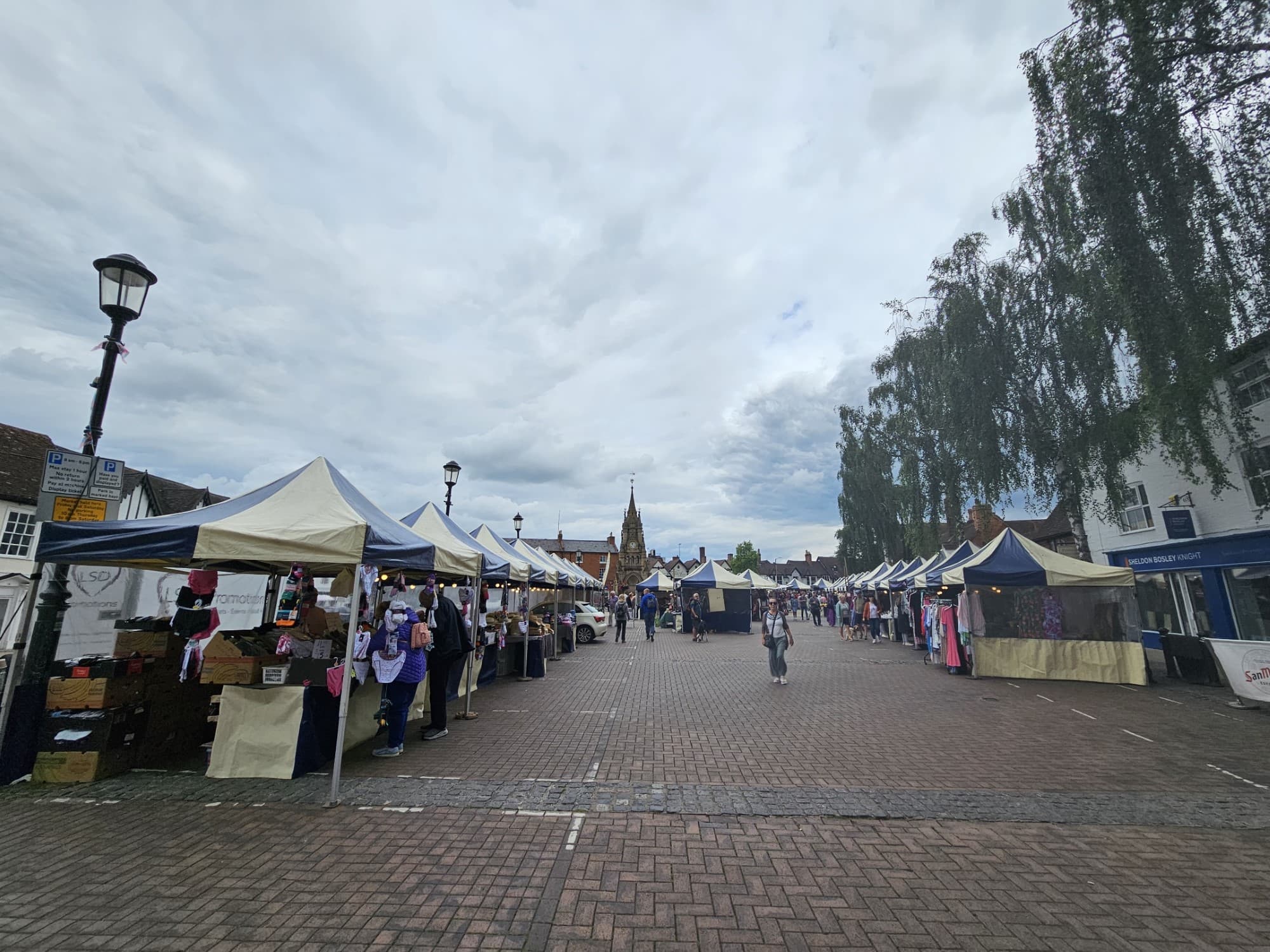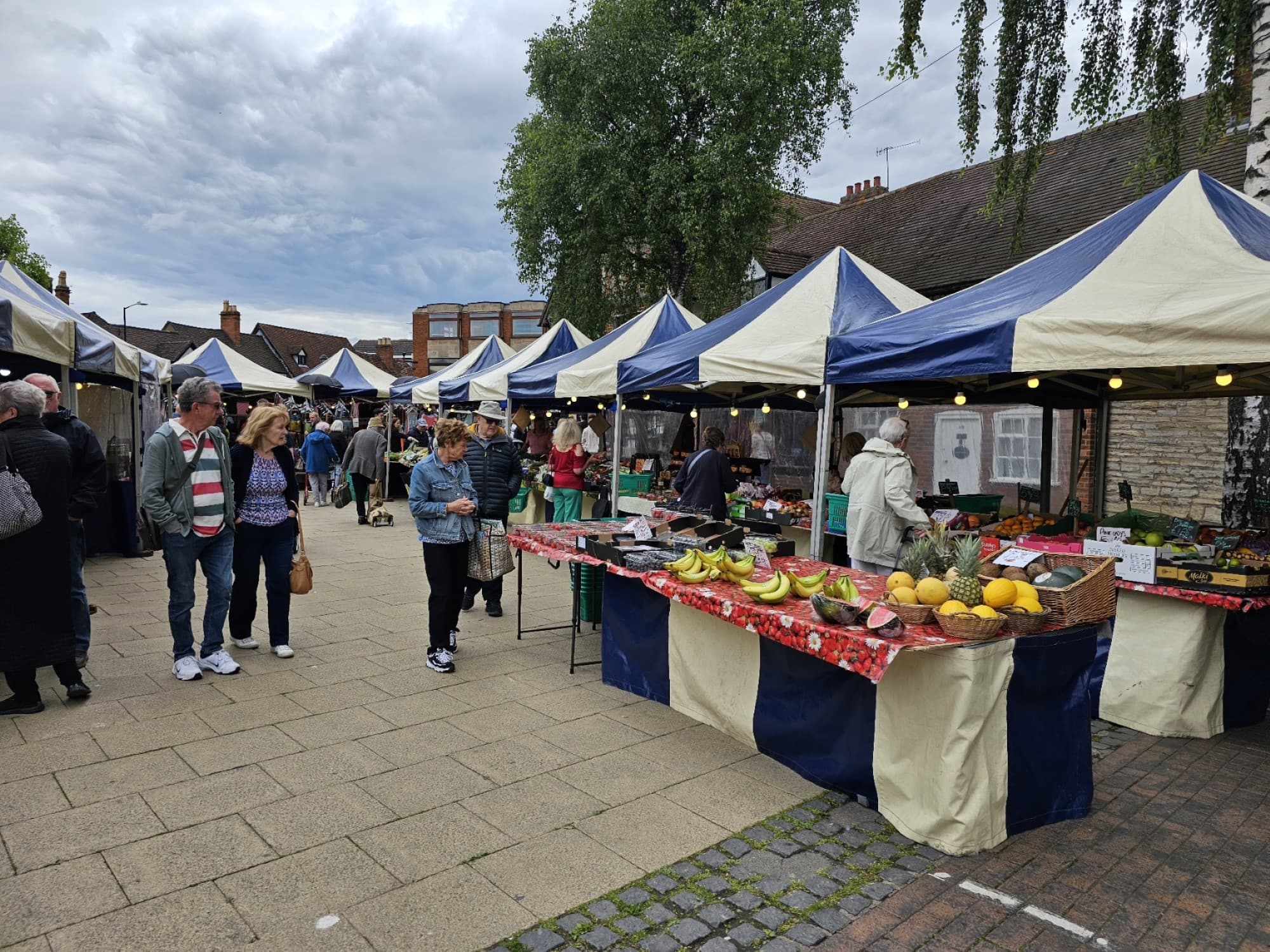 Map of Things to do In Stratford upon Avon
To help you visualise our guide to things to do in Stratford-upon-Avon we've put together this map. You can also see this on Google Maps here.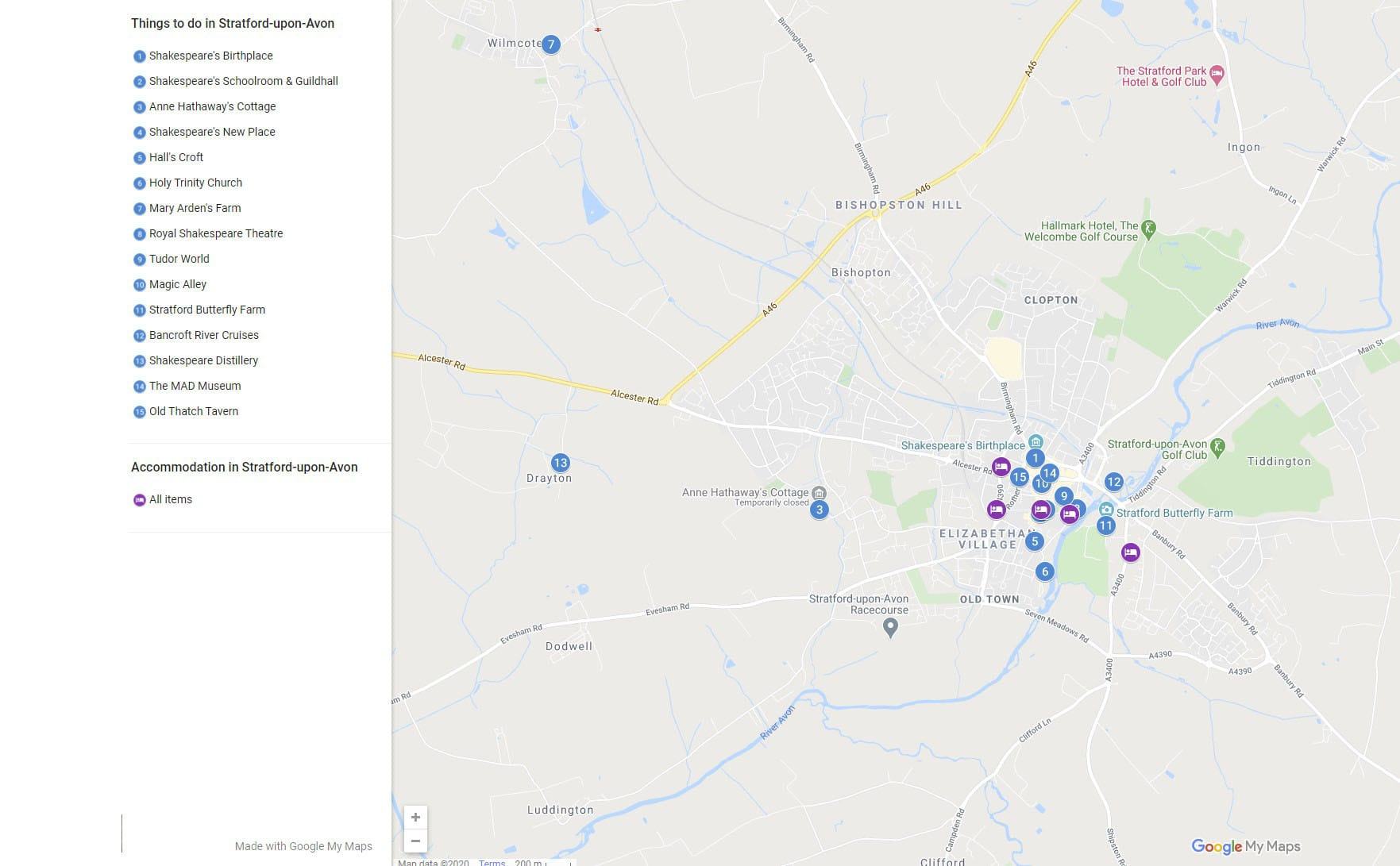 How To Get to Stratford-upon-Avon
Stratford-upon-Avon is in the English Midlands, around 80 miles north west of London and 20 miles south of Birmingham. To the west is the city of Worcester and to the north east is the spa town of Royal Leamington Spa. Other nearby attractions include the Cotswolds region (10 miles south) and Warwick Castle (8 miles north east)
Stratford-upon-Avon is well served by transport routes. A direct train service runs regularly from London, and takes around two hours. There's also a direct train from Birmingham which takes about an hour.
On selected Sundays in the summer months, it's also possible to take a vintage steam train from Birmingham Snow Hill to Stratford, a service known as the Shakespeare Express. This is operated by vintage trains and you can check timetables and buy tickets here.
The closest airport to Stratford-upon-Avon is Birmingham airport, around 20 miles away, which can be reached by train or car from Stratford-upon-Avon.
There are also a number of bus companies operating services between Stratford-upon-Avon and other cities in the UK, including London. These primarily depart from the Riverside bus station, which is a few minutes walk north east of the city.
For bus and train tickets, we recommend the Trainline website, where you can book both bus and train journeys across the UK. Be sure to put in Stratford-upon-Avon as your destination, as there is also a station in London called "Stratford".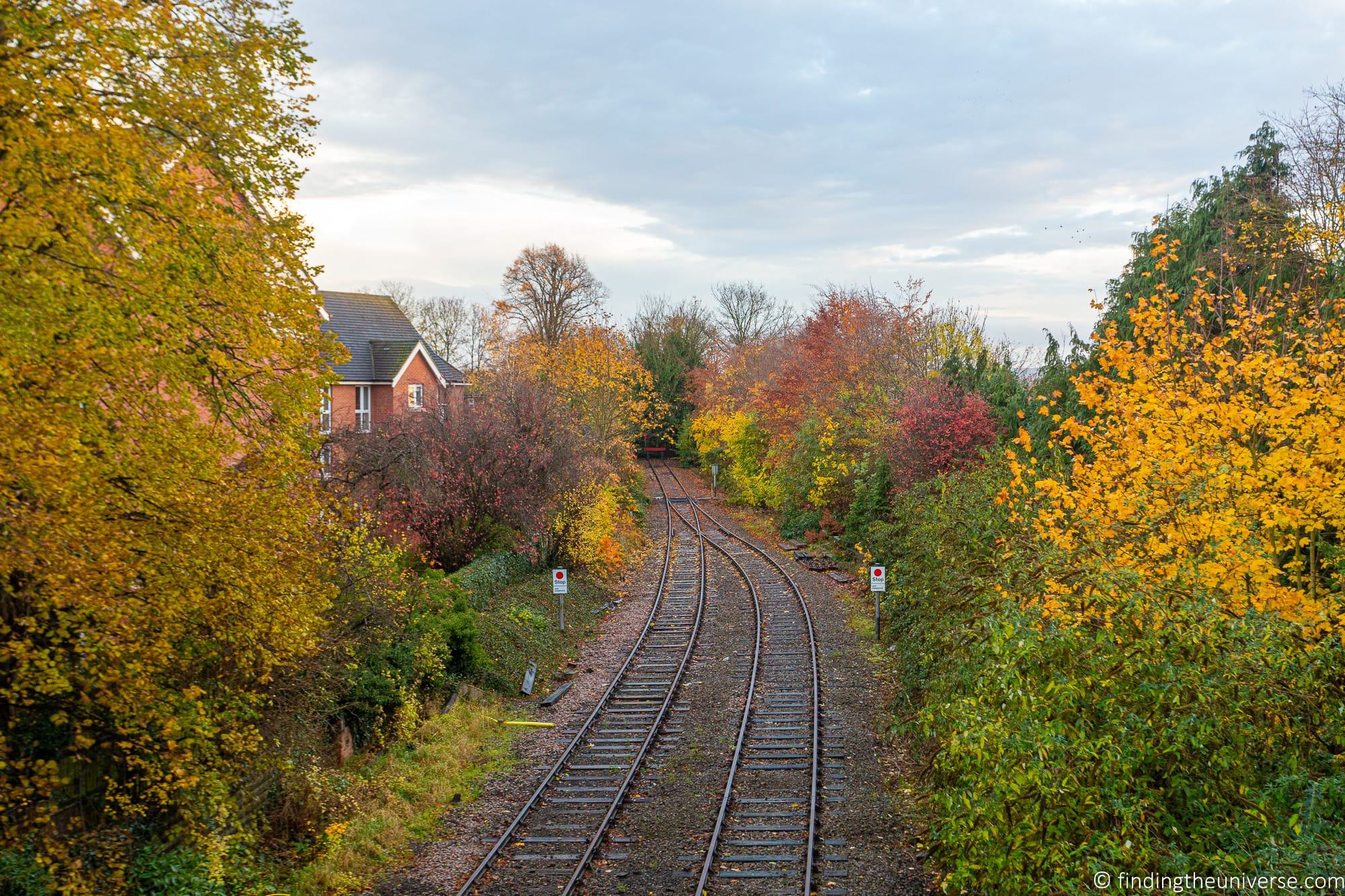 How to Get Around Stratford-upon-Avon
Stratford-upon-Avon has a fairly compact city centre, and the majority of the sights and activities on our list of things to do are within easy walking distance of each other.
Another option if you'd prefer a tour of the town which includes an audio commentary, is the Stratford Hop on Hop off bus. This visits all the major sites in the city, as well as Anne Hathaway's Cottage and Mary Arden's Farm, both of which are a little outside the city centre.
Finally, you can also take public transport or taxis around the city. For bus timetables, take a look at the Stagecoach website here.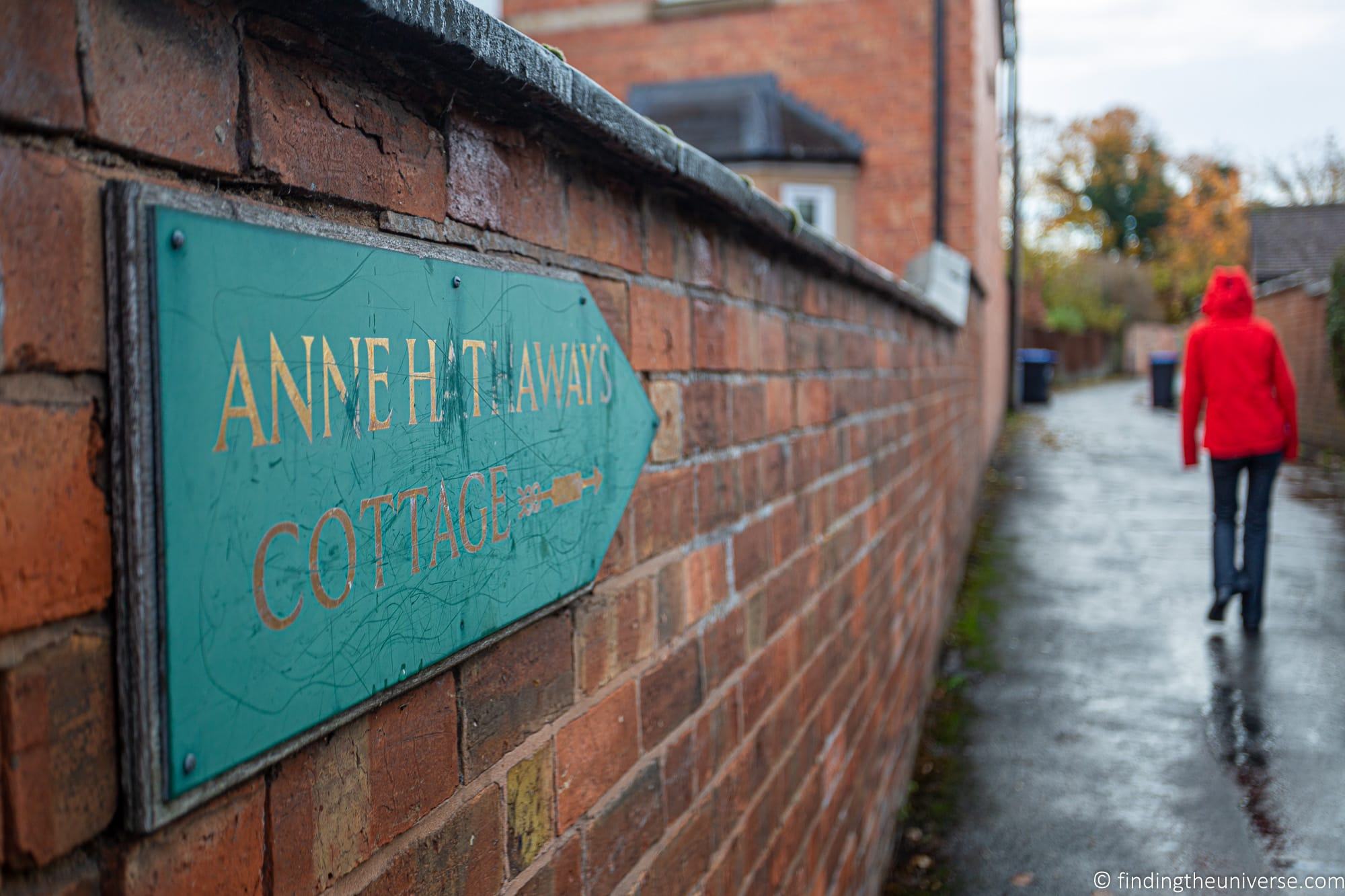 Tours of Stratford-upon-Avon
There are a number of companies offering tours of Stratford-upon-Avon. Some of these tours are walking tours within the city itself, whilst others include transport from further afield. Day trips to Stratford-upon-Avon from London are a popular option.
Some of these tours focus on Stratford-upon-Avon, whilst others may include other stops in locations like Oxford, the Cotswolds and Warwick for example. If you want visit a number of attractions in Stratford-upon-Avon, we'd suggest picking a tour that primarily focuses on the town, as otherwise you won't have enough time to see very much.
Here are some tours to consider.
Hopefully between all these options you'll find something to suit your needs.
Where to Stay in Stratford-upon-Avon
If you're planning on visiting Stratford-upon-Avon for longer than a day, then you'll need somewhere to stay. There are a number of options in the town to choose from, here are some to consider. These are ordered approximately by budget range, from low to high.
Of course, there are other options for staying in Stratford, including apartment rentals. We recommend checking out the listings Plum Guide to see the options available in the city if you'd prefer an apartment or self-catering option.
Plum Guide offer a range of high quality accommodation options across a range of price points and we've used them for a number of stays around the world. You can see our Plum Guide review here for our experiences with them.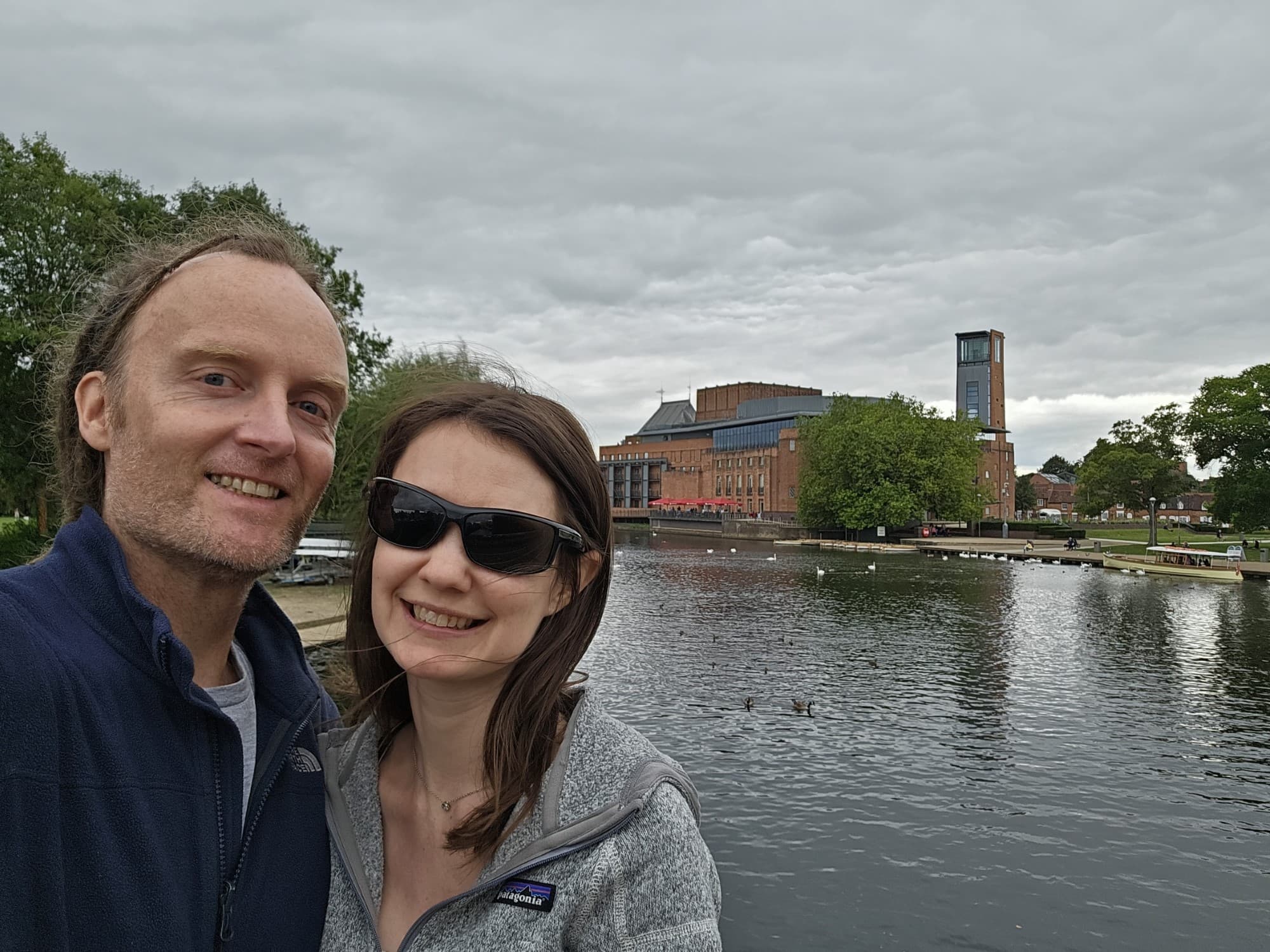 Further Reading
Hopefully our guide to things to do in Stratford-upon-Avon has given you lots of ideas for how to spend your time in this lovely English coastal city.
To further help you plan your time in the UK, we have written a number of other guides. Here are some we think you will find most useful.
And that's it for our guide to Stratford-upon-Avon! As always, we're happy to help you out and take feedback on any of the above – just pop your questions in the comments below and we'll get back to you as soon as we can!