Jess and I currently live near Bristol. Naturally we've written about the area, and have put together a post detailing our favourite things to do in Bristol, as well as a detailed guide to attending the Bristol Balloon Fiesta. In this post though, we're going to be talking about Bristol street art, with a particular focus on Banksy in Bristol.
Regular readers will of course know that we are big fans of street art, and have already put posts together covering the street art in cities from Glasgow to Barcelona. So of course, we couldn't write about Bristol, believed home of arguably the world's most famous street artist, Banksy, without doing a post!
I'm going to cover a number of pieces of Bristol street art in this post. First, I'll go over the majority of accessible and surviving Banksy street art that you can find in Bristol. Then I'll share some other notable pieces I found.
It's definitely worth remembering that street art is very much a moveable feast, so many of the pieces below will likely change by the time you get to Bristol. However, the areas where they are found will likely have new pieces, so I'll share some of the best locations in Bristol for street art, as well as tips and advice on how to find Bristol's best street art. Let's get started!
Banksy in Bristol: All of Banksy's Bristol Street Art Locations
As I previously mentioned, infamous street artist Banksy is believed to have started his street art career in Bristol, and a number of his pieces survive today. Of all of Bristol's street art pieces, Banksy's street art pieces are the most likely to still be there when you visit.
This is an ever evolving list as new pieces do appear (and disappear!), with the most recent being the sneezing woman that appeared on the 11th December 2020. Read on for all the known locations of Banksy street art in Bristol!
1. The Well Hung Lover
Found on Frogmore Street, the best view of this artwork is from higher up on Park Street, which is very close to Bristol Cathedral and the Town Hall. As you'll see from the image, it has been slightly damaged by someone with a paintball gun, but the overall image of man hiding from his lover's partner is still very much intact!
2. The Mild Mild West
This piece of artwork, depicting a teddy bear taking on Riot Police, can be found on Stokes Croft, north east of the city centre.
3. The Girl with the Pierced Eardrum
Found in Hanover Place, near Albion Docks, the Girl with the Pierced Eardrum is a take on the famous "Girl with a Pearl Earring" image by Dutch artists Johannes Vermeer. Instead of an earring though, the piece has a alarm – hence the name.
4. The Grim Reaper / The Ferryman
I'm not sure when a street artist transitions from vandalism to proper art, but in the case of Banksy, this transition has definitely taken place. Take for example this piece, an image which depicts death as the ferryman, which originally appeared on the side of a permanently moored boat in Bristol, which was being used as a nightclub.
Concerned that exposure to the elements was damaging the artwork, it was actually removed from the ship, carefully conserved, and is now on display in Bristol's M Shed galleries.
Also on display at the M Shed is Banksy's Tesco Value Petrol Bomb. Entry to M Shed is free, and well worth it during your visit to Bristol.
5. Rose Trap
Just up a rather steep street from the Mild Mild West is the Rose Trap, an early Banksy piece which has been given some protection by local residents who clubbed together to install protective plexiglass and even a frame. It's quite a small piece, but still worth visiting – find it on Thomas St. N just before it reaches Fremantle Square.
6. Take the Money and Run
One of the earliest pieces of Banksy artwork surviving in the city, this is actually a collaboration between a number of street artists, including Inky and Mobz, and was done prior to Banksy adopting the more famous stencil style. Found opposite the Old England Pub just off Bath Buildings Road.
7. Paint Pot Angel

Whilst this isn't technically street art, it seemed appropriate to include here. The Paint Pot Angel was a part of the 2009 Banksy versus Bristol Museum installation, which showcased over 100 of Banksy's works. This is the only piece still on display in the museum, but takes pride of place in the entrance hall.
8. Valentine's Day
Painted overnight on the 13th February 2020, and confirmed by Banksy on his Instagram account on the 14th February, this is one of the newest Banksy pieces in the city.
It shows a young girl firing a slingshot of flowers onto the side of the building, and due to its timing (Valentine's Day), has been given the name the Valentine's Banksy.
It can be found on a building in Marsh Lane, where it intersects with Avondale Road, in the Barton Hill area of Bristol. You can see the location of Bristol's new Banksy here on Google Maps.
Note that shortly after appearing the artwork was vandalised, and at the time of writing there isn't a lot to see unfortunately.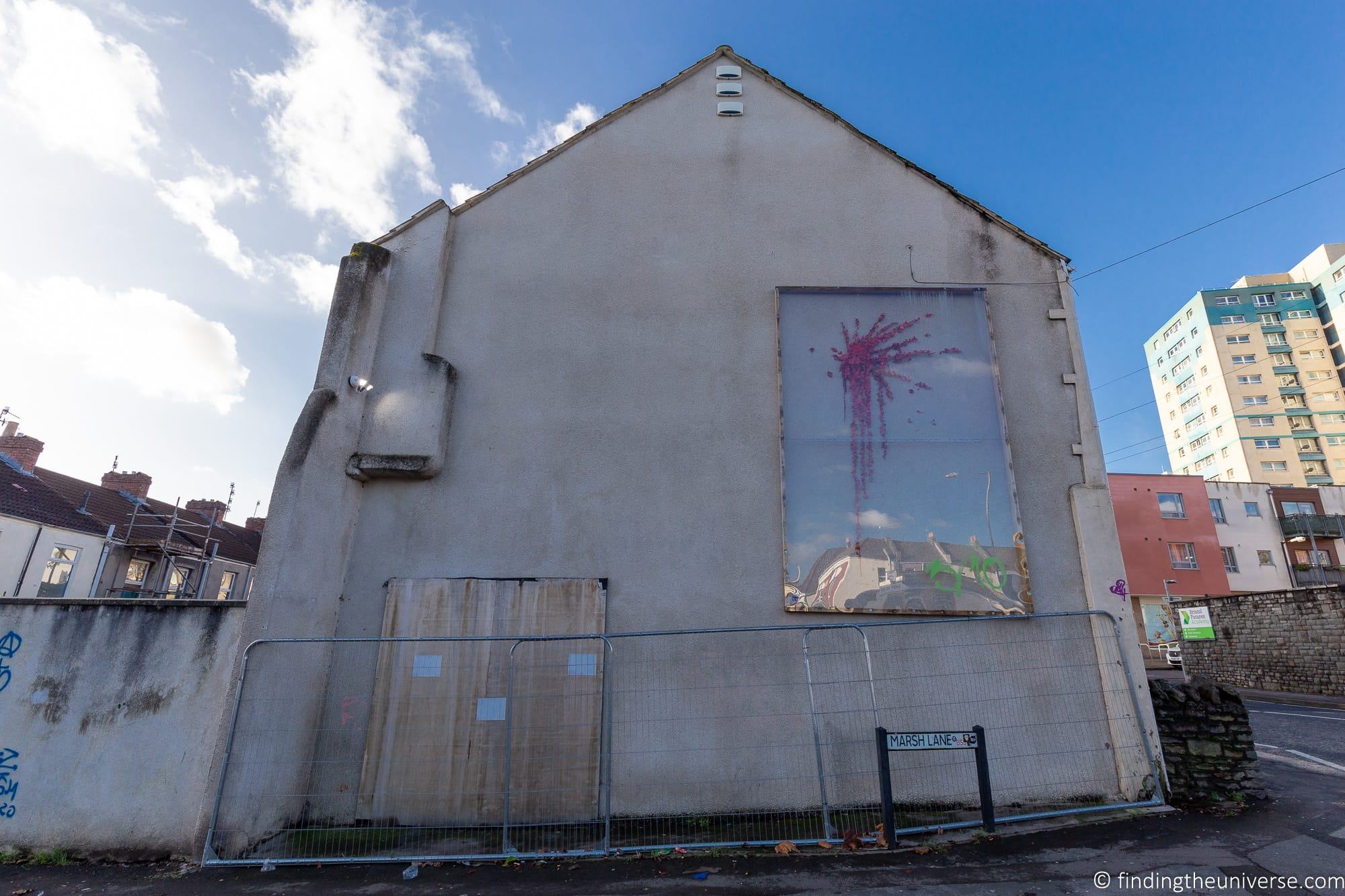 9. Aachoo! The Sneezing Woman
In December 2020 the image of a sneezing woman appeared on a house in Totterdown, which was confirmed by Banksy on his Instagram account on the 11th December 2020.
The image shows an elderly woman sneezing, with her dentures flying out as she drops her cane and bag.
Update March 2021 – the mural has now been removed from the side of the building on Vale Street in Totterdown, and is no longer viewable. I'll leave the below photos so you can see what it looked like in situ, and if it goes on public display I'll update this post.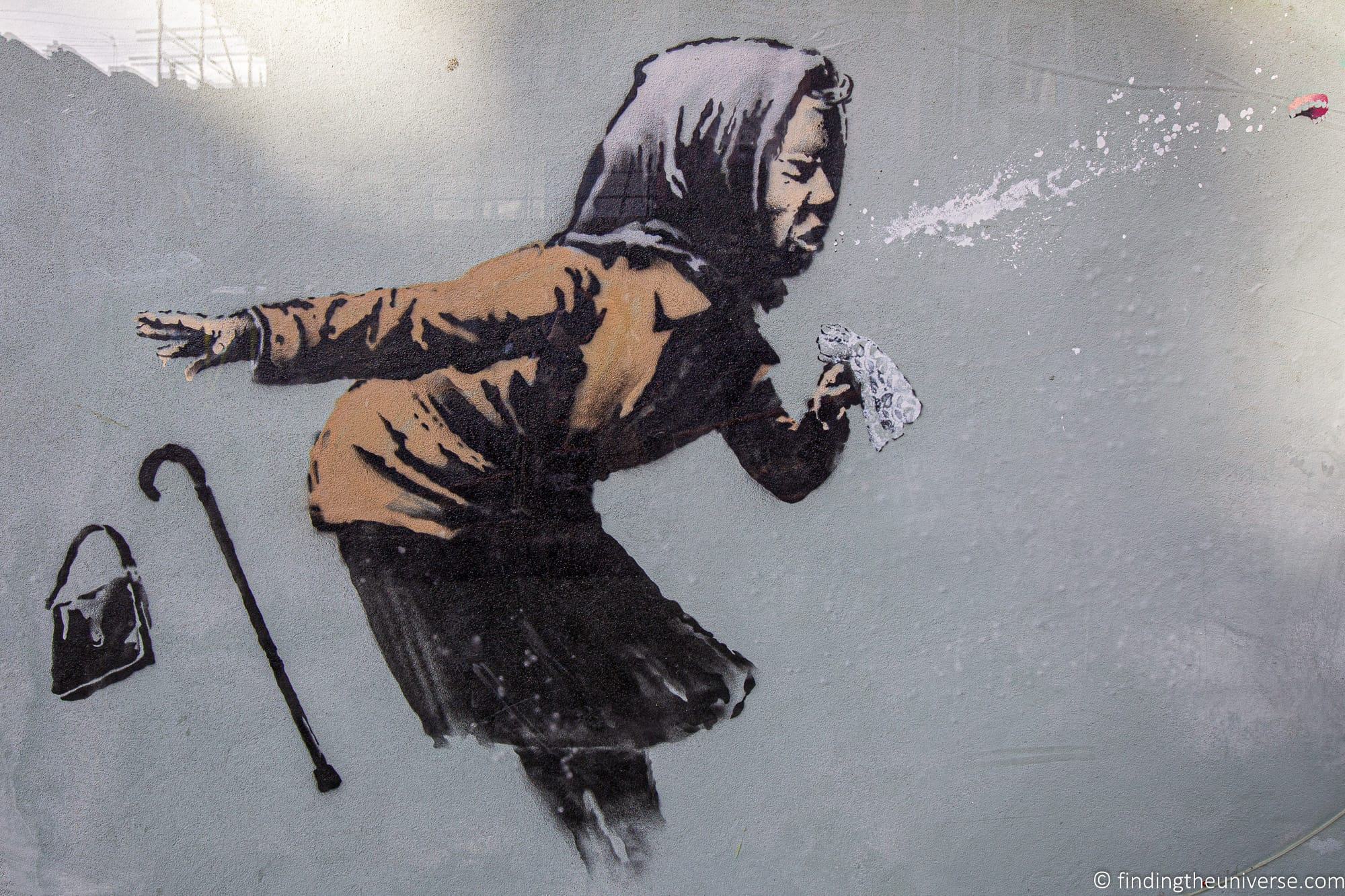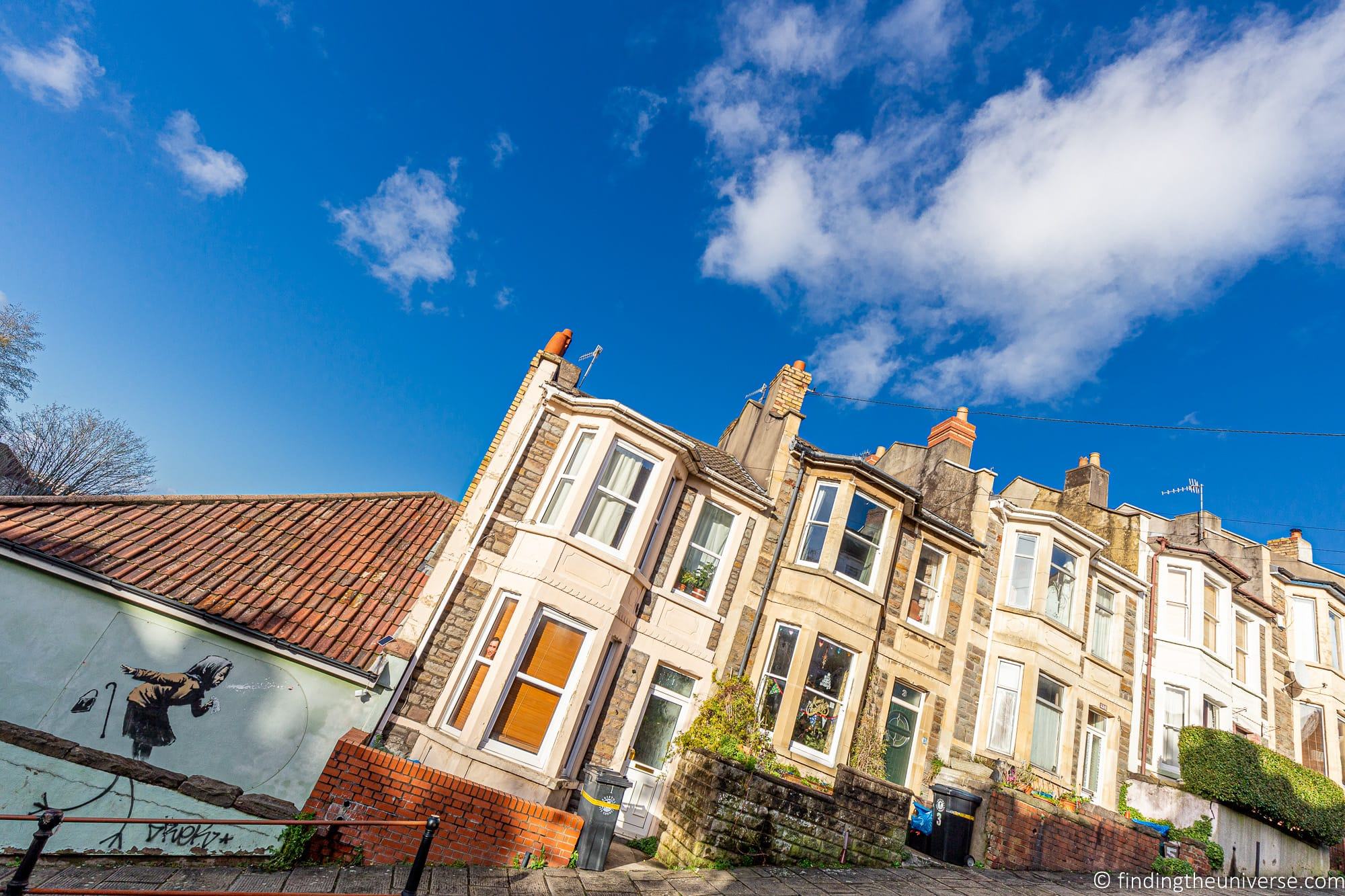 More Bristol Street Art
Moving on from Banksy's Bristol now, and here's a quick run down of some of the pieces of street art I found whilst wandering the city.
I walked over ten miles when scouting out Bristol's street art, and still felt there were countless more installations to discover!
This guy reminded me of the gulls in Finding Nemo. Mine?
This character, who will be familiar to any British child of the eighties, is Morph. He hails from the same development studios as Wallace and Gromit, which is based in Bristol, and I found a variety of Morph arts around the city.
I went street art hunting on a Sunday, which turned out to be an excellent idea because many of the shops have their shutters decorated – something you would only see when the shops are shut!
Some of the street art is really quite giant.
And some of it is very poignant, like this tribute to a lost parent.
How to Find Bristol's Street Art
Other than the Banksy pieces mentioned in this post, which are more likely to survive the passage of time, the majority of the pieces in this post will likely be replaced, painted over, or removed. In fact, even many of Bansky's pieces have been removed. The areas that they are to be found however will likely remain the same.
There are three main areas in Bristol where you'll find street art: Central Bristol, Stokes Croft, and South Bristol, along North Street.
You have a few options for finding street art, beyond this post of course. One good option is to pick up a copy of the incredible Bristol Street Art map by Where the Wall. They also run excellent Where the Wall Street Art Tours of Bristol which covers many of the highlights.
Personally, I did the former, and spent a happy day with a map and my camera finding as many pieces of street art as possible. However, if you want to learn a bit about the street art rather than just take pictures of it, I'd highly recommend taking a tour, which is very well reviewed and has won a number of local tourism awards.
Finally, if you would prefer a more interactive experience, check out this Bristol Street Art city exploration game, which has you taking part in a fun virtual adventure to find the street art as you wander the city.
Further Reading
Well, that was a quick tour of some of our favourite pieces of street art in Bristol. Here are some more resources you might find useful for your trip.
And that's it for our guide to Bristol's street art! Which was your favourite piece? Do you seek out street art when you travel? Let us know about it in the comments below!