The beautiful walled city of York, England is the perfect location for a weekend break. It's easily accessible from most of the UK, there's plenty to see and do, and it's compact enough for walking around.
We've visited York many times, and in this guide we're going to share with you how to spend the perfect weekend in York. From what to see and do, to where to stay to how to get around.
This guide can be used for any two-day trip to York of course, it doesn't have to be over a weekend. You can also extend it easily for a longer stay, as there's a lot to see both in the city and in the surrounding area!
Let's get started with this York weekend itinerary.
Weekend in York Itinerary
Our weekend York itinerary has you visiting many of the main sights in the city. Of course, as with all our itineraries, it's a starting point for you to plan from. So feel free to adjust it based on your interests and sightseeing pace.
We like to see a lot when we travel, but if you prefer a slower pace, just adjust the itinerary to see fewer things per day.
If you are visiting over a weekend, you can either arrive in York on the Saturday morning and depart on the Sunday evening, or extend your stay to arrive on the Friday evening and depart either on the Sunday or Monday. It's up to you.
Day 1 in York
For your first day in York you're going to learn about the history of the city, explore some of the medieval walls, and visit the UK's largest railway museum.
Note that if you are arriving by train on your first day in the city, you might consider re-ordering this itinerary so you start in the railway museum as it's next to the railway station. There are left luggage facilities just next to the railway station to save you carrying your bags.
For getting around, we have a section on getting around after the itinerary. York is very walkable, but you might also choose to take a Hop on Hop off bus. If you do the hop on hop off bus (included on the York City Pass), you'll likely want to set up your sightseeing so it follows the route of the bus.
York Minster
The gorgeously Gothic York Minster is a highlight of a visit to the city, and the imposing construction is visible from around York.
Two large towers dominate the western side, with a large central tower in the middle. It's actually the largest Gothic style cathedral in the UK (yes, it's bigger than Westminster Abbey!), and the second largest in Europe.
A church has been in this location since at least 627 AD, however; the present building was largely built between the 13th and 15th centuries.
There is plenty to see if you visit inside the Minster, which we recommend you do. For example, there is a lovely chapter house, the beautiful Great East Window (the largest medieval stained glass window in the world), a tower you can climb, and there's even a crypt you can visit.
A highlight has to be a trip up the tower. At 235ft, the Central Tower is the highest point in the city, meaning you get wonderful panoramic views of the city around you. It costs a bit more to climb the tower but we think it's well worth it for the view. There are 275 steps to the top, and there's no lift option.
York Minster is normally open every day except Tuesdays and there's a fee to visit. At last check, you needed to book online or by phone in advance to visit due to COVID restrictions. You can see prices and opening hours on the website here. Entry is included on the York City Pass.
Expect to spend around 90 minutes here, although this will depend if you choose to climb the tower and how fit you are if so! From York Minster to the Yorkshire Museum it's a 5 minute walk.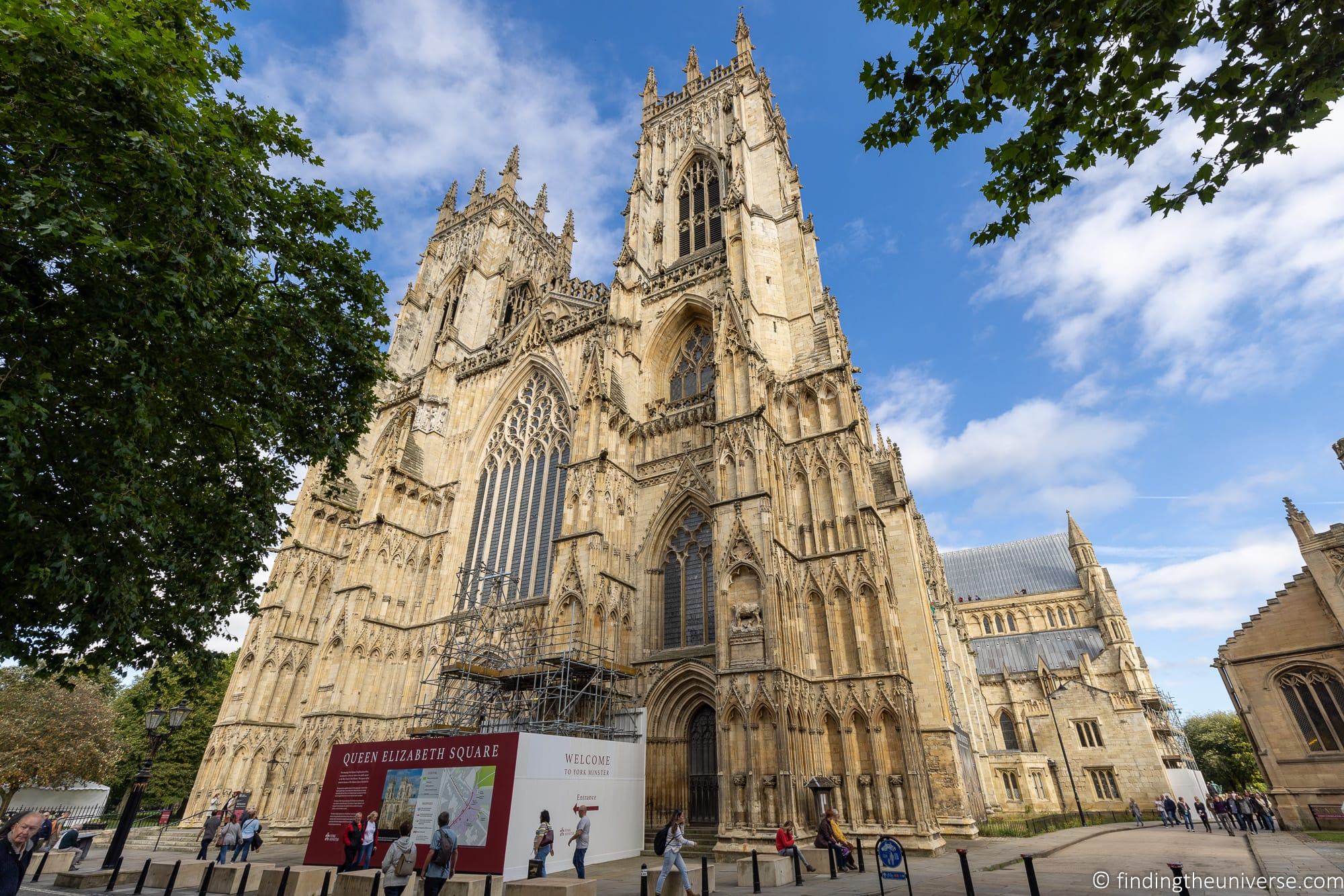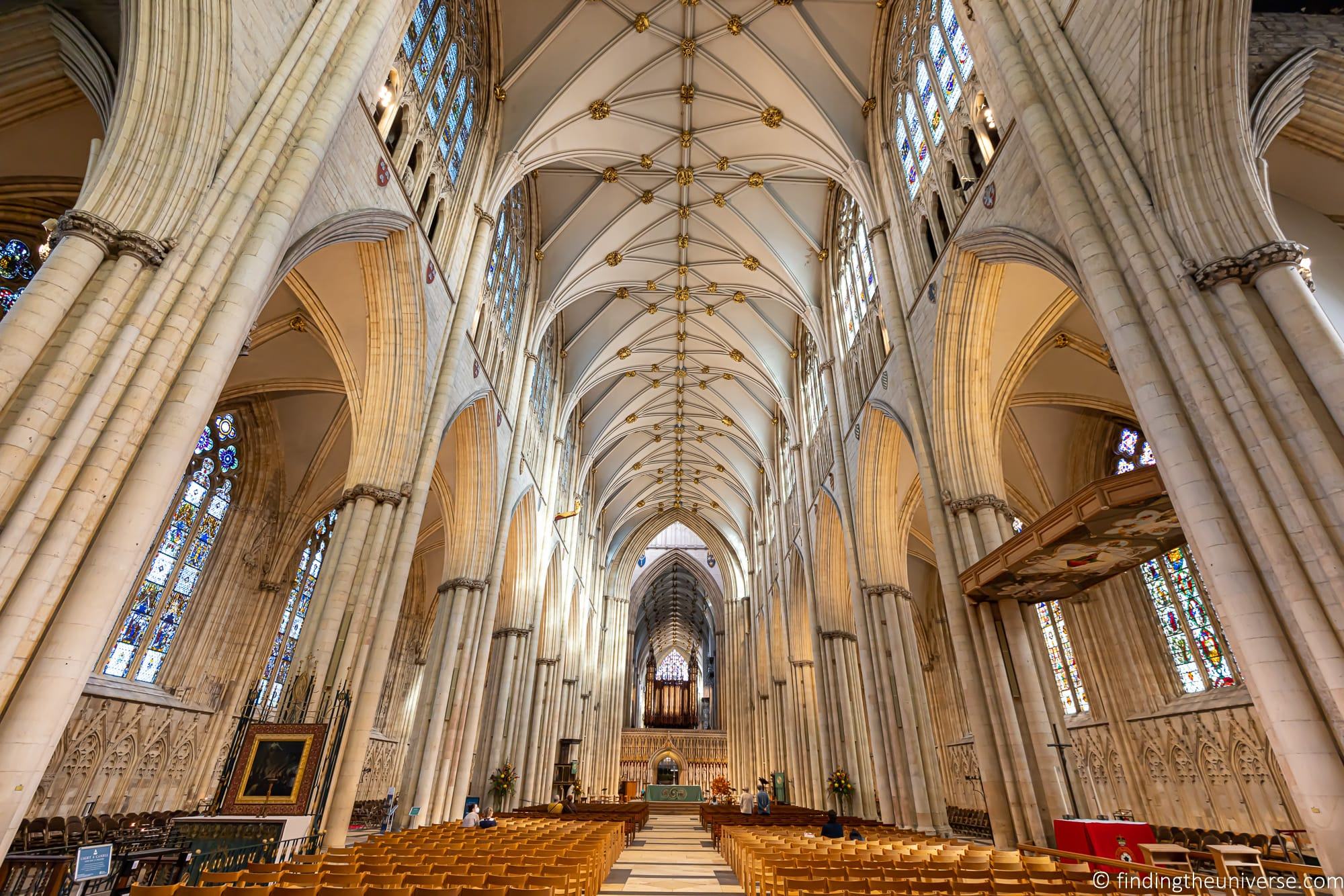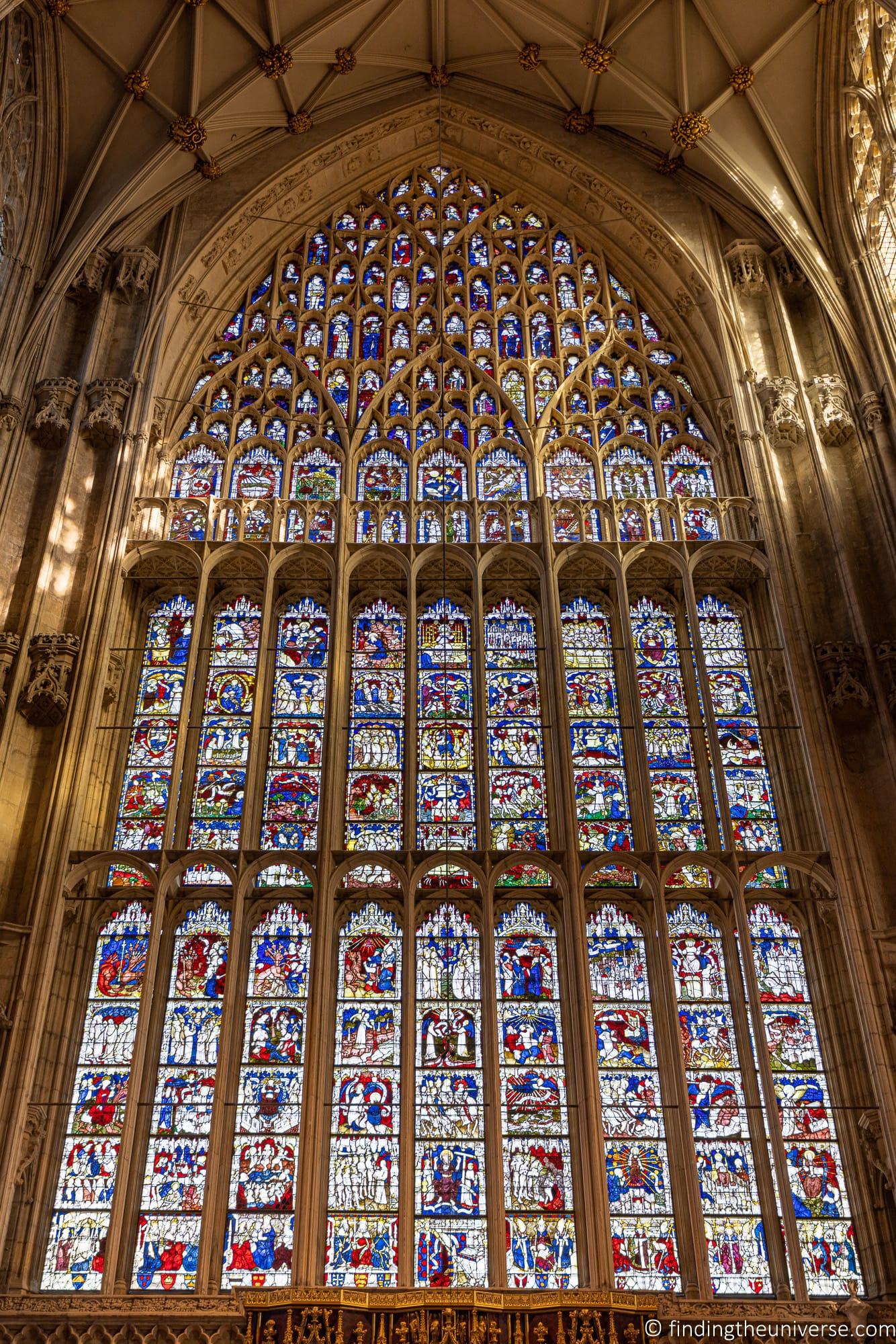 Yorkshire Museum and Gardens
York was founded in 71AD, when a Roman fortress was built here. For a period of time, it was actually the capital of Roman Britannia, and over the years it's been everything from a Roman garrison town, a Viking stronghold, a trading centre, a Victorian engineering hub and even a confectionary powerhouse!
That is a lot of history to learn about. For those of you who love learning about the history of an area, then a visit to the Yorkshire Museum is in order.
This is found in the York Museum Gardens, situated next to the River Ouse. The 19th century gardens have a number of interesting sights, including Roman ruins, an 11th century ruined abbey, a 14th century Hospitum, and a 19th century observatory. You can read more about the sights in the garden and opening hours here, and it's well worth taking a bit of time to wander around before or after your museum visit. The gardens are free to visit.
Of course, the highlight is going to be the actual Yorkshire Museum. Here you'll be able to learn about the history of the city, from prehistoric times through to the arrival of the Romans and Medieval times. There's an entry fee to visit, and you can read more about opening times and prices here. It's included on the York City Pass.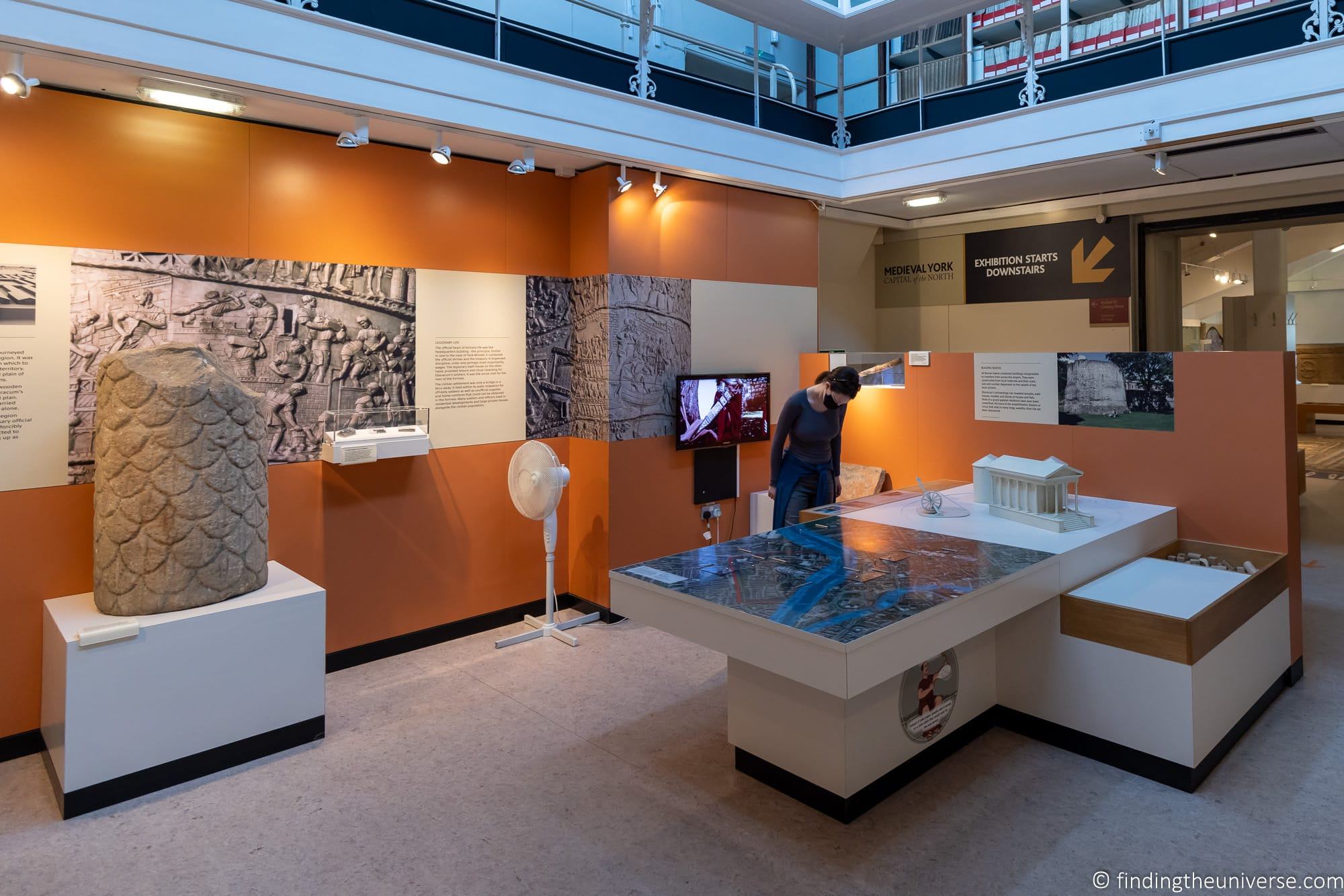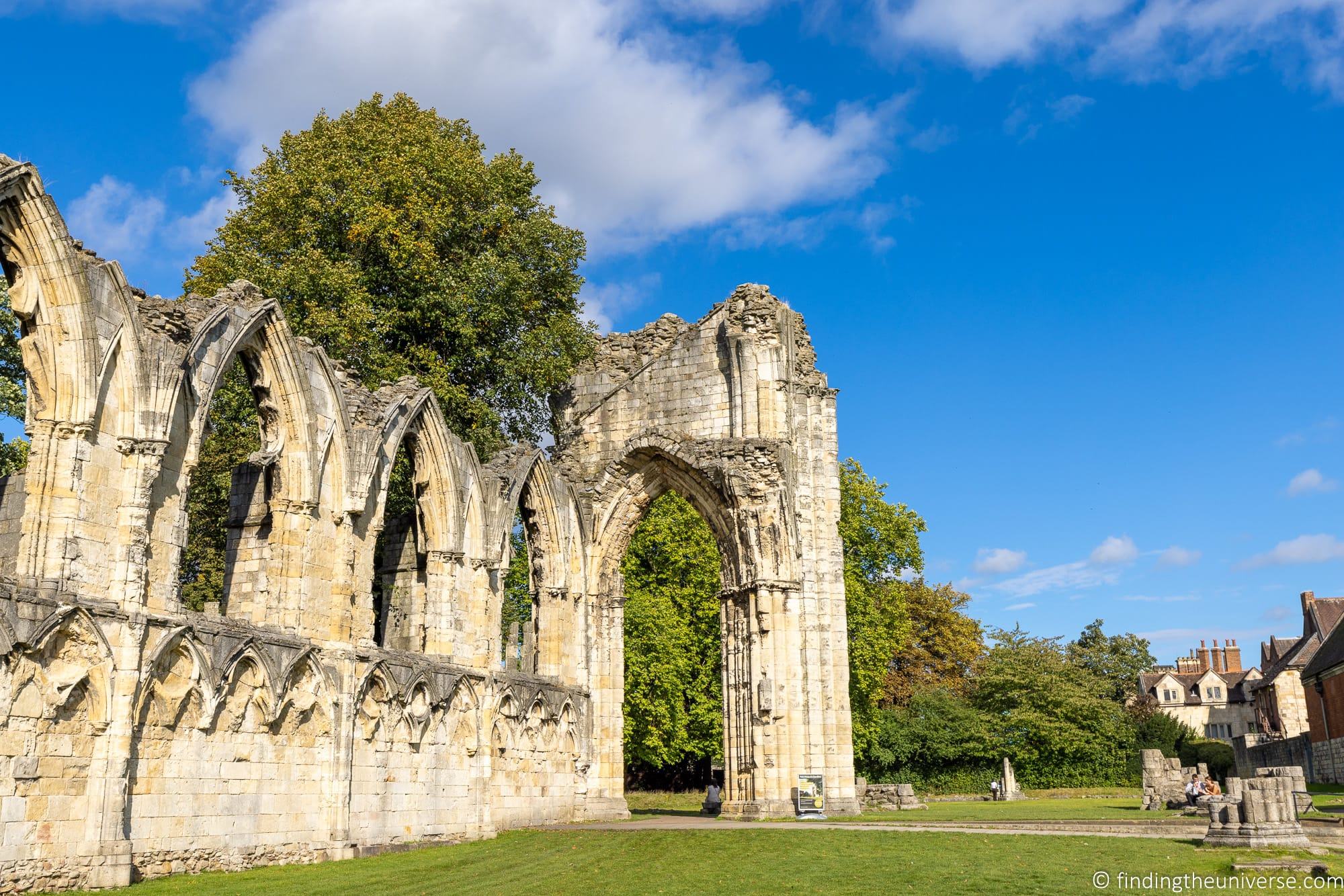 Medieval Wall Walk
One of my favourite free things to do in York is wander along the walls. These walls have surrounded the city since Roman times, although they've been restored and improved upon over the years. Today, the majority of the walls you can see and explore date from the 12th to the 14th century, with major restorations taking place in Victorian times.
The walls are the most complete set of city walls in the UK, encircling large parts of the city centre. You can walk along the top of them on the wall walk, which elevates you above the city streets and gives some lovely views across the city. If you were to follow the whole route, you'd be looking at around a 2 hour walk of around 2.6 miles.
Of course, you don't have to do the whole route and there are many sections you can walk. If you are following this itinerary, from the Yorkshire Museum simply cross over the River Ouse and join the city wall trail to the south of the river. You can follow it around to Micklegate Bar, one of the medieval gateways in and out of the city. It was traditionally the gate that monarchs would use for entering York.
It is about a 15 minute walk from the Yorkshire Museum to Micklegate Bar via the city walls.
You can also go inside the gate at Micklegate Bar to visit an exhibition about the history of the city walls, and their evolution from Roman times to the present day. This is a new experience, opened in 2022, and it's also included with the York City Pass.
There are a number of pubs, restaurants, and shops around Micklegate , so this can be a good place to have lunch or stop for coffee before heading to the next stop on the itinerary.
For those interested in religious history, The Bar Convent is located next to Micklegate and is the oldest living convent in England. It is a museum and living heritage center and you can visit the exhibition for a small fee (included as part of the York Pass). But there is also a cafe here that serves breakfast, lunch, and afternoon tea Monday to Saturday. We visited here and found it really interesting.
From Micklegate Bar to the National Railway Museum is a 12 minute walk.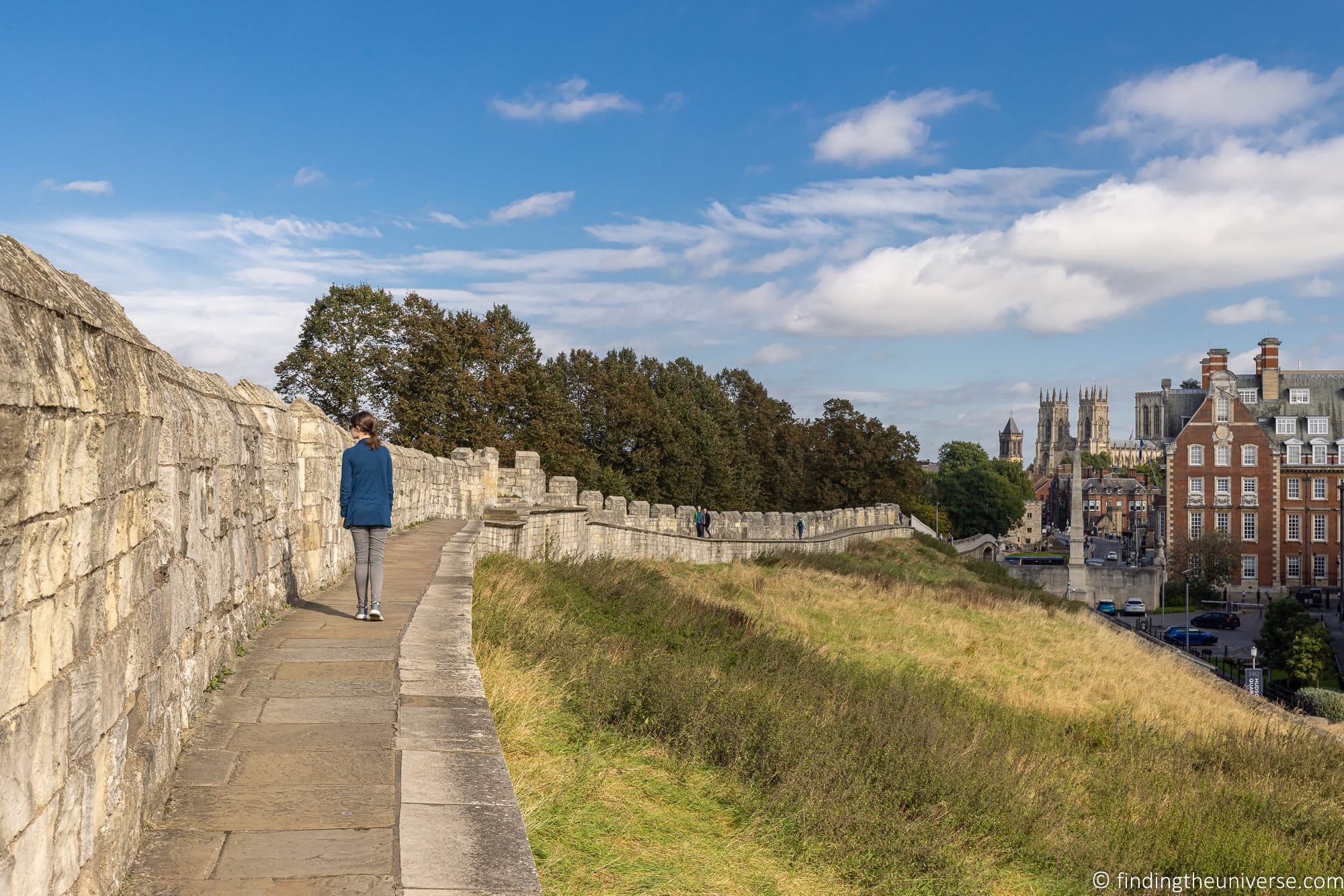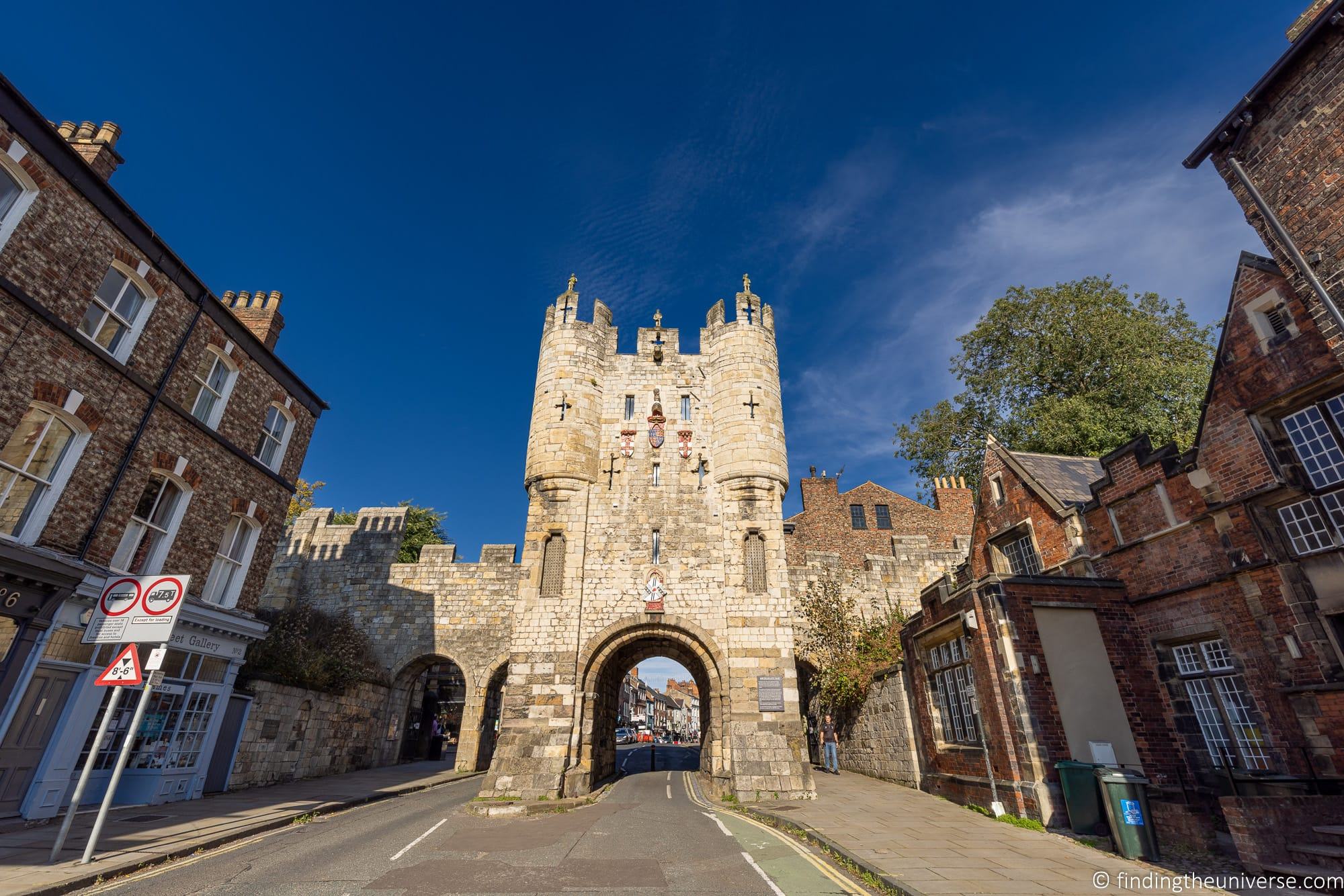 National Railway Museum
If you are into trains (and even if you're not!) we can highly recommend a visit to the National Railway Museum in York. This free museum is found right next to York railway station.
The museum is the largest museum dedicated to all things rail in the UK. It's home to some of the most significant locomotives in railway history, including the Mallard, which still holds the record for the fastest steam locomotive ever built. There are usually around 100 locomotives or rolling stock on display, which when we visited included a Japanese bullet train and a Eurostar train.
Having the museum in York makes a lot of sense from a historical standpoint. First, York was famous in the 19th century for the production of railway carriages. In addition, direct trains were running from York to London as early as 1840, and the railway essentially saved York from years of decline. York was firmly on the railway map, and mass tourism took off. Yes, people have been visiting York for the weekend for quite some time!
Note that if there is a particular train or object you are interested in seeing, you should definitely check their website to be sure it is on display. Sometimes trains or other items are sent on mobile exhibitions, or put in storage.
The National Railway Museum is free to visit although donations are greatly appreciated. There's also a shop and cafe on site, as well as a number of paid ride attractions including a fun Mallard simulator and miniature train rides. Lots of fun here for the whole family!
We'd recommend spending a couple of hours here. You can see more, including opening times and days, on the official website here. You should also check to see if you need to book tickets in advance.
From the National Railway Museum to city cruises departure is around a 15 – 20 minute walk, depending on which cruise you take.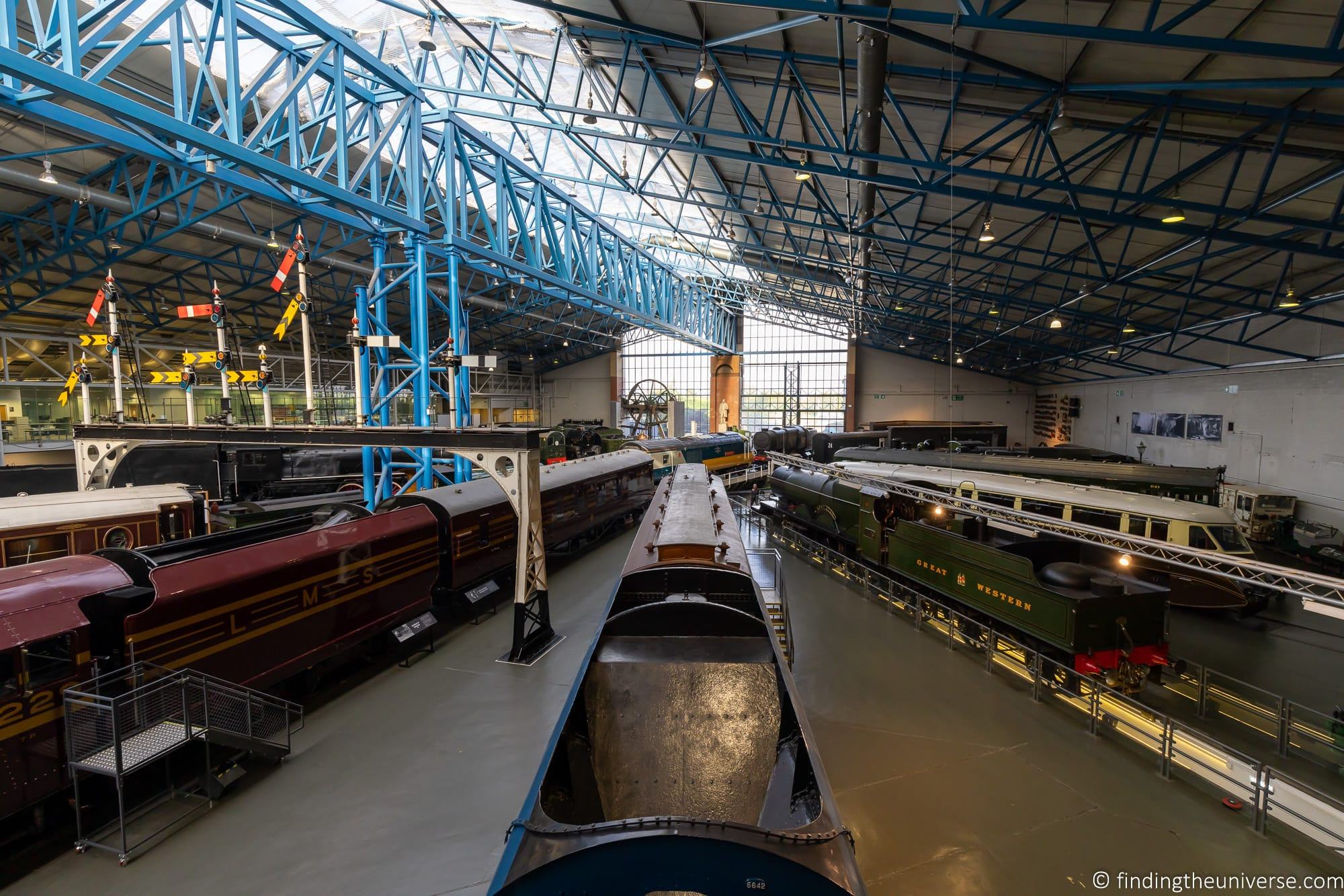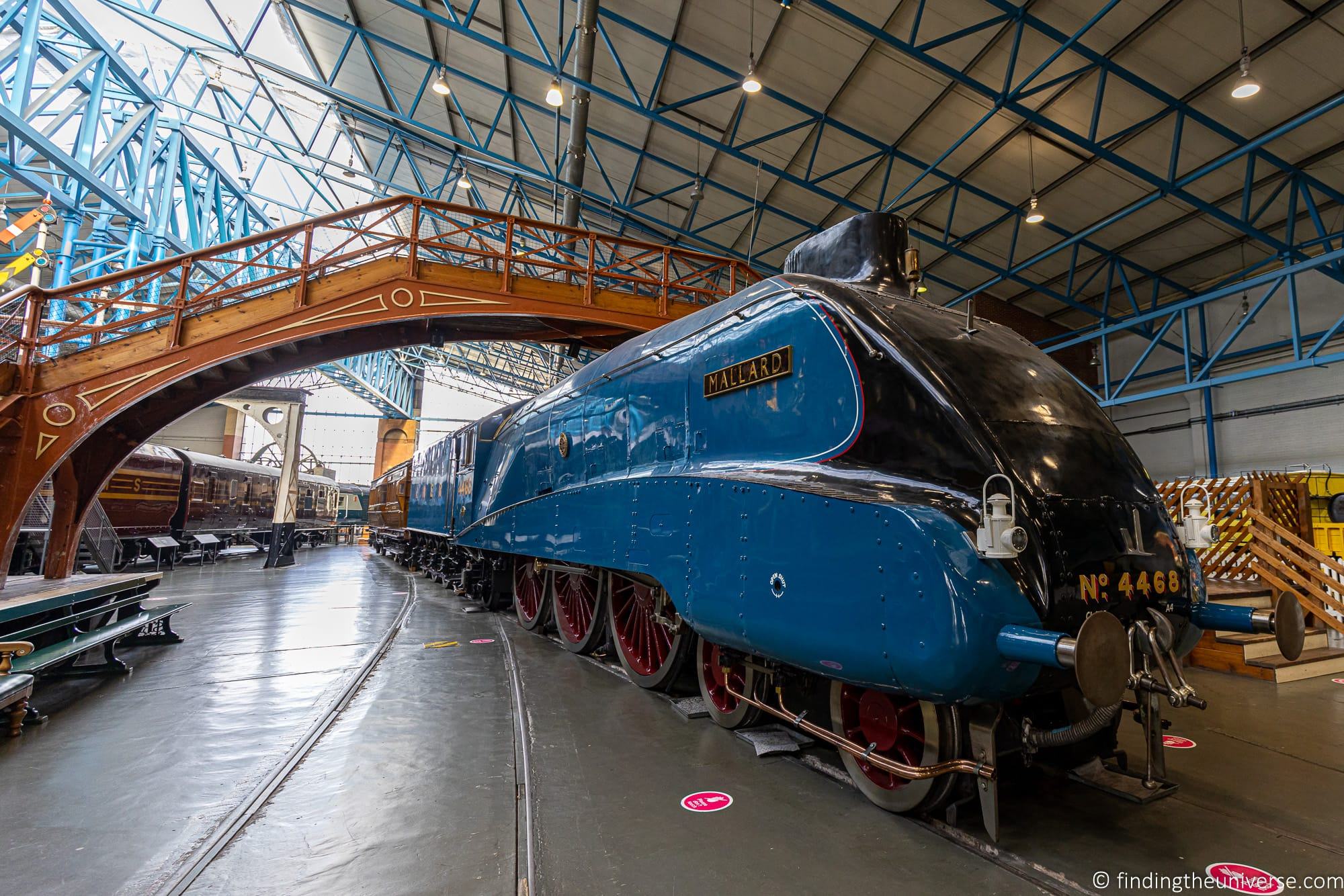 River Cruise
By now you have probably spent enough time on your feet and would like a bit of a break. Well, a popular option for visitors to York is to take some form of boat cruise. These usually run from April through to the end of October.
These will take you up and down the River Ouse which runs right through the centre of the city, affording you a unique view of the city from the water. Most cruises feature live commentary, and they also often have drinks available for purchase.
There are a variety of boat cruise options in York, from self-drive boat hire through to short excursions, amd sunset cruises.
They vary in duration from 45 minutes up to 2.5 hours. You can see all the options and book in advance here. Note that a city cruise option is included with the York City Pass.
If you're visiting from November through to March, most of the boat cruises are not operational. There are however a number of bus tour options to consider.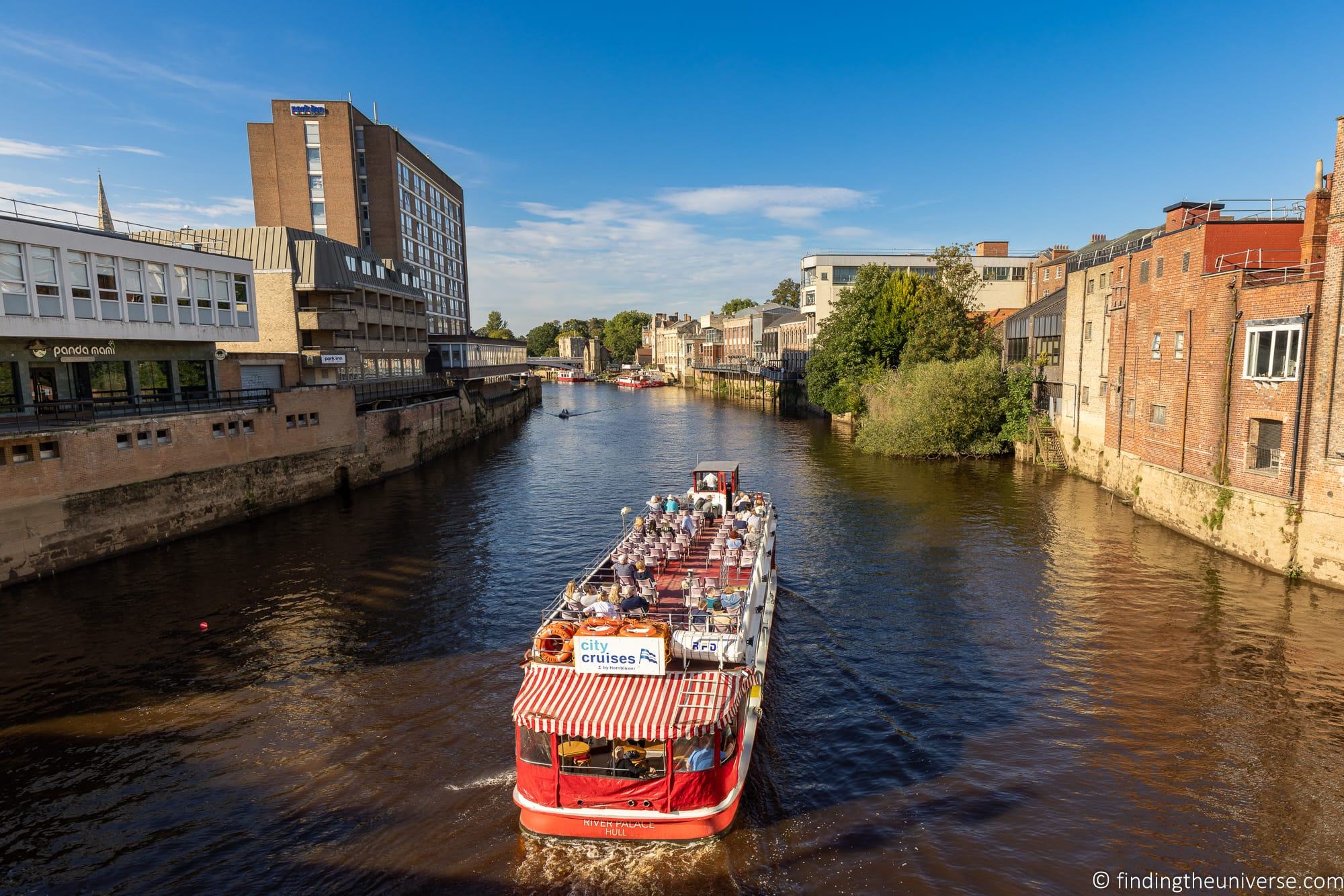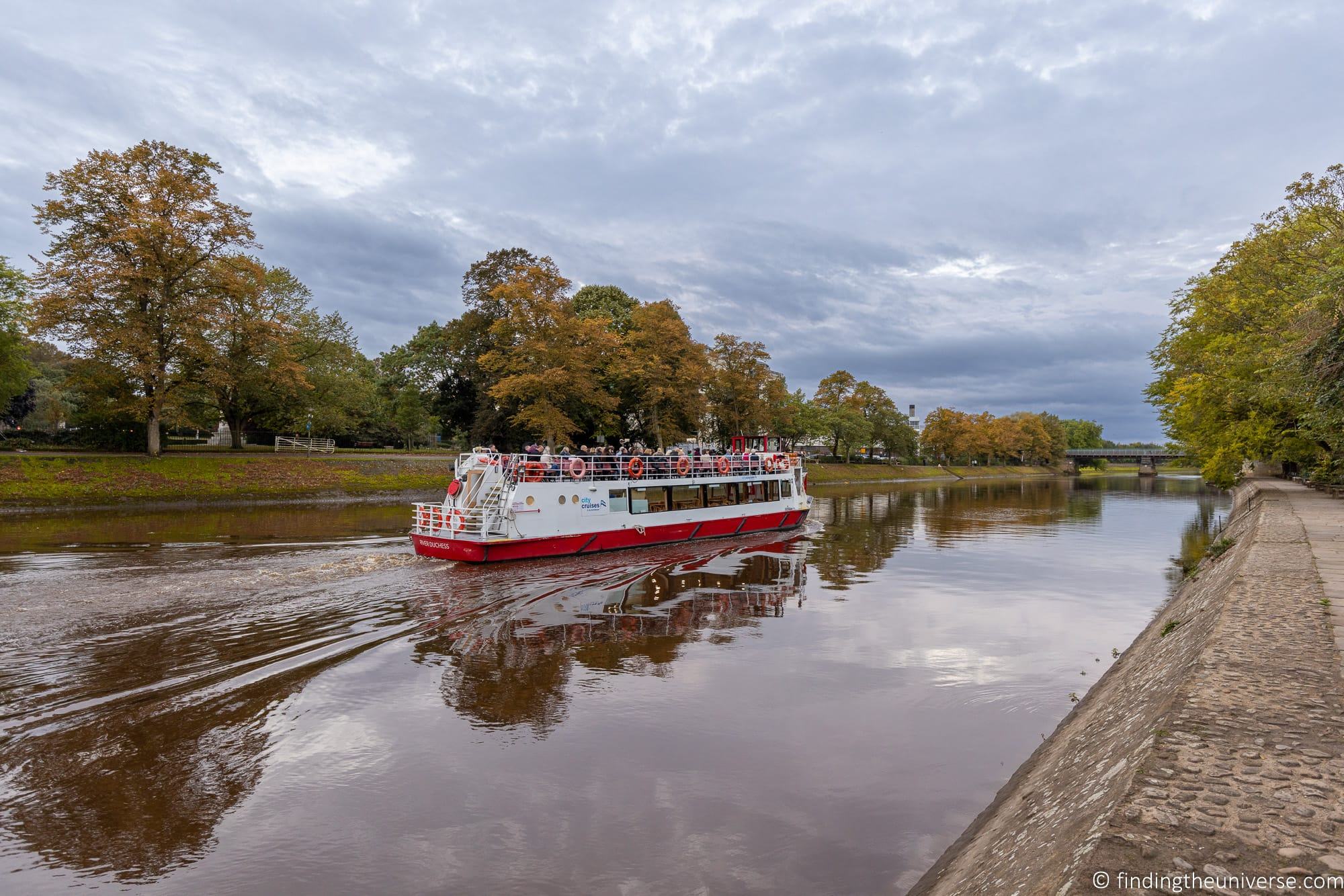 Evening Ghost Tour / Shambles Walk
As the day starts to fade to night, it's the perfect time to learn a bit more about the darker past of the city. York is well known for its ghost tours, and the authentic medieval streets around the Shambles are an amazing backdrop to these tales and stories.
Of course, you can explore the area around the Shambles on your own. However, the ghost tours are a lot of fun, led by entertaining costumed guides who are going to shock, thrill, and humour you.
The two tours we suggest you check out are this 90 minute tour or this 90 minute tour, both are led by costumed guides. Both tours have excellent reviews and have won awards.
Of course there are also other tours, including this one and this one. So you have no shortage of choice.
We also recommend you spend a bit of time walking the streets around the Shambles at night, as it is remarkably pretty and photogenic. The actual street with the name "Shambles" is our favourite, with the leaning houses that look like they are straight out of a Harry Potter film set.
Out of all the streets in the UK that have been said to look like they are Diagon Alley out of Harry Potter (we've been to all of them), this is the one that looks most like it.
If you'd prefer a bus tour rather than a walking tour, there is also an evening ghost bus tour you might consider.
That wraps up your first day in York! Time for some food and rest, before heading on to your second day!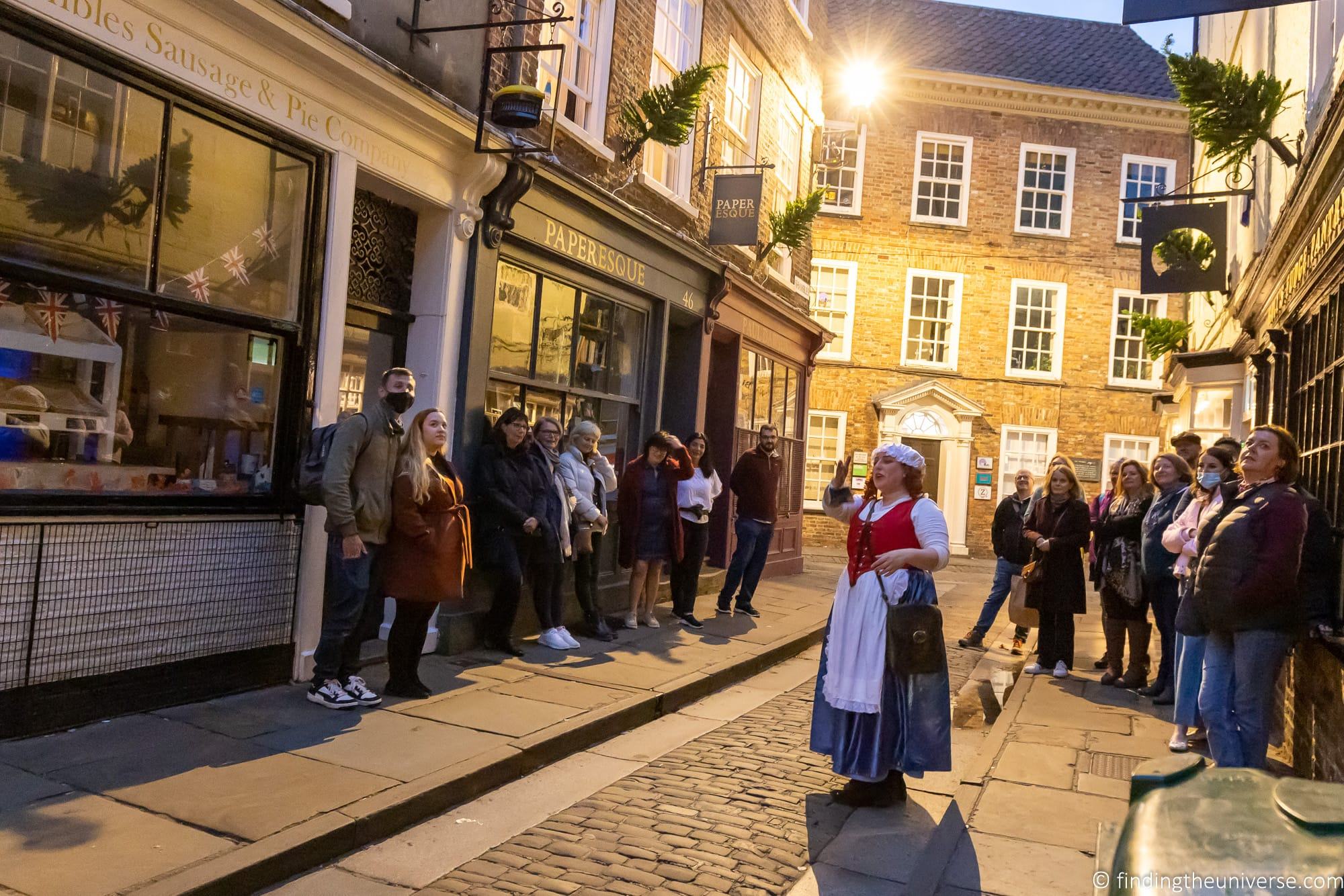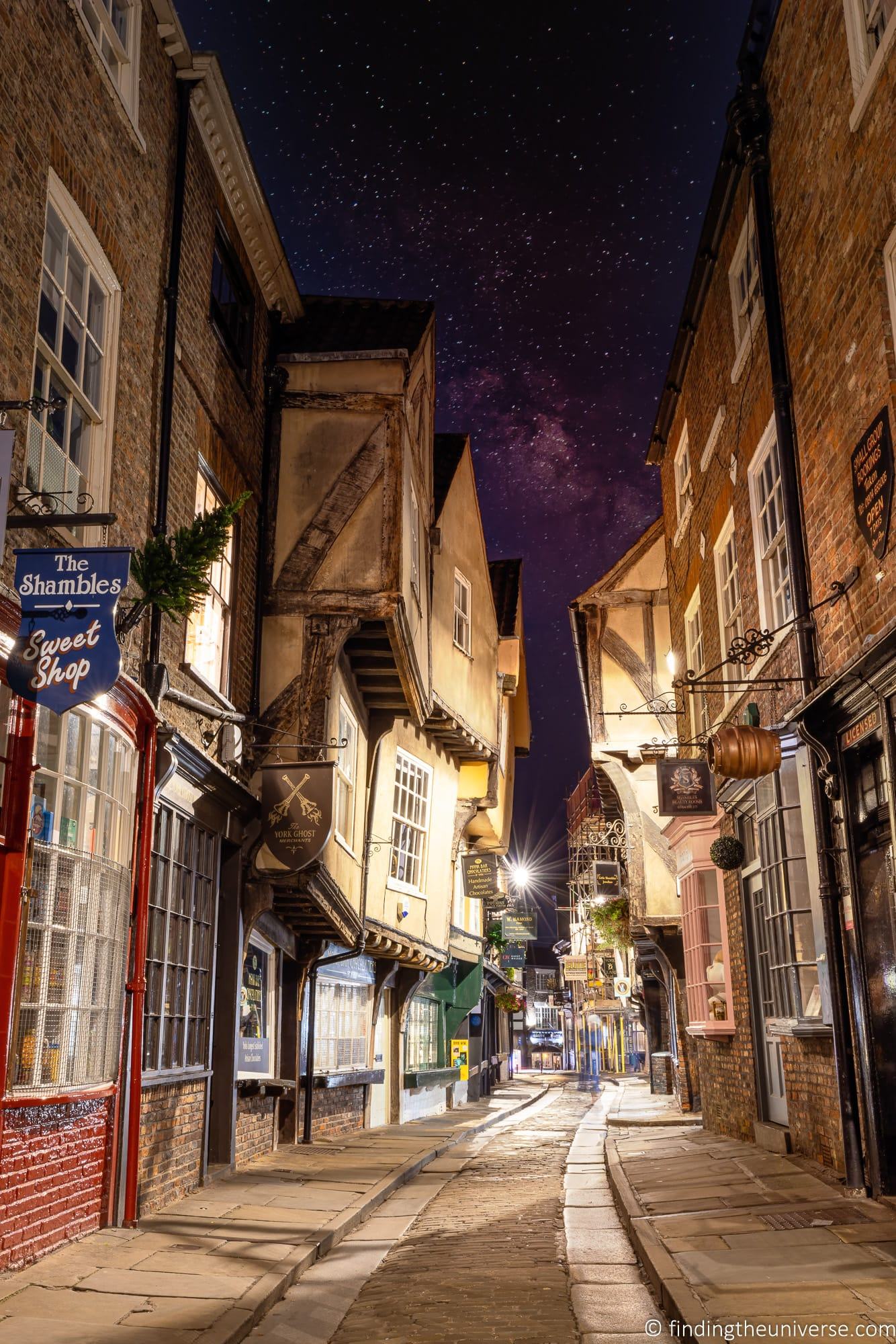 Day 2 in York
For your second day in York you're going to do some more sightseeing, learn about York's Viking and Victorian history, and even try some chocolate. Then there'll be time for a bit of retail therapy before you wrap up your weekend in York.
Again, everything on our list today is easily walkable, or on the York Hop on Hop off bus route. Let's get going!
York Castle Museum
Despite the name, the York Castle Museum is not in a castle, nor is the museum about a castle. It is built on the former site of York Castle, which was largely rebuilt as a prison in the 18th century. The only really obvious remnant of the castle is Clifford's Tower, which is found on the hill opposite the York Castle Museum.
So, now that your expectations around the lack of a castle have been managed, you might be wondering what this is a museum of.
Well, in the early 20th century, a Yorkshire physician by the name of John Kirk decided to start collecting objects that he felt reflected the time, in an effort to capture a glimpse of life in late 19th century Yorkshire. His collection grew prodigiously, and in 1931 he asked if anyone would want to display it.
In 1934, his collection was purchased by the city, and in 1938 the York Castle Museum opened to display the objects. A highlight of the museum on opening, and still a highlight today, is the recreated late Victorian street known as Kirkgate. This was a first of its kind in the UK, and is still popular with visitors today.
There's lots more to see in the museum, which is maze-like and sprawling, and not laid out in any particularly logical order that we could discern. Exhibits include information on the prison, the Great War of 1914-1918, the Swinging Sixties, and fashion over the last 400 years. There is also a Victorian mill that is sometimes open to visitors.
It's a lot of fun with a lot to see and do, and you could easily spend 2 to 3 hours exploring. There's a fee to visit, and you can see opening times and prices here. Also included on the York City Pass.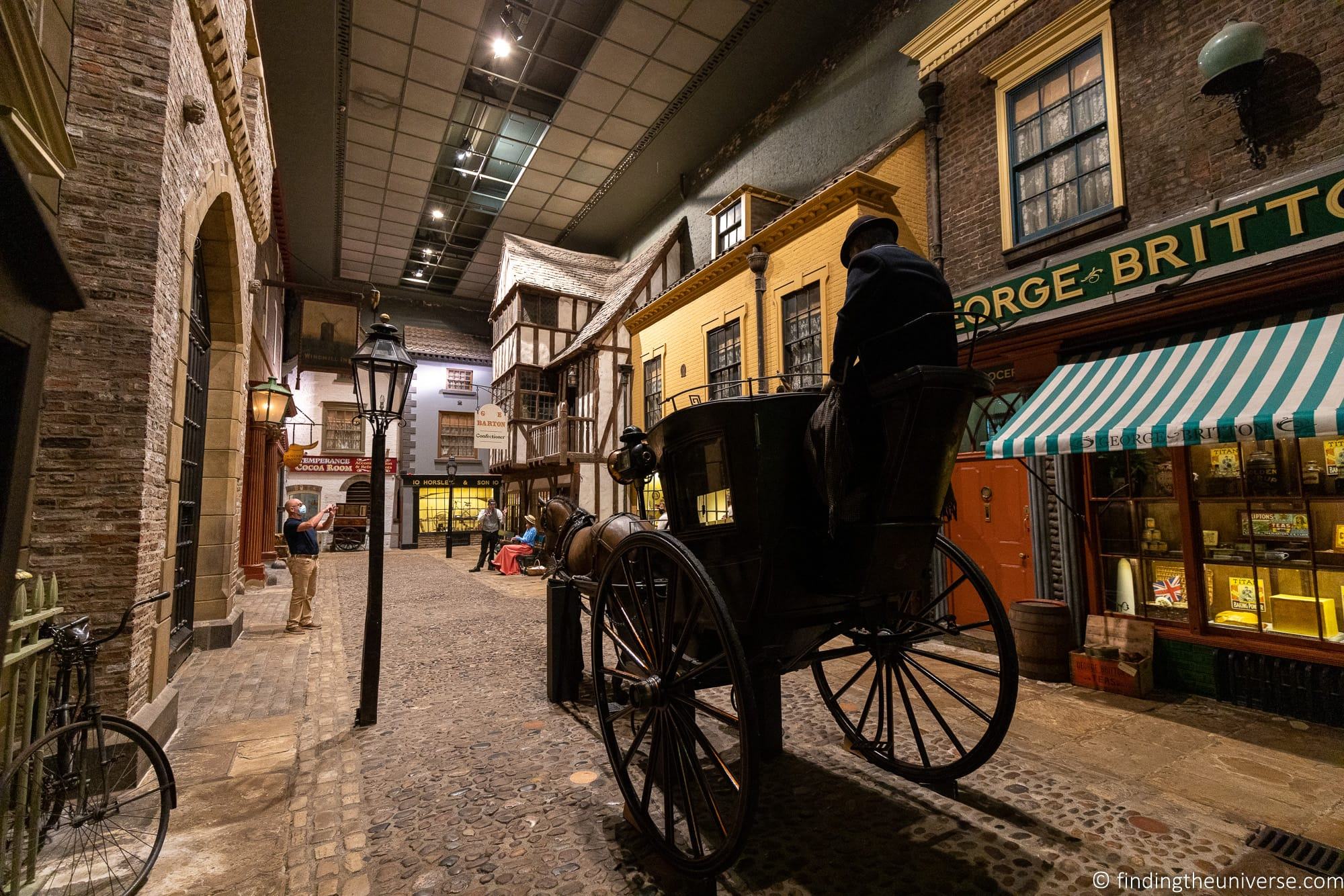 Clifford's Tower
Directly opposite from the York Castle Museum sitting atop a large mound is Clifford's Tower. This was the keep of York's original castle.
A keep has been in this location since the time of William the Conqueror in the 11th century, but the present stone version dates from the mid 13th century. It's the only really visibly obvious surviving part of York Castle that you can visit.
The tower itself is largely a shell, with the impressive walls surrounding a courtyard. A highlight of a visit is to go up to the top of the walls, from where you get good views across the rooftops of York and York Minster.
Clifford's Tower is operated by English Heritage and there's a fee to visit, although it's free for English heritage members. You can see opening times and prices here. It's also normally included on the York City Pass.
Note when we got our photos of Clifford's Tower it was in the middle of a renovation project. The tower is open as of April 2022, and now has an interior structure and a new roof deck from where you can appreciate the views!
From Clifford's Tower to Jorvik Viking Centre it's a 4 minute walk.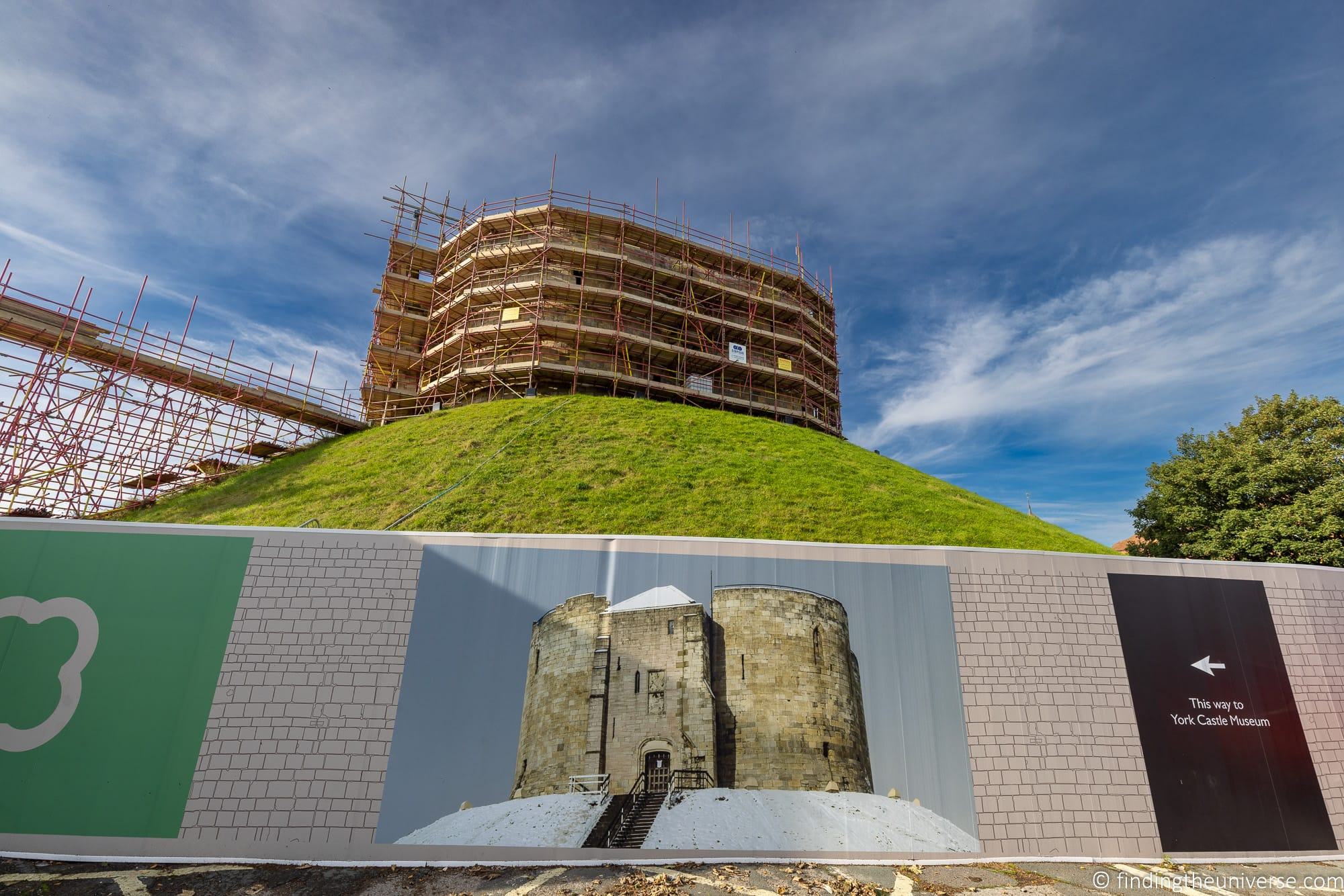 Jorvik Viking Centre
In the 9th and 10th centuries, York and a large swathe of northern England was captured and ruled by the Vikings. They called the city Jórvík, and turned the city into an important centre of economy.
A fun way to learn about life in York during Viking times is to visit the popular Jorvik Viking Centre. This attraction consists of two parts.
First, there's an ride which takes you through a reconstructed Viking village, where you'll see many scenes of life in Viking times. This was created by the York Archaeological Trust, and based on excavations in the area. In addition, some of the mannequins are based on facial reconstruction technologies using skulls found from the time.
Following the informative and fun ride, there's a museum area, which has many objects of interest and further explanations of life in Viking times. In addition, there are costumed staff who demonstrate crafts from the time, such as coin making.
A trip to Jorvik Viking Centre is definitely worth including on your visit to York, and it's a very popular family attraction as well. Expect to spend around an hour to 90 minutes visiting. There's an entry fee, and it's also included on the York City Pass.
From the Jorvik Viking Centre to York Cocoa House is a 1 minute walk, and to York Chocolate Story it's a 4 minute walk.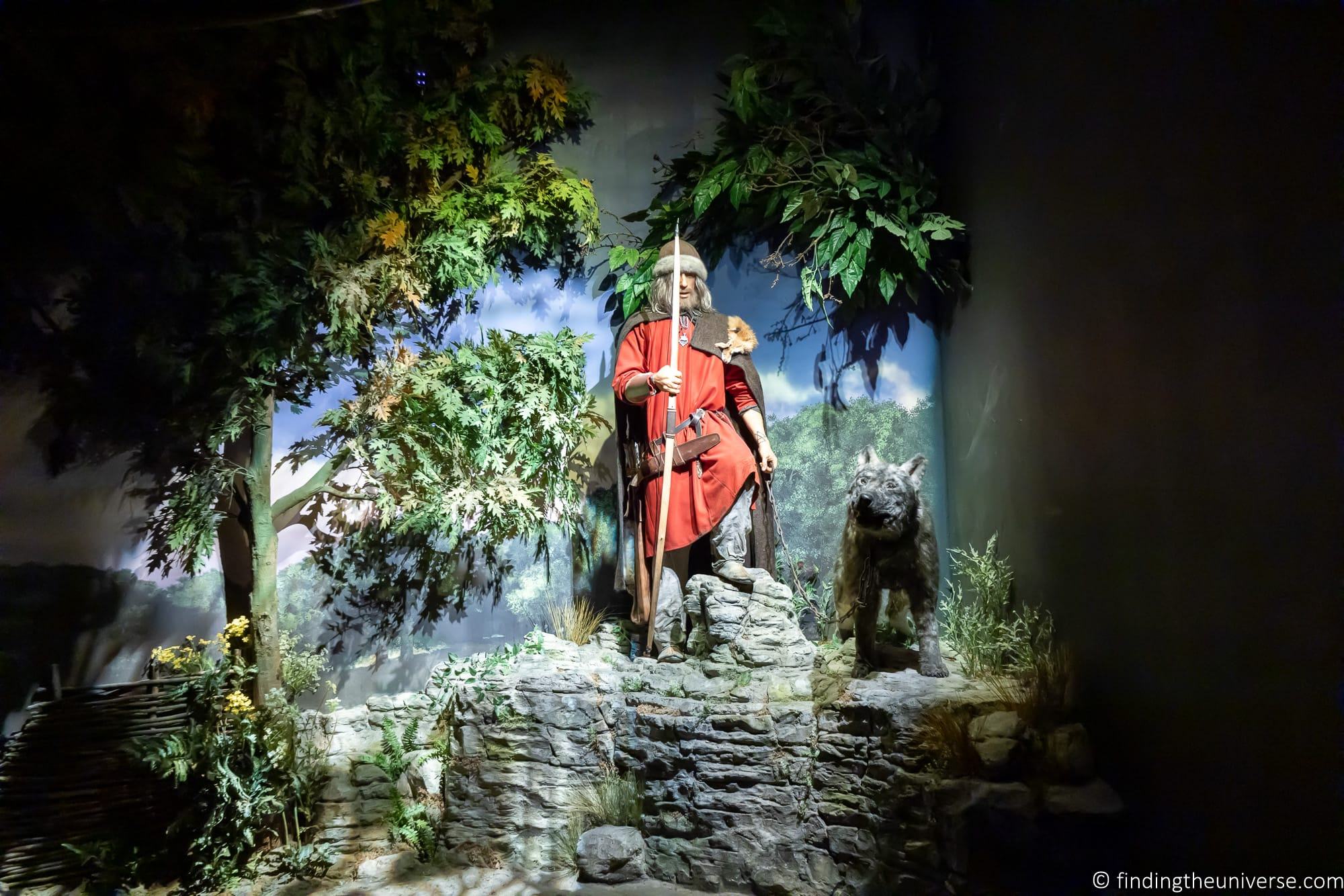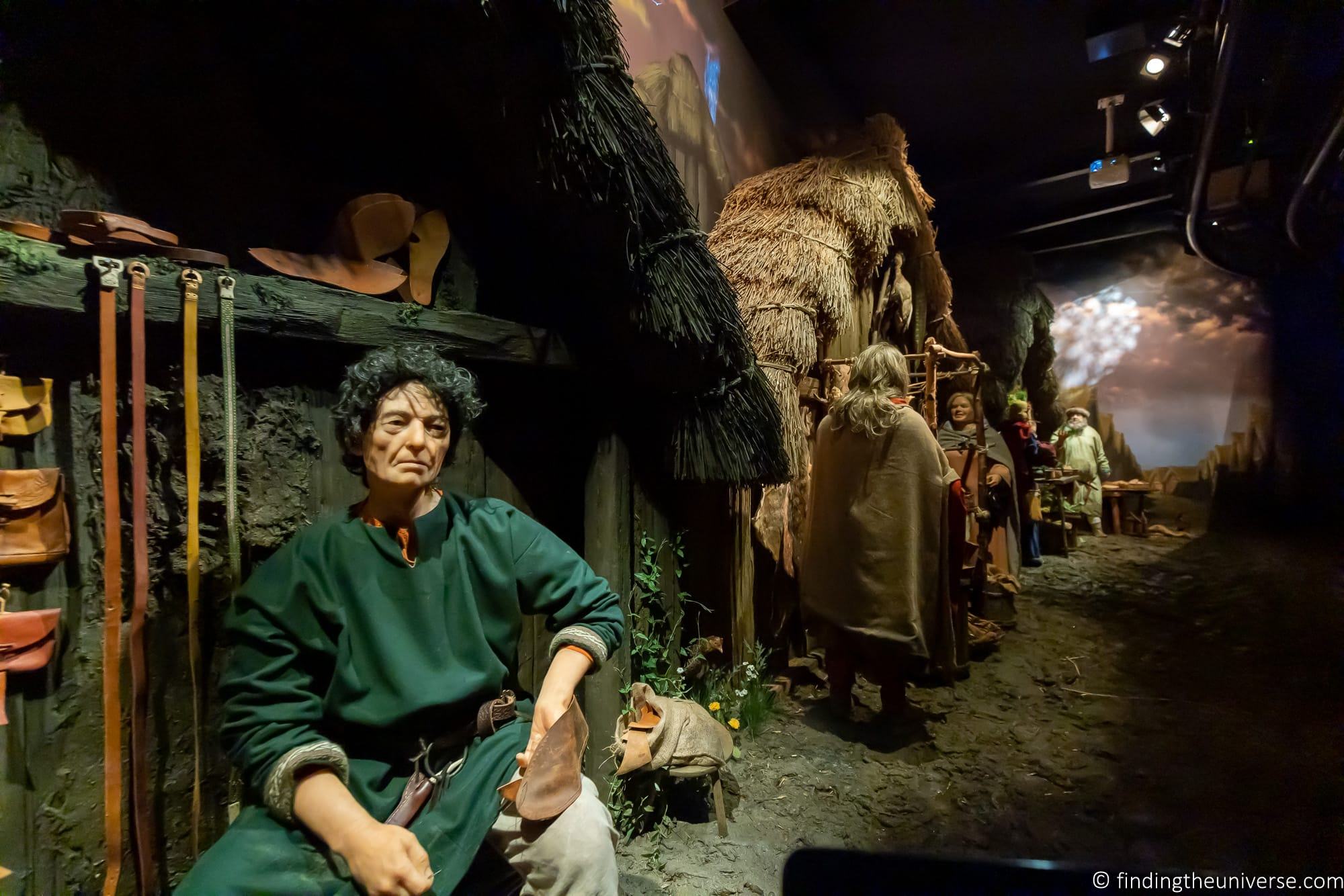 York Chocolate Story or York Cocoa Works
In the 19th century confectionary and cocoa making became major industries in York. The railway improved the ability to transport goods, and major producers like Rowntree's produced their products in York. In fact, after the railways, cocoa manufacturers were the second largest employer in York at this time.
Chocolate is still very much an important part of life in the city. Nestlé's UK confectionary business is based here, as is their global R&D centre for confectionary. Rowntree's still make their iconic KitKat bar in York, over four million of them a day!
If you have a sweet tooth, or simply want to learn a bit more about the history of chocolate making in the city, then you have a couple of options. These are York's Chocolate Story, or the York Cocoa Works. Both these locations feature shops where you can buy chocolate. However, more importantly, they also both an educational experience and you can do a tour at each for a fee.
York's Chocolate Story takes you on a journey through the history of chocolate in York. You'll learn about the people and companies that put York on the chocolate making map, as well as the process for how chocolate is made. You'll also get to make your own chocolate and of course, eat some chocolate as you go!
York Cocoa Works focuses more on the chocolate product process. Whilst the tour does share the history of chocolate making in York, the experience is more about visiting a working chocolate factory and learning how chocolate is made from bean to bar. A variety of tours are available, with the standard tour included on the York City Pass.
So, which to choose? Well, if you'd like to get more into the history of chocolate in York, we'd probably recommend York's Chocolate Story. If you want to learn more about chocolate making, flavours and so on, then we suggest the York Cocoa Works. Of course, you could also do both, although there is going to be some overlap!
If you have a York City Pass then the York Cocoa Works would probably make more sense as the tour is included.
From either of these attractions to the Shambles Market is less than five minutes walk.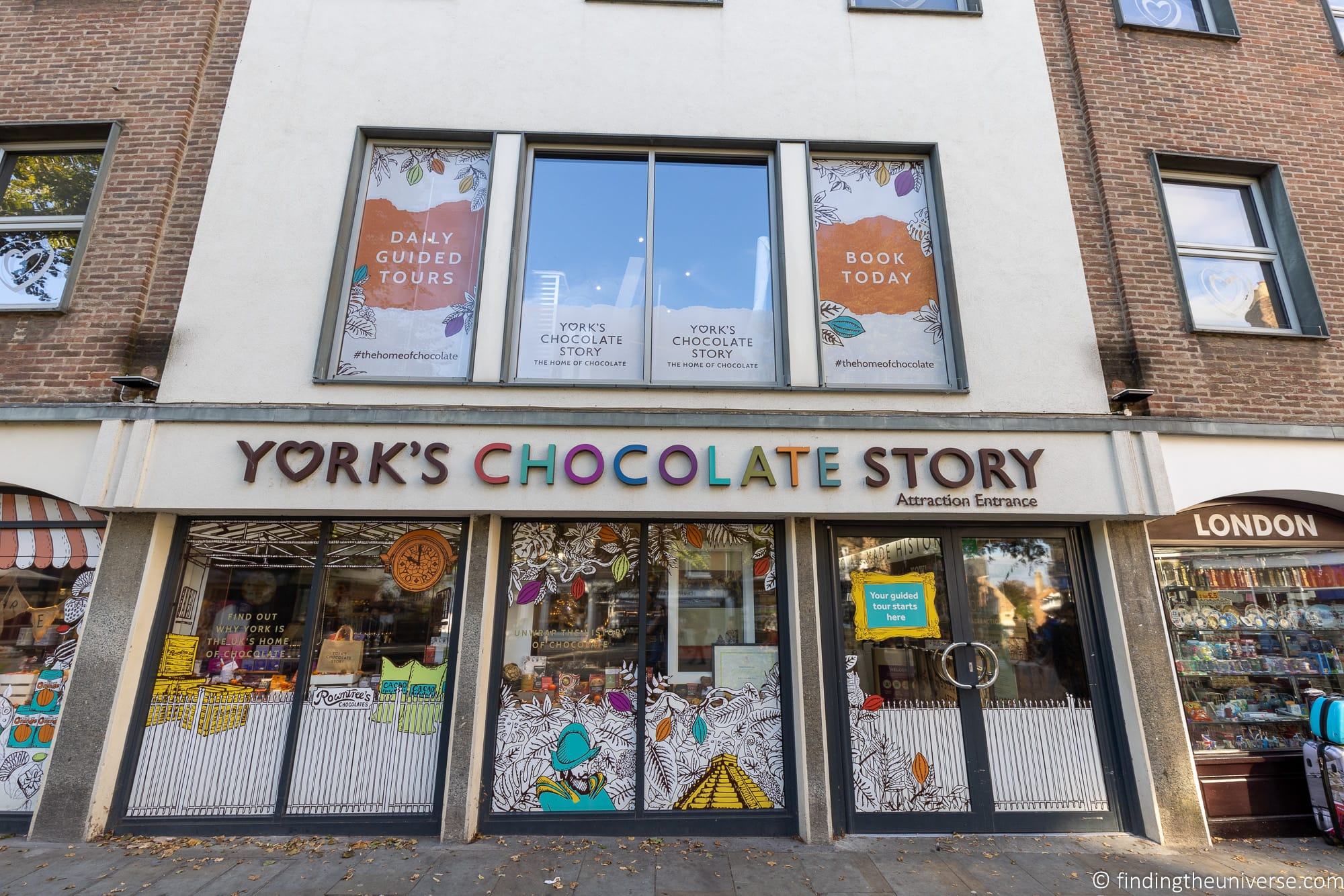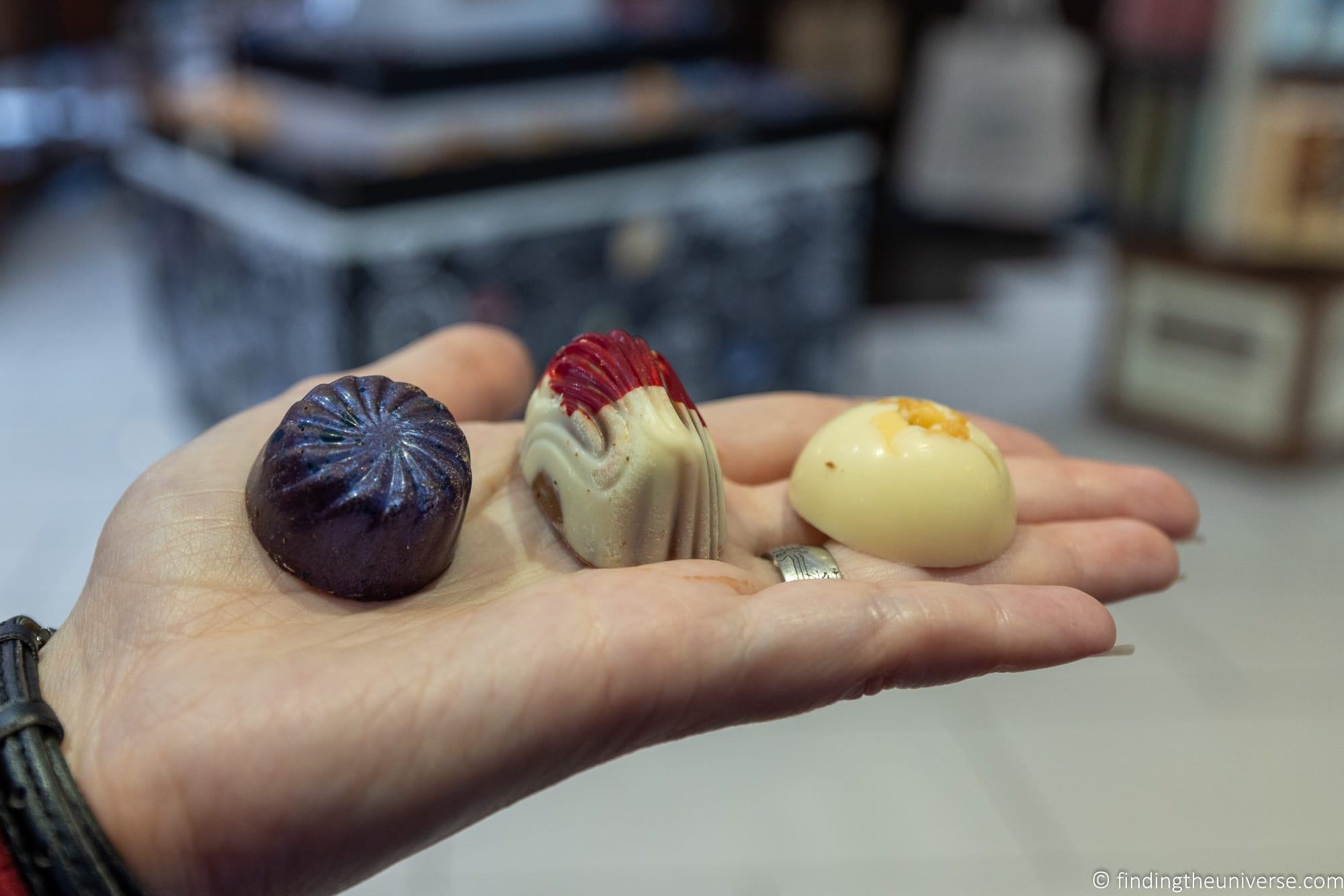 Shambles Shopping
We're going to finish up your last day in York with a bit of shopping in the Shambles. As well as lots of independent retailers in this area, you'll also find the Shambles Market itself. This historic market has over 70 stalls to choose from, with everything from arts and crafts to clothes and food available to buy.
We're pretty sure you'll find something to buy in the Shambles Market and shopping area, be it a souvenir of your time in York or a gift for someone else. If you're not into shopping, you'll also find cafes and bars throughout, and the lovely medieval streets are well worth wandering around anyway.
If you are looking for something to do in the evening after dinner, there are of course a number of bars, clubs, and cinemas. But you could also check out what is playing at York's performing arts venues, such as the York Theatre Royal, Joseph Rowentree Theatre, and Grand Opera House, as there is often theater shows, operas, concerts, pantomimes, etc.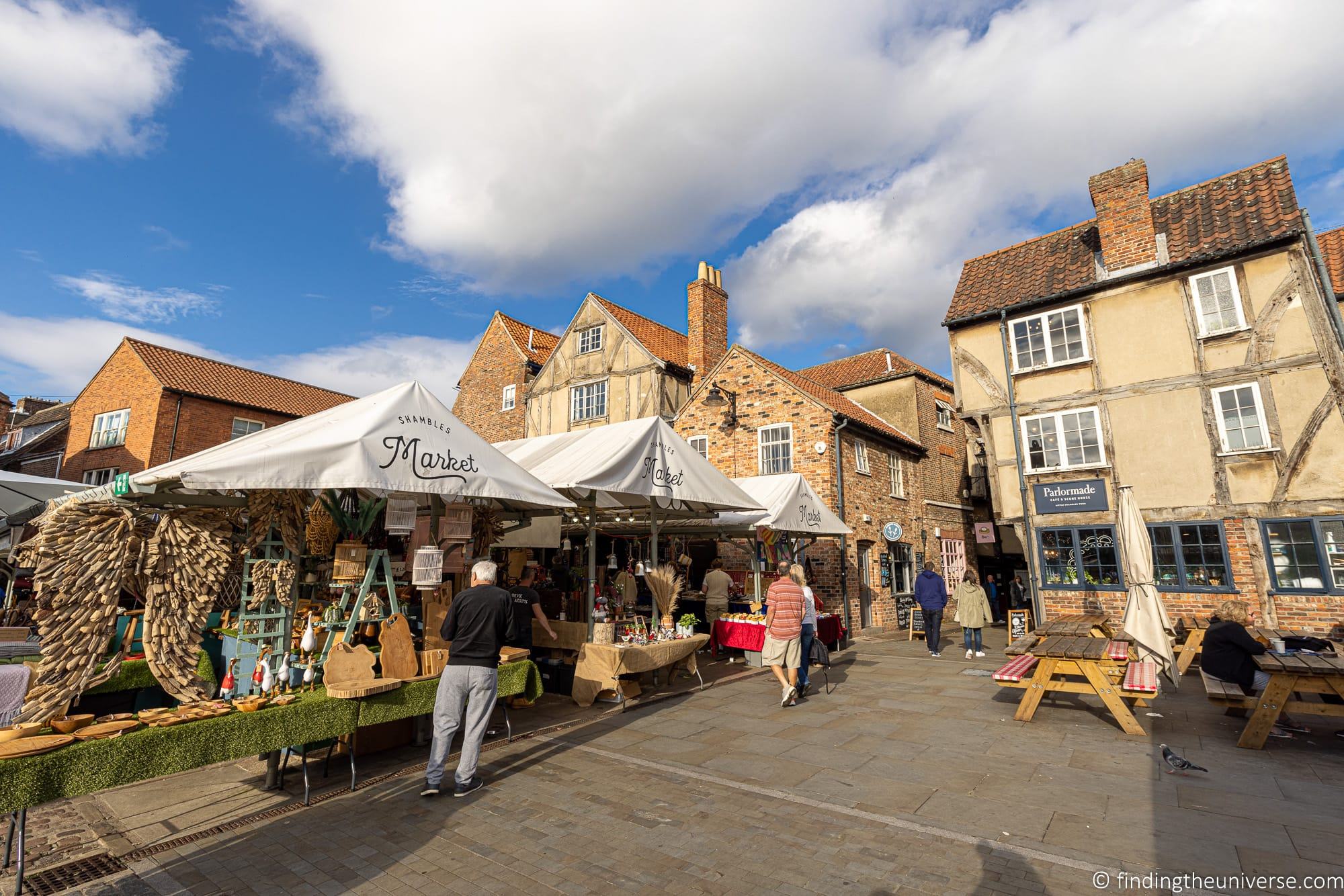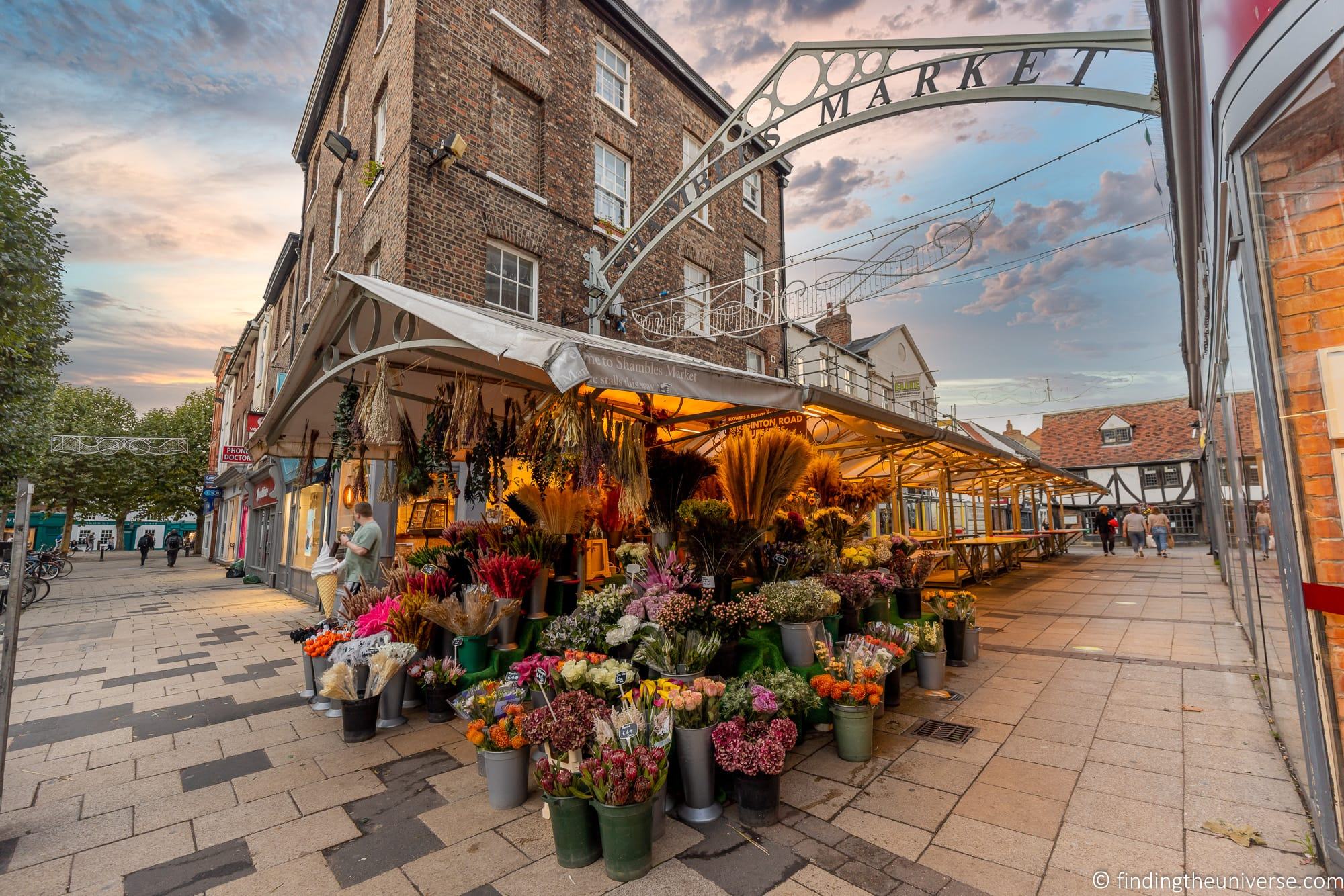 York Weekend Itinerary Summary
Here's a quick overview of this 2 day York itinerary.
Day 1 – York Minster, Yorkshire Museum and Gardens, Medieval Wall Walk, National Railway Museum, River Cruise, Evening Ghost Tour / Shambles Walk
Day 2 – York Castle Museum, Clifford's Tower, Jorvik Viking Centre, York Cocoa Works, Shambles Shopping
Of course, there's plenty more to see and do in York, so you could extend this itinerary to more days or swap some of these sights with others to suit your interests and time.
Map of 2 Day York Itinerary
To help you with your planning we've put together this map of the attractions in our itinerary. You can also see this on Google Maps here.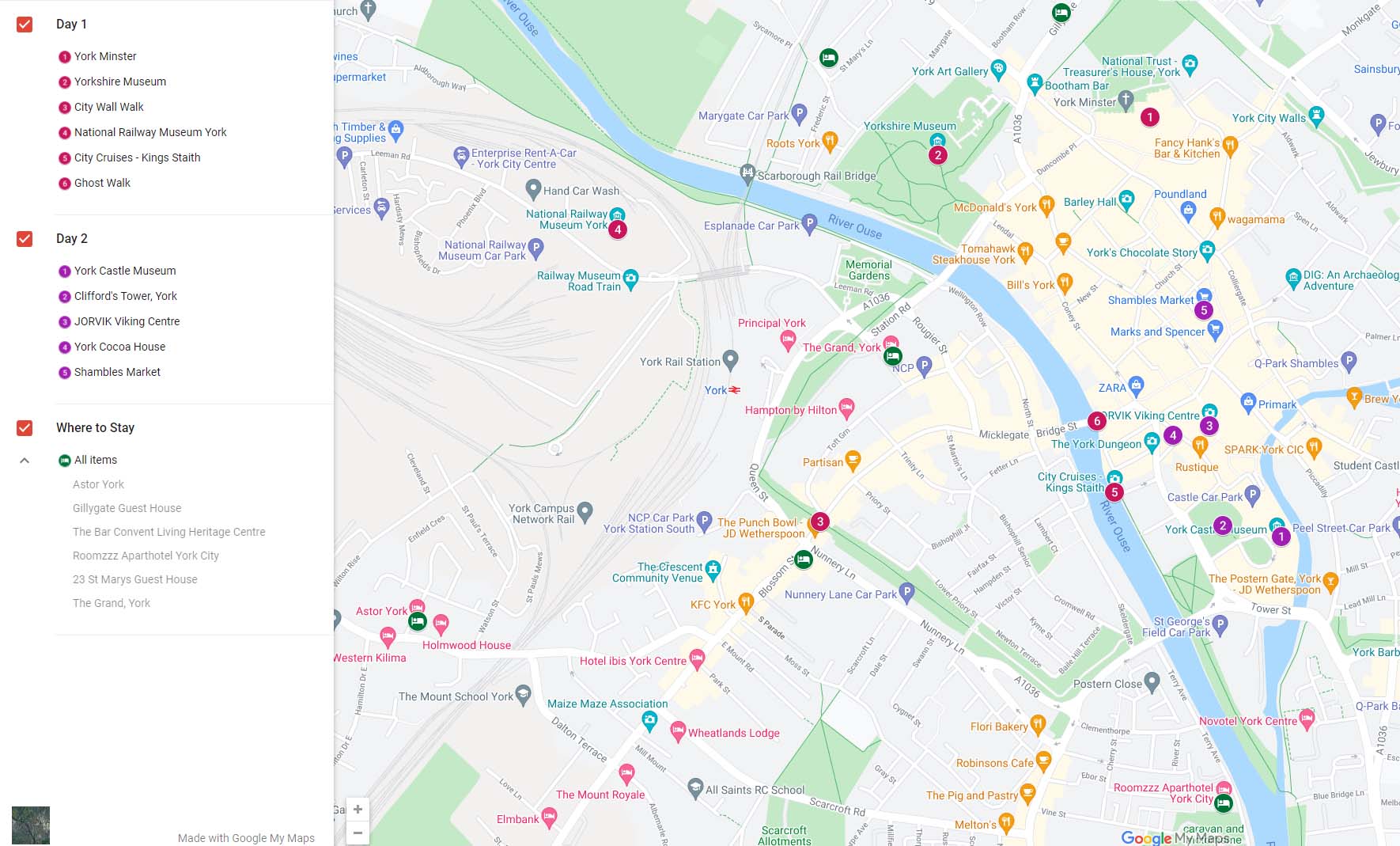 Attractions Near York
If you're planning on spending a bit more time in York, there is of course many more things to do in central York. But there is also a lot to do around York. Many of these attractions will definitely be easier to visit with a car.
Of course, there's plenty more to do in the area around York, but this should give you some ideas for what to see and do!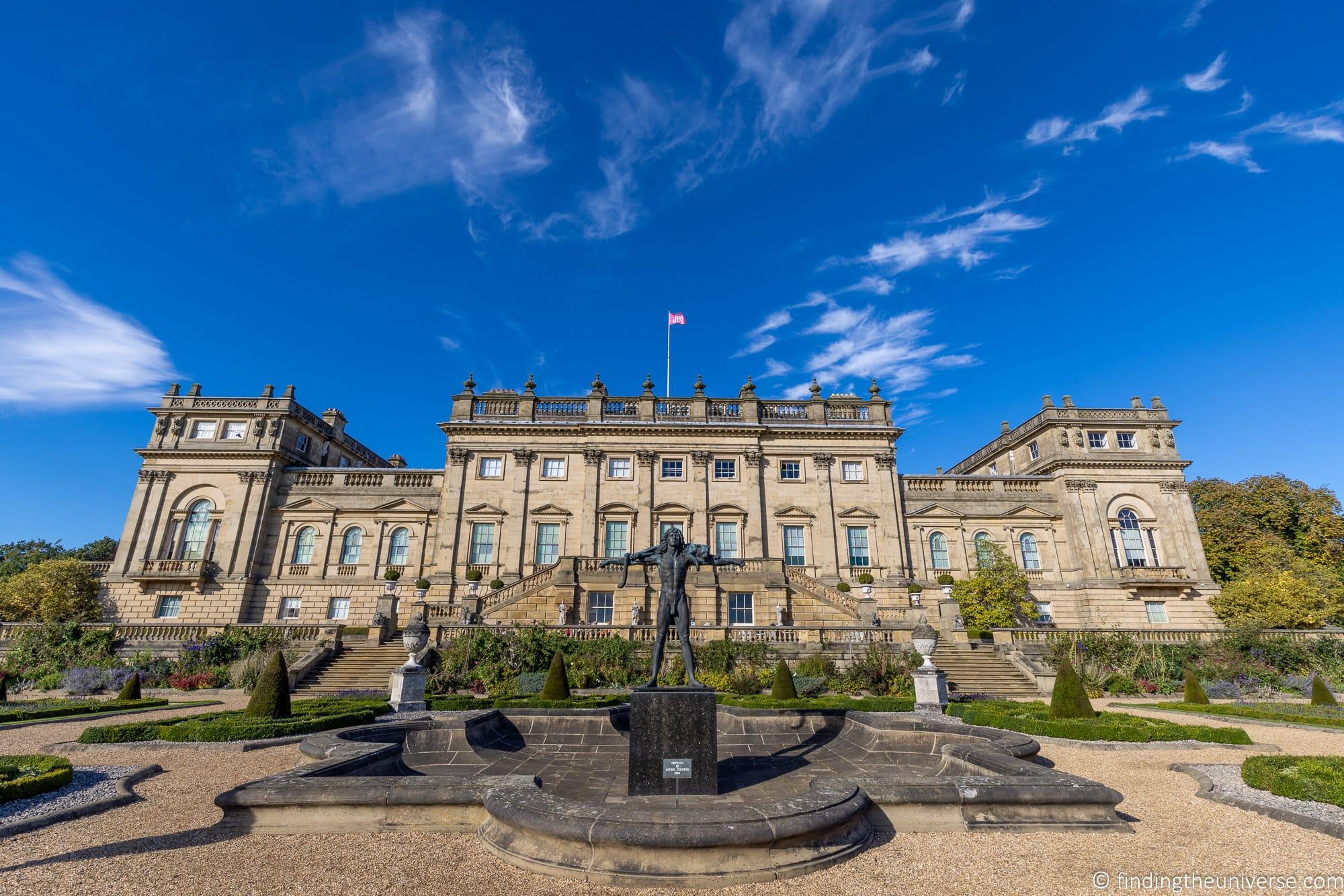 Where to Stay in York
York has a wide range of accommodation options ranging from hostels and apartments through to high end hotels, and everything in between.
Our recommendation for York is definitely to stay near to the centre so you are within easy walking distance of all the sights, restaurants and attractions. We've put together some recommendations for York across all budgets. These are approximately ordered by price, however do check for your dates as prices vary.
If you're looking for an apartment, we recommend the Plum Guide. They offer a selection of curated properties that have to meet a high standard to be listed, and we've always had a positive experience when we've stayed with them. See their listings for York here.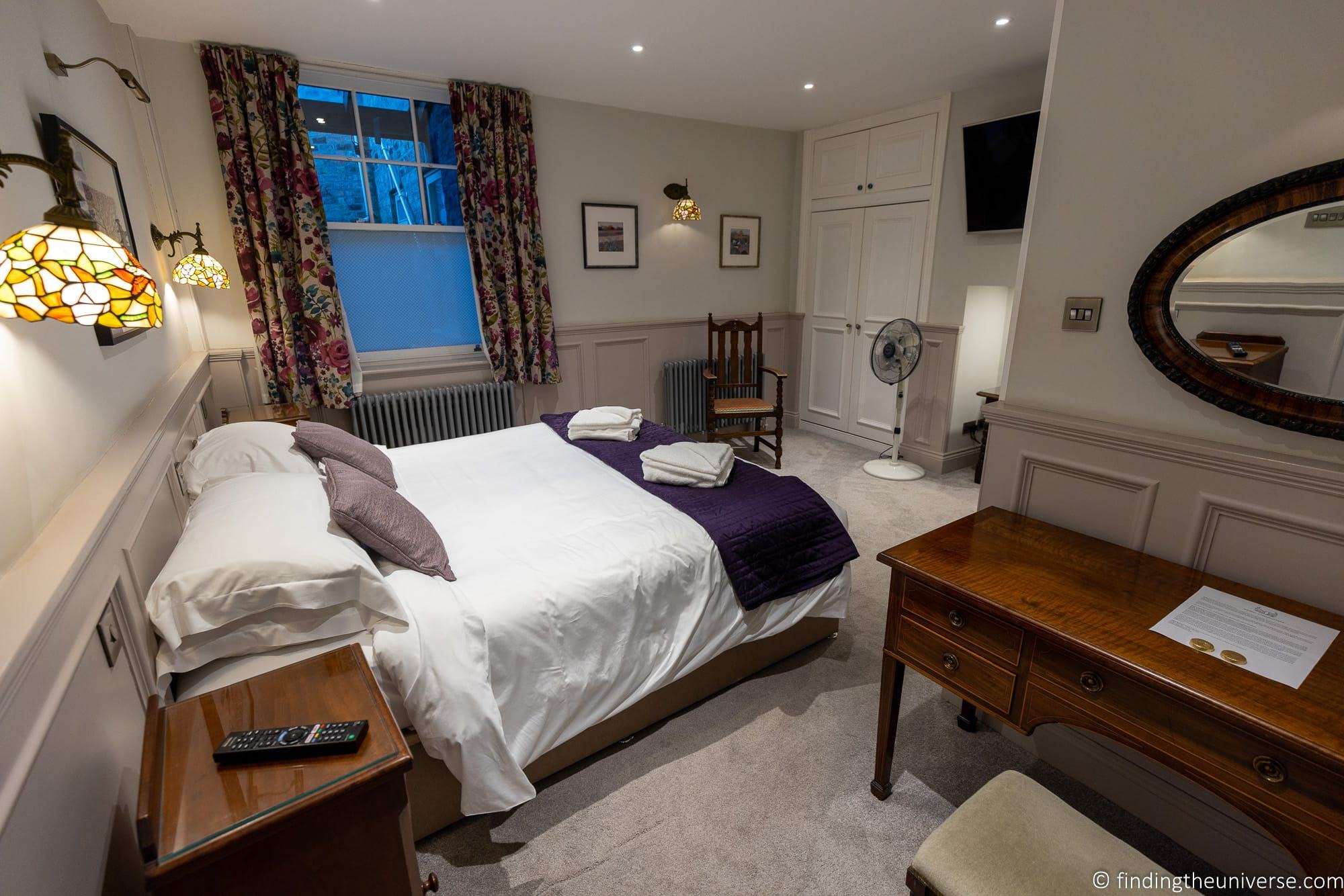 How to Get to York
York is a well-connected city which is easy get to from around the UK.
First, you can of course reach York by car. If you opt for this option, make sure to check the parking options at the hotel you choose, as parking can be tricky to come by. If the hotel doesn't have parking, you might need to take advantage of the park and ride options into the city. Once you're in York, you are unlikely to need a car.
York is around a 4-hour drive from London, 90 minutes from Manchester, 45 minutes from Leeds and four hours from Edinburgh.
Another excellent option for reaching York is to take a train. York is on the east coast mainline, with fast train services linking it with the rest of the country. London is just under 2 hours away by train, and Edinburgh is around 2.5 hours by train from York.
You can check train times and book tickets online in advance here. With rail tickets, booking in advance is nearly always going to land you the best deals.
You can also travel to York by long-distance bus, although this will take a bit longer and so might not be suitable for a weekend trip. From London to York is between 6 and 7 hours by coach for example. You can check times and prices on National Express here and Megabus here.
York doesn't have an airport. If you want to fly to York, the closest airport is Leeds Bradford Airport, which is around 30 miles away. This offers domestic and some international flight connections.
How to Get Around York
York has a compact city centre which is very easy to get around on foot. Most attractions are within 20 minutes' walk of each other in the city centre, so getting around on foot is usually our preferred option.
Of course, there are other options for getting around the city centre, including public buses and taxis. iTravel York is an excellent resource for route planning, with everything from walking maps to cycle maps to information on parking.
Another good option for getting around the attractions in York, as well as learning about the sights, is to take a hop on hop off bus tour. You can buy tickets for these individually here, and there are also Hop on Hop off bus tours included as part of the York City Pass.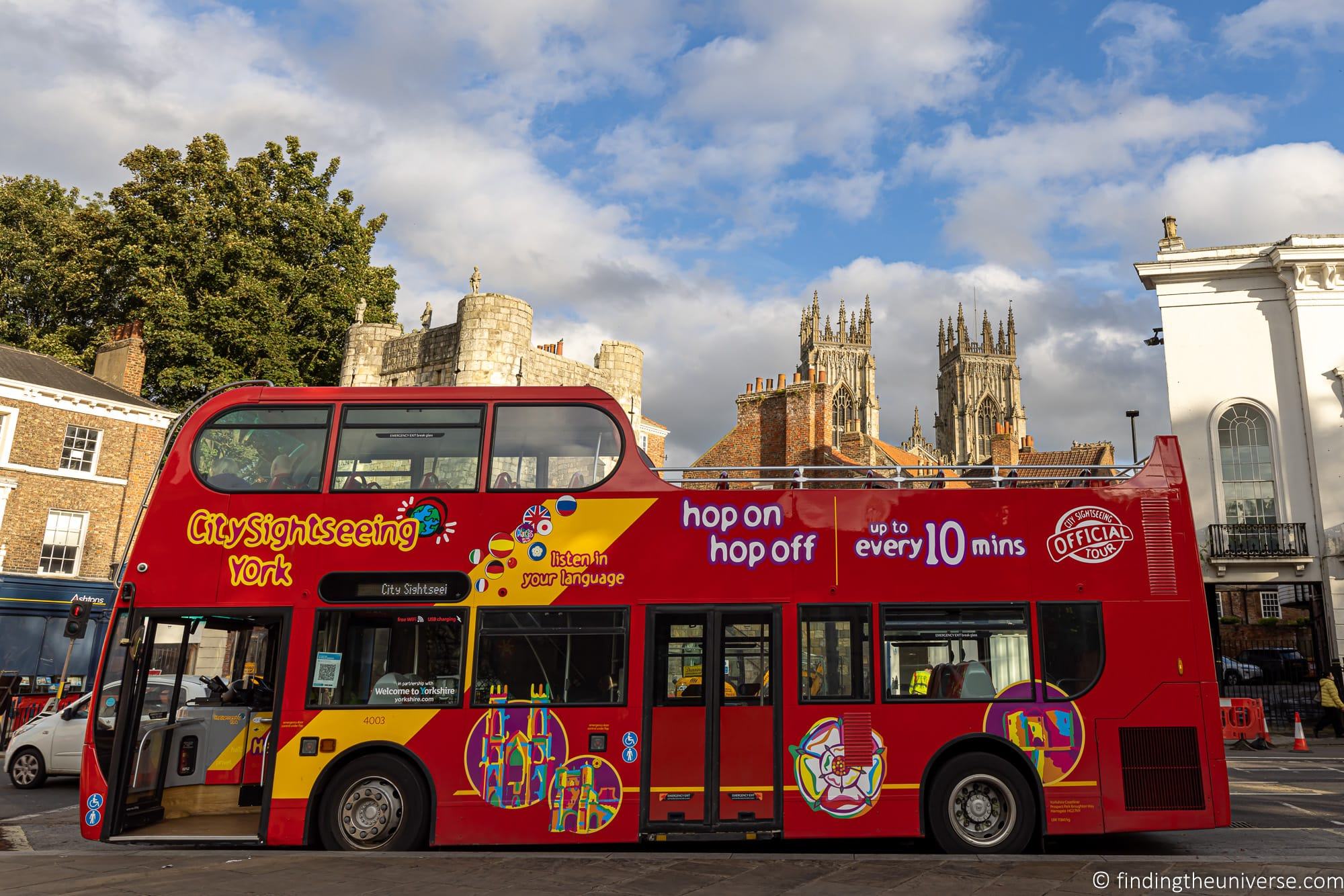 York Sightseeing Passes
When we visit a city, we always check if there's some kind of sightseeing pass that includes the attractions we want to visit. If so, we will invest in the pass if it's going to save us money, which is often the case.
For York, the only pass available that we were able to find is the York City Pass. This includes more than 40 attractions and activities in the city and beyond, as well as some discounts and even some food. The pass is available for one to six days.
To decide if a pass like this will save you money you need to look at the attractions you plan to visit, the costs of those, and then compare the total cost to the pass cost.
For our itinerary for example, the following attractions are currently covered by the York City pass. This covers nearly every attraction and activity we recommend (note that inclusions can change, see full list of attractions here):
York Minster
Yorkshire Museum and Gardens
City Walls Experience
Bar Convent Museum (optional)
Railway Museum Road Train
River Cruise
York Castle Museum
Clifford's Tower
Jorvik Viking Centre
York Cocoa Works
24 hour sightseeing bus ticket (optional)
If you paid individual adult entry to all these attractions, it would cost around £112.
If you did all the attractions but skipped the Sightseeing bus, you're looking at around £96.
The pass also includes lots of other attractions as well.
A two-day York City pass costs £75 as of April 2023, although it can sometimes be found at a discount. So you are looking at good savings if you plan to visit a number of attractions. It's also available for longer and shorter durations, as well as in a child version.
We recommend checking what the pass includes and comparing the inclusions to what you plan to visit. Then you can decide if the York City Pass is good value for your trip.
You can buy the York City Pass on the official website for the pass here.
In addition, you can sometimes get the York City Pass with a discount. We recommend comparing the price on Tiqets here, GetYourGuide here and the official website here to see if there are any offers.
Further Reading
That's it for our guide to spending two days in York, perhaps over a weekend or perhaps not. We hope you found it useful. Before you go, we wanted to share a few of our other guides to help you plan your trip to York as well as the rest of the UK, as well as some third party resources we think you'll find useful.
And that's it! Have you ever visited York? Do you have anything you'd add to the above? Just let us know in the comments below!