I wanted to put together a brief guide to hiking Suilven in Scotland as this is a very popular hill walk in the northern Scottish Highlands. The hike can be done on your own or with an experienced local guide, and I just recently came back from doing this hike.
If you've read our content on Scotland, and the North Coast 500 road trip in particular, you've probably seen photos of a beautiful twin peaked mountain.
That mountain is Suilven, and it's found just south of Lochinver in the UNESCO listed North West Highlands Geopark. In a part of the world which is famed for its stunning landscapes and gorgeous mountains, Suilven still manages to stand out as an iconic mountain, largely because of the way it looks.
The steep sides and dual peaks give it a majestic look, and until you get close up, it looks to be almost unassailable for anyone without climbing gear.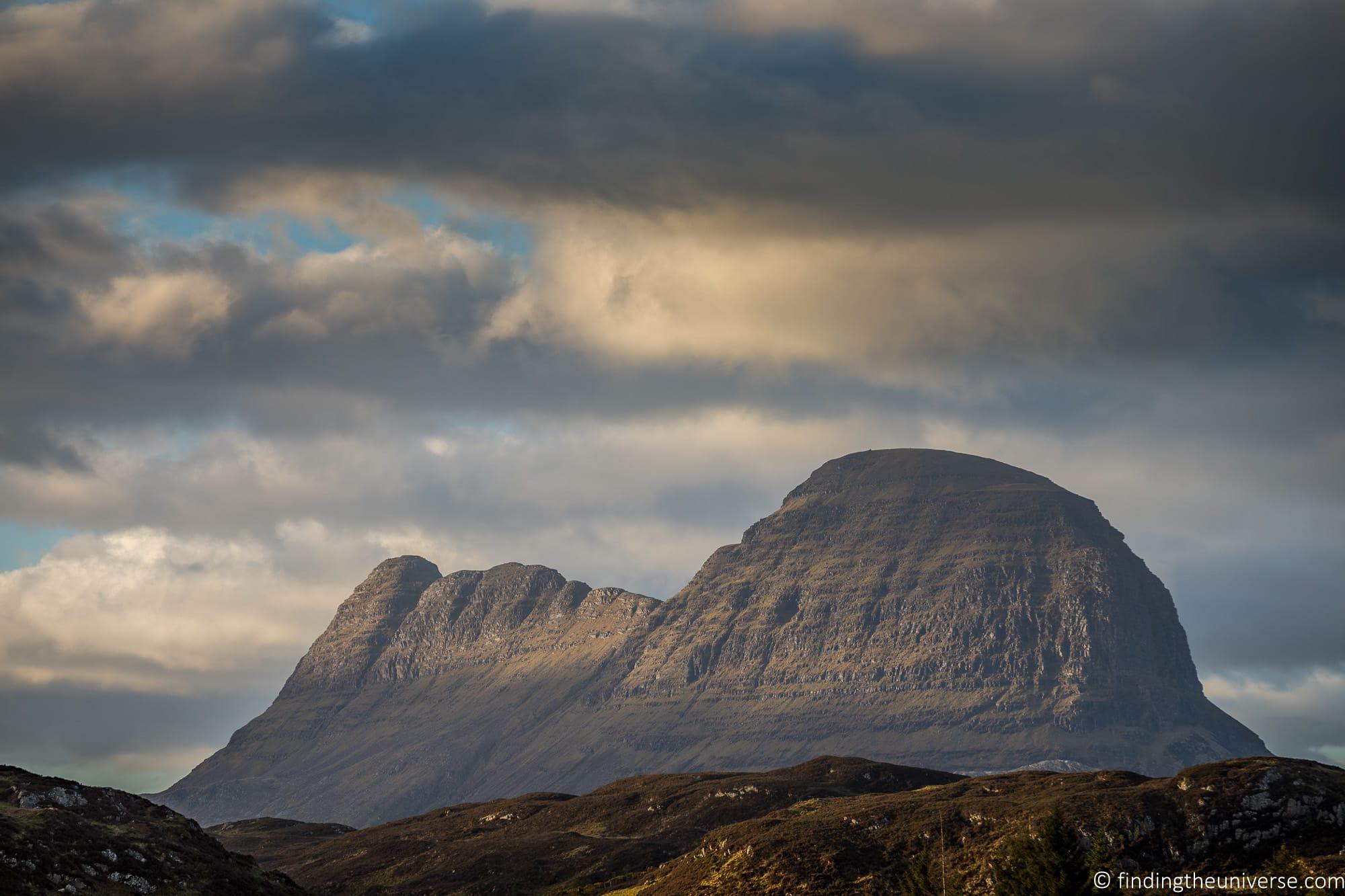 It is however definitely a mountain that can be climbed by any hiker with moderate fitness and a sturdy pair of hiking boots. That said, the final ascent to the top is definitely a steep climb that will test your leg muscles!
However, before I get into our personal experience climbing Suilven with Hamlet Mountaineering, I wanted to share some general tips on hiking Suilven. You can, of course, hike Suilven on your own or you can do it with a guide.
How to Hike Suilven
Suilven is located in the northwestern Highlands of Scotland near the town of Lochinver. It is located within the Assynt area of Sutherland and is part of the large North West Highlands GeoPark.
Suilven is 731 metres or 2,389 feet in height. This means Suilven doesn't qualify as a Munro if you are a Munro-bagger as Munros are classified as mountains over 3,000 feet in height.
However, despite its lack of Munro status, it is considered as one of the best day hikes in Scotland by many hikers and is a very popular hiking destination.
Where is the starting point for the Suilven hike?
The most common starting point where most hikers start is just outside Lochinver. There's a small walkers car park on Canisp Road (here on Google maps) which is on the road out to Glencanisp Lodge.
If this car park is full (it's quite small and often full unless you arrive early), you'll have to walk the half mile extra from Lochinver itself where there is more parking available.
There are other options for hiking Suilven, including tackling it from the south side starting at Inverkirkaig. You can also do the longer "Suilven circuit" where you start in Lochinver or Inverkirkaig, ascend the north side, descend the south side and return via Lochinver or Inverkirkaig.
Alternatively, you can kayak or canoe to near the base, starting near the village of Elphin and crossing Loch Veyatie. From the shores of Fionn Loch you are then well placed to tackle the south side of the mountain. This was the option we took for climbing Suilven.
How far is the Suilven hike?
From the carpark just outside Lochinver it's a 12.5 mile or 20 km round trip. If you hike from Lochinver itself, add another mile / 1.6 km to that walk.
If you choose to do the Inverkirkaig version of the hike, this is around a 13 mile or 21 km round trip. This has you following the path to the pretty Kirkaig Falls and then continuing along a loch. This route can sometimes be boggy and tends to be the less popular option.
Finally, if you do the full loop, including Lochinver and Inverkirkaig, you're looking at around a 16 mile or 26km hike.
How long do I need to hike Suilven?
The most popular option for hiking Suilven is as a day trip. This is usually done from near Lochinver (12.5 miles / 20 km round trip hike), and is a long day hike that takes most hikers between 7 to 10 hours. You'll want to start early in day to ensure have enough time and ideally finish in daylight.
The route from Inverkirkaig is roughly the same distance, but as the path is not so popular and it can be boggy, it can take longer.
Best place to stay before or after Suilven hike?
Before and after hiking Suilven, we'd recommend staying in or near the town of Lochinver.
If you're looking for overnight accommodation for your hike, Glencanisp Lodge was traditionally a popular hiker friendly option found on the trail out, however this is being refurbished and isn't due to reopen until Easter 2022 according to the official website. So you'll want to find another option in Lochinver (check listings here).
Note that for evening meals at restaurants in Lochinver, it is often best to book reservations in advance.
If you are doing the south side hike and canoe with Hamlet Mountaineering (as we did), you might want to also consider staying in or Ullapool instead ( see accommodation options here). We stayed in the well rated Harbour House in Ullapool before our trip.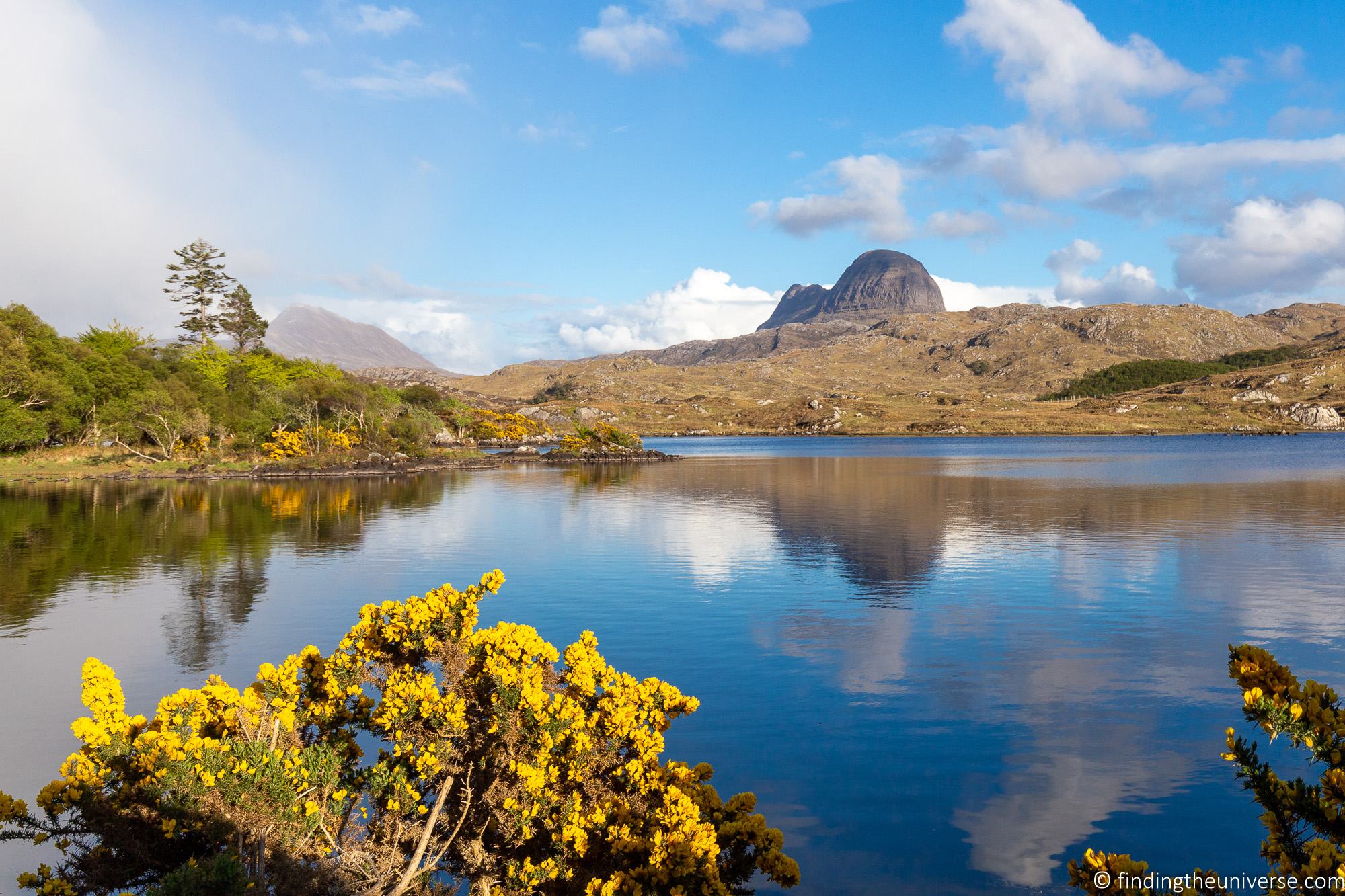 When is the best time of year to hike Suilven?
We'd only recommend doing this in the milder months unless you are a particularly experienced hiker or hire a guide, as in winter the mountain will be icy. Your best bet is likely to be from April to October.
How fit or experienced do I need to be to hike Suilven?
This is definitely a long day hike with some steep sections in a remote part of the world. You will definitely want to be moderately fit. The path is well marked and easy to follow, but the weather conditions can change dramatically, so you will want to be fully prepared for all conditions.
You'll also want to make sure that you let someone know where you are going and when you expect to return, and don't expect to get phone signal for most of the hike as there aren't many mobile cell towers in this part of the world.
When we hiked with Tim he had a full setup, from an emergency locator beacon through to a survival tent should we have run into difficulties, which was definitely good for peace of mind.
Does Suilven require any climbing expertise?
The main route from either side does not require and climbing expertise. However, it can be a steep path in places. In winter it is very likely to be icy, so if you plan on climbing Suilven in winter you will definitely need to bring appropriate equipment.
Do I need a guide to hike Suilven?
No, you can hike Suilven on your own, or you can do it with a guide. Although given this is a long full day hike in a remote area, we do recommend going with a hiking buddy if possible.
Local guides can also be hired to assist you with planning, guiding, and for their local expertise. We went with a guide from Hamlet Mountaineering as it allowed us to be able to canoe, camp overnight, and be able to approach from the south side without bringing much of our own equipment. This also allowed us to do the hike well away from the crowds as relatively few hikers approach from this side.
What should I pack for hiking Suilven?
The main things you are going to want to bring will include:
Where can I find guidebooks and resources for hiking Suilven?
You can see a more complete hiking guide for the hiking route from Lochinver on the Walk Highlands site here. It's also included in several Scottish hiking guides including this guidebook to Scotland's best hill walks.
Our Experience Hiking Suilven
My brother-in-law was visiting from the USA, and one of his wish list items for our trip around the UK was a hiking and camping trip somewhere scenic. Naturally, the first place that sprang to mind was the northwest coast of Scotland. A friend of mine who lived in Scotland also was interested in joining us.
As we were doing this as part of a longer trip, we decided that hiring a local expert to handle all the logistics of the trip was going to be a lot easier than doing it ourselves.
I chose to contact a company called Hamlet Mountaineering. This is run by a friend of mine, Tim Hamlet. Tim offers a range of custom hiking, climbing, canoeing, and kayaking trips all over this beautiful part of the world. On previous tours of Scotland we've done some shorter day trips with him, including sea kayaking and loch canoeing.
I dropped Tim an e-mail and asked if he could put together an overnight trip which involved some hiking, a picturesque mountain and perhaps some canoeing. He recommended a two day / one night trip which included canoeing across a number of lochs, camping overnight in the wilderness, and summiting Suilven. That sounded perfect to us, and we booked.
Per person, we each paid £275 for our trip (2020 prices which is when we booked) with Hamlet Mountaineering. That included all our food, camping equipment, canoes, etc. All we had to bring was a sleeping bag and clothing. A full list of suggested clothing was provided well in advance of our trip.
The night before the hiking trip the three of us taking the trip all met and stayed in Ullapool at the Harbour House hotel.
The trip itself started with a 9am meeting in Elphin, just a 20 minute drive from the town of Ullapool where we had spent the night. Here I introduced Tim to my brother-in-law and friend, and we got to packing our gear into dry bags and barrels for the first part of the adventure, a canoe across the loch.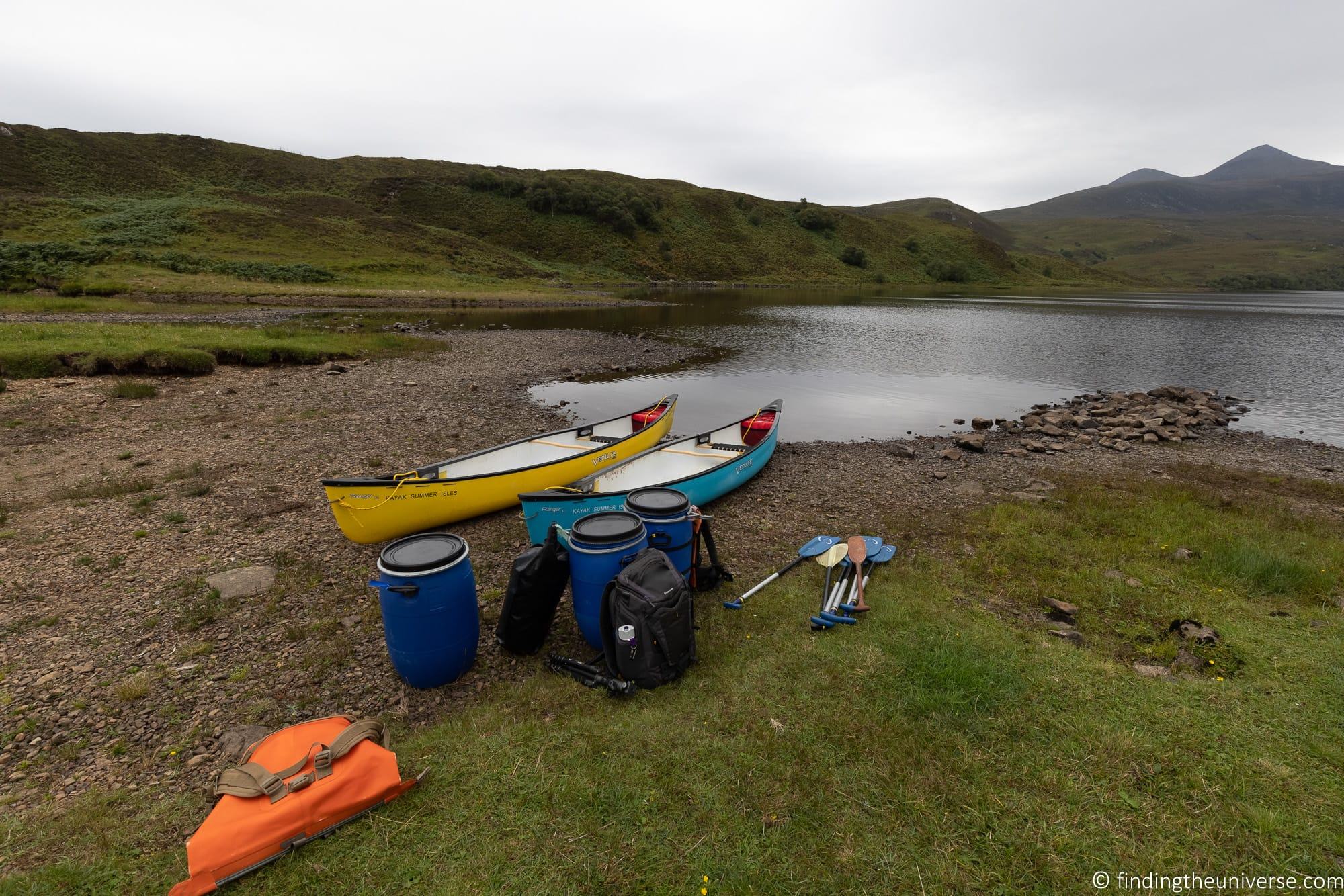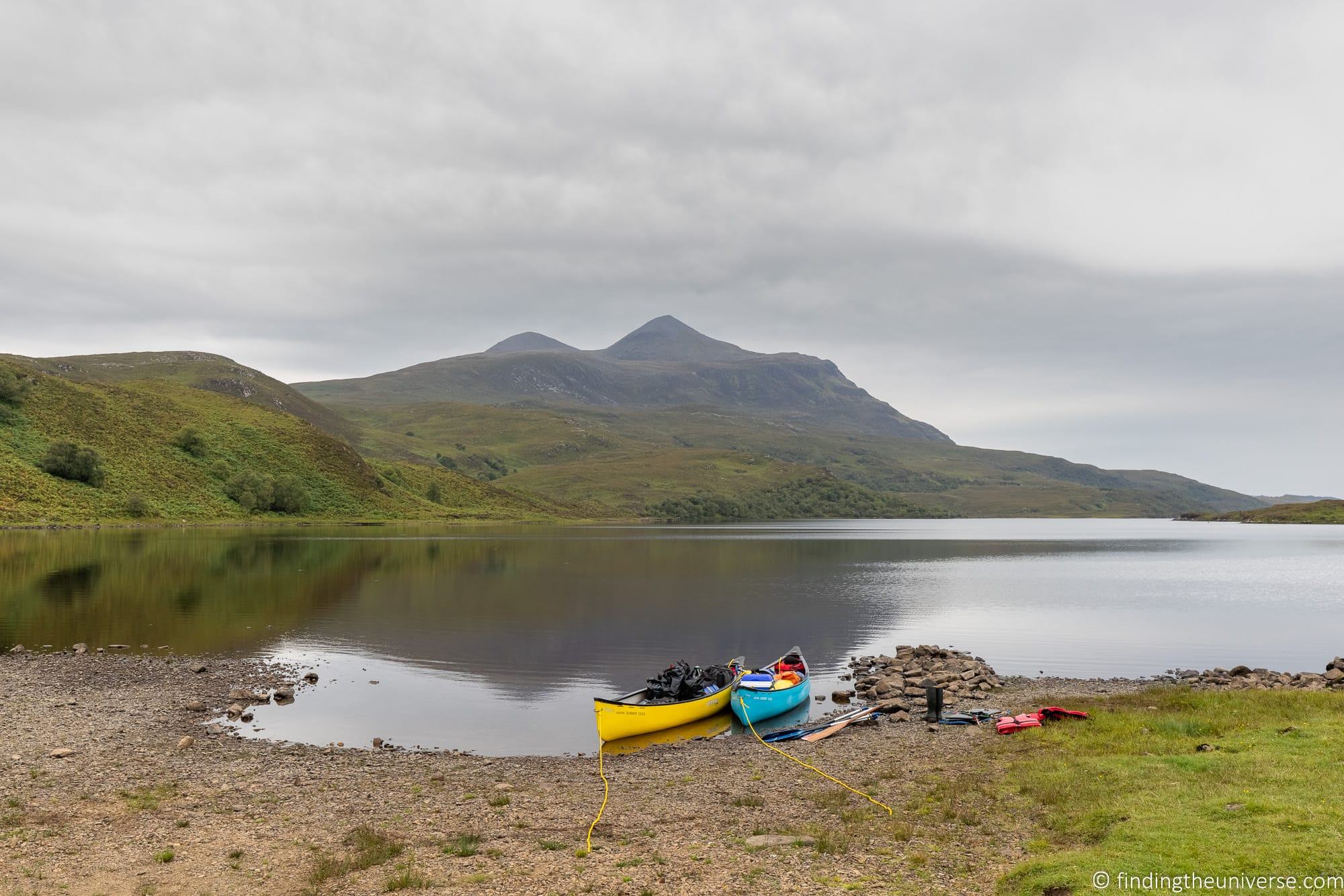 As there were four of us, we split into two canoes, which we loaded up with all the gear we needed for our mini expedition. That included our clothing and sleeping bags of course, but also all the food, drinks, tents, sleeping mats, etc.
Whilst we didn't have perhaps the sunniest of days, the rain and wind held off, and we had a pleasant two hours of paddling from one end of Loch Veyatie to the other. Despite visiting in the peak summer months, we only saw one other canoe on the Loch. It really felt like we had this part of Scotland to ourselves.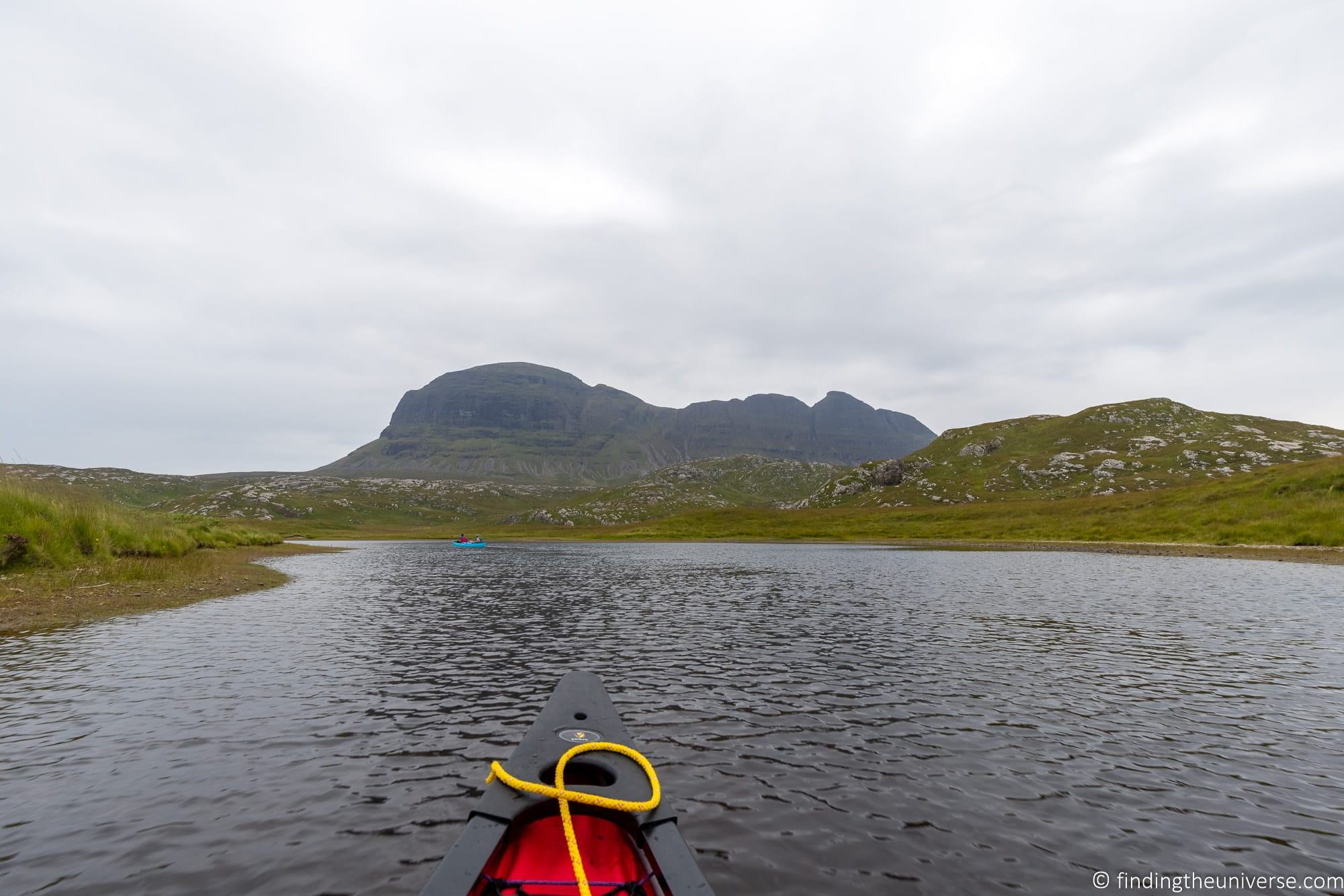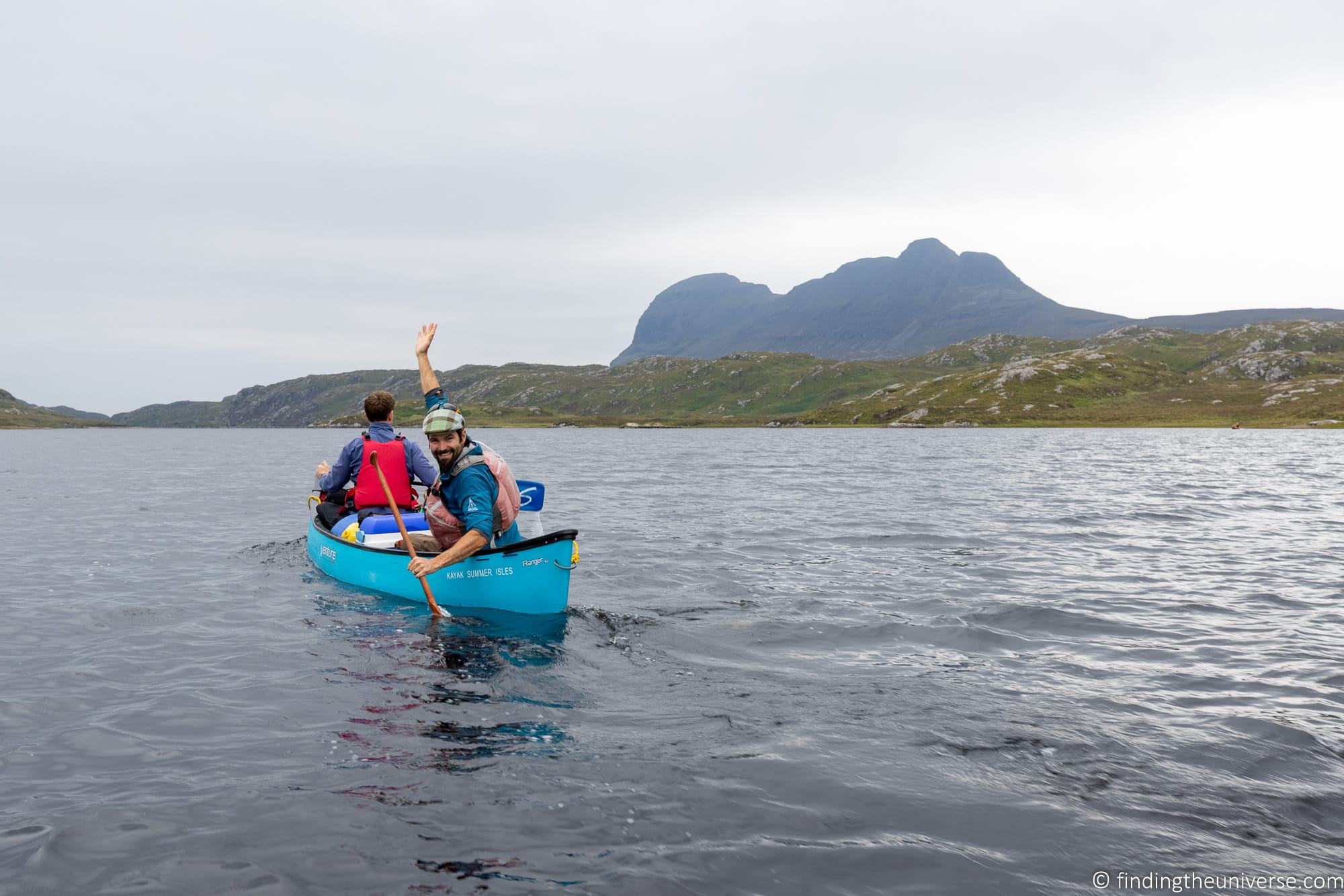 At the end of the Loch, it narrowed to a shallow river, and here we had to hop out of the canoes and float them down stream for a stretch, before reaching Fionn Loch.
Tim had a lovely spot earmarked for our campsite on the shores of Fionn Loch, and we set about putting our camp together. We each got a tent of our own, and then there was a large communal kitchen tent to share. This very quickly came in handy as the Scottish weather decided it was time for a sprinkle of rain.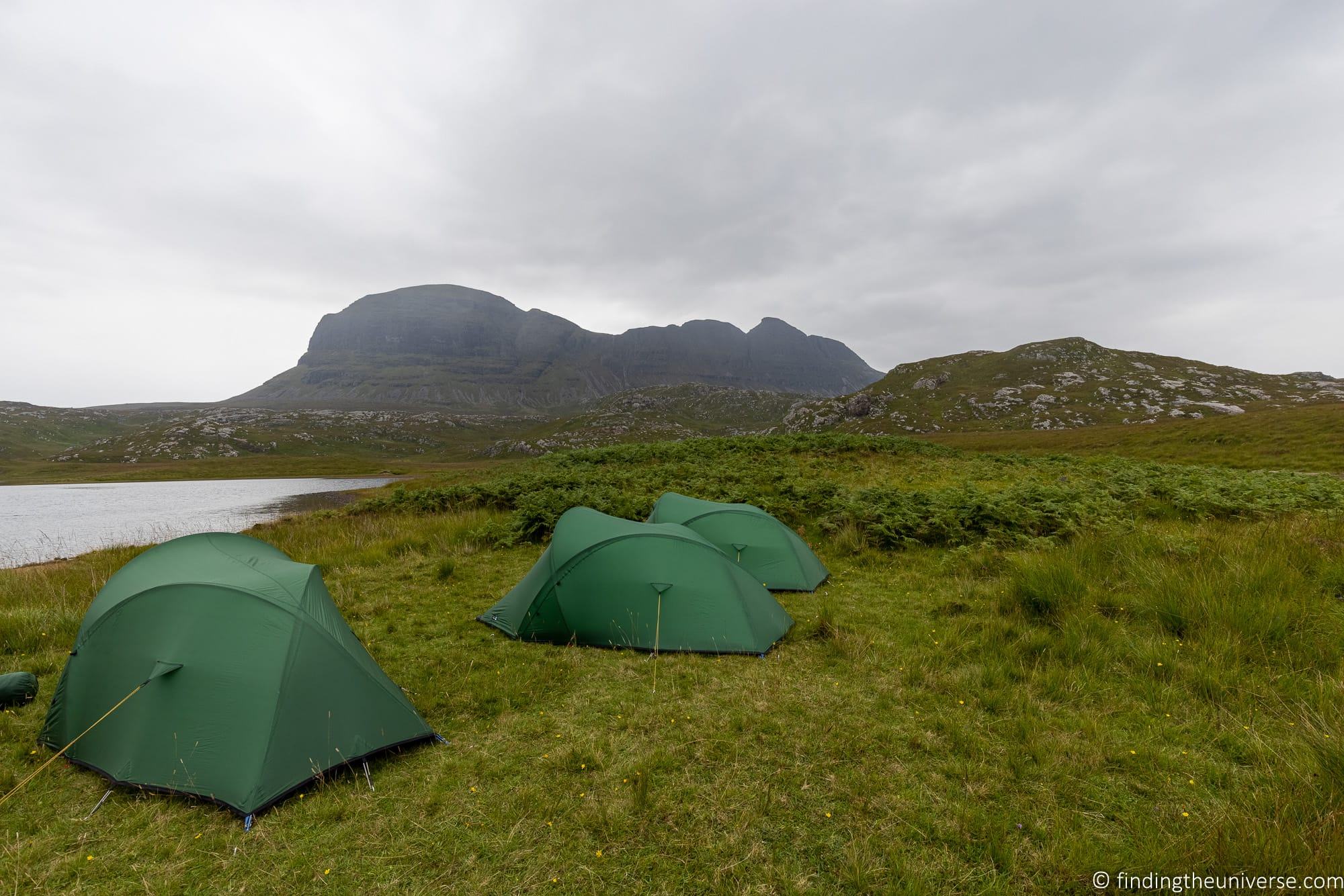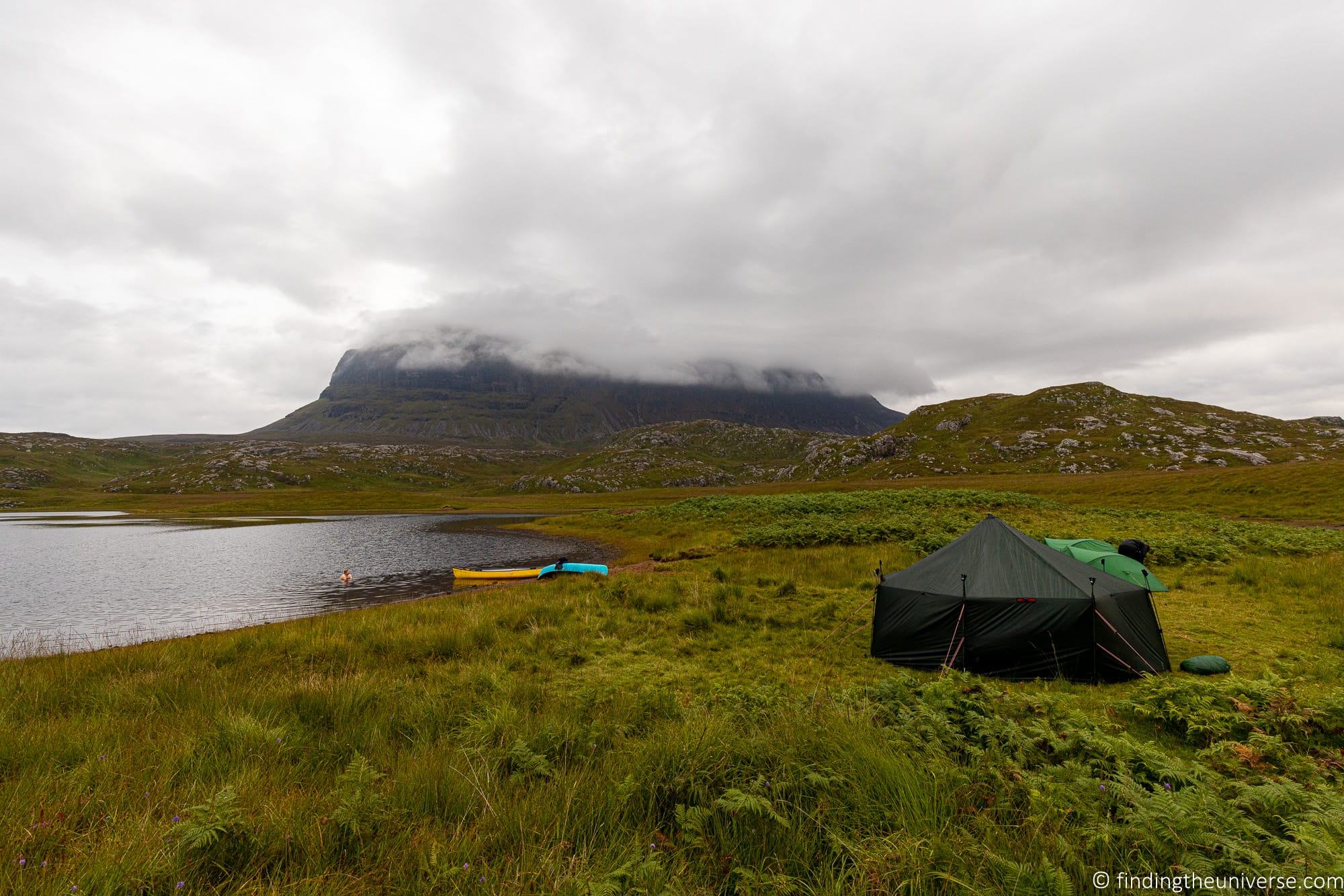 Once we had everything set up, we had a spot of lunch, which was definitely an improvement over the dried packaged foods I remember from camping trips in my youth. The advantage of a canoe is that it can carry a lot, and Tim certainly didn't skimp on lunch, with everything from locally sourced cheeses to wonderful meats which we put into tortilla wraps. This was all washed down with a nice cup of tea.
After lunch, we chose to brave the somewhat inclement weather and tackle the Suilven hike. On Tim's trips there's the option to do the Suilven hike the following morning if the weather is looking better, but as we had to be in Edinburgh the following evening for a specific time, we decided to do Suilven in the afternoon.
From our camp, it was a short canoe to the other side of the Loch, and then we set off up the side of the mountain. Now, this wasn't a particularly long hike (around 7km / 4 miles round trip), but it did certainly involve a very steep climb. Overall, it took us around 4 hours in total with lots of stops for photos.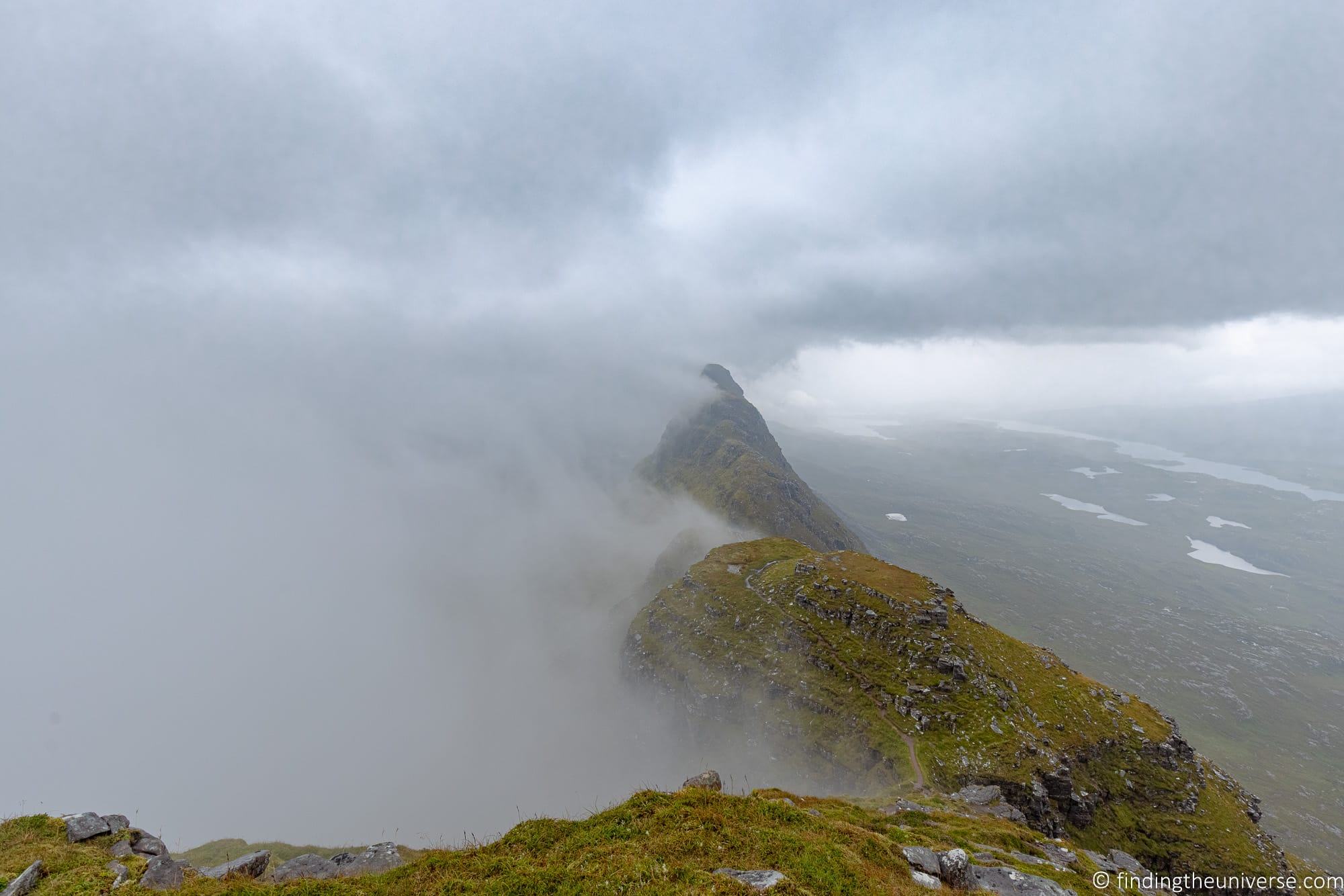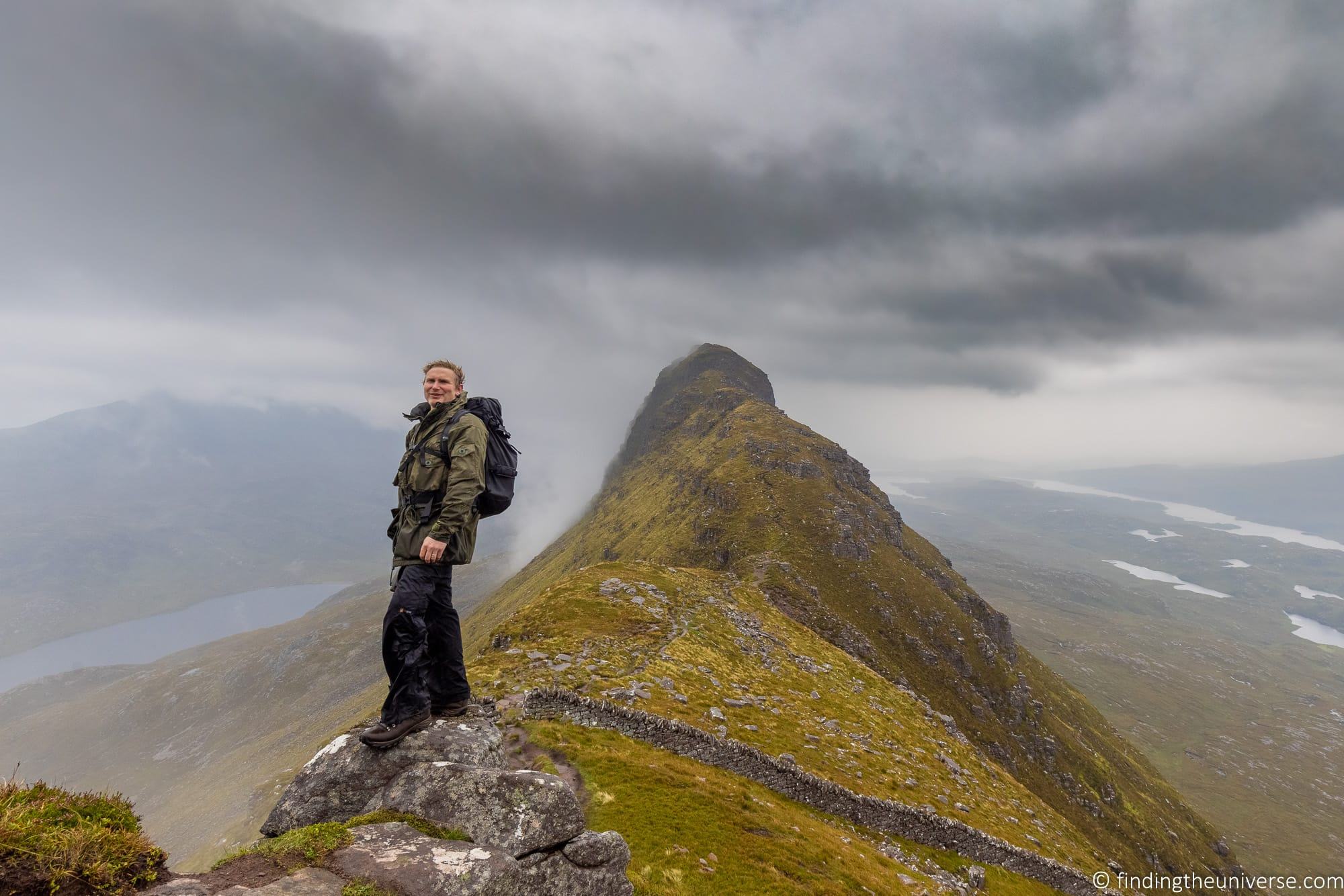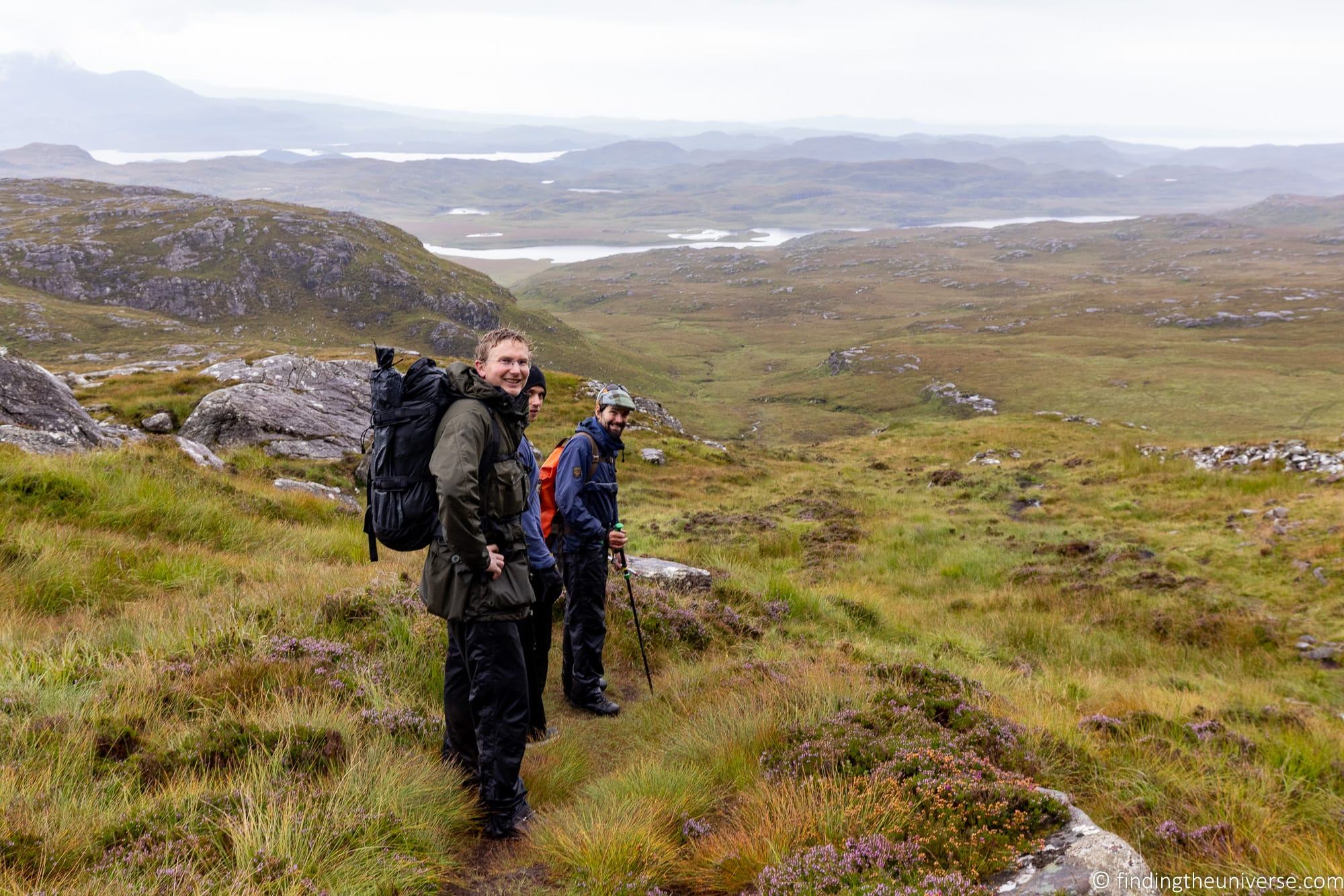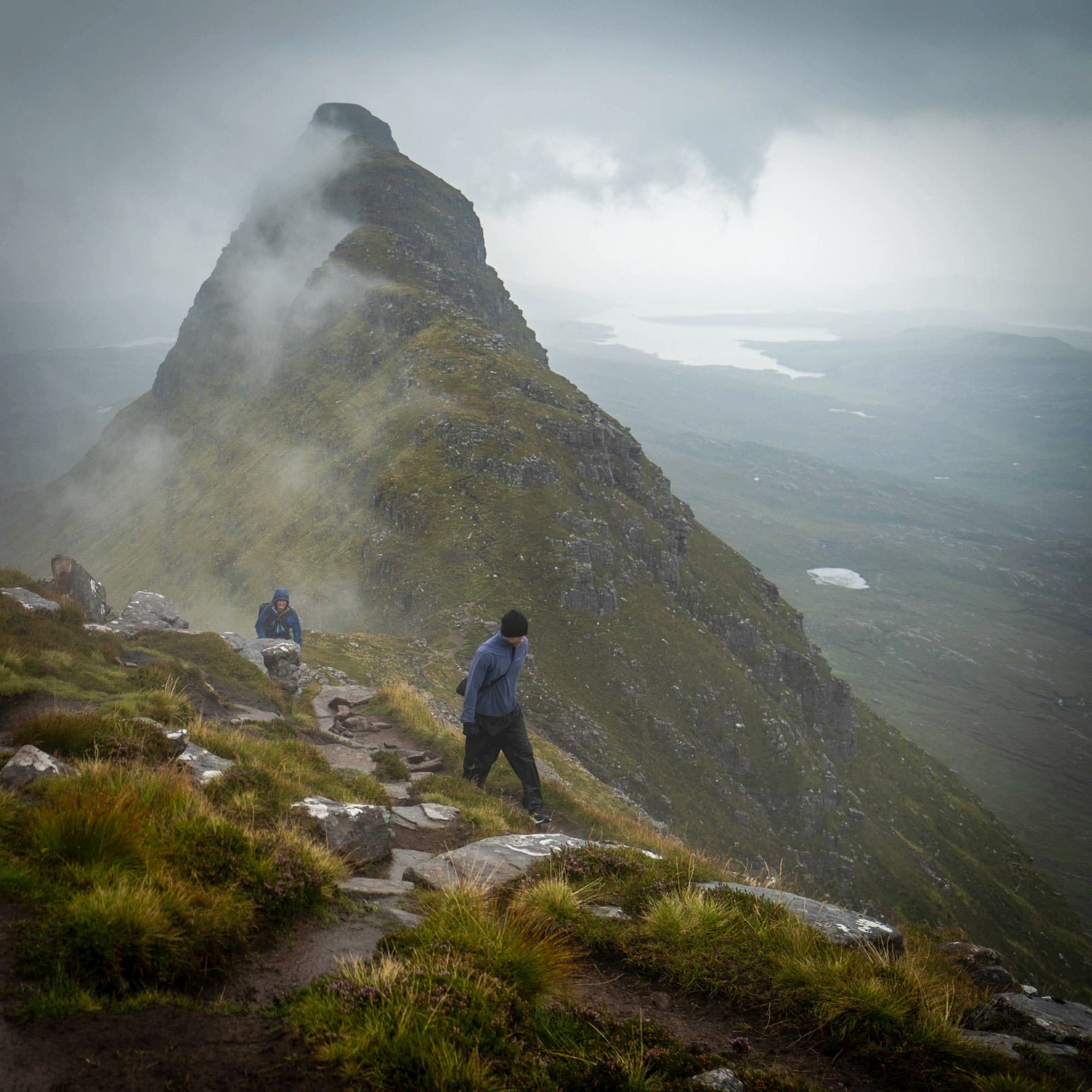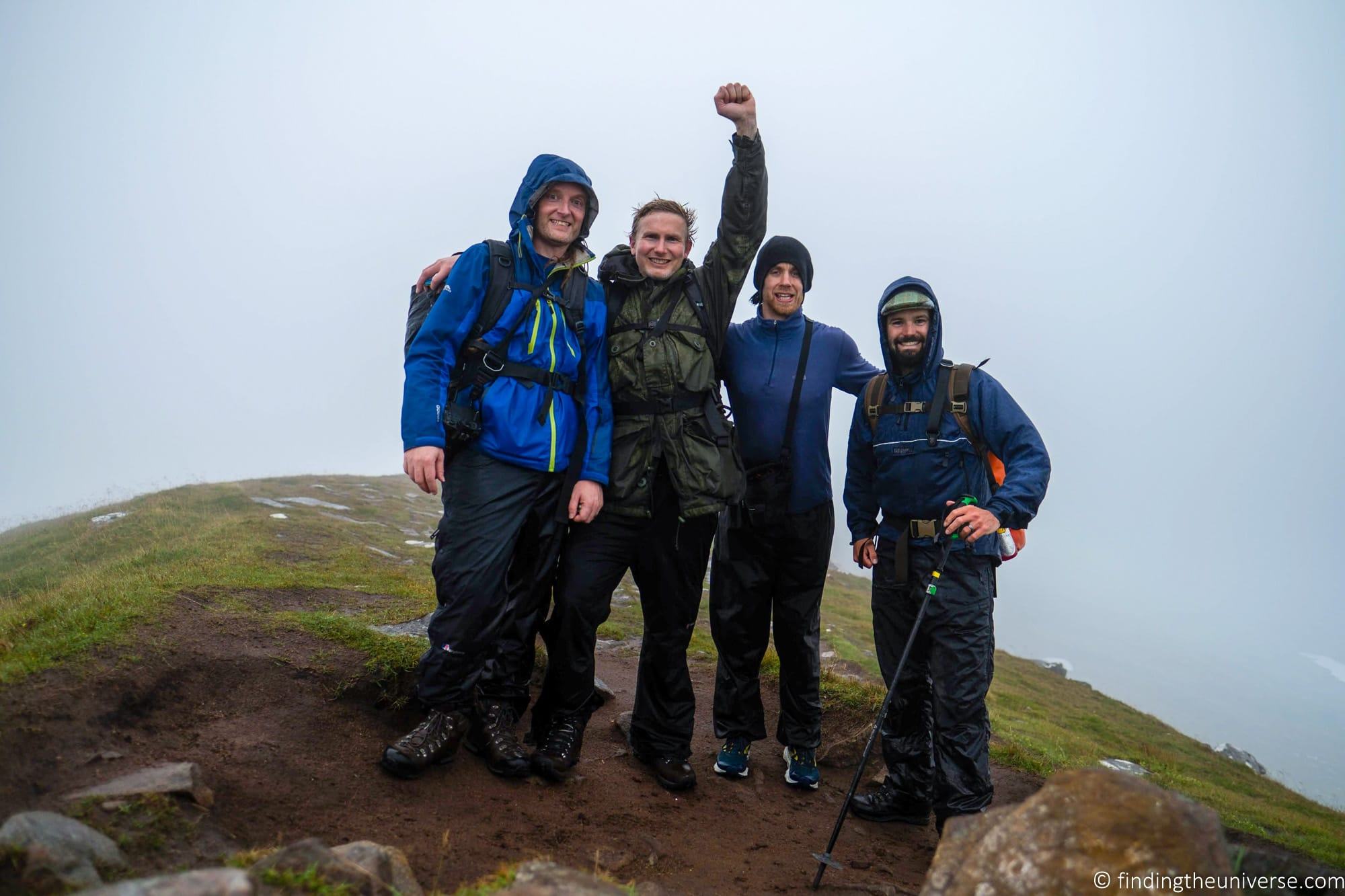 Photo credit Tim HamletThe weather was not exactly ideal, with a fair amount of rain to keep us cool as we climbed. However, there were breaks in the cloud cover, which cleared enough to offer us stunning views of the surrounding landscape. Then it was time for the descent, which was almost as hard as the ascent given the steep nature of the trail.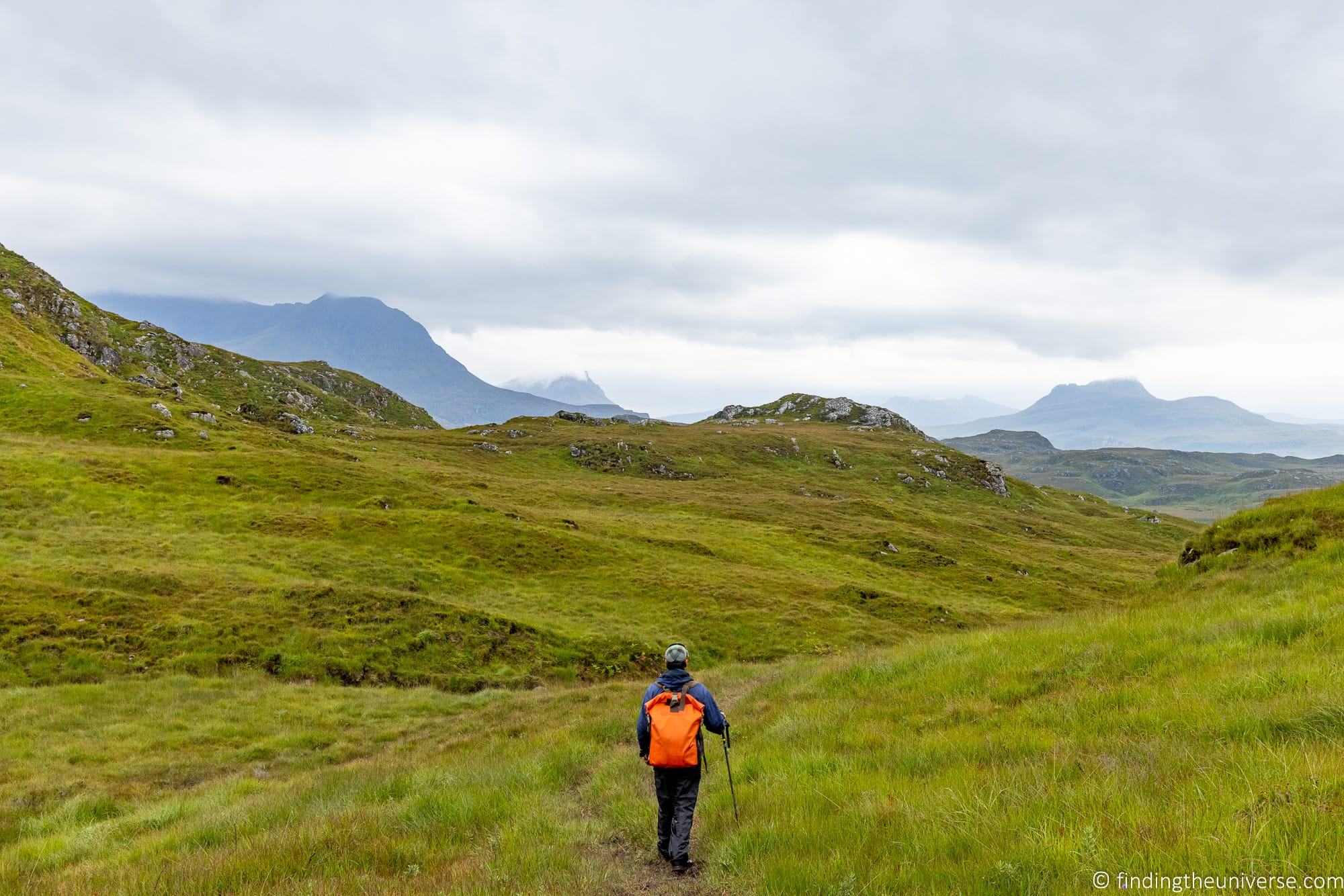 Still, we made it safely back down the hill, where the rain stopped. Back at camp, we enjoyed a slice of cake and some of the single malt whisky we'd brought along, before settling into an evening of chat and a mighty fine freshly cooked chilli.
The following morning dawned bright, and the sun even popped out for an hour or so to provide some wonderful photography opportunities. One of our party even took a refreshing swim in the loch before breakfast, which consisted of all the freshly made pancakes we could eat, topped with fresh fruit and butter.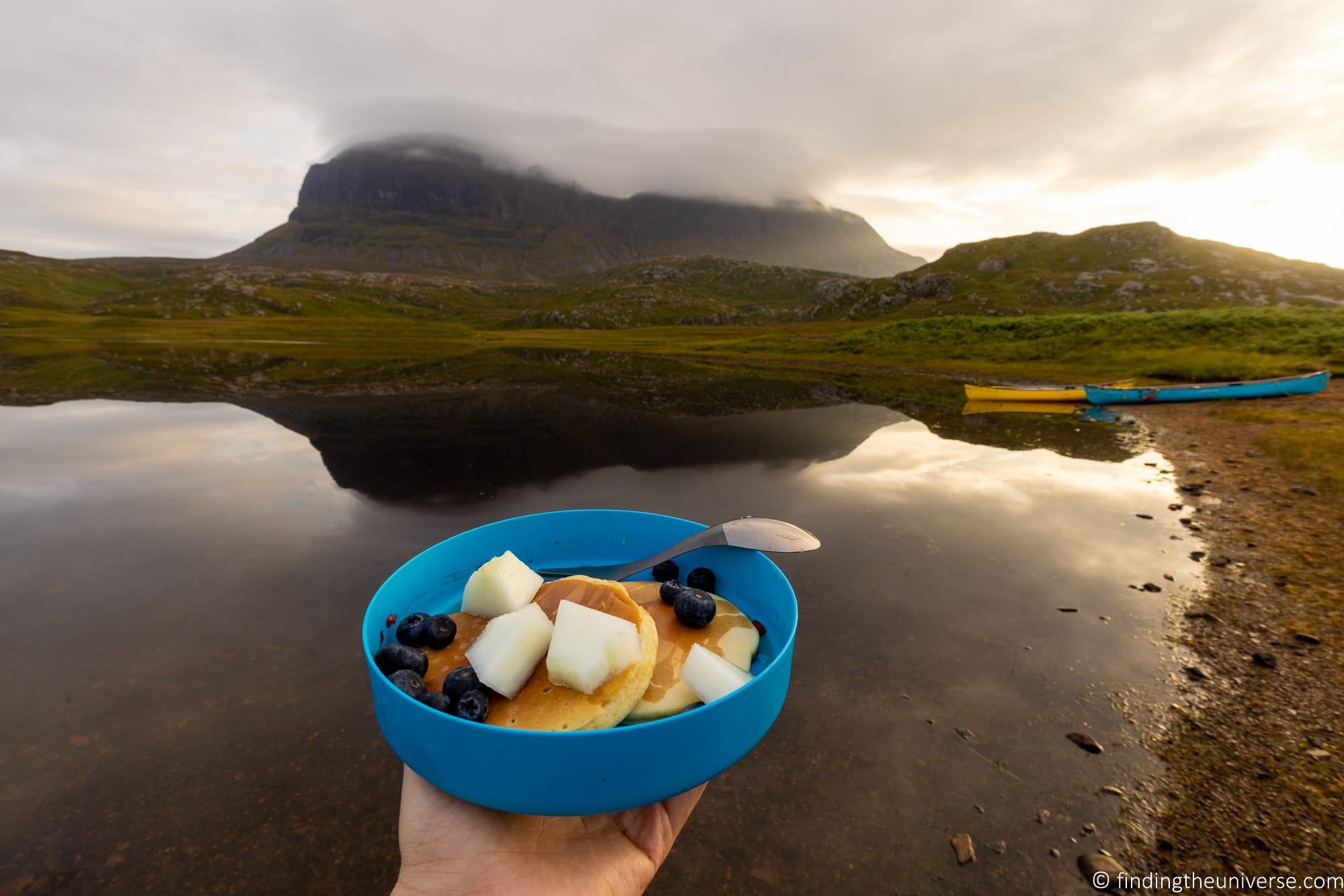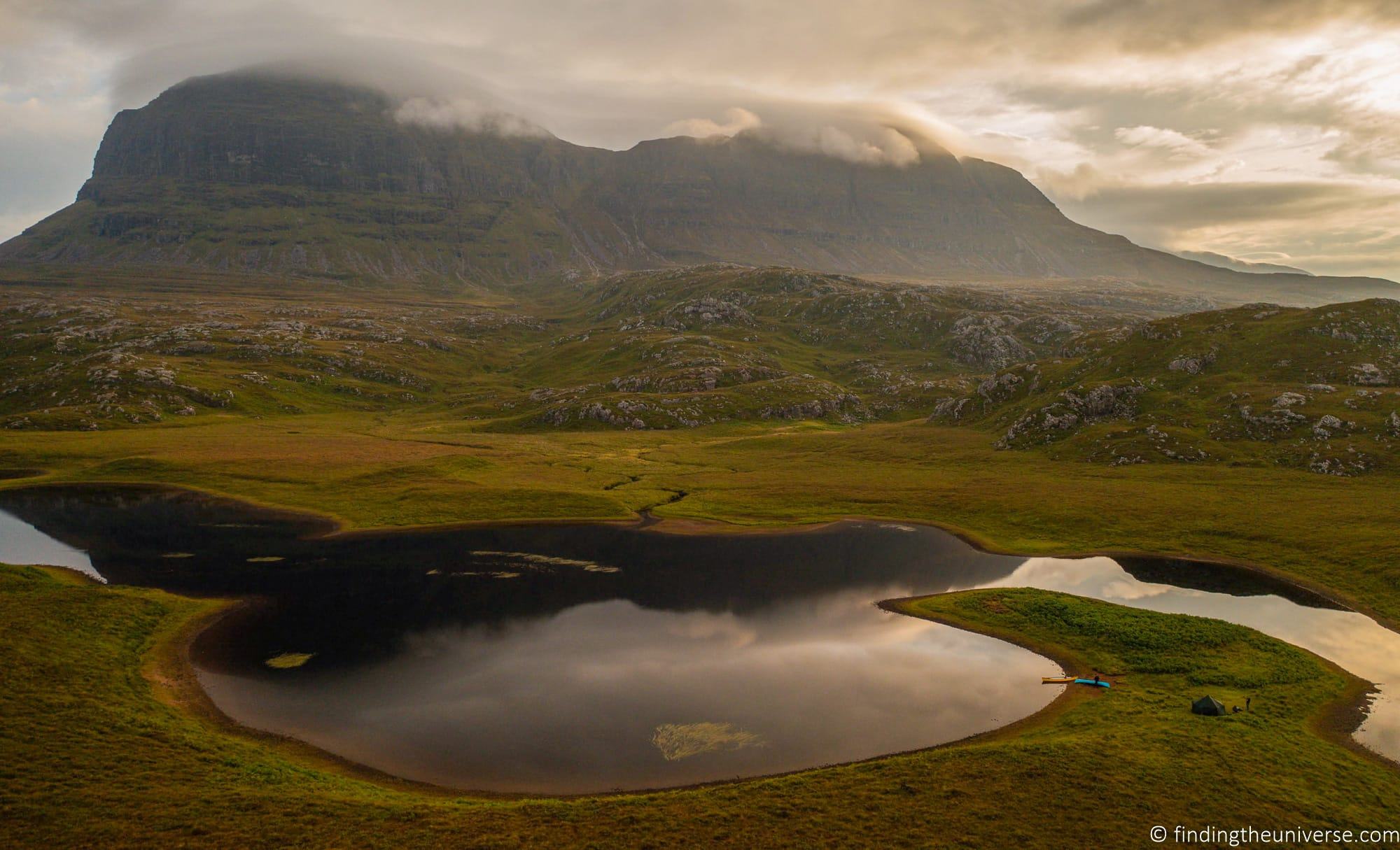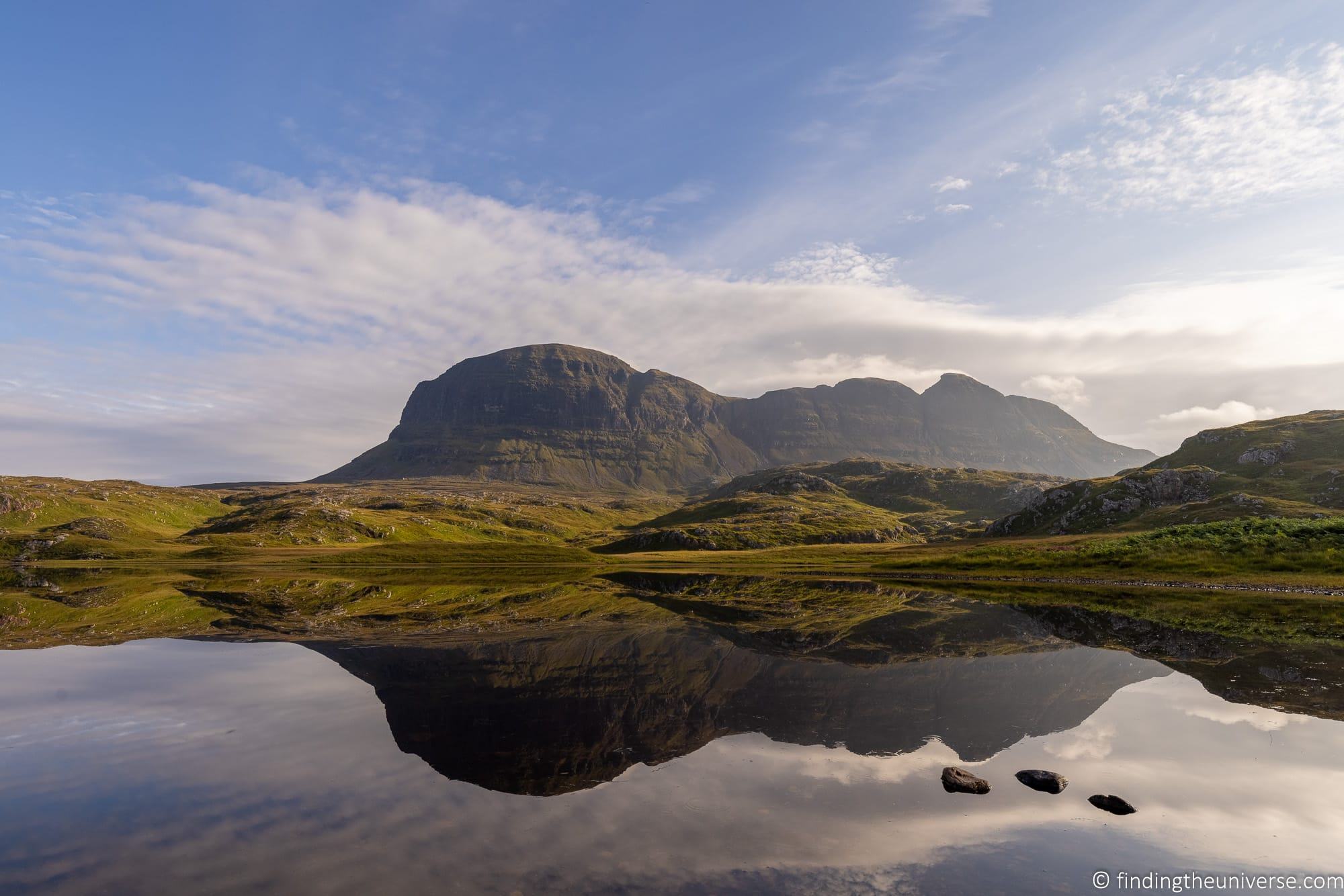 Breakfast over, and needing to reach Edinburgh by a certain time, we packed up camp and canoed back up the loch, mostly in the sunshine, to end our trip.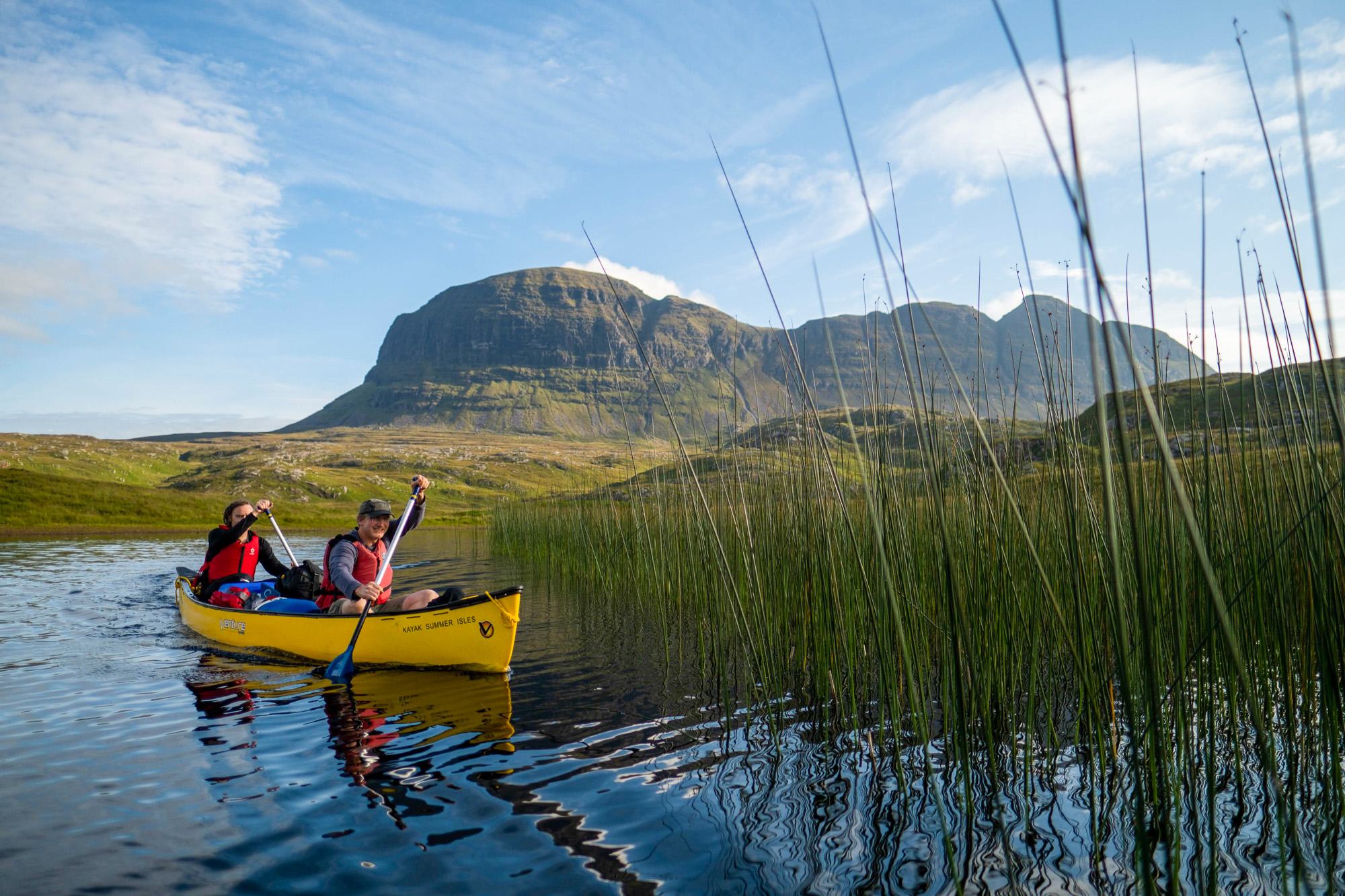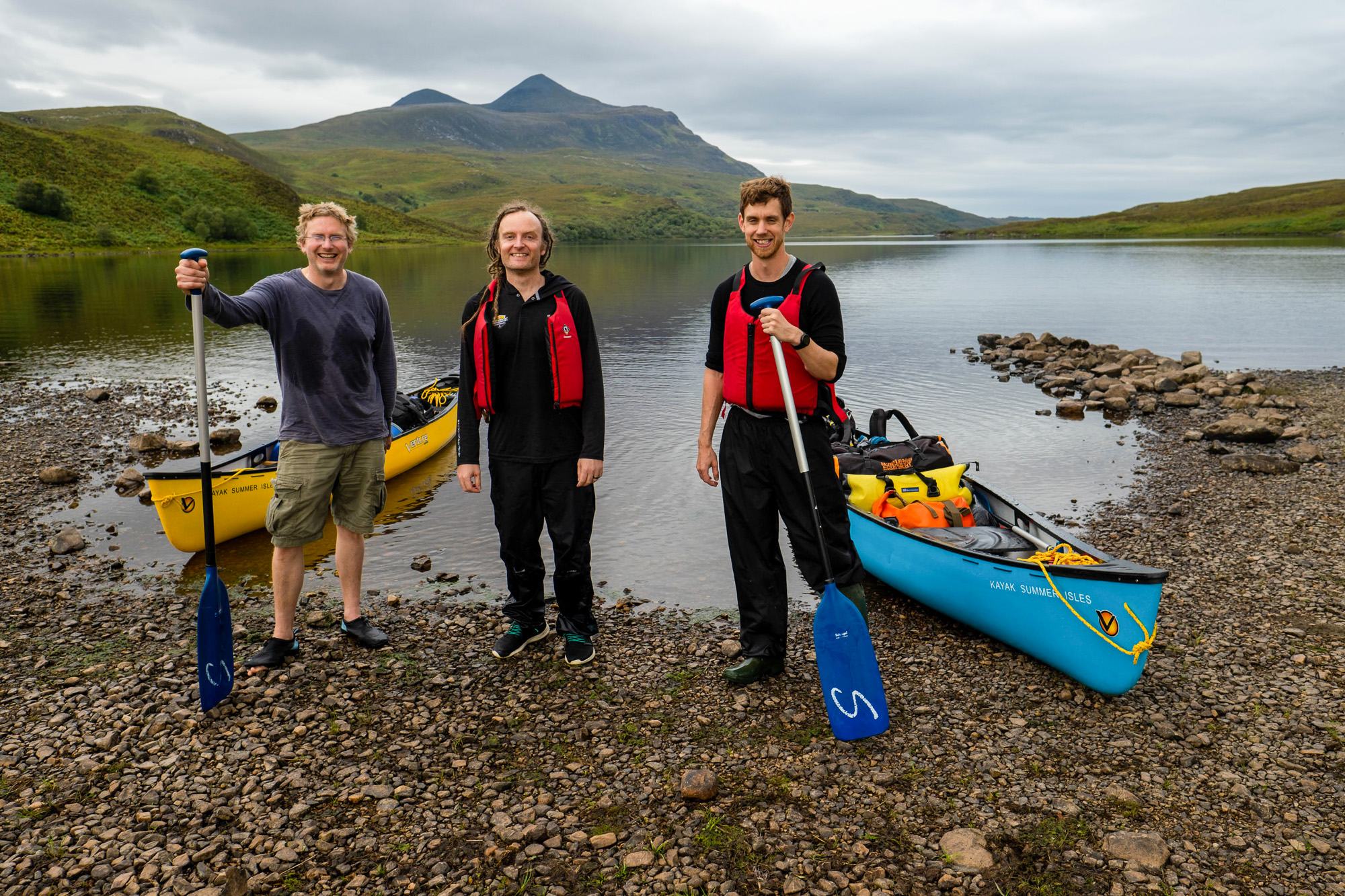 Overall we had a truly fantastic time with Tim, who went above and beyond to ensure everyone had a great experience. We also got to climb a mountain I've been keen to summit for a long time, and had a lot of fun doing it!
If you're looking for an amazing outdoor experience in the Scottish wilderness, perhaps as part of your North Coast 500 adventure, then we definitely recommend checking out Hamlet Mountaineering and seeing if Tim can help you with a trip.
Further Reading
That's it for quick overview of hiking Suilven and our trip report. To help you further plan your trip to Scotland, we have a number of other posts which we think you will find helpful or inspirational.
We hope you enjoyed this post on experiencing Suilven. As always, if you have any questions or comments on this post, let us know in the comments below and we'll get back to you as soon as possible!