If you're a Harry Potter fan visiting the UK, the chances are high that you want to take the Harry Potter Studio Tour near London. This tour, of the Warner Bros. Studio where the majority of the films were shot, is a fascinating experience, and well worth doing even if you're not a Harry Potter fan.
You can visit places like the Great Hall, the railway station, various filming locations from inside Hogwarts, the Forbidden Forest, and even Diagon Alley.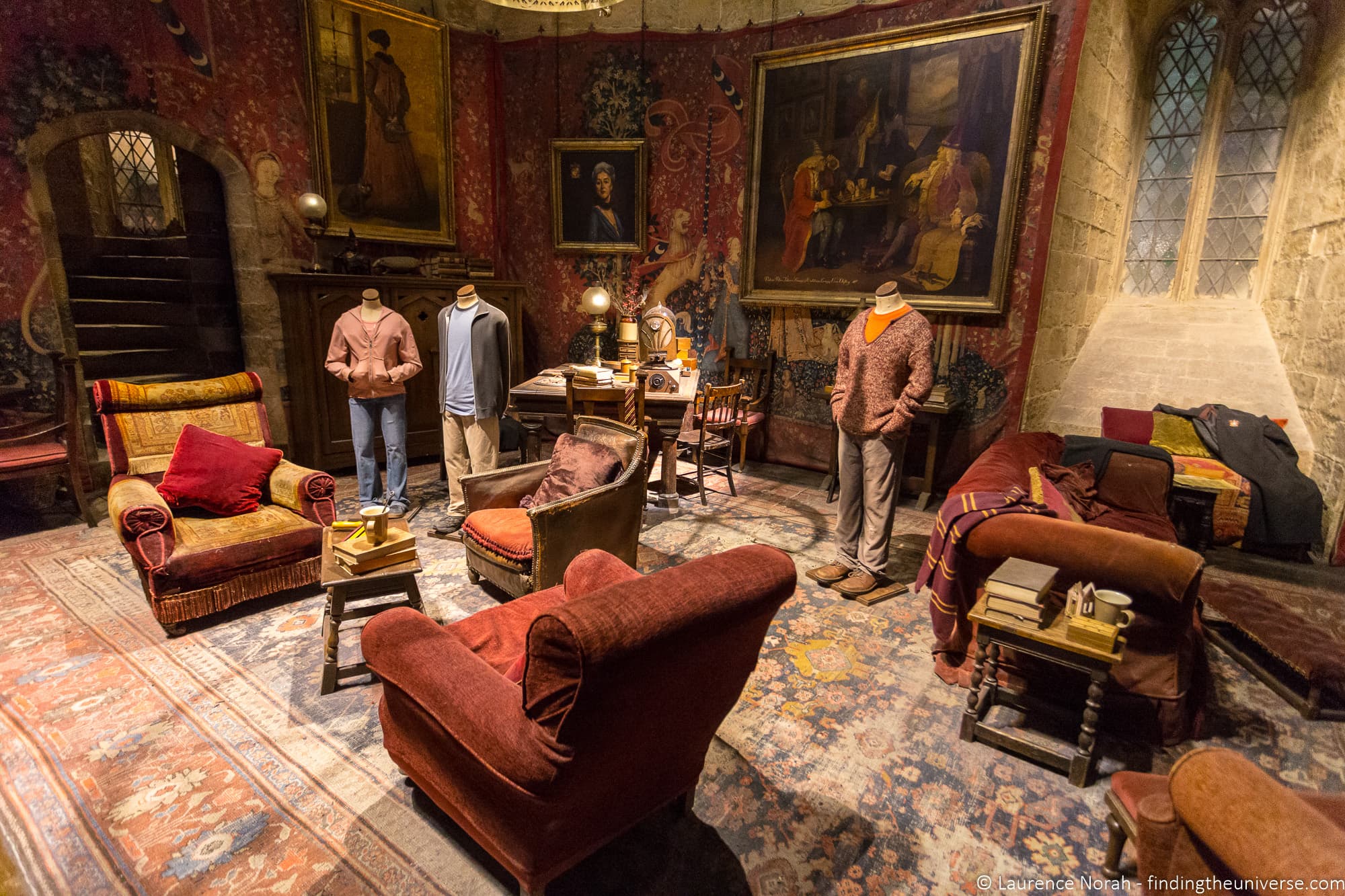 As well as visiting the film sets, you will also learn all about how the films were made, see many of the props from the movies, get to participate in some green screen magic, have the opportunity to try Butterbeer, and of course, buy all the Harry Potter merchandise you can imagine!
In this guide we're going to go through everything you need to know to visit the Harry Potter Studios, including how to get there, how to get tickets, information for making the most of your day, and lots more! Let's get started by answering some questions you may have.
Where Was Harry Potter Filmed?
Harry Potter was filmed all across the UK, at real world locations such as Glenfinnan Viaduct, Alnwick Castle, Glencoe in Scotland and Leadenhall Market in London. See our full guide to Harry Potter filming locations in the UK for more.
The interior sets and the majority of the rest of the films were shot at the Warner Bros. Studio in Leavesden, just outside London.
Where is the Harry Potter Studio Tour?
The Harry Potter Studio Tour takes place in the Warner Bros. Studio, which is found in Leavesden, England. This is around 20 miles northwest of London.
The Warner Bros. Studio is a fully working film studio, one of the largest in the UK, and many films have been shot here, including the whole Harry Potter franchise as well as some of the Star Wars, Batman, and Mission: Impossible films.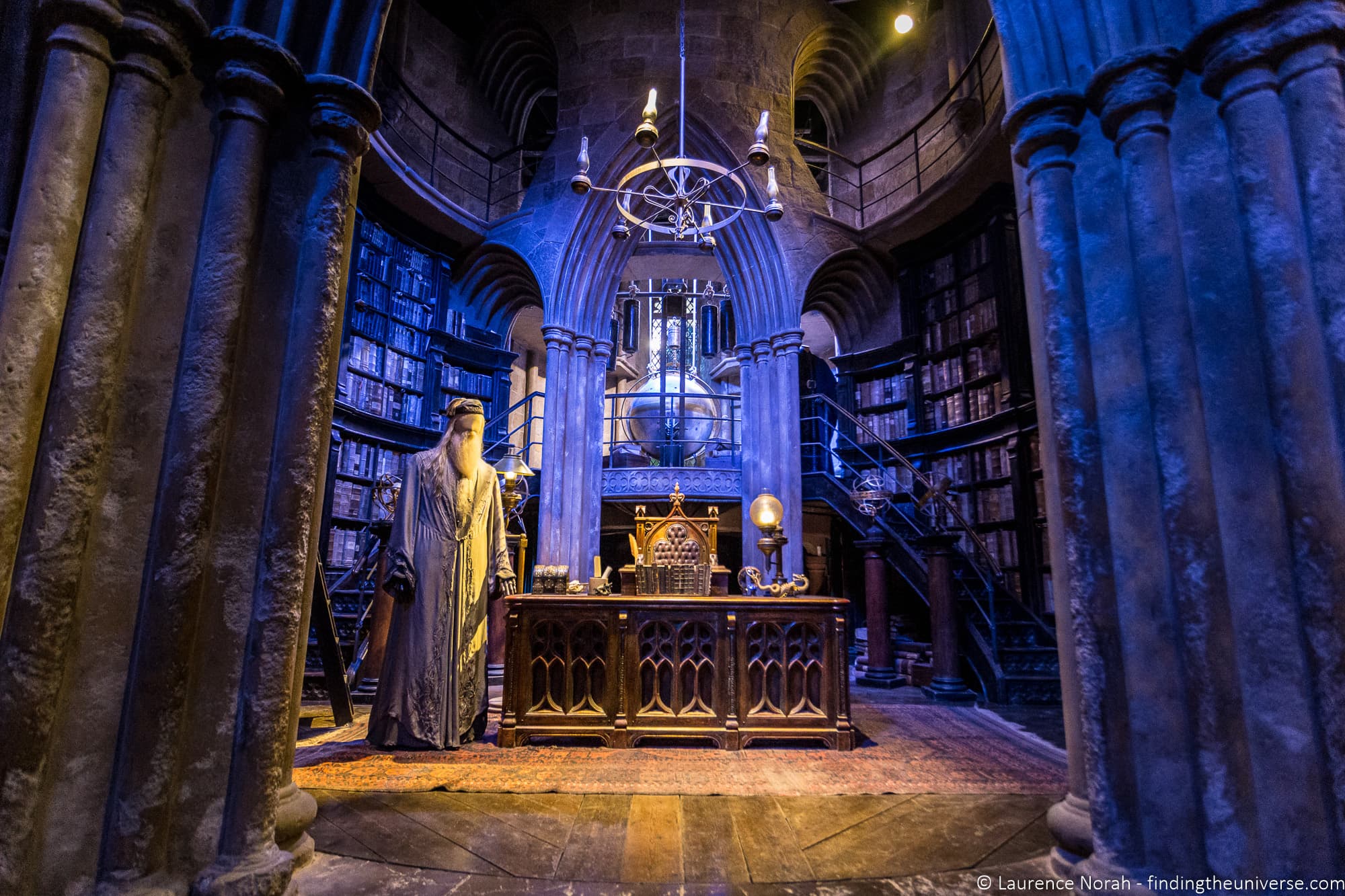 Harry Potter Studio Opening Times
You will definitely want to check the website for up-to-date opening times, but generally throughout the year the studio is open from 8.30am through to 10pm. More specifically:
Doors open at 8.30am
First tour starts at 9am
Final tour starts at 6.30pm
Studio closes at 10pm
These times do vary by day. In terms of dates, the Studio is open every day of the week. There are some exceptions, it is closed on Christmas Day and Boxing Day (25th and 26th of December).
How Much Does the Harry Potter Studio Tour Cost?
Prices for the standard tour are as follows (correct as of May 2023).
Adult: £51.50
Child aged 5-15: £40
Childer Under 4: Free
Family: £160
Carer: Free
For a family, this can be either 2 adults and 2 children, or 1 adult and 3 children.
You can also purchase more expensive tour packages, but these are the basic prices. Note that these are just entry prices, and don't include any transport.
Is the Harry Potter Studio Tour Accessible?
The Harry Potter Studio Tour is accessible, and visitors can bring one carer free of charge with proof of entitlement.
For the studio itself, the majority of it is level and accessible for wheelchair users. There are some exceptions, such as the Hogwarts Bridge and the Knights Bus. Diagon Alley also includes an incline and cobbled streets.
Wheelchairs and mobility scooters are permitted but mobility scooters cannot be wider than 86cm.
Visitors with assistance dogs are welcome and water bowls can be provided. There's also a dedicated toilet area for assistance dogs.
For visitors with a hearing impairment, induction loops can be provided. A portable iPad is also available (this must be booked in advance), which can provide a subtitled version of some of the films. It's also possible to book a BSL tour in advance.
For more information on accessibility and any other needs you have, please visit the accessibility section of the official website.
How to Get to the Harry Potter Studio Tour
You have two major options for getting to the Harry Potter Studio Tour – you can take a tour which includes your transport, or you can make your own way there using either public transport or a car.
We'll go through both of these options so you can make the right decision as to which is going to be best for you.
By Tour
Certainly, the easiest option for getting to the Harry Potter Studios is to take a tour which includes your return transport.
These tours leave from various locations around London (and other parts of the UK), and included in the price of your tour will be pre-booked timed entry to the Studio Tour and return transport to and from a pick-up point.
Note that most tours do not include a guide inside the experience as it is largely self-guided. However, you can book a tour, such as this one, which does include a guide for the time inside the studio as well.
Some options include:
As you can see, there are lots of options! We've got more on all of these in the section below on how to buy your tickets for the Studio Tour.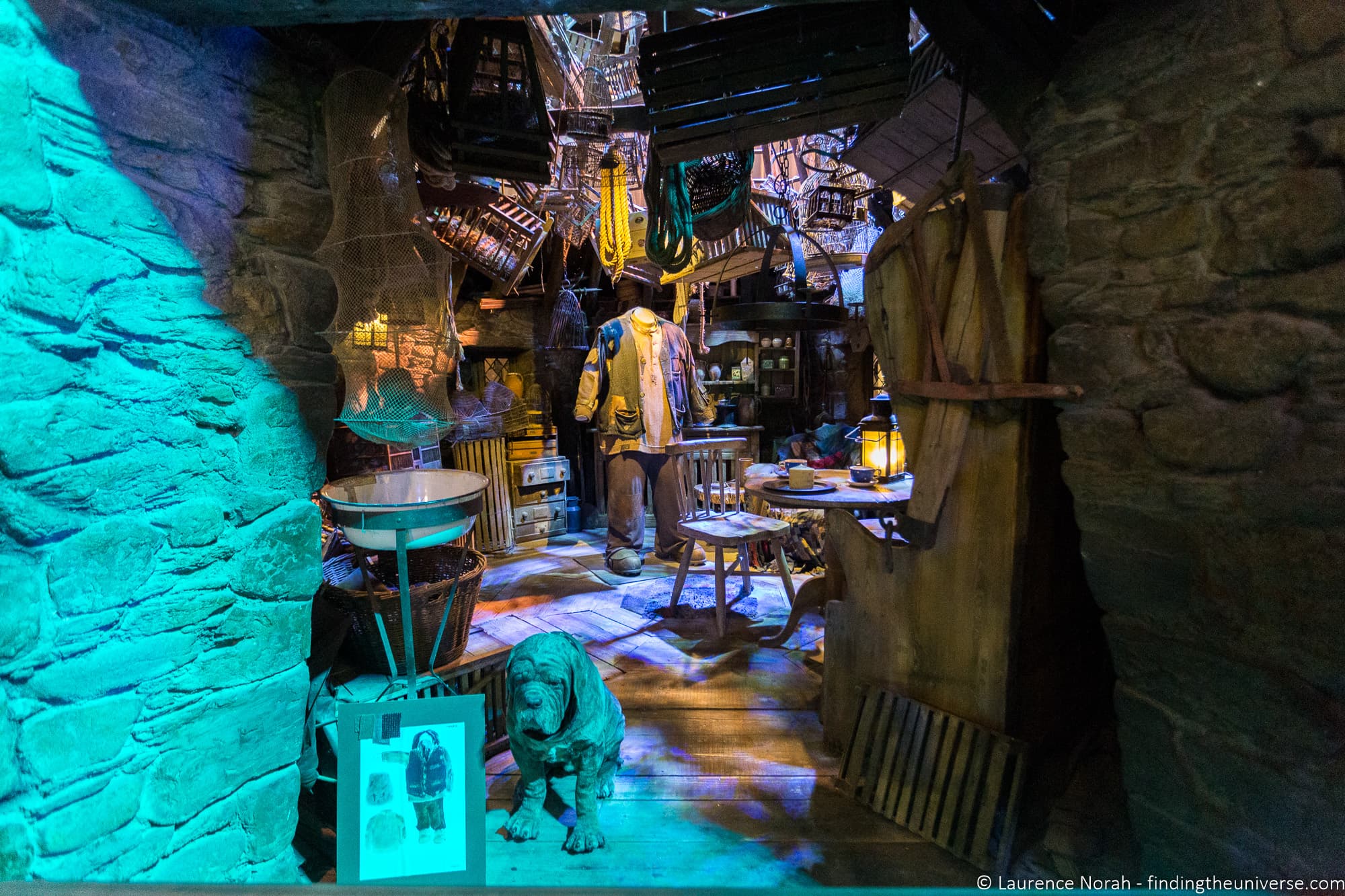 By Public Transport
From central London, it's fairly easy to get to the Harry Potter Studios by public transport. You will take the train from Euston Station to Watford Junction.
Then you need to take a dedicated shuttle bus operated by the Studio Tour that runs from just outside Watford Junction Station (it is well sign posted), that takes you directly to the studios.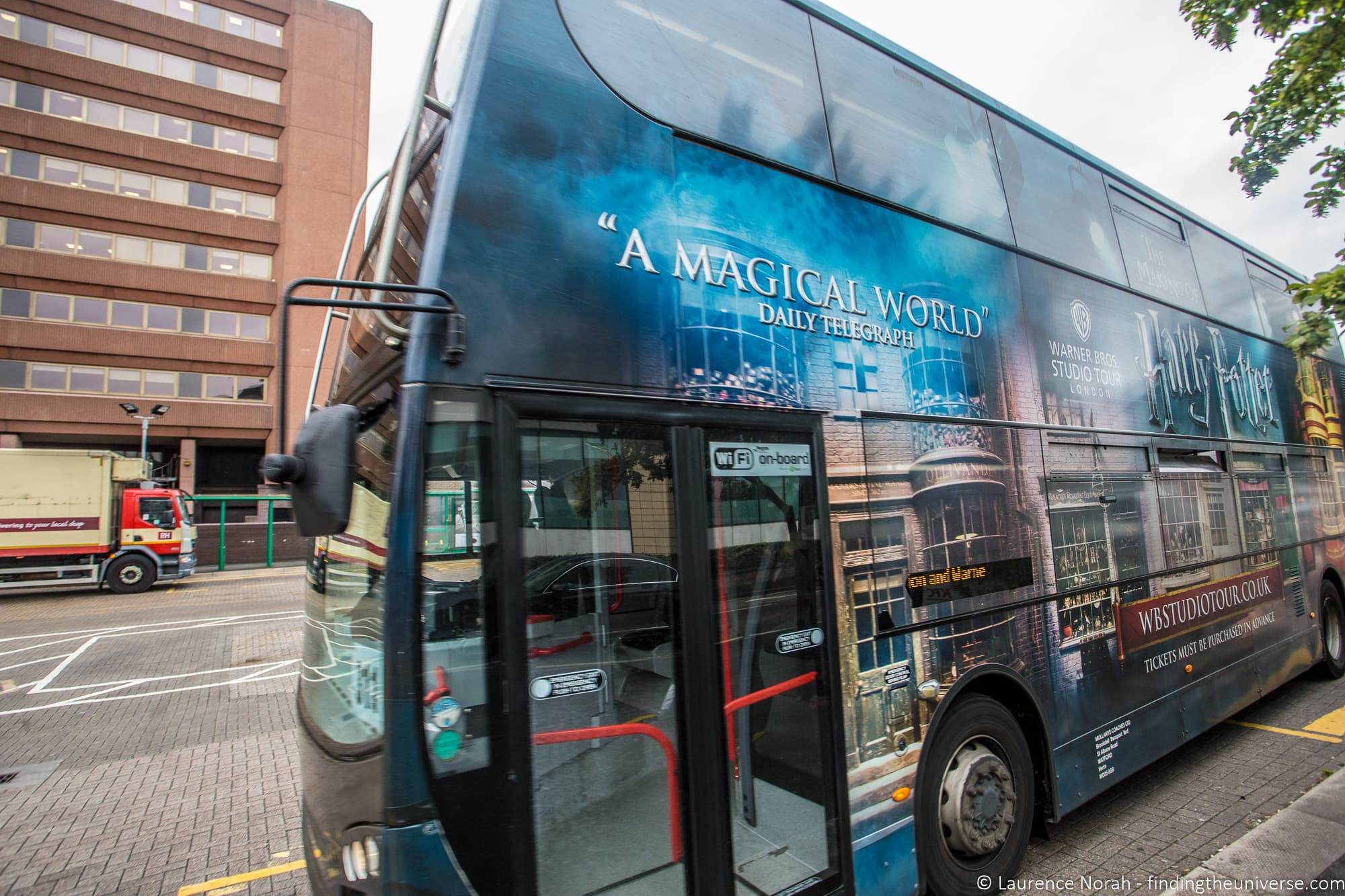 For the train, you can either buy your tickets in advance here, or you can pay on the day using a contactless or Oyster card. This will require you to tap in and tap out using the yellow card readers. Note that Oyster cards and contactless cards do not work beyond Watford Junction, so don't go any further than this.
See our guide to buying and using the Oyster card in London, and our guide to paying for public transport in London for more information on using these forms of payment for travel in and around London.
For the shuttle bus, this is included in the price of your entry ticket. To board the bus you will need to have a valid pre-purchased ticket to the Harry Potter Studios, or proof of a ticket booking confirmation (printed or on your phone).
By Car
Getting to the Harry Potter Studios by car is relatively easy. Depending on the time of day, exact departure location and traffic, the drive from central London takes around an hour to ninety minutes.
From Oxford it's around an hour, and it's around two hours from Birmingham. Visitors with valid pre-purchased Studio tickets can take advantage of free parking on site. Note you cannot enter the parking area without a valid ticket or booking confirmation for that day.
Where to Buy Harry Potter Studio Tour Tickets
If you are making your own way to the Harry Potter studios, you have to buy your ticket in advance from the official website. You cannot turn up without a ticket, and tickets are not for sale on site.
Tickets go on sale well in advance, but despite the site having capacity for up to 6,000 people a day, they tend to sell out far in advance, so you will want to plan as far ahead as possible.
The summer months, weekends, and school holidays are the busiest days of the year for the Studio so we recommend that you book as far in advance as you can if you are visiting over those periods.
Weekdays often have better availability, so if you are flexible, look at different days of the week to maximise your chances of getting a ticket.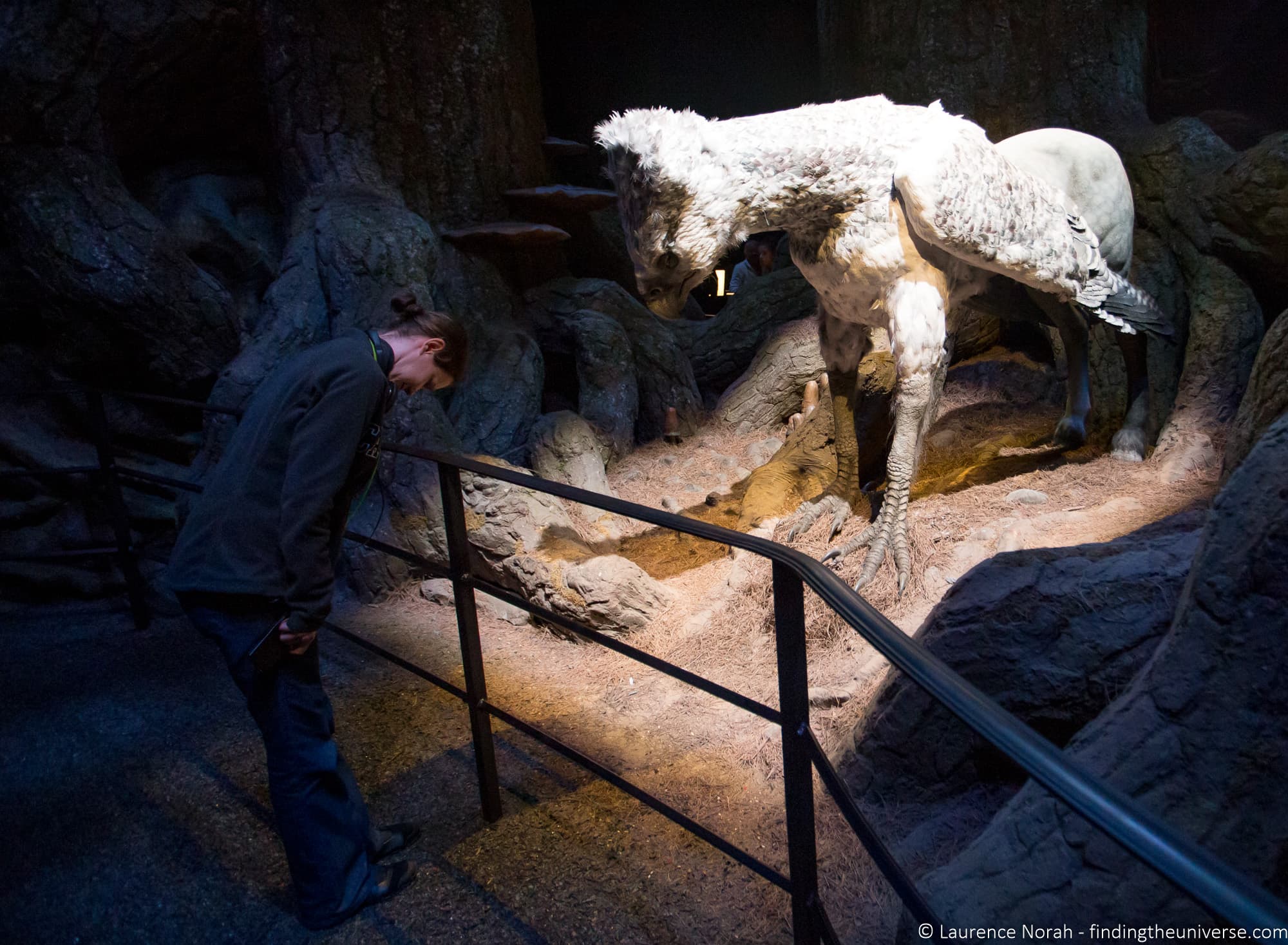 Tickets are for timed entry, which helps the studios manage visitor numbers throughout the day. Whilst there is no limit to how long you can stay after you enter, you do need to enter the attraction at the time you book. There is a little bit of flexibility in this, but it's best not to show up hours later than your time to avoid disappointment.
The WB Studios Tour folks recommend you arrive at the site at least 20 minutes before your ticket time so you can go through the security checks.
If you can't buy a ticket from the official site, don't worry, you still have lots of options.
First, you can opt to take a tour with a tour company, as these have a different ticket allocation system. Whilst this will be slightly more expensive, at least you will still be able to go, and it will include transport as well. See here for some of the tour options available, and here for even more!
Another option is to book a Deluxe Tour, which includes a two-hour guided tour of the studios, a photo package, a hot meal, butterbeer, souvenir guidebook and special designated parking. Following the guided tour, you are free to explore yourself. As Deluxe Tours are more expensive, they tend to have better availability.
Deluxe Tours can be booked directly with the Studios, subject to availability, on the official site here.
How Long Does the Harry Potter Studio Tour take?
The regular tour itself is self-guided, other than an introduction at the beginning, so you can take as long as you like to wander the studios.
The average length of a visit is around three and a half hours, and that is what the studio estimates most people will take and forecast their capacity around.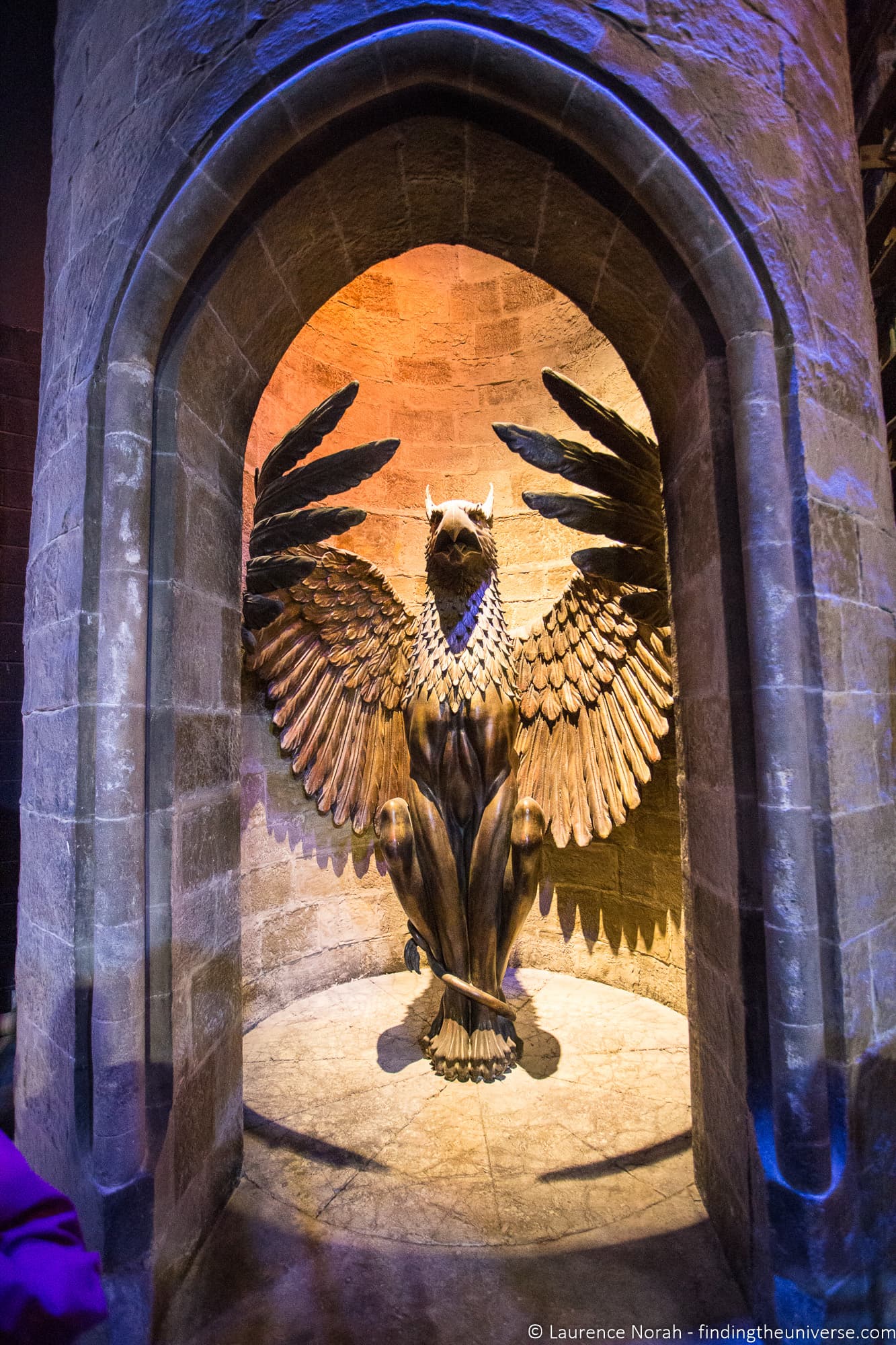 This is also about the amount of time that most tour companies will give you, although some offer a bit more time on site, so if you think you will need more time, be sure to pick a tour company that offers more time.
Where to Stay Near the Harry Potter Studios
The majority of visitors to the Harry Potter Studios visit from London as a day trip, and choose a hotel in London. If you go down this route, you might want to consider a hotel that makes it easier to get to the studios, be that by public transport or on one of the tours.
We've suggested some options below, as well as some hotels near the Studios themselves if you want to be really close.
Note that hotels in London are relatively expensive, especially those located near major attractions, and rooms aren't always huge. However, we've picked what we think are a good choice for you.
We also recommend reading our guide to where to stay in London for some suggested options across all budgets.
Hotels near London Victoria train station (where most bus tours depart)
Hotels near Euston train station (for the train)
Hotels near the Harry Potter Studios
Mercure London – one of the closest hotels to the actual studios, this would be a good option if you are driving and want to be as close as possible
Holiday Inn Express London – right next to Watford Junction, this mid-range and well reviewed property is convenient for both trains to London, and for the studio shuttle
Jurys Inn London Watford – another great mid-range option, just a short walk from Watford Junction train station
Our Harry Potter Studio Tour Review and Experience
Now for the fun stuff! Although, if you want your visit to be a surprise, you might want to skip this section, as you now have everything you need to know in order to visit.
Still, if you want an idea of what to expect from your visit, read on, and we'll share our own experiences of visiting the Harry Potter Studios!
Arrival
We visited from London, taking the train to Watford Junction and the Shuttle Bus to the studio. When we visited there was a fee for the shuttle bus, but this is now included in the price of the ticket. The train was easy, and the shuttle bus departure point was well marked just outside the train station.
We pre-booked our tickets on the official website, so with our email booking confirmation we picked up our tickets from the kiosks. They have both staffed ticket windows and automatic kiosks – both work!
Once we had our ticket, which had our entry time on it, we went through security and joined the line for entry.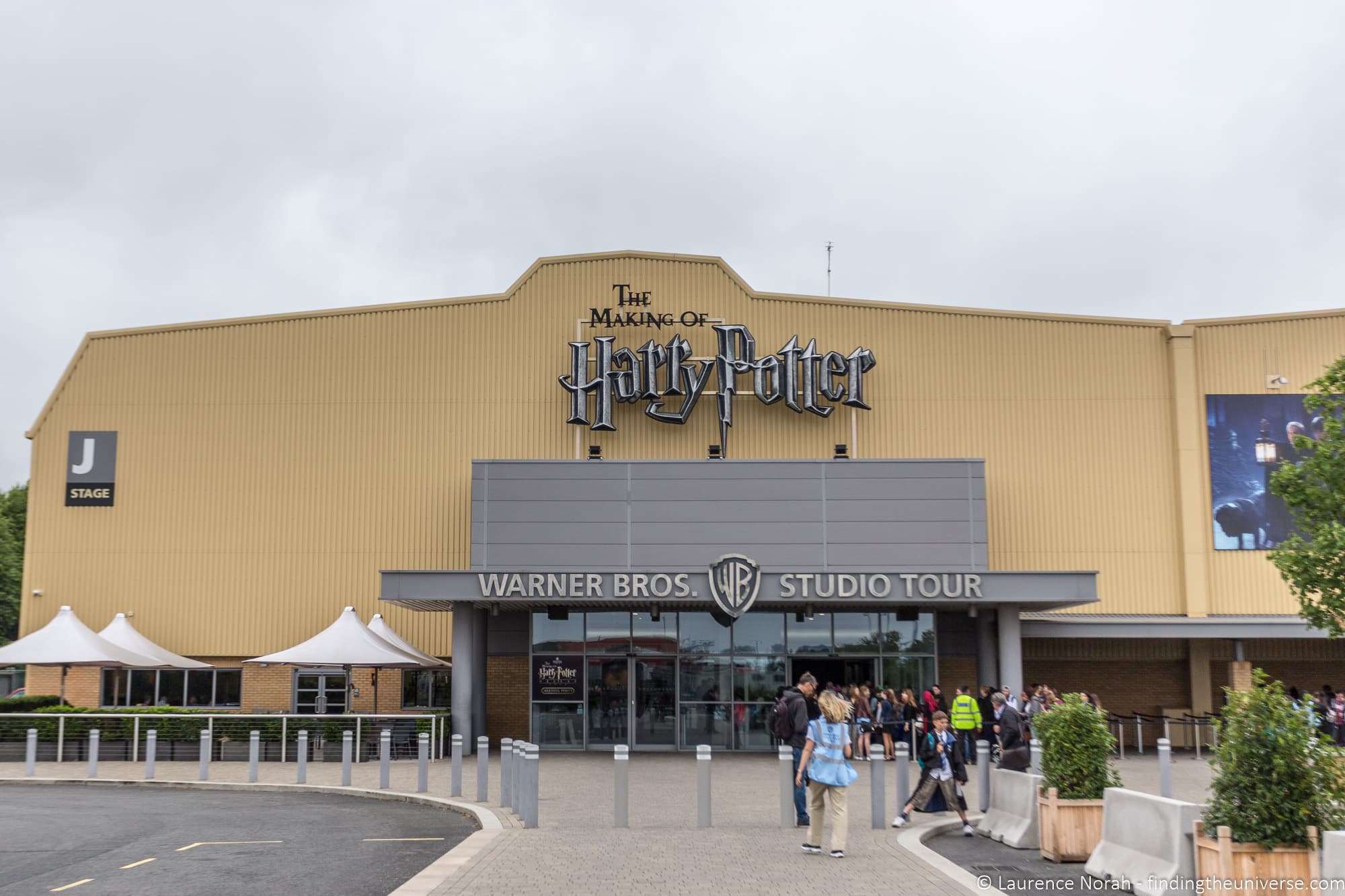 As entries for the Harry Potter Studio Tour are timed, you have to wait in line, as they let each group in all together. Still, waiting in line is made fun, as the line has the cupboard under the stairs set right next to it, meaning you can start getting exciting about your upcoming adventure straight away (and start taking pictures!).
At the time of our entry, we were all ushered into a large waiting room with a massive giant wooden door before us. Here, a guide ran us through what to expect from our day, and gave us an overview of the studio.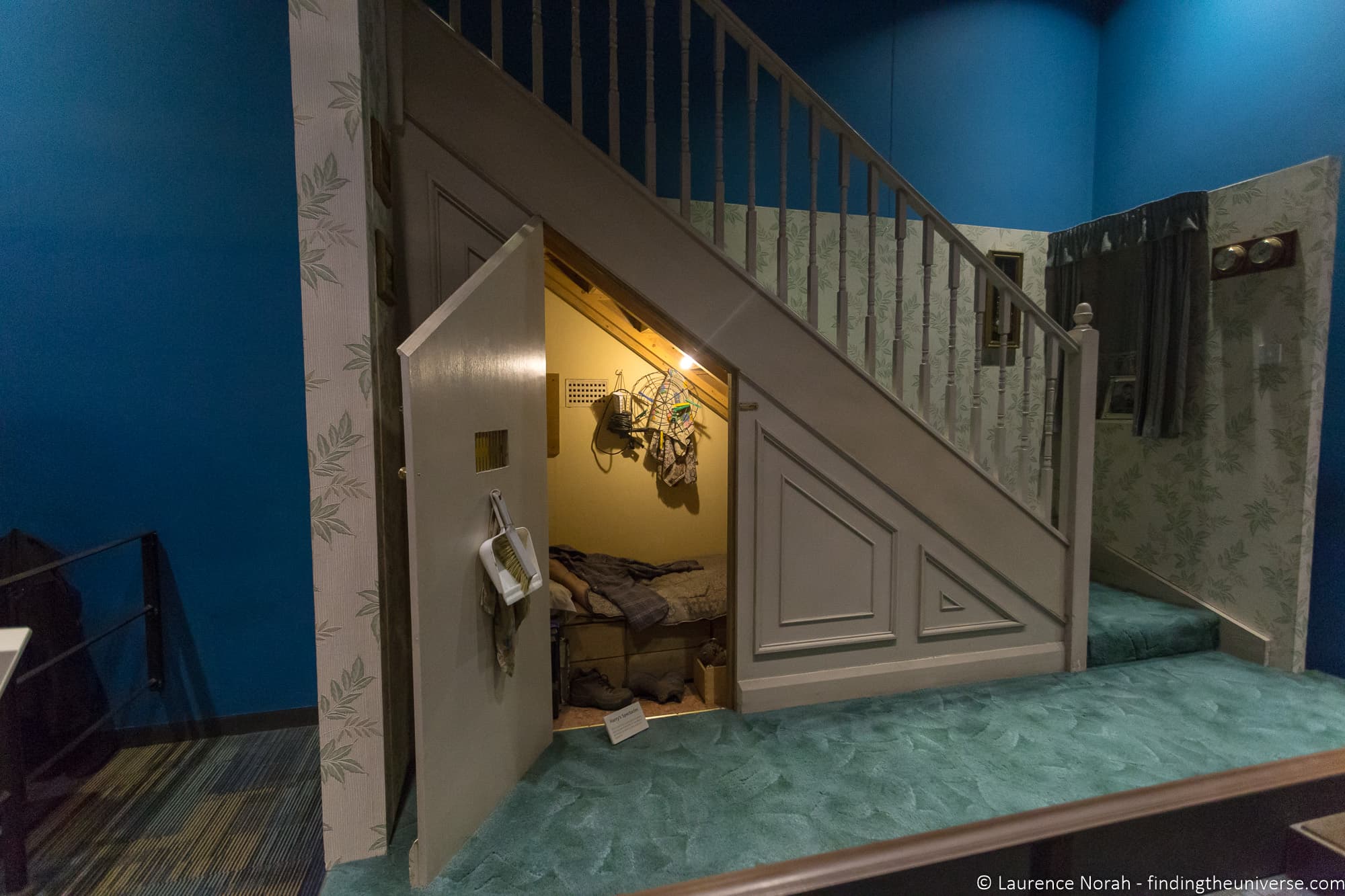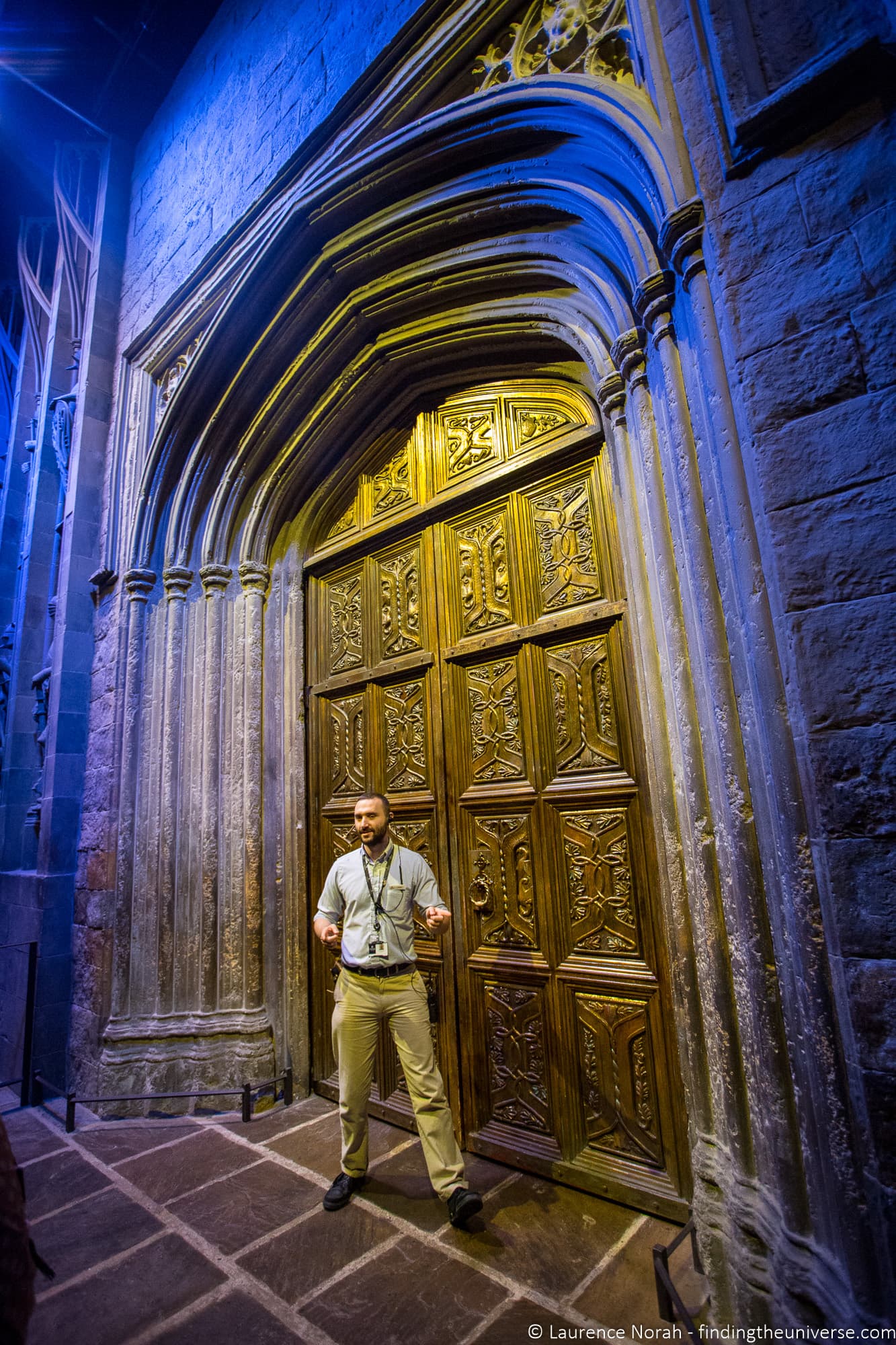 The Great Hall and Beyond
After our introduction, the massive wooden doors we were standing in front of opened, and the Great Hall was revealed. I have to say, this was pretty amazing, to be able to step into the world of Harry Potter. The Great Hall set was used as the Great Hall for six of the films, with many scenes shot here.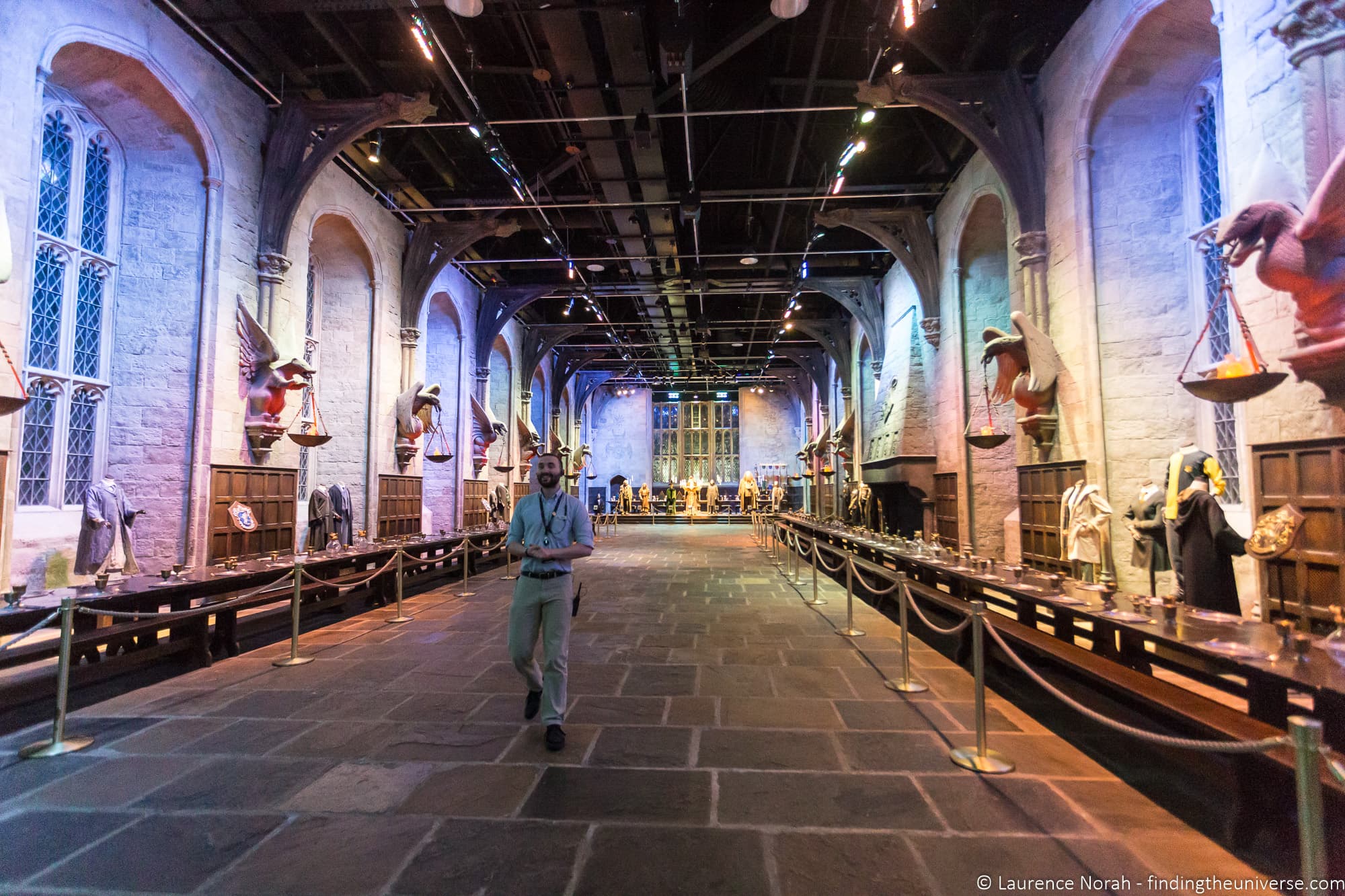 It certainly felt like the most complete of the sets we visited, as it was totally immersive and all around us, and was quite an experience.
From the Great Hall we were essentially allowed to continue on our own into the first half of the tour building. This had so much to see that I won't go into it all here.
To give you an idea though, you can do everything from practice your wand waving through to seeing the Womping Willow in action through to visiting the potions laboratory, meeting Buckbeak, hanging out on Platform 9 3/4, and wandering around the Forbidden Forest!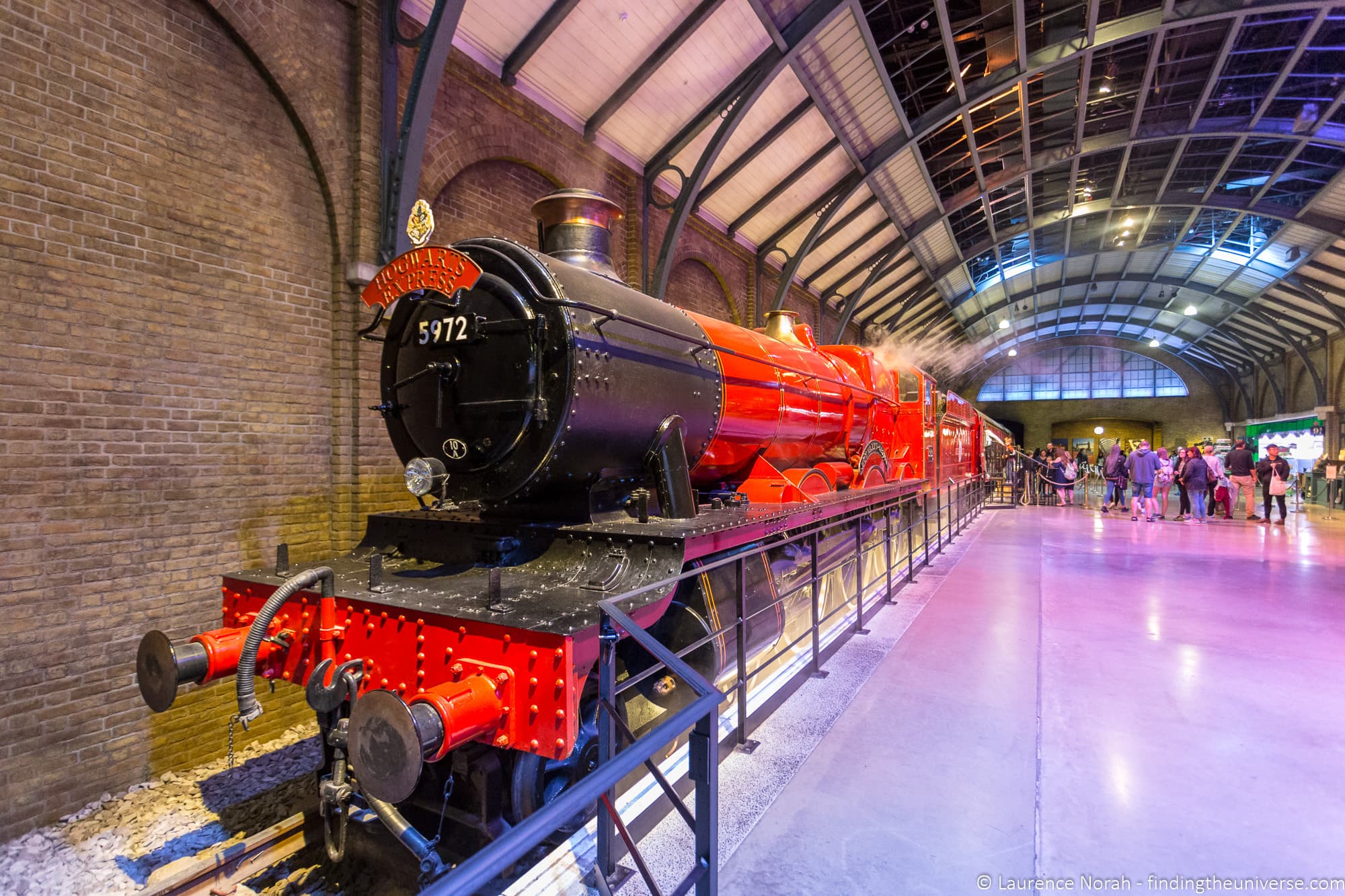 Food and Butterbeer
Around half way through the tour, you come to the Backlot Cafe. This serves hot and cold food, as well as that famous drink – Butterbeer! This is a non-alcoholic beverage that tastes sort of like a mix of marshmallows and popcorn. It is definitely a must-try when visiting!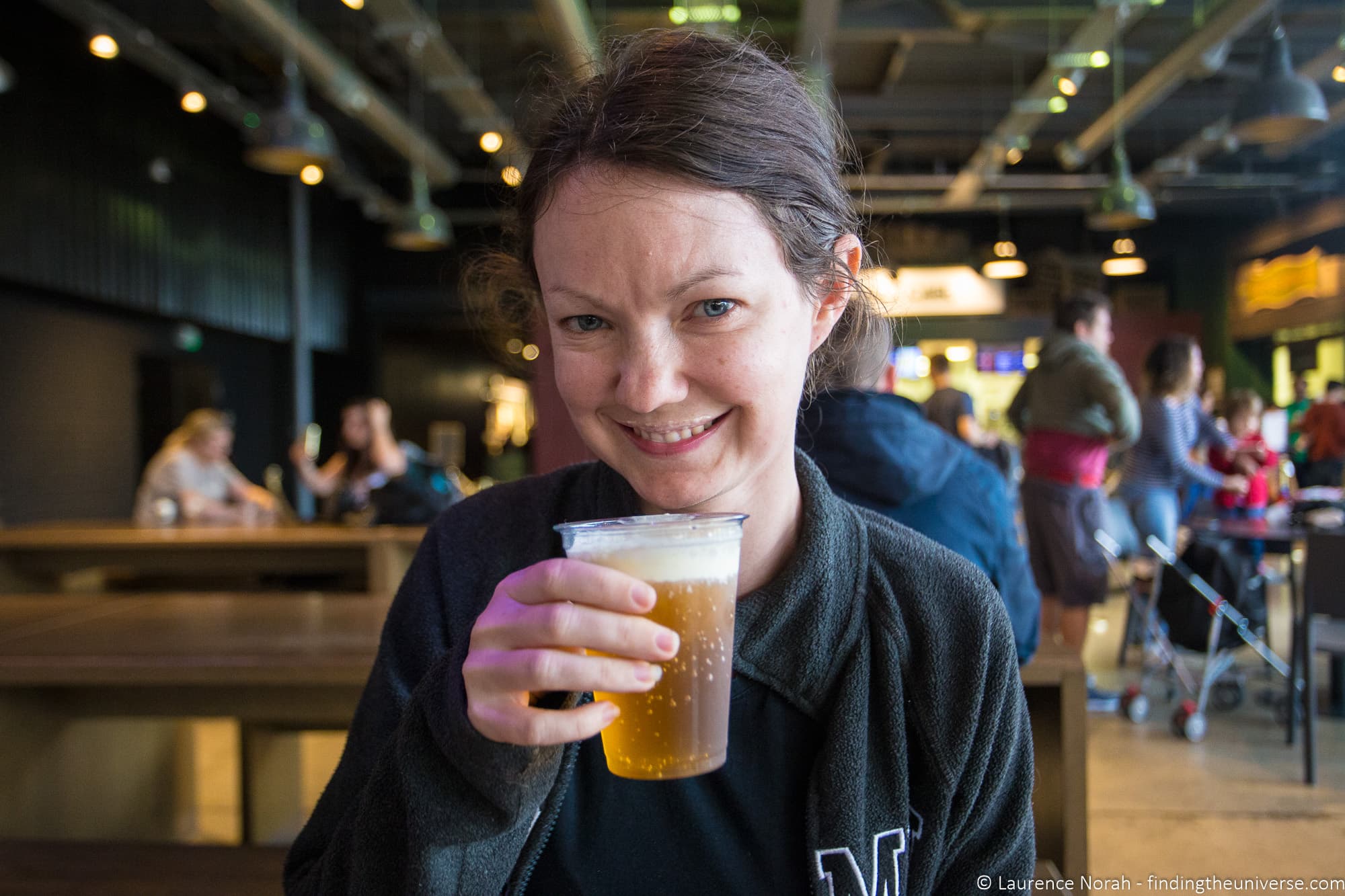 You don't have to eat here, as there are other dining options on site, including the Studio Cafe. However, if you want to try Butterbeer, the Backlot Cafe is the place to do it.
Privet Drive and the Night Bus
Once you've finished your butterbeer experience, it's time to head outside to Privet Drive! Here you can see the house where Harry grew up, as well as a number of other fairly large props and sets, including the Knight Bus and the bridge that led across the ravine outside Hogwarts.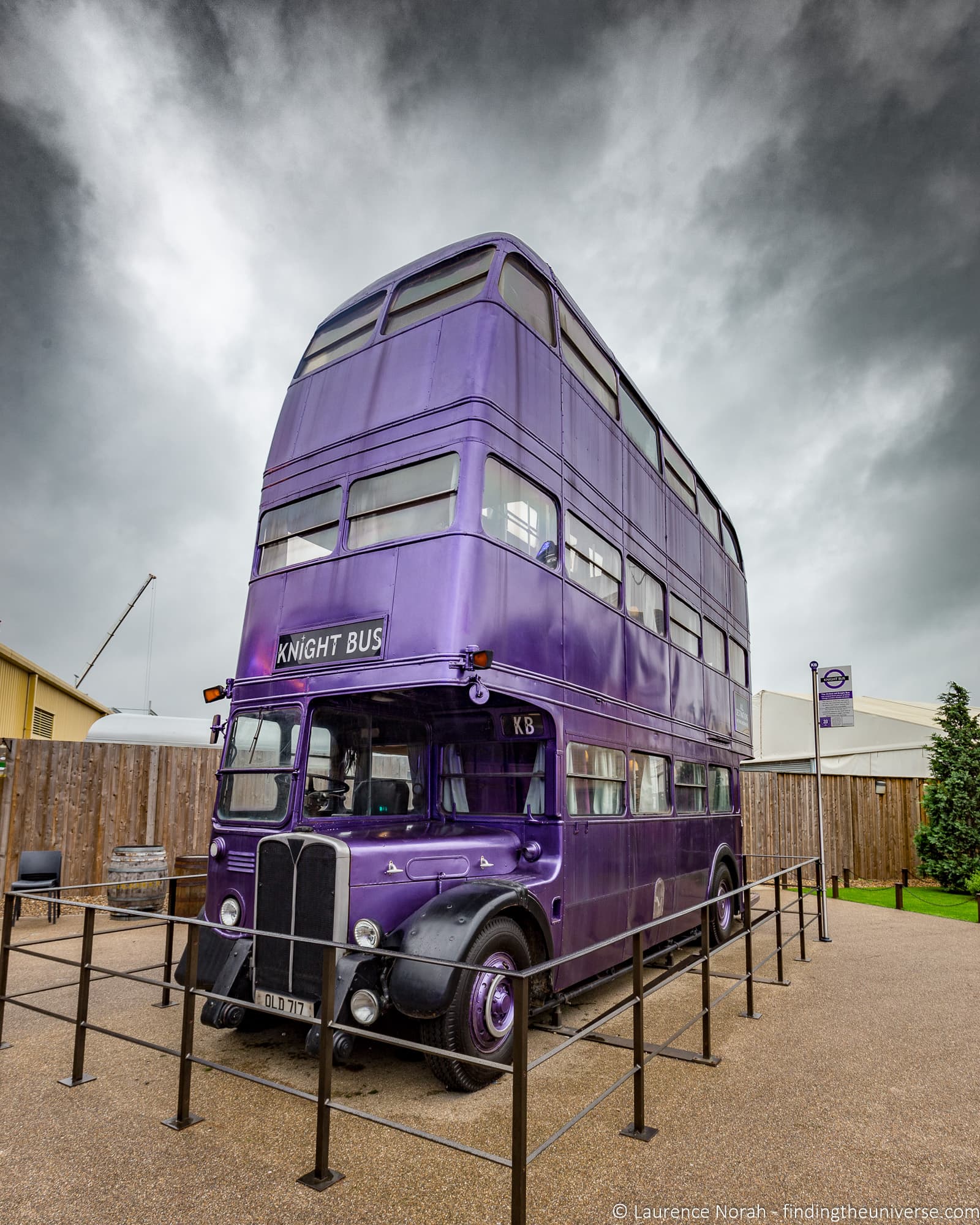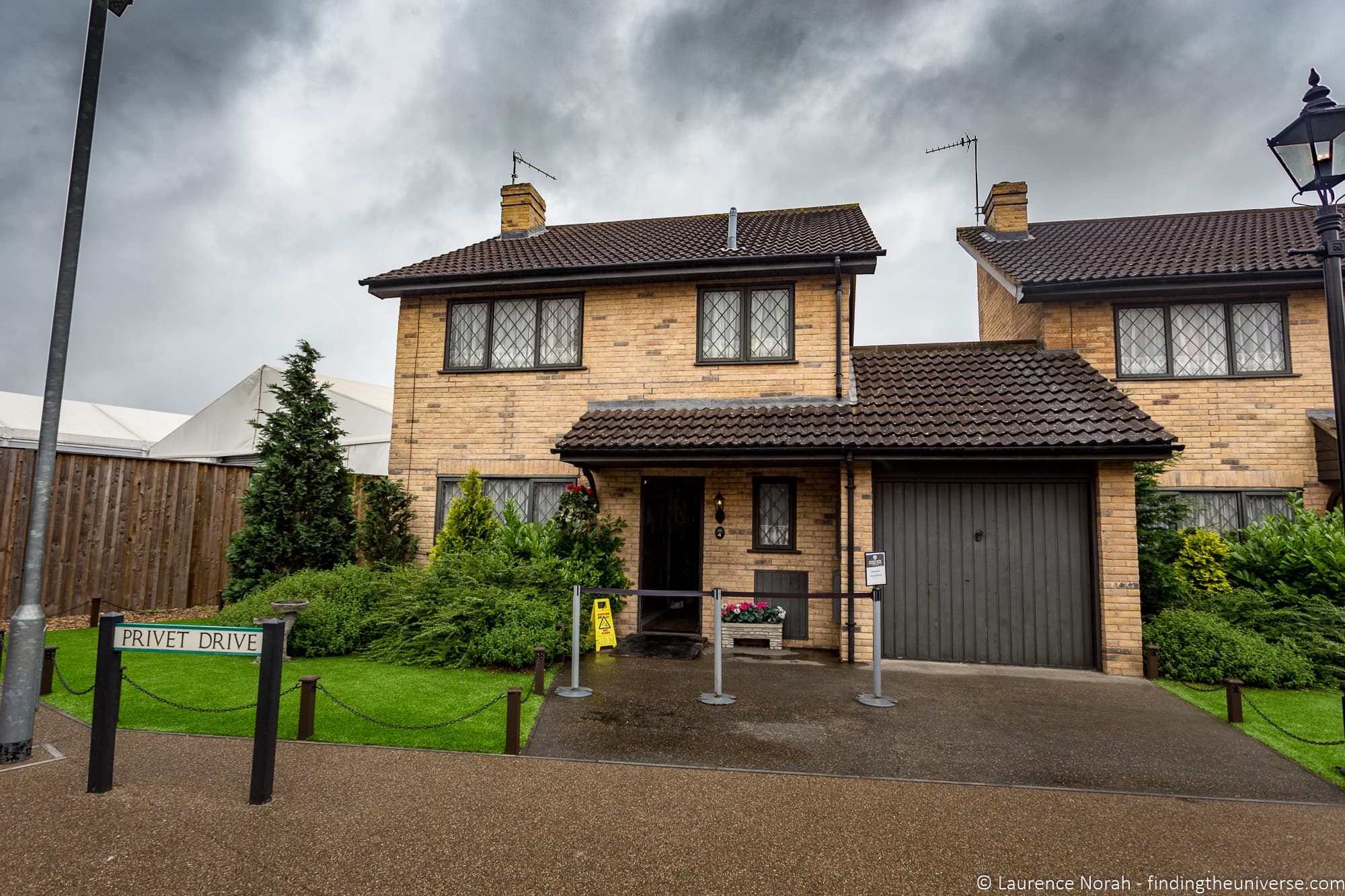 This is the only outside part of the tour, and it isn't a huge area, although if the weather isn't great you might want a waterproof jacket to enjoy this part of the tour.
Diagon Alley and the Last of the Tour
After seeing the exterior part of the tour, you enter the final part of the tour. Don't worry though, you're only really half way though – there's loads to see still! From here you're going to see a lot of the props and costumes, as well as detailed information on how these were created, and the work that went into them.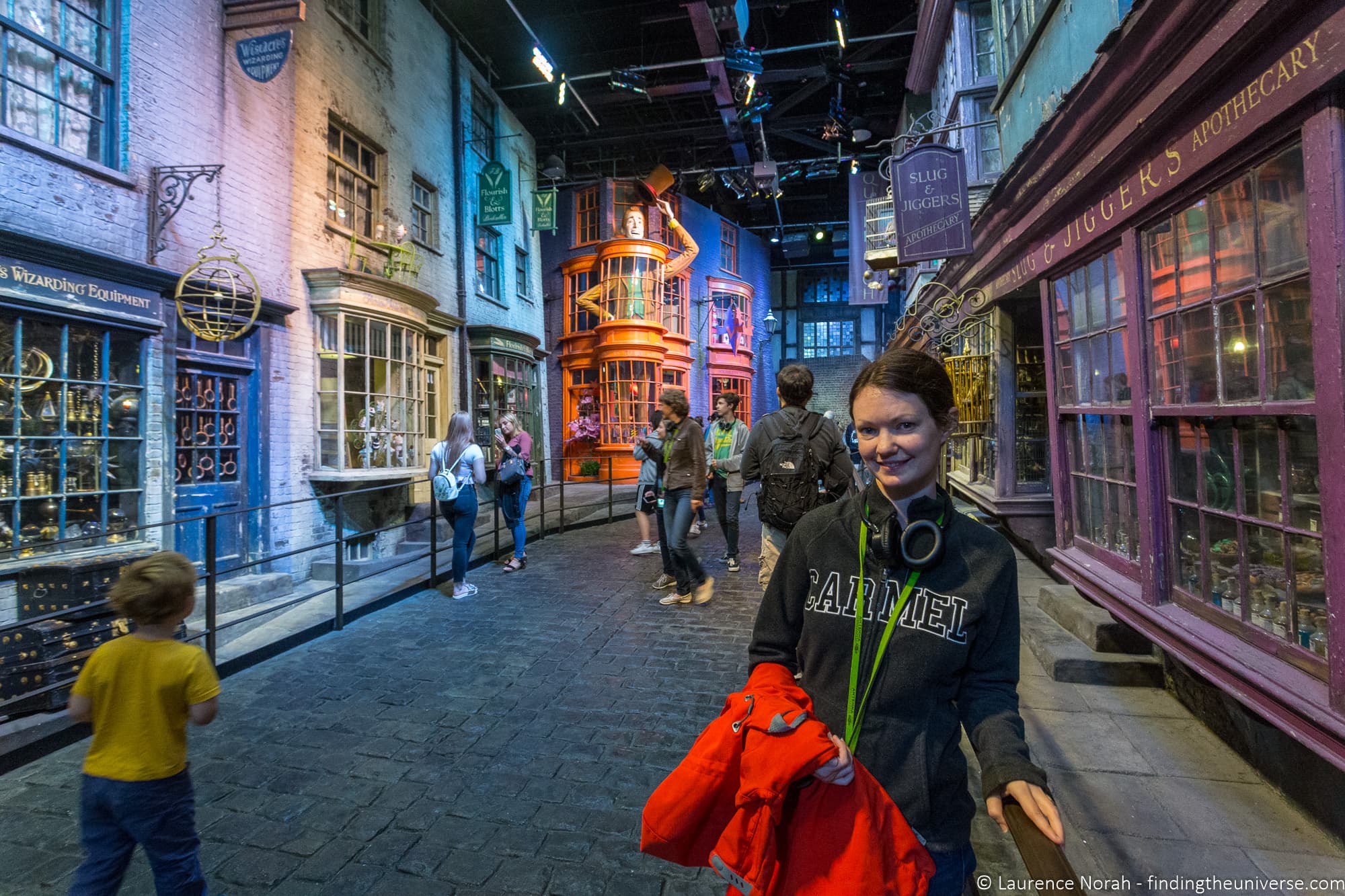 You're also going to have the opportunity to walk right down Diagon Alley, and see such locations as Ollivanders Wand Shop!
Finally, and perhaps most impressively, you come to the 1:24 scale model of Hogwarts itself. This is a massive construction that fills a whole room, and is truly spectacular. You can also watch videos to see how the model was used and digitally merged into the final films, which is very impressive.
Once you're done with all the above, you pop out into the shop, where you can buy pretty much any Harry Potter merchandise you can imagine!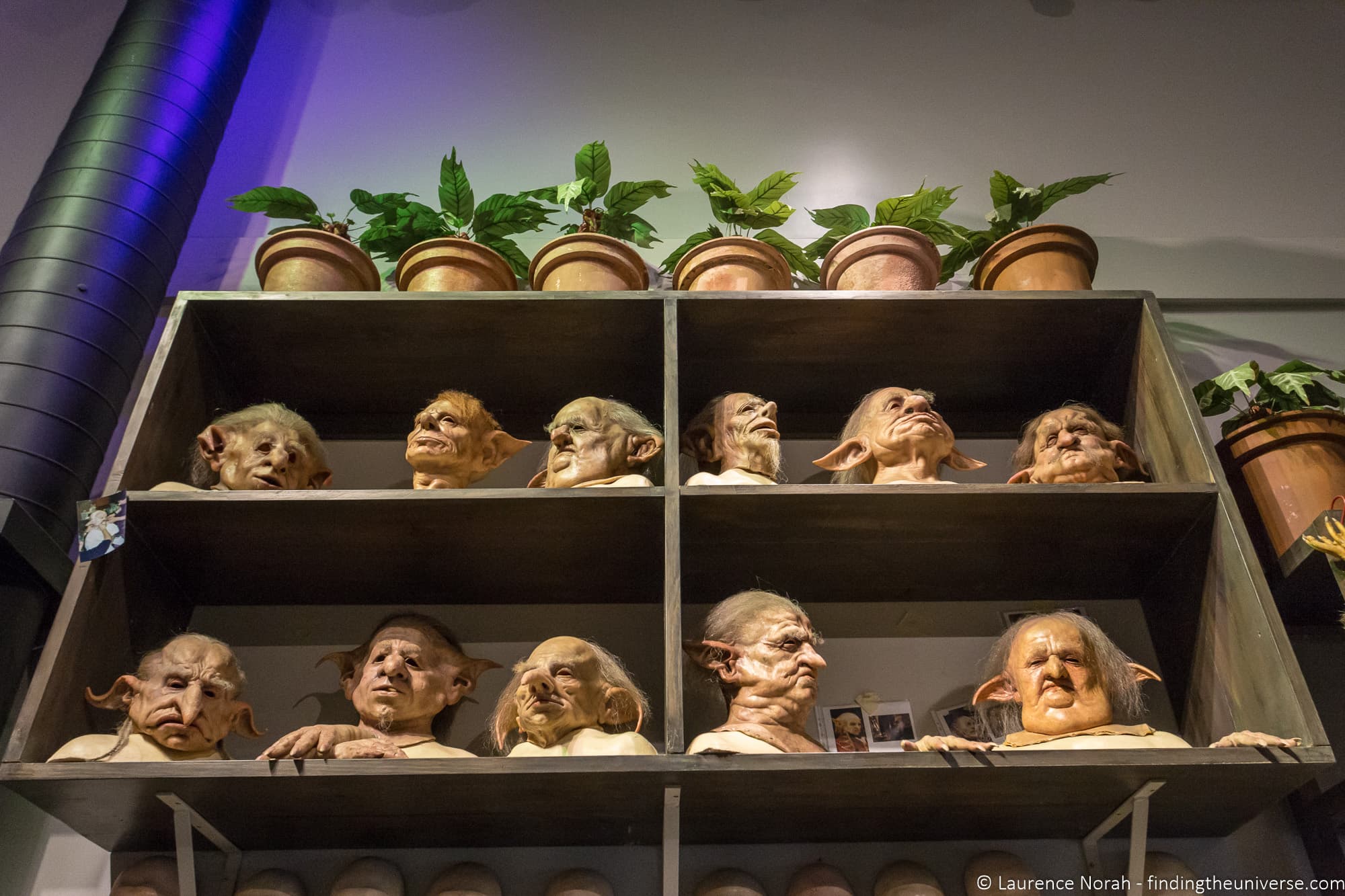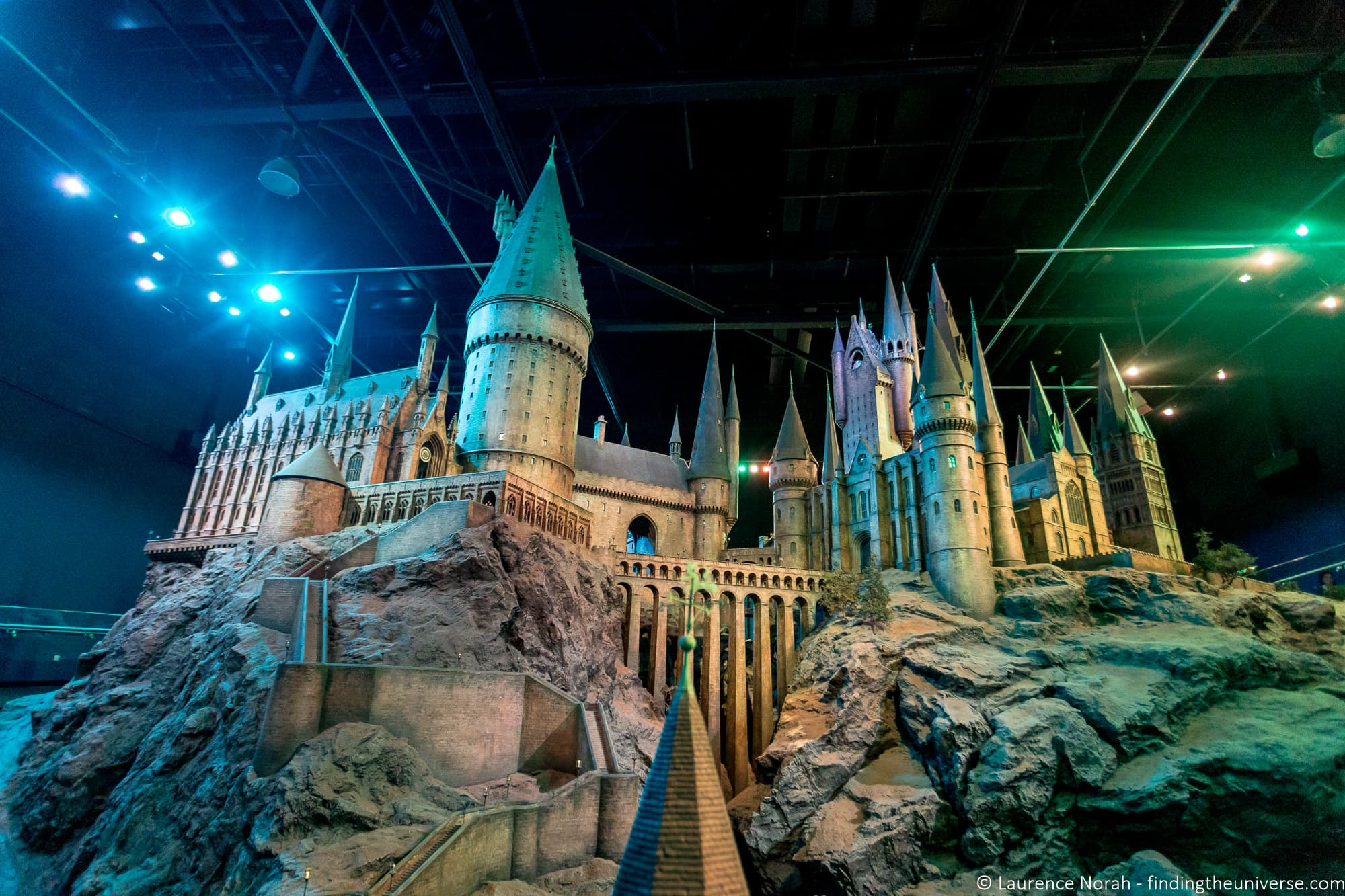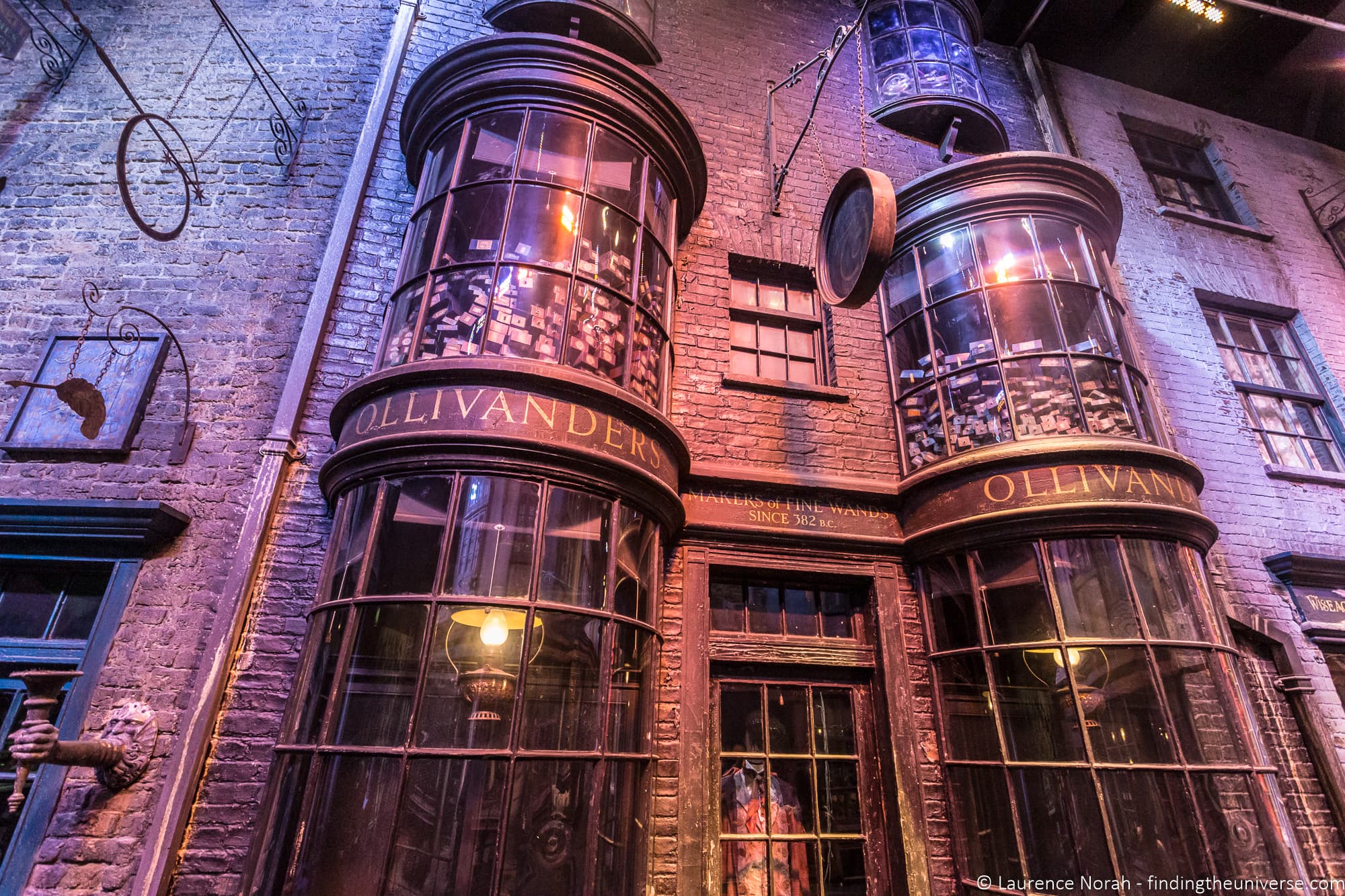 Tips for Visiting the Harry Potter Studio
Based on our experiences visiting the Harry Potter Studio in London, we've put together the following tips to help you plan your visit and maximise your time.
Decide how you want to visit
As described earlier in detail, you have a number of options for visiting the Harry Potter Studios, although depending on ticket availability, you might not always have every option. However, the main options are:
Book a standard tour and plan your own transport, either by train/shuttle or car
Book a deluxe tour and plan your own transport, either by train/shuttle or car
Book a tour that includes transport and entry like this
Whichever you choose to go for, you will definitely have a great time!
Book your tickets in advance
We can't emphasise this enough – tickets are not available on site – you have to book in advance. If you're travelling independently, you can do that through the official site.
If tickets are not available through the official site for the time you want to visit, or you'd rather let someone else handle your transport, here is a good selection of tours to choose from, and here are some more options.
Plan your time
The average visit time is three and a half hours, so make sure you give yourself at least this much time on site. Don't forget there's food on-site as well as a massive gift shop, so you'll want to factor time in for these activities too. Some fans can easily spend 4 or 5 hours here.
Whilst the majority of tours that include transport give you at least three hours on site, some allow for longer visits, so make sure to book the right tour for you. There is a lot to do and see on site, so more time can definitely be put to good use and you don't want to feel rushed!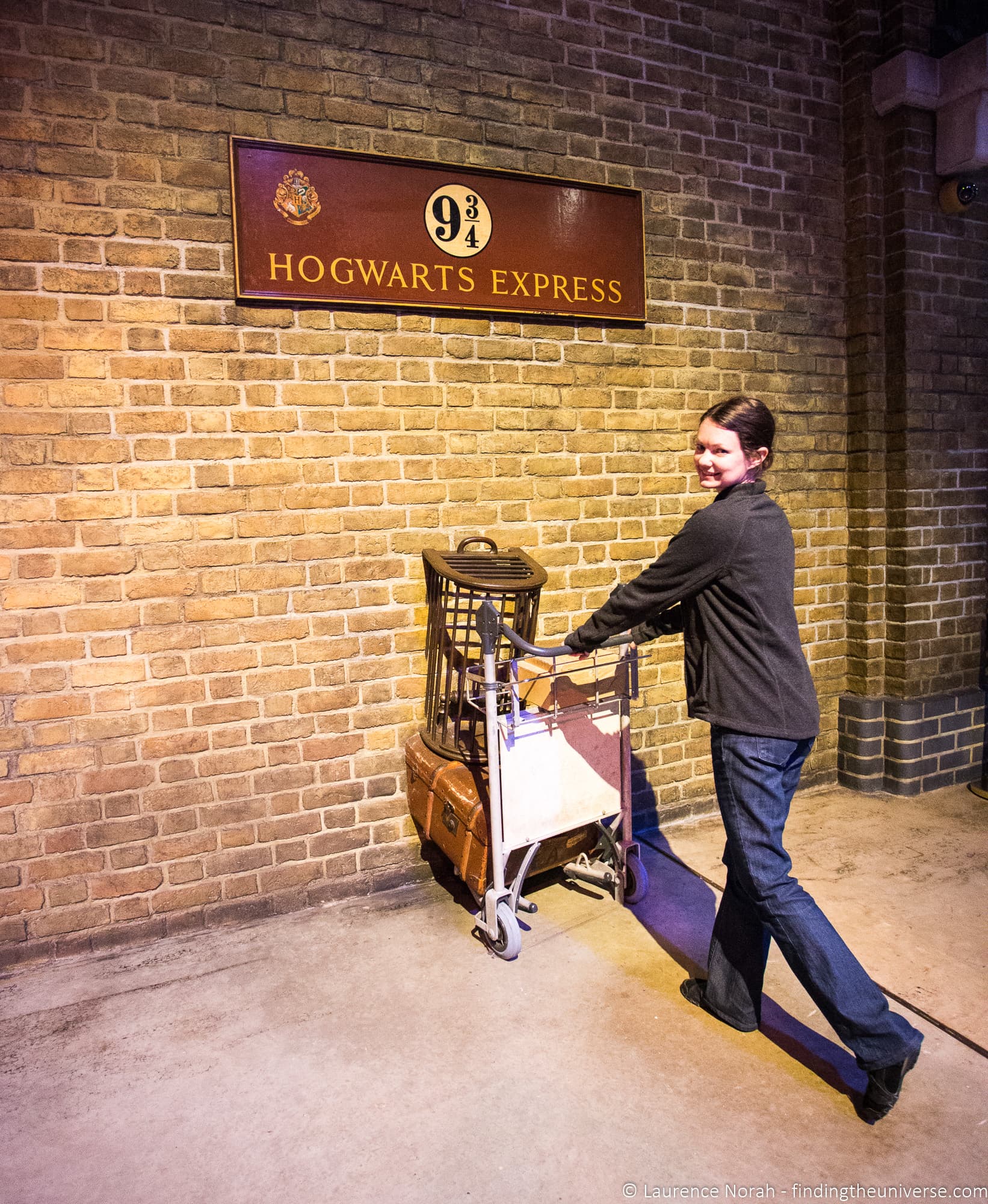 Take Part!
One of the best parts of visiting the Harry Potter Studios is just how interactive the experience can be. Whilst it's certainly not a theme park, there's a lot to do, from practicing your wand skills through to pushing your own trolley through the wall at platform 9 3/4 through to summoning your own broomstick!
Some of these experiences will have a short queue, but due to the timed system for entry, these will never be too long.
Many visitors also come in full Harry Potter outfits, so don't be afraid to dress up and get into the swing of things. You won't be alone, and it adds to the experience for many people!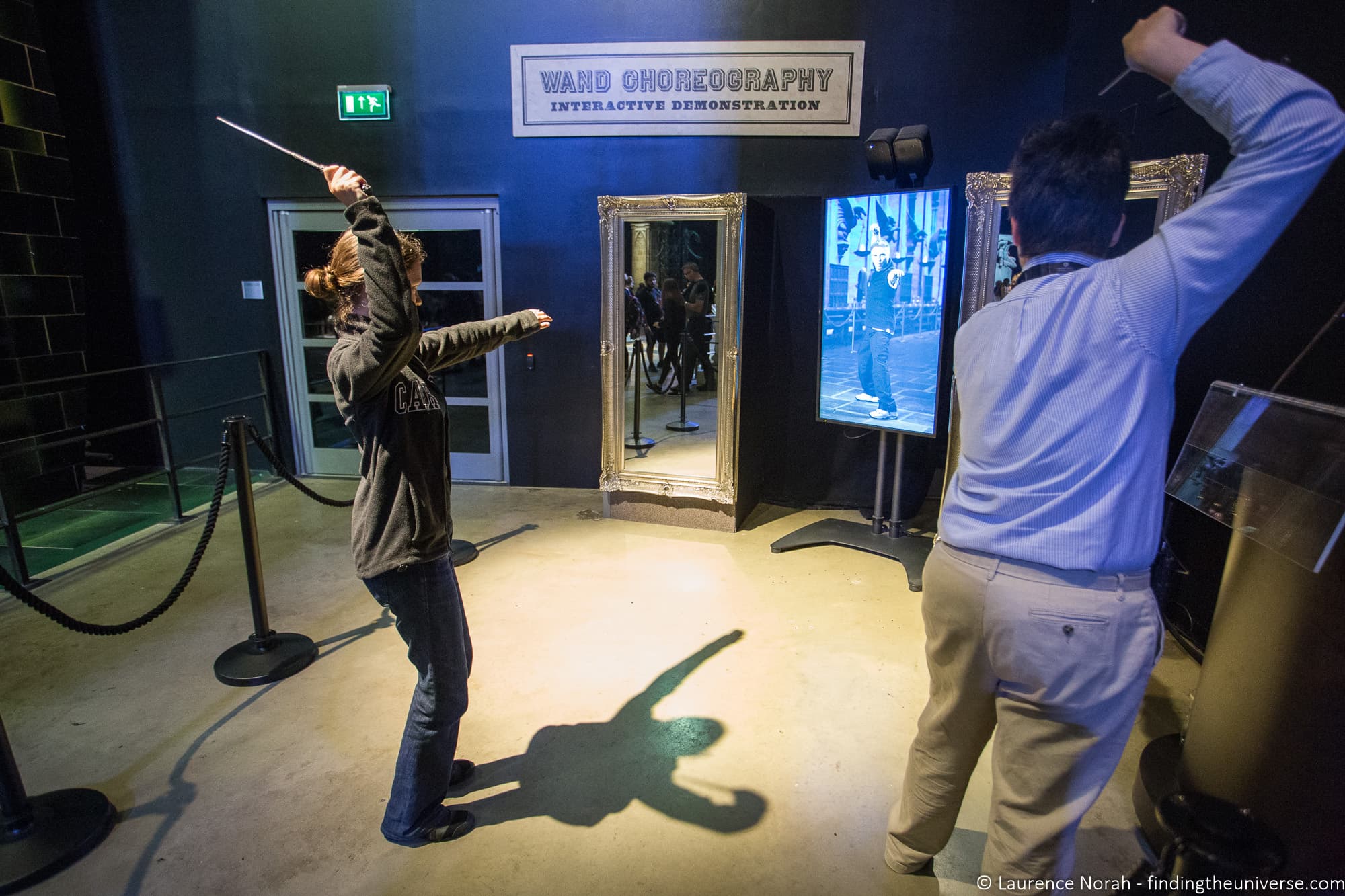 Further Reading
And that's it for our guide to the Harry Potter Studio Tour in London. We hope you found it useful – we certainly had a lot of fun taking the tour and putting this post together!
As well as this post, we've also got a lot more content that we think you'll find useful, both Harry Potter related, and other content to help you plan your time in London and the UK.
And that's it! Are you a Harry Potter wanting to take the Warner Bros. Harry Potter Studio Tour? Have any questions about a visit? Let us know your thoughts or questions in the comments below!