We recently had the pleasure of being invited on a number of tours with a Scottish based tour operator – Rabbie's Trail Burners, including a five day Scottish Highlands tour from Edinburgh. Taking these tours seemed like a handy way to get to know Scotland a little better, and let someone else do the heavy lifting for a change in terms of the planning, driving, and itinerary management.
All we would have to do was sit back, soak up the scenery, and decide where to eat each evening. I have to say, that was a good proposition, and one we were happy to take up.
We started our Rabbie's adventures with three one-day tours, a Whisky Tasting Tour of the Highlands plus two different one-day tours of the Scottish Border region. Those day trip tours from Edinburgh are great for those looking for a tour outside Edinburgh but don't have time for a multi-day trip.
These were all excellent tours, but I have to admit that I was most looking forward to the five day Highland Explorer tour, which headed far up into the beautiful Scottish highlands, and included two days on the Isle of Skye.
This was Jess's first visit into the far north west of Scotland, and my first visit to Skye – billed as one of the most photogenic places on earth. So you can probably understand my excitement. Did the tour live up to expectation? Read on and find out!
A Five Day Scottish Highlands Tour Itinerary With Rabbie's
I'm going to give you a run down of our tour, the key highlights from each day, and finish off with some advice as to whether or not this tour is something you might want to do. Starting with:
Day 1 – Waterfalls and Lochs
Our five day Scottish highland tour kicked off in Edinburgh, with a 9am departure from Rabbie's centrally located office. Here, a multitude of tours depart (there's even a live departure board!), and you can grab a coffee or something to eat to get you going after you've checked in.
Once we were checked in, we walked the two minutes up the street to find our bus, where we were introduced to our driver and guide, Ross. Ross was to be with us on the whole trip, keeping us entertained and informed, whilst hunting out all the best spots for photography and sight-seeing.
Our first day had us heading up to Ullapool, which is a fair distance from Edinburgh, and this meant we were due to spend a good deal of time on the bus. A quick note on the bus, since we spent a while on it!
Our tour was fully booked, meaning fifteen people, but the bus (a new Mercedez Benz) was very comfortable and had plenty of space for all of us. I was particularly impressed by the fact that all the seats came with high-speed USB charging ports, meaning our phones never ran out of power, and we were able to keep our Instagram accounts updated as we went. Always a plus.
There was a bit of shelf space above all the seats for small bags, coats or umbrellas, and we had plenty of leg room. We also had reading lights above our seats (not that we needed them!), the bus had comfortable air conditioning, and there were also individual speakers above each seat that could be turned on and off. Our luggage was stored beneath the bus in a locked storage area.
On the bus, Ross gave us a quick overview of our route, and what we would be seeing that day, as well as an expectation of an arrival time in the early evening into Ullapool. He also pointed out places of interest and spectacular scenery along the way. Highlights of the day were:
The Village of Dunkeld
The first stop on our trip was about an hour and a half out of Edinburgh, at the pretty village of Dunkeld in Perthshire. The highlight here is without doubt the magnificent Dunkeld Cathedral, which we made a beeline for upon getting out of the vehicle, on a route that took us through some gorgeous giant trees.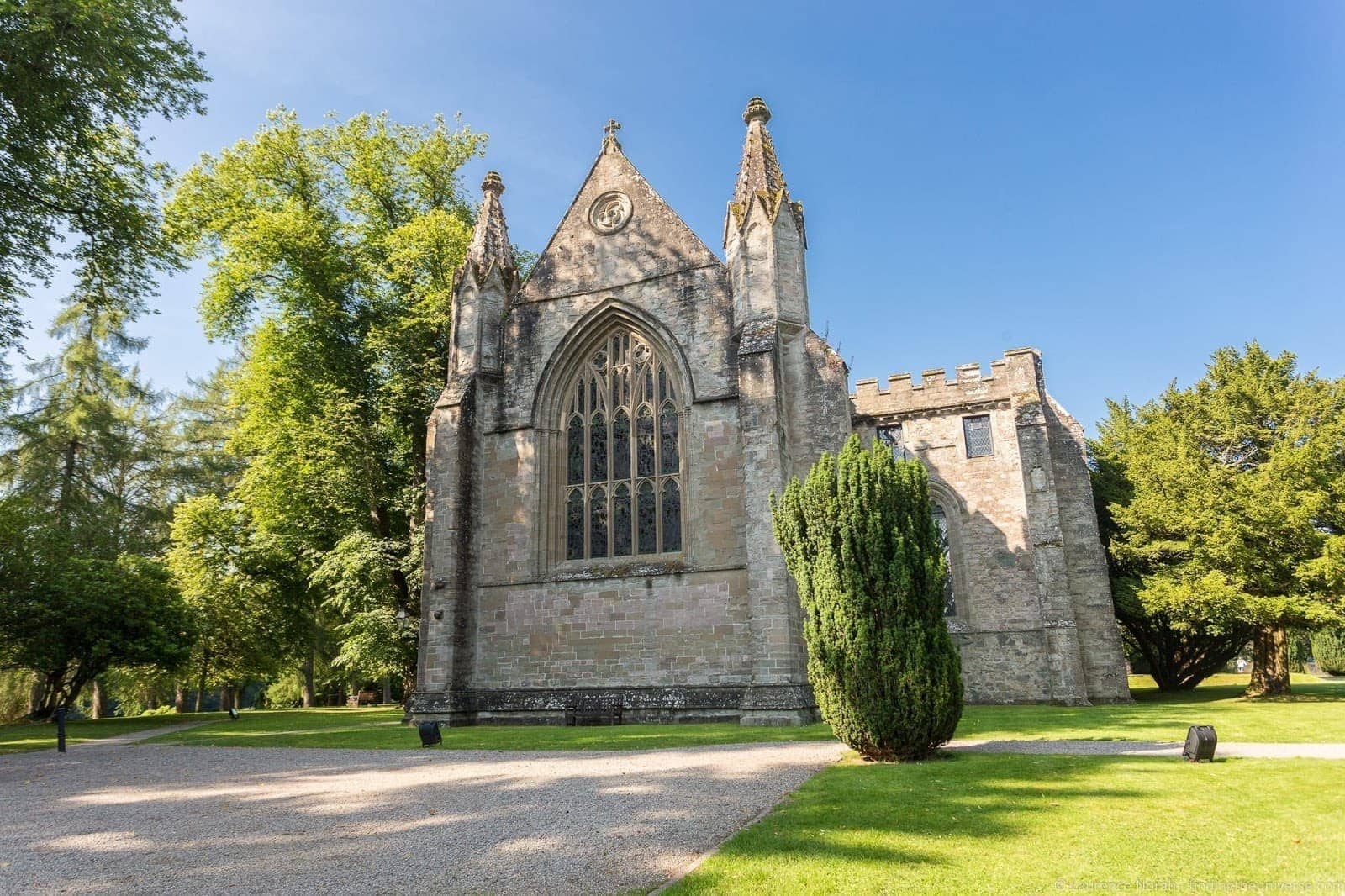 Part of Dunkeld Cathedral is in ruins, whilst part of it still serves as the parish church, and it's fascinating to see how the styles of architecture has changed since the structure was started in the 12th century. Yep, this is a pretty old church.
After wandering the church for a bit, we headed back to the bus via the village itself, availed of the bathroom break opportunity, and continued on. I'd say we stopped for roughly half an hour, which seemed to be enough for everyone to see what they wanted to see.
The Falls of Bruar
Another ninety minutes of driving, and it was time for lunch. We stopped off at the popular roadside rest stop "House of Bruar", which is both a restaurant and a shopping outlet for a variety of Scottish clothing and gifts. We took advantage of this location to stock up on a couple of gifts for Jess's family and if you're on this trip we can recommend taking advantage of the wide selection of items available here – it is one of two of the major shopping stops on the tour.
Of course, it wasn't all about the shopping. We had lunch here, and also partook of the short walk to the Falls of Bruar. These are around a half mile walk from the main buildings, following an easy path along the river, and this walk is very much worth doing – try to avoid spending all your time shopping if you can!
There's an additional walk to another waterfall if you've got the time (grab a sandwich and start hiking!), but we were happy with just the walk to the first falls, where there was a cute stone bridge and plenty of vantage opportunities.
Then, you guessed it, back in the bus for the third leg of our trip!
Carrbridge
Another hour or so of driving brought us to the small village of Carrbridge, where we had a quick stop to use the toilets and grab a drink, plus take in the rather pretty arch of the old stone bridge across the river Carr. You can probably see where the town got it's name from.
This was just a quick stop, but we still got a few photos to keep us going.
Loch Ness
Ah, Loch Ness. Probably the first place on the list so far that you've recognised. Unless you're a Scotland expert that is. Anyway, I'm sure you're familiar with the myth of the beast who lives in the Loch – the famous Loch Ness monster affectionately known as Nessie.
By volume, Loch Ness is the largest loch, or lake, in Britain. It has more fresh water in it than all the lakes of England and Wales combined, and due to all the peat in the surrounding lands, is also spectacularly murky. Which means that Nessie has lots of space to hide, and lots of gunk to hide in. Which probably explains why no-one has, as yet, provided any real evidence that she exists.
Still, despite the low chance of spotting Nessie, we very much enjoyed our visit to Loch Ness, which happened to be on one of the warmest days of the year.
This meant that there were people actually swimming in the lake, as well as sunning themselves on the beach. We opted to just have a walk along the shore and admire the creations of the resident Loch Ness monster hunter, who has been keeping a watchful eye on the Loch since 1991.
If you plan on visiting this Loch, see our complete guide to visiting Loch Ness for more information.
Ullapool
Finishing up with Loch Ness, it was back into the bus for the last couple of hours of driving, up to Ullapool, which was to be our base for the next two nights. This was definitely a full day of driving, but there were enough stops to make it interesting, and the gorgeous scenery certainly helped – not to mention Ross's occasional commentary and musical selection.
Finally we arrived into Ullapool at around six pm, where we journeyed around the small town dropping folks off at their hotels. Note that Rabbie's doesn't include hotel costs in the base costs on the tour, but you can specify a quality of hotel (from luxury hotel to hostel) and they'll book it for you.
More on this at the end of the post. We had opted to stay in B&B's throughout, and so it was that we found ourselves checking in to the Riverside B&B, about a five minute walk from the town centre.
Ross had given us some options for dining out, and we chose the Ceilidh Place – one of the finer dining options in Ullapool. We had an excellent dinner, and then popped out to watch the sunset over the harbour before returning for an early night – ready for another full day!
Day 2 – Beaches, Castles and Landscapes
Our second day started with a full Scottish breakfast, which is about the best way to set yourself up for a day of Highland exploring. Bacon, black pudding, fried egg, toast – what more could you want? I'm hungry just thinking about it.
Following breakfast we had a pickup time of 8.45 and we popped around all the hotels to get everyone on board before setting out on the days adventure. This was to be a day with a lot more exploring out of the bus and less driving – a stark contrast to the mileage of the previous day.
Ross was particularly excited about our day. The weather was gorgeous, and we could tell he was passionate about this region of Scotland, the north western highlands. Our day went as follows:
Ardmair Beach
A few minutes drive from Ullapool, and we stopped to take a walk on the beautiful Ardmair Beach, which set the scene for the day. This was to be a day of gentle walks and stunning scenery, with short bus rides in between.
Ross guided us along the stretch of pebble beach, Jess and I found some things to photograph, and the group reconvened at the bus, full of fresh Scottish air and excited about what the rest of the day had in store. Which, it turned out, was quite a bit!
Back on the bus, we headed along to Achilitibuie, with stops along the way to take in the incredible landscapes. A highlight was definitely the photo stop for Stac Pollaidh, where I grabbed a photo of Ross in his kilt.
Achiltibuie Area
I mentioned near the start of the post that Jess hadn't been to this part of Scotland before, but didn't fill you in on my experiences here. Well, way back in the 1980's, my family holidayed up in this part of the world, specifically in the village of Achiltibuie. Not a village name you want to try to pronounce after a couple of beers.
I was excited to revisit, but mostly so I could tell my mum about it – if I'm honest, my memories of that trip largely involved being left outside a pub in the rain so my parents could enjoy a beverage. Licensing laws around children being allowed in pubs being apparently quite strict in the Scotland of the eighties.
Anyway, that memory was washed away by our visit to Achiltibuie on a glorious sunny day. We took in a local croft, stopped for a cup of tea, and took some photos of sheep, boats, and giant balls on a pebbly beach.
Then, it was on to our lunch stop, but not before stopping a couple more times to take photos of more incredible highland scenery.
Lunch was at a small cafe near Inverkirkaig, where options ranged from paninis to soups. After lunch we had the opportunity to take a stroll, which Jess and I did, finishing up on Inverkirkaig beach, where Ross picked us up, before heading on to our next stop:
Achmelvich Beach
I have seen photos of Scotland's beaches in summer, and have usually had a "I can't believe that's Scotland" reaction.
It turns out that Scotland has gorgeous white sandy beaches and turquoise waters. When the sun is out, you could be mistaken for thinking you've teleported to the Caribbean.
Of course, all you have to do to shatter the illusion is dip your toe in the water. It's not exactly Caribbean warm, although plenty of people were enjoying the waters. Instead of enjoying the waters with them, we opted to wander the two beautiful coves, take lots of pictures and generally just relax for the ninety minutes that we had at the beach. Definitely a highlight of the day.
Ardvreck Castle
Finally, our relaxing beach time came to an end and it was time to return to the vehicle, and set off towards our first castle of the trip!
Ardvreck Castle is a ruined 16th century castle, which sits on a rock outcrop on the shore of Loch Assynt. It was built by Clan MacLeod, but was destroyed when invaded by Clan MacKenzie in 1672. They built a manor house nearby, but that too was destroyed, in mysterious circumstances, meaning that there are now two impressive piles of ruined home on the shores of Loch Assynt.
We had about half an hour to explore, and we wasted no time in getting to the rocky outcrop of Ardveck Castle. Due to high rains in the previous weeks, the Loch was high, necessitating some knee high wading through the waters to actually reach the property. This was definitely worth it though, as the ruins of the castle against the backdrop of the highlands were wonderful to behold.
Finally, it was back to the bus, where barring one scenic reststop, it was the end of our day. We had an evening meal from a food truck serving up delicious local sea food, before hitting our bed again.
Day 3 – Castles, Coos and Passes
Day three was to be another day with a bit of driving, but again, we were to be touring some of Scotland's most stunning locations, and the day was due to end on Skye. So obviously that was exciting. We loaded up with a full Scottish breakfast, before checking out and loading ourselves onto the bus for another full day of adventuring.
Lochs
This was a beautifully still day, which meant one thing – stopping to take pictures of magnificently still lochs! It had become apparent to me by this point that Ross was a talented and keen photographer as well as being an excellent driver/guide, which meant that we had some truly epic photo opportunities on our trip.
We stopped at Loch Broom, Loch a' Chroisg and Loch Clair – the latter of which was a definite highlight! I'll let the pictures do the talking.
I think you'll agree, Scotland with a bit of sunshine is pretty special.
All Loch'd up, and we headed on for a morning coffee break, stopping on the shores of Loch Torridon at The Torridon Inn. This is a relaxed cafe / pub for refreshments with a nice-looking hotel next door. We had a coffee, and explored the grounds a little, before we set off on the fantastically scenic Applecross coastal road – a windingly scenic highway around the edge of the Applecross peninsula.
It was here that we encountered two things. First, the first grey weather on our trip, which lasted all of around an hour. Second:
A Highland Coo!
Yes, another iconic Scottish sight, the hairy Highland Cow, or Coo, as the locals call it. This wonderfully hirsute beast is near the top of sights for many visitors to Scotland, and so we were thrilled to find such a fine looking animal just sitting by the side of the road.
Despite the fog, which, to be honest, just lent a bit of atmosphere to the experience, we all piled out of the bus and went to say hello.
Despite their horned appearance, Highland Coo's are generally well mannered and approachable, although you should maintain a respectful distance, refrain from trying to touch them, and don't come between them and their calves as they can be aggressive if provoked. We were able to get fairly close for some lovely photos, which was a wonderful experience. Then, we headed on, to our lunchtime stop at the Potting Shed Cafe & Restaurant, near the town of Applecross.
Here we had a rather delicious meal of locally sourced food, before setting off on one of Scotland's most spectacular mountain roads – the Bealach na Ba (Pass of the Cattle). This road is one of the highest in Britain, reaching 2,053 ft, and it offered us our first glimpses of Skye, across the sea to the west.
Skye itself was cloud draped, but her mountain tops were poking above the clouds, so it was quite an impressive sight. Then, we wound down the hill to our last big stop of the day, the most visted attraction in the Highlands, and definitely one of the most photographed in Scotland:
Eilean Donan Castle
Sitting on the junction of three lochs, and built upon a rocky promontory which can only be accessed by a stone bridge, Eilean Donan is definitely one of the most photogenic castles in Scotland.
It's also probably the busiest of all the visitor attractions in the highlands, and the day we visited was no exception. Ross actually suggested that due to the volume of visitors, we might prefer to skip going inside the castle and instead to just take photos of it from the shore, but we opted to go inside and experience it. Most of our group decided to go in and tour on their own but a few decided to just spend time in the gift shop and check out the closest town.
Eilean Donan is actually a bit of a strange castle, as the original was entirely destroyed in the 18th century by the British Royal Navy in retribution for the role it played housing Jacobite revolutionaries. For two hundred years the castle lay in ruins, before being entirely rebuilt in the early 20th century to it's former design – the main change being the stone bridge across which you access the castle today.
The castle was definitely crowded, but worth the visit nonetheless, although the best photos of it are definitely to be had from the shore.
Finally, our castle time concluded, and we took the short drive north and headed across the bridge to the last stop on our day, the magical:
Isle of Skye
Skye is actually quite a big island, and it was around an hour's drive from where we drove onto the island to the small village where we were to be based for the next couple of nights. Naturally, Ross updated us with the key geological features, notably the Black and Red Cuillins, which we stopped briefly to photograph.
Finally, we arrived at our B&B, which was around a twenty minute walk from the town centre, and after dropping our bags off, Ross gave us a lift into town where we had a lovely evening meal at the Antlers Bar & Grill (I particularly enjoyed the seafood platter!), part of the Portree Hotel, before walking home to bed.
Day 4 – Skye: Mythic Landscapes and Faerie Folk
Our fourth day was entirely set aside for exploring the Isle of Skye, but first, of course, we had to get started with a full Scottish breakfast. The breakfast is usually my favourite part of staying at a B&B, and the Feochan B&B didn't disappoint. Jess opted for lighter options.
Fully equipped for the day, we set off, with our first stop being:
Loch Fada and the Old Man of Storr
The Old Man of Storr is one of the more recognisable sights on Skye, a finger of rock that juts out of the surrounding landscape. The actual walk up to the Old Man of Storr would have taken more time than we had, so we stopped by beautiful Loch Fada to soak up the view and get some gorgeous reflections of the Old Man of Storr while we were at it.
Conveniently, Loch Fada also had some boats parked in it, which only added to the view!
Some time, and many photographs later, we hopped back into the bus for the first waterfall of the trip, the spectacular:
Mealt Falls
Mealt Falls are fed from nearby Mealt Loch, with their key feature being that they plunge off the side of the sea cliffs and down to the waiting sea, some fifty plus meters below. With the backdrop of the Kilt Rock, these are a stunning sight on any day, and we were particularly lucky to have fine weather when we visited, which gave the water below a wonderful greenish tinge.
We enjoyed the view for a time, before taking a short ride on the bus along to the town of Staffin, where we stopped for a coffee at the Columba 1400 cafe. As well as offering lovely views, this is a social enterprise and charity, where the funds raised go towards helping young people through tough times.
The Quirang
The next stop on our trip was another well known spot on Skye – the Quirang. Formed as part of a series of huge landslips from the Trotternish peninsula, the Quirang is home to a series of stunning landscape formations, including The Needle and The Table.
The vistas from the top of the Quirang are unbelievable, and the half hour or so that we had to explore slipped away all too quickly.
The Faerie Glen
From the Quirang we carried on to the other side of the Trotternish Peninsula, to visit a curious geographic region known as the Faerie Glen. This is a place rife with fokelore and legend – Ross warned us to avoid invitations to a night of partying from the faeries, as whilst we would likely have a wonderful time, we might emerge to a world very different to that which we had left!
Sadly, we had no such encounters (I was all for a time travelling night of partying), but we did still enjoy the climb up to the top of the rock formation known as the Faerie Castle, the views of the strange hills, and the overall weird atmosphere of the place. So much so, that we were almost sad to leave and head back to Portree for our lunch stop!
Lunch was at our leisure – Ross gave us some options, but Jess and I went off piste and decided to go for an Indian. Which was actually excellent, and definitely recommendable. Following lunch, we had a bit of time to explore Portree and its shops and harbor, after which we headed to another part of Skye, to try another Scottish classic.
Talisker
You basically can't come to Scotland and not try Whisky, and what better place to have a sample than at Skye's most famous (and only) distillery: Talisker. Founded in 1831 on the south shore of Loch Harport, the Talisker Distillery is a popular tourist attraction – and for good reason!
Here you can learn about the history of the Talisker brand, including the various hardships the distillery has gone through, most notably it's total destruction by fire in 1960, an event which was said to have set the Loch itself aflame with whisky.
Today there is less flaming whisky, and more tasting whisky, and we partook of a wee dram whilst learning all about the history of Talisker. Definitely a good call by a couple of our fellow travellers who suggested a visit here! We also had the option to stay in Portree and relax, go on a boat ride, or hike, but most people chose to come along for the whisky tour.
The Faerie Pools
After our visit to Talisker, it became apparent that the weather was really closing in. Whilst the afternoon tour was optional, everyone had opted to come along, and we started to experience weather that was perhaps a bit more typical of the Isle of Skye. Rain and fog descended, and our afternoon trip to the stunning Faerie Pools was attempted, but the weather wasn't really good enough to make the walk worth it.
Ross drove us further, and we did take in some more sights, including a blustery and wet walk on a beach, followed by a blustery and wet quick viewing of Dunvegan Castle, before we decided to head back to Portree, have a bite to eat, and get an early night. Jess and I had dinner at The Granary, which was a really excellent meal, and really finished off our last night on Skye in fine style!
Day 5 – Forests, Glens and Forts
Our last day of the tour was also another big drive, all the way back from the Isle of Skye down to Edinburgh. We were going to be taking a very different route with different scenery and highlights on the way back, so it was still a day to look forward to – after I'd eaten my full Scottish breakfast of course!
Loading up, we headed south and away from Skye – with a quick stop on the way to grab an image of some stunning reflections on Loch Ainort. Ross was always on the lookout for excellent photo opportunities, and this was one we couldn't miss!
Then, we were off Skye, and we headed back to Eilean Donan castle to get some additional photos. We couldn't complain about Eilean Donan photo opportunities!
Ross, then took the time to get a nice group photo of all of us, before we turned our noses south, and headed to our first new stop of the day, the:
Commando Memorial
The Commando Memorial, near the foot of Ben Nevis mountain (the UK's highest mountain), is Scotland's most famous war memorial, and is dedicated to the Commando's who trained all around this area and fought in World War 2. Officially unveiled by the Queen Mother in 1952, the memorial depicts three Commando's in full dress, cast in bronze, gazing south to Ben Nevis.
If you're not familiar with them, the Commando's were an elite unit of men, formed during the second world war, with the goal of carrying out raids in German occupied Europe. During the war, 25,000 men passed through the nearby Commando training facility of Achnacarry. Their first test, an eight mile march in full gear from the train station to the training camp, passed right by the location of the memorial. Any man who failed to complete the hike in sixty minutes was returned to their unit. As you can imagine, the training only got harder from then on!
Today, the memorial is used for major memorial services, including the D-Day landings and Remembrance Day ceremonies. It's also a very popular tourist spot – both for the memorial itself, and the views it offers over the surrounding landscapes. Well worth our stop!
Spean Bridge
From the Commando Memorial it was a short drive down to nearby Spean Bridge, where we stopped at the Spean Bridge Woolen Mill. This was the other main opportunity on the trip for shopping, and we had around a 40 minute stop here – plenty of time to peruse everything on offer, from whisky to tweed clothing.
The best part of the stop was the whisky tasting, with three types of whisky out for trial – definitely worth the stop in itself, despite it being fairly early in the day still. We also bought a couple of warm hats, one for me, one as a gift for Jess's father. We certainly appreciated the opportunity to get in a bit of gift shopping as the trip was coming to a close.
Fort William
The largest town in the Highlands, Fort William was a logical stop for lunch. It's also a very picturesque location, surrounded by towering mountains and on the shore of Loch Linnhe. With the fine weather we were having Jess wanted to have a picnic, so grabbed some sandwiches and headed to the ruins of the old Fort itself.
Then, it was on to the free West Highland Museum, where we entertained ourselves learning about Jacobite revolutionaries and the region's history. This is definitely worth a stop if you are in Fort William and the museum staff were lovely. At the train station waiting for our bus, we saw the steam locomotive "The Jacobite", most famous for starring as the Hogwarts Express in the Harry Potter movies. Finally, we were back onto the bus for our last afternoon of driving.
Glen Coe
Time was against us, so we had a very short amount of time in one of Scotland's most stunning highland valleys – Glen Coe. I wasn't too bothered about this as I spent a few days photographing the landscapes of Glen Coe in 2015, but I did feel that the trip could have benefited from a few more scenic stops in Glencoe for the benefit of the other passengers.
Still, Glencoe is a super popular stopping point, especially in August, and most of the parking areas were absolutely stuffed, so maybe it wasn't so bad after all!
From Glencoe we wound our way down to the town of Callander, where we stopped for a coffee and a stretch of the legs. We also had a brief stop at Doune Castle, not officially on the tour, but as it's the main filming location for one of the Monty Python movies, was worth a few minutes of our time for the photo opportunities. Finally, we drove back into Edinburgh, arriving at around 7pm, where we said our thank you's and farewell's to Ross, and headed home via public bus. Phew. What an adventure!
Now, let's go through some thoughts on our trip and maybe you'll be able to make up your mind if this is something for you!
Is A Five Day Scottish Highlands Tour with Rabbie's For You?
First, this tour covers a lot of ground, as you can see from our itinerary. The days are definitely packed, although for the most part we didn't feel too rushed, and were able to see everything we wanted. Of course, there's always the feeling that you could have more time at some locations, but that's the nature of it.
The nicest thing about a tour like this is that everything is handled for you. Driving in the UK (on the wrong side of the road for many people!), can be a bit of a challenge for visitors, so letting someone else handle all the driving is a definite positive if you're nervous about hiring a car.
The other thing we appreciated was how timely the tour was. This was a combination of Ross's excellent time keeping, and the fact that 95% of the time, everyone made it back to the bus at the specified departure time. This made for a very well run tour, and gave us the opportunity to sneak in a few extra short stops here and there.
Of course, there are downsides to an organised tour, in that there's less flexibility, and you can't stop wherever and whenever you want. Ross did his best to accommodate requests, but broadly the itinerary was fairly fixed, and time was not infinite. If you're more of a self-drive kind of traveller, then of course this tour might not be right for you.
This is also definitely not a party kind of tour. The days are quite long, and you're left to your own devices in the evenings. Of course, you can go out and party wildly, but generally the folks on the trip that we were on were more interested in enjoying themselves in the daytime and resting up in the evenings. We chose to generally head off and do our own thing during free time and evenings, but some of the participants had group dinners together or met up for walks or drinks. So you can definitely spend as little or as much time as you like with others. Just note that the group is spread out among 3-5 lodging places at night.
Overall, we can definitely recommend this tour for anyone looking for a small group tour that takes in a good many of the highlights of the Scottish Highlands. It's well priced, the bus is comfortable, it all runs smoothly, and this is an incredible part of the world to visit.
Who's Going To Be On A Rabbie's Tour?
There was a wide range of travellers on our trip, from young couples, through to single older folks, and even a family. Three of the tour participants were traveling on their own and the rest were in a couple or family group. Nationalities included Germany, Canada, United States, UK, and China, and speaking to Ross he indicated that they get a wide mix of folks from all over the world. Many had taken a Rabbie's Tour before (always a good sign), and everyone was friendly and easy to get along with.
Another great thing about booking this tour is that it is guaranteed to leave even if you are the only person signed up! While rare, Ross told us that he once did a Highland tour with just one person. So you don't need to worry about booking a Rabbie's tour and it being cancelled due to not enough participants.
What's Included On A Rabbie's Tour?
The tour includes the driver/guide services and all bus transportation. Accommodation, meals, and entry fees to attractions are not included unless otherwise noted in the itinerary.
Rabbie's can book your accommodation for you (this is our recommended approach as it makes things a lot easier and they often get a discounted rate on rooms). This means that you can adjust the price of your trip to suit your budget, with options ranging from hostels through to fairly nice three and four star hotels.
As mentioned, we stayed in some nice B&B's, which were in the midrange of the price, running to around £50 – £70 a night for the two of us, including breakfast.
Beyond that, you'll also need to bring spending money for gifts and incidentals. Guides also greatly appreciate a tip at the end of the trip if you enjoyed it!
What You'll Need To Bring
Scotland is known for having unpredictable weather, whatever the time of year. We lucked out with mostly warm and sunny days – Ross said that his trip the previous week was just grey and cloudy the whole way round, with pouring rain – in August!
So you basically need to be prepared for a wide range of temperatures and weather conditions depending on when you are traveling – everything from 25C / 80F + down to freezing in Winter. Layers are the answer, so you can dress up or down accordingly. A waterproof jacket would also be a recommendation.
Beyond that, I'd suggest comfortable shoes – you don't need full on hiking boots, but comfortable hiking trainers that offer some water resistance would be suggested.
If you're travelling in the summer months, then suncream and insect repellent are must-have's. In our case, Ross had insect repellent we could borrow, but we'd suggest bringing your own anyway as his supply was limited. The midges (little mosquito like insects) can be particularly bad in certain areas.
Beyond that, you're going to need spending money, charging cables, your camera – basically everything you'd need for any trip. For ideas on what to pack, check out my ultimate travel packing list to be sure you don't miss anything.
Final Thoughts
We really enjoyed our five day trip with Rabbie's Trail Burner up into the Highlands of Scotland. It was well planned, our driver/guide Ross was friendly, courteous and professional (and knew all the photo spots!), and we saw some fantastic scenery. The accommodation was good, the food was excellent, and overall, we can definitely recommend this trip to anyone looking to get a great Scottish experience at a reasonable price.
If you're interested, you can book this trip here, and find out more about all the tours Rabbie's offers right here.
Further reading for your Scottish Adventure
We've got lots of resources to help you plan your trip to the UK, from posts we've written ourselves to third party content we're happy to recommend. Here it is:
Disclaimer: Our trip with Rabbie's was provided complimentary to us, and they also covered our accommodation, meals and entry to attractions. All opinions remain our own, check out our code of ethics for how we decide who to work with.