I've been a Vanguard ambassador since 2014, and have used and reviewed a number of the tripods and camera bags over the years.
Recently, they asked me if I'd like to try out the Vanguard VEO 3+ 263AB tripod, which marks a new direction for Vanguard's VEO line. So, despite it not being a travel tripod, I was keen to have a play with it and see what it was all about.
As you'll see, a lot has changed with this tripod compared to other tripods in the VEO range. Before we get started with the review, let me bring you up to speed. Because I know that not everyone has a wardrobe full of tripods.
A History of the VEO tripod range
Vanguard launched the first VEO tripod back in 2015 as part of a new range of products (tripods and bags), aimed at the traveling photographer. The goal with the VEO tripod was to create a lightweight and portable travel tripod at an affordable price point that would offer a great balance between stability and portability.
I was delighted to be involved in the launch of the new range, and even had one of my photos featured on the original packaging, which was a thrill. You can see my review of the original VEO range of tripods and bags here.
Skip forward a couple of years, and Vanguard launched version 2 of the VEO range, the VEO 2. Again, this was a range of travel tripods and bags. I used the Vanguard VEO 2 265CB as my main travel tripod for many years.
The upgrade from the original VEO range to the new VEO 2 range was fairly incremental. The legs went from flip locks to twist locks, and the carbon fibre used for the carbon fibre models was improved, leading to slightly lighter products. You can see my review of the VEO 2 range of tripods here.
In late 2019, more significant changes started to appear in the VEO 2 line, heralding the arrival of the VEO 3 range. I reviewed the VEO 2 GO 265HCBM, which has come to be my new primary travel tripod. New features include extra height thanks to a double extension centre column, and the nifty ability to convert one of the legs to a monopod.
This brings us now to the VEO 3 range. This marks probably the biggest shift in approach to the range since it first launched.
First, all the new tripods benefit from a new CNC manufacturing technology that Vanguard have invested in. Without getting too technical, it means Vanguard can produce even higher quality tripods with much tighter design tolerances. The end result is some beautiful looking and high performance tripods.
In terms of the actual tripods, going forward, the VEO 3 tripods are split into two ranges. The VEO 3 Go range will be a travel focused tripod that offers a more portable option for those looking for something you can carry around all day. The smallest version weighs just 820g (1.8lbs) and folds down to a tiny 13 inches (33cm)!
Each VEO 3 Go model has the convertible monopod leg, and also comes with a smartphone connector and bluetooth remote for Android/Apple smartphones. They're available in both aluminum and carbon fibre models at a range of price points to suit all budgets.
The VEO 3+ range is a whole new product, which Vanguard are billing as their most versatile tripod ever. It has a host of new features, but importantly, this isn't a travel tripod. It's designed for when stability and sturdiness are paramount – perhaps for heavier gear or photographing in windier conditions.
I often travel with a couple of tripods when we take road trips from home and weight isn't an issue. For longer hikes I'll usually take my travel VEO, and then I'll also have my Vanguard Alta Pro 2 for shoots that aren't too far a walk from my car.
The Vanguard VEO 3+ competes more directly with Vanguard's Alta Pro line in terms of size and who it's aimed at.
Ok, that's enough tripod history. Let's get into the details of the tripod itself!
Vanguard VEO 3+ 263AB Tripod Review
The Vanguard VEO 3+ 263AB tripod is an aluminium tripod that is a part of Vanguard's 2020 VEO 3+ range. At launch in September 2020, there are four models in the range – two carbon fibre tripods and two aluminum models. The main difference between the products is the head type, either ball or pan, and then obviously the material the tripod is made of, aluminium or carbon fibre.
Let's look at an overview of the specifications of the tripod I'm reviewing today, the VEO 3+ 263AB tripod.
Weight: 5.4 lbs /2.45 kg
Folded Length: 30 inches (76 cm)
Minimum Height: 0.2 inches (0.5 cm)
Fully Extended Height: 68 inches (172.5 cm)
Height without Column Extension: 58 inches (147 cm)
Load Capacity: 33 lbs / 15 kg
Main Material: Aluminium
Head: Ball head
Mount Type: Arca-Swiss compatible quick-release mount
Price: RRP of £229 GBP / MSRP of $309.99 USD
Don't forget that you can score a 20% discount on those prices by using my Vanguard discount code FindingtheUniverse on the Vanguard store (US + UK only).
There are a few things that should pop out at you to illustrate this isn't really a travel tripod. The weight is one – at 5.4 lbs /2.4 kg this isn't a tripod you necessarily want to take on an extended hike. Next, a folded length of 30 inches is still fairly large.
But of course, this isn't meant to be a travel tripod. So who is it for, and what features does it have that should earn it a spot in your gear list? Let's talk about them.
The Multi Angle Central Column
One of the main features of the VEO 3+ range is the, frankly awesome, Multi Angle Central Column, or MACC for short.
This is the feature which particularly sets it apart from the Go range. Basically, the central column can easily be lifted up and out of its position between the tripod legs, and then placed at any angle you want atop of the tripod.
Here are some photos to demonstrate this in action.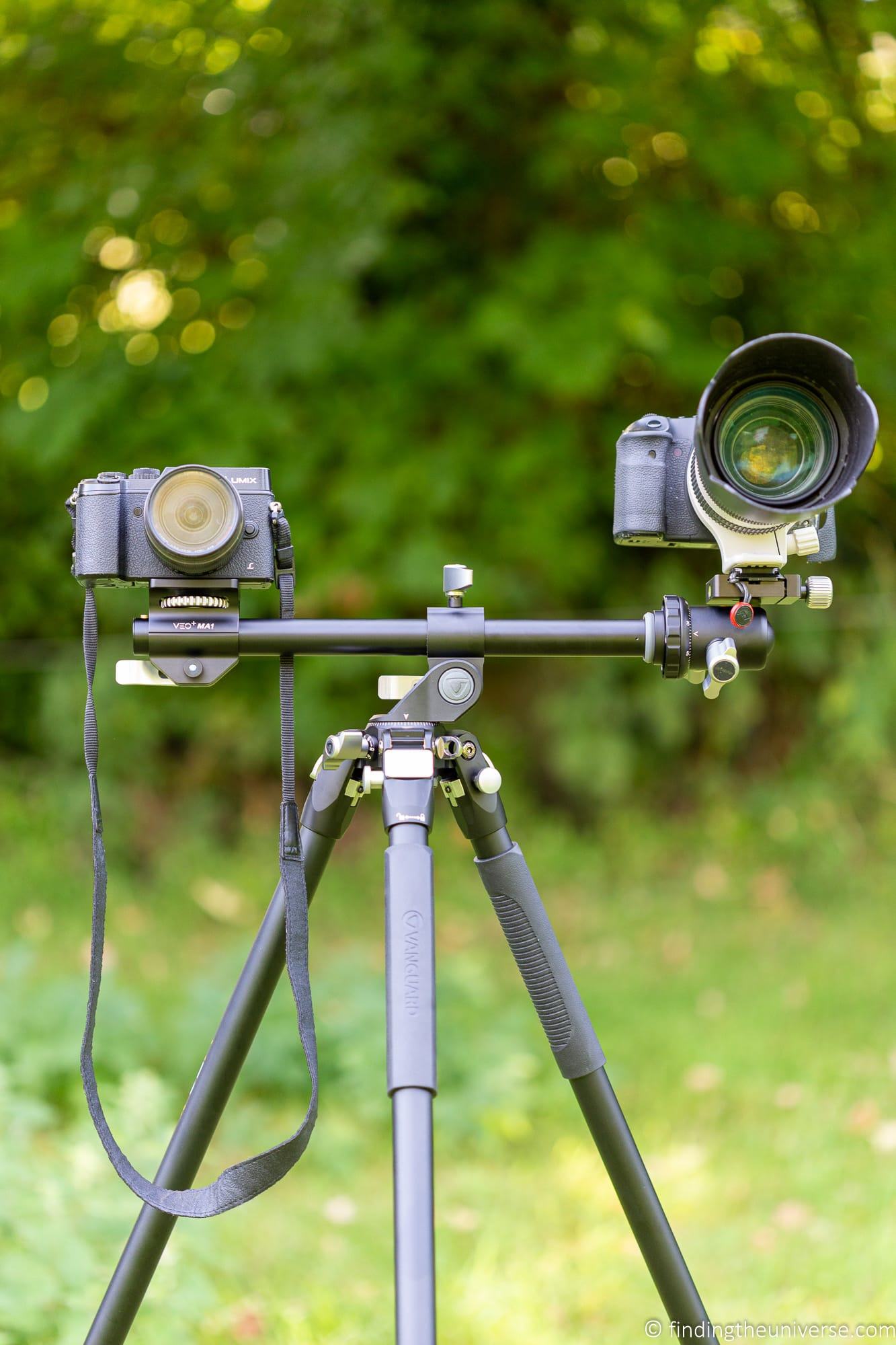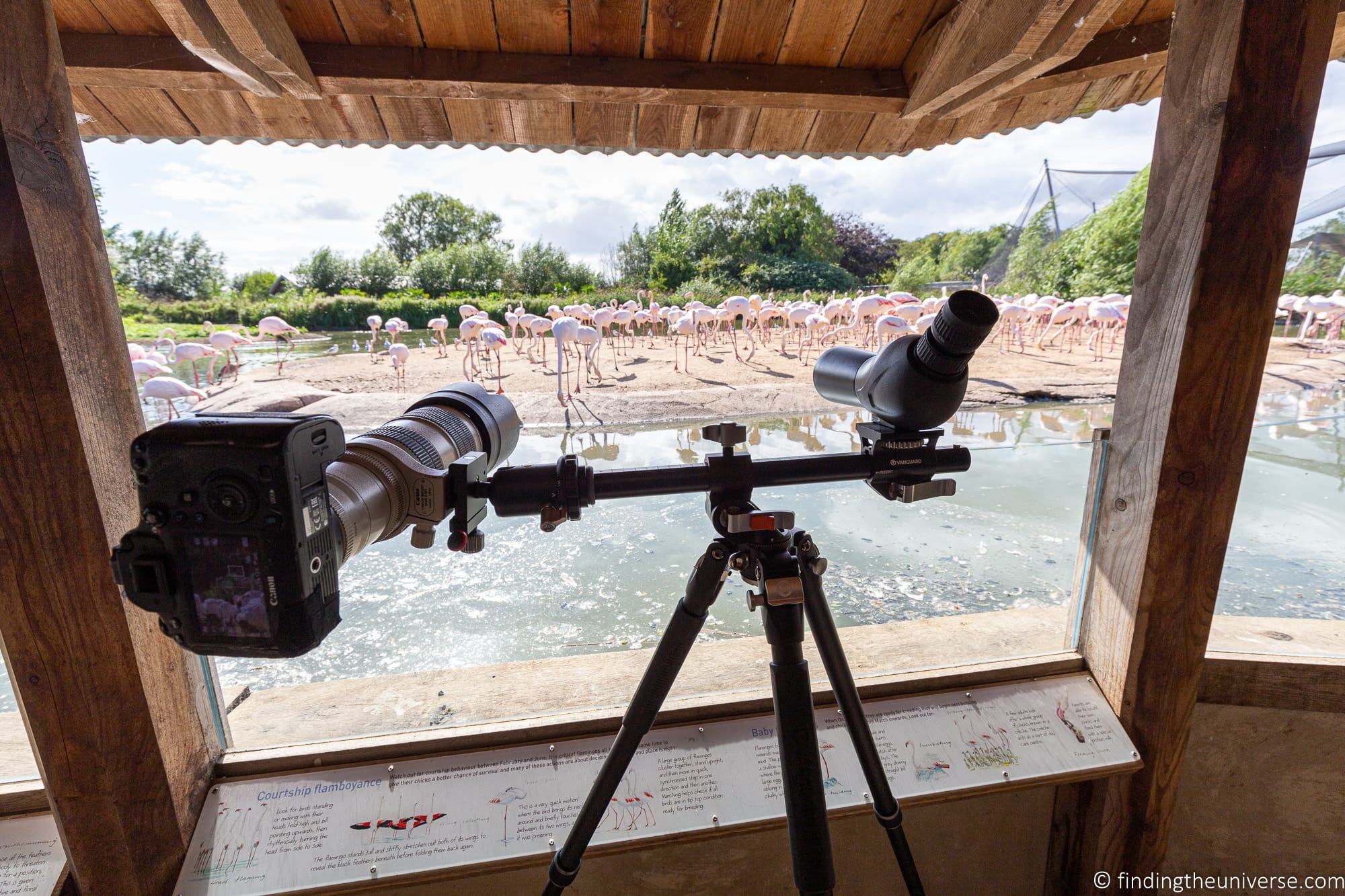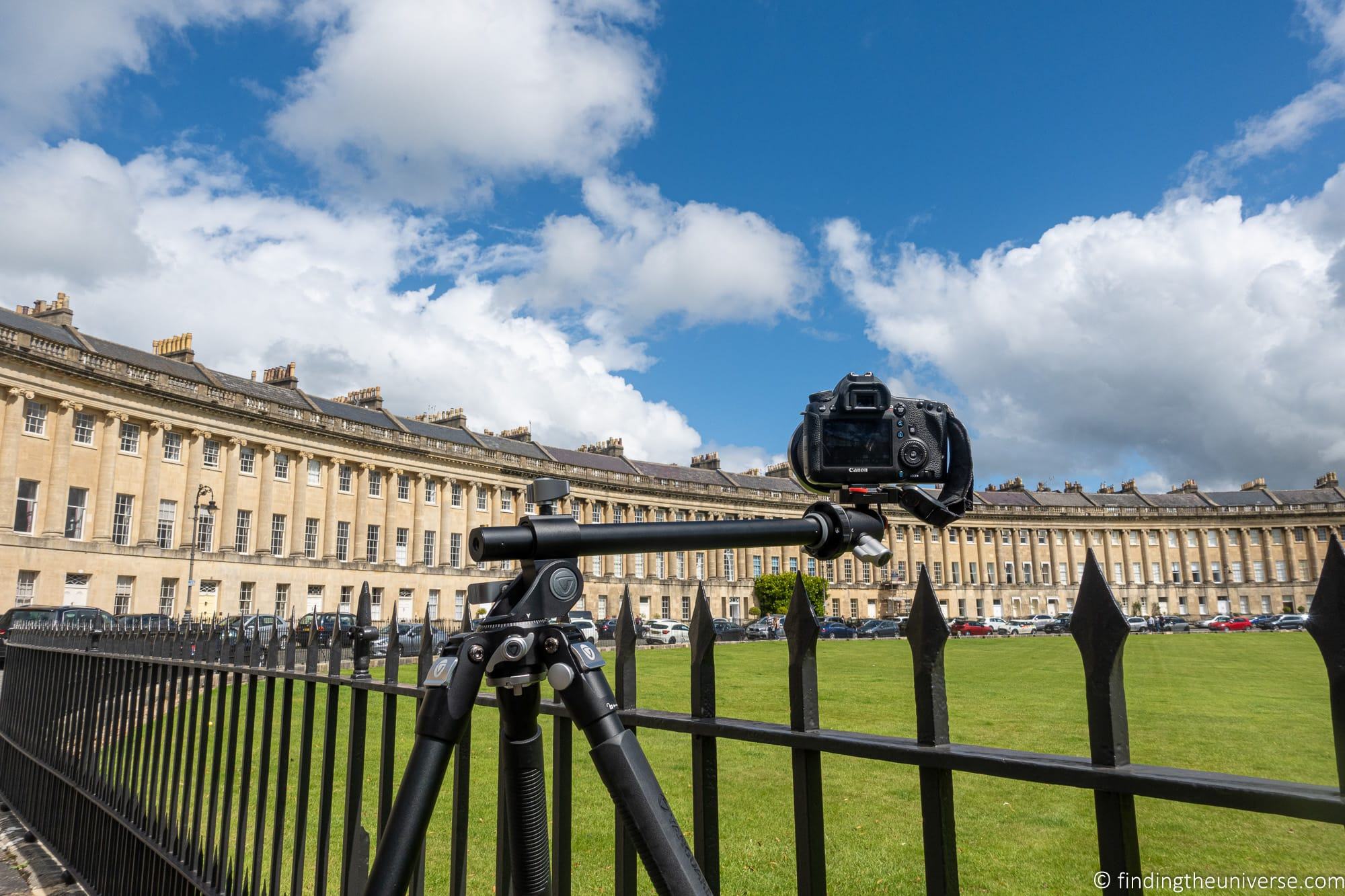 This is particularly useful when you are trying to get a shot of a subject and you have to place the tripod near a fence or other barrier. Normally in these situations the camera ends up a foot or more back from the fence because of the positioning of the legs.
However, with the MACC, you can reposition the camera so it's in a more suitable location for your shots. You can even flip the central column entirely, so the camera is underneath the tripod legs for really close up work.
The other advantage of being able to essentially remove the central column from the tripod legs is that it means you can get the tripod really really close to the ground – almost flat in fact. So if you like shooting those low angle shots, you can easily do that with the VEO 3+. And you don't even need a low angle adaptor to do so.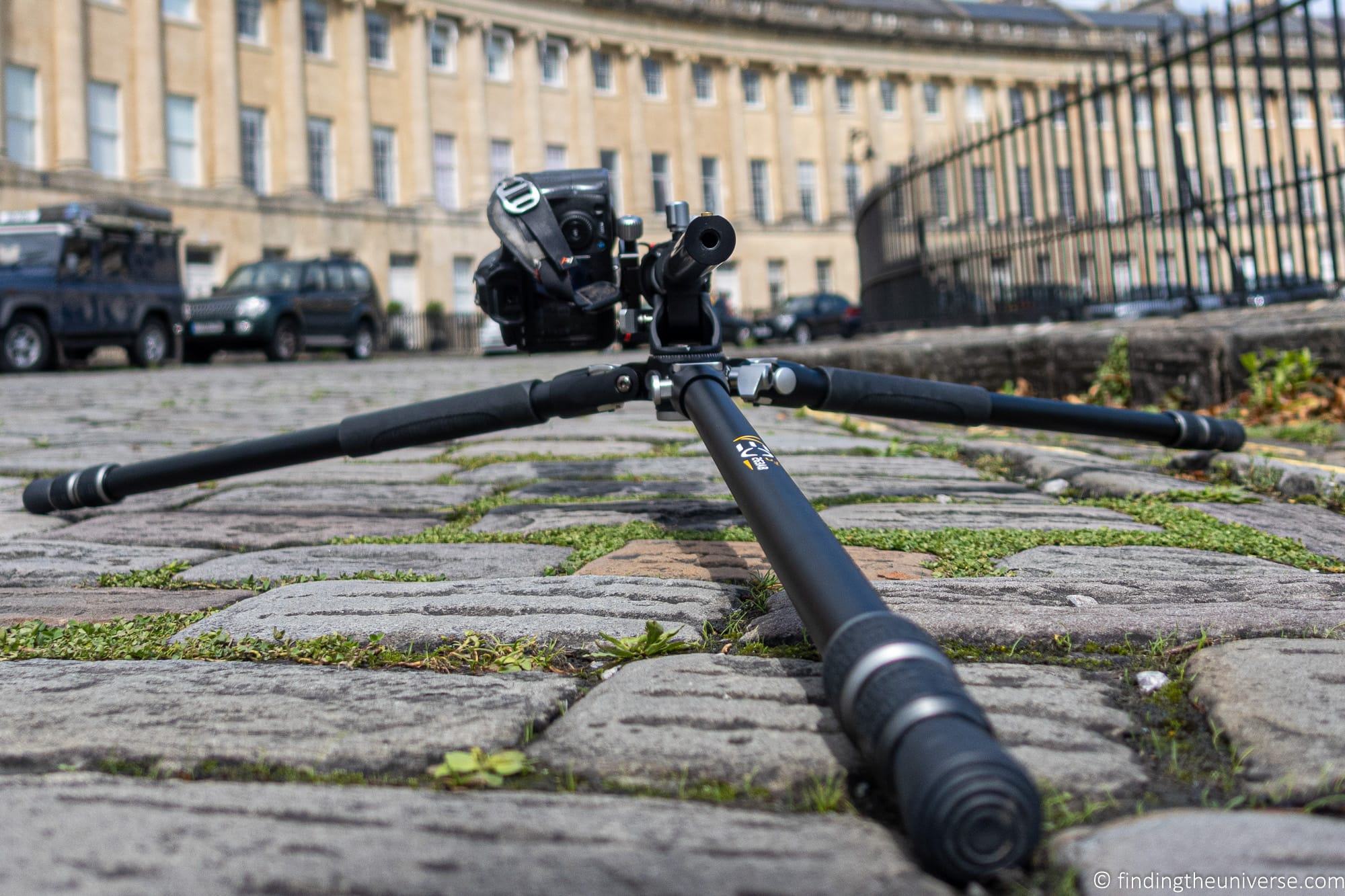 This ability to position the camera in a range of locations really opens up the creative possibilities available to you, which is what a bit of photography gear should be all about. If you love shooting macros, overhead shots, and general close ups, then you are going to fall in love with the MACC.
Of course, I should point out that the MACC isn't new. The Alta Pro tripods also have a multi-angle central column. However, the machining and quality of the MACC and its control knobs are definitely a step up with the new VEO 3+. The MACC also features a removable retractable hook from which you can hang additional weight, should you need even more stability.
As well as the MACC, you also get the new multi-mount.
What's the new multi-mount you ask? Well, let's talk about that next.
The Multi-Mount
Have you ever found yourself wishing you could attach more than one bit of kit to your tripod? Maybe you are doing film work, and want a way to include a lighting setup or microphone near your camera.
Maybe it's an off camera flash for still photography. Perhaps you love bird photography, and would like a way to stabilise a scope at the same time as your camera without having to carry two tripods.
Well, your days of wishing are over. Enter the multi-mount!
The multi-mount is one of those clever innovations that seems really obvious once you've seen it. Basically, it's an extra attachment point that slots onto the MACC. It has a standard tripod thread, so you can basically attach any compatible device to it. So that might be two cameras, a camera and accessory, or a camera and a scope. Or whatever you want really.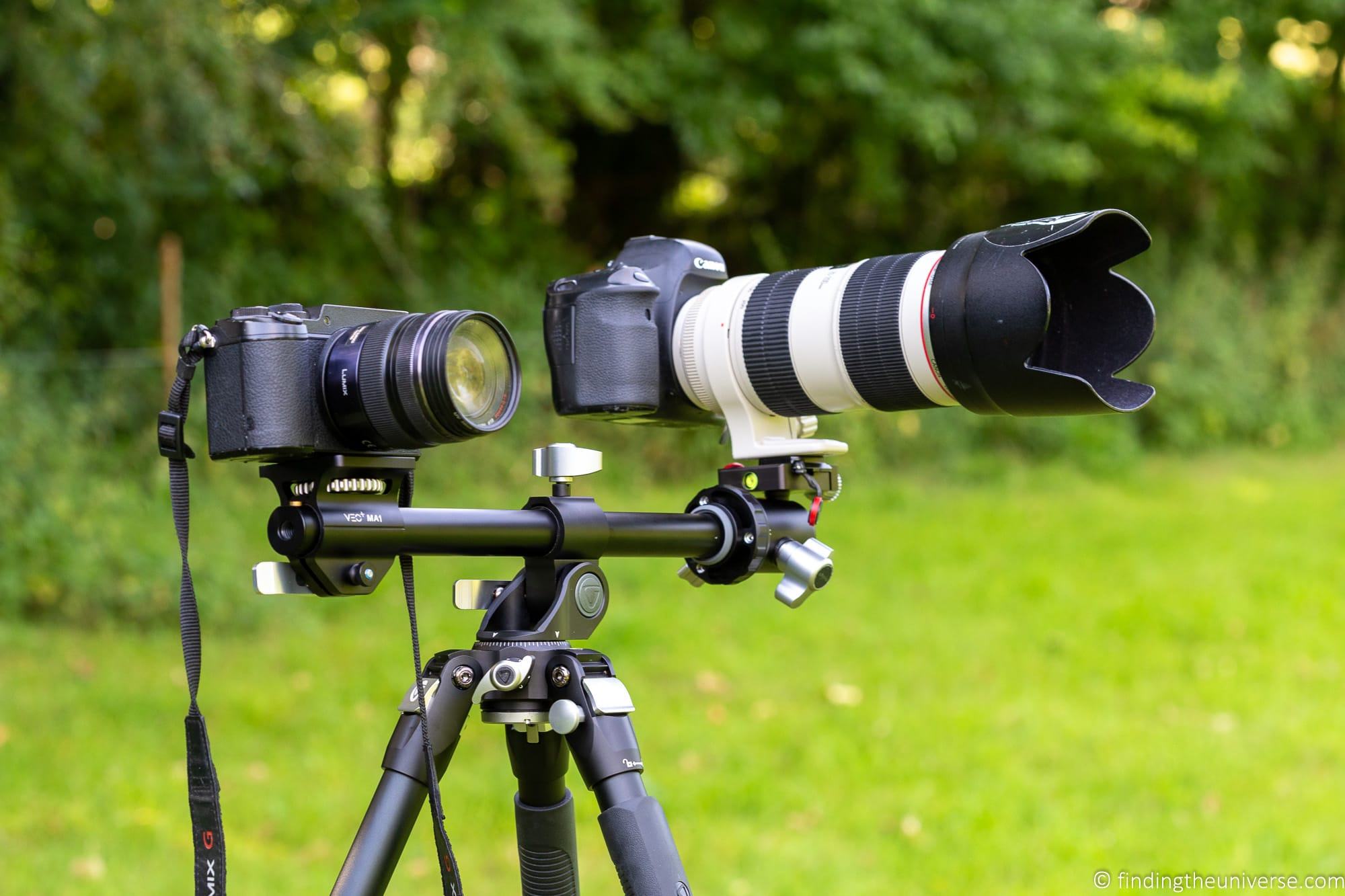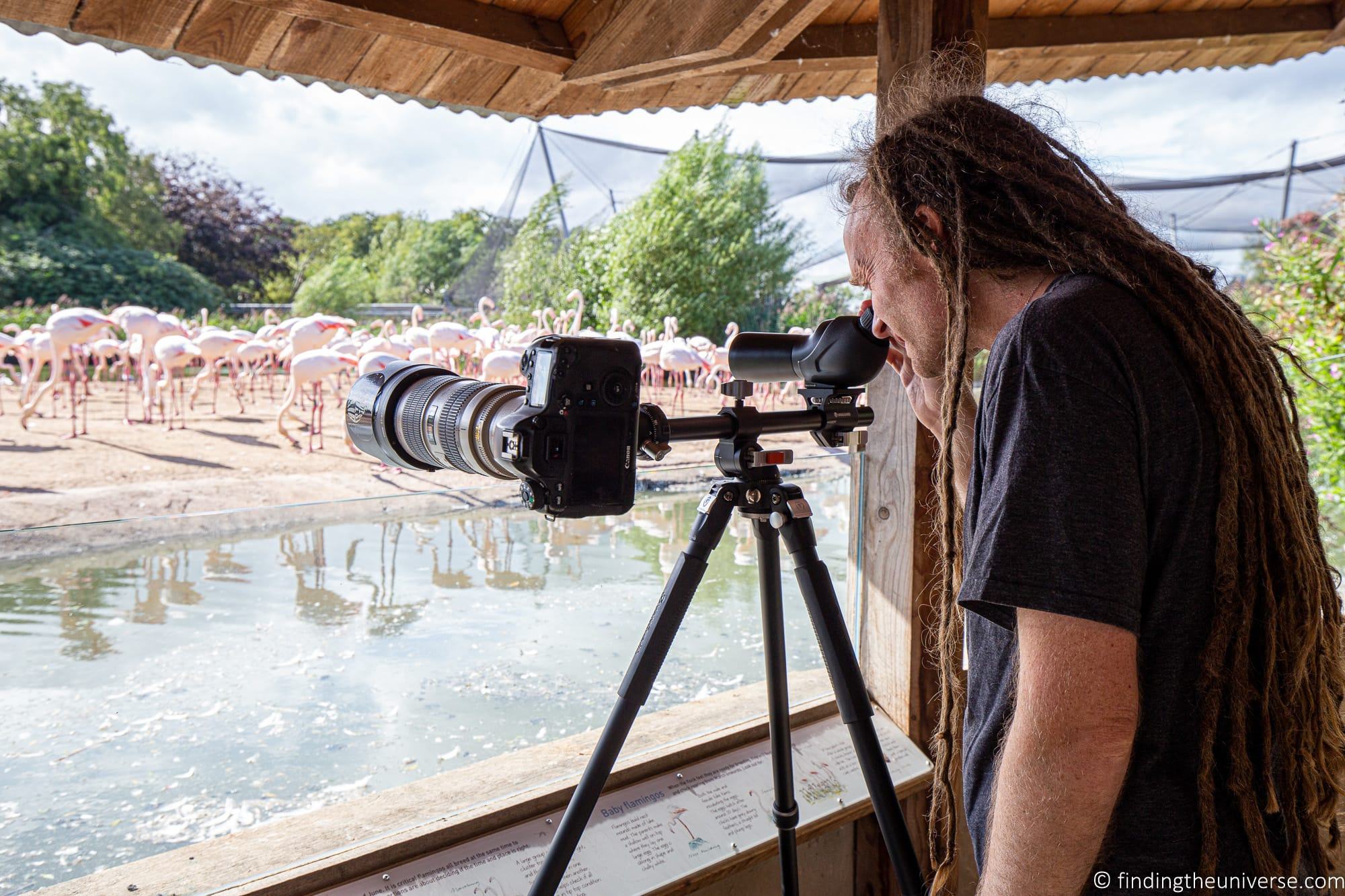 When you have the MACC extended, you can easily attach your camera to the main tripod head, and then your secondary device can just be screwed onto the multi-mount.
Again, as with the rest of the tripod, clearly a lot of thought and care has gone into the design. It's not an afterthought. There's a little push button to stop it sliding off the mount when it's loose, a lever to lock it into place, and a dial to tighten the tripod thread.
There are even markings on the central column so you can easily take note of where you've positioned the multi-head, should you need to take it off and put it back on again. If you're in a situation where you are capturing the same shot over a period of time, this feature will make doing that so much easier.
The Multi-mount is the sort of accessory that many manufacturers would sell as a premium add-on feature, but with Vanguard it's included as part of the VEO 3+ package.
The Bag
Normally I wouldn't have much to say about a tripod bag, but I feel that once again Vanguard have stepped up their game in terms of attention to detail throughout the whole package, so it would be remiss of me not to mention it.
The bag that comes with the new VEO 3+ tripods is really nice. It's very well padded, fits the tripod and accessories comfortably, and even has an interior zippable pocket so you can keep things like allen keys and spare feet somewhere safe. Small details, but they all add up.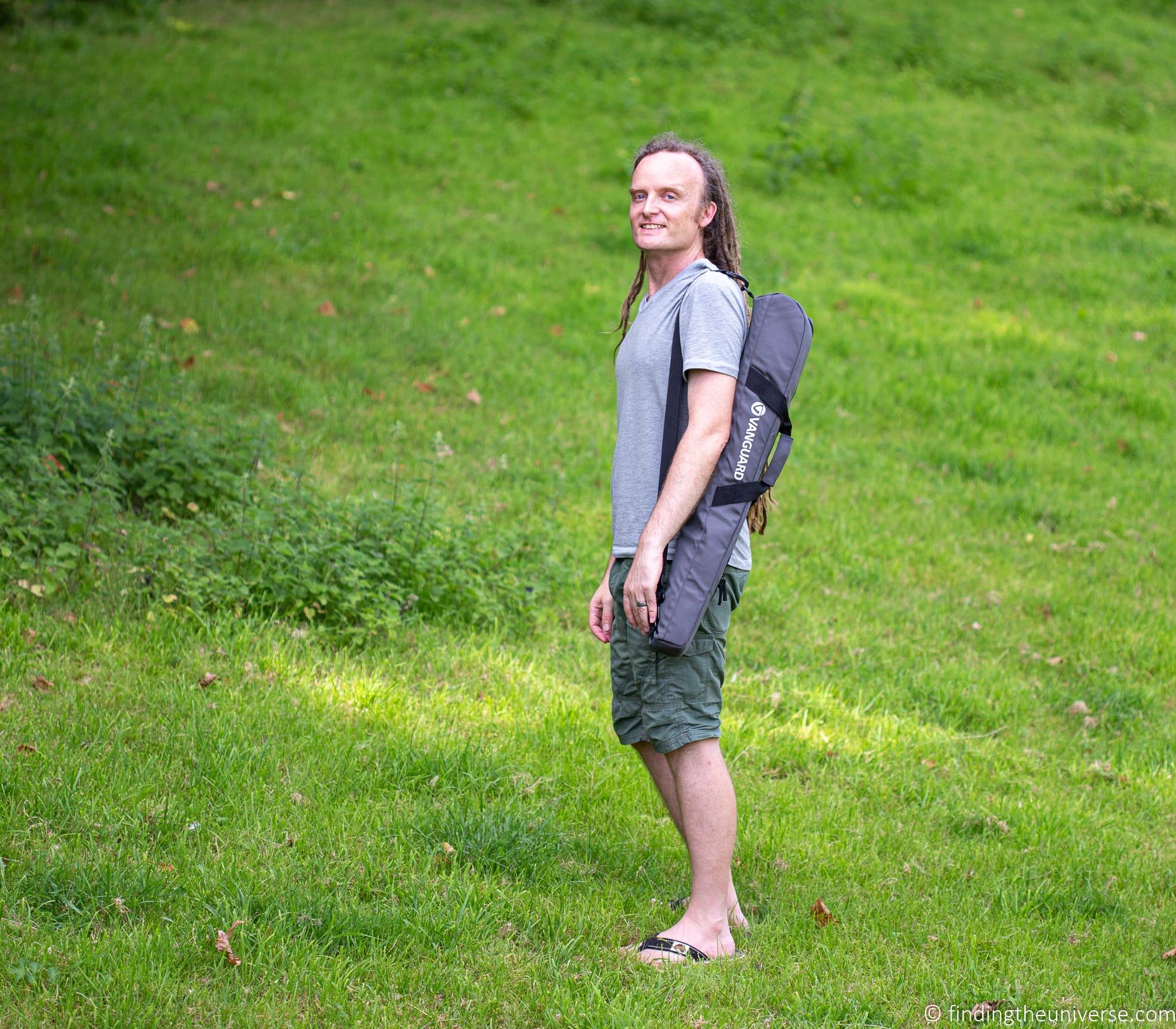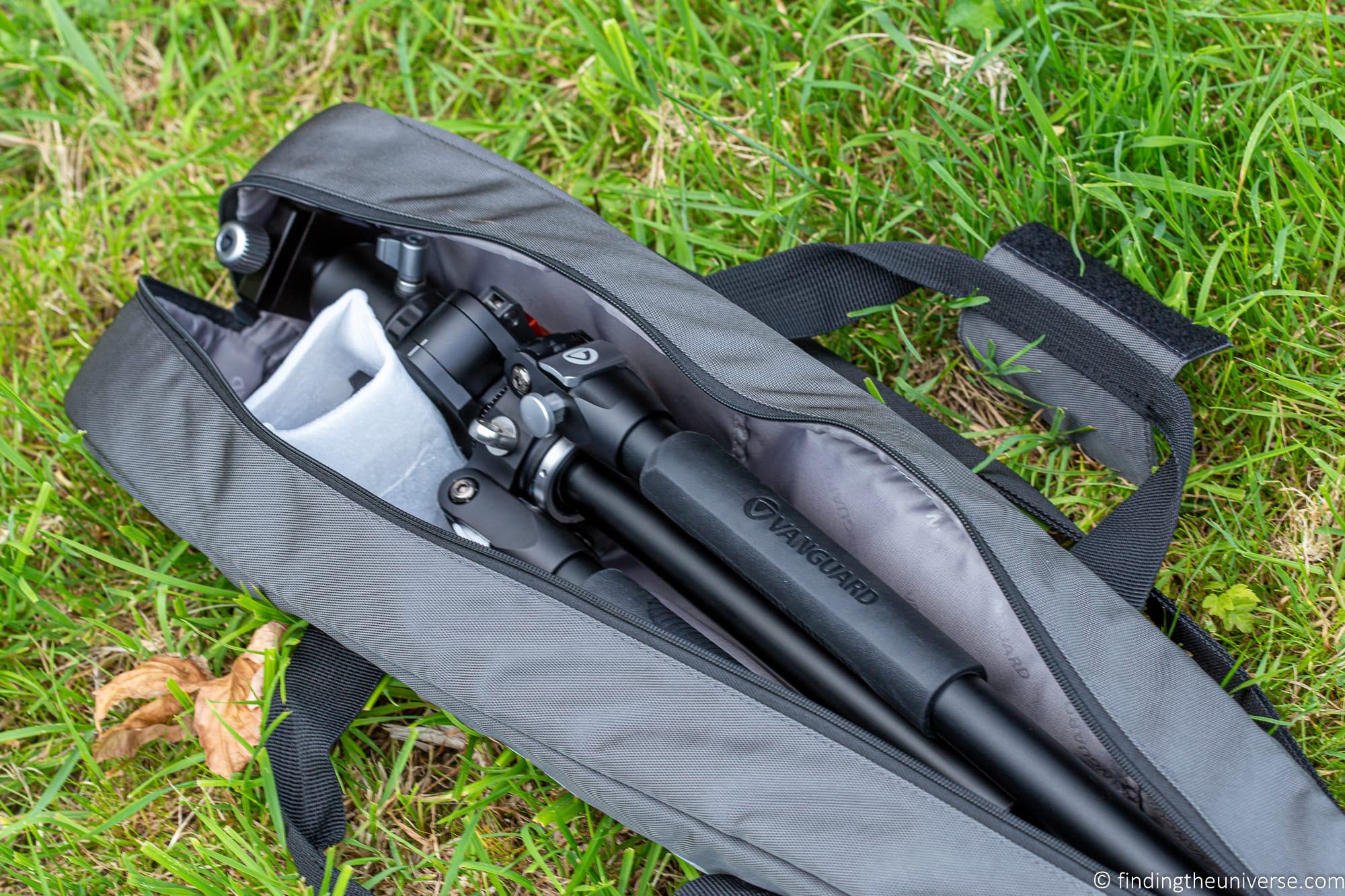 The Monopod
One of the fun new features that the entire new VEO 3 range has is the ability for one of the legs to turn into a monopod.
What I appreciate about this feature is that it is really easy to do. You just unscrew the specific leg from the tripod, detach the multi angle central column from the tripod, and then screw the two together.
The end result is a monopod with your tripod ball head on the top which extends to 72 inches (1.82cm) in height. That's really high!
You might of course be wondering why you would need such a tall monopod. Well, obviously you can collapse the leg extensions to a shorter height, but having the extra height might be useful in getting shots above a crowd.
A monopod can be used for a range of purposes. It can be great for action shots of sports or wildlife photography, where you need to quickly be able to move your (usually heavy) lens, but still want to be able to support it between shots. It's also a good lighter weight option for hiking and even vlogging. Or as my wife is using it below – to steady our scope for birdwatching!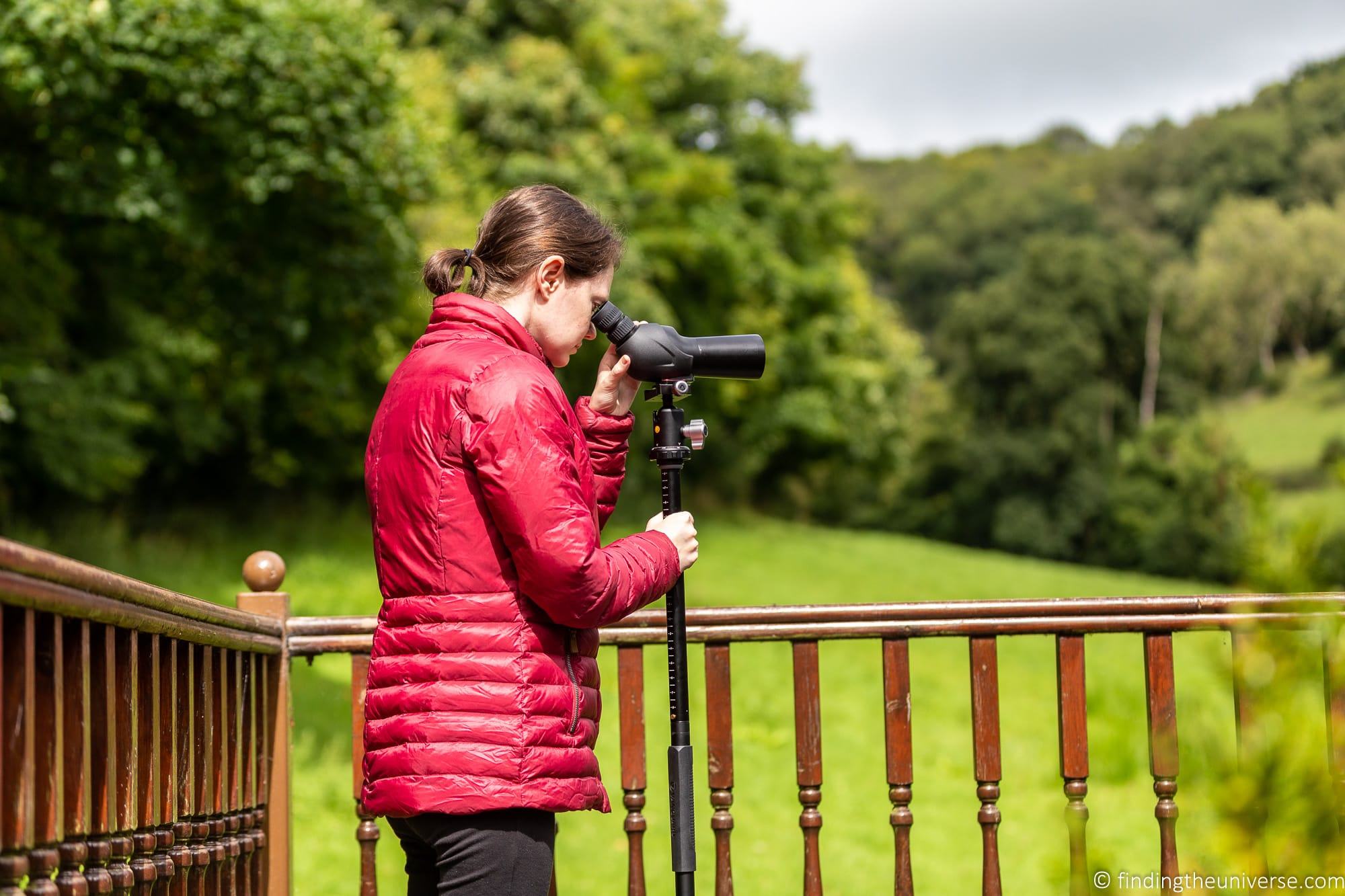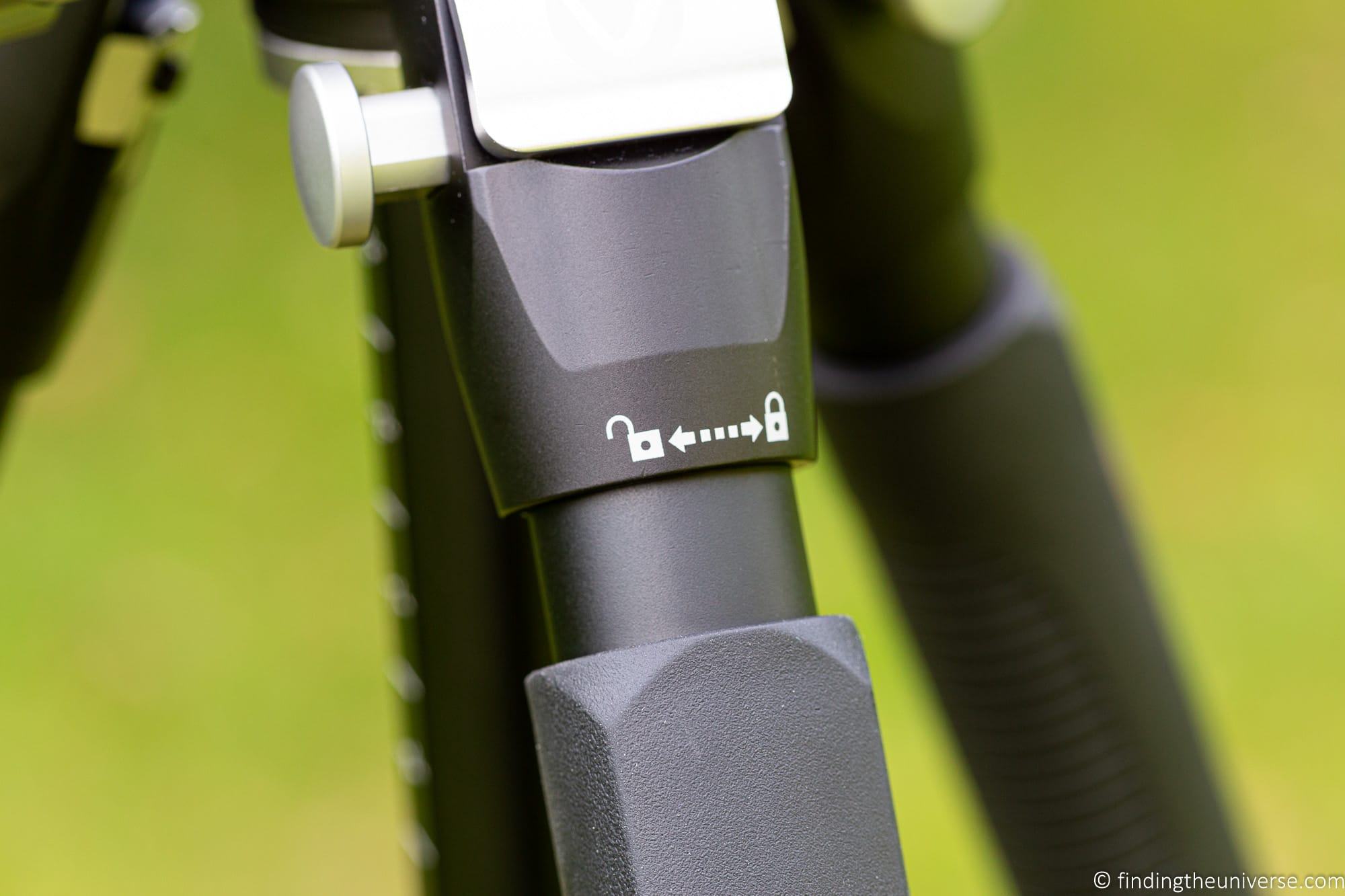 The Tripod Legs and their Locks
Because this isn't a travel focused tripod, the folded length isn't so much of a concern. As a point of comparison, the VEO 2 Go 265HCBM folds down to 16.1 inches (41 cm), whilst the VEO 3+ I'm reviewing is almost twice as big when folded, at 30 inches (76 cm).
This actually has some advantages. First, the travel tripods have to have four or even five leg sections in order to achieve such a svelte folded size. The Veo 3+ only has three leg sections, and two leg locks.
This means extending and collapsing the VEO 3+ is a lot faster as there are only six leg locks to deal with instead of 12. Here's an image comparing the VEO 3+ 263AB (left) with the VEO 2 265HCBM (right). If you look closely you can see the VEO 3+ has six twist leg locks and the VEO 2 has 12.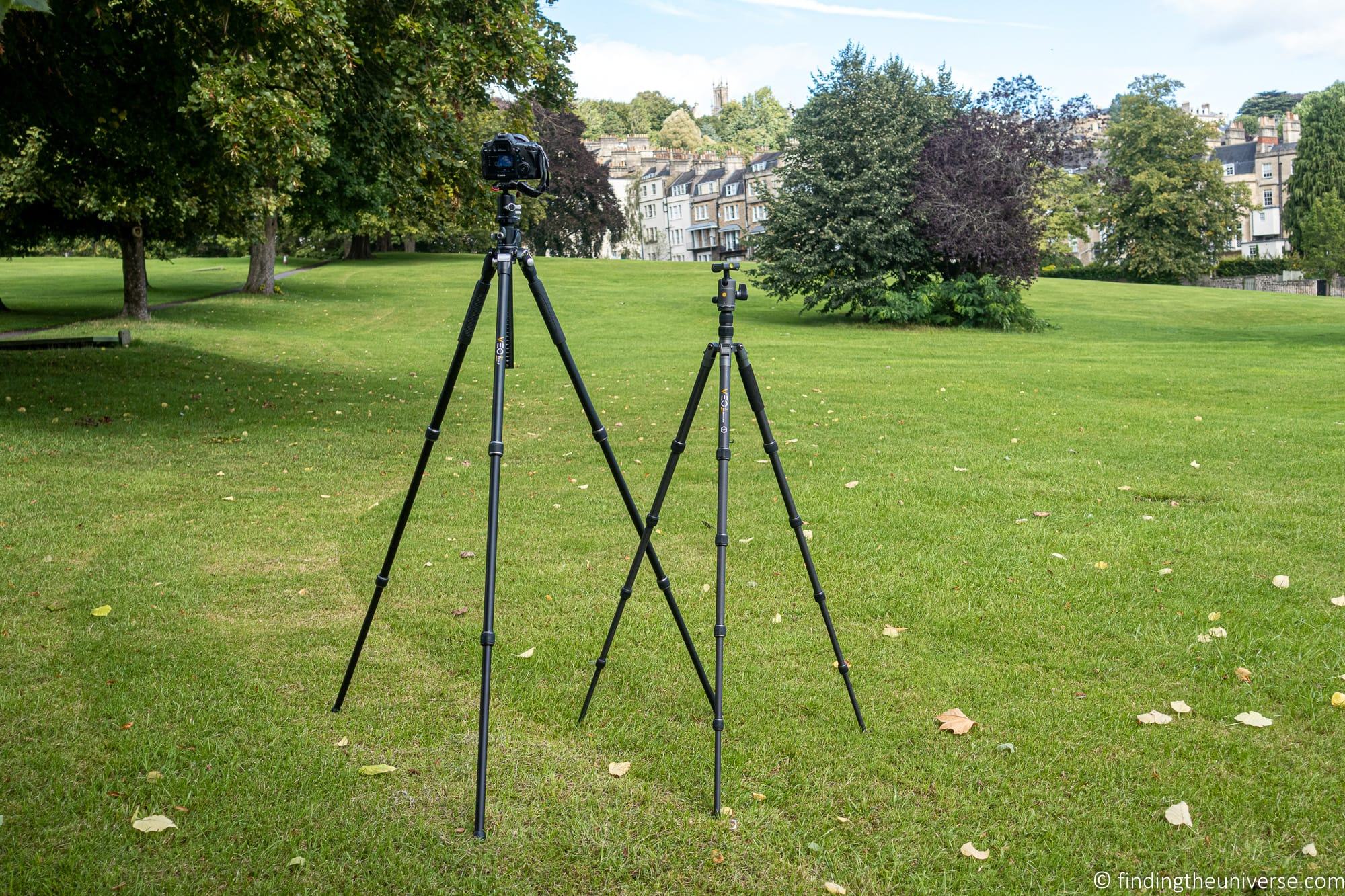 As weight is less of a concern, the legs are also thicker. This means the tripod is more stable, and can in fact support an impressive 33lbs / 15kg of weight. For most photographers, this is more than enough to support their heaviest gear.
Before I finish with the legs, one last thing. The legs locks are specifically designed to come completely apart for easy cleaning. Given that extending and closing the legs can lead to dirt being trapped inside, the fact that they are designed to be taken apart quickly for easy cleaning is definitely a benefit.
The Feet
The tripod comes with rubber feet attached as standard, but if you look in the snazzy tripod bag, you'll find a set of metal spiked feet. These can provide additional purchase for outdoor photography especially, and I appreciate again that these are included in the box and not an extra purchase.
The Head
One feature that definitely sets the VEO 3+ ahead (ahem) of the Alta Pro range in particular, is the fact that all the VEO tripods come with a tripod head. This means the tripod is ready to use out of the bag, and you don't have to purchase a separate head.
Of course, the head is detachable, so you can switch heads if you want.
There are two head options available, depending on which tripod you choose. The 263AB (B in this case standing for ball head) comes with a VEO BH-160 ball head. This is a really nice head, and the quality of construction is obvious. In particular, the locking knob and separate pan lock knob are really well made.
They're machined from solid aluminium, making them easier to use, very robust, and honestly quite eye catching to look at!
The other head option is VEO 2 PH-48 panning head. A panning head is generally considered more suitable for video. This head has a maximum weight of 6kg.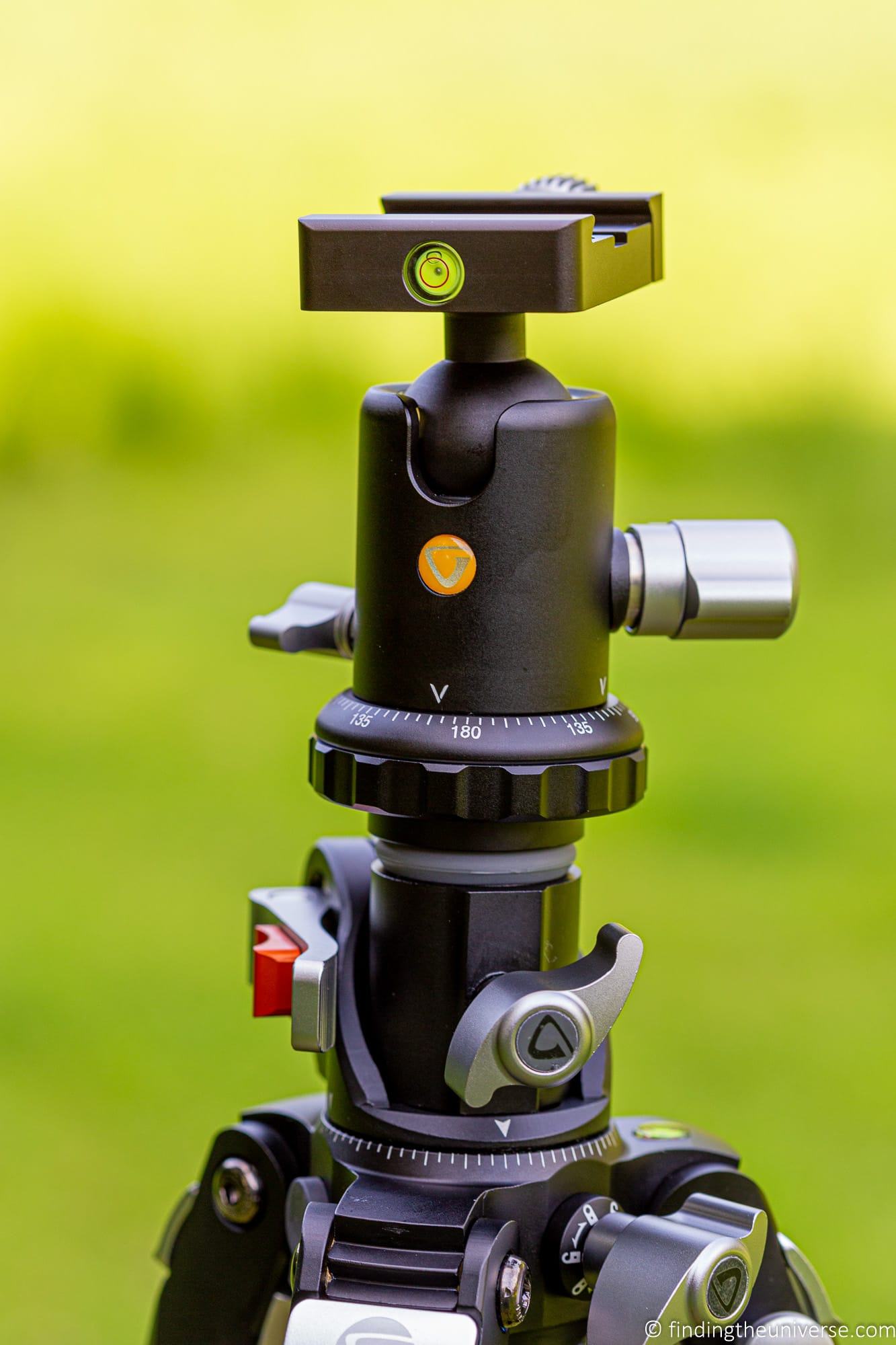 Overall Build Quality
I've already mentioned this throughout the post, but I wanted to bring it up again because it's important. It is really apparent that the investment that Vanguard have made in their manufacturing capabilities has paid off. The tripod just feels like a really high quality product. Everything fits together seamlessly.
Panning and movement of the ball head is smooth. Extending and positioning the MACC is super easy. The knobs look and feel fantastic in use.
This is definitely a premium product that is designed to last for many years.
In Summary
The VEO 3+ 263AB is a tripod with a lot of features for the price. It's very well made, and for those of you looking for a solid and dependable tripod it is an excellent pick.
The versatility means it works for everyone from landscape photographers through to macro and food photographers. When I was playing with the central column, I kept thinking how great it would be for those overhead food shots. It's also an excellent option for videographers, with a pan head available too.
If you are looking for something lighter and more travel focused, then I'd recommend the VEO 3 Go range instead. However, the VEO 3+ is an amazing choice for those of you not too worried about having to carry it particularly far.
For me, it would be the perfect tripod for road trips or any other scenario where I want something sturdier that I don't intend on hiking with for miles to a remote location. I mean, you can do that if you want. If that sounds good, I'd recommend the carbon fibre model over the aluminium model in this review as it shaves up quite a bit of the weight (whilst adding a bit to the price).
I'm happy to recommend this tripod, and am only sad I had to send it back to Vanguard at the end of the review.
Vanguard Discount Code
If you're interested in buying a VEO 3+ tripod for yourself, or any other product on the Vanguard store, don't forget to take advantage of my 20% discount code for the Vanguard store.
Just use the discount code FindingtheUniverse at checkout on the Vanguard store (currently US + UK only), and save 20%!
Further Reading
That's it for my review of the Vanguard VEO 3+ 263AB tripod – I hope you found it helpful. Before you go, I wanted to share some of our other content which we think you will find useful.
Looking to Improve Your Photography?
If you found this post helpful, and you want to improve your photography overall, you might want to check out my online travel photography course.
Since launching the course in 2016, I've already helped over 2,000 students learn how to take better photos. The course covers pretty much everything you need to know, from the basics of how a camera works, through to composition, light, and photo editing.
It also covers more advanced topics, including astrophotography, long exposure photography, flash photography, and HDR photography.
You get feedback from me as you progress, access to webinars, interviews and videos, as well as exclusive membership of a Facebook group where you can get feedback on your work and take part in regular challenges.
It's available for an amazing one-off price for lifetime access, and I think you should check it out. Which you can do by clicking here.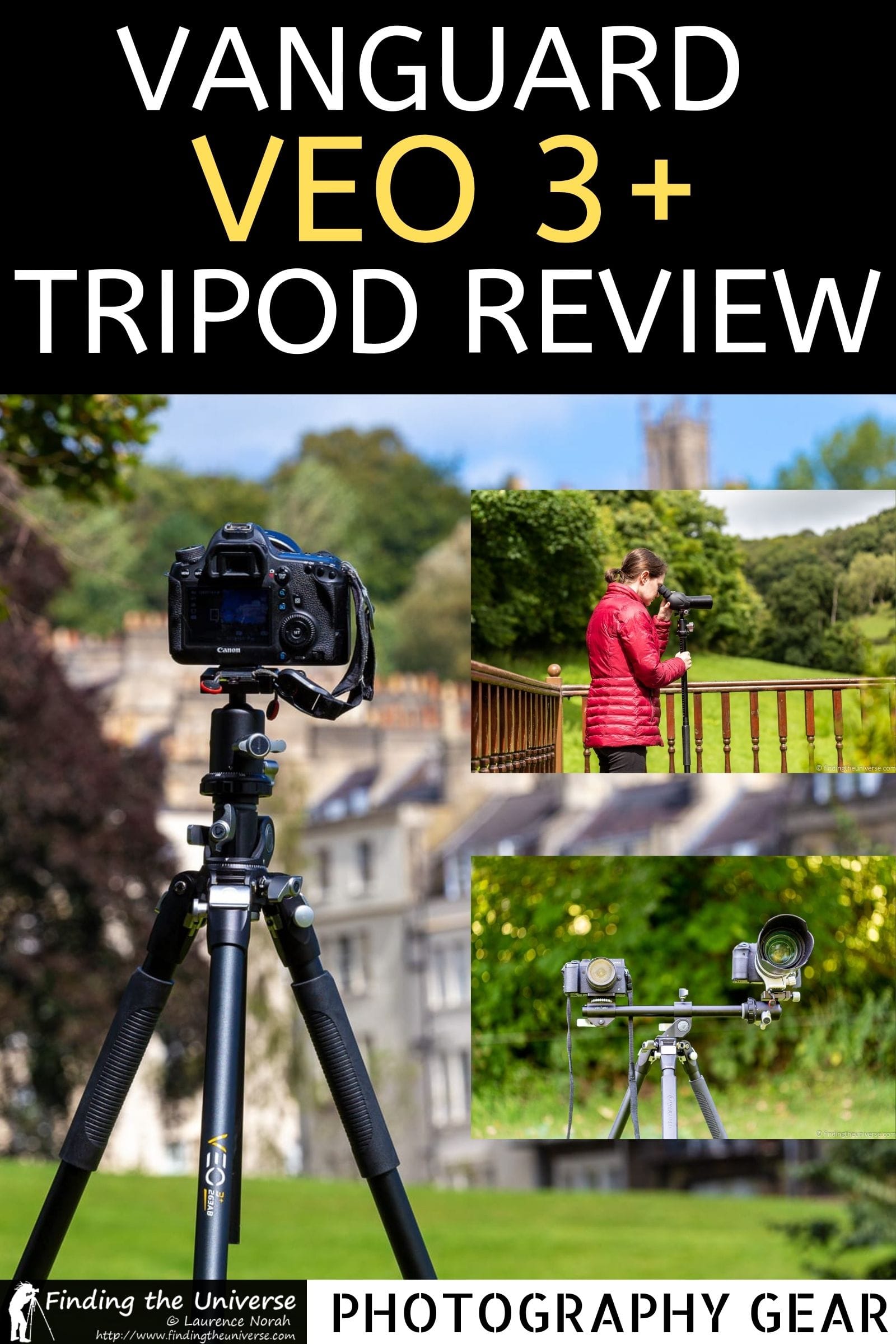 So you know: Vanguard provided me with the tripod before general release so I could form my own opinion with some real world use. I returned the tripod to them once I was done, and I haven't been financially compensated for this review.