We're big fans of Adobe Lightroom for our photo editing and photo management tasks, and it's definitely one of our favourite photo editing applications. So why am I writing a post on Lightroom Alternatives?
Well, there are lots of reasons folks choose not to use Lightroom. First is the fact you have to pay a monthly or annual subscription, which definitely puts some people off. It also requires a powerful computer, and even then Lightroom performance can be a challenge.
Lightroom also has a relatively steep learning curve, and whilst it can certainly do a lot, it is missing some important features like layer support.
With all this in mind, I wanted to share some of the best alternatives to Lightroom that are available on the market today. I've included both paid and free products, as well as products that support both Mac and Windows computers.
Note, this list doesn't include mobile apps, but you can see some recommendations for mobile apps in our guide to the best photo editing applications.
Best Alternatives to Lightroom
The purpose of this guide is to try and share some of the best alternatives to Lightroom that you can buy today. Adobe's Photoshop Lightroom Classic CC product performs the dual functions of photo editing and photo management, meaning you can use it to edit your photos, as well as organise them.
With this in mind, I have tried to pick applications that have similar functionality, i.e., they let you edit and organise your photos in one application.
I would definitely add that all photo editing software programs are going to work best if you have a good computer with a fast SSD drive, powerful processor, lots of RAM, and ideally a fast graphics card. Desktop computers generally are more powerful but some laptops also make good portable photo editing devices. See my guide to the best laptops for photo editing for some tips on what to look for, as well as some suggested models.
I have included both paid and free Lightroom alternatives, although honestly there are not many free options on the market that really offer a similar experience. I'd also add that I have found that the paid products are easier to use than the free products, and there is more support available for them.
All the applications I list have a free trial period which let you download them for a trial period, usually 30 days. These trials also don't require any credit card details, although some require an e-mail address to get the download link. So if you like the sound of one them, you can download it and test it out for yourself with no obligation to buy.
Finally, all the options I list work with both Windows and Apple operating systems. Currently, there are less options available for other platforms, including Linux, but there are some options which I have included for Linux as well.
On1 Photo RAW is, in my opinion, the most direct Lightroom alternative which is available without a subscription. You get a comprehensive photo management application, which has powerful tools for sorting and finding your photos.
This includes a map view similar to that of Lightroom which can show your GPS tagged images on a map. I use a camera which has built-in GPS tagging, and I find this way of searching for photos from a trip to be very intuitive.
You can also use the advanced search tool for all kinds of image filtering, from metadata to image size to keywords. In that respect, this offers functionality which is similar to Lightroom.
In terms of editing, On1 Photo RAW has a lot going for it. You get all the detailed basic editing controls you would expect, as well as excellent masking controls to selectively apply each edit. There's also a very clever retouching system which does an amazing job of removing unwanted elements from an image.
It also has a number of features that are either equivalent to, or better than, what you would find in Lightroom. For example, it has a full and powerful layer editing system, the ability to add text to images, HDR and panorama merge capabilities, focus stacking, and a detailed portrait retouching tool. The 2022 version also comes with built-in AI sky replacement and a fantastic noise reduction toolset which in my testing of noise reduction tools is better than Lightroom, or at least, easier to use.
There are also a huge number of filters and presets which allow you to quickly apply a specific look to an image, and you can stack and selectively apply these edits as well. There's even a dedicated resize tool, which lets you scale images up for printing at larger sizes.
In many ways, the features of On1 Photo RAW exceed Lightroom, and extend into Photoshop territory. Despite all the features though, performance is still excellent, thanks to well optimized code that takes full advantage of all the elements of your computer, including your graphics card.
If I had to find flaws with On1 Photo RAW, it is that the number of features it offers does make it a little more intimidating to use, especially if you've not done much photo editing before. I would say from that perspective that something like Luminar is easier to pick up and use.
However, if you are migrating from something like Lightroom, or for something very similar to Lightroom without the subscription, this is an excellent choice. You will need to spend some time getting to know the product, but once you have you will be able to produce some great results. It has a lot to offer at an excellent price point.
On1 Photo RAW is available for both Mac and Windows for a one-time price which include lifetime use. You can check the latest price and download a free trial of On1 Photo RAW here.
Launched in early 2022, Skylum Luminar NEO software offers a lot of features and a relatively easy to use interface. You get both photo editing and photo management tools, and whilst the latter are not as full featured as Lightroom, they are certainly capable.
You can assign ratings, labels and flags, and sort by a number of parameters. There isn't the amazing depth of filters you get with Lightroom, which lets you filter and search for photos by an incredible array of parameters. So if you want a very in-depth level of filtering and have a large image library, Luminar might not be for you.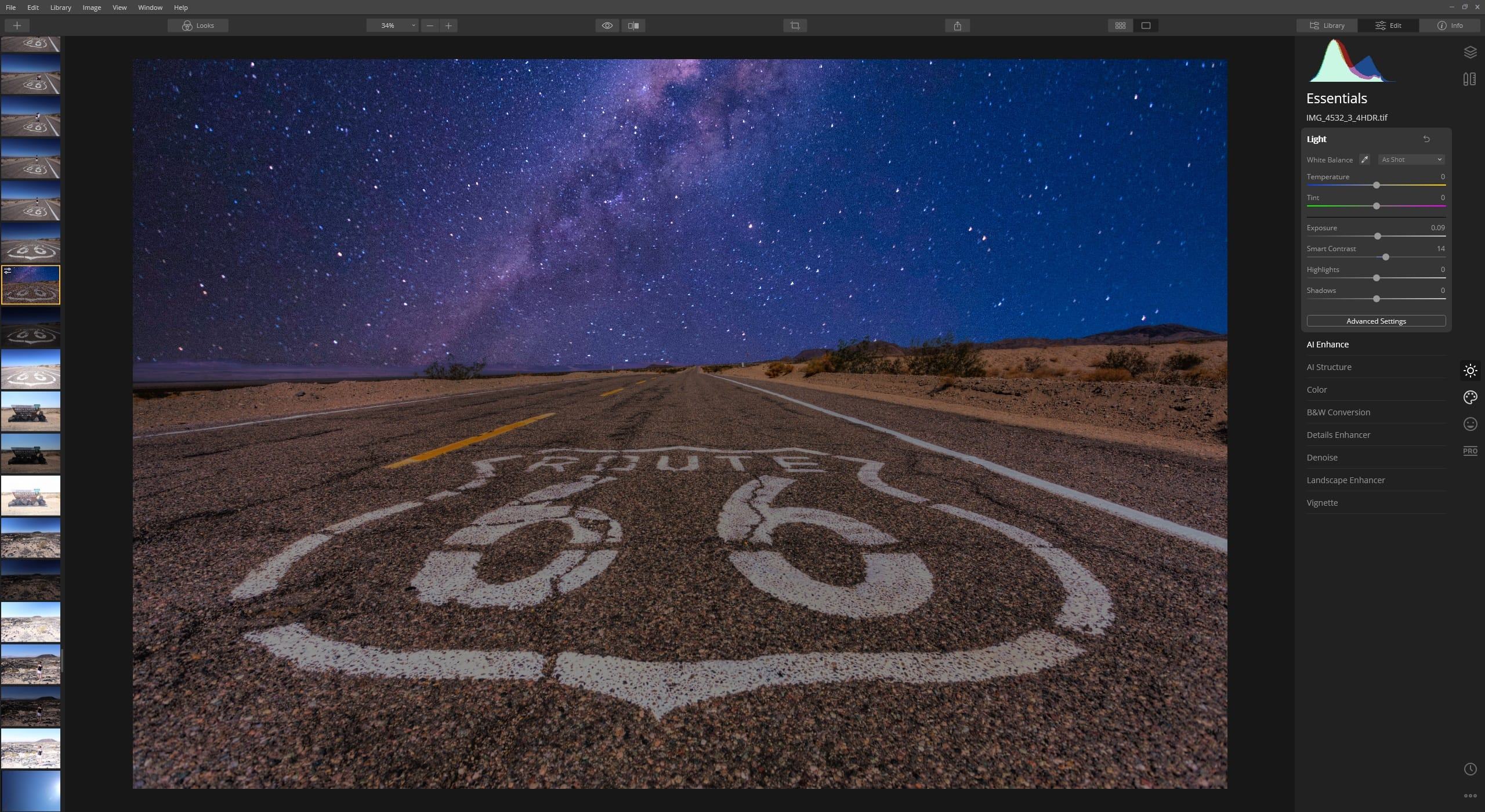 The editing area is where Luminar NEO shines in my opinion. There are a lot of automated "AI" powered editing tools which can quickly improve an image without you needing too much technical knowledge.
However, if you want to access the more fine-grained controls for more precise manual photo editing, these are also available. There's are also powerful masking tools which give you a lot of control over your edits and where they are applied.
There are also some standout features that were a first in Luminar, although many other tools have since implemented them. The sky replacement tool is particularly good at helping you to fix up flat skies for example. There's also a fun tool which lets you add objects like hot air balloons or the moon to your images, which is a bit of a gimmick but nonetheless fun.
Another useful feature is the portrait editing tool, which lets you quickly enhance skin, remove blemishes, and brighten faces in an image.
There are also tools for automating regular tasks, like dust spot removal, power line removal, and background removal from portraits.
Luminar also has some layer support, although this is nowhere near as powerful as that which is available in something like Photoshop, or some of the other Lightroom alternatives in our list.
If you opt for the one-off price, which I would recommend, Luminar includes a number of extensions. These are extend the featureset, and include noise reduction, HDR merge, background removal, and so on.
In my opinion, the strength of Luminar Neo is that it offers a good set of features in a relatively easy to use interface. However, over time as more features have been added the price has definitely gone up, especially if you opt for the one-time purchase option. It can also run a little slowly, depending on your hardware.
So you might find better value in a product like On1 Photo, which includes many of the same features at a lower one-off price.
Of course, if you'd like an all-in-one solution and like the look of the extensions, by all means go for it. Luminar also regularly run deals, so you might be able to pick everything up at a great price.
However, if you are migrating from a tool like Lightroom, you might find it is a little restrictive, especially on the photo management side. Personally, I use it in parallel with Lightroom for specific image edits like sky replacement. I also use the Topaz Labs products for noise reduction.
Normally you can try Luminar NEO out and if you don't like it you can take advantage of their money back guarantee. They also sometimes have a free trial available.
Luminar is available for both Mac and Windows for a one-time price which includes lifetime use. It's also available as a subscription if you prefer that model. You can check the latest price and download Luminar NEO here.
When photographers talk about replacing Lightroom, one of the most popular alternatives often mentioned is Capture One. This is because Capture One offers even more editing controls over an image than Lightroom, especially when it comes to color correction.
However, Capture One has a very different look and feel to Lightroom, and the approach it takes to how you edit your photos is definitely an adjustment if you are coming from Lightroom. In fact, I would say it's probably easier to start with Capture One than it is to migrate from Lightroom, as you don't need to "unlearn" what you have learnt in Lightroom. Other tools in this list will be more familiar and thus, easier to pick up.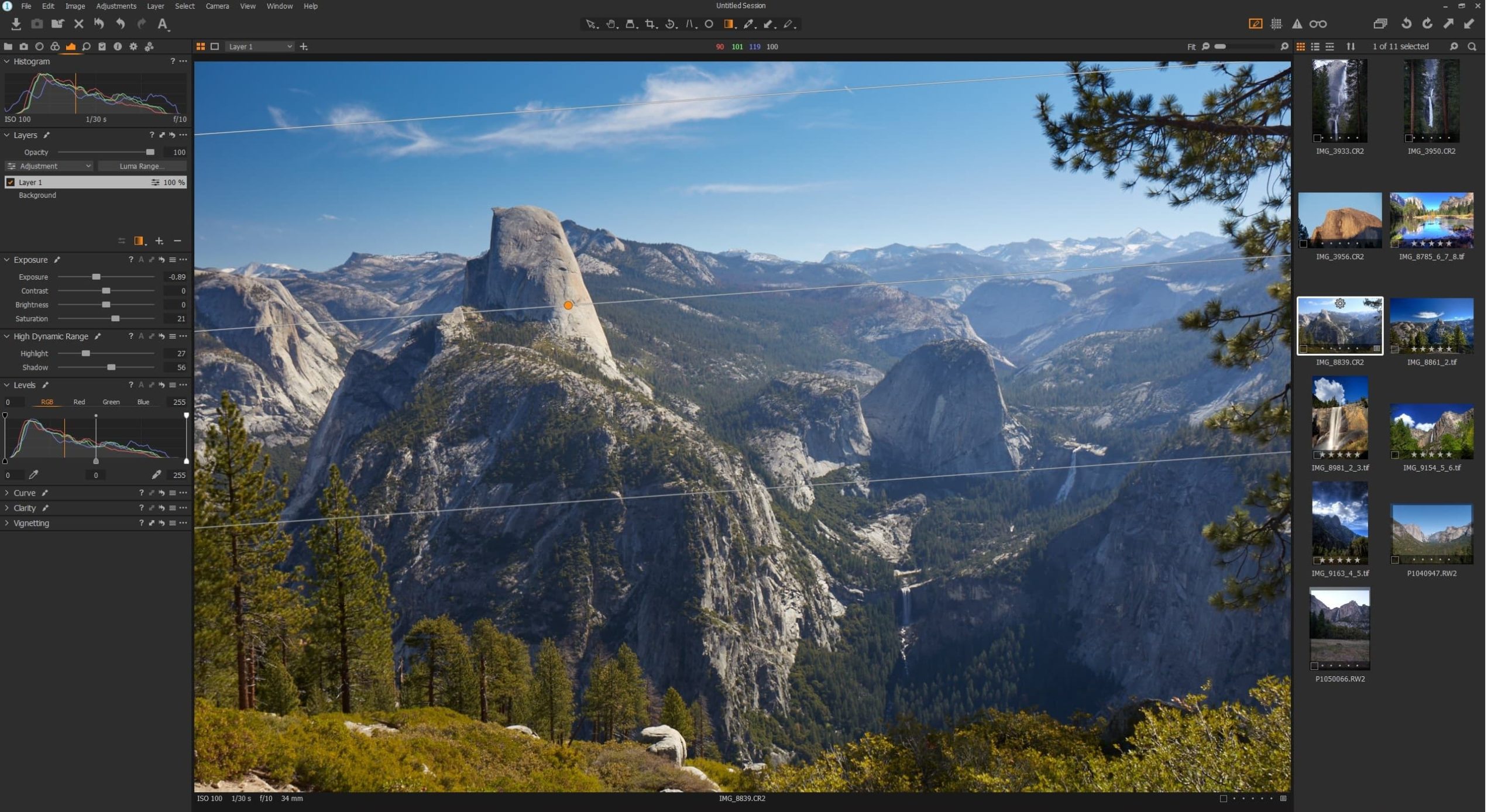 Capture One offers a powerful set of photo editing and management tools, with a huge amount of customisation so you can set it up how you want. You can even define your own keyboard shortcuts for maximum control.
In terms of features, it has the majority of the tools you would need. The basic image editing tools are in place, and there's support for styles and presets, as well as layers.
Capture One is also particularly known for two features, its advanced color control tool which can help you get the best color from your photos, and the tethered capture tool which is popular with studio photographers.
As of Capture One version 22, it also includes both an HDR merge tool and a panorama merge tool, both of which were previously not available.
If you're looking to an alternative to Lightroom in order to save money, then Capture One is likely not going to be the product for you. Whilst it is available for a one-off purchase, it is definitely the most expensive photo editing tool in our list.
Of course, in the long run purchasing Capture One with the one-off purchase option can save you money over a subscription, but this would take a number of years before you started saving. Usually by this point manufacturers will start to tempt you with a newer version which will carry an upgrade fee, and if you choose to upgrade this will negate any saving.
Overall, I would say Capture One is certainly an option if you want to try something completely different to Lightroom as it has similar, and in some ways more advanced functionality. However, I'm not sure the high price is justified unless you need the specific features it offers.
Phase One Capture One Pro is available for both Mac and Windows. It's available either as a one-time fee, or you can buy it as a subscription. The one-time fee is relatively high compared to other options on our list, whilst the subscription is similar to the Lightroom price. You can check the latest price and download a free 30-day trial of Capture One Pro here.
I have used various versions of DxO's software over the years, and the main reason I come back to it is the frankly incredibly de-noise algorithm, which DxO calls Prime. This is an advanced (but very processor intensive) tool that can really clean up images which have a lot of noise, and produces very clean results compares to many of the other tools on this list. It's one of my favourite noise reduction tools on the market.
Of course, DxO PhotoLab isn't a one trick pony. It has a full featureset, including both photo editing and photo management capabilities. Photo management has a good set of capabilities, including keyword and rating support. You can also filter images, although the tools to do so are nowhere near as powerful as some alternatives.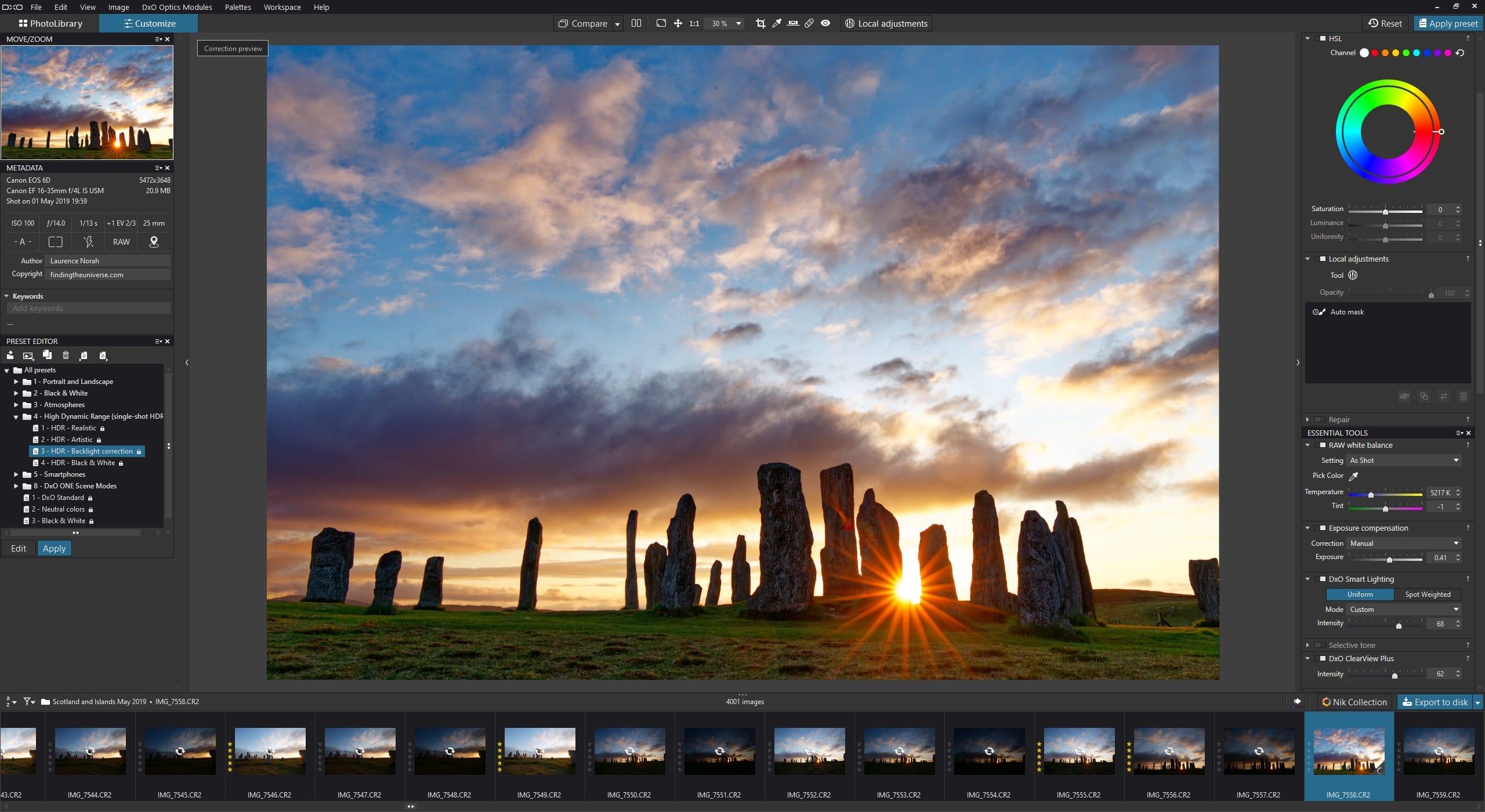 From a photo editing perspective, there's a nice balance between automatic tools and manual tools. The former can improve the look and feel of a photo quickly, whilst the latter offer all the full manual controls you would hope to find in an advanced photo editor.
Some particularly nice features I like are the smart lighting tools which can quickly help you correct the exposure across different parts of the image. Another nice feature are the local correction tools.
This local correction tool is based on technology that DxO acquired when purchasing the NIK Collection from Google, and the local adjustment tools will be familiar to anyone who has used Snapseed on a mobile device. They allow for easy editing of regional areas of an image, with lots of masking capabilities to really fine tune the editing process.
There are also a range of presets which can quickly apply a predefined look and feel to an image.
There are a few notable omissions to DxO PhotoLab's editing capabilities. There's no HDR merge, panorama support, or focus stacking. Layer support is also missing.
Performance wise PhotoLab can take advantage of both a high powered processor and graphics card, so you shouldn't have any problems getting good speeds out of it.
If you don't need the missing features, and regularly shoot images that tend to be noisy, such as low-light scenes, then DxO is definitely an option to consider.
DxO PhotoLab is available for both Mac and Windows for a one-time price which include lifetime use. You can check the latest price and download a free 30 day trial of DxO PhotoLab here.
Another popular Lightroom alternative offering both photo management and photo editing at a competitive price is Corel AfterShot Pro.
The photo management tools on offer are certainly robust, with plenty of options to sort and filter images. There's also a powerful metadata browser, allowing you to search for photos taken with a specific camera, lens, or camera setting such as shutter speed or aperture. In this respect it's quite similar to Lightroom. Like Lightroom, it also has an excellent watermarking tool which offers customisation of your watermarks when exporting your images for use.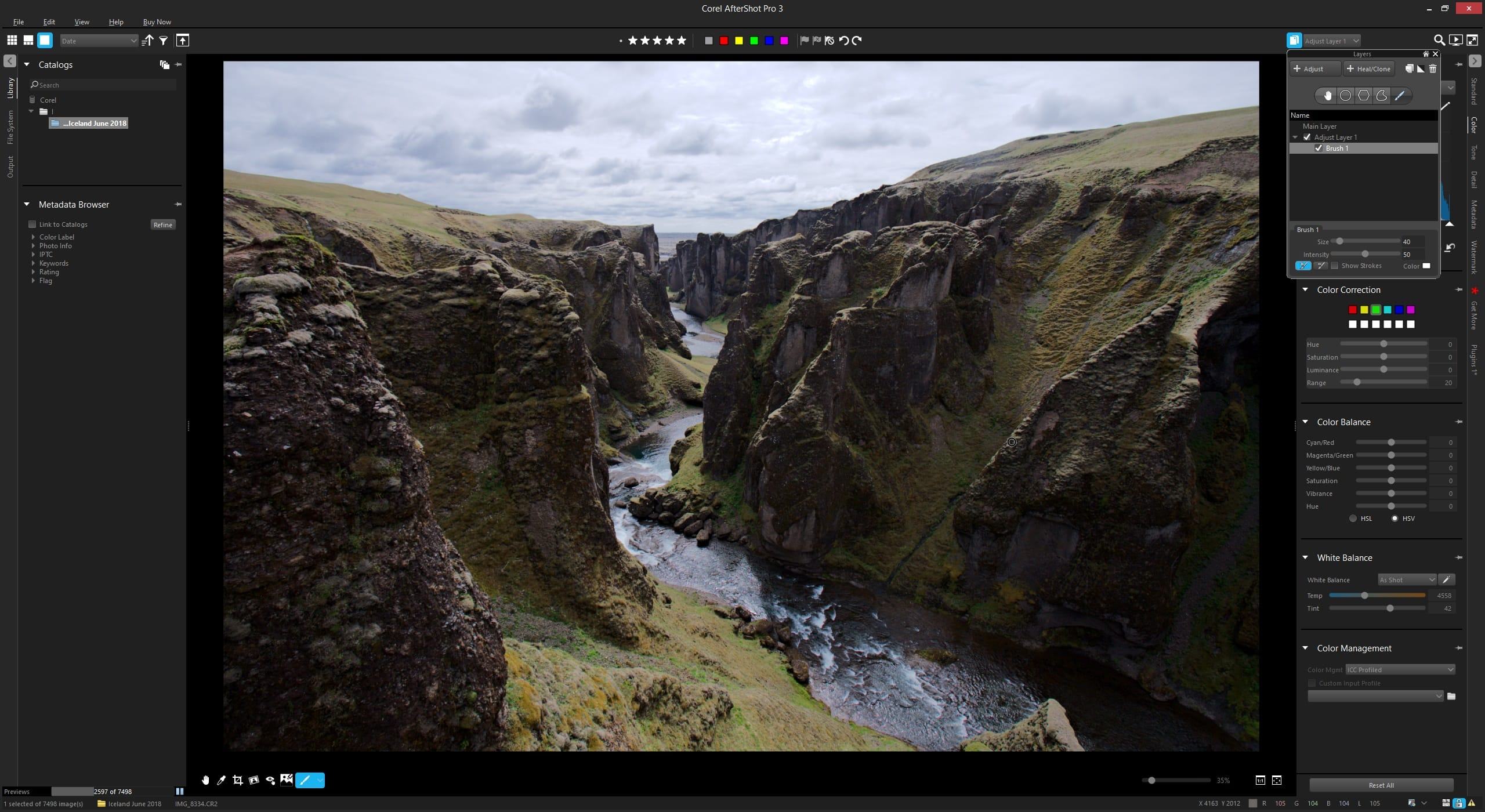 When it comes to photo editing, again, there's a lot on offer here. All the basic editing tools you would expect are available. There are also both automated tools for quick fixes, as well as manual adjustment sliders for more detailed tweaks. I also like how you can have the image library and editing window open side by side.
There is some layer support, but this is primarily for applying selective image edits rather than layering multiple images.
Performance is certainly good, although as with any catalogue based system, there is an overhead when importing images the first time.
HDR merging is fully supported with the dedicated Corel AfterShot HDR module, which offers a great deal of customization, and is more powerful than the merge tools available in other products including Lightroom. So if you do a lot of HDR photography, definitely give AfterShot a look.
Corel AfterShot Pro is also one of the few Lightroom alternatives which supports Linux as well as Mac and Windows platforms, so if you are using Linux this is definitely a good option to consider.
Overall, I would say that Corel AfterShot is a solid Lightroom replacement available for an attractive price, good performance and a solid feature set. There's nothing particularly that stands out, or makes this a must-have over other products, but it works well and does a good job.
Corel AfterShot Pro is available for Mac, Windows and Linux for a one-time price which include lifetime use. You can check the latest price and download a free 30 day trial for Windows, Mac, and Linux here.
AlienSkin Exposure is perhaps not as well-known as other tools in this roundup, but if you like to create more artistic looks with your images, it is one to consider.
Exposure features both a full photography management toolkit, as well as a photo editing toolkit which offers the majority of the features you would need. The interface when you open it up is fairly similar to Lightroom, so users switching over shouldn't have much trouble adapting. It's also relatively easy for newcomers to photo editing to pick up.
In terms of features, Exposure primarily sells itself as a tool for applying artistic looks to an image. So there are a lot of presets, and you can do things like emulate a classic film look, add bokeh or blur to an image, and add light effects like sun flares.
It also has layer support, a dedicated portrait retouching toolkit, as well as the core editing features you would expect that let you adjust an image. However, it's missing HDR support or more advanced features like focus stacking or panorama merge capabilities.
Performance is good and certainly if you want to create more artistic looking images, you will have no shortage of ways to do that. There's also a great depth of control over each image, so you can really create some unique looks.
However, I think onOne Photo RAW offers slightly better value for money and a wider featureset for photo editing than Exposure, plus it also has a lot of built-in looks and presets to experiment with. That said, the creative looks that AlienSkin Exposure offers are worth checking out, so do give the free trial a go if they sound good to you.
AlienSkin Exposure is available for Mac and Windows for a one-time price which include lifetime use. You can check the latest price and download a free 30 day trial for Windows and Mac here.
I promised you a free Lightroom alternative, and this is it. Whilst there are other free photo editing applications out there, Darktable is the only one I have found which includes both photo editing and photo management tools.
Darktable is a free and open-source photo editing and management program which is available for Mac, Windows, and a wide range of Linux based operating systems.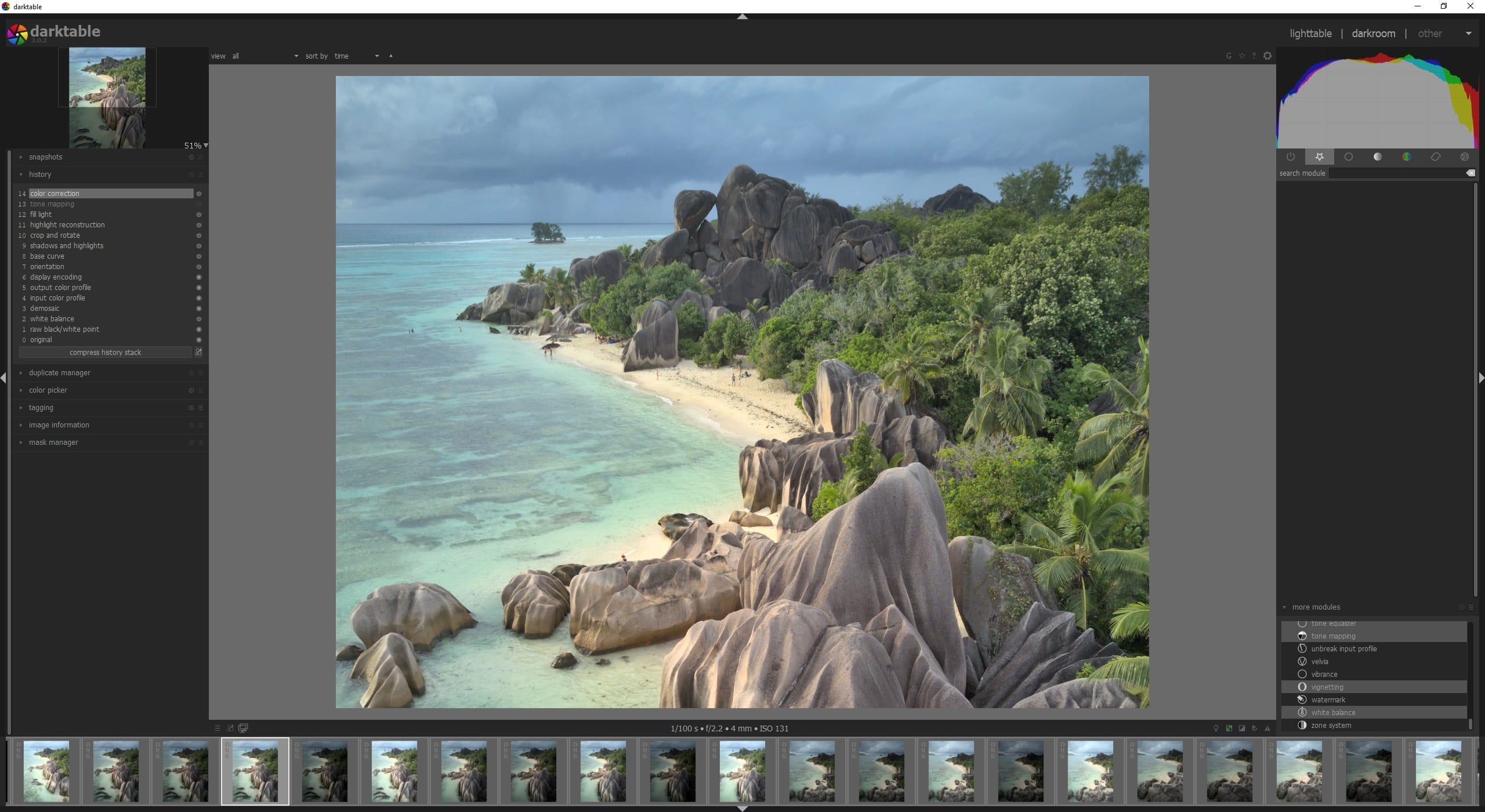 The goal of Darktable is to basically offer a free alternative to Lightroom. This has the upside in that much of what you can do in Lightroom you can do in Darktable. It has the downside that, like Lightroom, the learning curve is steep.
I might even go so far as to say it's harder to just pick up and use than Lightroom, and if you haven't used a photo editing application before it will be a challenge to get to grips with.
That said, it does have most of the features you are likely to need for both photo editing and management. The photo management section has powerful filters and sorting capabilities, as well as a rapid culling interface. There's also a map interface for displaying your GPS tagged images on a map.
The photo editing area also has plenty of features, although there is definitely more of a focus on manual editing rather than any assistive technologies. Still, many will prefer this. There's also excellent support for masking and you can create HDR images by merging other images. Layer support is possible for applying edits, but not for multiple images, although this is the same as Lightroom.
Overall, Darktable performs well. It takes advantage of your graphics card if you have one, and it has a huge range of features. If you want a free alternative to Lightroom, this is definitely the one to go for. Just be prepared to spend a while learning how to get the most out of it.
You can download Darktable for free for Windows, Mac and Linux here.
Which Photo Editor Would I Recommend?
Having read all the above, you may be wondering which product I suggest as an alternative to Lightroom. Well, everyone has slightly different needs, but my recommendations would be as follows:
Of course, different users will have different requirements, and there is certainly no one size fits all solution.
If you are migrating from Lightroom, you might find the photo management capabilities of many of these programs to be a step down from what you are used to, or at the very least, require a change in your workflow.
As these programs all have free trials available (or money back guarantees), I would highly recommend picking a couple of options that sound good to you and trying them out, to see which you prefer.
I would also add again that all the photo editing software programs in this list, and photo editing software in general, will work best if you have a good computer. Key components to look out for include a solid-state storage drive (SSD), a fast processor, plenty of RAM, and ideally a standalone graphics card.
Editing photos is a very intensive process, involving a lot of disk reads and writes as well as processing power. A powerful desktop PC will be the best option, but you can also get a laptop with photo editing capabilities. See my guide to the best laptops for photo editing here which also has tips on what specifications to look for.
Further Reading
That's it for my guide to Lightroom alternatives for photo editing. If you found this useful, you might enjoy some of my other photography content. Here are some articles to get you started.
Looking to Improve Your Photography?
If you found this post helpful, and you want to improve your photography overall, you might want to check out my online travel photography course.
Since launching the course in 2016, I've already helped over 2,000 students learn how to take better photos. The course covers pretty much everything you need to know, from the basics of how a camera works, through to composition, light, and photo editing.
It also covers more advanced topics, including astrophotography, long exposure photography, flash photography, and HDR photography.
You get feedback from me as you progress, access to webinars, interviews and videos, as well as exclusive membership of a Facebook group where you can get feedback on your work and take part in regular challenges.
It's available for an amazing one-off price for lifetime access, and I think you should check it out. Which you can do by clicking here.
And that's it! I'd love to hear about your favourite photo editing applications, and am happy to answer any questions you have. Just pop them in the comments below and I'll get back to you as soon as I can.