In today's post, I'm going to provide a review of the Canon EOS R5 mirrorless camera from a professional travel photography viewpoint. I'm going to share my experiences using the camera in the real world, including both what I like about it and things I think could be improved.
Some background before we begin. I'm a full time professional travel photographer, and I've been a long time Canon user. My first ever SLR camera was a Canon, the Canon AE-1. Since then I have used a variety of Canon cameras, with my workhorses for the last few years being a pair of Canon 6Ds.
These offered everything I needed from a travel camera – good performance in a range of light conditions, a relatively low weight (for a DSLR anyway!), and an easy to use interface. It's also worth mentioning that I think Canon users have access to some of the best lenses on the market.
I'd also add that I'm not beholden to Canon. We also have a Panasonic micro four thirds camera, as well as a Sony RX100 compact camera, and I've used some of the Sony a6xxx series as well. My wife has also had a Nikon DSLR.
Today though, I'm going to be talking about the Canon EOS R5, which I bought to replace one of my Canon 6Ds. So I will be comparing it with that, as well as Canon's most recent 5 series DSLR, the 5D Mark IV, which the R5 essentially replaces.
I should also note that when Canon released the R5 they also released the Canon EOS R6, which is a similar camera at a lower price point. It shares many of the same features, so this review may also be useful for those considering that camera as well. A newer version of the R6, the R6 Mark II has also since been released.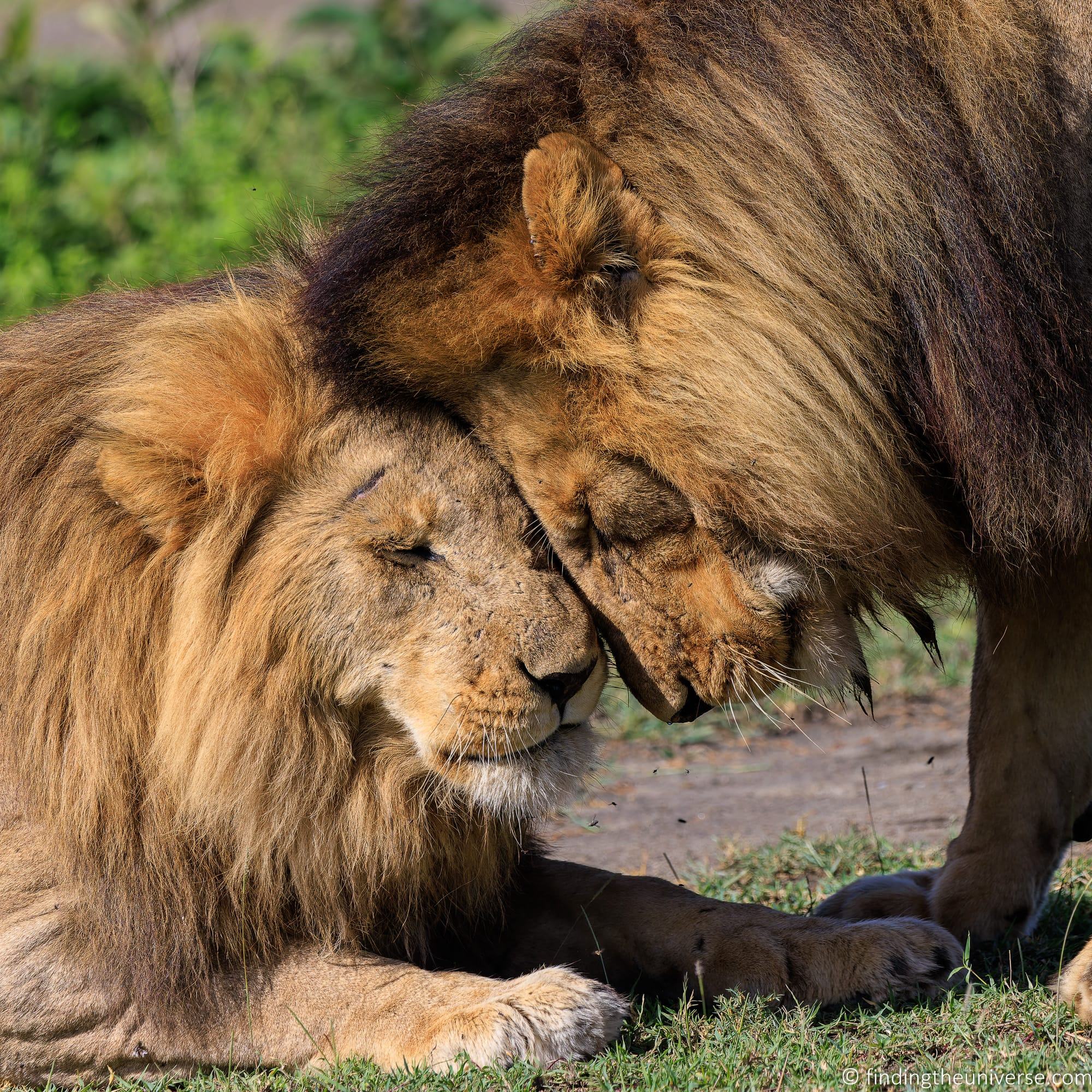 This review is going to be purely from my perspective as a travel photographer, using the camera for still photography. Whilst this camera is reportedly fantastic for video, I don't do much video work, so this Canon EOS R5 review won't be covering the video-only features in any depth.
Let's dive in with a quick overview of the key features of this camera.
EOS R5 Key Features & Overview
The Canon EOS R5 is a mirrorless full frame camera. If you want to know what that means, see my guide to using a mirrorless camera which covers the concepts of a mirrorless camera, and what sets it apart from other cameras on the market.
The main features of this camera are:
45MP full frame sensor
In-body sensor shift image stabilisation providing up to 8 stops of stabilisation
Dual-pixel autofocus system capable of eye-tracking on people and animals
3.2″ touchscreen and electronic viewfinder
RF lens mount (compatible with EF & EF-S lenses with adaptor)
12 fps (mechanical shutter), 20fps (electronic shutter) – requires compatible lens
Weighs: 738g / 26oz with battery
Dimensions: 138 x 98 x 88 mm (5.43 x 3.84 x 3.46″)
Weight: 738g (26oz) with card and battery
8K video support
Two card slots (Standard SD + CFExpress)
2.4Ghz & 5Ghz WiFi + Bluetooth support
Weather sealed
Flash hotshoe (no built-in flash)
Mic in/line in / headphone socket, HDMI micro out, flash sync socket, N3-type remote control terminal USB-C port.
You can see full specifications on the Canon website here.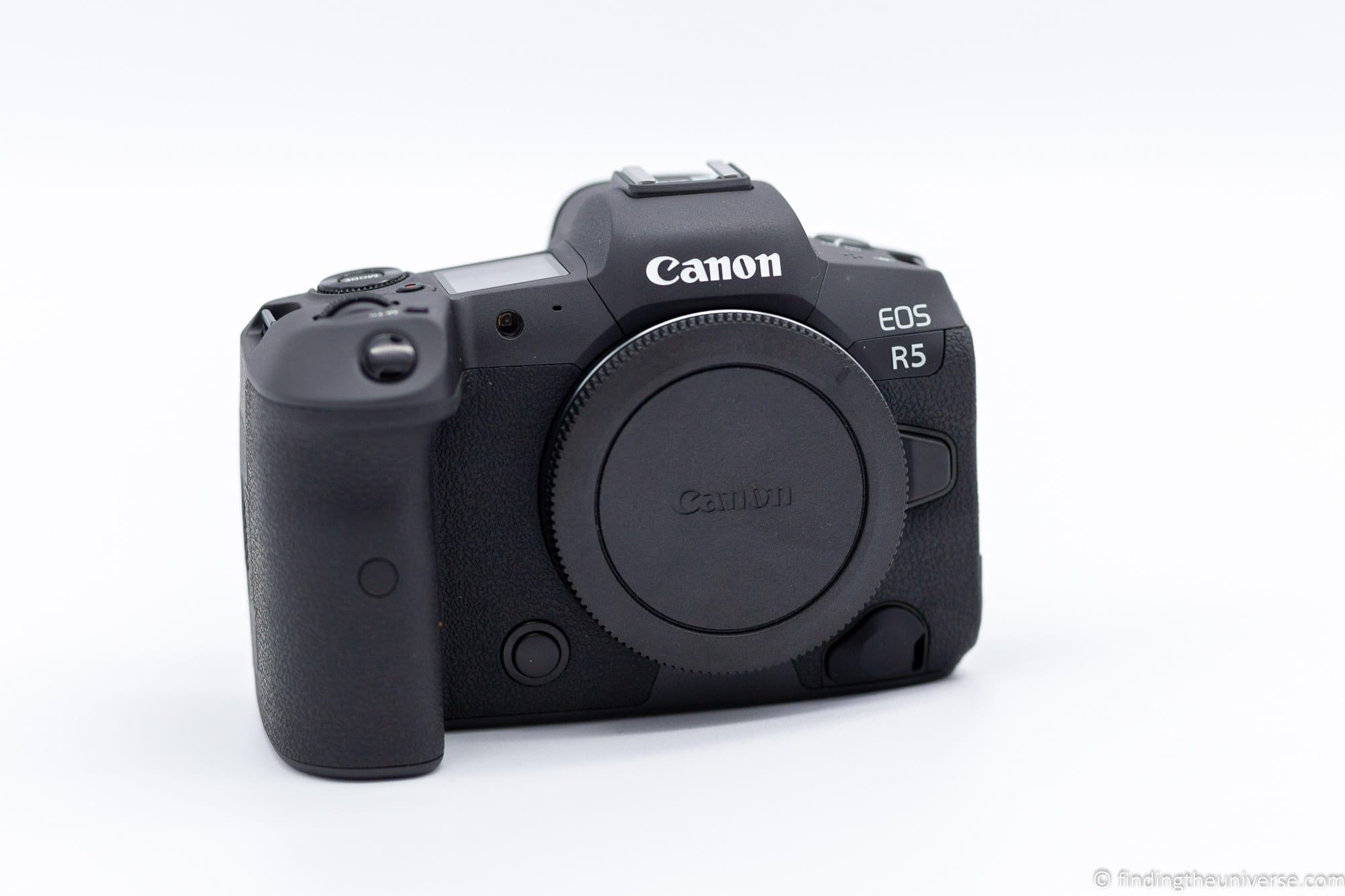 What's in the EOS R5 Box?
The EOS R5 box has the following:
The EOS R5 camera body
Camera Cover R-F-5
An LP-E6NH battery with battery cover
A Canon battery charger (with cable, in the UK)
A USB-C to USB-C cable
An EOS R5 branded camera strap
A cable protector
A getting started guide (the full manual is online)
As is typical for a camera of this level, the camera body does not come with any lenses included. So if you wish to add lenses, you will need to budget for and buy those separately.
It is mostly what you would expect, although there were two disappointments for me of accessories that were not included that I think would be useful for a lot of shooters.
First, although the EOS R5 supports USB-C charging via a PD compatible charger, Canon doesn't supply a compatible charger in the box. However, you can buy a Canon PD-E1 power adaptor as an additional accessory if you want to charge the LP-E6NH battery in the camera.
I'd also really have appreciated an EF-RF adaptor in the box. I feel that most users coming to this camera system will likely have existing lenses, or might consider buying some EF lenses, so having that in the box would have been nice. As it is, you can pick one up here.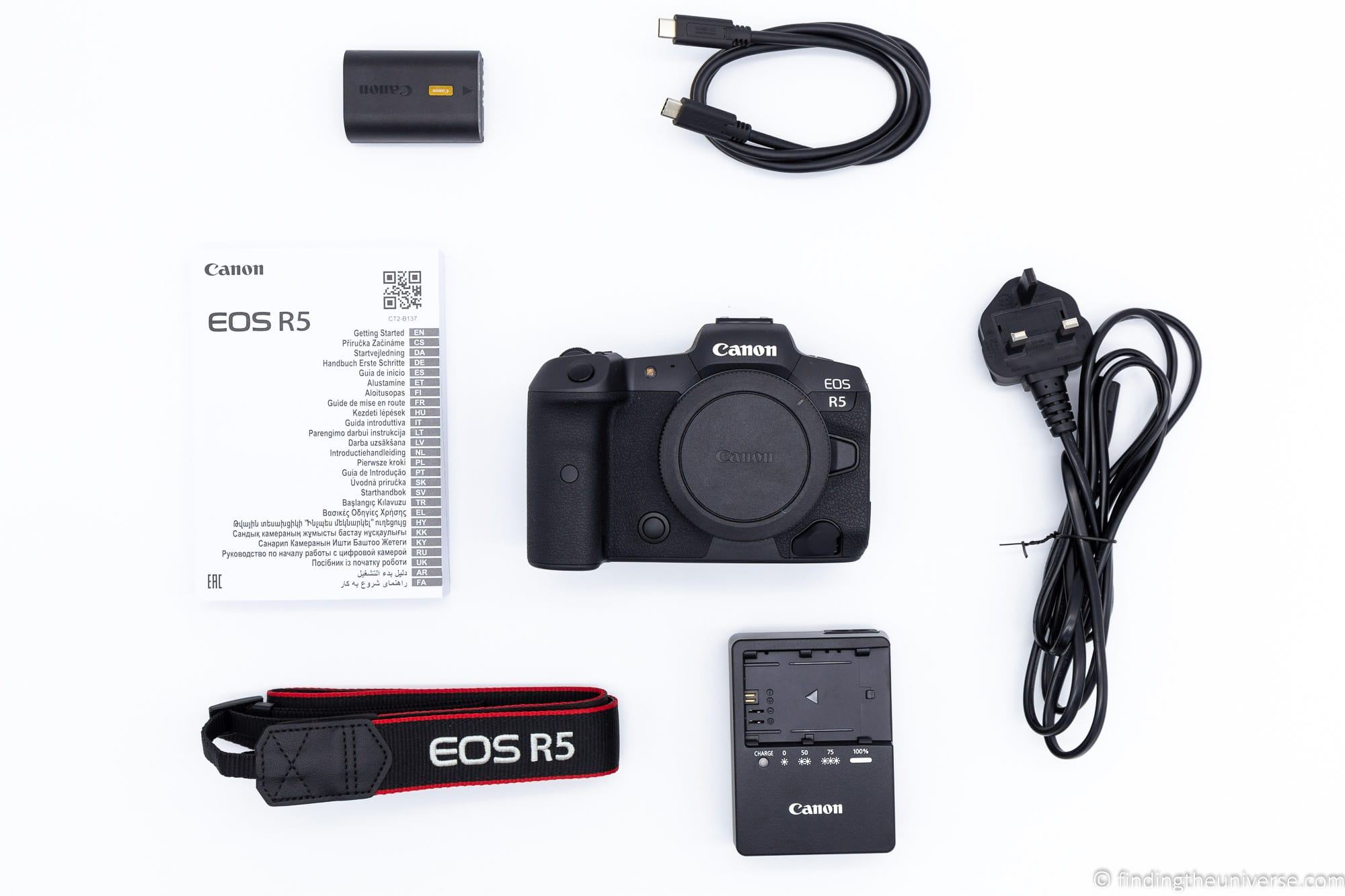 What Do I Use My Canon EOS R5 For?
I think it's important to qualify what I use my camera for, as we all have different needs from our equipment.
I'm primarily a travel photographer, which means I shoot a wide range of subjects on our travels. These include landscapes, as well as city scenes, streets, people, events, buildings, wildlife, and food. I also often shoot indoors (e.g., museums, hotels, places of worship) where a tripod may not be allowed.
So I need a camera that is capable in a wide range of scenarios. It also needs to be able to stand up to the elements for outdoor shoots, and to be reasonably portable as I'm going to be traveling with it and carrying it around all day. That weight factor was one of the main reasons I had originally chose the Canon 6D over the Canon 5D series many years ago.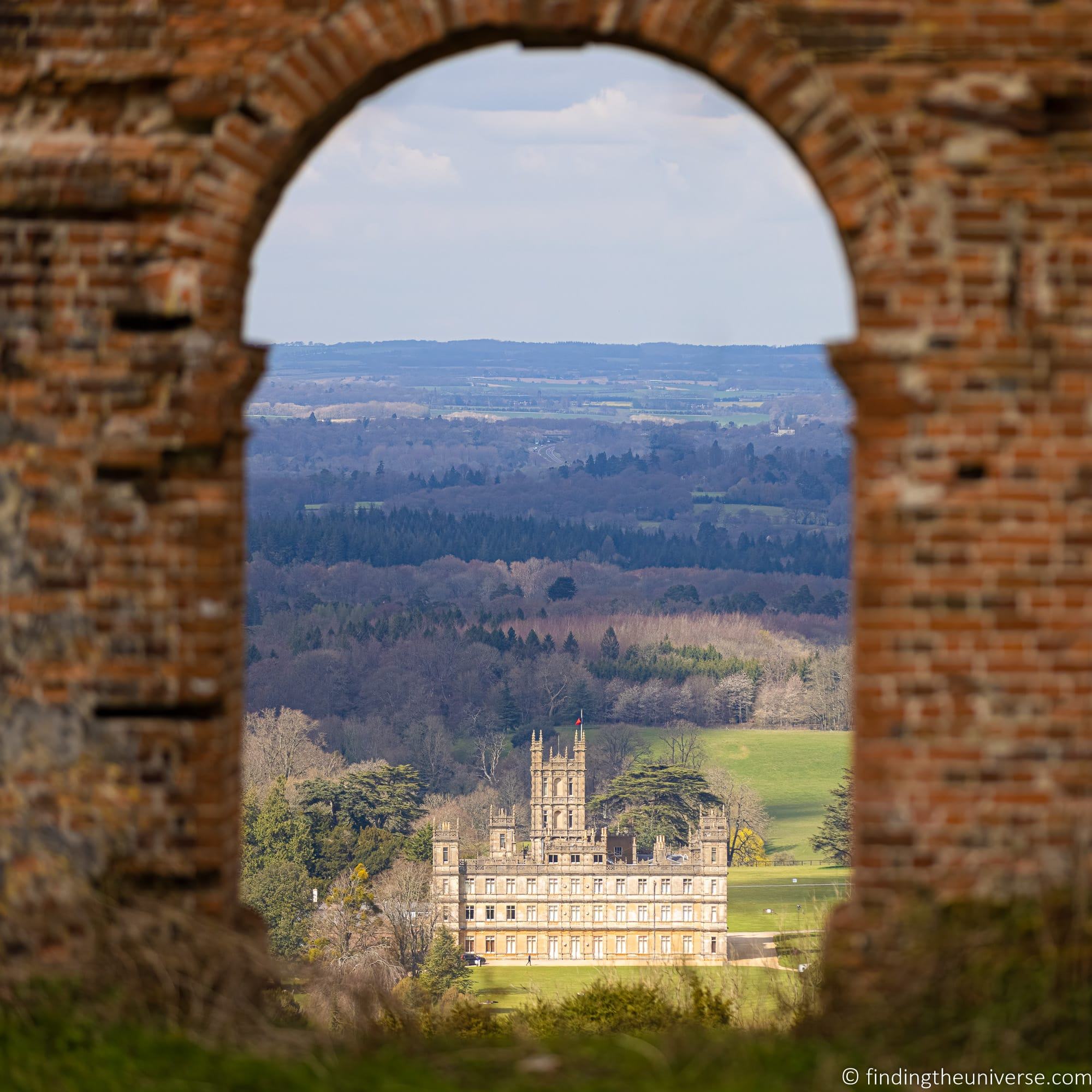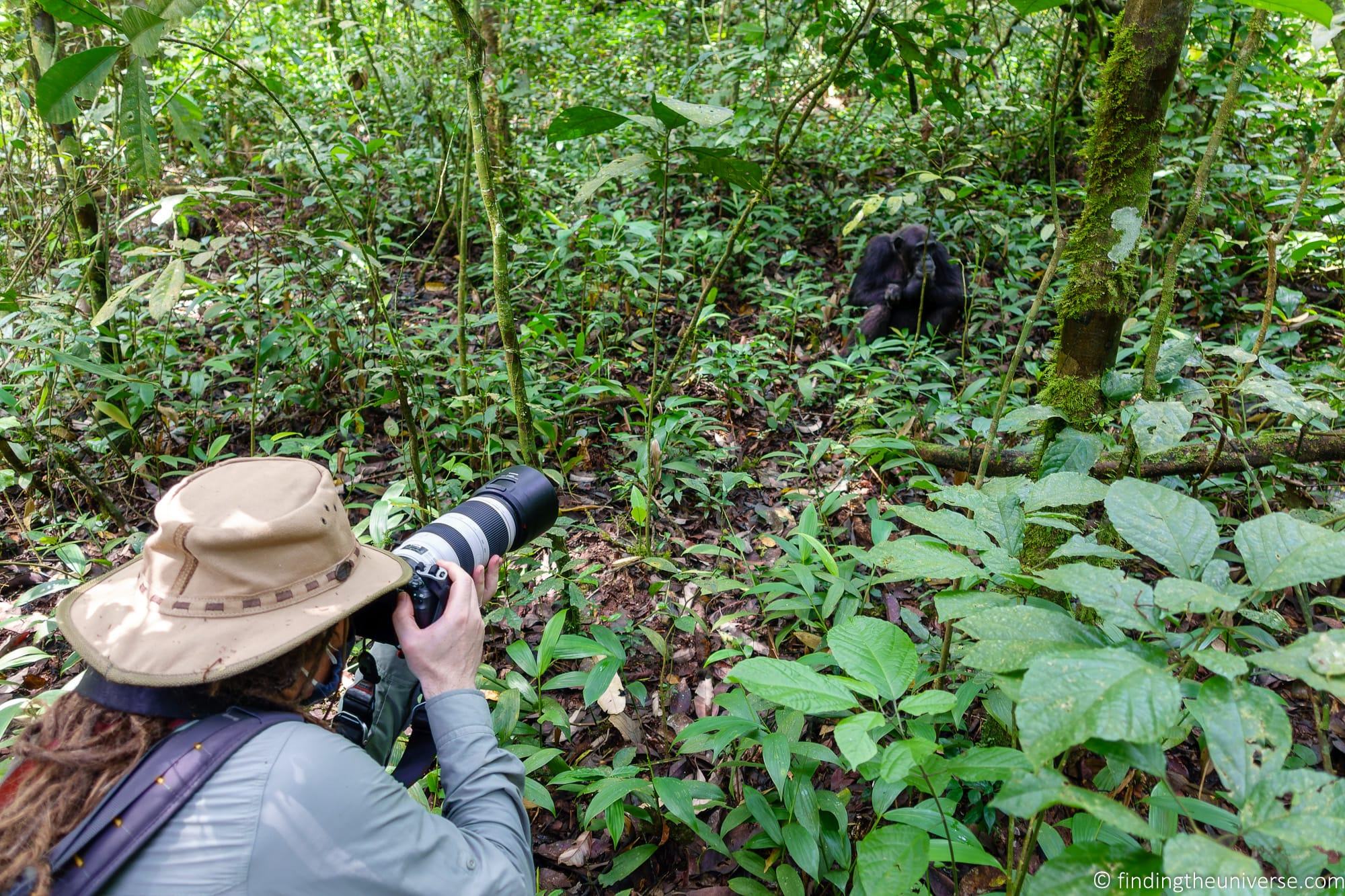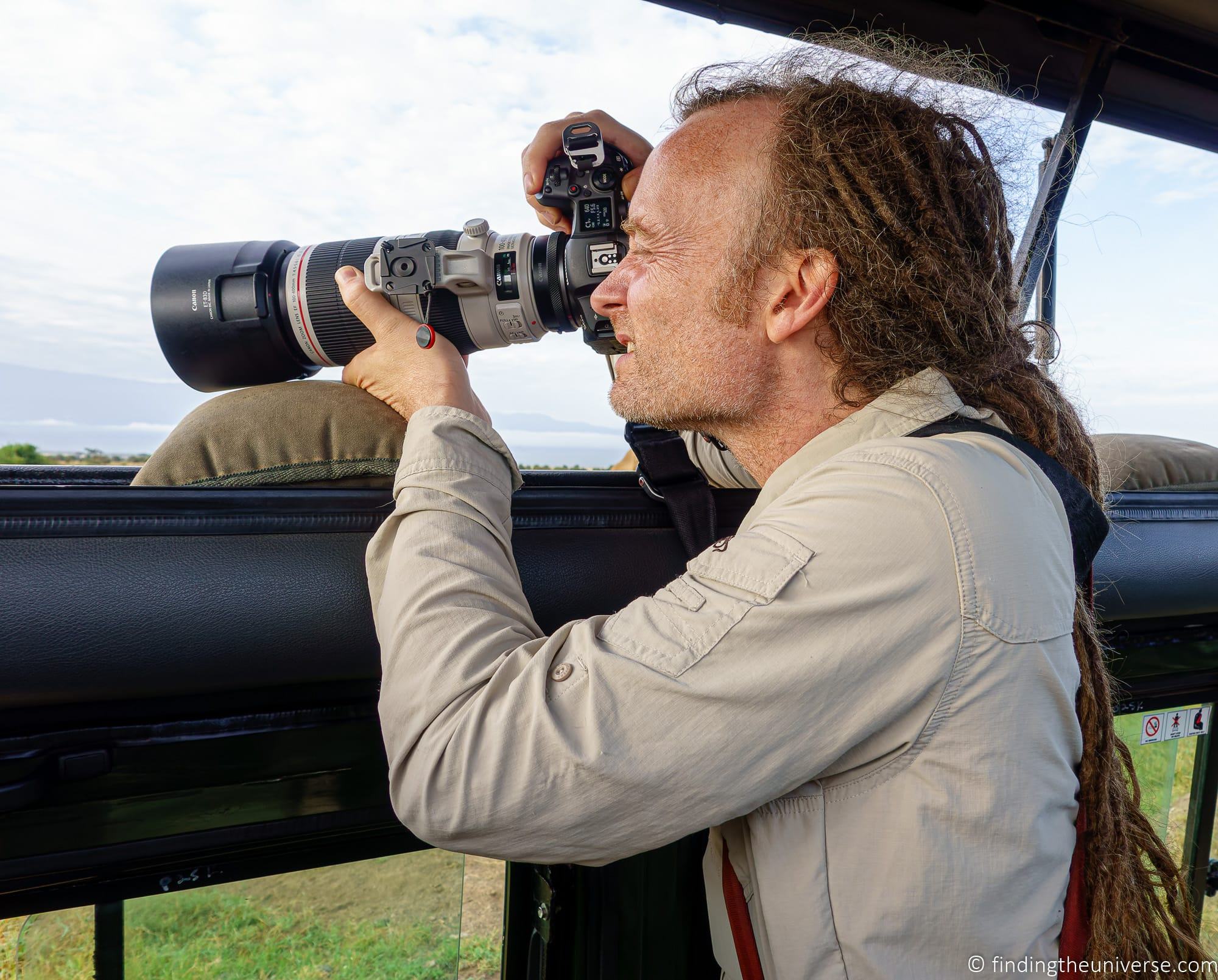 Things I Love About the Canon EOS R5
Rather than dive into every aspect of this camera, I'm going to talk about the things I love and the things that I think could be improved with this camera, based on my experience with it to date.
I purchased the camera in March 2021, and have used it on trips across the UK, USA and a number of East African countries.
Autofocus System
I'll be honest, the autofocus system was one of the main reasons I chose to upgrade to the new Canon EOS R5 from the 6D. For daytime landscape photography this wasn't a big deal of course as there's not a lot of subject movement to worry about, and I'm usually shooting at a fairly wide depth of field in good light.
That story changes when I'm shooting people, fast moving wildlife, or in very low light situations. In those situations, particularly the action shots, the 6D was definitely limiting some of my shots, and I wasn't nailing focus as reliably as I wanted to.
This was especially the case when shooting wide open at f/1.8 or f/2.8, meaning I'd often use narrower apertures to achieve a deeper depth of field. This would help ensure I'd nail focus on the subject's eye rather than the tip of their nose, but sort of missed the point of having a wide aperture lens. Tracking moving subjects was also quite a challenge at times.
These issues are no longer a problem thanks to the quite frankly astonishing autofocus system that Canon has put into the Canon EOS R5.
There are a range of autofocus options on the R5. The most impressive is the subject detection autofocus, which can automatically identify and lock onto people, animals and vehicles. It will do this in as little as 0.05 seconds. For people and animals, the system will lock onto their eyes if it can find them, otherwise it will lock onto a head or body.
It's hard to explain how great this system is, because it literally feels like magic, even on EF lenses. I appreciate describing something as magic in a review might not be subjectively helpful, but honestly, I challenge you to use it and not come away smiling at your new found focus powers.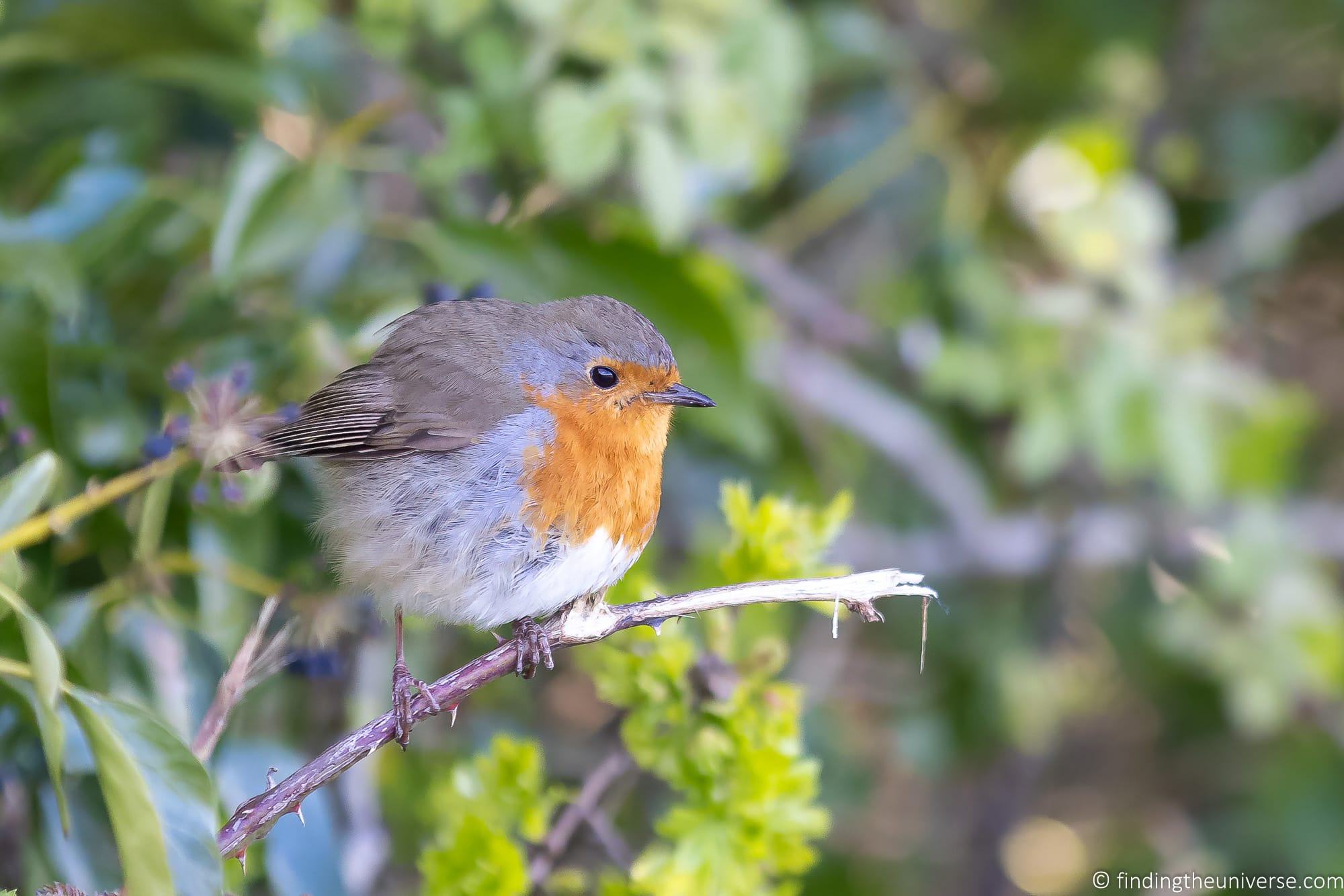 Even more impressively, you get focus across pretty much the whole viewfinder. My 6D had a sad little clump of 11 autofocus points clustered around the centre of the viewfinder. Of course, I could switch to live view and wait a few seconds for the camera to focus, but that was never really practical in situations regarding a moving subject.
The R5 is definitely an improvement when it comes to autofocus points.
As a reminder, the 6D has 11 focus points. The 5D Mark IV has 61 focus points. The R5 somewhat ups the ante, with 5,940 focus points! That's a lot of focus choice.
There are of course a range of other focus options, so you don't have to rely on the subject detection autofocus system. You can also set up different buttons to trigger different autofocus methods, so you can have one button to lock onto eyes for example, and another for centre point focusing.
Whichever focus system you use, the R5 will lock focus across most of the viewfinder at superhuman speed, and it even supports focusing with lenses that have a maximum aperture up to f/22. For comparison, the 6D autofocus system wouldn't focus on a lens with a maximum aperture larger than f/5.6. Even the lauded 5D Mark IV tapped out at lenses up to f/8.
I appreciate there are not many lenses with a maximum aperture of f/22, but it is a testament to how much of a leap forward this new autofocus system really is.
In terms of available light required to focus, the R5 can focus in light levels of -6EV. That means you can attain focus even in a landscape at night lit solely by half a moon, or when using high strength neutral density filters. By comparison, the 6D I was shooting with had a low light focus capability of -3EV, which was considered impressive at the time. That's roughly the light available at night under a full moon, and the same as the 5D Mark IV which also focused down to -3EV.
It's worth noting that the Canon EOS R6 has marginally better low light focus performance, down to -6.5EV!
Basically, if you like astrophotography, low light photography, or shooting with a neutral density filter, the R5 (and R6) autofocus system is going to work great for you.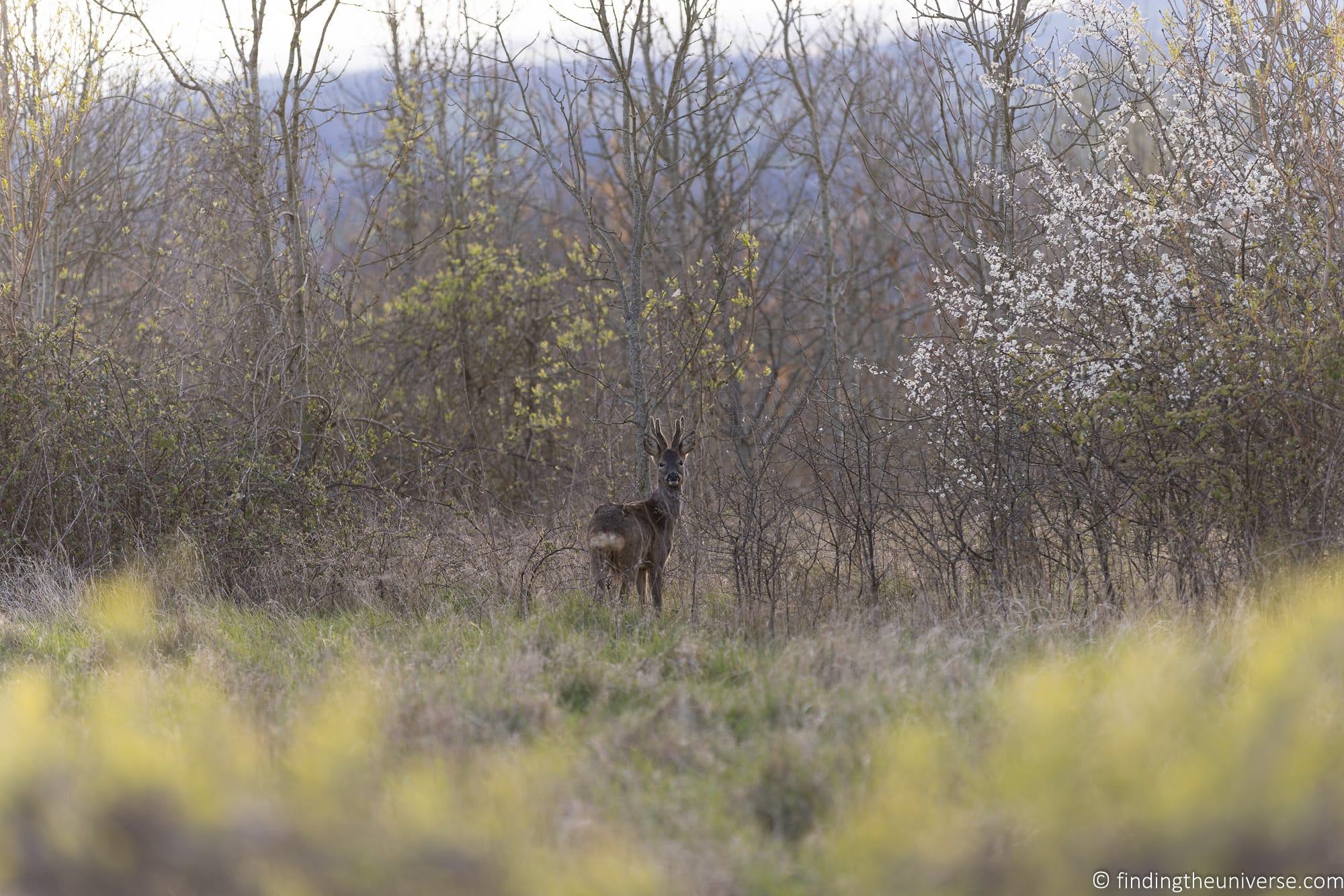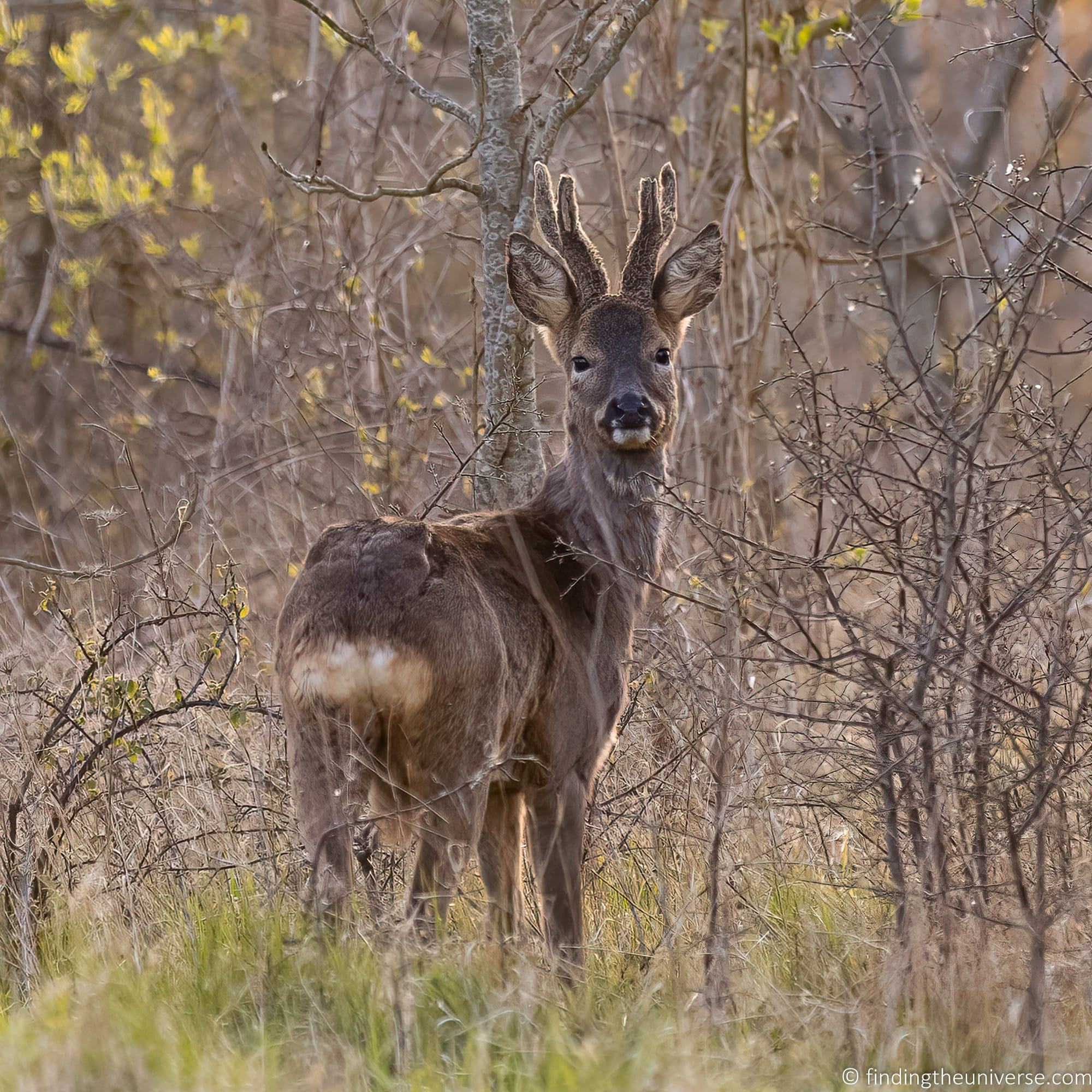 I've tried this autofocus system on a range of subjects, and it is really amazing how well it works to lock and hold focus on even a fast-moving subject or relatively distant subjects. With multiple subjects in the viewfinder, you can toggle between them using the joystick.
Having essentially given up on anything other than centre-point focus on my 6D, using the "focus and recompose" technique for most of my shots, having an autofocus system that identifies and tracks subjects effectively is a revelation.
It is worth mentioning that whilst I have raved about the subject detection autofocus system on the R5, it is not infallible. This is particularly the case when shooting subjects that the camera isn't that familiar with. For example, shooting wildlife in East Africa, it did occasionally decide that the blade of grass in front of the rhino was the subject rather than the rhino. Or that the leopard's spots were the eye, rather than the actual eye.
These were edge cases rather than the normal, but it does stress the importance of not relying on any automated system too much. For fast moving birds in flight, in my experience it locked onto an eye if visible 95% of the time. For animals, it was more like 80-90% reliable, depending on the animal.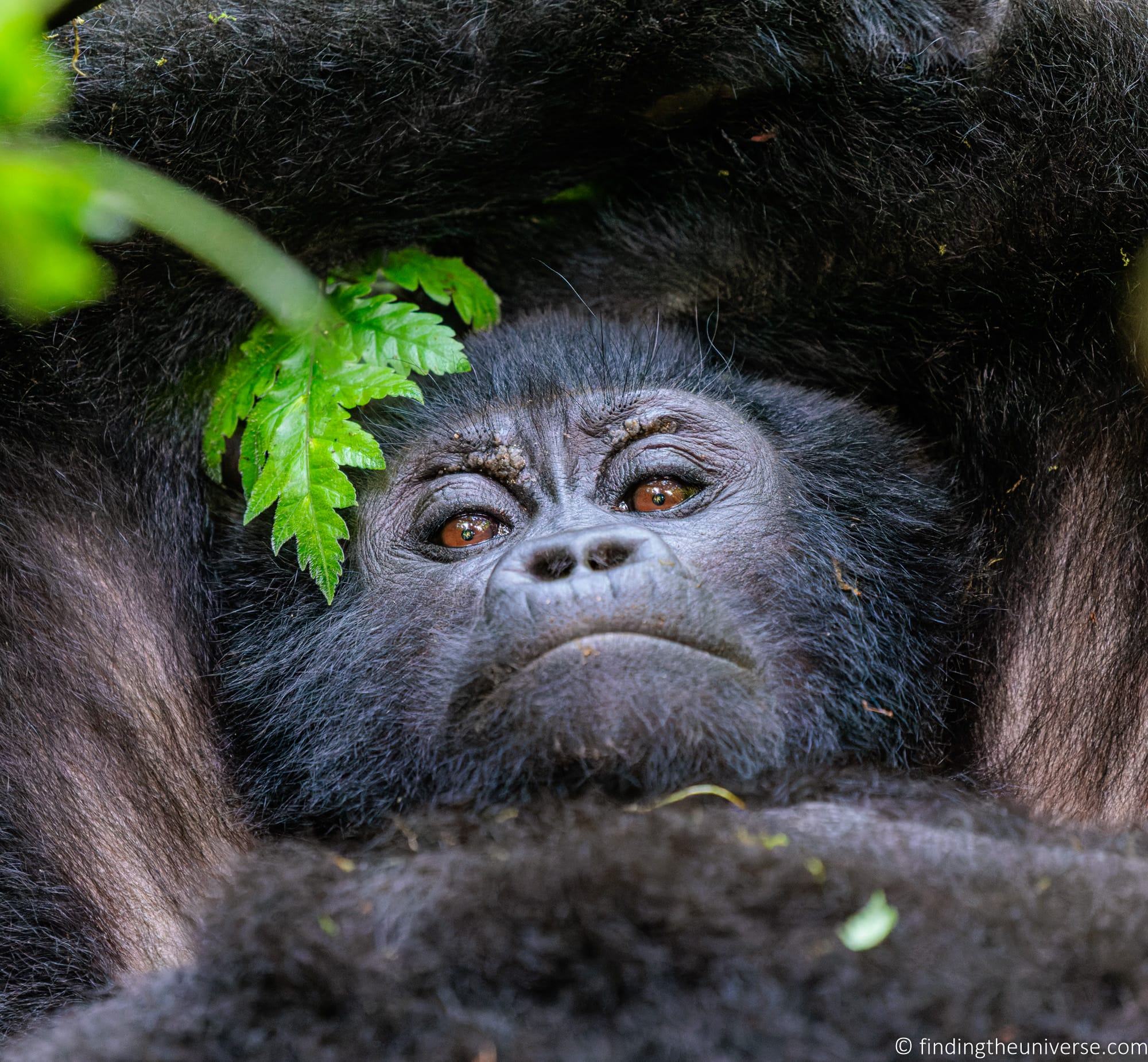 Of course, you can also assign and move the focus point manually with the focus point, or use the touchscreen to select a subject to track. Personally I've assigned the DOF button on the front of the camera to a centre focus point. This gives me the best of both worlds, as I use back button focusing for subject / eye tracking, and the DOF button for centre point focusing.
When you're looking through the viewfinder, you can set up the camera so you can use your right thumb on the touchscreen to move the focus point. So if the camera selects the wrong subject, you can easily override it. This is similar to a system I used in the Panasonic GX8 which I thought was very clever, and I'm thrilled it's made it into the EOS R5 as it is so intuitive to use.
Another option is to set up the subject detection system (in Servo AF mode) so it has an initial focus point (which you can move). This means the camera will still search for a subject's face, eyes or torso, but will start the search in an area you define.
This is a good option if a scene has multiple subjects and you quickly want to select one, or if the camera seems to be struggling to tell the difference between a blade of grass and a rhino. You can see how to do that in the manual here.
I'm not saying that the focus system is the only reason to upgrade to this camera, but it may be enough for some. Let's look at some other features I've enjoyed.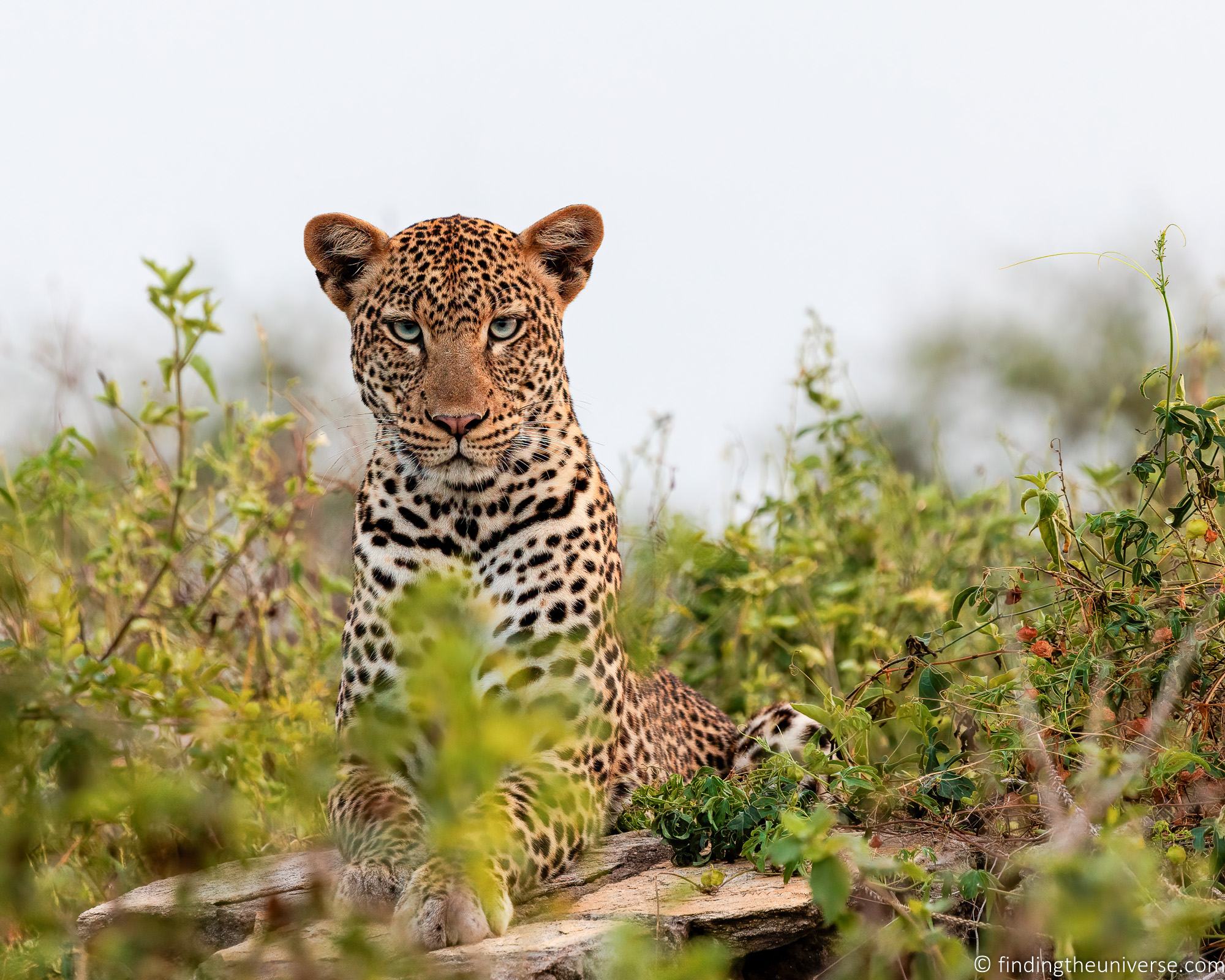 Image Stabilisation
The R5, and its sibling the Canon R6, were Canon's first cameras to be released with a built in in-body image stabilisation (IBIS) system. For years, Canon has pushed the message that in-body image stabilisation wasn't really required, because lens based stabilisation was good enough.
It turns out though that with pretty much every other manufacturer out there releasing cameras with in-body image stabilisation, Canon couldn't ignore the trend any more.
Not wanting to do things by halves, the system that Canon developed for IBIS is truly spectacular. It offers up to 8 stops of stabilisation when combined with a supported lens. In theory, that means that if you can hand-hold your lens at 1/250th of a second, you should be able to get the same sharp results at 1 second!
To compare with other full frame flagships on the market at the moment, Sony's a9 II camera offers 5.5 stops of compensation, their A7 III offers 5 stops, and Nikon's Z6 II offers 5 stops.
Of course, there are a lot of variables to consider, not least of which is that you only get the full 8 stops of stabilisation on the R5 with specific RF lenses.
However, the IBIS system works with both stabilised and non-stabilised EF lenses. For EF lenses that already have built in image stabilisation, there is some improvement but it is not huge. The camera does some work to further stabilise the image, but there are not huge leaps in performance.
However, if you have non-stabilised EF lenses, then the camera IBIS system can provide 2 to 4 stops of image stabilisation, which is definitely a bonus.
I have three IS EF lenses (16-35 f/4, 70-200 /f.28 II and 100-400 IS II), and my testing has shown that the in-body image stabilisation doesn't make much difference as the lens stabilisation in EF lenses is already pretty good at around 4 stops.
However, for my other Canon EF lenses which aren't stabilised, including a 100mm f/2.8 macro and 85mm f/1.8 portrait lens, it's fantastic to be able to shoot these at lower shutter speeds if necessary.
Definitely do not discount your EF lenses, as the R5 is capable of breathing new life into them. I've found I can hand hold non-stabilised EF lenses up to four stops slower than usual with the IBIS system enabled. You are also future proofed when and if you choose to buy RF glass.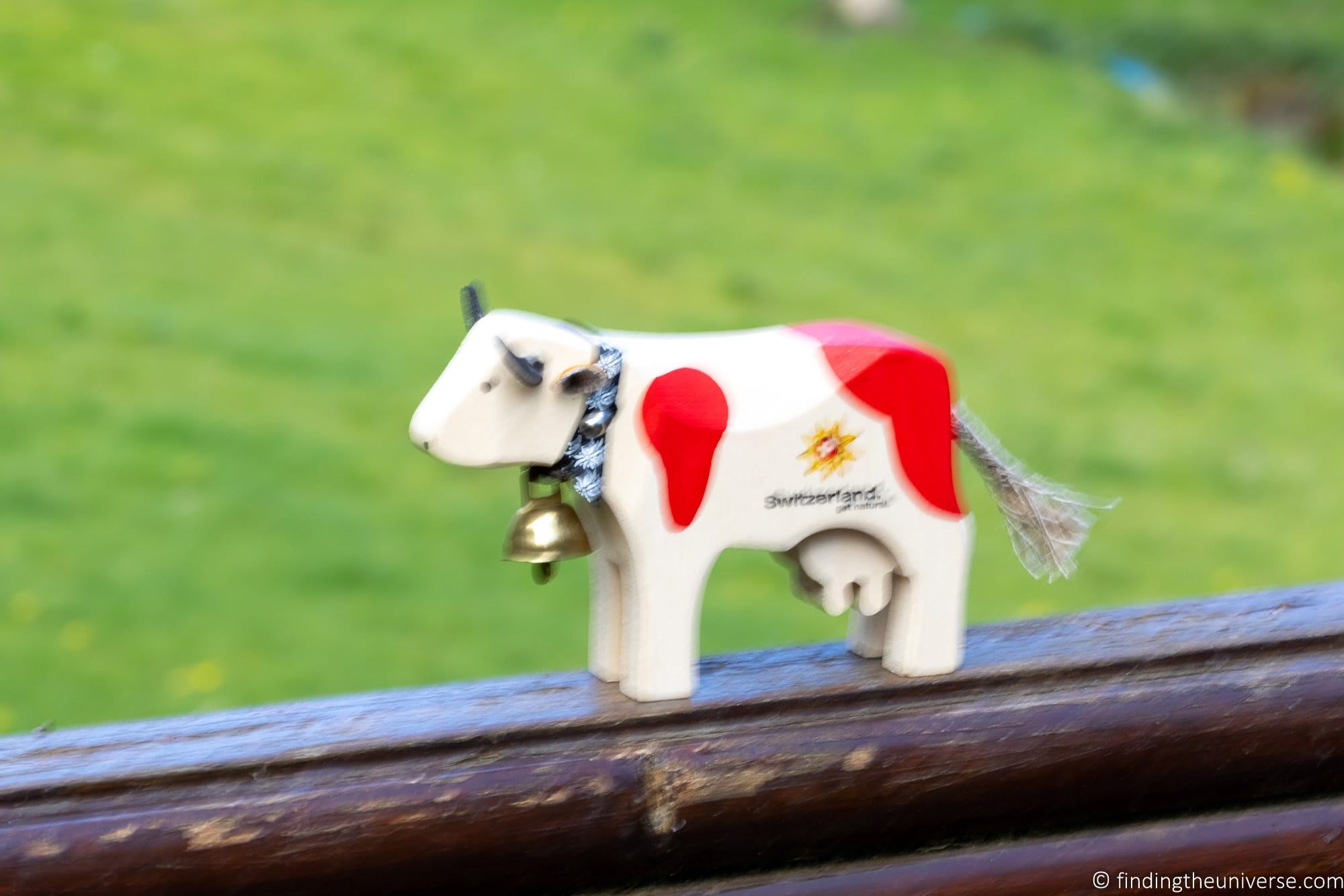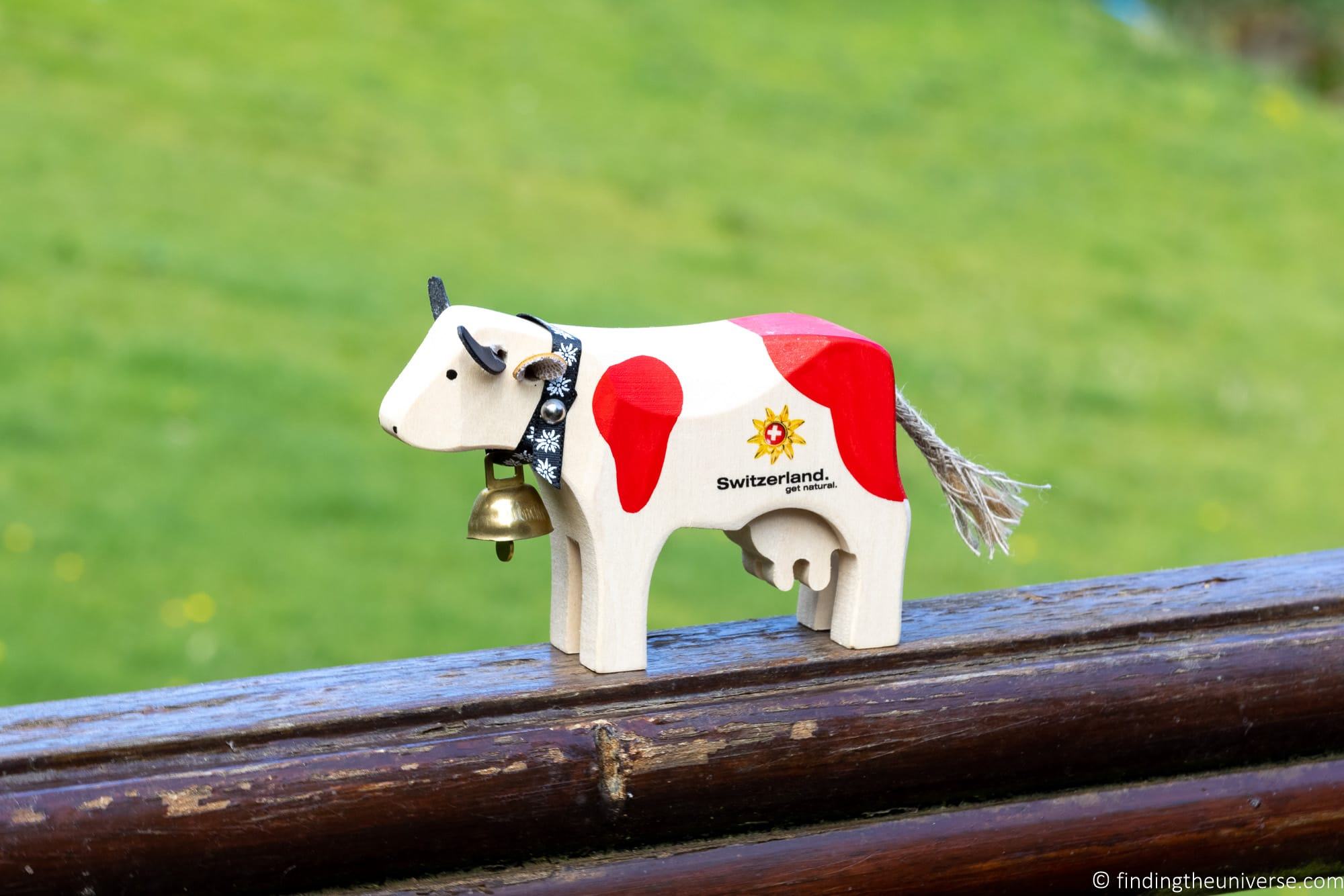 Burst Speed
The Canon 6D I am used to using has a maximum burst speed of a fairly lacklustre 4.4 frames per second. That means that when you press and hold the shutter button, the camera will take around four images every second.
That might sound like a lot, but in action photography a second is a long time, and a slow burst speed can mean that you miss shots.
The Canon EOS 5D Mark IV has a burst rate of 7.7 fps, which is fairly respectable.
The EOS R5 has a rather more impressive burst speed than my 6D and even the 5D Mark IV. It can do up to 12 frames per second with the mechanical shutter, and 20 frames per second with the electronic shutter.
The latter is particularly spooky because it's totally silent. So you point the camera at something, hold down the button, and your memory card starts to fill up very quickly.
Of course, there are some caveats to these burst speeds. For the mechanical shutter, you need to be using a supported lens (full list here) and the LP-E6NH battery with over 60% charge. Most EF lenses from 2012 onwards should work, I've had no problems with my 70-200 IS II f/2.8L & 100-400 IS II for example.
If you use older batteries, batteries with a lower charge, unsupported lenses, or have features like WiFi enabled, the mechanical burst speed will be slower. The camera makes this clear to you via different colored icons. A green "H+" on the view screen means you're going to get the 12fps. This icon changes to white and loses the "+" if higher speeds are not possible.
The electronic shutter will nearly always shoot at 20fps, although this can cause some issues with fast moving subjects, so you will want to be selective about when you choose to use it.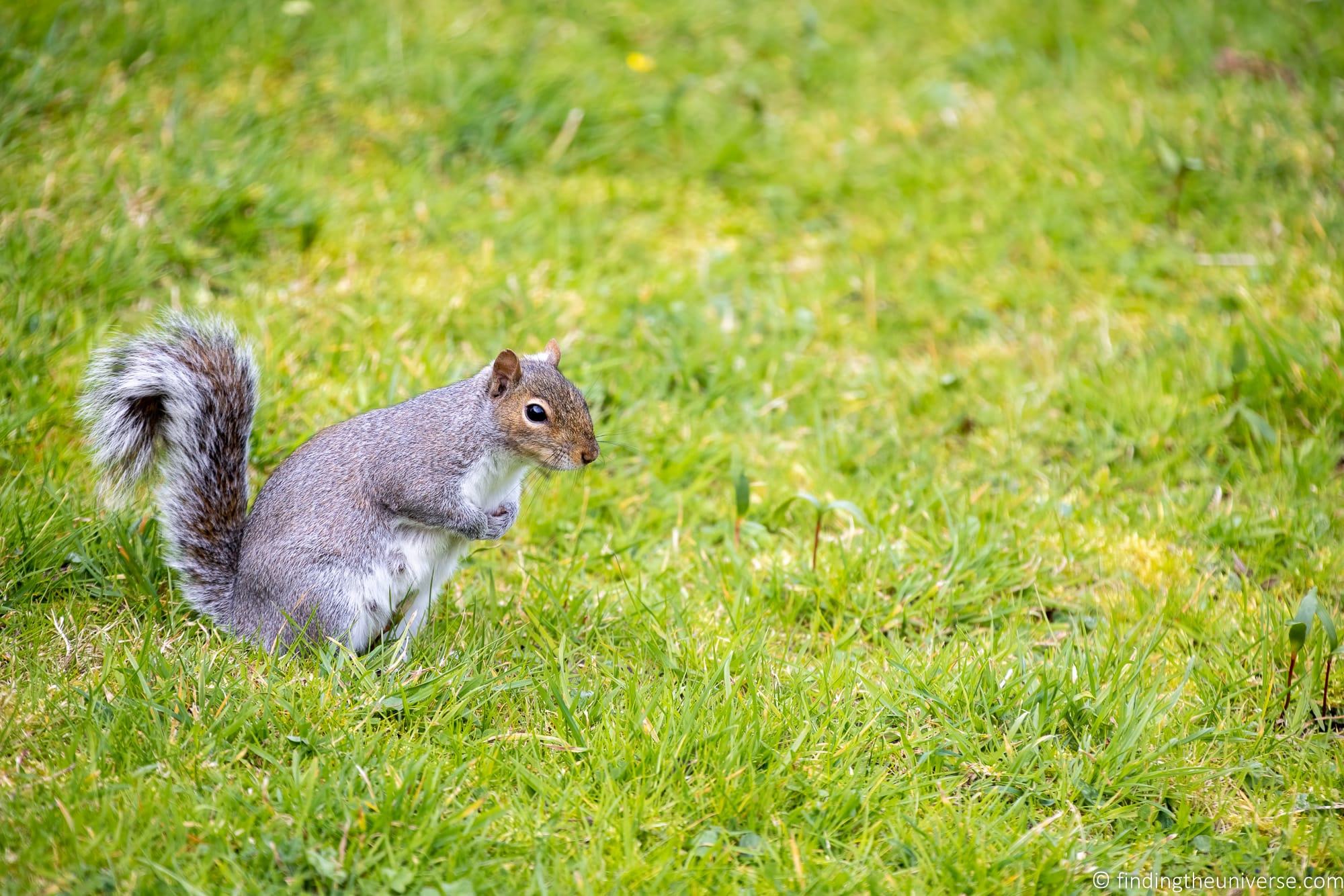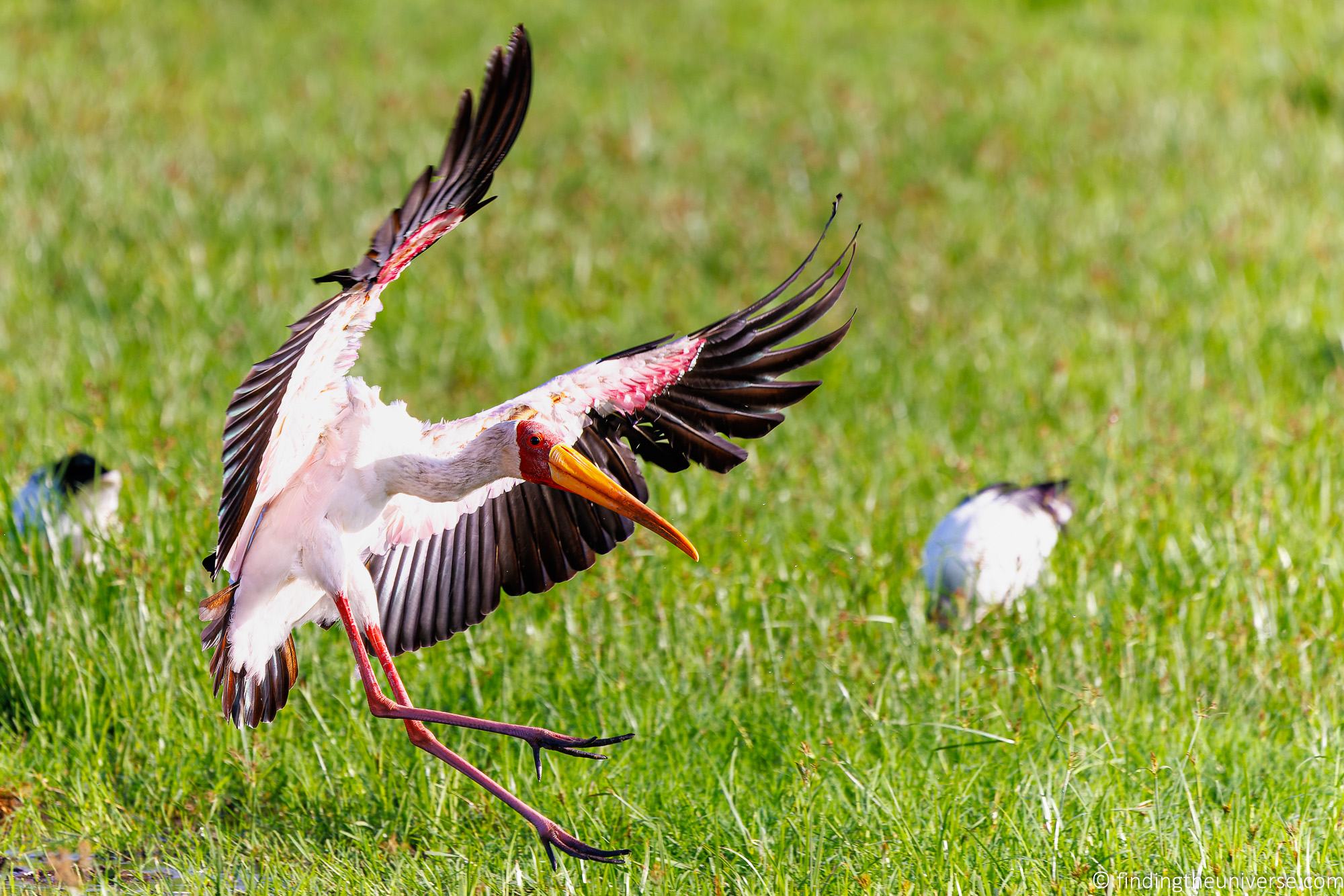 Fv Mode
DSLR and mirrorless cameras come with a range of modes, which span from the fully automatic "Auto" mode where the camera does everything for you, through to the "Manual" mode where you have to set aperture, shutter speed, and ISO yourself to get the correct exposure.
In between these modes there are some other partially automatic modes. For many years, these have been the same across most cameras. There's an aperture priority mode, where you set the aperture and the camera will set the shutter speed and ISO. There's a shutter priority mode, where you set the shutter and the camera will set the aperture and ISO.
Personally, I have always done most of my shooting in either aperture priority or full manual mode. Aperture priority means I can set the aperture to control depth of field, which is a key compositional tool for the photography I like to do. If I'm doing fast action photography, I'll usually either shoot in shutter priority or manual.
The EOS R5 has a mode that was new to me, known as "Fv", or Flexible value mode. This was first introduced with the EOS R mirrorless camera, and is also on the R5 and R6.
Fv mode attempts to give the photographer the best of all worlds. Basically, you can let the camera be in fully auto and select aperture, shutter speed, and ISO values for you, or you can pick and choose which of those three you want to adjust. You can also use exposure compensation in this mode.
This mode is really useful, and with some practice is rapidly becoming my go-to option. It means I can essentially shoot with the camera in the equivalent of Aperture priority mode, but with the ability to override the shutter speed and ISO settings on a per shot basis if I want to, without having to change to manual.
With the extra control ring that is available on RF lenses, which can be assigned to change shutter speed for example, I can quickly adjust shutter speed and aperture, or let the camera decide. It's a really flexible mode, which I guess is where the name came from!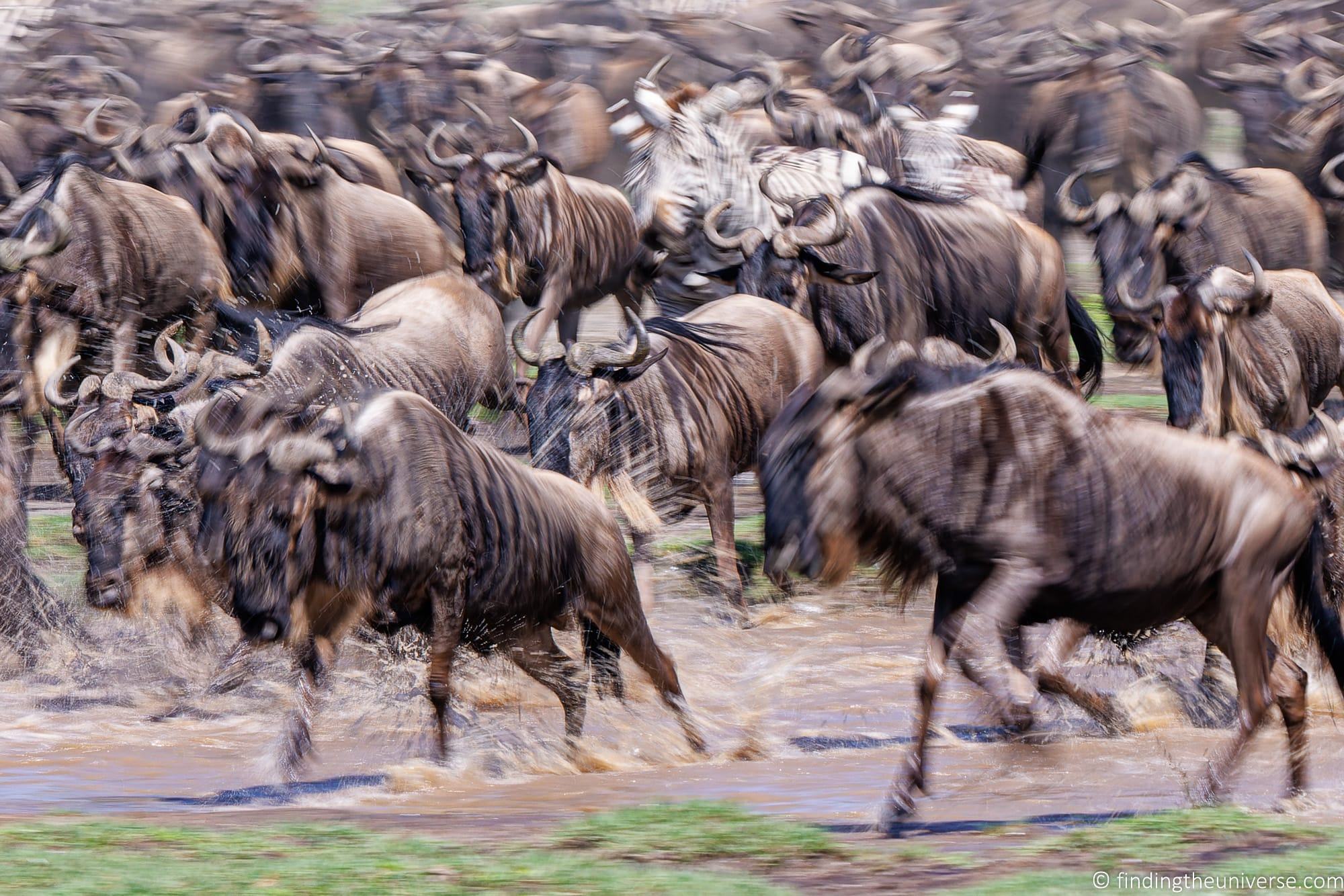 Lens Compatibility
For most professional photographers, the cost of their lens collection is usually higher than the cost of their camera bodies. Changing brands means investing in a new set of lenses, and this was one of the main reasons I have stuck with Canon for so long.
Whilst many of my peers were jumping ship and moving to brands like Sony, I continued to hold out hope that someday Canon would release a mirrorless system that would let me continue to use my existing lenses which I have grown to love, whilst also providing sufficient upgrades to make the investment worth it.
The Canon EOS R5 does use a new mount, first introduced on the Canon EOS R, the RF mount. The lens mount is what the lens attaches to on the camera, and as well as being a mechanical attachment, it's also where the electronic communication between the lens and body happens.
So you can't just take an EF or EF-S lens and attach it directly to an RF mount camera like the R5. You need a lens adaptor, specifically this RF mount adaptor.
Traditionally, lens adaptors have a bit of a negative reputation. This is usually because they are most commonly used to adapt lenses from one camera system onto another camera system, say from a Canon camera to a Sony camera. This usually has the downside that the lens ends up performing more slowly due to the electronics interface needing to translate from one brand to another.
In addition, if there's glass inside the lens adaptor, this can reduce the image quality. As such, many photographers are wary of using any form of adaptor.
I can confirm that the Canon EF-EOS R mount adaptor does not have these issues. It is really just an electronics passthrough for the EF to RF lens mount, and it is otherwise just empty air which moves the EF lenses further away from the sensor to emulate the space the mirror in a DSLR takes up.
Performance of my EF lenses on my R5 has been stellar. In fact, I'd say it's even better than on 6D, because you get the benefits of that lightning fast autofocus system and in-body image stabilisation.
Naturally, all Canon's EF and even EF-S lenses are supported. Note that the EF-S lenses will produce cropped images as if they were on an APS-C sensor. This means you have access to a massive library of lenses as you can use the EF lenses with the help of the adaptor as well as the RF lenses.
In addition, third party lenses from the likes of Sigma and Tamron which are designed for the EF or EF-S mount will also work. I've not tried these as I don't have any third-party lenses, but I have heard from other photographers using them on the R5 and R6 with no issues.
Generally, if you are worried about your EF lenses not working properly with the R5 and mount, do not be as they all seem to work fine.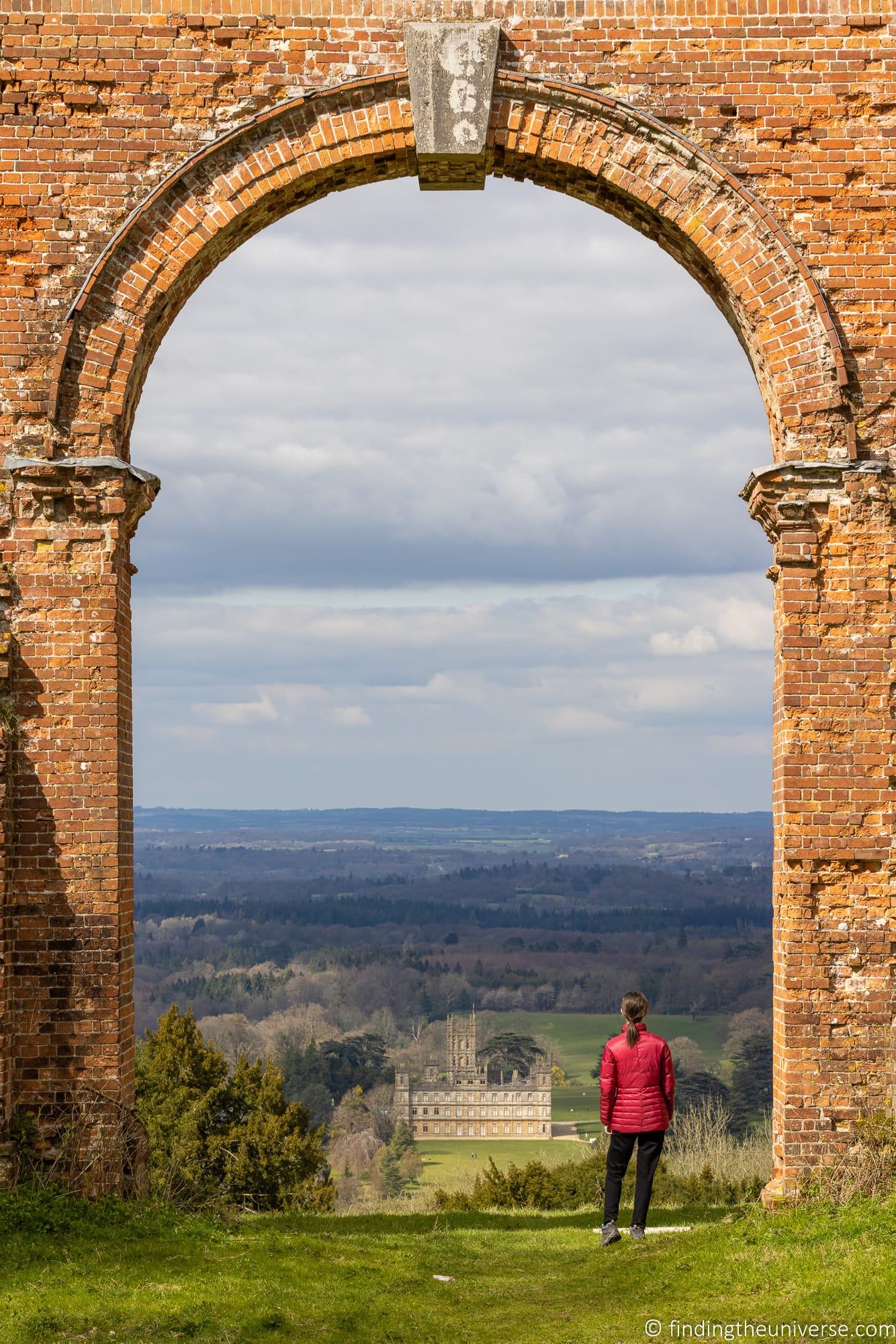 Moving Touch Screen
Canon's high-end cameras have, for a long time, not had a screen that moves. The main reason given for this has been that it is harder to weather seal a screen that flips out.
So the 6D and the 5D Mark IV both have a static rear screen. As they are primarily designed to be used with the viewfinder, this has not been a huge omission.
However, with a mirrorless camera, the experience is the same between the viewfinder and the rear-screen in terms of what you see. Both are electronic displays. As such, Canon has finally implemented a screen that flips out, which massively adds to the usability of the rear-view screen. It's also fully touch-enabled, which makes flipping through menus a breeze (although you can keep using buttons if you prefer).
A flip out screen that rotates is wonderful for many reasons. For low-angle shots, you can flip the screen out and look down at it without having to contort your body to see what you're doing. In crowds, you can hold the camera over your head and flip the screen so it's pointing down as you. When you're shooting on a tripod that isn't quite high enough, like many travel tripods, you can flip the screen out and look down at it instead of bending over and breaking your back.
The touchscreen also adds some really useful features. As well as the aforementioned option to pick a focus point when looking through the viewfinder by dragging your thumb around the screen, you can just touch a point on the screen in normal mode to pick a focus point.
A moving touch screen is perhaps not enough of a reason to upgrade to this camera from something like the 6D, but it is definitely a very nice feature to have.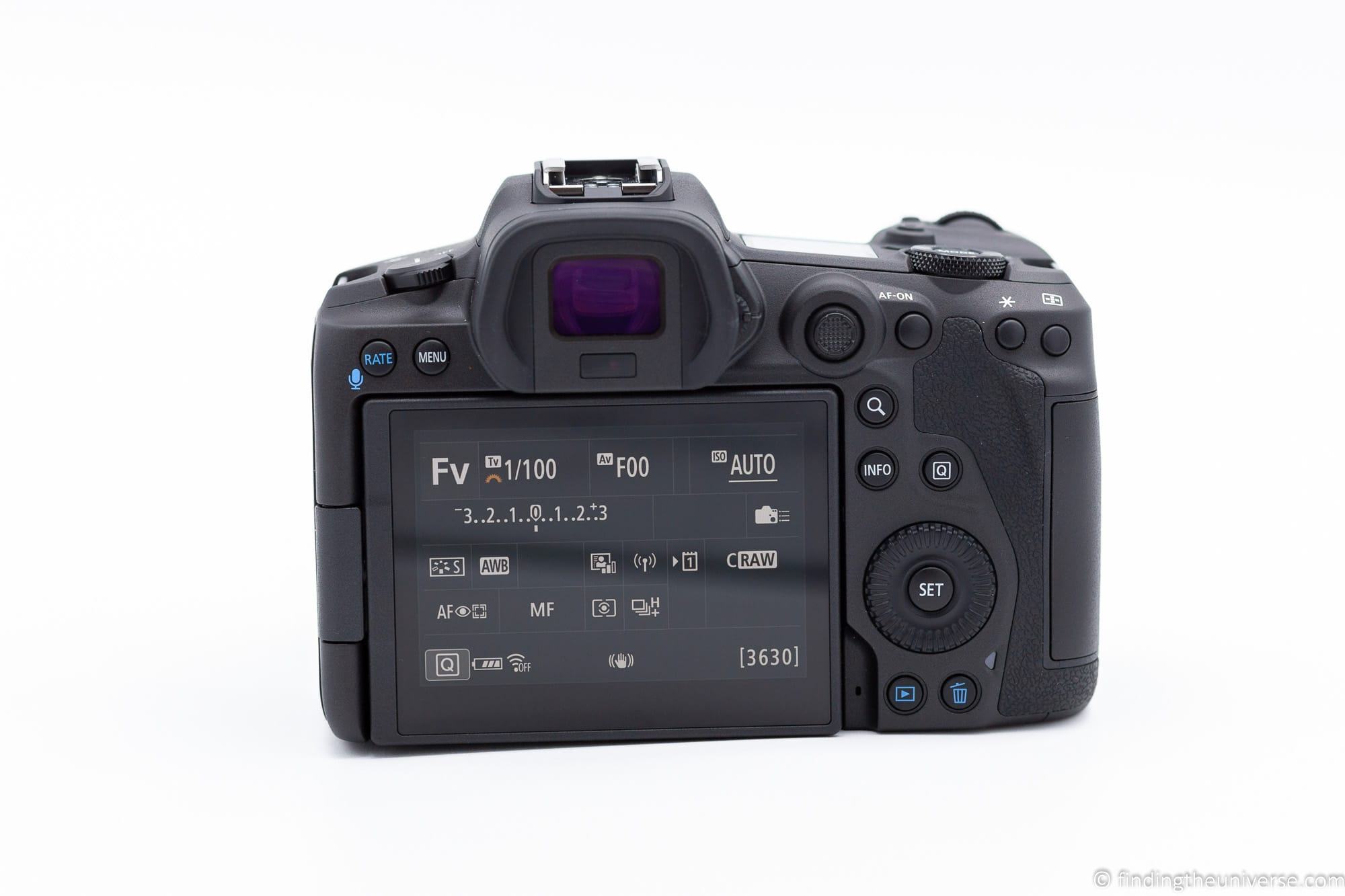 Electronic Viewfinder
Coming from a DSLR, one of the biggest changes is the move from an optical viewfinder to an electronic viewfinder. The lack of a mirror in a mirrorless camera means that instead of being able to look directly out of the lens as you can in a DSLR, you have to look at what the sensor is seeing.
The R5 isn't my first experience with an electronic viewfinder. I've used them on a variety of cameras, from a Sony NEX 6 through to mirrorless cameras from Panasonic and others.
In my experience to date, electronic viewfinders can be very hit and miss. Whilst it's certainly nice to get real time feedback on what your image is actually going to look like, the resolution and image quality can definitely be lacking.
I'm pleased to report this is absolutely not the case with the R5. The electronic viewfinder is big and bright thanks to the OLED tech powering it, and the 5.76 million dots mean that you see all the detail you need to see.
You also get a choice between a 60Hz refresh rate and a 120Hz refresh rate. The latter gives smoother results when you are panning, which is very useful for wildlife photography or fast action, but comes at the cost of much reduced battery life.
I also love how I can choose to overlay information on the electronic viewfinder such as a live histogram or electronic level, as well as camera settings. You can configure what displays on the viewfinder, and even save presets you can toggle between for different scenarios, from nothing at all, to more information than you would ever need.
The electronic viewfinder only comes on when you hold your eye up to it, in order to save battery life. It's worth noting that using the electronic viewfinder uses more battery life than using the rear screen, something I'll cover later on in this review.
Battery Compatibility
As noted above, battery life on the R5 isn't exactly spectacular. However, this is offset by the fact that it is compatible with older Canon batteries. So whilst the Canon comes with a higher power LP-E6NH battery, it will still work with older LP-E6N and even LP-E6 batteries.
I've built up a collection of these batteries over the years, and it's nice that I can still use them in a pinch. Given the retail price of the LP-E6NH batteries, this also saves me quite a bit, because you absolutely need spare batteries with this camera to get through a day of shooting.
There are some disadvantages to using these older batteries though. First, and most importantly, is that you might not get the absolute fastest burst shooting performance from them. So if you are shooting in a situation where you need those fast burst rates, be sure to use a fully charged LP-E6NH battery.
Secondly, the older batteries are slightly lower capacity than the LP-E6NH battery, so they won't last as long. But if like me you have a collection of them that you don't mind carrying with you, at least you'll have some fall back options.
Personally, I have gotten through three batteries in a single day of primarily wildlife shooting, but that's using the camera quite intensively and taking over 1,000 images as well as a lot of screen use watching wildlife. For landscape photography, the battery does last somewhat longer.
Built in Tools
On my Canon 6D, I ran a custom third party firmware called Magic Lantern. This added a number of features, notably for me an intervalometer and a bulb timer. This saved me from having to use an external bit of hardware for these features, which was one less thing to carry around.
Thankfully, Canon has realised that things like a built-in intervalometer and a bulb timer should just be features that a camera's software has included, and these are included in the R5. It also has support for focus stacking and HDR images (including the option to save the original files).
You can also shoot timelapse videos, either with the built-in intervalometer or with a tool that creates the video for you from the still frames. This lets you easily create up to 8K timelapse videos with minimal fuss, and works very well in my limited testing.
Another fun feature which makes the 8K video useful even for someone like me who doesn't really do video is that you can frame grab high resolution (35.4MP) JPEG frames from 8K video clips. This can be a handy way to get a shot that you might otherwise have missed, or as an alternative to the intervalometer for certain situations.
Whilst these are things that might not be hugely important individually, they certainly add to the value of the camera.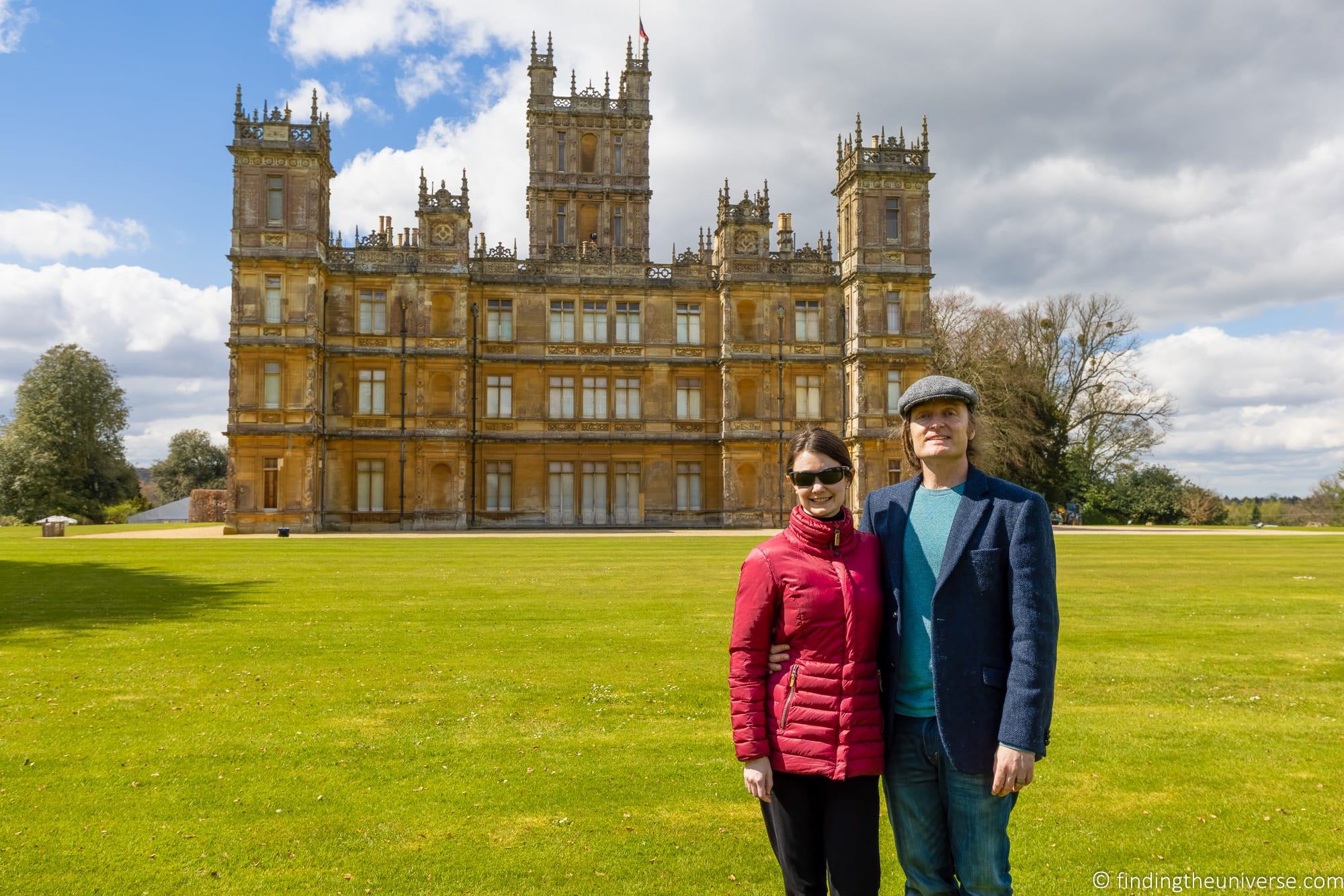 Sensor Cover
One of the issues with a mirrorless camera system compared to a DSLR system is that the lack of a mirror in front of the sensor makes it a lot more susceptible to dust. Every time you change the lens on a camera, there is a risk of small dust particles entering the camera and settling on the sensor.
This introduces flaws into images, and whilst these can usually be easily removed in software, it's best to try and avoid them in the first place.
Canon's solution is to have a little cover that flips down over the sensor when the camera is powered off, which you can enable or disable in the menu options. This helps stop dust getting on the sensor, and is one of those really obvious solutions that makes you wonder why other brands haven't done the same.
One thing to be aware of if you are coming from a DSLR is that you need to get used to putting your lens cap on the lens when not in use. On a DSLR, the light from the lens is bounced out through the viewfinder. On a mirrorless camera, the light is always hitting the sensor or, in the case of the R5, the sensor cover. This is quite a delicate bit of kit, and direct sunlight focused through a powerful lens can damage it over time.
So putting your lens cap on is definitely a habit to get back into if, like me, you'd fallen out of it.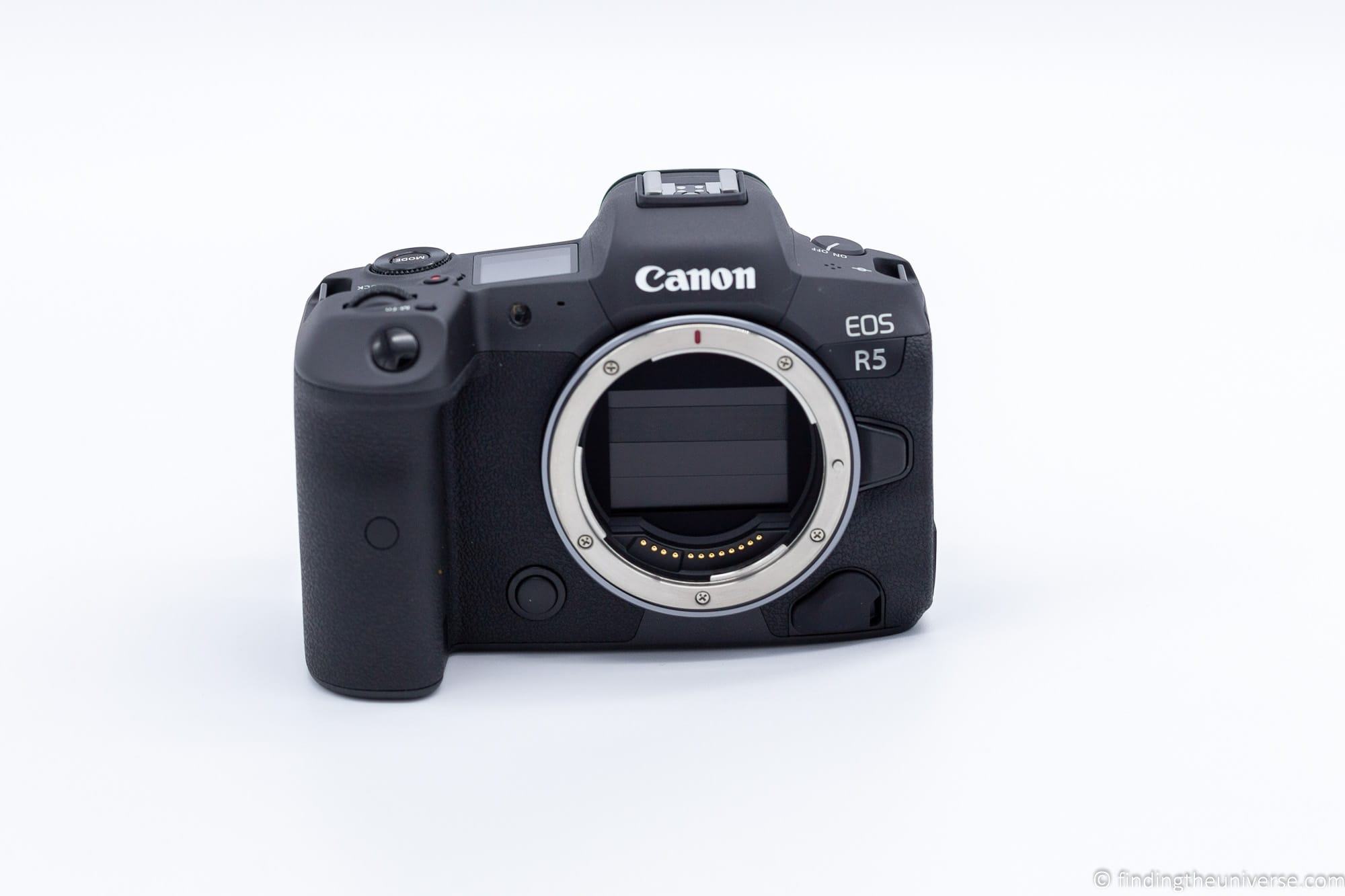 CRAW Format
One of my concerns with moving to a higher pixel count camera was the additional file storage requirements of these larger files. The 20MP sensor on my 6D produced RAW image files of around 20MB – 25MB.
The 45MP sensor on the R5 captures RAW files that are around 45MB -50MB in size. Over time this definitely adds up, and whilst storage is cheap, that doesn't mean I want to keep buying hard drives and paying extra for cloud storage.
Canon's solution is a new compressed RAW format, known as CRAW. This still offers the 45MP resolution, but it compresses the image files. This is a lossy compression, so in theory some image quality is lost. The resulting files are around 22MB – 30MB.
In my testing, I can tell no difference at all between the normal RAW files and the CRAW files. This is the same experience reported in more thorough tests others have done on CRAW files. So I have had no hesitation in adopting this lower file size format.
Of course, I'd recommend that you do your own comparison tests for your own usage scenarios before adopting the format wholly.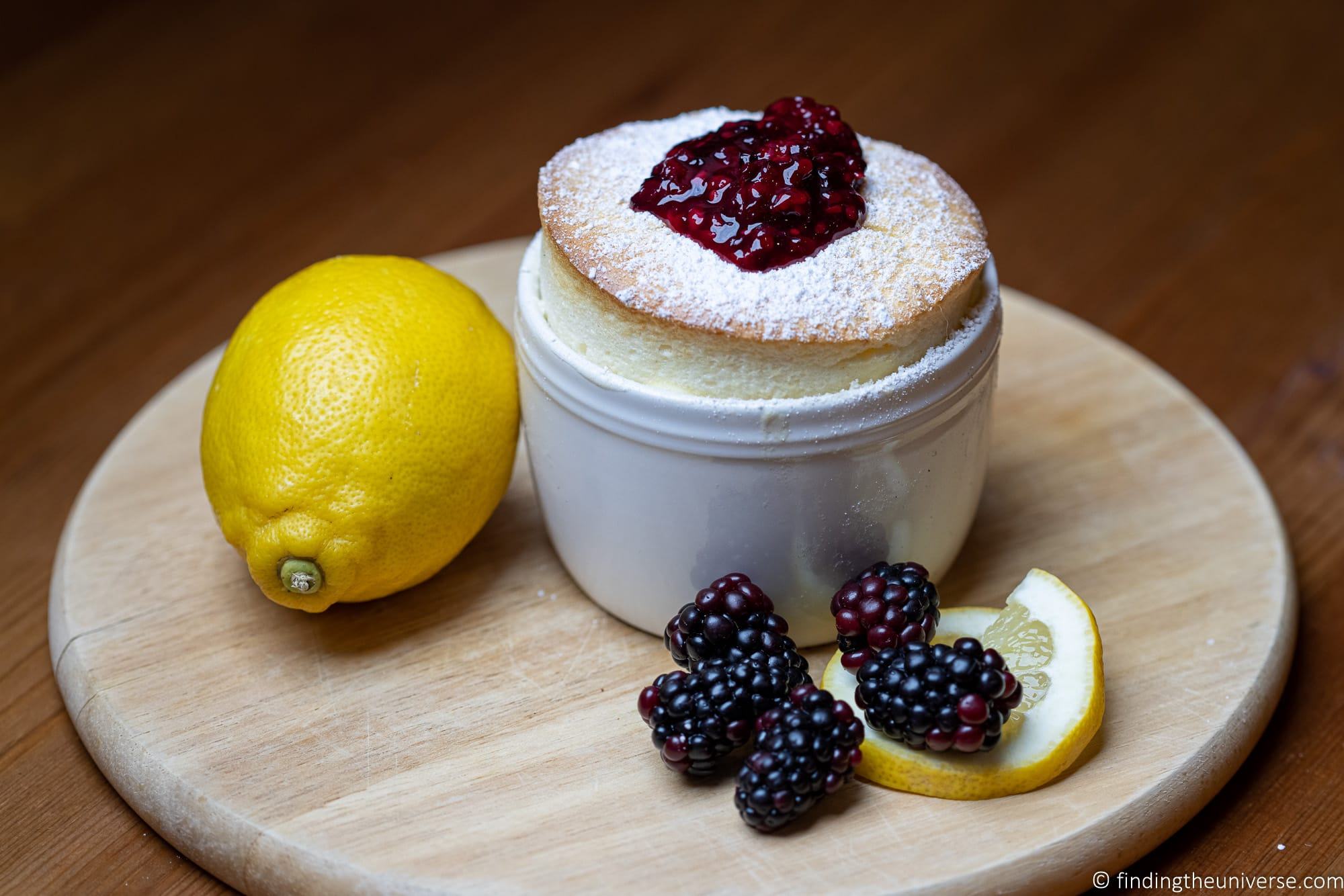 Customisation
The EOS R5 is a hugely versatile camera which works well in a range of scenarios, from landscape photography through to event, portrait, action, and wildlife photography. It's also an incredibly capable video camera.
All these different use cases mean that the camera appeals to a wide range of photographers, all of whom have their own preferences for how a camera is set up.
Canon has long recognised that photographers have different needs, and their cameras have excellent customisation options as a result.
To start with, nearly every button on the R5 can have its function changed. So you can set up a button to trigger eye focus tracking, and one for centre point focus. You can switch dial directions for dialling in settings like aperture, ISO, and shutter speed, and you can change which dials change which setting.
If you don't use video often, you can change the video record button to something more useful (in my case, toggling between servo AF and one-shot AF). I have my DOF button set up for centre point focus, so I can have the camera in eye tracking mode but override that for specific situations.
Beyond the buttons, you can also customise a whole range of other features. For example, you can enable or disable focus modes and even camera modes. If you never use Auto for example, you can remove that from the mode dial so you don't have to keep skipping past it. You can also set up custom menus in the menu system for fast access to key features.
Finally, there are three custom shooting modes on the mode dial, and you can even set up each of these so the buttons in each custom mode do something different. The potential for customisation is huge.
It does take a bit of time to come up with a setup that works for you, and it might take a bit of tweaking before you land on a final configuration, but it is wonderful to have the choice to set the camera up in a way that works for you.
Image Quality
Obviously I can't wrap up my thoughts on the great things about the R5 without mentioning image quality. I find the image quality, dynamic range, and ISO performance on this camera to be fantastic. However, at this price point that should be a given rather than a positive.
I honestly feel that camera technology has reached the point that pretty much every high-end full frame camera is going to produce fantastic images. If you want to pixel peep and quibble over a stop of dynamic range here or there, there are some great resources for that level of detail.
For me, the main thing is that the camera produces fantastic images in a range of conditions, that the noise performance at high ISO is good thanks to the dual gain sensor, and that the files it produces have room for lots of manoeuvrability in post processing. The R5 delivers fully on all those counts based on my experience. It is a camera I can rely on to do the job of capturing the images I want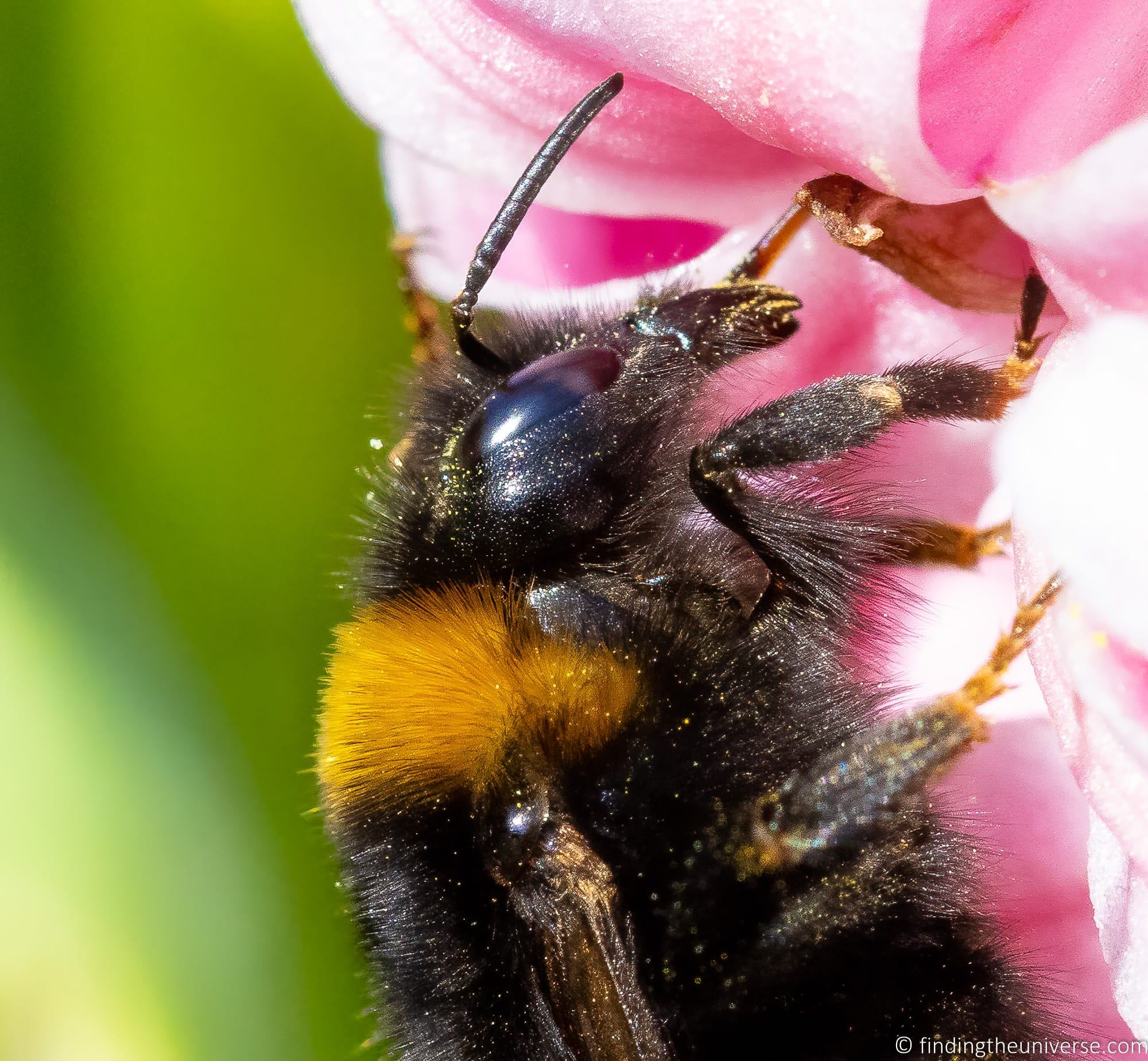 Cons of the EOS R5
Coming from the EOS 6D, a camera which was released in 2012, you might think I would find little to fault with a camera that was released eight years later. In general you would be right, but there are definitely a few things I have found aren't that great about the R5. Here they are.
No built-in GPS
This is definitely a feature that I appreciate is a bit niche. However, as a travel photographer, having my photos GPS tagged is something I personally find incredibly useful, and having a built-in GPS that tagged my photos with location information is something I used every day on my 6D.
Now, a built-in GPS obviously has downsides. It eats into the battery, and obviously it adds to the weight and cost of the camera. So I can sort of understand why Canon would leave it out as I suspect it's a bit of a niche feature.
But this is a review from my perspective, and I really miss the convenience of the feature.
Now, there are some workarounds of course for those, like me, who really loves to have their photos GPS tagged.
First, it's possible to connect the camera to my smartphone using either a low energy Bluetooth connection or a WiFi connection, and pull location data from the smartphone which is added to images. This mostly works, but I do have to load the app on the smartphone to make sure it's all connected, so it's another thing to remember.
When the camera goes to sleep, sometimes the smartphone app closes, despite my best efforts to configure the phone not to do that. This loses the GPS connection and means I have to start over with launching the app.
Another option I could try would be to pick up Canon's external GPS tagging unit, the GP-E2. This interfaces with the camera via the flash hot shoe and would solve the problem. But it's another thing to buy and remember to pack, charge, and turn-on.
In general, the smartphone app seems to be working OK for me, so I will stick with that. It's just another thing to have to remember.
Battery Life
That beautiful rear screen and electronic viewfinder are very impressive, but powering them definitely requires a significant amount of power. Add in in-body image stabilisation and the energy required to juice up that bogglingly fast autofocus system, and you are looking at a camera which eats batteries for breakfast.
This is definitely an area where rivals like Sony have the edge. The Sony a9 II for example has a battery life rating of 690 shots. The 6D I am used to has a battery life rating of a staggering 980 shots.
The EOS R5 is rated for 490 shots if you use the rear display, and only 320 shots if you use the viewfinder. And that's only if you are using those in power saving modes. If you ramp up the refresh rate to its full performance, which you'll want to do for fast moving subjects, the camera will punish you by dropping to a battery life of 320 on the rear screen and only 220 if you use the viewfinder. Honestly, that is awful.
Of course, real world performance varies. If you are taking a lot of photos in sequence, say burst shots of wildlife photography, you'll likely get many more photos out of it than that. However, get used to carrying more spare batteries if you are switching from say a DSLR.
With my 6D I'd easily be able to do a day or two or photography on one battery charge. With the R5, I'm yet to finish a full day without having to swap batteries at least once, and sometimes two or three times.
The bad news is that the new battery, the LP-E6NH, is rather expensive. The good news is that the R5 is backward compatible with the previous generations of Canon batteries, including the LP-E6N and even the LP-E6. So all my 6D batteries still work.
There are some caveats to using older batteries. They don't last as long, and the super-fast burst speeds aren't available. However, as I personally don't need those ultra-fast burst speeds very often, my old batteries still work fine.
Learning Curve
You might think that having used Canon cameras for many years, that I'd be able to just pick up the R5 and start using it without trouble.
While that's true to a point, and much of the interface is similar, there are quite a few differences between this camera and my previous DSLR cameras. If I had been coming from something like the EOS R, or even the 5D range, I suspect it might have felt more intuitive.
As it is, some of the buttons are not quite where I expect them to be, so I am having to retrain my muscle memory. In addition, whilst the camera is highly customisable, many of the buttons I got used to on my previous cameras like single-button access to settings for things like ISO, drive mode etc. aren't there.
Instead, I have to either customise existing buttons, use the touch screen interface, or get used to pressing a sequence of buttons. It didn't take long for me to get used to it, but it certainly wasn't a question of picking it up and being able to get the most out of it straight away.
This isn't a major issue of course. Every camera has a slightly different way of doing things, and I suspect this will soon become second nature. However, for me, coming from a 6D, there has definitely been a learning curve in terms of getting to grips with quickly accessing key functions on the fly.
If you purchase this camera, or any new camera really, set some time aside to practice with it before heading on an important shoot. With the R5 in particular, you will want to spend time getting used to the various autofocus modes, and learning how to override them to select a focus point if necessary.
Price
There's no denying it, the Canon EOS R5 is an expensive camera. The retail price of the camera is $3899 / £4299, and right now prices are pretty similar across the main online camera sellers like Amazon.com, B&H Photo, Adorama and Wex Photo Video.
It has been out for long enough that you might find a second hand deal if you check the popular used camera stores like KEH and MPB, but the price difference might not be that great. However, if you trade in some older gear, you might get a good deal.
As a stills photographer, I am definitely paying for video features that I'm rarely likely to use. 8K video support in particular makes for nice headlines, but it's not a feature I personally need.
It's also worth remembering that you're just buying a camera body. If you want some lenses to go with that camera, you're looking at quite a bit more expenditure. A high megapixel camera like the R5 demands high quality glass, and good quality lenses tend to be expensive as well.
The good news is that all EF and EF-S lenses will also work with the camera with an adaptor, which means that if you already have a good collection of lenses, you don't necessarily need to buy new lenses.
Over time the price of this camera will likely come down and may be more affordable for more photographers, but it will likely remain at a higher price point for the next year or two given its lack of competition in the marketplace.
In the meantime, the EOS R6 Mark II is also an excellent camera which offers the majority of the features of the R5 at a much lower price point.
To give you an idea of the two cameras and how they compare, here's an overview of the key differences between the EOS R5 and the EOS R6.
R5 vs R6 Key Differences.
Sensor: The R5 has a 45MP sensor, R6 has a 24.1MP sensor
Image Stabilisation: Both cameras offer the same five axis IS system, good for up to 8 stops
Burst mode: Both cameras offer up to 12fps with the mechanical shutter. The R5 & R6 offer up to 20fps with the electronic shutter whilst the R6 Mark II offers up to 40fps with the electronic shutter. The R6 can maintain these burst speeds for longer due to the smaller file sizes
Autofocus: The camera's share the same dual pixel AF system with eye tracking autofocus
Storage: The R5 has a CF Express slot and an SD card slot. The R6 has two SD card slots.
Weather Sealing and Build: Both cameras are weather sealed, with the R5 offering slightly better weather sealing than the R6. In addition, the R5 has a more rugged all magnesium body that makes it a bit tougher and slightly heavier than the R6.
Viewfinder and LCD screen: The R5 has a 5.76M dot EVF and a 3.2″ 2.1M dot rear LCD. The R6 has a 3.68M dot EVF and a 3″ 1.68m dot rear screen
Video: The R5 supports up to 8K video, whilst the R6 tops out at 4K. The R5 also has more video exposure controls.
Top Screen: The R5 has a top information screen that the R6 is missing
Battery life: The R5 is rated for 320 shots (viewfinder) and 490 shots (rear screen). The R6 is rated for 380 shots (viewfinder) and 510 shots (rear screen). The R6 Mark II is rated for 450 shots (viewfinder) and 760 shots (rear screen)
Connectivity: The R5 offers 2.4Ghz and 5Ghz connectivity as well as Bluetooth. The R6 only has 2.4Ghz and Bluetooth support.
Dual Pixel Raw: Only the Canon R5 offers dual pixel RAW, which allows the camera to capture depth information and adds some additional post processing options on images, including adjusting micro focus and relighting portraits.
To be honest, the R6 (and its successor the R6 Mark II) is a fantastic camera. Canon has been known in the past to reduce the features of their lower priced cameras in order to differentiate them, but the standout features of the R5 like image stabilization and the autofocus system are exactly the same between the cameras. In some ways (battery life, low-light autofocus, burst depth), the R6 and R6 Mark II even outperform the R5.
Considerations When Buying the Canon EOS R5
There are a few things to think about when considering buying the Canon EOS R5.
First, the high megapixel count. This certainly has its advantages, particularly if you plan on printing your work very large or if you tend to crop quite a bit.
However, a high megapixel sensor also has disadvantages. These include larger file sizes, and the fact that at higher megapixels, any movement is going to be exacerbated. That might be subject movement or movement due to hand shake. So you will want to get used to shooting at higher shutter speeds than you are currently using if you're coming from a lower megapixel camera.
Traditionally, higher megapixel sensors have also tended to perform worse in low light and at higher ISOs. However I can confirm that this is definitely not the case with the R5, which performs admirably in low light. It produces perfectly usable images all the way up to 12800 ISO in my experience, and you can even push to higher ISOs if you really must.
Next, the size and weight. Many users thinking about switching to mirrorless from a DSLR system will likely have a reduced size and weight compared to a DSLR as a reason. And this can often be the case. However, whilst the EOS R5 is smaller and lighter than something like the EOS 5D Mark IV, it is by no means a small camera.
Here are some comparisons against my Canon EOS 6D, with the R5 on the left and the 6D on the right. As you can see, it's a bit smaller, but it's not a massive difference.
In terms of weight, the EOS R5 with card and battery comes in at 738g / 26oz. By comparison, my 6D is 770g / 27.1oz. However, as I have to use the EF-RF adaptor, which weight 110g (3.88oz), overall the R5 ends up weighing a bit more.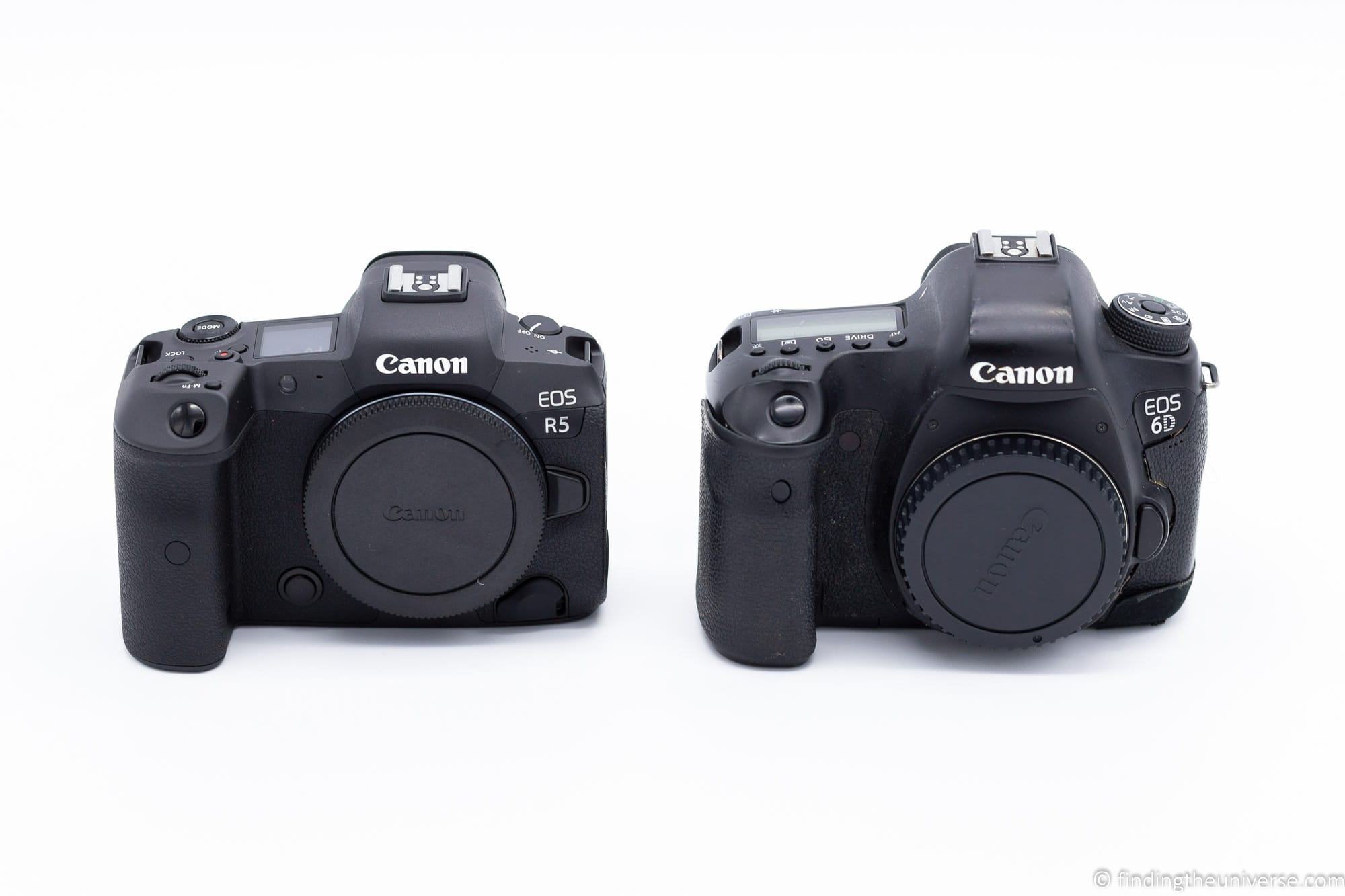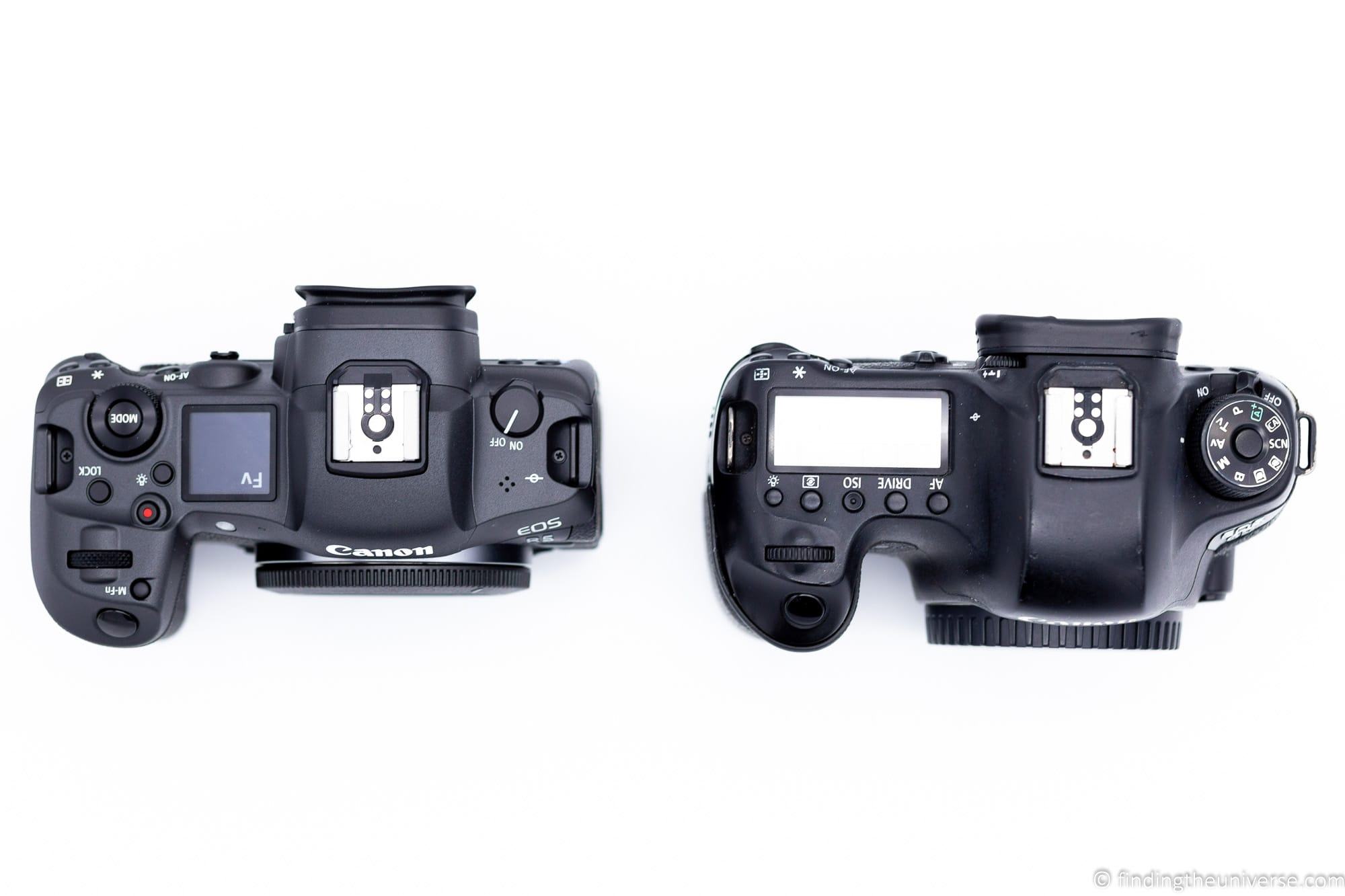 The R5 is also marginally larger and heavier than many other full frame mirrorless cameras, including the Sony a9 II and the Sony Alpha a7R IV.
That said, once you add a decent lens to any full frame mirrorless camera, you're really not going to notice a few ounces difference in body weight. Personally I love the size and feel of the R5. It doesn't feel cramped in my hands and I can easily get to all the buttons.
Is the Canon EOS R5 Worth It?
The short answer to this question is yes (for me anyway). The longer answer is, it depends.
I would say that if you are looking for a camera that can handle pretty much every type of photography, this is it. I waited for a long time for Canon to release a camera that was compelling enough to justify an upgrade from my 6D, and I firmly believe the R5 is it. I'd also say it's worth the upgrade from the 5D Mark IV, although this will of course depend on what you are shooting and whether the features are worth it for you.
Even though I won't be using the 8K video features for the most part, I still firmly believe the R5 was worth the price. The autofocus, all round performance, and compatibility with all my existing lenses means it was definitely worth it for me.
If you make a living from your photography, this is a fantastic workhorse camera that should last you for years to come. It has a wonderful range of features, and delivers excellent images. This is a camera that will allow you to get on with the art of photography, and give you all the tools you need to get the results you want.
If you are just getting into photography or don't need the higher megapixel count or 8K video, then I would suggest that the Canon EOS R6 Mark II would also be superb. This has nearly all the same features as the R5, but with a 24.1MP sensor and a slightly less weather sealed body. It even has a better battery life, improved autofocus system and faster burst rate. I'd suggest most users will be more than happy with it. It also comes at a much lower price tag!
If you're trying to decide between the Canon EOS R5 and EOS R6 and wondering about the real-world difference between 45MP and 20MP, it's not as great as you might think. Here is the same image shot from the same location with the same lens on my 6D and R5 to show you the difference.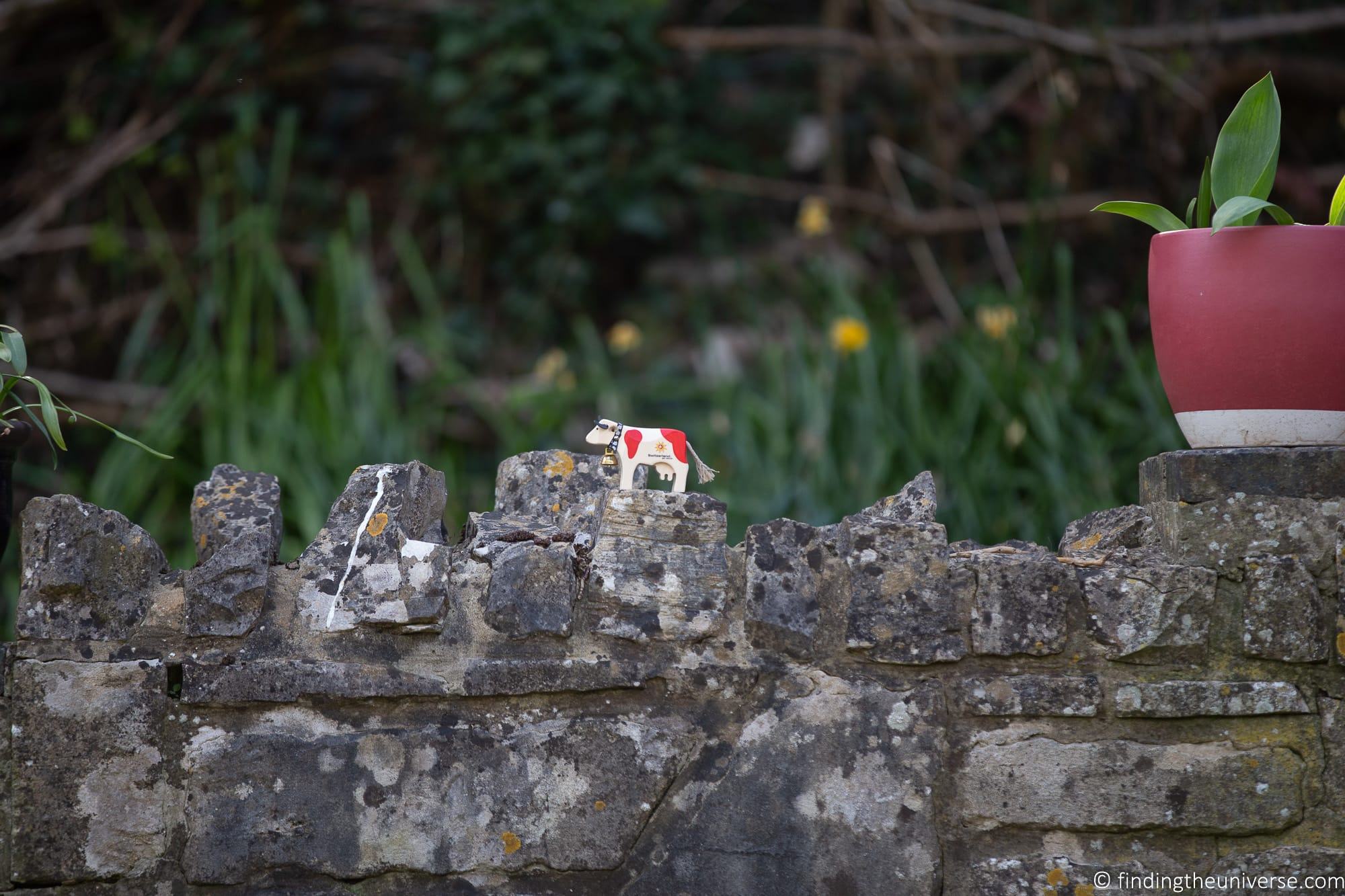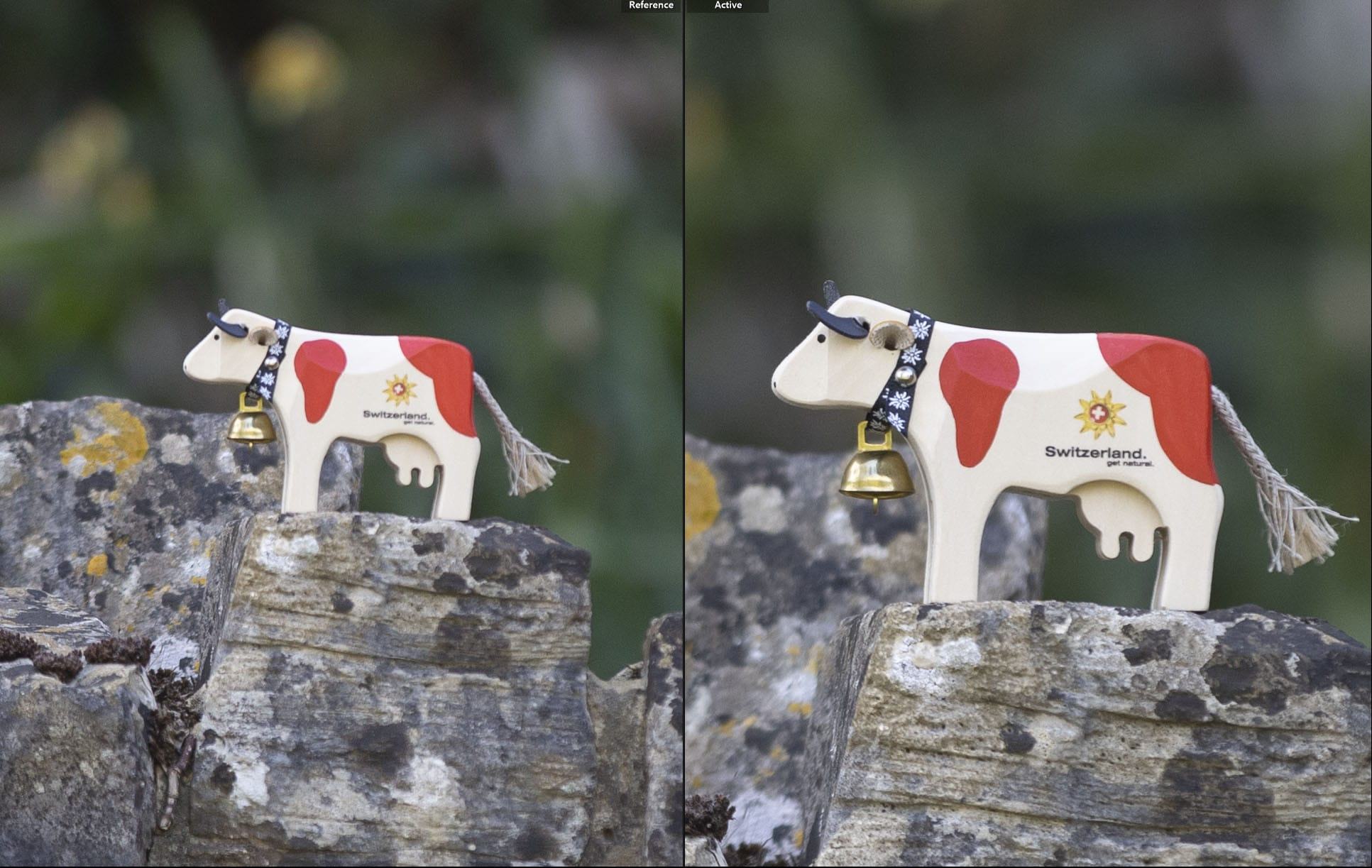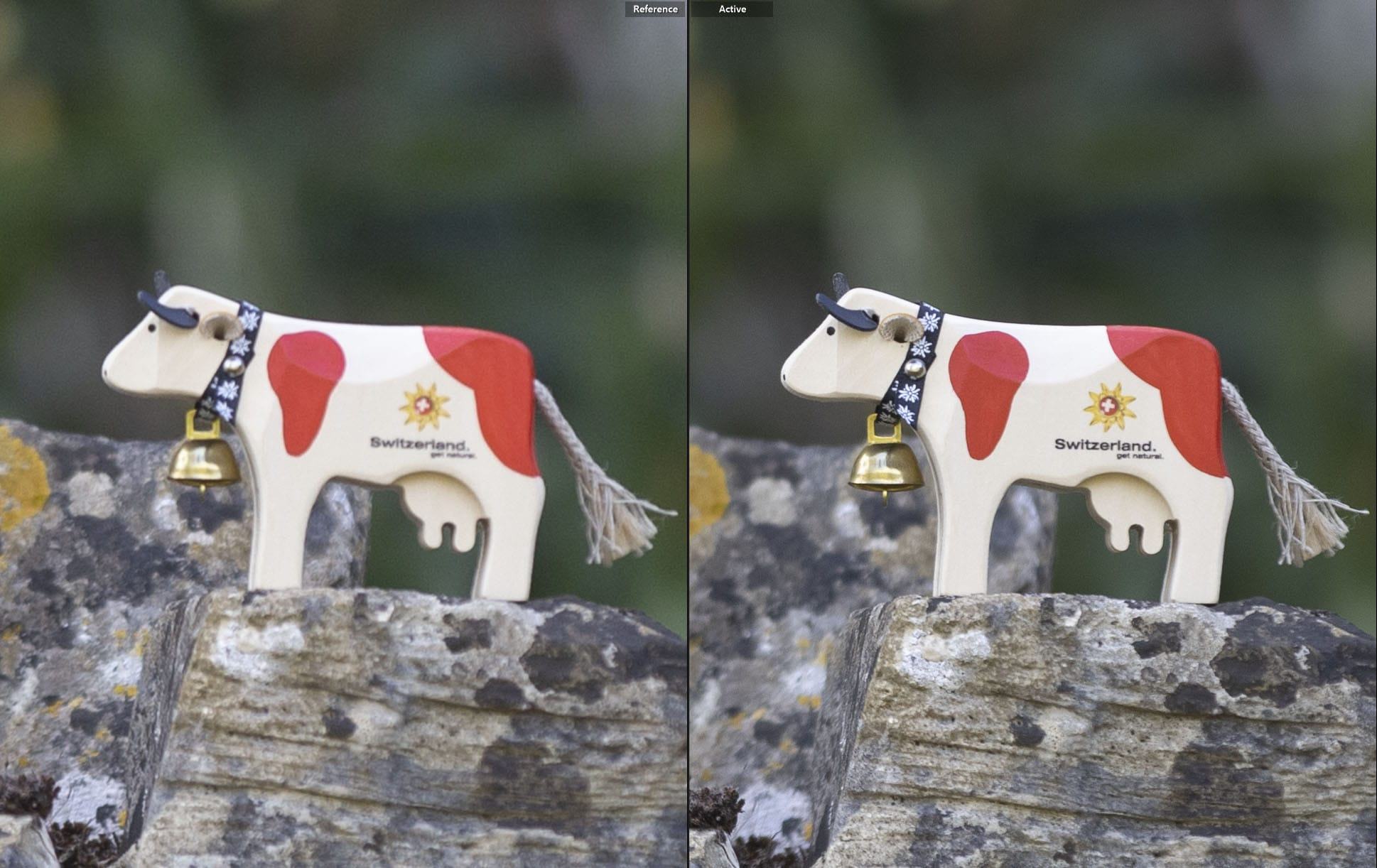 As you can see, the 45MP sensor does give you a bit more latitude when it comes to really cropping in, and the image at the equivalent zoom is obviously sharper on the R5. Of course, this isn't an apples to apples comparison, as I'm comparing an 8 year old sensor to something brand new.
I'd also suggest that it's pretty rare to be zooming to 100% like this, and you can get around these limitations with a longer lens or simply moving closer to the subject where possible. That said, it is definitely nice to have the latitude to crop more if absolutely necessary.
Alternatives to the Canon EOS R5
Depending on what you are looking for in a camera, there are a few alternatives to the Canon EOS R5 on the market today. These are all full frame mirrorless cameras. The main contenders are:
I'll be honest, I don't think anyone buying one of the above cameras is going to be disappointed. If you are starting fresh with no existing lenses, then my suggestion is to decide which camera system has the lenses you are interested in and the features you want.
If you have an existing lens collection or system you are used to, it will definitely be easier to upgrade inside the same camera system, and in many cases you might be able to keep using your existing lenses.
If you are a Canon user with a good collection of glass, and you don't need the higher megapixel count of the R5, then I would suggest the Canon EOS R6 Mark II would be a fantastic choice.
It has nearly all the strengths of the R5, including the spectacular autofocus system and in body image stabilisation, but at a much more reasonable price point.
Where to Buy the Canon EOS R5
You have a number of options for where to buy the Canon EOS R5. The best place and where it is available is going to depend on where you live. Supplies were limited in 2020, but it is now available in many camera shops around the world.
For online purchases, I'd suggest checking Amazon.com, B&H Photo and Adorama. You might also check out used deals on KEH. These are particularly suited for those living in the USA, but some will also ship globally.
If you are in the UK, I'd also recommend checking out Wex Photo Video. This is where I purchased my EOS R5 body. I purchased my RF lens adapter mount on B&H as it was not available in the UK or elsewhere in Europe at the time.
When the camera originally launched there were stock issues but as of April 2021 these appear to have been resolved and availability is now pretty good both online and in shops.
I'd always recommend purchasing a camera like this from an authorised retailer with a good warranty and support process in place.
Summary and Final Score
Overall I'm going to give the Canon EOS R5 4.8/5. It is a fantastic camera that works well in the majority of scenarios, making it a real work horse for photographers of all genres.
In an ideal world it wouldn't be quite so expensive, and gimmicks like 8K video which push up the price but aren't of value to the majority of users could have been left off the spec sheet.
But overall, this is an excellent bit of equipment that should last you for years to come. If you are a Canon user who has been waiting to make the move from a DSLR to mirrorless, this is the camera that should convince you now is the time to do so.
Further Reading
That just about wraps up my Canon EOS R5 review. Before you go, I wanted to share some more resources that you might find useful in your photography journey.
And that's it! As always we're always open to hearing your feedback and answering your questions.
If you've tried out this camera, would love to hear your own thoughts below! If you have any questions about the Canon EOS R5 or about selecting a mirrorless camera in general, just pop them in the comments below and we'll get back to you as soon as we can.