As a professional photographer, I'm often asked how to make money from photography. There are of course a number of different ways to earn an income but one popular option is to sell photos online.
In this guide, I'm going to go through the various options that you have for selling your photos online. I'll cover a number of different options, including some of the most popular websites.
I'll tell you how to sell your photos online, the advantages and disadvantages of different approaches to online photography sales, where to sell your photos online, an overview of what kinds of products you can sell, features to look out for when choosing a photography sales platform, and run through the best websites for selling your photos.
I'll also share some tips to improve your sales once you have your online photography store set up!
By the end of this post, I hope you'll have an idea of the solution that works best for you, and how to make the most of it to sell your photos.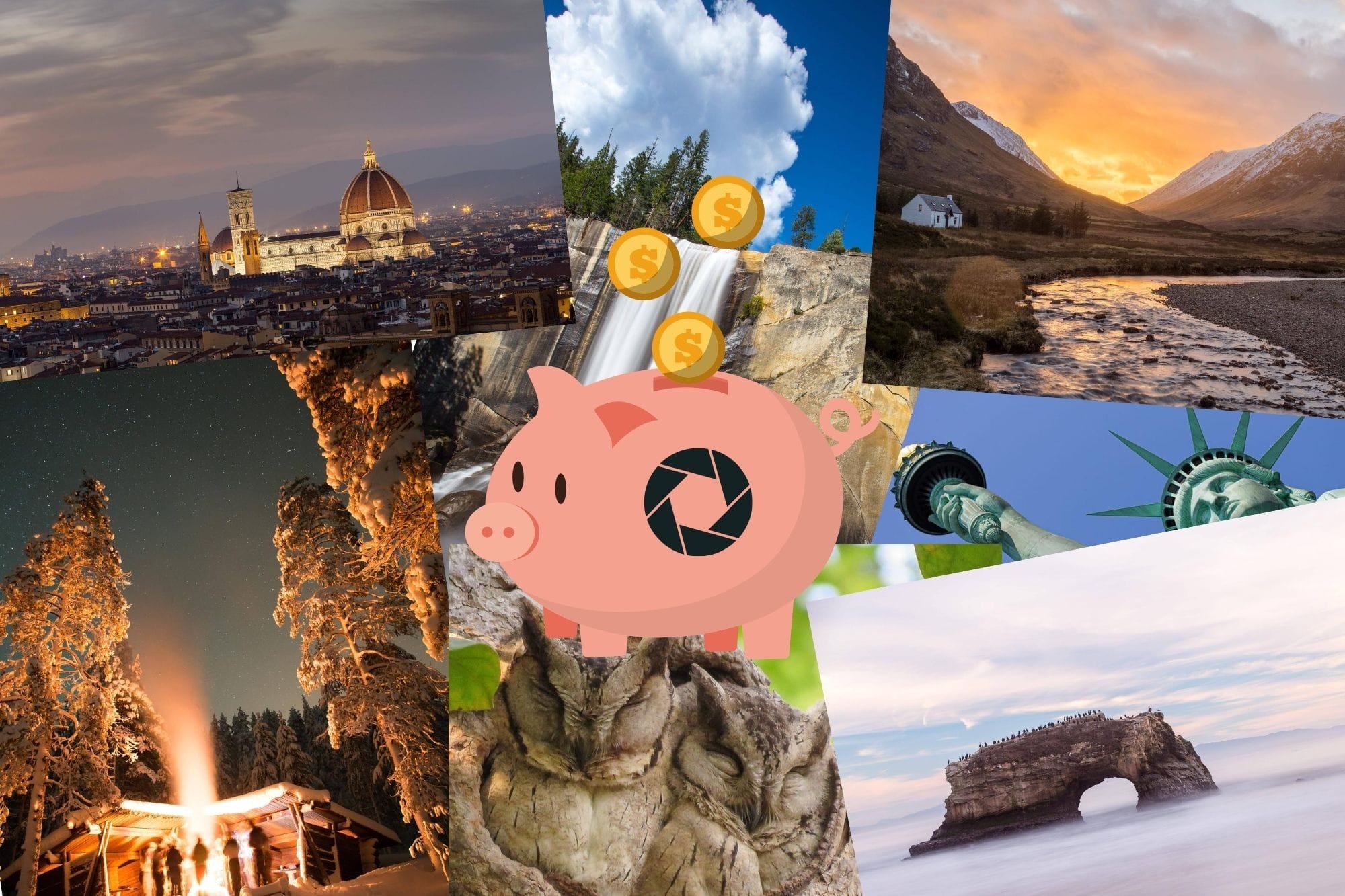 Options for Selling your Photos Online
Before I get into comparing various online platforms and what they offer you, I wanted to just briefly cover some of the different options you have for selling your photos online.
The two main options for selling photos online are:
Direct sales to individuals or businesses
Sales through stock sites for personal or commercial use
There are advantages and disadvantages to each of these options. In this guide I will be focusing on the first option.
The second option, stock photography, is a different kind of option for selling your photos. With stock photography, you would normally upload your photos to a website which specialises in selling images for commercial use.
For example, a company may need an image for use on their website, and they want to just purchase a license for that image. Instead of reaching out to thousands of photographers, they can visit a stock image website and find images.
Whilst stock photography certainly can be profitable, for the most part it requires a great deal of work. You would need to upload a great many photos to stock sites, and also upload images that meet quite specific guidelines. Images also need keywords and detailed descriptions so they can be found in the stock search engines.
In addition, the pricing for many stock image sites is fairly low, and you usually have no control over the pricing. So you would need to sell high volumes of images to make this a sustainable business model.
Instead, my suggestion is to focus on direct sales to either individuals or businesses. This way you can control the pricing yourself, and you only have to worry about uploading your best images. This will be less time consuming, and the payoffs can be greater if you are able to generate sales and interest.
Stock photography can and does work for many photographers, but it's something you have to dedicate yourself to, and for this article I'm going to focus on direct sales.
Features of Online Photography Sales Websites
If you want to sell your photos online, you are going to need a website where visitors can see and buy your photos. There are a lot of different websites which will let you set up an virtual image gallery. Popular examples include sites like SmugMug and Format.
These sites offer a variety of different features, which can vary greatly. Some websites for example can handle the whole process of image sales, including setting up your photo gallery, listing the prices, processing payments, printing your photos, and shipping to customers.
Other sites are designed to help you showcase your work, but don't offer order fulfilment, requiring you to have your own printing options.
There are lots of other ways these sites are different from each other. These include pricing models, the types of products they allow you to print your photos on, where they ship to, the number of photos you can upload and whether they support video— to name just a few!
Before I get into individual recommendations, here are a several things to look for when comparing the various options. You can then decide which features are most important for you.
Photo Printing Capabilities
If you are planning on selling your photos, you will likely want to give potential buyers the option to buy them as physical prints.
These prints might be on standard photo paper, or you might be interested in offering other mediums, like canvas and metal. You might also want to offer matting and framing as an additional option.
One of the big decisions you will have to make for your online store is if you want a service that handles all the printing and shipping for you, or if you would prefer to do it yourself.
If you choose an option that does not offer any printing capabilities, then printing will be something you will need to handle yourself. For basic printing, this is something you might want to do yourself by investing in a high end photo printer. However, you will likely find it easier to find a local print lab that can handle your printing for you.
You will also have to handle shipping, customer service, refunds, and so on.
Honestly, I would advise picking an online service which handles all of this for you. This way all you have to do is upload your images to the site, and then they will deal with the printing, shipping, and customer service on your behalf. This is definitely going to be a lot easier than doing it yourself in most cases.
However, be aware that not all services are the same, and when choosing a service that handles everything for you, you will want to ensure the quality is up to your standards. The quality of the prints people are buying reflect you and your brand, so you want them to be high quality!
I would always recommend purchasing some products directly from your chosen store to test out their print quality. This will also let you ensure your colors are coming out correctly (for more on colors, see my guide to monitor calibration).
You will also want to consider exactly what print options they offer, including things like what sizes they can print to, quality of photo printing paper, what other materials they can print onto, whether framing is offered, etc.
Digital Photo Selling Capabilities
As well as selling physical prints, another option you have is to sell digital versions of your images. This will allow your readers to download high quality versions of your images, which they might then print out themselves or use as desktop wallpaper.
This can work in situations where you have a client in a different country who wants to avoid potential high shipping costs or import fees that are levied on physical products. Instead, they can take your digital file and have it printed locally at a trusted print shop.
If you decide to sell digital versions of your images, my main advice is not to price these too low. You are still selling your images, which are unique to you, and you should be paid accordingly.
You should also check the licensing options you have for selling digital versions of your images on the sites you are evaluating. For example, some services let you specify if the sale is for personal or commercial use, with different pricing models available. When the user chooses to buy the digital image, they will agree to the appropriate license that sets out what they can use the image for.
Selling a digital image for commercial use will normally carry a hefty price premium over personal use.
Product Printing Capabilities
When you think of selling your photos, you will likely think of photo prints and canvases to start with. However, there's a vast range of products out there that are suitable for printing photos on.
These days you can print a photo on just about everything from greeting cards and photo books to t-shirts, mugs, blankets, coasters, fabrics, shower curtains – the list goes on!
If you feel you might want to print on mediums beyond the standard, then you will want to check what the platform you choose supports. Alternatively, you might want to source your own manufacturer, and just use your website to manage sales.
As with print photos, the quality is really important for these types of items. This matters both for the item being printed onto and the print itself. You'll want to be sure to test or sample any items you plan to sell first to make sure that both the item itself and the printing are of high quality.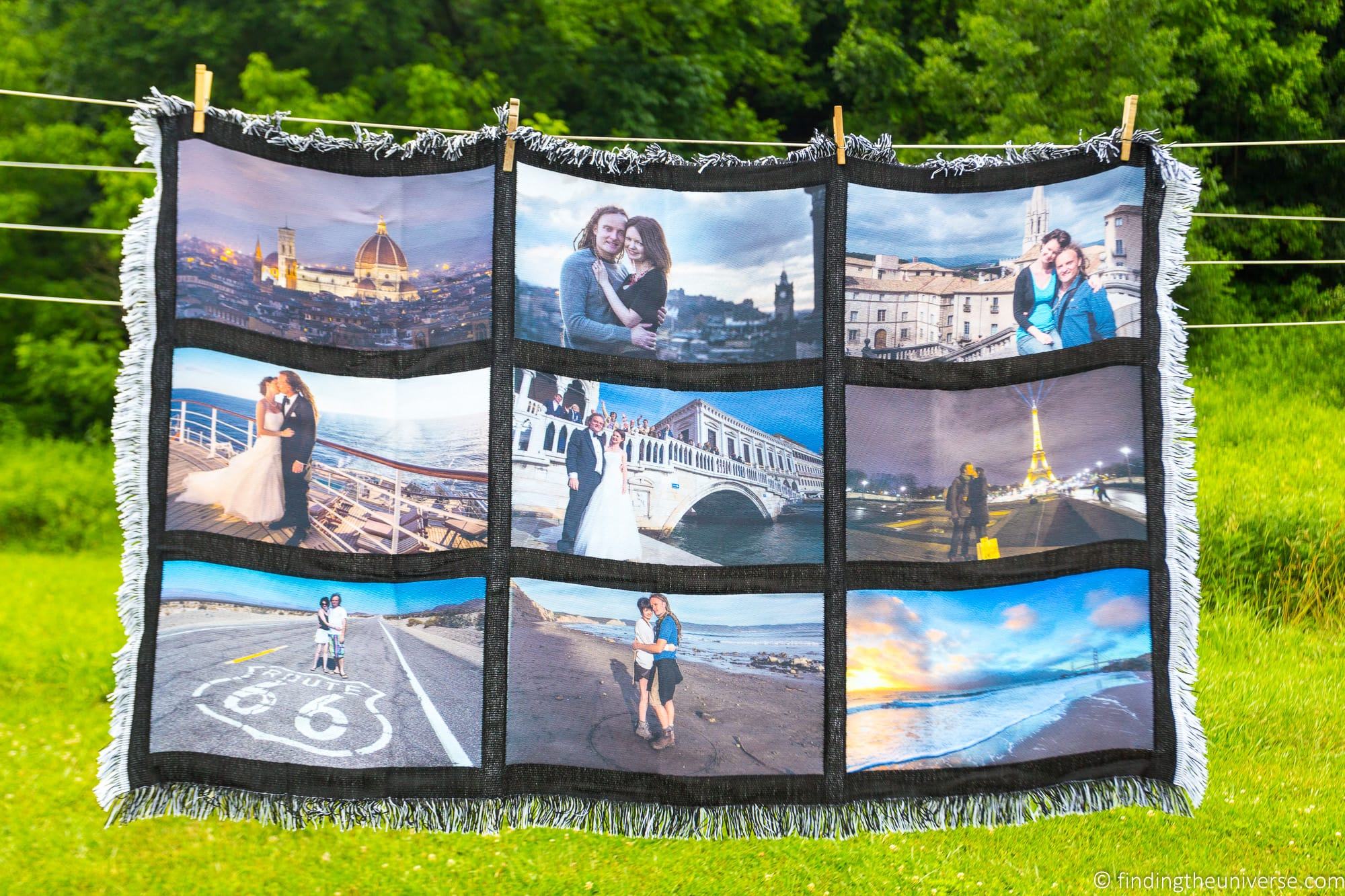 Ecommerce Capabilities
If you are selling a product, then you are going to need a way to accept payments from your buyers.
There are a lot of different options for accepting payments for your images, including popular online payment processors like Stripe and Paypal.
If you sign up to a site which handles the shipping and printing of your images for you, then they will likely already have their own payment systems set up. If so, check to see if any fees for these services are included, or if they are deducted from your sales fees.
It is definitely easier to go with a service which has all of this integrated, as you won't need to worry about taking and handling your customer's payment information.
However, if you decide to take a more do it yourself approach, services like Stripe and Paypal are a good option. Just check what their fees are for processing payments so you can include this in your pricing.
You'll also want to check what their international capabilities are in terms of accepting different payment currencies and credit cards from around the world if you have an international audience.
Price Controls
When it comes to selling art, the price is very variable, and will depend on a range of factors. This will include things like how well known an artist is, whether or not the items being sold are limited edition or not, as well as things like the size and medium of the work.
Other factors also come into play, including your business model and costs, and what level of profit you are hoping to make.
As such, there is no one-size-fits-all pricing model that will work for every photographer. With this in mind, a platform that lets you control the price of the products you want to sell will definitely make your life easier.
If you are selling products yourself and handling the printing yourself, then setting the price is just a question of calculating your costs and then adding a margin on top of that.
If you are selling products through a website that handles the shipping and printing, they will usually have fixed costs for each product type. The fixed cost for each product should include printing and shipping as well as any taxes and fees.
Then they will either have a fixed sale price, thus earning you fixed amounts for each sale, or the option to set how much you want to sell your images for.
I would suggest the latter is going to be a better option, as it will give you greater flexibility over your earnings. As your work becomes more popular, you might choose to increase prices for example. Or if certain items are not selling well, you can lower prices to improve sales.
There are different ways to set prices depending on the site you choose. For example. you might be able to set a fixed percentage you want to earn on each product. This is a good option as it scales well across different products.
Obviously, the base cost of different products varies. A single 6×4″ (15x10cm) print can be produced at a low cost, whilst a large 60×40″ (150x100cm) canvas will be much more expensive to create and ship.
If you decided to set a fixed profit of $100 USD on all your products, this would result in a very high price for a print and a relatively low price for a canvas. Setting a percentage profit of 100% means it would be priced at twice the cost of making it.
So if for example a 6×4″ (15x10cm) print costs $1 to produce, you might sell it for $2 and make a $1 profit.
If a 60×40″ (150x100cm) canvas print costs $100 to produce, you would sell it for $200 and make a $100 profit.
Of course, an ideal system would allow you to offer custom prices for every product you offer, giving you the ultimate in flexibility. This will take longer to set up, but in the long run this would be the best system in my opinion.
Shipping Options
Whether you choose to fulfill orders yourself, or sign up to a service that handles it for you, you need to consider where in the world you want to sell your products and how your products will be shipped to these locations.
Selling internationally has the advantage of allowing you to reach a larger audience and make more sales. However, it has the disadvantage of having to deal with international shipping fees, multiple currencies, and even different tax issues. So this is a decision you will want to make – where do you plan to sell to?
If you are fulfilling orders yourself and you are planning to ship your products to clients internationally, then you will find your shipping fees will likely be quite high for overseas orders, and clients in some countries might have to pay import fees or customs duties. There will also be longer ship times associated with your international orders.
If you are in the same country as most of your clients, this will be less of an issue and you may want to only accept domestic orders, at least for physical products.
An easier option, in my opinion, is to use a service which has photo printing labs in multiple countries. This way, products can be created as close to the buyer as possible, thus reducing shipping costs and solving the issues of import taxes.
International Capabilities
The distribution of your audience is a big deal when it comes to deciding how to sell your photos online. If most of your audience is fairly local to you, then this will definitely be easier, as things like shipping and payment will be easy.
However, if your audience is international, and even multilingual, then you will need a service that can handle that. So this means things like being able to process payments from different countries in different currencies, shipping to multiple countries, and possibly even providing a multi-lingual website and customer support.
Tax Options
Ah, tax. No one loves it, but it's a part of running a business that we all have to deal with!
Tax rules vary all around the world, but they usually have one thing in common – you need to abide by the rules wherever you are selling.
So in the USA for example, you may need to charge sales tax on your products, depending on the state of the seller. In Europe, there's value added tax, or VAT, which might need to be added to your products. Other countries and regions will have their own rules.
Tax can get complicated quickly, which is why it is often easier to use a third party service which handles all these things for you so you don't have to worry about them.
Of course, it is possible to do it yourself. Just be sure to get the advice of a good accountant who understands the tax implications of what you are planning to do and who can advise you accordingly.
Custom Domain Name
When you visit a website like this one, the domain name is usually the first thing visitors will see. This site for example is called Finding the Universe, and the domain name is findingtheuniverse.com.
That's easy to remember – as long as someone remembers the name of my website, they can easily type it into their browser and find me again.
When it comes to setting up your own photography sales website, ideally you want the option to pick your own domain name.
The domain name you choose will vary depending on your personal preference. However, it is worth being aware that not all services allow you to choose your own domain.
For example, if you choose to sell your photos through a service like Redbubble, visitors will always visit that websites domain name rather than yours.
If you setup an account with another service, such as Smugmug, you might have a choice. With Smugmug specifically for example, you can have yourname.smugmug.com, or just yourname.com.
Having a custom domain name definitely gives your site a more professional feel, although you can still be successful without it.
Marketing
In order for your photos to sell, you will need to do some sort of marketing activity so folks can find your images.
Some services can help you out with this. For example, if you sign up to a service like Redbubble, your products will be listed on the Redbubble website, a huge online marketplace for buyers who are looking for art.
Selling your work via a site like this which gets a lot of traffic and therefore has a lot of potential buyers, can be helpful in helping people discover you. So when evaluating a site like this, it can be good to check what kind of visitor volume they have and how much marketing they do.
It's also a good idea to check if a site is focused specifically on photography products, or includes lots of other products as well. For example Etsy, although it does have a lot of photography products, is a huge marketplace with a range of items for sale. However, they do marketing to help bring new customers onto the site and run ads for the products sold on the platform. This can be an easy way to get your work in front of lots of people with minimal work required from you.
Overall, being on a bigger marketplace can benefit you. However, you need to remember that on a large marketplace it can also be harder to stand out.
Image Storage Limits
Image files take up space on our hard drives, and hard drive space isn't a free or infinite resource. When selling images, you usually want them to be of the highest quality and resolution possible, so they look great when printed. This also adds to the file size.
However you choose to sell your images, there will likely be some restrictions on the amount of space you can take up with your images. The restriction might be based on how many images you can upload, or it might be a total amount of storage space you can use.
Unless the limits are particularly low though, I wouldn't worry about image storage limits too much. For an online portfolio and store, you want to be sharing only your best and most popular images. Too much choice can be a bad thing, as it might confuse potential buyers who won't be able to make a decision.
As long as you can upload at least 100 to 300 full resolution high quality images to your online photography site, this should be a good starting point. As a rough guide, each image will likely be 10MB – 20MB in size, so you are looking at 1GB – 3GB of storage requirements for an average photo portfolio.
Image Protection
One thing that people often ask me about is whether or not I am worried that my photos will be stolen when I put them online.
The answer is a bit complicated, but the easy version is no, it doesn't worry me too much.
There are a few things I do to protect my commercial interests with my photos, which is what really matters to me. First, I put a small watermark on my images. Whilst this isn't too hard to remove, it is an easy way for people to find out who took a photo if they see it shared online, and to contact me about it if they are interested.
Second, I never upload high resolution versions of my images to websites or social media. I upload sizes that look good on the web, but which wouldn't be large enough for printing at a size larger than a few inches across.
Of course, folks can still download images that I share on our websites and social media, and use them for things like desktop wallpaper. There's not a huge amount I can do about that, but it also doesn't represent a significant financial loss.
When it comes to an online service for selling your photos online, my suggestion is to pick a service that allows you to upload full resolution images (necessary for high quality printing), but which doesn't actually display these images to your users. Instead, they will see a smaller version of the image, which will be fine for browsing on a computer.
You may also have the option to include a watermark over the image, although sometimes these can be quite large and distract from the image, so use with caution.
Some services additionally offer features such as right click protection. This can stop users from even downloading your image files to their devices. This can stop casual theft, but a determined user will be able to find a way around this, so don't rely on these systems to protect your images.
Instead, a combination of watermarking and only sharing lower resolution versions is likely a better solution.
Password Protection
Sometimes you might have specific images or galleries of images that you don't necessarily want everyone to be able to see or purchase.
For example, if you are a wedding photographer, you would likely only want specific members of the wedding party to be able to see and buy images from their wedding.
The easiest way to handle this is to be able to password protect specific images or galleries. That way, only those people who you give the password to will be able to see those image.
Coupon Capabilities
From time to time, you might want to run promotions so people can buy your images at a discount. Or, maybe you want friends and family to be able to purchase your images at a discounted price.
Rather than modifying all your prices, or having to set up special galleries with different prices, an easy way to do this is with a coupon system. For example, you could create a coupon that gives a 10% discount off all your images.
You could then distribute this coupon to a select group, such as your newsletter readers or a group of people at a conference. Or, you could send it out to previous buyers, to incentivize them to buy more.
With coupon codes, you can do this without having to actually change your store prices.
If a site does has a coupon system, check what capabilities it has. For example, can coupons be combined? Are they limited to one use per customer? Can you set an expiry for coupons so you don't need to remember to remove them?
Integration with Your Photography Workflow
Your photography workflow is simply the process that you use that results in the final shot. Usually it starts with the planning stages of getting your shot, through to clicking the shutter button, copying the image to your computer, editing it, and then saving the final image.
Your workflow might involve different planning tools or apps, and it varies between photographers, but having a good workflow is key to an organised life as a photographer.
In my case, a large part of my workflow largely revolves around Adobe's Lightroom product. After a shoot, I use Lightroom to organize, manage, and edit all my images. From copying the photos off my camera's memory cards to editing and saving the final image, I do it all in Lightroom.
With this in mind, I definitely appreciate any platform which easily integrates with my workflow. For example, some popular platforms for image sales, such as Smugmug and Zenfolio, actually integrate with Lightroom.
They provide a plugin that I can add to Lightroom, meaning I can upload images directly from Lightroom. If I edit that image, I can easily upload it again with the new edits.
This definitely makes my photography workflow easier. That said, everyone has a different workflow, and if you are only editing and uploading a small number of images, this might not be so important to you.
Ease of Use
We're not all experts in web design or building stores that sell images. Ideally, the platform you choose should make it as simple as possible to pick a site design you like the look of.
It should also be easy to upload images, to sort them into galleries, and to adjust features like price.
Ease of use is quite subjective, but you should get a feel for it by just testing out a site for a few minutes, and getting an idea of how intuitive it is to use.
If you find a site confusing and difficult to use, it is likely that your potential customers may have the same experience. Best to pick a service that you understand and enjoy using.
I have provided links to example portfolios for each of the sites I recommend. Many of these portfolios are of students on my photography course.
I suggest clicking through to the portfolios of the services you are interested in. Ask yourself how easy it is to use, and how easy it is to buy a product you are interested in? This will help you understand how potential visitors to your site might enjoy using it.
Price / Fees
However you choose to sell your photos, there will be some cost associated with doing so. This will be the case whether you go for something fully hosted and automated and just make a portfolio and upload your photos, or whether you do it all yourself by creating your own website from scratch, print all your own products, and handle all the shipping. The types of costs will vary.
First, for physical products there will always be the cost of the actual printing and shipping of the product, which will a fixed cost for each product.
There may also be fees associated with the service you choose. These fees will vary. Some services charge a monthly or annual fee for access to their services. Others might not have an up front fee, but will instead have fees they deduct as a percentage of every sale you make. Some might do both.
The best pricing model for you will depend greatly on how many products you think you will sell.
If you expect relatively high volumes of sales, then a fixed price model will likely work better.
For lower volumes of sales, you might prefer to just pay a percentage when you actually make a sale, so as to reduce your upfront costs.
Note that even if a site doesn't charge a fee as a percentage or your sale, or charge an annual fee, it still has to make an income. So when comparing platforms, my advice is to look at a few of the products you are likely to sell, and calculate the actual profit you would be making on each product.
For example, a company might claim not to charge a sales fee or up front fee, but would charge $20 to create a photo print. Another company might charge a 10% fee on every sale, but then only charge $10 to create the same sized print.
So always do a bit of a deeper dive than just comparing the headline figures when comparing sites that allow you to sell your images online so you know how much you are going to be paying.
If you decide to host your site yourself, you will still have to pay fees to the web host. You might also have to pay a developer to help put the site together for you.
When comparing price between platforms, always compare the features you are getting rather than just the sticker price. A service that charges a monthly fee might work out to be better value than one that doesn't, if the features are of value to you.
In addition, a higher priced service may offer higher quality products, which will pay off in the long run when it comes to customer satisfaction.
I would also consider your time when choosing how to sell your photos. If you spend 1 hour per order on a do-it-all-yourself model, then you might consider how much you are making from that hour of work. Your time is valuable as well and you want to make sure you are using it wisely.
Additional Features
Whilst I've covered the majority of features I think are important things to look for when choosing where to sell your photos online, there are other features that some services offer.
These may include the option to use the service tobackup all your images, to broadcast images to smart devices as screensavers, or to support other media like video files.
Some platforms also have apps for smartphones or other devices to facilitate easy upload of images from your devices, as well as management of your galleries.
Whether these features are important to you is a personal decision. My advice is just to always compare all the features when comparing providers so you are able to get a good understanding of the differences.
Where to Sell Your Photos Online
I'll now go through some popular options for where you can sell your photos online. These include a range of providers at a number of price points, with a variety of features.
For each one I'll give you an overview of their main features, pricing information and who I think they would be best suited for. This should give you a good idea as to which platform will be best for you.
I give you my personal opinions regarding the ones I am using or have used in the past. I've also asked members of my online Travel Photography Course about some of the platforms they used and have included some of their thoughts and links to their individual galleries for you to get more of an idea of these services from people who use them to sell photos online.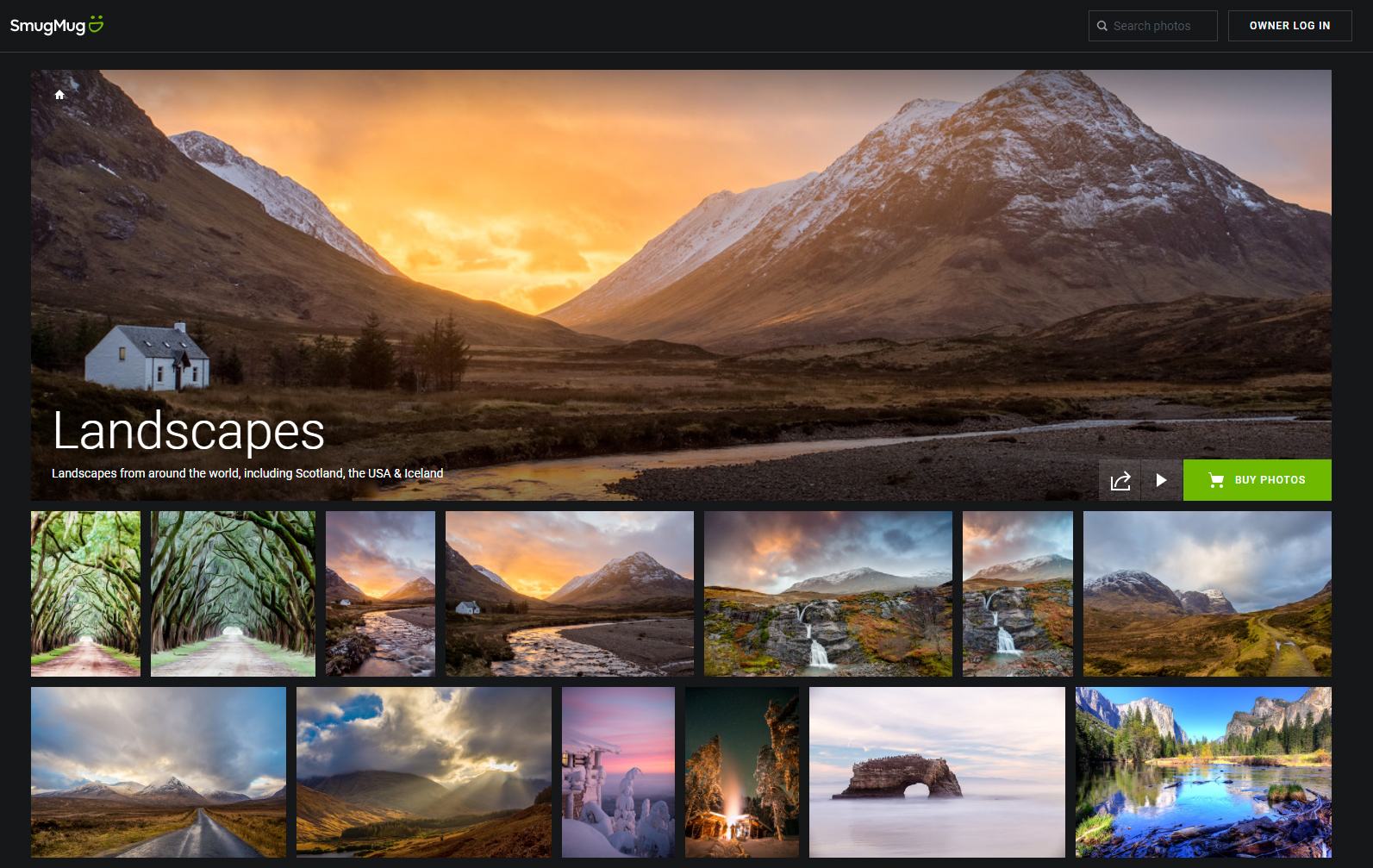 SmugMug
SmugMug is probably the most well known of the websites for photographers looking to sell their photos online. It is in fact what I currently use for my own online photography sales.
SmugMug currently offers four plans, all of which are paid. However, if you want to sell your photos professionally to buyers and have control over pricing, then you will need one of the more expensive plans, either the Portfolio Plan at $240 / year or the Pro plan at $432 / year.
Whilst the entry level Basic and Power plans allow you to sell your photos to family and friends, there's no control over pricing. So you won't be able to actually make an income from these plans, although you could use them to setup a portfolio and then handle fulfilment yourself if you really wanted to.
Honestly though, if you choose to use SmugMug , we'd recommend you look at the Portfolio Plan. You can get 15% off the plan cost and a 14 day free trial if you use this link.
SmugMug has a huge range of features to help you sell your photos, including a wide variety of website templates (also known as themes), full ecommerce support, support for printing in photo labs around the world, and support for your own custom domain.
It also has robust tools to help safeguard your images, from right click prevention and watermarking through to only showing low resolution versions of your images.
You can set prices based on product either individually or by gallery, and you can do it by price or as a fixed percentage markup. There's a full shopping cart provided that supports multiple currencies, and products on offer range from standard prints and canvas prints through to gift cards, greeting cards, mugs, photo books, and framed products.
On top of that, SmugMug works as a photo backup service. They have unlimited storage available for processed files, so you can upload as many image files as you want (note, there are extra fees for RAW files, see more here), and they also support video files. There's an app to help you manage your galleries, and a plugin is available for Adobe Lightroom to make it easy to upload your images to your galleries.
Of course, not everything is perfect. One thing we're not a huge fan of is that as well as the ongoing annual fee, SmugMug charges a 15% fee on every sale you make.
This makes SmugMug one of the most expensive options in our round-up. Overall though the features on offer make it a very compelling offering, especially for serious amateurs and professionals who want a great looking website that will do everything they need.
Several members of my travel photography course use SmugMug and here is what a couple of them had to say about their experiences so far.
First, Aneta Zimnicki (see her SmugMug portfolio here), who is based in Canada said:
"After reviewing the top photo selling sites, SmugMug hands down was the best for me. It's designed for photographers and their customer service is amazing. Custom photo pricing and print size control is great. I can publish prices in my own home currency CDN (I was very disappointed in some other sites, they assume everyone is US based!).

Also the printer vendor relationship with the site was very important to me. I was looking for reliable, consistent good quality prints. The cost for the site is more than other sites, but I see the reason.

Cons: The printers (for Canadian customers) are in the US, and so far, shipping across the border to Canada is slow. The printer wholesale cost is a little more than my local vendors."
I also spoke with course member Charlotte Tweed (see her SmugMug portfolio here which she hosts on her blog A Wandering Web) about her experience with SmugMug:
"My experience with the platform has been good. Quick response to tech questions and good tutorials. The website templates are professional looking that are relatively easy to customize. The products are also excellent quality. I can load pictures directly from my phone, which is useful."
Finally, course member Rae Gabrielle shared her experiences with SmugMug (see her portfolio here), and compared it against some other platforms as well.
"I have the Portfolio plan with SmugMug It took me a little while to pull the trigger given the price, but I saw it as an investment in my photography just like buying new gear. I really like the flexibility of organizing photos and setting prices. I also do some portrait and event work, so I like that with the Portfolio plan, I can create private galleries for my clients. It allows me to still keep the photos in one place, but I can set each private gallery so that it can only be accessed by people with the password or the direct link. That way, my clients can also share their gallery with their friends and family, who might also choose to buy from it. I think the biggest negative for me is that there are so many features and it is so flexible, sometimes the options are overwhelming, and I have trouble navigating them to get everything set up the way I want it. So not really a negative?

I've also tried Etsy and the free version of Fine Art America. Truthfully I've sold more on those platforms, but Etsy wasn't a great fit because when someone placed an order, I would still have to order the print myself to be mailed to them. Plus listings expire and you have to re-list every 90 days, I think. Fine Art America was fine, but they took a pretty big cut, and I could only upload 25 photos. In the end I'm fine with paying for SmugMug, if for nothing else than the photo storage."
Overall, SmugMug is a very fully featured platform for managing your product portfolio and helping you to sell your photos online. It's definitely more expensive than some other platforms, but the features and quality of the product warrant that in my opinion. For more detail, check out my full SmugMug review here.
Pricing: $240 / year + 15% fee on sales for Portfolio plan (15% discount on first year membership fee if you sign up with this link)
Who's it for: Enthusiastic semi-professionals and professionals with a body of work to sell.
Trial Available: Yes, you can get a 14-day trial followed by a 15% discount with this link
Example portfolio: My photo portfolio can be seen here. Also check out the portfolio of my photography course members and fellow photographers: Aneta Zimnicki here, Charlotte Tweed here, and Rae Gabrielle here for some great examples of SmugMug portfolios.
Pixpa
Pixpa is an interesting offering because it combines a portfolio platform, blogging platform and even an ecommerce store in one place. So if you want to host your own online portfolio, sell your images to clients, and also sell additional products like downloable ebooks, Lightroom presets or workshops, then Pixpa is a great option.
Despite this impressive feature set, the pricing is still very reasonable. The lowest price personal plan for their all in one offering is currently $84 / year, and this lets you add up to 200 images to up to 15 galleries on your site. You can also sell 5 separate products, which can be physical or virtual products.
If you want to sell more photos or products, or add more images to your portfolio, then the Expert plan is still very reasonably priced at $120 / year.
Alternatively, if you're not interested in selling products or having a blog feature, you can sign up for the Client Galleries product instead, which is available from as little as $72/year. This allows you to upload up to 10GB of images, with higher priced plans offering more storage.
Even better, Pixpa doesn't charge any sale commission on any sales you make. So you just pay the annual fee and that's it. Naturally you can set your own price, shipping costs and tax for each product as well.
When it comes to design, Pixpa comes with a wide range of themes to choose from, making it easy to create a great looking website quickly.
In terms of fulfilment, Pixpa offers some different options. First, you can use their fulfilment lab, WHCC. They ship worldwide and have a range of products, from standard options like prints and canvas prints, through to items like USB keys, magnets and so on.
Alternatively, you can connect Pixpa to any print lab which accepts e-mail orders. Pixpa will automatically generate the e-mail which will be sent to the print lab, giving you a lot of flexibility over your printing choices.
Finally, you can also choose to fulfil the printing yourself if you prefer.
Payment wise, Pixpa integrates with Stripe and Paypal, meaning you can accept payment in a wide variety of currencies.
Pixpa is an excellent option which should definitely make your shortlist when thinking about where to sell your photos online. They have competitive pricing and a great featureset.
Pricing: $84/year or $120/year. Save 10% on Pixpa when you use this link, or code FTU10 on checkout.
Who's it for: Enthusiastic semi-professionals and professionals with a body of work to sell who also want to sell products
Trial Available: Yes, you can get a 15-day trial with this link
Example Portfolio: See Harold Feng's portfolio here
Photoshelter
Photoshelter is a popular image platform for photographers to sell their work, and it has a number of features to help you do just that.
First though, lets cover pricing. There are three main plans, a basic plan at $120 a year, a standard plan at $300 a year, and a Pro plan at $540 a year. These plans also come with fees levied on each sale, 10% on the basic plan, 9% on the standard plan, and 8% on the pro plan.
The plans are actually fairly similar in what they offer. You can sell your prints (and license them, if you wish) on all three plans.
The main difference between the plans is how much storage is offered. Currently the basic plan offers 4GB of storage, the standard plan offers 100GB of storage, and the Pro plan offers unlimited storage.
That storage includes RAW file support, as well as popular image file formats like JPG, TIFF, and PSD. It even includes PDF. Video files are not currently supported.
We think that the basic plan actually offers everything most photographers will need to get started with selling their photos online at a reasonable price. The 4GB limit might not sound like a lot, compared to other plans and platforms, but that is still 200 – 250 images.
Of course, if you need more space, perhaps for image galleries from events and weddings, you might prefer more storage space. These are more expensive, but the fee per sale is slightly lower to compensate.
As well as the above, Photoshelter offers a robust set of features. There's a plugin for Lightroom and Photo Mechanic, meaning seamless integration with your workflow. You can control access to your galleries and images. There are nine site templates to choose from, and you can use your own domain name.
In terms of products, Photoshelter offers a number of print partners with varying capabilities, from standard prints through to photo products which include clothing, magnets, mugs, and more.
Images are uploaded in full size, and there's watermarking protection. There are labs in locations around the world, you can control the prices yourself, sales tax and VAT can be calculated and collected, and Photoshelter supports 23 currencies and worldwide shipping.
Overall, this is an excellent offering. The integration of image licensing on top of standard photo sales means you can try different sales models to see what works, and we think the pricing is very reasonable for all the features you get.
Pricing: $120/year + 10% fee or $300/year + 8% fee
Who's it for: Enthusiastic semi-professionals and professionals with a body of work to sell.
Trial Available: Yes, you can get a 14-day trial with this link
Example Portfolio: See Gianluca Colla's Photoshelter portfolio here
Zenfolio
Zenfolio is an online photography sales site which is particularly suited to event photographers. So if you shoot weddings, schools or other events, this is definitely a site to check out.
Of course, the features on offer are also useful to other photographers. Before we look at those, let's take a look at the plans on offer and their respective prices.
There are three plans, Starter at $120 / year, Pro at $240 / year and Advanced at $360 / year. For sales, you would need either the Pro or Advanced account, as Starter doesn't include any shopping cart functionality for your buyers. Both Pro and Advanced plans also charge a 9.9% service fee on all sales.
All the plans offer unlimited photo storage which includes RAW file support, as well as unlimited video storage, making this a good option for backing up your images as well. You can compare features here.
The Pro account includes a lot. You can use your own domain name, remove all Zenfolio branding, customise the look and feel of your site, share proofs with clients, watermark your images, and offer coupons and gift certificates.
You can also password protect galleries so only clients with the password can access them, and there's a blog feature so you can write your own blogs as well.
In terms of products, Zenfolio supports over 2,000 products through their lab partners, including prints, books, albums, home decor items and more. They have a number of lab partners around the world, and can handle international shipping and multiple currencies, as well as international taxation requirements.
You can set your own prices for your products, and if you have your own website you can easily integrate a Zenfolio shopping cart onto it.
From a workflow perspective, plugins are available for Lightroom and Photo Mechanic, and there are also mobile apps for uploading and managing your images. In addition, Zenfolio has a paid addon called BookMe. This is an all-in-one booking and calendaring solution that lets clients directly book and pay for your services, be they portrait sessions or weddings.
Overall, Zenfolio has a robust offering at a good price, and is definitely worth your consideration.
Pricing: $240/year + 9.9% transaction fee for Pro plan
Who's it for: Professionals with a body of work to sell and those looking for an all in one booking management system that integrates with their portfolio
Trial Available: Yes, you can get a free trial with this link
Example Portfolio: Member of my travel photography course Steve Tambosso (aka The Wandering Fireman) has his portfolio on Zenfolio here
Darkroom
Darkroom is a relative newcomer to the online photography sales industry, but their low pricing structure and solid feature set means that they have become a popular option. This is especially true with those just starting out who aren't ready to commit to ongoing fees just yet.
Speaking of fees, Darkroom offers two pricing models. First, they have a "free" model, where you don't have to pay anything to set up your galleries. Instead, you just pay a 15% fee on any sales.
Alternatively, you can pay for their Plus service at $132 a year. With this model, you only pay a 5% fee on sales.
These prices certainly compare favourably to other products on our list, but what about features?
With the free service, you are definitely more limited. Whilst you can upload unlimited images, there are only three themes to choose from, the site is Darkroom branded, and you have very limited customization over your store.
If you upgrade to Darkroom+ there are more customization options, including the ability to add your own logo, more themes to choose from, and gallery customization.
Both services offer worldwide fulfilment from a number of print labs around the world. Currently only normal photo printing options are supported, including prints, framed prints, and canvases. There aren't currently any other products though like mugs or t-shirts as you will find on most other platforms.
You also get a custom subdomain on both services, like yourname.darkroom.tech. However there currently isn't the possibility to use your own domain name even on the paid option.
There are a number of other features that are notably absent. For example, there are no plugins for software like Lightroom – you have to upload your images manually. There's also no option to password protect galleries or automatically add watermarks. There's no mobile app either.
Basically, we think Darkroom is a great option if you are just starting out and want to try a free service without the bells and whistles. They will handle the main things you need to worry about—the printing, shipping and e-commerce, and you just need to worry about taking great photos and getting people to visit your store. So if you want to test the waters of online photography sales, this is a good starting point.
If you're a more established photographer, are more confident in your ability to drive sales, or need more advanced features, then Darkroom is probably going to be a bit too limited for you.
I spoke with my photography course member Karlin Krishnaswami who uses Darkroom for her portfolio, and she had this to say:
"I wish Darkroom was more customizable, but I appreciate the simplicity of it. Sometimes it takes a minute or two for changes to actually appear to the site, which irks the part of me who needs instant gratification. Overall, it's not my favorite platform, but it's what I've settled on for now."
I also spoke with course member Erin Donahue who used Darkroom, and her thoughts were as follows:
"It's user friendly enough for anyone just starting out in terms of logistics so that part's not overwhelming. However, some of the navigation on the website can get confusing.

Also, users considering Darkroom should price their work with the printing costs baked into the final price. Any additional expenses, such as frames are not an add-on cost that customers pay for, it's included in the revenue and taken out of the seller's profit. If sellers want to offer packages such as that then they should essentially double the printing cost, or don't offer the option at all and stick to just selling prints on the lustre paper (and maybe canvas). Don't make the rookie mistake like me where I priced myself too low and a customer bought a framed print and my net profit ended up being literally $3 on a $60 print. Lesson learned!"
Pricing: Free + 15% fee or $132/year + 5% fee
Who's it for: Amateurs to hobbyists looking to get started with photo sales
Trial Available: Yes, you can try a free month of Darkroom Plus by using my code LAURENCENORAH-291992
Example Portfolio: A number of my travel photography course members use Darkoom. Karlin Krishnaswami has her portfolio on Darkroom here.
Redbubble
Redbubble is the first website in our list for selling photos that is not specifically designed for photographers. Instead, it is for all kind of artists wanting to sell products they have created or designed.
Redbubble is a global online marketplace specifically for print on demand products. They offer a huge range of printing mediums, meaning you can sell your images on everything from standard print and canvas options, through to hoodies, leggings, skirts, scarfs, phone cases, and more.
Redbubble doesn't charge artists to list their work. They also don't have transaction fees. Instead, Redbubble has a base price for each product, which includes the cost of production and shipping, as well as their service fee. Whilst you can't see the exact breakdown of these costs for each product, the base price of each product does compare favourably to other websites on our list.
Once you have uploaded your images, you then set your margin, which is a percentage. This defaults to 20%, which honestly is pretty low for photography sales in my opinion. As a comparison, Smugmug defaults to 300%.
The likely reason for this is the number of different products available. Folks are unlikely to want to pay high prices for things like mugs and t-shirts, regardless of the image on them. However, more traditional photo prints and canvas prints are something that are worth more in my opinion. So do be sure to set pricing that works for you and your business model if you choose to use Redbubble.
Because Redbubble is a marketplace rather than a portfolio focused website, it is of course missing a lot of the features that more photography focused sites have. There's no real customization of your storefront, and you can't password protect galleries (although you can mark a work as private so only you can see it).
There's also no plugins for photography software, so you need to manually upload your images through their website. There's no way to integrate your Redbubble store with a third party website, so you wouldn't be able to integrate it with a custom portfolio for example. Of course this means there's no custom domain support either.
Overall Redbubble can be a good way to get your work in front of a larger audience, and is particularly good if you are interested in selling images printed on a range of goods that aren't just print or canvas.
However, you are competing against a lot of other products and artists, and I think if you are focusing on print sales specifically, other options might make you a better income overall.
I spoke with course member Elizabeth about why she chose Redbubble for her online store:
"I chose to start with Redbubble because there's no sign up fee for sellers and I wasn't sure anyone would be interested in my prints so I wouldn't lose anything for trying.

Also, Redbubble lets you set how much you want to sell your product for and thus how much you'll make from it. I figured this way I can see what type of items sell best and go from there."
Pricing: Free, costs taken out of sale
Who's it for: Amateurs to professionals with a body of work to sell.
Trial Available: It's free so no trial is required
Example Portfolio: Member of my travel photography course Elizabeth has her portfolio on Redbubble here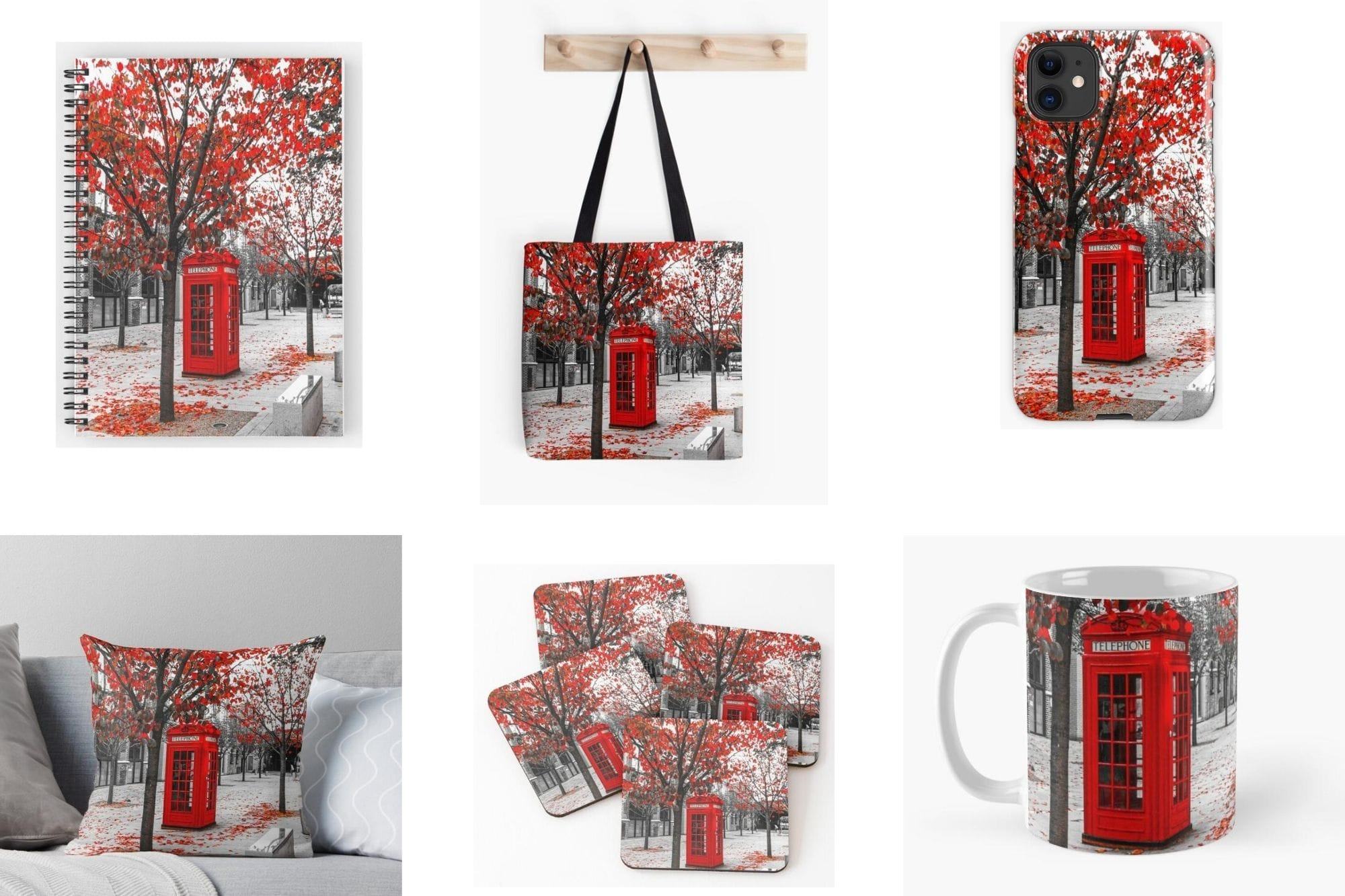 Etsy
You are probably already familiar with Etsy, an online marketplace which specialises in handcrafted and vintage items as well as craft supplies. Millions of sellers list their products on Etsy, with thousands of photographers using the platform to list their products.
Unlike many other platforms in our list, Etsy is just a marketplace for connecting buyers and sellers. You can create your own listing and gallery, and Etsy will handle the e-commerce side of things, but you would be entirely responsible for order fulfilment, from printing through to shipping and customer service.
Etsy is available to audiences around the world, although of course having an international audience would mean you have to consider international shipping.
The advantage of Etsy is that your products are listed on a marketplace that is visited by millions of people every day, so your work has the potential to reach a large audience of buyers. However, with tens of thousands of other photographers to compete with, it can be a challenge to stand out in the crowd.
Etsy also has a slightly different fee structure to other services on our list. You have to pay a listing fee (currently $0.20 USD) for every item you list, and this fee renews every four months. So if you listed 100 photos, you would pay $60 per year.
If you make a sale, you will be charged a 5% transaction fee for every item you sell. Etsy additionally has what it calls offsite advertising fees, which cover its third party advertising costs. If one of your products is sold through these adverts, you are charged an additional 12%-15% fee.
If you already have your own fulfilment process and website in place, and are looking for another audience to reach, then Etsy can be a good option. This is particularly the case if you have products you know are popular. Listing products that aren't likely to sell make less sense on Etsy due to the individual listing fees, so this isn't a good platform for testing the market.
If you are just starting out though I would suggest one of the other platforms. Etsy isn't primarily designed for photographers, and is missing many features such as gallery control, password protection and workflow integration tools.
My photography course member Kristina Sym who runs the runs the LeanIntoLife gallery on Etsy had the following to say about using the platform to sell her photos and photo products:
"It's good but hard to learn the SEO and compete against all the other shops for views. But on the upside people can find you through their platform who didn't know you before."
Pricing: $0.20USD listing fee + 5% transaction fee + possible 12-15% advertising fee
Who's it for: Photographers looking to reach an additional audience or who want to sell specific photo themed products
Trial Available: No
Example Portfolio: Photography course member Kristina Sym runs the LeanIntoLife shop on Etsy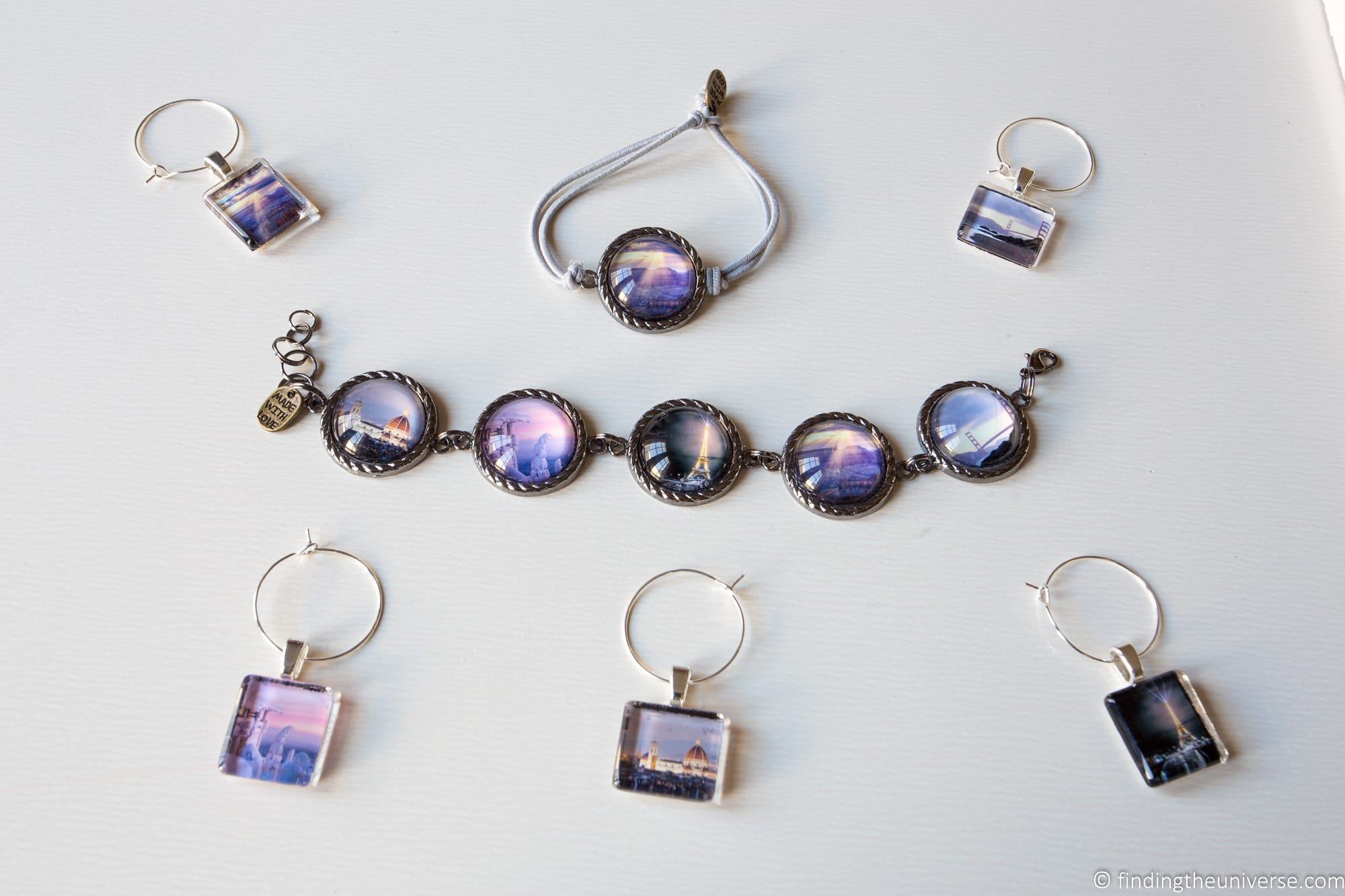 Fotomoto is definitely a unique service when it comes to selling your photos online. Instead of offering you a portfolio, custom website, or marketplace to host your images, it instead integrates with your existing website.
Before talking about the pricing structure, I want to explain what Fotomoto does and how it works.
First, you need to set up an account and add the Fotomoto script to your site (most major platforms are supported, including WordPress, Blogger, and Squarespace). The Fotomoto script will add ecommerce functionality to the images on your site—basically it creates a buy button under each photo.
This is an excellent solution if you have an existing blog or website which has a number of images already on it. All you have to do is add the Fotomoto code and you can instantly start selling your photos through your own website.
If a user decides to buy a photo, Fotomoto will handle everything for you, from processing payment through to printing and shipping. All you have to do is ensure that Fotomoto has a high resolution version of your image suitable for printing.
You can either manually upload the high resolution version once the image has been ordered, or use Fotomoto's Auto-Pickup technology to retrieve it from your online storage.
In terms of pricing, Fotomoto offers three options. They have a free plan where they charge a 22% transaction fee on every sale. They then have a Pro plan for $120 / year + 12% fee, and Pro Plus plan for $300 / year + 10% transaction fee.
There are some other fees to consider. For example, orders under $10 have an additional $0.99 fee added. However, overall the pricing is certainly reasonable.
Feature wise, the plans do differ slightly, although they all allow you to sell your photos from your own website. The Free plan does not include framed prints for example, nor does it include the Auto Pickup feature.
Speaking of prints, Fotomoto primarily focuses on traditional photography display mediums like print, canvas, and greeting cards. So there isn't the huge range of products to print on as you get with other options in our list.
All the plans come with unlimited images, and coupon support. You can set your own pricing for all your images and products as well.
Overall, Fotomoto is a good option if you have an existing website from which you want to sell images, and don't want to think about setting up a separate portfolio site which you would have to market and promote.
Of course, it's not going to work for everyone, but I think it is a good option to think about, and the free offering is a compelling option if you just want to test the service out.
Pricing: From free + 22% fee
Who's it for: Photographers with an existing site
Trial Available: There is not a trial, but there is a free version of Fotomoto that can be used indefinitely
Example Portfolio: See a range of example portfolios here
Format
Format offer purpose designed photography portfolio sites where you can showcase and sell your work. They also allow you to sell other photography related items, such as Lightroom presets. They also offer printing and shipping services for your products.
Format have a wide range of themes to choose from, and a number of price plans to choose from depending on the features you need.
The main difference between the plans is the number of images they support (from 100 on the basic plan to unlimited on the higher level plans), as well as the number of products you can sell. A product might be a Lightroom preset, a photo print, or a t-shirt. On the basic plan there are no e-commerce capabilities. The pro plan allows you to sell three products, whilst the pro plus plan lets you list up to 60.
You can see and compare all their plans here.
I would suggest that if you plan on selling your work through Format, you'll need the Pro plus plan as otherwise you will be too limited by the number of products. Note that there are no additional transaction fees, and you control pricing and shipping rates for all your products.
All plans apart from basic also come with a free custom domain for your first year, and you can also write blog posts on your site. The Format platform integrates with Lightroom and Capture One, and there are also free mobile apps.
Overall, Format gives you the tools to easily create a nice-looking portfolio website quickly and easily, and sell your photos through it.
Pricing: Pro plus plan at $300 / year
Who's it for: Photographers looking for a nice portfolio website
Trial Available: Yes, you can sign up for a free trial on their website here
Example Portfolio: See a range of example portfolios here
SquareSpace
Last in my list of services you can use to help you sell your photos online is Squarespace. Squarespace is a platform which lets you easily build websites. This is a great option for those of you looking to create a nice looking photography portfolio website with e-commerce capabilities who would prefer to handle the fulfilment yourself.
It is designed foremost with photographers and other artists in mind, with lots of excellent website themes which are perfect for photographers to showcase their images.
Squarespace is definitely aimed at users who want a beautiful website but don't want to spend too much time on the technical side of things. When you sign up, it will ask you what kind of website you want, and when you specify photography, you will be presented with a number of lovely website designs to choose from.
Out of the box these look great, but there are customization options as well so you can tweak everything to your heart's content.
Squarespace is not free, and if you want to use it to sell products you will need either the Business account at $216 / year + 3% transaction fee, or the Basic Commerce account at $312 / year and no transaction fees.
Both of these Squarespace products come with a free custom domain for your first year, support for blogging, support for unlimited products, and unlimited storage for your images. However, the slightly more expensive basic commerce account has a few more powerful commerce tools, including supporting checkout on your domain and e-commerce analytics.
Of course, there are lots of other platforms for building nice websites out there, including platforms like Wix. If you prefer more control, you can look at something like WordPress, like this site is hosted on, which has a huge amount of customization potential if you don't mind getting a bit more technical (or paying for a developer).
However, for an easy to setup portfolio website with ecommerce capabilities, SquareSpace ticks a lot of boxes and is definitely an option to consider if you're happy to handle order fulfilment yourself.
Pricing: Business plan at $216 / year + 3% transaction fee
Who's it for: Photographers looking for a nice portfolio website
Trial Available: Yes, you can sign up for a 14 day free trial on their website here
Example Portfolio: See a range of example portfolios here
Tips for Getting Started with Selling your Photos
Once you've selected a platform, you'll want to start selling your photos. Here are some tips to get help you get started with selling your photos online.
Completely fill out your portfolio information so buyers know who you are and what your story is
Put in descriptions, captions, keywords, etc for your photos. Fill out everything you can!
Make sure you set everything you want to sell as public
If the platform offers SEO options, be sure to take full advantage of them so searchers can find you
Market your site to potential customers. You can do this with business cards, your own website, social media, word of mouth, existing customers

Only share your best photos. You don't want to overwhelm potential customers with too many photos or too many options (e.g. 5 variations of the same covered bridge photo)

Make sure you sample the quality of printing services and products before you sell them to ensure good quality

See what sells best and focus more on those types of photos

Pay attention to customer feedback and reviews

If things aren't selling try other options – reorganize your photos, change the products you are selling, change prices, etc. Be willing to experiment to see what works best. If nothing is working you may want to try a different service that better suits your products

Get feedback from others on your portfolio. Ask them how easy it is to use, if they like the design, what they would improve, what is stopping them from buying.
Hopefully these tips will give you some idea for improving your photography sales!
Further Reading
That's it for our guide to some of the best places to sell your photos online. Hopefully it gave you lots of options, from free and low budget, to more expensive and fully featured solutions.
Before you head on, I wanted to share some more photography content that I think you'll find useful, that I've put together based on my years working as a photographer.
Looking to Improve Your Photography?
If you found this post helpful, and you want to improve your photography overall, you might want to check out my online travel photography course.
Since launching the course in 2016, I've already helped over 2,000 students learn how to take better photos. In fact, I've linked to many of their portfolios in this post.
The course covers pretty much everything you need to know, from the basics of how a camera works, through to composition, light, and photo editing.
It also covers more advanced topics, including astrophotography, long exposure photography, flash photography, and HDR photography.
You get feedback from me as you progress through assignments, access to webinars, interviews and videos, as well as exclusive membership of a Facebook group where you can get feedback on your work and take part in regular fun photo challenges.
It's available for an amazing one-off price for lifetime access, and I think you should check it out. Which you can do by clicking here.
And that's it! If you have any questions or feedback, I'm here to listen and do my best to answer. Just pop them in the comments below and I'll get back to you as soon as I can.